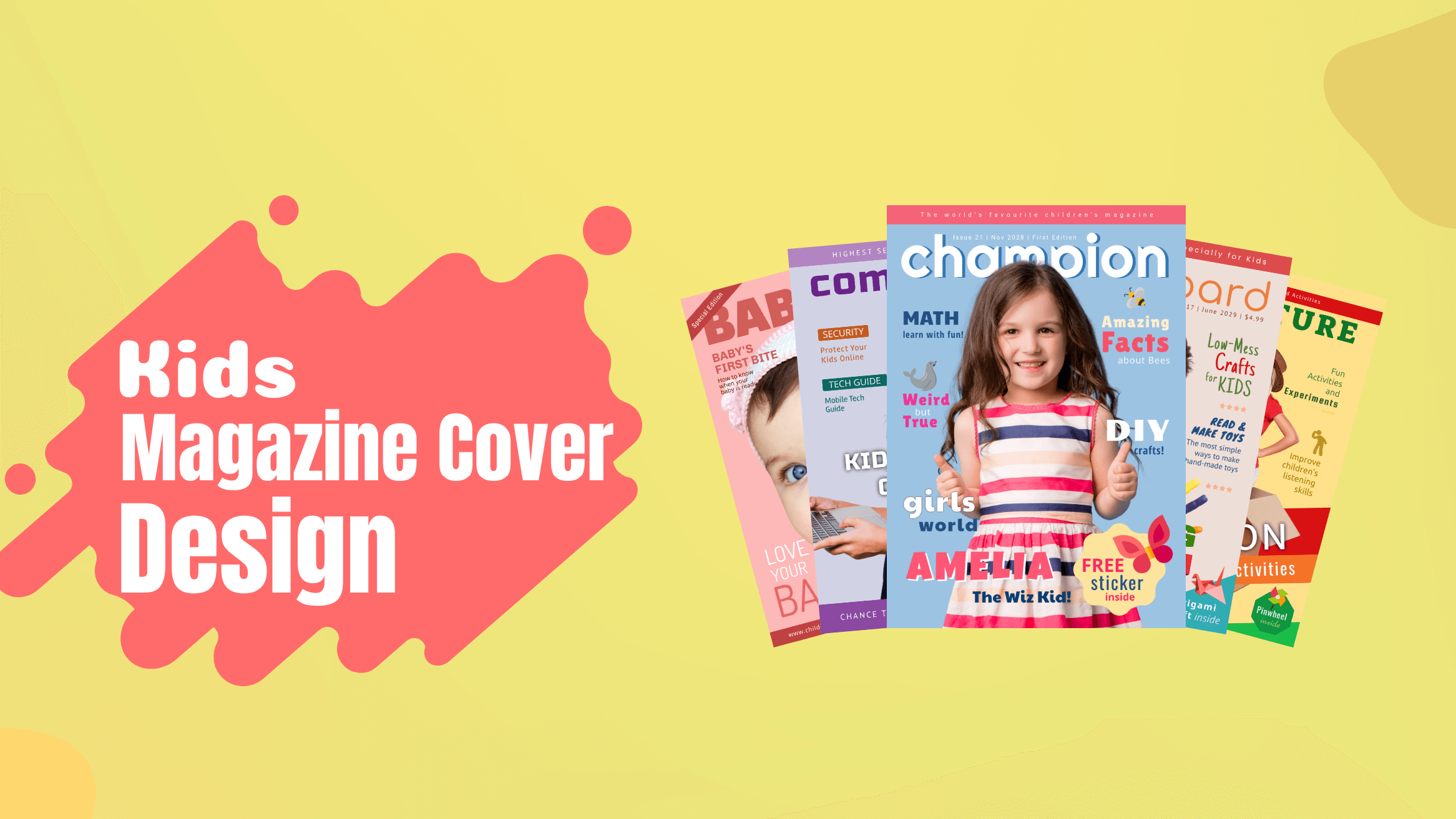 Kids Magazine Cover: Design Stunning Covers for Kids Magazine

Last Updated Jan 25, 2023
Do you want to get started with creating your very own kids' magazine but thinking whether it will still be a profitable business? Statistics shows, the market size of magazine publishing in 2021 was $22.9 Billion in the United States alone. So, magazine publishing is still a profitable business. And if you want to make a mark in this industry, you need to attract more readers and get them to read your magazine with a compelling kids magazine cover design that makes an impact.
Your magazine cover works as a money maker and is the primary tool to unify everything in your magazine. But designing a kids magazine cover is not everyone's cup of tea. Keeping that in mind, DocHipo's Free Online Magazine Cover makes it easy for everyone to design beautiful kids magazine covers.
Continue reading to learn how to design a kids magazine cover in three easy steps using DocHipo.
Kids Magazine Cover Design Best Practices
A well-crafted magazine cover will always catch your audiences' attention and convince them to buy your magazine. Hence, besides providing all the necessary tools, we have come up with kids magazine cover design best practices for you so that you spend more time creating beautiful covers and focus on writing quality content for your magazine.
Highlight Your Magazine Name
To make your magazine instantly recognizable, you should highlight your magazine's name. So, make the name of your magazine the most prominent feature of your cover. This will help you create a brand identity to communicate with the world and differentiate yourself from the competition.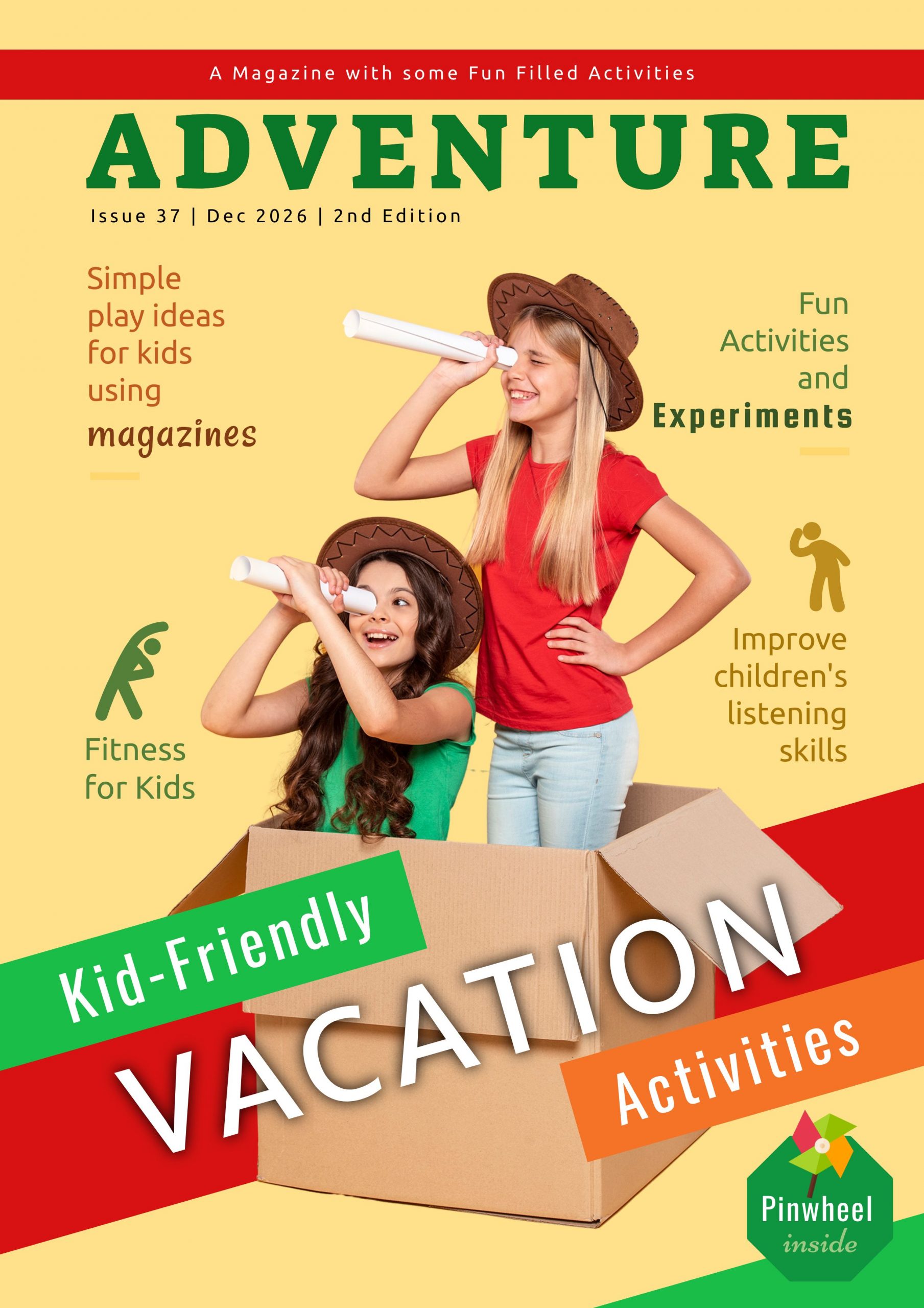 Get This Template and More
Create A Focus Point
Kids magazine covers usually feature kids models as the focus point. But you have the freedom to use a different photo of an object or headline or any other design elements such as illustrations, icons, and others. Whatever you use as your focus point, make sure it's relevant to your target audience and the content inside. Create a focus point and design your add your design elements around it.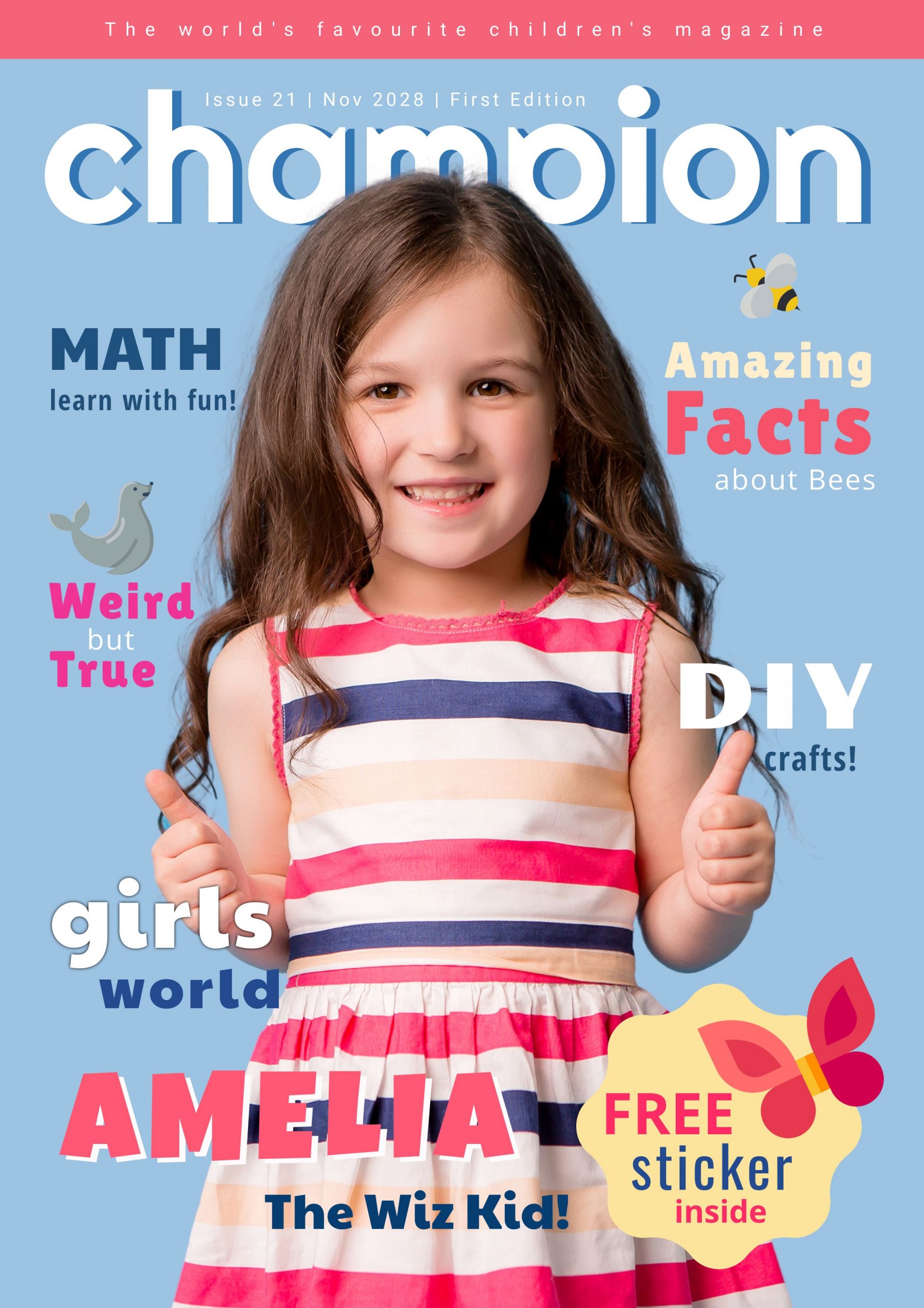 Get This Template and More
Try Different Font Styles
When it comes to magazine cover design, fonts play an important role in featuring the headlines of the most important stories on the cover. It would be best to play with different fonts to create a typography hierarchy in your kids magazine cover design to attract readers.
Always use bigger and bold fonts for headlines and subheadings. You can use smaller text for the body text, but make sure all the fonts complement each other. You can also use different shapes and colors as the background of the texts to emphasize them.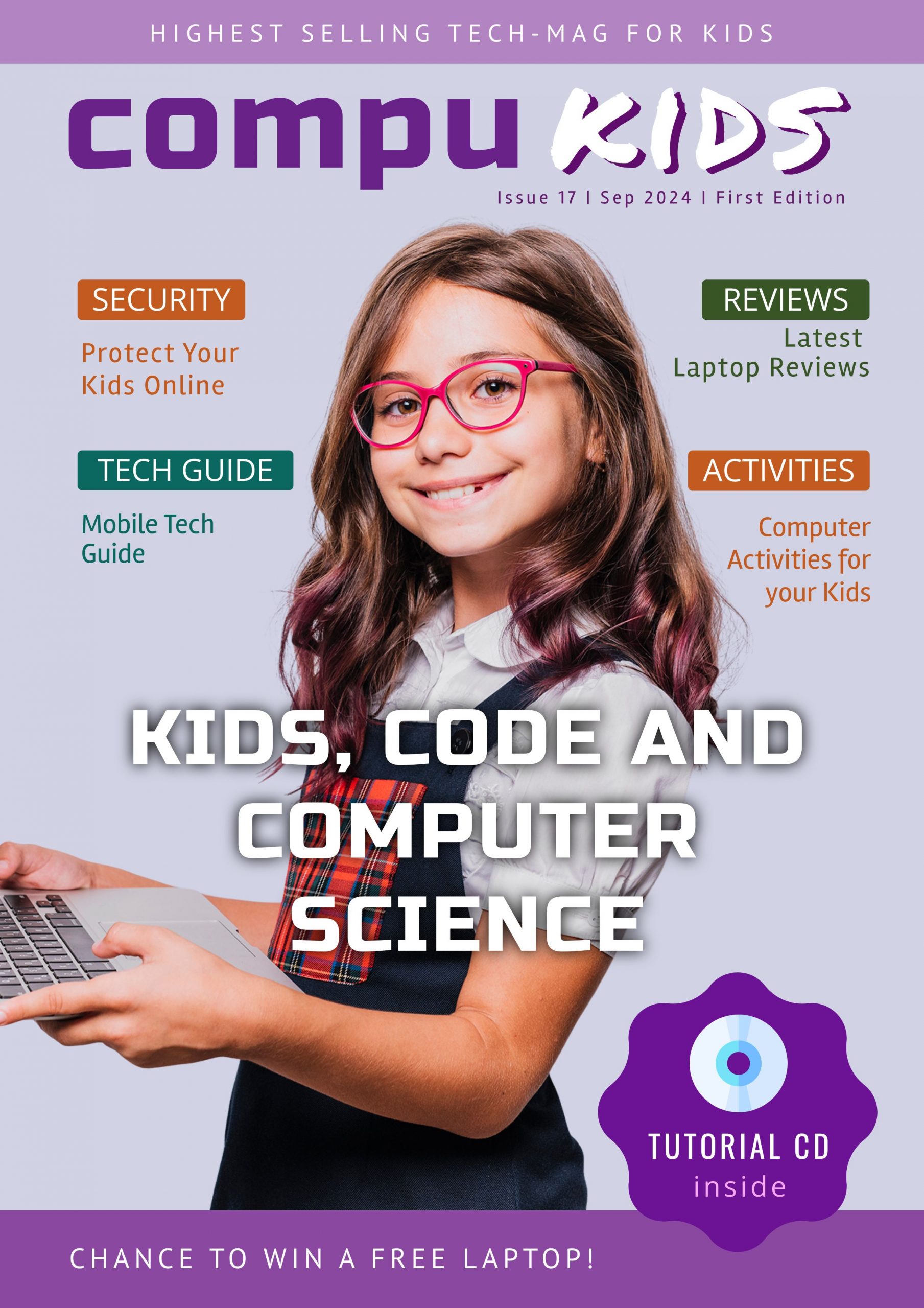 Get This Template and More
Be Careful About The Color Combination
The color combination of your kids magazine cover design is one of the first elements to communicate the message inside your magazine. Colors have the power to add mood, temperature, and structure to your work. However, choosing the right color to add to your design might seem difficult to you. So, to avoid looking unprofessional, you can choose complementary colors.
Try to pair a darker shade with a lighter shade of the same color. Use bright colors for the text and dark colors for the background to make the text pop. However, you are free to choose different colors for your design.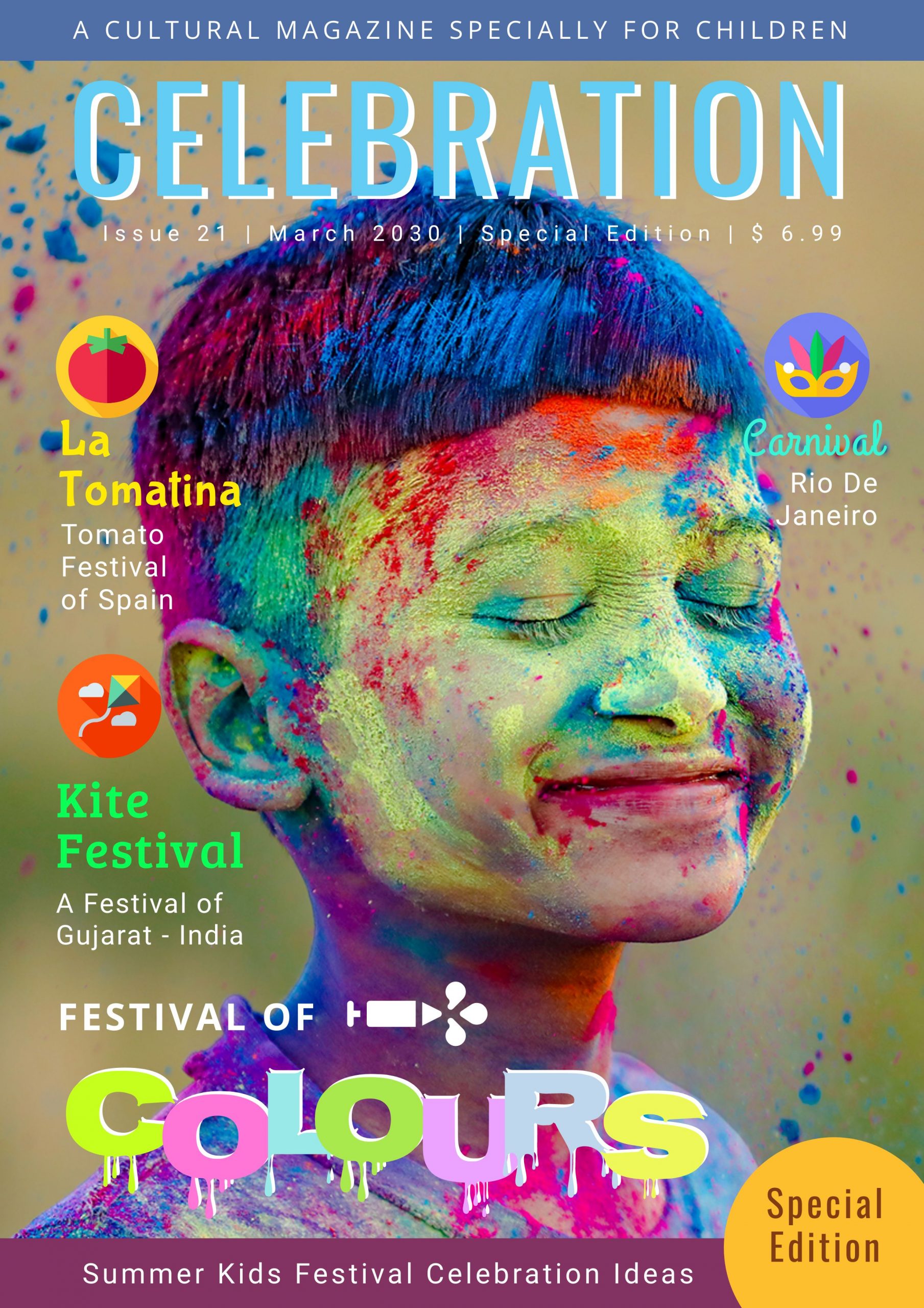 Get This Template and More
Still, if you are out of ideas to select colors for your design, read this article about the best color combinations and get inspiration.
Use High-Quality Graphic Elements
Magazines are always highly visual creatures both in print and online publications. And kids magazine covers are no exception. Though it's not mandatory to feature Hollywood celebrities on your magazine cover, it would need an attention-grabbing visual. So, you can either click pictures for your cover or use high-quality and relevant stock images in your design.
If you are using a kid's portrait, make sure that they are looking at the camera. This will create eye contact that will draw your readers' attention, just like the template below.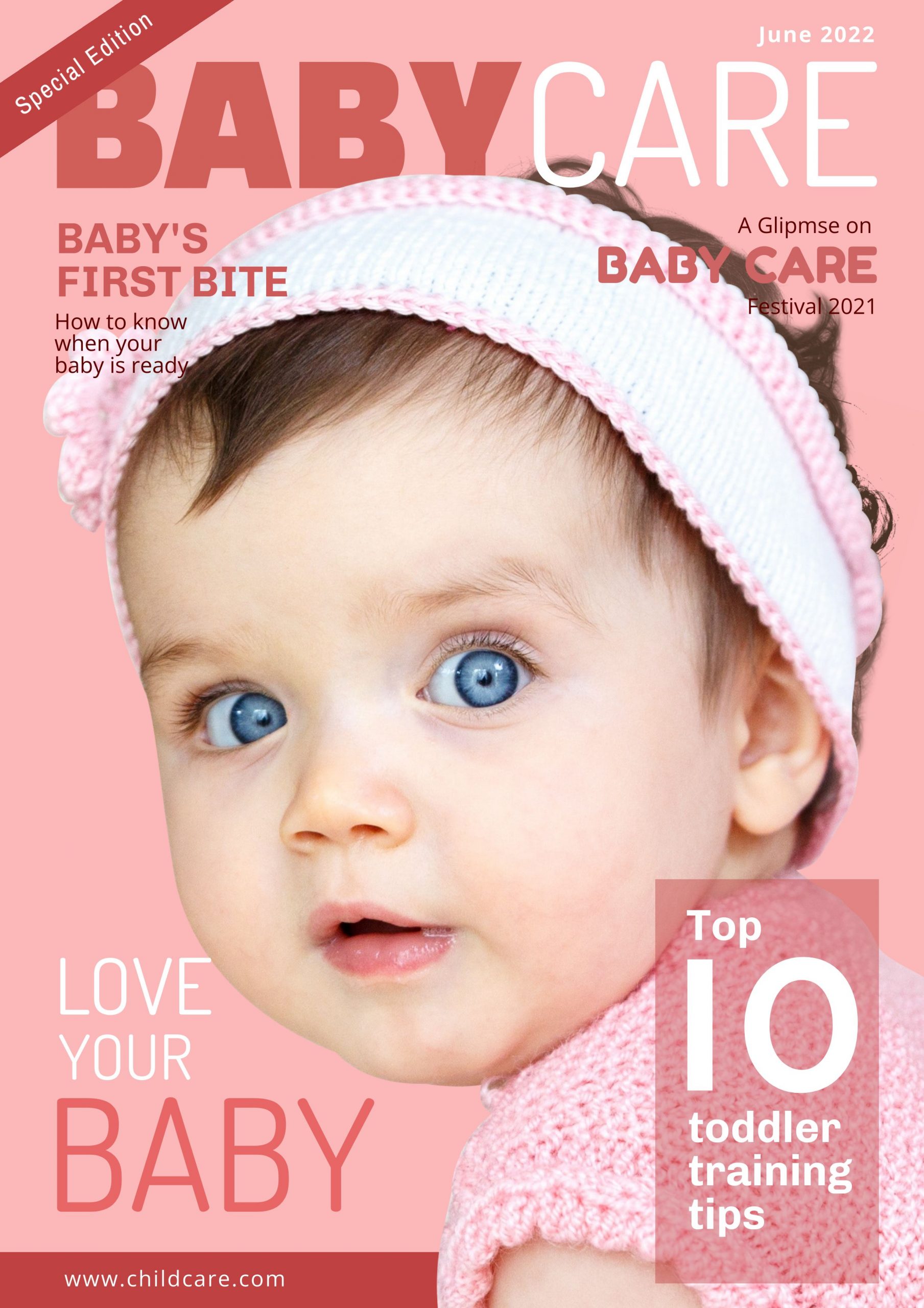 Get This Template and More
Additionally, you can read this article about how to use stock images in your design.
Keep Everything Aligned
Alignment plays a vital role in your kids magazine cover design. Alignment is the placement of the design elements in a design element to line up them in a composition. It holds all the design elements together, so the overall design looks neat and professional.
Furthermore, the use of alignment is crucial to create a balance, to group, to create a structure, to make a connection between the elements, and to create a sharp and precise outcome.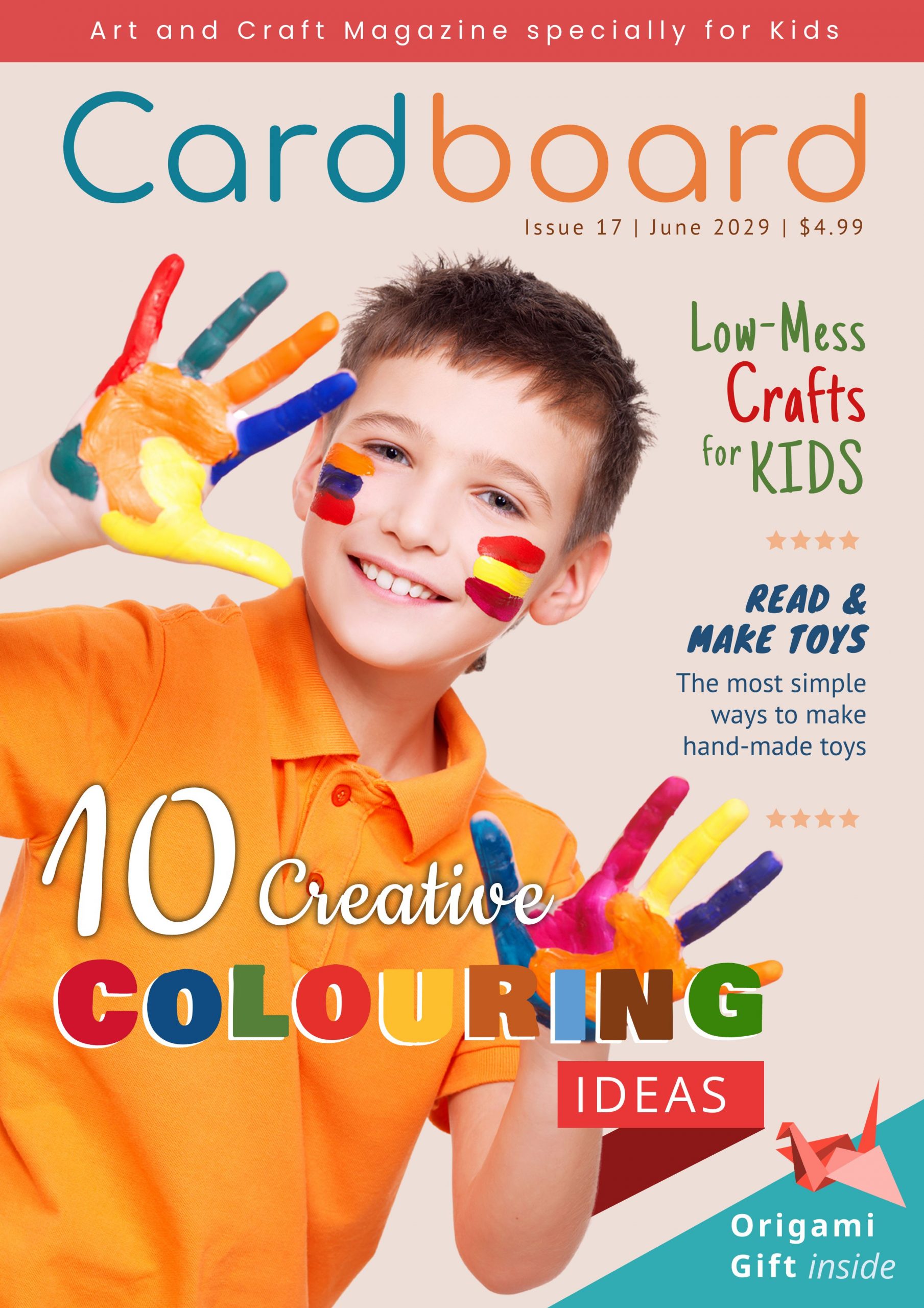 Get This Template and More
DocHipo grid will help you do this in the easiest way possible. Here is a video on how to do this.
How To Design A Kids Magazine Cover In Three Simple Steps
DocHipo offers a wide range of kids magazine cover templates for you. And the awesome Design Widgets lets you customize the templates according to your editorial savvy. Go to the homepage of DocHipo and log in or sign-up for a new account using your email address. Then follow the three simple steps mentioned below:
Step 1: Choose A Kids Magazine Cover Template
Once you open up the DocHipo application, you will find a wide selection of templates under different categories. The fastest way to find the kids magazine cover template is to type "Magazine" in the search bar and click on the result.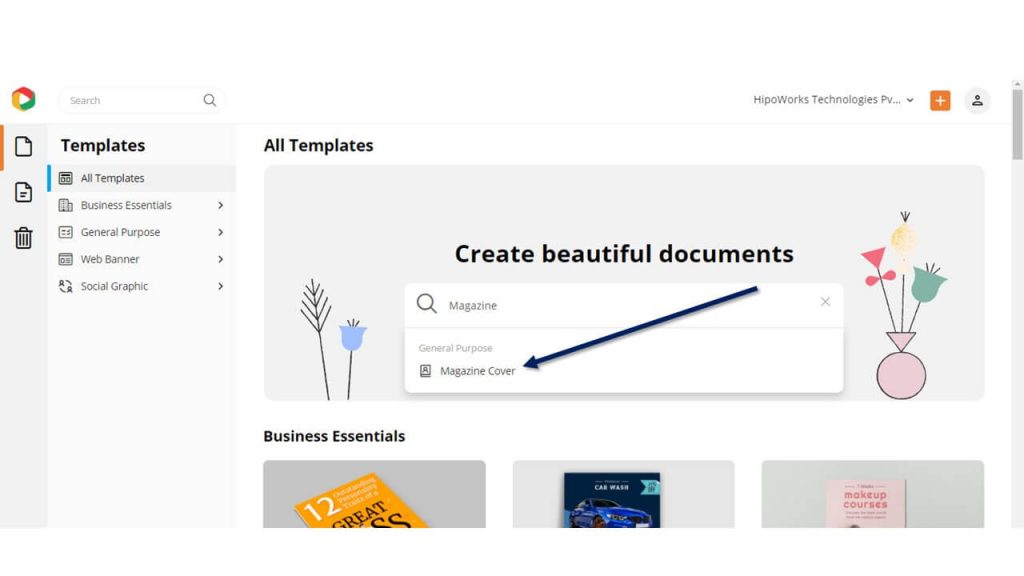 Select "Kids" among the template categories.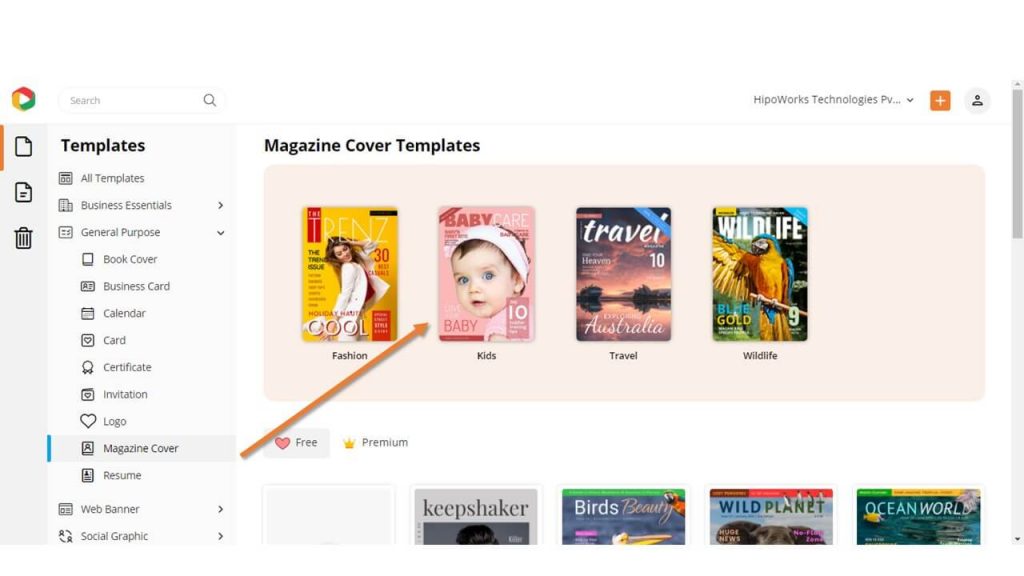 If you wish to look at the template without opening it in the DocHipo Editor, click "Preview."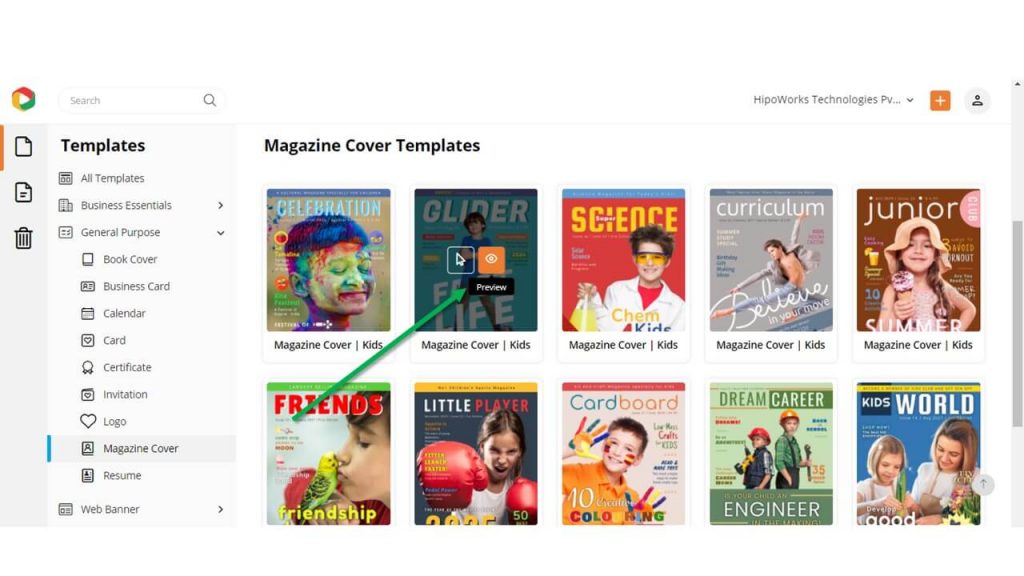 Once you decide on a template to edit, click "Select" to edit the template.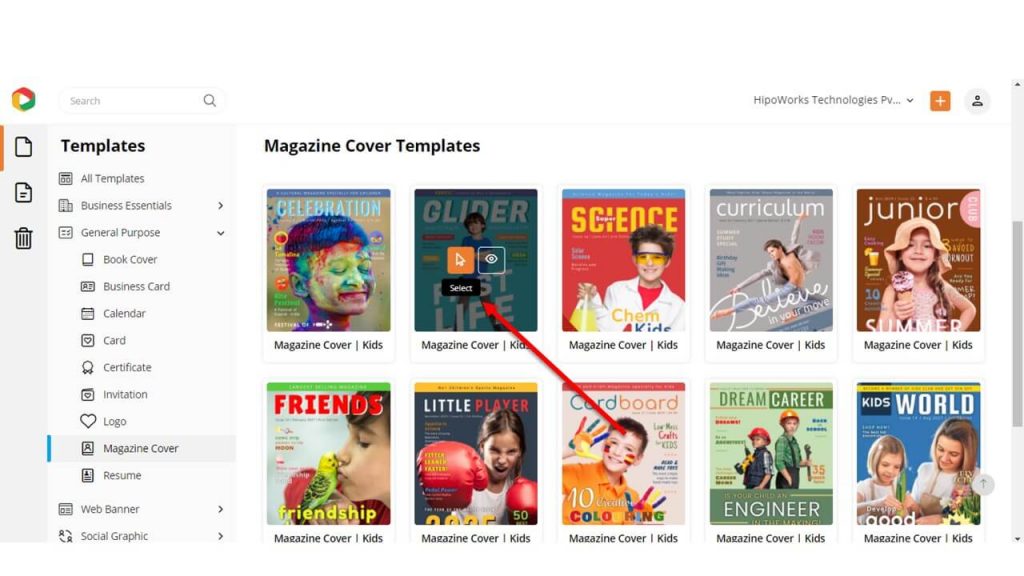 A new page will open up where you need to provide a name to the document and a short description. Then click "Next".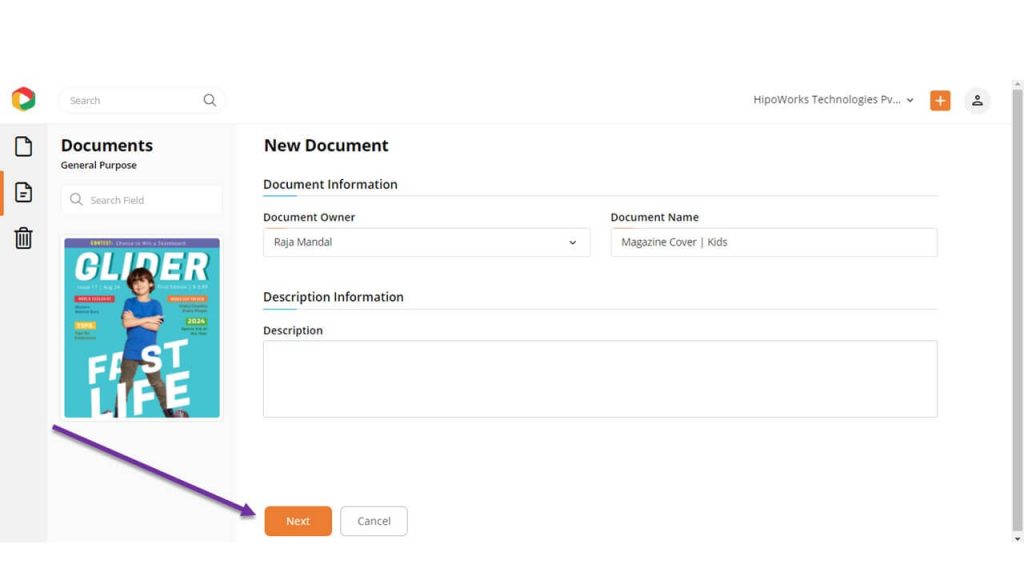 Step 2: Customize Your Template
This is the crucial part of your entire kids magazine cover design process because this is where you customize the kids magazine cover template to ensure that it truly reflects the content inside.
Thanks to DocHipo's variety of features that help you quickly tweak and customize the templates to get the perfect cover for your magazine. Add text, icons, illustrations, lines, images, and many other design elements to get the cover you had in your mind. The Drag & Drop feature will help you do it quickly. Here is how you can customize a template.
Add, Edit, Or Delete Text
Click on the Text tab from the left sidebar to add text.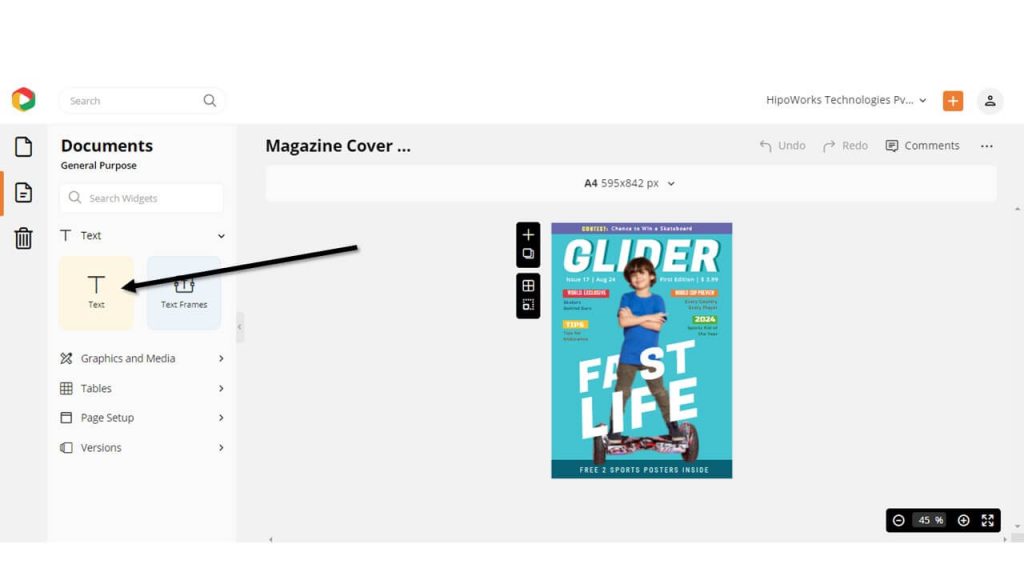 Double click on any text to edit and replace the text with your copy. Use the edit panel on top to change the font style, color, size, spacing, and many more.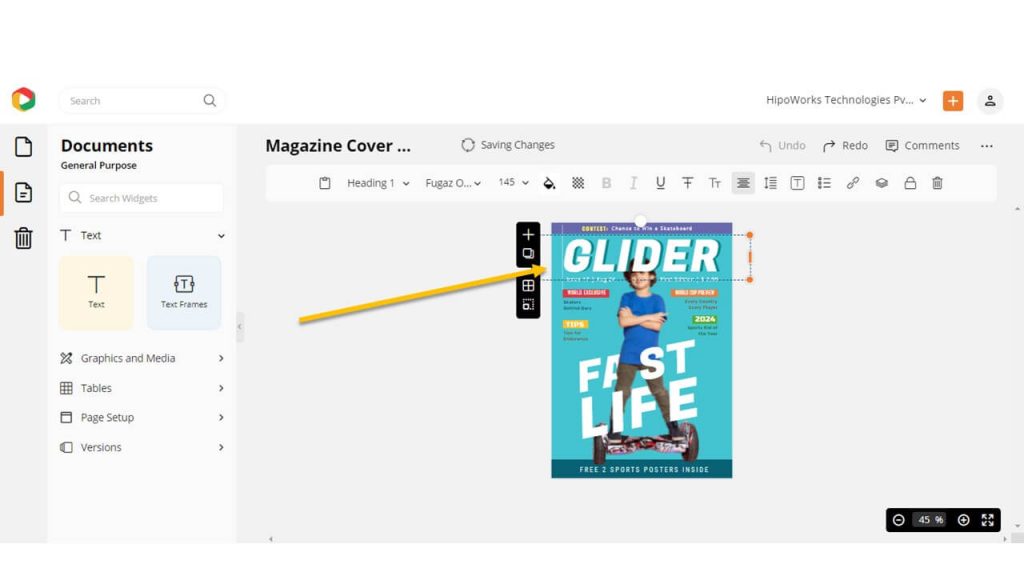 Change the Background
Click the Background tab under "Graphics and Media" from the left sidebar to change the background color.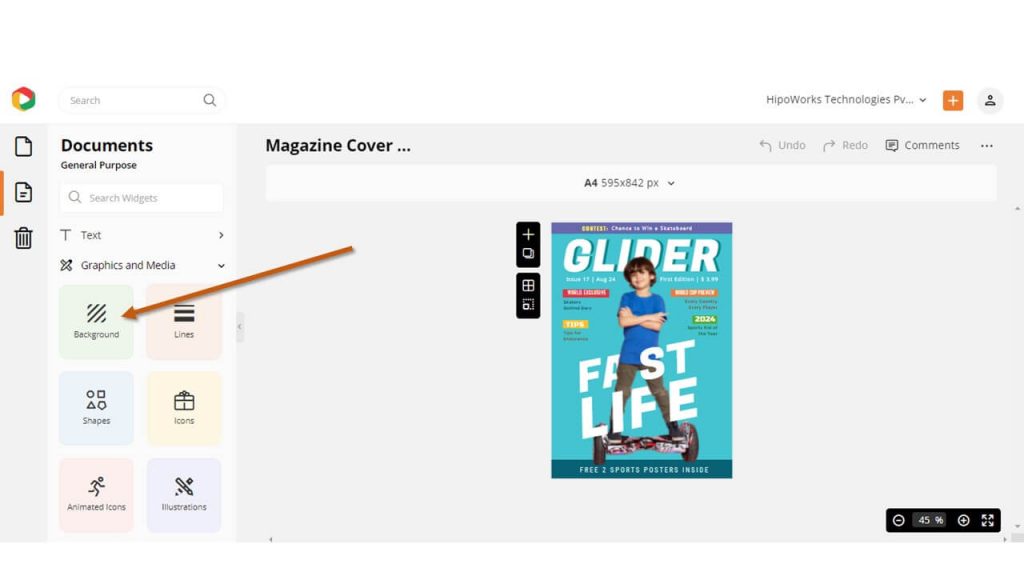 Select from the wide variety of color presets or choose a custom color using the color picker tool.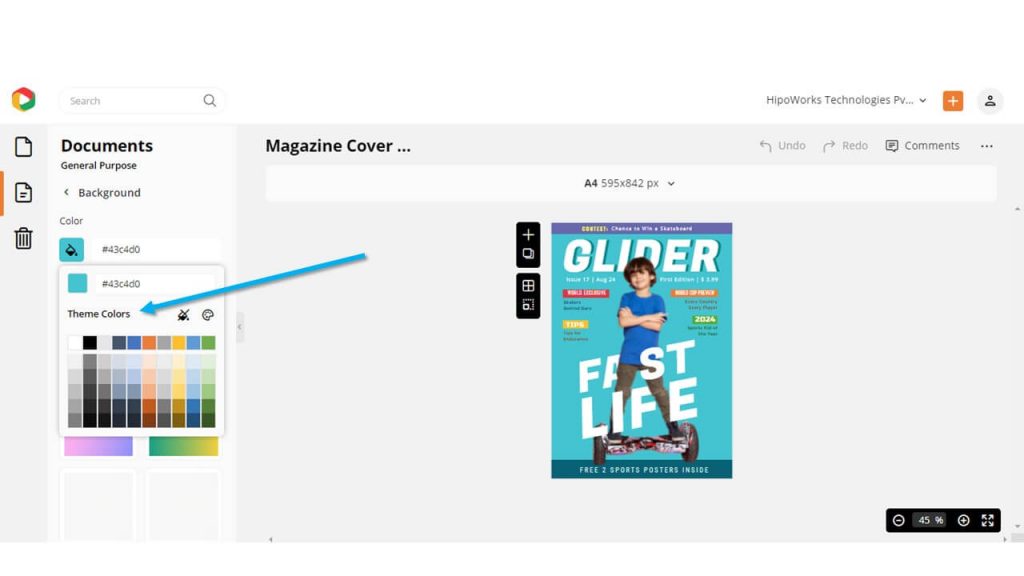 Watch the video below to learn more about the same.
Incorporate Images
You can browse through DocHipo's thousands of high-quality curated images to add to your design. To do that, click the "Pictures' tab from the left sidebar and choose your images.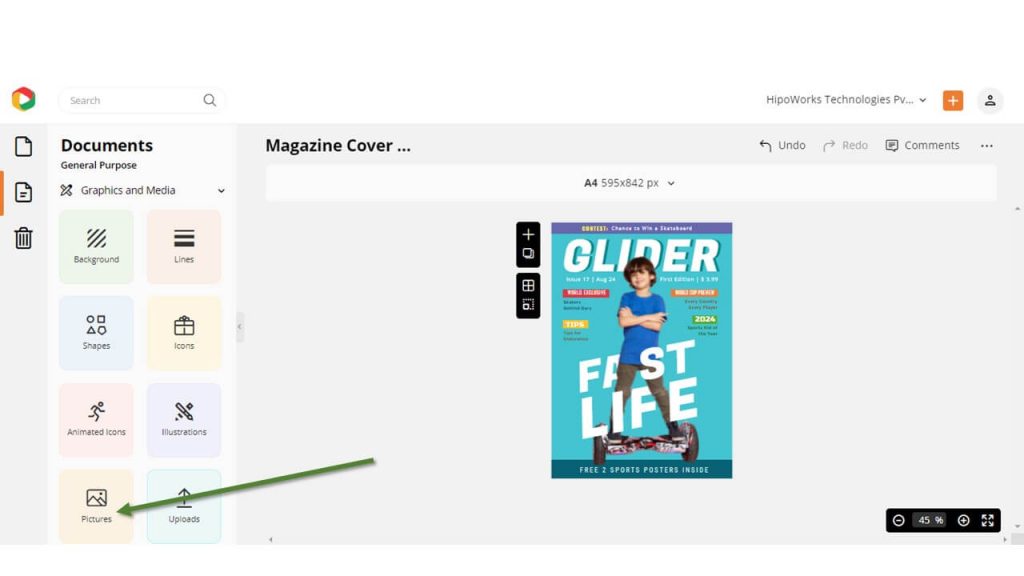 Alternatively, if you want to upload your own clicked images, then click "Uploads." Use the Drag & Drop tool to insert images on the template.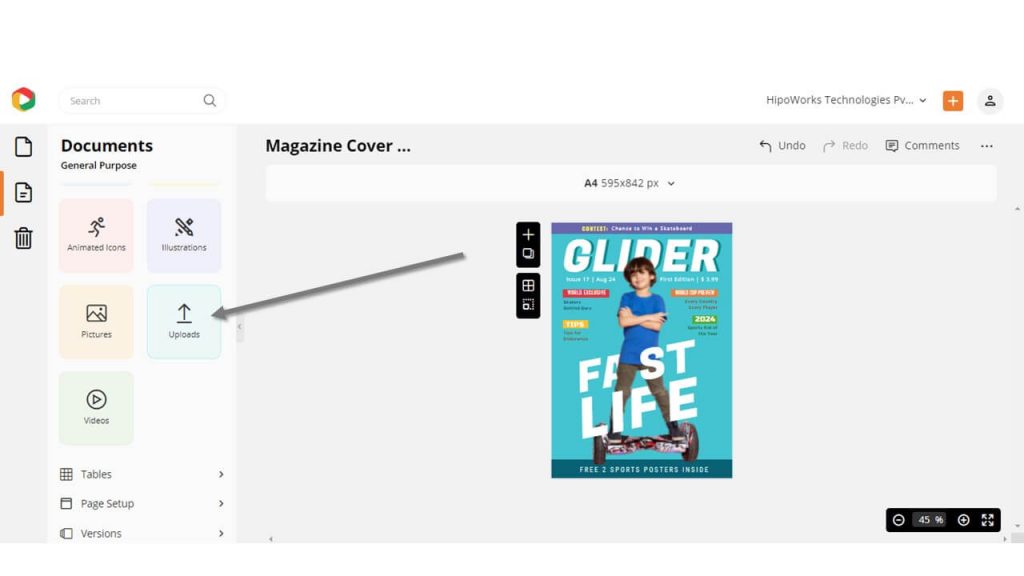 DocHipo lets you remove background from your pictures to make them suitable for your design. Here is how.
Additionally, you can use filters to enhance your images and make them look professional. Consider watching the video below to learn more about the same.
Add Other Elements
Choose from our library of awesome icons, illustrations, graphics shapes, lines, and many other design elements. You have the option to customize the template as you want and add as many elements you want to make the kids magazine cover more abstract.
Before Customization: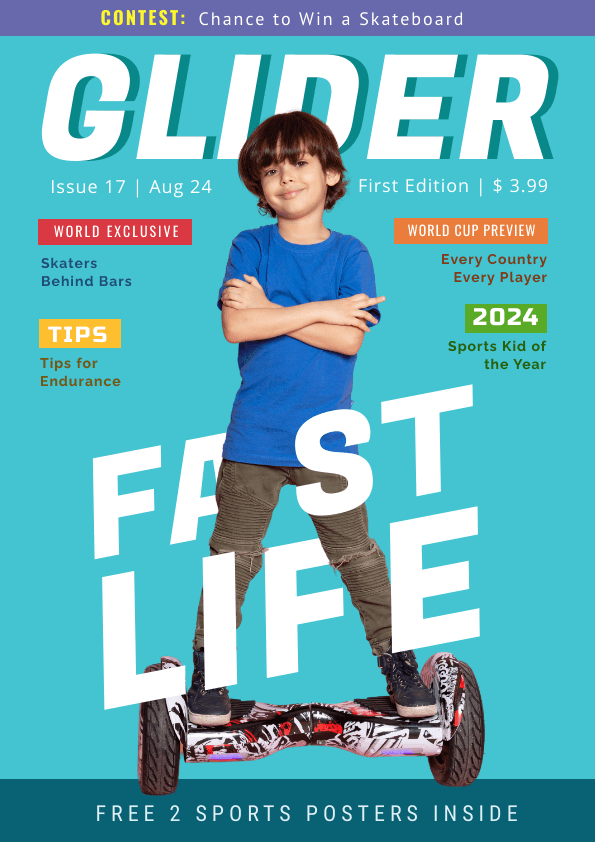 After Customization: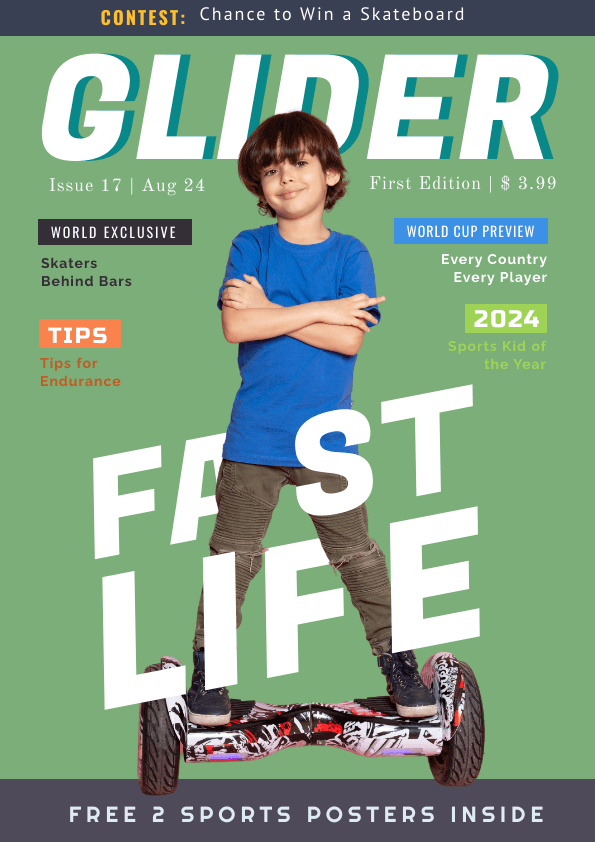 Step 3: Download Your Kids Magazine Cover Design
Once you are satisfied with your magazine cover design, click on the three dots from the upper right corner of your screen and choose "Download".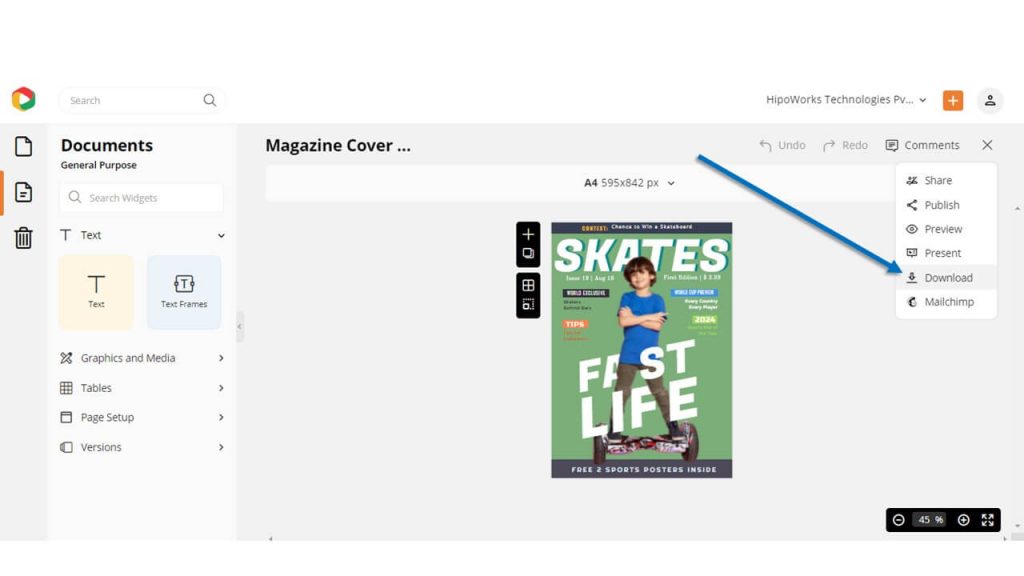 Choose your preferred file type and quality and click the Download button and the document will be automatically downloaded to your computer.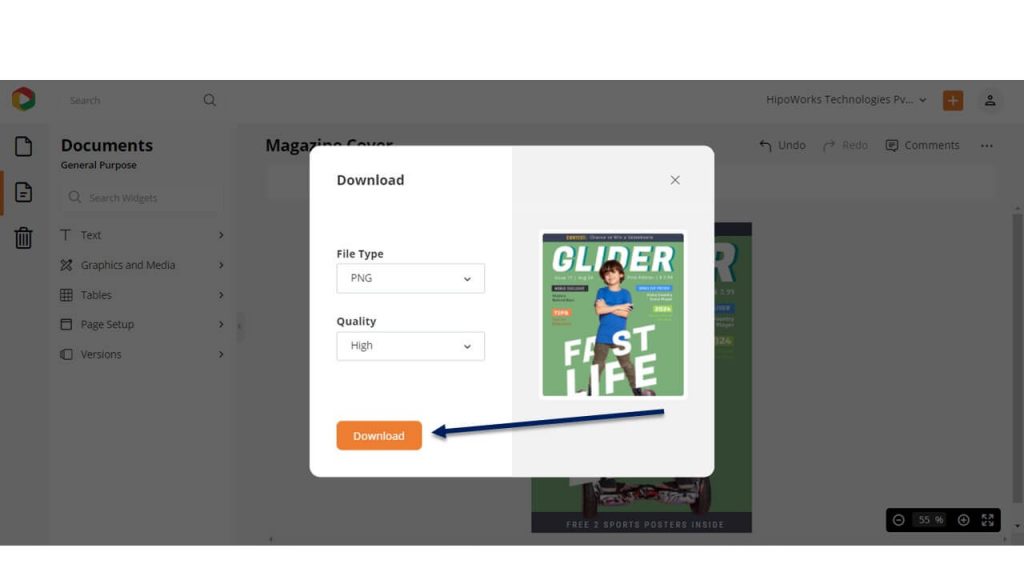 Finally….
Hopefully, all the above-mentioned design techniques gave you enough room to get creative and design the best kids magazine cover in the market. No one knows the content inside the magazine better than you. So, you can present the magazine through the cover design in a way no one can. And DocHipo is there to help you with the design work.
Therefore, as you have seen how easy the kids magazine cover design process is, sign-up to DocHipo and skyrocket the sales.