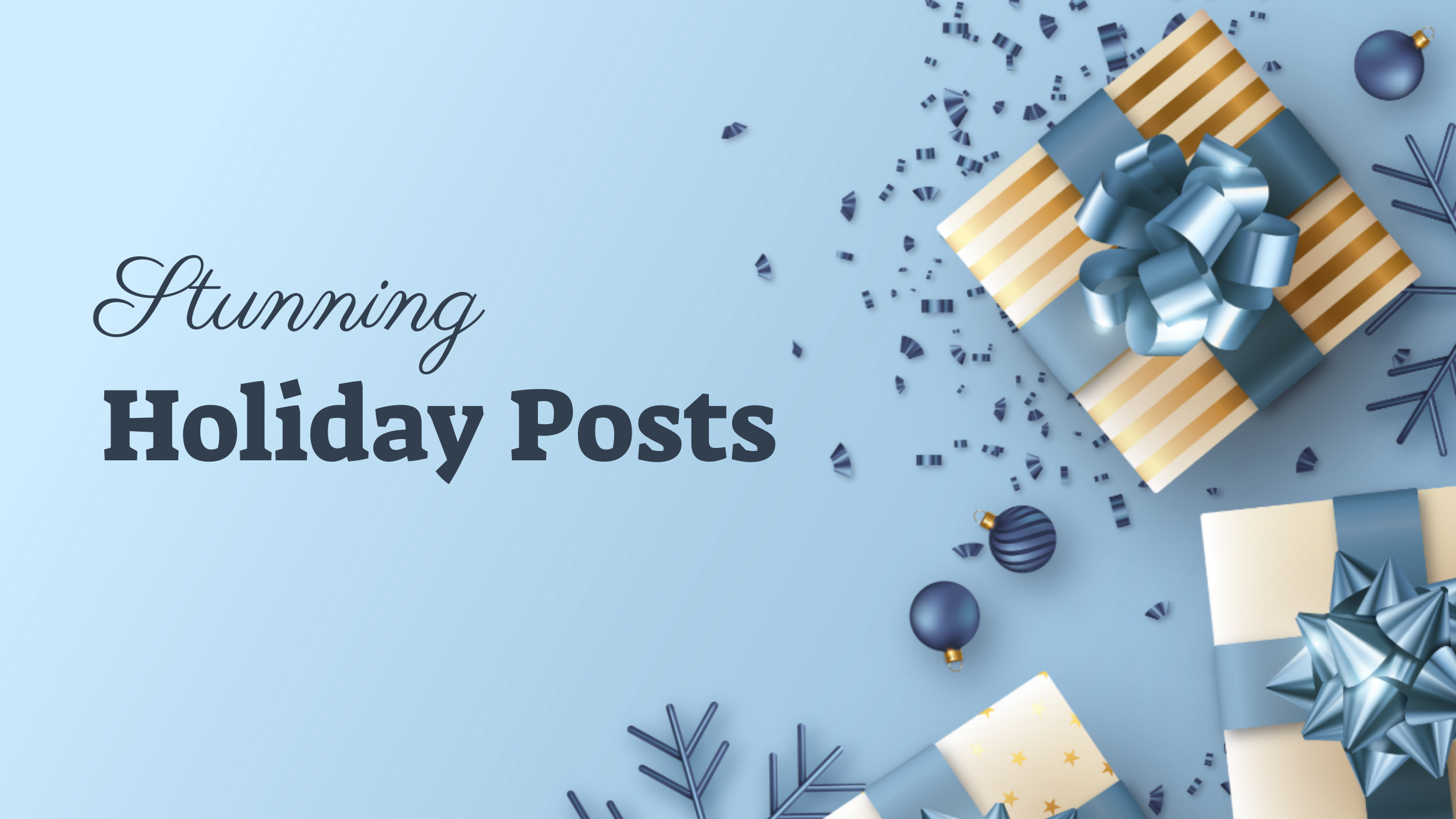 Ramp up Your Social Media Pages with Stunning Holiday Post Templates

Last Updated Jun 9, 2023
December is a really exciting month!
Being the last month of the year, it is important in our lives. Above all, we look forward to celebrating Christmas and ending the year with the joyous hope of a brighter tomorrow.
Yes, December is indeed quite eventful. But that's just not it.
As we look forward to welcoming this cheerful month, we can feel the nascent chills of the pervading winters.
In such a beautiful time, it is obvious to share the joy and happiness that you experience with your connections and friends.
Social media platforms are the most common space where we feel comfortable sharing our thoughts and feelings. From Facebook to Instagram, we love communicating and sharing our experiences.
No wonder we have around 3.5 billion social media users in the world.
But engaging with your social media group through stunning visuals is always more fun and interesting. Hence, today in this article, we will delve into the breathtaking holiday templates from DocHipo that you can post on your social media pages.
So let's start…
Table of Contents
Eye-catching Holiday Post Templates for Your Social Media Pages
Below are stunning holiday post templates for various occasions to fast-track your design process.
Cyber Monday Templates
If you own an online store, then Cyber Monday is your deal!
During that time, you will see a minimum of 800 million shoppers purchasing online.
Cyber Monday, which is all about e-commerce, will take place on the 27th of November this year (2023). It is considered the biggest online shopping event, where consumers can relish great discounts and offers.
Cyber Mondays are like blessings for online shopaholics, who are too lazy to step out but have to relinquish their need to buy stuff. The offers are so generous that you do not want to miss out on them as a consumer.
As a business owner, cyber Monday is quite fulfilling in its own way. This is because you can attract lots of customers, from existing to new ones.
So, this is a really valuable day to promote your products and services online with great discounts via amazing Cyber Monday posts.
I know that it is pretty close by, but with DocHipo, you do not have to worry much, as here you will get amazing templates that can be used for social media marketing: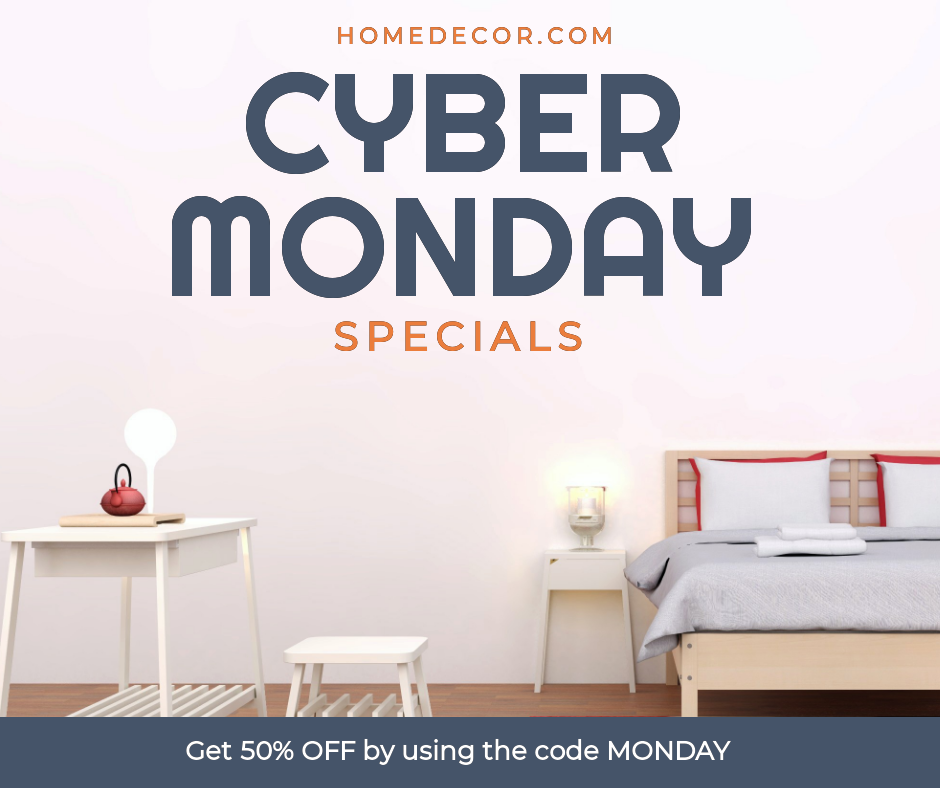 Get This Template and More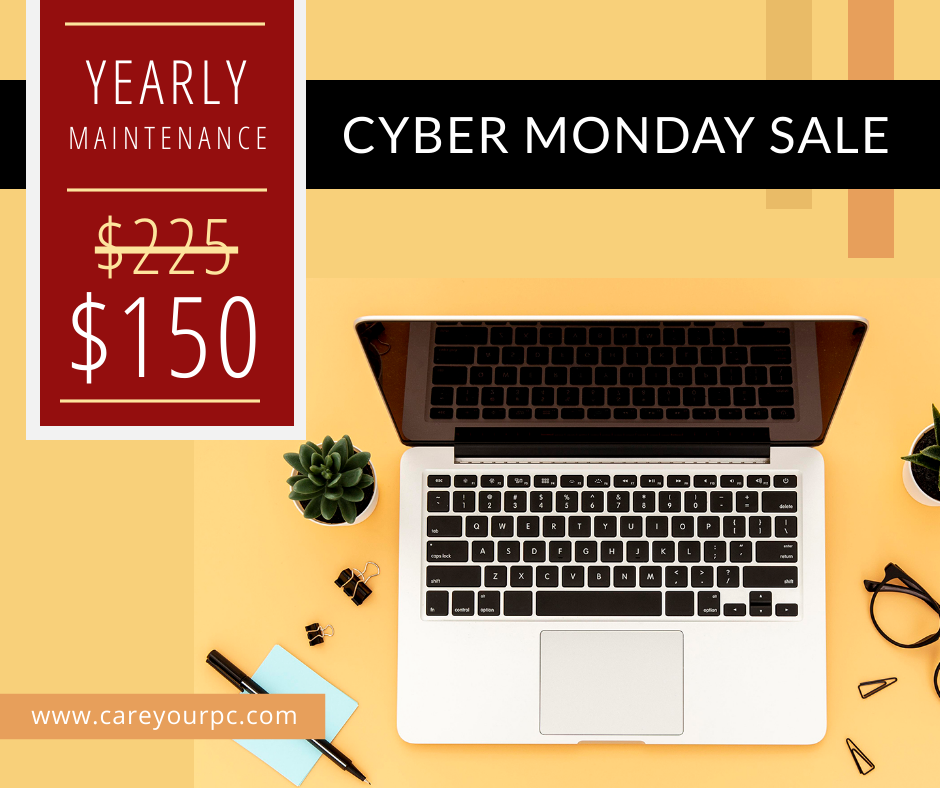 Get This Template and More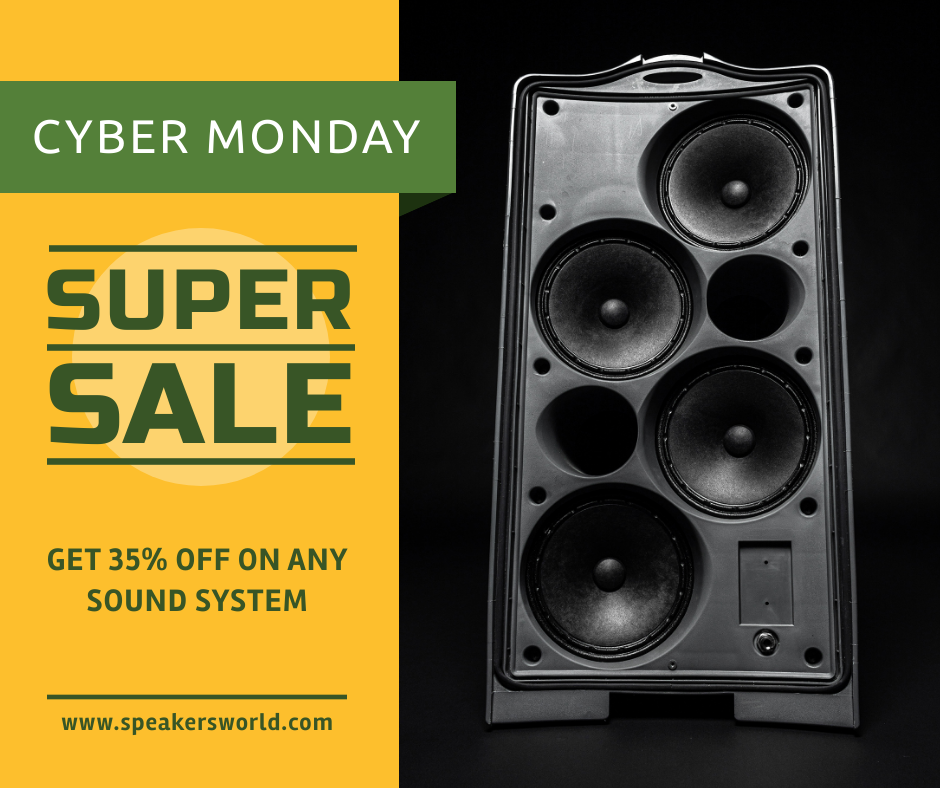 Get This Template and More
Christmas Templates
It's not only on the 25th of December that we are all hyped up. The celebration starts the previous day, on the 24th, when we deck up our Christmas tree with various glittering ornaments.
That's not all…
Somewhere, even if we tend to mature with age and experience, we can never shake off the excitement of being surprised by a mysterious visitor after midnight who carries a red bag full of gifts for all the good people in the world.
Our inner child has a primordial connection with the different tales of Santa Claus, making the childlike innocence untarnished. Maybe that's why Christmas is so special for all of us.
Also, let's not forget the soulful carols that commemorate the savior's birth.
Hence, Christmas is a very important time of the year, so you must design Christmas graphics that reflect the inner spark of excitement.
At DocHipo, you will get tons of them. Let me show you some Christmas Facebook Post Templates: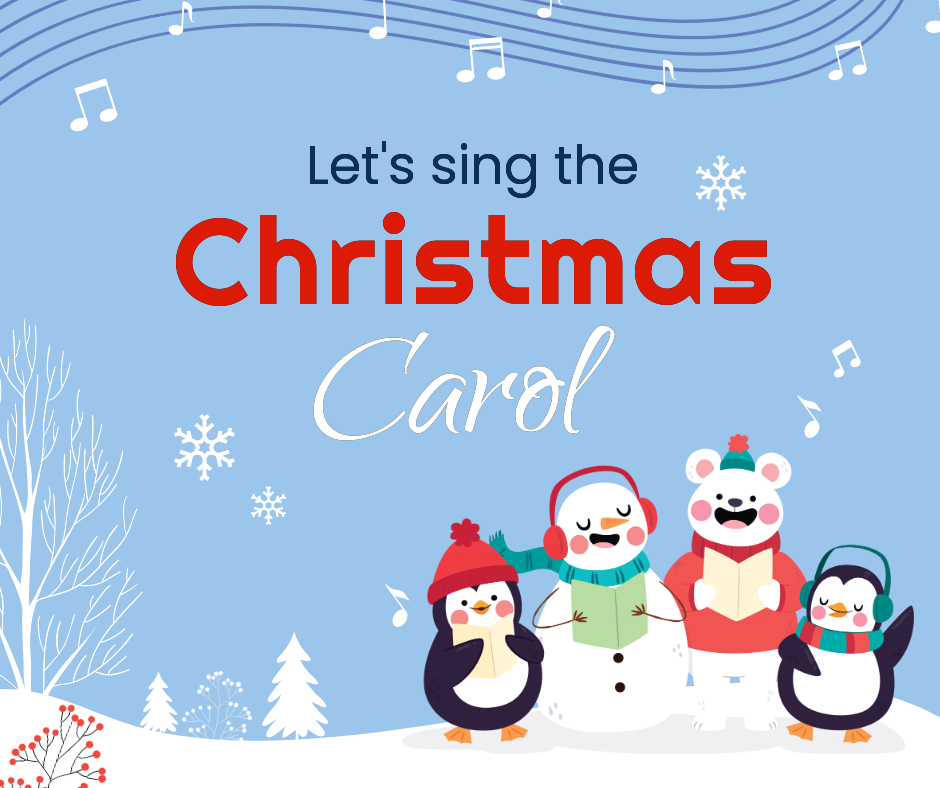 Get This Template and More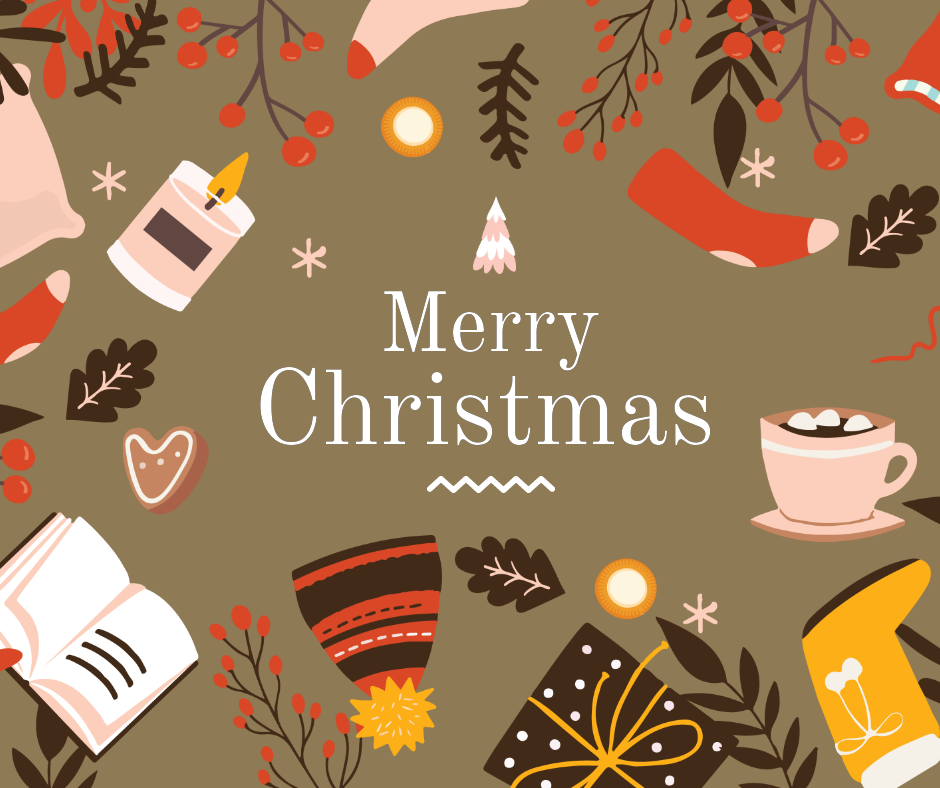 Get This Template and More
Similarly, check out the Christmas Instagram Post Templates.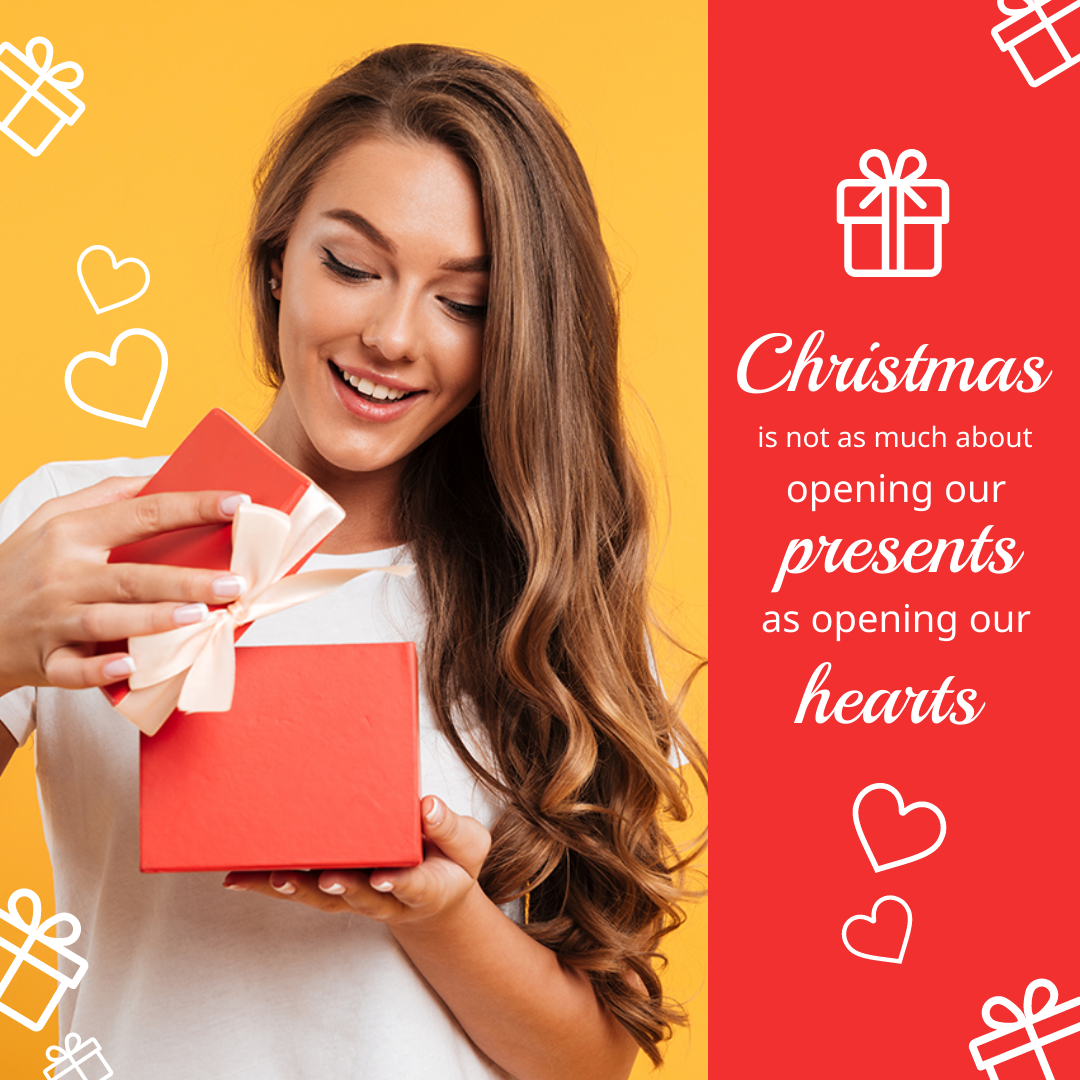 Get This Template and More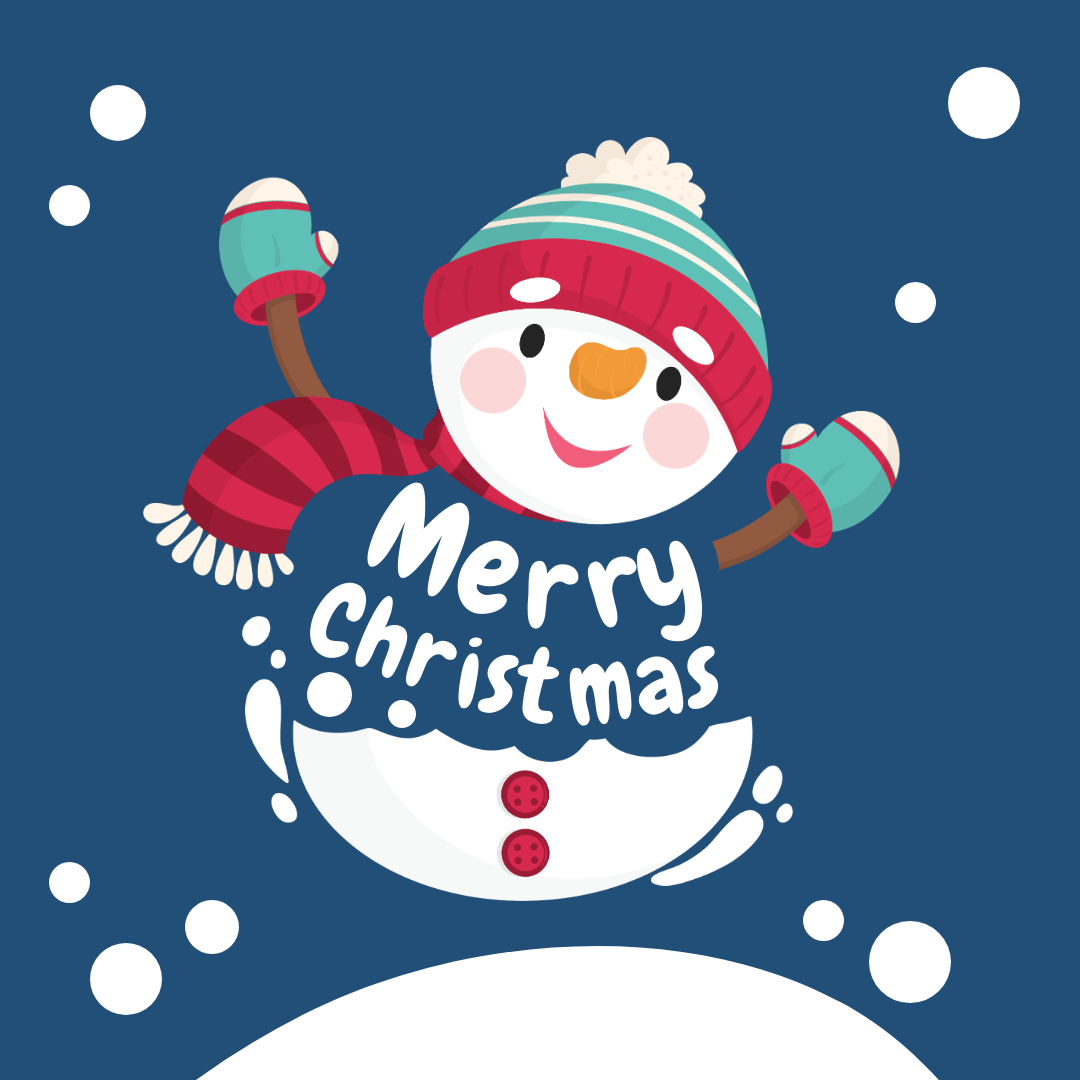 Get This Template and More
Watch this simple guide for designing heart-warming Christmas graphics.
Holiday Greetings Templates
These templates are the best!
I claim this because these templates are versatile and can be used for any occasion. For Christmas or New Year, you can customize these templates or post them as it is.
Let me show you some of my favorite Facebook post templates: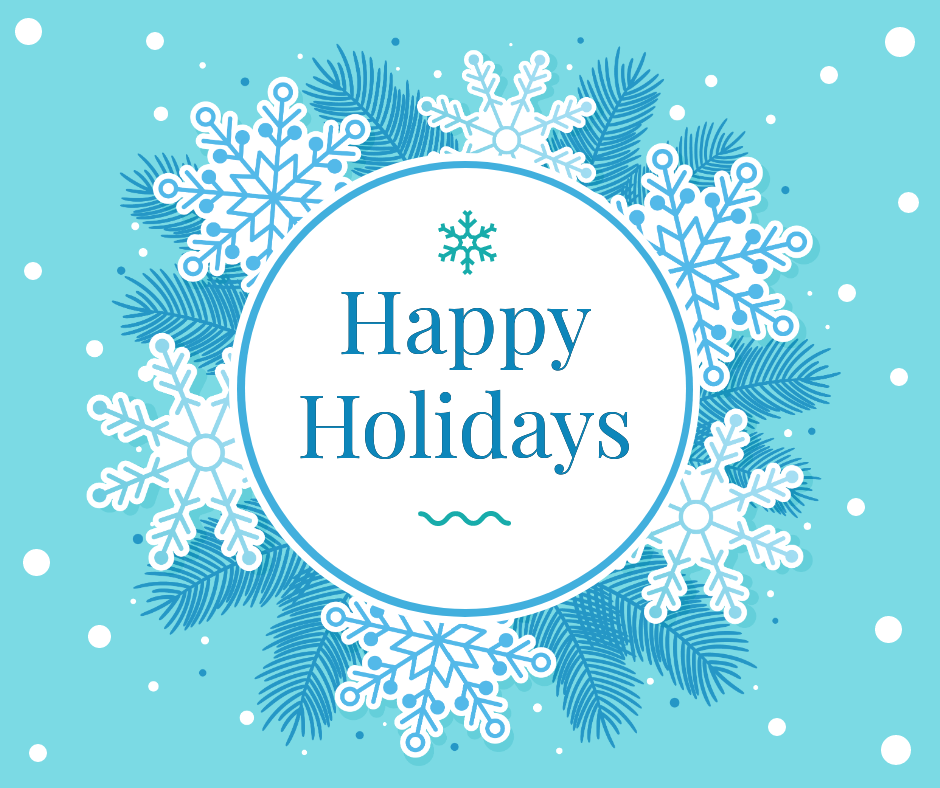 Get This Template and More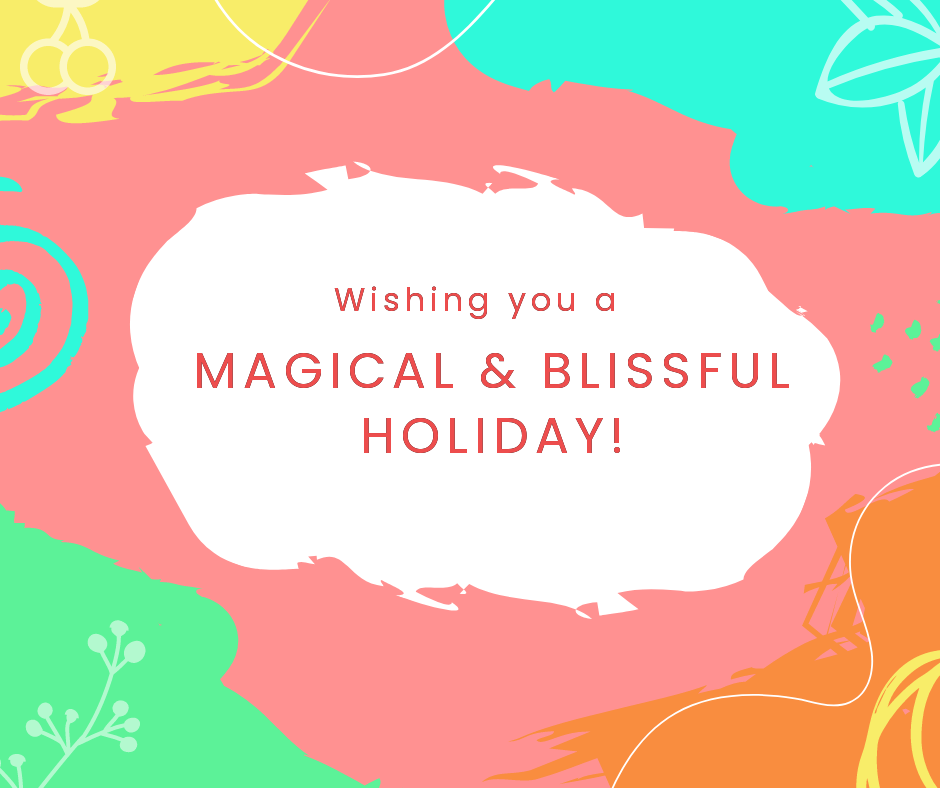 Get This Template and More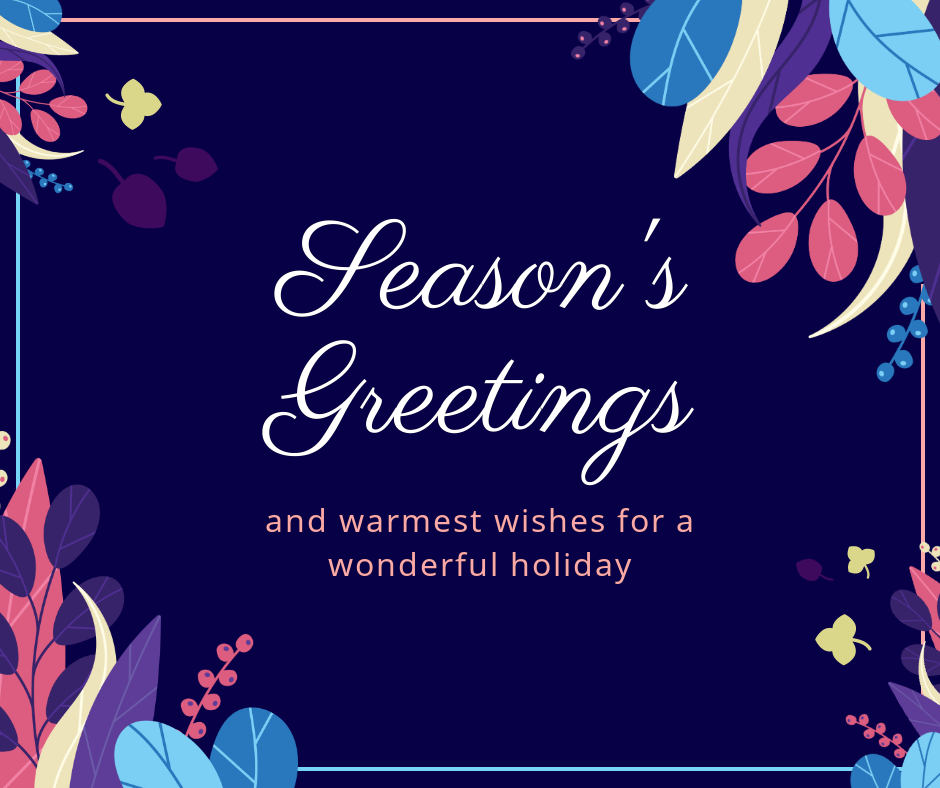 Get This Template and More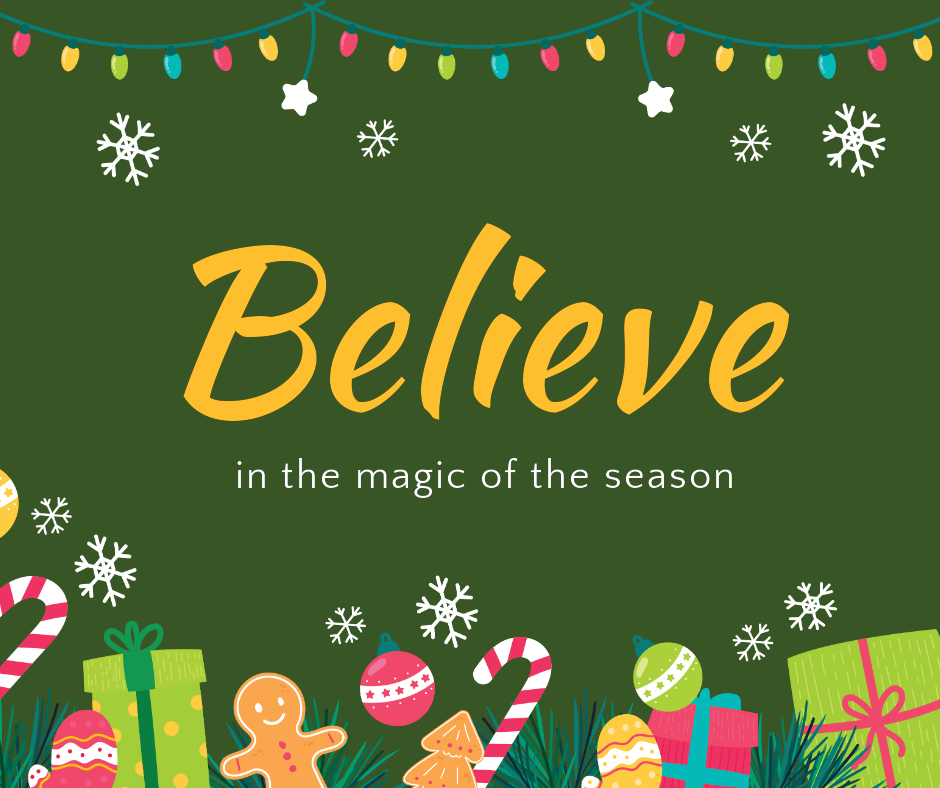 Get This Template and More
New Year Templates
Let's not forget to enjoy our time with our family and friends and welcome the New Year, which bores within itself many great promises.
Also, let's not forget December is the month of retrospection and changes. Maybe that's why we set goals and resolutions we all want to achieve next year.
Hence, no matter what, we can never stop hoping for brighter days when we can successfully achieve our aspirations.
So, let's share our thoughts and greetings with all our friends, families, and associates via these gorgeous New Year Twitter Post Templates.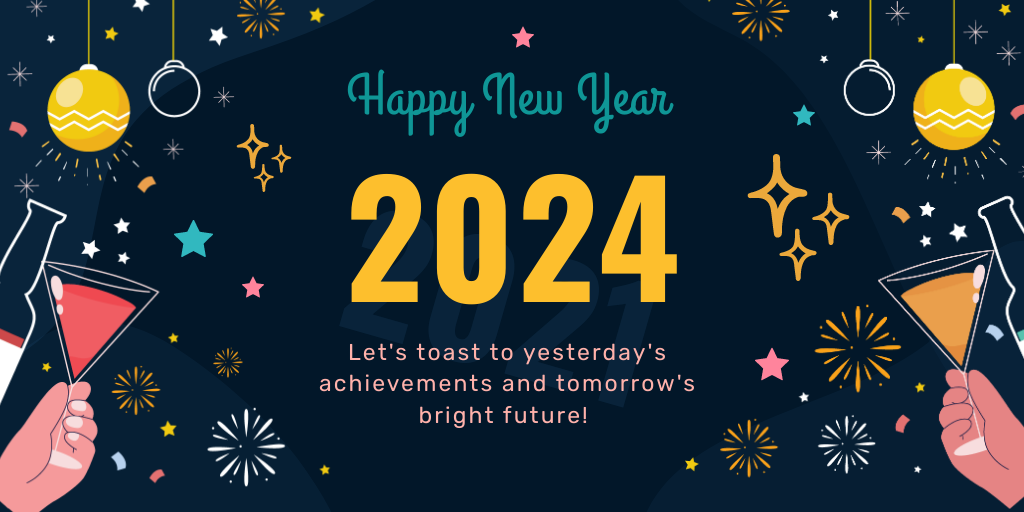 Get This Template and More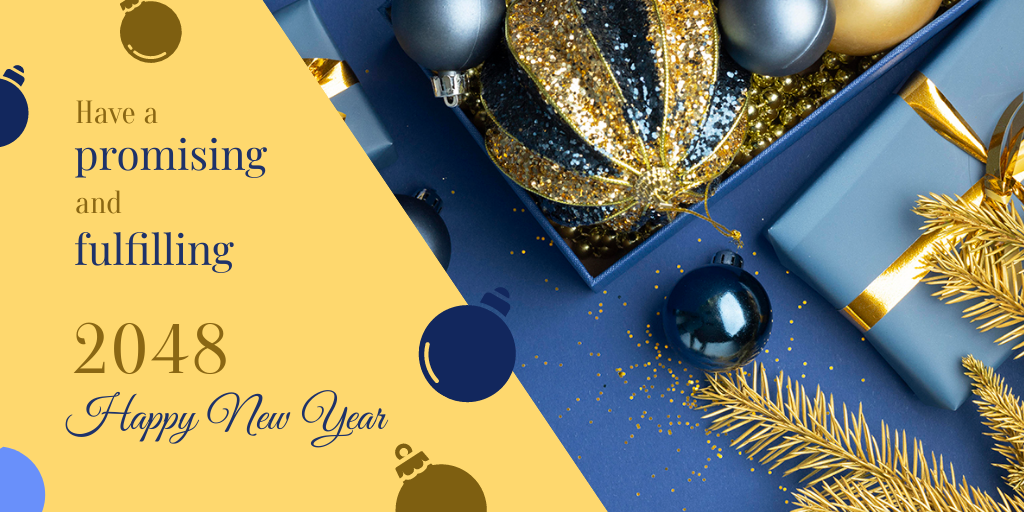 Get This Template and More
Also, in the last few days of December, we all love to party and organize cool events to sizzle up the feeling of celebration. So if you are organizing events and concerts and want to market them on social media, do not worry.
At DocHipo, you will get awesome templates to advertise it.
Let me show you my most favorite event template for Twitter. You can customize it and make it look just the way you want:
Get This Template and More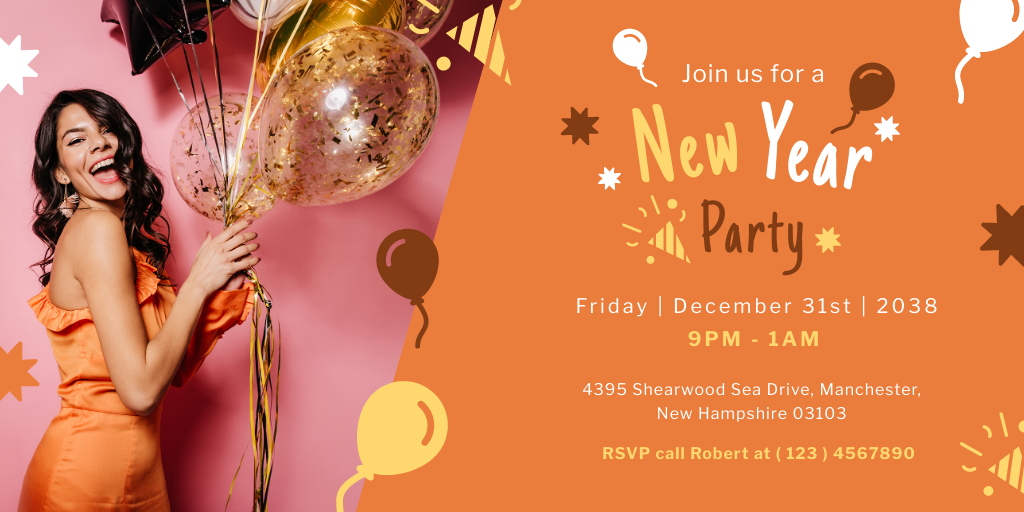 Get This Template and More
Diwali Templates
Enjoy the festival with family and friends, and welcome the abundance of light and prosperity. Wish your audience joyous moments and spread awareness for celebrating an eco-friendly and safe Diwali through your social media pages.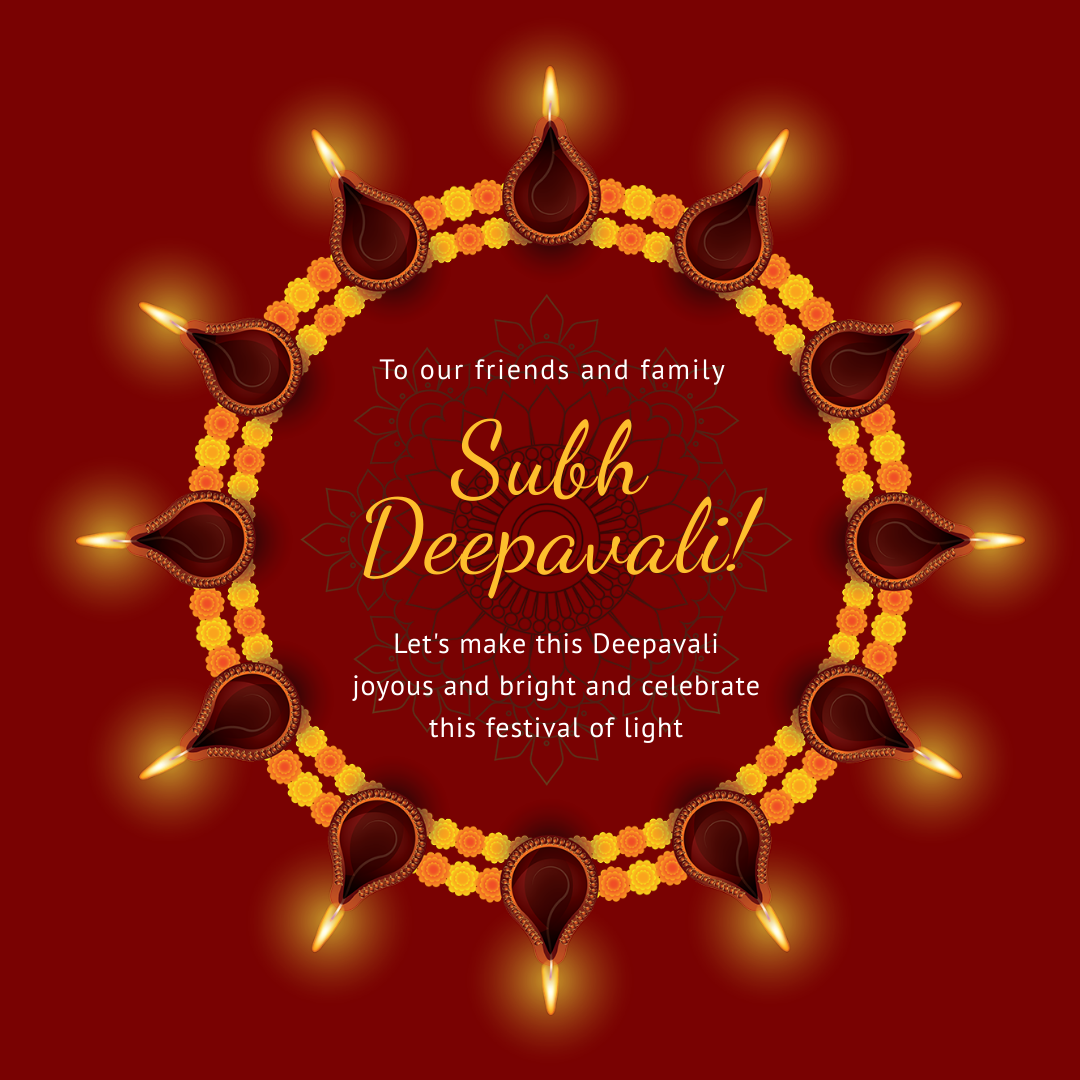 Get This Template and More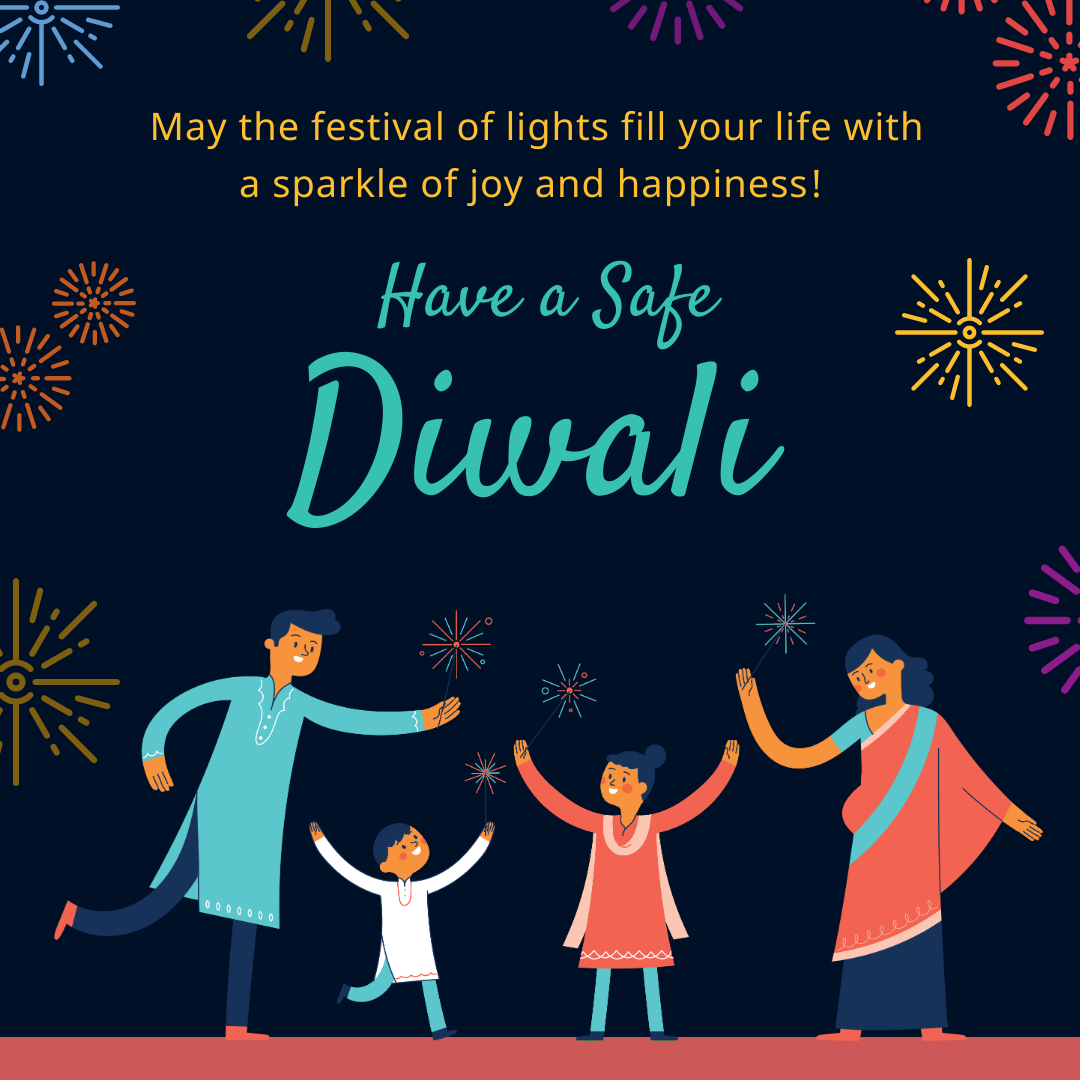 Get This Template and More
On this special occasion, you can run special offers on your products, services, workshops, etc.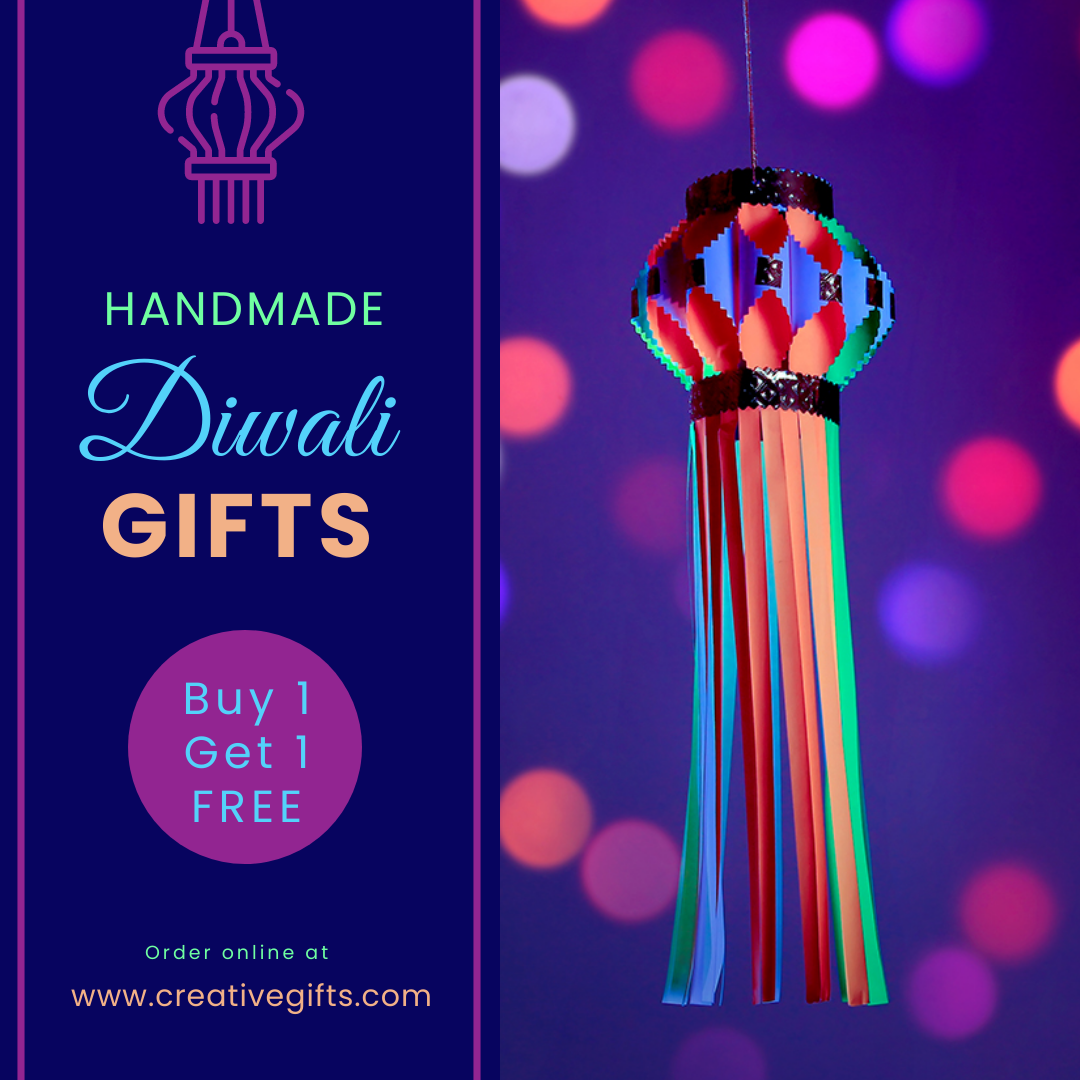 Get This Template and More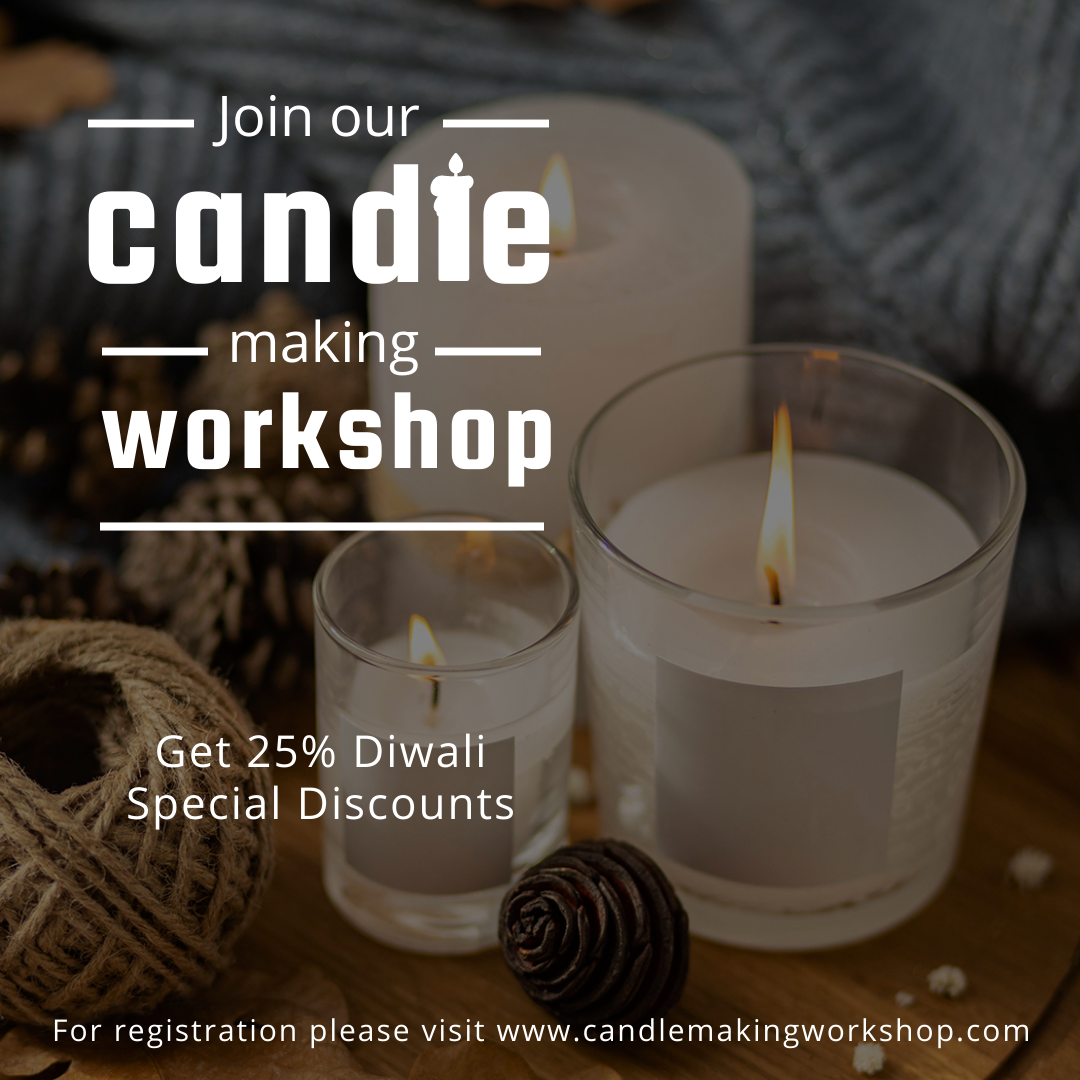 Get This Template and More
Check out How to Create a Stunning Diwali Instagram Post for a detailed guide.
You can leverage the Diwali Facebook Post Templates below to share rangoli or other home decor ideas to inspire your audience.
Get This Template and More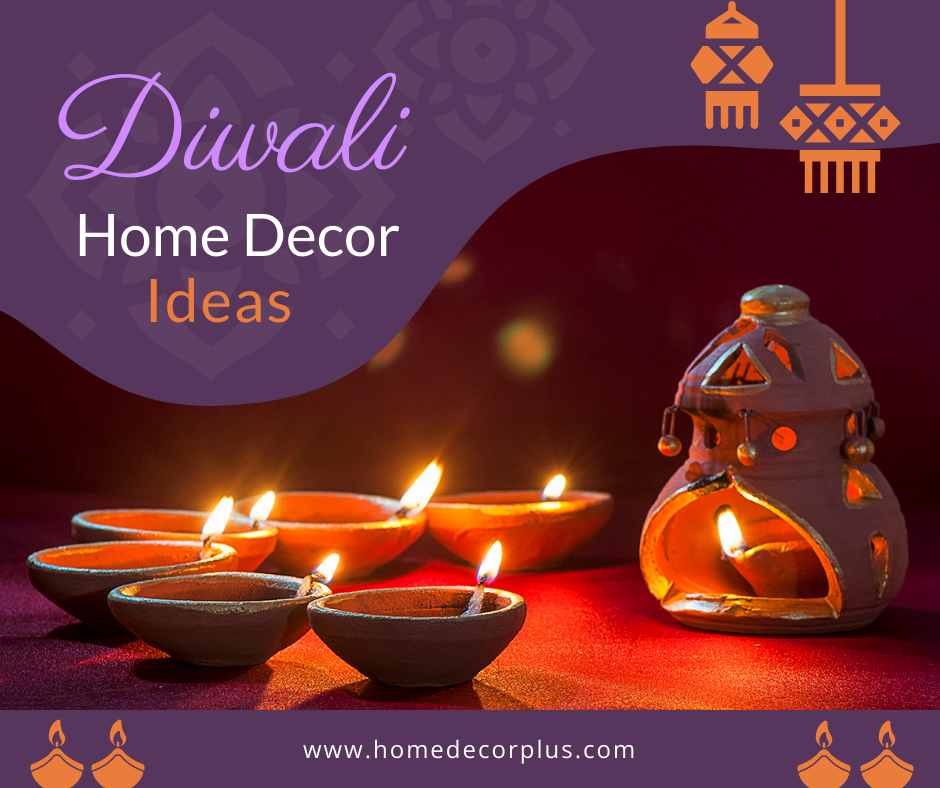 Get This Template and More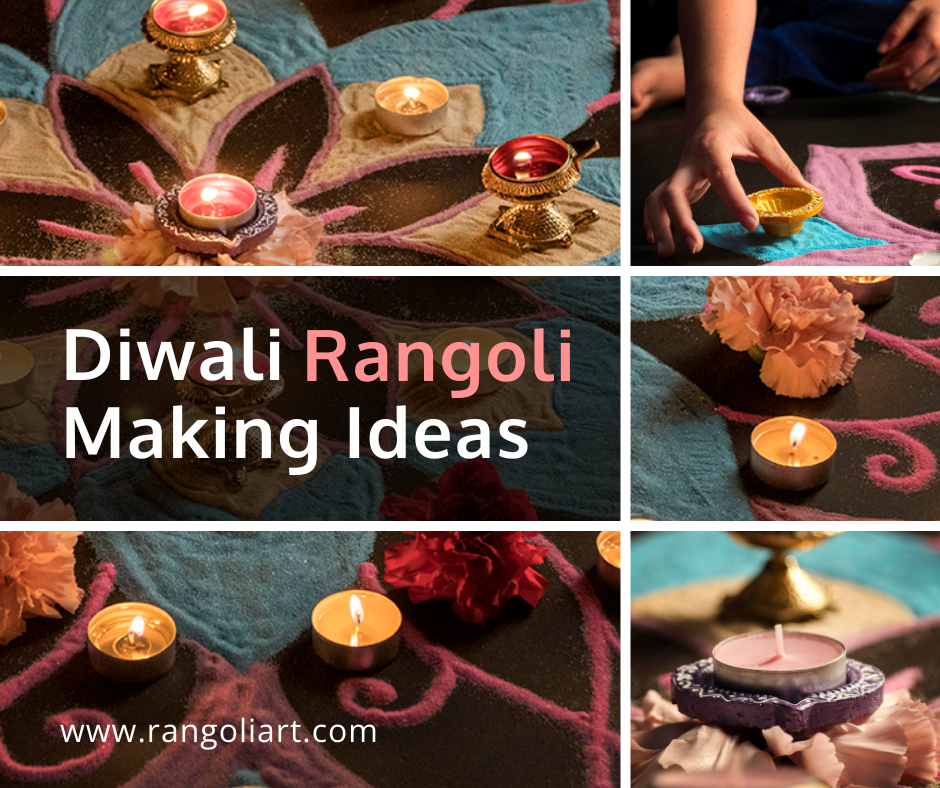 Get This Template and More
Refer to the video for designing beautiful Diwali graphics.
To understand more about the ten best holiday post templates that you can use, then check out this video:
Customize Holiday Post Templates in DocHipo
Customizing your template at DocHipo is like a piece of cake. You will not even need 15 minutes, I promise.
Even if you try to design a template from scratch, the ease of usability will enable swift completion of your ideated templates.
You need to sign up and see it for yourself.
So, witness this magic in 3 simple steps:
Step 1:
Type your credentials and log in.
Once you enter the vibrant landing page encompassing all types of templates for almost all documents, you have two options.
You can either type your preferred document name on the search panel for quick access to its templates:
Or, you can click the "Social Graphic" widgets on the left side panel and get a list of document options related to it. From there, you can choose any social media option for its templates.
In my case, I have chosen the option "Facebook Post":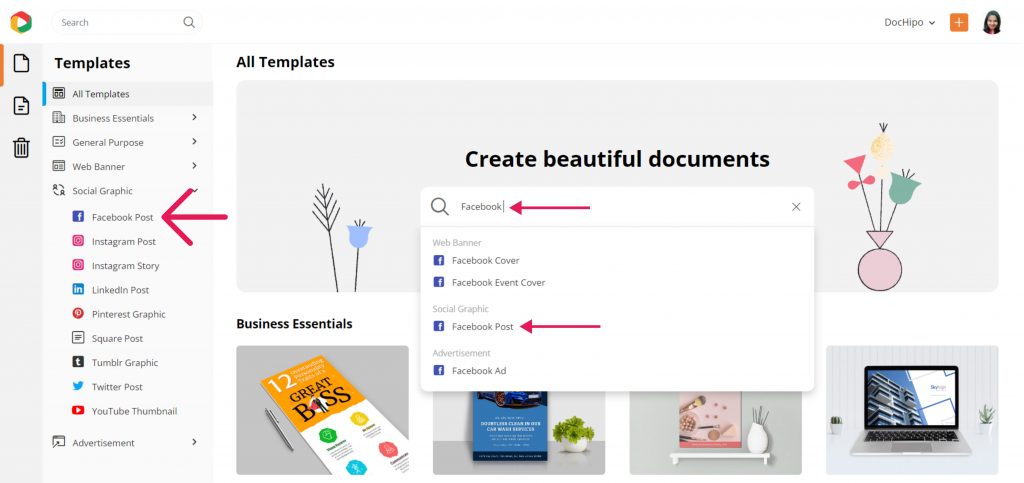 When you click the document type, you will get access to the page containing tons of templates related to it: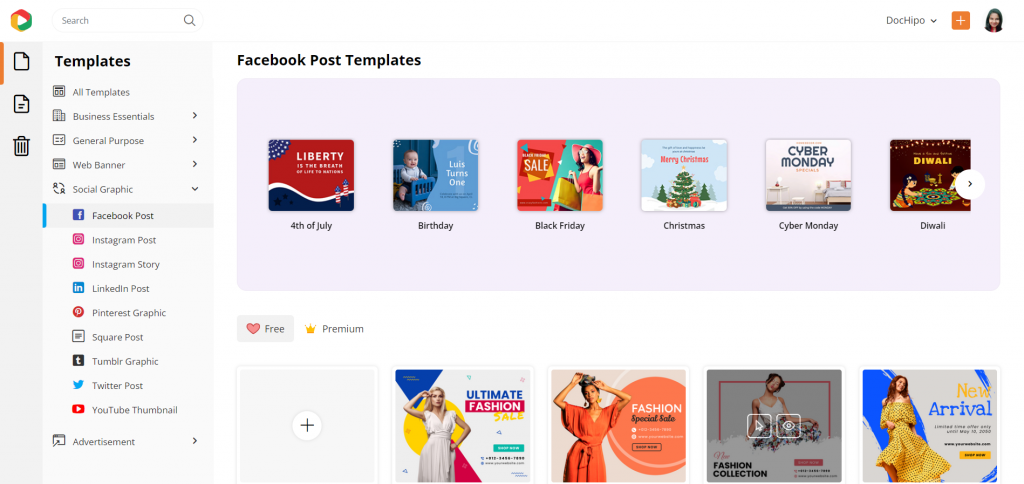 Select a template that resonates with your idea.
Also, you have the option to design a template right from scratch. For that, you need to choose a blank template.
Once you have selected the template, it will redirect you to the document information page.
Your name will be auto-populated here, which you can change to your teammate's name. Also, you can edit the Document Name.
Finally, you have to provide a brief description of the document that you are planning to work on. You have the option to keep it blank, but it is always advisable that you make a minor note on it for your convenience: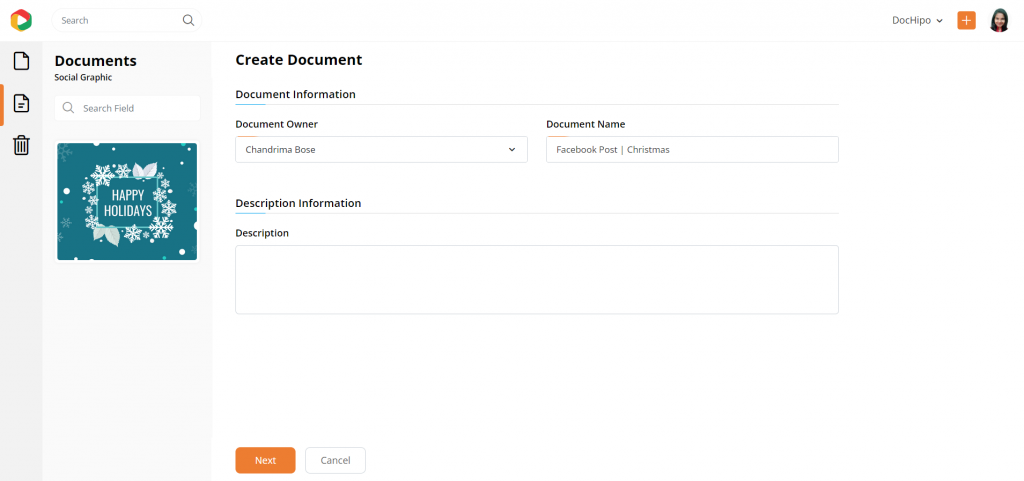 Step 2:
After you hit the "Next" button, you will enter DocHipo's editor space.
Here you will get many options to add and delete graphic elements. You can embellish your designs and do whatever you like.
The DocHipo's editor is extremely user-friendly and gives you the freedom to actualize your visions: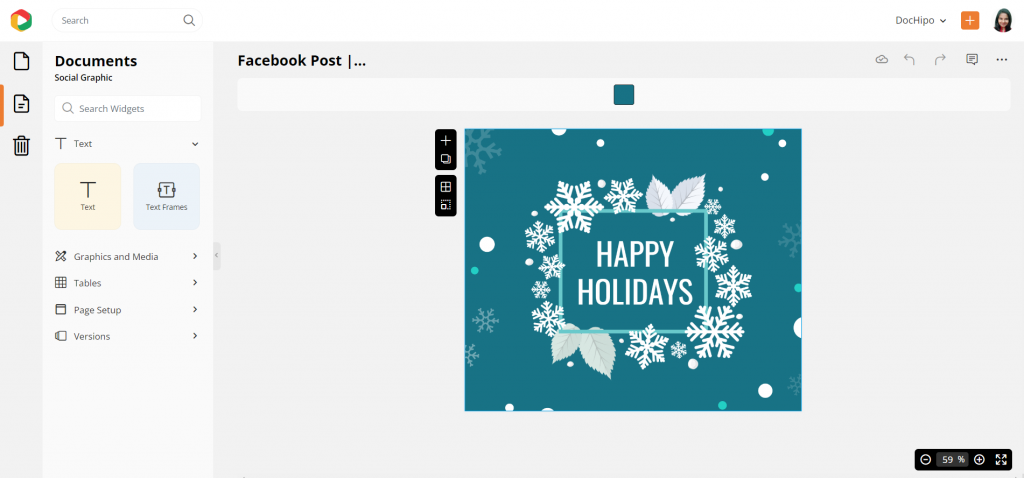 For this template, I will not do anything drastic. I will change the text from "HAPPY HOLIDAYS" to "HAPPY NEW YEAR":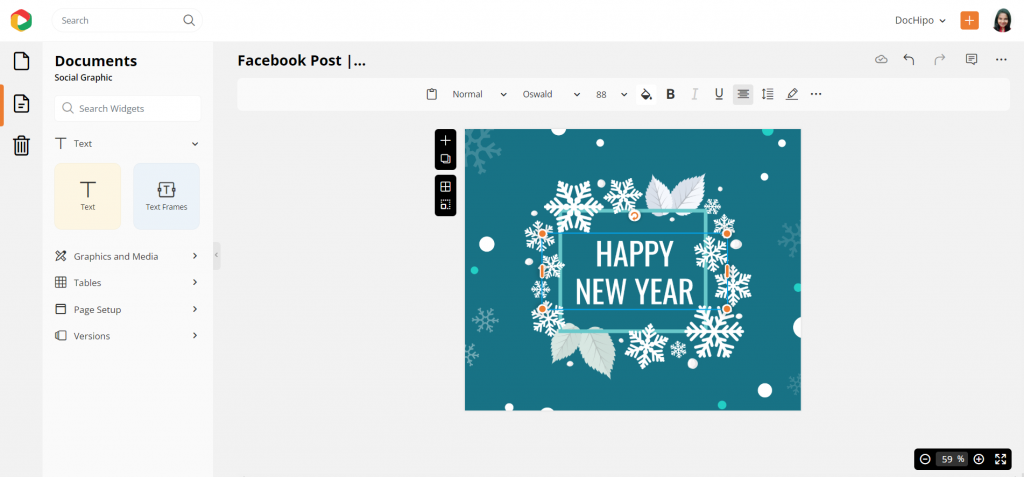 You can refer to our quick video for adding, editing, or deleting text in DocHipo.
Let's change the background by selecting the widget from the left sidebar. You can create stunning backgrounds by using colors, gradients, or patterns.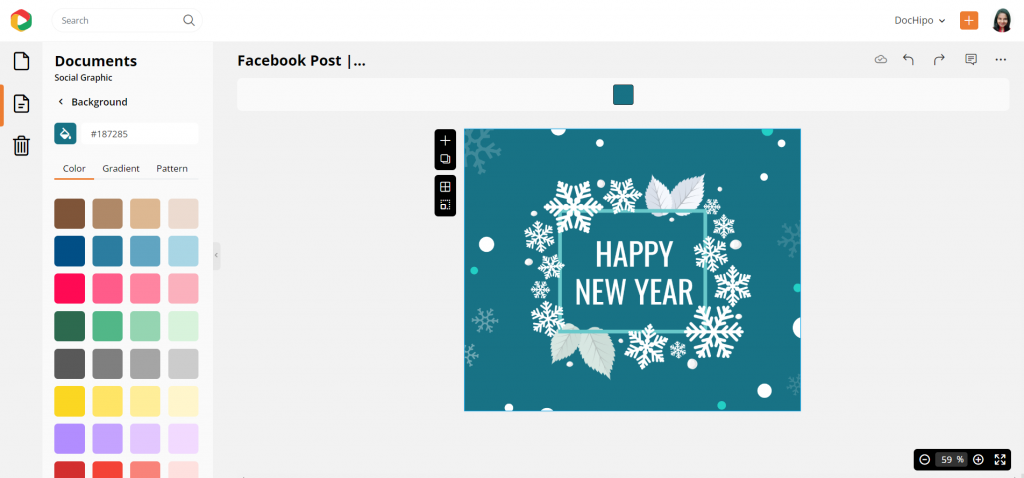 Watch our tutorial below for a quick demo.
To change the color of any other design element, select it and click on the above color icon to explore the theme and custom colors.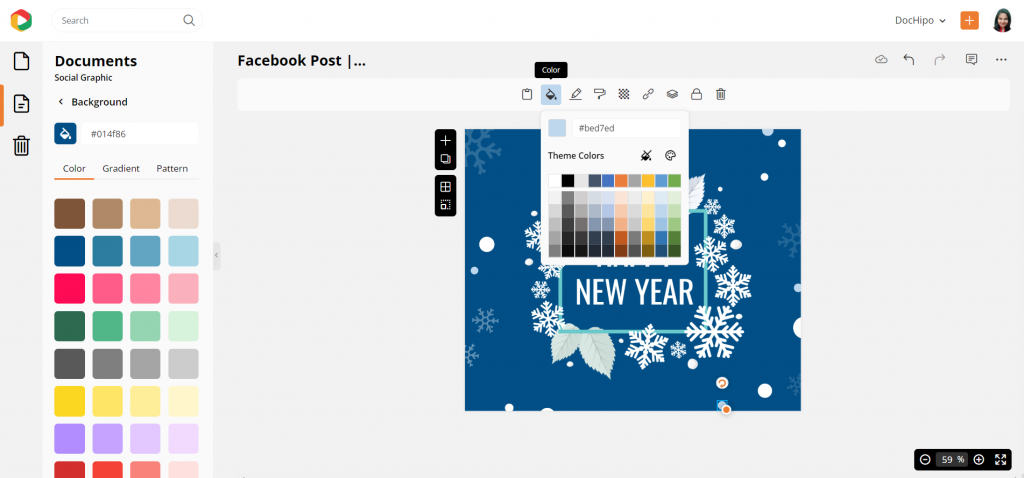 That's it!
Step 3:
Now, click on the three horizontal dots to preview and download any quality (Normal/Medium/High) that suits your purpose in PNG, JPG, or PDF format.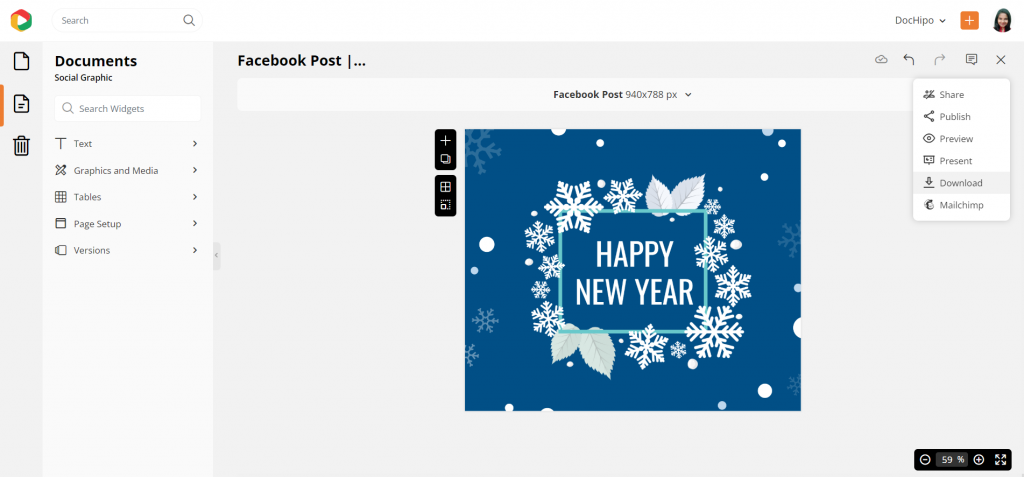 This is for social media, so I choose a PNG file format: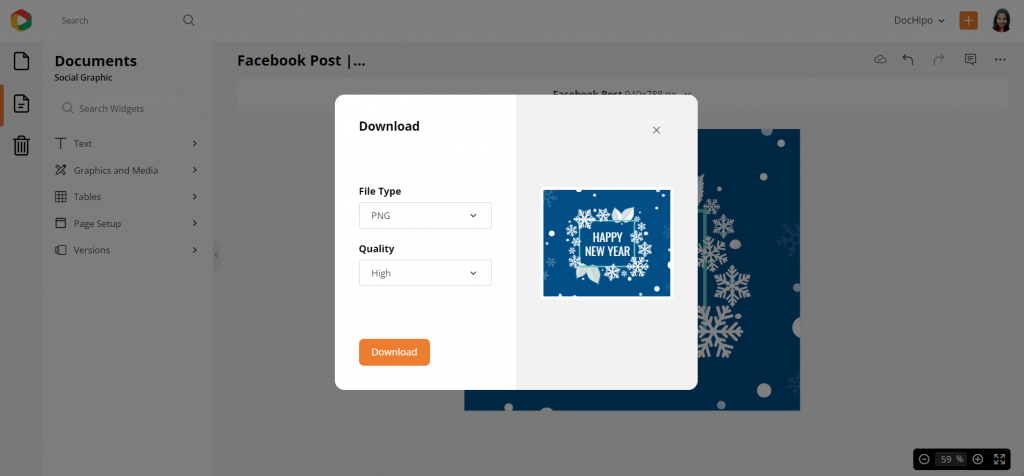 Watch this video for reference while downloading designs in DocHipo.
Wait, it does not end here…because at DocHipo, you can directly share the document template on social media platforms.
To publish online, click the three-dotted buttons again at the top right corner. Then click "Publish" from the list of options.
A box will appear, from which you can copy the link or select a social media platform where you can directly publish: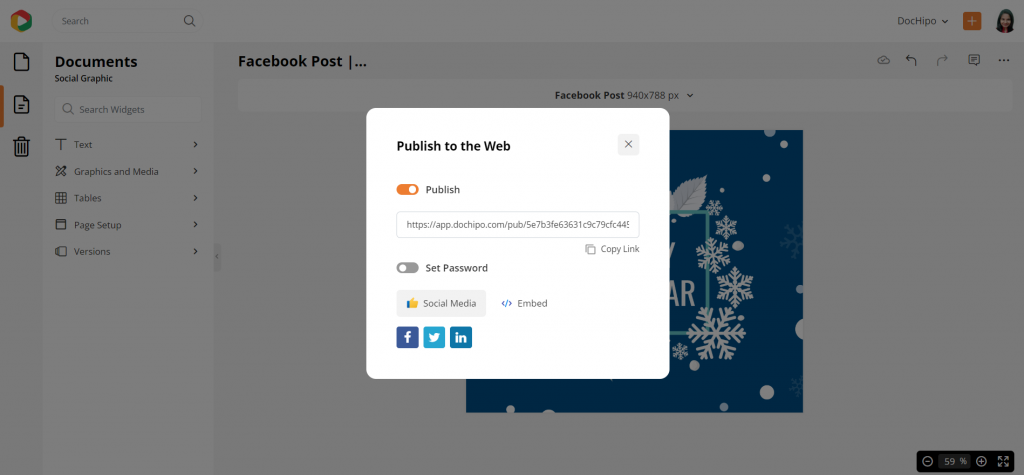 Want to check what my social media post looks like: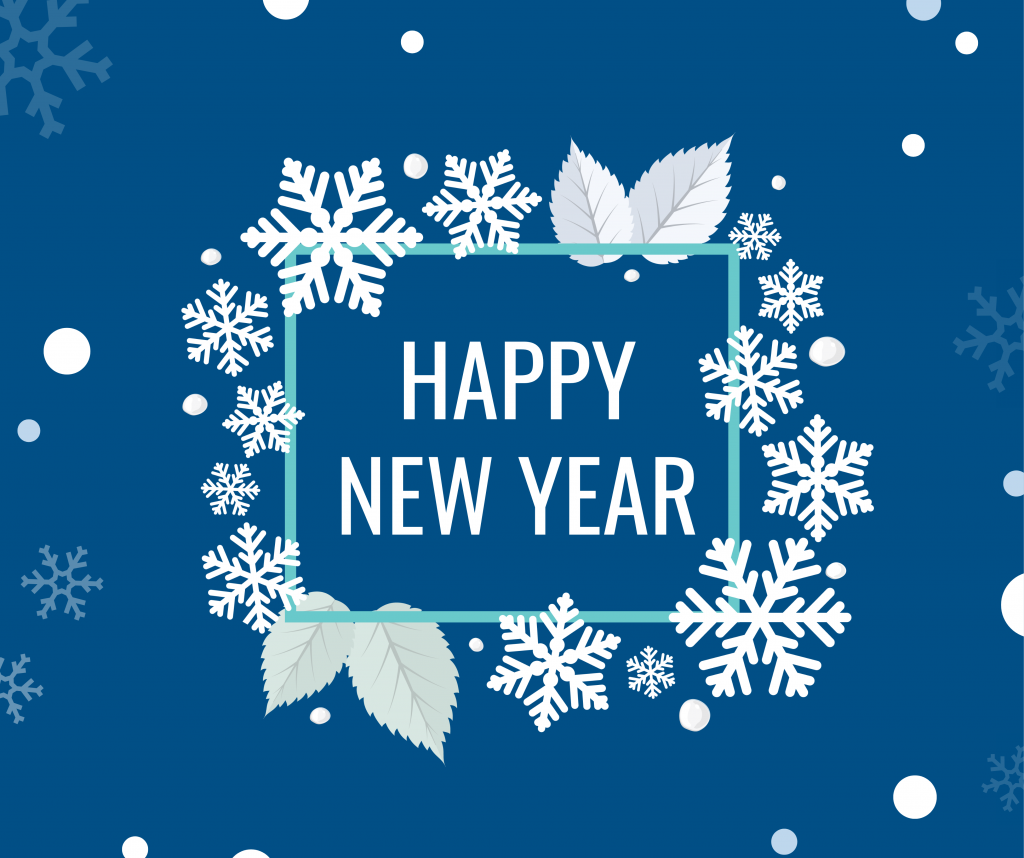 Conclusion
DocHipo is the best arena to visit when you constantly need visual designs. Especially in this season, when you are caught up with the urge to express yourself, DocHipo is your best friend that aims to make you a social media star.
Whether you want to market your products or events or casually greet the world and share the joy this month, you can get your favorite templates at DocHipo, giving you the full leverage to shine your way out.
So sign up now and start working on your social media post, as December is knocking at the door, giving you very little time to plan.
If you want to request a template, you can contact the ever-friendly team of DocHipo, so that we can add your request to our repository.