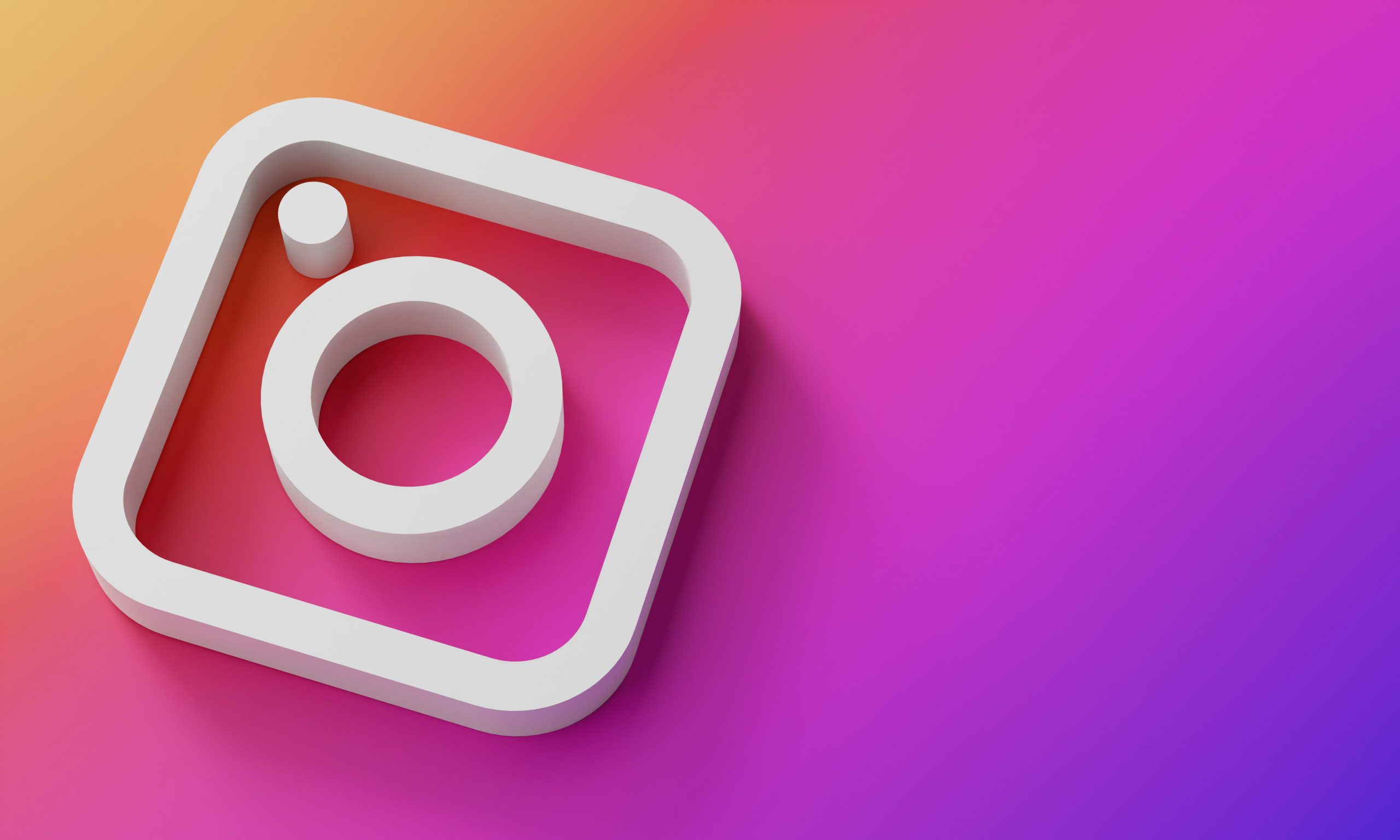 Diwali Instagram Post Guide: Lighting Up Your Audience's Feed

Last Updated Sep 11, 2023
Hi There!
I hope all of you are doing great!
As the festive season is gearing up for some pomp and celebration, I'm highly occupied with DocHipo's templates. After all, this is my one-stop destination for all my creative needs.
Diwali is coming up, and I am all set to wish the world colorfully. Hence, I was browsing through the stunning templates of DocHipo for my Instagram posts.
Diwali is the perfect time to share culture, joy, and creativity with your followers. Hence, today, I'll discuss seven crucial points to consider when designing Diwali posts for Instagram. I'll also share Diwali Instagram post ideas and customizable templates to help you engage and delight your audience. Read till the end for a super-simple three-step guide for Diwali Instagram posts that capture the essence of the festival. 
Best Practices for Designing Your Diwali Instagram Post
Let's learn about seven important factors to consider while doing Instagram marketing for Diwali.
1. Use a Professional Account
Both Instagram and Facebook allow you to use a Professional Business account. Since Facebook owns Instagram, you can use these platforms interchangeably and share similar posts in both spaces.
Talking specifically about Instagram, you can open a business account for absolutely free. I recommend you do so, mainly because this account will give you additional perks to enhance your marketing efforts. 
Let me further elaborate.
So basically, once you have an Instagram business profile, your account is taken differently than the personal accounts. 
Also, when you create a professional account, you will be asked whether the account is solo-based (influencer) or sells products or services. This classification provides you with the right features within this platform, which will help you in your purpose to boost your brand identity. 
Once you get a professional account, you can track and monitor your profile analytics. This will allow you to understand which post is working and which is not. Then, you can accordingly plan your marketing strategy. 
Also, when you post a visual on your Instagram stories, you can add links to your website. The "swipe-up" link access method increases user engagement and traffic.   
In short, you can be more direct with your promotional activities and marketing campaigns on Instagram if you have a business account.
2. Beautiful Visuals for Instagram Posts and Stories
Instagram is a purely visual-based platform. Here, pictures speak more than the words. So your visuals must be stunning!
For both the newsfeed and Instagram stories, your visuals must be attractive.
Instagram allows you to add text, other graphics, and filters to make your picture look more compelling.
When posting images, try to be creative and unique. This is because Instagram is the most powerful platform where you can be creative about your promotional ideas.
Especially when you post Instagram stories, it acts as a daily pictorial diary of events with you and your brand. 
For instance, according to your promotional strategy, you offer a mind-blowing discount for only 24 hours. You can use it on the Instagram story to reap enormous clients and brand recognition. Hence, the picture you are promoting should be bright, colorful, and in sync with your brand.
Regular stories keep your brand in the game of being socially active, which is good for promotions. Also, when you post marketing visuals on Instagram, try to be more creative than too salesy. 
3. Pick a Color Scheme that Complements Diwali Aesthetics
Choosing an appropriate color scheme for designing Diwali posts for Instagram is crucial. Pick vibrant and lively colors that reflect the warmth and radiance of the occasion. You can go for the traditional Diwali colors, including bright yellow, deep red, vibrant orange, and rich gold. Earthy tones like warm browns, deep maroons, rustic oranges, and so on also resonate with Diwali.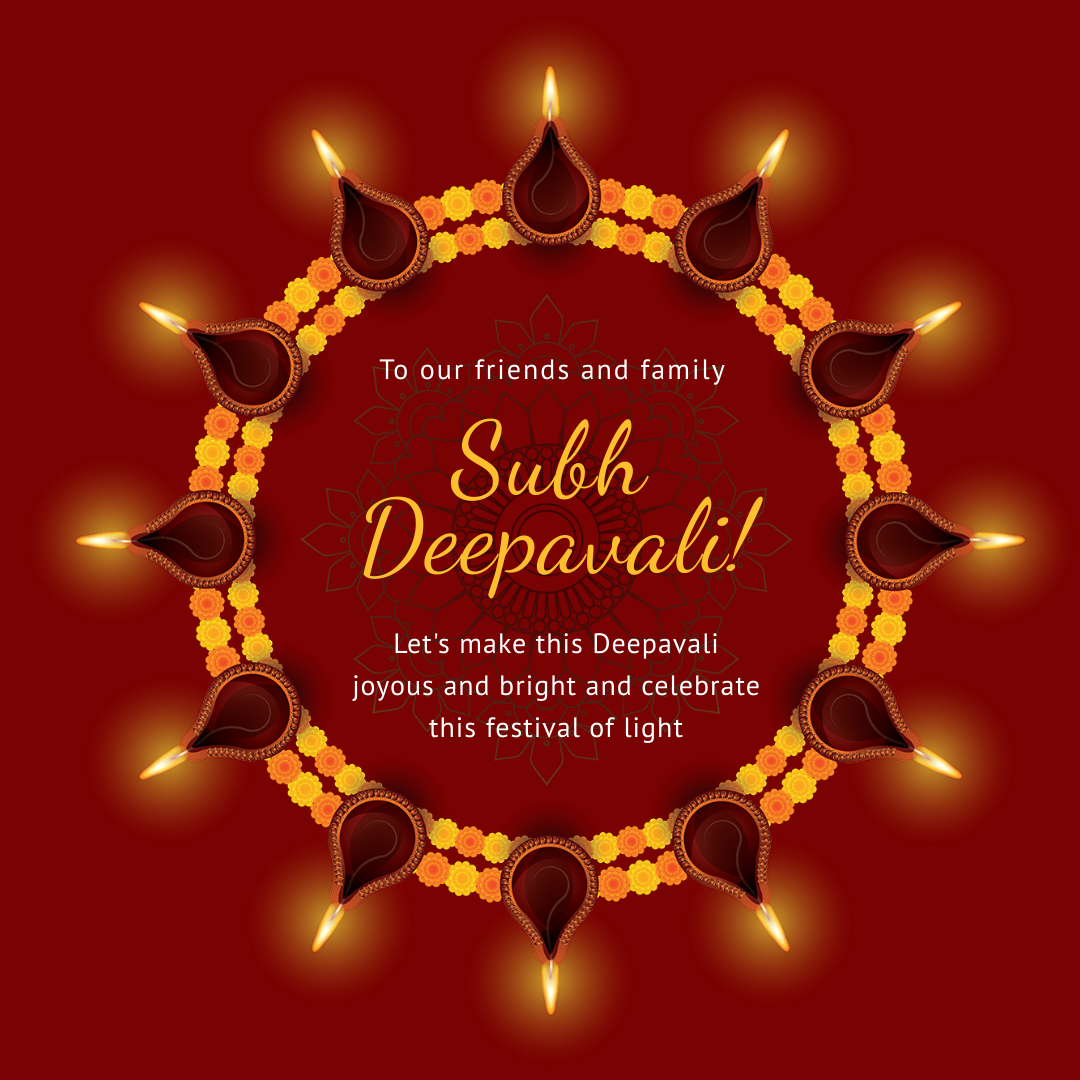 Get This Template and More
4. Use Appropriate Fonts
Choosing the right fonts is also essential when creating Diwali visuals on Instagram for conveying the right mood and vibe. Firstly, choose easy-to-read fonts so your audience can quickly read your Diwali wishes and other brand messages. Choose fonts that reflect a traditional or ethnic feel. Dancing Script, Lobster, Pacifico, and Great Vibes are a few fonts that will work great with your Diwali-themed Instagram promotion.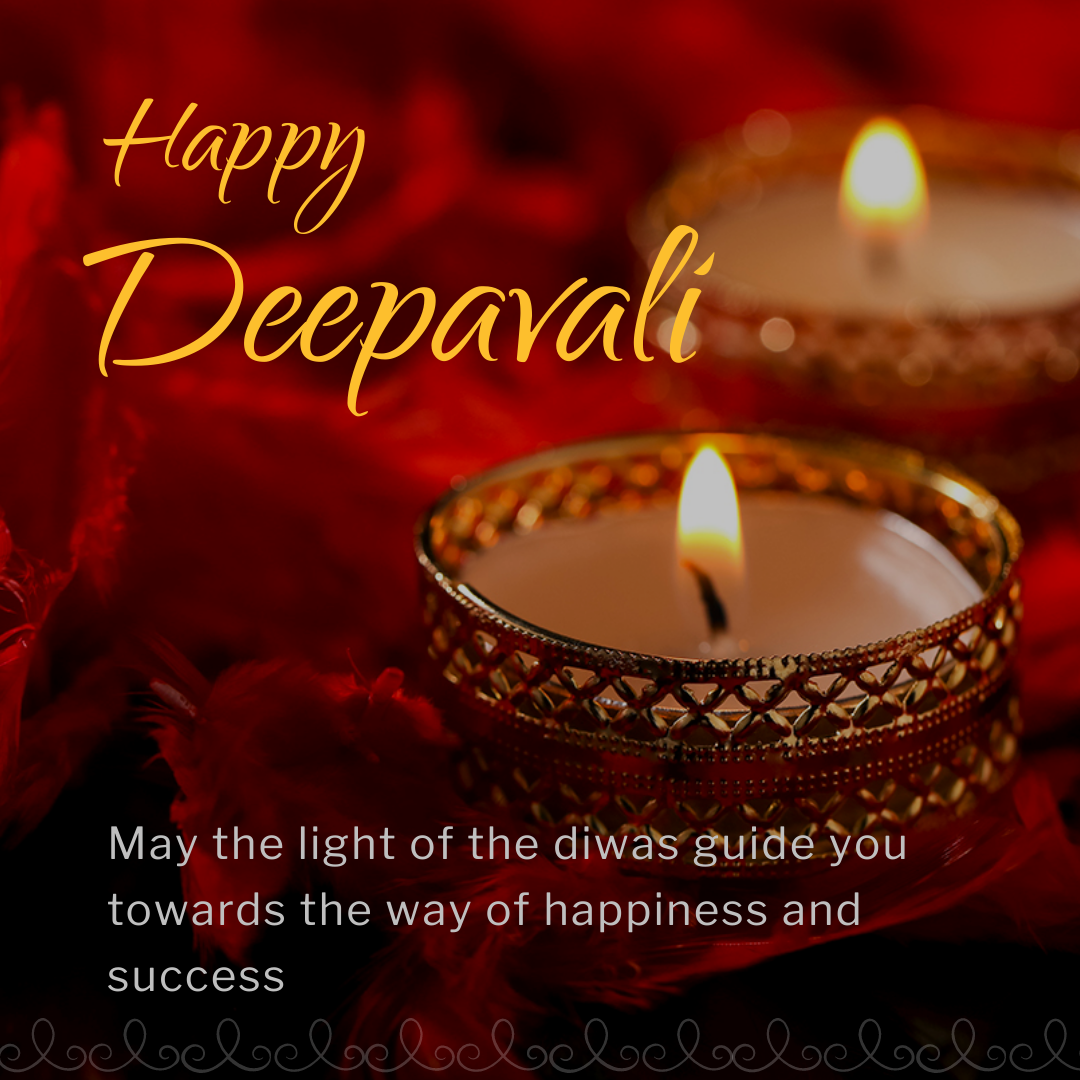 Get This Template and More
5. Engaging and Interactive Captions
Your post is always accompanied by a small description accompanying the hashtags.
This description is important because it further bolsters your posts to your viewers. Hence, you mustn't randomly write about the post.
Think before presenting the post to your excited followers and to-be-followers. Make a proper posting schedule and a decent-length write-up supporting it.
Also, check your tonality. Instagram is a very casual platform. Hence, formally presenting your posts can make them non-appealing and non-interactive. Your tonality must be friendly and engaging. When your viewers read the text, they should feel like they are being directly addressed.
This interactive way of communicating your brand to your audience enhances brand identity and engagement. Also, your prospects will buy your message once they can identify the efficacy of your product/services.
At times, adding a cheerful emoji is nice because it makes the entire text appear easy-going, making your brand look approachable.
6. Using Hashtags to Reach Your Community
Hashtags are a recent yet revolutionary phenomenon in social media, especially on Instagram.
This is trending for a reason, and I will tell you why.
With hashtags, your target audiences can easily discover your posts and content. When users type a hashtag on the search bar, it suggests a list of relevant posts under it. This increases reachability and helps you easily promote your business to your prospects.
Some hashtags have a dedicated follower base who are serious about the topic they are searching for.
Now, you cannot randomly flood your posts with a big list of hashtagged words irrelevant to your business. This idea of reaching out to as many people as possible is not a good way of doing this.
Rather, start with a strategy to determine your target audience and the brand you want your business to be associated with. You should select your hashtags to make the most of it only after that.
Be wise, choosy, and pertinent about using hashtags.
7. Showcase Your Brand's Personality
Be consistent with your branding when Designing Diwali posts for Instagram. Incorporate your brand logo, colors, fonts, and typography style to make your posts recognizable to reinforce your brand identity.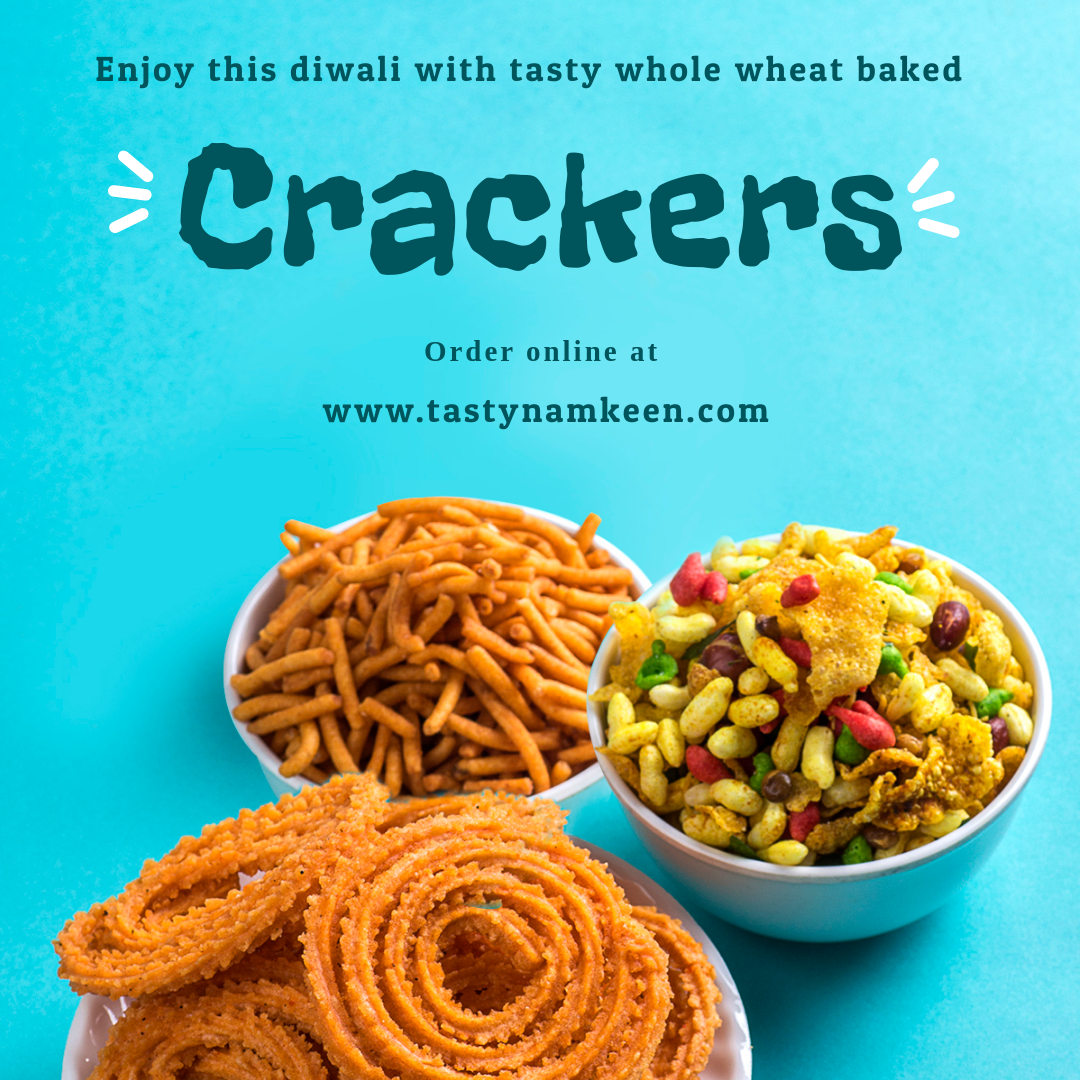 Get This Template and More
I know by this time you are a bit muddled up about Instagram post designs, But wait!
I have the best solution for you!
You already know about it…Yes, I am talking about DocHipo.
Beautiful Diwali Instagram Post Ideas with Templates
Well, if you ask me, DocHipo has everything I need. Right from creating an attractive Facebook business page to creating a YouTube channel, DocHipo has it.
All you need to do is sign up.
My point is clear and simple: Why waste your time, money, and resources when you can get tons of appropriate templates at DocHipo – because true success lies in working smart, not hard.
For example, I have decided to encash my branding strategy because a globally celebrated event is nearby. Diwali is celebrated by all worldwide and is looked up to with excitement and awe.
This means the theme is trending or going to be in trend very soon. It also allows me to utilize hashtags strategically without appearing too commercialized. 
So, my first step in the strategy will be to select a suitable template. At DocHipo, you will never feel restricted, as you can keep selecting and using as many templates as possible. 
Let's look at the Diwali Instagram Post Ideas with templates for inspiration:
Heart-warming Diwali wish with light and hope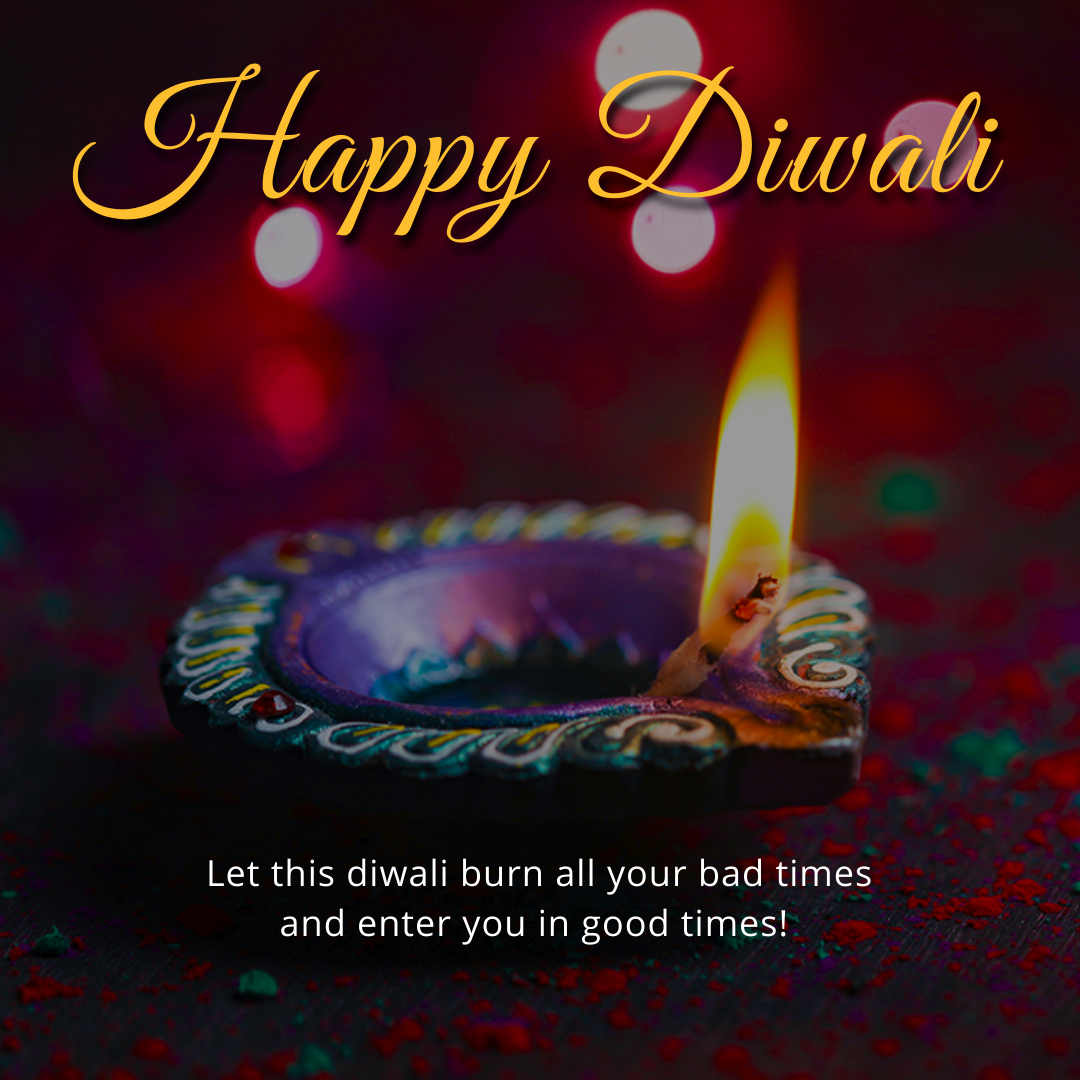 Get This Template and More
2. Diwali social media graphics with social message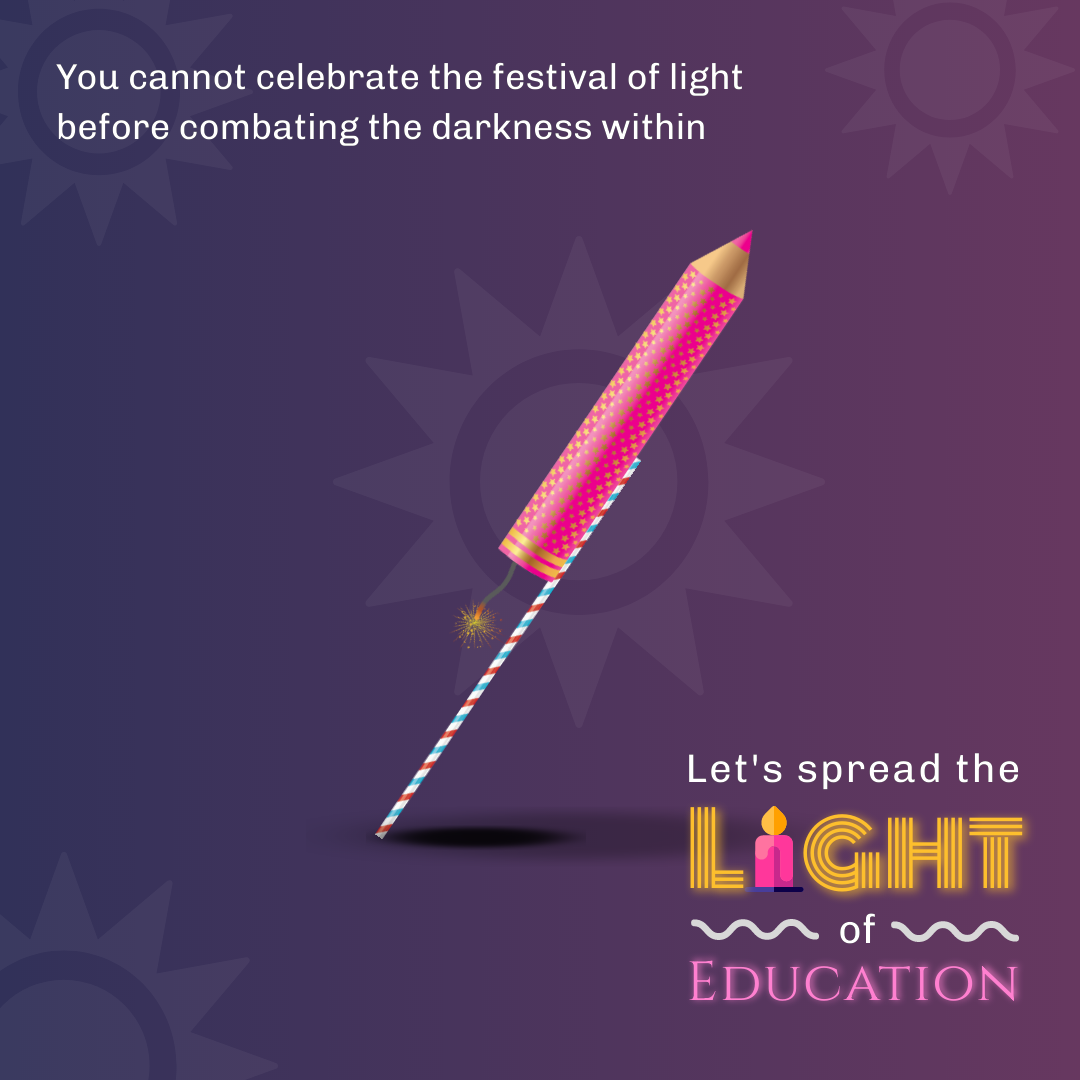 Get This Template and More
3. Share ideas on celebrating an eco-friendly Diwali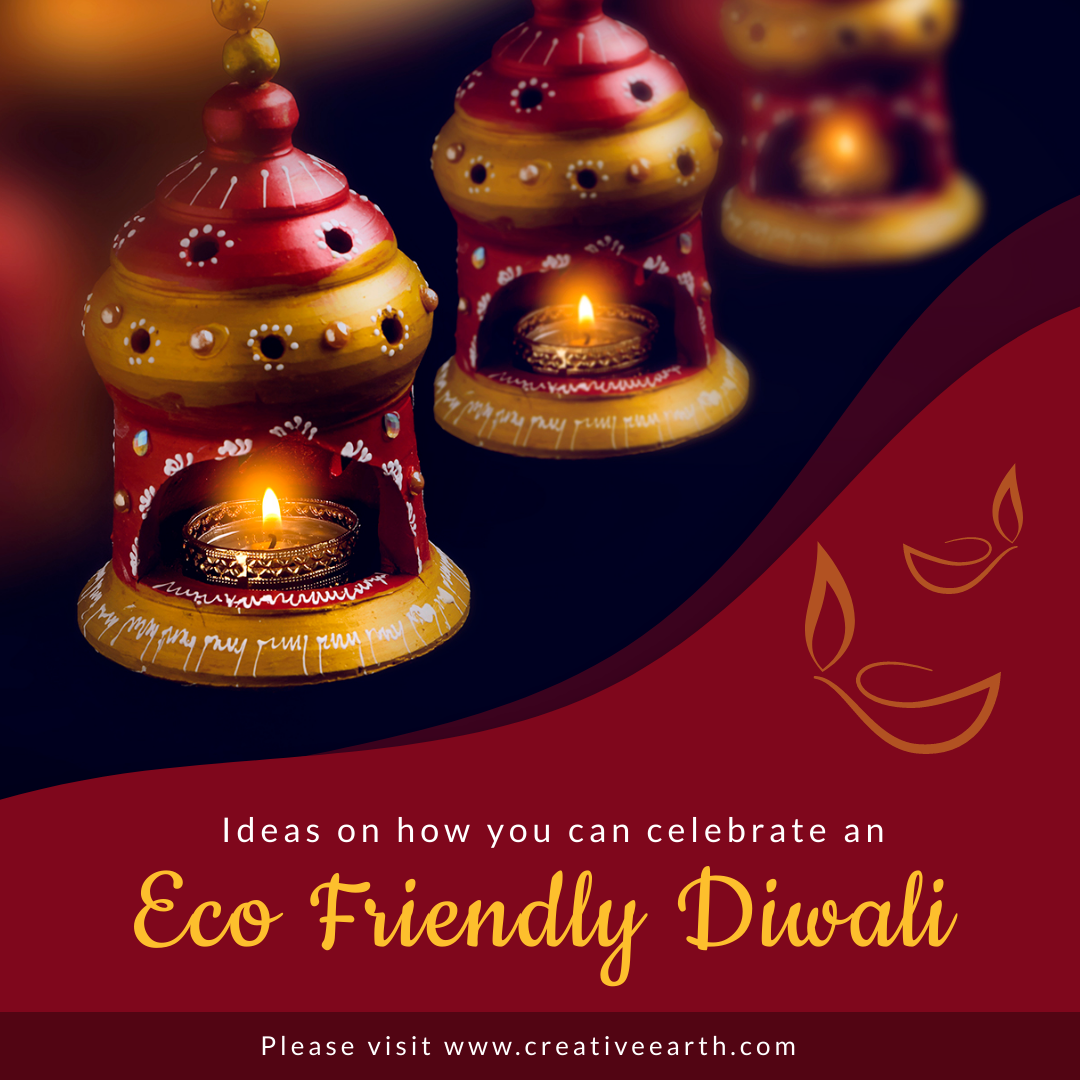 Get This Template and More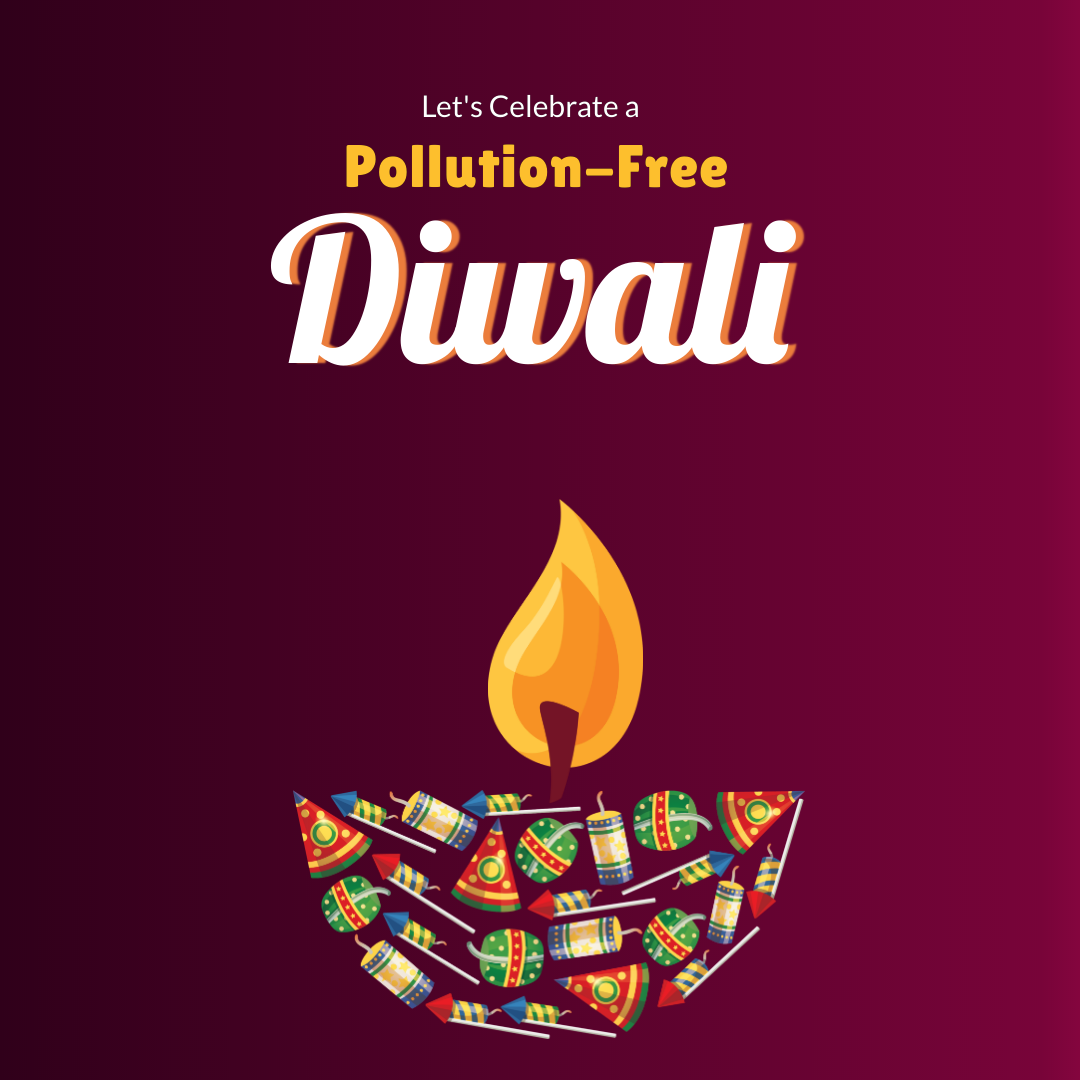 Get This Template and More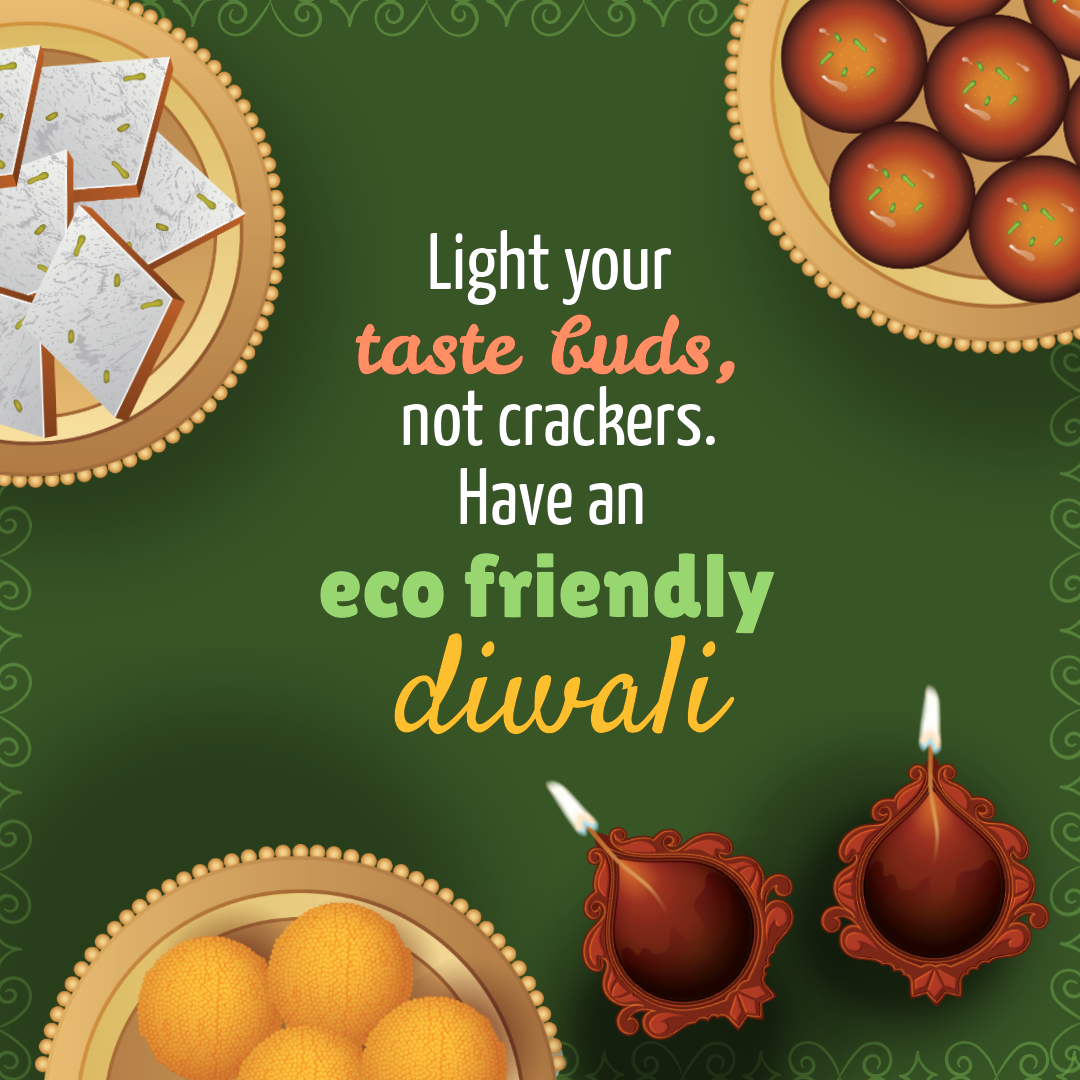 Get This Template and More
4. Diwali-themed Instagram promotion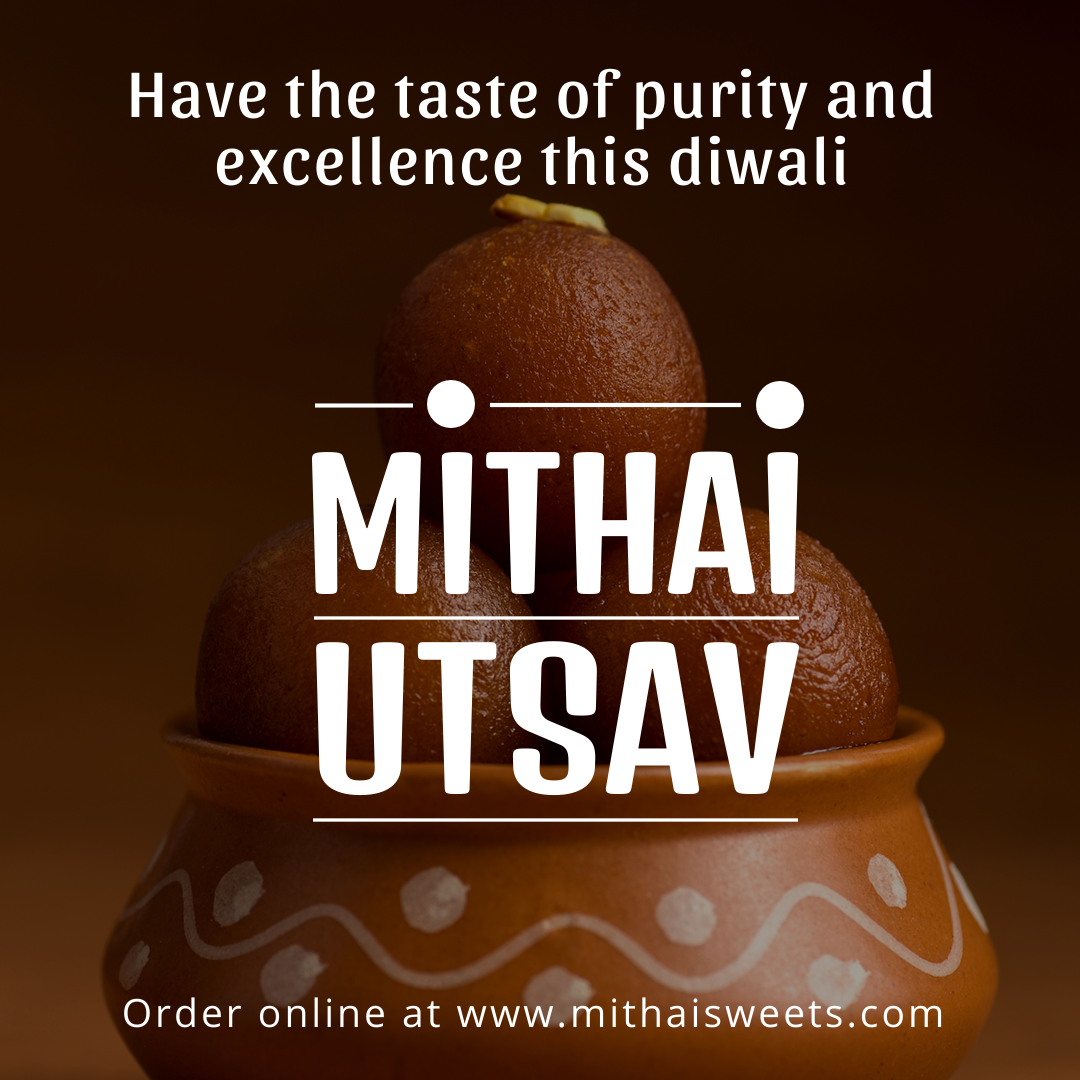 Get This Template and More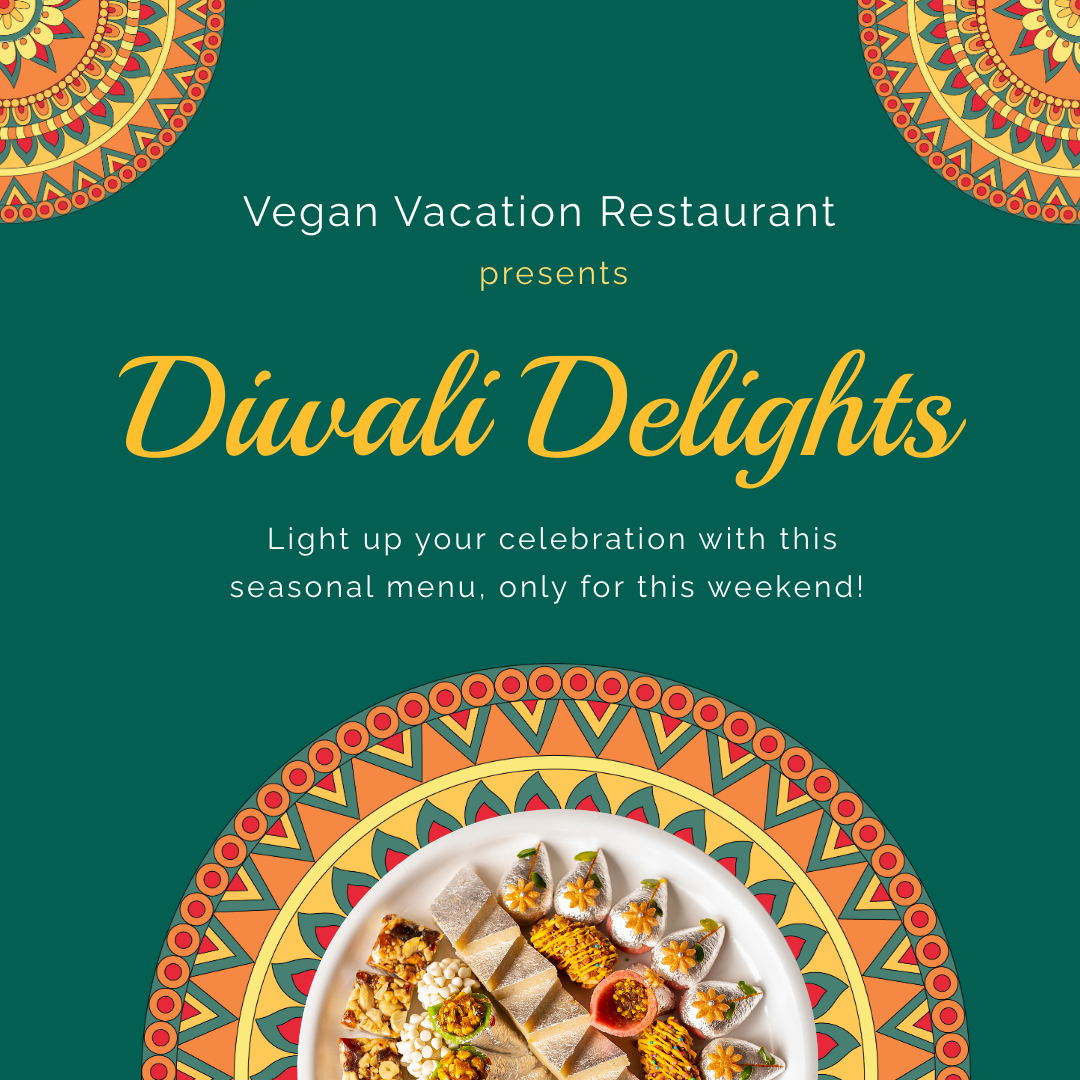 Get This Template and More
5. Shower your target audience with great Diwali deals and offers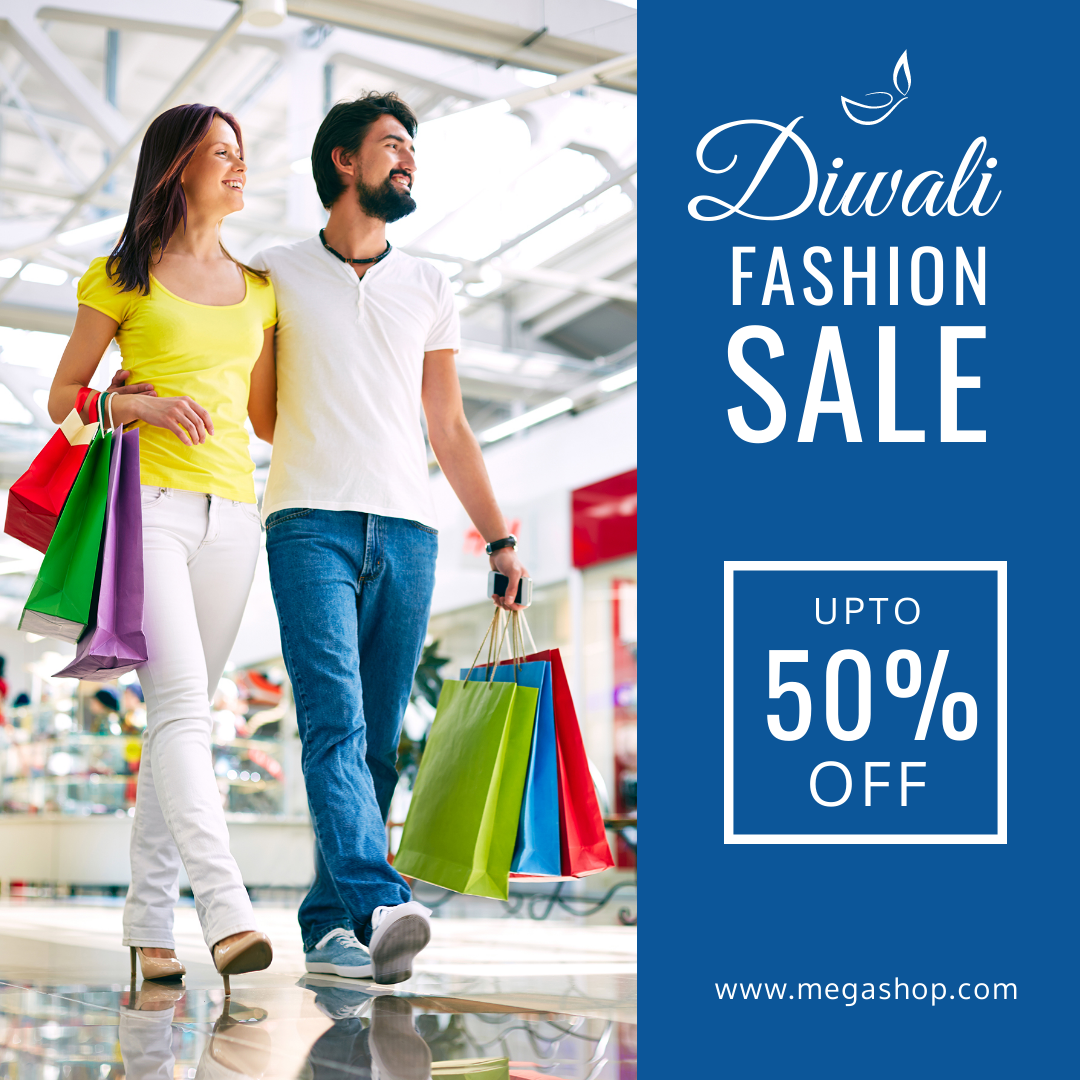 Get This Template and More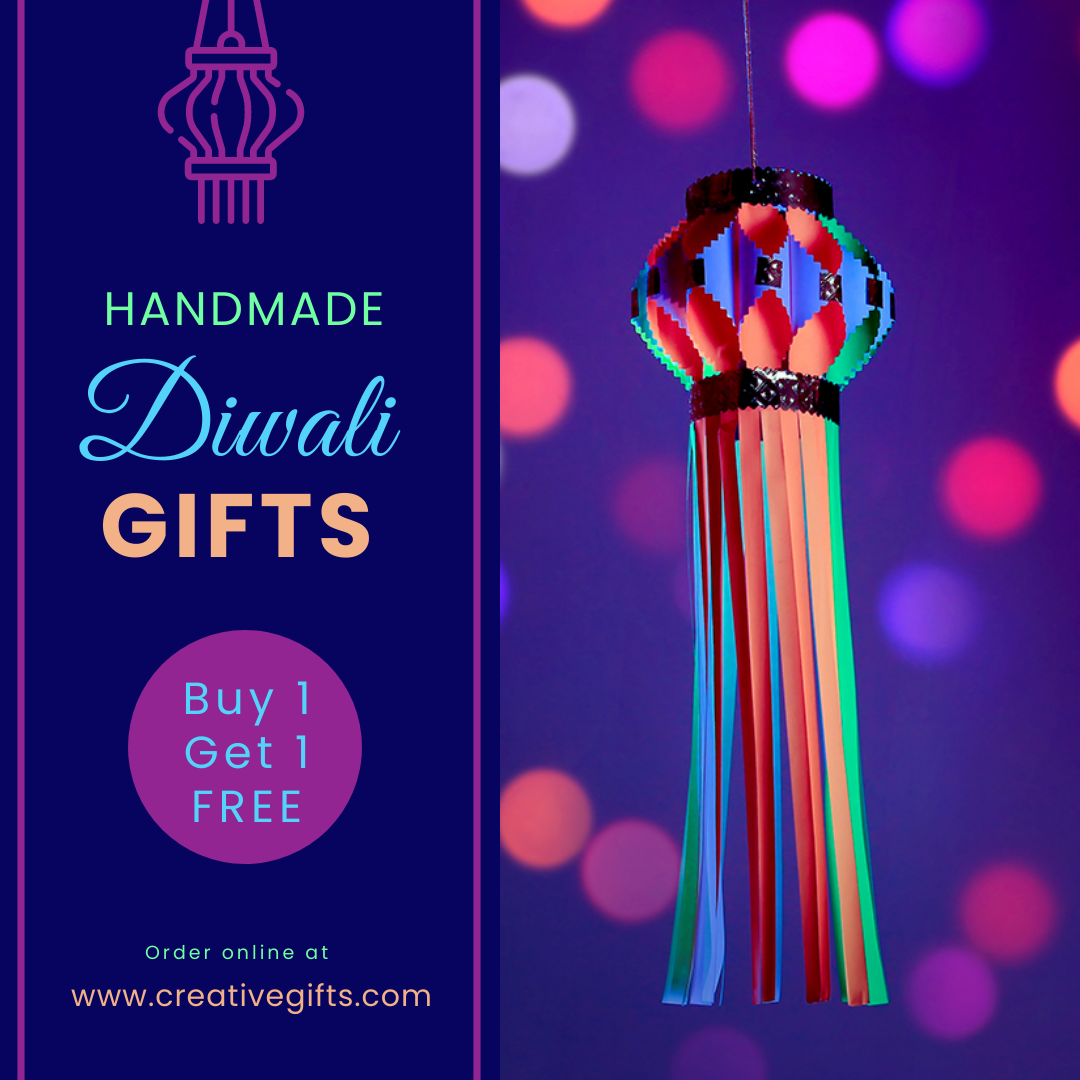 Get This Template and More
6. Invite people to celebrate the joyous occasion together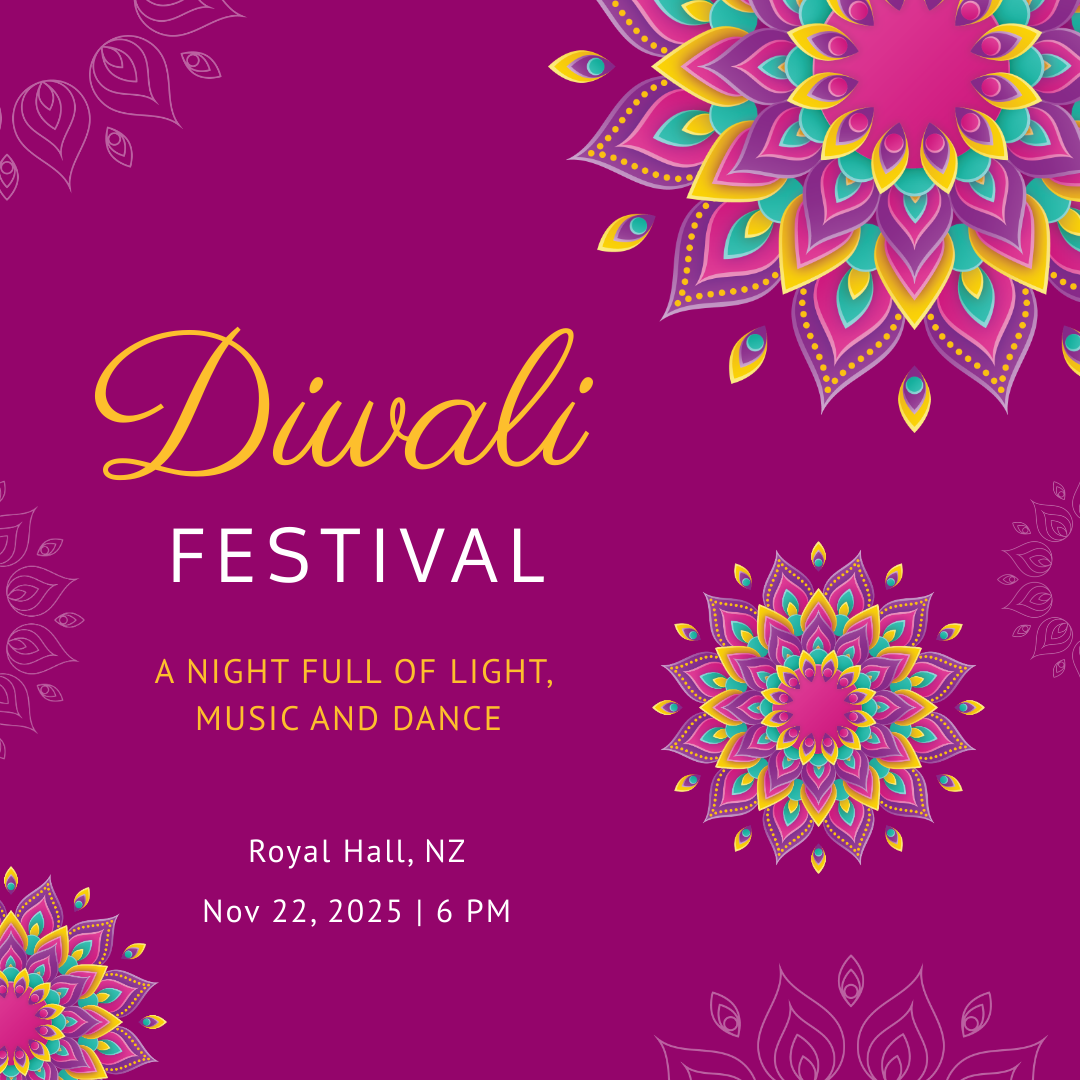 Get This Template and More
7. Host a Diwali special workshop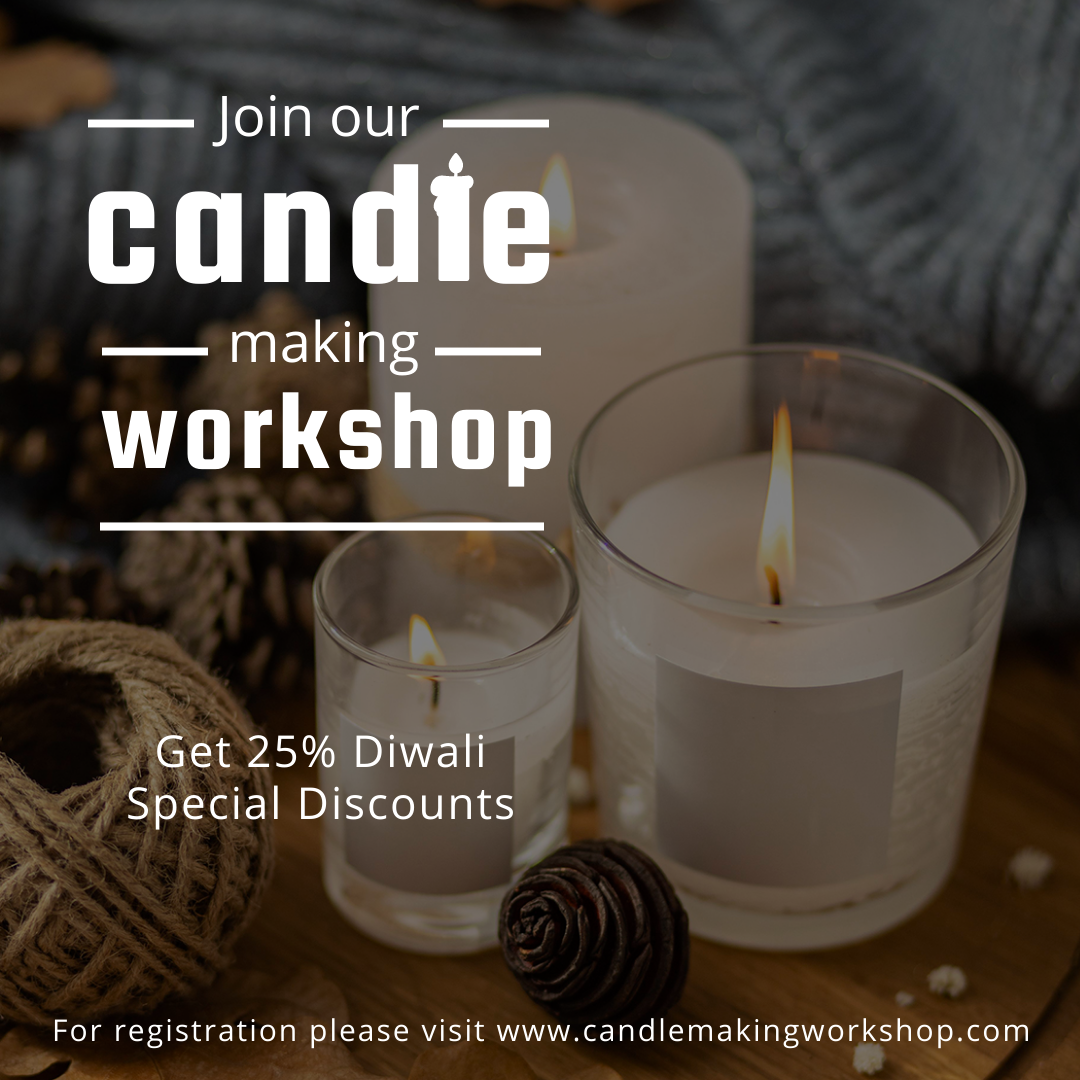 Get This Template and More
8. Organize an exhibition and promote using engaging Diwali Instagram content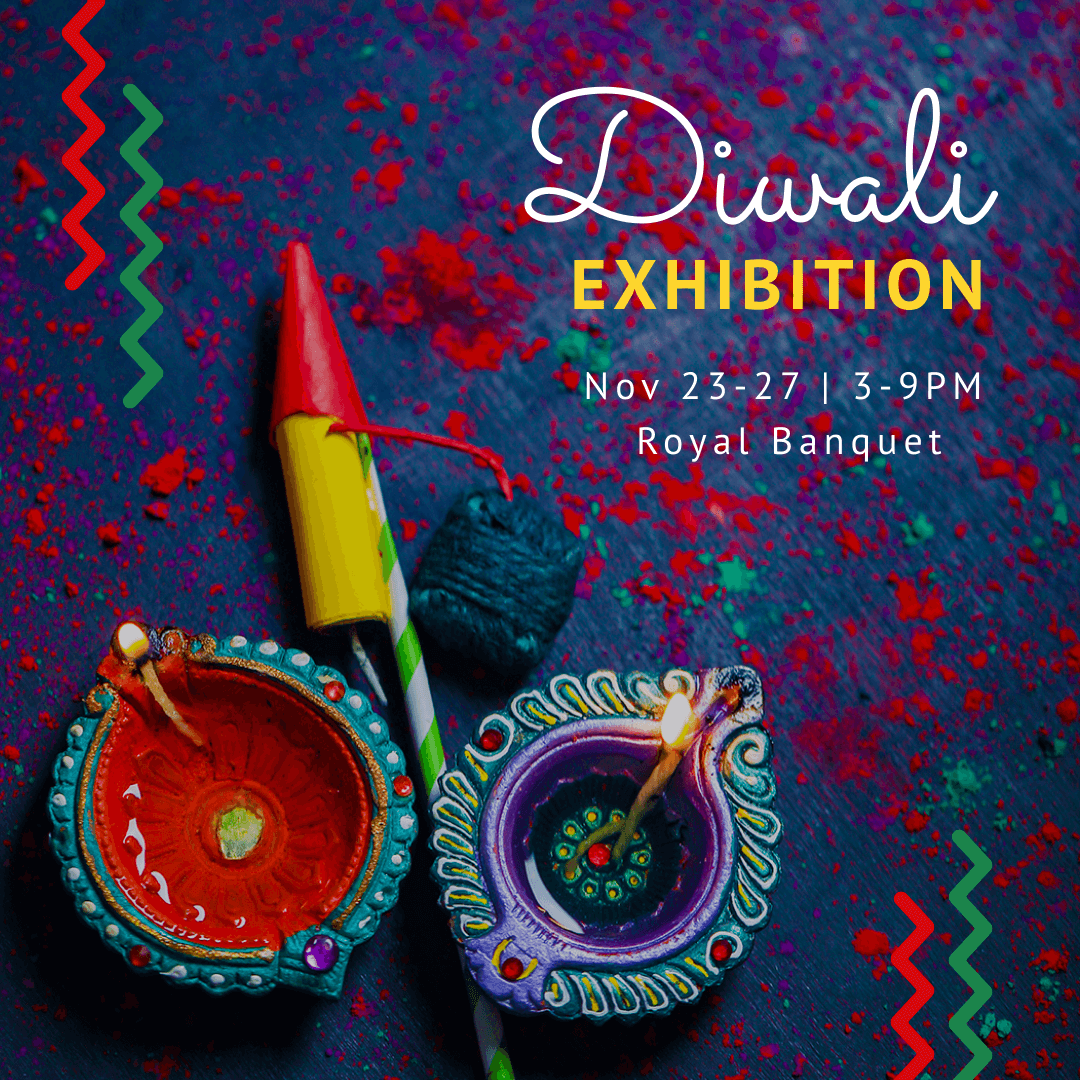 Get This Template and More
How to Create Stunning Diwali Instagram Post Designs Easily
Creating a design for your Instagram post is super easy at DocHipo. It will not even take you 10 minutes to create one.
So here are the steps that you can follow.
Step 1: Choose a Diwali Instagram Post Template
If you haven't signed up already, then do it now.
Once on the landing page, you can start typing "Instagram post" on the search bar and then select the option.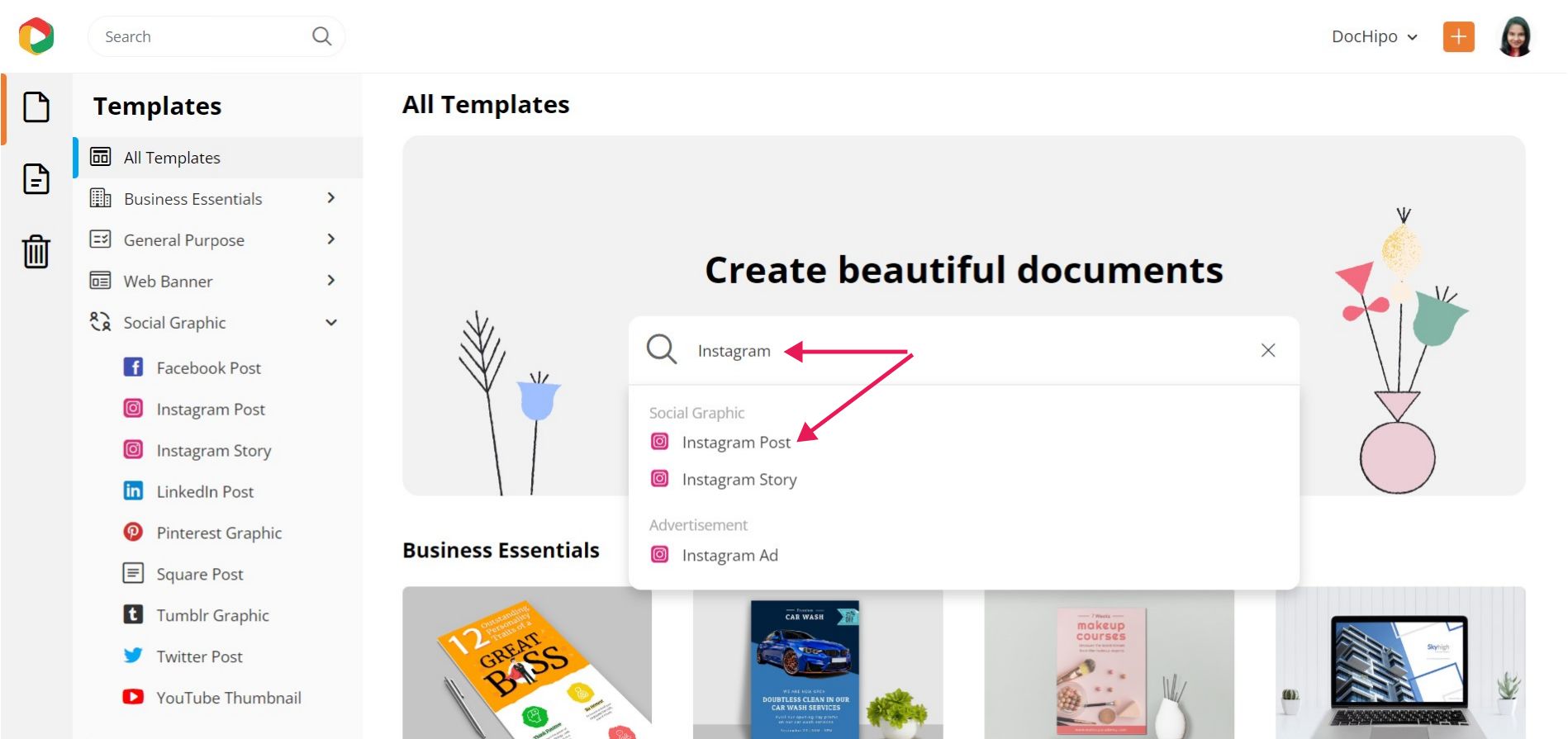 Or,
You can select "Social Graphic" on your left-hand-side panel and select the appropriate option, "Instagram post."
As you are redirected to the Document template page, you will see many awe-inspiring Instagram post templates ready to fulfill your creative visions. You have to choose from them.
As mentioned earlier, I have chosen a Diwali-themed template.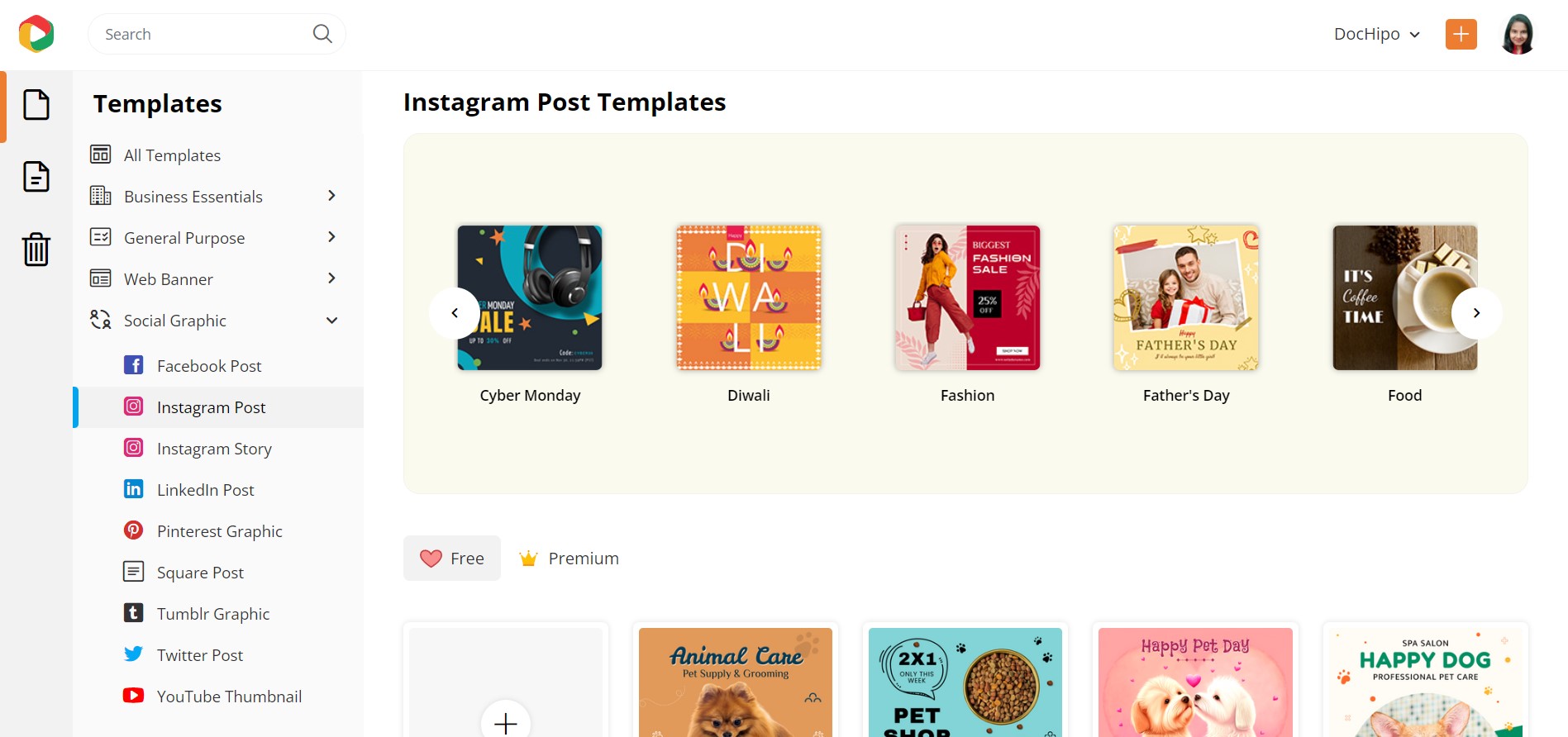 You can design Diwali Instagram posts from scratch. But it's best to choose a pre-designed template to fast-track your process.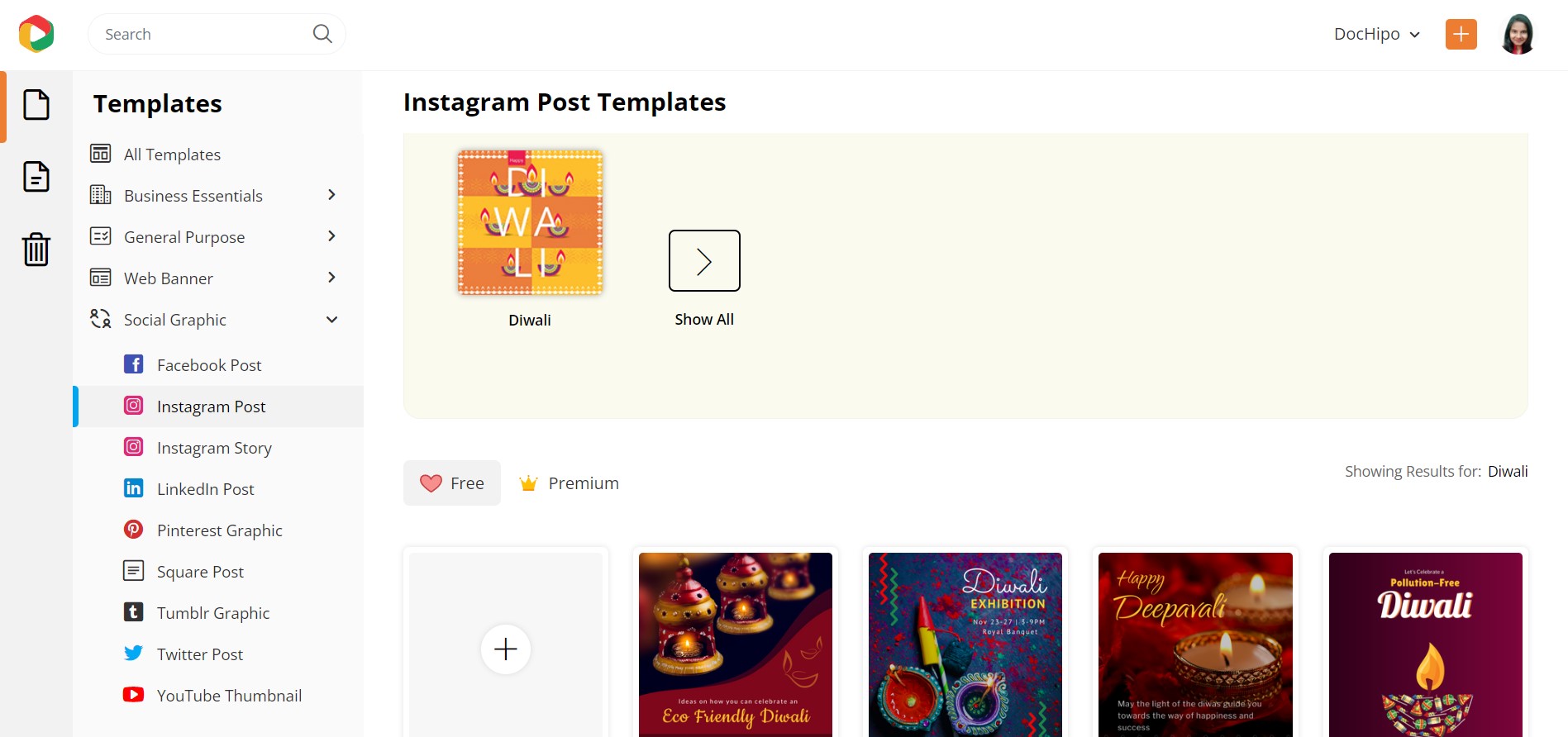 Hover over the templates you love to preview or select them.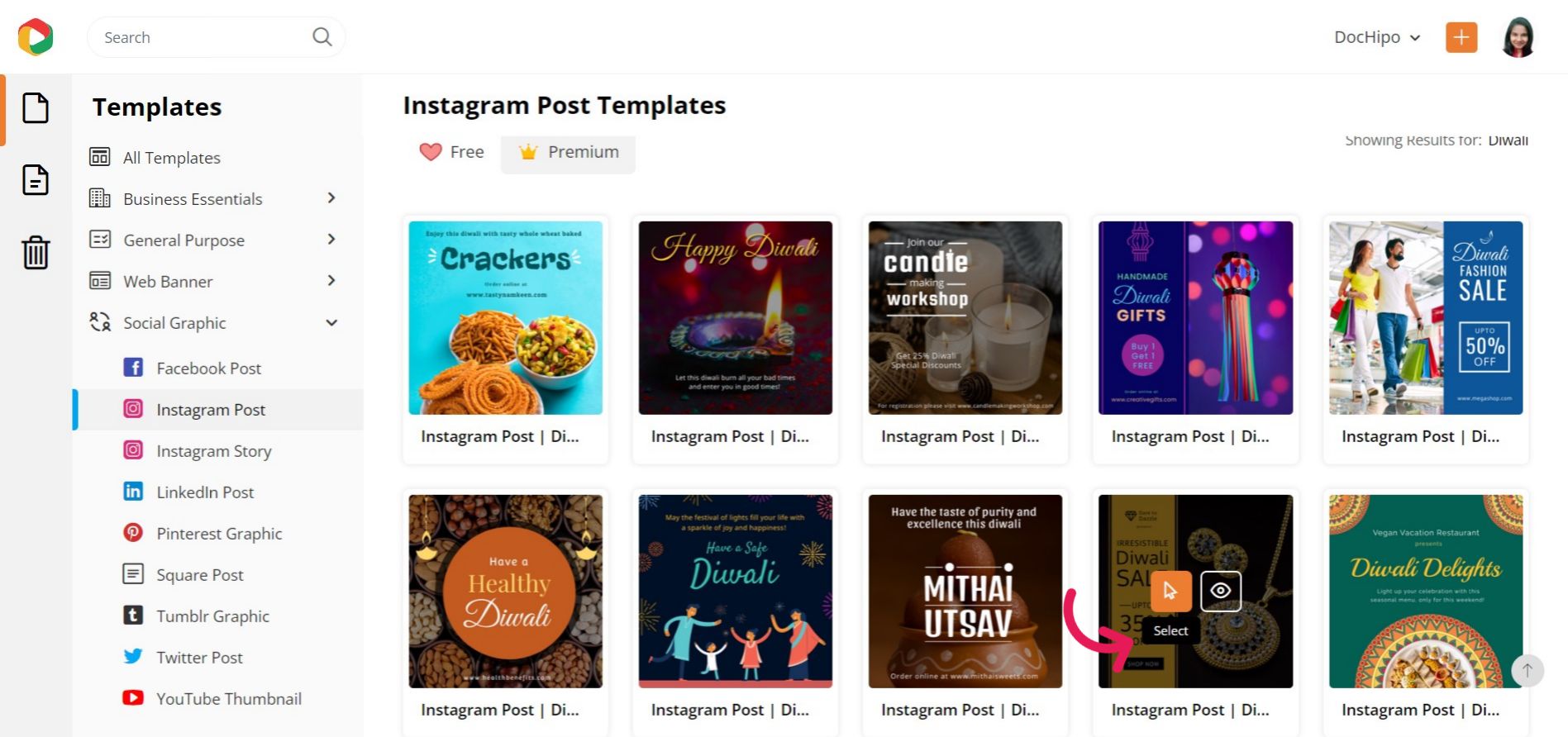 After you have selected your template, you will again be redirected to the Document information page. Your name will be auto-populated, along with the Document name, which you can change. Then, you can also provide a Document description, which will make the Document convenient to use.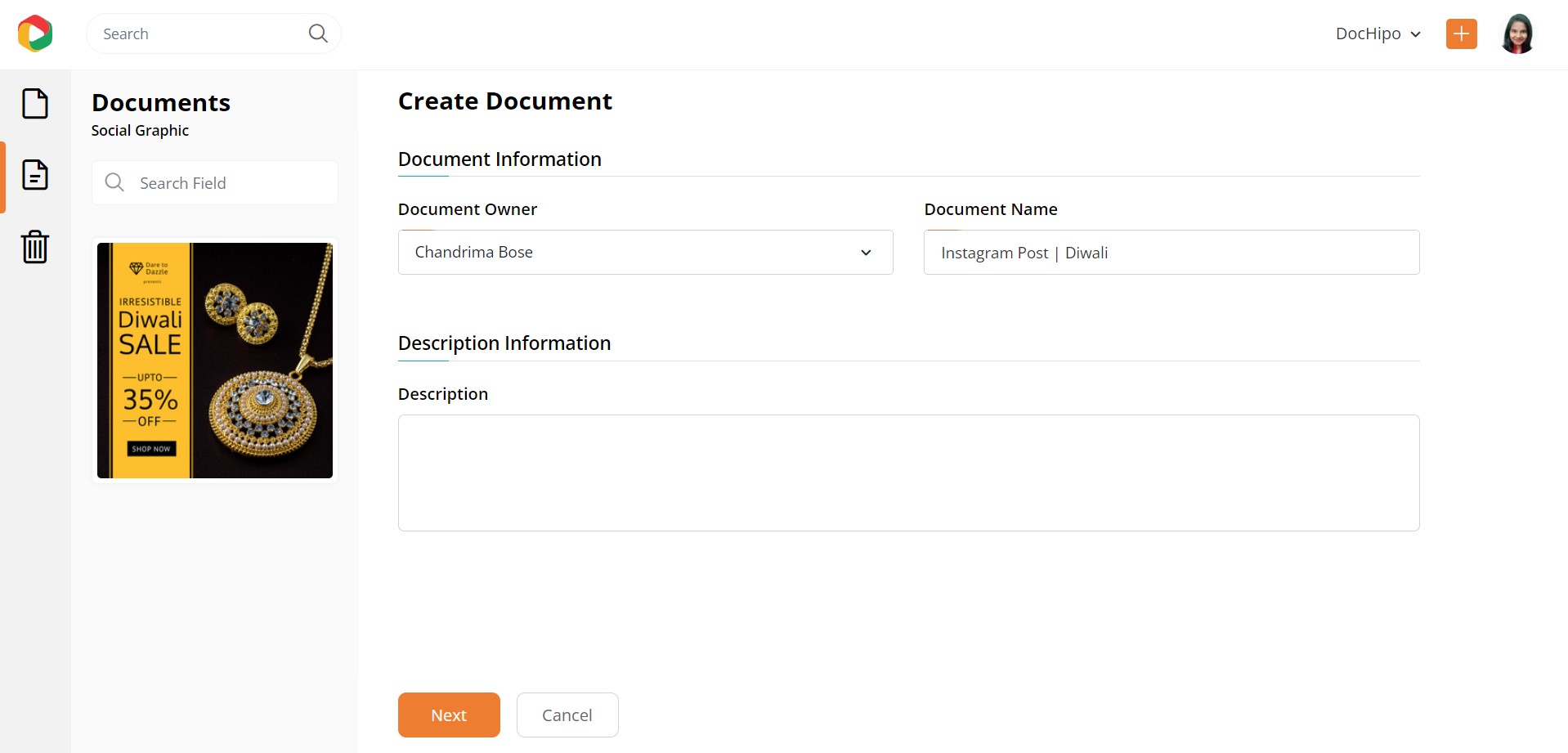 As you click "Next," you will enter DocHipo's Editor.
Step 2: Customize Your Chosen Diwali Instagram Post Template
You'll find various design elements, also known as design widgets, to customize your chosen template however you desire.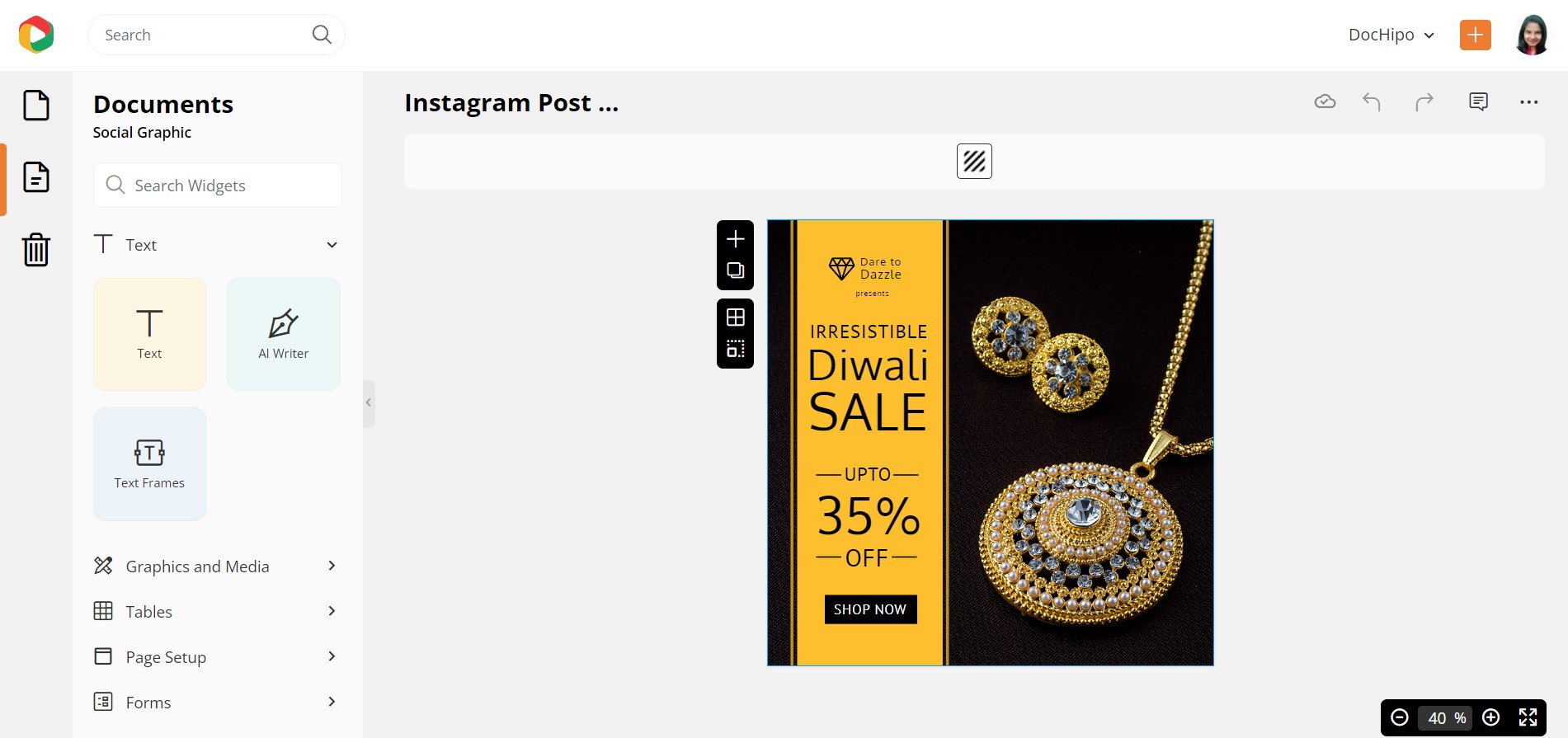 Now, you start customizing and editing. 
Edit the Text
To change an existing text, double-click on it and replace it with your message.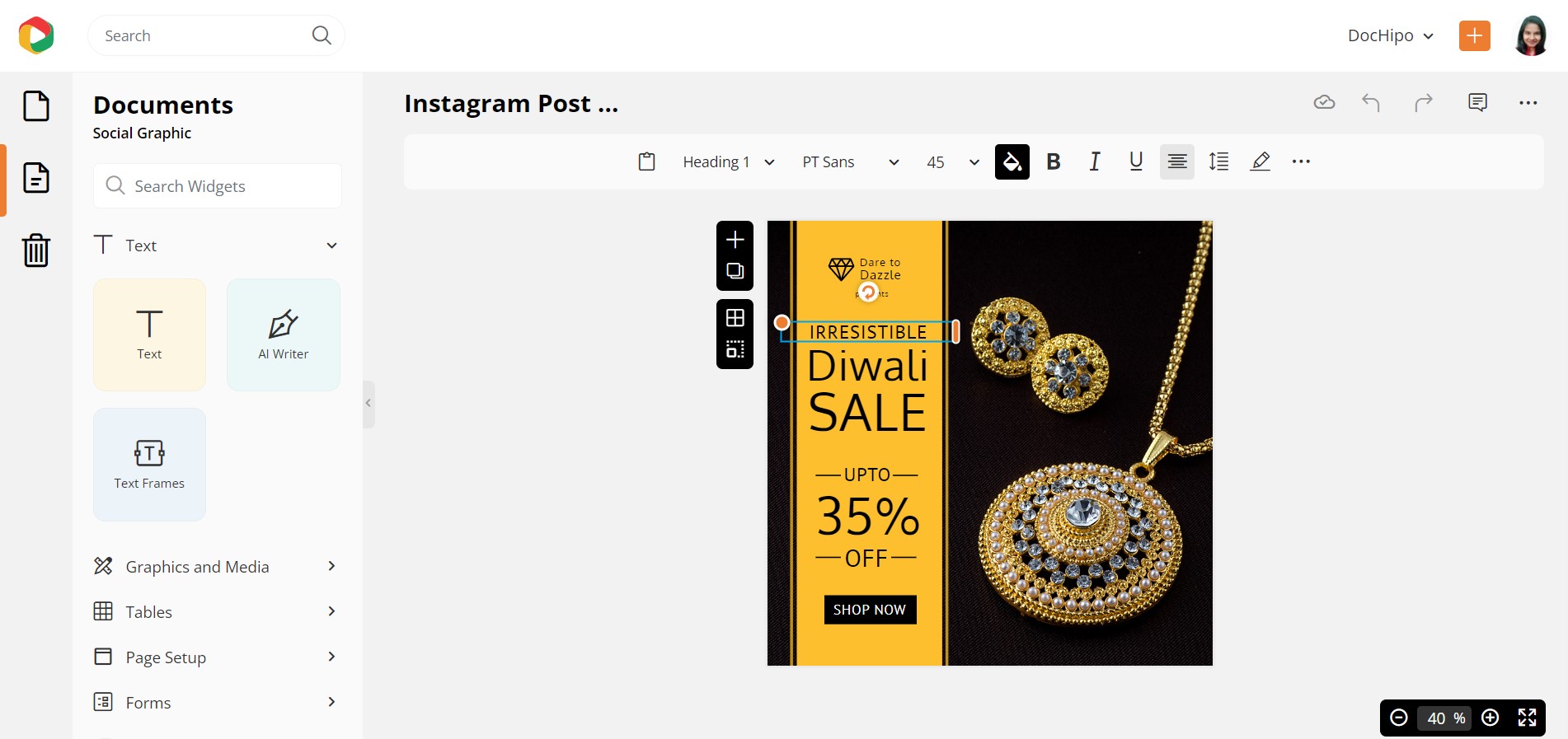 I have changed the text from "IRRESISTIBLE" TO "Unbelievable." Also, I have changed the discount percentage from 35 % to 55%. Lastly, I changed the brand name from "Dare to Dazzle" to "Timeless Treasures."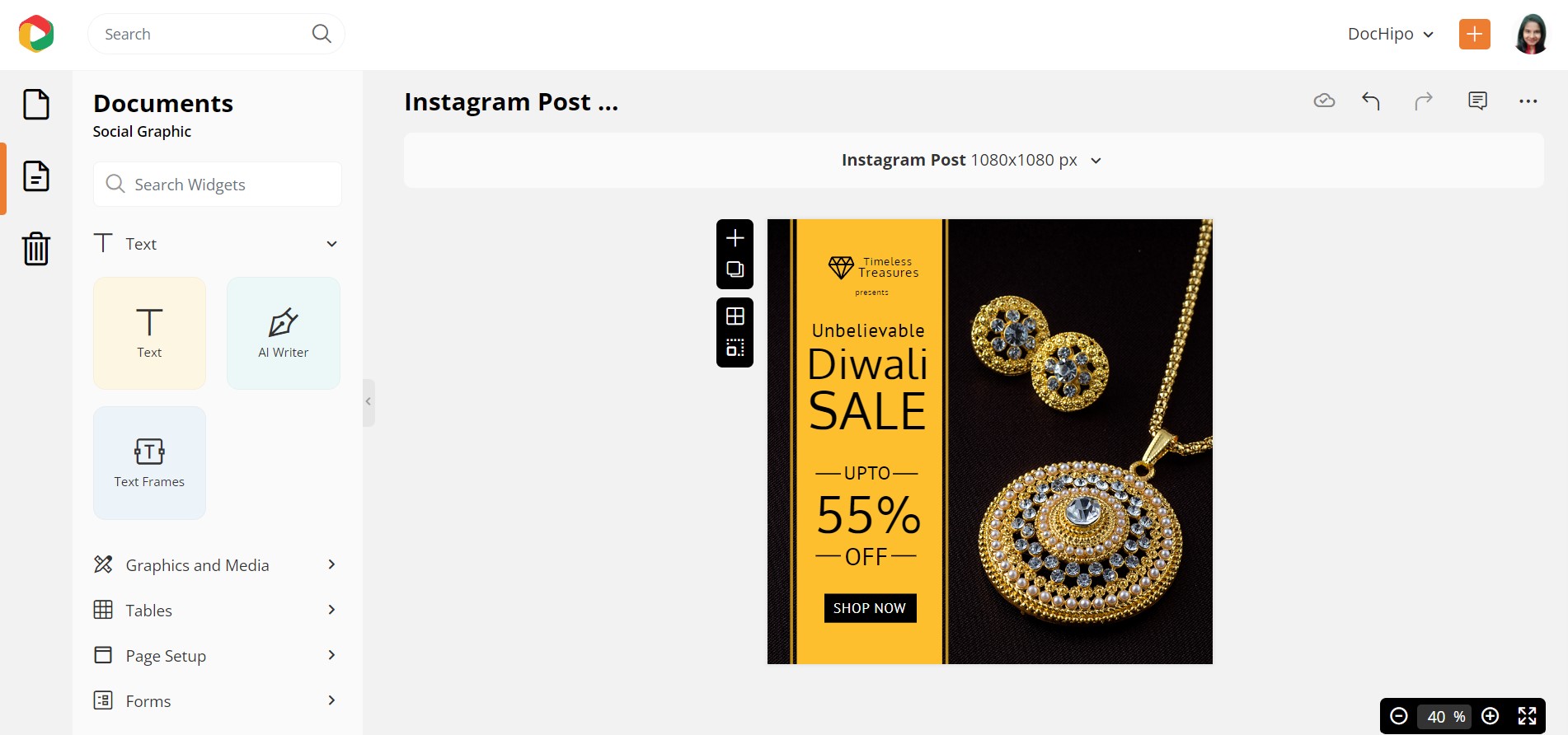 You'll get multiple text editing options, such as changing the font family, color, size, alignment, letter spacing, line height, etc.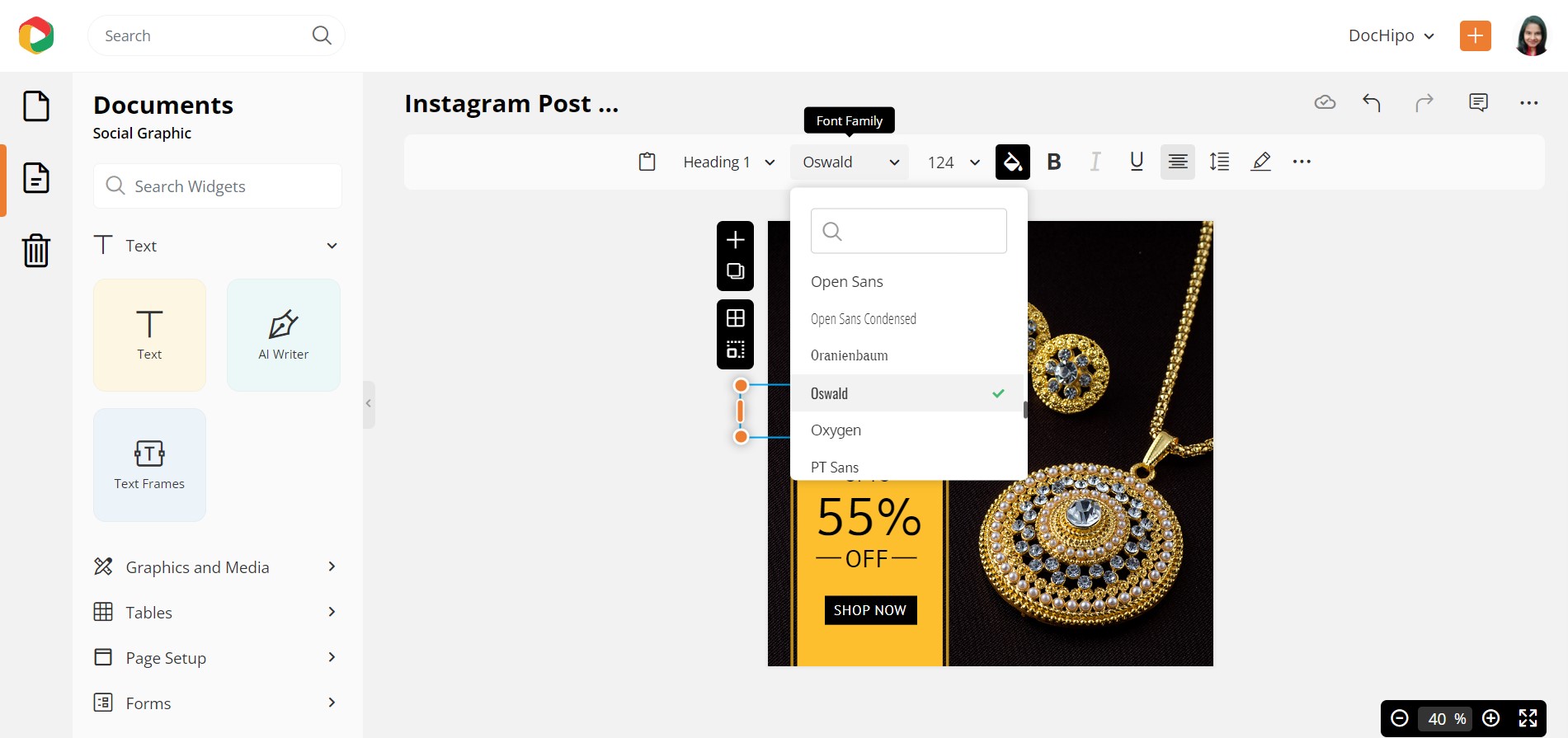 Refer to the video below for adding, editing, or deleting text in DocHipo.
Let's experiment further with the text effects.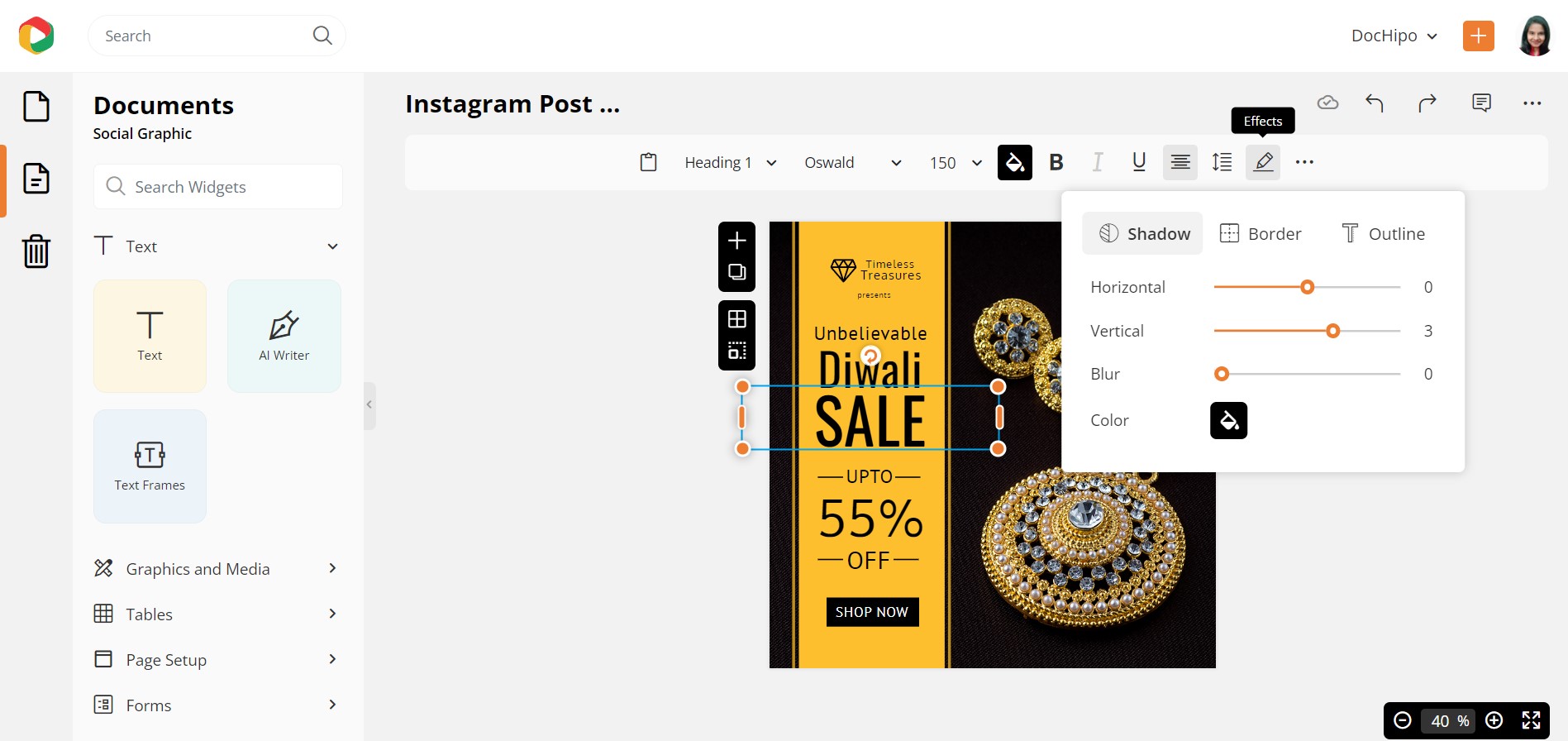 Click on the pencil icon in the contextual editing bar and choose 'Shadow'. I've changed the horizontal shadow to 5 and the vertical one to 4.
Explore the exciting effects with DocHipo.
Edit the Picture
Select the 'Pictures' widget under the 'Graphics and Media' option.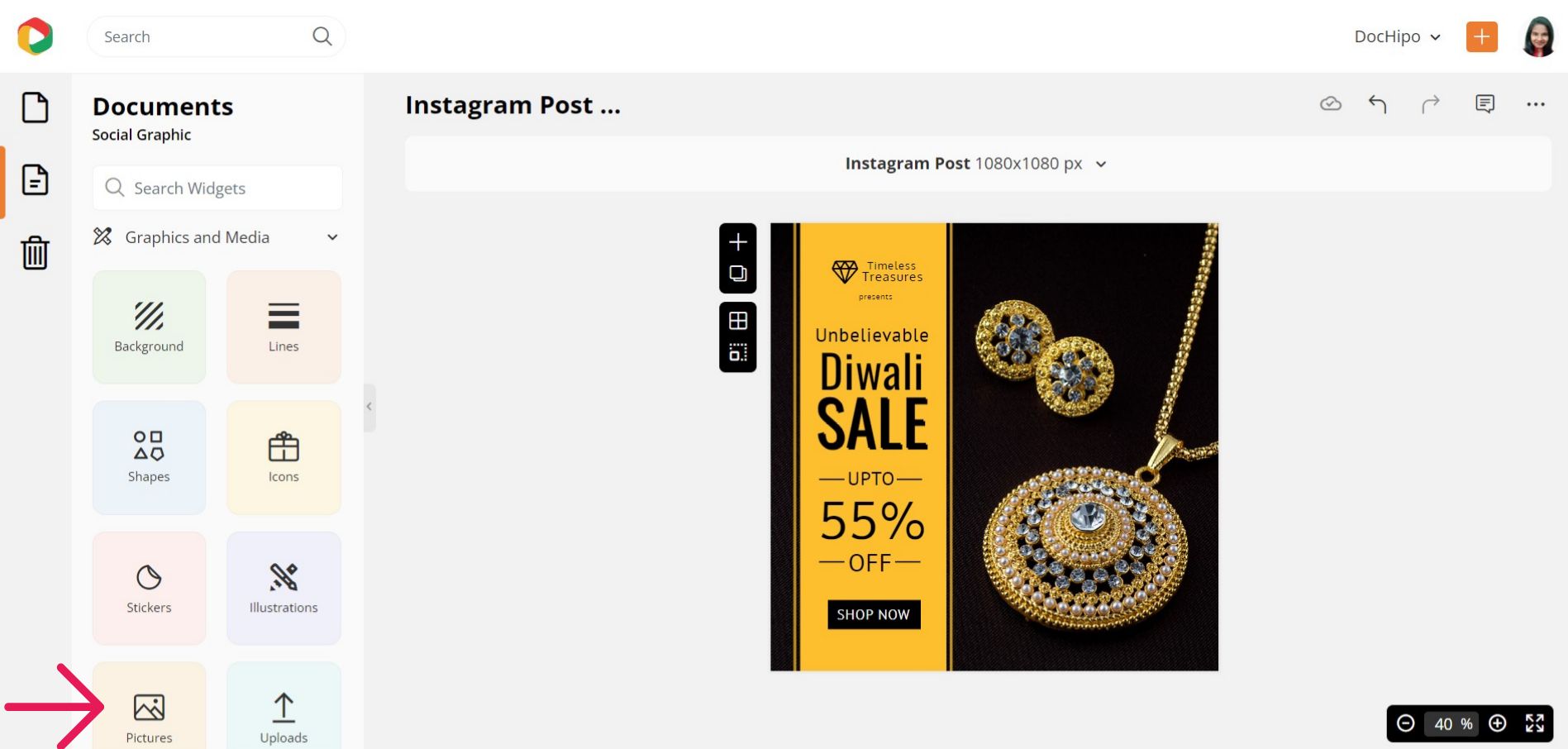 DocHipo's integration with stock photo libraries lets you access unlimited high-quality stock images. Select the 'Stock Photos' tab and click on the three horizontal dots to choose your desired orientation and color(s).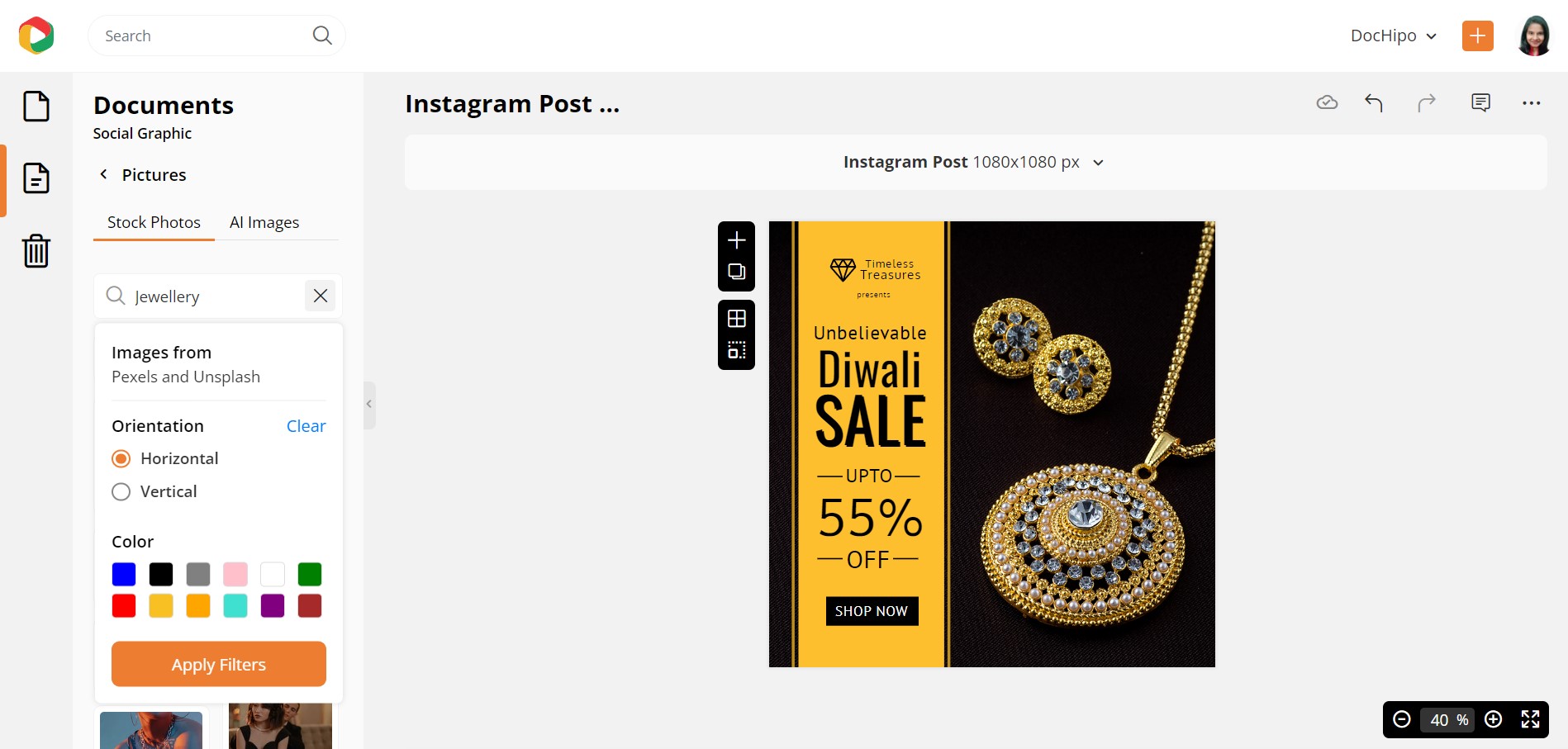 Click on the 'Apply Filters' button to find the picture most appropriately representing your brand offers. Drag and drop it into the existing picture on the template, and it'll automatically adjust itself.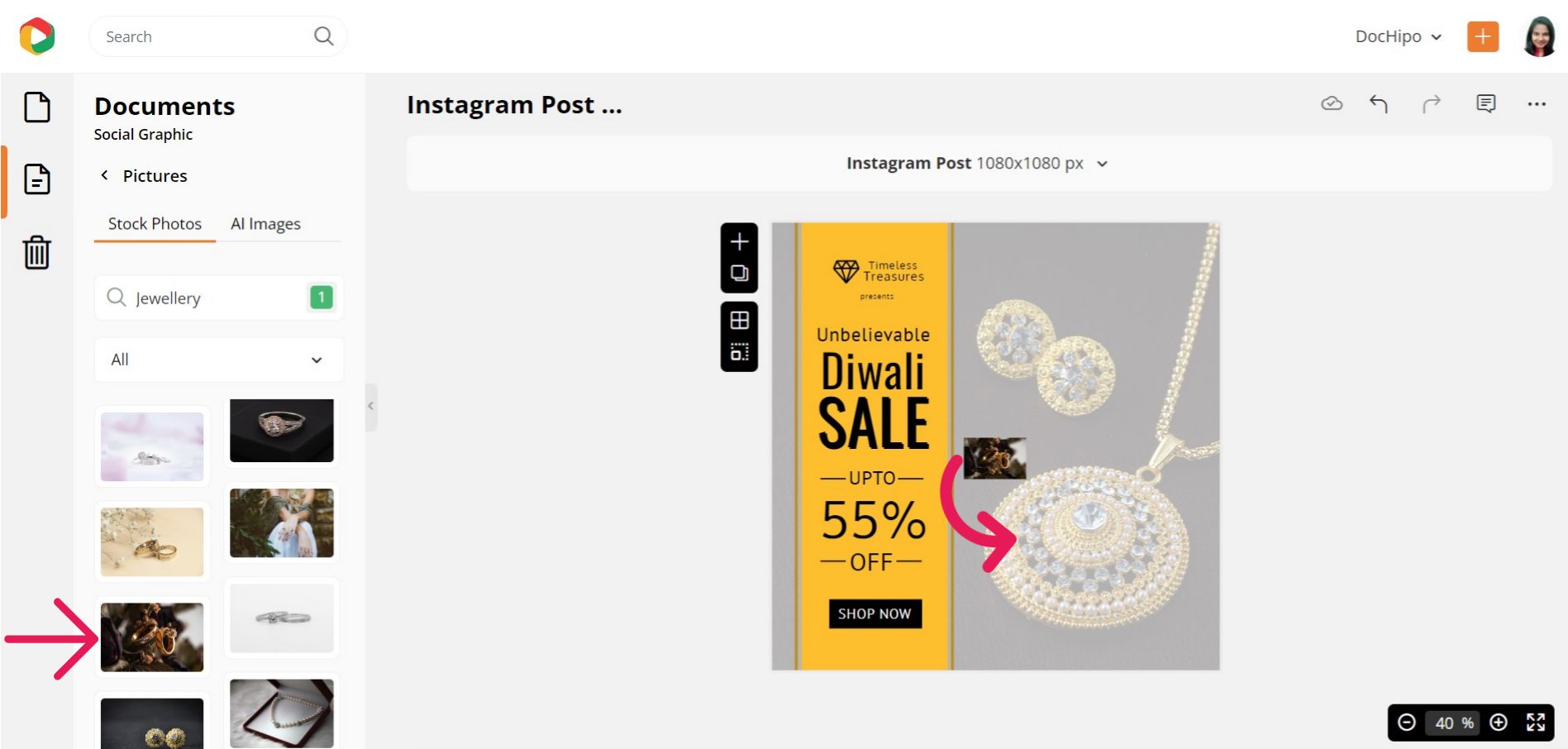 You can still resize and reposition it with the drag-and-drop editor if needed.
Here's more about DocHipo's integration with stock photo libraries.
However, if you have professionally shot images of what your business offers, here's how to upload them in DocHipo.
Change the Color
Select the design element you wish to change the color of and click on the color icon from the editing bar.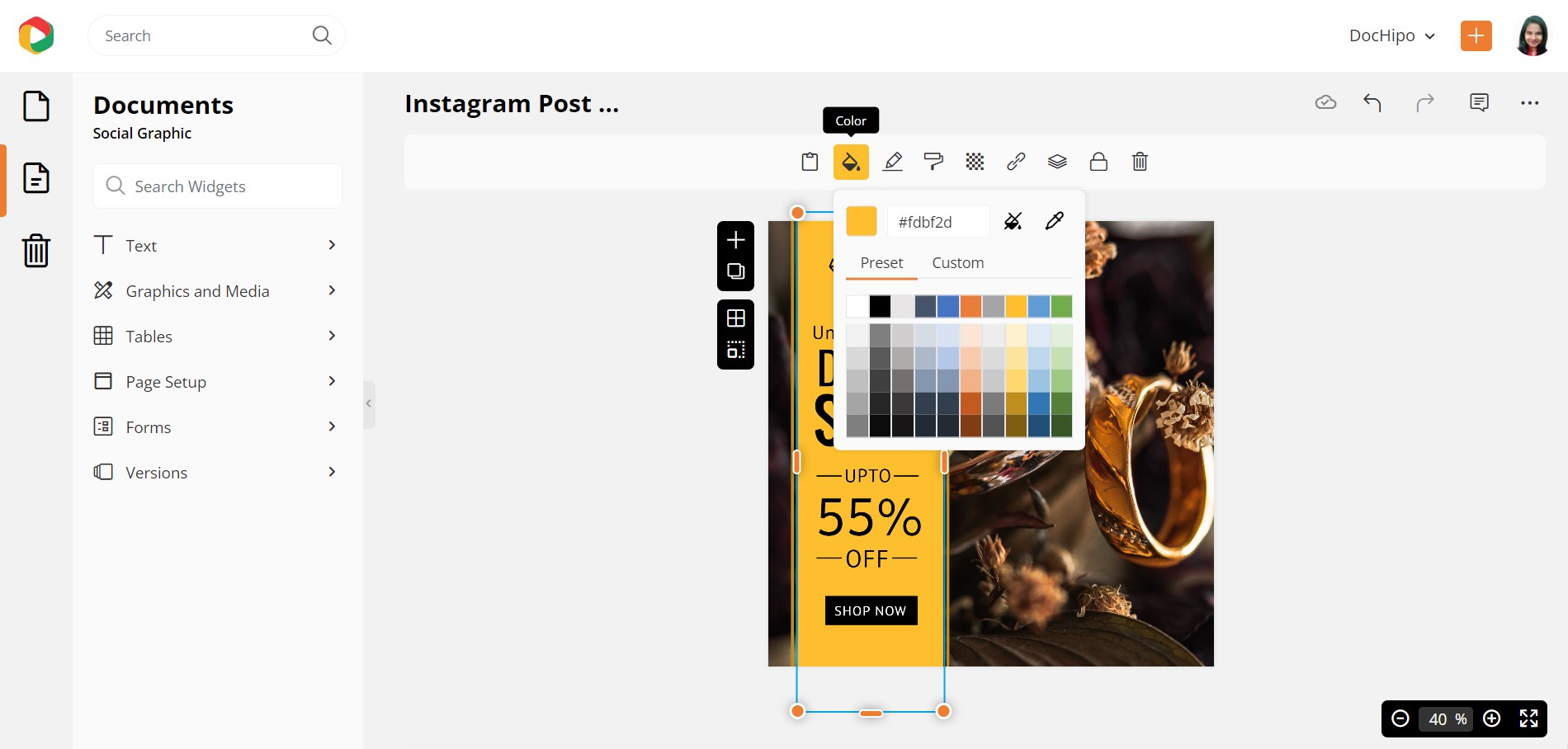 You can either put the color hex code in the provided space or pick one from preset or custom colors.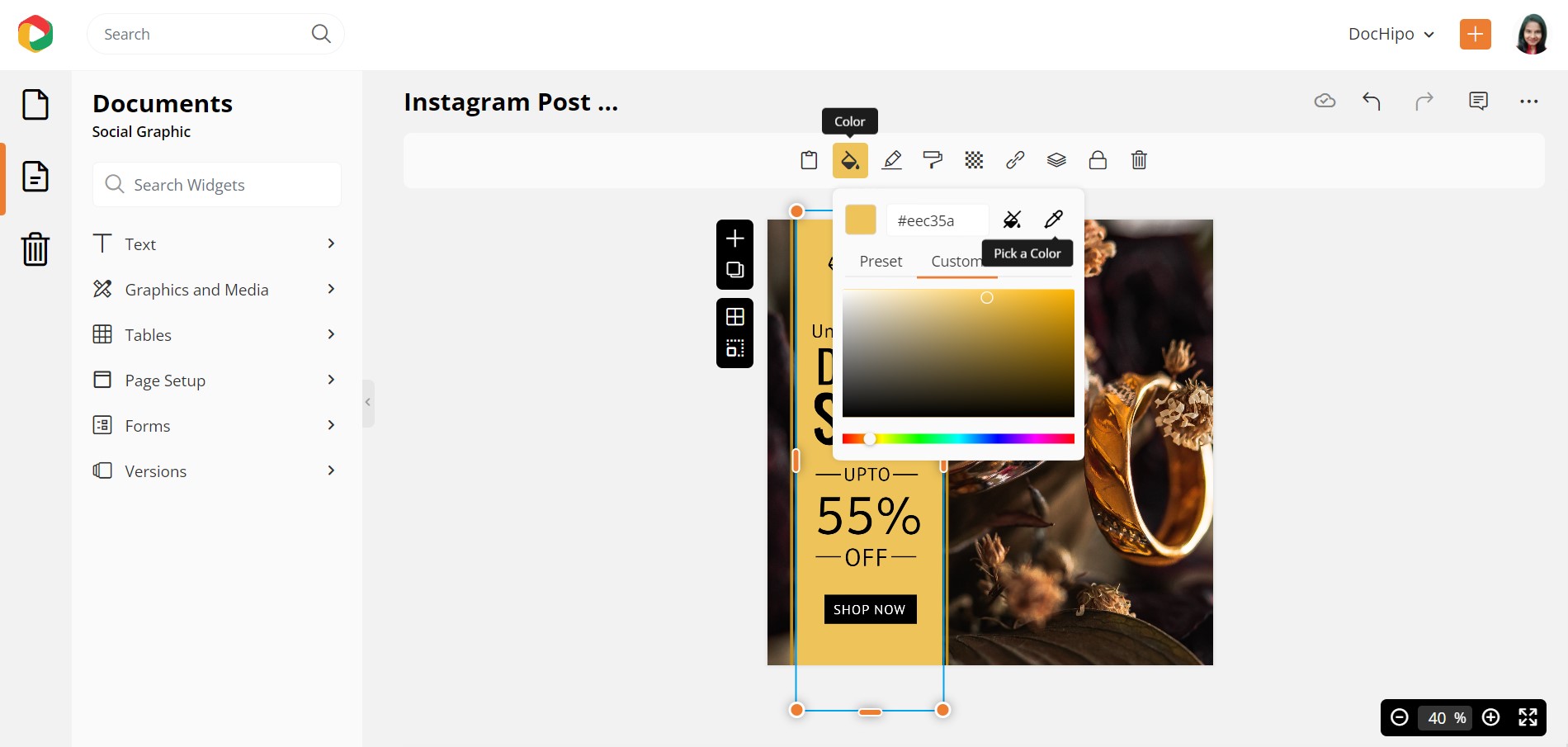 Furthermore, you can also pick a color from the template to incorporate it into other elements.
That's it. Now, it is time to download it. 
Step 3: Download Your Diwali Instagram Post Design
To download, select the dotted line on the top-right corner. As the bar pops up, select the "Download" option.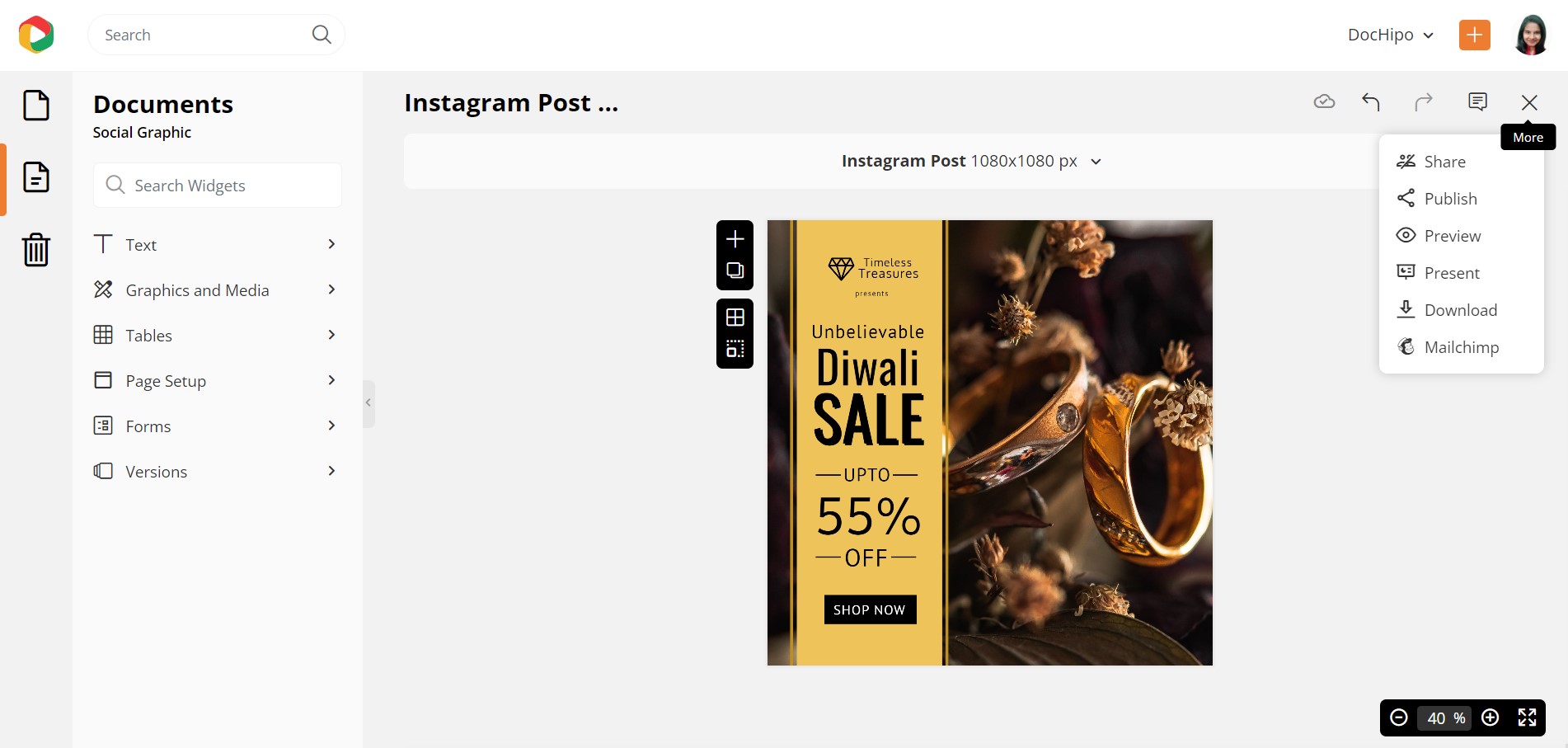 You will see a box where you can download the document into multiple formats such as PNG, PNG (Transparent), JPG, PDF, MP4, and GIF in varying quality, ranging from Normal, Medium, to High.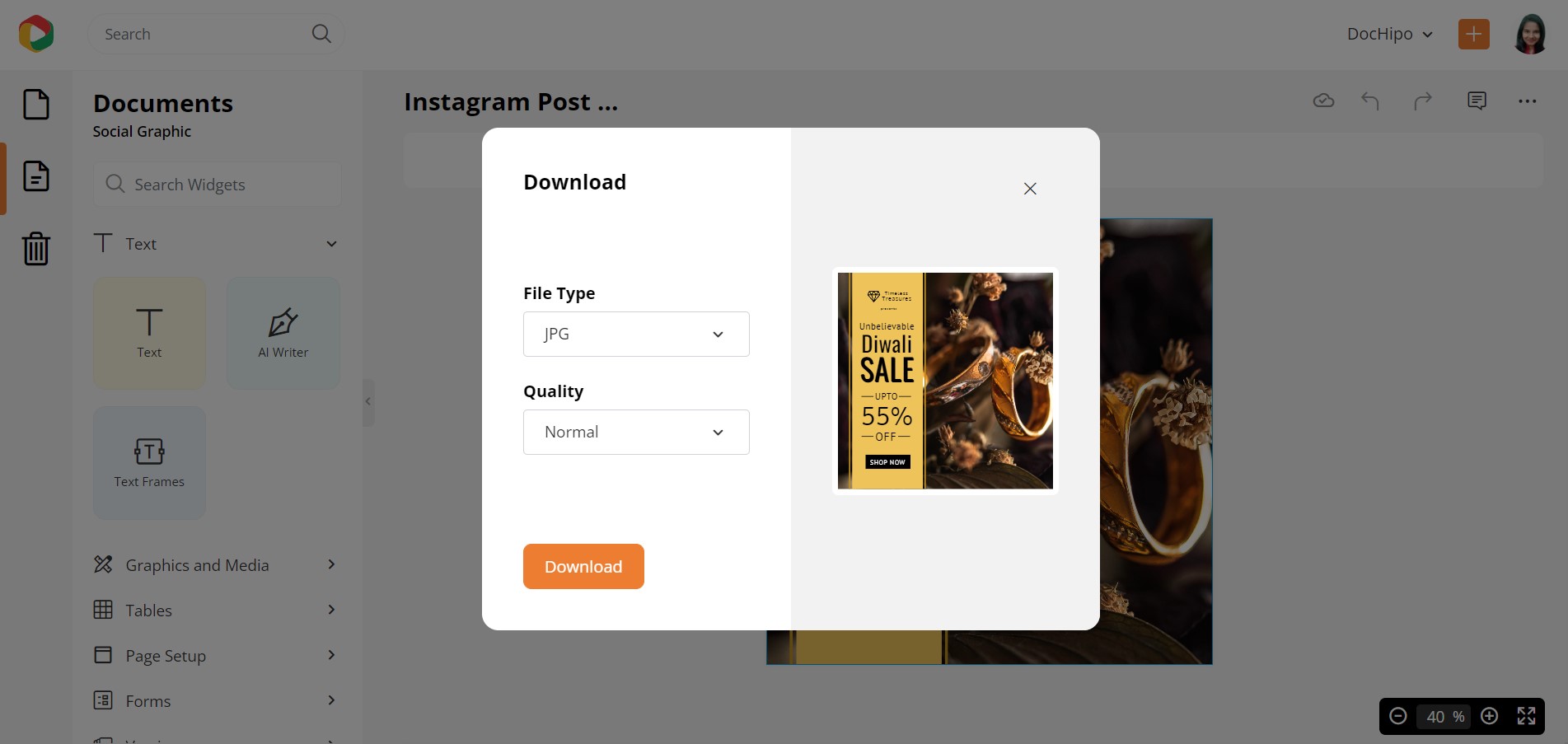 I have selected a Normal-quality JPG file format for a standard screen.
Here's how to download images in JPG format.
Diwali Instagram Post Template Before Customization: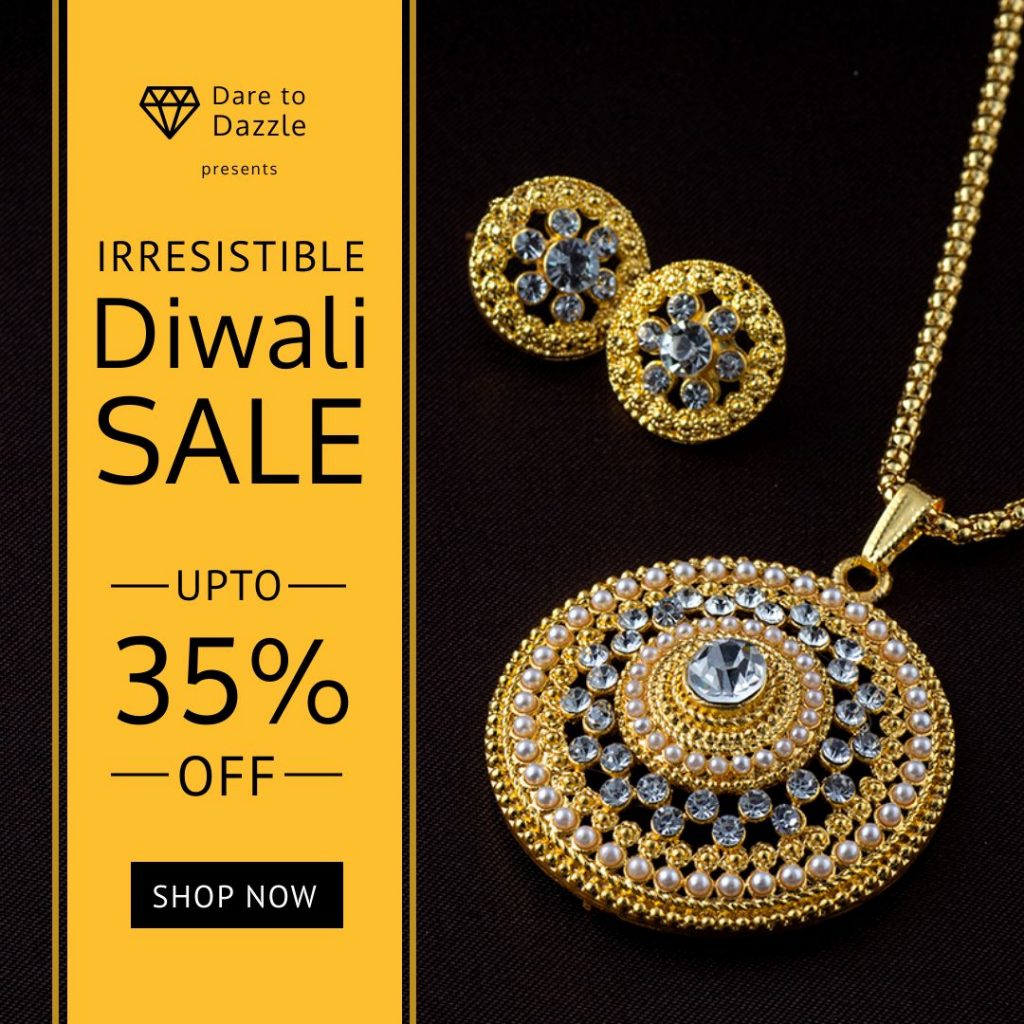 Diwali Instagram Post After Customization: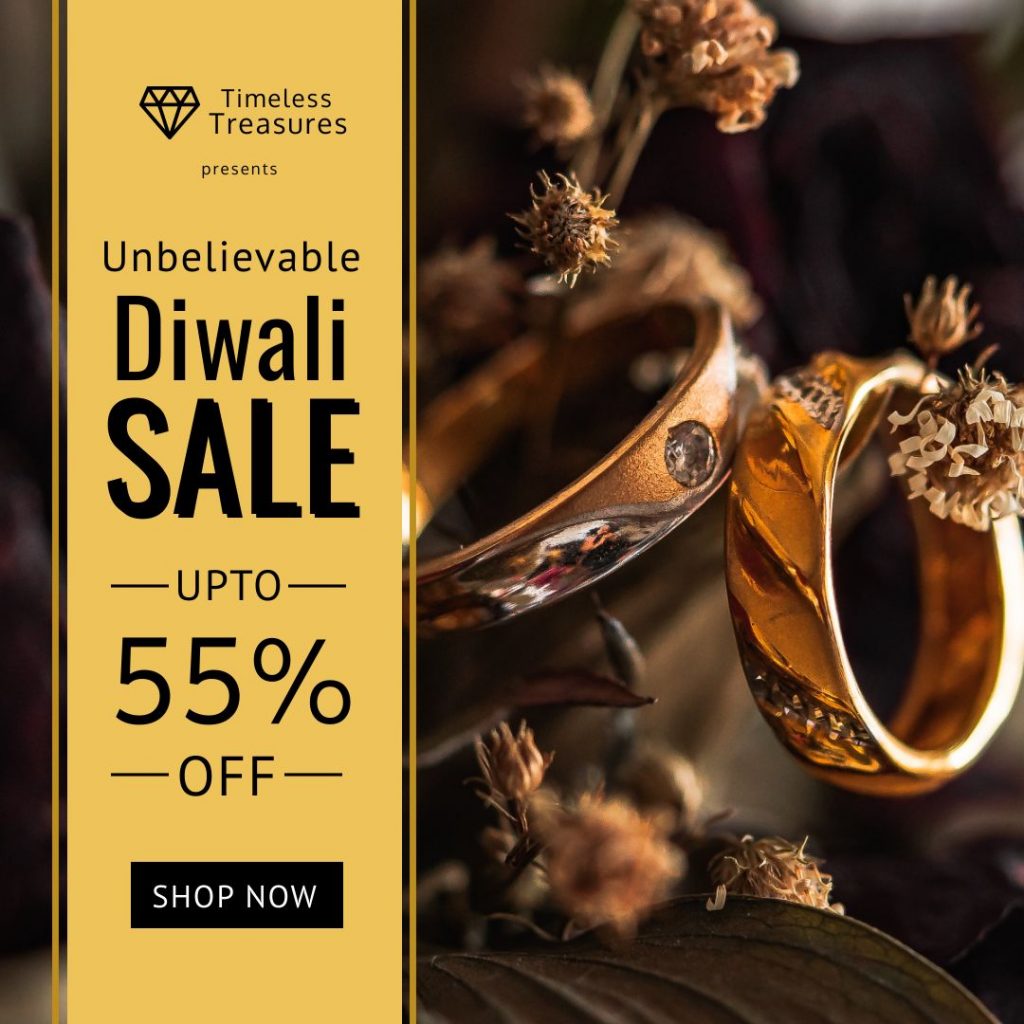 Here's how you can create irresistible Diwali graphics with DocHipo.
Conclusion
DocHipo is user-friendly and can be used by anyone. You don't need specialized editing knowledge to use it, and I guess that's what makes it so wonderful.
DocHipo has a huge repository that never makes me tired of browsing through by providing templates for almost all Documents.
Just imagine I needed a Diwali Instagram Post, and DocHipo has already updated its template base with this theme of templates.
Till then, see you next time.
Wishing you all a bright, happy, and prosperous Diwali!