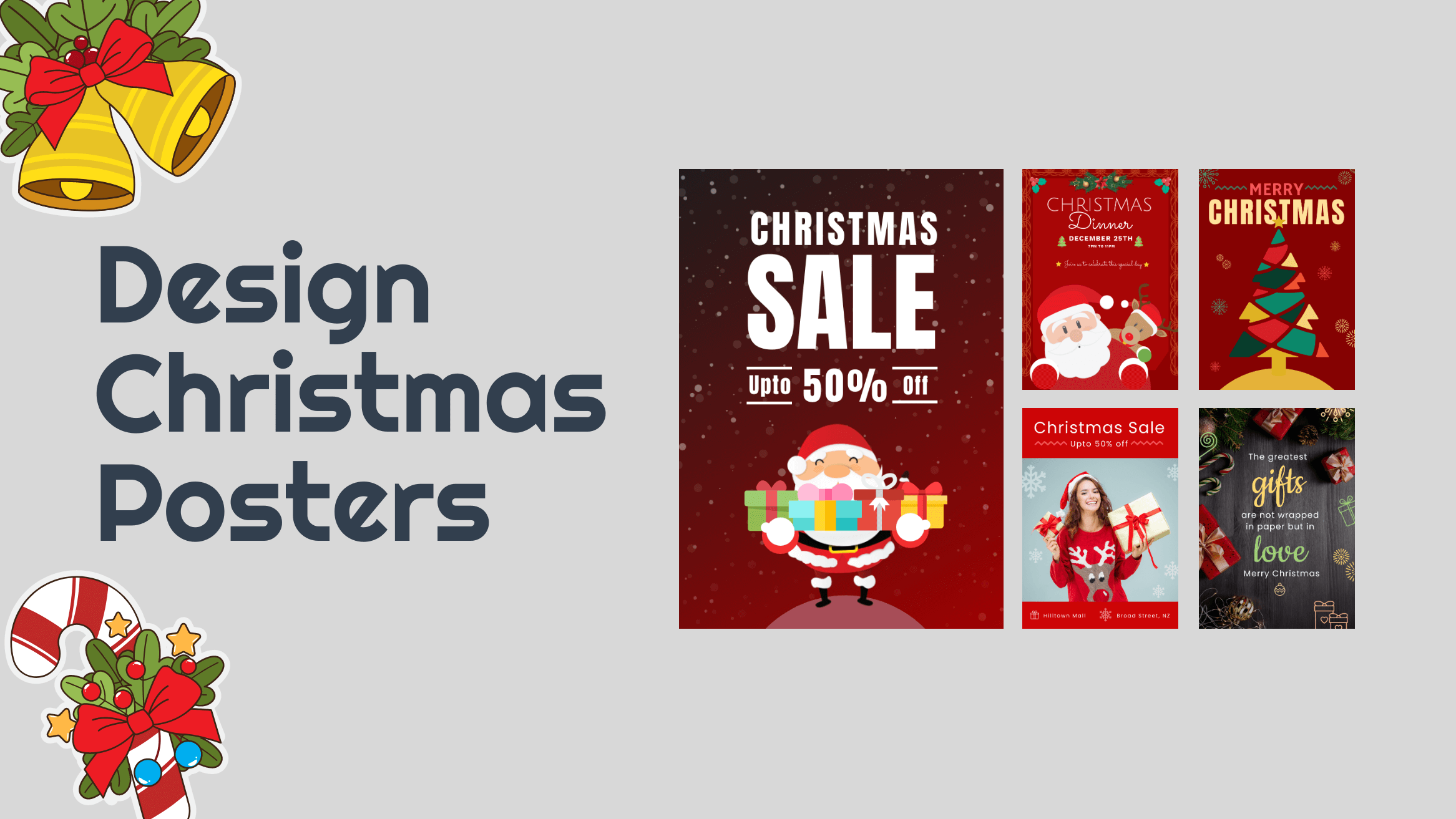 How to Create a Beautiful Christmas Poster in Minutes

Last Updated Dec 27, 2022
According to the National Retail Federation, total holiday retail sales in 2020 reached $789.4 billion despite the pandemic. So, Christmas is undoubtedly a crucial occasion for marketers to create opportunities. And if you are a marketer or a business owner, you might not want to miss out on this opportunity. However, you will need a solid marketing plan for that. Christmas Poster Design is one of the great ways to start with.
Posters have been one of the cost-effective and result-oriented marketing materials for decades. In this era of digital marketing, designing posters will help your business stand out from the crowd. And the best thing? Christmas Poster Design is just a piece of cake with DocHipo.
Therefore, even if you have zero design experience, anyone can design unique Christmas posters with DocHipo's Free Online Poster Maker. And that's completely free!
Read on to learn more about Christmas Poster Design in DocHipo.
Table of Contents
Christmas Poster Design Best Practices
Since we claim that anyone can customize a template in DocHipo to create the design they want, we always come up with some of the practical and proven design best practices.
Hence, we will do that for Christmas Poster Design as well. Though there are no perfect guidelines to design posters, you can follow these best practices to get the poster design you are looking for.
Consider Your Target Audience
The first thing that you should consider before designing the poster is your target audience. If you haven't defined your target audience yet, then do that before starting. You are designing the poster for your audience and not yourself. So, it would be best if you designed posters the way they want.
Here are some of the effective ways to do the same:
Create A Buyer Persona
Conduct Market Research
Analyze Your Existing Customer Base
Employ Multi-Segment Marketing
Research Your Competitors
Once you identify the target audience, learn how they will like your poster design. From colors to font style, everything should attract your target audience.
For example, the Christmas Poster design template below is designed to attract kids and their parents. Every design element in this poster is child-centered.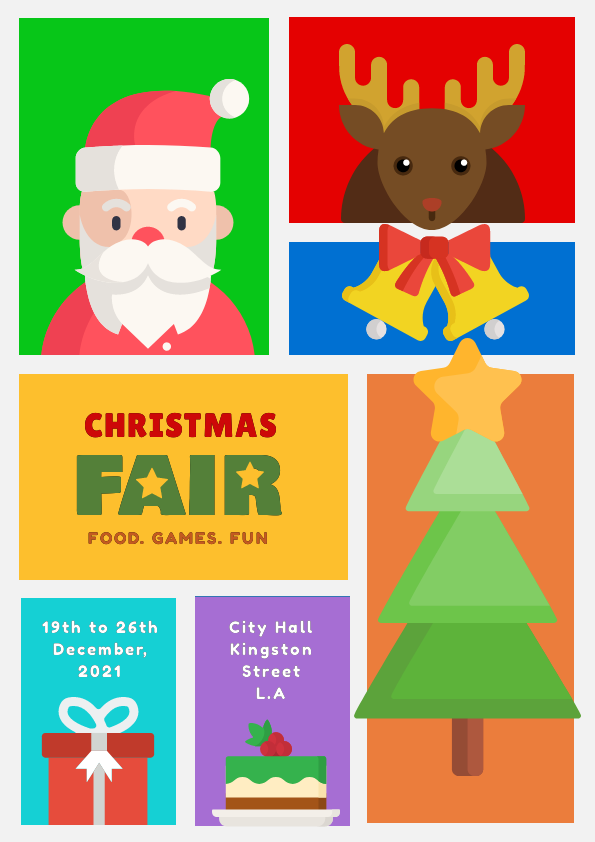 Get This Template and More
Now, look at the template below. Do you think it will attract the same audience?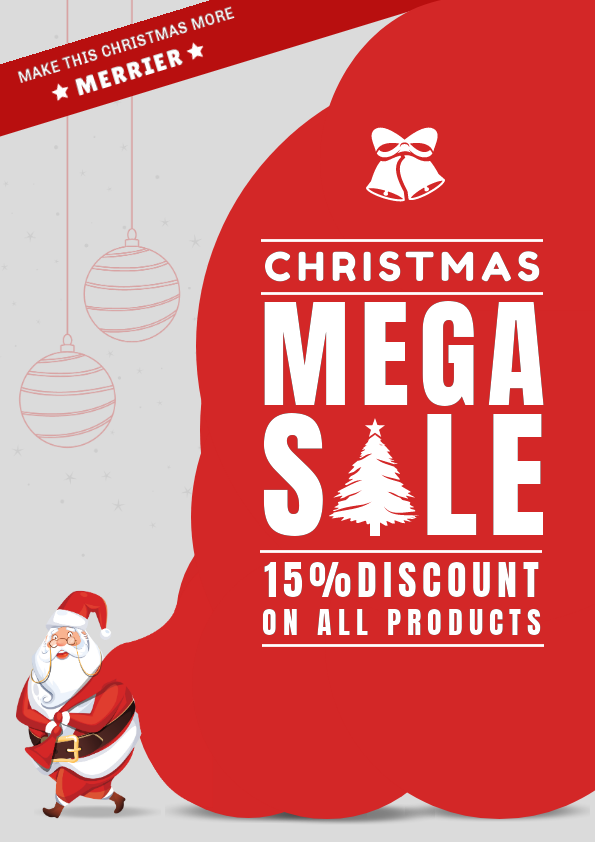 Get This Template and More
Pick a Relevant Color Scheme
Statistics show that colors alone can influence up to 90% of an initial impression. And it's evident that color is the first thing that people will notice in your Poster design. So, take enough time to select the color scheme for your design.
Colors can affect people's mood and behavior, so you need to consider your target audience and the purpose of your Poster design. Since you are designing a Christmas Poster, you might already have some idea about the colors that are relevant to your design.
For example, you can use a combination of warm green, white, and red to evoke the feeling of the Christmas holidays, just like the poster template below.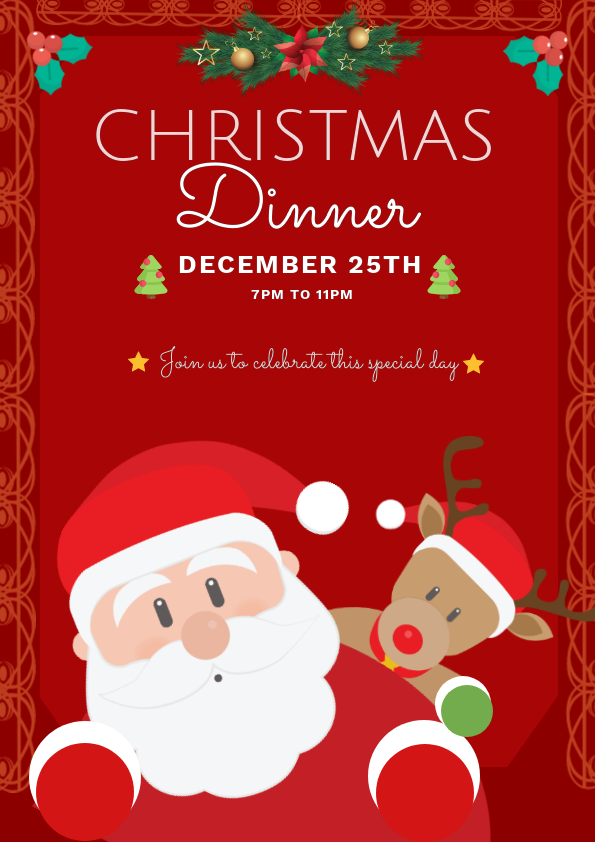 Get This Template and More
However, you can also use other darker shades such as Rosewood, Prussian Blue, Lincoln Green, Jet, Oxford Blue, and many others. Additionally, you can use your brand colors to create brand awareness as well. Here is an article on the best color combinations that you can use for inspiration.
Create A Hierarchy Of Information Using Fonts
Effective use of fonts in your Poster design is one of the critical aspects to consider. You are designing the poster to promote your service or products or inform your audience about something. Hence, you need to display the information in a visually appealing way.
Here are some tips for choosing fonts for your poster design:
Align your choice of fonts with the information on your poster
Limit your fonts to three
Choose fonts that make your crucial information visible from a distance
Create a typography hierarchy in your poster design
Look how, in the Christmas Poster template below, the three different fonts, Dancing Script, Paytone One, and Open Sans, create a visual hierarchy.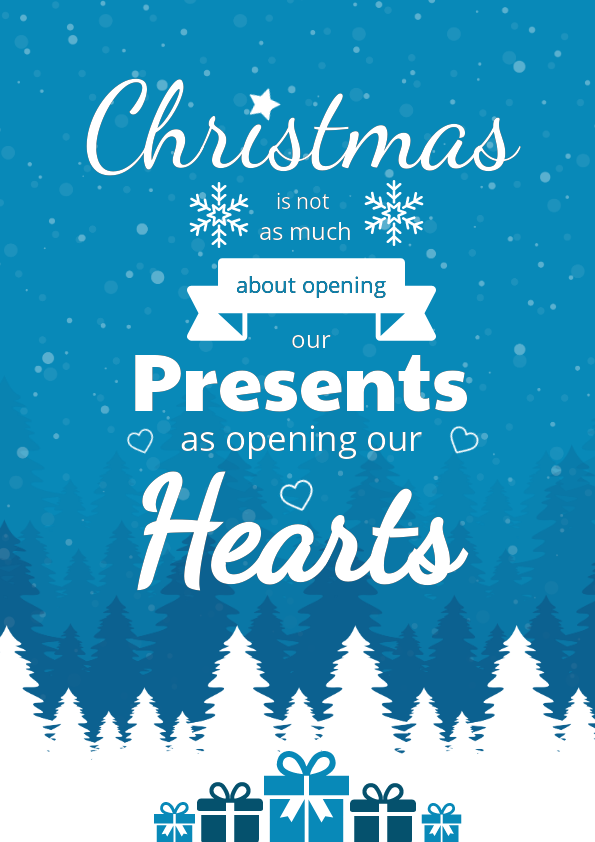 Get This Template and More
Use High-Quality Images Only
"A Picture is Worth a Thousand Words." You might have heard this many times in your life. So, a picture in your Christmas Poster is your opportunity to communicate a thousand words to your audience.
You can place pictures of your products or services or even a model as the face of your brand in the poster design. It will help you promote an emotional response from your audience. Moreover, the images in your posters will communicate brand values, hook your audience, improve brand awareness, and drive conversions.
However, you need to choose high-quality images only. You can use high-quality stock images from free sources like Unsplash, Pexels, Pixabay, Freepik, and many others. But make sure they are high-quality and perfectly aligned with your content.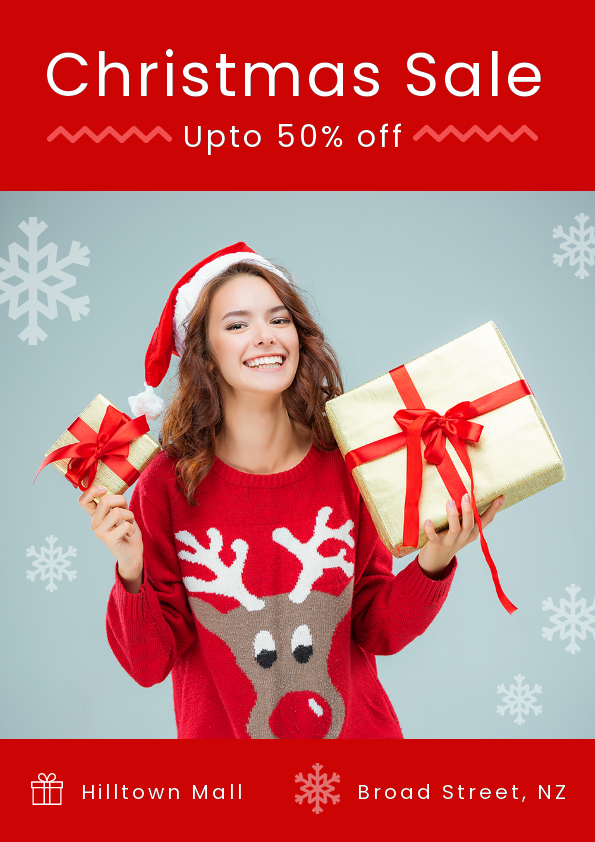 Get This Template and More
Use Additional Elements Wisely
Additional elements such as stickers, icons, illustrations, and other graphic elements, can help you represent your concept. They are the perfect way of enhancing your poster design. You can utilize them to embellish points, and in many cases, they can even replace text.
They are also a great way to illustrate an idea quickly that words can not. However, you need to pick only the most relevant elements for your poster. Also, if you want to replace text with these elements, make sure that the meaning is very obvious.
Here is a template to get you started.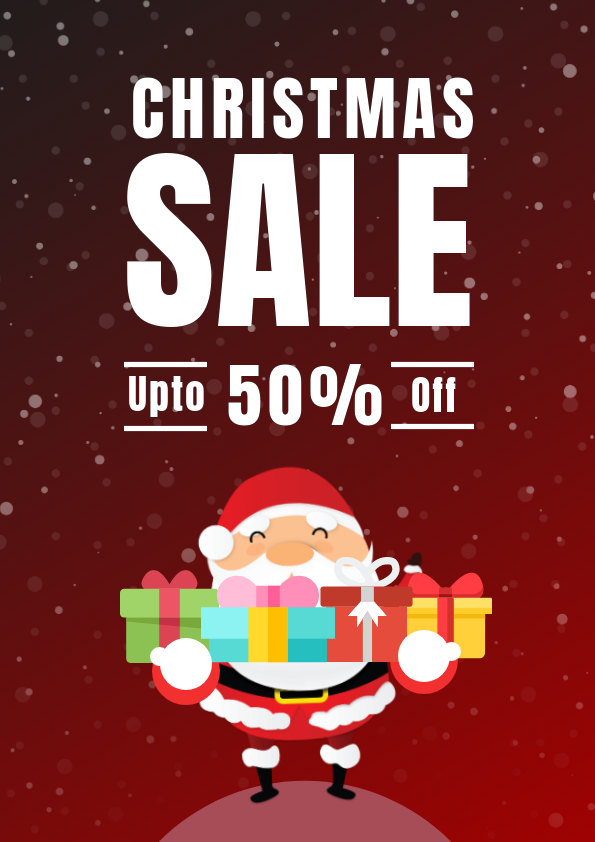 Get This Template and More
Incorporate Adequate White Space
White space, also called negative space, refers to the space surrounding the design elements in a design. However, this space shouldn't always have to be white or negative. It can be of any color, texture, or pattern.
Utilize this space to help your audience scan your design, increase readability and legibility, and create certain aesthetics. You can leave space between letters and design elements.
If you have noticed our Christmas Poster design templates included above, you will find enough white space in each template. Here is another example.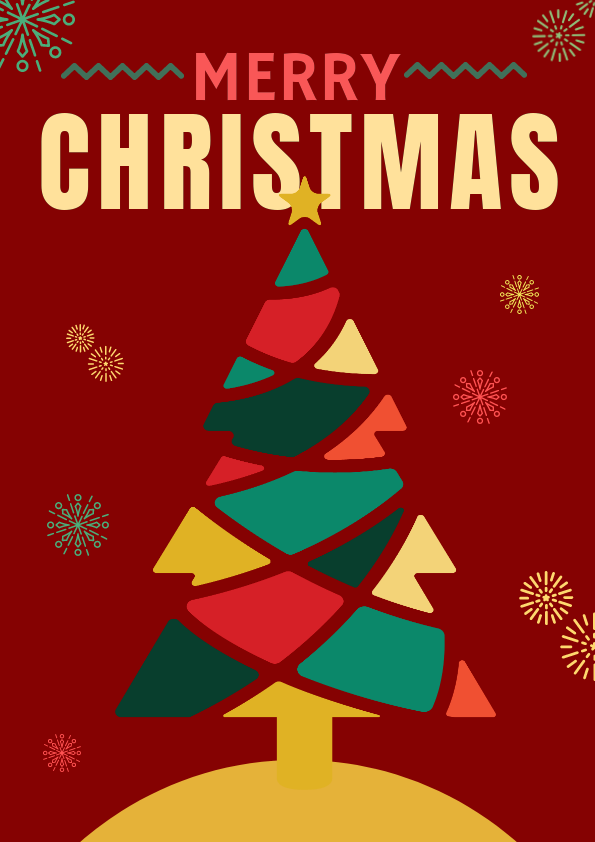 Get This Template and More
You can read this article on Poster Design to learn more about the same.
Now that you have some Christmas Poster Design ideas in mind, let's move on to the design part.
Christmas Poster Design In DocHipo
DocHipo features a wide array of Christmas Poster Design templates and some awesome Design Widgets that make your design process more straightforward and efficient.
To get started with DocHipo, you will need an account. Click Here to sign-up to DocHipo if you haven't already, and follow the instructions below:
Step 1: Pick A Christmas Poster Design Template
After sign-up, you will land inside the All Templates page of DocHipo, where you will find a wide selection of templates under different categories and document types.
Type "Poster" in the search box and click on the result to find the Poster templates. We have divided the Poster templates into many different categories such as Advertising, Music, Sale, Gym, Birthday, Sports, Food, Christmas, and many others.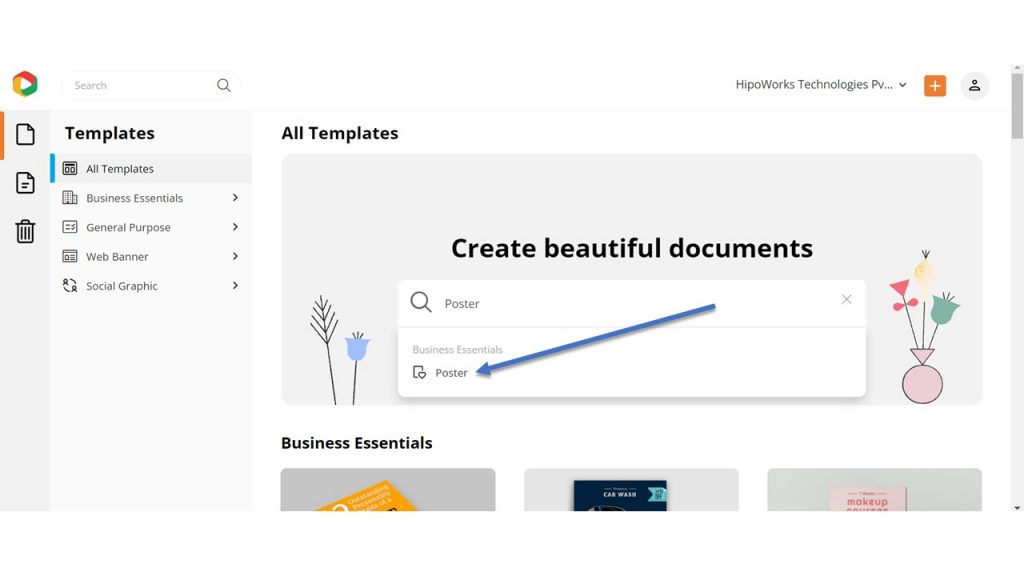 Choose the Christmas category to filter out the templates.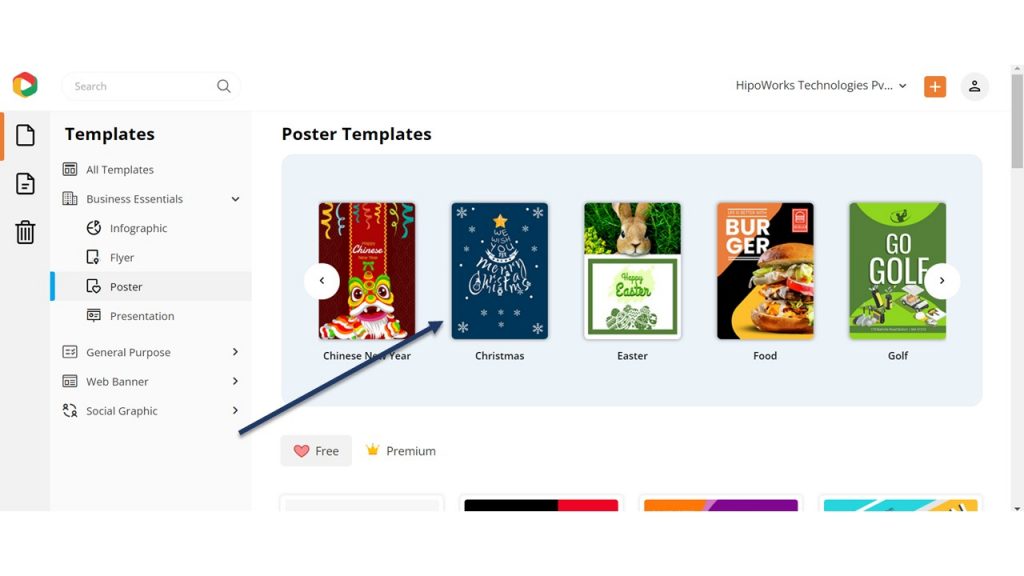 Hover your mouse over the template you like and click "Preview" to see the template before editing.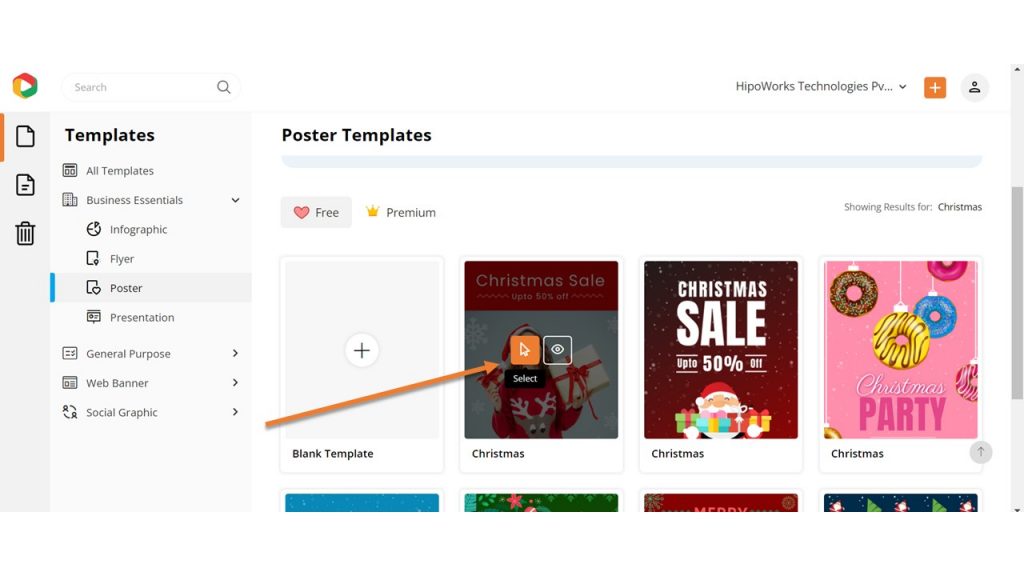 Once you decide on a template, click "Select" to proceed further.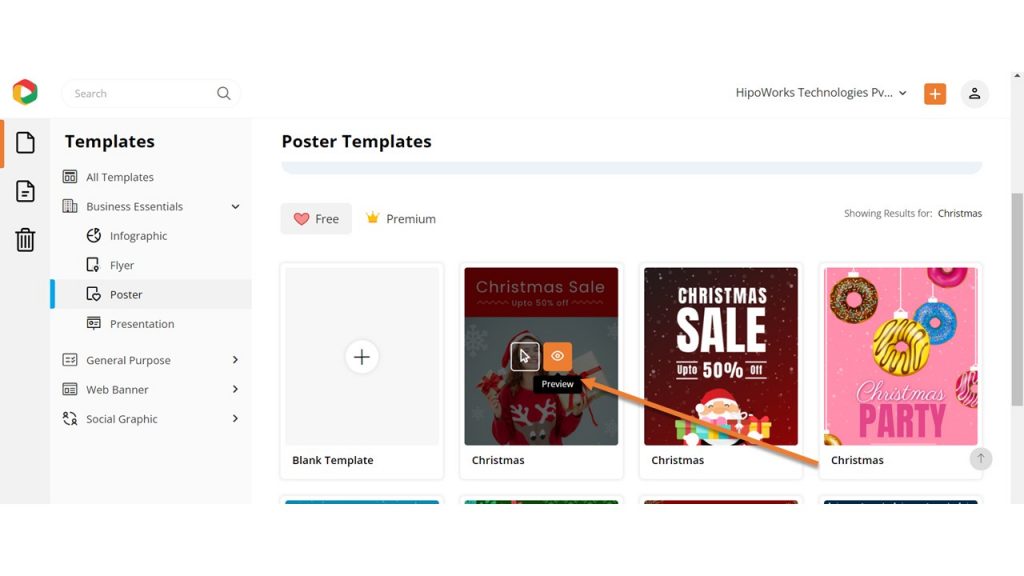 On the next screen, give a name to the document and a short description and click "Next."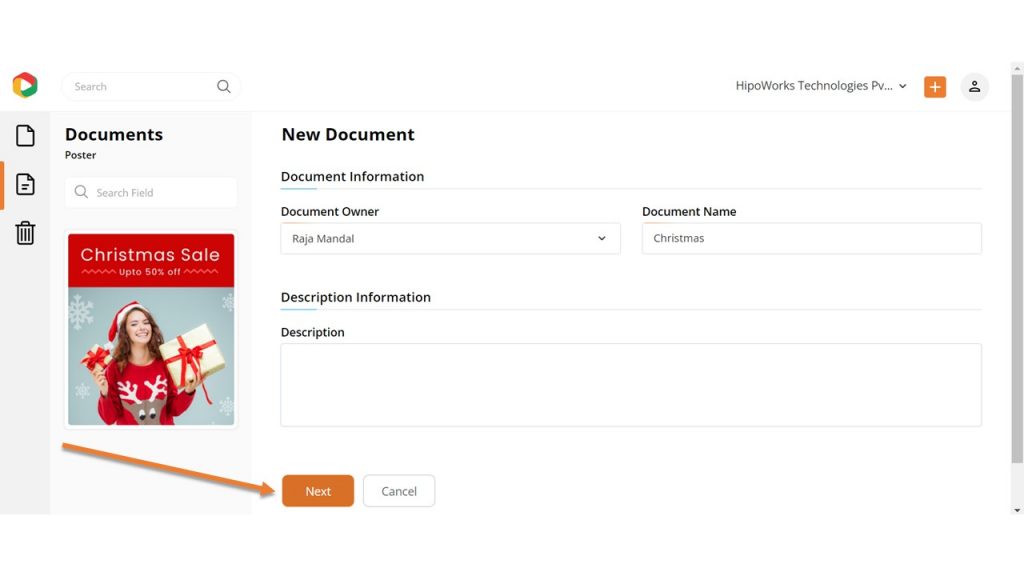 Step 2: Customize the Template
DocHipo Editor allows you to customize a template the way you want it. So, you can change the color, font, image, or anything that you want to get the perfect Christmas Poster Design.
Here is how you can do that:
Add or Replace Text
Click on the "Text" widget from the left side panel to add text to the template. You can add three different text objects: Heading, Sub-heading, and Body. Once the text object is added, double click on it and type your copy.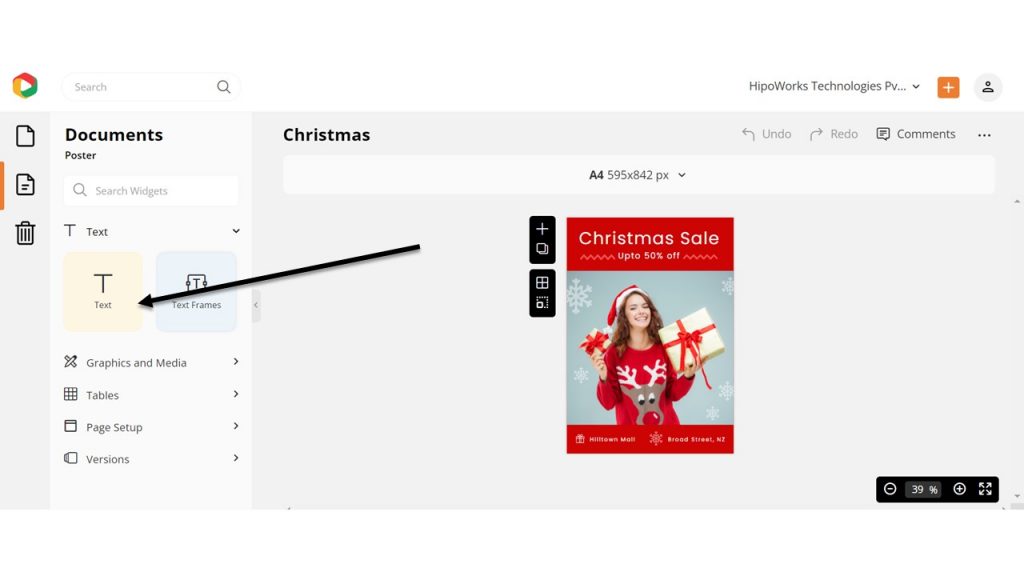 Alternatively, you can edit the preexisting text on the template. Double click on the text you want to edit and replace it with your text. Use the edit panel on top to change the font, color, alignment, and many others.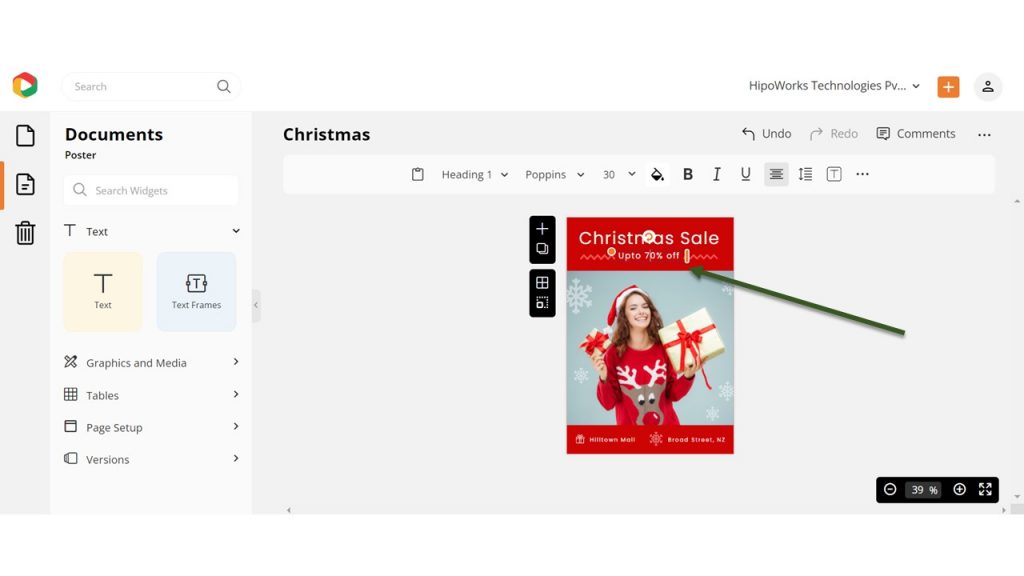 Learn more about the same from the video below.
Change the Background Color
Click on the Background widget from the left panel to change the background color.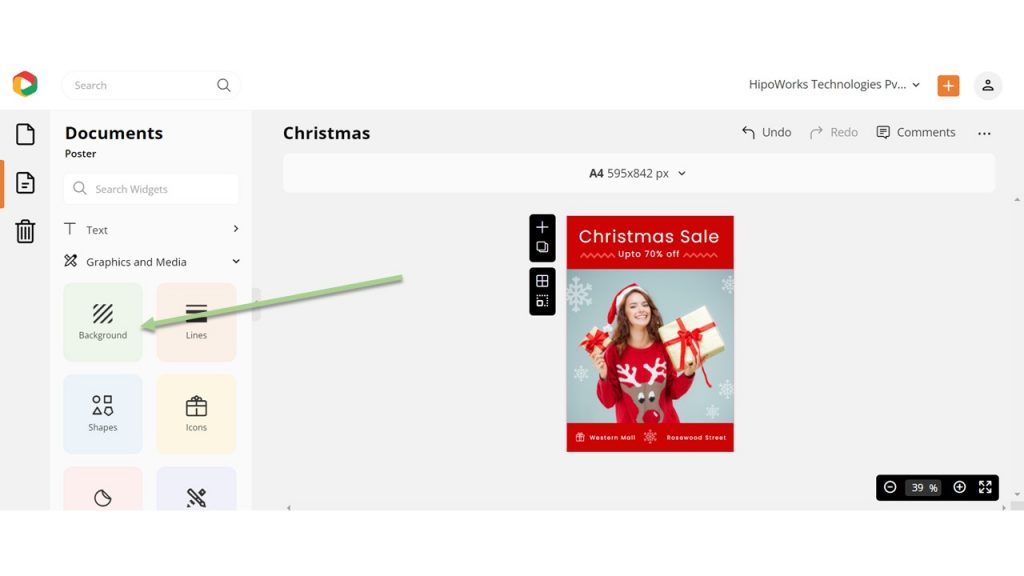 Choose any color from the presets or use the color picker tool to choose a custom color. You can also type the color HEX code in the box to get your desired color.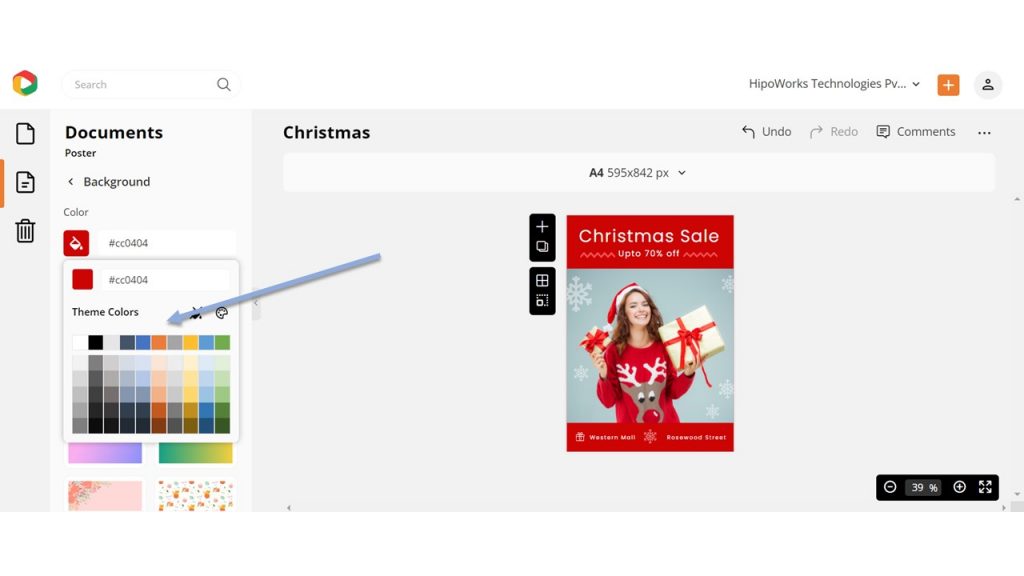 Additionally, you can choose an image from the list to add texture and gradient to the template.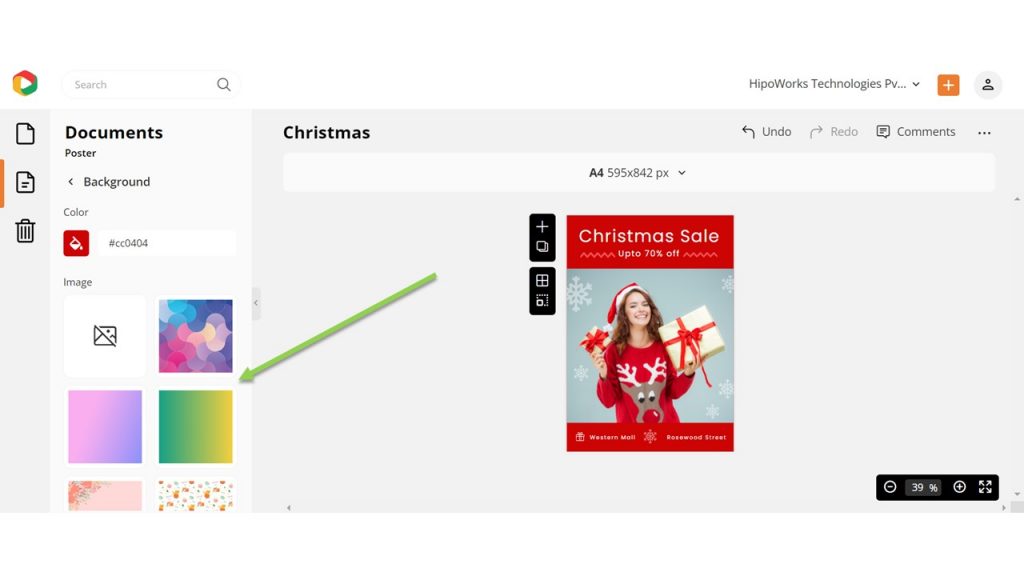 Watch the video to learn more about it.
Replace the Image
Click on the Pictures widget to browse thousands of stock images and add them to your template.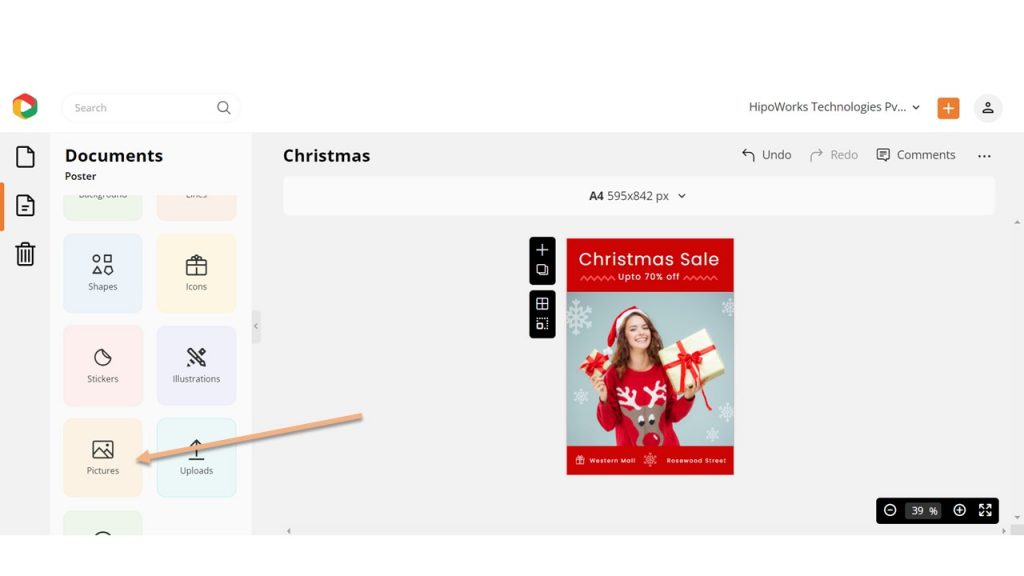 Alternatively, click on the Uploads widget to upload and add a photograph from your system.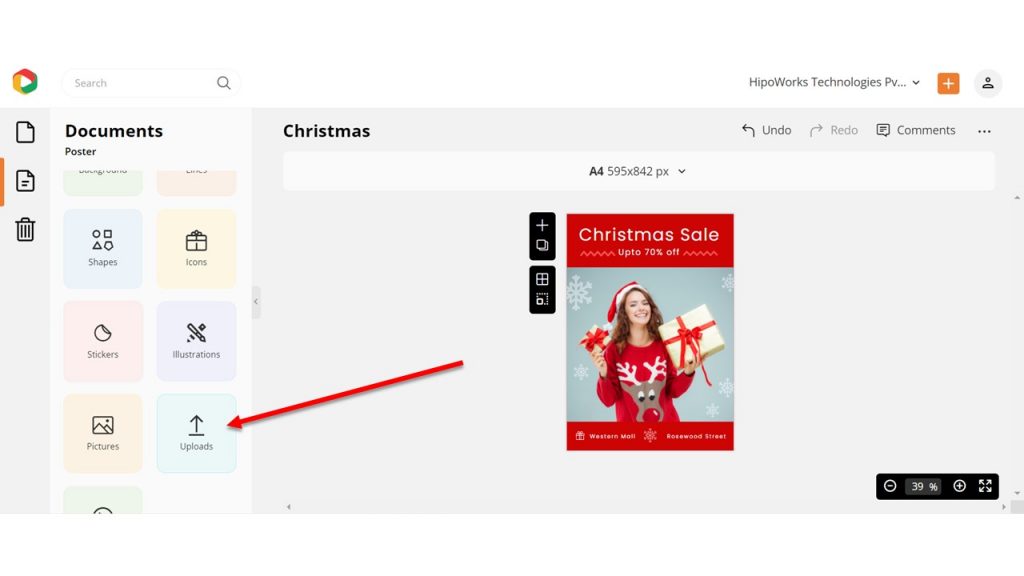 Once uploaded, drag the image and drop it on the existing one. DocHipo's drag and drop feature will automatically replace the image.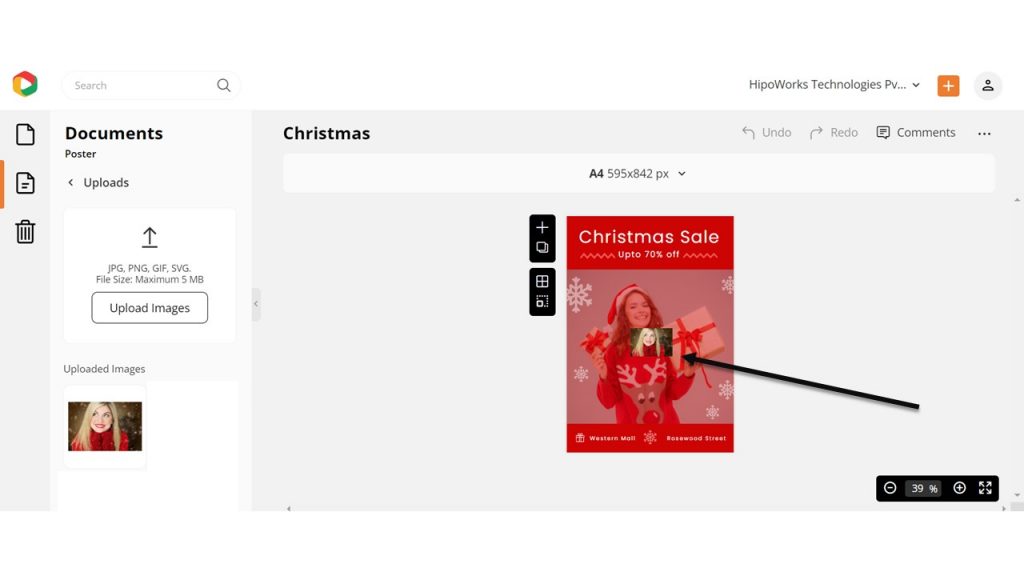 Additionally, DocHipo's Background Remover and Photo Editor will help you remove noisy backgrounds from the images and enhance their quality.
Edit Other Elements
To edit other elements on the template, click on it, and the edit panel will appear, used to change the color, opacity, arrangement, and many others.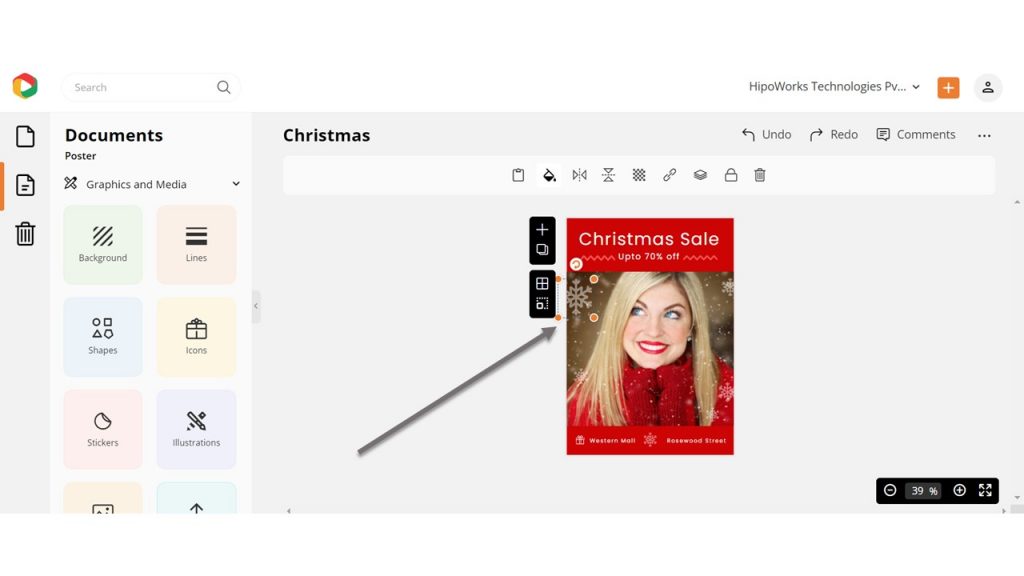 Furthermore, DocHipo features thousands of design elements such as stickers, icons, and illustrations. Click the one you want to add from the left panel and use the edit panel to edit them.
Here is a video on how to use stickers in DocHipo.
Before Editing: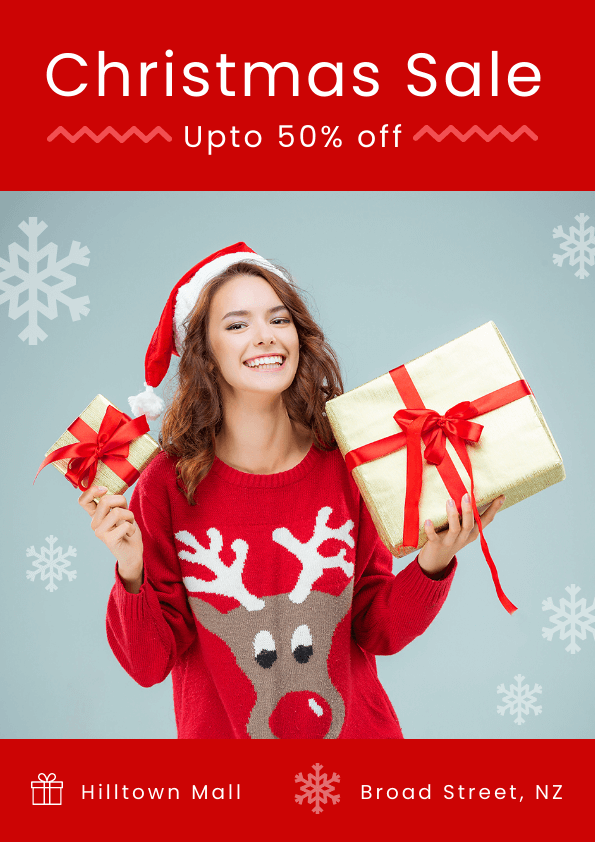 After Editing: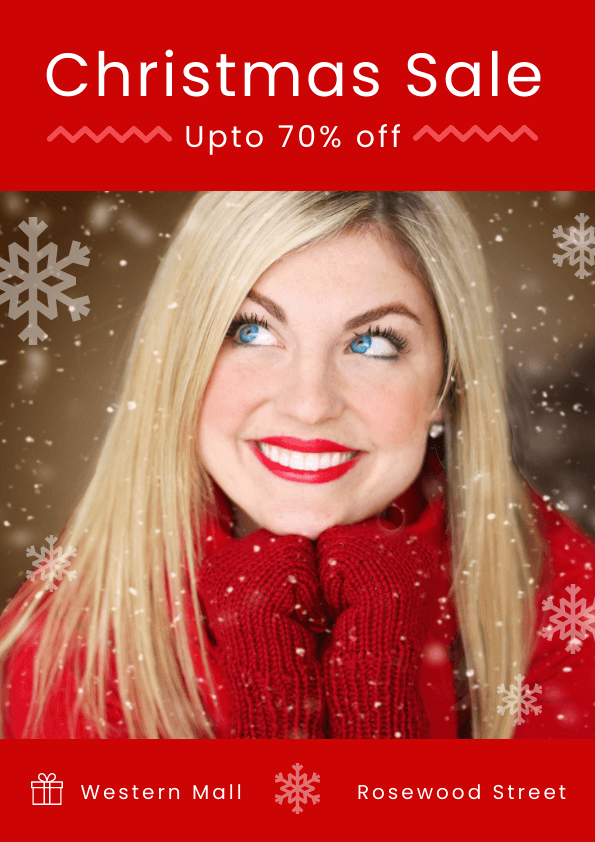 Step 3: Download The Christmas Poster
Once you are done with the design process, you might want to download the Christmas Poster Design. Click on the three dots from the upper right-hand corner of the screen and choose Download from the drop-down menu.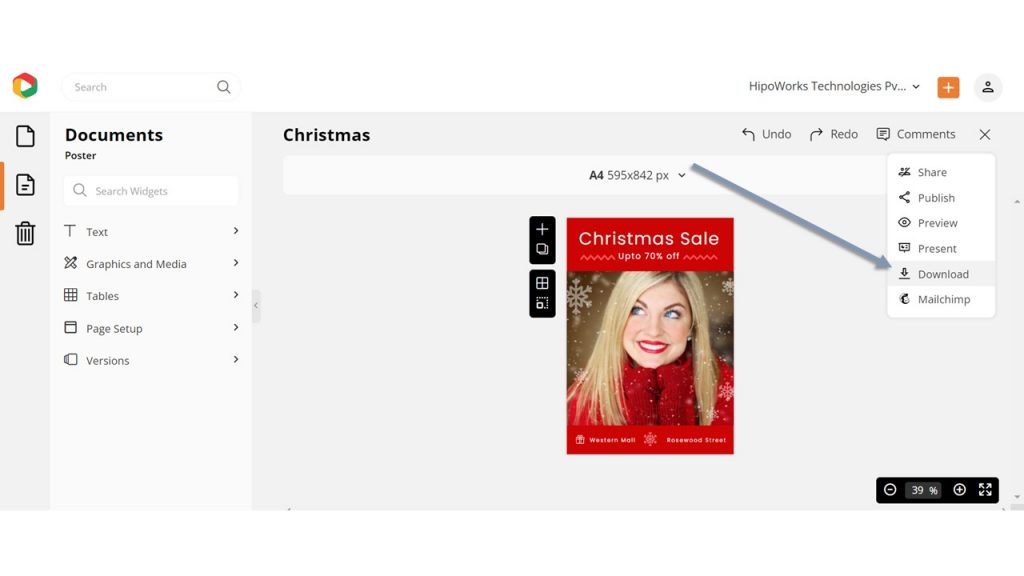 Choose your desired file type and quality from the download widget and click the Download button.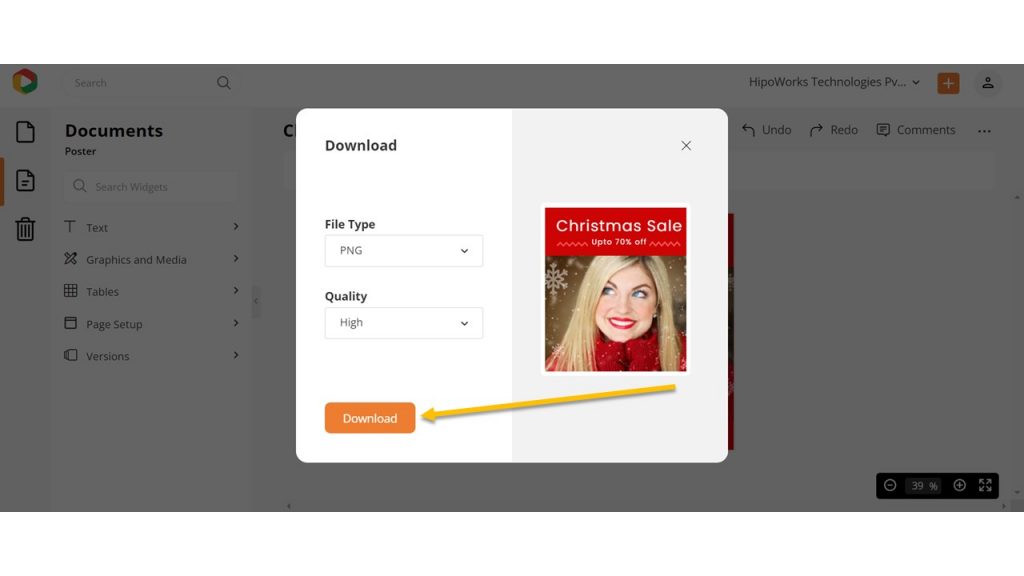 Watch the video below to learn more about designing a poster in DocHipo.
To Conclude…
Now you know that Christmas Poster Design is a lot easier than you thought. And it happened because of the free templates and awesome Design Widgets that DocHipo offers.
So, design the most beautiful Christmas Poster and wish your customers a Happy Christmas to help them recognize your brand and choose it among the others. Sign-up to DocHipo and start designing the poster now!