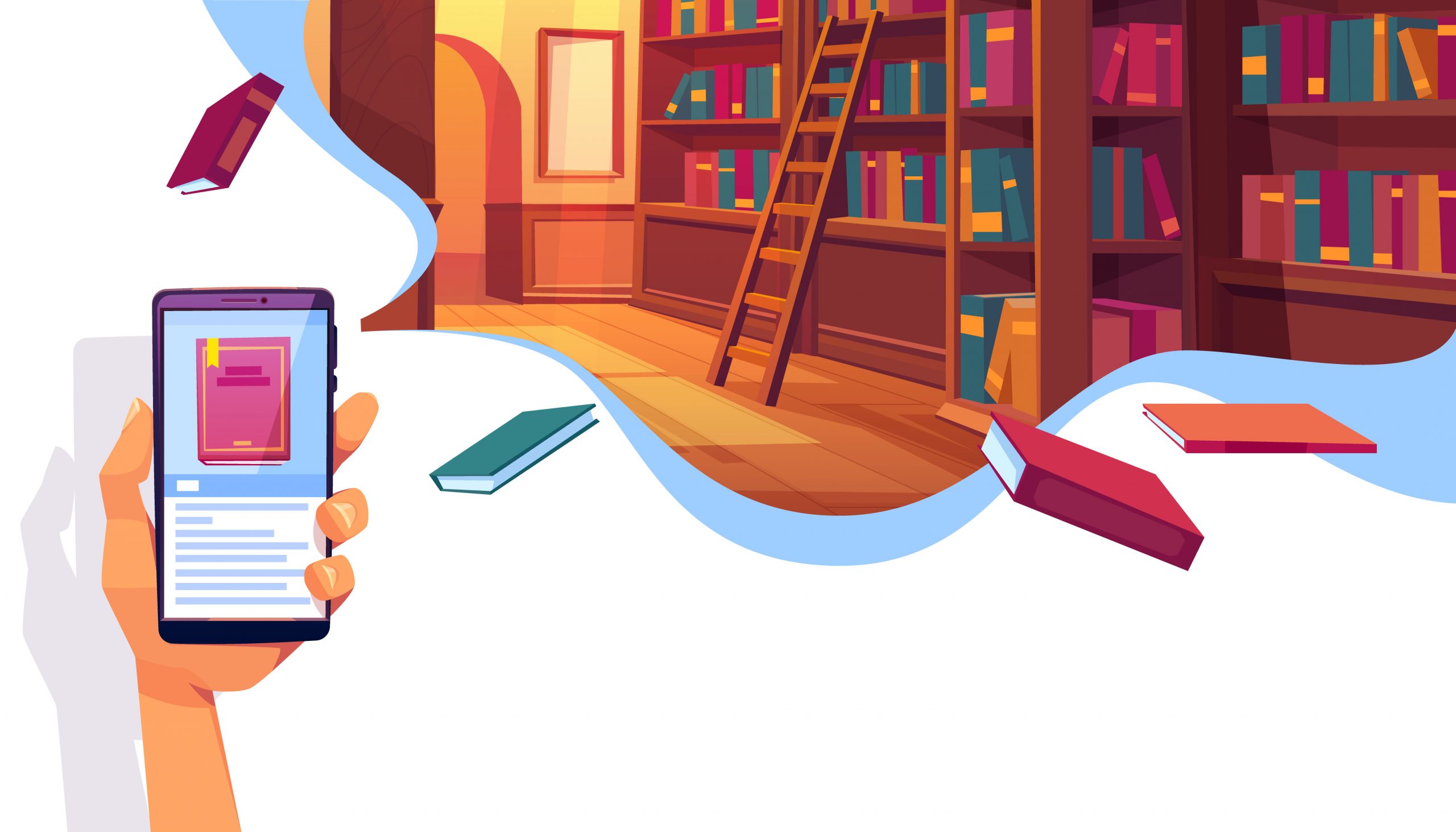 Branding Joe: Design a Book Cover with Joe in DocHipo

Jul 31, 2020
Welcome back to the series of Branding Joe, where I am on the quest of branding myself. In the previous article, I designed a logo to use it as my brand identity. In today's article, I will be creating my book cover to self-publish digitally in DocHipo.
Excited? So am I!
They say, "Never Judge a Book by its Cover". But we do judge a book's credibility and captivating-ness through the first sight of its cover. According to the survey, 79% of the respondents agreed to book covers playing a major role, influencing their purchasing decision. Hence, designing an enthralling cover is not only important but necessary to attract potential clients into reading your book.
In my case, I am still an unknown face in the world of Life coaching. So, to attract my readers and potential clients I am planning to self-publish and launch my free e-book online. For that, I need to create a book cover design.
Hence, let us first look through some of the important elements of creating a book cover. After this, I will create my own.
Book Cover Design Guidelines
Guidelines are important, especially if it's your first time self-publishing your book digitally. To create an attractive book cover you need to follow these 4 important guidelines.
1. Genre at a Glance
While designing a book cover you must keep the genre of the book in mind. The genre decides and gives an idea of the tone that the book cover needs to set among its viewers. A book that deals with horror and thriller presents a particular shady tone in their covers. So when a reader glances at the first appearance of that book, they can instantly sense a feeling of mystery. Similarly, a book belonging to the genre of Romance and Drama has a different tone that gives out a vibrant vibe.
So first, understand the tone of the genre that your cover will reflect. Then this understanding will decide on other design elements that the cover will incorporate.
2. Color Combinations that Go Together
After you have decided on the genre and the type of tone to set on your book cover, let's now decide on the colors. Yes! Color combinations are the essence of setting the desired tone of your book cover. Like, the tone that needs to portray a shroud of mystery commonly uses dark color combinations. The tone that needs to portray youthfulness and vibrancy uses bright color combinations. We all know that colors and emotions are very well associated. That is how the colors on the book cover emit an instant emotional response to our minds.
Also, you need to have the right color combination fonts which will harmonize with the overall design. So think about your color combinations very carefully and the type of mood you want to set with it. Read and understand color psychology.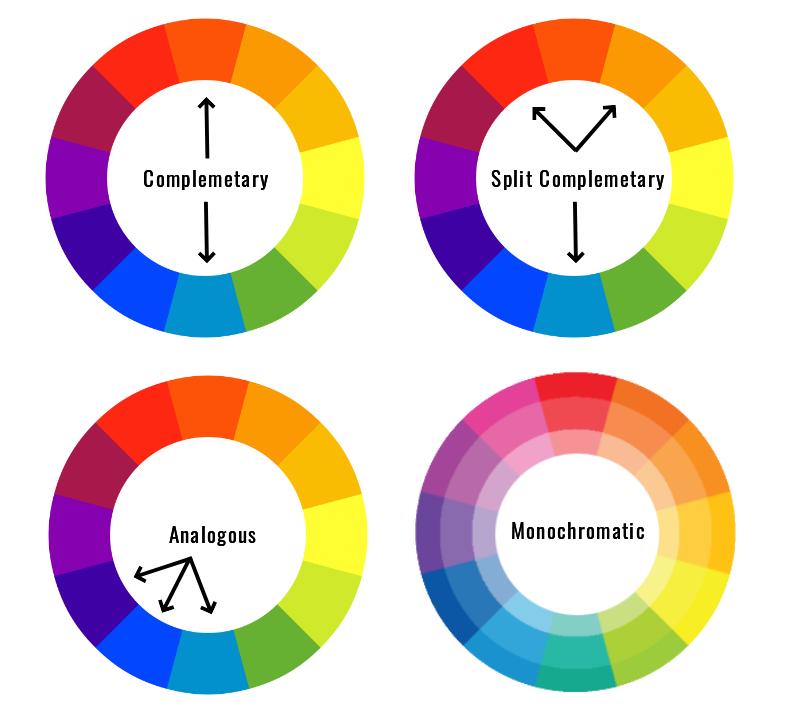 Going by the color wheel, different combinations have different purposes. The ideal color combination types are Complimentary, Split-Complementary, Analogous, and Monochromatic.
Referring to the image above, complimentary color combinations are based on two colors placed opposite to each other in the color wheel. This combination is ideal if you want to highlight any specific element in your cover. On a pretty similar note, the Split-complementary color combination utilizes the two colors adjacent to one of the complementary colors. The analogous color combination uses colors adjacent to each other, belonging to the same family. Finally, monochromatic colors use a single color with the combination of its tints, shades, and tones. You can use colors based on these combinations to get the right design for your book cover.
3. Images for a Book Cover
This is a tricky part of designing a book cover. Your cover can just consist of colors or an image that has a color-filter set on it. But the picture on the book cover must be relevant to the theme, presented in the book. An image on the book cover acts as a guide to the readers of what they should be expecting from the book. Again the presentation of the picture also becomes the parameters behind the initial judgment of the book and the theme quality.
Hence, have a clear idea about what you want your audience to perceive from your book. Then place the perfect image on your book cover. You have options to click a picture or download beautiful templates. Like, for my book I will be downloading a book cover design template from DocHipo.
4. Typography and Text Layout
A perfect typographic design accentuates the message of the text written on the book as a title. Hence the right font combinations and the overall typographic design play a crucial role in the book cover. Also, this is probably one of the most important factors behind the successful representation of the book's theme.
When choosing the right typeface for presenting your book's main title you have 4 options. You can opt for Sans-Serif typeface, which is a common preference in titles. Sans-Serif typeface gives out more serious-feel. Hence are often used in book covers based on non-fiction, self-help or other professional guide books.
Talking about serifs, this typeface design has a classical feel to it. This is mainly due to its age-old existence and association with the invention of typefaces and fonts. Hence themes that are based on traditional concepts often use serif-typeface on their book covers. But let me tell you, compared to sans-serif, a serif is rarely used. Instead, they are mainly used inside the body of the book helping the readers to follow the lines.
Other typefaces, such as script and decorative, are too fancy to use in contexts dealing with serious themes. Rather they are mainly used in book covers based on fictions and also sometimes in self-help books. The fonts under the script and decorative typefaces have a distinct character and personality of its own. This makes them the best choice for fiction book covers.
When determining the typographic hierarchy, the main title on the book cover can have any typeface, suited to the genre of the book. But, the other texts supporting the title, is usually a sans-serif or serif, as it balances and improves readability.
Book Cover Design for Self Publishing
In my process to brand myself a good strategy was required that will make my clients believe in the power of my words. For that, I needed to perform certain actions, which involved writing a fantastic book. I realized that books can be a very interesting medium through which my words and opinions can be shared. But, I am an unknown face and personality in the world of motivational authors. If I publish my book now there is a very little chance of gathering a good number of readerships.
Hence, I decided to publish my book online via established platforms such as Kindle, where my book will get some exposure. To self-publish my book for free via kindle, I used and customized this template for my book cover in DocHipo.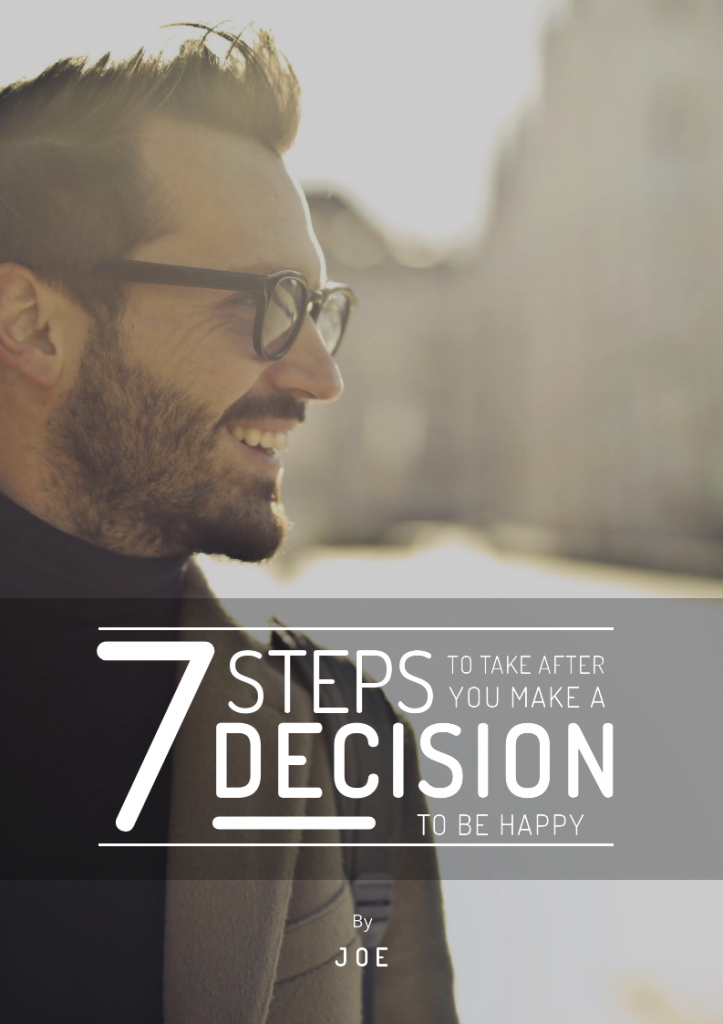 To compete with the huge base of digital books, I needed to create a stunning book cover. The title of my book cover is, "7 STEPS TO TAKE AFTER YOU MAKE A DECISION TO BE HAPPY". The typography is designed in a manner that will highlight certain texts, to grab the attention of my targeted viewers. Hence, you can already sense the theme of my book. I choose an image as the cover's background, which aligns with the title's theme, "HAPPY". A smiling face is usually associated with happiness, so here the character in the book smiles to emphasize the title of the book. The tone of the image is set in ways, which can instantly soothe the viewer's eyes. Finally, the color of the font against the background is bold and clear, being prominently visible.
Step-by-Step Book Cover Design Process in DocHipo
Let me share with you how I created my awesome book cover in DocHipo.
Step 1
The very first step is to sign up in DocHipo. After signing up you will get directed in their vibrant templates page. There you need to select the template option, "General", where you can get tons of templates based on the regular general document design. Like templates for resumes, business cards, calendars, certificates, magazine covers, and book covers.
Select your choice of template for book cover design. For me I found the most apt book cover template, completely banging onto my expectations.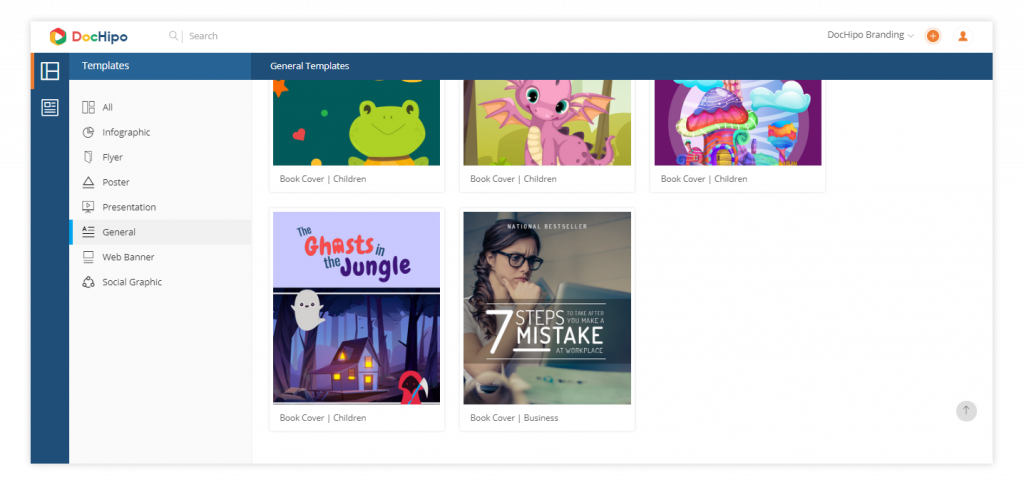 Step 2
Select your template and fill in the document information.
Your name in the document owner box and the document name will be auto-populated, which you can change. In the description box, under description information, you can add in some details about your document.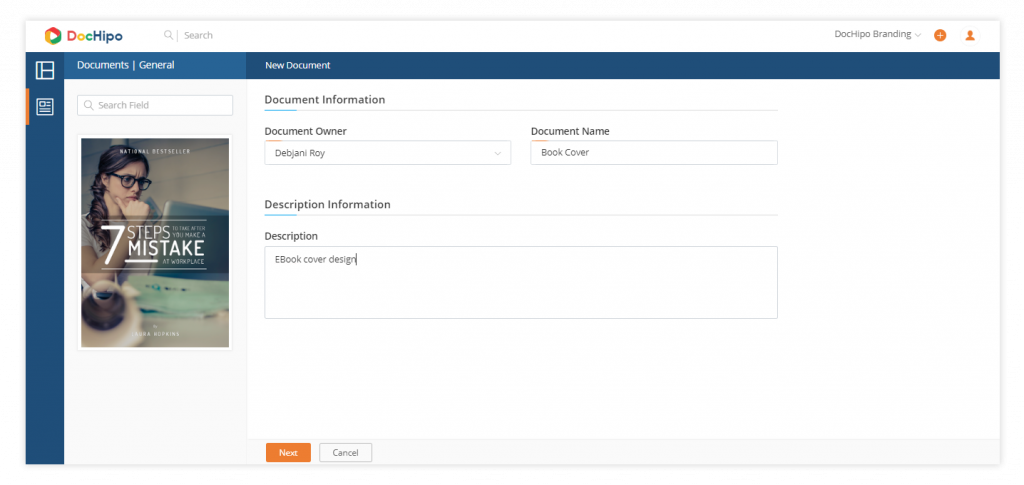 Step 3
After you have clicked "Next", you will be again redirected to the workspace, where you can edit and customize your preferred template.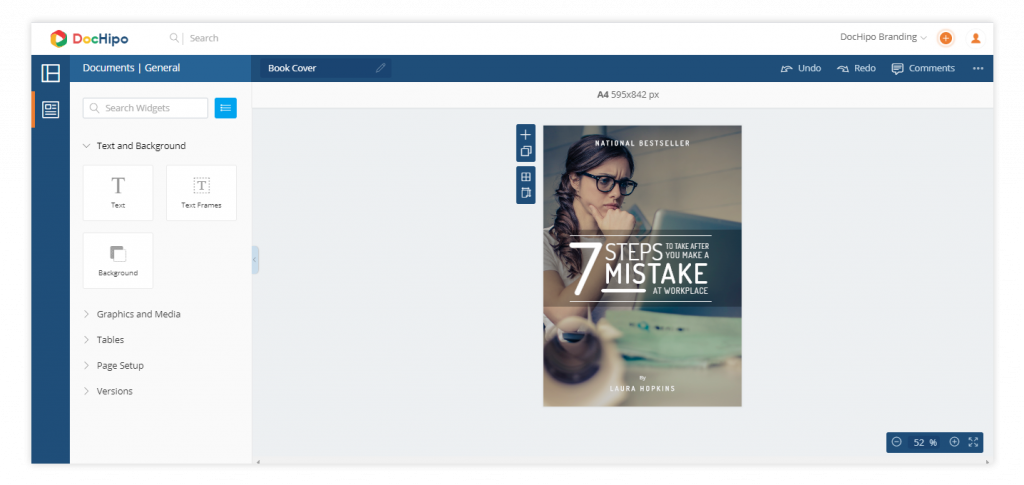 In my case, I have changed the image of the cover and the text. From the "Pictures" option under "Graphics and Media", I have selected my preferred image of a smiling man. After adjusting the picture a bit, I pushed the image layer backward for the text and the tone to come in the foreground.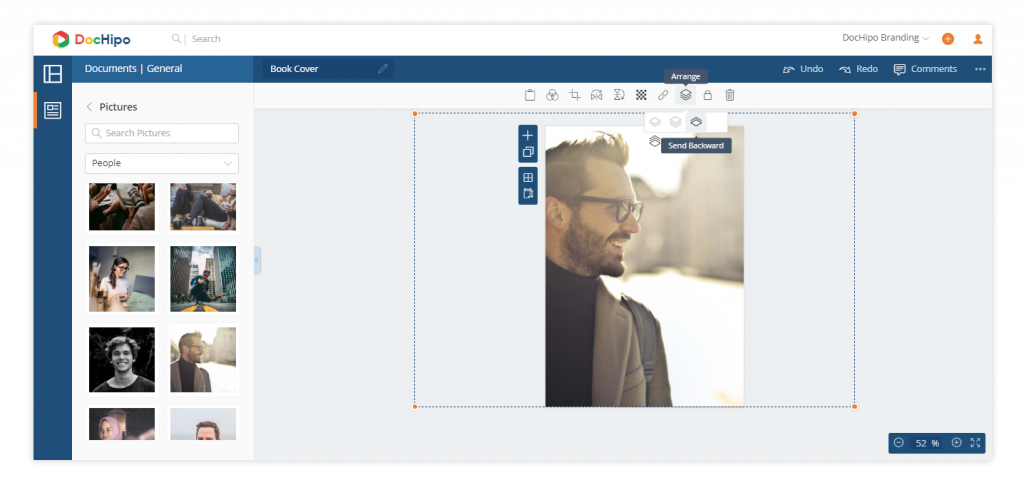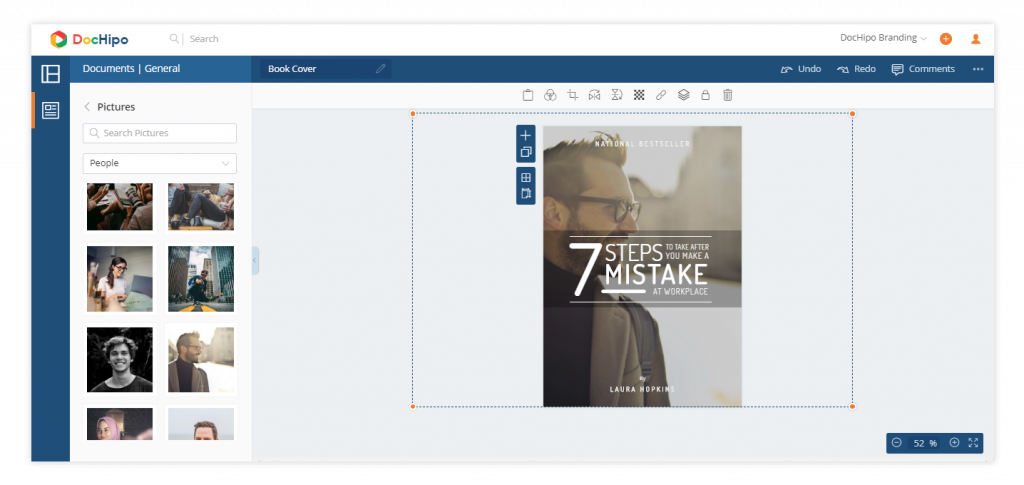 After the text and the other design elements come in the foreground, I just had to delete and change the text. Following this, I shifted the typographic design and the associated design element towards the bottom of the book cover template.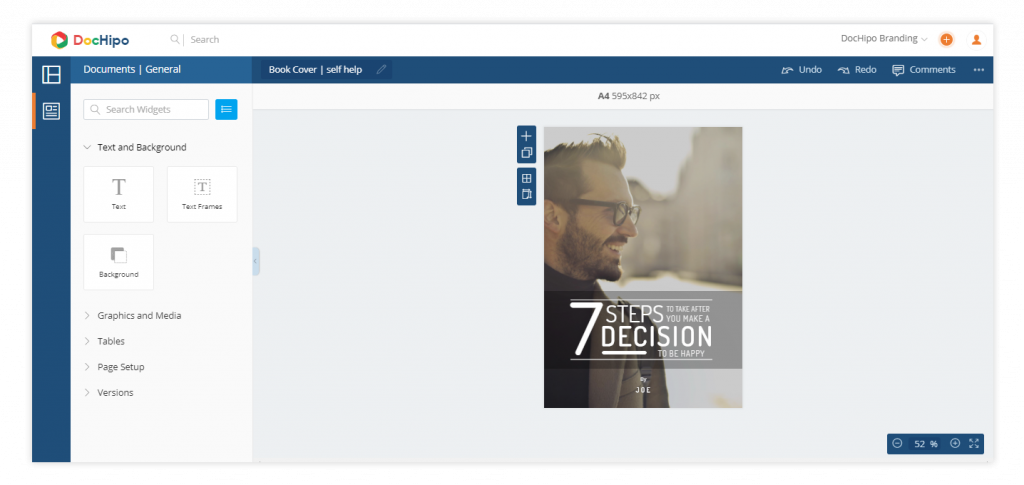 Voila! It is time to download it. You can select the file type as PNG or PDF in a normal or high-quality format. I used a high-quality PNG image.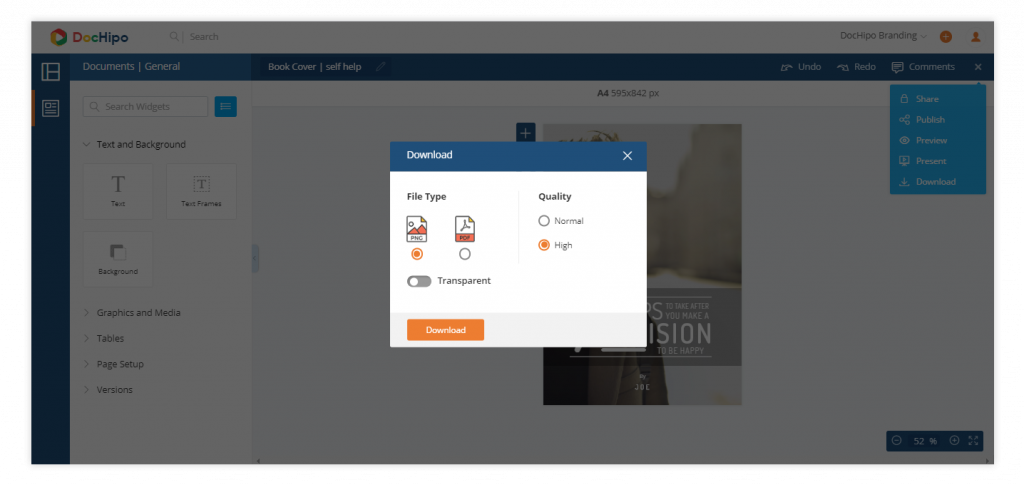 If you want to add tones to your image through filters then you can also achieve this. Check this video to understand more.
Conclusion
I have to say, I am thoroughly enjoying my journey with DocHipo! Not just because it makes my life easy by saving my time on designing, but also because of the constantly updated templates that I get to see at every visit.
In fact, I subscribed to their YouTube channel so that I never miss an update!
I want to confess something today. At times, I have no clue how to market myself as a famous life coach. When that happens, I browse through their templates to get inspirations and more visual ideas.
Sign up now and see it for yourself! Then you can totally get what I mean. Till then stay tuned for more updates of what I do next to brand myself.