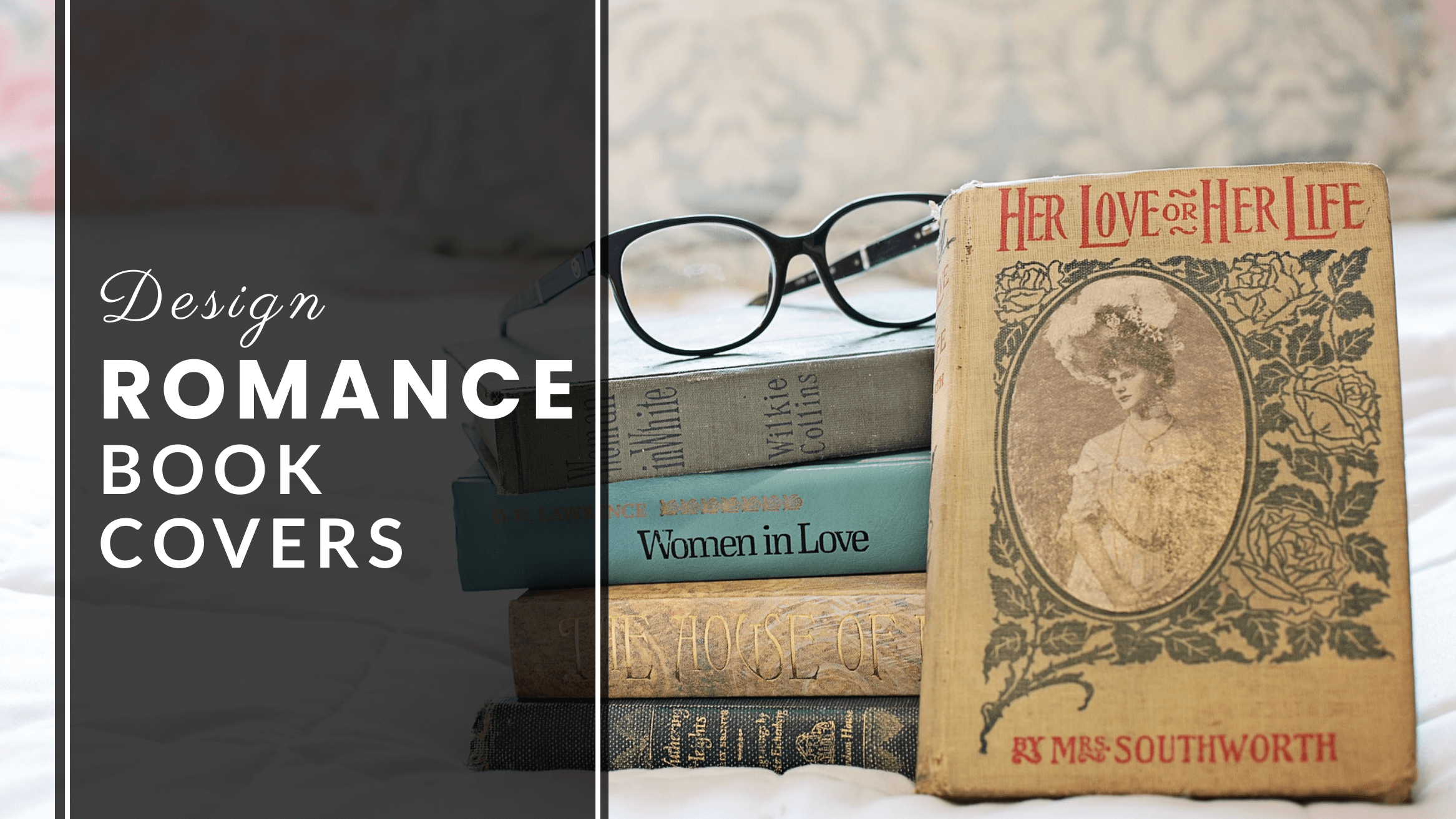 How to Design a Romance Book Cover to Stand Out

Last Updated Dec 9, 2022
Do you know that one-third of all mass-market fiction books sold are romance books? This means millions of romance books are snuggly cozying up together on shelves and warming up in people's hands. According to a recent study by Forbes, the number of books published each year in the US alone is 600,000 to 1,000,000. Hence, you might write the best books in your genre, but your book might not still stand out from the crowd.
If you are a romance book writer and your books are still not getting enough sales, you should think about the book cover design. Your romance book cover design should reflect that your books perfectly uphold the struggle that a human being goes through to find a special connection with another human.
In that case, you might need help from DocHipo's Free Online Book Cover Maker. The wide variety of free romance book cover design templates will help you create a romance book cover in minutes.
This article will show you how to design a romance book cover in DocHipo.
Romance Book Cover Design Ideas
Not everyone is gifted with both writing and design skills. But that doesn't mean you can not do both. No one knows your books better than you so that you can design covers for them better than anyone else. You just need to be a little creative, which I think you already are. However, you might lack the design ideas that will help you design the cover more effectively. Here are some romance book cover design ideas for you.
Use Colors Consciously
The color of your romance book cover design is not something that you can think about later on. You should choose the colors consciously since it's one of the essential design elements. Your target audience will help you with this. According to a study by NPD Book for Romance Writers of America, 82% of romance readers are female.
Keeping this in mind, we recommend you use feminine color palettes for romance book cover design. Therefore, you can choose Pink, Red, Purple, Blue, and White combinations and their different shades for the perfect romance book cover design. Even if you use images on your book cover, try to maintain the color scheme.
Choose not more than two to three colors and whatever color you choose, make sure they complement each other.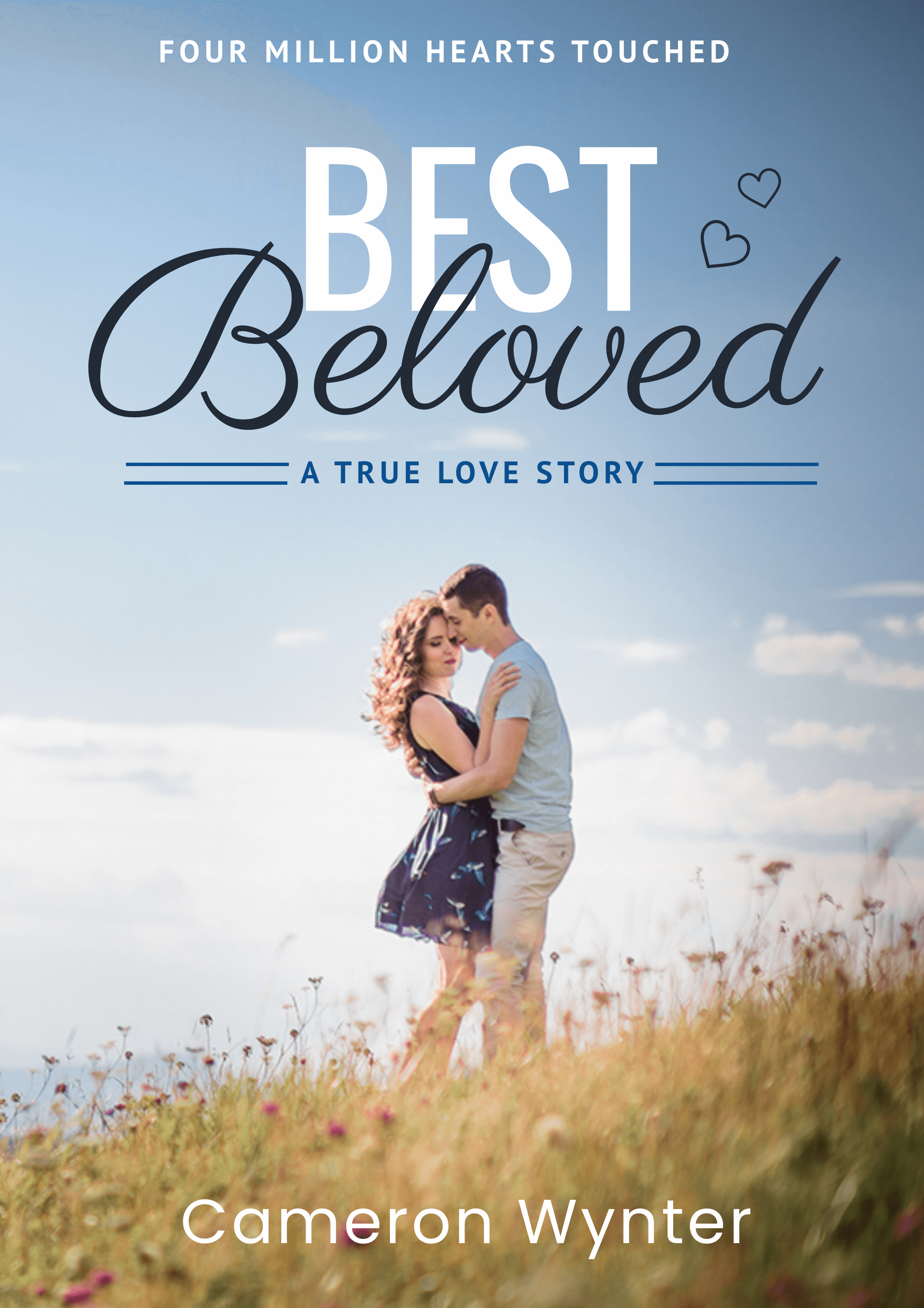 Get This Template and More
Different colors evoke different emotions. So, read this article about the best color combinations to learn more about using colors in your design.
Select Appropriate Graphics
When designing romance book covers, choosing the right images or other graphics like icons and illustrations is crucial yet difficult. Even if you use a relevant image, your audience can still look at your romance book and assume it's a horror story.
Romance book covers usually feature a couple or just the boy or the girl. For example, in a sweet romance book, the characters smile at each other, or in erotic romance, the characters have more sensual expressions.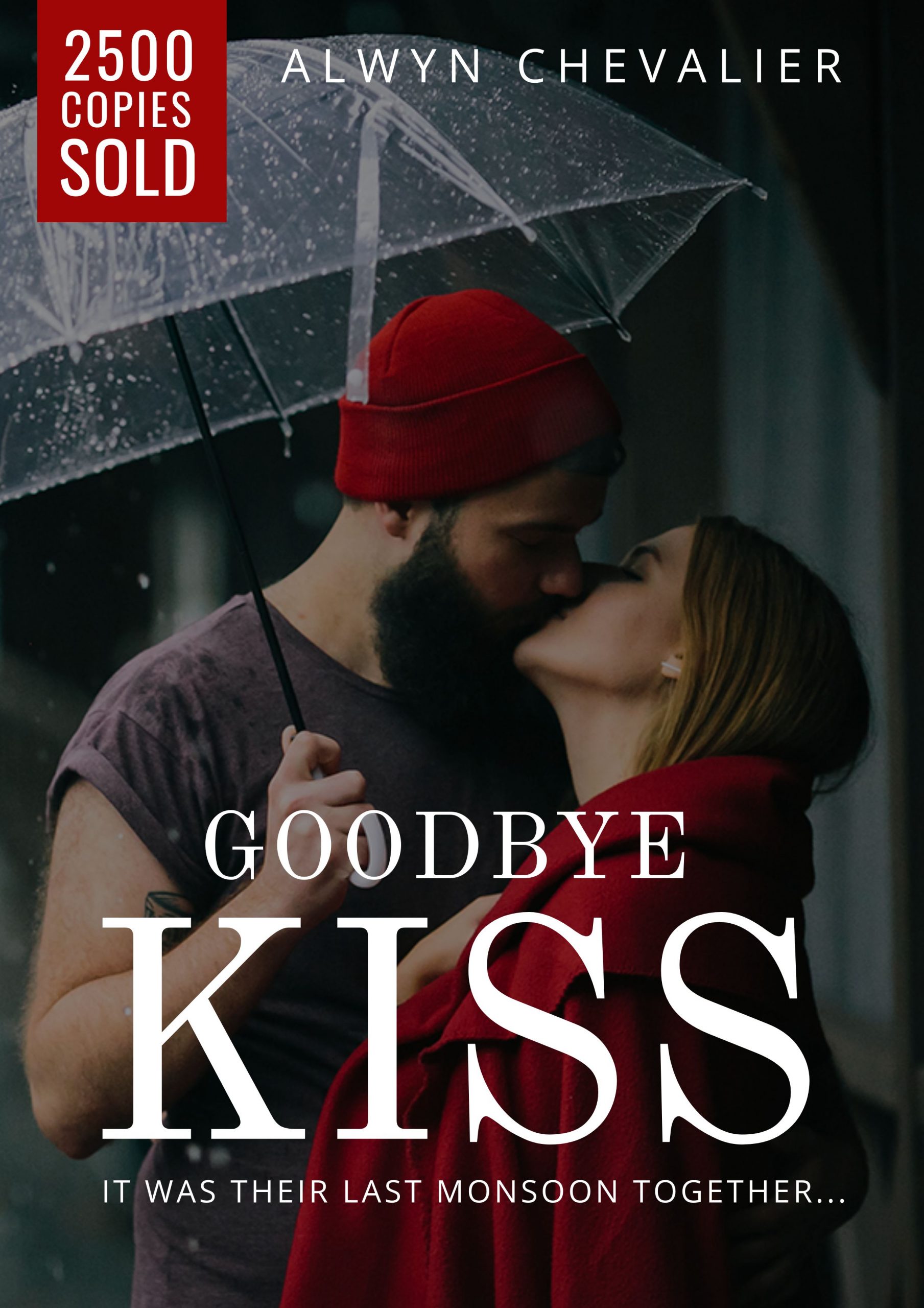 Get This Template and More
Once you decide what type of images you will incorporate in your romance book cover design, go for high-quality pictures from the right sources. By right sources, I mean stock photography websites like Pixabay, Pexels, Freepik, Shutterstock, Flickr, and many others. You can use your photographs as well. In that case, you need to be a professional photographer and have all the necessary accessories for photography.
However, there is another issue with stock photographs too. If it's an attractive image and suitable for romance book cover design, then other writers can also buy the same for their cover. But since you are designing your book cover in DocHipo, you need not worry about that. You can make those stock photographs unique by using filters, adding other design elements, removing the background, and many others.
DocHipo's Photo Editor and Background Remover will help you do that effortlessly.
Choose Eye-Catching Fonts
Fonts are of distinctive importance among the other design elements that create excellent romance book covers. It is the design element that can captivate the audience before they even open your book. However, choosing the right fonts can be a little difficult for a person without any design skills. You can follow these simple steps below to find the perfect font to get the typography of your romance book cover design right.
Choose fonts that are associated with your genre or relevant to the content inside.
Select fonts that are easily understandable and aesthetically appealing.
Different fonts evoke different emotions. So, choose fonts that evoke romance in your readers.
Don't choose more than three to four fonts.
Here are some of the fonts that you can choose for your romance book cover design.
Poppins
PT Sans
Open Sans
Niccone
Oswald
Parisienne
Roboto
Julius Sans One
Libre Baskerville
Lato
Old Standard TT
Amatic SC
Satisfy
Grand Hotel
The good news is that you will find a wide variety of different fonts in DocHipo along with the ones mentioned above. Also, read more about typography hierarchy to choose fonts for your book cover template easily.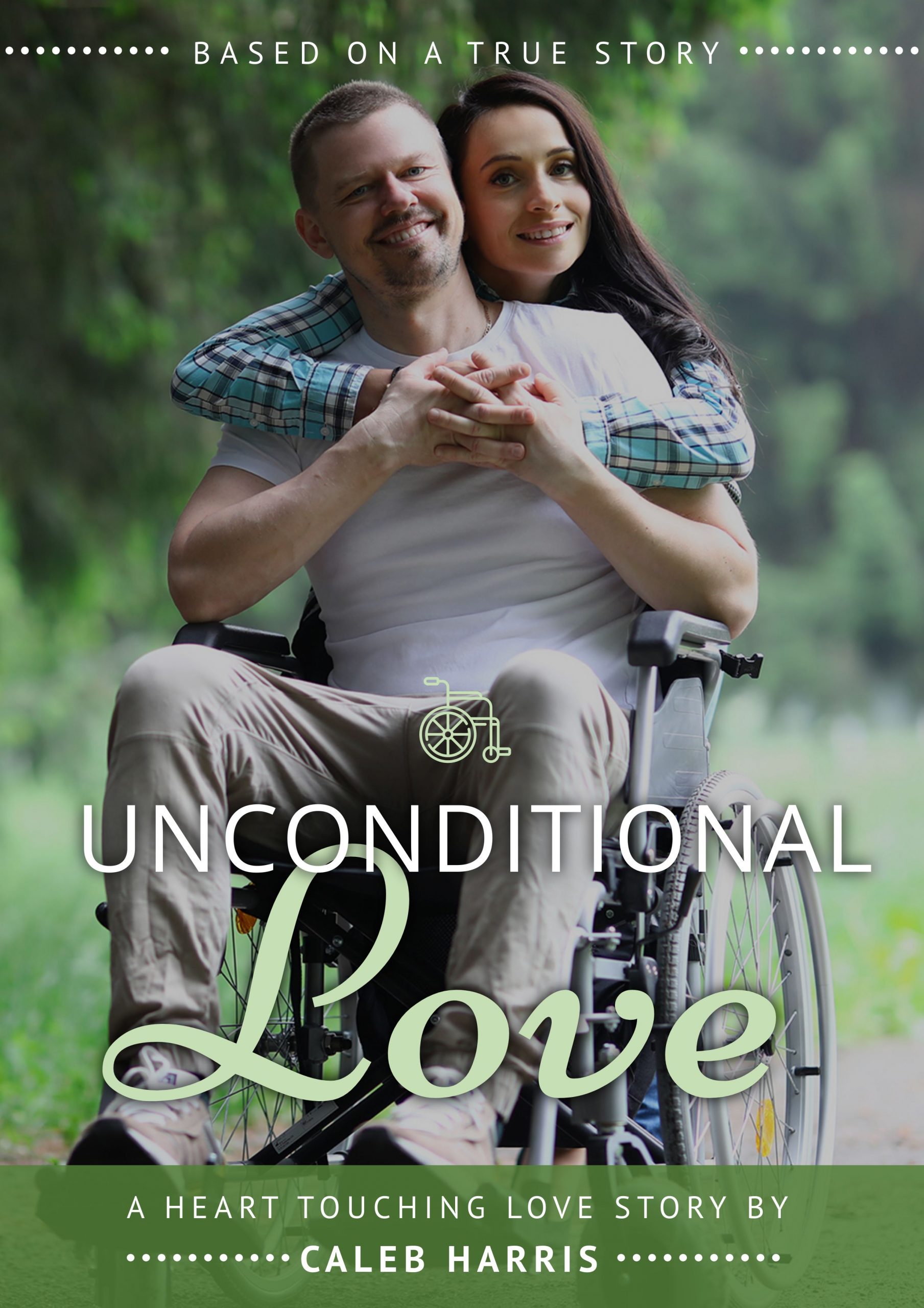 Get This Template and More
Add Other Elements
Include other design elements such as shapes, lines, icons, and illustrations to make your romance book cover look professional. Moreover, instead of using a picture, you can opt for an illustration and add other design elements around it to make your book cover.
In DocHipo's illustration library, you will find a wide range of illustrations under different categories. Here is an example romance book cover design template for you to get inspired.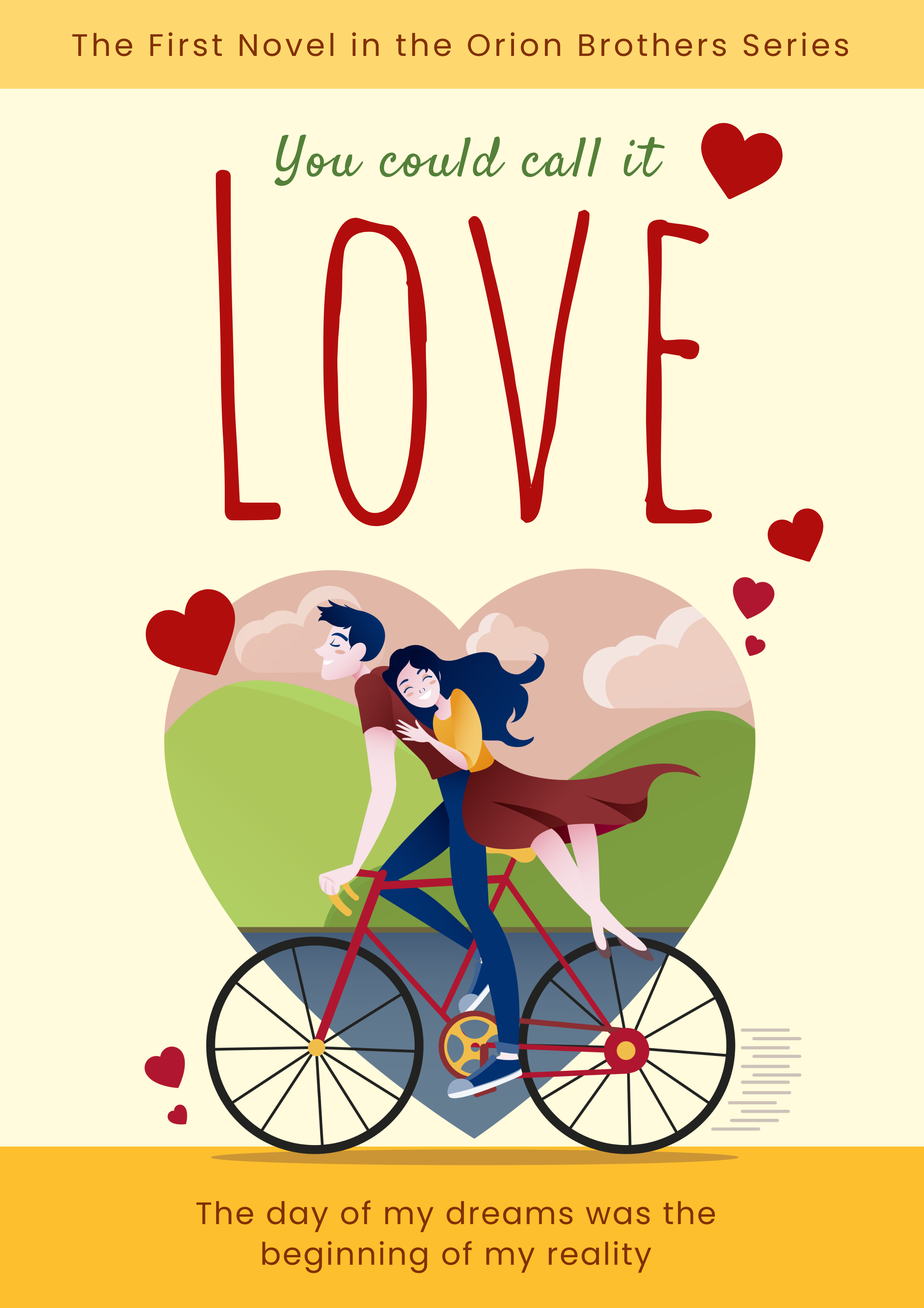 Get This Template and More
Additionally, you can consider watching the video below to take a look at the beautiful book cover templates that DocHipo offers.
How to Design a Romance Book Cover in DocHipo
DocHipo's Free Online Book Cover Maker is suitable for any beginner to start using immediately. And the awesome Design Widgets make the whole design process a piece of cake. Follow the step-by-step process below.
Step 1: Select A Romance Book Cover Design Template
Sign-up to DocHipo if you haven't already. Upon signing up, you will enter the all templates page in DocHipo.
To find a template, you can either click on the "General Purpose" tab and select "Book Cover" from the drop-down menu or type "Book Cover" in the search box and click on the results.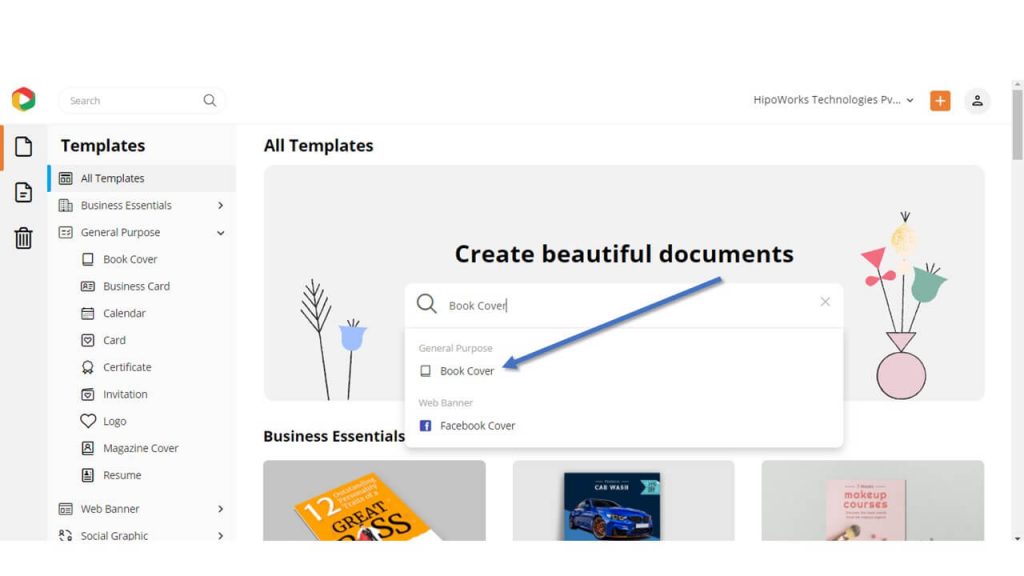 Choose "Romance" from the categories to browse through the romance book cover design templates.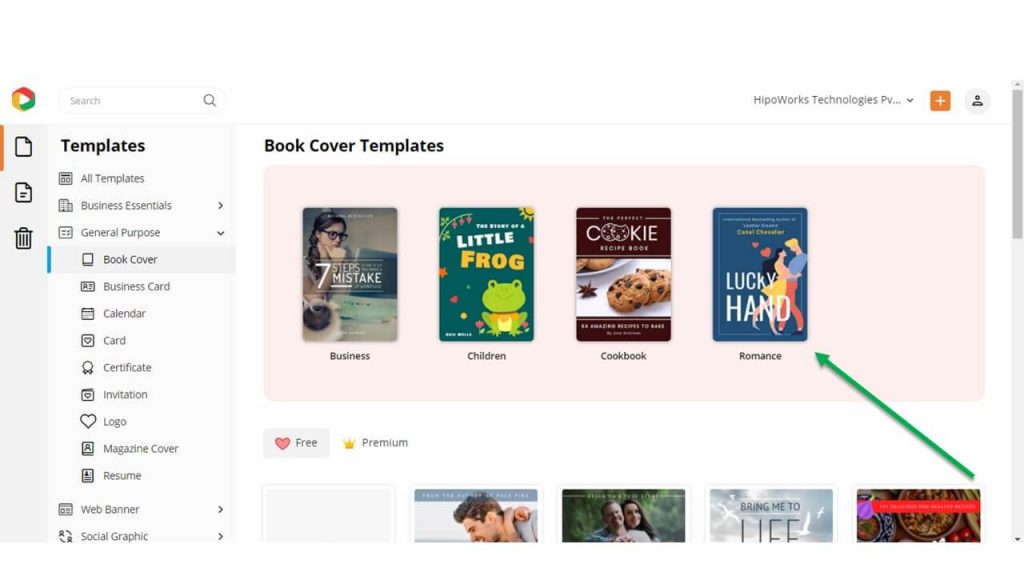 Hover over the template of your choice and click "Preview" to look at the template before editing it. Click "Select" if you want to open the template in the DocHipo editor.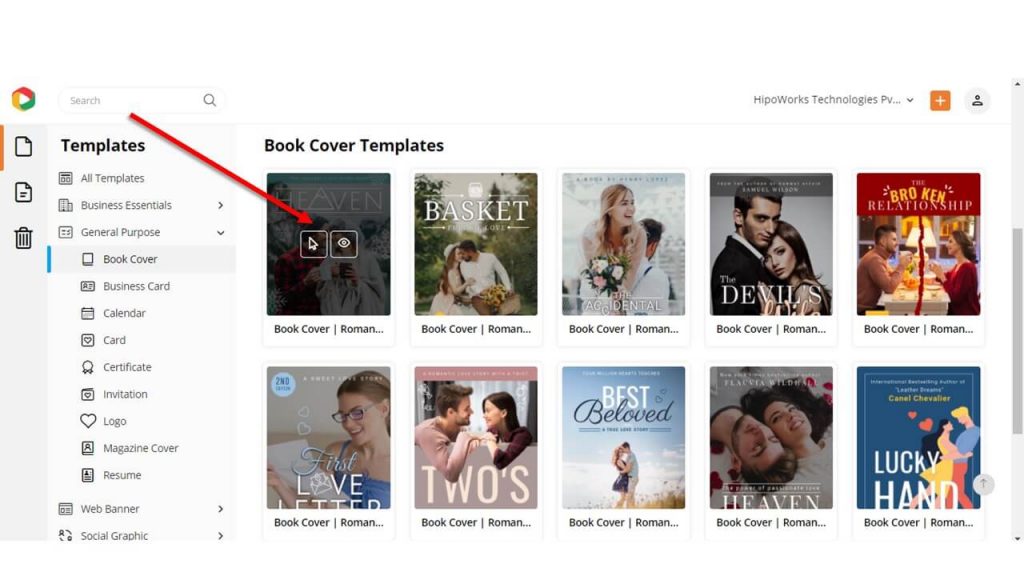 Give the document a name and a short description. Then click Next.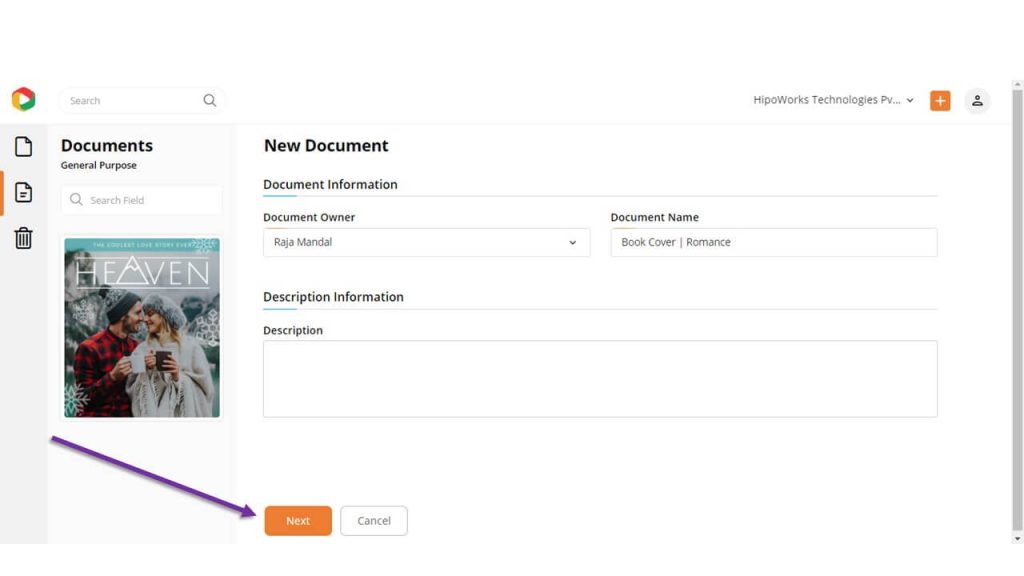 Step 2: Customize The Template
Customize the romance book cover template using the DocHipo editor and your creativity. Change the background, text, images, and other design elements to design your romance book cover as you want. Now, I am going to show you how you can customize a book cover template in DocHipo.
Add and Edit Text
To add your text to the template, click the Text option from the left sidebar. Choose from Heading, Subheading, and Body text.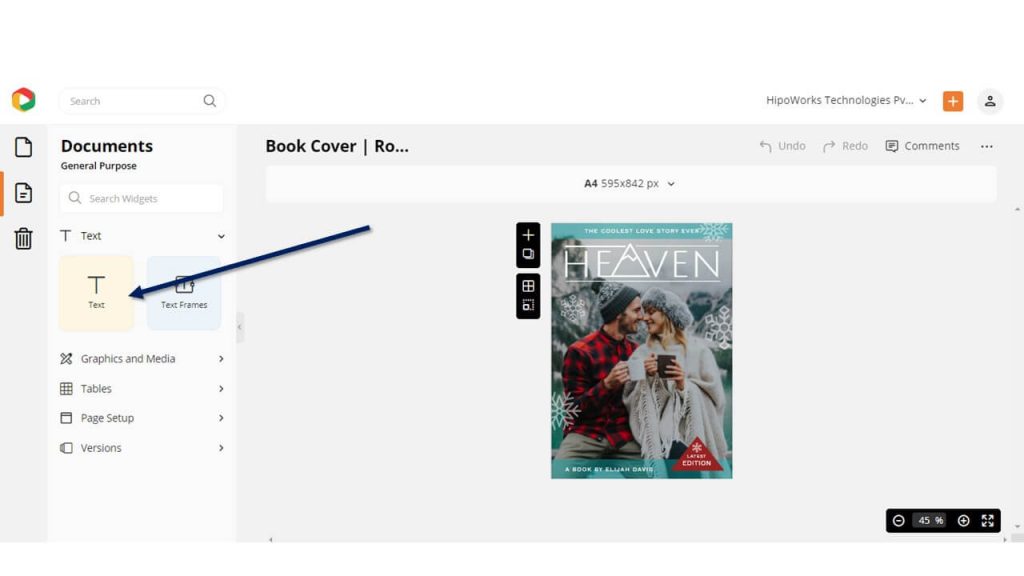 If you want to replace any of the text in your template, then click on it and type your own. Use the edit panel to change the font style, color, and size of the text.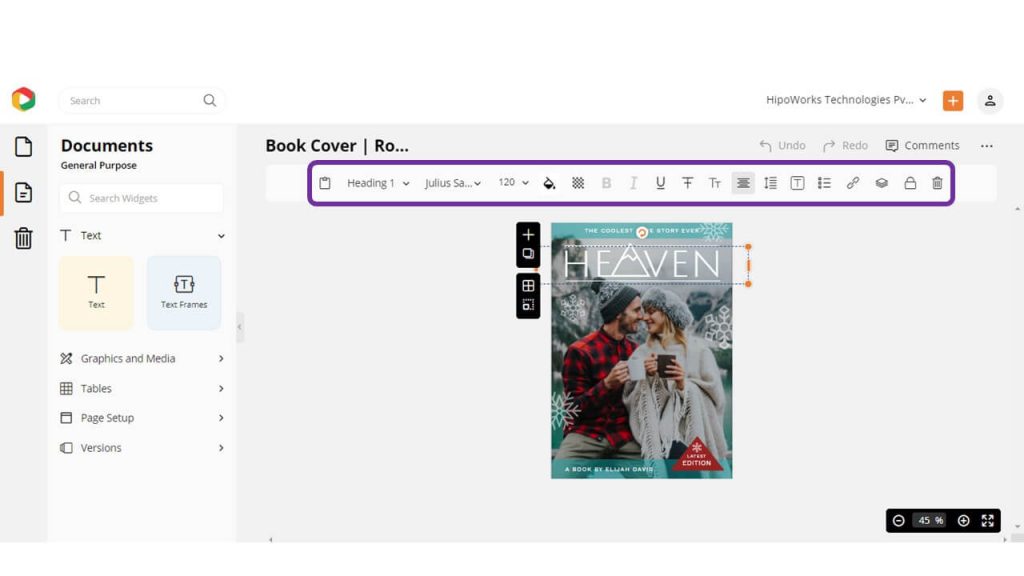 Watch the video below to understand how to add, edit, or delete text.
Change the Imagery
Select "Pictures" under the Graphics and Media tab from the left sidebar to change the image. Choose the suitable image from DocHipo's library of stock images.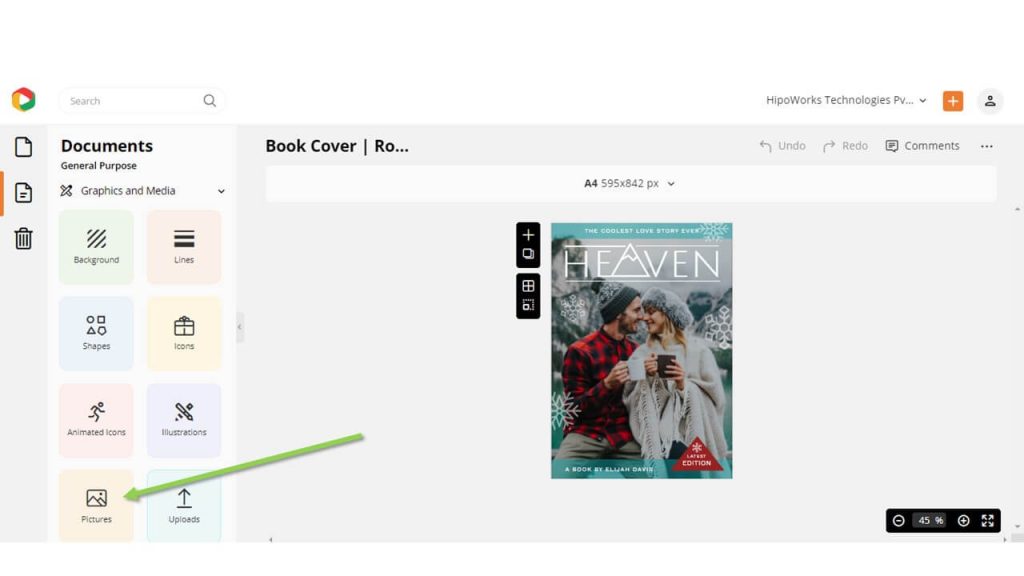 Alternatively, if you want to upload images from your computer, click "Uploads" and use the drag and drop editor to add your uploaded pictures to the template.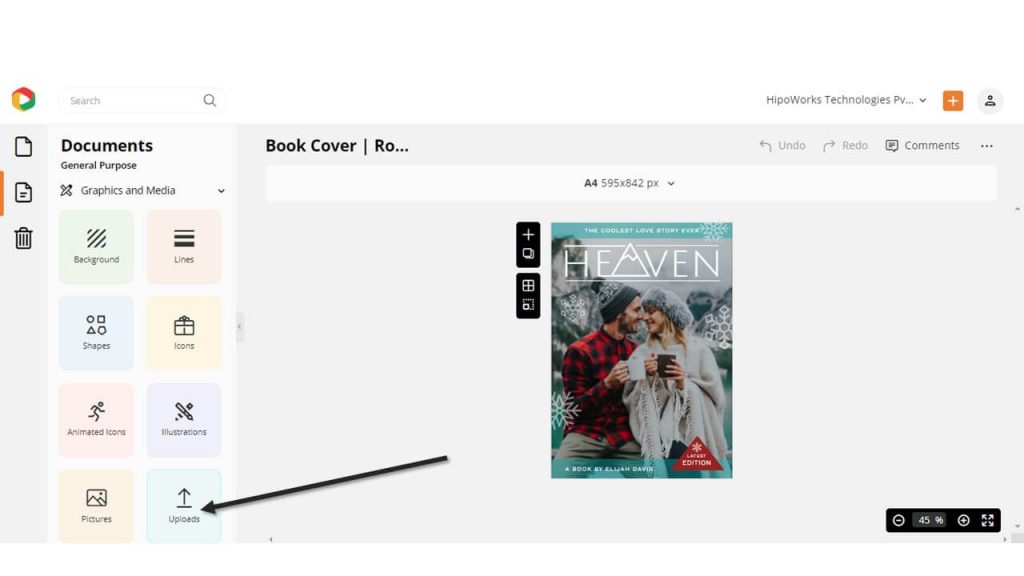 Customize Other Elements
There are other elements such as shapes, lines, icons, and illustrations to customize. To customize those elements click on them and use the edit panel to edit them accordingly.
Step 3: Download Your Romance Book Cover Design
To download the book cover you just designed, click on the three dots from the upper right corner of your screen, as shown below. Choose download from the drop-down menu.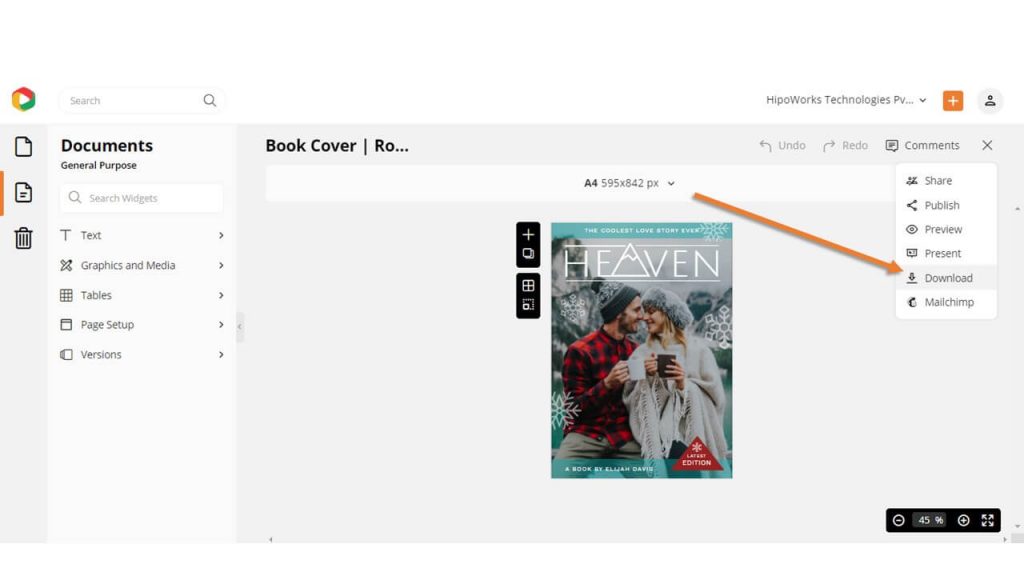 Choose your required file type and size, and then click the Download button from the Download widget.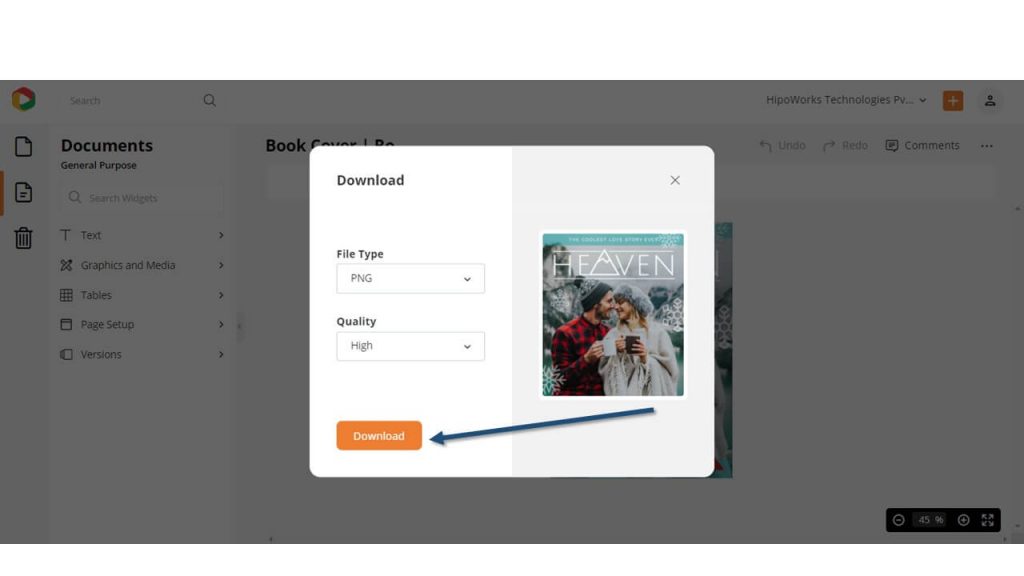 Here's a video on how you can download documents in DocHipo:
Read this article about book cover design in DocHipo and learn how to design a romance book cover effectively and effortlessly.
Final Lines…
The power of good book cover design is undeniable. It can create an emotional connection between the reader and writer, convey information in just one glance, and ultimately increase sales. Therefore, you can consider it as an essential marketing tool as well.
Every element can make or break your romance book cover design, from the typography and color combinations to the images and other elements. Hopefully, you are now familiar with the aspects of a romance book cover design.
So, to make your romance book stand out, sign-up to DocHipo today!