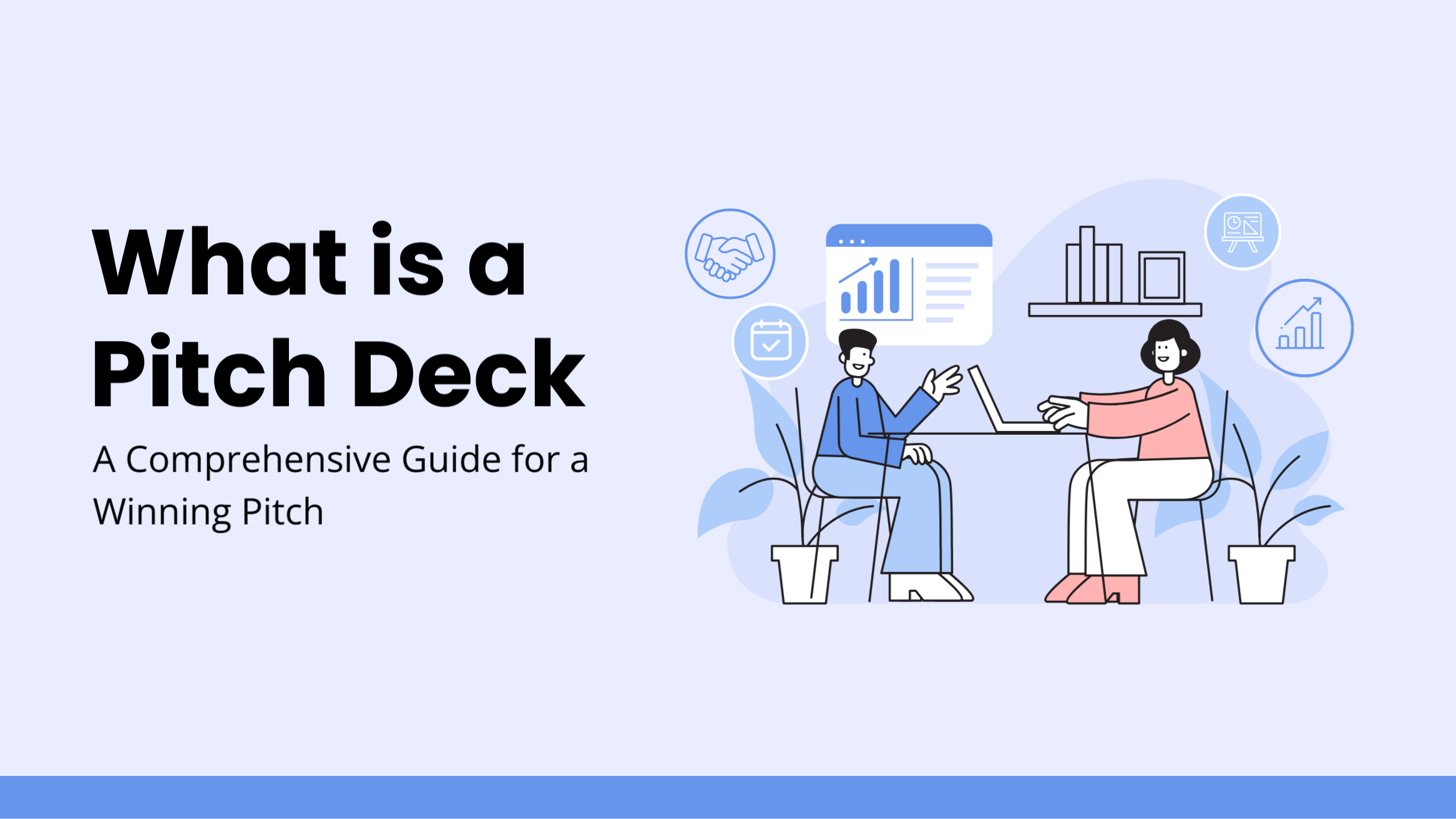 What is a Pitch Deck: A Comprehensive Guide for a Winning Pitch

Last Updated Nov 9, 2023
As an entrepreneur, your pitch deck is the stepping stone to get funding from investors. That's why start-ups pitch their business idea or product to investors to give a brief overview. You must impress your investors with the pitch deck to get the funding. This is tricky as 75% of the investors get distracted within the first 10 minutes of a pitch. While a well-designed pitch deck can help you close the deal, it can be challenging to make one from scratch. So let's get started with 'what is a pitch deck.'
In this article, you will learn all about the pitch deck, its purpose, and its components. Get pro tips and learn how to make a winning pitch deck. Moreover, get ready-to-use pitch deck templates with spectacular presentation slides.
What is a Pitch Deck
A pitch or start-up deck is a presentation that helps a business inform investors about the company. The primary goal of the pitching decks is to grab the attention and get the investors interested for the next meeting. Pitch deck is the pioneer step in securing funding for any company. Therefore, creating an impressive pitch deck presentation is of utmost importance.
What is a Pitch Deck Presentation
A pitch deck presentation is composed of various slides that help convey the business idea. The slides are well-structured, with a beginning, middle, and end. Moreover, the pitch deck presentation should be engaging and convincing to make an impression. Thus, entrepreneurs must pitch with a solid business plan.
What is the Purpose of a Pitch Deck
Specifically, a pitch deck aims to help start-ups pitch their business proposal to investors to secure funding. While pitching, the presenter ensures that they convey the message effectively. Further, pitch decks represent your business, team members, traction, and fundraising in the best possible manner. That's why storytelling is crucial in presenting a pitch to turn dull factual information into an exciting narrative.
Additionally, the pitch deck can bring some essential insights to entrepreneurs. Even if your company is bootstrapped, a pitch deck brings a bird's-eye view to all the operations of a business. Start-ups often pitch in the initial stages of their business, but as they grow, they need more considerable capital in the later stages. Therefore, presenting a pitch is a part of development for any business.
What Should a Pitch Deck Include
When we talk about a pitch deck's contents, we refer to the structure. Without a proper form, you might overload your deck with information. Therefore, divide all the slides under different headings. Keep your slides organized and readable to avoid confusion. Here are the major sections you should include in your presentation.
Introduction
Before you jump to these sections, craft an engaging introduction with a catchy line. Your introductory slide should be short, to the point, and visually appealing. You can also introduce a company logo and self-explanatory one-liners that hook your audience, such as your brand's tagline.
To get a better understanding of the Introduction part, take a look at this slide from DocHipo.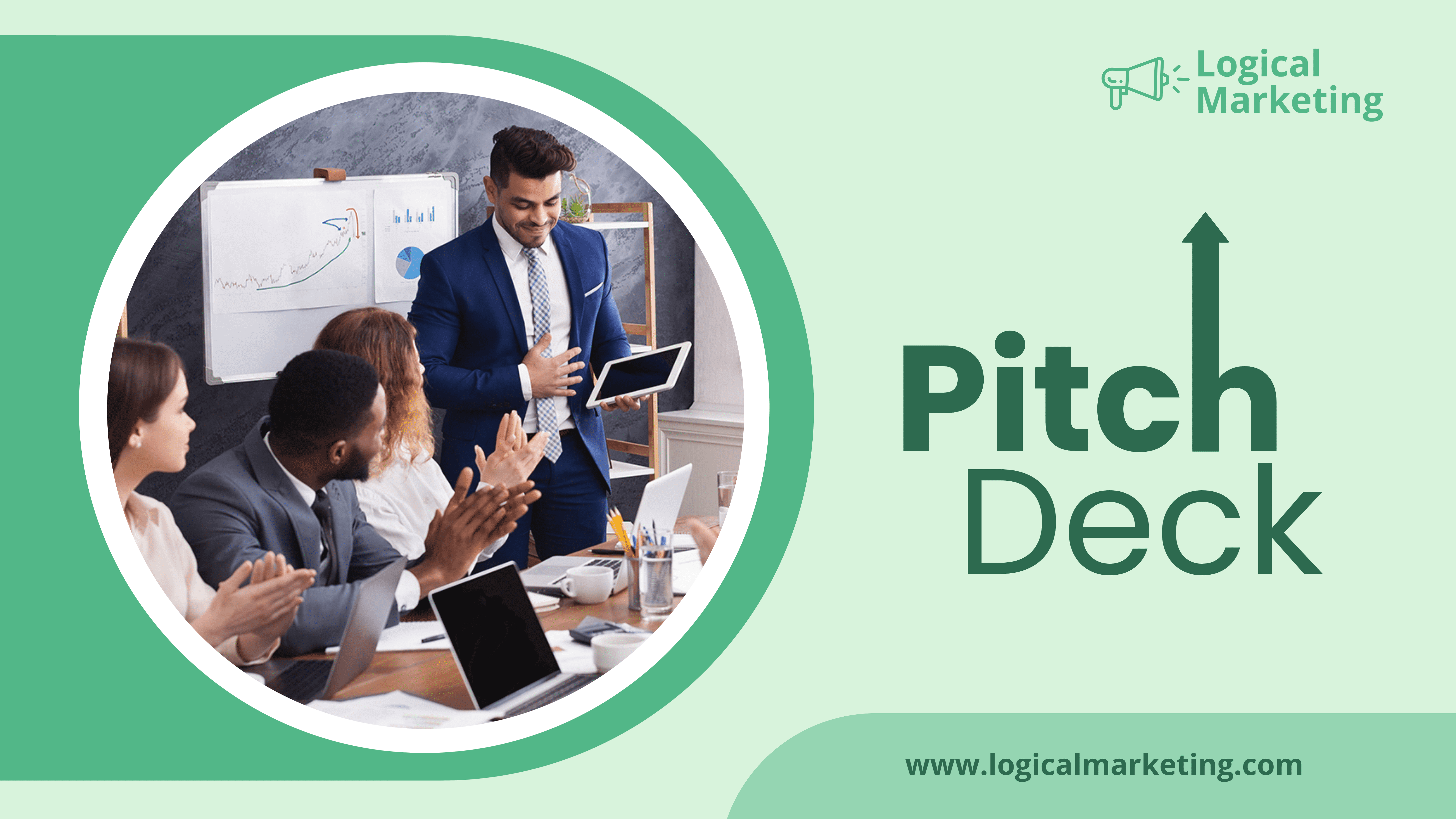 Get This Template and More
Also, you can include two separate slides to introduce your company. Include an 'About us' or 'Who we are' slide to give a brief overview of what the company is all about. This slide briefly introduces your vision, history, values, and purpose.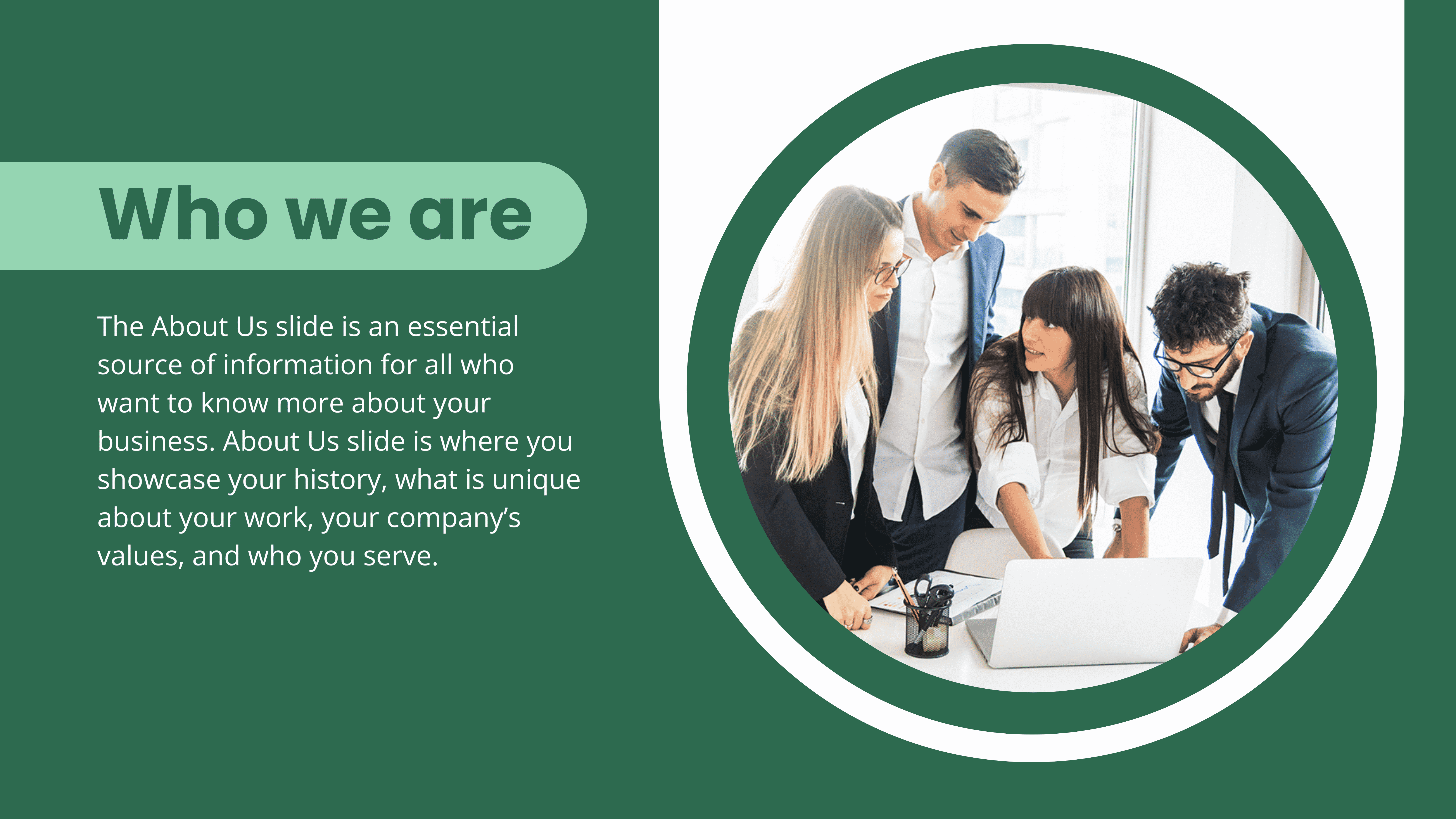 Get This Template and More
Problem
Is there a successful business that doesn't solve a problem? That's what makes the foundation of any business. As the first step, identify the problem you are trying to solve and list them down. Moreover, it will help you to identify your niche and target customers to position your business in the market. Try to explain the problems within 2-3 points and avoid exaggerating them in your pitch deck.
Use this problem slide for your start-up pitch deck to explain briefly and concisely.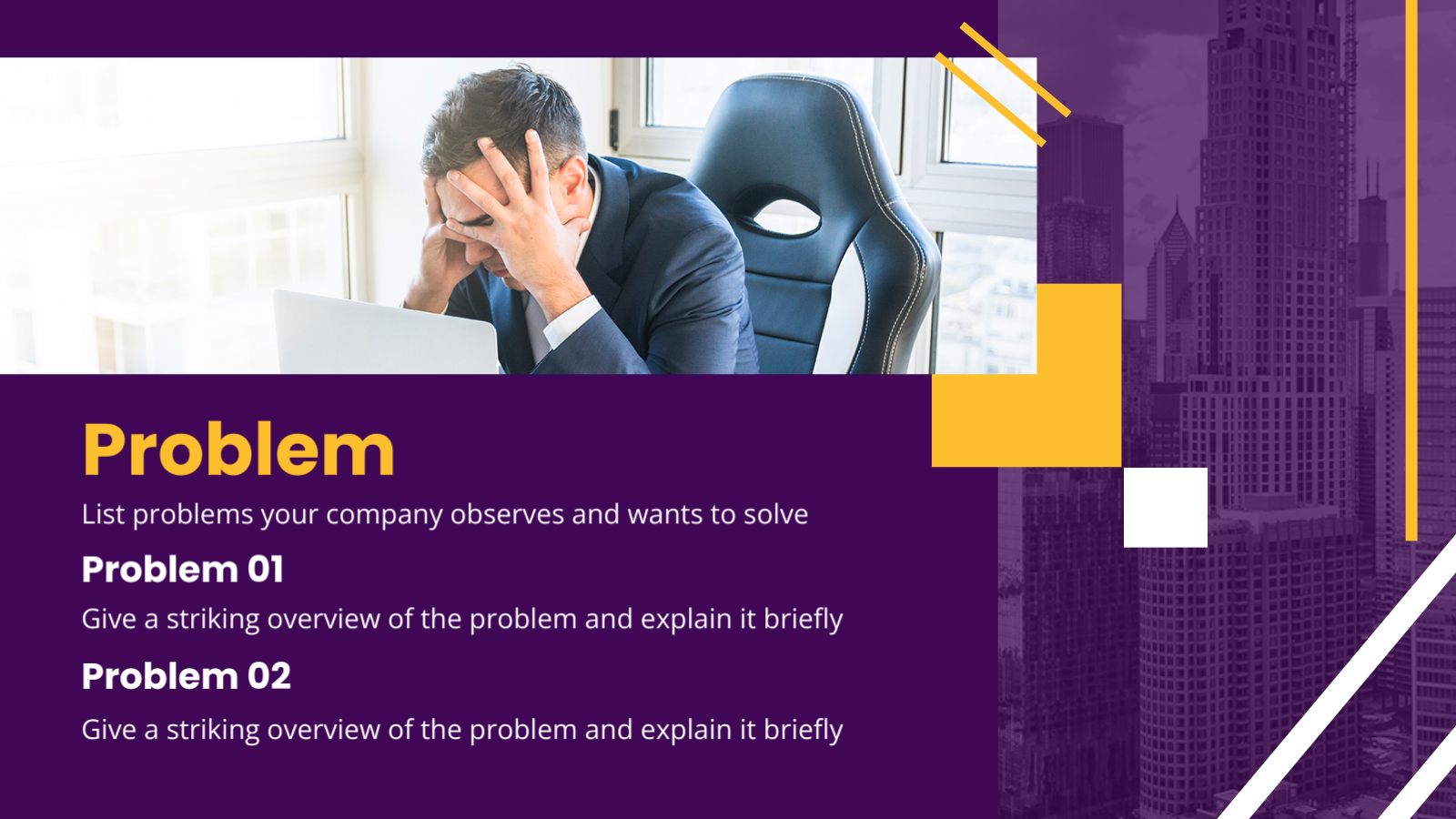 Get This Template and More
Moreover, utilize DocHipo's AI writer tool to tell more in fewer words. Learn to use this excellent tool with this video.
Solution
Once you have pointed out the problems, it's time to show what you can offer as a solution.
Strengthen your pitch with multiple robust solutions that your company will offer. In particular, address the problems you have identified in the previous slide. However, you should only focus on the uniqueness of your solution once you are too sure about it. Emphasize your capabilities and value proposition in your pitch deck presentation.
Take inspiration from this eye-pleasing Solution slide from DocHipo.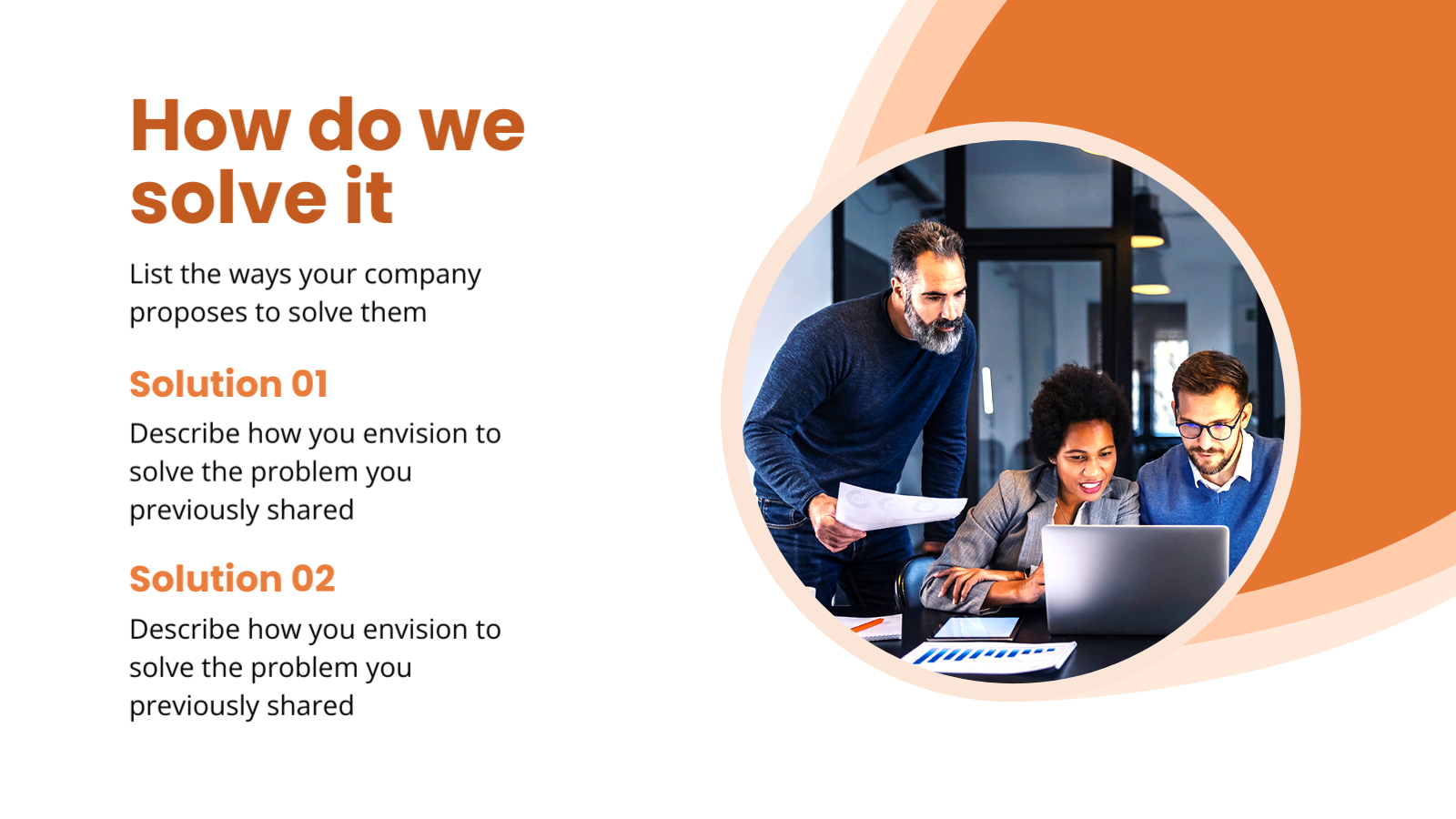 Get This Template and More
Product/Services
You have already explained problems and solutions. Now, it's time for specific products and services that help you to solve problems. Highlight the most essential benefits of your company. In addition, use complementing icons, illustrations, and images so the viewers can understand better.
In the case of a product, you can present it physically or add professionally clicked photos of the product. Take a look at this vibrant Services slide from DocHipo.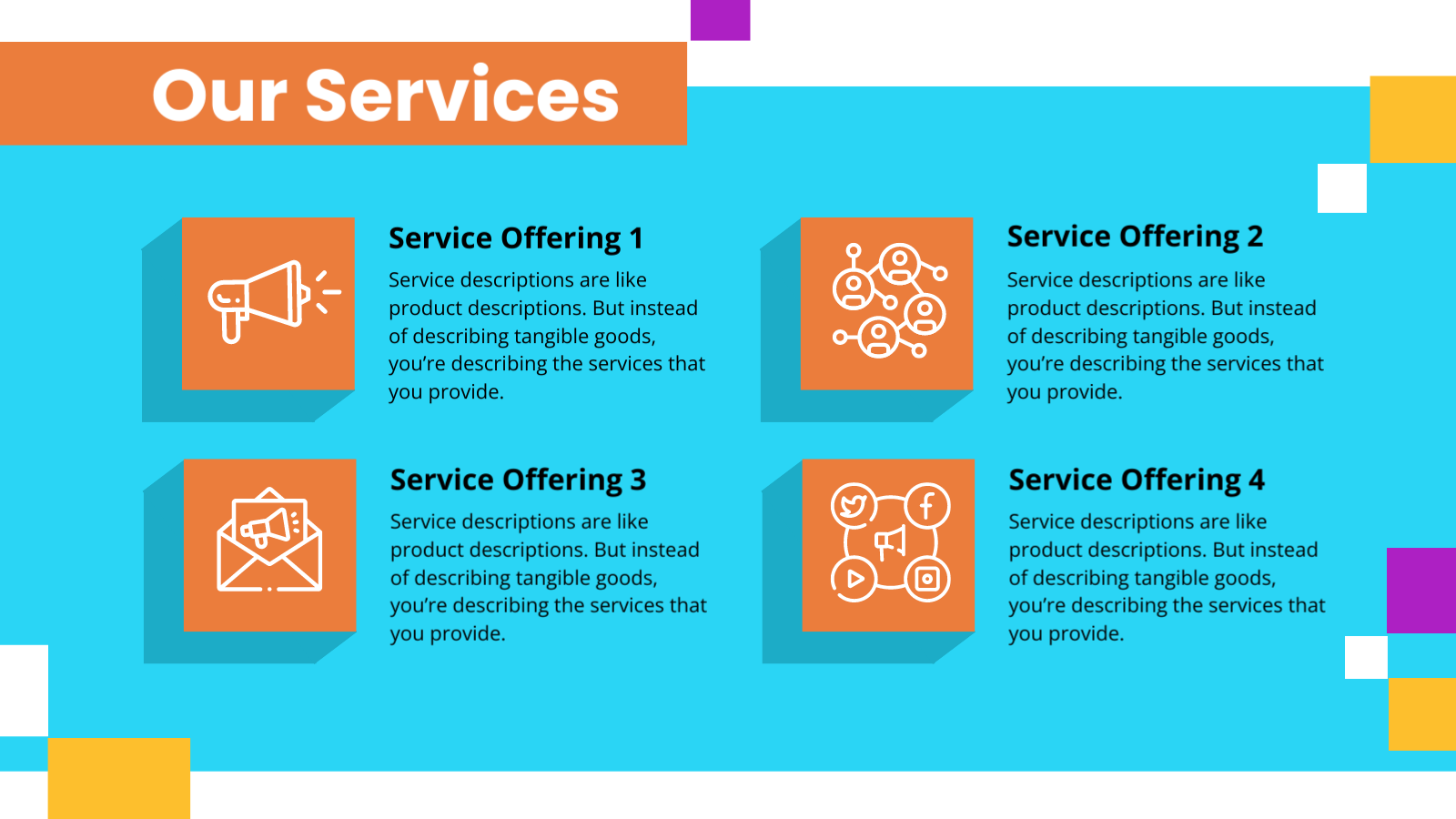 Get This Template and More
Uploading images of your products to your slide deck is easy with DocHipo. Watch this video to find out more.
Market Research
When we say market research, we imply where you will sell your product and services. Your investors are eager to know about the customer demand for your product. Since market size dictates the ROI potential of your business, it is one of the most crucial aspects of your pitch deck.
Ensure that you have done thorough research in this field through trusted sources. Present your facts tactfully with the help of charts and graphs so that your investors can better understand your company's growth.
Showcase your target market and opportunities with this DocHipo template.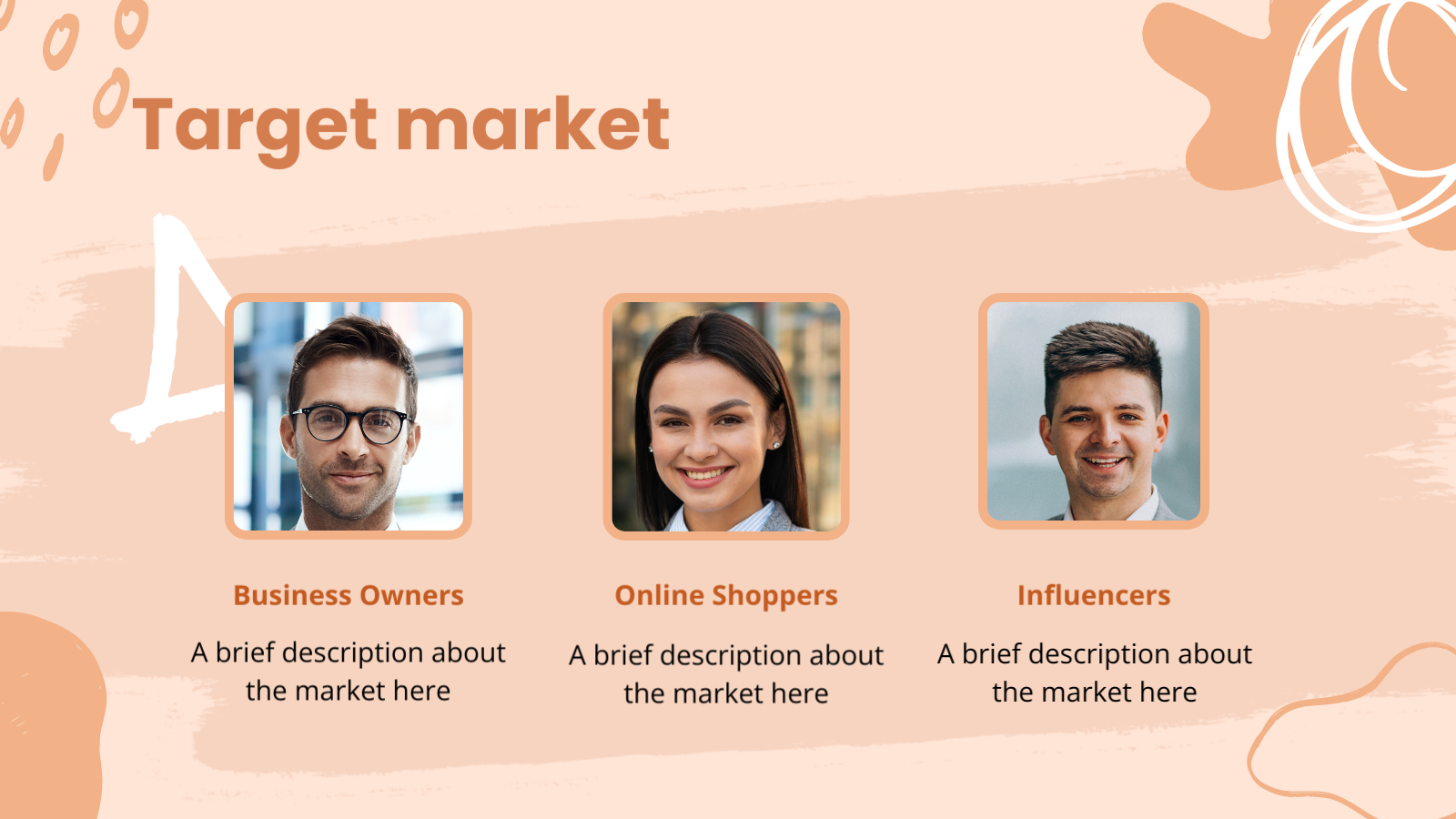 Get This Template and More
The market size slide from DocHipo explains the available market efficiently.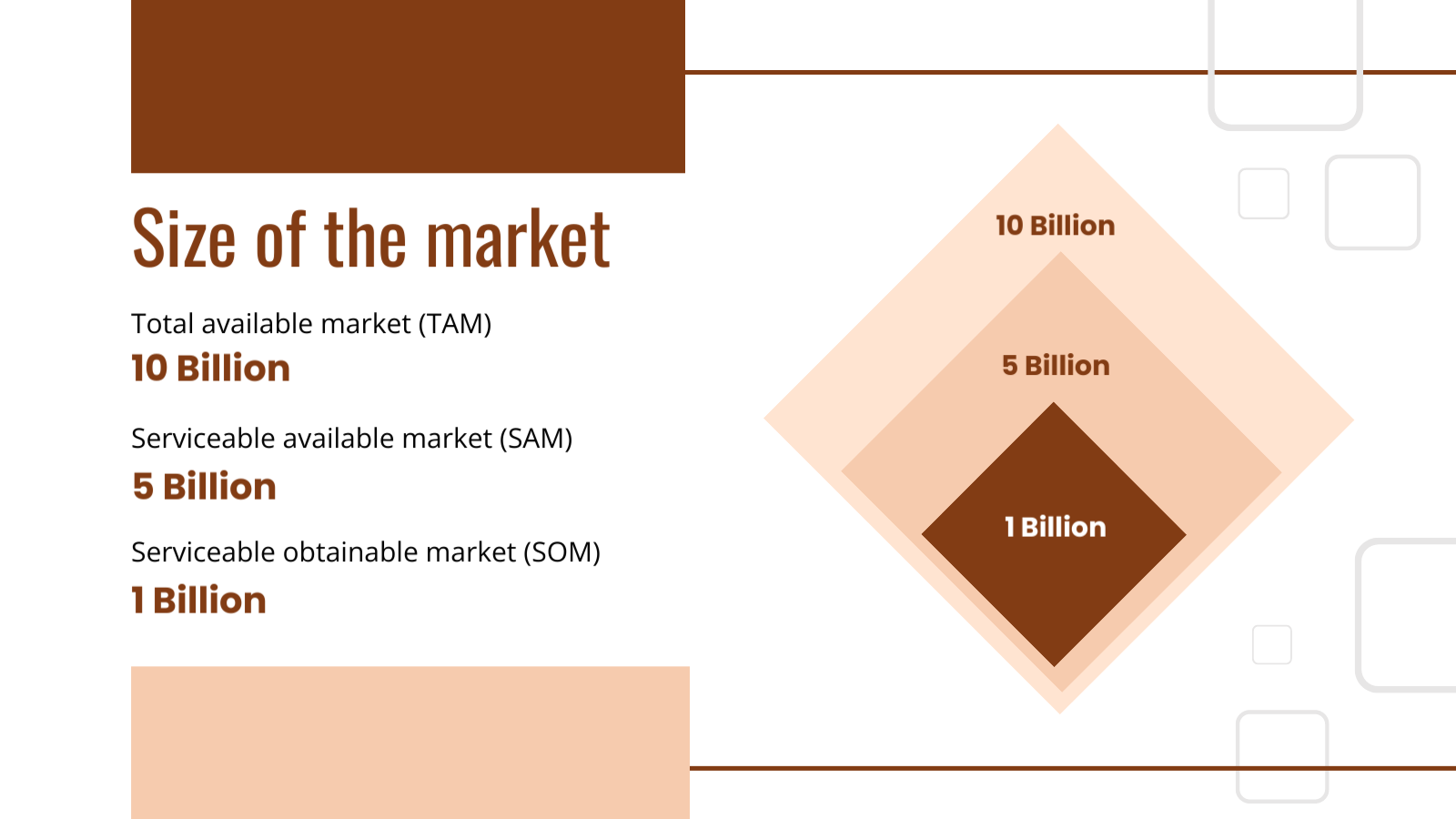 Get This Template and More
Business Model
This is the part where you try to earn the confidence of your investors. Presenting a business model means giving a detailed idea about the roadmap for revenue and operating model. Use attractive visuals to avoid information dumps in your slides. Try this eye-catching template to showcase your plan for the business.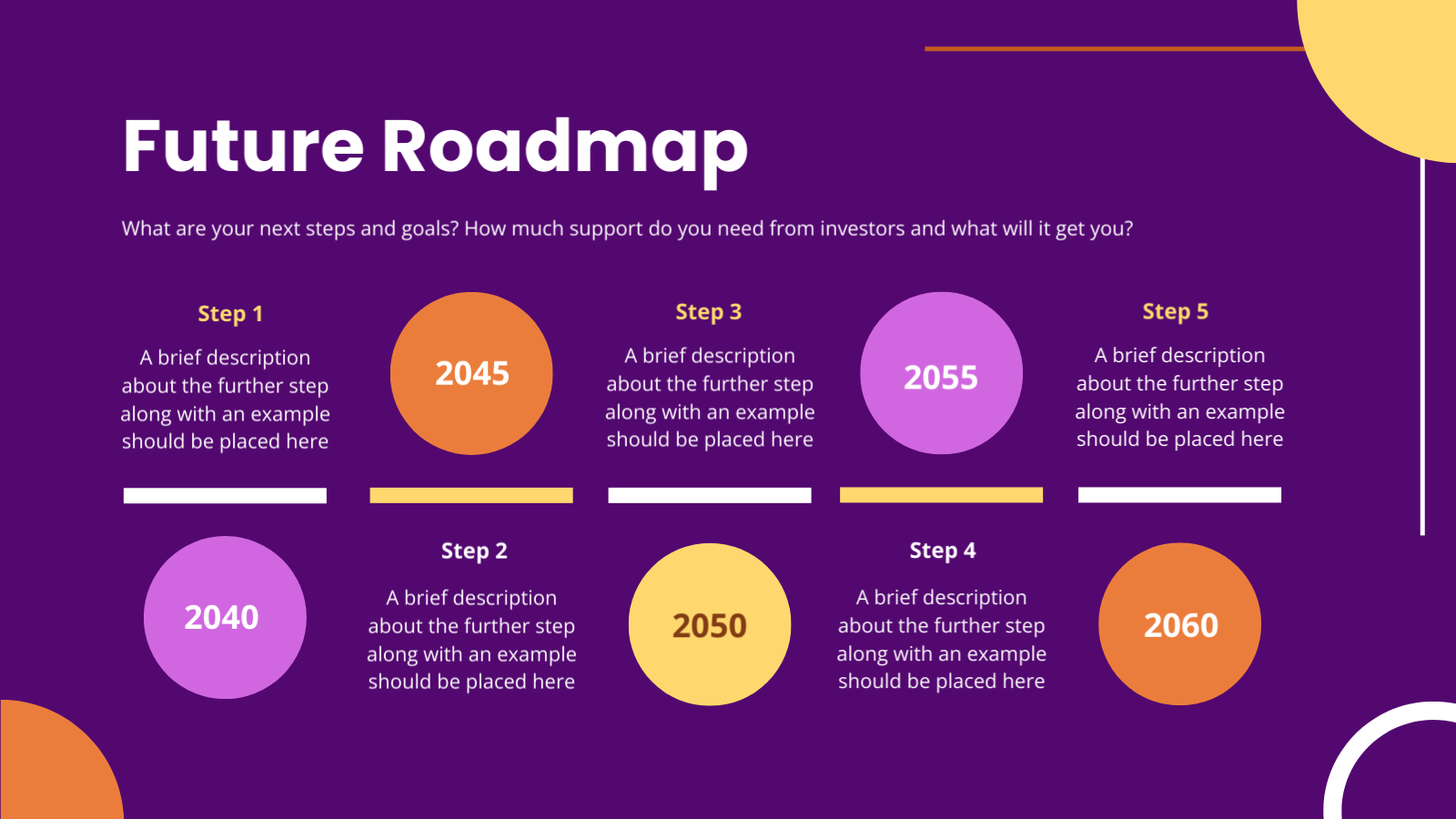 Get This Template and More
Further, you must provide details on unit economics, profit margins, and stakeholding. If you have a start-up company, you can take the help of case studies to explain your business model. Make an impactful business model with this DocHipo pitch deck template.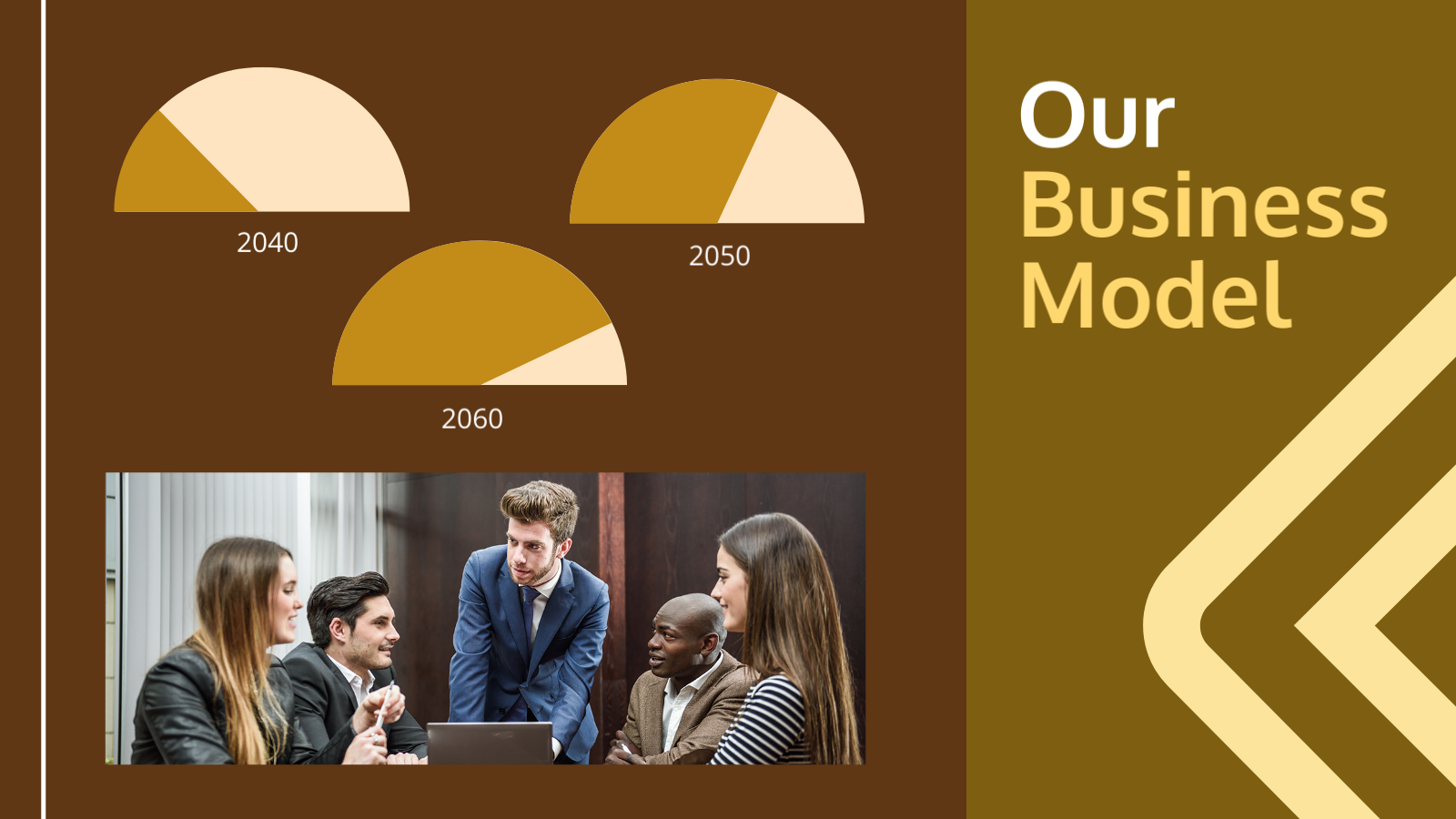 Get This Template and More
Competition
You know that when you enter the market, there are competitors in your industry. This comprehensive slide from DocHipo is perfect to show all the competitors. In addition, briefly describe the competitors around you and elaborate on what sets you apart.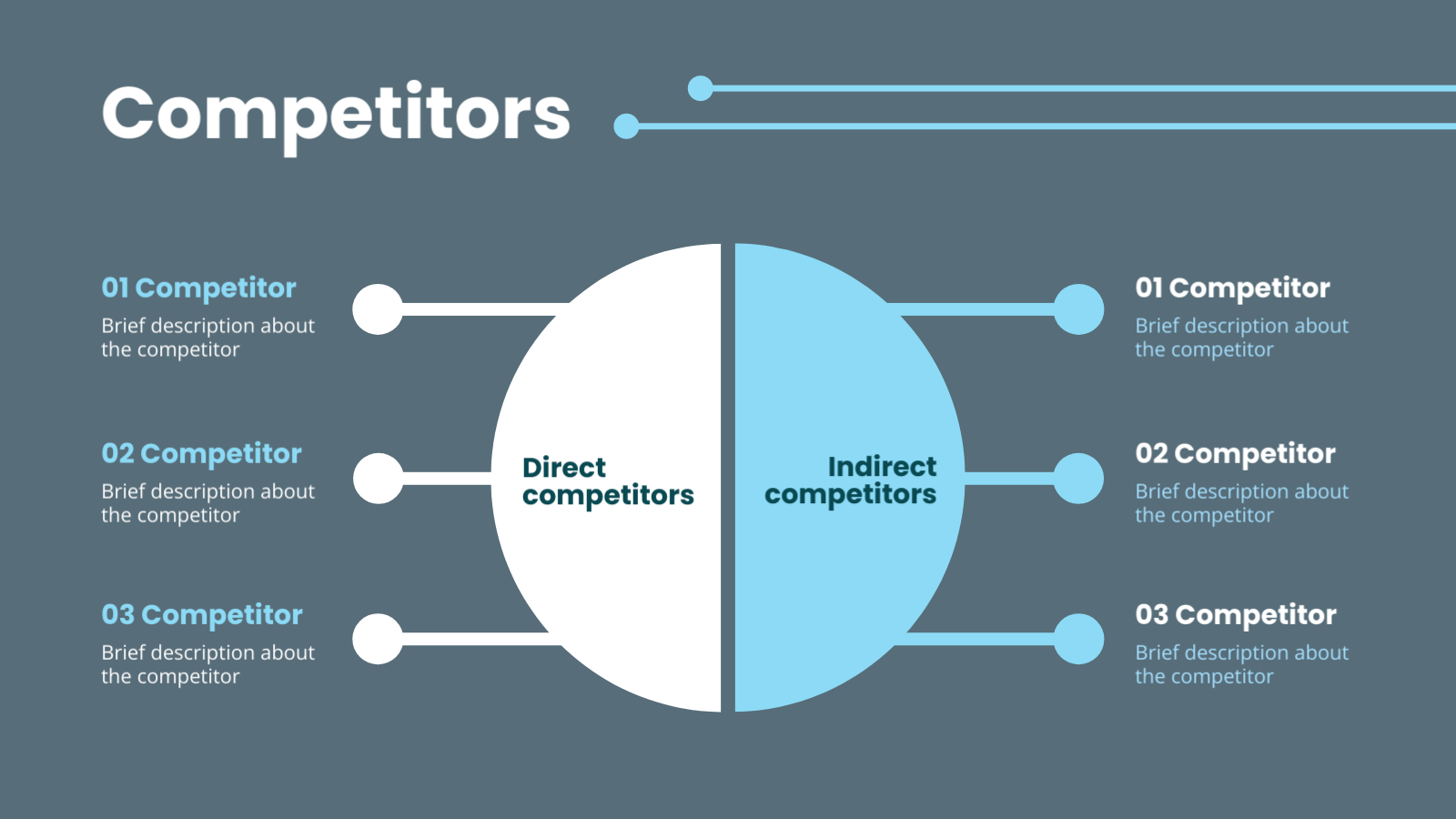 Get This Template and More
Moreover, you can highlight the advantages of using your services using this organized slide from DocHipo.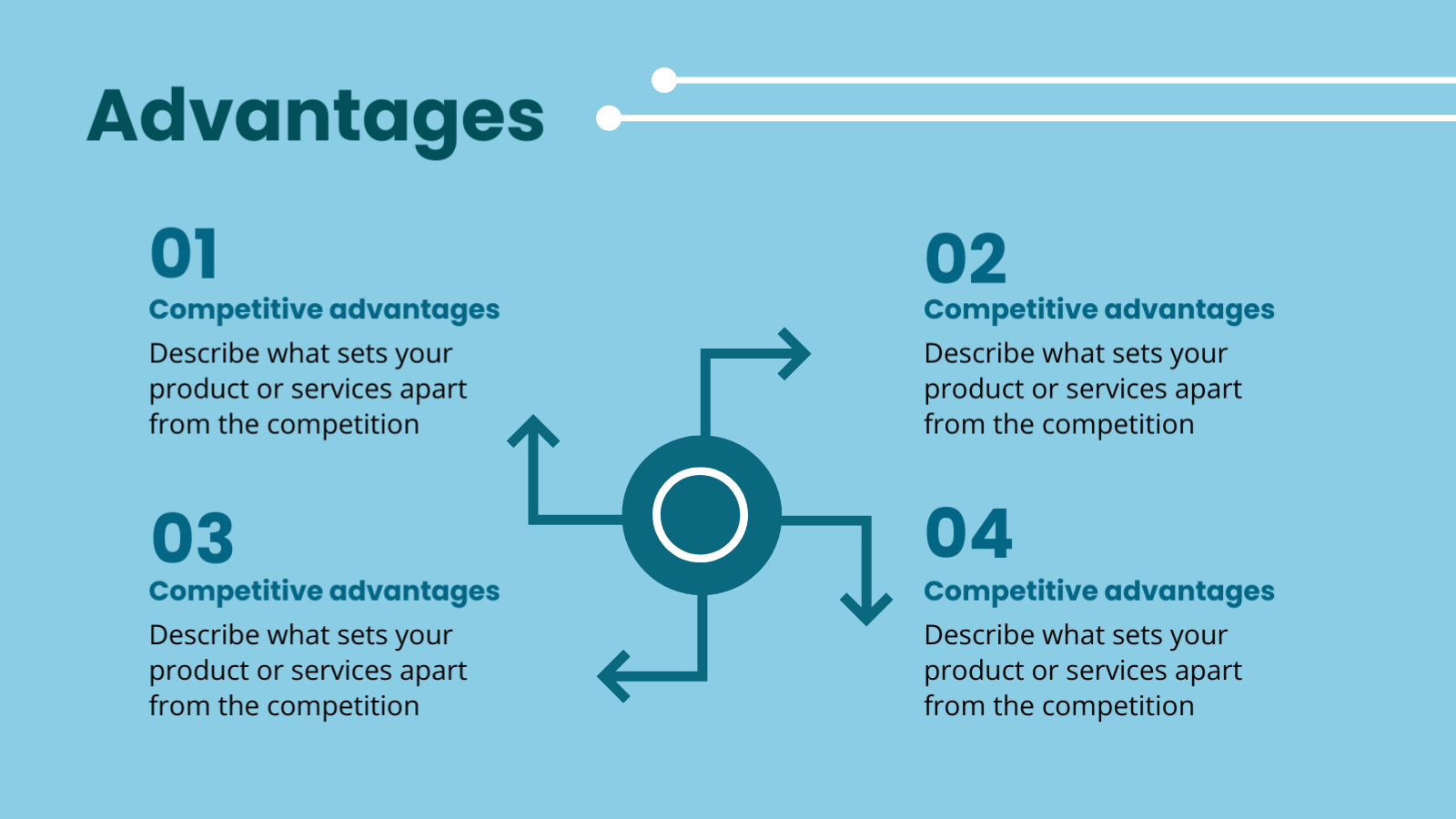 Get This Template and More
Team
You have explained enough about your business and services till now. Your investors are always interested in knowing more about the people behind running your business. Introduce your team members and tell them about their potential and contribution using this alluring slide deck template from DocHipo.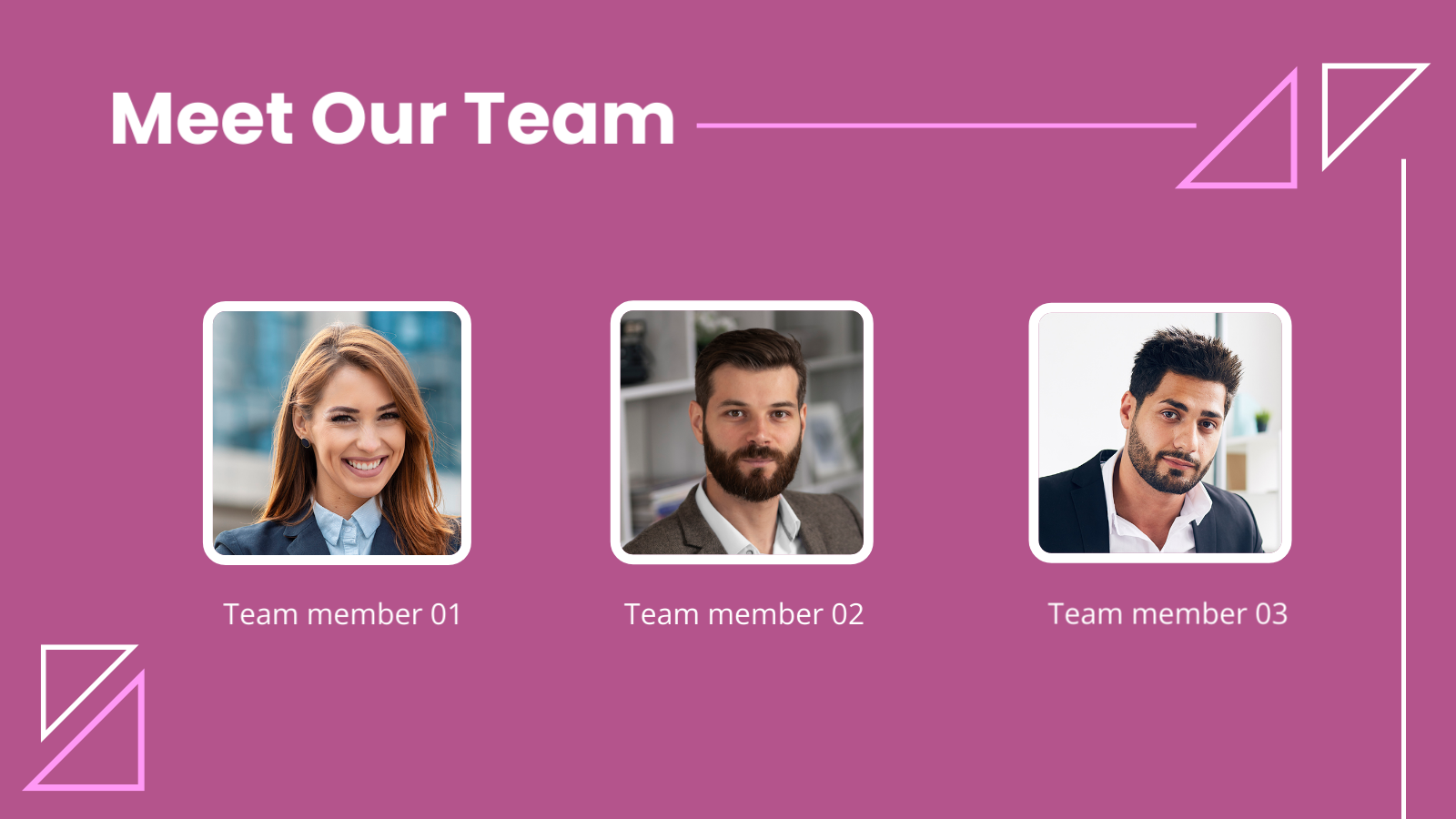 Get This Template and More
Traction/Milestones
It's better to show your progress than just talk about your profits. With the help of colorful graphs, turn boring statistical data into interesting figures to make an impact. Show your company's financial details every year through this bar graph model.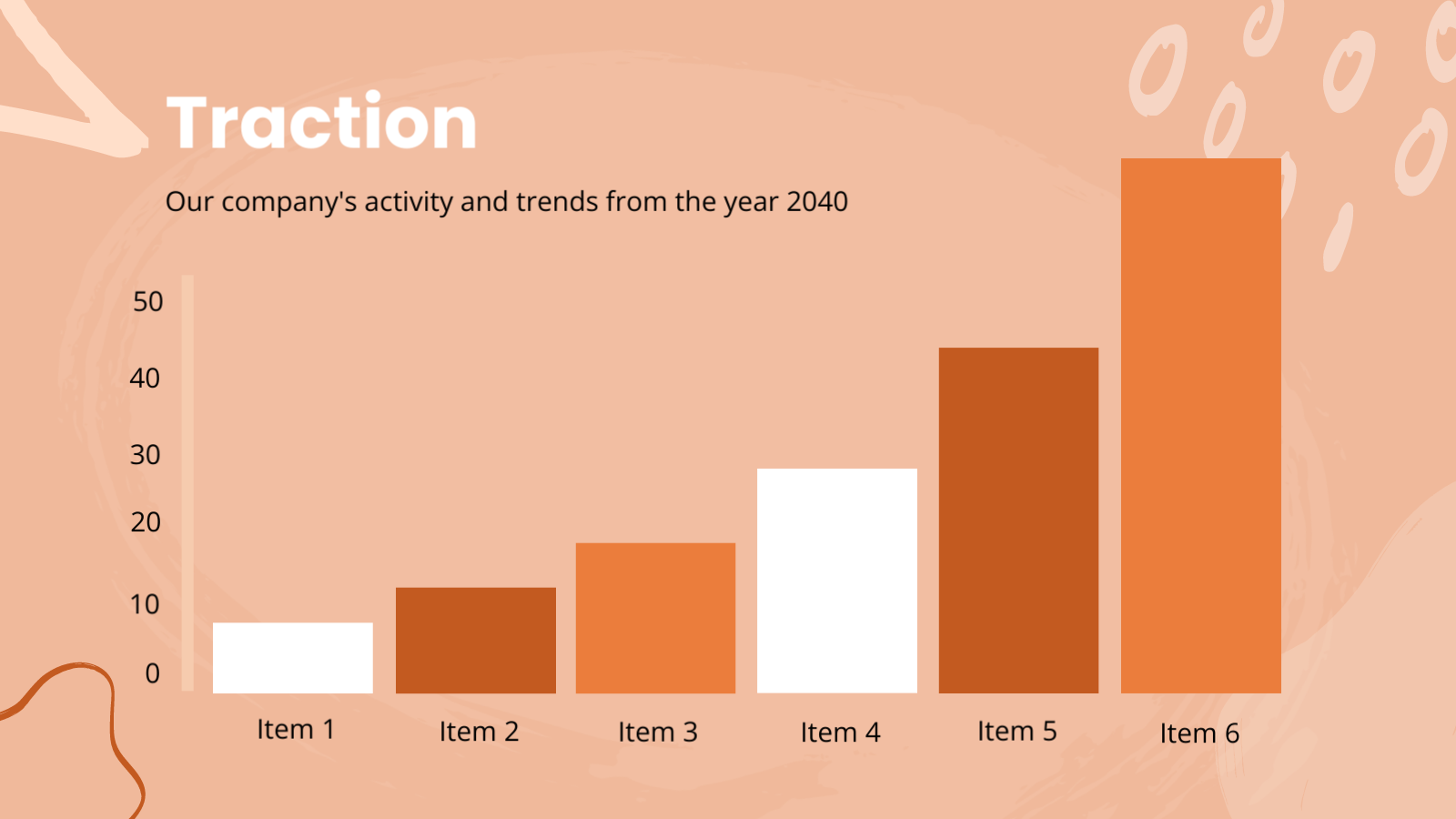 Get This Template and More
Or, you can list down the milestones that your company has achieved till now to encourage your investors to invest in your company. Use this DocHipo Milestone slide to show your success.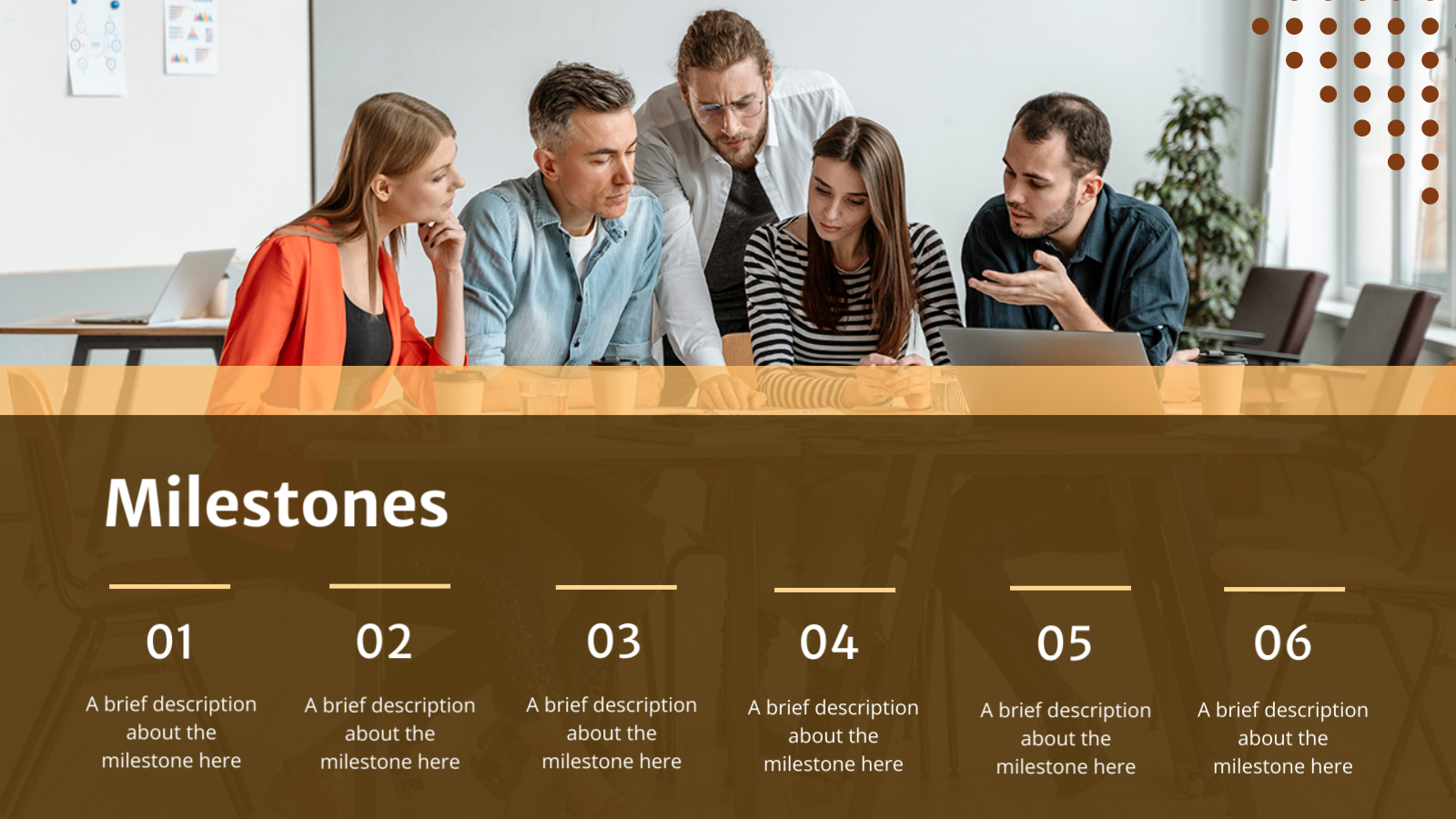 Get This Template and More
Fundraising
Now, we are getting to the most critical part- the fundraising. You have presented the entire pitch deck to ensure funding from the investors. Rather than emphasizing the budget amount, state what you plan to do with the financing. Your future planning will help them to trust you with their money. Further, use this slide deck presentation template to make a well-structured funding plan.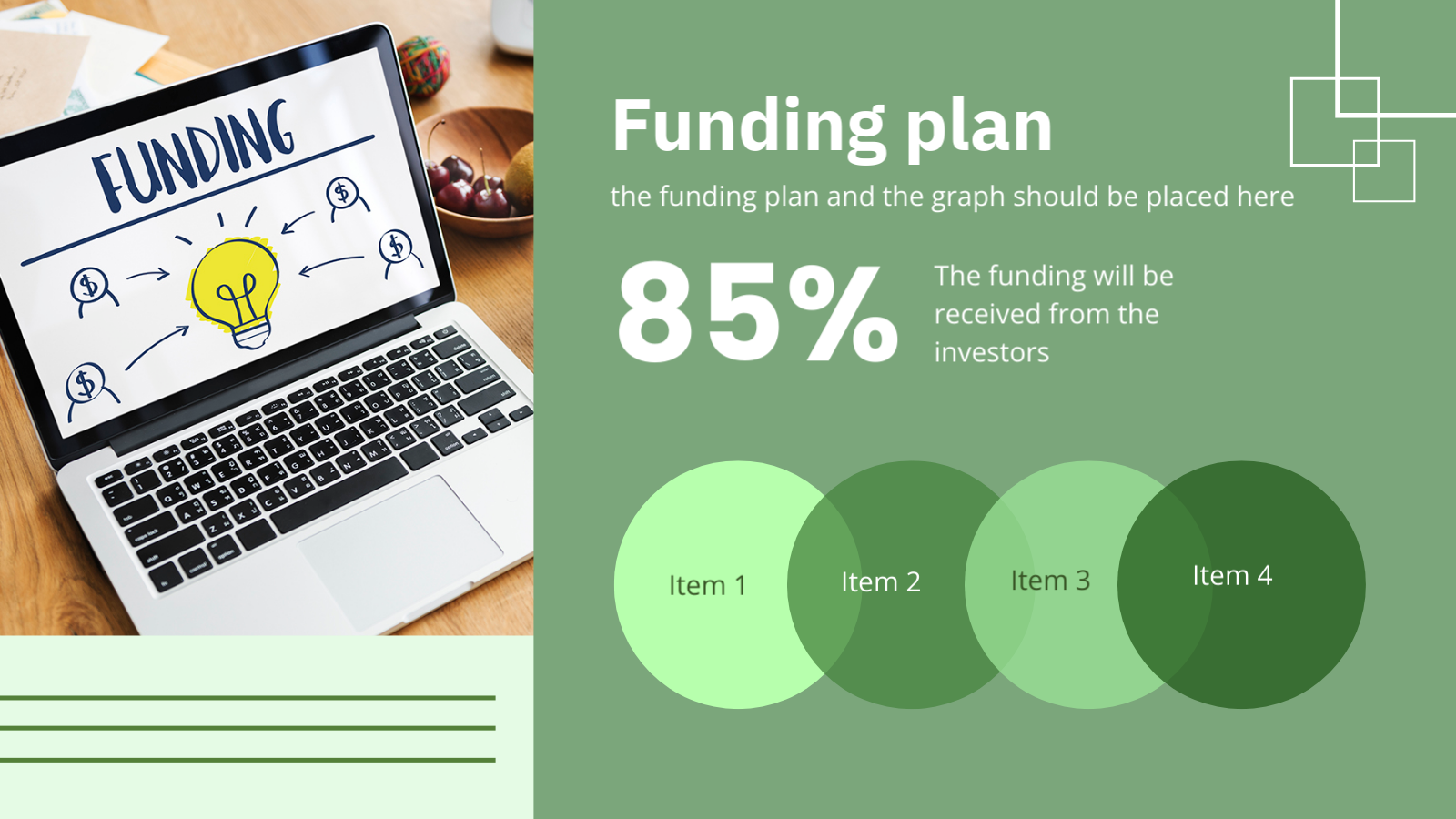 Get This Template and More
How Long Should a Pitch Deck Be
Remember that less is more when you think about a pitch deck's length. But how much less? You want to present your pitch deck without cramming text information. After all, the purpose of the pitch is to stimulate interest among potential investors. Therefore, when we address the duration of your pitch deck, we specifically focus on these elements.
Number of slides- Keep your presentation limited to 10 slides. We are comfortable retaining up to 10 concepts at a time. So, 10 is the optimal number of slides you can add to your presentation.
Time- If you stretch your pitch with too much information, your investors might become impatient or lose interest. Therefore, wrap up everything within 20 minutes. You will likely get a more extended time slot to present your pitch. But laptop connection, slideshow, and discussion are included in that slot. It's best to have extra time in your hand.
Visual elements- Use meaningful visual features only. That includes relevant images, charts, and 30-point font for all the slides. Also, try to use less text on the presentation slide, as it takes longer to cover everything simultaneously. Remember, you must grab attention through your speech and visual elements.
Best Practices for a Pitch Deck
Now, you are all set to create your pitch deck. Before you start, look at the following tips to impress your audience.
1. Research About the Investors Before the Pitch Deck
Dig into your investors' history, business, values, and vision. It will help you get an idea about their interests. Further, align your pitch according to them to ignite an interest in your business.
2. Compelling Storytelling with a Catchy Opening
Hook your audience with a catchy opening and bring their attention toward your business through your narrative. For this purpose, you can build a scenario to explain the problem and emphasize your services as the solution.
3. Easy to Understand
Verbally and visually, your pitch deck presentation should be easy to understand. Therefore, use short, simple sentences in your slide and try to project through graphs and charts. Avoid flaunting your vocabulary, as your audience can be a few investors or an auditorium packed with people.
For example, this Competition template slide is self-explanatory to show where your brand stands.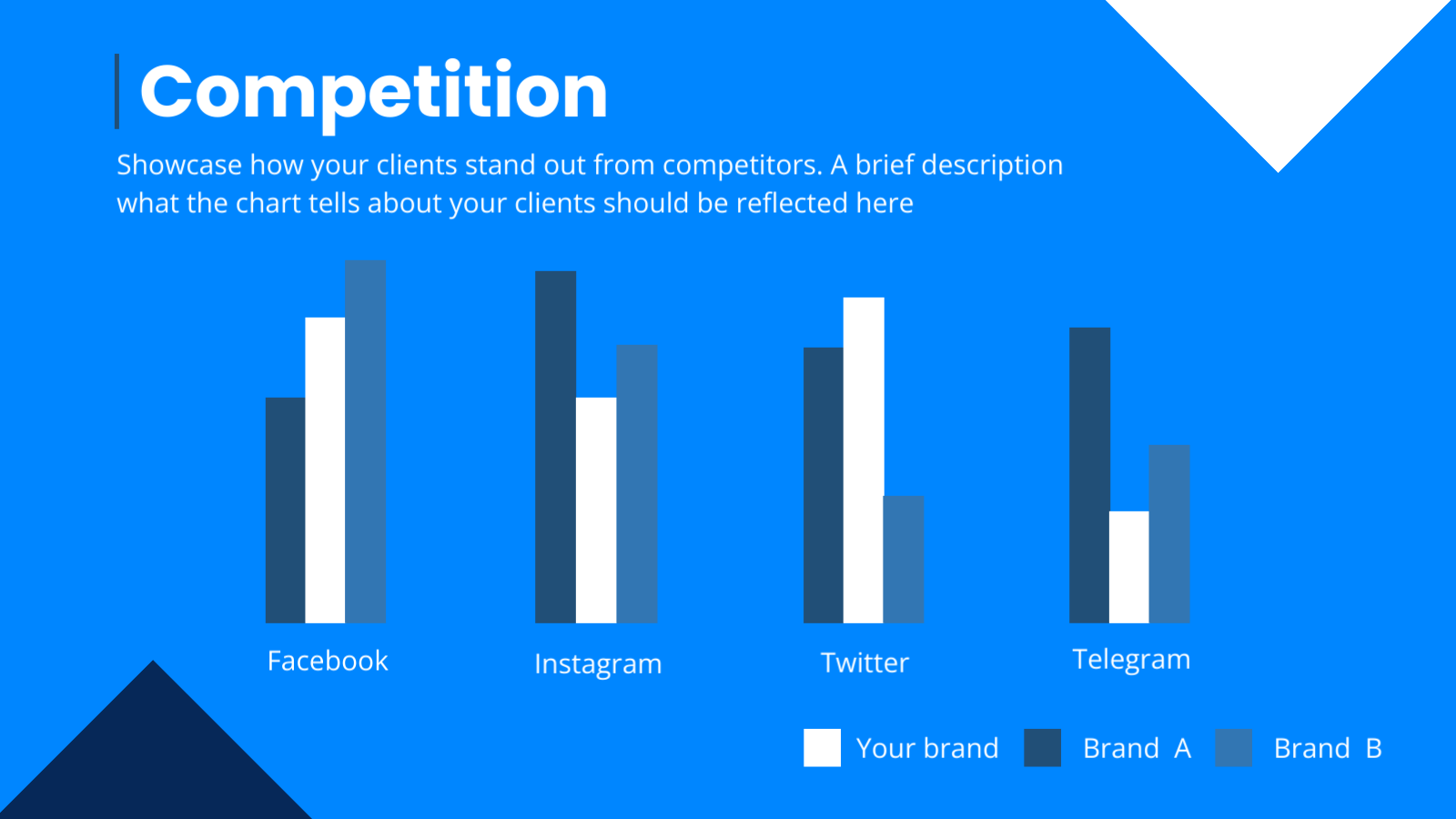 Get This Template and More
4. Make the Pitch Deck Relatable 
When you present your pitch deck, remember to give the human touch. Rather than making it monotonous and mechanical, explain how valuable your product or service is to the customers. Also, emphasize why one prefers to use your products and services over your competitors.
5. Include Eye-catching Visuals in Your Pitch Deck
If you show something to people, ensure that people don't find it boring. Our eyes are attracted to anything visually appealing. Thus, your slides should retain all the high-quality, enticing graphics that make an impression. Present all the information innovatively, like the slide presented below, to keep your audience engaged in the pitch deck slides. Notice the slide's high-quality images, bold fonts, and complementing color combinations.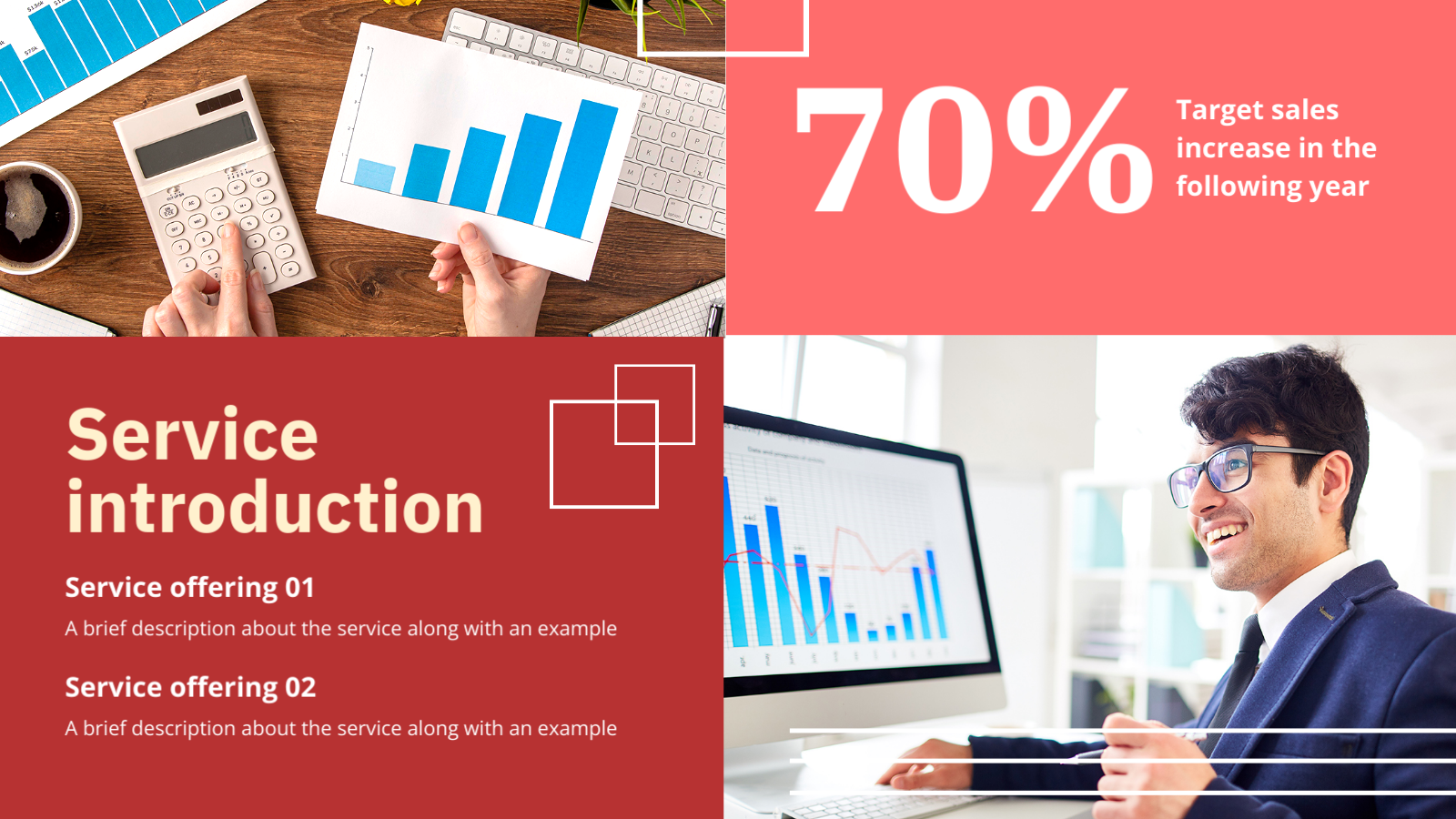 Get This Template and More
Explore the extensive library of DocHipo for icons, illustrations, shapes, and stock images.  Learn to leverage DocHipo's integration with the stock photo library.
6. Persuasive Tone with Traction-oriented Facts
We have already discussed the importance of traction in the pitch deck presentation. It is one of the finest persuasion strategies that many companies use. They don't tell but show how they operate, how they generate revenue, and their plan to secure funding.
Common Mistakes to Avoid in a Pitch Deck
Despite all the information, people must improve when presenting a pitch deck. Look at these common mistakes to avoid when preparing for your pitch deck.
Including too much information
Lack of vision and strategy
Not paying attention to traction-centered facts
Poor presentation
Weak business model
Indecisiveness about funding
How to Make a Pitch Deck
Designing a pitch deck from scratch can be a daunting task. Don't worry; DocHipo is there to solve your problem. With a wide range of options, DocHipo offers ready-to-use, free, customizable pitch deck templates. With three simple steps, you can design a stunning pitch deck presentation. Sign up with DocHipo and follow these steps.
1. Choose Your Template
When you sign up with DocHipo, you will land on the homepage, where you can search for Presentation templates.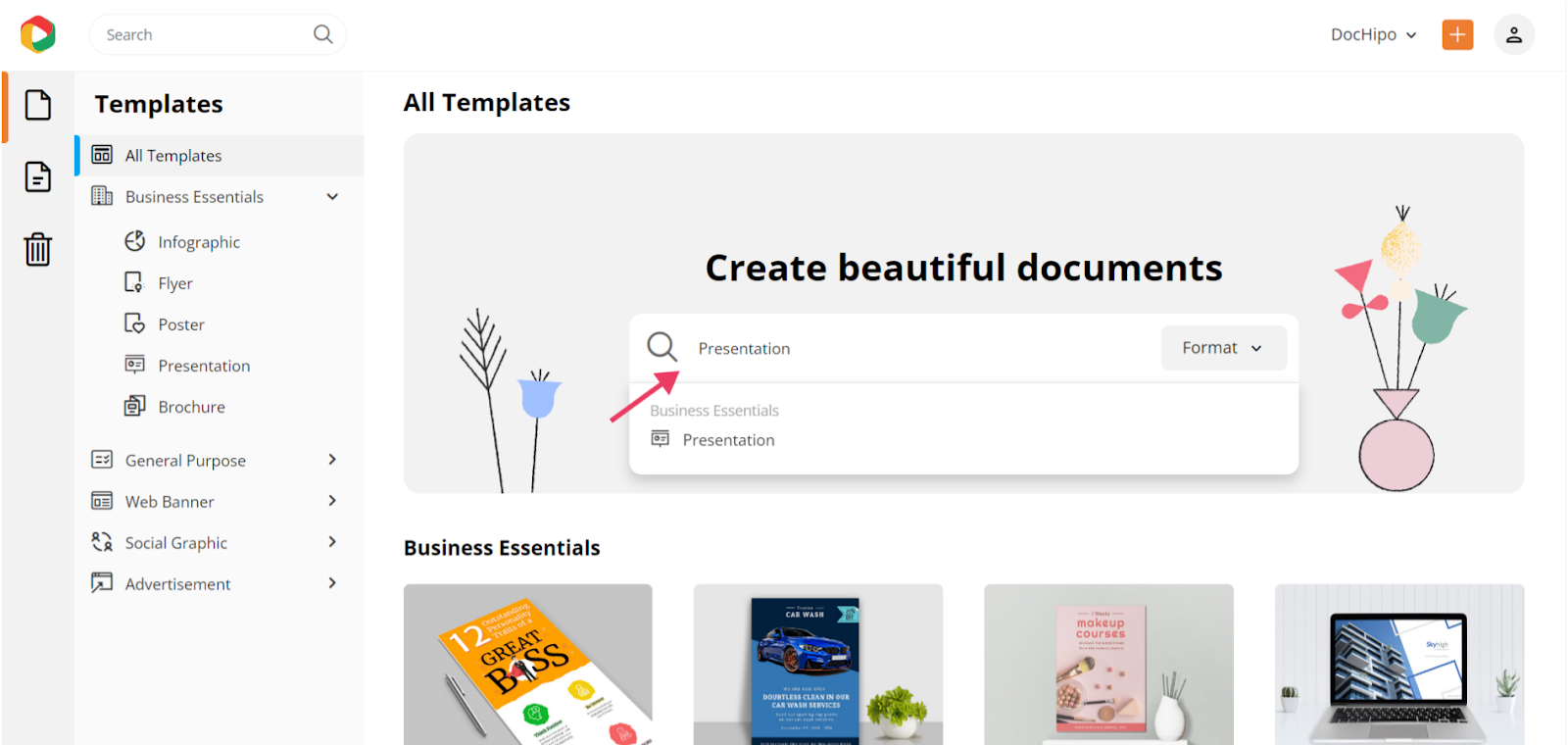 Choose the Pitch deck category, and you will come across various stunning templates.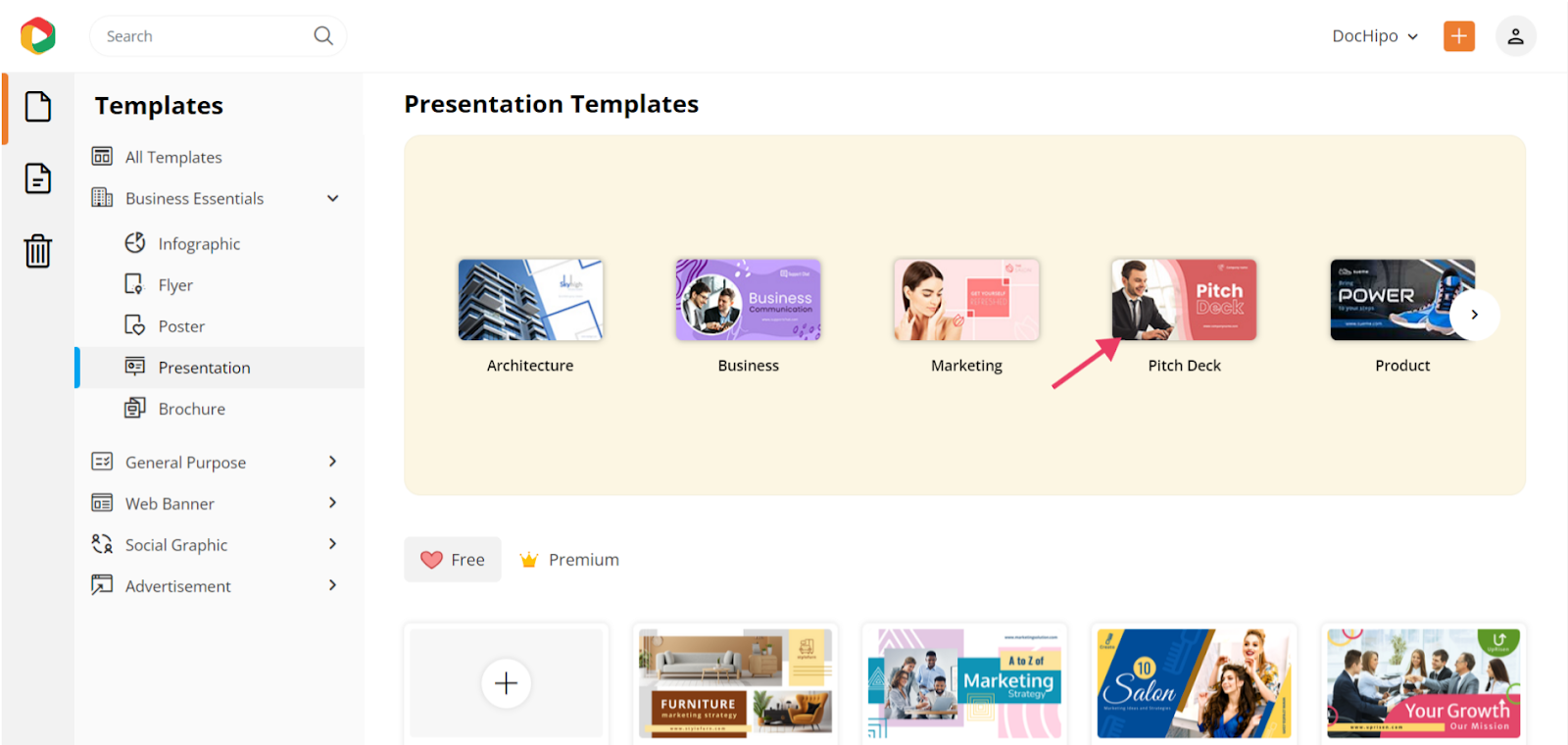 Now, hover over the template you love and select it to get started.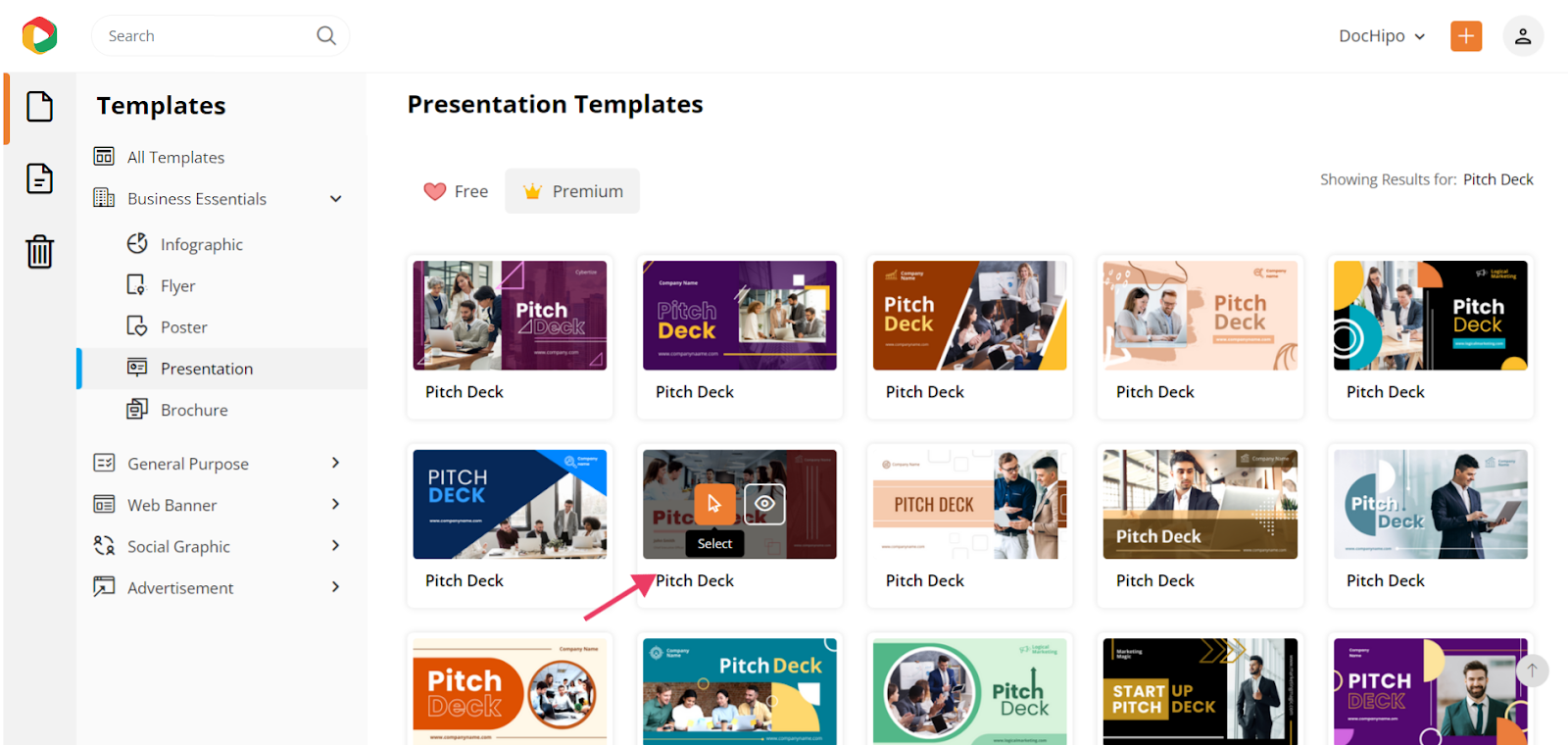 2. Customize Your Template
Once you have selected the template, you will come across the DocHipo editor. The intuitive drag-and-drop editor allows you to customize with the help of design widgets at the left.
Customize the Text
Add your text by selecting the text on the template.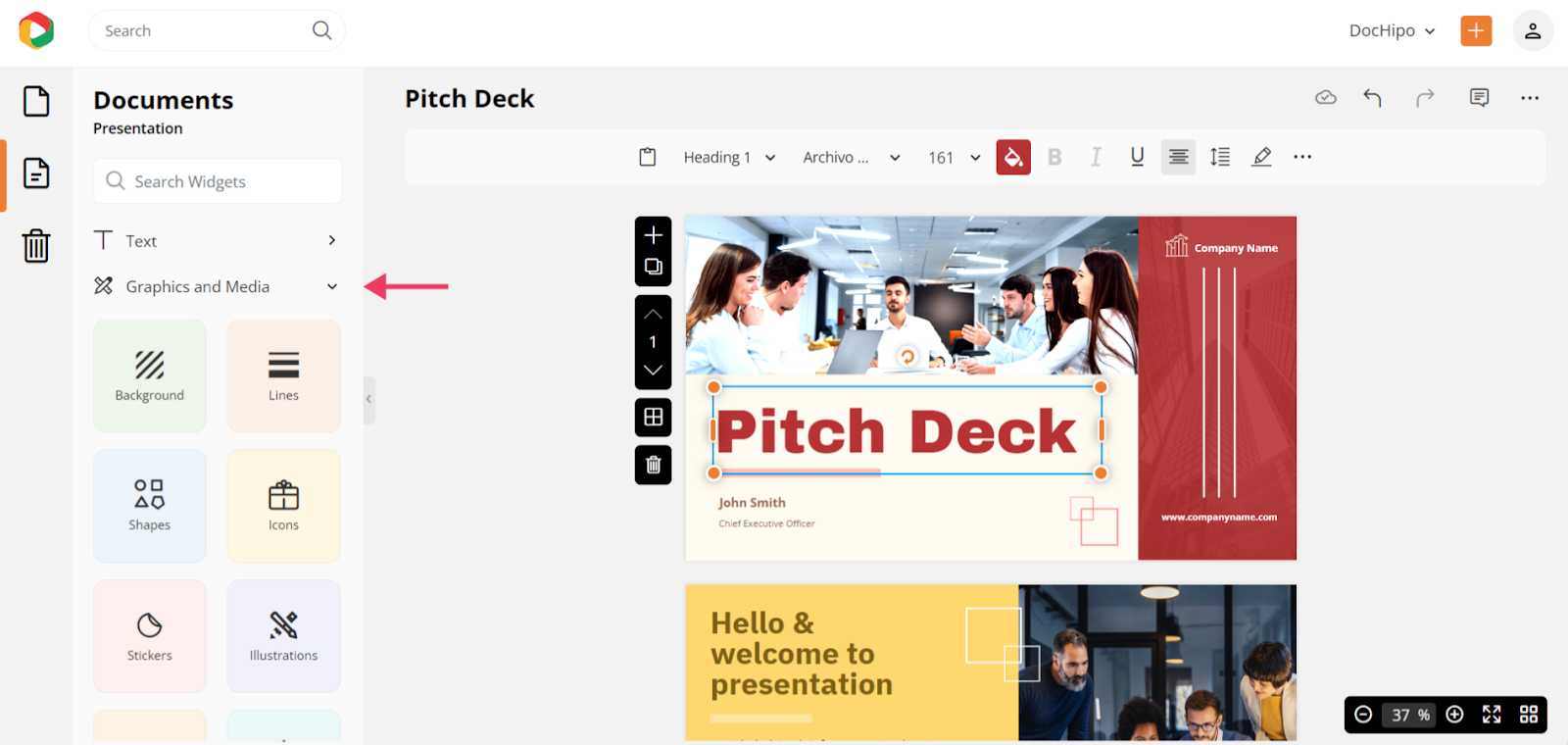 Select the text font from the contextual editing bar above the template.
After that, select a suitable color for your text from the color palette.
Learn to customize the text in DocHipo with this video.
Complement Design Elements
Align other design elements on your template to complement each other.
Explore what else you can do with widget effects in Dochipo.
Customize the Background
Further, select the background widget option to change the background color, gradient, or pattern.
Select a suitable color for your slide design.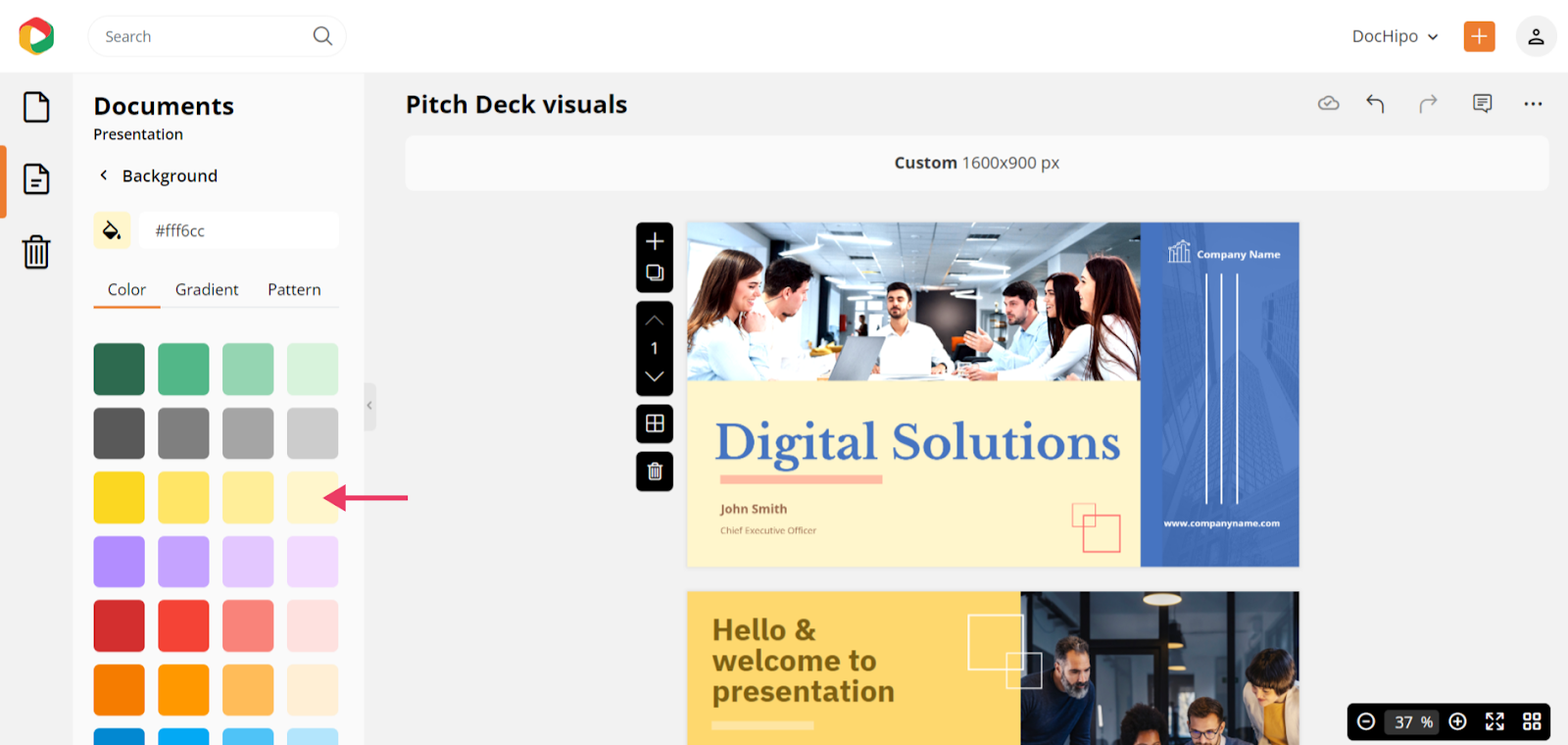 Learn How to Create Stunning Background in DocHipo.
Or, watch this video to do the same.
Customize Images
Now, select the pictures widget to explore the stock photos library.
Afterward, search for the images and select a suitable picture for your template. With the help of the drag-and-drop feature, drop it on the existing image you want to replace on the template.
Add Page Transitions
Further, make your presentation more appealing with page transitions. Select the Page Setup option from the left sidebar.
Apply transitions and choose the type and speed of the transitions.
Learn to add page transitions in DocHipo to revamp your slides.
Also, check out The Ultimate Guide to Using the DocHipo Editor to Design Your Documents to learn more about it.
3. Download Your Design
After making all the changes, click the three dots in the upper right corner to download.
You can download all the slides or present them directly.
You can download the slides in PDF, JPEG, or PNG format to save on your device.
Explore the page-wise downloading option in DocHipo with this video.
Before Customization
After Customization
Want to Ace with Your Pitch?
We are sure this comprehensive guide will help you present a captivating pitch deck. Further, research your niche and keep the facts clear. To help execute your pitch deck in the best way, DocHipo is there for you. Sign up with DocHipo and make a fantastic presentation for your pitch deck.