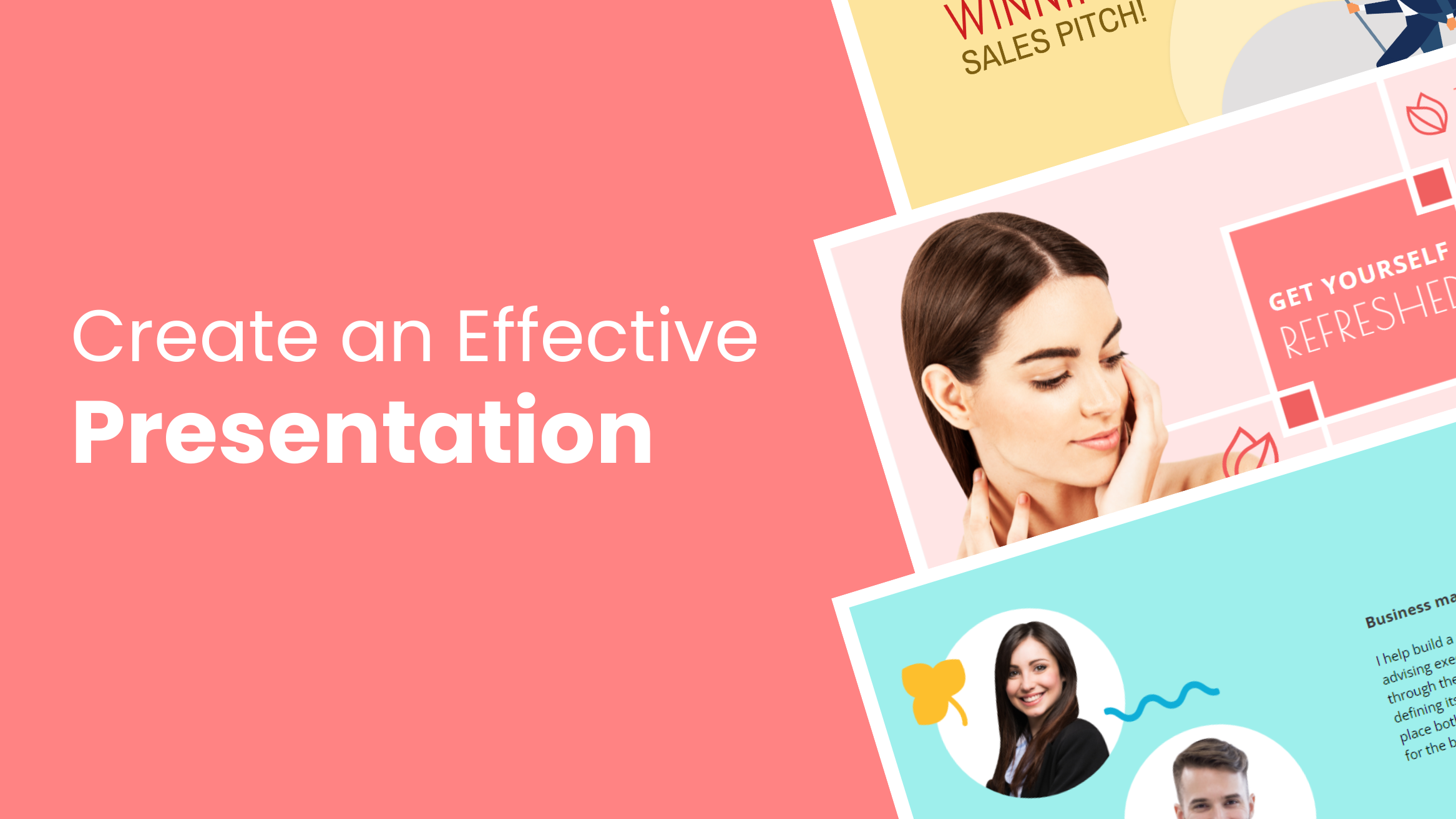 How to Make an Effective Presentation [Tips + Templates]

Published on Dec 21, 2021 | Updated on Oct 19, 2022
Do you want to crack a deal for your business and need to create a presentation for the same?
or you are a content creator who has established a personal brand and now wishes to share your learnings and experiences with your audience through a live session?
You may want to give the best content ever to your audience. Writing all the points so that you don't miss an important one, finding the perfect visuals to convey your message that make your audience understand the topic with complete clarity, choosing a simple yet meaningful design, appropriate fonts – there's a whole lot of work involved in the process.
Also, have you been an audience to a boring presentation? You'll never want your audience to feel the same about your presentation that you've worked so hard for, right?
So what makes a presentation attractive and exciting?
In this post, you'll learn how to create a presentation that grabs your audience's attention at first glance itself and hooks them till the end.
Mistakes to avoid while creating a presentation
To make an effective presentation that leaves a good impression and a lasting impact on your audience, you must avoid some mistakes that I have discussed below.
Not brainstorming beforehand
Before starting to create your presentation, have a clear idea about your key message, how you will present your thoughts, and share your knowledge and experience with your audience. Arrange the supporting facts, statistics, and examples for your points. You can also think of a relevant story or analogy that your audience could relate to.
Note down the significant points you want to discuss, make a draft on whatever you're thinking to offer your audience through this presentation, what action you want them to take, right after it is over, and so on. After the brainstorming session, create a structure or outline for your content and start thinking about the slides.
Not researching about your target audience
You can best serve your target audience only if you know and understand them well. Research to understand your audience's queries or points of concern regarding the topic you are presenting. Cover them smartly in your slides. If you do this homework beforehand, you'll show them the relevant images, illustrations, and stuff to explain those points in the best way possible. The other design elements will also depend on the age group, background, level of their knowledge, etc.
DocHipo offers you stunning presentation templates for different target audiences.
Inconsistent design throughout the presentation
The design of your presentation must align with your brand identity and target audience. Create a style that's relevant to your content, and that goes with the context of your content. The design and style of your entire presentation must work in favor of the logo of your brand, colors, fonts.
To maintain consistency in your design throughout the presentation with the elements like font, colors, and background, choose a template that's a close match and then tweak it according to your need.
Go through our free presentation templates to choose one for yourself, and your design work will become a lot easier.
Let's take an example of the above Beauty and Wellness Presentation Template to show you how you can have consistent design throughout your presentation.
Using poor quality images
Images are there for you to refer to while explaining a complex topic and for your audience to make their visualization easy and quick. So they help your audience to enhance their understanding of the topic because visualization is of utmost importance to clarify a concept.
The images you use should complement or reinforce the message you're trying to convey and add value to your presentation. So don't add images to fill spaces; use them only where you think is necessary.
Poor quality images could make your audience have a terrible impression of your brand or business. So why take the risk?
You can find a vast collection of high-quality images in DocHipo's stock photo library.
Using inappropriate font and size
Avoid making the font sizes too large or too small; make it easy to read for your audience. For each of your slides, the minimum font size should be 24 points.
Some of the best fonts for your presentation slides are Lato, Roboto, Open Sans, Helvetica, Futura, Verdana, Montserrat, Georgia, etc. Also, don't use all caps.
Using too much text or too many special effects
Avoid writing a lot of text within a slide or adding too many special effects, animations, etc. It may distract the audience from the value you are offering. The audience may be busy reading rather than listening to you or vice versa. So don't compel them to multitask; read what's there in the presentation and follow through with your words simultaneously.
Also, don't force irrelevant or unnecessary images only because there's a space; it'll impact negatively. Each design element, like illustrations, videos, etc., should be added on purpose. So keep it simple and functional.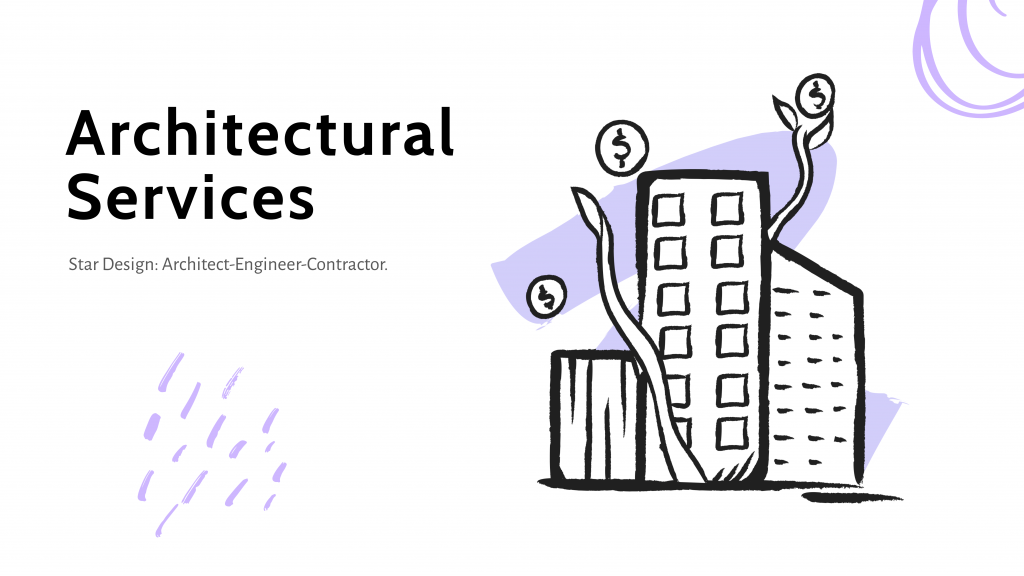 How to make an effective presentation using DocHipo?
If you are a new user in DocHipo, go ahead and sign up for free with your email ID and a password.
Now I will walk you through how you can choose a presentation template and then customize it.
STEP 1: Choose a Presentation Template
Once you sign up to DocHipo, on the left panel, you can see a variety of document types categorized as Business Essentials, General Purpose, Web Banner, and Social Graphic. To work with presentation templates, search for the document type 'Presentation' through the search bar and then click on the desired result to work with presentation templates.
DocHipo has provided you with multiple presentation templates in various niches like architecture, marketing, medical, and sales.
To either preview or select a presentation template, hover your mouse pointer to the one that you like or that aligns with your business requirements.
I selected the 'Corporate Food Supply' Presentation Template to demonstrate to you how you can use DocHipo to customize your presentation.
After selecting the presentation template that aligns with your niche, add a name and a brief description for you to refer to later, and then click on Next.
STEP 2: Customize the Presentation Template you have chosen
Now comes the exciting part of designing your presentation. First of all, adjust the size of the template as needed. On the left-hand side, you will find a variety of widgets to equip you for the customization. Let's cover them one by one.
Text
Click on the text widget to add a new text or edit the existing ones by double-clicking on it.
You can add headings, subheadings, and body text.
Use the drag and drop feature to adjust the position of your texts or other design elements.
To edit a text, first, select it, and then you can see a lot of editing options like changing the font family, font size, color, alignment, letter spacing and so much more.
Watch the video to know more about editing texts in DocHipo.
Background
Under the 'Graphics and Media' tab, you will find the Background widget.
Experiment with the vast range of image backgrounds available for you.
Click on the color icon to see the theme colors.
You can also click on the color palette icon to explore the custom background colors and choose the one that goes with your brand identity and the context of your presentation.
Other Design Elements
Under the 'Graphics and Media' tab, you'll also find other design elements like illustrations, stickers, shapes, lines, pictures, videos, and so much more.
Illustrations
After clicking on the 'Sticker' widget, you'll get a drop-down menu that you can explore to find the suitable sticker for your presentation. Then click on the result you want, it will be added to the template. You can again resize it or adjust its position by using the drag and drop feature.
Now add content to the next slides and customize the way you want. You can read The Ultimate Guide to Using the DocHipo Editor to design your presentation.
Watch the video below to learn how to add YouTube videos to your presentation.
STEP 3: Present, Download or Share it
After you are fully satisfied with your presentation design, you can download it, present it directly from DocHipo or share it on various social media platforms. You will get these options by clicking on the three horizontal dots and selecting your option as needed.
Select your file type and quality, and then click on the 'Download' button.
Cover Slide Before Customization
Cover Slide After Customization
Final Words
I hope that you have got at least some design inspiration or ideas for supporting your amazing content through your presentation. Keep the points discussed above in your mind, explore our stunning presentation templates, select the one you love the most and tweak it as needed. When your efforts meet the right tools, nothing can stop you from rocking your presentation. So sign up to DocHipo, get creative with your presentation slides, and give your best to your audience.