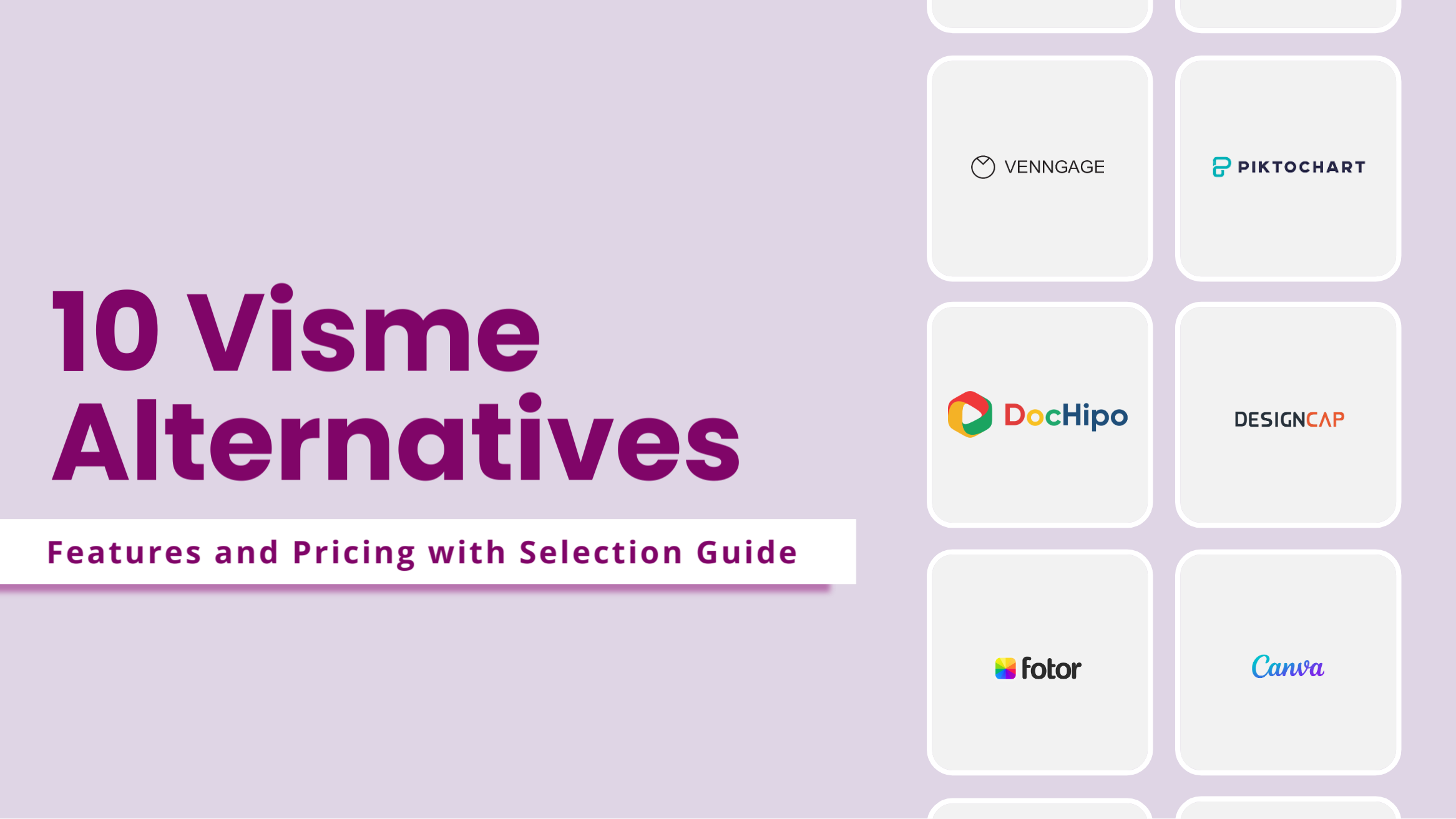 10 Visme Alternatives: Features and Pricing with Selection Guide

Last Updated Nov 20, 2023
In search of Visme alternatives? You have arrived at the right place. If you have used Visme, you know it is an excellent graphic design tool for presentations, infographics, and documents related to data visualization. However, Visme, like any other software, has its limitations. If you are well aware of these aspects, it's time to explore these 10 Visme alternatives to find the best graphic design tool.
In this comprehensive guide, we'll explore 10 powerful Visme alternatives, highlighting their unique features and pricing models and providing a selection guide to assist you in finding the perfect visual content creation tool for your specific requirements.
Table of Contents
Best Visme Alternatives
Explore a variety of graphic design tools with features and pricing with this comprehensive list of ten Visme alternatives.
1. DocHipo
DocHipo is your ultimate design destination if you wish to flex your graphic designs. With a modern and versatile approach, DocHipo offers a vast collection of templates, stock images, visual elements, etc, for diverse use cases. Moreover, you can get plenty of storage space along with collaboration options. DocHipo is an excellent Visme alternative with many shared and additional features. 
Some Exclusive Features of DocHipo
Let's explore some exciting features of DocHipo, making it a fantastic Visme alternative.
1. Premium Templates for Every Graphic Design Purpose
Whether it's your business presentation or a trendy Instagram story, DocHipo offers thousands of templates for design needs related to business purposes, general purpose, web banners, social graphics, and advertisements. Once you sign up with DocHipo, you can filter and search templates according to the format, industry, and occasion.
Learn to leverage DocHipo for your industry.
2. Simple and Intuitive User Interface
DocHipo's user interface offers a hassle-free experience with an organized display with all the document templates categorized under different categories. If you visit the page for the first time, you can access everything simultaneously with a single click.
The intuitive drag-and-drop editor is such a breeze for graphic designing. For instance, select an image from the stock photo library and drop it at the desired area in the template.
And you can replace the existing image with a blink of an eye.
3. Handy and Efficient Design Widgets 
With efficient design widgets from DocHipo, you can design your documents however you want. 
DocHipo library offers hundreds of fonts and a massive collection of high-quality images, icons, illustrations, stickers, animations, shapes, etc.
Text frames are the ever-evolving design feature of DocHipo that helps you to drag the viewer's attention. Further, you can use text frames to highlight offers and essential details amusingly.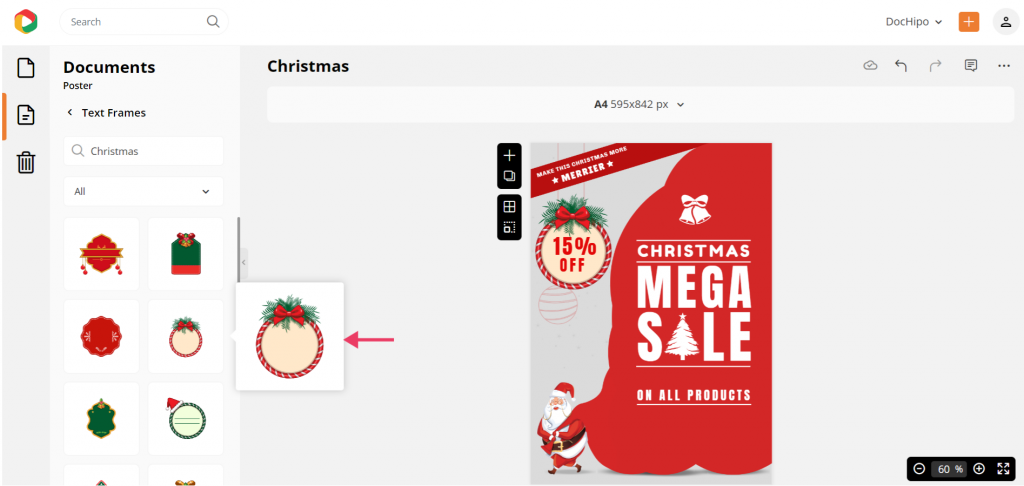 4. Customization Options for Text and Visual Elements
DocHipo offers unique features to help you design your documents. Let's look at these.
You don't have to use another application to enhance your photos. DocHipo's built-in photo editor allows you to adjust any photo's contrast, brightness, or grayscale for your document design. 
Learn to enhance your images in the DocHipo filters.
Hundreds of Fonts and Custom Fonts
DocHipo also has hundreds of fonts for your text, including Custom fonts. With Custom fonts, you get the flexibility to upload unique fonts and save them for the future.
Give your documents a creative flair with your custom fonts.
Mixed Color and Gradient Color
Add a unique touch with gradient color to your documents. You can apply this effect to the shapes and text to enhance the aesthetics of your designs.
Create the magic of gradient color with this video tutorial.
Further, make your text playful and vibrant with the mixed color option by selecting colors for each text letter.
Explore more about mixed colors in DocHipo.
DocHipo's text effects make your documents stand out, giving them an extra edge. For special effects, you can add shadow, border, and outline to your text.
Learn more about text effects with this video.
5. Advanced AI Tools
DocHipo brings you AI-powered tools to make your design journey hassle-free. Check out these tools.
If you want to blend an image with the template design, the built-in background remover makes it easy. Upload a picture or choose a picture from the stock photo library. Remove the background, and you will get a clean cut out for your design.
Now, insert the cutout and adjust it according to your design for a seamless experience.
Explore how to remove background in DocHipo editor.
In the DocHipo editor, the Pictures widget offers the text-to-image option. Now, you can give text prompts and choose your desired style, and AI will do the magic to create a fantastic picture as per the description.
Here's how you can generate AI images in DocHipo.
Do you need more words for your design? Don't worry; an AI writer will help you write anything for your design. Give the topic and choose the writing tone. Voila! You have a great piece of text in front of you within seconds.
Want your design in your language? Select the text on your template and translate your designs into hundreds of languages with AI Translate.
Learn to use AI Translate in your designs with DocHipo.
6. App Integrations for Smooth Design Experience
For a smoother design experience, DocHipo has integrations with the Stock images library for thousands of royalty-free images. 
Watch this video to learn more about stock photo integration in DocHipo.
Further, you can also directly save your designs into your Mailchimp account. Just select the Mailchimp option on the editor to connect your account.
Check out how to use DocHipo for Mailchimp.
DocHipo's integration with Jotform and Typeform lets you attach forms anywhere in your design and allows your viewers to respond with their email IDs.
Learn more about Typeform with this video.
7. Real-time Team Collaboration
Whether you work alone or with a team, design effortlessly by editing with the team in real-time. You can control access by selecting Read Only, Read Write, or Full Access for your documents.
Explore the possibilities of team collaborations in DocHipo.
Select team members and share your designs. Moreover, you can get feedback in real time and improvise accordingly.
8. Multiple Download and Sharing Options
After making a beautiful design, you can download it. DocHipo offers multiple options: preview, publish, present, download, or share your creations directly from the editor.
Moreover, various file formats like JPG, PNG, PNG Transparent, PDF, MP4, and GIF are available to download your design.
You can also choose pages to download from the entire design conveniently.
Also, explore the page-wise download option with DocHipo.
Who is it for
DocHipo is a free graphic design software for individuals, corporations, teams, enterprises, and agencies. It is an all-in-one graphic design software suitable for every design purpose, from company logos to Facebook ads.
Pricing
DocHipo offers a free plan with unlimited use. You can access free templates and features and download designs without any watermark. You can access more premium designs and robust features with a paid plan at an affordable $7.5/month per user (billed annually).
Moreover, DocHipo allows you to buy the plan in 15+ different currencies with country-specific pricing.
How to Create a Design with the Best Visme Alternative – DocHipo
After reviewing all the features, let's create a design with DocHipo. First, Sign up with DocHipo and get access to thousands of DocHipo templates for posters, presentations, brochures, Instagram stories, YouTube thumbnails, Facebook Ads, invitations, etc. You can create a stunning design with three simple steps.
1. Choose a Template
After signing up, you will land on the DocHipo homepage. Search for the document you wish to design.
Now, choose your favorite template from a variety of options available.
2. Customize the Template
After choosing your template, you will arrive at the DocHipo editor. Customize text, images, and other elements to create a fantastic design.
3. Download Your Design
Once you have created your design, click on the three dots in the upper right corner of the screen to download. Download the design after selecting the format and quality.
02. Piktochart
Piktochart offers graphic design templates, social media posts, presentations, and essential business documents. This cloud-based Visme competitor helps you create rich data visualizations with unique 3D illustrations. Moreover, the minimalistic user interface suffices basic graphic design needs.
Overall, Piktochart is a great tool for professionals who wish to communicate internally yet have some acceptable constraints in the free plan. Piktochart's introduction of advanced features will enhance the overall design experience.
Who is it for
Piktochart is famous for infographics and essential business documents. The template designs revolve around professionals, corporations, and data visualization needs. If you want to create designs in collaboration with your team, you can opt for Piktochart.
Pricing
Piktochart offers a free plan with limited use.
There are three paid plans for the users:
Pro plan at $14 per user, paid monthly (billed annually) with 100 GB storage.
Business plan at $24 per user, paid per month (billed annually) with 250 GB storage
Custom pricing for Enterprise depends on the utility of the software.
03. Venngage
Venngage is your go-to Visme alternative for creating business reports, infographics, and social media posts. The graphic design tool offers professionally designed templates for creating flowcharts, maps, timelines, etc. Moreover, leverage real-time collaboration and brand-kit to spice up your designs.
Although Venngage shows robust design assets, most of these assets are behind the paywall.
Further, the software can improvise its features with advanced AI capabilities.
Who is it for
Venngage caters to people who prefer professional designs such as maps, charts, graphs, infographics, etc.
Pricing
Venngage offers a limited free plan.
The tool offers three different paid plans to access more features:
Premium Plan at $10 per month per user.
Business Plan at $24 per month per user.
Enterprise Plan at $499 per month for 10+ users.
04. Canva
Canva is a renowned user-friendly graphic design software, a note-worthy Visme alternative. Over the years, Canva has created a benchmark in the graphic design field. As a consequence, users have overused the free template designs. Using Canva is a breeze for users with the drag-and-drop editor, advanced features, and extensive library of icons, photos, and images.
Canva offers a lot to its users, yet many designs and features like magic resize are behind the paywall. Also, users may need help to stand out with the free plan designs.
Who is it for
Canva is a beginner-friendly graphic design tool. If you start with graphic design, Canva can help you create high-quality professional designs.
Pricing
Canva offers a free plan with accessible templates, icons, and design assets.
For complete access, it offers paid plans to access exclusive designs and features –
Canva Pro – $14.99 per month for one user, billed annually.
Canva for Teams- $29.99 monthly for five users, billed annually
05. VistaCreate
VistaCreate, formerly Crello, is a versatile graphic design software similar to Visme. It surpasses Visme in the number of use cases, providing templates in both static and animated formats. Besides print-focused templates, VistaCreate offers various social media, infographics, and marketing templates.
VistaCreate is a powerful tool, and it can introduce some enhancements related to advanced AI features to make graphic designing a seamless experience.
Who is it for
VistaCreate is suitable for people who love to experiment with their designs. So, if you can design without the professional dicta, go for VistaCreate.
Pricing
VistaCreate offers a limited free plan. The Pro plan costs $10/month (billed annually).
06. Fotor
You say photo, we say Fotor. Fotor started as photo editing software and became a versatile graphic design tool. With eye-catching designs and a colorful interface, it aims to channel your creative side even if you are a non-professional. Further, this Visme alternative has immense possibilities to edit and enhance images with AI-powered tools.
Fotor is more suitable for individuals due to limited collaboration capabilities. Also, users can access many features related to graphic design after availing of the paid plans.
Who is it for
Fotor is most suitable for photo editing and web-based explicit design requirements.
Pricing
Fotor offers a free plan and two paid plans:
Pro plan at $3.33/month (billed annually)
Pro Plus plan at $7.49/ month (billed annually)
07. Designcap
Among all the Visme alternatives, Designcap is known for its delightful and organized design experience. With templates categorized under broad categories, it lets you edit documents related to marketing, events, social media graphics, etc.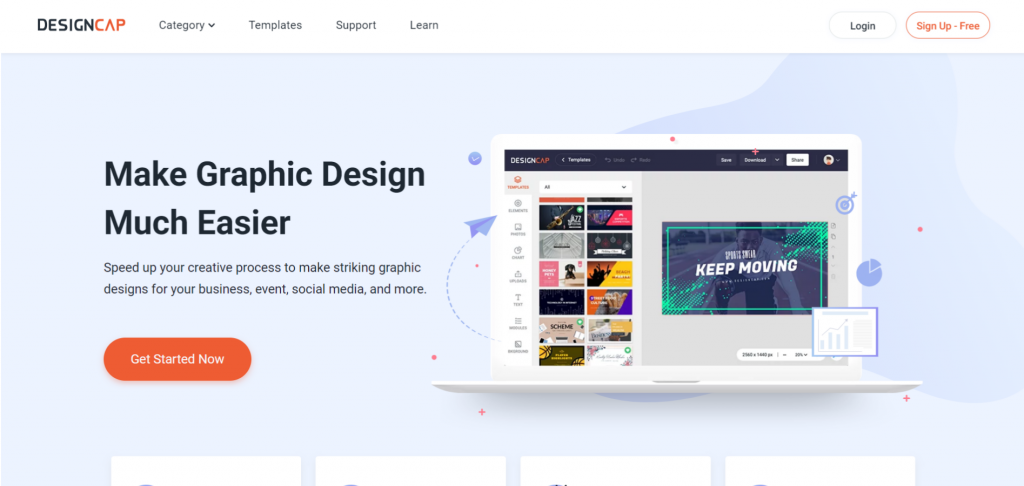 DesignCap can introduce a few AI capabilities to enhance the design abilities of the software. Also, many features are placed behind the paywall, making them difficult to access.
Who is it for
DesigCap is suitable for creating marketing collaterals and social media graphs.
Pricing
DesignCap offers a free plan. Further, there are two paid plans:
Basic Plan at $4.99 per month (billed annually)
Plus Plan at $5.99 per month (billed annually)
08. Kittl
Kittl is an artistic Visme alternative that helps you make aesthetically pleasing designs. It primarily focuses on print-on-demand (POD) designs with intricate vintage fonts and graphics. Further, you can use mockups and advanced AI tools with Kittl.
Kittle is a focused graphic design tool with limited use cases. Users may also note that with the paid plan, they can unleash the true potential of this tool.
Who is it for
Kittl is ideal for creating designs with vintage appeal.
Pricing
Kittl offers a free plan. Moreover, there are three paid plans:
Pro Plan at $10/month (billed annually) with 100 projects and 1GB storage.
Expert Plan at $24/month (billed annually) with unlimited projects and 100GB storage.
Custom Plans for business
09. Creatopy
Creatopy is another feature-rich alternative to Visme. It is an all-in-one ad creation, production, testing, and delivery tool. Further, Creatopy helps you to seamlessly create your graphic design with real-time collaboration with the team.
Although Creatopy helps with seamless banner ad creation, users may find limitations with advanced features. Also, all the features of Creatopy are accessible only with a paid plan.
Who is it for
If you are looking for a tool for advertisement creation, Creatopy is suitable for you.
Pricing
There is no free plan for the users. However, Creatopy has three paid plans for its users when billed annually.
Basic Plan, at $24 per month for one user
Pro Plan, at $36 per month for one user
Plus Plan, at $141 per month for one user
10. Adobe Express
Adobe Express offers a comfortable space to non-professionals who wish to experiment with advanced features without the complexity of the interface. Like the Visme app, it allows you to design using customizable templates with the intuitive drag-and-drop editor. Moreover, you can edit and resize photos and videos effortlessly.
Adobe Express is a powerful tool, yet users should note that there are limitations while uploading various file formats.
Who is it for
Adobe Express is suitable for designing visually appealing web-based documents.
Pricing
Adobe Express has a free plan with primary design assets and 2GB storage. Further, the Premium plan is $99.99 per year with expansive features and storage.
Choosing the Right Visme Alternative
Choosing the suitable tool among so many Visme alternatives can be overwhelming. Follow these tips to decide.
1. Analyze Your Design Needs
As the first step, recognize what you want to create with the graphic design tool. Also, consider whether you want the tool for professional documents, for your team, or for long-term use.
2. Understand Your Level of Graphic Design
You should also consider your graphic design capabilities. Your convenience of using a tool will depend on whether you are a newbie or a professional at graphic design.
3. Assess the User Interface of the Visme Alternatives
If you are searching for a Visme alternative, the software should stand up to the user-interface standard of Visme. While these tools have a user-friendly interface, trying the free plan is best. Further, take note of the accessibility and compatibility with your device.
4. Explore the Features, Design Assets, and Collaboration Options
While trying the free plan, check the accessible features and design assets. Also, you should check out the template designs as per your requirements. It's better to try multiple tools to do a better comparative analysis. Further, notice if the tool offers collaboration options, unique features, and assets in each Visme alternative.
5. Set a Budget for Long-term Use
For long-term use, consider availing of the paid plan. Set a budget and assess the affordability of the software.
6. Check for the File Versions for Downloading
You may have created an excellent design, but the tool must offer multiple formats to download the file. It will help you to retain the quality of the design. Also, check for all your saved designs' file formats and quality while using the tool.
Design is Easy with Visme Alternative DocHipo
The world is full of Visme alternatives, but none like DocHipo. DocHipo makes graphic design easy with all the exciting features at your disposal. Sign up with DocHipo and access various design assets such as images, icons, effects, etc., and AI tools' power. It's time to flex your graphic designs with DocHipo's stand-out templates and editing options.
FAQs
Is Visme Free?
Yes, Visme offers a free plan for as long as you want. However, you must pay for the Premium plan to access all the features.
What is better than Visme?
Visme is a powerful graphic design tool. However, you may need other tools depending on your graphic design needs. You can try alternative tools such as DocHipo, Canva, Piktochart, VistaCreate, etc. DocHipo is your go-to Visme alternative with visually appealing designs and exclusive features.
What is Visme used for?
Visme is a graphic design tool that helps you design, store, and share documents. You can create beautiful designs for presentations, infographics, social media posts, logos, etc.
Is Visme Safe?
Creating and sharing files with Visme is entirely safe.
What is the disadvantage of Visme?
Visme is a powerful graphic design tool for creating professional designs, but users can face limitations while using the free plan. The free plan allows you to create designs of up to three documents with the watermark.