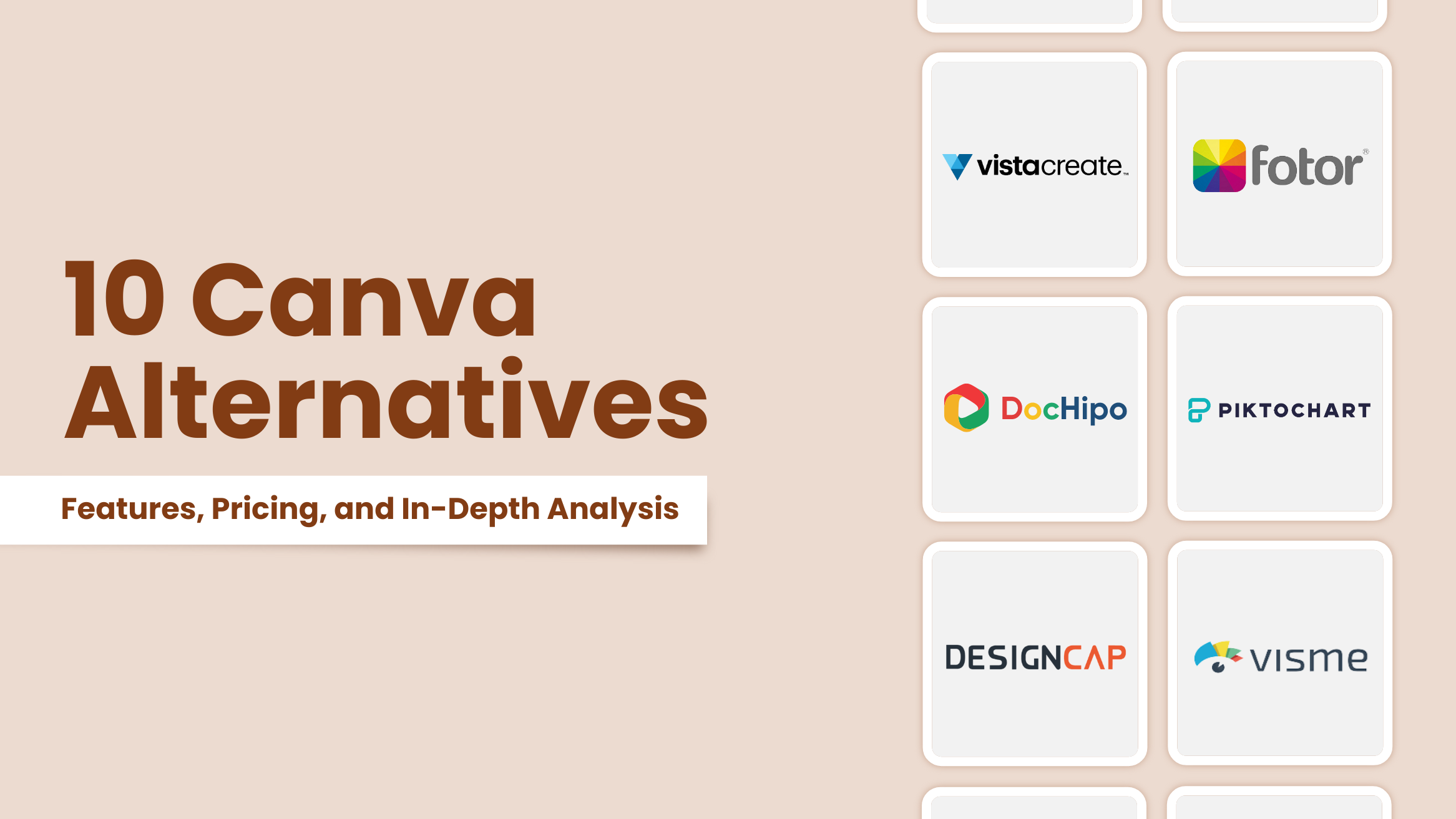 10 Canva Alternatives: Features, Pricing, and In-Depth Analysis

Last Updated Oct 27, 2023
The world of graphic design is vibrant and full of possibilities. Canva has indeed created a benchmark in graphic design. However, users always search for other options to bring something extraordinary to their designs. If you are limiting yourself to Canva, you will miss out on some excellent Canva alternatives. These alternatives can act as Canva substitutes depending on the purpose of your design.
In this article, we will discuss the 10 best Canva alternatives for graphic design. In addition, get tips about choosing the most suitable option for Canva with our expert guide. Let's take a look at these options.
Best Canva Alternatives
Here is the comprehensive graphic designing software list, features, and pricing with assets similar to Canva. These alternatives will surely help you to get the finest designs suiting your purpose.
1. DocHipo
DocHipo is a versatile and dynamic Canva alternative, transforming your imagination into marvelous designs. It doesn't matter if you are a newbie at designing; DocHipo takes care of all your needs with its customizable template for every use case. With well-organized 30+ categorization, DocHipo offers templates for business essentials, general purpose, web banners, social graphics, and advertisements.
Furthermore, experience the ease of working with DocHipo's intuitive user interface and get access to numerous professionally designed templates with intuitive drag-and-drop editing features. There is a lot more that you can do with Dochipo.
Some Exciting Features of Dochipo
Let's look at some of the features of DocHipo that make it an excellent choice compared to other Canva alternatives.
Access to the Huge Collection of Customizable Templates
Get thousands of DocHipo templates for posters, presentations, brochures, Instagram stories, YouTube thumbnails, Facebook Ads, invitations, etc. Once you search for your document type, DocHipo makes your job easy with further categories depending on the industry and occasion. Regardless of your skill, you can choose your favorite template or start designing from scratch.
DocHipo believes in effortless designing for the users. That's why it offers designs keeping various industries in mind. Once you select your industry, get templates for all types of use cases in your niche. Whether you want to print brochures or design a post on social media, DocHipo gives you the hassle-free option to select better.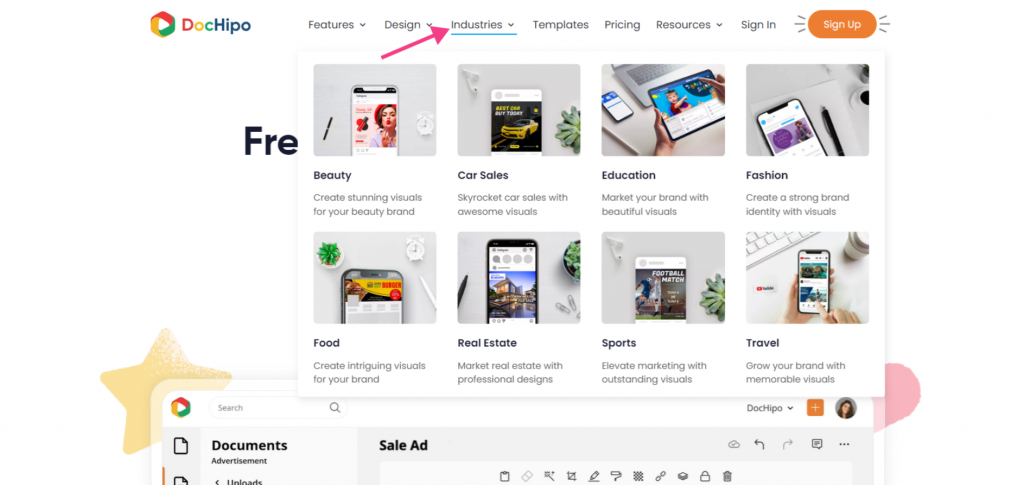 Learn to leverage DocHipo for your industry.
Awesome Design Widgets
Editing the templates is a cakewalk with fantastic design widgets on the DocHipo editor. There is a widget for every design element on your template. Moreover, you can choose from hundreds of fonts, stock photos, illustrations, icons, and shapes to get the best out of your design.
In addition to your design needs, DocHipo takes care of your marketing communications. You get much more with exciting DocHipo features like the QR code generator. Now, you don't have to use a separate tool to generate QR code for your documents. You can quickly create one while customizing your template in the DocHipo editor.
Learn to generate QR codes in your designs with DocHipo.
Expandable Canvas for Designs such as Infographics
DocHipo's Infographic Maker is a stunning tool for anybody who wants to design an infographic document. In addition to several Infographic templates, you get the expandable canvas feature for your designs.
Among all the Canva alternatives, this intuitive feature is exclusive to DocHipo, where you get an infinite canvas size. Don't worry about the canvas dimensions anymore. With an expandable canvas in DocHipo, you can go as far as you need.
Check out How to Make an Infographic: A Step-by-Step Guide
Built-in Editing Tools
DocHipo has built-in editing tools that make it easier to edit everything in one place. Now, bring more to your designs with DocHipo Photo Editor and enhance images on your templates. You can apply filters, crop, or adjust your image with the editor's help.
Furthermore, bring innovative text effects to your templates. You can make your design more visually appealing with three different effects on your text.
Learn more about text effects with this video.
Another exciting editing feature is the copy style in DocHipo. If you want to bring uniformity to your design, apply the copy style to any design element. Copy Style is a great way to build a brand through similar design elements in DocHipo. Select a design element and choose Copystyle.
Select the text you want to transform using the feature, and your design will be changed.
Explore what else you can do with Copy style in DocHipo.
Real-time Team Collaborations
While designing a document, we often like to take input from our team members. In such situations, real-time collaborations help to get suggestions and comments from the team members instantly. As a result, you don't have to waste your time waiting for the response from the team members. Collaborate with the team members by giving access to the document.
With DocHipo, you get versatile sharing options, where you can give 'Read Only' access, 'Read Write,' or 'Full Access' to the document.
Explore the possibilities of team collaborations in DocHipo.
App Integrations
Designing becomes a lot easier when your software has integrations with other applications. DocHipo connects you with other apps to make your design experience convenient.
High-quality images are one of the most necessary elements for all Canva alternatives. Therefore, Dochipo integrates with Pexels and Unsplash for a vast collection in the stock photo library. Under the Graphics and Media option, choose the Pictures widget and search for attractive images for your template.
If you use Mailchimp for email marketing, DocHipo integration allows you to save your design directly in Mailchimp. Just select the Mailchimp option available on the editor and connect your account.
Check out how to use DocHipo for Mailchimp.
In addition to Mailchimp, DocHipo allows you to get responses through your designs using Typeform and Jotform. Now, you don't have to wait for the feedback from your colleagues. The editor has a separate section for Forms where you can insert forms in your template design by connecting to your Typeform or Jotform accounts. Attach the form anywhere in your template and let your viewers respond through it.
Learn more about Typeform with this video.
Multiple File Types in Download and Sharing Options
You can download and share your designs in many ways with DocHipo. Once you have created your design, you can preview, publish, present, or download it.
Besides, various file formats like JPG, PNG, PDF, MP4, and GIF are available to download your design.
You can directly present your slides with DocHipo or publish your design to your site. One of the most remarkable features while publishing your design is the option where you can allow the viewers to download. When you enable this option, your viewers can save the document on their devices.
Also, explore the page-wise download option with DocHipo.
Easy to use AI Powered Designs
Unleash your creativity with the power of AI tools. DocHipo brings three AI tools for you to go beyond your potential. Let's see how these tools make your job easy.
Create unique designs with an AI Image Generator that lets you create anything with text descriptions. Experience the magic of AI to create something extraordinary.
Give text prompts to generate images with AI in DocHipo editor and use it for your designs.
Here's how you can generate AI images in DocHipo.
How often have you wished to write an appealing text for your design? There's no need to worry about it anymore. With DocHipo's AI writer, you can generate text for any topic.
In the DocHipo editor, ask the AI writer about any topic and get descriptions for your prompts.
You don't have to use a different tool to remove the background of an image. DocHipo background remover allows you to remove the background while editing your templates.
And that's how you can add pictures without compromising the template's design.
Simple and Intuitive UI
DocHipo has simplified your design experience. As non-designers, we don't want to spend too much time creating a design from scratch. With DocHipo's clear and well-organized UI, you can access hundreds of templates, editing tools, icons, photos, and illustrations in one place. The interface is highly intuitive to provide access to everything you need.
Experience the finest design-building experience with DocHipo.
Pricing
DocHipo has a free plan that gives access to customizable templates and features for as long as you want. It's a great way to try your hand at designing on DocHipo.
Upgrade to the Pro plan to access premium templates and robust features at $7.5 per user/month (billed annually) for the best designs.
Moreover, DocHipo allows you to buy the plan in 15+ different currencies with country-specific pricing.
Ideal For
Dochipo is ideal for all types of design purposes. Whether it's your company logo or blog banner, DocHipo offers templates for every use case. The software is all-in-one graphic design software catering to individuals, corporations, teams, enterprises, and agencies.
How to Create Design with the Best Canva Alternative DocHipo
Sign up for DocHipo as the best alternative for Canva and begin designing your document with three simple steps.
1. Choose Your Template
Once you sign up, search for the document template on the homepage. You will come across several customizable templates to choose from.
2. Customize Your Template
After choosing your favorite template, customize it with the help of DocHipo's editing options. Make necessary changes to suit your needs.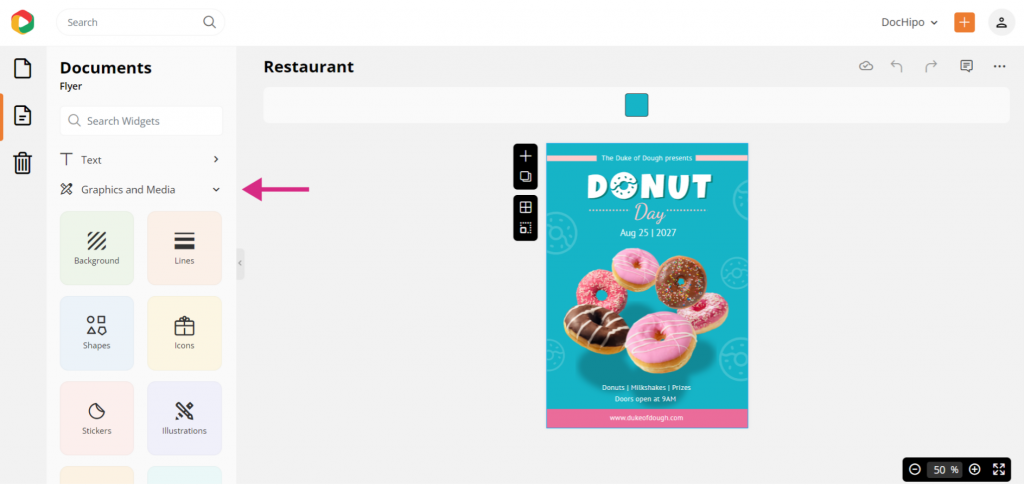 3. Download Your Design
To download the design, click on the three dots in the upper right corner of the DocHipo editor. Select the file type and quality and hit the Download button to save the design on your device.
2. Fotor
Fotor is another alternative to Canva that does the job well. It's versatile and user-friendly, even for novice users searching for Canva alternatives. Fotor gives access to various eye-catching design templates with accessible editing options.
While Fotor provides a free plan, it's worth noting that you can access the best features with paid plans. Additionally, Fotor excels in photo editing but could improve its support for video integration. Besides, Fotor is well suited for individual editing needs; the software possesses limited collaboration capability.
Price
You can try the free plan of Fotor to get the hang of the designing tool. Apart from the free plan, Fotor has the Pro plan at $3.33/month and the Fotor Pro Plus plan at $7.49/ month (billed annually).
Ideal For
Fotor is ideal for people who want to focus on editing photos and creating designs to upload on the internet.
3. Visme
Visme is an easy-to-use Canva alternative for designing presentations, infographics, and documents with data visualizations. The tool offers templates for business as well as social media uploads. With a focus on the professional aspect, Visme helps design on-brand documents with team collaboration.
Visme gives a wide range of editing options that could benefit from a more contemporary interface. If you are using Visme, it is worth noting that the premium features can be utilized with the paid plan. This includes a wide range of download options for your designs.
Price
Along with a free plan, Visme has a Starter plan at $12.25/month and a Pro Plan at $24.75/month, both billed annually.
Ideal for
The tool is ideal for two diverse sections: people who need designs for social media marketing and people who need templates related to corporate documents.
4. Vistacreate
Vistacreate (formerly Crello) is another powerful Canva substitute with a similar user interface. It offers a large number of ready-to-use templates – both static and animated. Designed for individuals and teams, Vistacreate handles online and offline design needs.
Vistacreate is undoubtedly a capable editing tool; however, it could enhance its appeal by enhancing AI-powered features and offering app integrations.
Price
The free plan is available with limited features to use the tool for trial. The Pro plan costs $10/month (billed annually).
Ideal for
Vistacreate is ideal for novice graphic designers who like experimenting with casual social media designs. People mostly use the tool to share non-professional documents and animations.
5. Piktochart
Piktochart is a cloud-based design tool for creating documents related to professional needs, such as presentations, posters, infographics, and designs with rich data visualizations.
Like other Canva alternatives, Piktochart also has acceptable limitations on using the free plan. The minimalistic approach of the tool is excellent if you are not searching for advanced editing capabilities.
Price
Piktochart has a free plan that is available for limited use. The Pro Plan is $14 per user/month (billed annually) with 100 GB storage, and the Business Plan is $24 per user/month (billed annually) with 250 GB storage. Custom pricing for enterprises is also available.
Ideal for
Piktochart is ideal for business-related documents, corporates, and data visualization. It is suitable for infographics as well.
6. Venngage
Venngage is a Canva alternative that helps create data-driven visuals for complex information such as flowcharts, maps, timelines, visual reports, infographics, posters, etc. The designs for the templates are more suitable for business purposes along with team collaboration features.
While Venngage provides a solid foundation for graphic designing, most of the features in Venngage are behind the paywall. The tool also has limited AI capabilities without third-party integrations.
Price
The free plan is available for trial. The Premium plan is $10/month per user, and the Enterprise plan is $499/month for 10+ users, both billed annually.
Ideal for
Venngage is ideal for professional visuals such as Infographics.
7. Creatopy
Creatopy is an ad design platform for creating designs across multiple media. Businesses usually use it for ad designing, production, testing, and delivery. If you are searching for a Canva alternative for your ad, you can use Creatopy for individuals and teams.
Creatopy is a highly focused graphic design software, but you can use it only with a paid plan. Also, the user may experience limited AI capabilities while editing their designs.
Price
The Basic plan starts at $24 per user/month, the Pro plan at $36 per user/month, and the Plus plan at $141 per user/month. All the plans are billed annually.
Ideal for
Creatopy is ideal for the people involved in designing and producing Advertisement graphics.
8. Designcap
Designcap is among the best Canva alternatives for graphic design. It's easy to use with customizable templates categorized under four broad categories – Marketing, Document, social media Graphic, and Event.
The user interface boasts an intuitive design, although there is room for improvement in image editing and AI capabilities. It would be beneficial if the software could present slideshows without downloading. The free plan is, however, restricted to a limited number of uses and a JPG download option.
Price
Apart from the Free Plan, a Basic Plan at $4.99/month and the Plus Plan at $5.99/month (billed annually) are available.
Ideal for
Designcap is ideal for marketing collaterals and social media graphics.
9. Kittl
Kittl is a Canva substitute primarily designing vintage-style print-on-demand (POD) products and posters. The software is known for unique vintage-styled templates with intricate detailing. The users also get their hands on AI-powered design tools and mockups with Kittl.
It's worth noting that the software currently supports a limited range of document formats. Like other Canva alternatives, the free version is a valuable source, but users may feel restrictions in introducing custom dimensions.
Price
The free plan is available in the Kittl. The Pro Plan is $10/month, and the Expert Plan is $24/month, both billed annually. Apart from these, Custom Plans for businesses are also available.
Ideal for
Kittl is suitable for people interested in vintage and print-on-demand designs.
10. Adobe Express
Adobe Express, earlier known as Adobe Spark, has an easy-to-use user interface similar to Canva. The software is suitable for both individuals and teams. The users can use AI-powered tools such as text-to-image features and unique text effects. Apart from that, video editing features like recording audio while editing in Adobe Express are special.
Although Adobe Express has many features, users may need help with minor inconveniences, such as lagging while using within a browser. Expanding the collection of templates would be beneficial. While the free plan is available, the presence of watermarks on the downloaded designs is somewhat restrictive.
Price
The free plan is available along with a Premium Plan at $99.99/year.
Ideal for
Adobe Express is suitable for people interested in designing social media graphics.
How to Choose the Right Canva Alternative
Now you know all the robust Canva alternatives available, face trouble choosing the right one, and follow these tips to make wise decisions about your graphic design tool.
1. Recognize Your Design Requirements
First, you need to know what you want to design. It can be an Instagram post, company logo, or a web design; consider your design requirements accordingly. Also, consider any special features and capabilities you need for your design.
2. Assess Your Skill
Your skill level will depend on your experience in designing. You could be a non-professional, an intermediate designer, or an experienced professional. Choose a tool that is convenient to use, depending on your skill level.
3. Take Care of Your Budget
Set a budget for investing in a graphic design tool while exploring Canva alternatives. Moreover, explore the free options available and consider the benefits of the paid plans considering the long-term costs, including yearly subscriptions.
4. Test the User Interface
The feel of using a graphic design tool is essential for the user. Therefore, ensure that the device has an intuitive and easy-to-use interface. Check the platform's compatibility with your use case and reach out to tutorials and guides for help.
5. Check the Features, Templates, and Assets
Check all the essential aspects of your graphic designing software, such as editing tools, template designs, and available assets. Additionally, consider the icons, fonts, stock images, and other design assets aligning with your needs.
6. Explore all the Collaboration and Sharing Options Available
If you wish to collaborate with a team or clients while designing, check all the collaboration and sharing options of the tool. Also, check if the software allows real-time collaboration, which tremendously helps in saving time.
7. Check the File Formats for Downloading Designs
Explore all the file formats available for downloading your designs. In addition, check the constraints imposed by the paywall in various Canva alternatives.
8. Check the Trial Versions and Reviews
Before paying for any graphic design tool, it's recommended to take the free trial first. Additionally, check the reviews of other users for all the Canva alternatives to check the overall experience while using the tool.
9. Long-Term Viability
Lastly, always consider updates and the software's long-term support if you wish to use the tool for a considerable time.
Searching for a Canva Alternative?
There are many options for graphic designing, but if you are looking for a Canva alternative with exciting features and assets, DocHipo is the right choice. In addition to everything Canva does, DocHipo brings a wide range of editing options, unique aspects like a minimalistic and intuitive user interface with expandable canvas, real-time team collaboration, and AI-powered designs to help you get the best designs for your documents.
Sign up for DocHipo and try this excellent tool for free!
FAQs
What is the best alternative to Canva?
If you want to choose the best alternative to Canva, DocHipo is your go-to design tool. It has a modern, intuitive user interface, rich and unique design assets, and advanced features.
On top of that, enjoy the AI-powered tools, real-time team collaborations, and app integrations for a smoother design experience. DocHipo is versatile and dynamic, catering to all kinds of use cases in graphic design.
Is there a free alternative to Canva?
You have plenty of graphic design software like DocHipo, Visme, Fotor, Venngage, Adobe Express, etc. DocHipo is one of the most desirable Canva alternatives because its wide variety of features, stunning templates, and exclusive design assets library are available for free trial.