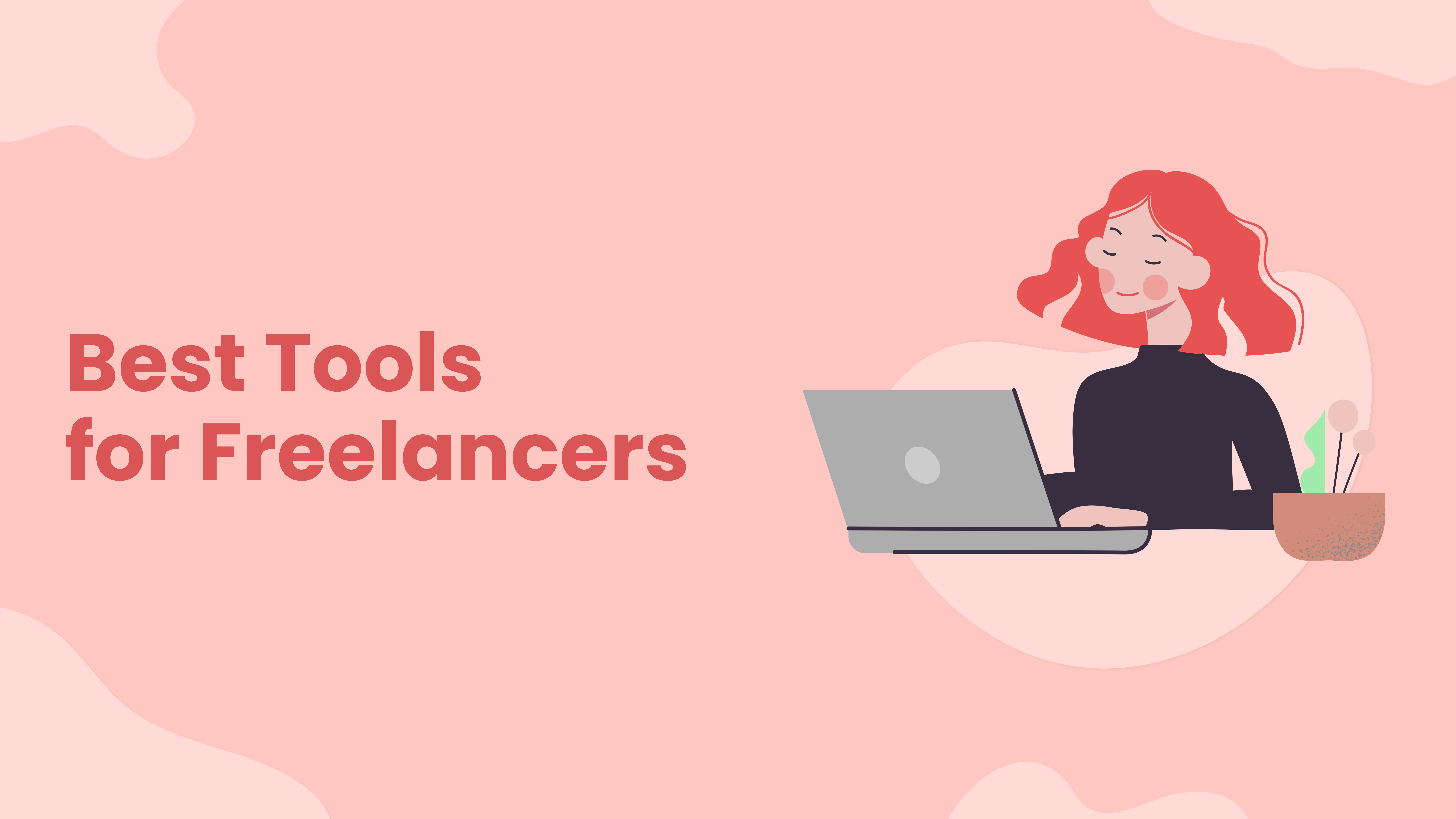 10+ Best Tools for Freelancers in 2023 to Keep Your Business Growing

Last Updated Sep 27, 2023
Freelancing is no less than running a business. It is a business where a single person takes care of all its aspects – finding leads, reaching out to them, closing the deals, handling client calls, delivering the work, etc. It can easily lead to burnout, affecting your work quality, and you may fall out of love with your work in no time.
You need to eliminate repetitive tasks that add no value to your service. A client will come back with more work because of the results you brought for their business and the experience you provided them with. "Don't chase with panic, but attract with patience", states an experienced freelance content writer Tanishka Makkar. It's time to invest in tools that make you productive and help you attract ideal clients with patience. You'll be more confident in closing deals and serving your clients when you have a proper system.
In this blog post, we'll discuss more than ten tools for freelancers that'll save you from unnecessary hard work and make you more efficient as a freelancer.
Graphic Design Software for Freelancers
Whether a freelance graphic designer or in different freelance industry, you must maintain an active social media presence. And the design is an integral part of making your content stand out.
DocHipo is one of the most affordable graphic design tools and one of the best alternatives to canva for freelancers. With DocHipo, you can easily create infographics, web banners like blog banners, blog graphics, email headers, etc., and Facebook Ad graphics, even if you're a newbie in graphic design. As a freelancer, you can also create social media post graphics for your clients and your personal brand. Create visual content that your clients will love or potential clients will get attracted to, resulting in inbound leads.
You may check out DocHipo's Templates Page to explore the templates by format, industry, or occasion.
Let's see some of the categories under Instagram Stories.
You'll get various design widgets for customizing the designs according to the needs of the client you're working with.
Watch the video tutorial below for creating beautiful documents with DocHipo.
Finding Freelance Work
Getting clients consistently is a challenge. You can try popular freelance marketplaces like Upwork.
Upwork lets you create a free profile and bid on projects you're suitable for. In this marketplace, you can work in content writing, mobile app development, graphics designing, etc. It might be a bit challenging to get started on Upwork, but once you gain experience by delivering good results, you can explore more opportunities.
Writing Tool for Freelancers
Writing isn't just a job skill but a life skill. If you want to send a cold email to a prospect, you must send emails that get a response. If you're going to network with other freelancers, you need to write a DM that they feel connected to. You need content to build your personal brand for marketing your skills. So even if you don't offer content writing services as a freelancer, you must excel in writing.
Grammarly does a lot more than just fixing the grammar. It scans your entire document, offering over 400 types of checks and features. Some include correcting grammar, spelling, and punctuation, making sentences concise to improve clarity and readability, providing vocabulary suggestions, detecting style and tone, and checking for plagiarism.
What makes Grammarly one of the best tools for freelancers is its easy-to-understand explanation behind each correction. Also, it corrects you even when you're writing on Gmail, LinkedIn, Twitter, Medium, or any other platform. It helps in improving your overall writing skill. So you can be impeccable while writing emails to prospects and clients, proposals, or your portfolio website.
Pricing: Grammarly offers limited features in its free version. The other two plans include premium starting at $12/month and business starting at $12.50/month.
Email and Collaboration
A smooth client onboarding or maintaining an efficient system for communicating with them results in client satisfaction and retention.
Google Workspace is one of the most efficient communication and collaboration tools for freelancers. It's an all-in-one platform with all your familiar apps – Gmail, Google Docs, Sheets Slides, Calendar, Meet, Keep, and Forms. As a freelancer, you can organize your files and emails, schedule and conduct meetings efficiently. You can work on collaborative projects smoothly, which increases productivity.
Pricing: If you're a beginner in your freelancing business, Google Drive and Gmail free versions will work fine for you. Once your business grows, you can invest in the Business Starter account for $6 per month. You'll get a branded email domain that gives you a professional edge, more storage space, security, the ability to add multiple users, etc.
Tool for Traffic and Keyword Research
No matter if you're writing content for yourself or your clients, you need to make it reach your target readers. A keyword research tool will help you do that effectively.
Whether you're writing articles for your clients or your personal brand, Ubersuggest is one of the best freelancer tools for keyword research. You can generate many keyword ideas and see corresponding data for each, like monthly search volume, SEO difficulty, average CPC, etc. Furthermore, you can see the best-performing content against a keyword, their estimated site visits, backlinks, and the number of social shares for different platforms. Through the insights Ubersuggest provides, you can analyze your competitors' SEO and adopt accordingly for your content.
Pricing:
Individual at $12/month
Business at $20/month
Enterprise / Agency at $40/month
You'll get a 7-day free trial for all three plans.
Scheduling Software
Make your freelancing business more professional by syncing your work and calendar into one easy-to-use shareable calendar.
Gone are the days when it was challenging to coordinate a time for business meetings. With Calendly, you can automate meeting scheduling. You can schedule both one-on-one or group meetings.
Rather than emailing your prospects and clients to ask for their time, add your availability on Calendly, and send them your unique scheduling link. They'll choose from multiple dates and time options based on your availability. If you work with international clients, the timezone will get adjusted automatically. So, conduct your discovery calls and other client calls smoothly. It reduces the hassle and saves time by cutting down on back and forth emails and preventing double-booking.
Pricing:
CRM Software
Especially when your freelance business starts growing, or you hire a team, you need a solid client management system for efficient communication and task management.
ZOHO CRM is a cloud-based customer relationship management software to manage your marketing, sales, and support within a single system. You can create custom reports with metrics like your revenue, lead generation, deals, etc., and customize the CRM dashboard accordingly. Additionally, marketing automation and real-time team collaboration between your team and clients make ZOHO CRM the best software for freelancers.
Pricing:
Email Marketing Tool
Reach a larger audience in a personalized way, drive conversions, and leverage email marketing as a freelancer.
MailChimp should be your go-to freelance software and digital marketing tool if you're looking forward to growing your freelancing business by sending email newsletters. Moreover, you can make the best of it if you work for your client's email marketing projects.
You can build a community with your email newsletters and plan a monetization strategy around it. Share your learnings and client experiences as a freelancer, and also inform them if you're upgrading your service offerings. You're showcasing your skills and expertise with each email you send; maybe, you can get your future clients from the community you're creating.
Pricing: MailChimp is free for up to 2,000 subscribers, and you can send 10,000 emails per month, with a daily limit of 2000 emails.
Social Media Management Software
Are you torn between working for clients and creating content on social media?
Or imagine you have excellent skills, be it content writing, copywriting, video editing, etc., but clients can't find you because you're not marketing your services properly. There's a solution to improve your visibility without spending much time or a dime on marketing your skills.
Buffer is the best software for freelancers for social media management. You can schedule and share posts on social media channels like Instagram, Facebook, Twitter, LinkedIn, and Pinterest. You can view, track and repurpose your best-performing posts.
Pricing:
Video Conferencing Tool
It's not always possible to meet clients or collaborate in person. Video conferencing can do the job efficiently.
Zoom is a cloud-based video conferencing service. What makes it one of the best software for businesses and freelancers?
You have a speaking opportunity as a well-known freelancer; Zoom lets you conduct webinars or conferences of more than 100 people with real-time screen sharing. A highlight feature of Zoom is its virtual background. You can record videos, watch the recording, and bridge the gap even if you miss any vital client requirements. Also, you have control over managing participants and the chat section.
Pricing: You can use Zoom's free version for conferences with limited participants for up to 40 minutes
eSignature Software
Freelancers have been doing work from home since the beginning. So, having a contract signed virtually will safeguard your and your client's interests.
Dropbox Sign (rebranded from HelloSign) is one of the best freelancer tools for eSignature. It lets you sign your freelancing contract or other crucial documents electronically from your desktop and smartphone. And then you can send it to your clients for them to sign. An excellent interface provides you with a smooth and secure signing process.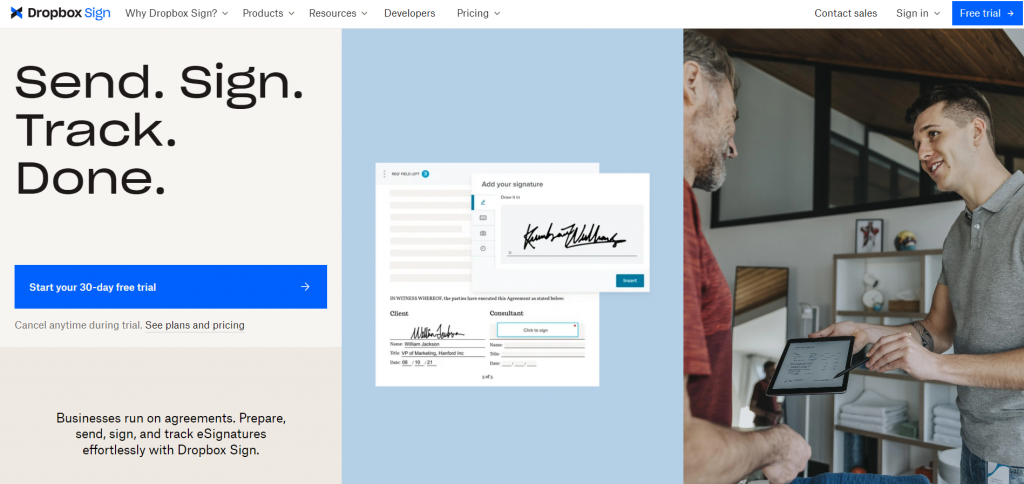 Pricing: Dropbox Sign lets you sign up to three monthly documents in its free plan. If you're in a growing phase, you can go for the affordable unlimited plan.
Project Management Software
As a freelancer, you keep juggling a variety of work. So you need to master project management.
It's an absolute pain for freelancers to collaborate with a client for a project that leads to endless, confusing spreadsheets. Trello is a visual collaboration and project management tool that cuts through all that.
It helps you organize and prioritize your work projects through boards, lists, and cards. First, you create boards for each of your projects. Then create lists and cards for the tasks you need to complete for each project. You can easily track your tasks within Trello. Also, you can upload photos and videos related to your project.
If you manage a small team or scale your freelancing business to an agency, you can invite your team members to collaborate.
Pricing: Trello offers you four pricing options- free, standard, premium, and enterprise.
Payments System
Investing in freelance software that gets you paid without hassle is non-negotiable.
You can use the globally trusted online payment platform PayPal to receive payments from your clients using a secure internet account. Choose the most suitable method for your clients from PayPal's multiple payment options. You need to create your personalized PayPal.Me link and share it with your clients to receive payments.
Watch the video below to learn how it works.
PayPal encrypts your bank-related information, ensuring its safety. Along with that, it offers fraud protection features. It is the best software for freelancers to receive payments also because top freelance marketplaces accept it like Upwork, Freelancer, Fiverr, etc.
Translating Tools
As the world becomes more connected, freelancers must find a way to attract new audiences. That's where translation tools come in.
QuillBot
Hiring a translator can be expensive, and many free online translators aren't as accurate as you'd like them to be. You won't have to worry about these problems with QuillBot. Not only can this tool translate text for free, but it can do so accurately in over 30 languages, including French, Italian, German, Spanish, and Greek. QuillBot is also 100% ad-free whether you use it on your desktop or mobile phone. It can handle up to 5,000 characters at a time.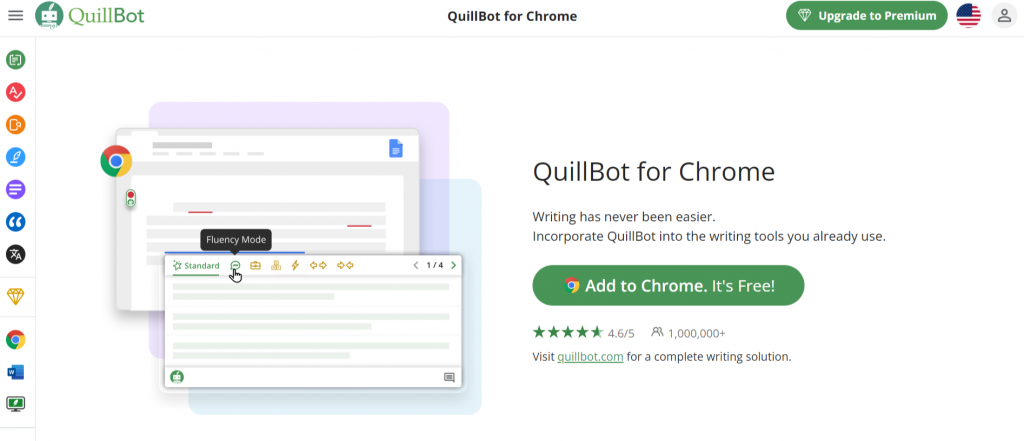 Pricing: QuillBot's translator is 100% free, but you can upgrade to premium for $8.33 per month to use its plagiarism checker and co-writer. Its premium version also gives you access to more features on its other tools, like unlimited words in the paraphrase.
Final Words
The freelance industry is booming like never before. Having a functional and effective system in place is of utmost importance so that you don't become a slave to your business. Try out the above-discussed tools for freelancers and build your system with the right tools that work for your business. Make it easy for your clients to work with you. It'll also keep you sane, and you can give top-quality work to your clients, making both of you happy.
FAQ
What are the best tools for freelancers in 2023?
The tools you may need for your freelance business include DocHipo, Upwork, Google Workspace, Calendly, Zoho CRM, Zoom, Buffer, MailChimp, Trello, PayPal, etc. These tools will smoothen your business processes, such as graphic designing, finding freelance work, scheduling, video conferencing, social media management, project management, payments, etc.
Are there any free tools for freelancers?
You can use the free version of certain tools for freelancers with basic and limited features for various aspects of your business. They include Upwork, Google Drive and Gmail, Calendly, Zoom, MailChimp, Buffer, Trello etc.
Can I use multiple tools for my freelance business?
Once you're stable in your freelance business, you can invest in multiple tools to speed up or automate repetitive tasks. You may also use multiple free tools for your business's different aspects, such as creating social media content for inbound leads, reaching out to target clients, handling client meetings, receiving payments, etc., to work more efficiently as a freelancer.