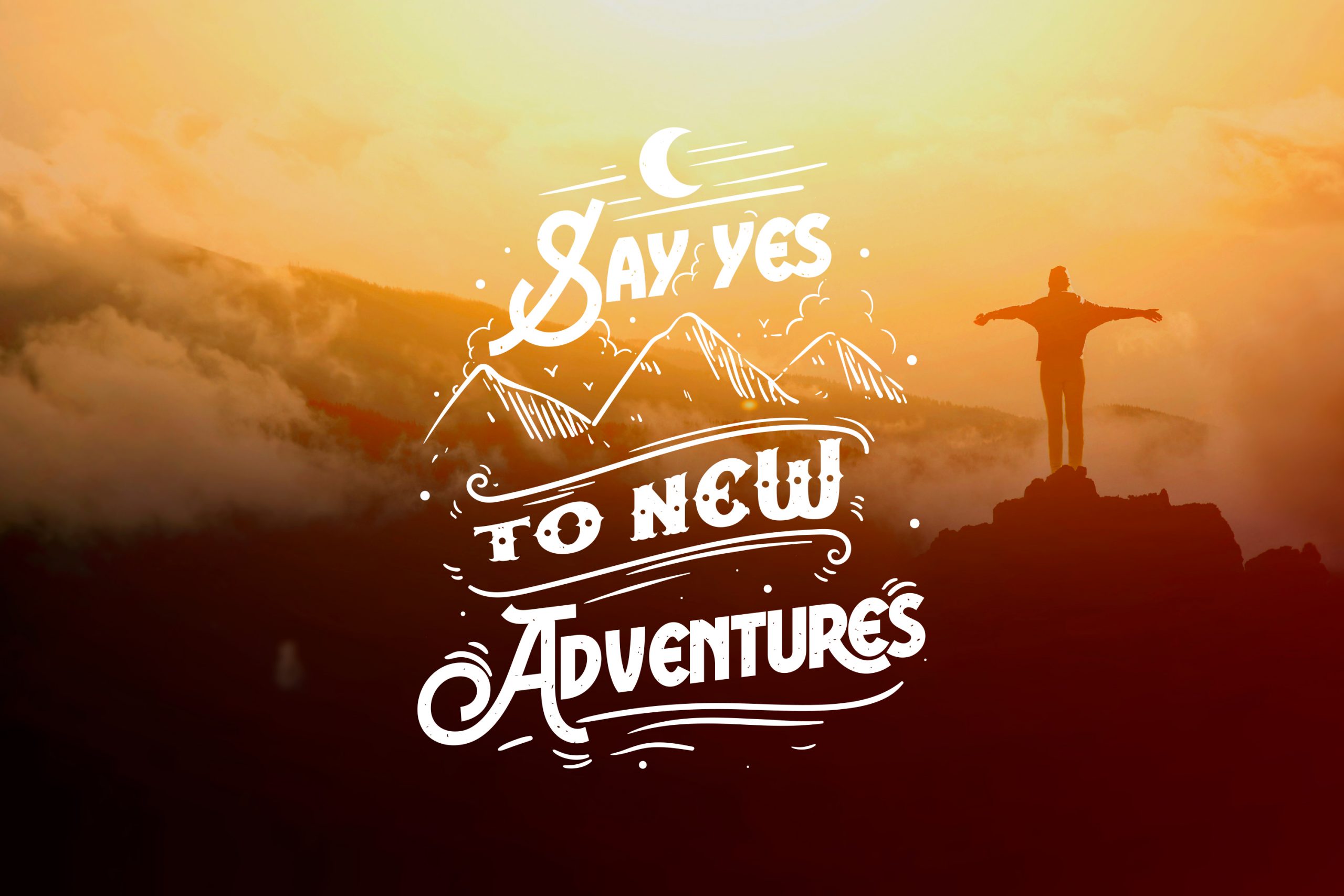 How to Market Your Adventure Blog

Last Updated Sep 6, 2023
Are you an adventure blogger? Do you travel, explore offbeat places, and love sharing your stories with your audiences? Then keep scrolling! In this article, we will explore the exciting ways you can market your adventure blog to your audiences worldwide. 
I love reading adventure blogs because I can experience the journey through the words that have been crafted. Not just that. These blogs give you an intense desire to go beyond the mundane, obvious aspects of life.
But, having a wordy website will not be enough to narrate a wonderful story. You have to deck your blogging website and the story with amazing visuals.
So, today, we will be venturing out into the best tactical ways through which you can dress up your website and drive traffic. Also, we will be exploring DocHipo's repository, as it will be your lifeline when marketing your adventure blog across various social channels.
English as a Lingua Franca
If you target audiences from around the world, use a commonly understood and read language.
Statistics suggest that English is widely used worldwide, followed by Mandarin. Check this out: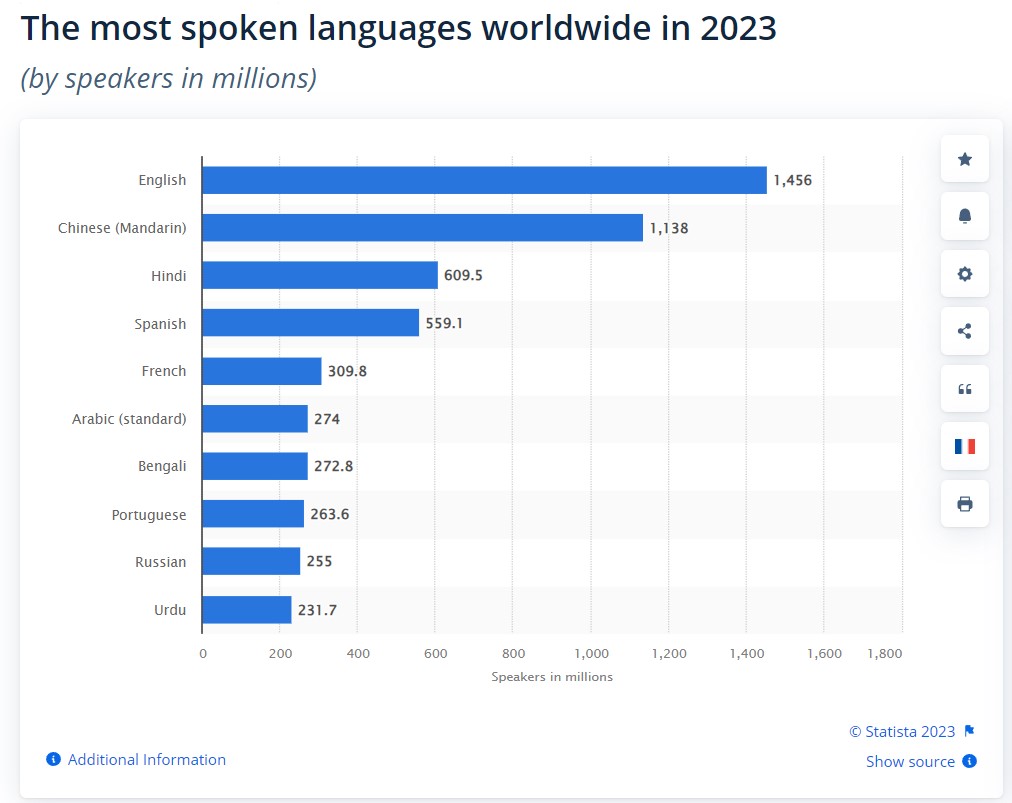 The universality of this language makes it popularly known as the Lingua Franca. So, it is always best to use globally recognized language English when attracting a broad audience base. Maybe that's why 71% of WordPress sites are written in English.
But if you do have a website in any other language, then you also have the option to inculcate a system that will translate any language into the preferred one. This system helps as well.
Elements to Add to Your Website to Make it Marketable
Do you know that blogs are read by 77% of internet users?
That means you have a great chance to be a sensational adventure blogger, provided you hit the right cords.
How?
Well, let me elaborate upon three points briefly that will help you to create a marketable website.
1. Add Stunning Blog Banners
As mentioned earlier, a website without images or other attractive visuals always looks boring.
It is of utmost importance that you add beautiful graphics that can inspire your viewers and guide their imagination while reading your blogs.
I know getting an instant visual for a website can be tough. But, with DocHipo, you can get many exciting and fun templates.
You can download as many as you want and use them however you like. Also, you can customize them as per your choice. So, let me share a banner visual that can give you ideas of how you can make your website look fantastic.
To make things more exciting, let me share a quick story.
I remember meeting a man who shared with me an exciting experience about a bike challenge that he undertook. I was amazed that he rode his bike from Bristol to London, approximately 269 KM. Seeing me awestruck and mesmerized by his episode, he suddenly revealed the reason behind this experience.
One frenzied night, gazing at the star-filled sky and thinking about human will, he suddenly wanted to challenge himself and test his capabilities. So, he decided to travel on his bike as far as he could.
Now, if I want to add this story to my blog, I would need an amazing blog banner. So, I chose this banner from DocHipo: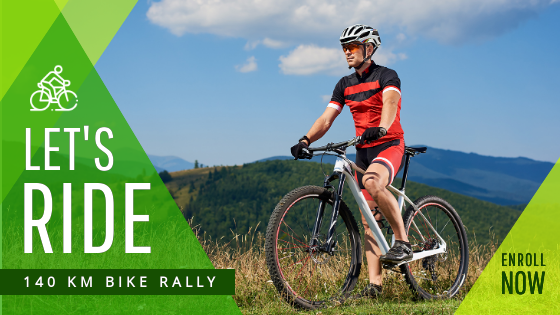 Get This Template and More
I just made some changes and customized it according to my write-up so that it can visually represent what I imagined: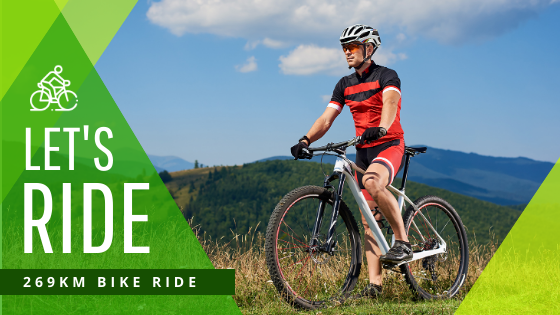 Check out a similar theme below from DocHipo's Travel Blog Banner Templates library.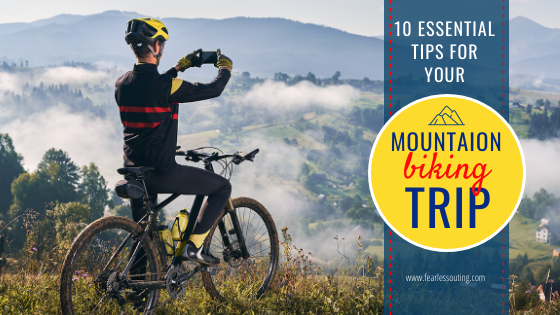 Get This Template and More
You can also change the picture, add other graphic elements, and make it look exactly how you want.
2. Add Appealing Graphic Elements
Adding graphic elements like illustrations, stickers, animations and so on on your blog will make the website more interactive. You can add them in various spaces on the website to capture attention, communicate your message in a unique style. You can also use them to embellish the look and feel of the website.
So, let's check some travel illustrations from DocHipo: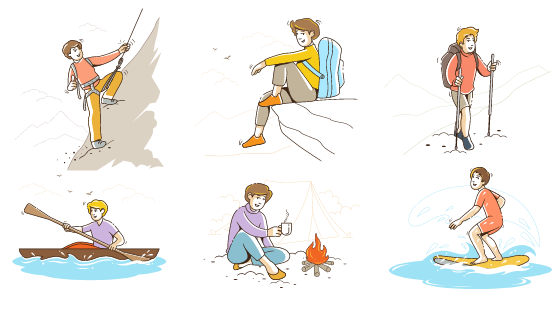 You can also use scene travel illustrations like the below ones to embellish your contents: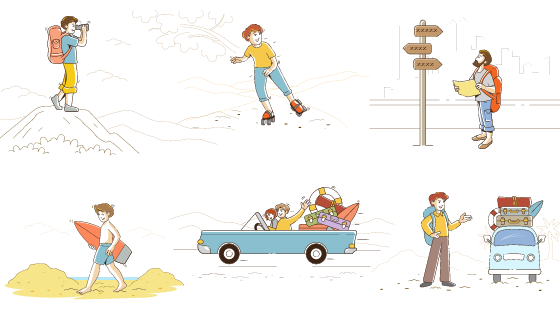 Explore DocHipo's stickers library to find the most suitable ones for your adventure blog.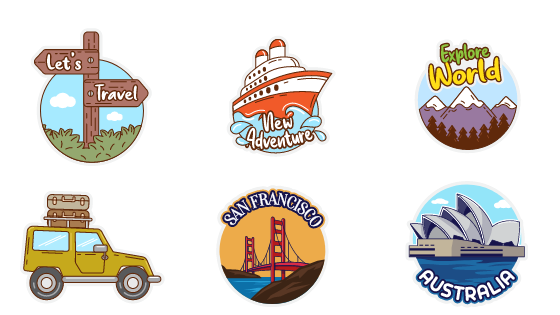 Refer to the below video for creating designs with stickers.
Why not leverage animations?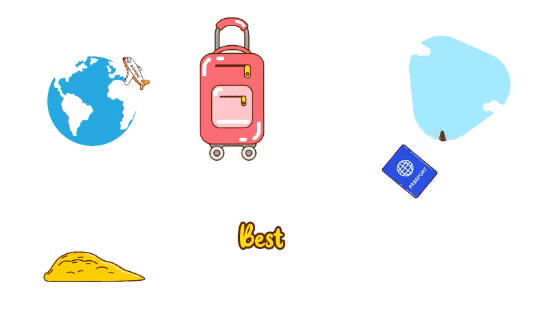 Watch the tutorial below to learn using animations in DocHipo.
The more colorful your website looks, the more engaging it will become. 
3. Add Interesting Videos
Try recording your adventures in a video camera, edit, and upload it on YouTube if possible. This way, you can add videos to your blogs, making them look even more interesting.
A blog with texts accompanied by images, graphic elements, and interesting videos will attract traffic and retain their attention.
Every enthusiastic reader loves to engage in blogs with a nice story to tell, buttressed by interactive elements.
A good video that lacks a stunning thumbnail will not be able to attract viewers' attention. Hence, it is always best to create an attractive thumbnail instead of settling for the recommended one from the video itself.
For YouTube Thumbnails, which specifically deals with adventure, travel, and life, DocHipo is the best go-to place. Let's check some of the Travel YouTube Thumbnail Templates that you can customize and use for your videos: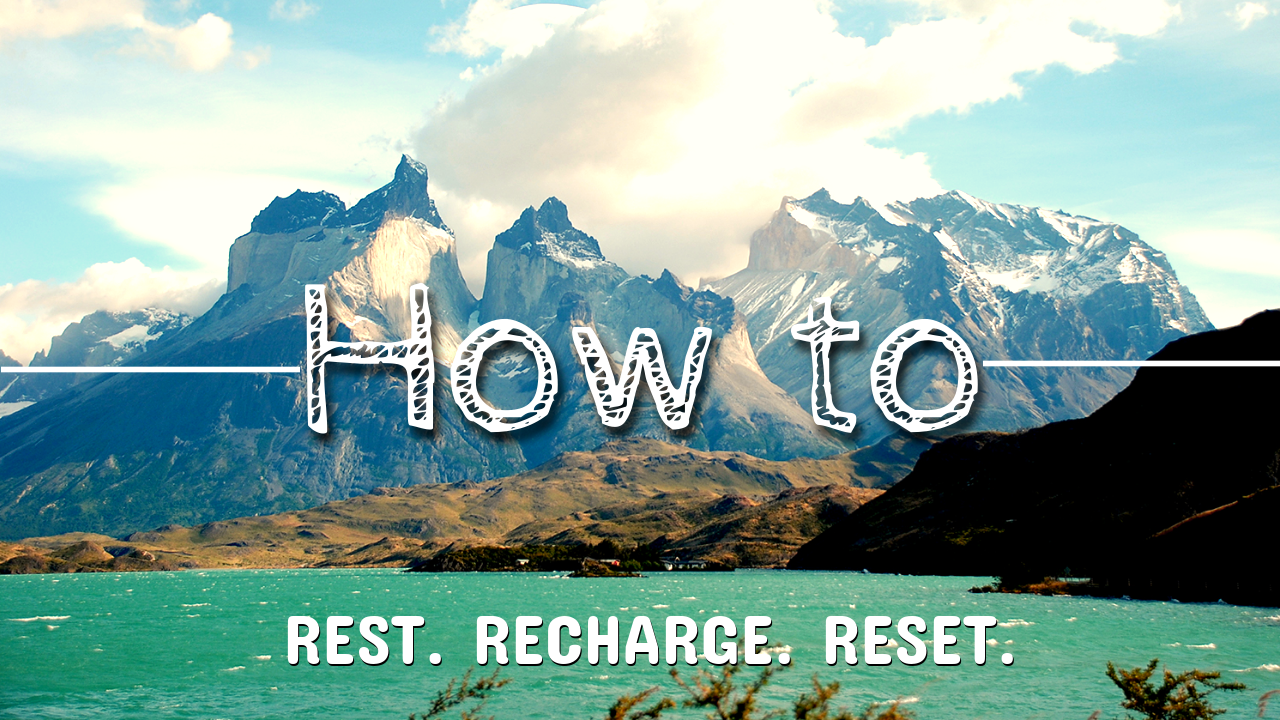 Get This Template and More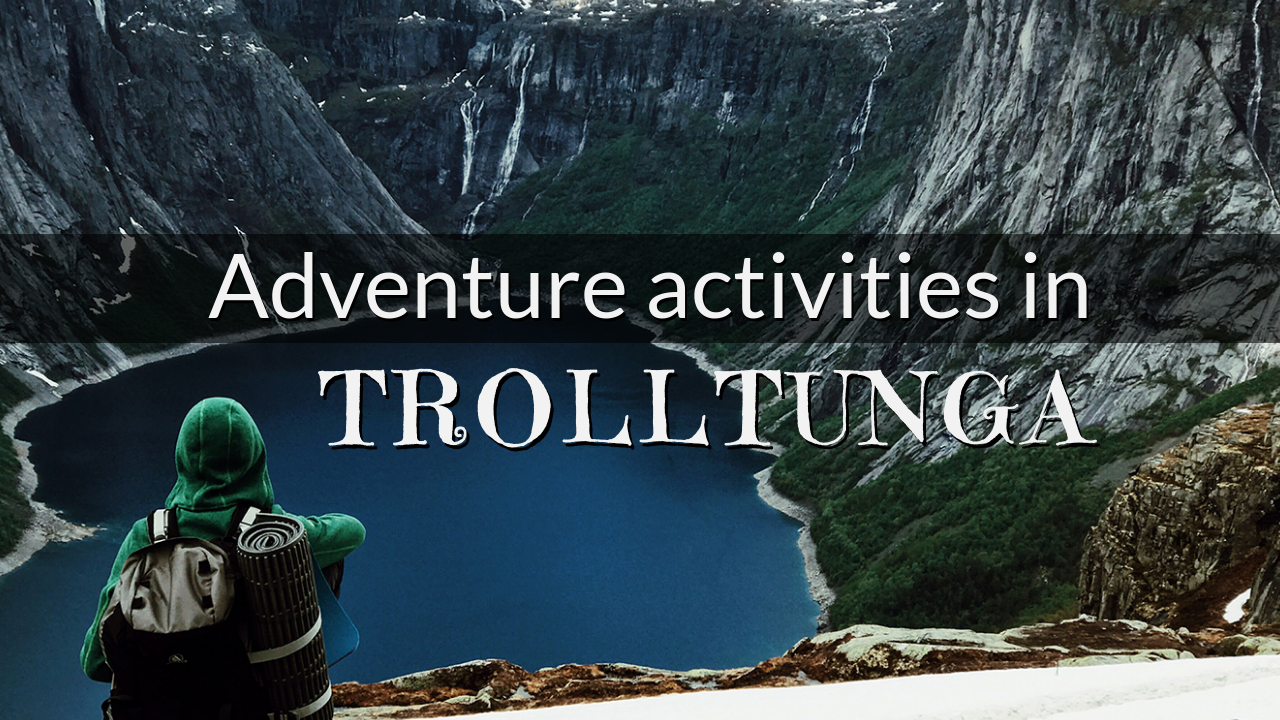 Get This Template and More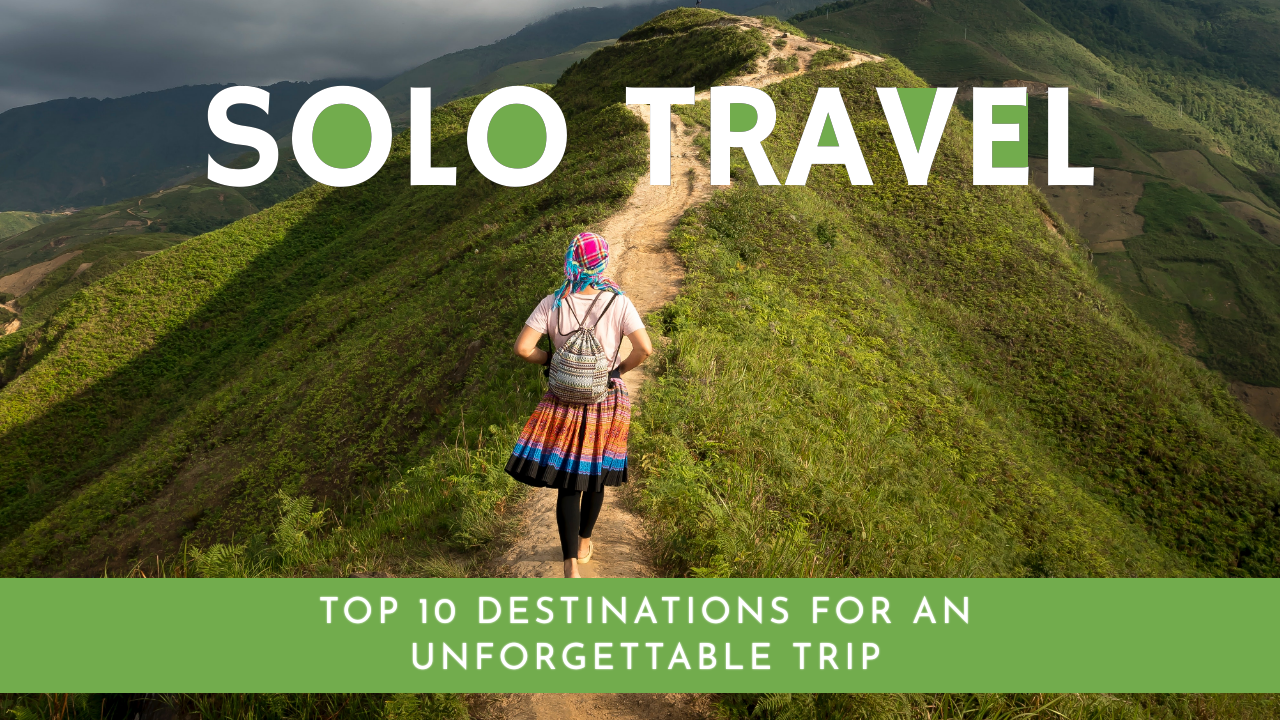 Get This Template and More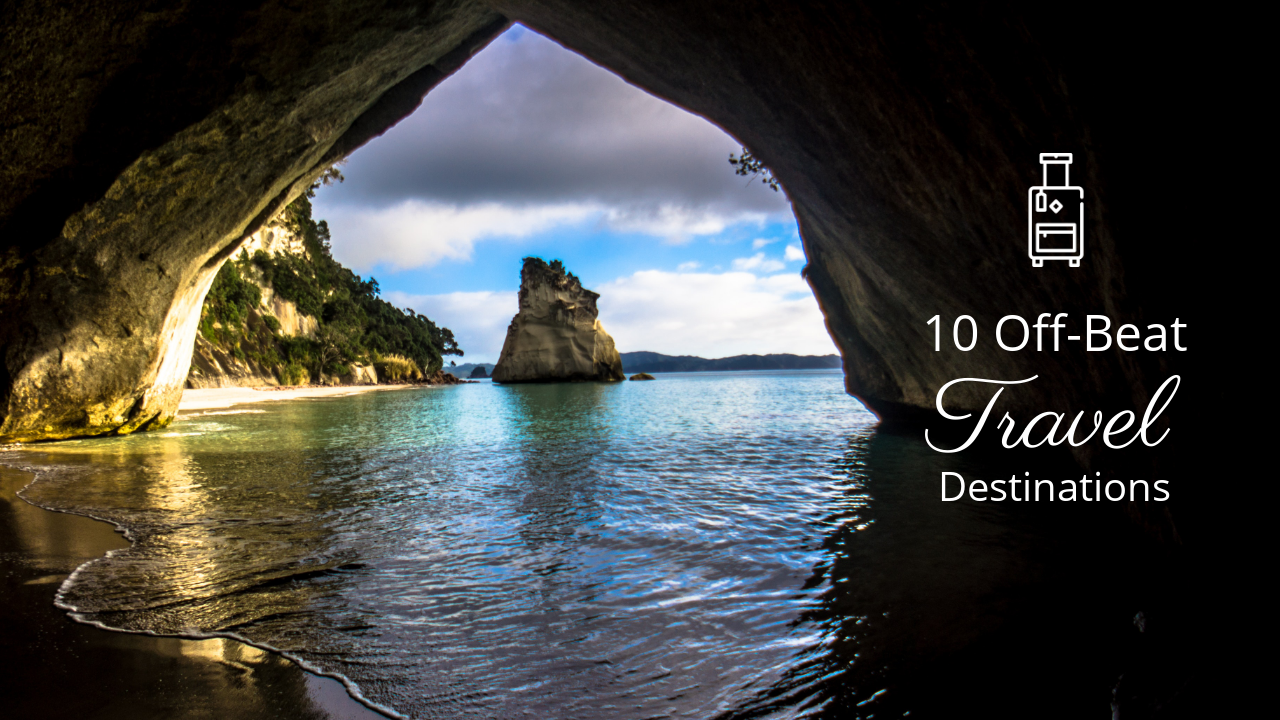 Get This Template and More
Although unnecessary, adding videos will always increase the website's appeal.
Further Reading
Make Your Adventure Blog Content Search-Engine-Friendly
The contents must be Search-Engine Optimized. This will show your website on the search engines and boost traffic.
SEO is a tricky yet interesting way to make your website discoverable. Search engines use a mechanism that crawls through different websites, gathering and indexing information simultaneously. This index then goes through algorithm analysis, which helps rank the sites based on various factors.
The first factor usually starts with keyword/keywords that can be short-tailed and/or long-tailed. You also have to make sure that you maintain a balance and do not end up overdoing it.
The images you put with your blog articles must also be calibrated with keywords in their AltText. Most of the sentences need to be within 20 words. Also, you must avoid passive voice in your overall writing.
Try to add internal and external links because this will establish authority.
Marketing Your Adventure Blog through Social Media
This is the most exciting part of being an adventure blogger. After all, now you will spread your adventures and experiences everywhere to everyone, craving to know the secrets nature hides.
So, once you feel confident about your website, you have to start strategizing how you will market it.
The best way to do this is to look for the right channels. Although many social media platforms can be extremely useful for your strategies, starting with a few spaces is always recommended. In my opinion, start with Instagram because this platform is quite personal.
When we talk about Instagram, people use it to share their thoughts and experiences pictorially. Moreover, images can be the best way to attract people to your write-ups.
So, to ace the marketing game on this social media platform, you have to reach their hearts. Your stories need to emotionally touch their lives, making them aspire to want more.
This is possible when you share your blog link along with a nice visual post. Also, promos and inspiring visuals informing viewers about a new blog post are excellent ways to promote your website.
At DocHipo, you will get visuals that can stun the eyes of the onlooker searching for excitement.
Instagram
Blogging is very personal, so it is always best to promote it via your personal account. This makes it more authentic and relatable. You can create a business page as well so that you can invite members.

To make the page look alluring, let's check the post templates from DocHipo that you can use: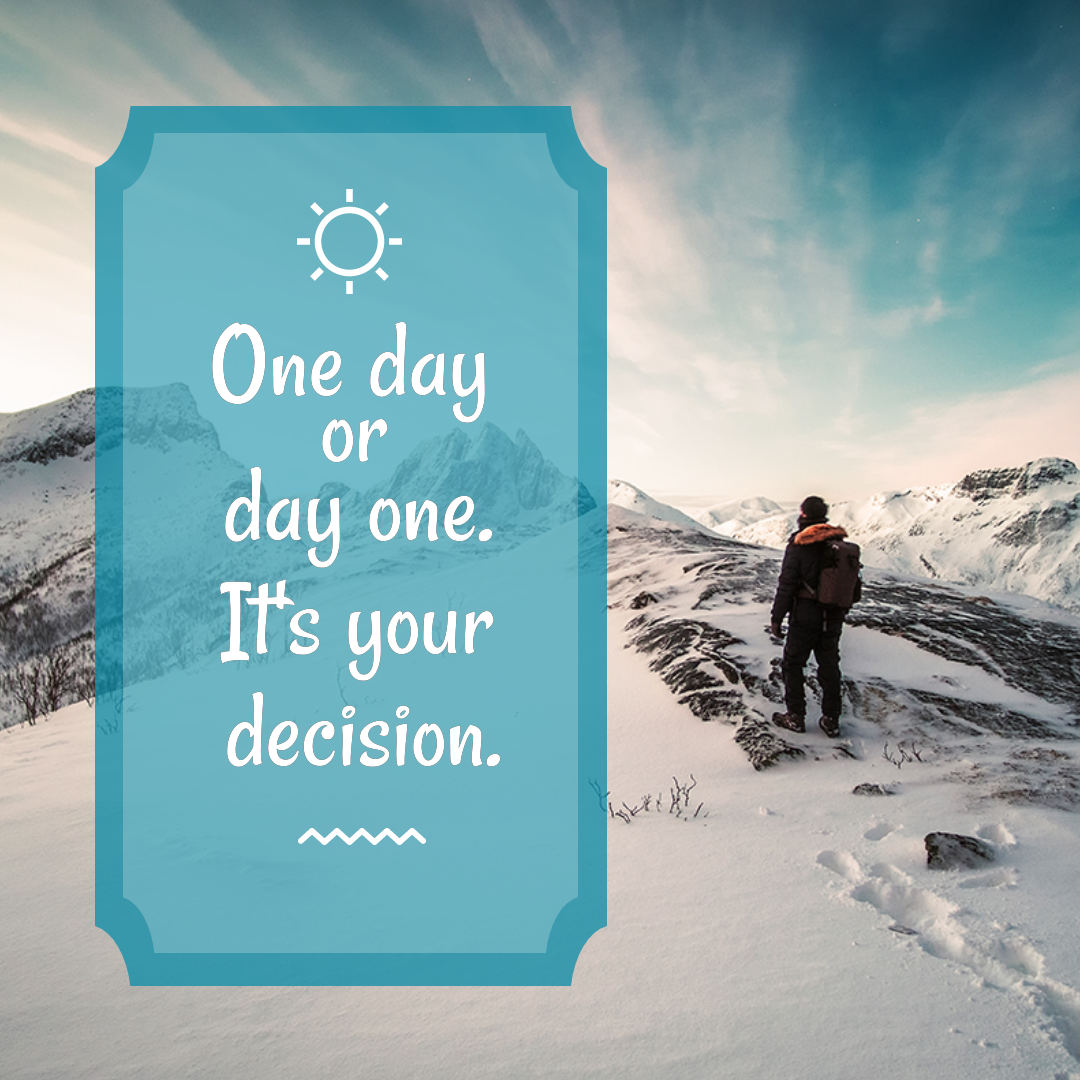 Get This Template and More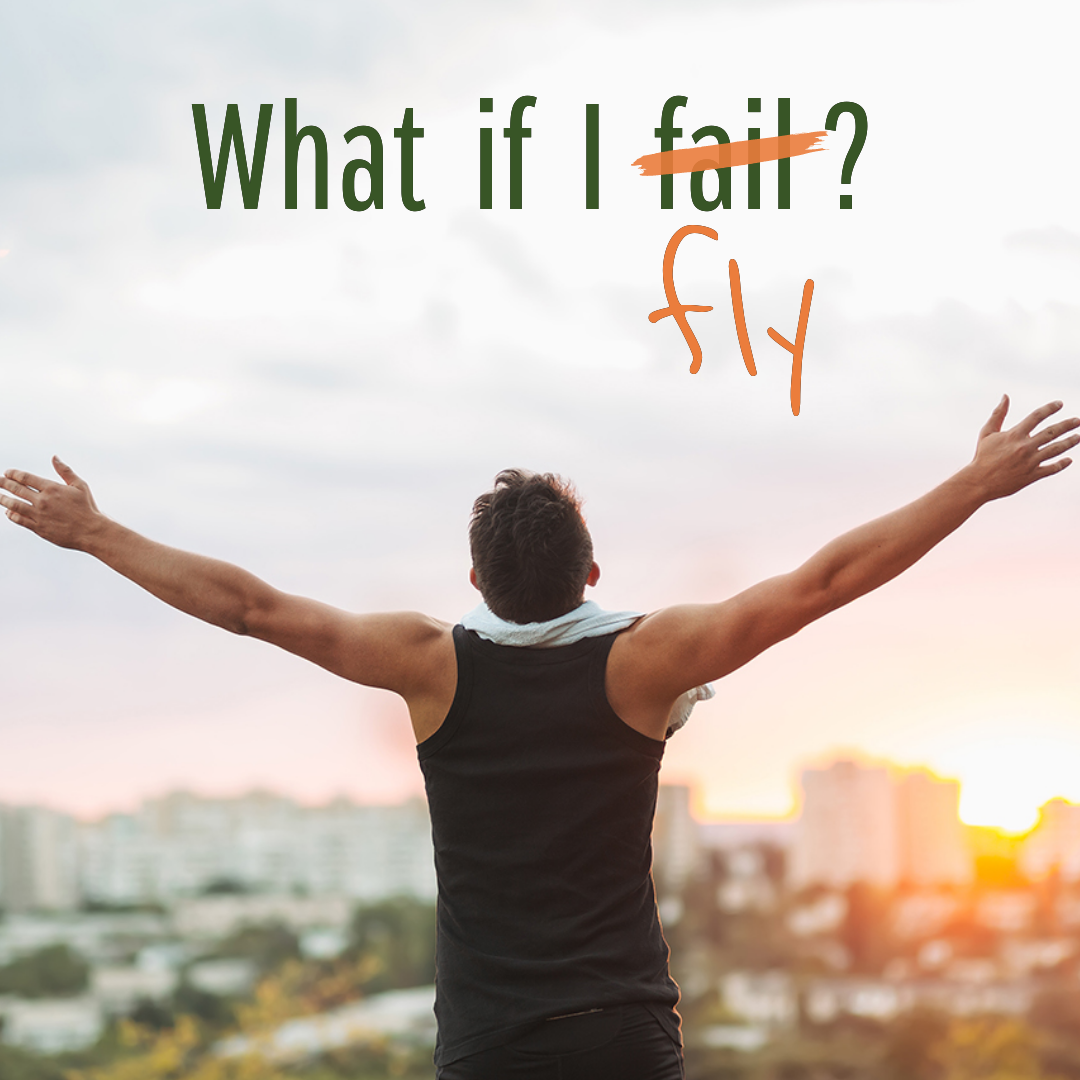 Get This Template and More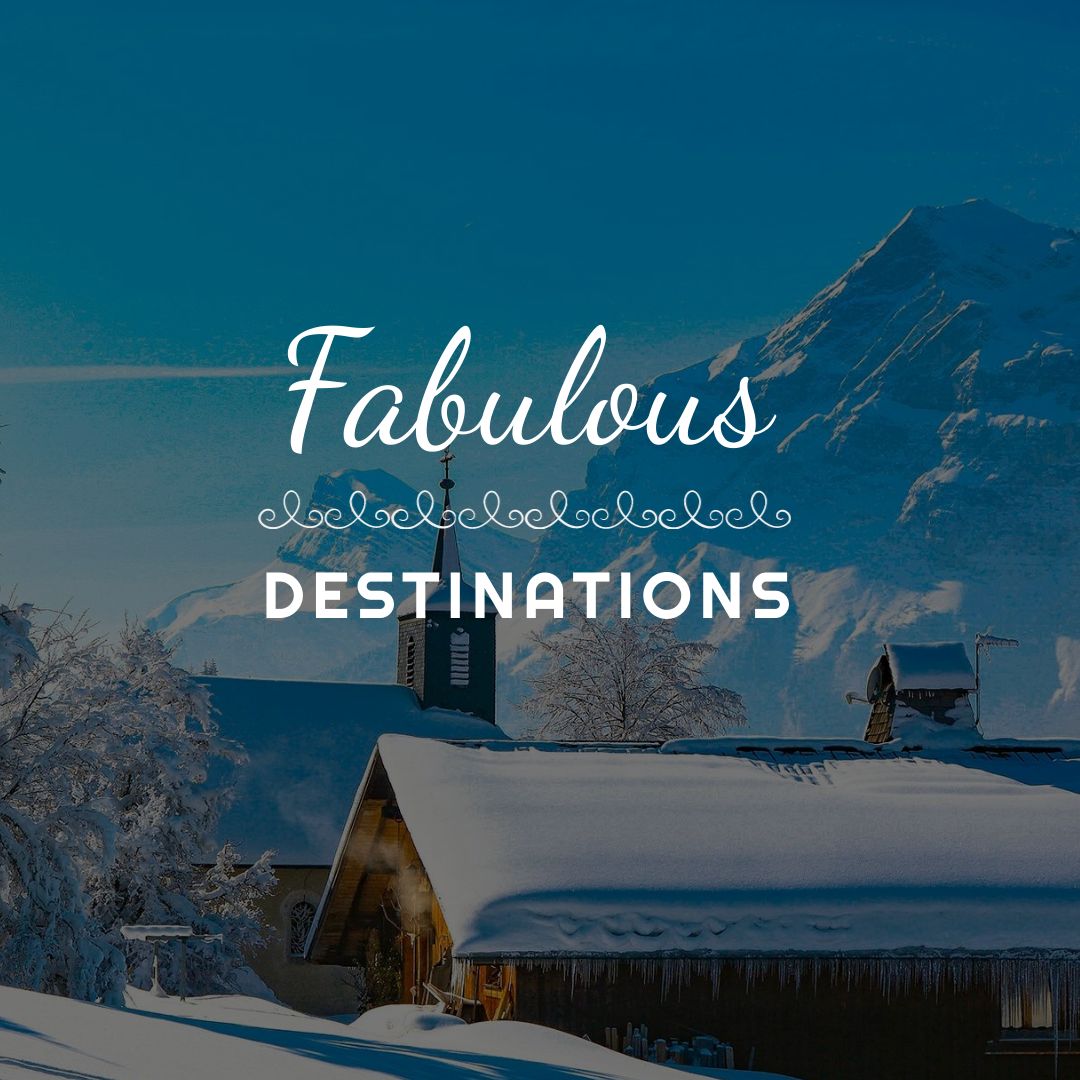 Get This Template and More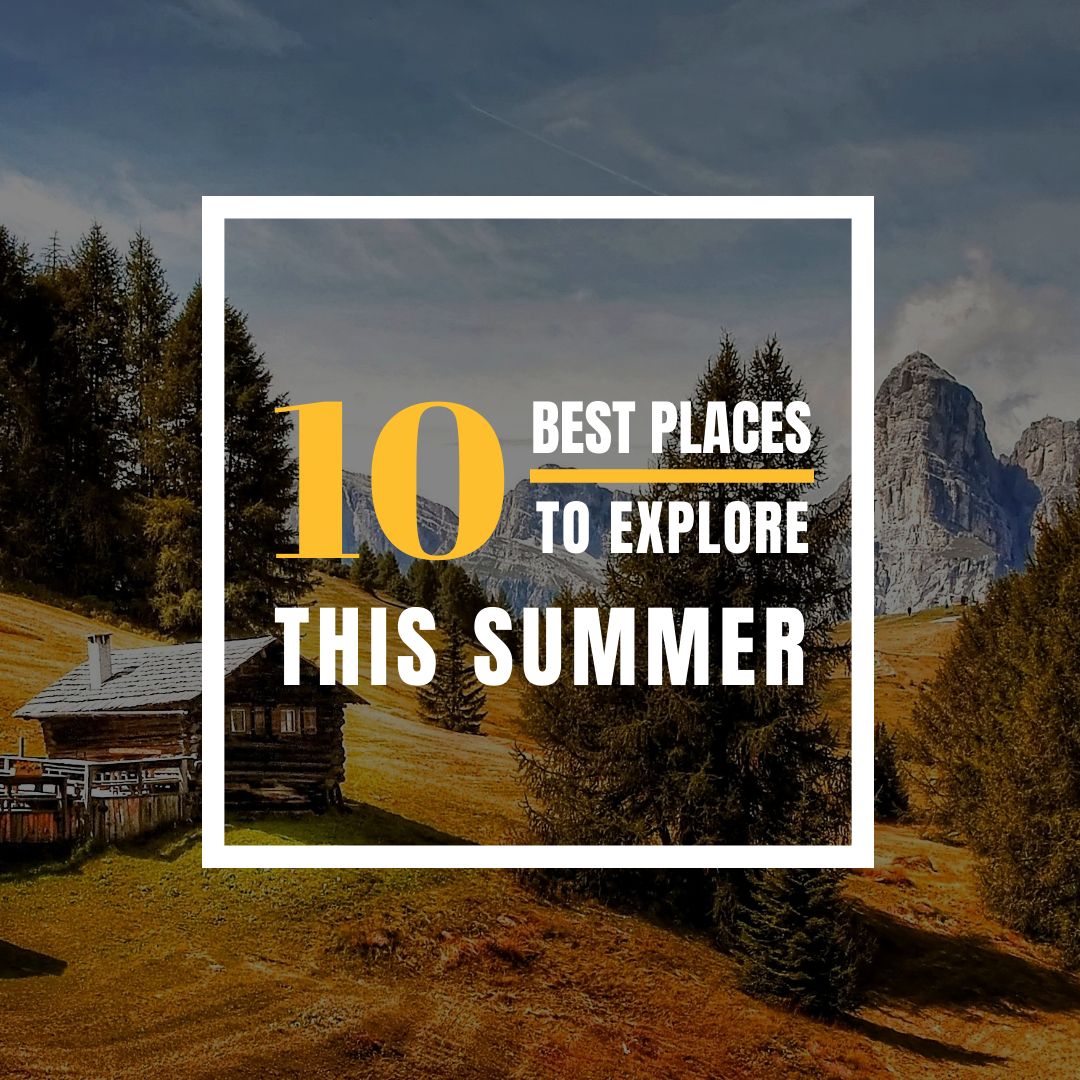 Get This Template and More
You can change the text, the image, and graphic elements to design it how you want.
In the next section, Let me show you how to customize the templates to prepare them for your blogs.
Design Captivating Graphics for Your Adventure Blog
Let me walk you through the process of customizing a template in DocHipo.
For your adventure blog, let's create a Blog Banner so that you can create one for yourself and use it on your website.
The entire process is very simple and will not even take you more than 10 minutes. So, let's start.
Step 1: Choose a Stunning Template for Your Adventure Blog
You first need to sign up. Once you do this, you can either type "Blog Banner" on the search panel: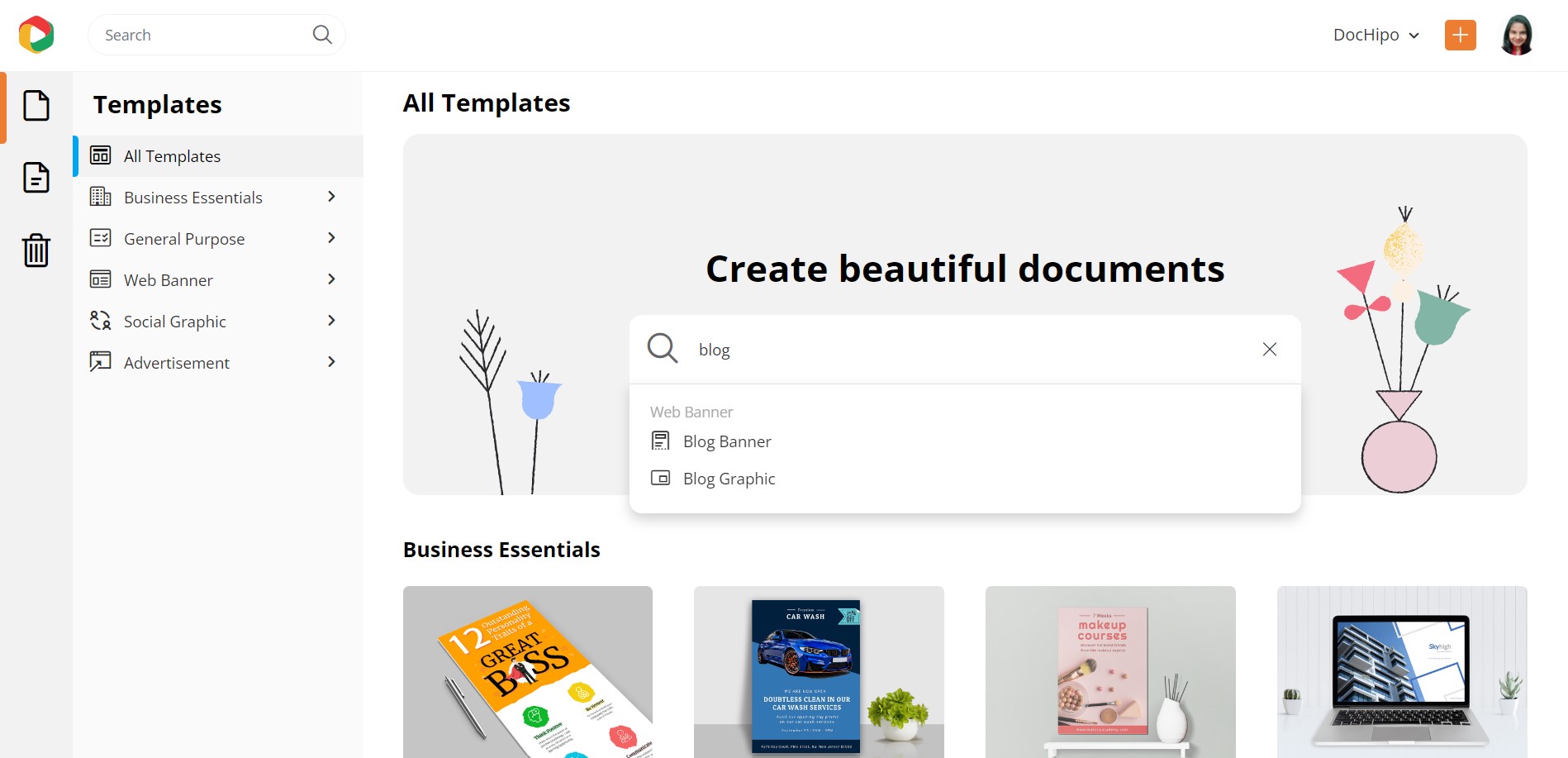 Or directly click the "Web Banner" widget on the left-side panel. After you click that widget, a list of options will show up from where you have to select the "Blog Banner" option: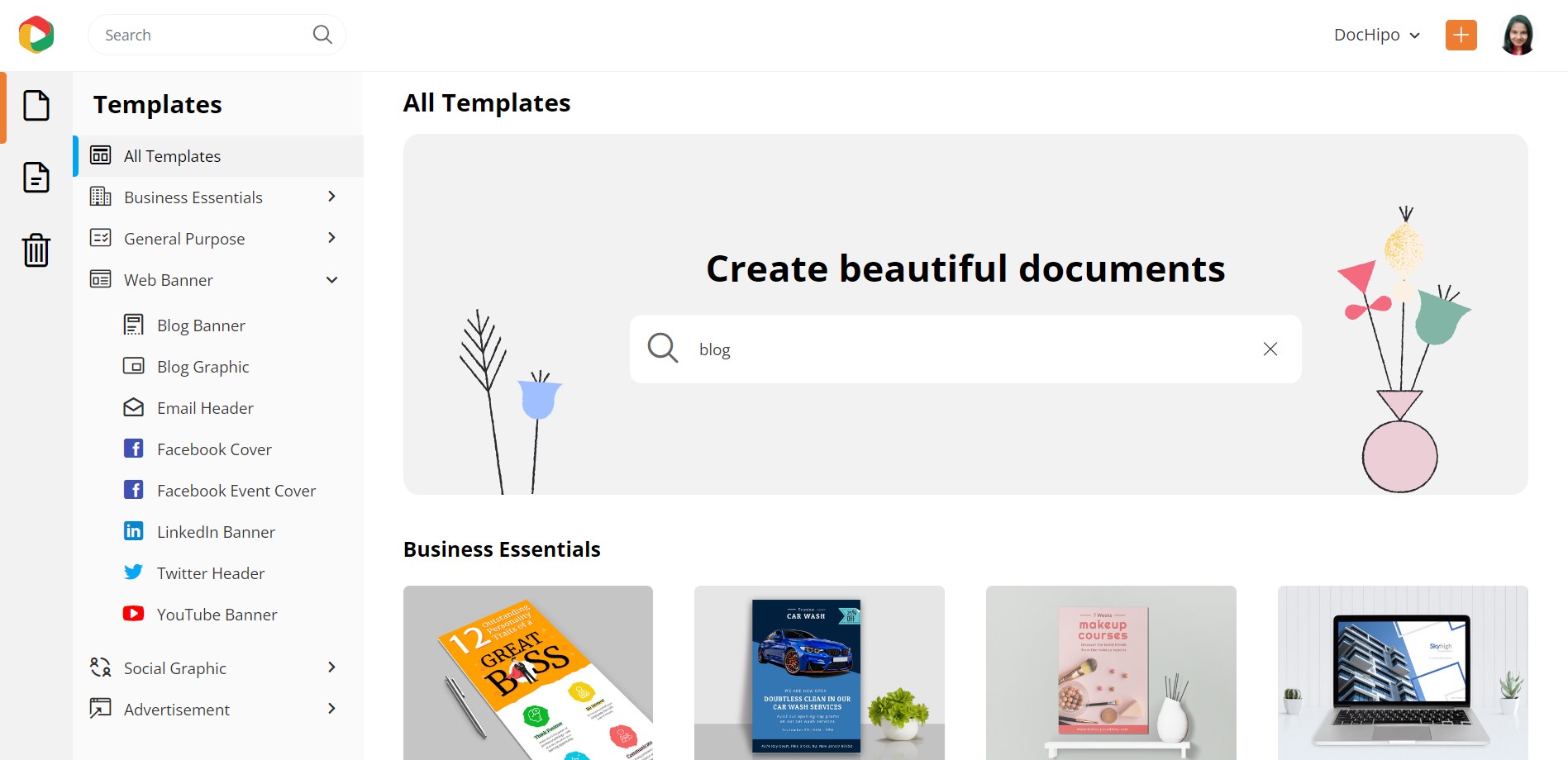 As you can see, the Blog Banner Templates are categorized into various industries including travel, fashion, food, sports, pets.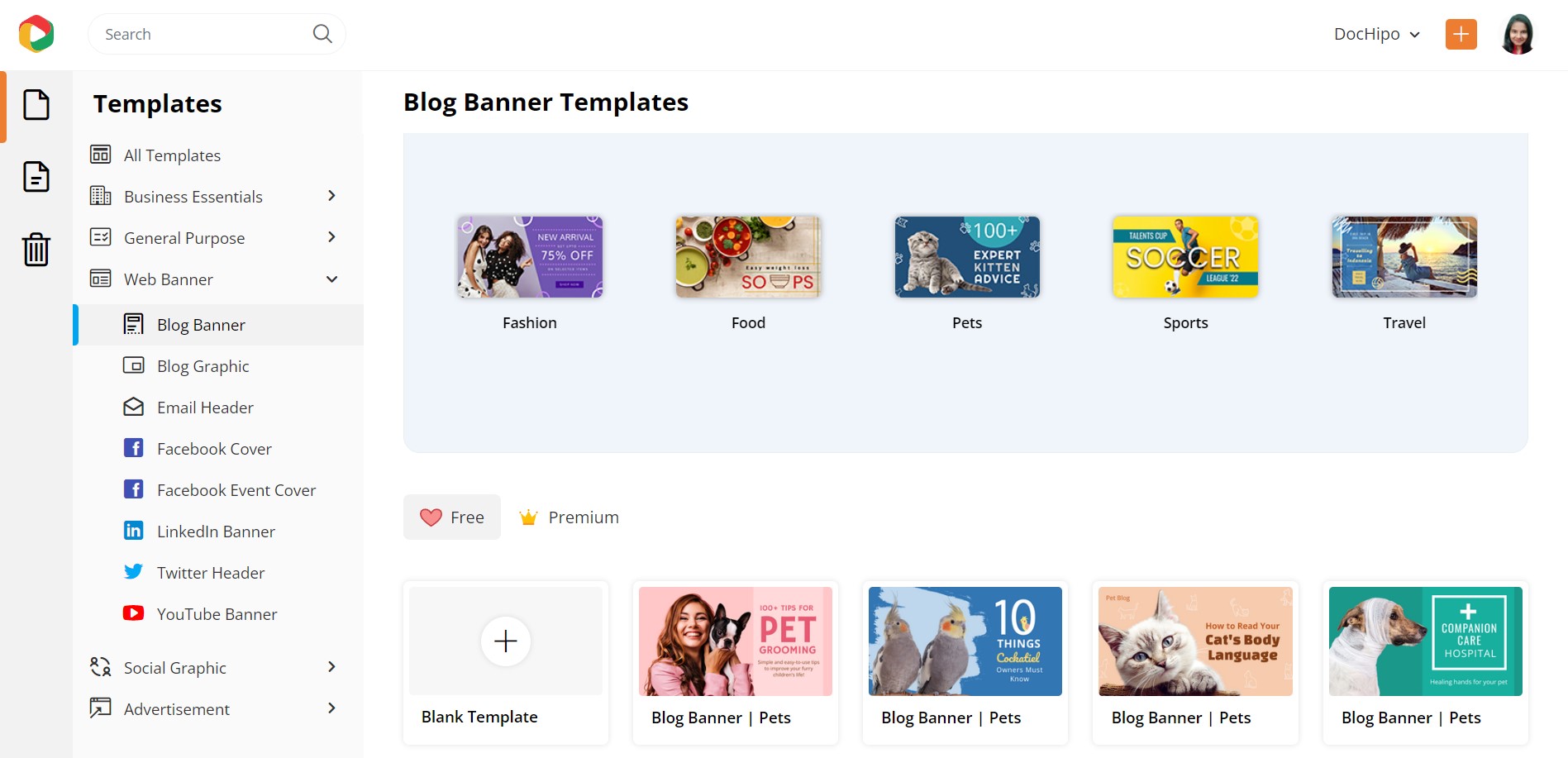 You can either design it from scratch or select a template for customization.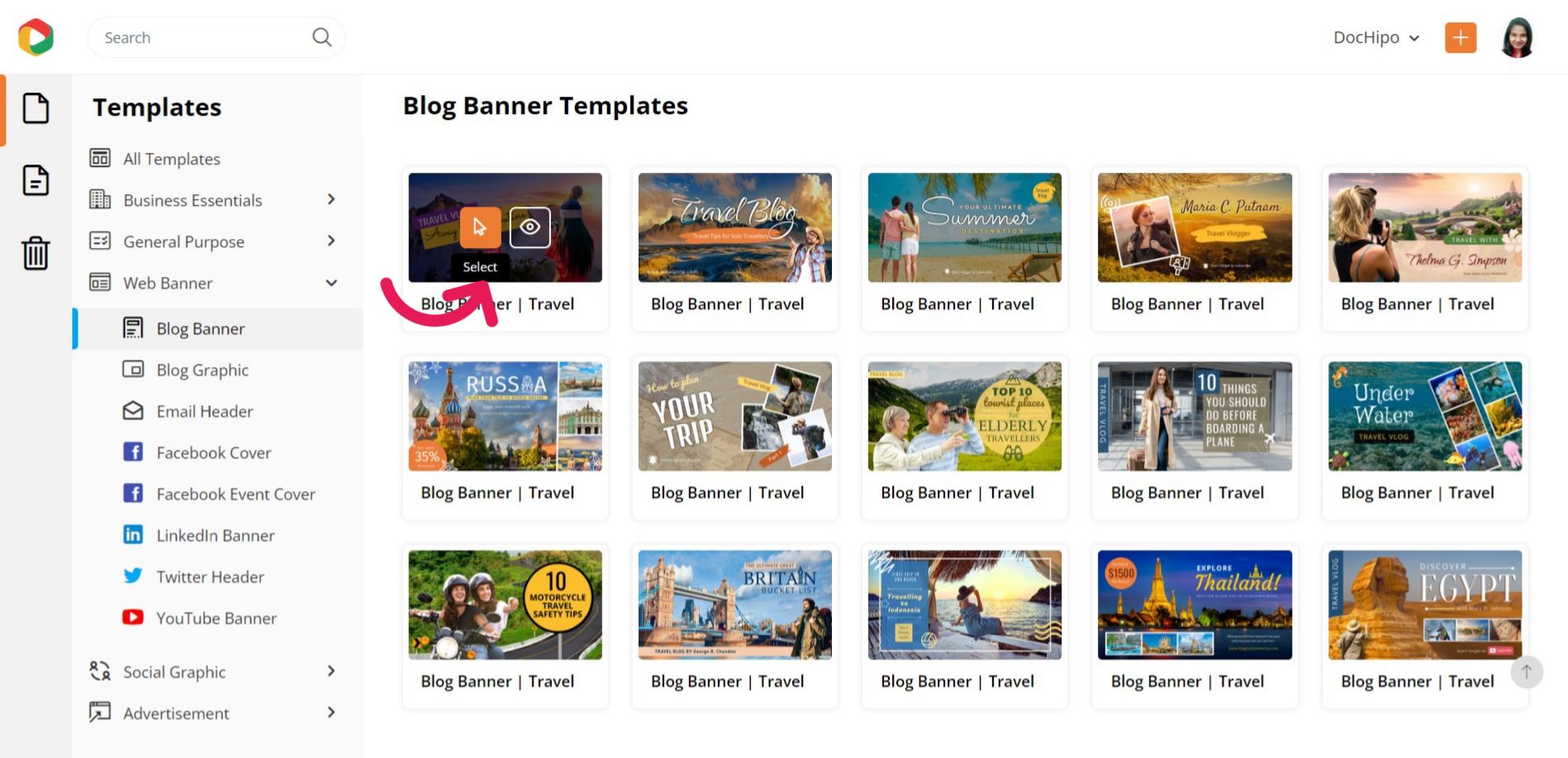 When you select a template, you will be again redirected to the Document information page where you have to provide the details: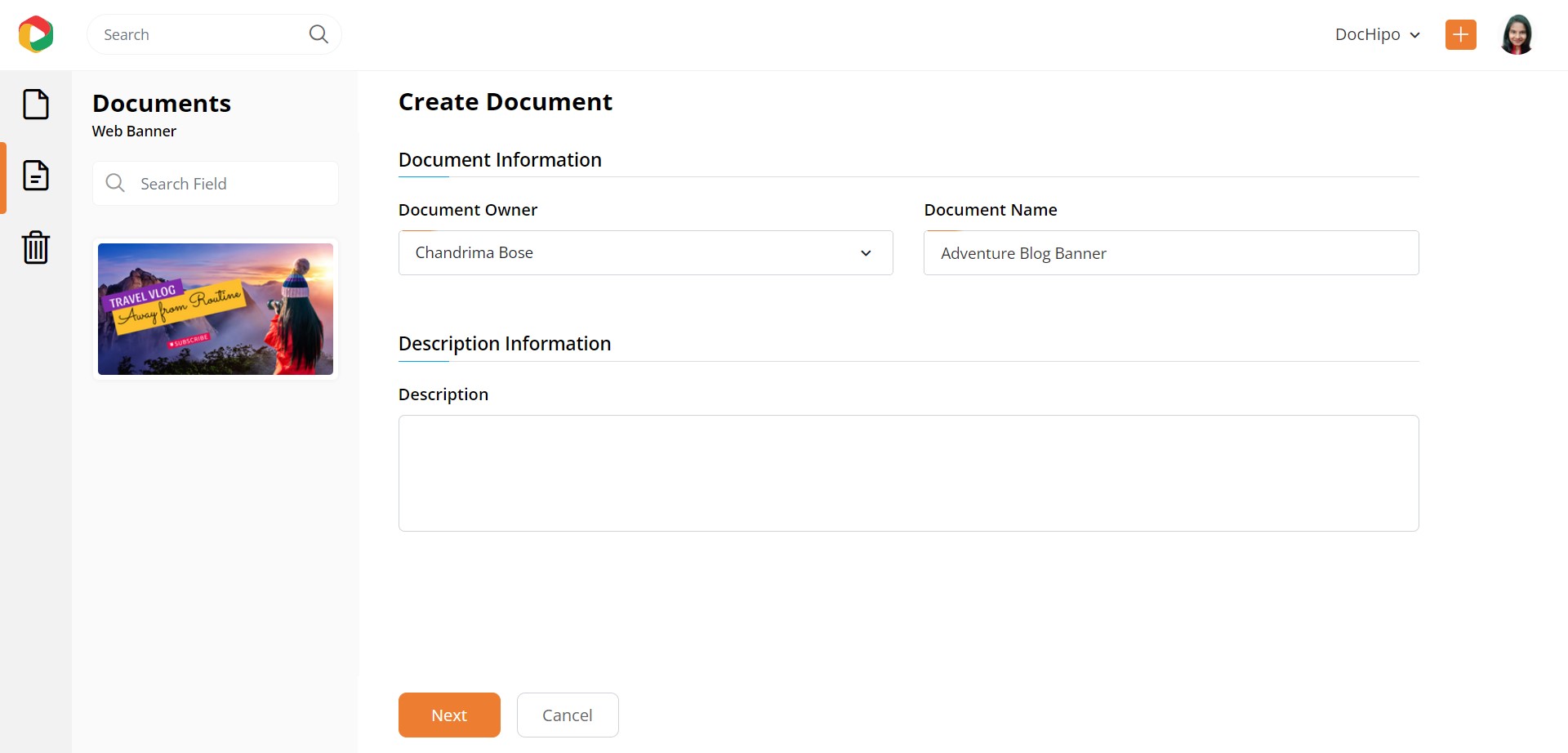 After you click "Next," you will then enter the DocHipo's Editor: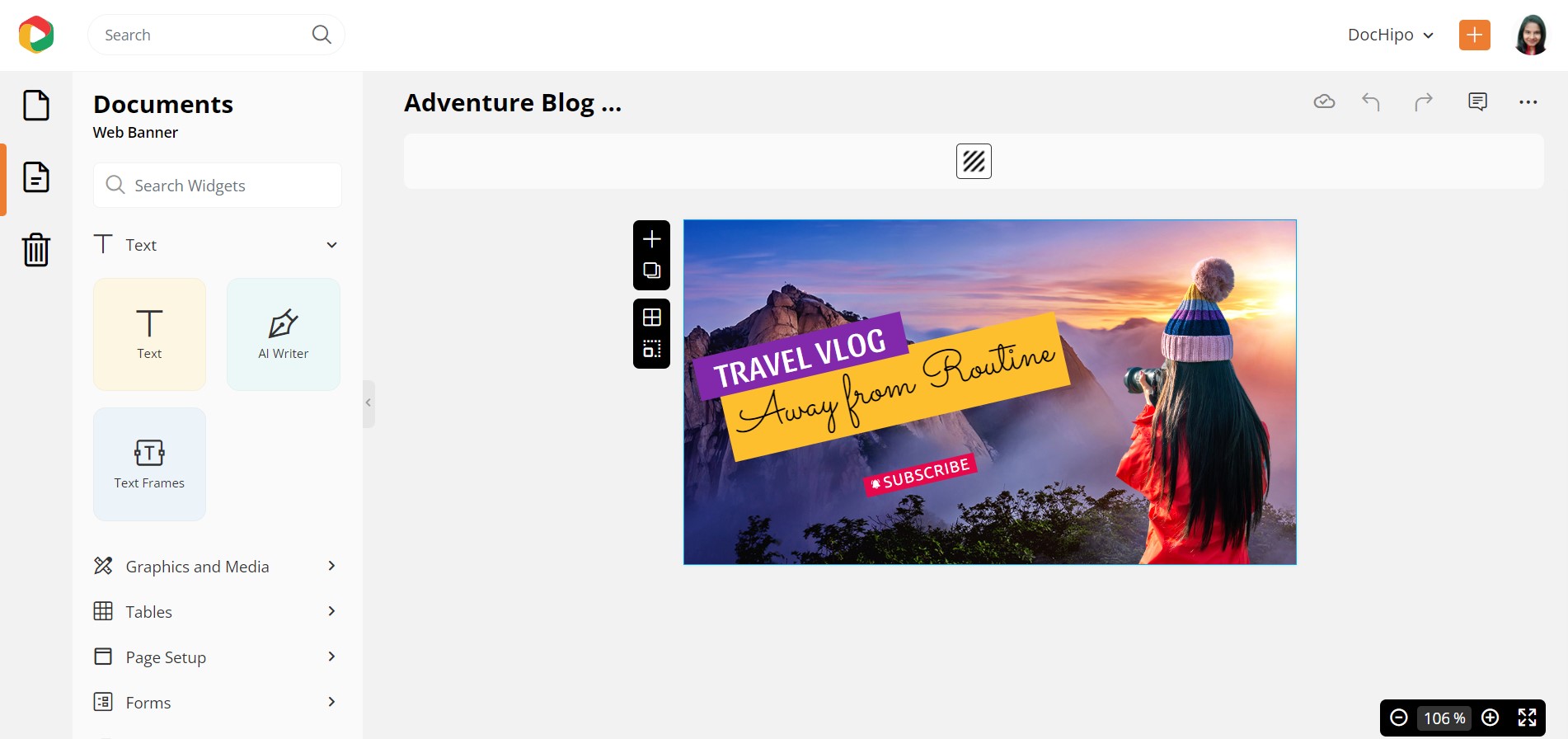 Step 2: Customize Your Blog Banner Template
So, now it's customization time!
I made a few changes to fit it with my creative vision.
Editing the Text
The first thing I did was delete the small red subscribe button. Then I changed the text. Select the text you wish to edit and replace with your words.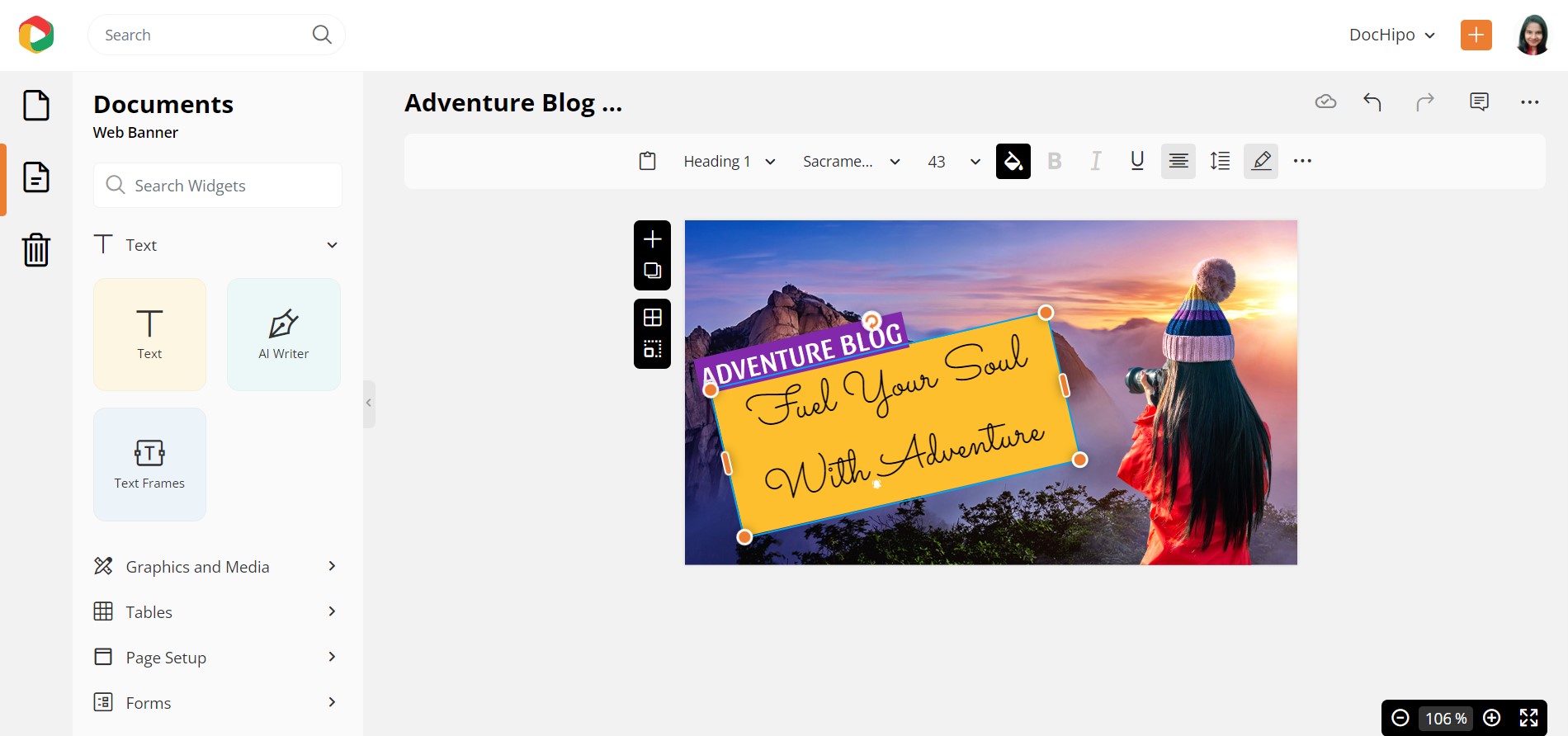 You can add further text with the 'Text' widget in the left sidebar. You'll get multiple text editing options in the editing panel above.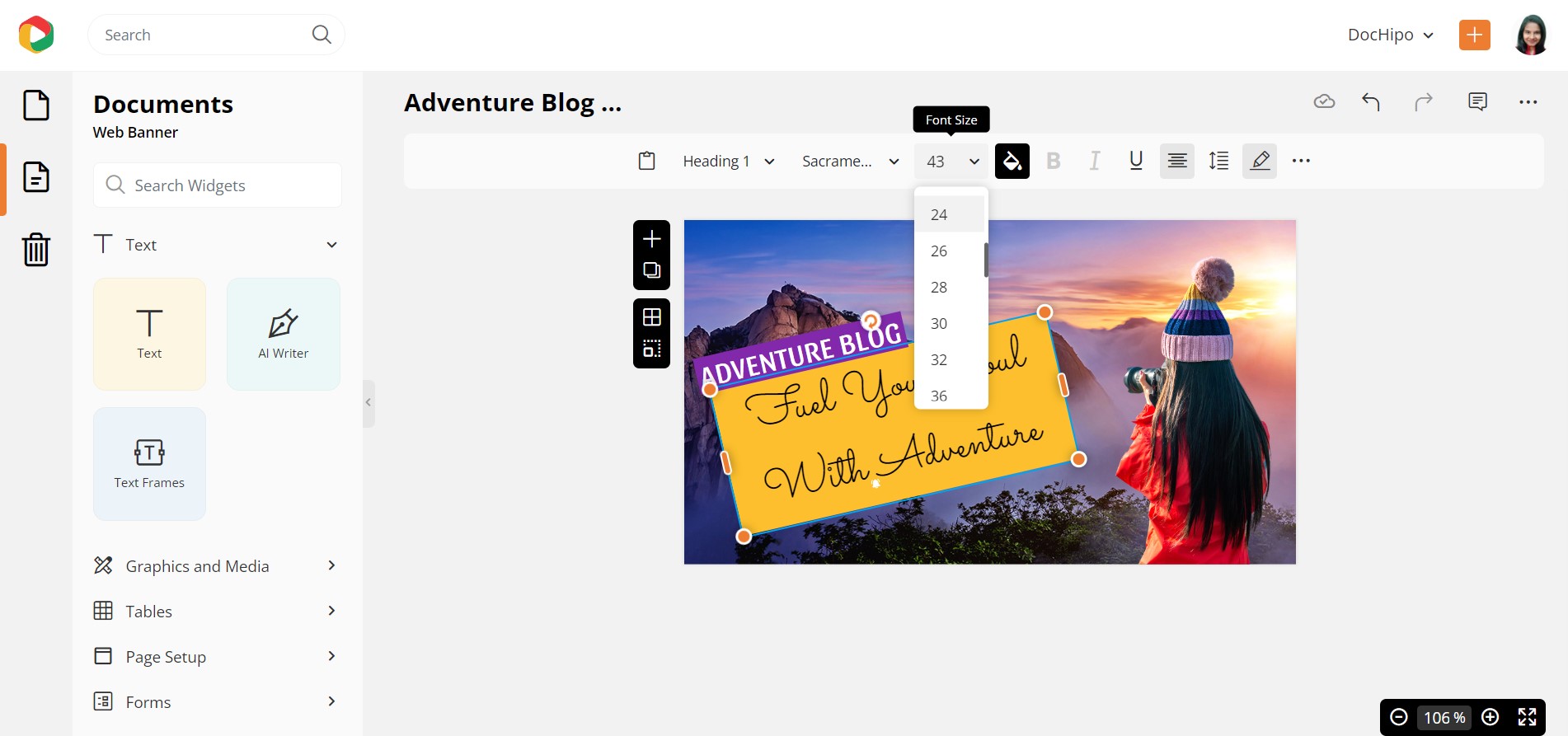 Refer to the following video while adding, editing or deleting text in DocHipo.
Watch the quick tutorial below to get exciting ideas to enhance your text.
Replace the Picture
Next, you can replace the existing background image with the one that reflects your adventure blog post. To upload image from your device, select the 'Uploads' widget under the 'Graphics and Media' section on the left sidebar.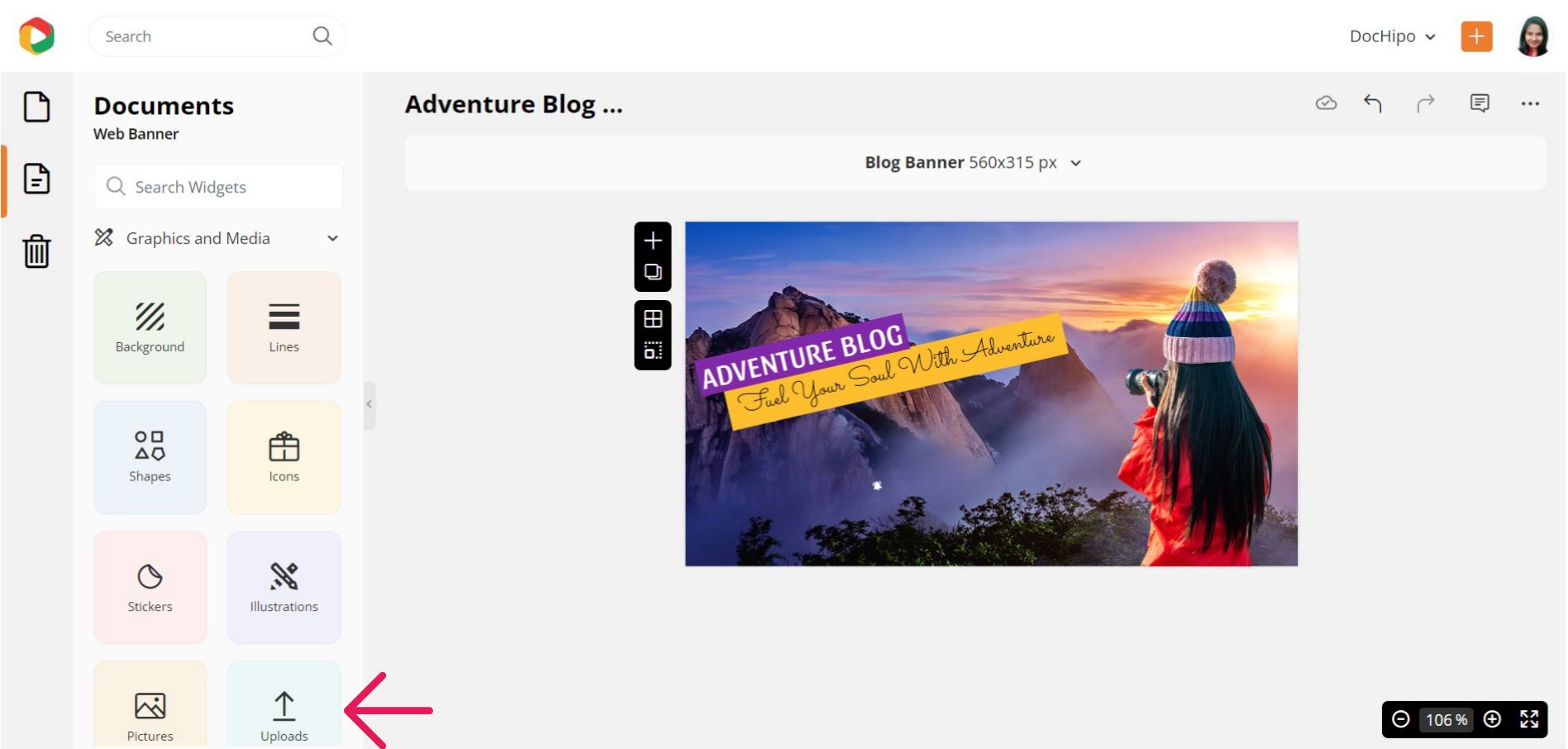 The acceptable file formats for uploading images in DocHipo are JPG, PNG, GIF, and SVG with a maximum file size of 5MB.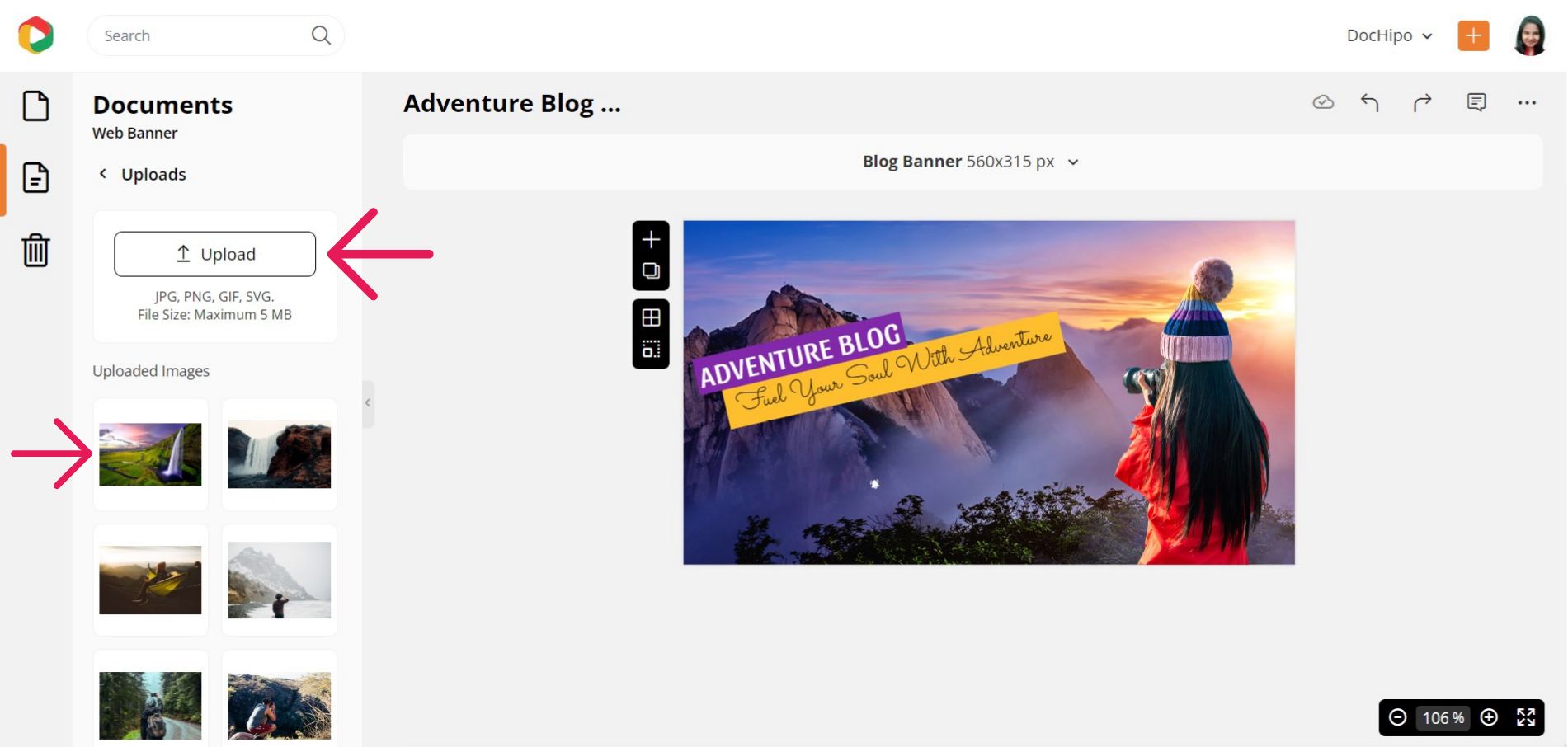 Now, drag your uploaded image and drop it into the existing one.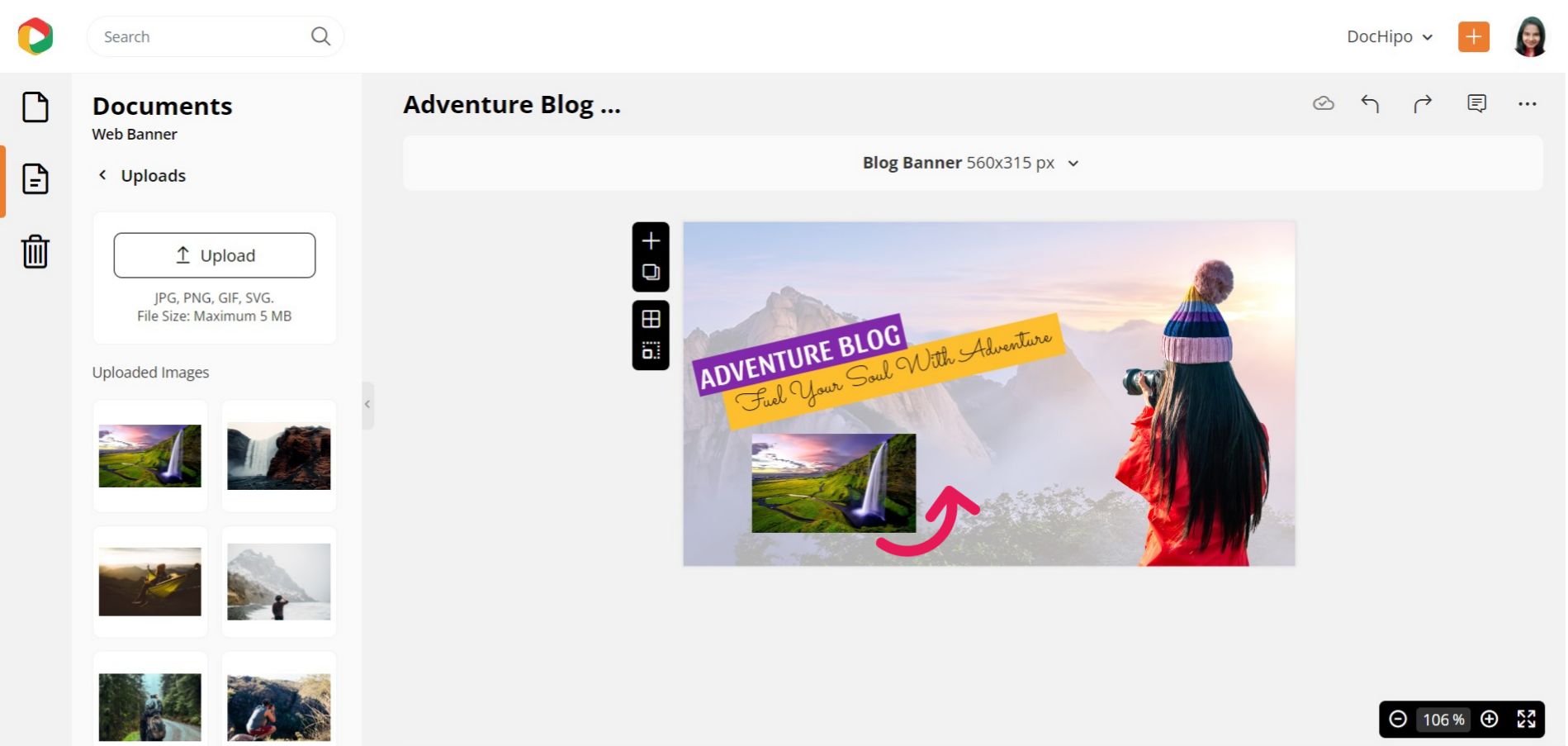 Resize and reposition the image with the drag-and-drop tool if needed.
Here's how to upload images in DocHipo.
However, if you need high-quality stock photos for your adventure blog, you can access unlimited images from DocHipo editor directly.
Step 3: Download Your Adventure Blog Banner Design
Once you are ready with the design, then download it by clicking on the three horizontal dots on the top-right corner.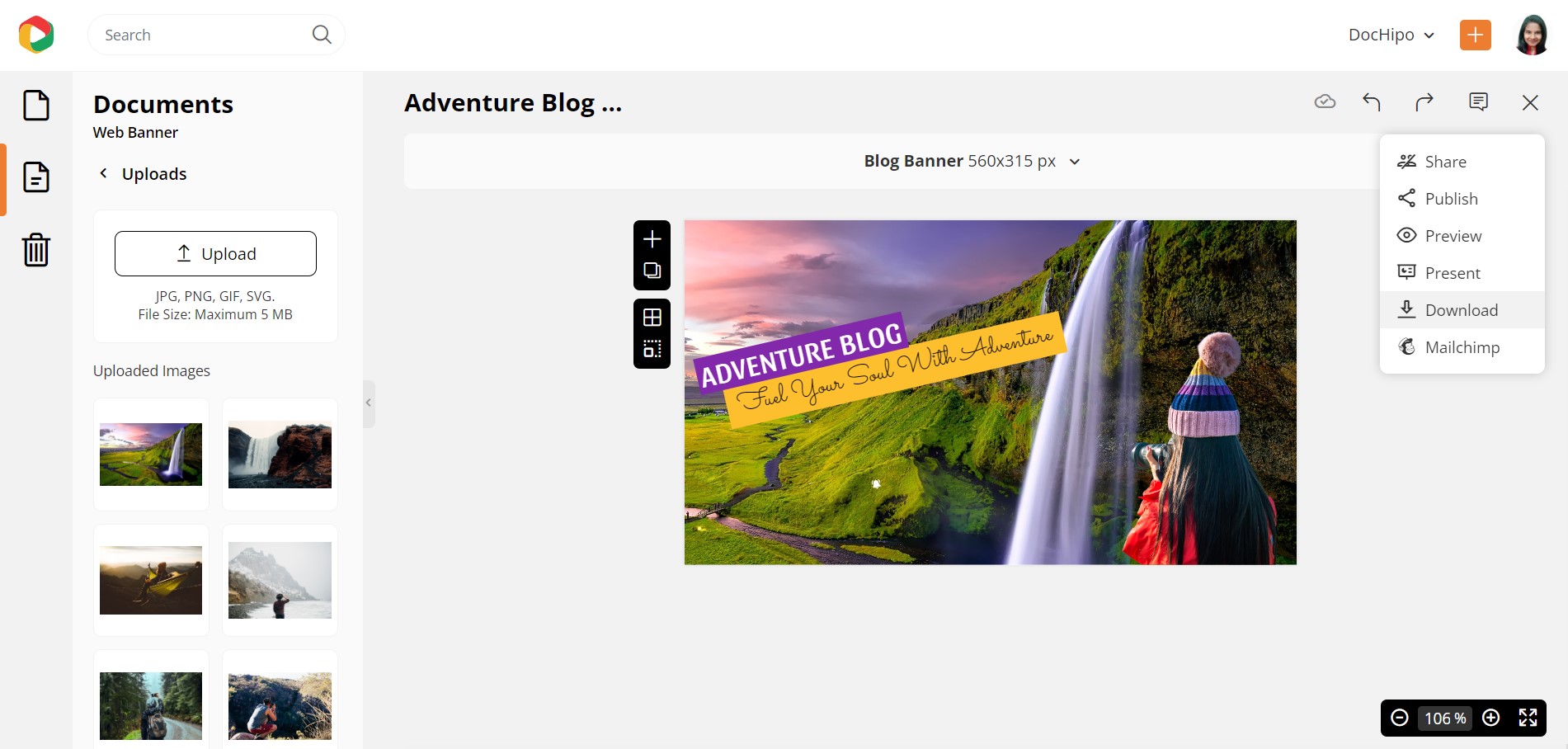 You can download the template in multiple formats, with qualities ranging from Normal, Medium, and High: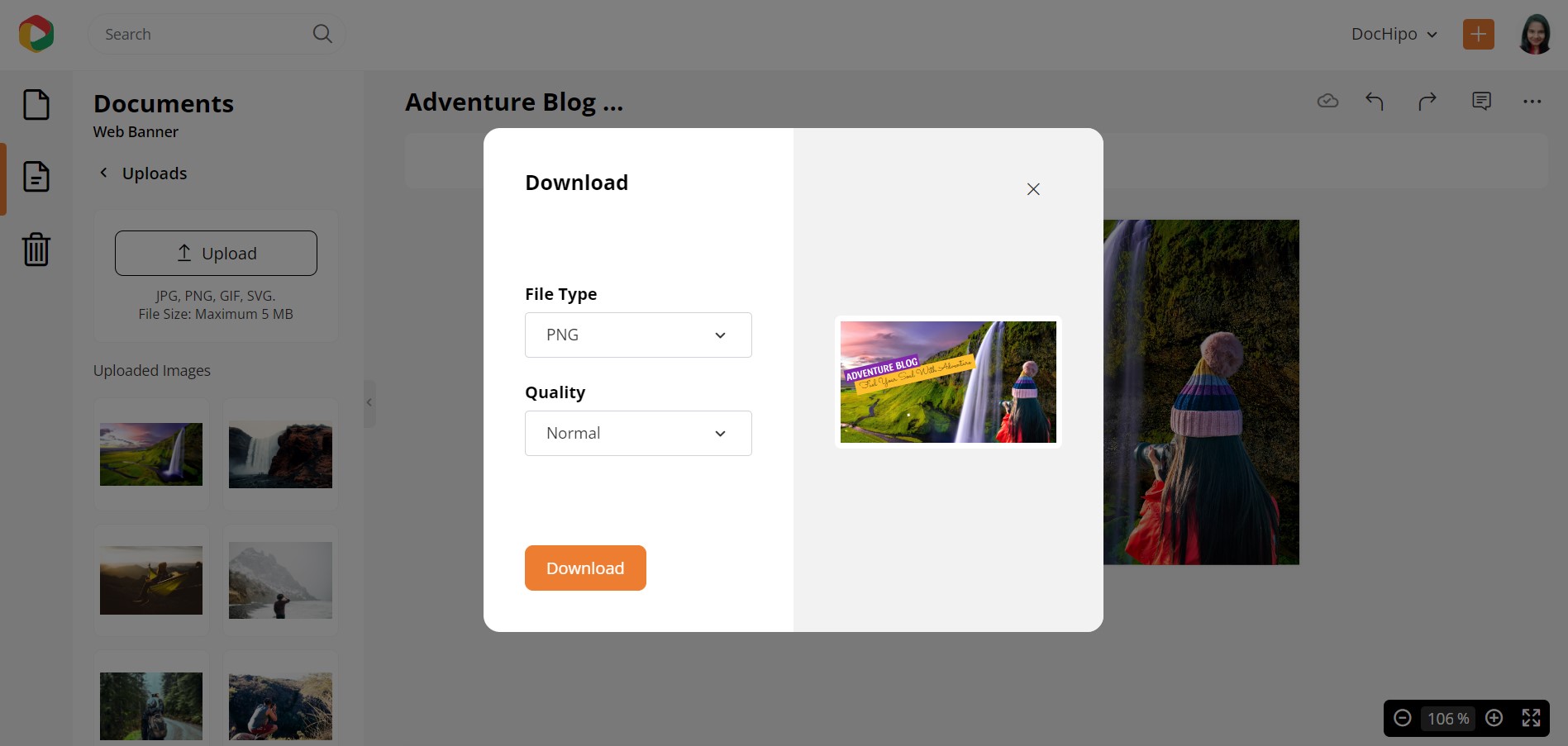 Travel Blog Banner Template before Customization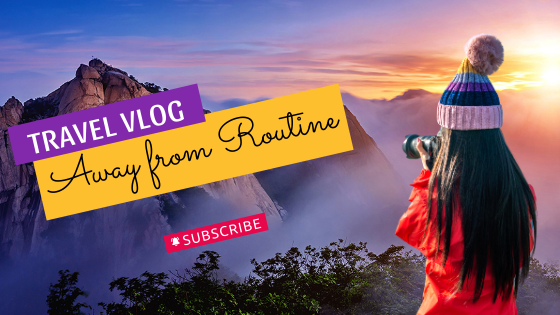 Adventure Blog Banner Design after Customization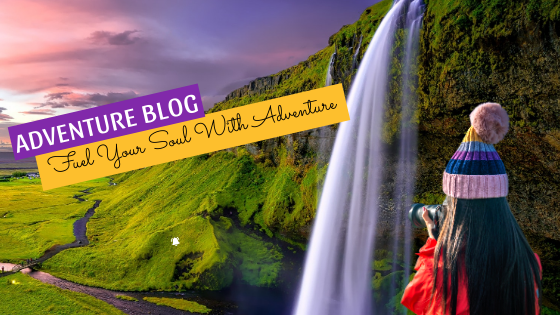 Conclusion
Adventure is an exciting genre to deal with. So, if your blog deals with this genre, I am sure you will do a great job. Moreover, people love to hear adventure stories, so look for exciting ways to engage with them.
In my opinion, blogs are a great way to connect with the dormant wild self that we all tend to feel but don't dare to pursue it.
Hence, make a proper marketing strategy to spread your stories worldwide and motivate people!
For any visual needs, you have DocHipo to your rescue. Whether for a blog banner or a social media post, at DocHipo, you will get them all.
So sign up and dazzle your adventure blog and marketing efforts with fascinating document templates!