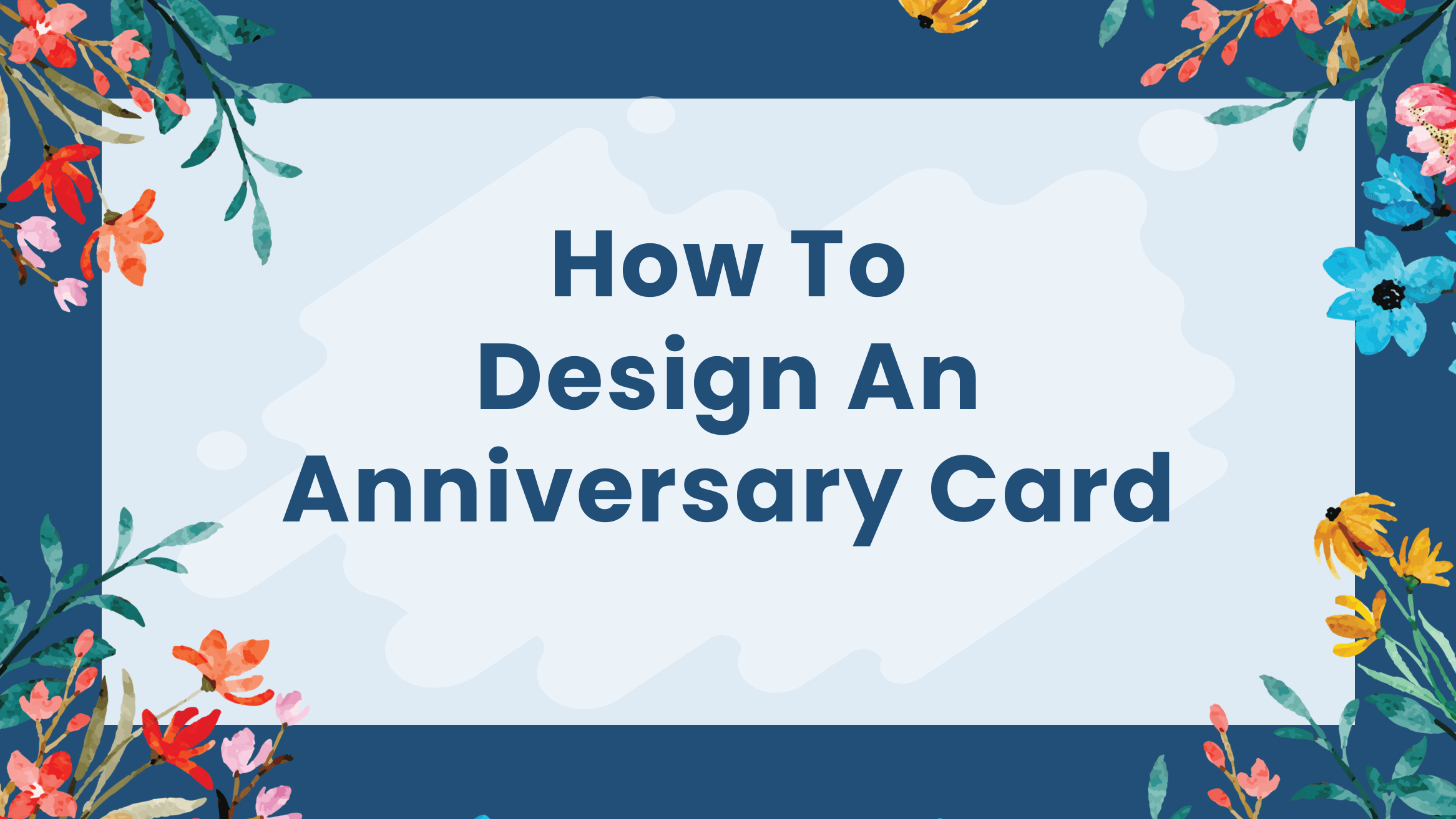 Anniversary Card Design: How to Make Anniversary Card for Free

Last Updated Dec 9, 2022
Marriage is one of the most important relationships in Human life, and it changes the way of living for every married person. Hence, to keep this relationship thriving and satisfying, we must celebrate it with pomp. And you might not want to send out some simple text to say "Happy Anniversary" to your partner or near ones on this special day. A personalized Anniversary card is one of the best ways to wish someone a "Happy Anniversary." However, everyone is not a creative person and might not know how to make anniversary card. That's why we have come up with various anniversary card template to help you out.
Do you think that anniversary cards have become out of fashion now? Then you might be wrong. Let me show you the statistics; The market size of cards is 1.3 billion pounds in the UK alone and is expected to be stable till 2024. Thus, making it a massive industry with a lot of potentials.
Whether you want to share them or sell them, in this article, we will show you how to make anniversary card step by step with DocHipo.
Anniversary Card Ideas
To make the process of anniversary card design more effortless for you, we have come up with some practical anniversary card ideas. Read them carefully before you jump right into designing anniversary cards.
Brainstorming
The very first step that you need to take before starting your card design is to brainstorm. You must not rush to create your anniversary card without planning it properly. Look at the design trends, get all the information and the message you want to include in your anniversary card design, and then go for the design part. Spend as much time as you need to plan your anniversary card design. It will help you have a clear idea of how your card should look. Imagine start designing your card without knowing how you want it to look.
Text
The crucial part of your card design is not the colors, images, font style, or any other design elements. It's the message you want to send out to the recipient. Hence, jot down the message you want to send out first. So that you know how much space you will get to add other design elements after writing your message.
However, the purpose of designing your card is to send out those words in a more attractive manner. Therefore, you must choose your fonts and font colors appropriately. Look how the font style, font color, and the message is perfectly balanced in the anniversary card template below.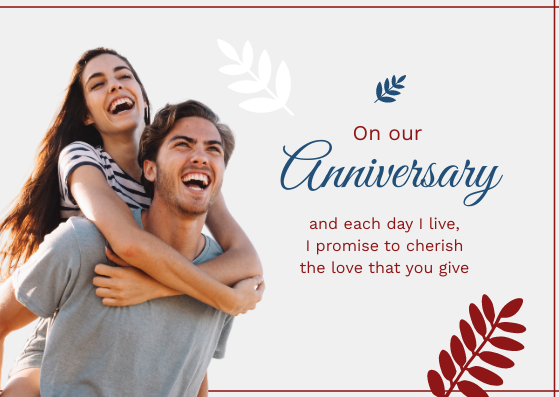 Get This Template and More
Learn more to create a typography hierarchy in your design.
Color
Colors are the most critical elements in a design that people perceive first. Study shows that colors alone can influence up to 90% of an initial impression of any object in the world. Hence, to make your anniversary card attractive, you must choose your colors carefully.
Though sometimes it becomes the most challenging task to find the perfect color combination that matches your design, there are specific ways you can do that. First, you can go for the free color palette generator tools like Coolors, Image Color Picker, and others.
Additionally, you can click here to get the best color combinations for your design. Finally, here is an example of an anniversary card template for your inspiration.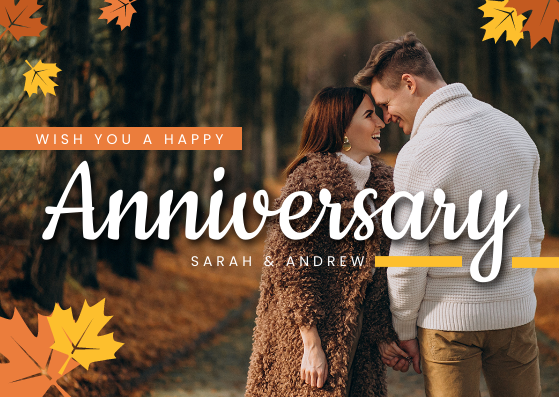 Get This Template and More
All the anniversary card template in DocHipo has the best color combinations. Nevertheless, you can choose your own color palette and change the colors accordingly.
White Space
Don't underestimate the power of white space while designing your anniversary card. Balancing white space is one of the best ways to make an uncluttered design. Therefore, don't get tempted to add an excessive amount of design elements to your card. Instead, always try to keep an appropriate ratio between other elements and white space. Adequate white space in your card will immediately please the recipients' eyes.
Fortunately, in DocHipo, we have designed all the templates keeping the white space in mind. For example, look at the anniversary card template below. It will help you learn how to make anniversary card using the DocHipo Free Online Card Maker.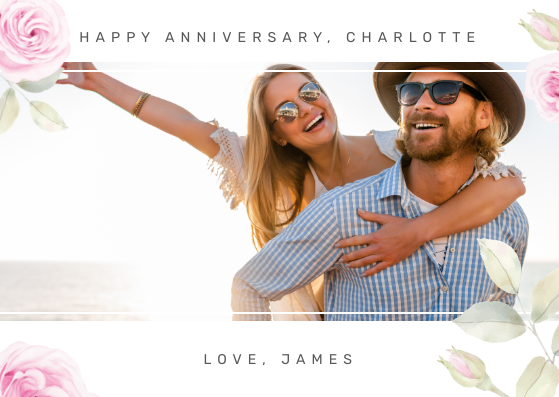 Get This Template and More
What To Write In A Wedding Anniversary Card
As we have mentioned before, the message you write inside your anniversary card is the primary reason for creating it. Hence, before learning how to make anniversary card step by step, we would suggest you understand what to write in a wedding anniversary card.
Here are some ideas to help you understand what you can write in a wedding anniversary card.
Address The Recipient
Since an anniversary card is not something that you design to exchange words often, you must not formally address the recipient. If the card is for a couple you are close with; you can use their first names like "Bill and Melinda." When you are designing the card for your parents, simply "Mom and Dad" is best. Similarly, you can use this method to write the names of all the other relatives for whom you want to design the card.
However, if you are designing the card for your anniversary, then using pet names to address your special one can add the personal touch you are looking for.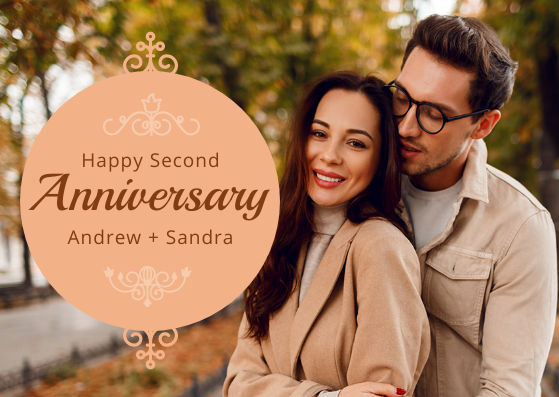 Get This Template and More
Add a Personal Message
You can add a personal line inside the card to recollect a past incident that you shared with the lovebirds that you cherish close to your heart. However, this line should be short and sweet. Otherwise, your card design might get filled with text only. This personal line will ensure that your card is specially designed for the recipient(s).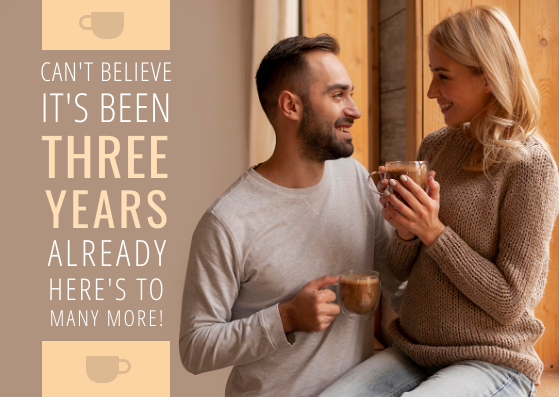 Get This Template and More
Write an Anniversary Wish or Quote
You can write a few lines to wish them well for the upcoming days in their lives. Alternatively, you can add an anniversary quote to inspire them. It will ensure that your anniversary card is worth remembering.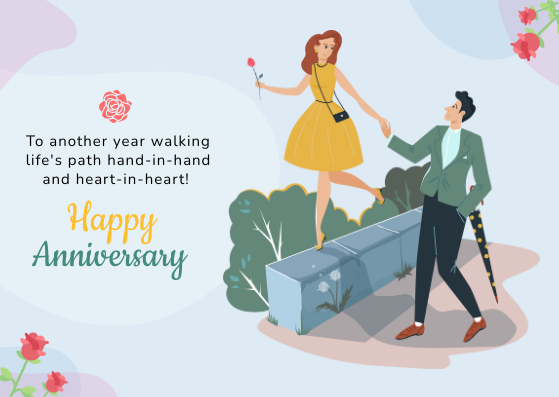 Get This Template and More
Mention Anniversary Milestones
Though each anniversary is a special day to celebrate love, some milestone years are very special—for example, 5th, 10th, 15th, 20th, 25th, and so on. Also, there are jubilees such as silver jubilee, golden jubilee, and others. Don't forget to include these special milestones in your anniversary card design.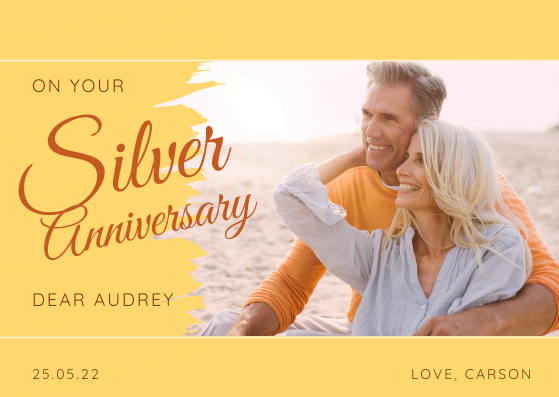 Get This Template and More
Additionally, don't forget to write the sentence "Happy Anniversary." It would be best if you combine the milestone with the same sentence. For example, "Happy 25th Anniversary".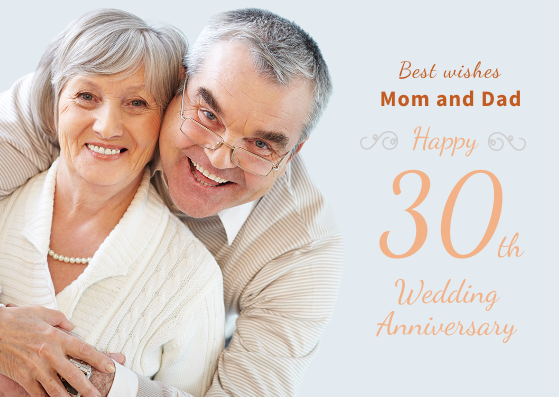 Get This Template and More
Here is a video that we have created to show you the free card templates in DocHipo. You can take a look at it here.
You have learned the most effective Anniversary card ideas and what to write in a wedding anniversary card so far. Now, we will move on to the most crucial part of the article, "How To Make Anniversary Card Step By Step."
How To Make Anniversary Card Step By Step In DocHipo
Anyone can design cards without any design skills with the myriad anniversary card design template and the beautifully crafted Design Widgets. Now, I will show you how to make anniversary card in DocHipo. Just follow these simple steps.
Step 1: Choose a Template
If you have not created an account in DocHipo, then go to the homepage and then click on "Sign Up" from the upper right corner of your screen. Alternatively, you can enter your Email Id in the box and click Sign Up. Then, fill in all the details and create an account to enter the DocHipo application.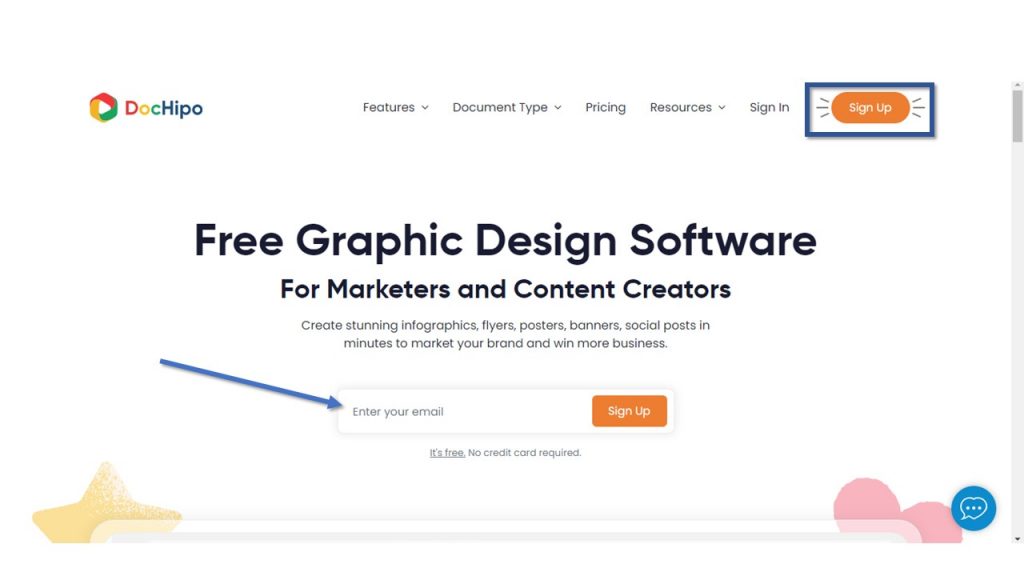 Once you enter the All Templates page in DocHipo, type "Card" in the search box and click on the Card option.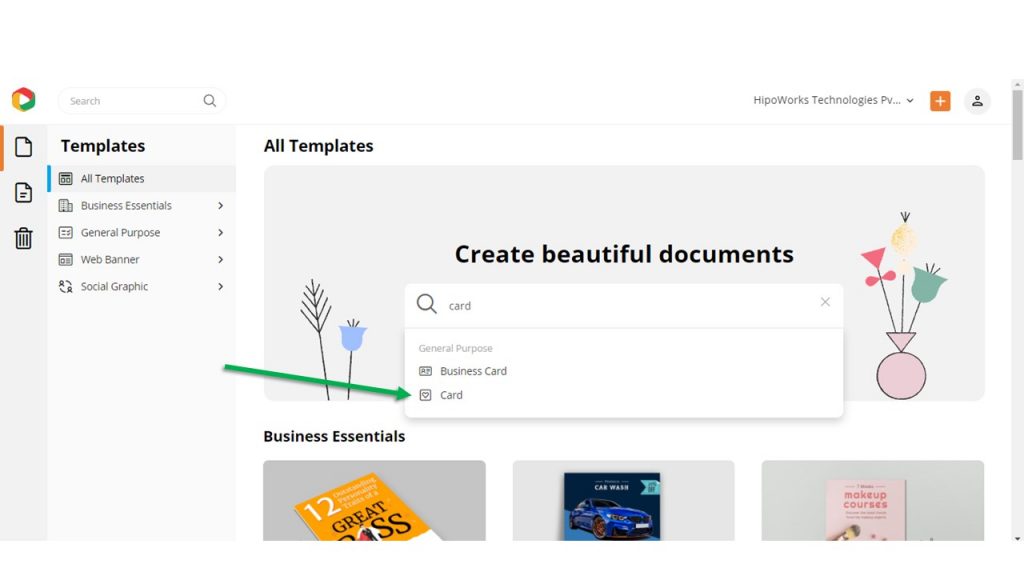 DocHipo will display a wide selection of card templates under different categories on your screen. Click on the "Anniversary" option to select the anniversary card template of your choice.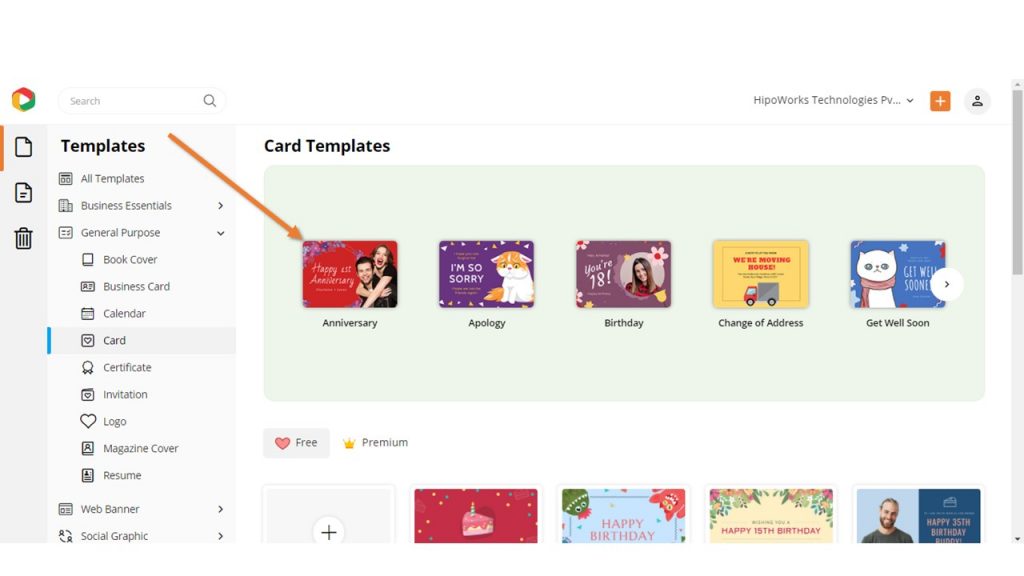 Select any template that you think is right for your purpose and proceed further.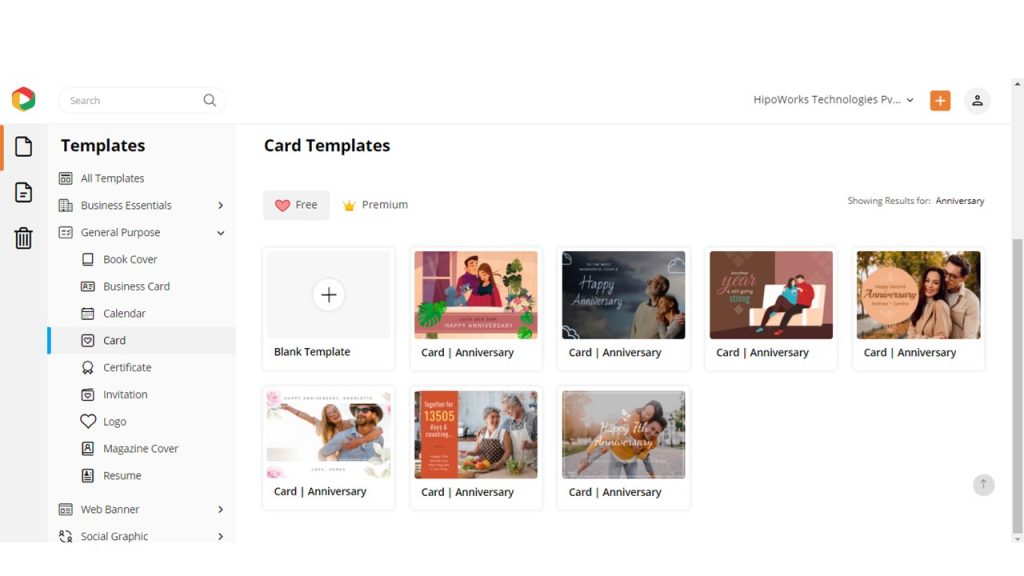 Step 2: Customize the Template
After choosing the template, start customizing it according to the Anniversary card ideas we have suggested to you in this article. There are many ways to customize your anniversary card template. For example, change the background color, replace the texts with your own, change the imagery, play with the font styles and size.
DocHipo lets you upload any photo you want and the supported file formats are JPG, PNG, GIF, and SVG. Click on the upload button from the left sidebar and then upload images to upload your pictures.
DocHipo enables you to enhance your photos using the free online Photo Editor. Moreover, you can remove background from any images in just one click using the One-click Background Remover. Click here to learn the same or watch this video.
Furthermore, you can add, edit or delete text from the anniversary card template to personalize the template as you want. Consider watching this video to learn more about the same.
Take your time to personalize the anniversary card template until you are satisfied with it.
Step 3: Download the Anniversary Card
Once you are happy with your anniversary card design, you can download it in PNG or PDF with three different qualities: Normal, Medium, and High.
Click on the three dots, select the download option, choose your file format and quality, and then hit the download button. Wait for a few seconds, and your system will automatically download your anniversary card design to your system.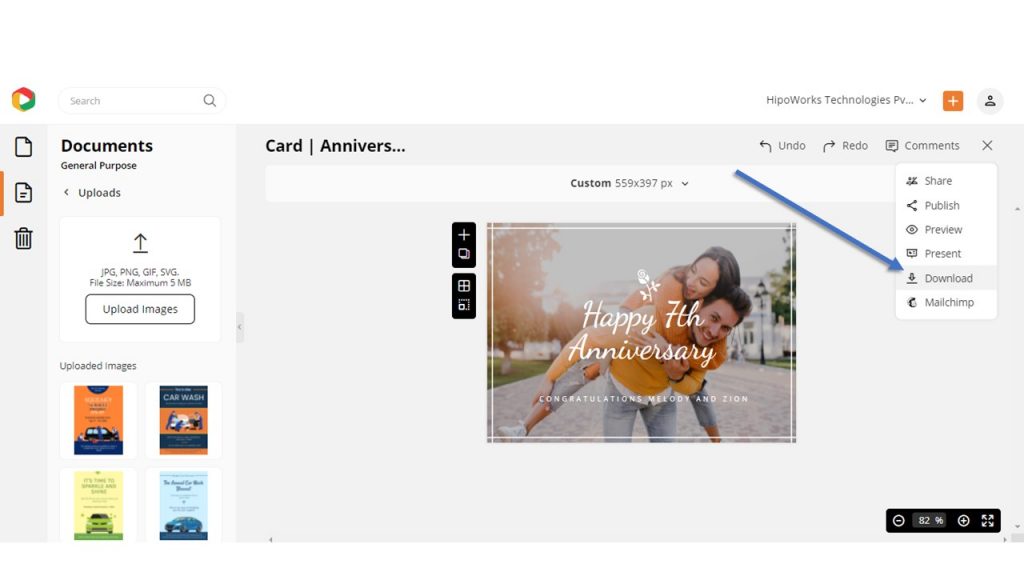 Furthermore, we have revamped the Download Widget in DocHipo to enhance your download experience. Watch the video below to learn more about it.
Concluding Lines…
Thus, you can see that it's surprisingly quick and easy to create a personalized anniversary card in DocHipo. Now that you have learned how to make anniversary card in DocHipo, you are just seconds away from designing awesome anniversary cards, even if you don't have any experience.
As we have mentioned before, anniversaries are one of the most important events in our lives. Keeping this in mind, we have come up with the Free Online Card Maker in DocHipo. So, you can make all the other arrangements to celebrate your anniversary pompously and leave the design work to DocHipo.
Sign-up today and explore the magical world of DocHipo.