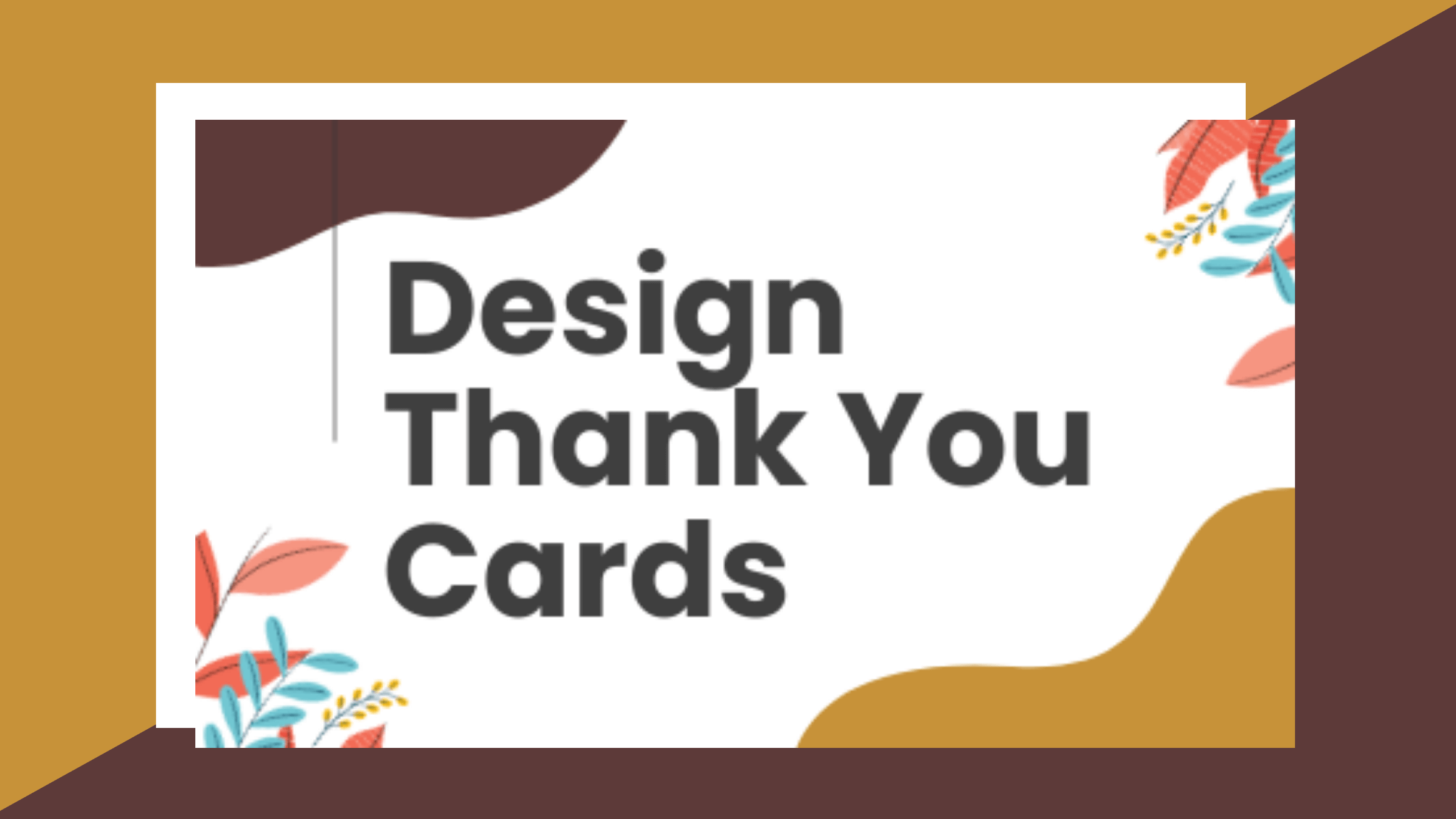 How to Design a Thank You Card [Templates Inside]

Last Updated Oct 17, 2022
Thank you card design is one of the best ways, to sum up your appreciation for another person perfectly. We come across many different circumstances throughout our lives where showing appreciation can be a great thing after a wedding, event, meeting, or party.
A study says that saying thank you impacts the human brain and can improve company morale, encourage brand loyalty among customers, repair broken relationships of all types, and ultimately create a great sense of happiness all over your surroundings.
Sending a thank you card is not limited to only weddings and anniversaries. You can send them whenever you have to appreciate someone for any reason. Do you feel you lack the design skills that thank you card design requires? No worries! DocHipo's Free Online Card Maker will take care of that for you.
Continue reading to learn how to design a thank you card in just three easy steps.
Thank You Card Design Ideas
Before we dive into exactly how to design a thank you card, let us address some practical thank you card design ideas to help you design the perfect card. Though thank you card design doesn't require you to be a graphic designer, you need to follow the tips mentioned below:
Use Eye-Catching Colors
Color is probably the most significant design element in your thank you card design. It can communicate a mood or provoke an emotional response from the recipient. Since you are designing the card to get a positive response from the recipient, you must choose colors carefully.
Use complementary colors to create a high contrast effect in your card and express vibrancy and energy when used appropriately. Alternatively, you can use analogous color schemes to create a sense of harmony and calm in your card. The ultimate goal is to make your card visually appealing. So, whatever you do, make sure your card doesn't look dull or unprofessional.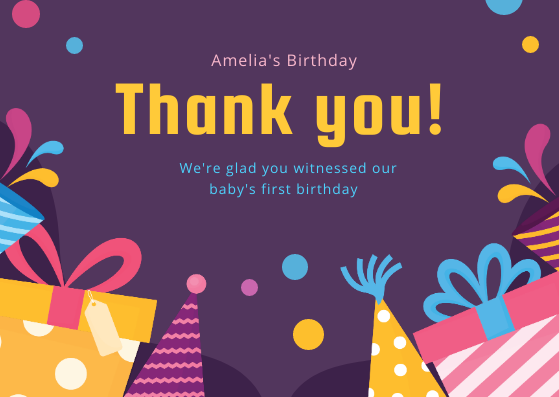 Get This Template and More
If you are still confused about choosing colors for your thank you card design, consider reading this article on the best color combinations.
Choose Appropriate Fonts
Like color, the typography can also affect the overall look and feel of your card. So, you need to decide first whether your fonts would be script or print and whether they would have rounded or sharp corners.
Furthermore, the weight of your fonts is a critical factor of your thank you card design. To give your card a fun or quirky feel, you can use simple capital letters like the template below.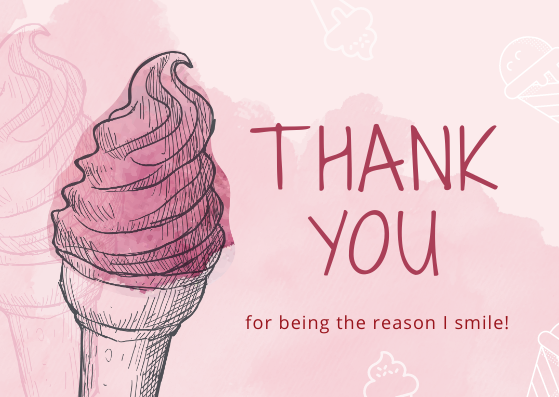 Get This Template and More
To give your thank you card a personal and handwritten touch, you can use cursive fonts. This type of font gives your card an elegant and polished look.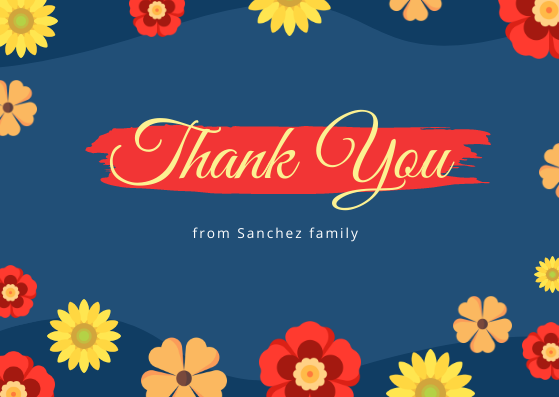 Get This Template and More
Learn more about typography hierarchy to choose fonts for your thank you card design easily.
Add A Personal Touch
The unique thing about cards is that you can add other elements such as illustrations, icons, shapes, and lines to make the card look handmade. These tiny touches can make your card more unique and personalized. The card template below uses this technique brilliantly.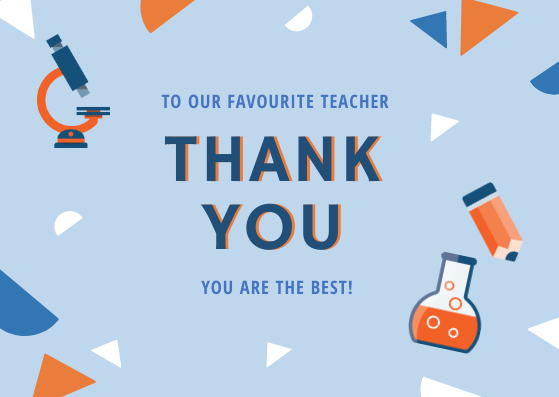 Get This Template and More
DocHipo lets you add shapes, lines, icons, illustrations, animated icons, and pictures in your design so that you get all the necessary resources for your thank you card design.
Leave Adequate White Space
Leaving enough white space in your card is crucial. It gives all your design elements enough room to breathe and ultimately increases visual impact. Moreover, the white space in your design helps you emphasize what's important. Without enough white space or negative space, your card can become too visually cluttered for the recipient to understand.
Furthermore, the spacing can link your design elements together by separating them. For example, more expansive space between elements means they are less or not related. On the flip side, the narrow space between elements communicates that they have a strong relationship. Hence, paying attention to the white space will elevate your thank you card design from amateurish to professional.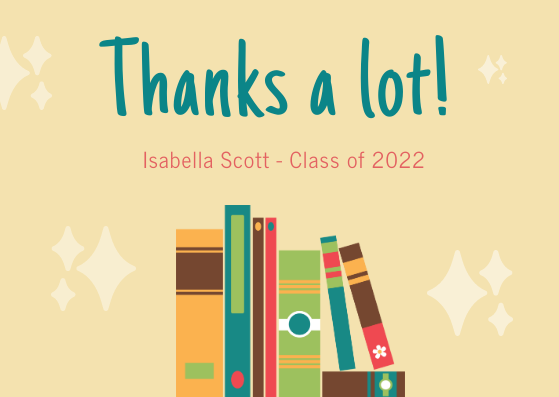 Get This Template and More
Hopefully, these thank you card design ideas gave you enough room to be creative and design your card. Now, it's time that you give it a try and play around with different tools in DocHipo to design the perfect thank you card.
Consider watching the video below to take a look at the card templates that DocHipo offers.
How To Design A Thank You Card In Just Three Steps
First things first, sign-up to DocHipo using your email address if you already haven't. The awesome Design Widgets and amazingly designed card templates will help you create stunning thank you cards in minutes. Follow the steps below:
Step 1: Pick A Thank You Card Template
Once you enter the DocHipo application, type "Card" in the search box and click on the result to browse the endless card templates.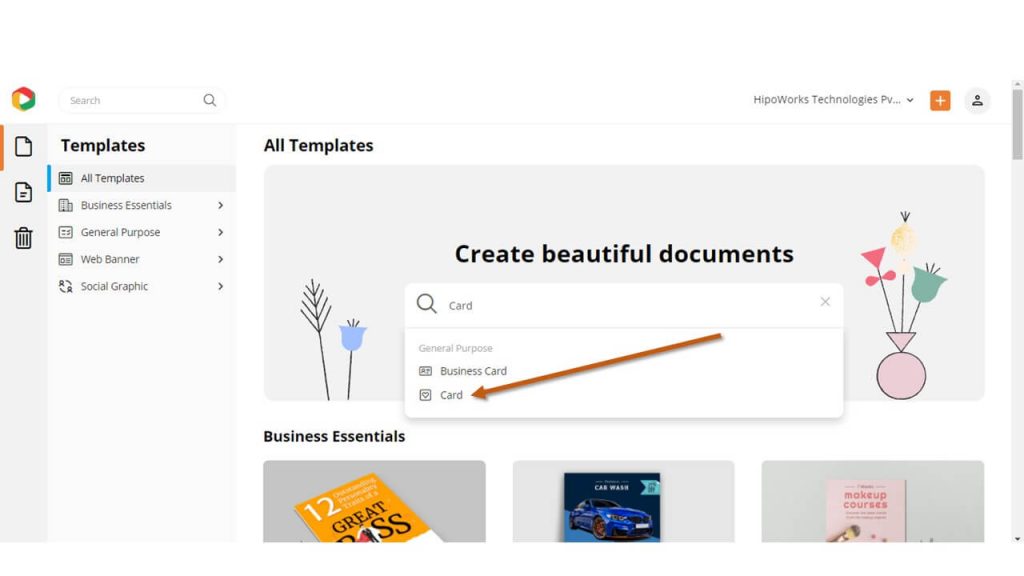 Choose "Thank You" from the wide range of card template categories.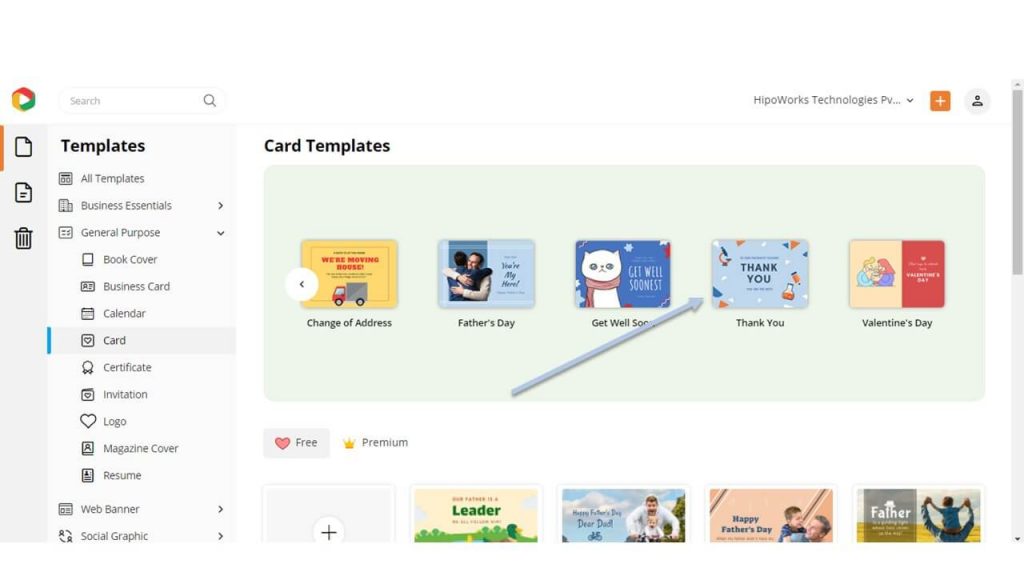 Just hover over the template you want to have a look at, click "Preview," and the template will be opened.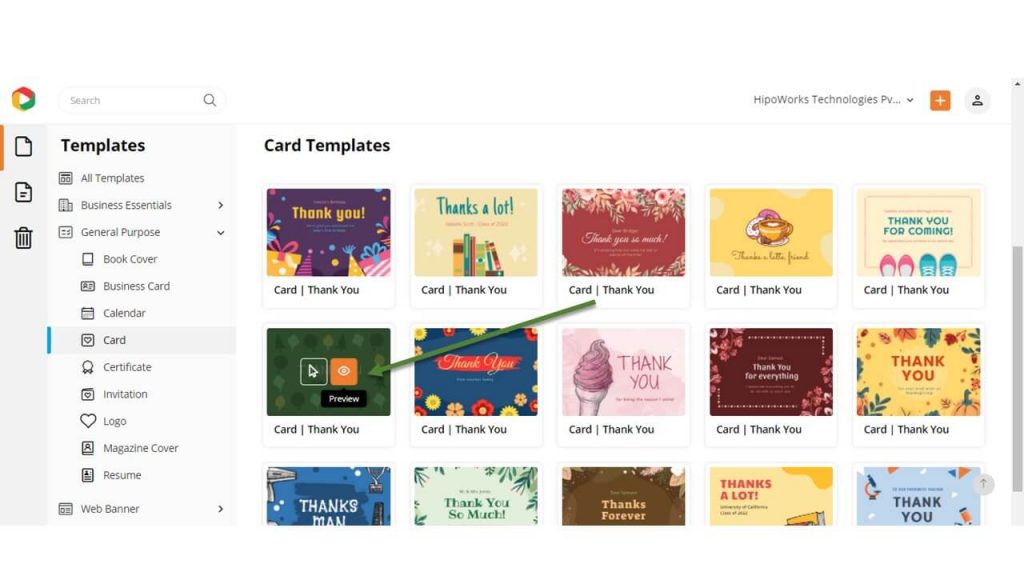 Click "Select" to choose the template and take it to the DocHipo Editor.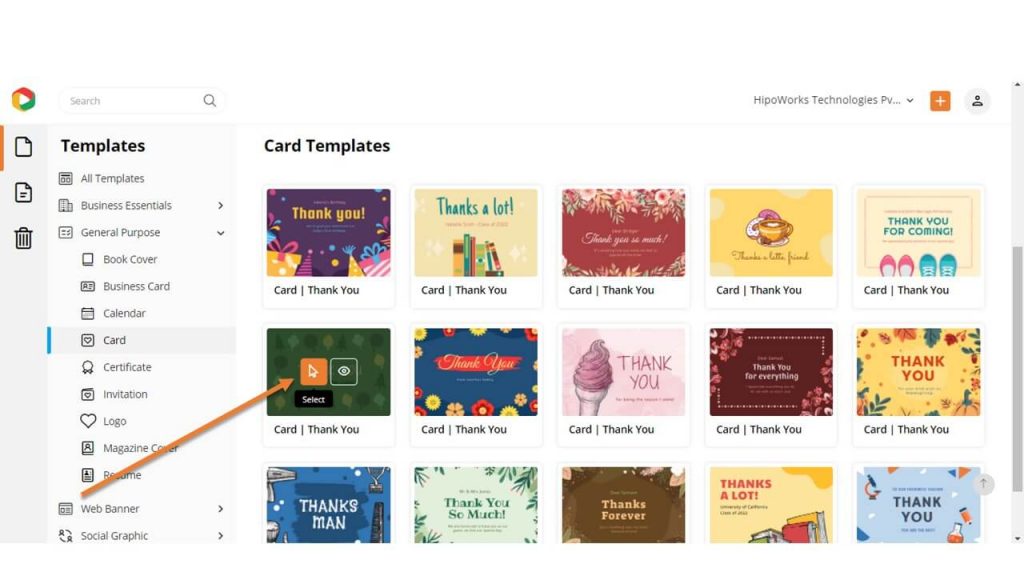 Now give a name to your template to find it later and a short description if you want, then click "Next."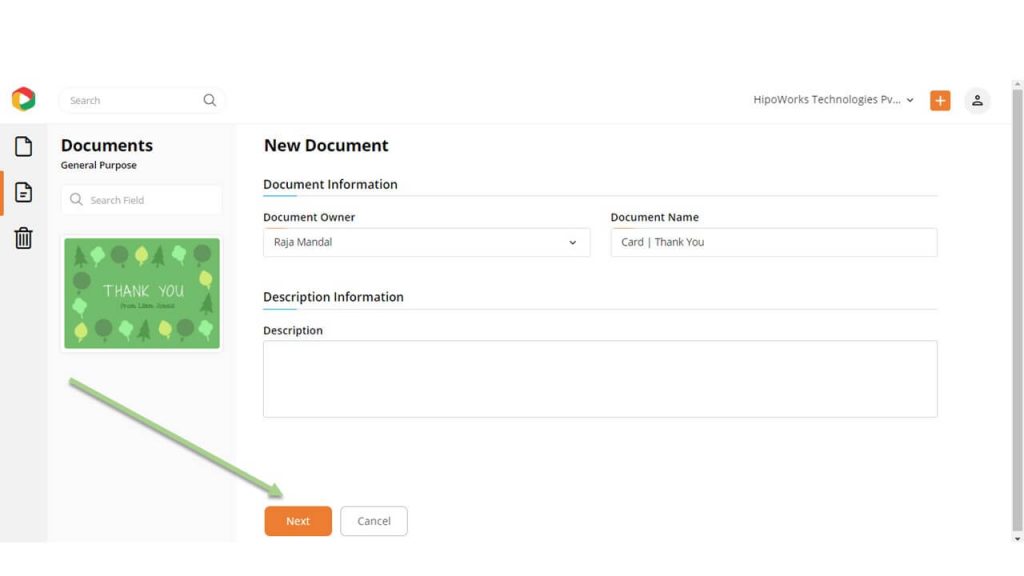 Step 2: Edit The Thank You Card Template
Make your card truly personalized by adding illustrations, icons, shapes, images, and many other elements. Customize the background, fonts, color, and every tiny detail. Here is how to do that:
Add, Edit, Or Delete The Text
Your primary goal of the thank you card design is to say those two words beautifully. Hence, change the text first to personalize the card. Also, it will help you understand how much space will be left to add other elements.
Click on the "Text" tab from the left sidebar to add text to your template.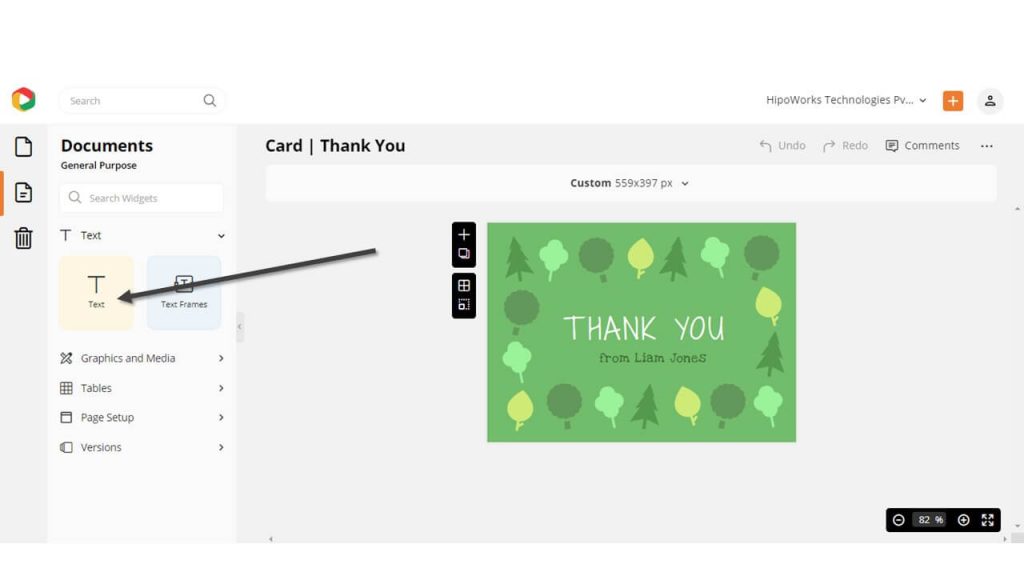 However, if you want to edit any pre-existing text in the template, double click on it and replace it with yours.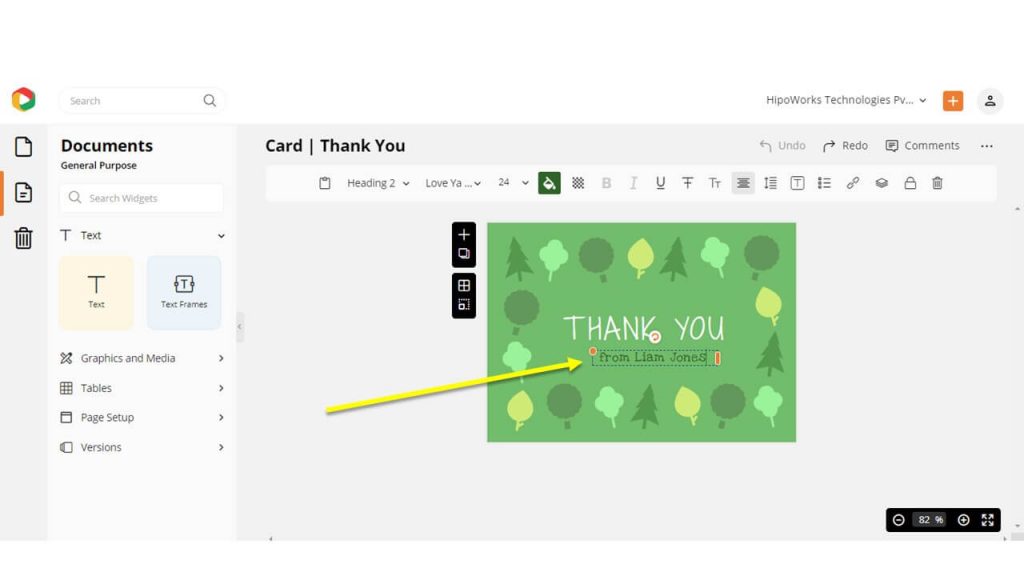 Use the edit panel on top to change the font style, color, size, opacity, many more.
Here's a video on how to do the same.
Change The Background
Click on the Background tab from the left sidebar to change the background.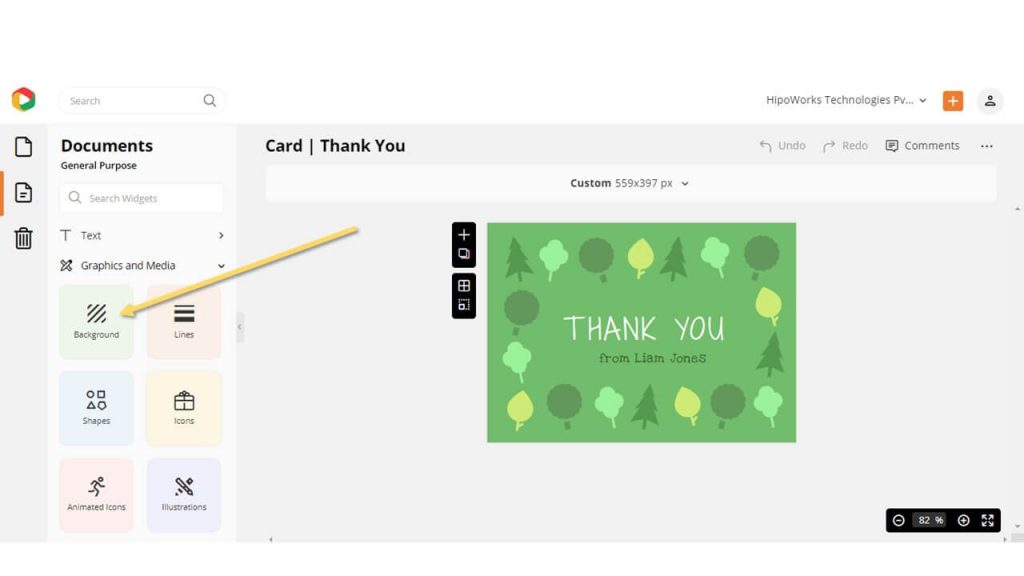 Choose a solid color from the color presets or use the color picker tool to select custom colors. Also, choose a texture for the background from the library of gradient colors.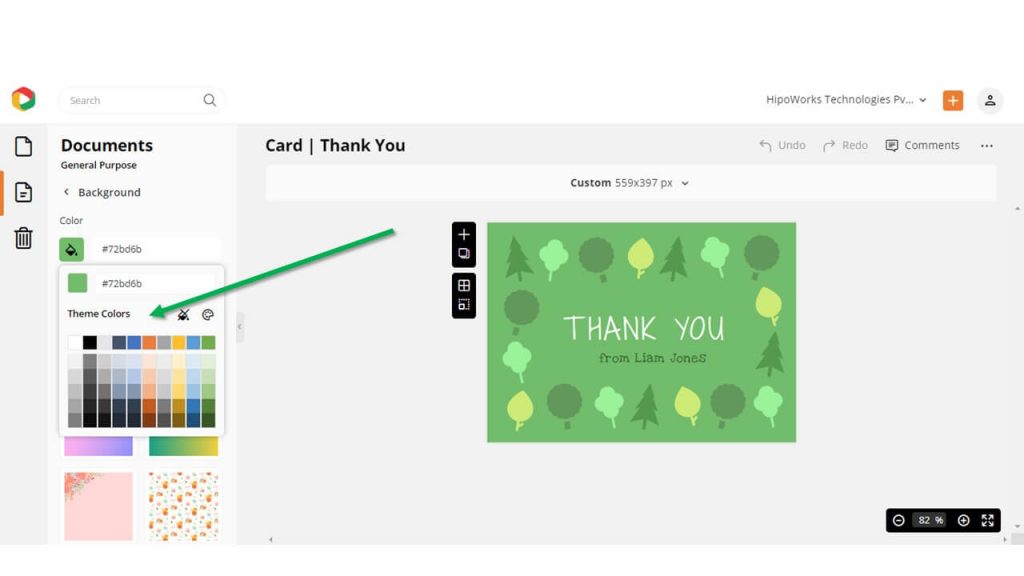 Watch the video below to learn more about it.
Customize the Other Elements
Customize any other element present in the template. Clicking on a template will generate the edit panel on top, use it to change the color, opacity, arrangement, and even delete the element.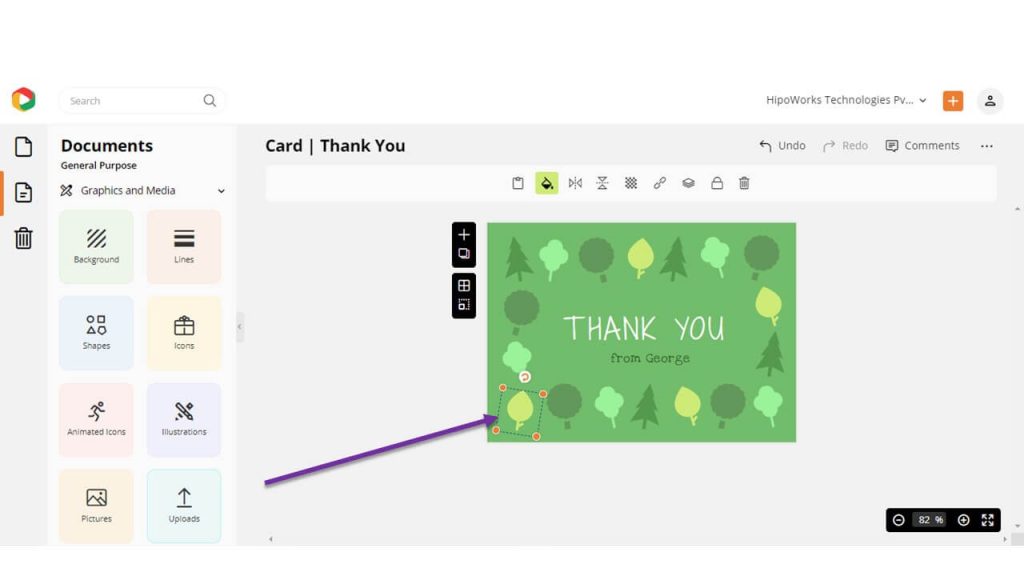 Here is a video on how to use icons in DocHipo.
Before Customizing: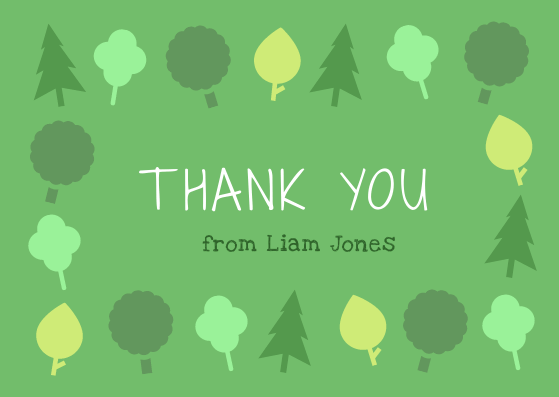 After Customizing: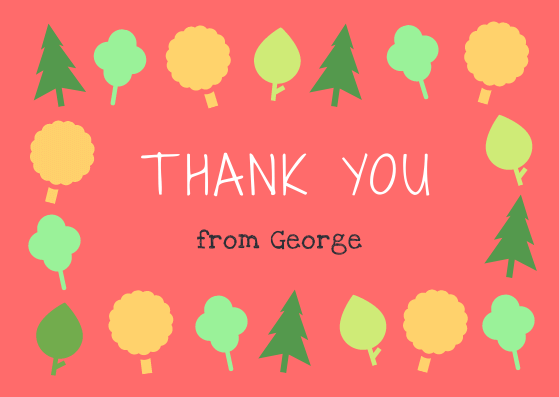 Step 3: Download Your Thank You Card
Once you are satisfied with your thank you card design, click on the three dots from the upper right corner and choose "Download" from the drop-down menu to download the document.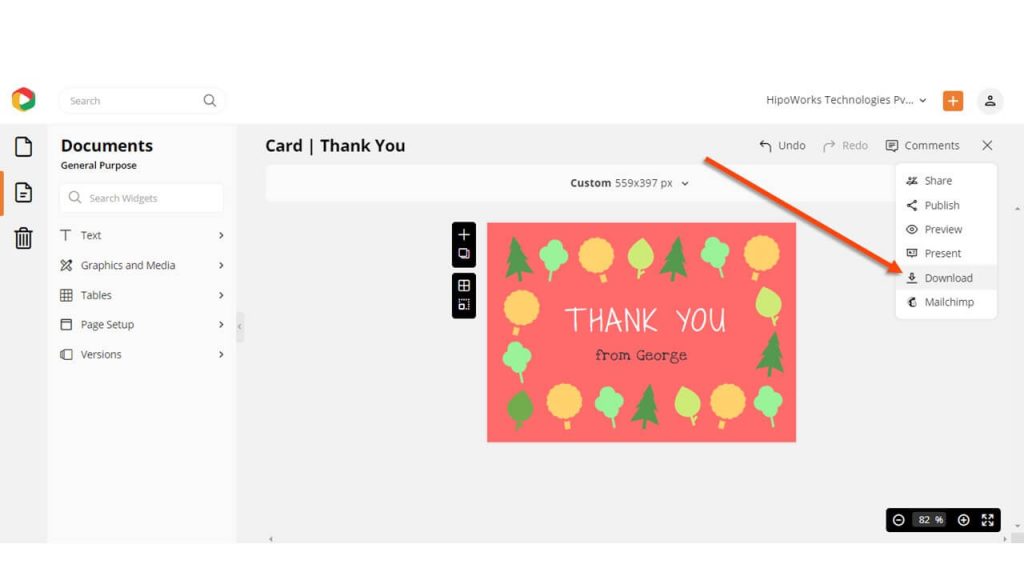 Choose your desired file format and quality, and then click the Download button, and the design will be downloaded to your computer.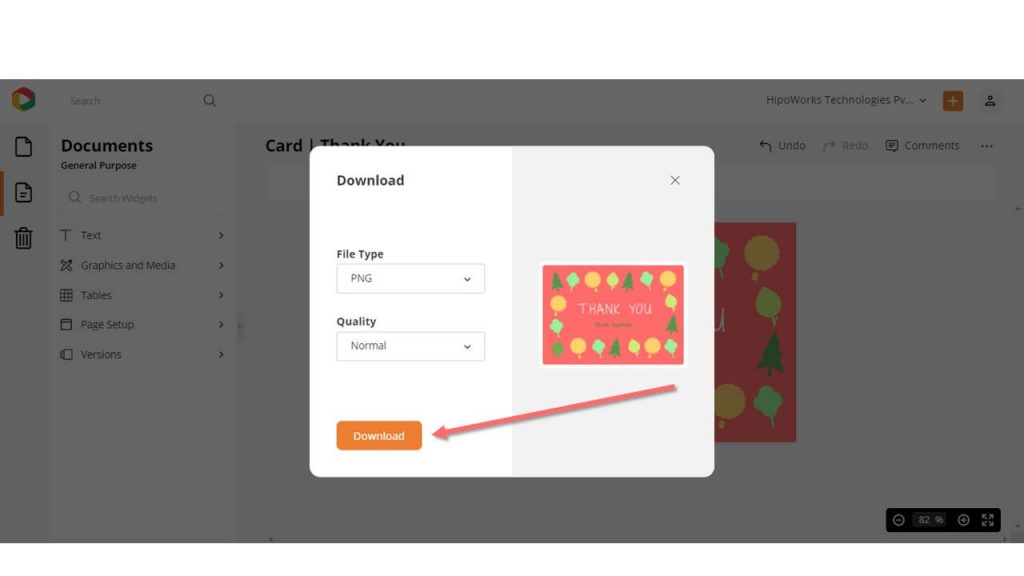 Further Reading
Final Thoughts….
At the end of the day, there's no such thing as bad thank you. People will almost always appreciate it if you send them a thank you card. Saying those two simple words can make an indelible and positive impression on people. Whether you want to appreciate your team members, new customers, friends, family, or anyone else, sending a thank you card is a small way to make a huge impression.
And you have already seen how easy the process of thank you card design is. Pick a template, customize it, and download the thank you card to share it with your loved ones.
Sign-up to DocHipo now and design your thank you card to share a huge message of appreciation and gratitude more than any text ever has.