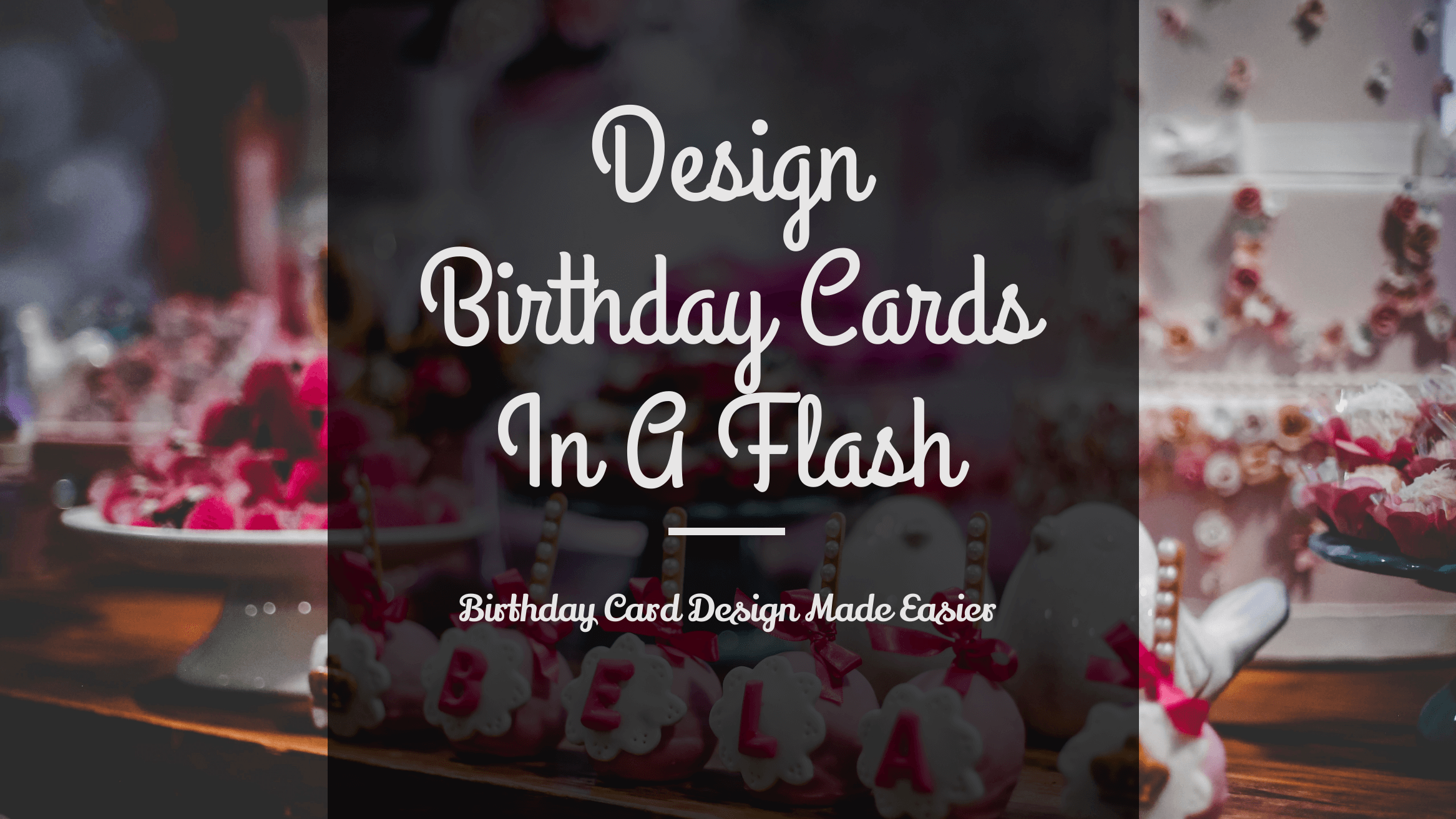 How to Design a Birthday Card Online

Last Updated Oct 18, 2022
In this rapidly growing digital world, birthday wishes are limited to comments and messages on social media. Though it seemed cool and convenient at first, now we understand, this way, somehow the birthday wishes are losing the personal touch. And if this continues to happen, these wishes will lose the value they bear. However, if you want to design a birthday card, you might already know these facts.
Moreover, you might want to send out those special wishes through beautifully designed birthday cards but lack the design skill required. Keeping these in mind, DocHipo's free online Card Maker comes with a wide range of free birthday card design templates. So, anyone can design a personalized birthday card without having any design skills and experience.
Continue reading to know how to design a birthday card in a flash using DocHipo.
Table of Contents
Birthday Card Design Best Practices
Since we have promised you that birthday card design in DocHipo doesn't require any design skill, to make the process super easy, before we discuss how to design a birthday card in DocHipo, here are some birthday card designs best practices.
Choose Different Fonts That Complement Each Other
The primary purpose of designing the birthday card is to send out a sweet message to your loved ones. The typography affects the overall mood of your birthday card design. Hence, you need to choose your fonts carefully. Also, if you type your message first and decide the font size, you will get an idea of how much space is left for you to add other elements in your birthday card design template.
Use legible and appropriate fonts and make sure they go hand in hand with the other design elements such as color combination, shapes, lines, and other elements. For example, you can use bold fonts to write the Heading (Happy Birthday) to convey that these words are the most important. Thin letters connote elegance or modernity; you can use them for the sub-headings and body text.
Don't exceed three fonts in a single card design, and make sure those fonts make a perfect pairing. Whatever you do, make sure the fonts in your birthday card design convey happiness and fun while creating a warm feeling.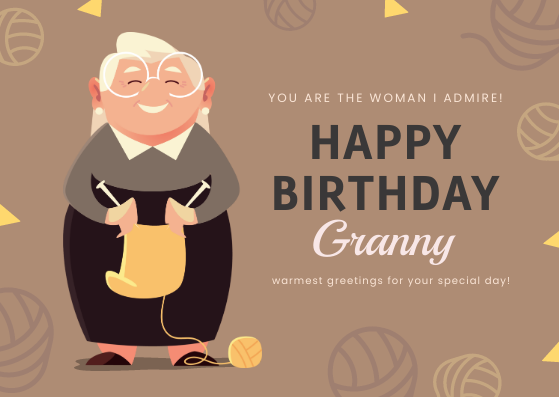 Get This Template and More
Furthermore, color plays a significant role in how your typography is portrayed. For example, the Bistre Brown font color in the birthday card below has been used masterfully to match the black & white picture. So, take care of the font color in your birthday card design as well.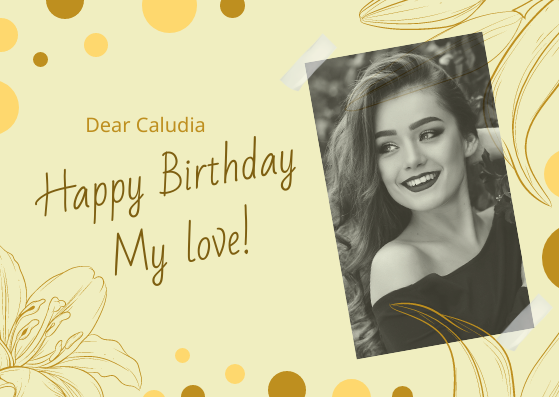 Get This Template and More
Read more about typography hierarchy to master it and apply it in your design.
Use High-Quality Images To Make It Personalized
The next most important element is the photograph of the person for whom you are designing the card. Nothing is more personal than a photo, so feature the unforgettable face of the person on the card. When incorporating images into your birthday card design, finding a relevant and high-quality picture is crucial to give your card a professional look.
DocHipo's Background Remover can help you remove all those noises from your images that ruin a perfect shot. Click here to learn more about the same. Also, make sure that the color of the other elements matches the color of your photographs – just like the birthday card design template below.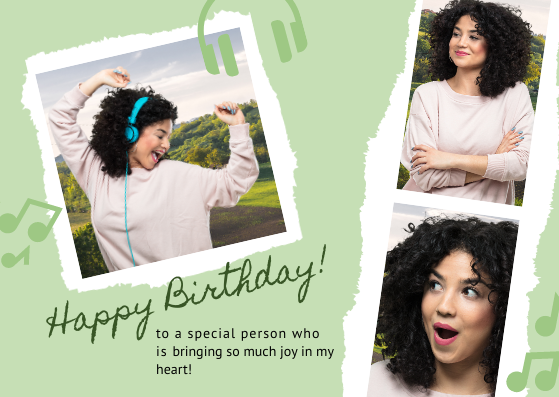 Get This Template and More
Choose Eye-Catching Colors For Your Birthday Card Design
Color is the first thing in your birthday card design to communicate a mood or provoke an emotional response from the recipient. Therefore, the colors you choose for your birthday card design should be complementary. When designing birthday cards, you have a lot more room to play with colors. You can choose almost any color. However, it's a happy occasion, so bright shades of any color go well. You might also consider the favorite color of the person.
According to the great historian and symbologist Michel Pastoureau, colors can even trigger deep childhood memories. So, you can use a childhood photograph of the person and use their favorite color in your design. It might help them recall some of the childhood memories through your birthday card.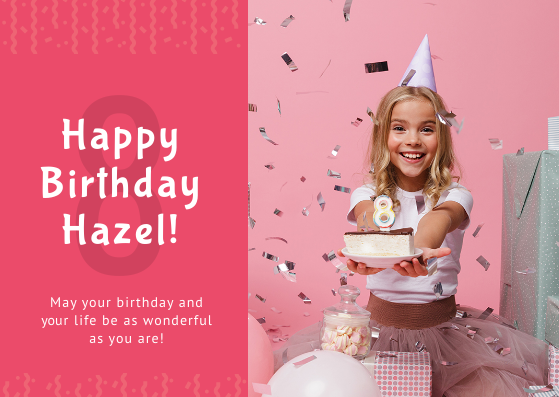 Get This Template and More
Get an extensive idea of the best color combinations to find the right color palette for your birthday card design.
Incorporate Other Elements Into Your Birthday Card Design
Many other design elements like shapes, lines, icons, and illustrations can add some handmade touches to your birthday card to make it more personalized. Sometimes, it happens that you are unable to find good images of the person. In that case, you can use icons and illustrations to fill the card with the needed graphic elements.
While choosing the other elements, you must keep the color combination in mind and also the composition and balance of all the elements. Choose multiple elements of different colors, and styles but make sure you don't overload your birthday card design with too many elements.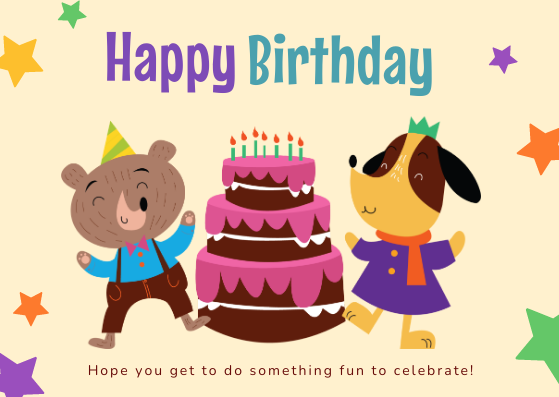 Get This Template and More
How To Design A Birthday Card For Free In DocHipo
DocHipo hooks you up with thousands of professionally designed birthday card templates. Also, the beautifully crafted Design Widgets will make the process super easy for you. You just need a DocHipo account first. Click here to sign-up to DocHipo if you haven't done so already.
Step 1: Pick A Birthday Card Design Template
Choosing a suitable template should not be daunting. Therefore, The first thing you see when you log into DocHipo is the All Templates page. Scroll through the hundreds of beautiful templates. We have got them sorted by document type – Infographic, Poster, Presentation, Card.
However, you can use the search bar to find what you are looking for. Type "Card" in the box and click on the results to browse through the card design templates in DocHipo.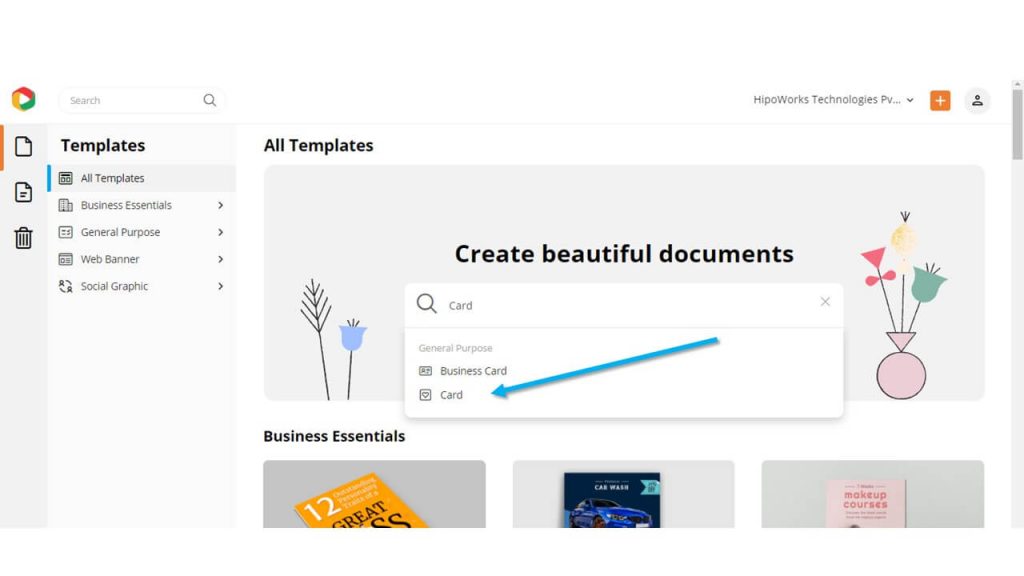 Now, choose "Birthday" among the card design template categories.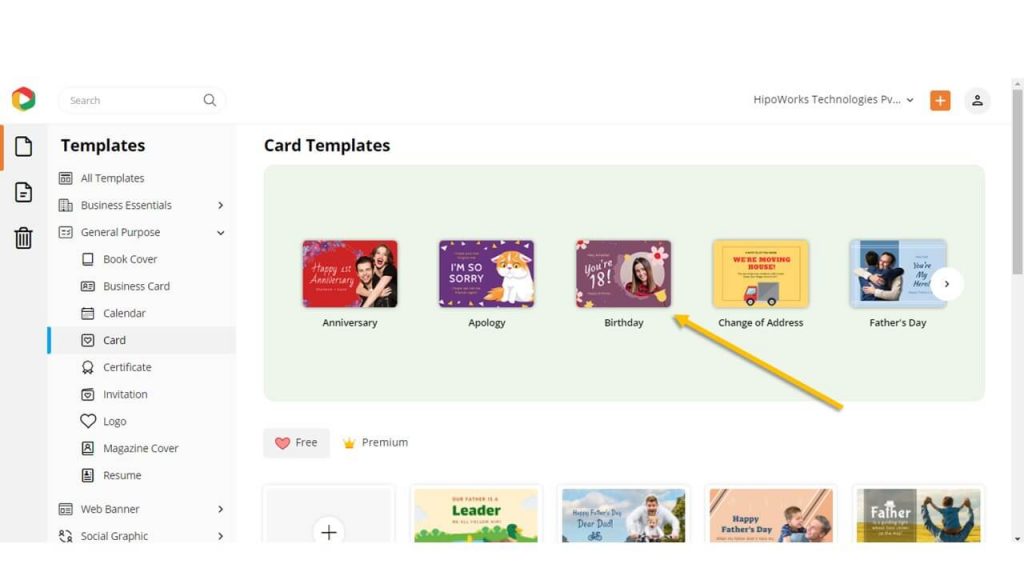 Once you have found the one you need, click "Preview" to take a look before loading the template in the DocHipo Editor.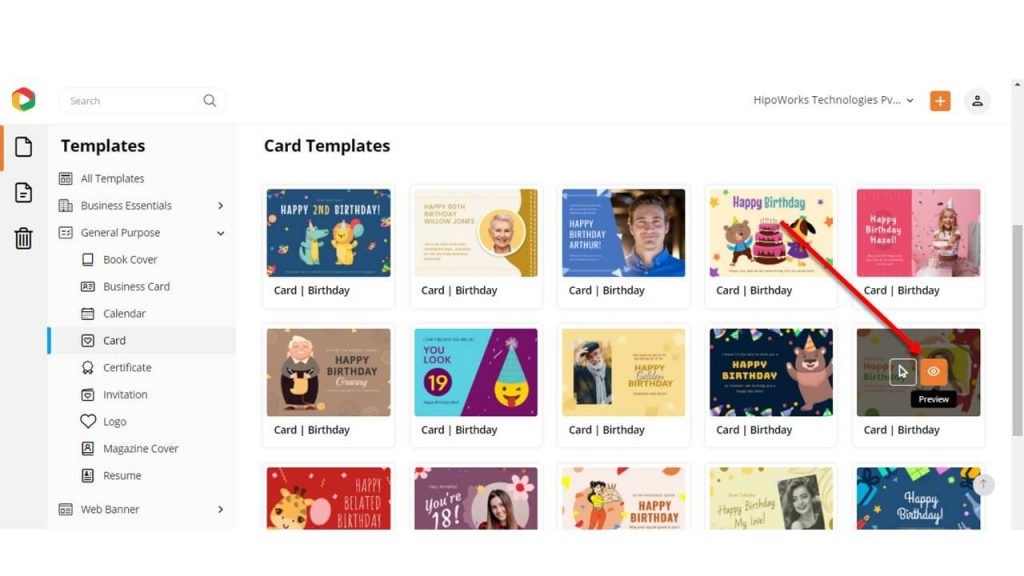 Once you have decided on a birthday card design template, click "Select" to customize it.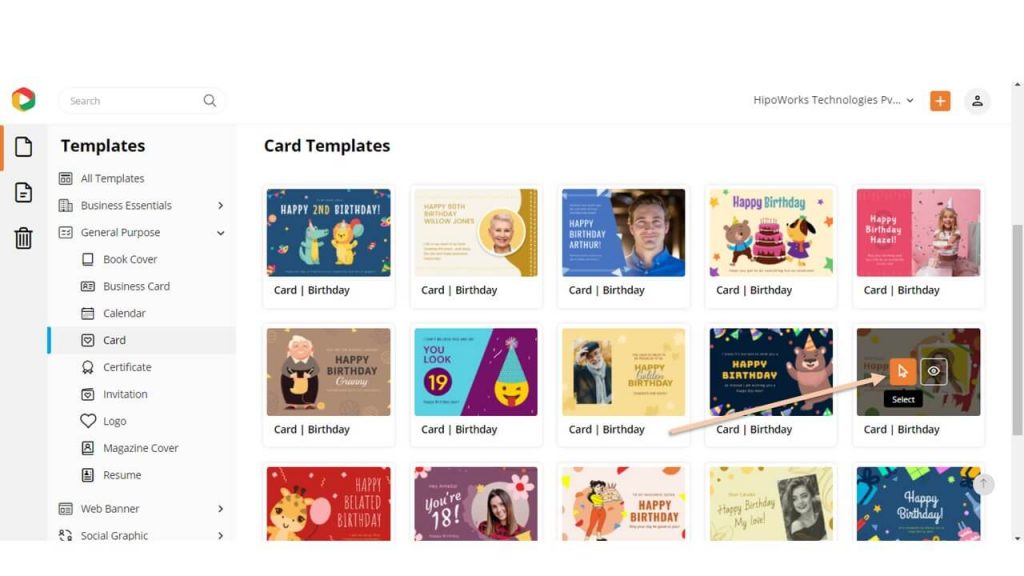 Give a name and a short description of the document and click Next.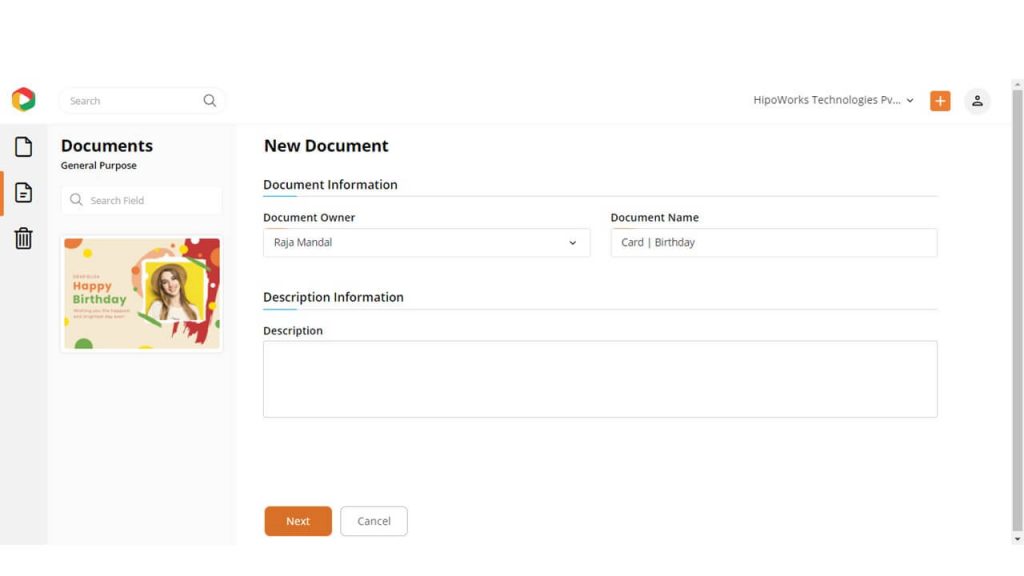 Step 2: Customize The Template
There are many ways to personalize your birthday card. Replace the text and change the font. Change the imagery and incorporate your photos. Create a stunning background and add other elements. Here is how you can personalize your birthday card template.
Set Background
Choose "Background" from the "Graphics and Media" tab in the sidebar to set a background for your birthday card.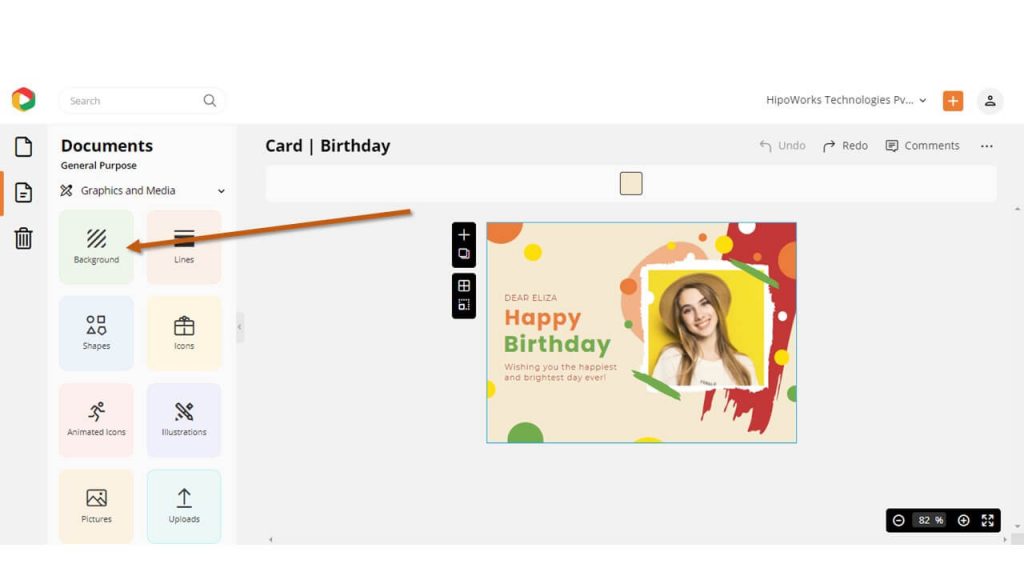 Select a color from the color presets or use the color picker tool to create the color you want. Moreover, add texture to the background using the preset patterns from the list of patterns to fill the background.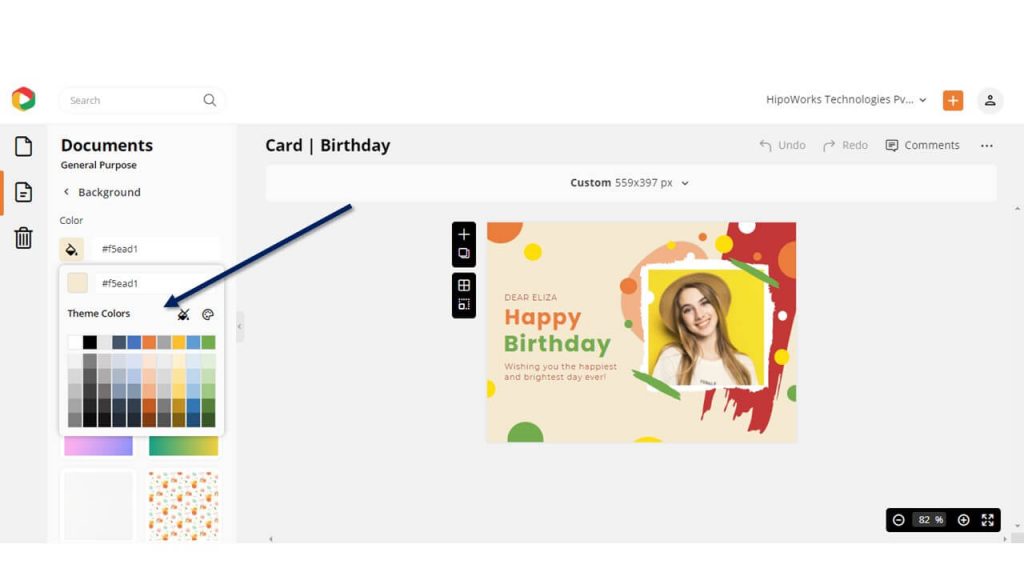 Here is how you can create stunning backgrounds in DocHipo.
Add, Edit, or Delete Text
Click the Text tab from the left sidebar to add text to your template. There are three types of text available in DocHipo: Heading, Subheading, and the Body text.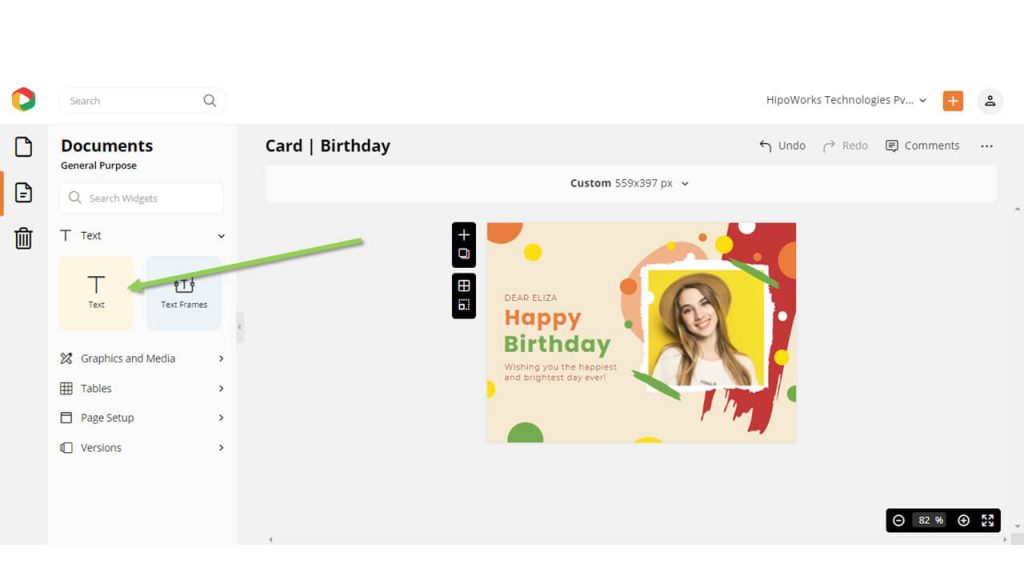 Alternatively, to edit the pre-written text in your template, double click on the particular text and input your message.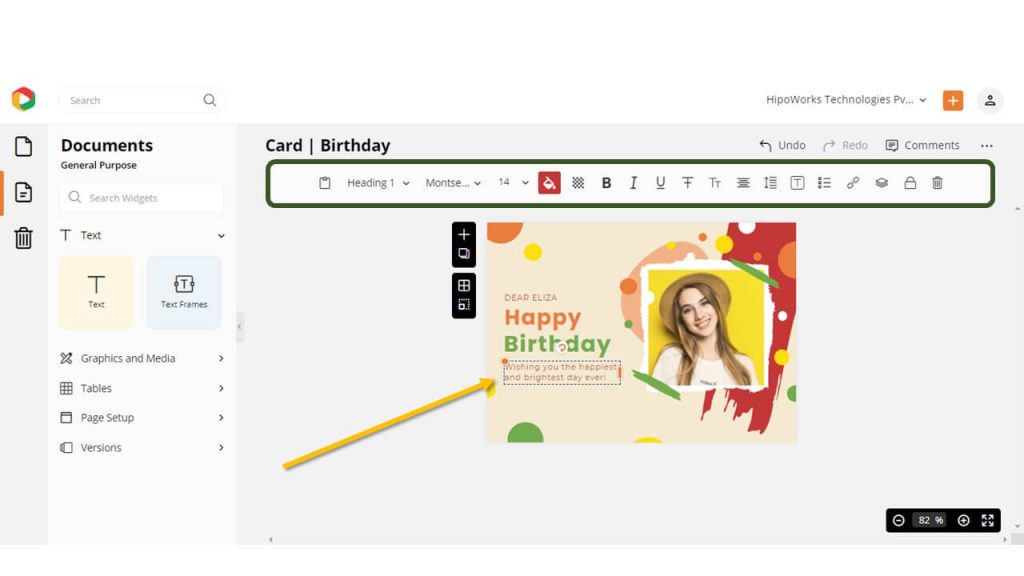 Use the Edit panel to change font style, size, and color.
Consider watching the video below to learn more about adding and editing text in DocHipo.
Replace the Imagery
If you have selected a template with a photograph, you might want to replace the imagery with the ones you want to design the birthday card. To do that, click "Uploads" from the left sidebar under "Graphics and Media".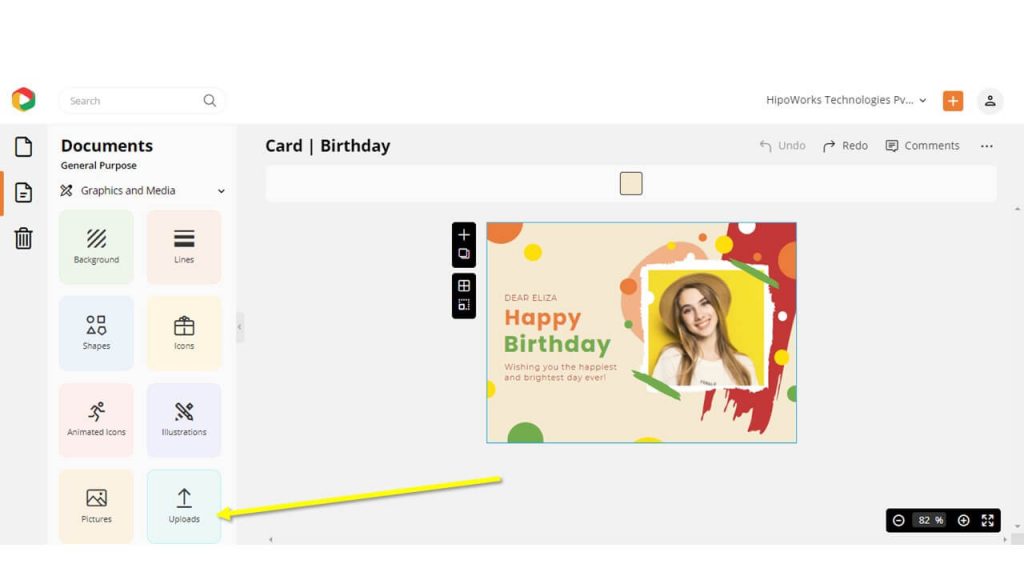 Click Upload Images and then upload your images to add them using DocHipo's Drag & Drop feature.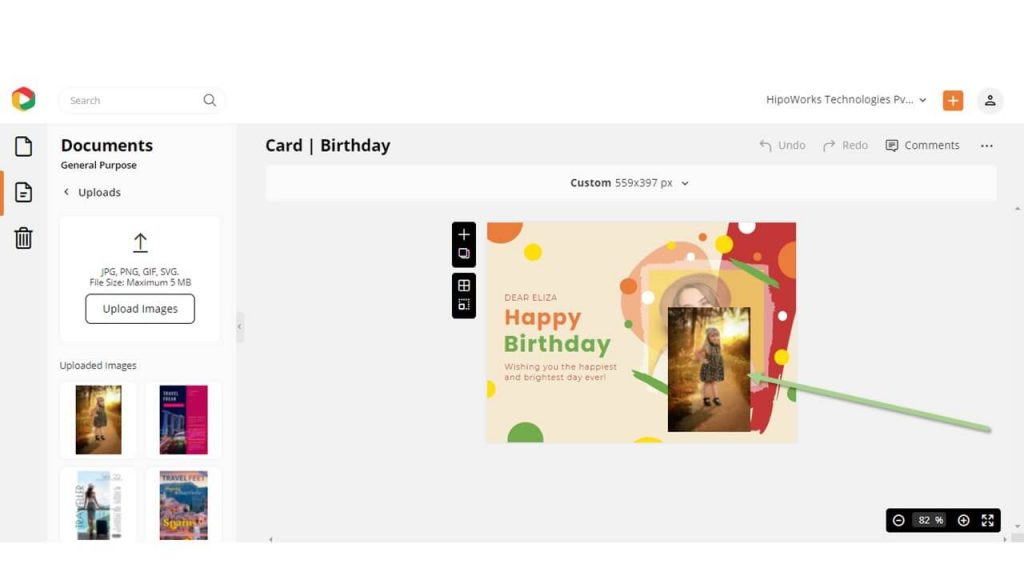 Adjust the image accordingly based on the space provided in the template. Additionally, you can use DocHipo's Background Remover and Photo Editor to make your own backdrop and adjust your images as required.
Watch the video below to learn how to enhance your images using DocHipo filters.
Customize Other Elements
There are other elements on your template that you might want to customize to give the template some additional touches. Elements like shapes, lines, icons, illustrations, and others can be customized to make a personalized birthday card.
Select the elements you want to customize and use the edit panel on top to resize, rotate, flip, change color, adjust the alignment, adjust the opacity, and more. Here I have customized the template to get a final design.
Before Editing: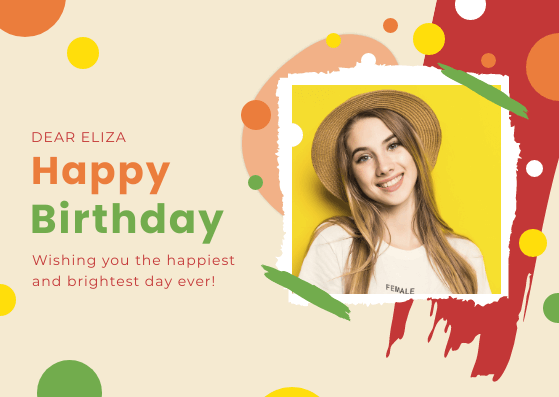 After Editing: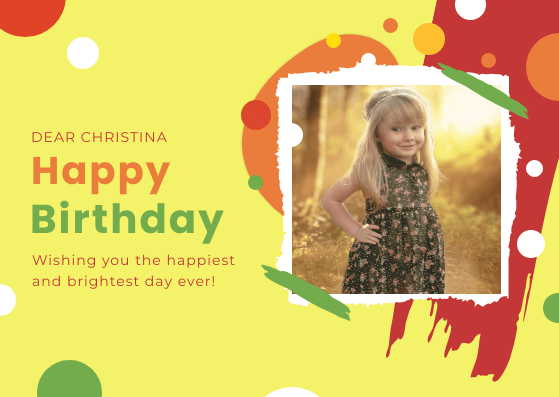 Step 3: Download Your Birthday Card Design
Click the three dots from the upper right corner and then select Download from the drop-down menu to download your birthday card design.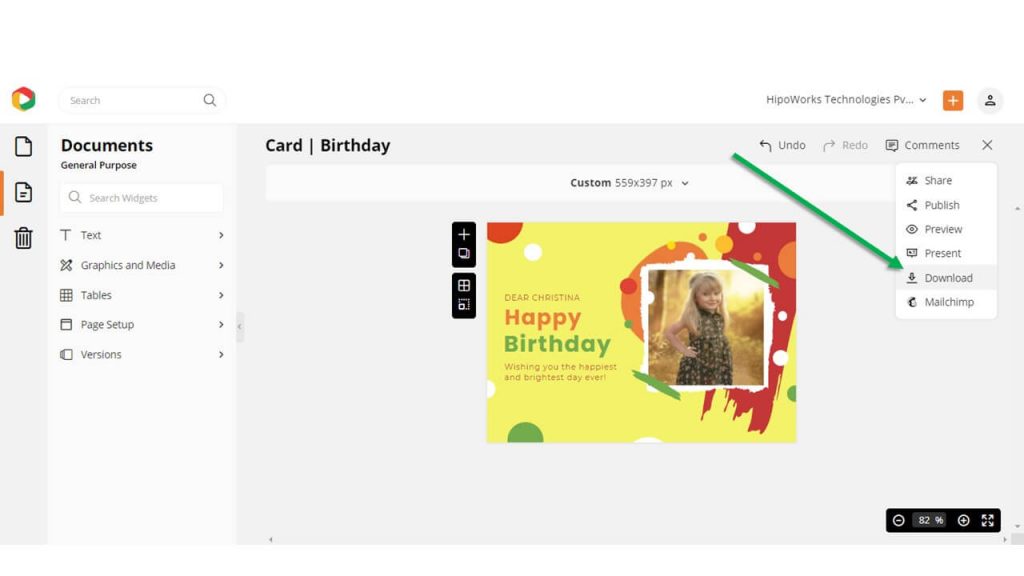 Then choose your required file format and quality and hit the download button. Watch the video below to learn more about how to download a document in DocHipo.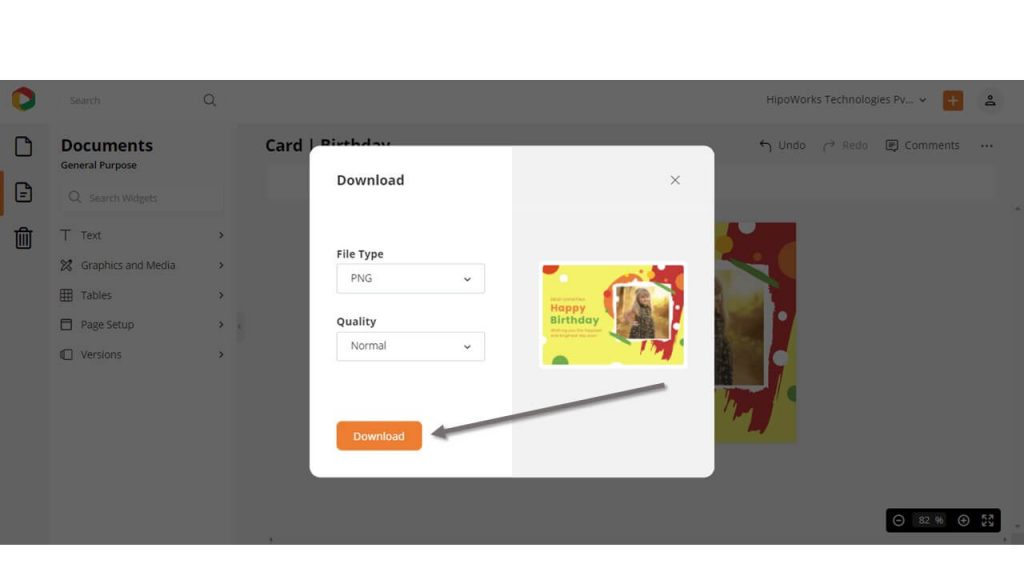 To Conclude…
Now you know how to design a birthday card in DocHipo. So, you can send out beautifully designed and personalized birthday cards to your loved ones on their special day and remind them how much you care for them.
DocHipo's Card Maker is built with your goals in mind. Select one of the ready-to-use templates to create a personalized birthday card for free. Sign-up to DocHipo to decorate and send your message to your loved ones.