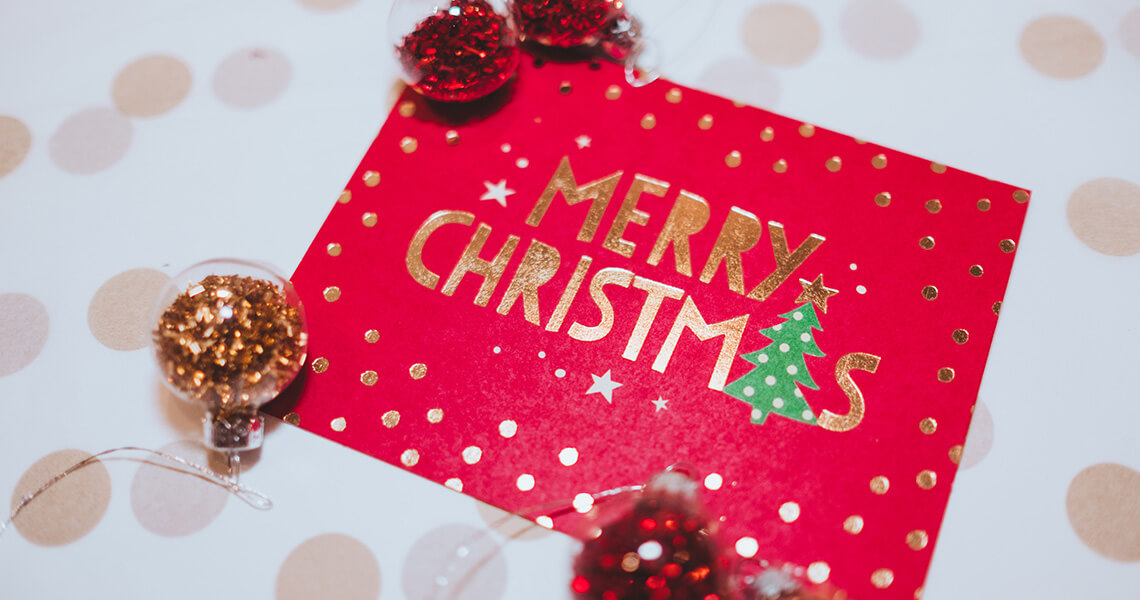 [How To] Design Your Christmas Graphics: Pro Tips

Dec 6, 2019
Christmas is all about fun, frolic and festivity. Thriving in the holiday mood, nobody is interested in serious stuff this entire month. As a business, this is an opportunity for you to let your community and customers know how much you care about them. So, are you ready to send across your best wishes for the happy holidays? Of course, you are! But how do you paint your business page with festive colours? With some style, some dazzle and a whole lot of love!
Here are some tips and tricks for creating awesome Christmas graphics, viz. posters, social graphics and other materials that'll help you in spreading the Christmas vibe!
Use Christmas Imageries to Create Instant Connect
What reminds you of Christmas? An old man exclaiming, "Ho, Ho, Ho, Merry Christmas". Yes, Santa Clause is this super benevolent person that I am talking about. He brings loads of gifts stacked in his red sack and a broad smile along with that.
This is not all. We should also be thankful to the Elves for their support to Santa in carrying happiness to us, all the way from the North Pole.
There are multiple other tiny little elements that we associate Christmas with. Candy canes, pinecones, stockings, ornaments and stars for decorating Christmas tree, bells, holly berry with its leaves… the list is endless. A quick look at all these instantly connects you with the jolly mood of Christmas time.
Using these images such as Christmas tree, Santa Clause, Elves, Rudolf; the red-nosed reindeer, snowflakes etc in your design can instantly create that connect and make your Christmas graphics look festive.
While you can merrily go about creating your own designs with these imageries, you can also use the DocHipo templates (as displayed below) that are created to spread the Christmas spirit!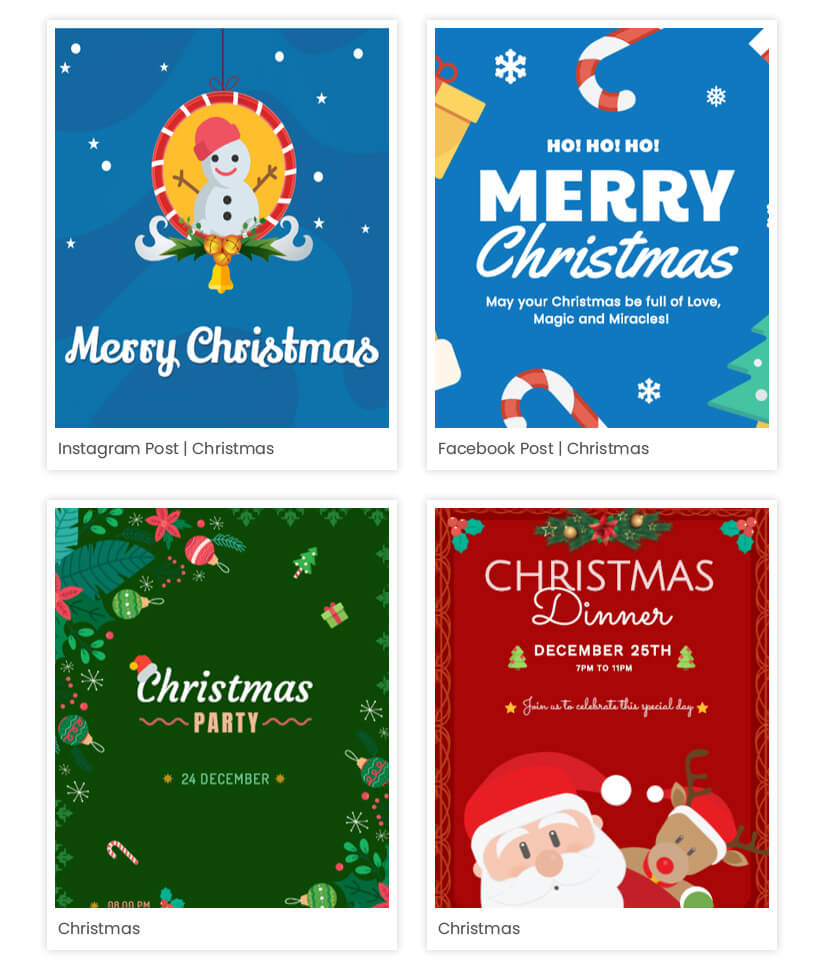 Use Authentic Christmas Colours to Make Your Christmas Graphics Come Alive
Colours have a universal language. They convey information, set the mood and also influence decision-making. This Christmas you can utilize this language-without-barrier to set a festive tone to your marketing materials.
So, what are the colours that people associate most with Christmas? Let's see!
Classic touch of Red and Green
The moment you think of Santa, we remember his all-red attire. You cannot imagine him without his white beard and red hat. Think of a Christmas tree, and you imagine a dark green pine tree!
This red and green combination is a classic for Christmas!
So, while designing a poster or a social post for Christmas, these colours can help you set the mood and create the cheery vide!
How? Check out these Christmas templates from DocHipo!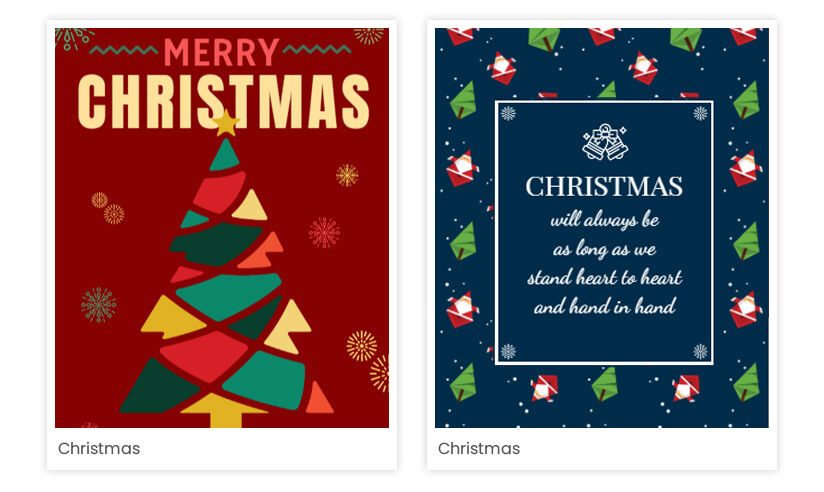 The Snowy Blue and White
Ahh….who does not love a white Christmas? Snowflakes in the air, clear blue sky, sparkling with the glint of celebration and rooftops covered in snow; this is what Christmas tales are made of.
Interestingly, a white, snow-covered Christmas is so much a part of popular narratives that even people who live in warmer climates, probably have never witnessed snowfall in Christmas, can relate to it too!
So, if red and green are not your colours, you can definitely go for blue and white for a chic, snowy Christmas design!
These DocHipo templates show you how!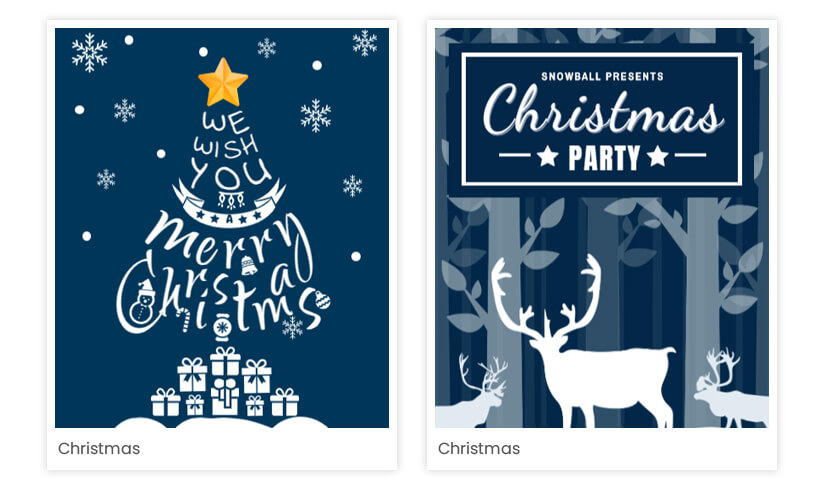 Add Some Fun (and Quirk) to Your Christmas Design
Not a traditionalist? Well, you don't have to be!
People often love a little deviation from usual designs. You can definitely design with quirky themes, geometric designs, funny illustrations, silhouettes and various modern style graphics. Use of playful graphics, a splash of colour and fun typography can attract more peoples' attention.
It may sound a bit artsy, but it's super fun actually. Here are the DocHipo templates that have mastered this genre like a pro!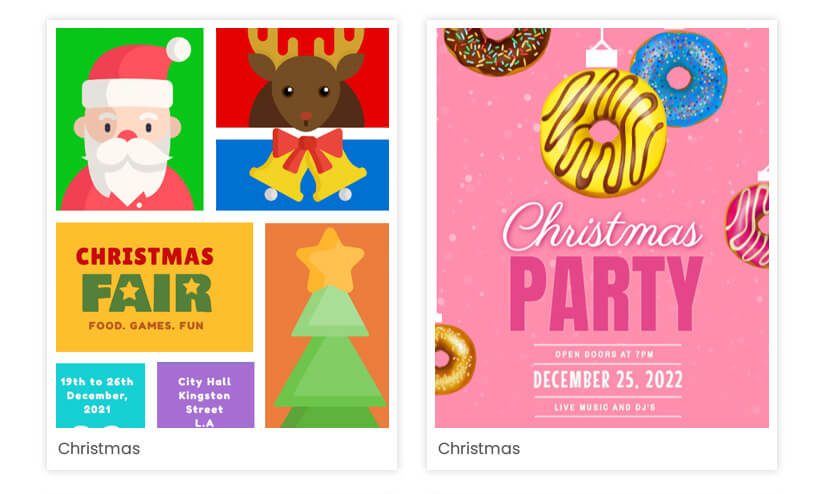 Pay Attention to the Message You are Sending on Christmas Posters
While designing your posters, Christmas graphics and other documents are super important, the message you are sending out is even more!
So, while designing anything for Christmas, pay attention to what it is all about.
Are you offering any special discount during Christmas? If yes, you have to create your Christmas designs to highlight those. Are you simply sending some love to your audience? If yes, you might want to add a heart-warming quote to your document.
It's all about marrying your text with the graphical elements well. And it is not rocket science too! Look at the DocHipo Christmas templates below and see how our designers are doing it!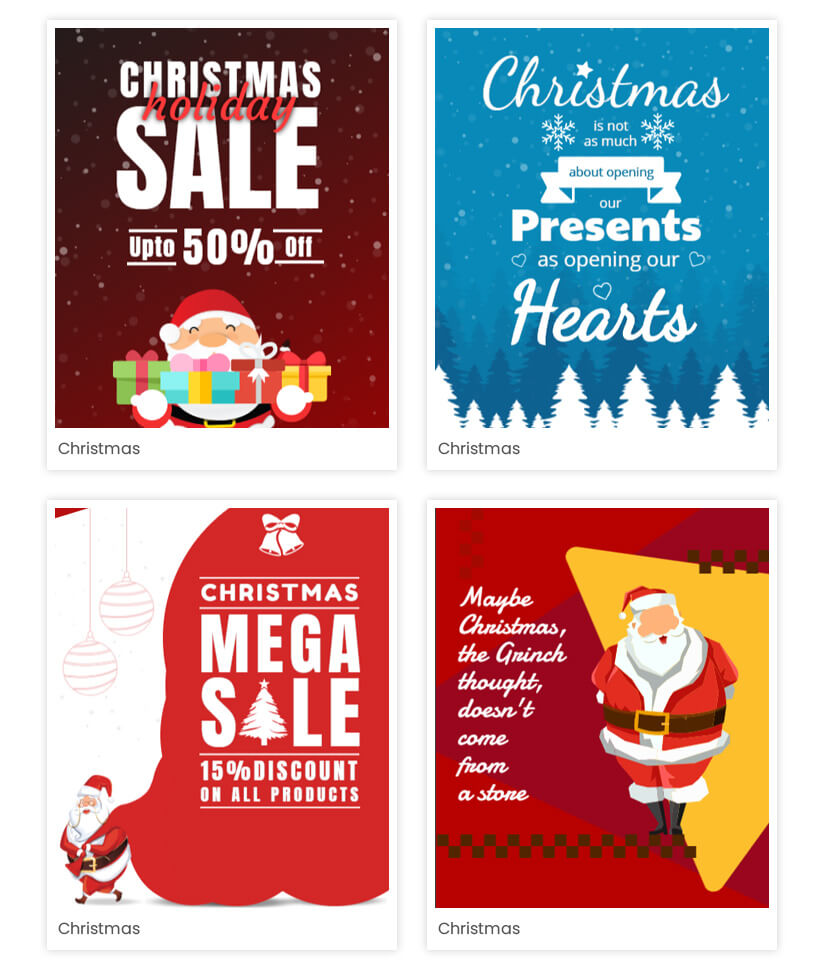 Final words…
Christmas is just around the corner and your preparations for it must be in full throttle!
This year put your best foot, sorry, designs forward to celebrate Christmas with colours, dazzles and much more. Use these tried and tested tips for designing your Christmas posters, social graphics, greetings and much more.
Looking for an easy way out? I've got you covered!
DocHipo comes with tons of pre-designed Christmas graphics that you can use online and offline. Sign up here and take advantage of our free subscription (it's a limited-time introductory offer, so hurry!) today!