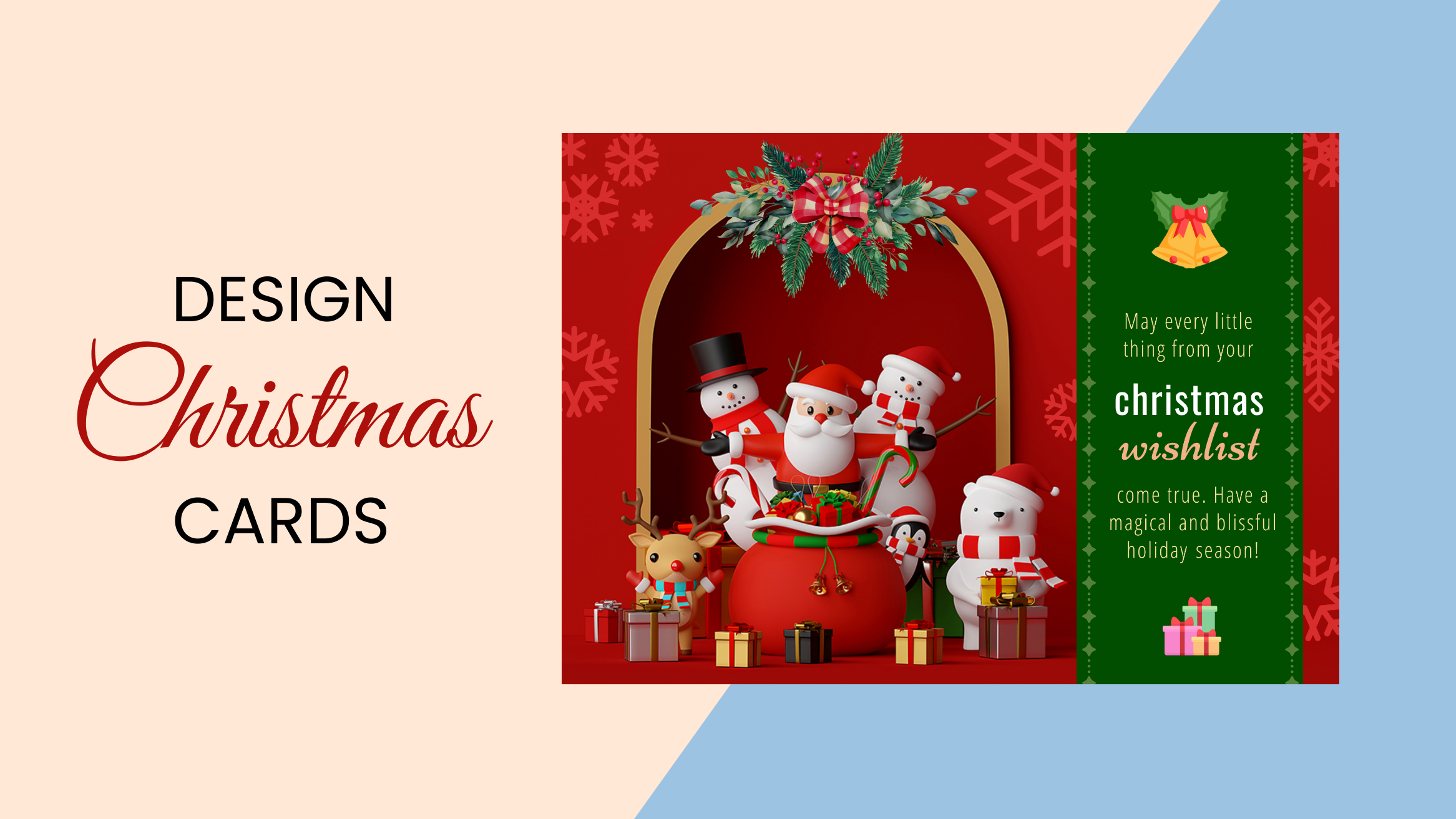 How to Design Your Own Christmas Card

Last Updated Dec 9, 2022
Do you want to create an elegant Christmas Card this season?
Remember the good old times when you'd feel excited to give personalized cards to your loved ones and see the big smile on their faces?
The medium has changed long ago, but the wishes are still genuine and pure, isn't it?
Using the magic of a personalized card this Christmas season, you can still be the reason behind that smile.
Be it your family members or clients – everyone will appreciate your sweet gesture after receiving a Christmas Card with your personal touch. Sending the cards to your customers or clients will strengthen your bonding.
You might say that you don't have that much time. We understand; that's why DocHipo is here to give you the gift of time so that you can gift a personalized Christmas Card to the ones who matter to you.
In this post, you will learn how you can design personalized stunning Christmas Cards and delight your recipients.
Table of Contents
Christmas Card Designs Tips
Spread the warmth and joy of Christmas and show your appreciation to your near and dear ones this Christmas by gifting them beautifully-designed and stunning Christmas Cards that you can personalize within minutes. Below are some tips and best practices that you can follow.
List Down the Recipients
Think of all the people you want to surprise with your personalized Christmas Card and make them feel special. Make a list of all the family members, friends, colleagues, clients, or customers that you want to wish with your unique style so that none of your loved ones feel missed out and sad. Don't worry; it will not take a lot of time; you will create Christmas Cards for each of them.
In DocHipo, we have professionally designed templates for different target audiences.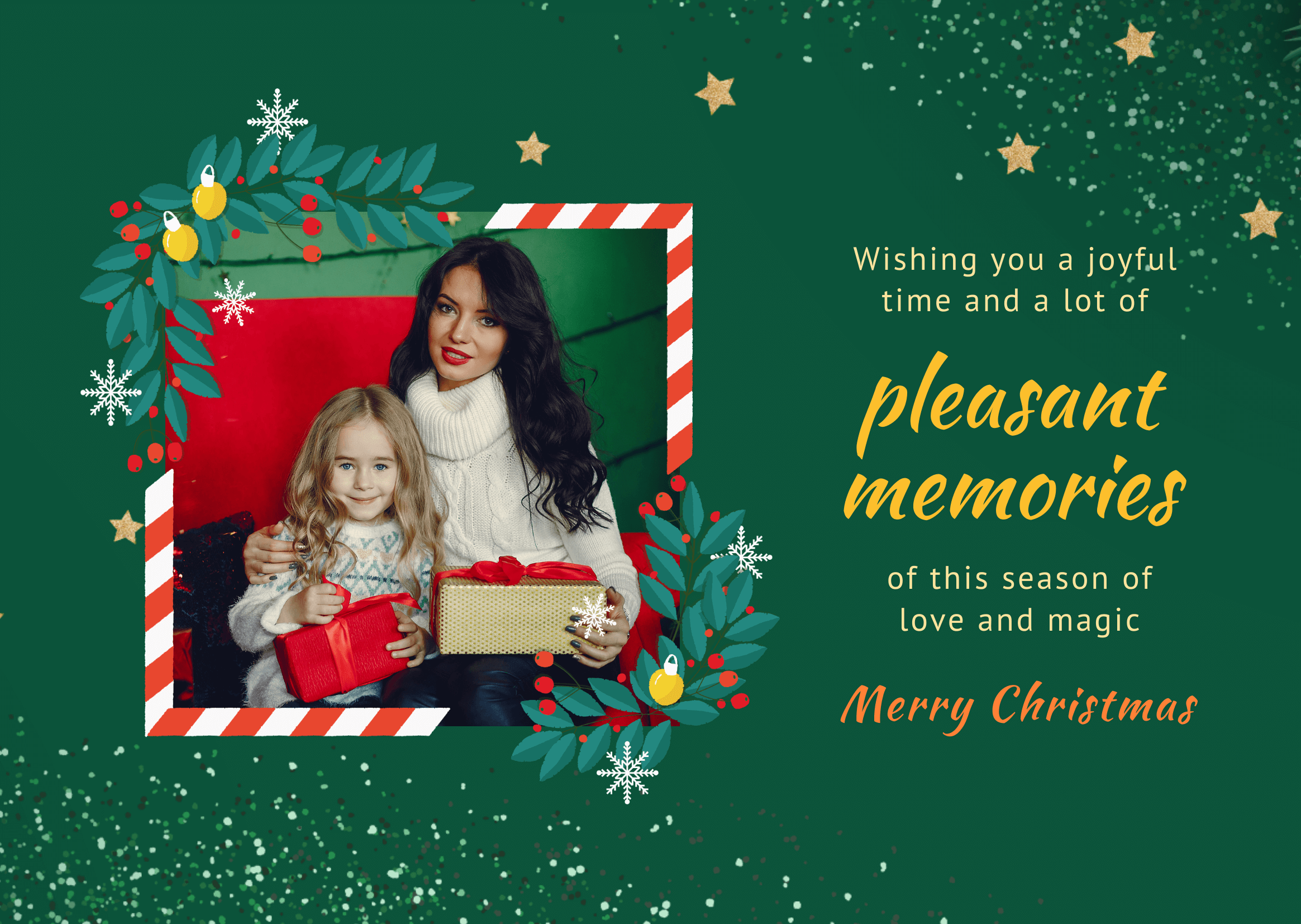 Get This Template and More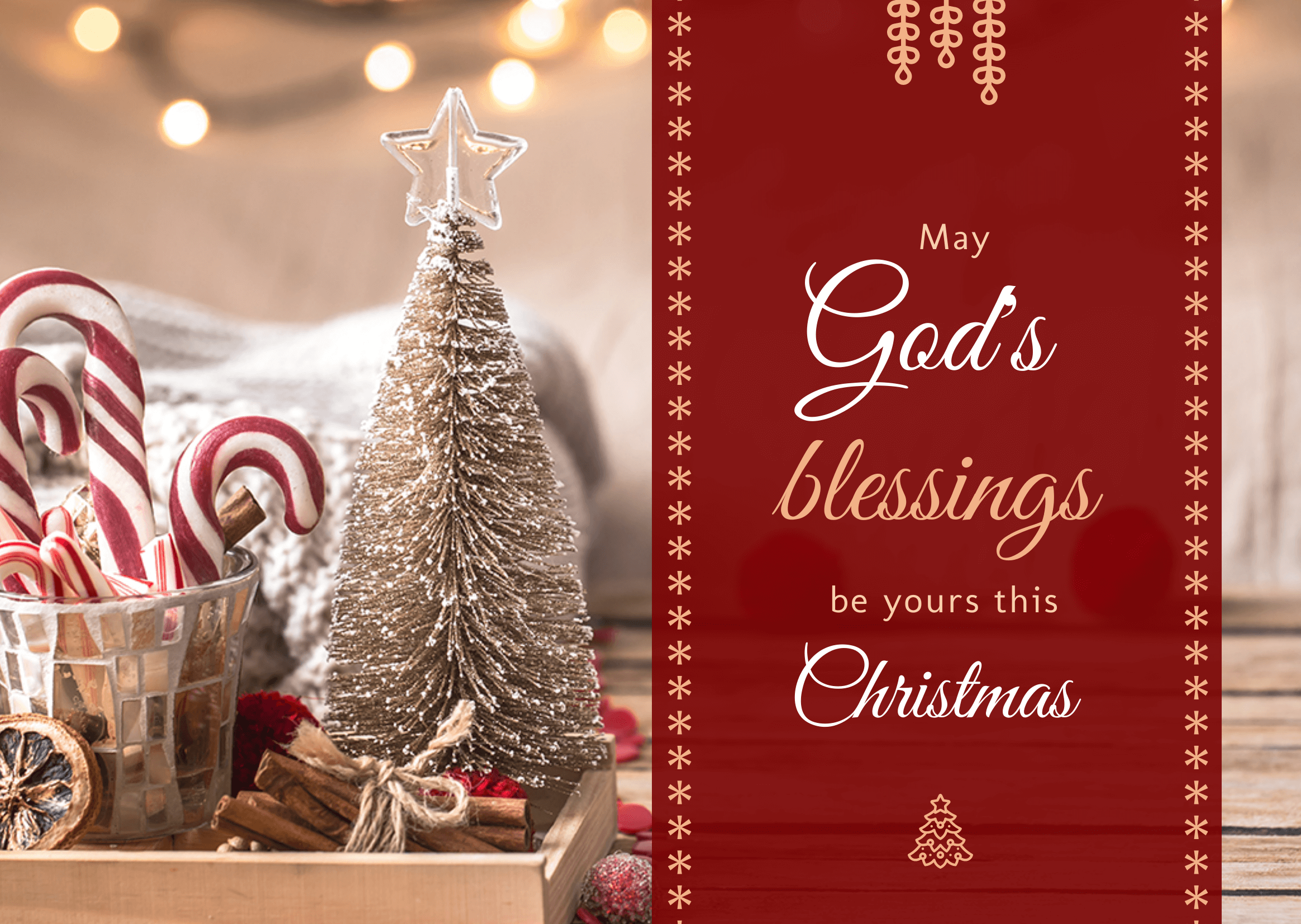 Get This Template and More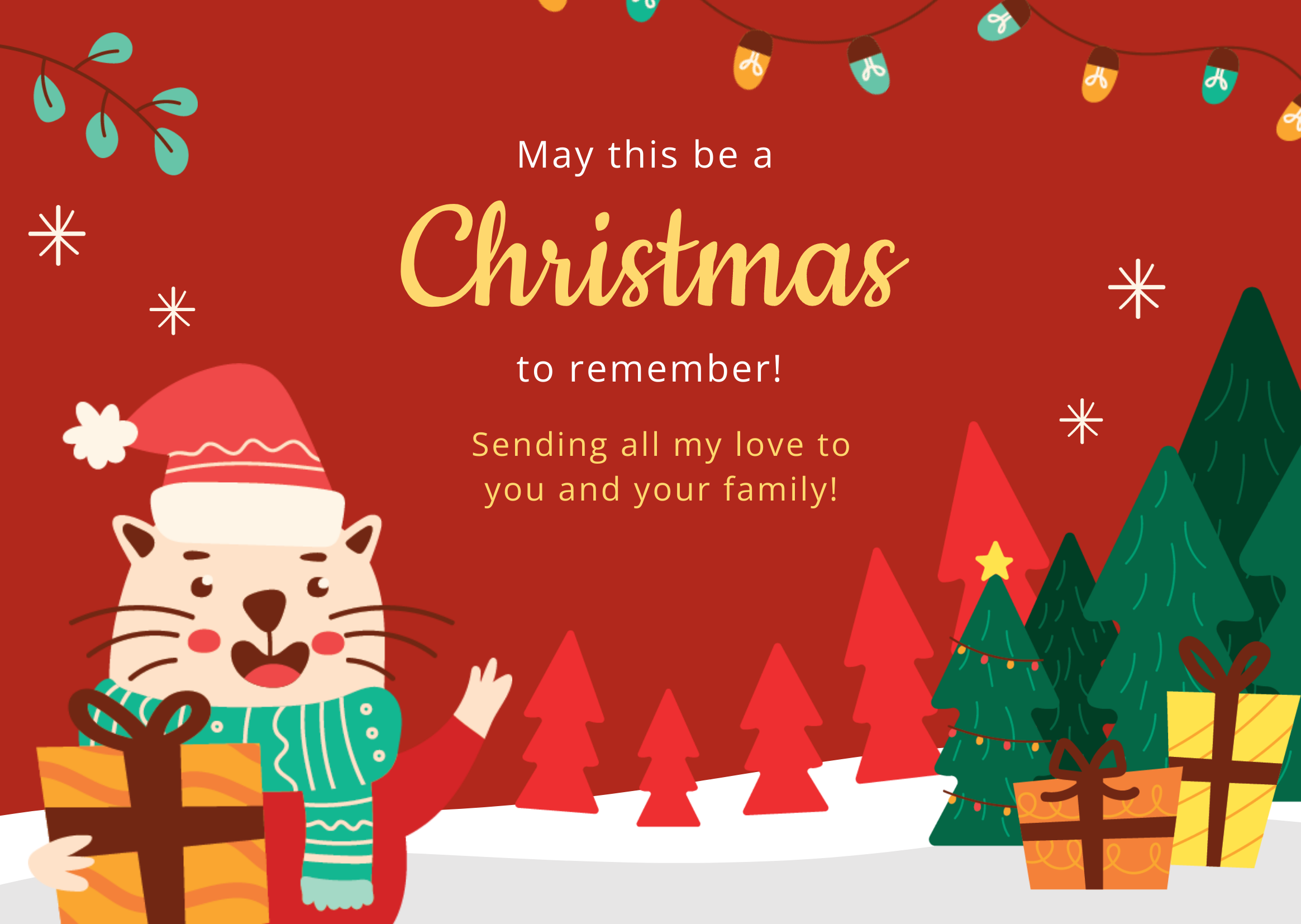 Get This Template and More
Decide on the Message
Fill in your Christmas Card with warm wishes straight from your heart. But if you are still worrying about what to write or falling short of words to express your emotions or Christmas wishes, read Christmas Greetings Wording: What To Write In A Christmas Card.
Read How To Design Your Christmas Graphics for Christmas Card design ideas and pro tips.
How to Design Your Own Christmas Cards Online with DocHipo?
First of all, sign up to DocHipo to get started with an easy and exciting designing journey. Let's walk you through the steps of how you can go from having a design idea to a full-fledged personalized Christmas Card that your recipient can treasure. Get ready to be flooded with their responses to your thoughtfully designed Christmas Cards.
STEP 1: Choose a Christmas Card Template
We categorized the Card Templates according to occasions like Anniversary, Birthday, Christmas, Father's Day, Thanksgiving, Valentine's Day, and wishes and situations like 'Get Well Soon ', Thank You, Apology Cards.
Now select the Christmas Card Template.
Hover your mouse pointer over any Christmas Card Templates that you like and then choose either of the Preview or Select options to proceed further.
If you'd like to use a template right after previewing it, hover over the arrow icon that shows 'Use this Template' and click on it.
After selecting the Christmas Card Template, you want to customize, provide a name to the document and a brief description for your reference later, and click on the Next button.
STEP 2: Customize Your Chosen Christmas Card Template
With DocHipo's easy-to-use drag-and-drop tool, you can add text, pictures, illustrations, backgrounds, and other design elements, reposition them, and so much more. Let's explore each one of them.
Text
You can find the 'Text' widget on the left sidebar as shown below.
To add a new text, you can select from either of the three categories: Heading, Subheading, and Body Text.
To edit an existing text in the template, double-click on it and replace it with your own words. There are many options to help you edit your text, such as you can change the text type, color, font type, font size, alignment, letter spacing, adding text shadows and borders, etc.
You can go through 16 great free Christmas fonts to have an idea or inspiration about the fonts that will match the Christmas vibe.
Use the drag feature to adjust the position of the text. If you click on the horizontal three dots, you will get more text editing options as shown below.
To learn more about editing a text, consider watching the video below:
Moving on to the next widgets under the 'Graphics and Media' tab on the left sidebar.
Background
Experiment with the vast collection of image backgrounds with different colors gradients, and textures available for you. Change the opacity if needed.
If you want to apply custom colors for your background, remove the image background and click on the color icon to experiment with the theme colors or custom colors. You can also enter the hex code of a color you want to apply in the background.
Watch the video to learn more about creating an impressive background in DocHipo.
Images
Now is the time to turn your favorite family photo or team photo into a personalized Christmas Card with our Christmas Card Maker. To access the image stored on your device, click on the 'Uploads' Widget under the 'Graphics and Media' tab and then upload it easily.
The maximum size of your image file should be 5 MB, and the supported formats are JPG, PNG, GIF, and SVG.
After uploading the image, drag it and drop it over the existing one; it will automatically replace the old one with the one you just uploaded.
With DocHipo's built-in photo editor, you can remove the background, add a filter or link to any resource, and change the opacity as needed.
If you want to add any other images, look through the collection of high-quality stock photos from the 'Pictures' Widget, waiting to contribute to being the perfect image you might be searching for.
Edit Other Elements
Apart from the elements shown above, DocHipo's Christmas Card Maker offers various elements such as stickers, illustrations, icons, shapes, and so on for you to design an eye-catching design.
If you don't want a particular element in your Christmas Card design, be it an illustration, image, sticker, etc., simply select it and press the delete button from the keyboard.
Make use of the fantastic and cute stickers specially designed for Christmas.
To learn the application of stickers in a much better way, watch the video below:
STEP 3: Download, Share and Print Your Christmas Card
Now click on the horizontal three dots and the Download option from the drop-down menu.
Choose your download format and then click on the Download button.
Before Customization:
After Customization:
Final Words
Now that you know DocHipo has equipped you with stunning pre-designed Christmas Card Templates choose the one that suits your needs the best. Leverage all the features and customize till you feel delighted with your Christmas Card design and make it your own. DocHipo has your back, so get set and design! Let your family, friends, clients, or customers feel special with your personalized Christmas Card, designed with love and care.