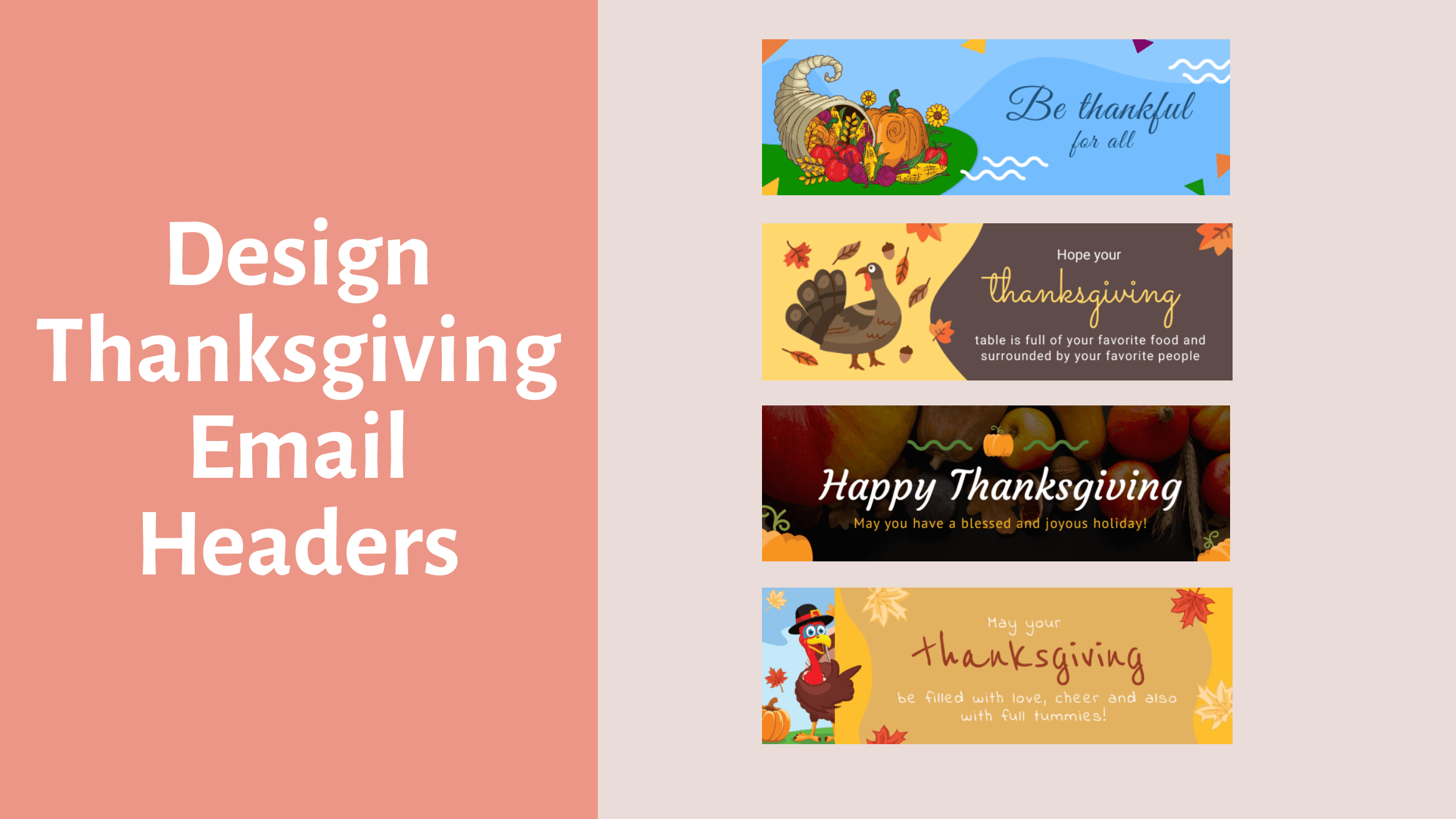 How to Create a Thanksgiving Email Header

Last Updated Oct 14, 2022
According to a recent study, email marketing is 40x more effective than social media in acquiring new customers. So, Email headers are one of the most critical graphics of your Email Marketing strategy. Thanksgiving Email Header Design is one of the most significant opportunities for marketers to reach out to their target audience.
Send out a Thanksgiving email to your leads and prospects to turn them into potential customers. However, if you are not a designer, Thanksgiving Email Header design might be a daunting task for you. Keeping this in mind, DocHipo comes with a Free Online Email Header Maker that helps anyone create stunning Email headers with ease.
Continue reading to learn how to create a Thanksgiving Email Header in DocHipo.
Table of Contents
Thanksgiving Email Header Design Best Practices
Email marketing is one of the most effective marketing strategies that can help you keep your business's sales funnel always full. So, you can not compromise on the Thanksgiving Email Header design.
To ensure your Thanksgiving Email Headers can attract your audience, we have come up with some Thanksgiving Email Header Design Best Practices. Go through them carefully and design the perfect Thanksgiving Email Header for your email marketing campaign.
Include Your Branding
You are designing the email header for a successful email marketing campaign and ultimately creating a brand identity, and capturing more leads for your company. So, the email header is your most significant opportunity to include your brandings, such as your brand colors, brand fonts, and others. And the rest of the best practices for the Email Header design will be based on this.

Get This Template and More
Make It Colorful
According to a recent study by Forbes, color increases brand recognition by 80%. Therefore, make sure you use a consistent and recognizable color palette to design the email header. If you don't have any brand colors, consider contrasting, complementary, or analogous colors.
However, make sure that the colors you choose reflect the central message of your email. So, you can choose different shades and hues of yellow, blue, green, brown, and many others.

Get This Template and More
In addition to that, different colors are associated with the Thanksgiving celebration:
Pumpkin = Orange, Corn = Yellow, Turkey = Brown, Cranberries = Red.
Consider using these colors in your email header design to ensure that all the colors complement each other.

Get This Template and More
Here are some of the best color combinations that you can include in your email header design.
Use Relevant and High-Quality Images
Incorporate some high-quality images in the Email Header to make it more attractive. In addition to incorporating high-quality photos, ensure that the photos you add are relevant. In order to do this, you can go to the stock images websites such as Freepik, Unsplash, Pexels, Pixabay, and many others.

Get This Template and More
Additionally, DocHipo comes with a stock images library featuring thousands of high-quality stock images. You can consider choosing the image from DocHipo's library as well.
Pick Relevant Fonts
Typography plays a vital role in crafting excellent marketing materials. Also, a font can help you set the mood for any occasion. So, to add a bit of spice to your Email Header design, choose appropriate fonts that perfectly reflect your brand and the event.
Since you are designing a Thanksgiving Email Header, the quirky and funny fonts will surely get the job done. However, it would be best if you made sure that the fonts you choose are legible.

Get This Template and More
This article on Typography Hierarchy will help you pick the perfect fonts for your design.
Utilize The Whitespace
And here comes the most important design element that can make or break any design. Whitespace is the negative space that ties all the design elements together and makes the design visually appealing. So, incorporate whitespace in your Thanksgiving Email Header design strategically to utilize its benefits.

Get This Template and More
How To Create A Thanksgiving Email Header In DocHipo
Here comes the crucial yet easiest part of the article; the design process. Pick a template from DocHipo's template library, customize it according to your needs, and download it to make the design your own. The free Thanksgiving Email Header templates and the awesome Design Widgets will help you throughout the process.
Create an account for free in DocHipo if you haven't already and follow the steps mentioned below:
Step 1: Choose a Thanksgiving Email Header Template
Once you enter the DocHipo application, you will find various document types and template categories. Type "Email Header" in the search box and click on the result.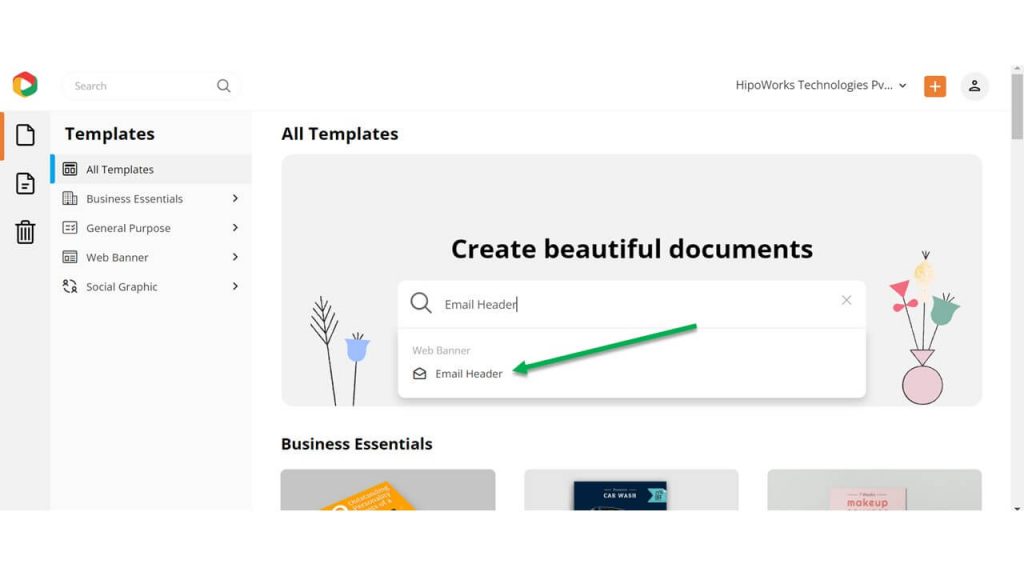 The email header templates are divided into different categories like Birthday, Christmas, and Thanksgiving. Filter the templates by choosing Thanksgiving from the options.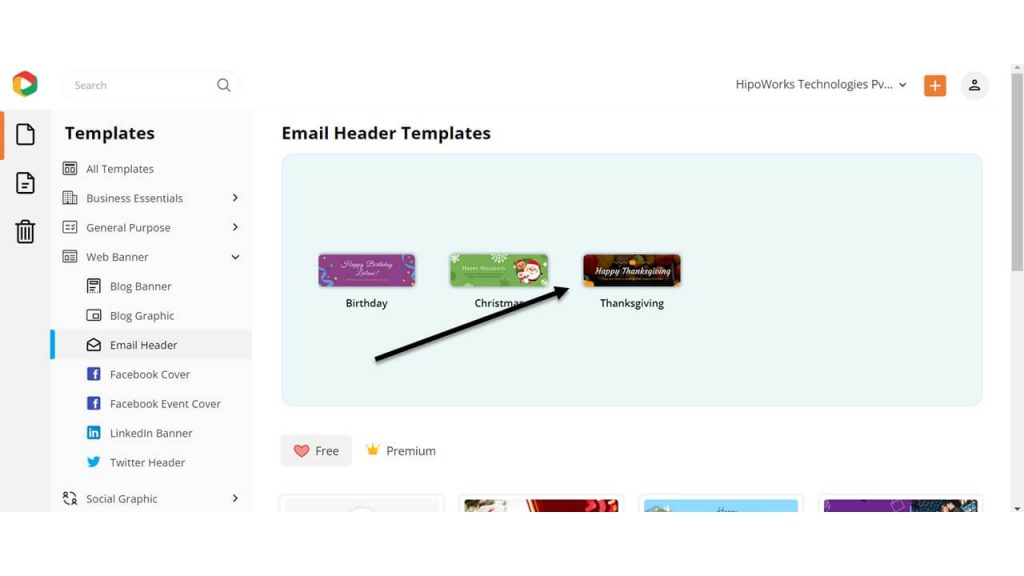 Hover over the template you want to customize and click "Preview" to take a look at the template before proceeding.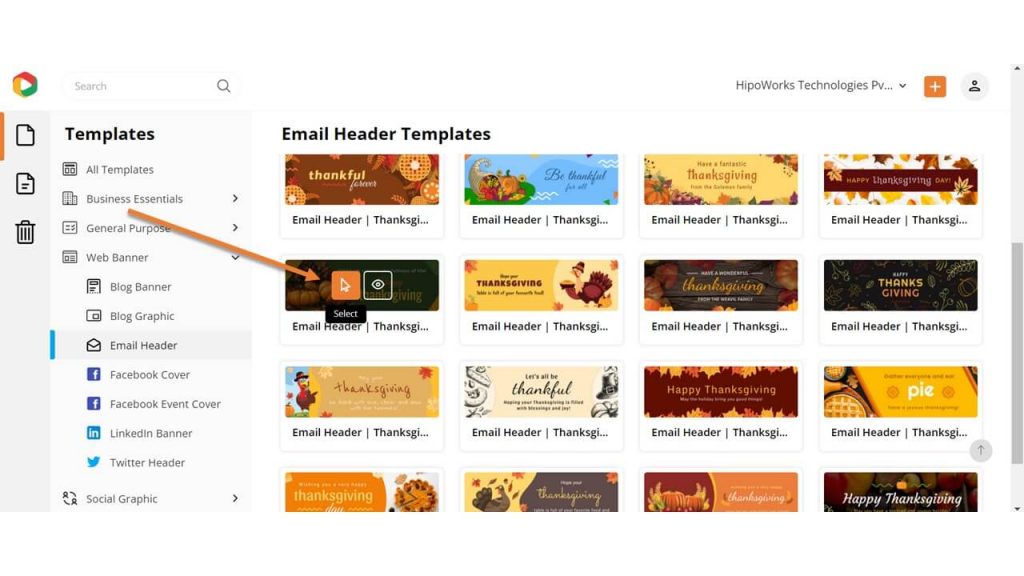 Click "Select" to start customizing the template.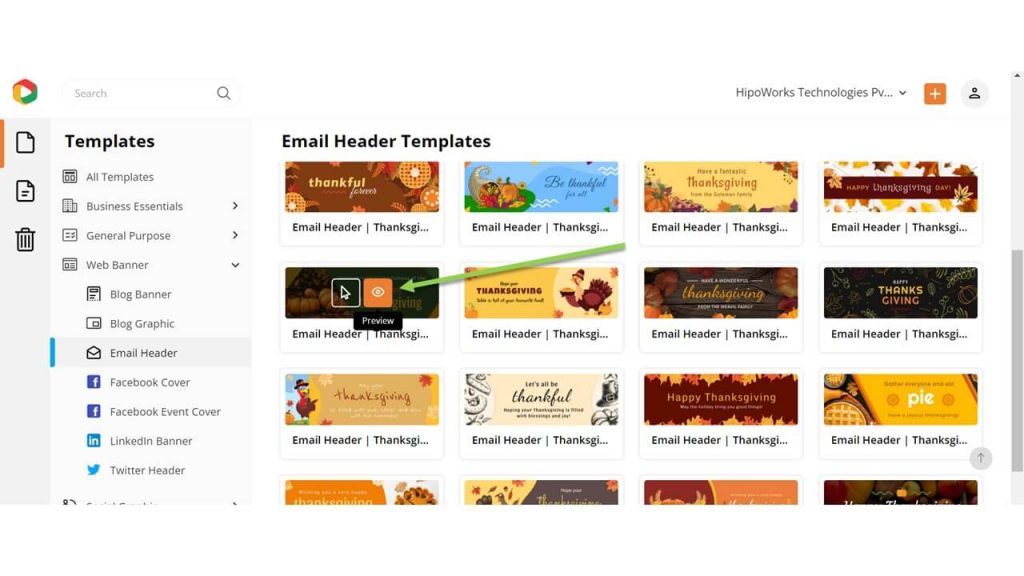 A new page will appear where you need to give a name to the document to find it later. Click "Next" to open the template in the DocHipo Editor.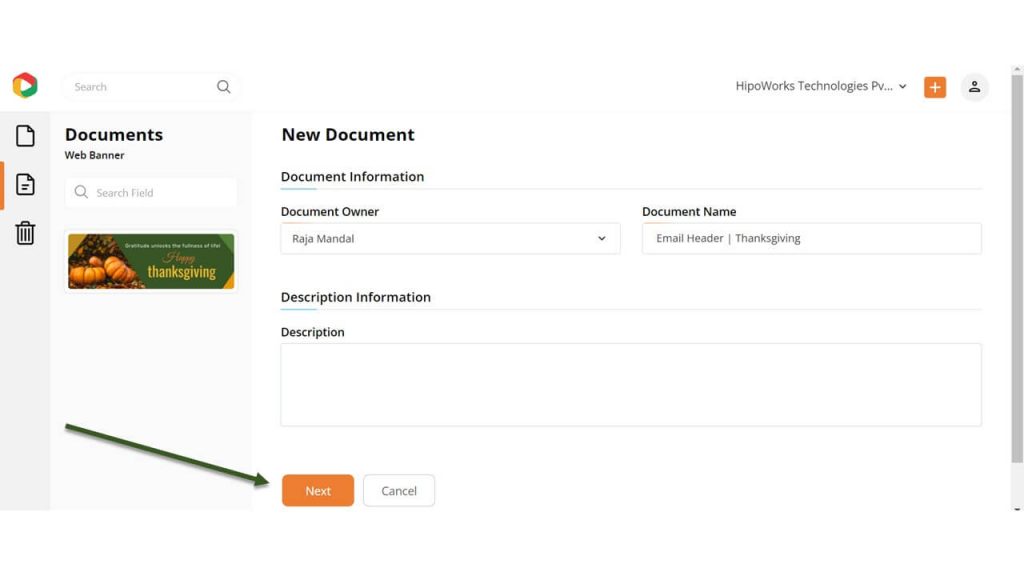 Step 2: Customize the Template
Start customizing the Thanksgiving Email Header template the way you want. Edit the text, customize the background, change the images, change the colors, and many more. Follow the instructions below:
Add and Edit Text
Click on the Text widget from the left panel to add a text object to the template.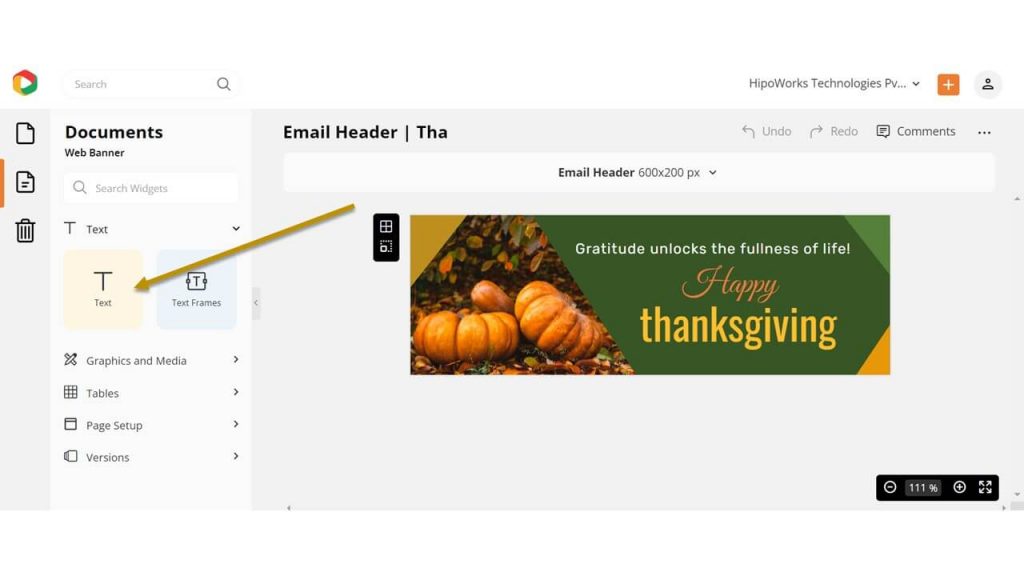 Click on the text object you want from the three options: Heading, Subheading, and Body Text.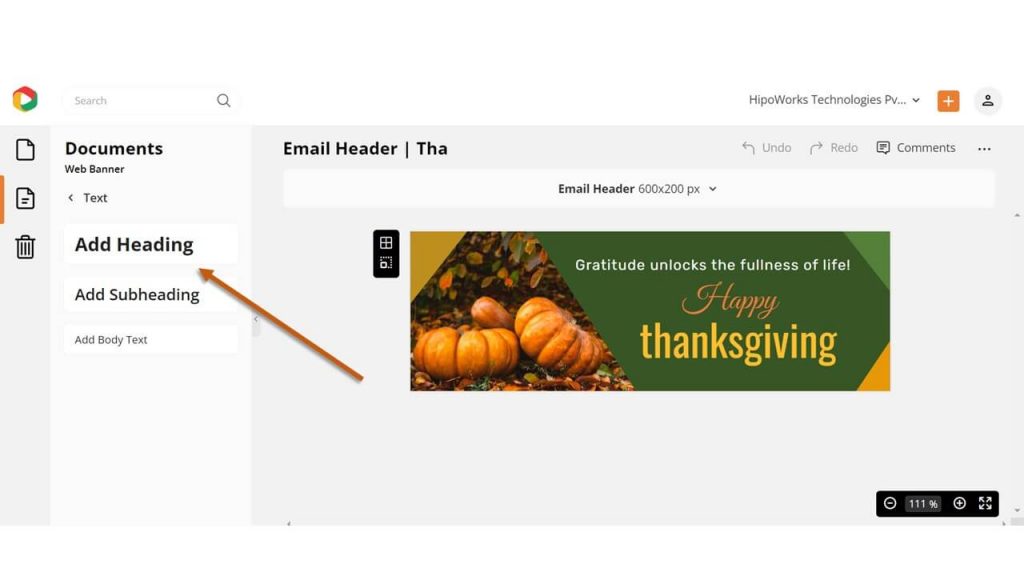 Double click on the preexisting text in the template and type your own words to replace it with your message.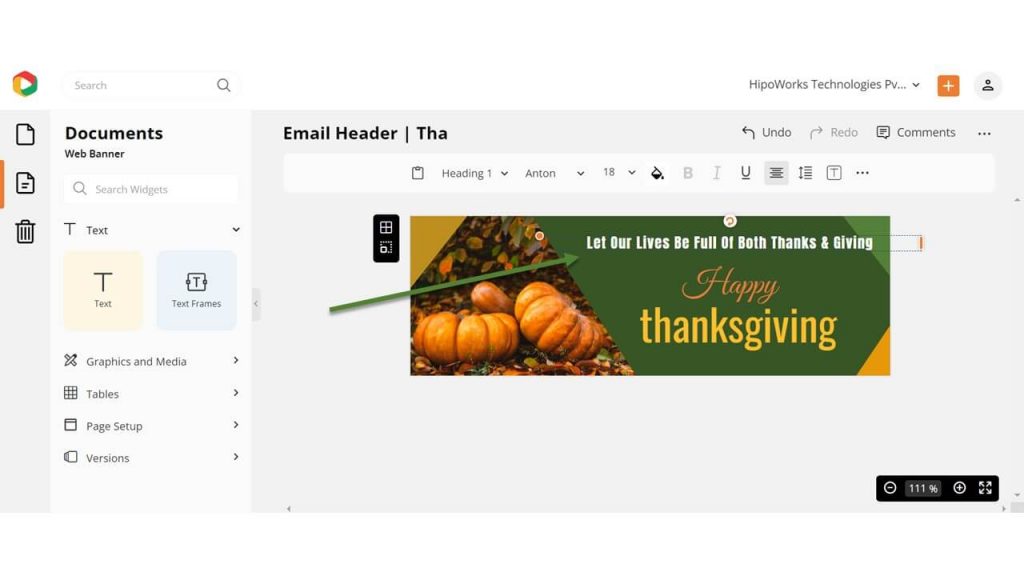 Use the edit panel on top to change the font, size, color, arrangement, and more.
Customize the Background
Click on the Background widget from the left sidebar to customize it.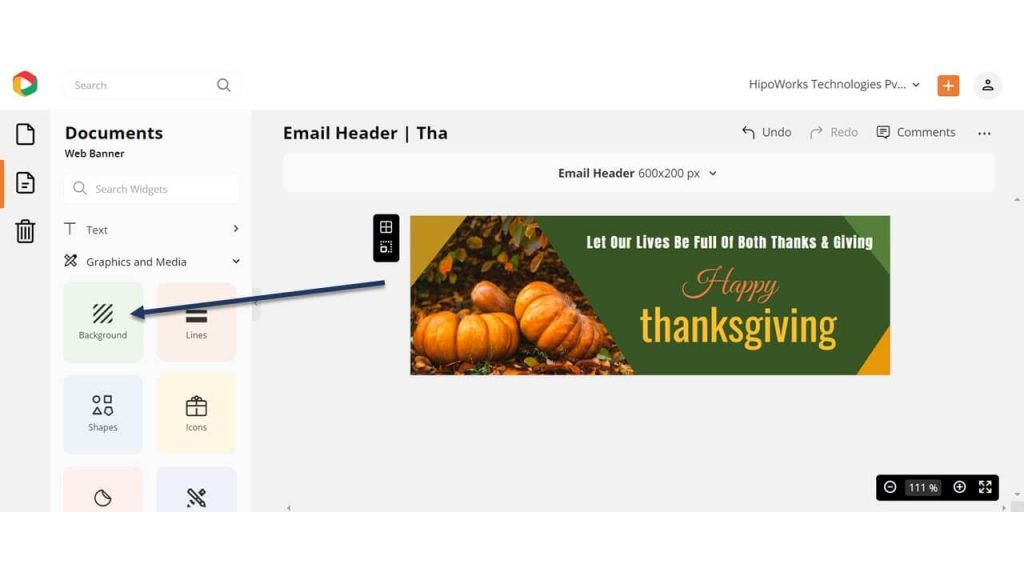 Pick a color from the presets or use the custom color picker tool to get the color you want for the design.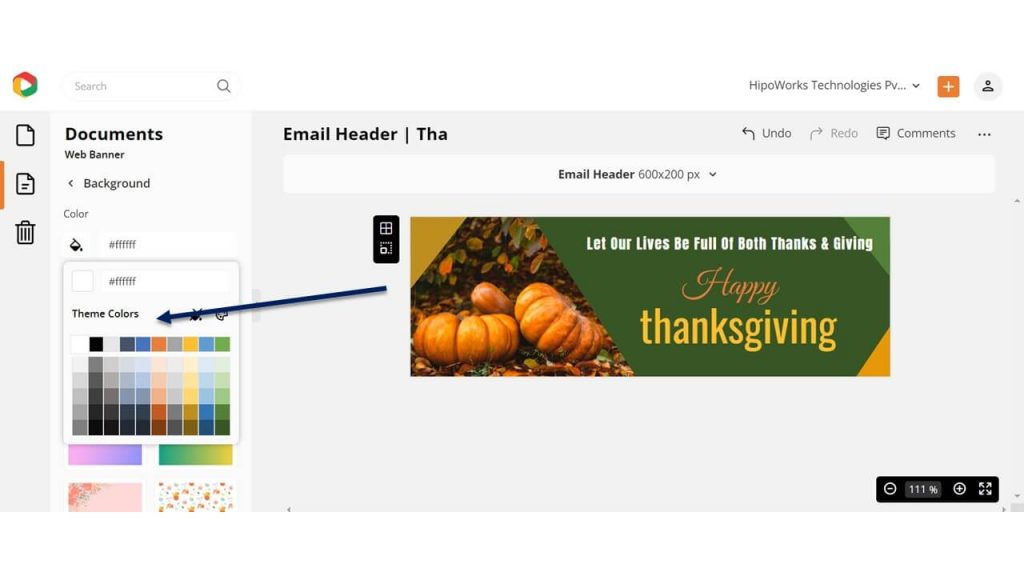 Additionally, choose an image from the list to add texture and gradience to the background.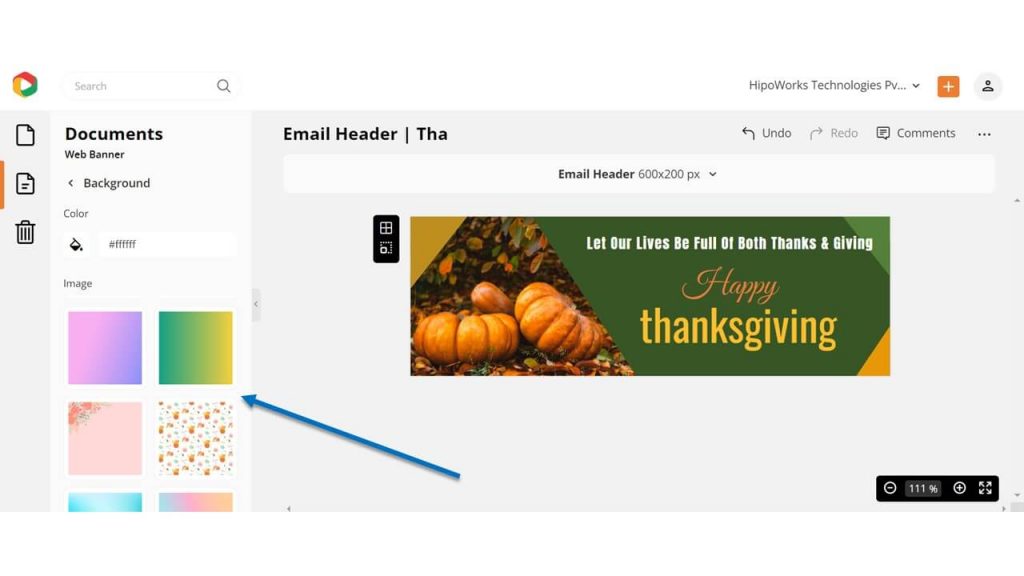 Watch the video below and learn more about the same.
Replace The Imagery
Click on the Upload widget to upload your image and replace it with the preexisting one.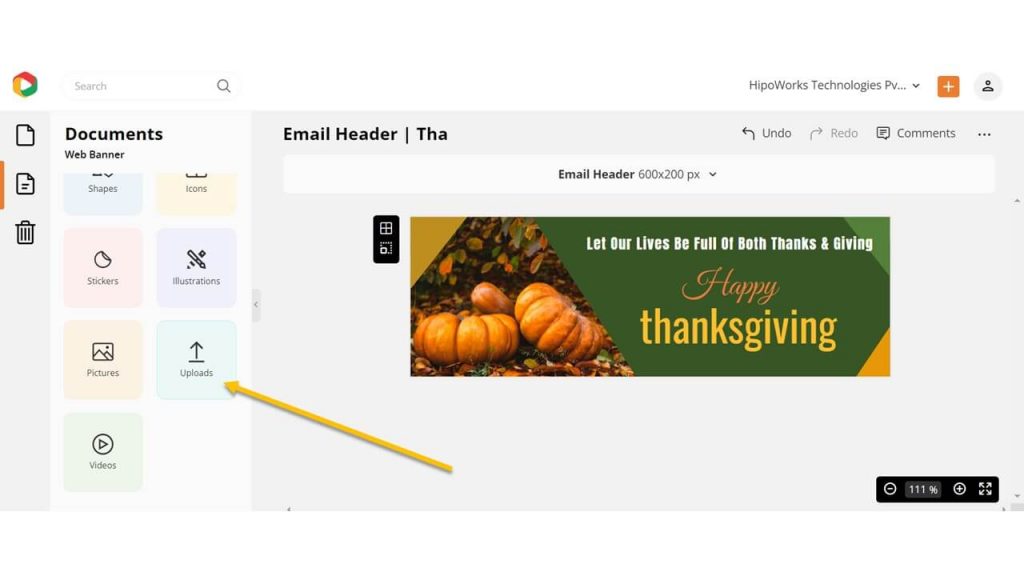 Once uploaded, drag the image on the template and drop it on the preexisting one.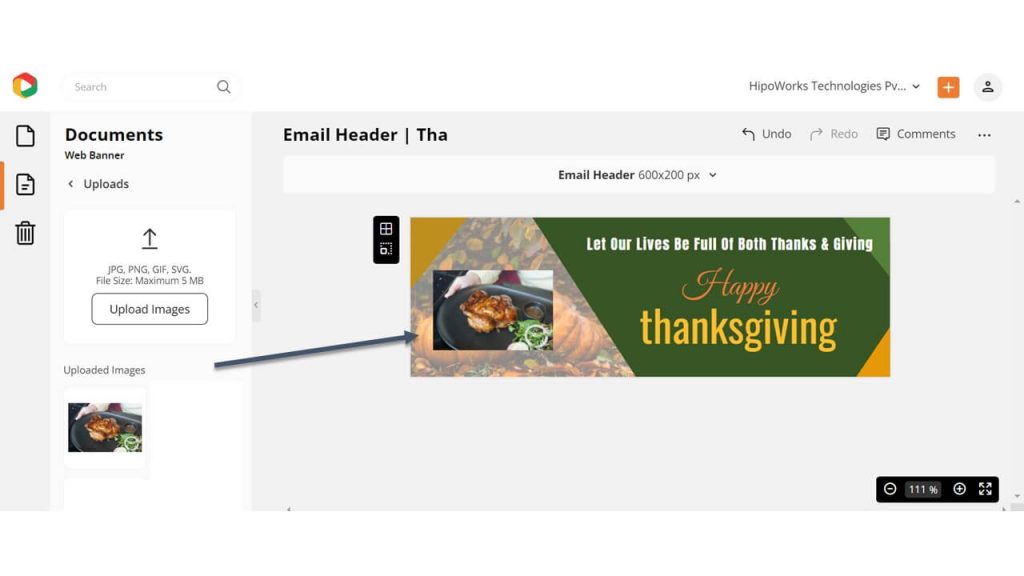 Use DocHipo's Photo Editor to crop, flip, add filters, and more.
Also, DocHipo comes with a Free Online Background Remover that will help you remove the noisy backgrounds from your picture and make them uncluttered.
Incorporate and Edit Additional Elements
DocHipo features huge libraries of different additional elements such as lines, shapes, icons, illustrations, stickers, and more. Choose any of them from the left sidebar and include them in your design.
Look at our recently launched Stickers library and add them to your template for additional fun.
Now, click on the element you want to edit and use the edit panel on top to change the color, opacity, arrangement, and more.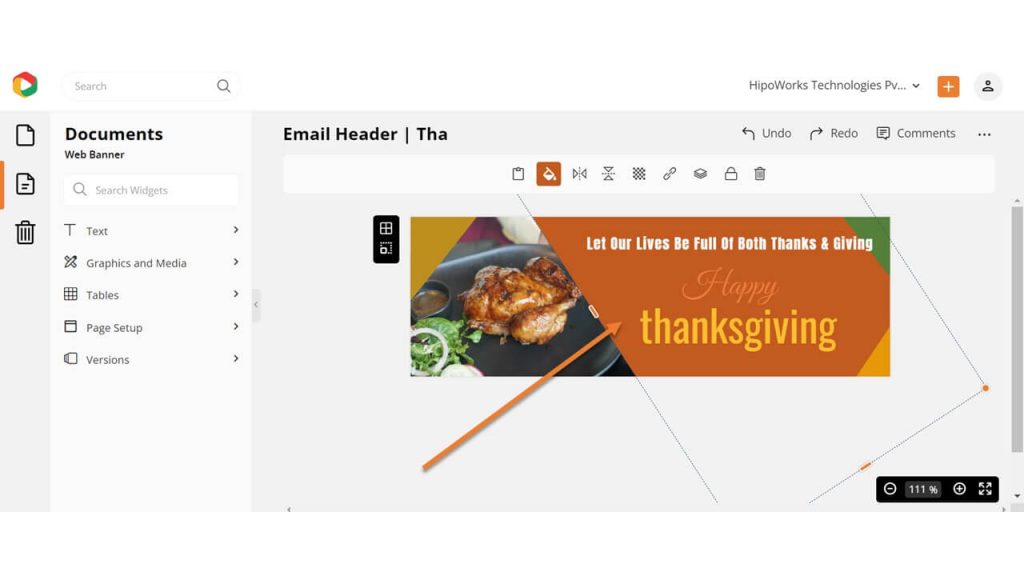 We have customized the template to help you understand how to customize a Thanksgiving Email Header template in DocHipo. Here are the results:
Before Customizing:

After Customizing:

Step 3: Download the Thanksgiving Email Header
Once you are satisfied with the Thanksgiving Email Header design, you might want to download it. To do that, click on the three dots from the upper right corner and choose Download from the drop-down menu.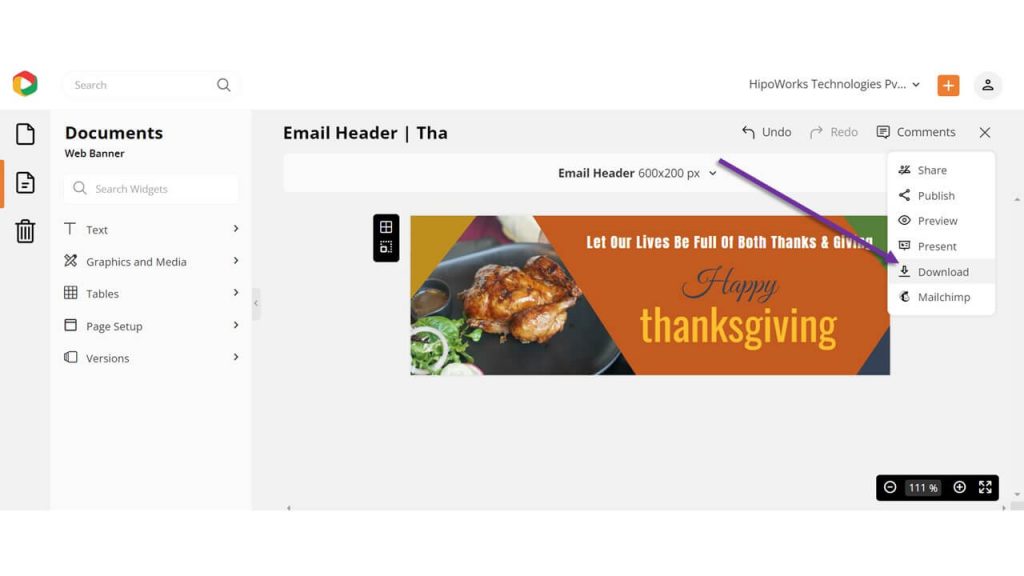 Choose your required file type and quality and hit the download button.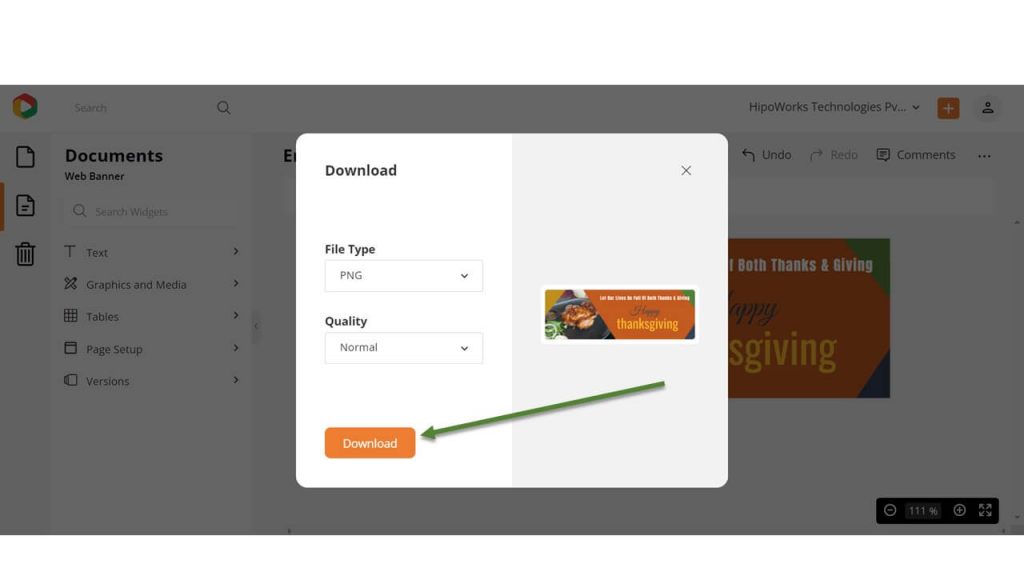 Further Reading
To Conclude…
Designing the Thanksgiving Email Header does not only help you run effective marketing strategies but also gives you an edge over your competitors in occasion marketing.
And since you have seen how easy it is to design a Thanksgiving Email Header, don't miss out on such a huge opportunity that comes with ease. So, this Thanksgiving, send out a persuasive message to your audience with a wonderful Email Header Design to enhance your marketing strategy.
Sign-up to DocHipo and start the process of a stunning Thanksgiving Email Header Design that can astonish a vast audience.