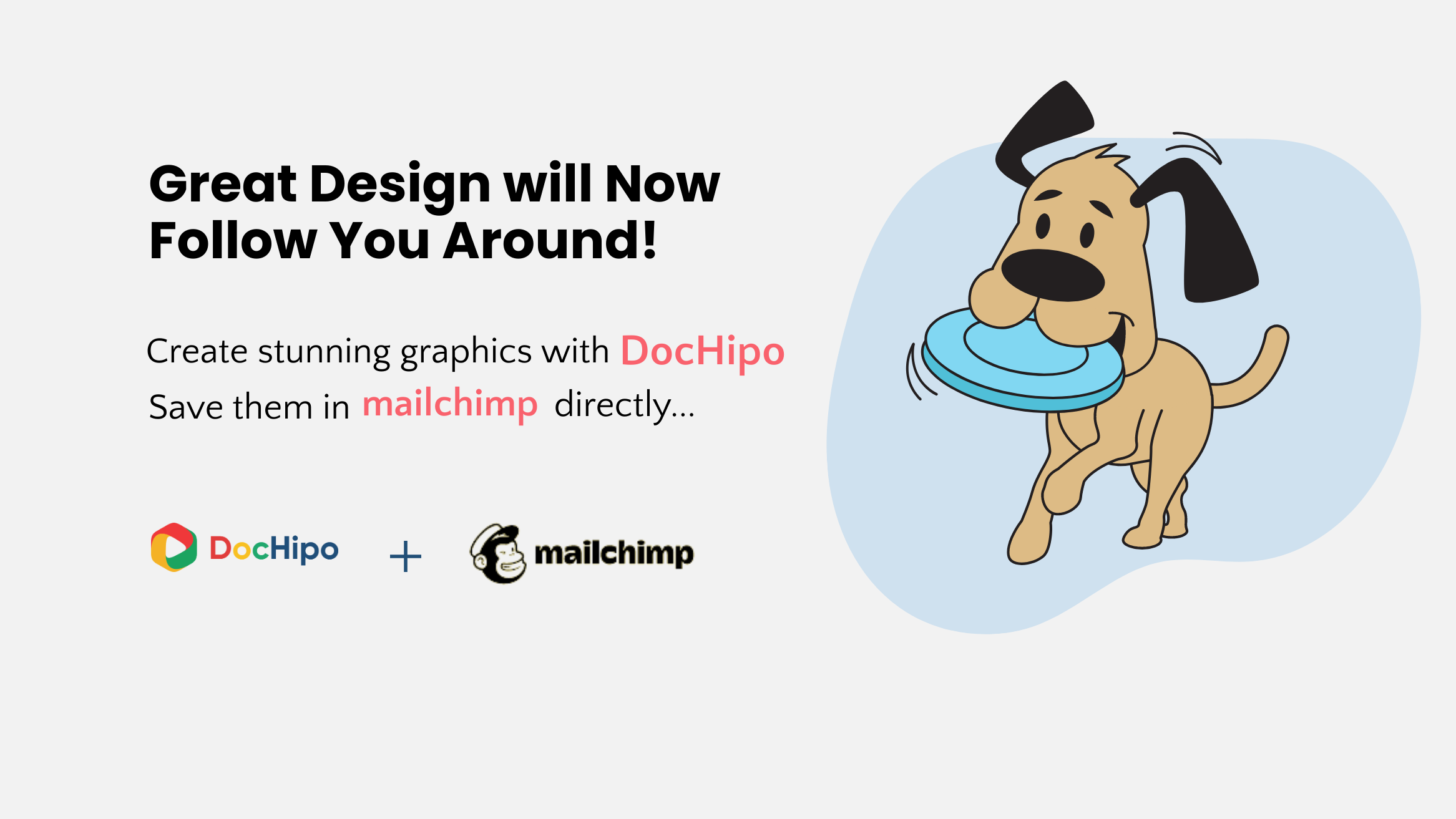 Save Designs to Mailchimp in One Click

Feb 24, 2021
"A small list that wants exactly what you're offering is better than a bigger list that isn't committed" – Ramsay Leimenstoll
Mailchimp is one of the essential email marketing tools that marketers from all over the world use. Whether you are selling products online, opening a café, or building a wellness app, with Mailchimp email marketing, you can keep the ball rolling. Today, more than 13 million small businesses are relying upon Mailchimp to promote their products and services. However, the mantra for success here is stunning emails that attract, intrigue, and convert! And if you want to create a stunning email every time, you need to invest your time in building beautiful templates that you use. With the DocHipo-Mailchimp integration now you can create stunning banners and graphics to dress-up your emails like never before. Thus, making Email template design effective and easier.
Stay tuned till the end of this article to know how to design graphics for email marketing templates effortlessly and generate more revenue from them.
What Is Email Marketing
Email marketing is one of the most effective digital marketing strategies for sending emails to customers about the products, services, and offers of a business. Businesses can send commercial emails to their customers. However, you can only send emails to customers who have signed up to your email for receiving emails and newsletters from you.
Email marketing intends to inform and build a relationship with your customers that will drive more sales. There are two types of marketing emails- Promotional and Informational. You can send promotional emails to promote a new product, special offer, a webinar, or an ebook. On the other hand, when your business reaches new milestones or product capabilities, you can express the story to your customers.
Why Email Marketing Is Important
Email is one of the oldest yet effective ways of digital communication. It allows you to connect with your selected customers and collect valuable data for more intentional and meaningful customer touchpoints. Furthermore, Email Marketing is believed to be one of the most cost-effective digital marketing strategies with the highest Return On Investments (ROIs). The average return on email marketing is 42 times higher than the money spent.
Study shows that 80% of business professionals believe that email is the most effective channel in B2B marketing. Hence, not having an email marketing strategy is a complete disaster that will miss out on sales opportunities.
Benefits Of Using Templates For Email Marketing Campaigns
An Email Template is a predesigned email that you can use to communicate with your customers and prospects. Once the template is ready, you can simply replace your content as relevant and keep re-using the basic structure.
When it comes to email marketing campaigns, writing persuasive messages is one of the key aspects. Here, making it visually appealing is crucial!
Since the goal here is to make the recipients take action that brings more leads and sales, the emails should be informative and attractive at the same time. Hence, templates are the best and probably the only way to make that happen. Here are some of the benefits of using templates for your email marketing campaigns.
Customized Email Templates Save Time
It requires a lot of time and effort to design, write and finalize content for email marketing campaigns. You will end up spending several hours editing and sending emails. However, you can save a lot of time if you use custom-built email templates. It will help you to avoid the repetition of writing emails. A recent study shows that email templates cut your time to about half. That means a 10 hours design will take only 5 hours if you use templates. Thus, helping you to save time and give more attention to your services and products.
Creates A Brand Reputation
When you use professional email templates to promote your business, it shows your brand personality. You must send emails that will engage your customers to purchase a product or service. Using beautiful templates in your emails will do the work for you. So, email templates act as the face of your company.
Improves Customer Relationship
Customer trust is an essential component for building a successful business. It takes years for the companies to earn the trust of their customers. However, you can do that just by sending emails that will appeal to your customers. It depends on the brand consistency whether the customers will respond to marketing offers or not. Thus, when looking for trustworthy brands, your customers will get a personal touch from the predesigned templates. Approximately 4.24% of traffic gained from email marketing makes a purchase which is higher than the 2.49% of search engine traffic and 0.59% of social media traffic.
Generates More Revenue
As you maintain brand consistency and improve customer satisfaction, ultimately it skyrockets the sales of your company. Ultimately, you generate more revenues from your successful email marketing campaigns using beautiful templates. Researchers say that automated emails drive 320% more revenue than non-automated emails.
How You Can Create Your Email Template Design
Now when you have decided to include email marketing in your business strategy, Email template design is a major concern. This part of your email marketing campaign is very important as the design you create will be your visual identity and define the brand personality. But before you rush off to sending your emails, here are the prerequisites to consider.
Guidelines Of Your Brand
Product Images
Target Audience
Content Copy For The Email
Separate Mobile Layout
Hyperlinks To The Landing Page
Once you have collected these prerequisites, it's time to create stunning graphics that you can use in your email templates. The best way to design an email template is to create the graphics needed and keep them handy. You can design these graphics with DocHipo in a jiffy. And, since DocHipo comes with MailChimp integration, you can now save all these graphics directly into Mailchimp from within DocHipo. Let's see how!
What Kind of Graphics You can Use in Your Email Template?
Anything you want really! All you need is a handy tool and your creativity.
But, to start with, here are some graphics that can come in handy
Email Header: Nothing dresses-up an email like a stunning header. You can add attractive pictures, meaningful texts, your logo (if you want) to create a header that attracts and intrigues.
Infographics: Wanna share some interesting information with your subscribers? Don't just use boring texts! You can use fun infographics to make the data more readable.
Product/Service Details Graphics: Looking at sharing information about a new service or a product you've just launched? Instead of listing out the features in text, you can create a catchy graphic to describe them.
So, let's see how you can do this with DocHipo, in less than 60 seconds, without any design skills! After all, the design is easy, with DocHipo!
Create The Graphics For Your Email Template Design Using DocHipo
Now that we know the kind of graphics we can create and use in your email marketing templates, let's see how you can do that with DocHipo.
Step 1: Sign in to your DocHipo account Here. In case, you are not a DocHipo user already, you can sign-up with your email id Here. You can sign-up with a free account, no credit card needed!
Once you sign-in, you can see all the document categories in the templates section. Let's go ahead and create a stunning email header, shall we? You can find the email header templates under the Web Banner.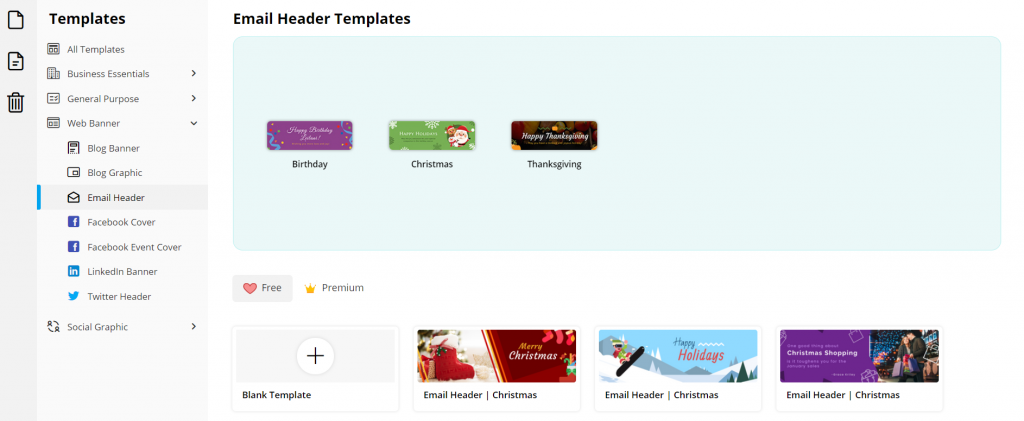 Step 2: Now, you can browse through the templates and choose the one you like. Once you've chosen the template you love, you can get to work!
Select, edit and save the document with an appropriate name so that you can find it easily. Now you can tailor the template with the drag and drop editor.
Template Selected:

Tailored Email Header for You:

Step 3: Once you are ready with the email header, you can simply save it in Mailchimp right from within DocHipo.
If you are using the integration for the very first time, you would need to authenticate your Mailchimp account by entering your credentials.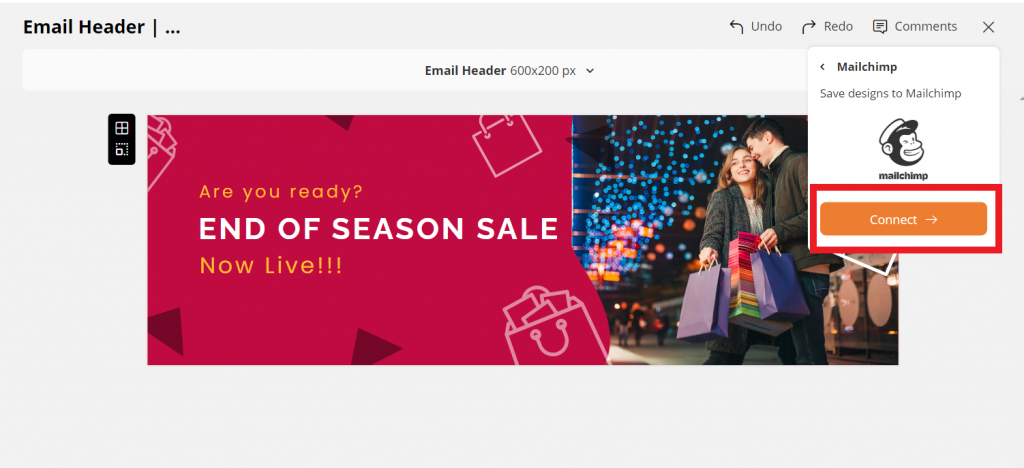 Once you've authenticated your account, you can now save your email header in your Mailchimp account directly.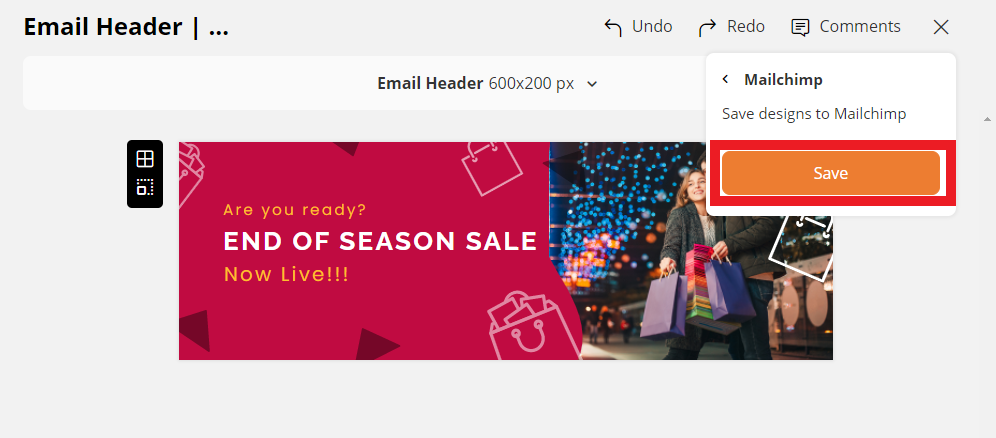 We have created a video for you on this so you can understand the whole process of saving your designs in Mailchimp directly from DocHipo.
Now that you've saved the email header, you can log-in to your Mailchimp account and see the graphics that you have created under My Files in Content Studio.

Now you can use this email header in your mail templates in Mailchimp.
Last Words…
Now you know how interesting and easy it was to create stunning graphics for all the templates for your marketing campaigns. Go to DocHipo.com and Sign up for free to start designing graphics for your Mailchimp account.