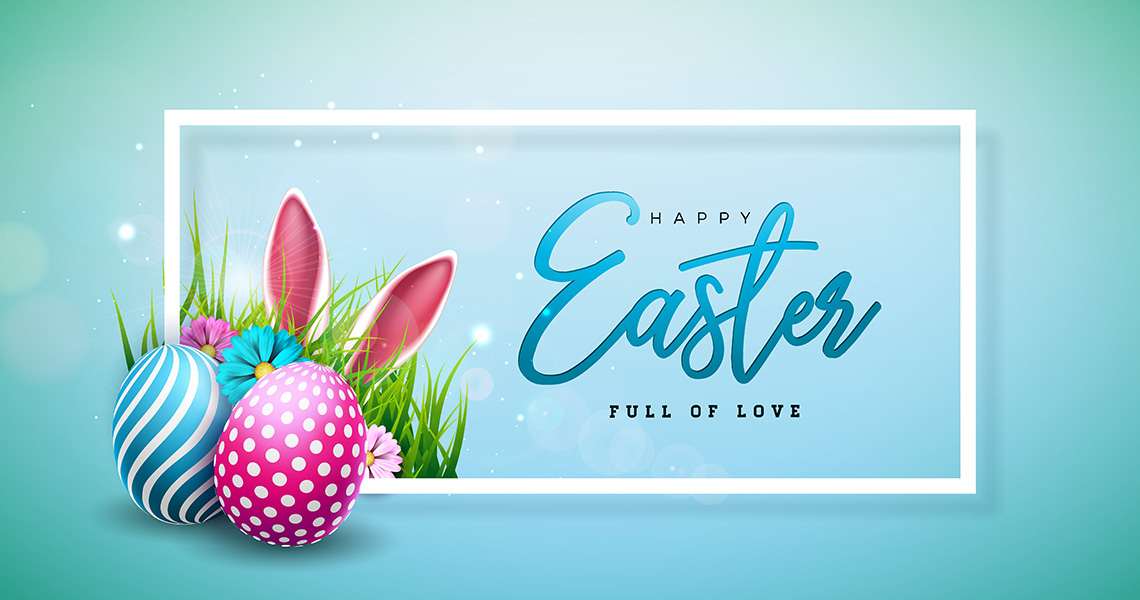 5 Social Media Posts That Will Never Let Your Easter Be Gloomy

Last Updated Jun 7, 2023
What does the mention of Easter remind you of? Chocolates, Bunny, Easter eggs, etc, right? This year, it probably brings a gloomy shadow over your face. C'mon dear, please smile. I know that life is not quite simple around this time. But we cannot stop being optimistic, right? Social media posts for Easter can make it a little better.
It has been months for which we had been sulking, worrying, and troubling our brains by thinking about "When will everything get normal." It is time to be bold and gain strength for a fight-back. We are already taking measures to stay safe from the pandemic. The world has been going through an anxious phase. Now is the time to recuperate.
Easter is on the 12th of April this year. Usually, during this time, the climate is very soothing everywhere; trees are full of new leaves and colorful flowers. Easter is celebrated around the world with enough gusto and lively enjoyment.
It seems things are a little different this time. As T.S. Eliot says, "April is the cruelest month." It indeed is so this year. But that doesn't mean we won't involve in the enjoyment of festivity. We will be a part of it but celebrate it from home. You all are cordially invited to join in.
How to celebrate staying at home?
I think the most active during quarantine is on social media. You can share your happiness on Easter through social media posts and invite all your friends into a bit of merry-making. So, are you ready to participate in the Easter celebration at DocHipo? Just sign up and explore the magical world of Easter social media post templates that DocHipo has.
Table of Contents
5 Easter Social Media Post Design Ideas
Experiment with the following Easter social media posts to spread warmth and joy.
Would You Like This Minimalistic Social Media Post for Easter?
Well, I like this a lot. This will bring a wide smile to the faces of a group of kids. They would love the colorful Easter eggs that give them big-time craft goals. It features beautifully painted colorful Easter eggs. On the other hand, this image would be perfect for the Facebook post of a corporate entity. No matter how serious a matter your business deals with, this template is apt for an Easter-related social media post that you would create for your customers, clients, and all prospects.
The message is also beautiful. It is very optimistic about the light at the end of the dark tunnel. It promises that we will discover something great in the Easter eggs that will end all our woes.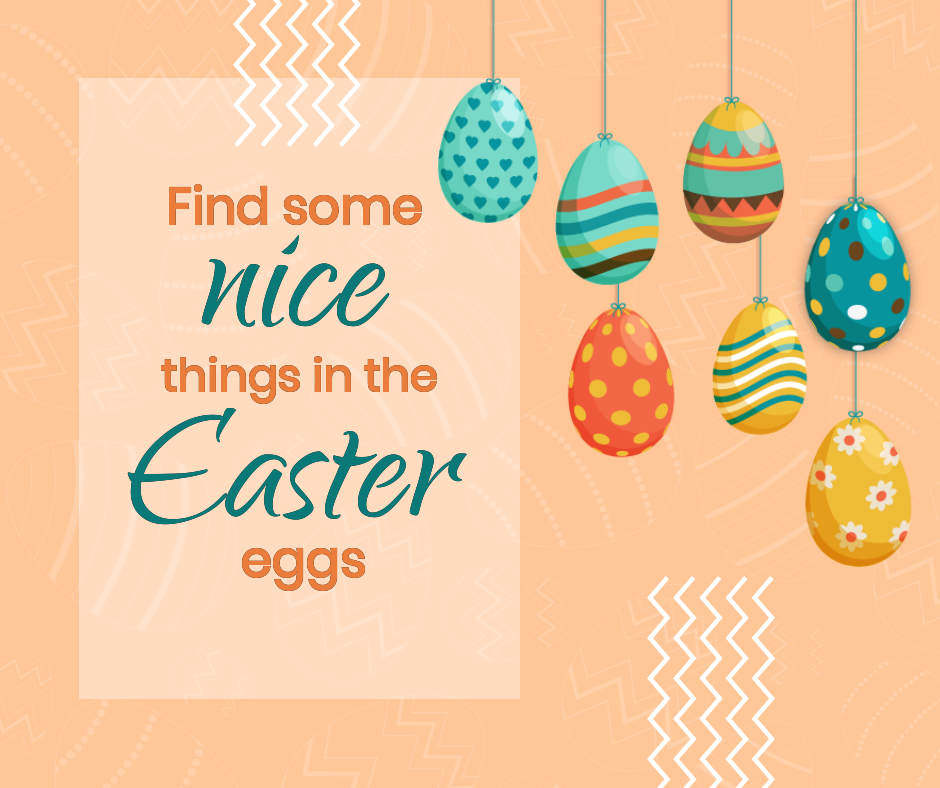 Get This Template and More
Enjoy with Your Kids at Home with this Happy Easter Social Post
This template makes the perfect Easter post to be childlike and happy. Look at the bunny featured on it. It smiles widely as if to say, 'Everything will be alright, provided you flash a beaming smile.' Easter is the time to enjoy life, laugh like there is no tomorrow, and be happy. The twinkling stars around the Easter bunny and the beautiful eggs represent the happiness that Jesus's resurrection swayed the world with.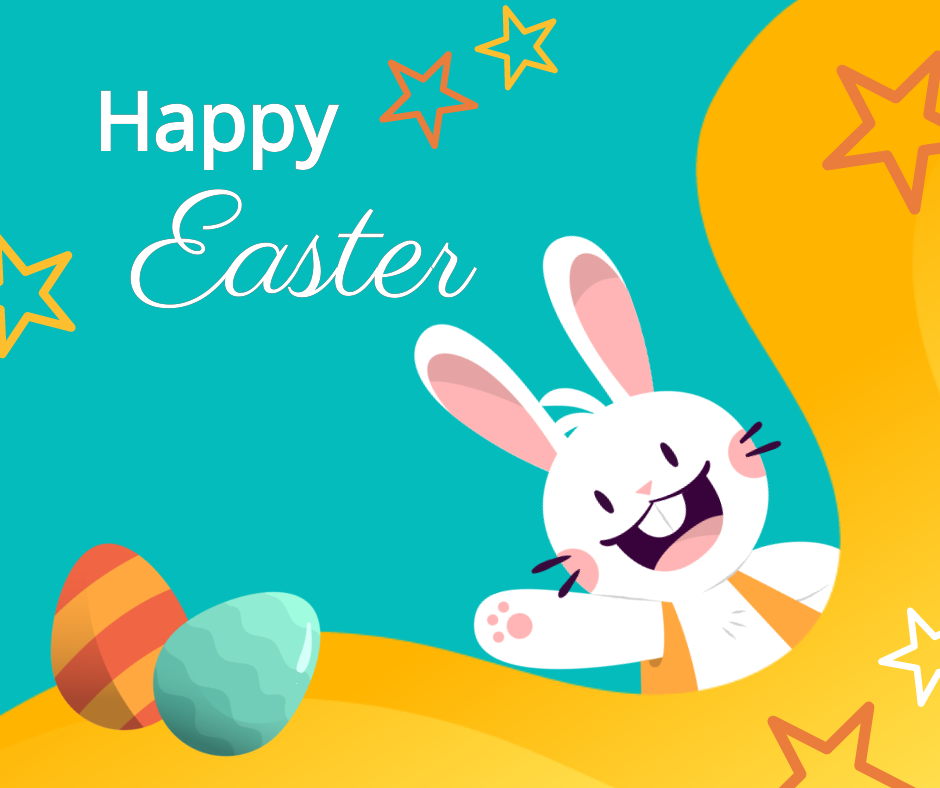 Get This Template and More
All-in-one Facebook (Easter) Post for People Across Demographics
The template you see below is a beautiful collaboration of multiple (probably all) Easter elements. They have been compiled mindfully to create a lovely mirror image of the Easter spirit. It has bunnies, Easter eggs, flowers, and whatnot. Created with much care, this has been topped with a dollop of love in the message. A simple, straight wish for happiness. What else would you want?
On the other side, this post is apt for any group of target audience. Social media users of any age, educational background, and profession would love to see this as a social post for Easter on their timelines. So, no matter who your targets are, this template gets a thumbs-up from me.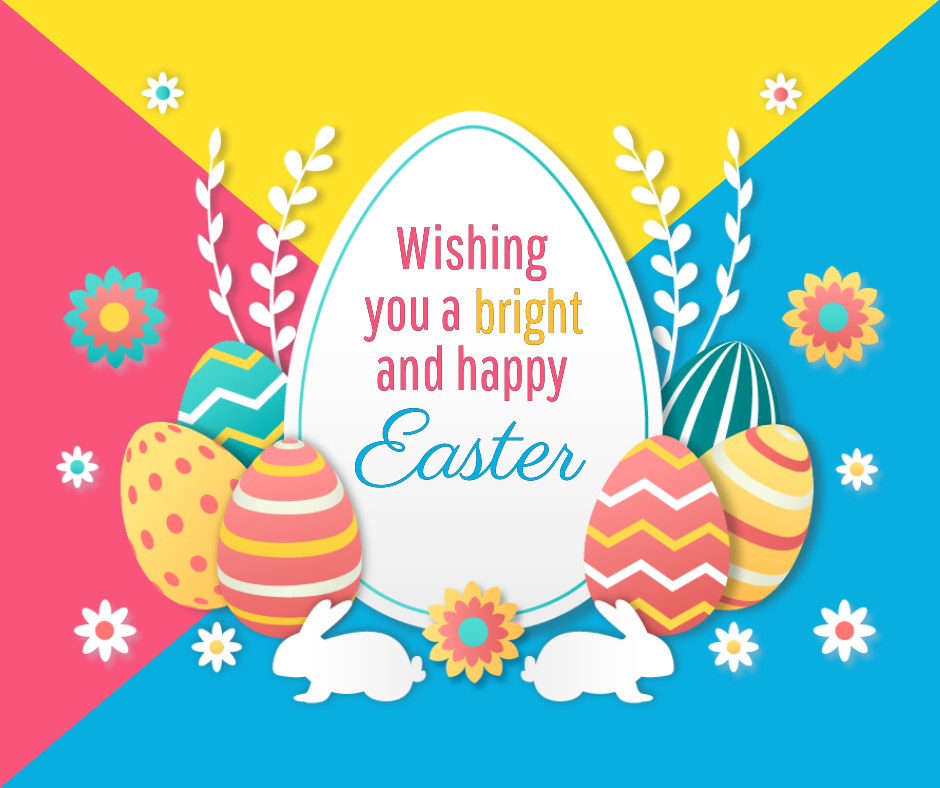 Get This Template and More
With a bit of Eccentricity, You Can Play with Your Easter Social Media Posts
This social media post template for Easter below is proof of that. A hint of eccentricity or idiosyncrasy often wins hearts. If yours is an art and craft school, toy store, or apparel company specializing in kid's products, this is a fitting choice for your Facebook post this Easter. The smiling bunny adds to the cuteness quotient of the message on the post template.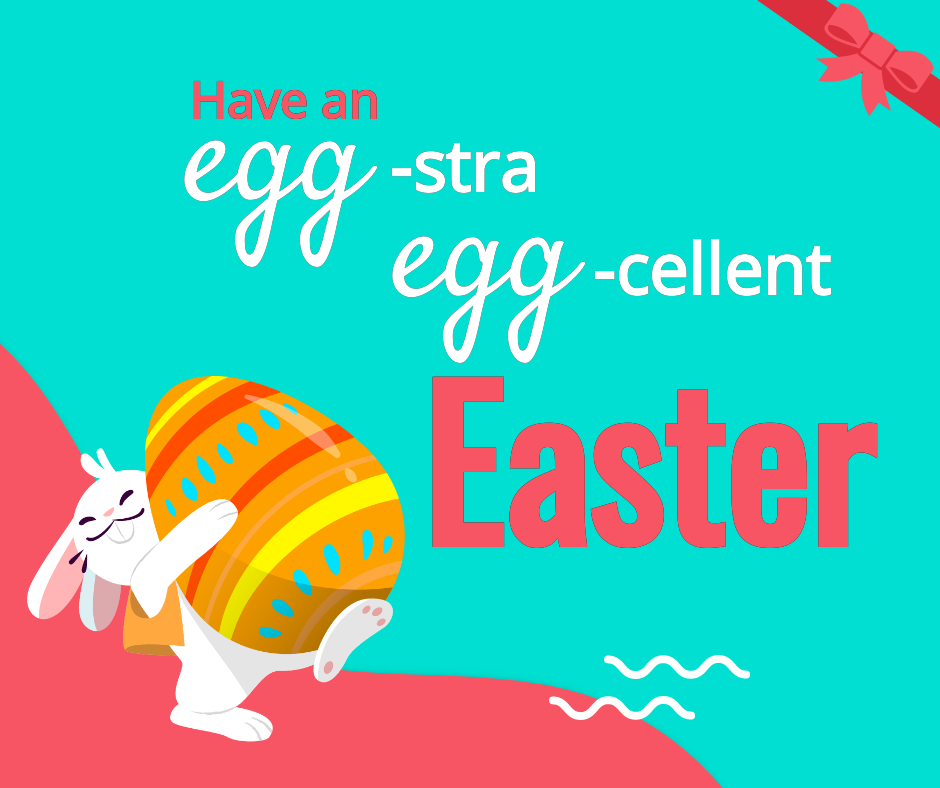 Get This Template and More
Silhouette Illustrations on Your Facebook Post
Sounds bizarre for Easter? Absolutely not. Just take a look at the DocHipo template below. It has all the charm and mysticism of an Easter post. Yet, it stands out among the rest. The reason is the controlled use of color and bling.
Blue has a very formal undertone. Moreover, the monotone has aptly weaved its magic through all its elements drawn and carefully placed.
Did you pay attention to the message on it? It casually pushes you towards a happy, fun-filled celebration of Easter. There is no need to have second thoughts before using this Facebook post template. The measured use of elements has heightened the quality of this post and made it usable for any individual or unit.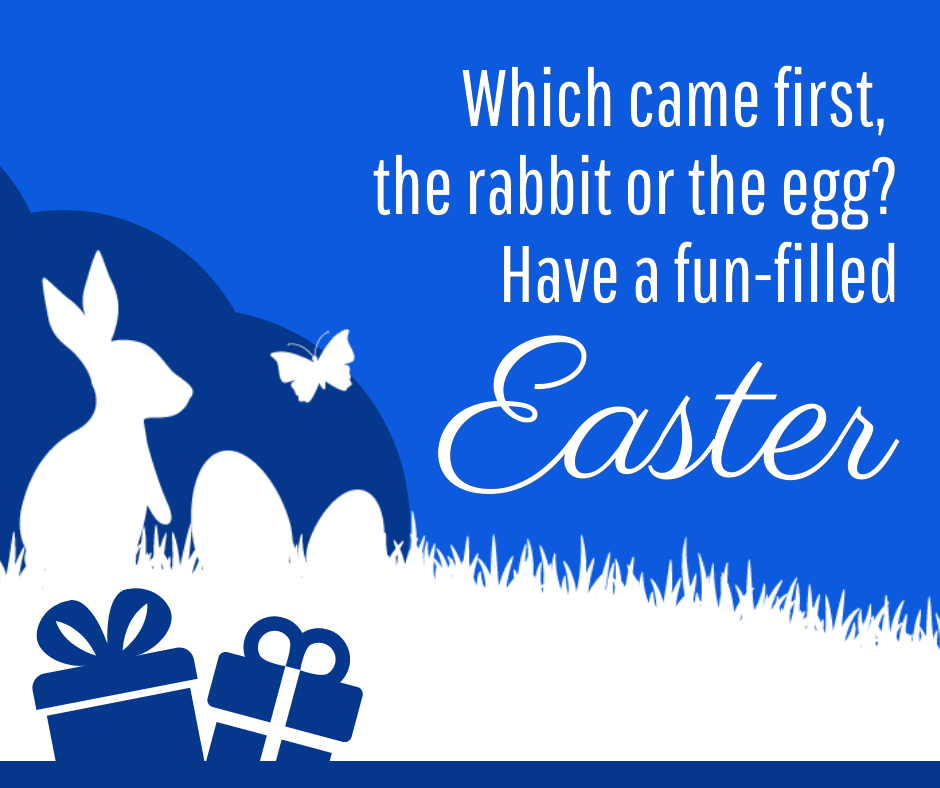 Get This Template and More
How to Create an Easter Facebook Post with DocHipo
In this section, we'll see how you can design an Easter Facebook Post in a simple three-step process. If you're new to DocHipo, sign up with your email address and password. Otherwise, log in to land on the 'All Templates' page.
STEP 1: Choose an Easter Facebook Post Template
You can search for Facebook Posts in the search bar or select it from under the 'Social Graphic' category on the left sidebar.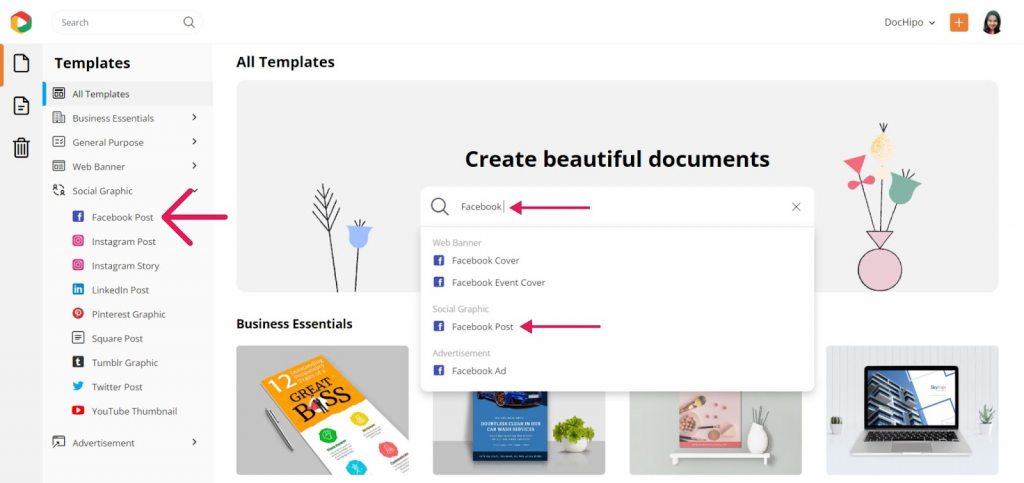 The Facebook Post Templates in DocHipo are categorized into various industries and occasions such as Fashion, Real Estate, Travel, Christmas, Black Friday, Diwali, Women's Day, etc. Let's explore the Easter Facebook Post Templates further.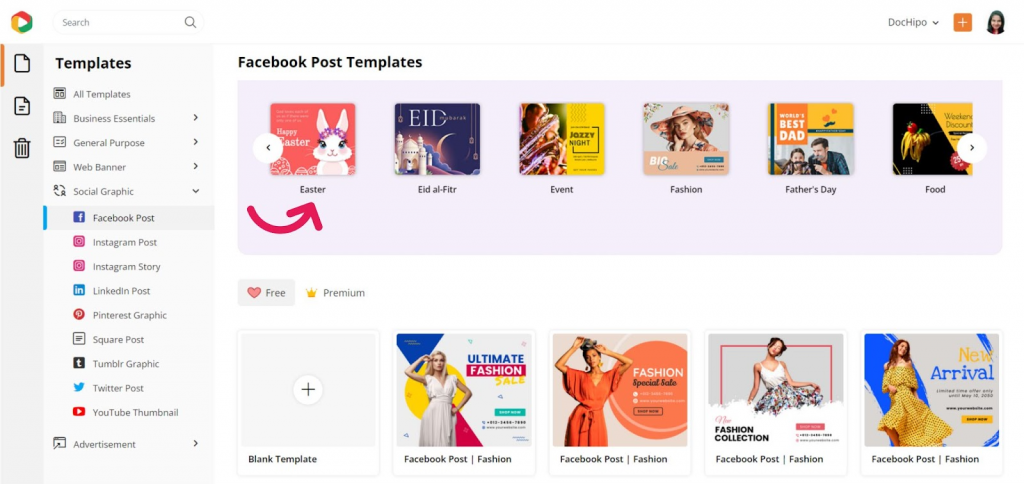 You can paint your magic from scratch on a blank canvas. But I'll recommend leveraging the heart-warming templates to fast-track your design process. Hover over the template you love to preview or select it.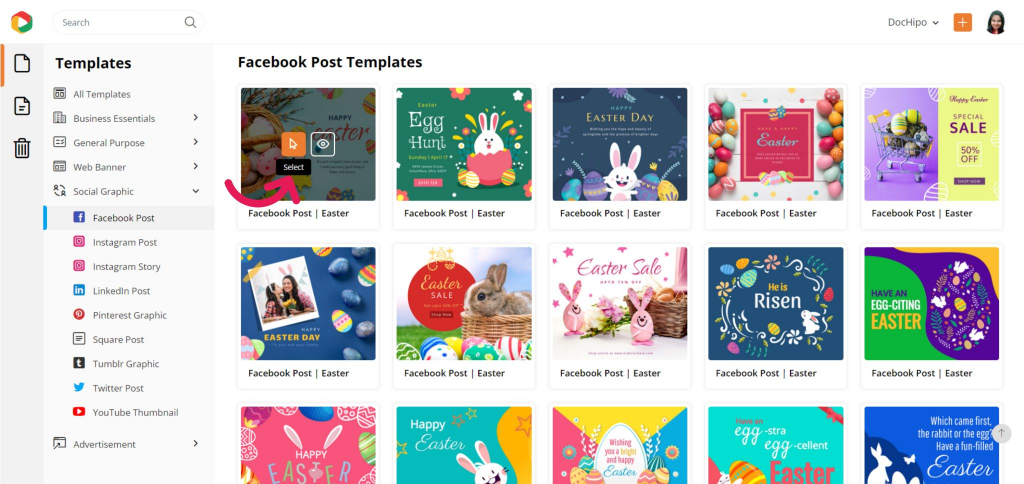 Now, add document information such as name and a brief description to access it easily.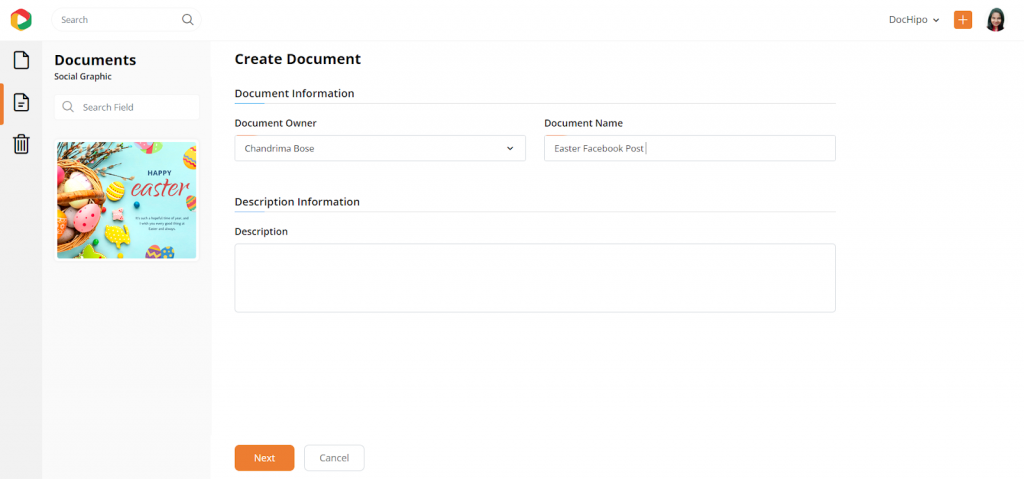 STEP 2: Customize Your Chosen Easter Facebook Post Template
This is the most exciting part of designing your Easter social media post, as you'll customize it how you desire. Select your required design widgets and edit them on the DocHipo editor.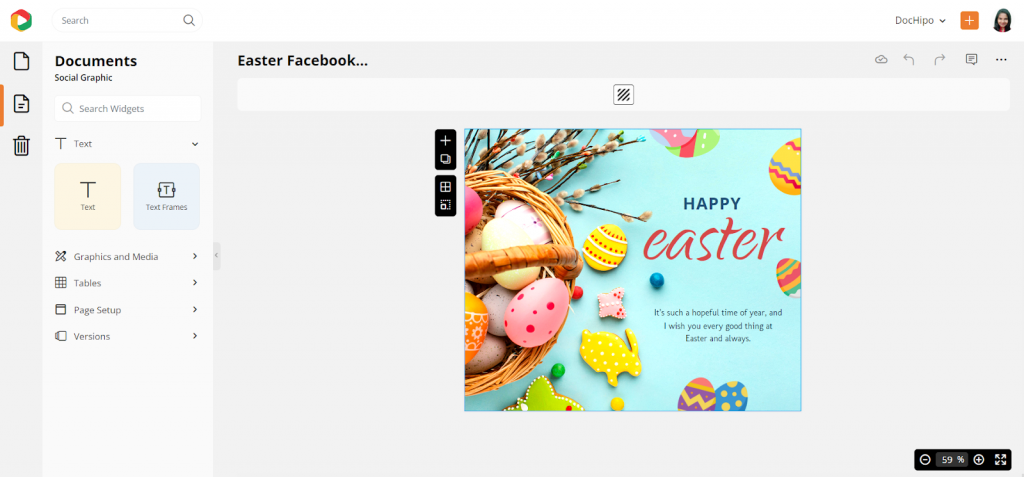 Change the Picture
Choose the 'Pictures' widget under the 'Graphics and Media' section on the left sidebar.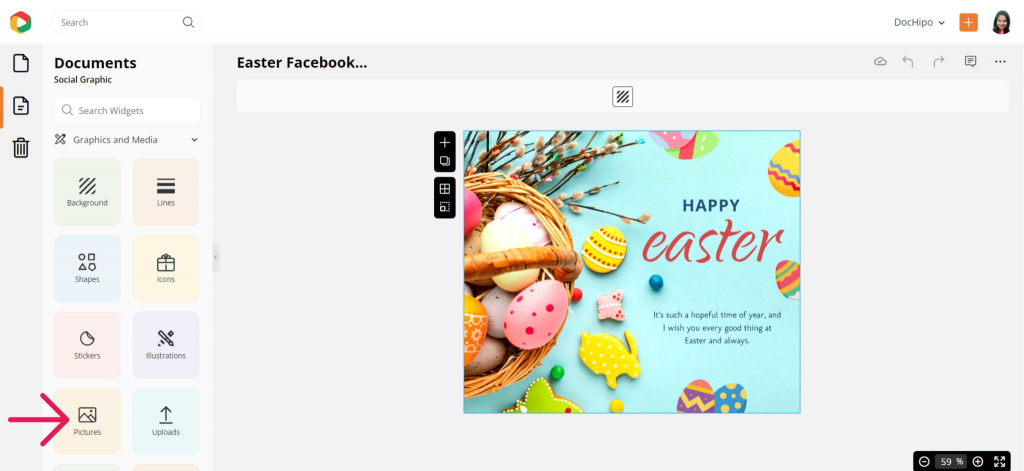 You can access unlimited pictures from stock photo websites and use the one that best fits your Easter social media post design.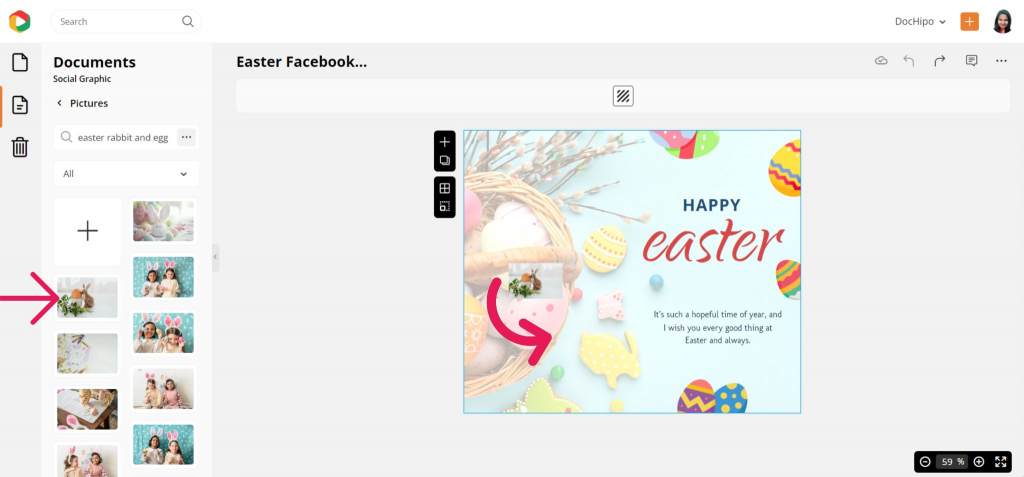 Below is how the design looks after repositioning with our smooth drag-and-drop editor.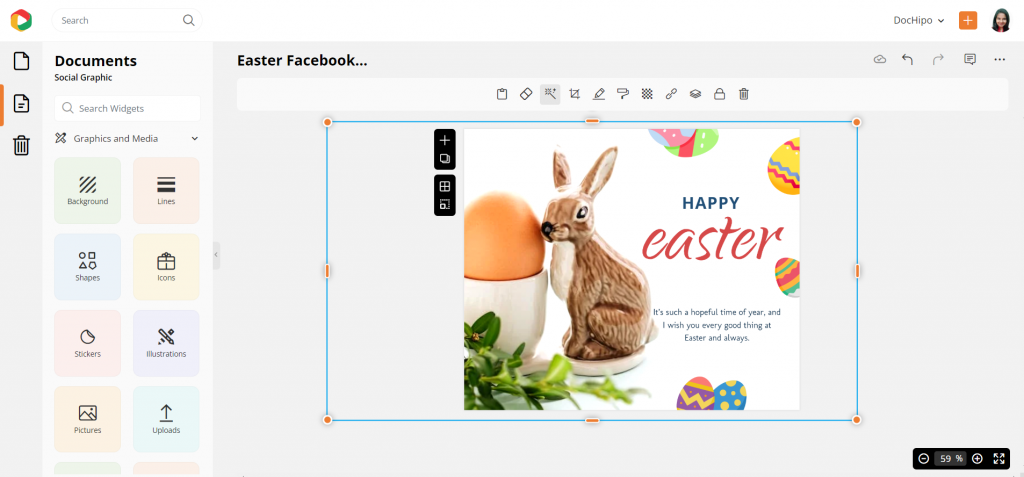 Alternatively, you can upload images from your device if you want.
Change the Background
We need to Remove the Picture Background to change the background color. Select the picture and click the 'Remove Background' icon from the above editing panel.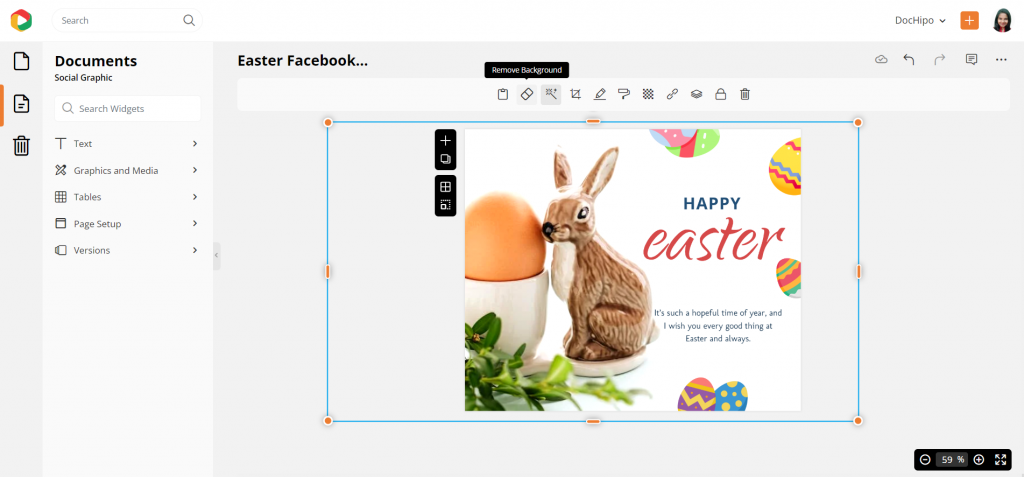 Click on the 'Remove' button.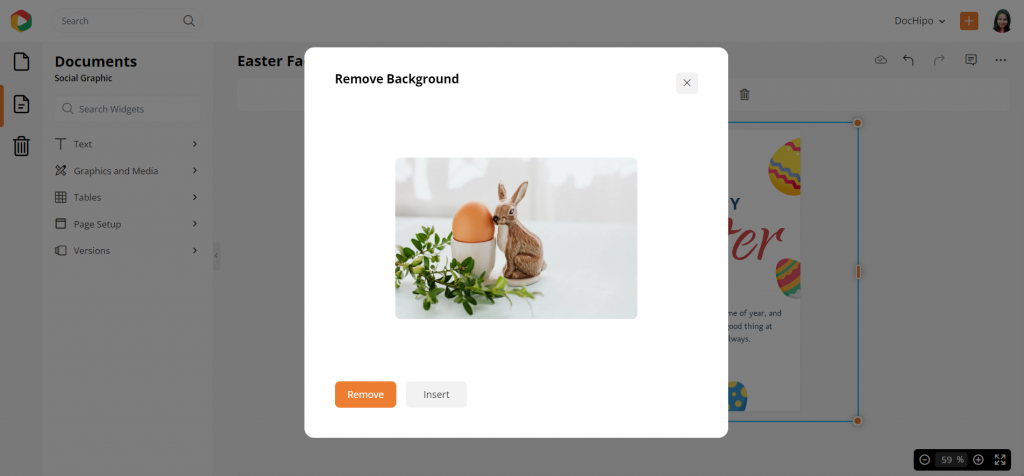 Tadaa! The background is removed in just one click and is ready to insert into the design.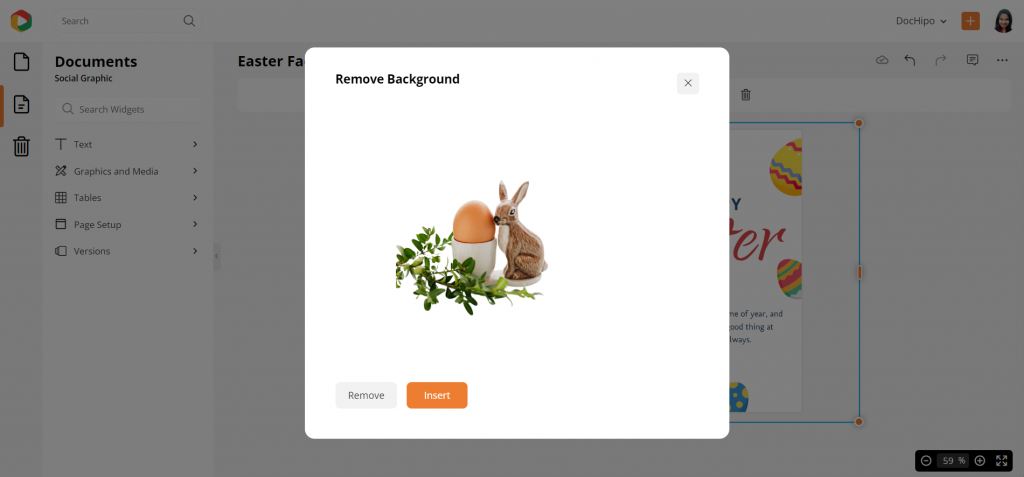 Refer to the video for removing the background from the picture with a click.
Now, select the background widget, categorized into color, pattern, and gradient.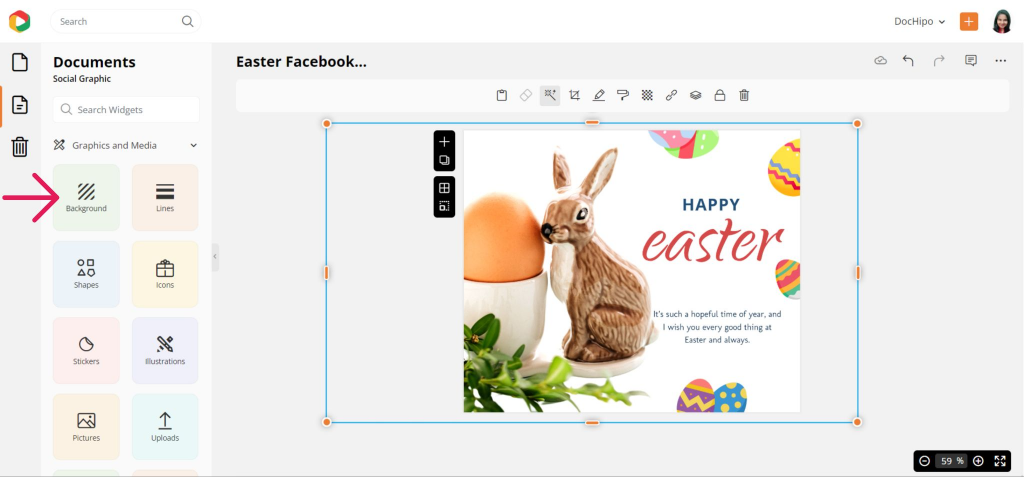 You can experiment with the theme and custom colors or put the color hex code directly in the space provided.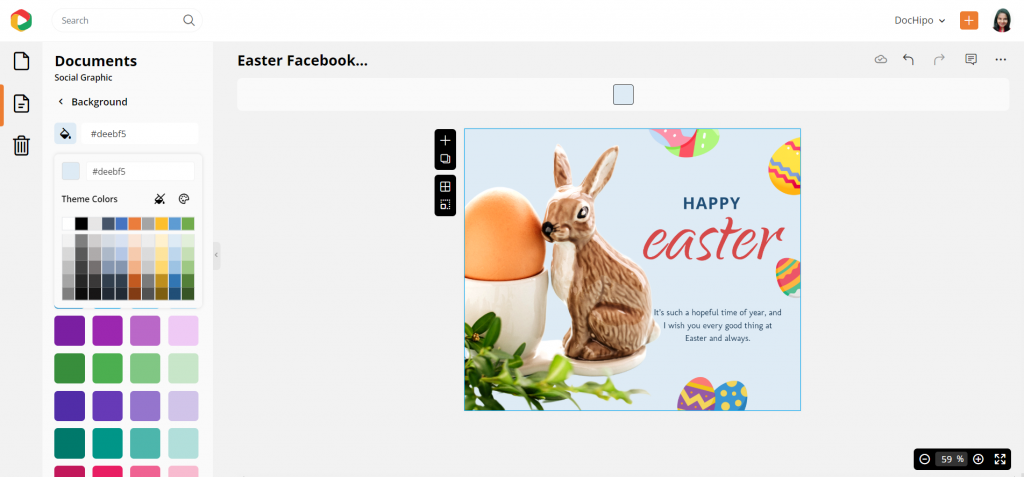 Check out How to Create Stunning Background for a detailed guide.
Editing the Text
To edit an existing message, select it and replace it with your heart-felt Easter wishes.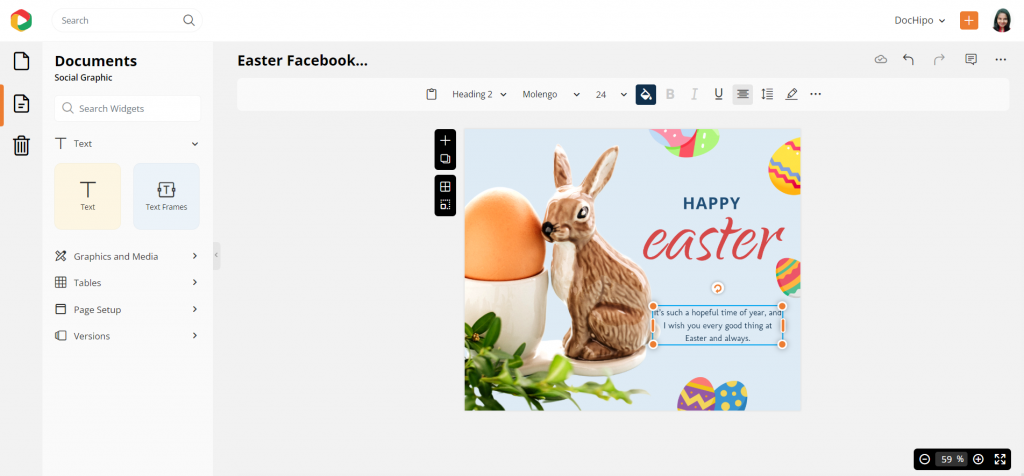 In the above panel, you'll get multiple text editing options, such as changing the font size, color, and alignment, adding text shadow and borders, inserting links, etc.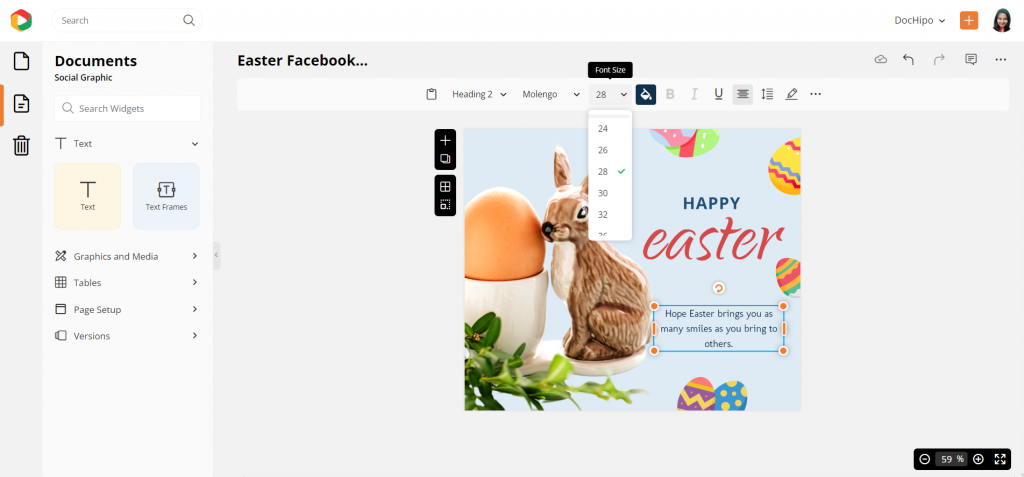 Watch our quick tutorial on adding, editing, or deleting text in DocHipo.
STEP 3: Download Your Easter Facebook Post Design
Once content with your Easter social media post design, click on the three horizontal dots to preview and download it.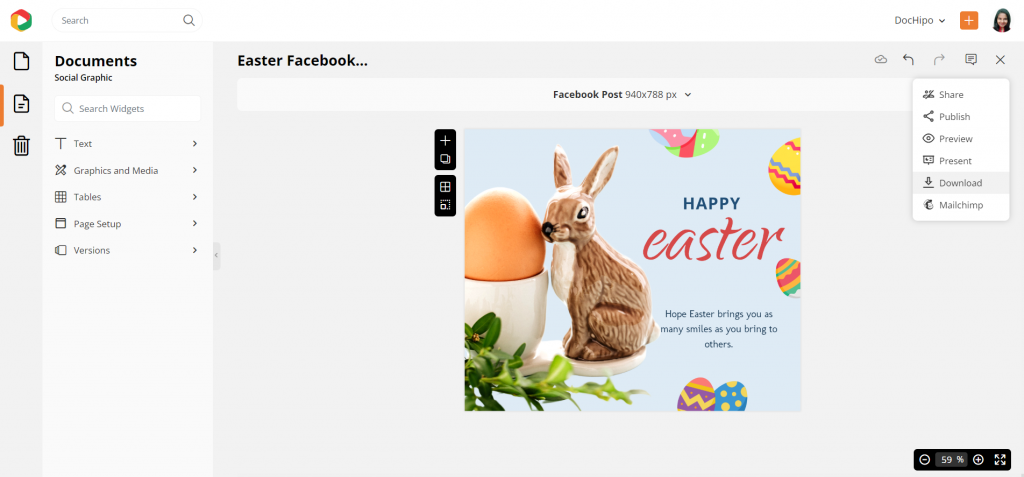 Choose your preferred file type and quality to download and share with your audience.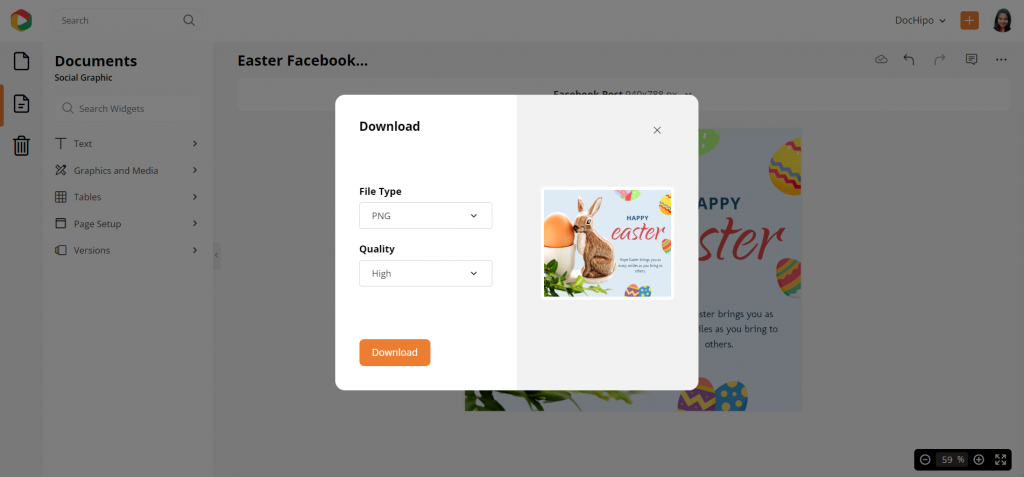 Refer to the video below for downloading designs in DocHipo.
Easter Facebook Post Design before Customization: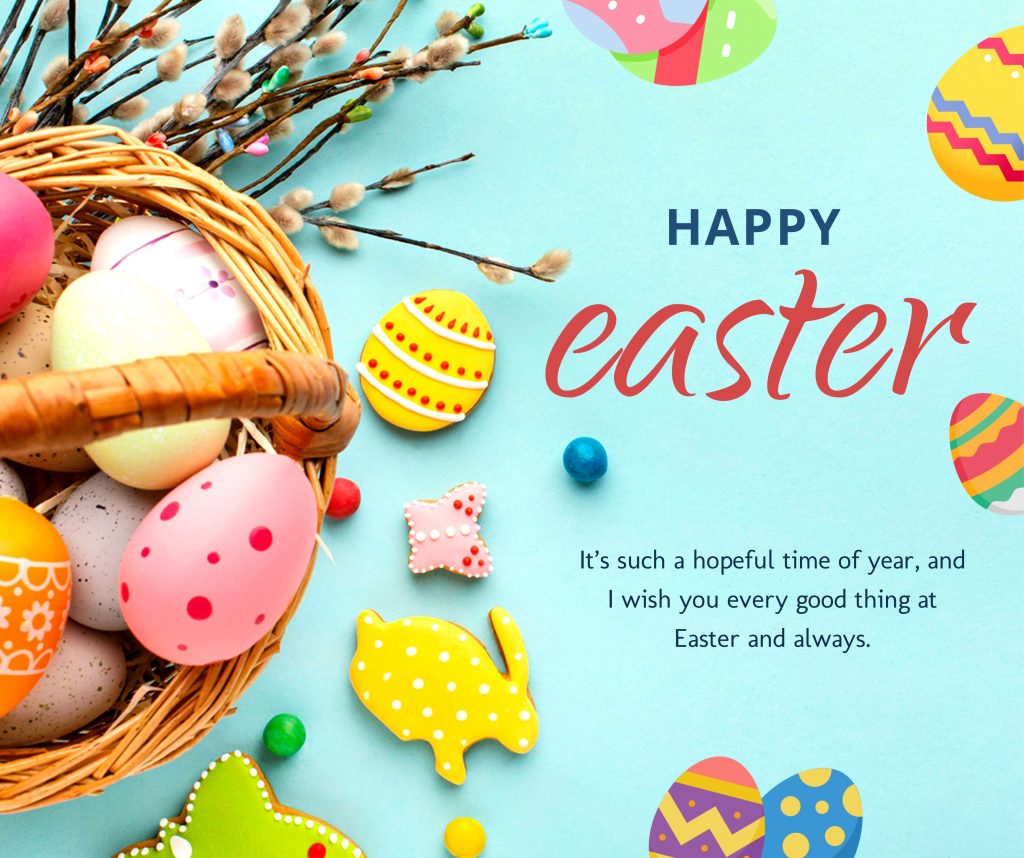 Easter Facebook Post Design after Customization: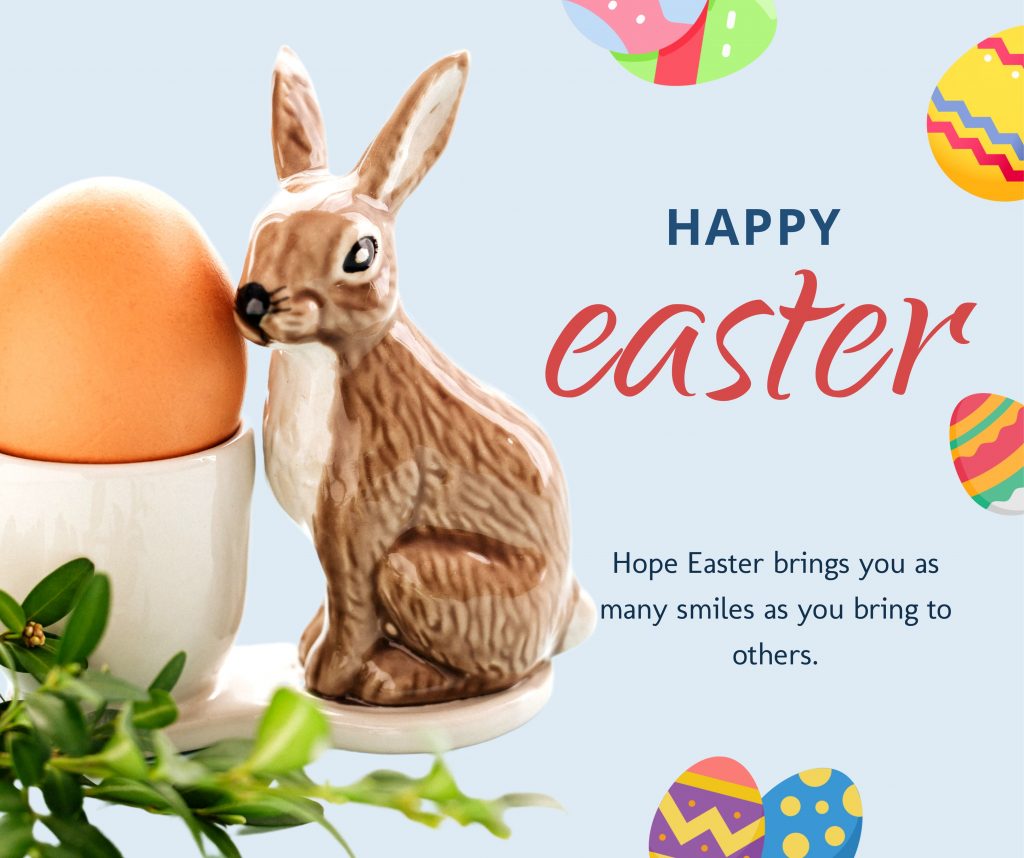 Happy Easter
Life brings its dose of challenges and rocky paths that you fumble to walk on. Festivals are the channels that help you cross over that challenging phase. Easter has come with loads of hope and brightness to us. Let's glide to happiness riding on its bliss.
Sign up to DocHipo and use a template of your choice to create beautiful social media posts to wish your friends this Easter.