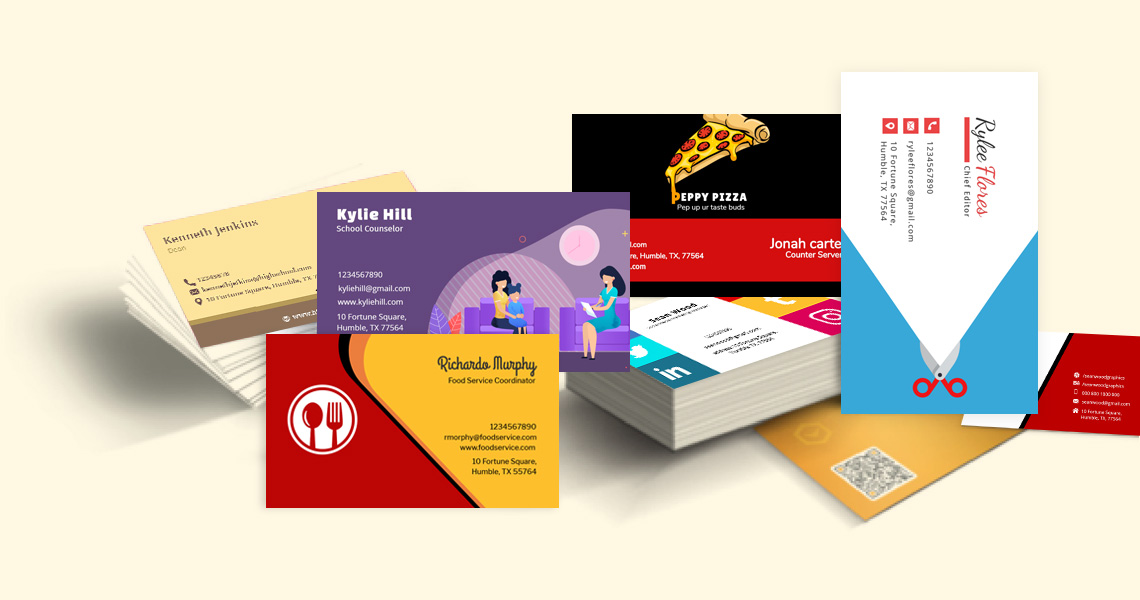 Business Card Design Essentials: A Comprehensive Guide to Turbocharge Your Networking

Last Updated Sep 15, 2023
Your business card is a tiny yet powerful piece of paper with more potential than you expect. I know that friends have asked you a million times, "Why a business card in the era of online marketing"? We would ask you, "Why not"? After all, your business card is the single point of contact your business connections can contact you. You surely don't distribute your business cards without seeing business possibilities.  
Moreover, every element you use on the card, like logo, typeface, image, color, and even blank space, must be planned to make an impact. You must stand out through your business card design and make a mark. After all, you would not want a journey to the waste bin for your cards. Remember that your business card design and content decide how people perceive your business process. 72% of people develop an opinion about a company depending on the overall quality of the business cards of its employees. The moral of the story is that your business card design can make or break your business.
Discover the art of impactful networking with business cards in this blog post. Learn about business card design best practices and essential elements. Also, get tons of industry-specific business card templates to create your own.
Table of Contents
Are Business Cards Important
A business card is a necessity. What do you do when someone asks for your company details after meetups, seminars, conferences, or trade shows? You probably fiddle with your mobile for your LinkedIn profile and website URL to share with them. You can share your business card instead. It contains all your contact details in both offline and online formats.
You shake hands, say 'hello,' give a welcoming smile, and share your business card with a contact. This process signifies you are inviting a contact into the world of your business.
But that's not all. Your business card is more than just a list of contact details. If you are a smart marketing strategist, transform your business card into a professional branding tool.
Despite all the social networking platforms, you need this bit of offline presence to build and increase your professional connection over time. The most successful entrepreneurs like, Steve Jobs (Apple), Bill Gates (Microsoft), and Larry Page (Google) have their business cards. Then there is no reason that you shouldn't have one. 
If the business card had not been important, the Facebook CEO wouldn't have had one, right?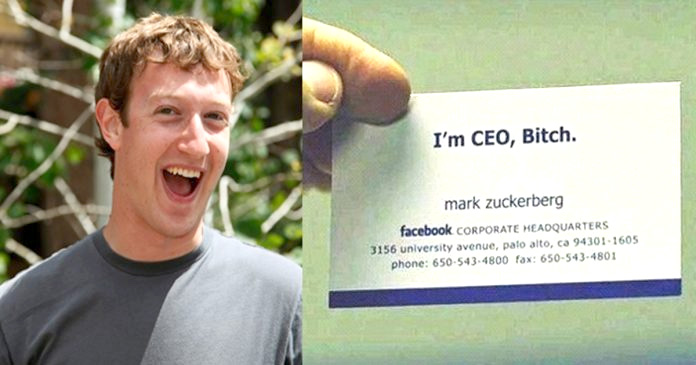 Did you imagine your business card is just the offline representation of your online presence on different channels? There are multiple other reasons why you should get yourself a business card. Take a look at a few,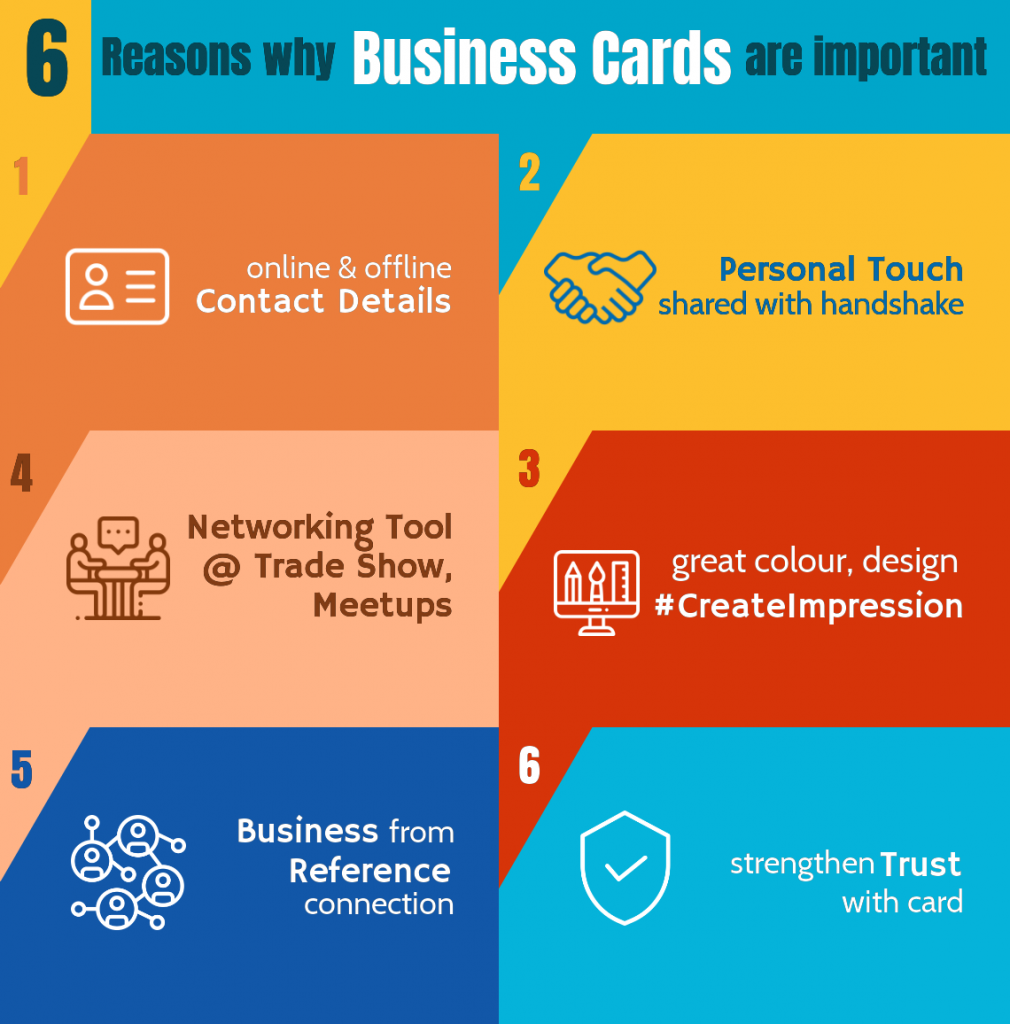 So, what does your business card do for you? It offers your contacts an effective context for what you do. Apart from your festive posters, flyers, web banners, social graphics, and business cards also offer your connections an impression of your brand personality. That is very important as that impression can be their last impression.
What should You have on a Business Card
Well, that depends entirely on specific needs. A handful of elements fall in the 'must be there' category. But people do deviate from it at times. You decide what your connections should know about you. However, you should follow a protocol that is widely accepted in industries.
Select what you want to add to your business card a little carefully. Your connections need specific information about you, not everything. Let us look at what your business connections need to know about you.
Name
The most important elements to include in your business card are your name and business name. You should be a wee bit careful about using typeface and the font size for those elements. After all, your connections must read them without difficulty.
Job Title/ Role
Your job title or role in the company is part of your identity. That is how they can associate your job title with your company. They must know your role and responsibilities in your company. After all, they need to know how you can help them. If they miss out on the context, chances are high that your card will land in the trash bin soon. You surely cannot let it happen.
Contact Information
Your connection has access to your card. Then they must know how to contact you when and if needed. It can be through an email ID, phone number, or both. You must be within reach when the person requires you for some business.
Want a beautiful yet clean-looking business card design? You can use DocHipo's Business Card templates for that. Just use the one below and repurpose it.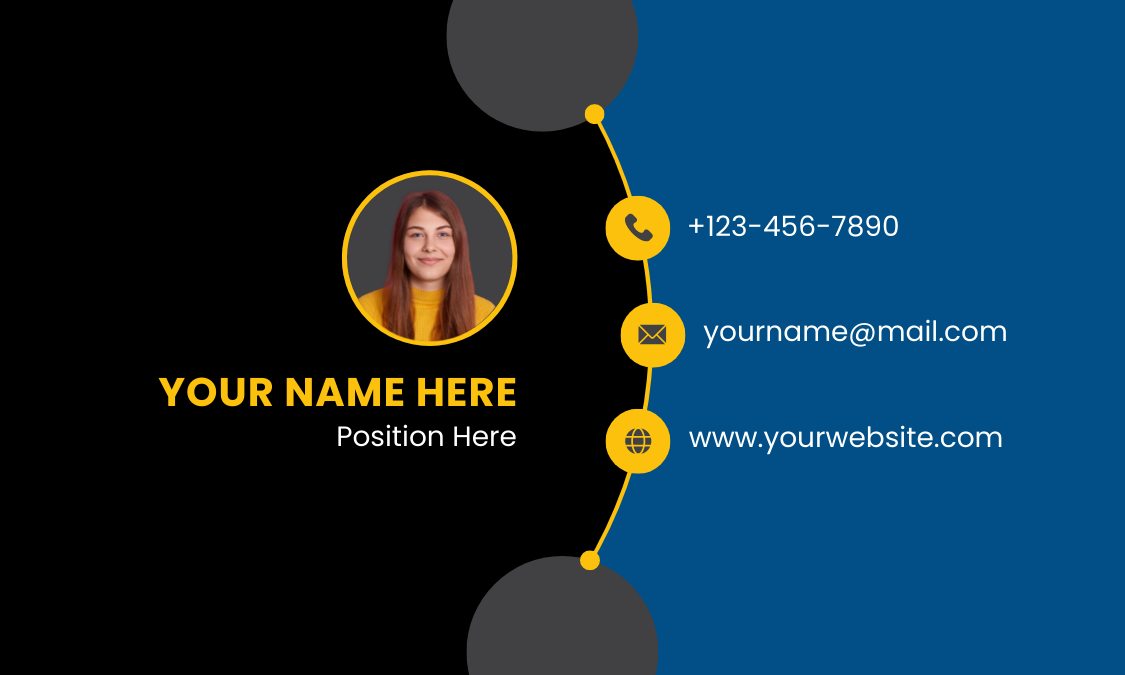 Get This Template and More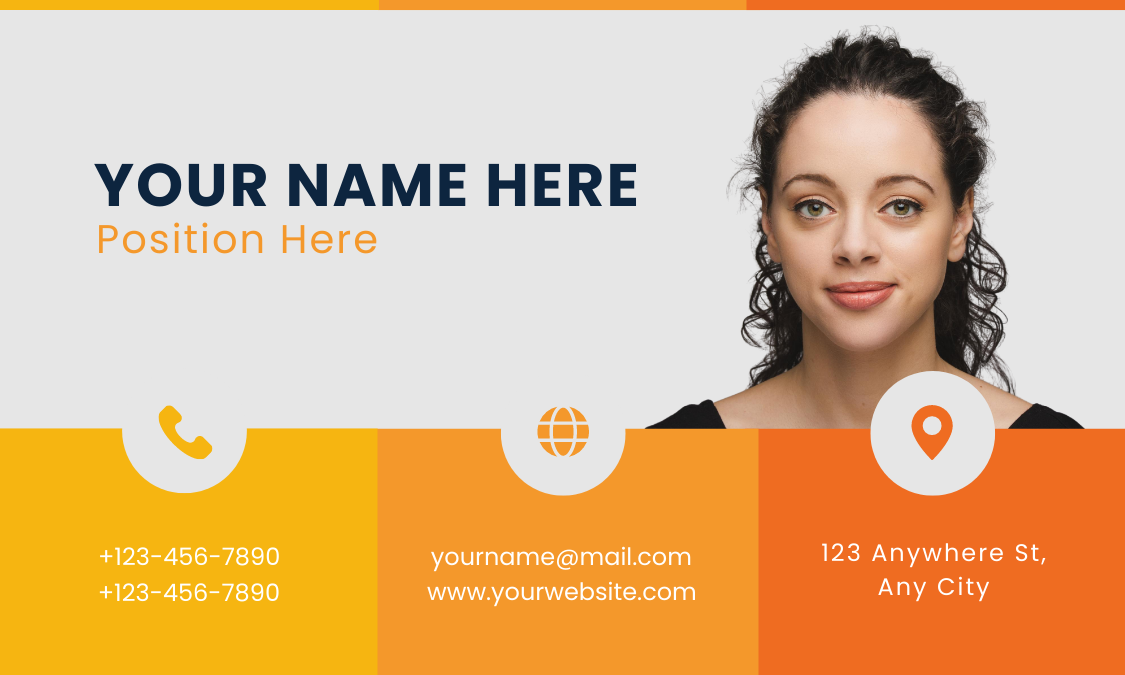 Get This Template and More
Company Logo
You design a business card with precision and get it printed. Then you stack a bunch in your bag and carry them around during all business meets. Why should you not use it as a useful branding tool? As your organization's business owner or marketing manager, you should not leave any opportunity for branding for your company. What better way to start than using your company logo on the card?  
Social Handles
There is no denying that your connections would like to find you on social media. It is easy on the go. Your business card should have all your useful social handles enlisted. The recipient will easily locate you on social networking sites and check out the details of your work. If you plan to add multiple social media links, using relevant icons for an organized listing and a clean look is better.
QR Code
A QR code is a good option if you feel conscious about too much information on your business card. QR codes are very much 'in' these days. All you need to do is embed your details in a QR code and download it. Printing that QR code on your card means space is saved, and the design is made uncluttered. You can include your address, job title, and all other relevant information in a QR code and then publish it on the card. So, you save space for your company's logo and a small display image.
Check out the Real Estate Business Card Templates with QR codes for inspiration.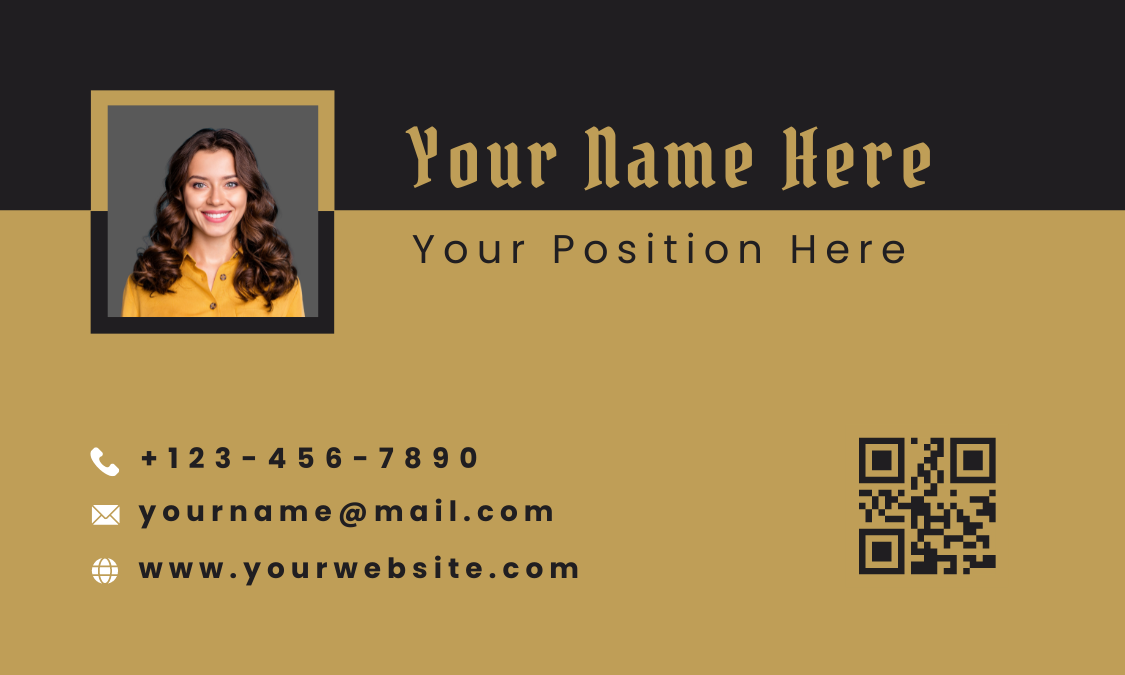 Get This Template and More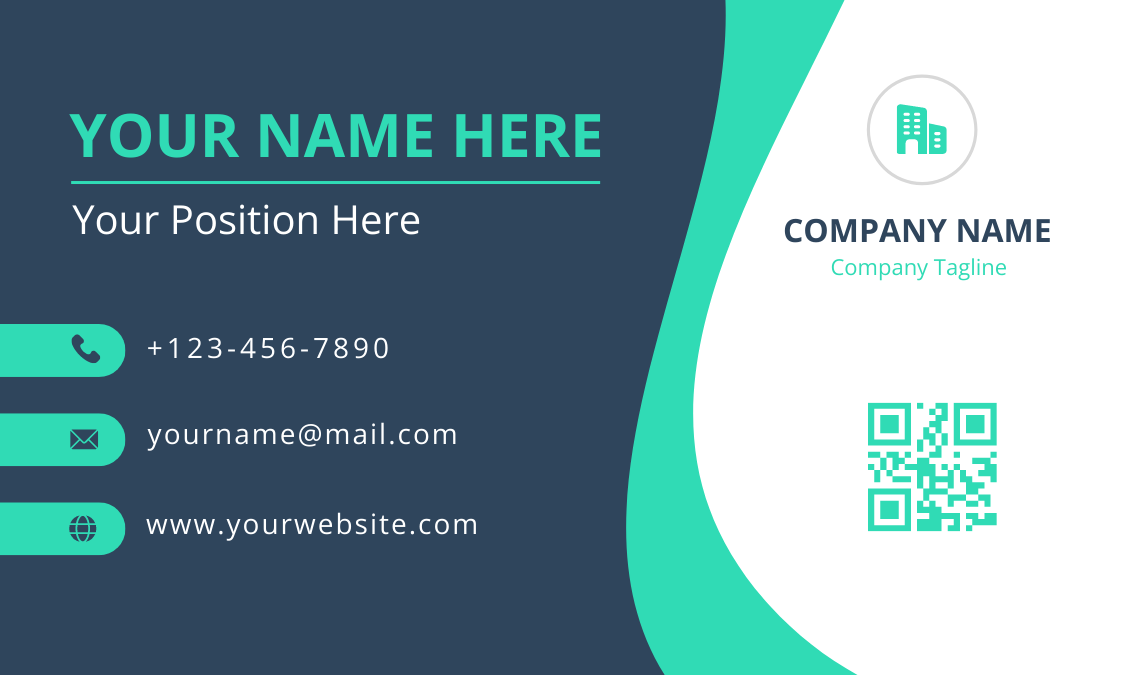 Get This Template and More
Watch this quick demo while designing business cards with qr code.
Business Card Design Best Practices
While designing your business card, you must consider a couple of elements:
Business Card Color Choices
The first and very important attribute of it is the color palette. Choose colors carefully. The palette should not have more than 2 to 3 colors. You can use color psychology if you are clueless about the best colors for business cards. That will help you to decide on the right color to use. What do you feel while looking at the DocHipo Education Business Card template below?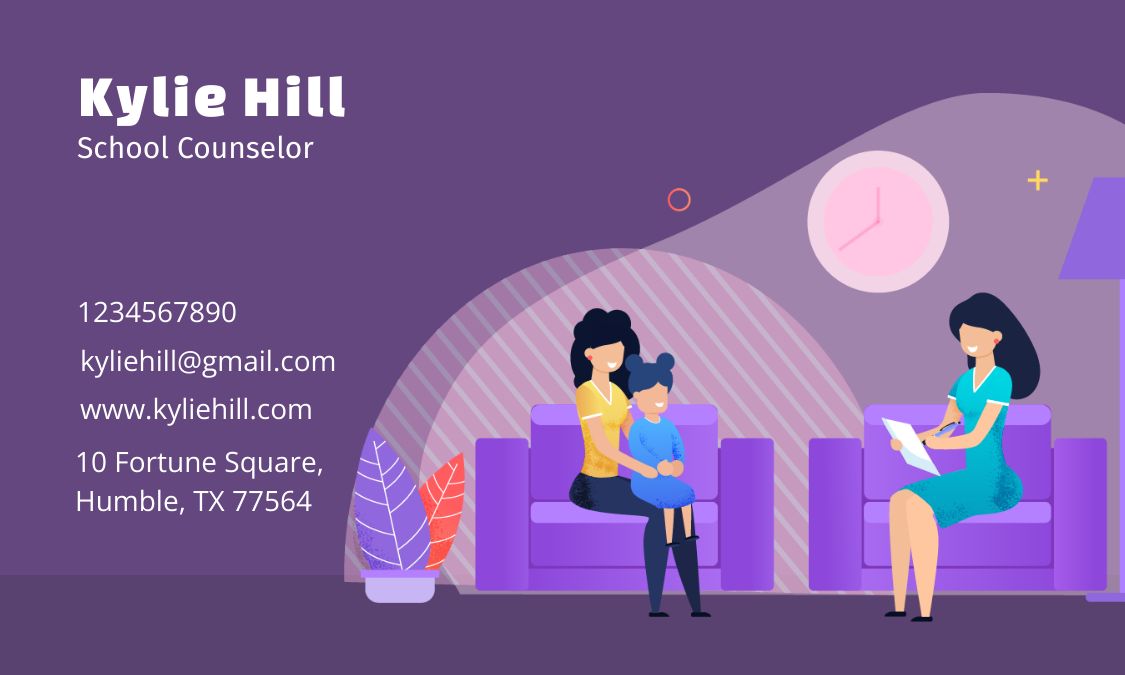 Get This Template and More
Purple is a combination of red and blue. Purple is a luxury color that reflects wisdom, power, creativity, and MAGIC. It does the balancing act between the color psychology of red and blue. Red invites vibrant energy, and blue relaxes it to offer stability. Purple's calming effect makes your brain fertile for many creative ideas.
The above business card template is for a School Counsellor. It has to calm your nerves the moment you see it, right? Purple often evokes different emotions and feelings.
So, this is the appropriate shade for the business card of a counselor or psychologist. The recipient would immediately hook through a mental connection. In a familiar and relaxed mental condition, the person better opens up to the counselor. You know how important it is for successful counseling, right?
Business Card Font Selection
Now, let's plan about the right business cards fonts.
Add perspective to your business card design with an effective font selection
Your business card mirrors your personal-professional traits. So, you have to choose your typeface carefully. For example, if your industry demands a traditional and formal approach, your fonts should reflect that. The Serif family is ideal for this purpose.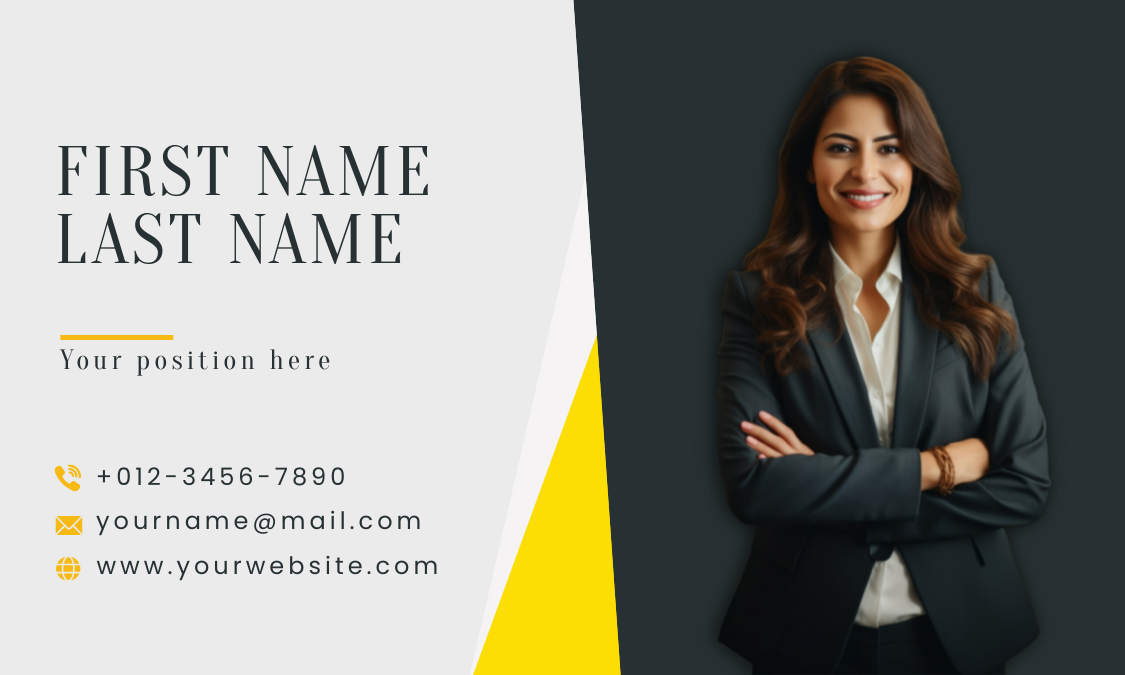 Get This Template and More
If your business requires modern, clean, stable, and sensible font styles, sans-serif seems to be the right choice.
Try this business card template in DocHipo for a modern and stable industry like IT. The use of Josefin Sans makes it look drop-dead cool, and modern.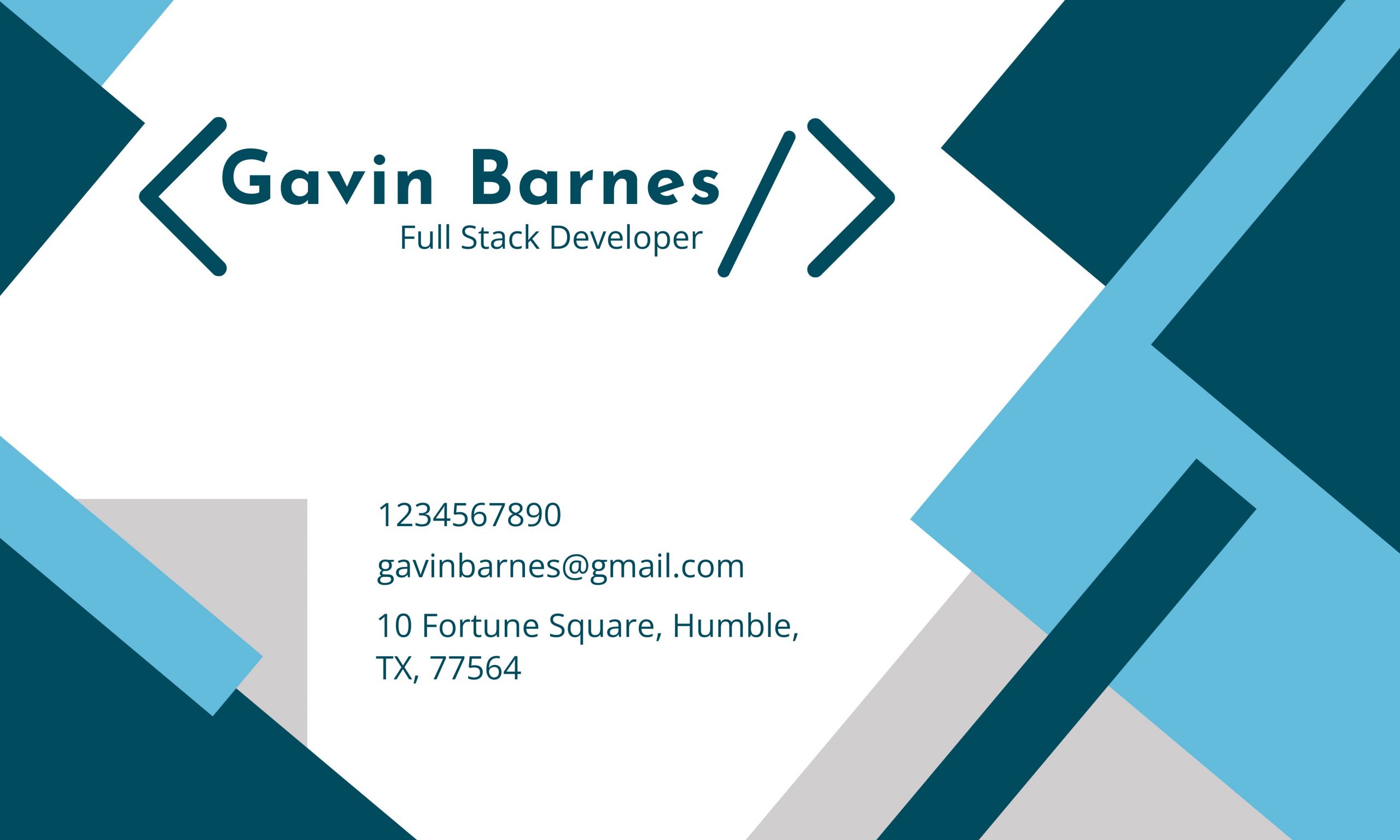 Get This Template and More
Ideal business card font size for no-strain readability
Your name and company name must be loud and clear. Your business card is useful to the recipient only if your details are understandable. You must choose a legible and good business card font to create impact. Remember that you have only a 95 mm x 57 mm space to answer all queries on your professional details. So, pour the bucket out, but carefully.
Choose a font size that is readable without difficulty from the distance between a desk and eyes. 60 to 70 pt is ideal for name and company name, while other information can be in 28 to 30 pt. There is no thumb rule to follow in this regard. Small size types, too, can rock your business card details. Just maintain the design balance and provide effective blank space so that information is readable at a glance. Check out the Business Card templates below.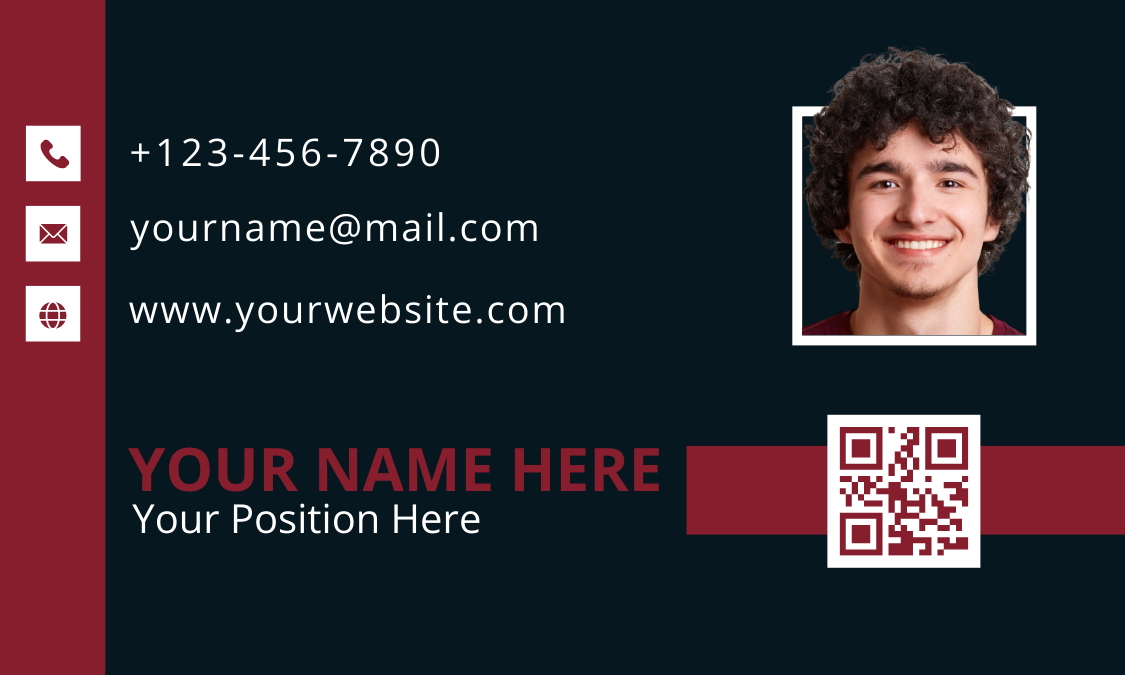 Get This Template and More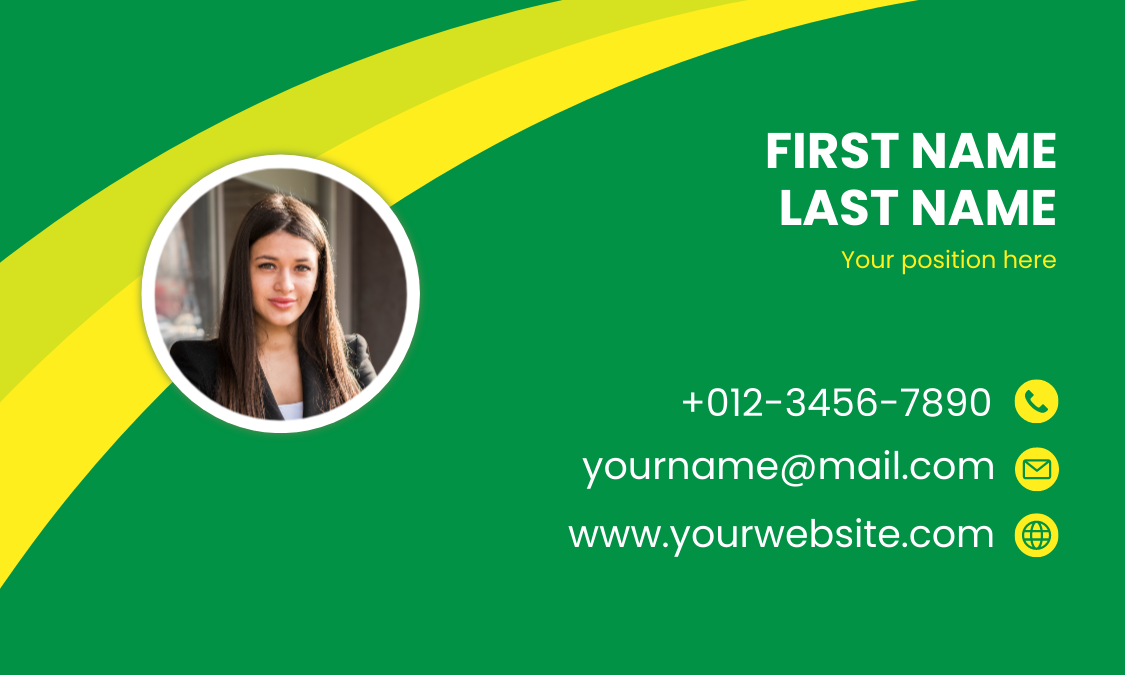 Get This Template and More
Use Logo on Business Card with Precision
Why smart? Because there is not a well-defined business card logo size. You should choose it according to aesthetics. If you have enough space to accommodate a large-sized logo, nothing like it. After all, you use your business card as a short and crisp branding tool. A logo is your knight in branding.
You can use your logo this way (see the image below). That is how DocHipo helps you to design business cards easily. Just increase or decrease the size of the logo on it according to need and available space.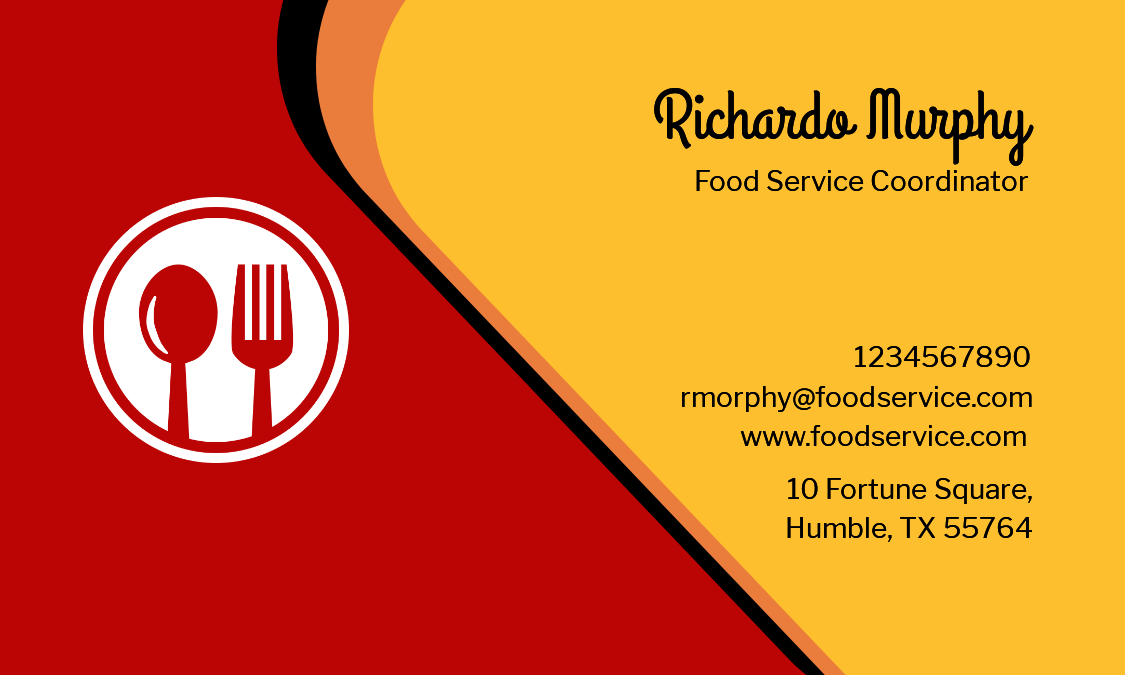 Get This Template and More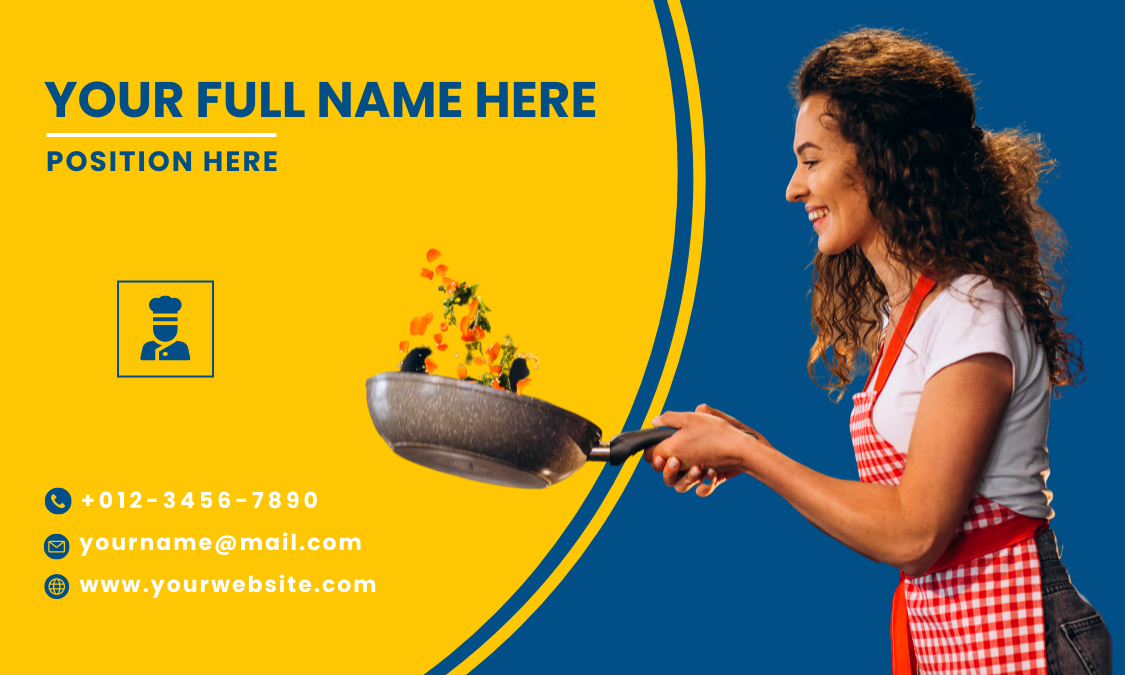 Get This Template and More
End the game in style…
Designing a business card is not just creating a 1125×675-pixel piece of colorful cardboard. It is not boasting your heart out about 'who you are' or 'what you do.' Your business card is a precise document. You hand it out and say, "Here I am." Important information is put in the simplest manner. You win hearts in a jiffy.
To create such a professional and actionable business card design for yourself, sign up to DocHipo. You will get several templates to work with. Best of luck on creating your first and most important piece of identity.