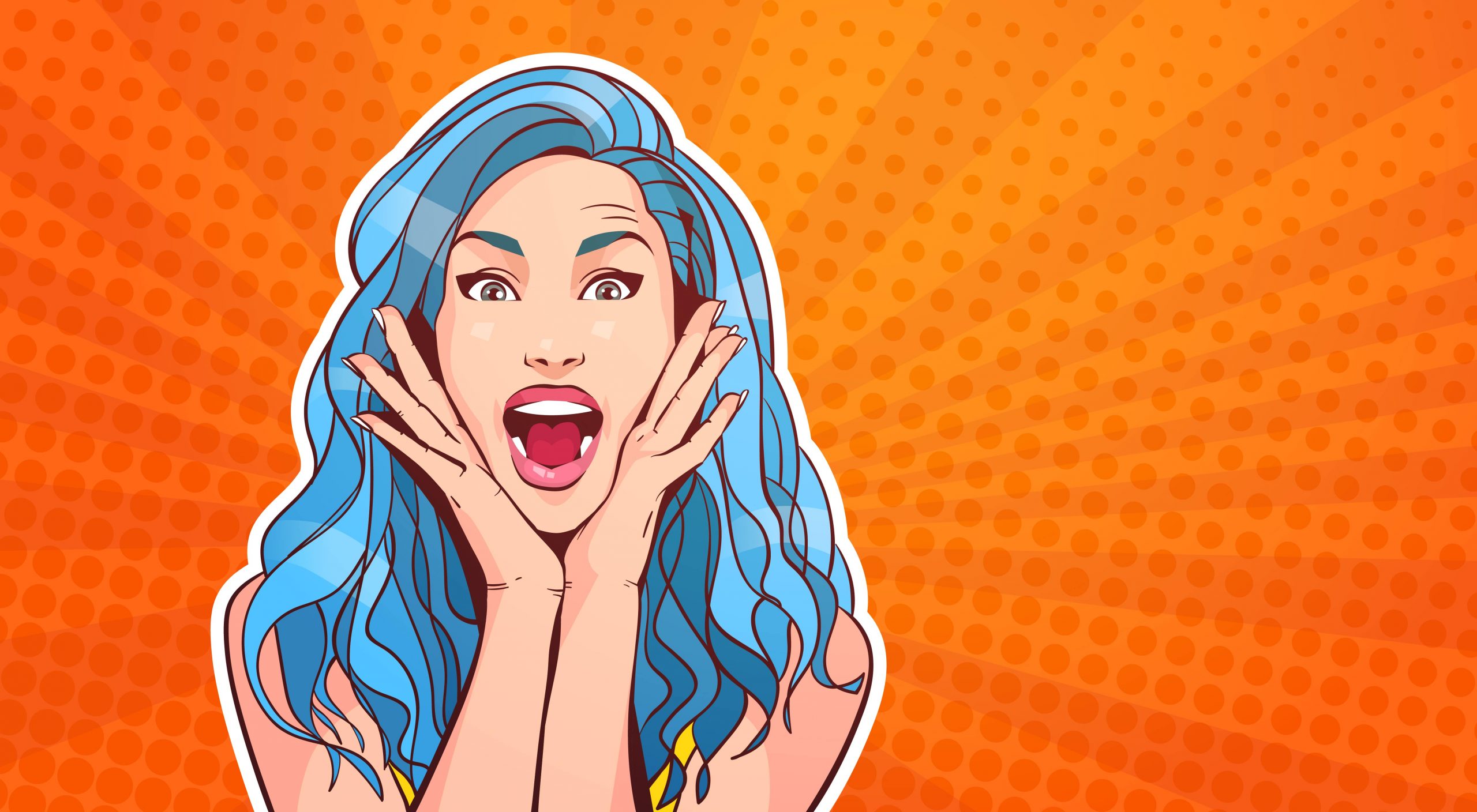 Branding Joe: Brand Yourself with a Perfect Logo in DocHipo

Jul 16, 2020
Hi Folks! How have you been?
I am Joe, a life coach by profession and an avid user of DocHipo templates. Today I am here to share and walk with you in my attempt to brand myself. Being a newbie, my first attempt is to create a brand identity and logo design for my business. I want to create a strong brand awareness and recognition, which will resonate with my clients.
It has been a very new thing for me to start this business. But, advising people and sharing insightful realizations is not a recent phenomenon in my personality. From a very young age, I was always curious, curious about people and concepts about self. Since then I have been brimming with profound questions such as, "Who am I?", "What is my real purpose in life?".
These questions never ceased to stop and lured me to plunge deeper into the real meaning of life. In this pursuit to understand myself better, I came across many people having similar aspirations. As I kept unfolding my life's purpose it was then that I found my calling.
So, today I am here with an ambition to see a society filled with self-confident individuals. I help people to unravel their potentials and their inner self that will make them realize their life's purpose. To do this, I need a solid foundation that will help my clients to identify me and my services.
So, let us first check the key factors of building a strong brand identity. After this, I will share the entire process of how I created my Logo using DocHipo.
Brand Identity Key Factors
To create a perfect brand identity, I had to think and get better clarity of my services. Creating a brand identity is just like understanding yourself in the context of the real world around you. Similarly, it helps your customers to figure your services out through the initial impressions expressed by your brand. Hence it is extremely important to construct the right impressions for capturing the right client base.
Let us look through some initial points that helped me to create my brand identity.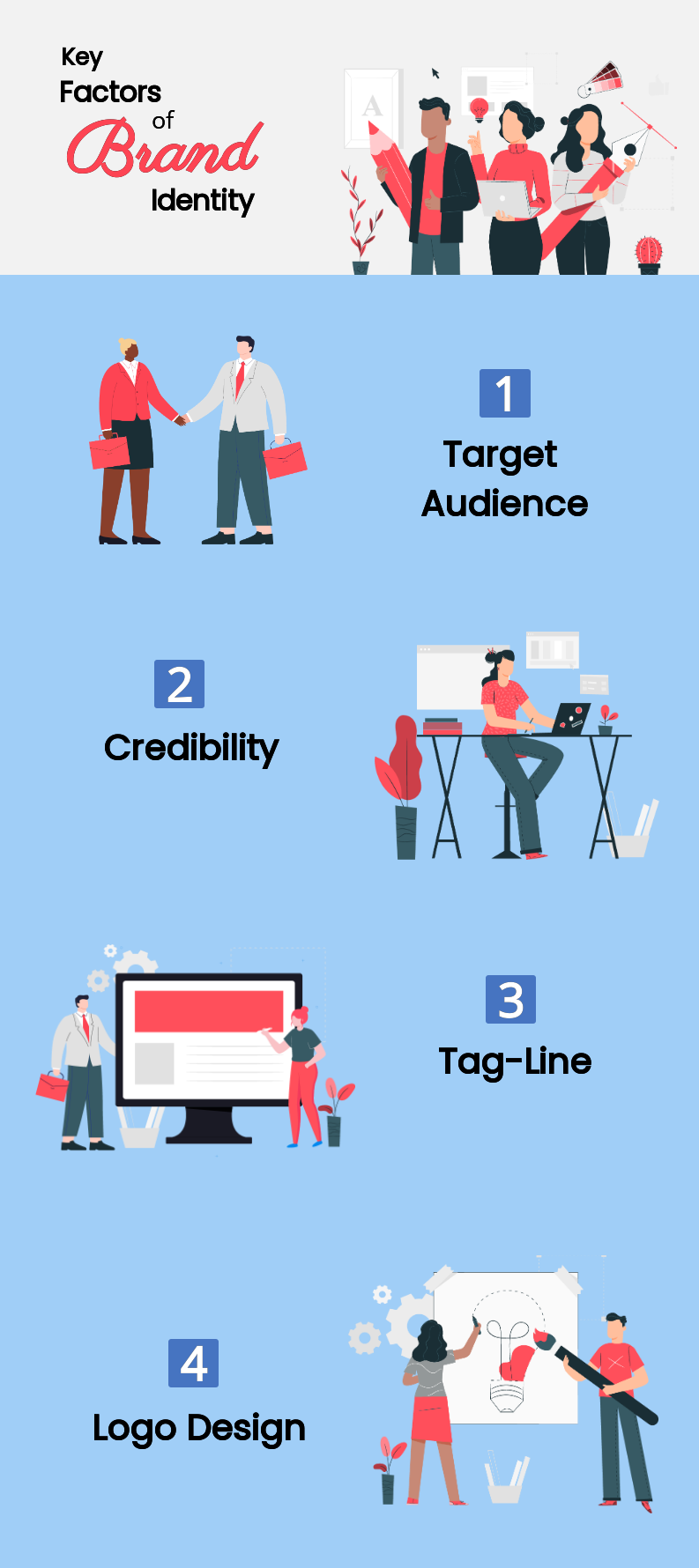 Target Audience is Important
The first point to consider when creating the right brand identity is deciding on your specific audience. This specificity will enable you with the proper tools to construct the other factors of brand identity.
In my case, the theme based on Self-identity and life-purpose pretty much involves everyone. But this universality is not an ideal way to approach the business. Hence I had to narrow my audience for a better definition and clarity.
For my profession, I decided to mainly address clients within the age-group of 18 to 25 years. This is mainly because I realized that this age range is a very weird phase in an individual's life. It is the time when life experiences a transition, bringing in an inherent mechanism to synthesize oneself with the external world.
This is the most delicate time when the self tries to redefine themselves with the world and stand on a definite perspective. Hence, I love working with that age group. It is extremely rewarding to know that these individuals can face the world fearlessly with their true-selves.
We are all scared of rejections. But only a confident individual can accept criticism and not judge themselves through the colored eyes of society. So, to create that confident generation, I decided to take-up cases who are in their blossoming stage.
Establishing Credibility and Goodwill
This is an extremely important step to take to make your business look convincing to your clients. In my business, which is based on personal stories and motivations, this is the most important factor. Let me tell you why?
It is mainly due to the type of work I do. My work involves talking and working out a strategy that will help my clients to further understand themselves. But, helping your clients to reveal their hidden insecurities, fears, guilt, and other vulnerable aspects is a challenge. To effectively bring out all the information, I have to reveal some of mine. So, in this profession, proper exchange of stories helps my client to trust me. I have to walk with them in their journey, through my journeys, for coming to a better understanding.
While building trust, I have to give authentic and real reasons to establish my expertise and my capabilities as a life coach.
Hence, I deal with profound emotions and my brand needs to identify with that niche. A proper display of the right kind of emotion can make my brand appear more authentic and trustworthy. As my brand reaches more people with positive feedback, it makes me more credible.
Add a Tagline that will Promote Your Mission
Words go a long way, especially if you can express catchy phrases. Having a tagline gives your business a better definition and your brand a clear personality. Taglines are often equated with a company's mission.
For my business, the tagline states, "Outgrow Self". As my tagline suggests, I aim to expand an individual's consciousness, outgrowing their senses about themselves and the external reality.
Also, unique and powerful taglines are important, as it emphasizes your brand identity. The word, "Out Grow", is not a very common term that you can come across easily. This word will immediately capture the gaze and force the viewer to contemplate. Also, the tagline clearly reflects my business and the niche I work upon.
Perfect Design Layouts for the Visual Platforms
Designs are the most integral part when establishing a clear brand identity. This process usually starts with a perfect Logo. Brand identity also includes a set of color combinations that will further enhance your brand presence. These designs are used in all online and offline visual platforms. Soon, the colors, the patterns, and the layouts become the foundation on which your clients tend to interpret your business.
This prominent aspect of initiating strong brand awareness includes a specific styled online website, social media platform pages, posts, and other offline materials.
For my business, currently, I have started with a logo design and a simple tagline that I mentioned just a while ago. I am still yet to figure out my set of perfect colors. But we will do this together eventually and establish a strong brand identity.
Let me share with you how I created my Logo.
Designing My Logo for Free in DocHipo
A Logo is like an emblem through which your brand is identified and gains its recognitions. Logos are usually created by amalgamating different symbols together to generate a specific idea. For brand identity, Logos become the face of a company, cementing multiple perspectives through a single visual design.
To make the logo for my business I started using DocHipo. I came across this platform a few months back, around January 2020, and I am Loving it!
DocHipo has tons of templates under different themes. They are dedicated to businesses and people like me who have their own business setup. You can download its pre-designed templates or can customize it based on your need.
So let me show you how I used it!
Logo Design for My Business
After a long period of extensive brainstorming, I finally came across an idea. I decided not to brand my name, which is usually the norm in the life coaching business. Rather I decided to name my Business as the "Self". I believe that the term "Self" is a deep word that encompasses many essences within an individual. Hence my service is focused on that self, who cannot be limited by a specific term or broad range of definitions.
I decided to put special weight on the letter "S" and a tagline that further defines my brand. Check it out: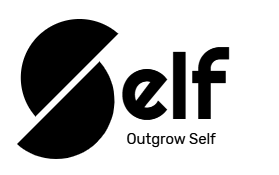 As you can see, I have selected a typical Black and White combination that boldly expresses my message. Moreover, the tone of my brand deals with both the elements of light and shadow. Through this combination, I am trying to bridge the two extremes with the notions of complete acceptance of the self.
Steps to Design a Logo in DocHipo
Let us first start with the ideal Logo Dimension.
The width has to be 500 px
The height has to be 500 px
You can use any square shaped dimension size.
The first step is to sign up in DocHipo. As you enter, you will get to see different document templates. For my Logo, I choose a random template document, as I will be customizing the dimension.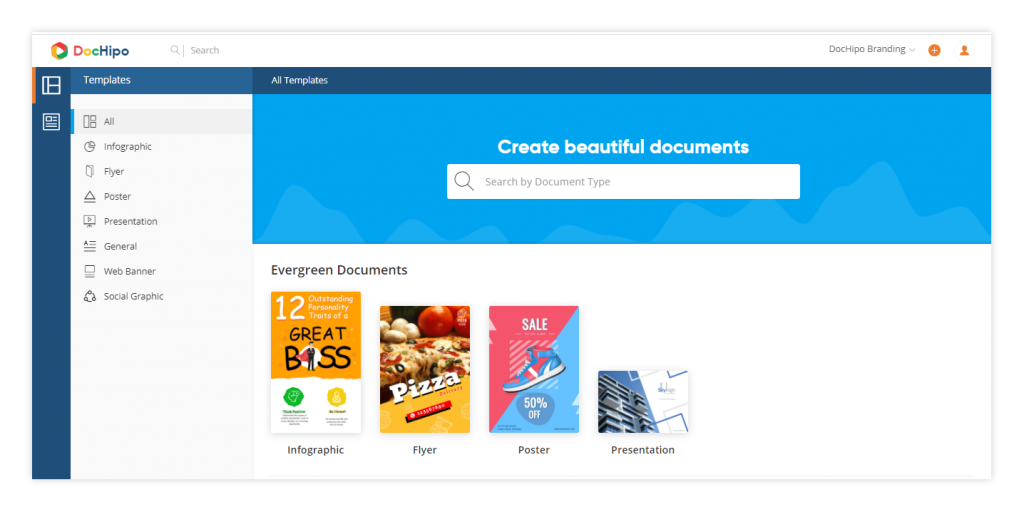 As I chose the blank document template, I was directed to the document information page. I filled in the required information and clicked "Next".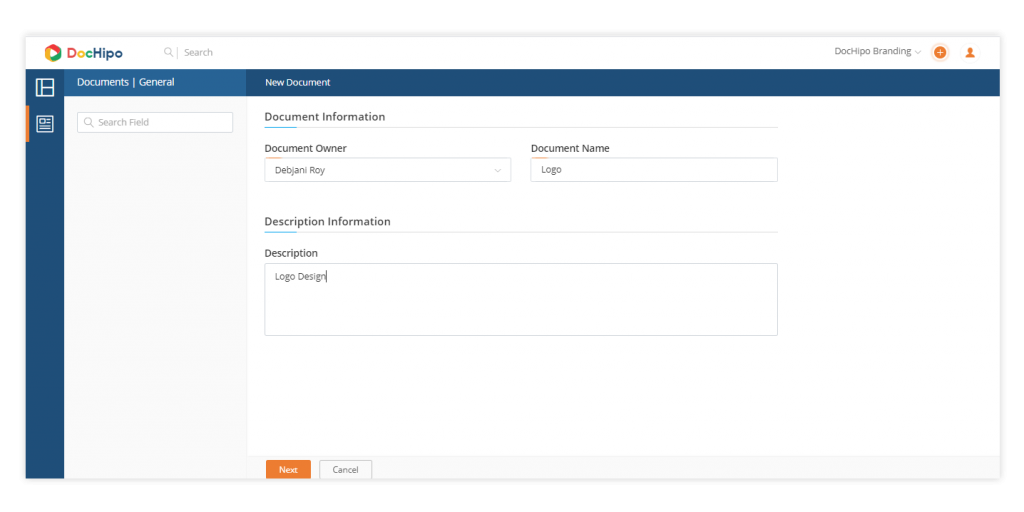 After entering the workspace, I selected the required options in the "Select Page Size" box. In that box, I selected the option "Custom" and added the required dimensions under "Custom Page Dimension".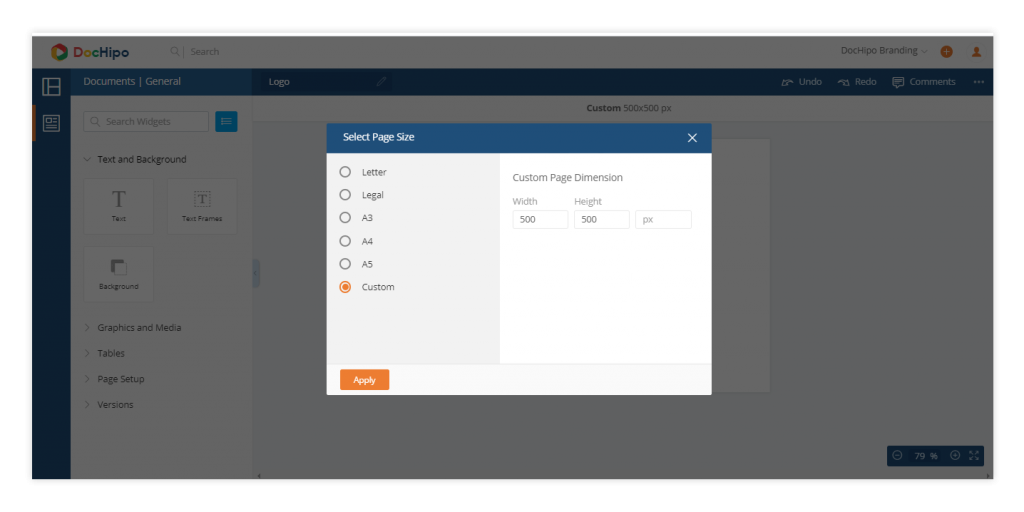 Now it is time to look for interesting shapes to incorporate in my logo design. Under the option called, "Shapes", which comes under "Graphics and Media", I scrolled to find a suitable shape. Look what I found! Exactly the way I wanted to see my "S" of the word "Self".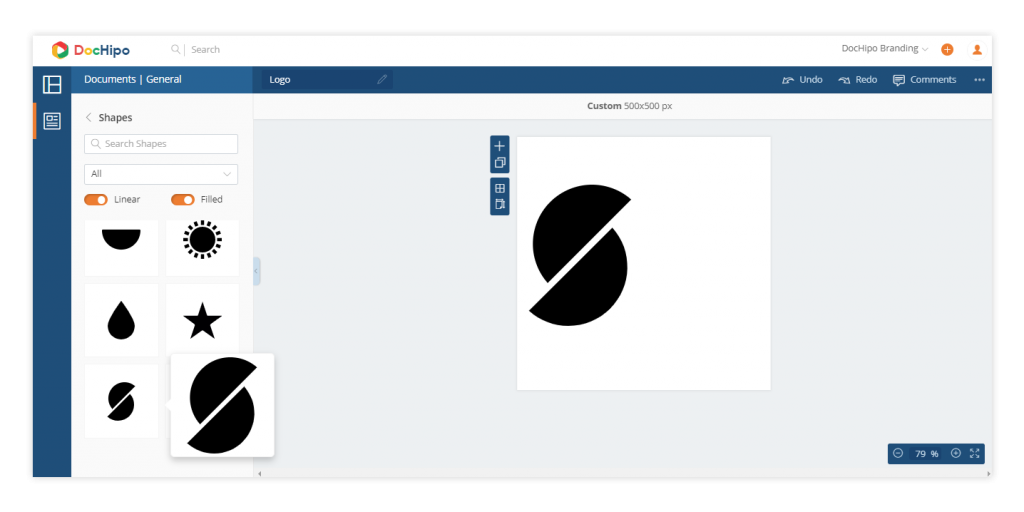 Now it is time for some texts. I added the letters, "elf" with the "S" shaped symbol, which seems to blend magically. Underneath I added my tagline. The fonts are "Righteous" and "Rubik". I have used the font combination of Sans-Serif with Sans-Serif.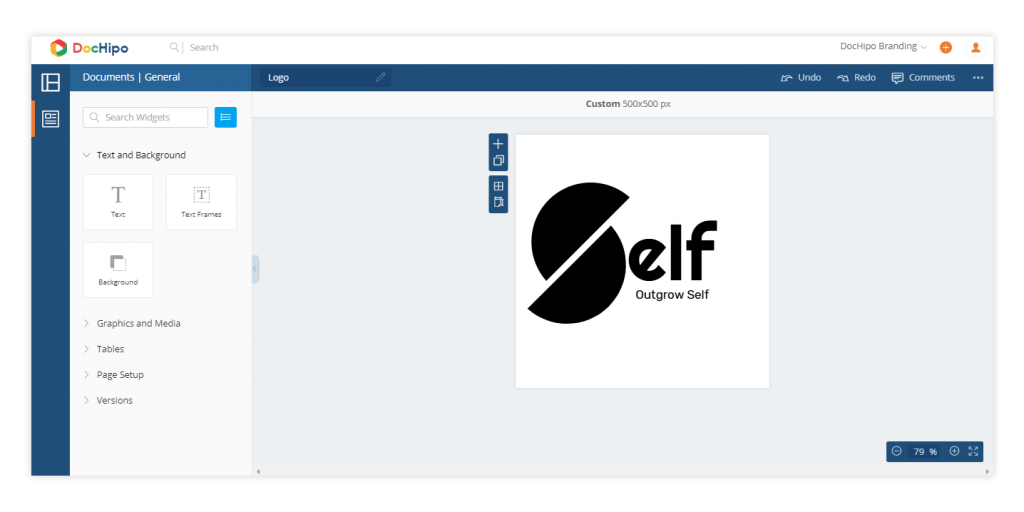 As I can see my logo coming to life, I downloaded it through a simple process. I clicked the dotted button, situated at the top of the right corner. In the box, I select PNG as my file format, with the option to download it in transparent background. A transparent background will give me a great deal of flexibility to make further adjustments to my Logo.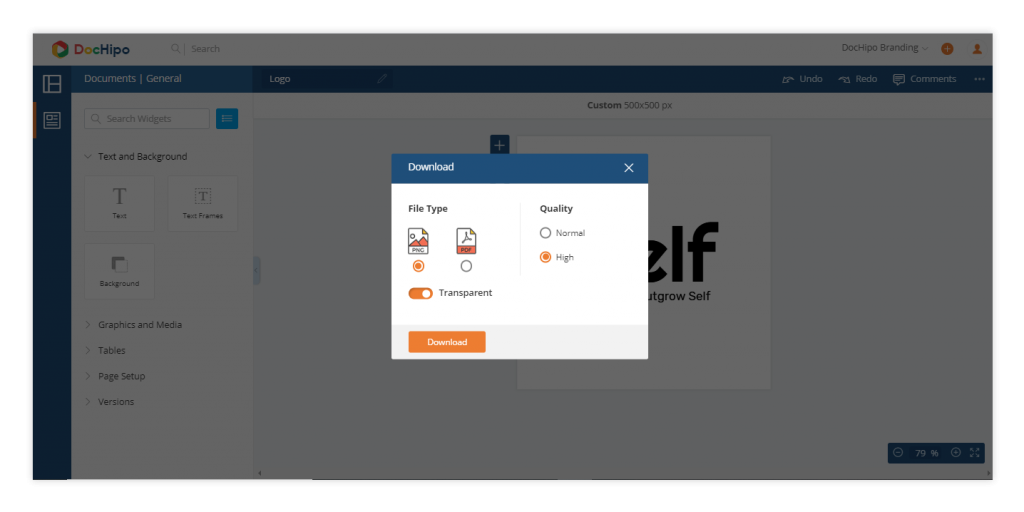 Last Words …
DocHipo has been my greatest discovery. Although there are many other design platforms to create layouts for my business, DocHipo gives me a special feeling. Let me tell you why?
They have a specified niche and provide a platform dedicated to entrepreneurs and businesses. Being a self-employed person, who aspires to brand herself and her profession, DocHipo is a blessing. Their approach gives me the comfort to contact them with any specific template that I want to work on.
Hence, if you have a similar business or any other businesses, then DocHipo is the Right choice for you.
As for me, please stay tuned to see what further steps I take to be a successful life coach. My Journey has started and I want to walk on the journey with you!
See you Next Time!