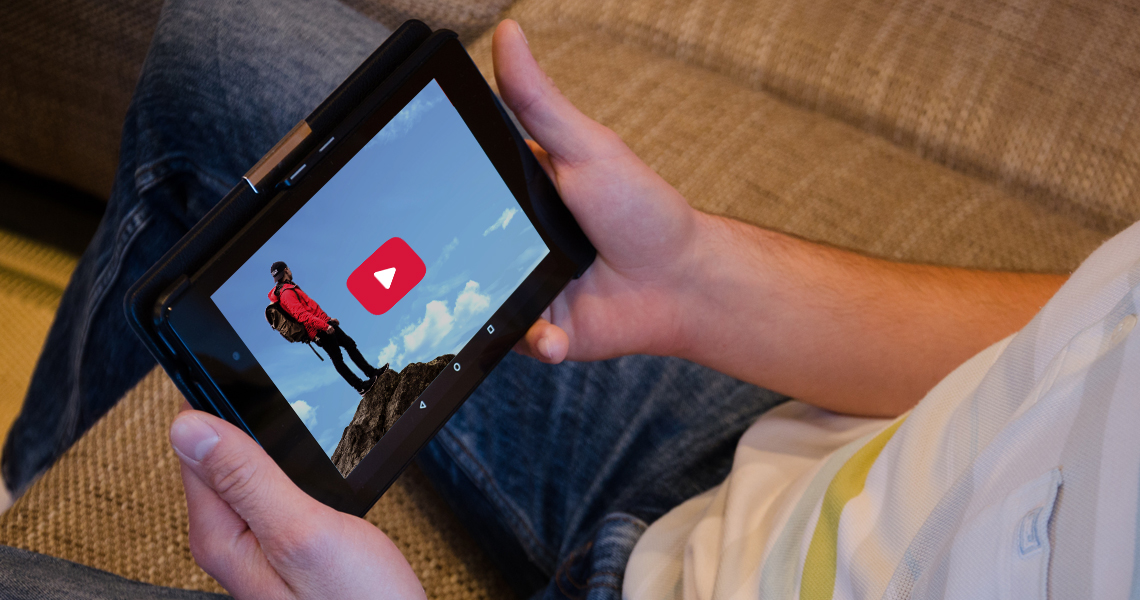 Multiply Click Rate for Your Travel Videos with Gorgeous YouTube Thumbnails

Feb 27, 2020
Travel videos cater to a very different group of viewers. They are usually burdened with mundane life or workloads in professional life and frantically looking for breathing space. Your video can be a fresh lease of life for them. In most cases, they desperately need a break from their tedious daily responsibilities. So, your video must have an approach that liberates.
But, even if your video has that potential, your YouTube thumbnail must reflect it. Or else, why would a user click-through? The pillars of YouTube Thumbnail are DESIGN, FONT and CONTENT. If put together in a smart way, they can gain a million clicks for your video. More smartly you put them together, the stronger impact they will make.
Take a look at our experts' guide on…
Design your youtube thumbnail passionately…
Not a single pair of eyes must scroll past your thumbnail. There might be several results to a search query relevant to your video. But, yours must gain the click-through and of course a complete view. According to research of Insivia, viewing mobile video takes a 100% leap every year. Would you afford to ignore that huge chance of exposure to your targets? Nope…
Seriously…If you have created an amazing travel video with passion, you should choose image for its thumbnail with the same passion. Only then, it will reflect your zeal to help all travelers. After all, that is what you intend, right? Choose all elements like designs, fonts and messages of your thumbnails with passion. The result will be drop-dead gorgeous.
Choose a dreamy picture, take your viewers on a virtual trip…
There is no thumb-rule to choose image for YouTube thumbnails. Nobody forces you to capture a screenshot from the video only. You need an image that reflects the core idea of your video. It can be a screen-capture from the video itself or a good image from outside. Anyway, the target is to win more clicks (defeating a series of competitors).
Great quality image calls out loud…
Select a bright coloured image. And make sure, the YouTube thumbnail has an eye-popping effect. Drab, boring images cannot entice a globetrotter. One-click is precious to start a 3 minutes journey (video duration). An amazing image can encourage travel enthusiasts to make that first click. Once your lovely video starts, I am sure nobody would want to stop. Because that is important. Unless your visitor checks out the entire video, they won't come back for the next one from you.
Did anything sound too difficult so far? Nah… Take a look at a couple of DocHipo templates. You would take seconds to repurpose them according to your need.

Focused search for your travel video thumbnail image…
So, which image can ensure maximum views? Well, that depends on your content. If your video pinpoints solely on travel-related SUGGESTIONS like, 'How to pack', 'How to rest during tight itinerary', 'Tips to take solo trips', 'top 5 destinations' so on and so forth the image should be more generic.
For videos on popular or off-beat travel destinations, you can focus on iconic tourist attractions located in those places. While the choice is for tips to pack, schedule itinerary, how to tour or rest, you can select gorgeous travel pics that get viewers to go 'wow' over them.
According to researches, 88% YouTube searches related to travel centre around different tourist attractions, travel destinations or general travel-related ideas.
Take a look at a few…

Nice, right? By the way, you find these templates on DocHipo.
Fonts on YouTube thumbnail must work-out for your travel video…
Yes, of course, it should. A billion videos are streaming on YouTube every day. If you want yours to be among them, your thumbnail must weave some magic. Its typeface (like an image) has to be a magnet for your targets. After all, your message deserves an apt font to convey the idea of your video effectively.
Your video is fighting the battle of engagement with a billion others. The user must find yours quite interesting. Only then the click will happen. You must be thinking, how can your font decide, whether a click will happen or not. Yes, it can…
See the images of a couple of templates below. In the template of 'Top 5 Mysterious Castles in Europe', you can see Mouse Memoirs font to create a gothic effect on the typeface. This font actually reflects the shape and structure of castles. Why shouldn't it be so? While this font family traces its inspiration back in the castles of Walt Disney built in 1950's and 60's. That is why this open sans family font resonates the old-world charm of European castles.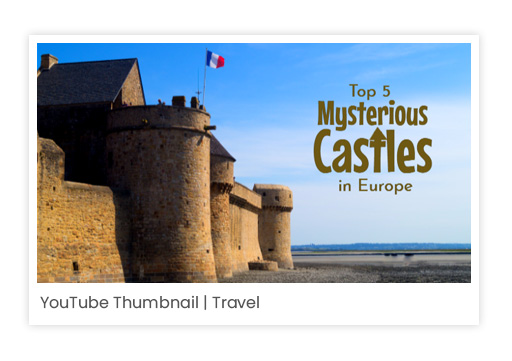 In the second template, the thumbnail is about 'Tips & Tricks for your first Cruise'. The main font is 'Shadows into Light Two'. The typeface has a very beautiful flowy trail. It goes well with the waves and foam trail on water. Its handwriting-like curves, rounded edges offer a very feminine structure to the font.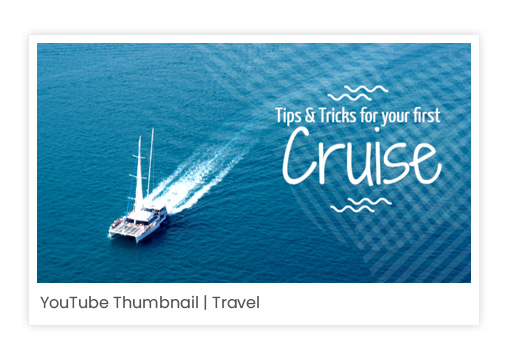 Both of these templates are available on DocHipo. You can use them and many more for your travel videos. In each case, you will find that fonts used on every template work perfectly in favour of click-through.
Most importantly, never ever forget about the font-size. You know how tiny-winy a YouTube thumbnail looks on a mobile screen. You would definitely not like its headline to go unnoticed. In fact, the click won't happen if it is not properly visible.
Hook with your message on travel video YouTube thumbnail…
If you pen your headline thoughtfully, it can speak volumes about your video. Thumbnail headline must reflect the complete information of your video. It should evoke curiosity inside human brain and evoke multiple emotions. Only then, a user would make the click. See below to find a few well-designed YouTube thumbnails with exciting headlines.

These headlines surely promise to pack excellent content inside the video. You can use them with minimum tweaking and for maximum result.
Here's how you can use DocHipo for creating stunning YouTube Thumbnails
So, your beautiful design for YouTube thumbnail is completely ready, right? Isn't it? What are you waiting for? Just get started. Now, you should create it right now. Or probably you are a little shaky about starting with your first thumbnail design. Just hold my hand, I will guide you through…
#1. Sign up to DocHipo
#2. Choose a beautiful template for YouTube Thumbnail or start designing from scratch on a blank template.
#3. Select beautiful graphics, travel images from DocHipo's repository. You can also upload an image of your choice.
#4. Decide the perfect message as your thumbnail headline. Choose a beautiful font from a long list of fonts on DocHipo.
#5. Change font colour according to your need.
#6. Download the finished design and use it as the YouTube Thumbnail for your travel video.
Design your own thumbnail…
So, your amazing YouTube Thumbnail for travel videos is ready to invite a million clicks. Just upload your travel video to YouTube along with the Thumbnail you created. When you will look at the increasing number of views and likes for the video, you will feel satisfied at the core of your heart.
Trust me, nobody else but only you will be the artist of such an actionable YouTube Thumbnail. The credit will be all yours. So, you can relish the satisfaction gained from the entire process. So, sign up to DocHipo and create a stunning YouTube Thumbnail. Good luck!!!!