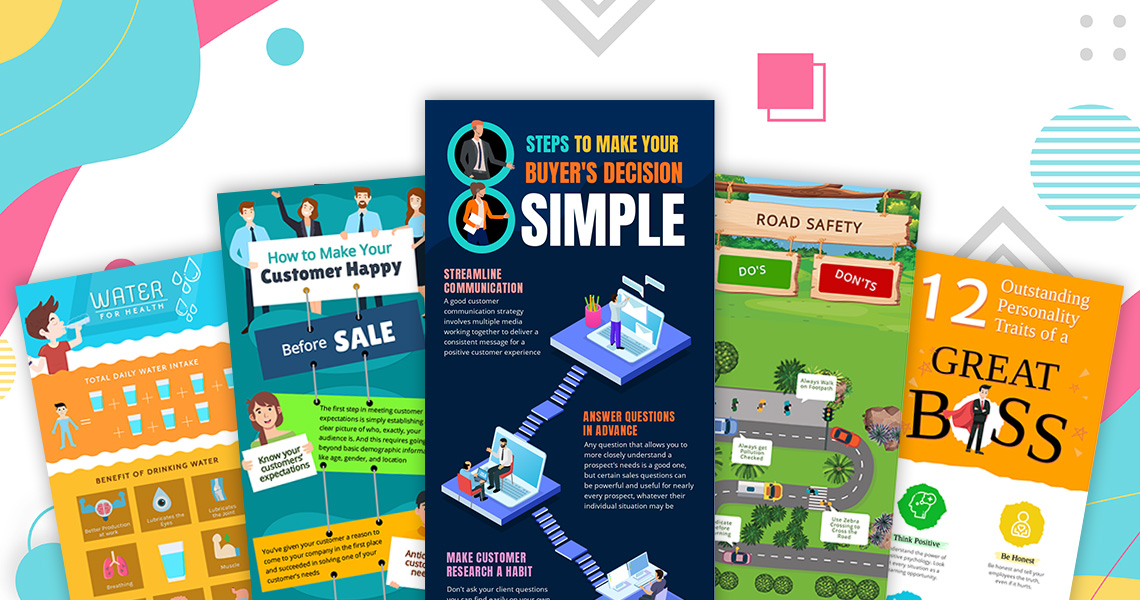 5+ Infographics Templates to Supercharge Your Marketing Efforts

Last Updated Aug 11, 2023
Did you know, Infographics are shared 3x times more on social media than any other form of content? Infographics are a robust combination of information and graphics that help capture attention, offer information, and engage your audience. So, if you want amazing results from your content marketing efforts, you cannot do without some awesome infographics template in your tool kit.
In this blog, we'll talk about different types of cool infographics templates that can transform complex data/ information into a flowy visual document.
No matter what industry you are operating in or what kind of information you want to share, here are 5 types of infographics that can transform your marketing efforts..almost effortlessly. Let's get started!
Infographics Templates for Your Blogs
Blogs never go out of fashion. It is the perfect tool for freelancers, marketers, and professionals to educate their audience, share updates, market their services, and much more. But if you are looking at different ways to make your blogs more readable, then infographics are the way to go. Infographics are around 30 times more likely to be read than the entire article.
So, while writing a blog, you might want to summarise the key points in a visually attractive infographic that presents data in bite-sized pieces. Here, you need some templates that are super easy to customize (you'll need a new one for each blog, right?), simple enough to understand, and of course, have the possibility of branding with your corporate colour/s and logo.
Pro Tip: Add suitable Alt-Text and captions to your infographics while uploading them on your blog. This way, your infographics will be searchable, too, and can be up during keyword searches. More ways to promote your business, right?
Here are two infographics templates from DocHipo that you need for your blog. Sign-up, customize, and start using today!

Get This Template and More

Get This Template and More
Infographics Templates for Sharing Information
Information sharing is boring. But not when you use some cool infographics to achieve this. Whether you are in the tourism business or any other, if you want to share information and make them notice, then you can use beautiful infographic templates.
Using an infographic for sharing information not only lets you brand your message and present it visually, but it has a deep impact on how much of that information is retained by your audience. In fact, according to Social Science Research Network, 65% of all human beings are visual learners.
You can use this to your advantage with the right infographics templates and a little visual storytelling. With one document, you can share information, make it memorable and increase your brand recall.
Here are two infographic templates that you can use for this purpose. While these two are optimized for the travel industry, you can easily customize them and use them for your requirement too!

Get This Template and More

Get This Template and More
Infographics Templates for Sharing Tips
Whether for a blog, social post, or printed materials, don't just write them down if you are looking at sharing useful tips with your audience. Add some visual elements to it and turn it into an infographic. It's easier than it sounds, even without design skills!
First, let's see how you can use such infographics. This type of infographic is creative and informative at the same time. They can share cool insights and attract an audience in a jiffy. People's natural affinity towards information brings them closer to your brand. This way, you build relationships with your followers on social media and blogs. They start relying on you as a provider of credible information. So, you automatically end up improving your authority, credibility, and brand recall. What's not to love?
Here are two cool templates from DocHipo that you can use today to make your infographic!

Get This Template and More

Get This Template and More
Watch our video below for Infographic Templates that You Cannot Do Without.
Infographics Templates to Describe a Process
There are two ways to describe a process flow. You can offer information to acquire some skillset, or it can be about how somebody can upskill themselves. These infographics are almost like the 'How to' elements in your content that attract readers automatically.
Visually attractive process infographics are designed to break down complex procedures. Infographics can step in if explaining certain difficult procedures in text blocks is difficult.
Process Infographics can be about customer acquisition, employee onboarding, reducing buying cycles, recipes, product installation manuals, and whatnot. No matter the topic, your skills depend on how good you are at breaking it down into a step-by-step flow chart. If it seems easily digestible, readers are bound to get interested.
Below are two beautiful templates of process infographics that you can use within DocHipo. Go ahead, customize them for your need, and you can use them whenever you need!

Get This Template and More

Get This Template and More
Infographic Template for Social Awareness
Raising awareness through infographics is mainstream (you possibly have seen tons of them already). You do not need to own an NGO to inform readers about different social situations and solutions to problems.
Whether you are looking at generating awareness around cyber security, reducing carbon footprint, endangered species, life-threatening or self-debilitating diseases, eradicating poverty, restricting pollution, or something else, these infographic templates will help you tailor a message fast.  
Sign-up for DocHipo today, and you can use fabulous templates to generate awareness about any cause you are passionate about. The best thing is you can tailor them as needed in about 3-5 minutes!

Get This Template and More
Here's a quick tutorial on creating infographics effortlessly.
Time to Build Your Own Infographics
Of all human communication, 93% is visual. If that is the case, then why shouldn't you start talking to your prospects in the language of infographics? It will be easier for them to understand and simpler for you to explain. Most importantly, an infographic is a visual document that helps you come closer to your prospects. Some of them are too impressed with your work that they turn into leads. With the publication of great workable infographics, you get more useful leads.
Sign up to DocHipo and start using these 5 types of infographics templates that can help you better engage your audience, improve brand recall (and give you a little SEO boost, too!) and overall help your marketing efforts!