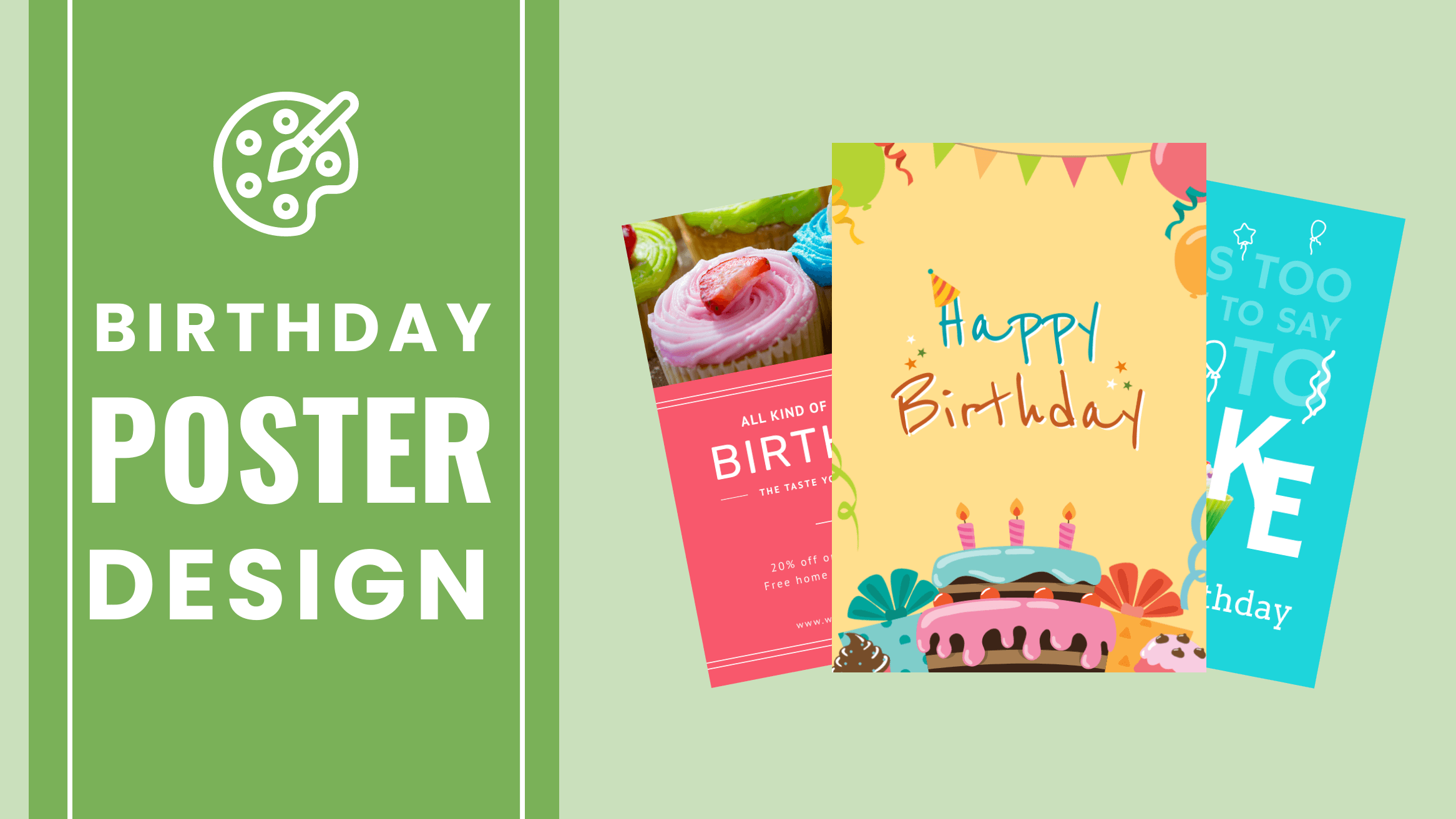 Birthday Poster Design: How to Make a Birthday Poster in Minutes

Last Updated Oct 19, 2022
Do you want to make your or your loved ones' birthdays special? And have you tried many other ways but still want something unique? Then you should consider a birthday poster design. Posters are one of the influential design materials that can reach a vast audience by attracting them quickly.
Let it be an 18th birthday poster design, a 1st birthday poster design, a 21st birthday poster design; you will get everything you need to design a birthday poster in DocHipo's free online Poster Maker.
DocHipo lets you add a personal touch to the birthday poster design with great ease. You will get numerous birthday poster design templates that anyone can customize easily. And the best thing? It's absolutely free!
This article will show you how to make a birthday poster using DocHipo in no time. So, stay tuned till the end!
Table of Contents
Birthday Poster Design Ideas
Before explaining the design process, we would like to provide you with some birthday poster design ideas. This will make the process of birthday poster design more straightforward for you.
Pick Your Fonts Wisely
The typography in a poster design refers to the type of font and style used. One of the most overlooked yet crucial aspects of your birthday poster design is the selection of fonts. Whether the fonts you choose are strict and rigid or curly and wavy, it can help you convey your message in a way that is not glaringly noticeable. Since the message is the most important thing in a birthday poster, typography comes at the top of our birthday poster design ideas list.
You might get tempted to choose multiple fonts to convey your message, but it is also essential to consider how they can relay your message. Keeping that in mind, we always recommend picking two to three fonts in total in your design.
The title text is something that will grab people's attention. Hence, they should be bold and stylish. Contrarily, the fonts you pick for the body text should be easily readable. Here is an example of a birthday poster template for you to understand the typography.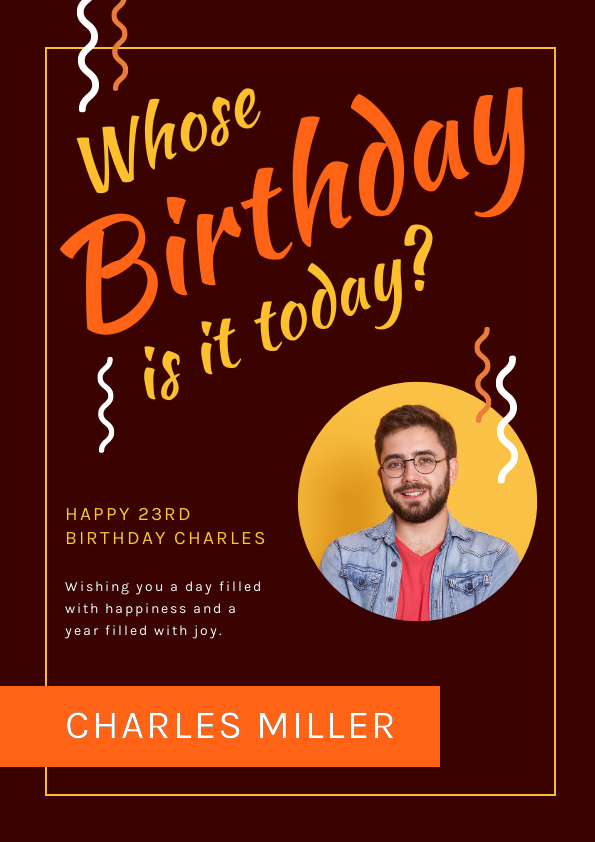 Get This Template and More
Learn more about typography hierarchy and different typefaces to get the typography perfect for your birthday poster design.
Choose the Right Color Combination
Color is also a universally appreciated language and can communicate a wide variety of things, regardless of your target audience. It does not matter whether you want to create a unifying background or demonstrate a specific meaning. Different colors can evoke different emotions. Statistics show that colors alone can influence 90% of an initial impression.
However, here you are designing a birthday poster. So, it would help if you chose a color combination that is perfect for your occasion. Whatever color you choose, we recommend choosing colors that complement each other. Fortunately, all the birthday poster templates in DocHipo come with the perfect color combination. Here is an example.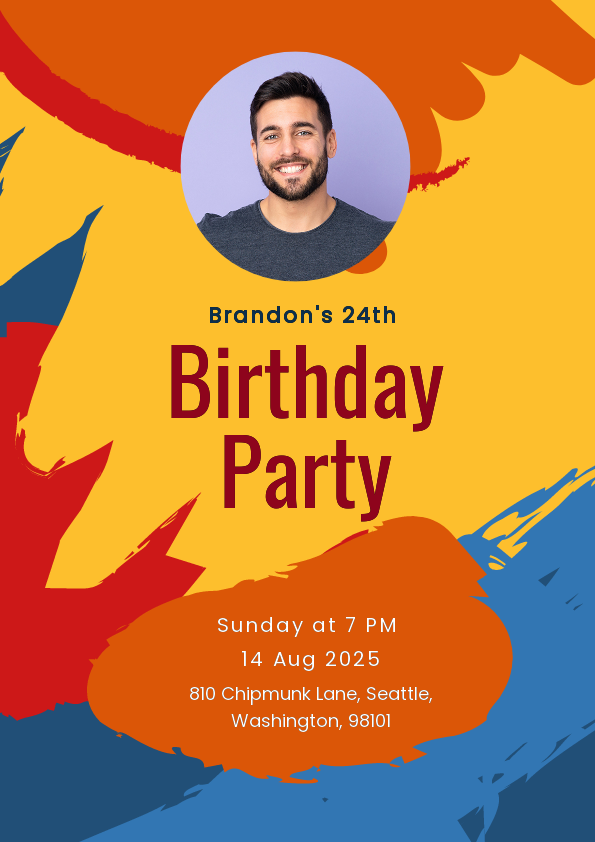 Get This Template and More
However, if you want to choose your own color combination, learn about the best color combinations and choose the right one for you.
Use Ample White Space
White space or negative space is one of the most powerful design elements that can make or break your birthday poster design. It might seem funny to you at first, but you will realize that the white space dramatically increases your birthday poster design's visual impact and readability at distances.
There are many places where you can leave white space in your birthday poster:
Between individual letters. Tightening the letter spacing can blur the letters at distances.
Between the lines of texts.
Around the focus design element in your poster.
Between different types of design elements.
Accordingly, all the birthday poster templates in DocHipo come with ample white space.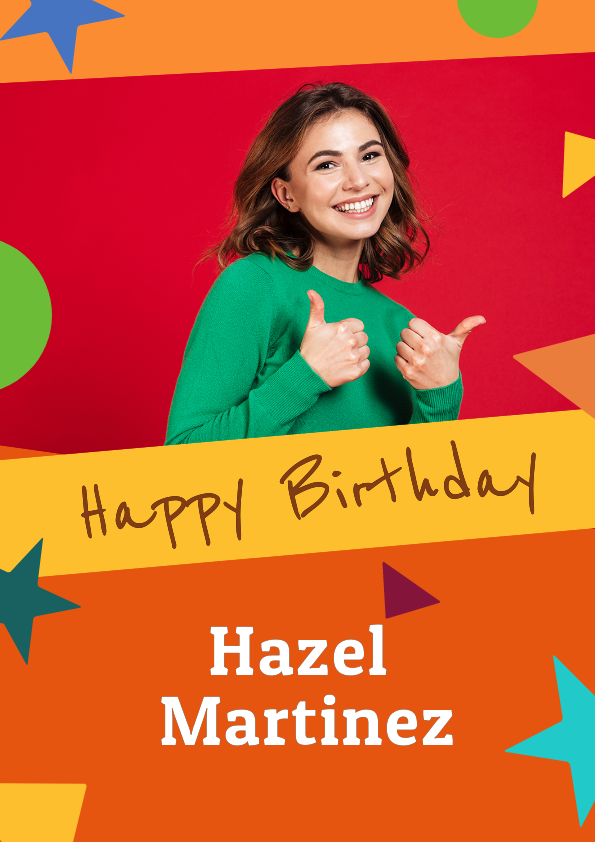 Get This Template and More
Keep Everything Aligned
When it comes to poster design, the alignment of all the elements is crucial. A poster design with poor alignment will look cluttered and unprofessional. But keeping everything aligned on your birthday poster design will organize it and make it easily readable.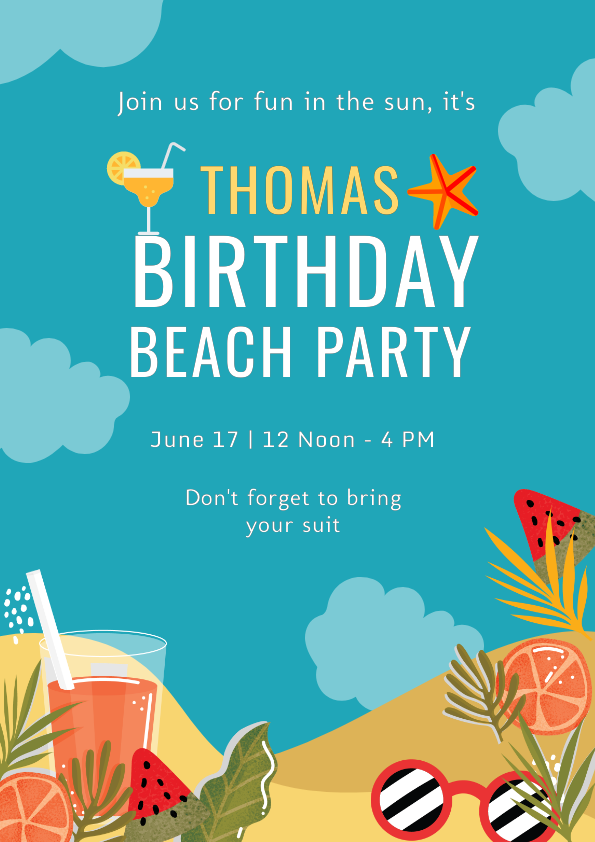 Get This Template and More
The good news is that with DocHipo Grid, the alignment process of your poster design becomes extremely easy. Watch this video to learn how to use the Grid in DocHipo.
Make your birthday celebration unique with these thoughtful birthday poster design ideas!
How To Make A Birthday Poster In DocHipo
Now you have reached the crucial part of this article that you have been waiting for. As we have mentioned above, with DocHipo, you can easily design your birthday poster without any hassle. Even a non-designer can create posters like a pro. And we always keep our promise.
Therefore, we will show you how you can design birthday posters using DocHipo in just three steps.
Step 1: Select A Template
Create an account in DocHipo if you already haven't. You can do this by clicking on the "Sign Up" button on the top right corner of the DocHipo Homepage. Alternatively, you can enter your email address in the box and click "Sign Up" to do the same.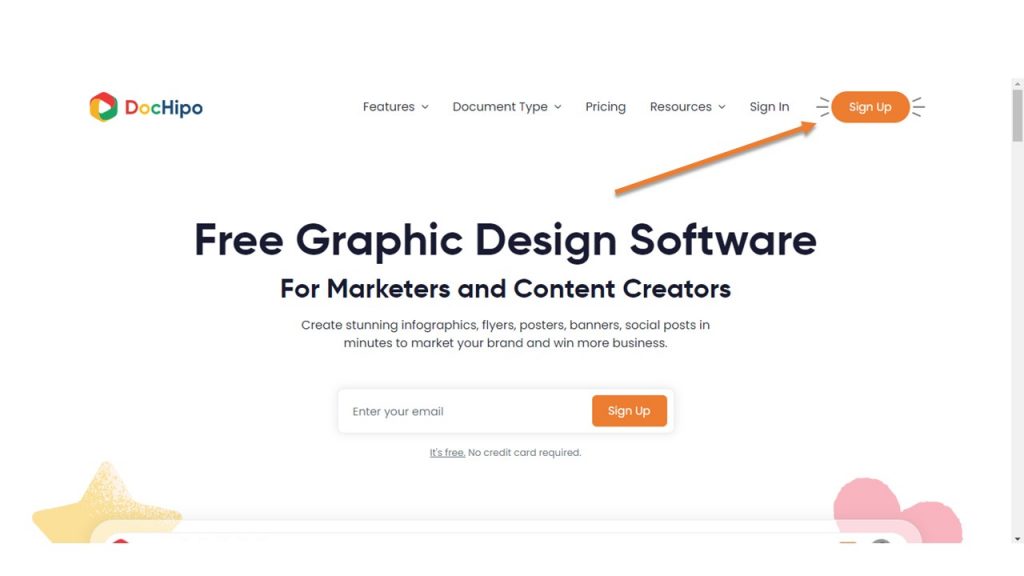 We have revamped the templates section to make the template selection process easier for you.
Upon entering the DocHipo All Templates page, click on the Business Essentials tab from the left sidebar and then select "Poster" from the menu.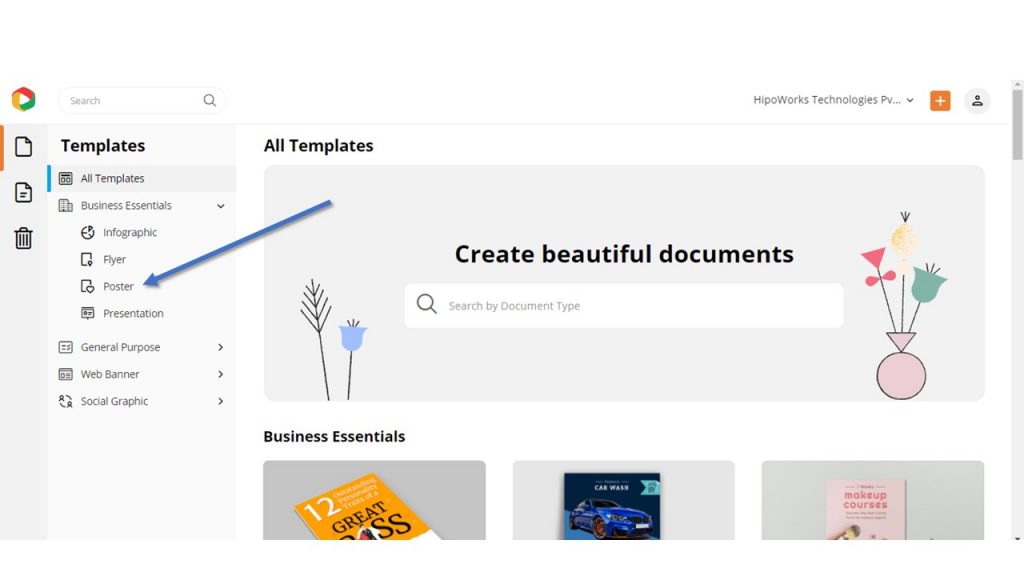 The wide variety of templates under different categories will please your eyes. But you are looking for a birthday poster design, so click on the "Birthday" category.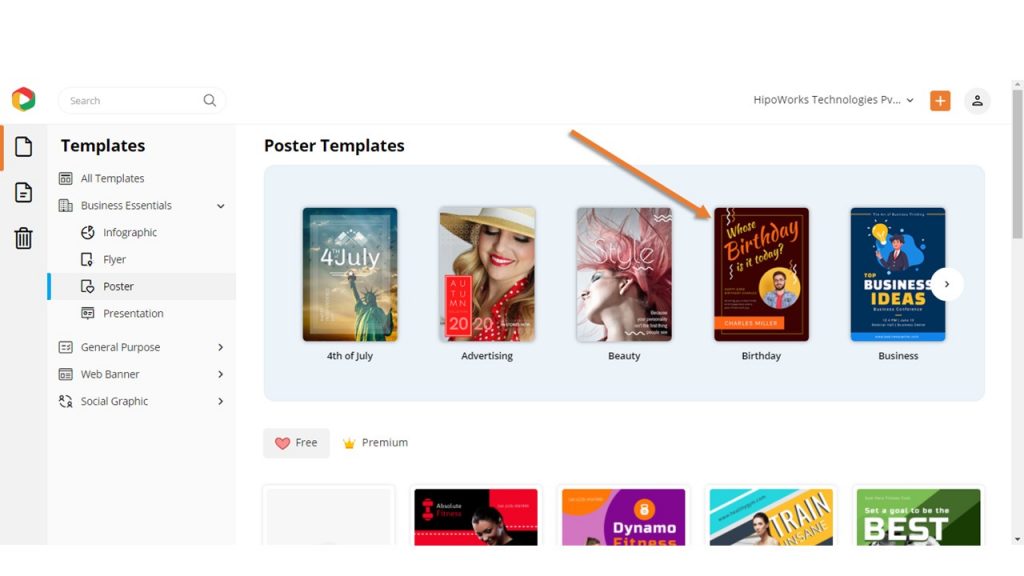 Hover your mouse over the templates and click on the "Preview" option to have a look at the template of your choice before selecting it. Thus, you will not have to choose every template before choosing the right one. Once you find a suitable template, click on the select button.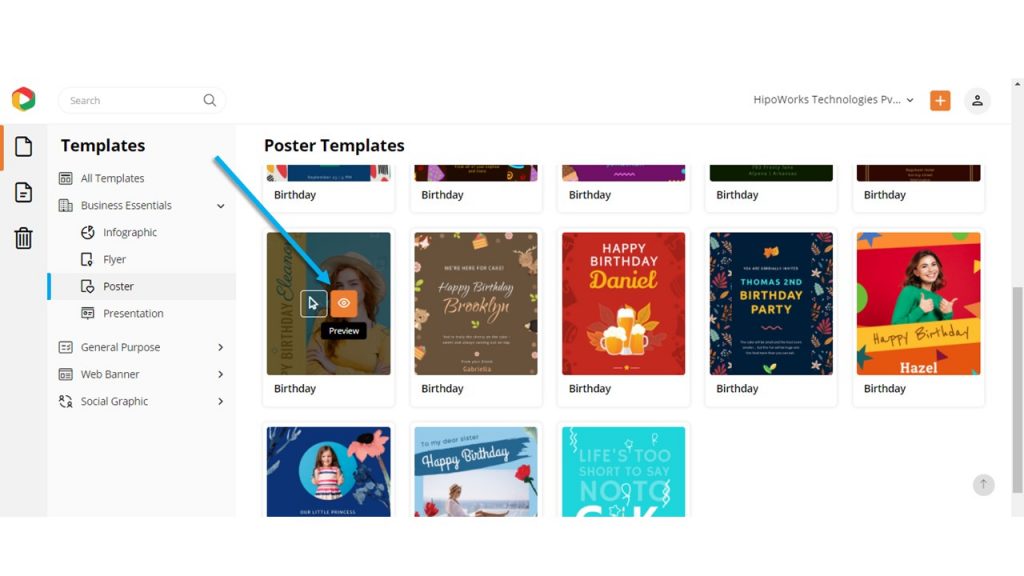 After selecting the template, a page will appear where you need to give a name to the Document, write an optional description, and click "Next." Your template selection process is complete.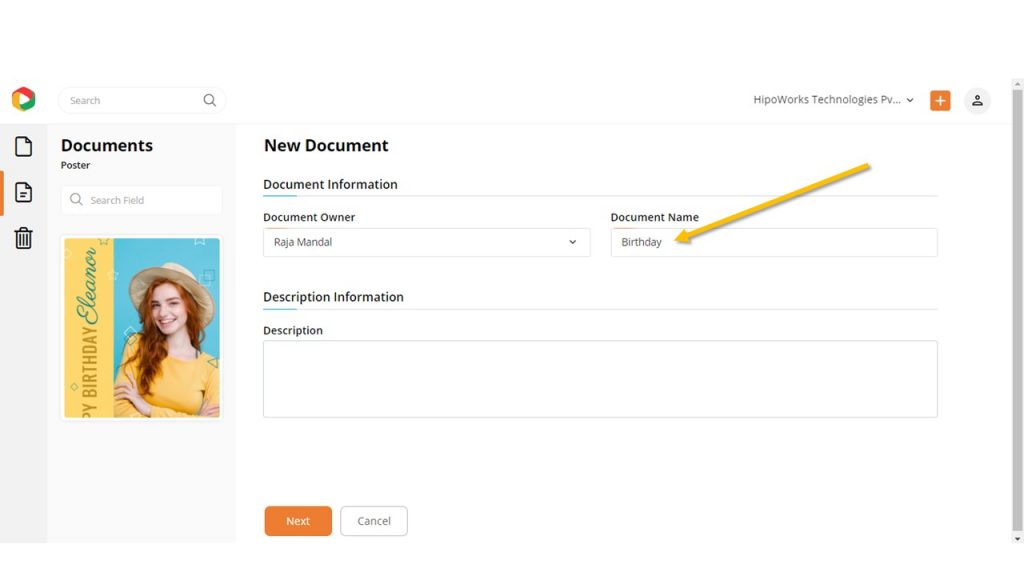 Step 2: Customize It
Customizing the template is a crucial part of your birthday poster design process. Therefore, you can not compromise with it. DocHipo lets you edit anything you want in the template. Change, add or edit anything you want until you get your final design. Change the color combination, background, images, fonts, and other design elements.
Image
If you have selected a template that includes images, we recommend changing it first so that you can choose your color combination for other design elements accordingly.
To do the same, click on the "Graphics and Media" and then select Uploads from the left sidebar. Click the "Upload Images" button and then elect the picture from your device to upload it to your DocHipo account.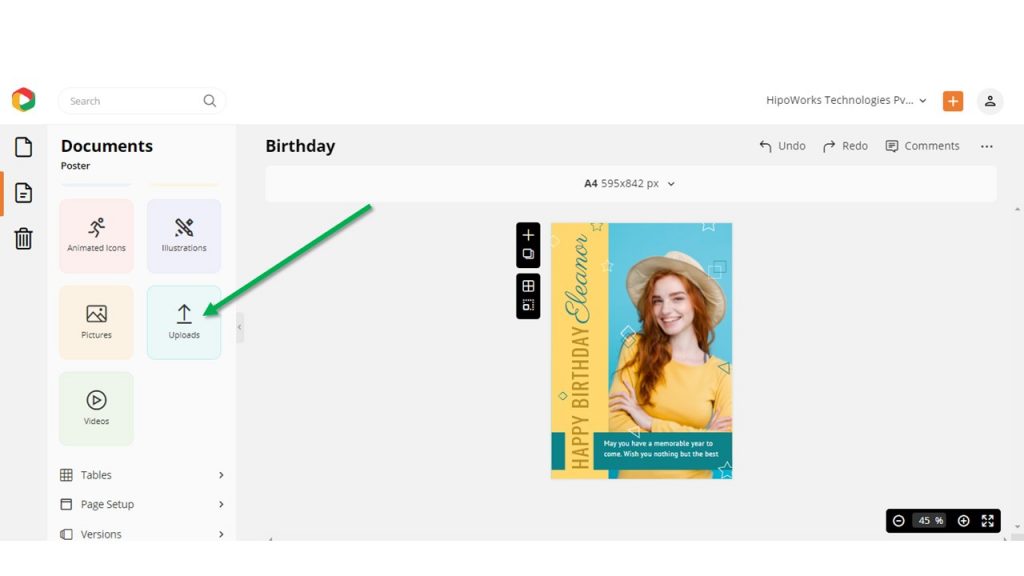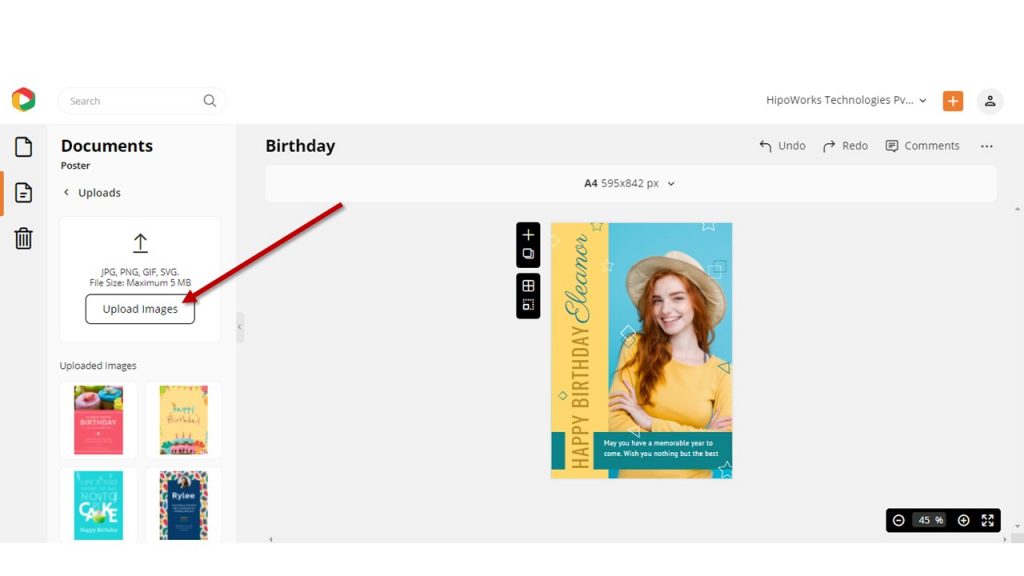 Now, click on the image that you want to replace with the one that you have uploaded. Drag the uploaded picture from the left sidebar on the existing one. DocHipo"s drag and replace feature will automatically replace the existing picture with the new one.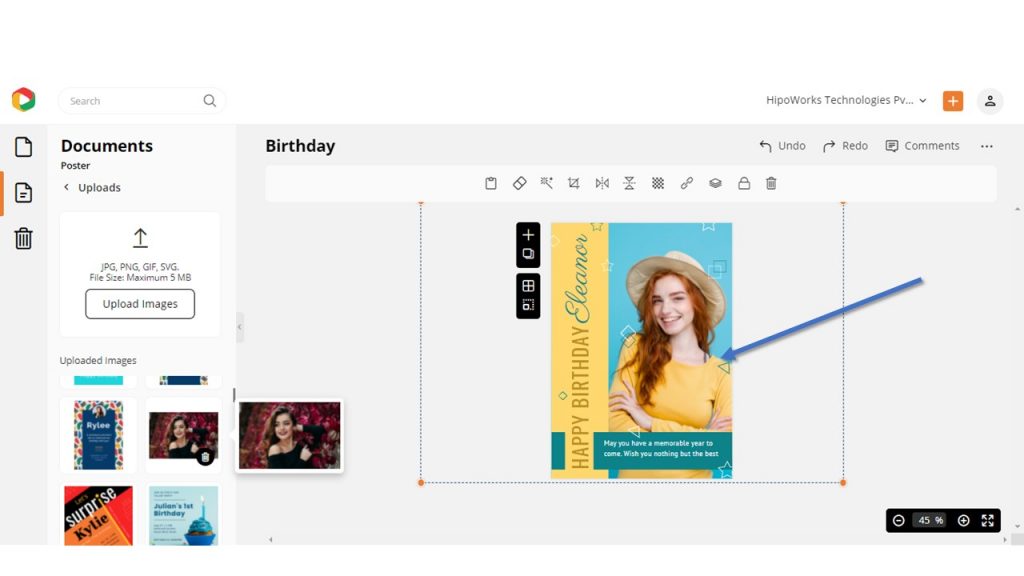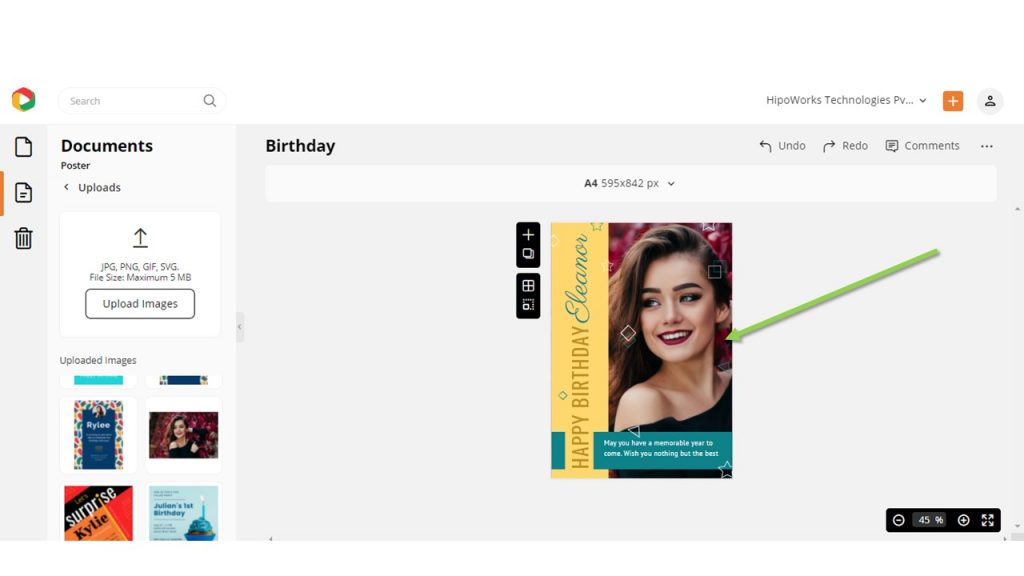 DocHipo Background Remover and Photo Editor let you remove backgrounds from your images and enhance the quality. Here is a video about how to remove the background from a picture with just one click.
DocHipo features a wide range of filters that can help you enhance the quality of your images, so your design looks fantastic. Here's a video on how to do the same.
Text
Replace the text with your message, change the name of the birthday boy/girl, and change any other text that is unnecessary for you. Watch the video below to learn more about the same.
Furthermore, to change the font style and size of the text, click on the particular text you want to change the font style for. Click on the font family option from the edit panel. Choose from a wide variety of font styles on the menu.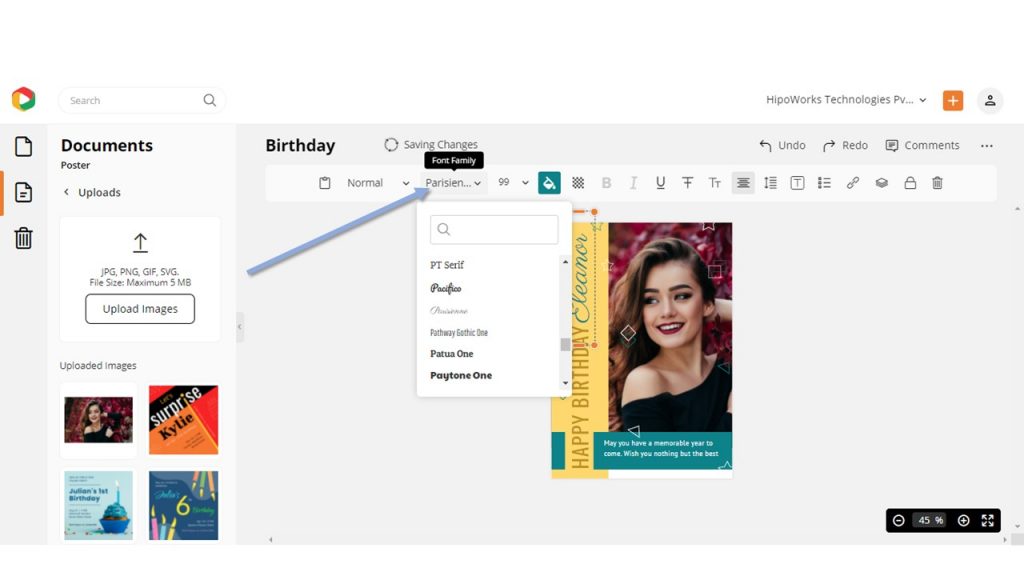 Also, to change the font size, click on the font size option and then select the right font size for your design.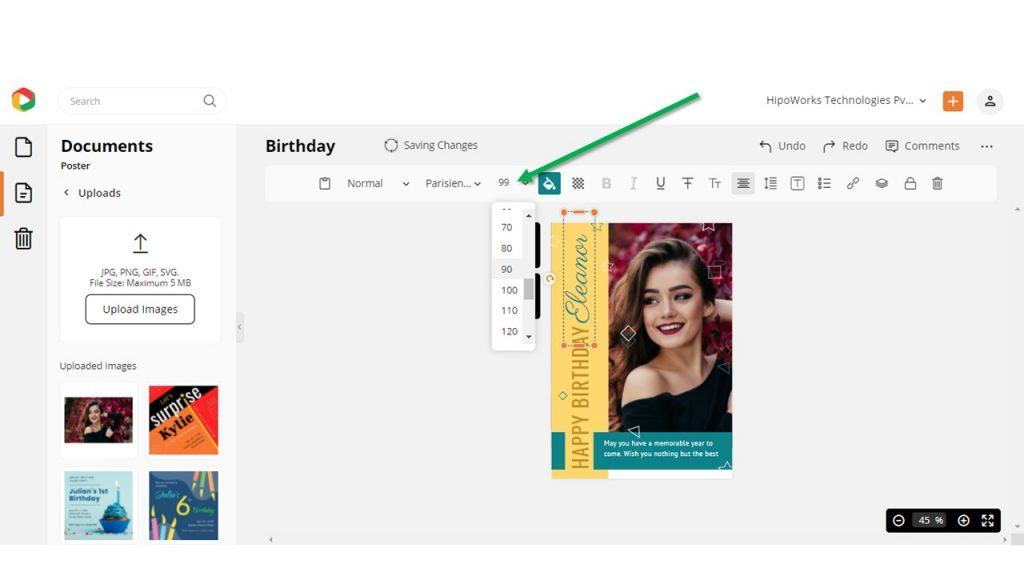 In this case, I have changed the font style for the person's name from Parisienne to Great Vibes and reduced the font size from 99 to 90.
Color
To change the color in your birthday poster template, click on the design element you want. It may be a shape, the background, fonts, or anything.
Then click on the color icon on the edit panel. Select the color of your choice from the wide selection of colors. Alternatively, you can use the custom color option or type the hex color code to get the color you are looking for.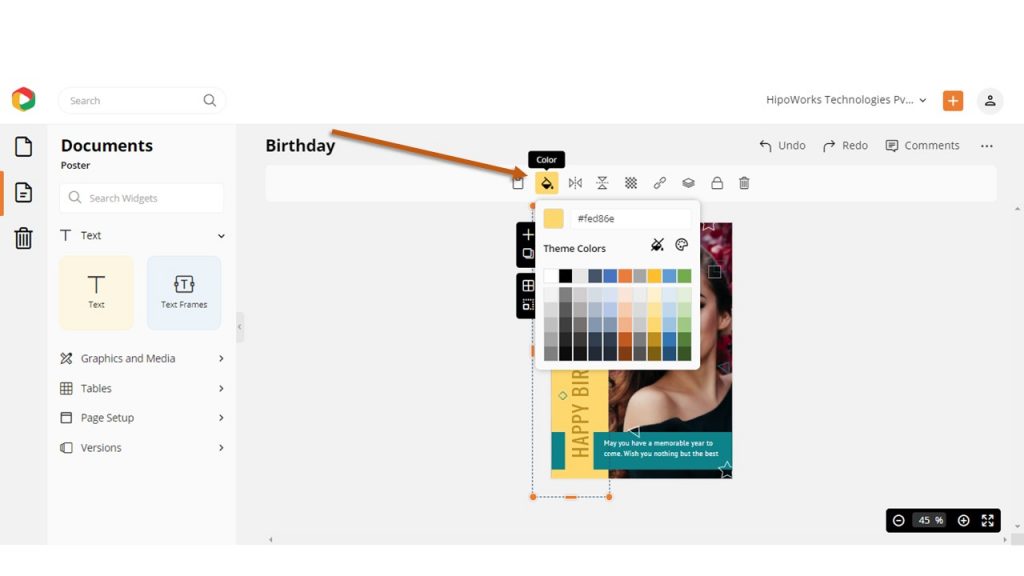 Here, I have changed the colors of all the design elements accordingly and finished my design.
Before Customizing: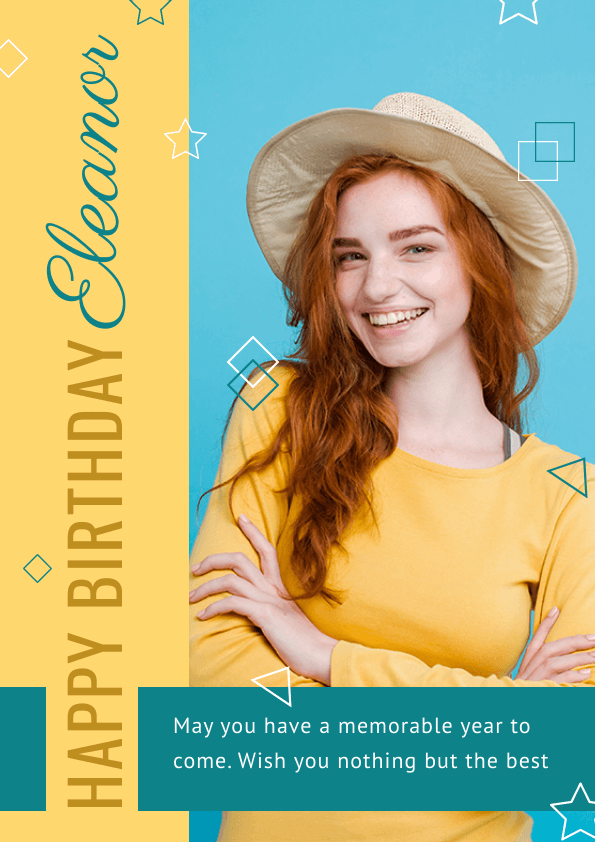 After Customizing: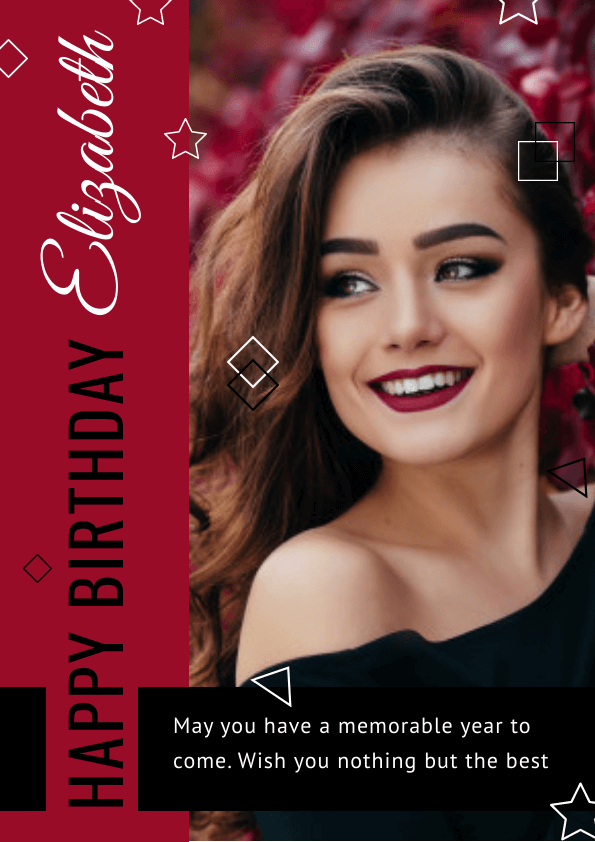 However, there are plenty of other ways to customize a birthday poster template in DocHipo. Sign-up for free and play around with the wide range of templates and tools to find the designer in yourself.
Step 3: Download the Birthday Poster
After finishing the customization, click on the three dots from the upper right corner of your screen. Now, click on the "Download" option from the drop-down menu.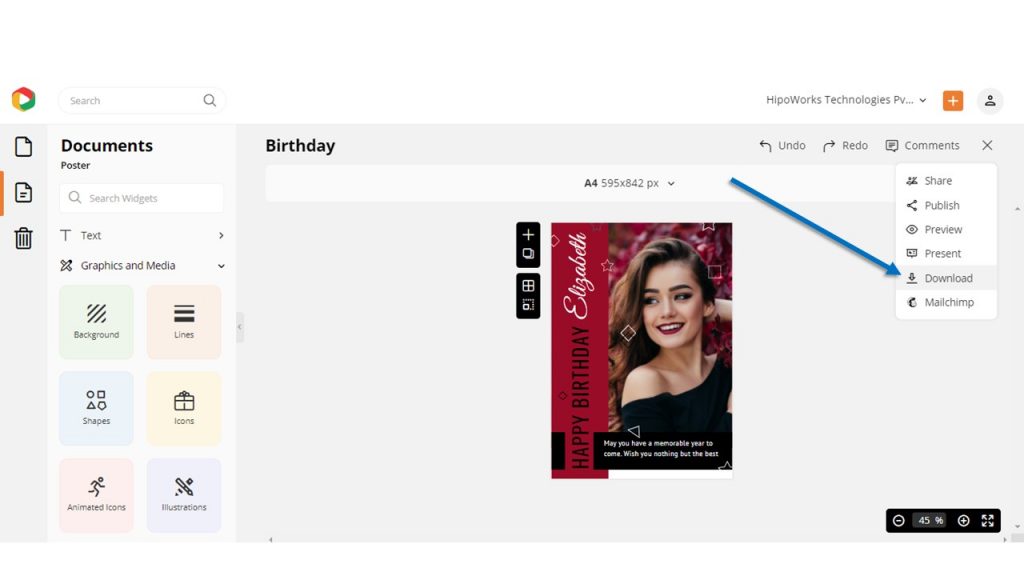 Select your required file format and quality. Since posters are printable documents, you need to download them in a high-quality format. Hit the download button, and the file will be downloaded to your system automatically.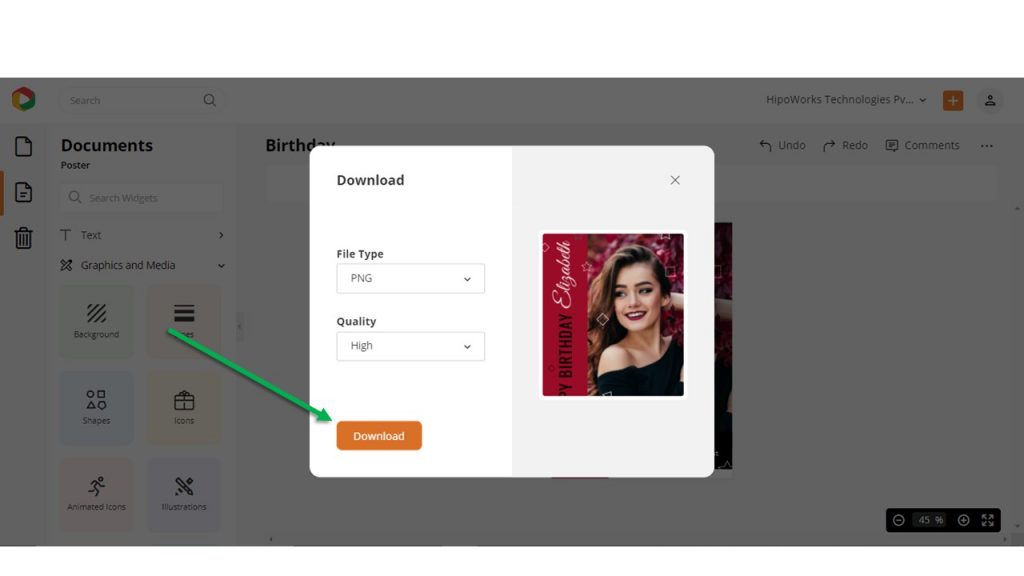 Additionally, we have revamped the Download Widget to make it more convenient and helpful for you to download the documents in DocHipo.
Click Here to learn more about designing posters, or consider watching the video below.
Final Words…
In this digital era where wishes and invites have become social-media-centric, designing posters for birthdays can be a unique approach. Birthday poster design can be a lot of fun if you know the right way. Since it's a great form of promotion, promoting the occasion of your birthday through posters will be a great idea.
Hopefully, the steps and birthday poster design ideas mentioned above will help you make it easier and fun to design the birthday poster. And when you can design a poster for a special occasion and make your or someone's birthday more special, why not give it a try?
Sign-up today (it's free) and explore the magical world of DocHipo.