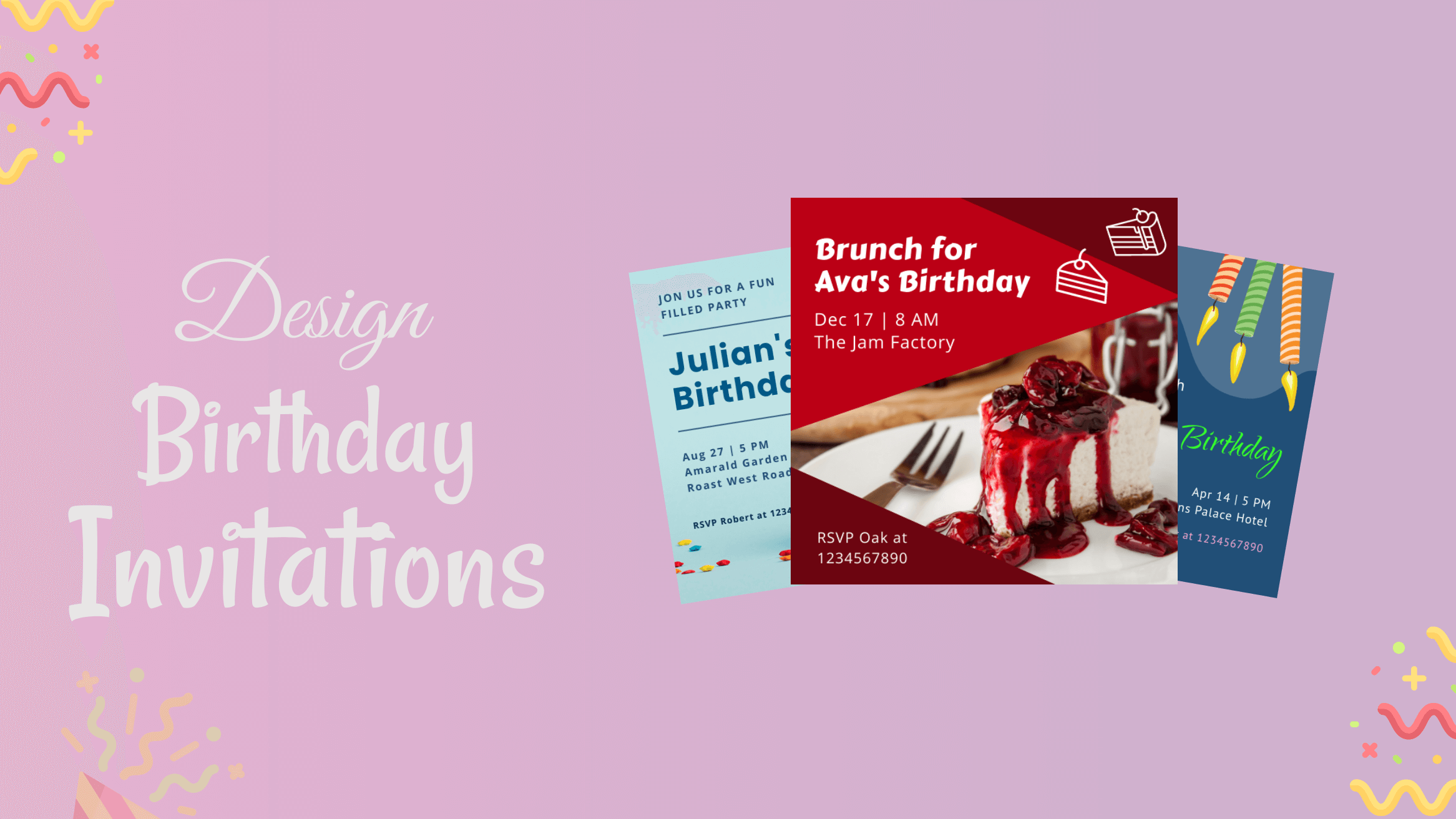 How to Make Birthday Invitation Card in a Few Clicks

Jun 18, 2021
So you are throwing a birthday party and are done with all the arrangements. You have set the date, found the perfect venue, booked catering services, and prepared the menu. Now, you are just waiting for the people to show up on the date. Whether you are arranging the party for someone else or yourself, sending invites is an essential part of your party. And maybe you don't have any design skills and don't know how to make birthday invitation card. That's why you are here, right? Then half of your job is done because you will learn how to make birthday invitation card without any design skills in the next few minutes.
Necessary Information To Include In Your Birthday Invitation Card
You must be careful while composing your message on the invitation card as it will represent your own words to your guests. Thus, making it the most challenging part of the birthday invitation card design. So, before we start showing you how to make birthday invitation card in DocHipo, let's explore what to write in a birthday invitation card.
Who
You must obviously let your guests know who the party is for. Also, you can include the name of the person who is organizing the event.
What
What else can you tell your guests about the birthday party? There might be a unique theme, a dress code, or anything else. You must ensure that this information is clear on the card.
Where
No one can attend the party if they don't know what time and date to show up. Hence, don't forget to include the venue, date, and time.
RSVP
RSVP is another crucial piece of information that you need to include in your card. Your guests must know when and how they can RSVP. It's an abbreviation of the French phrase "Repondez, s'il vous plaît", which means "Reply Please". So, you can simply provide an email id or phone number for your guests to contact you.
Gift Information
Birthdays are all about parties and gifts. So your invitees will surely come with heartfelt gifts for the birthday girl/boy. However, if you want to request that the guests don't bring any gifts, the birthday invitation card is the best place to include this information.
Here's an example of a birthday invitation card template for you to have an idea of the birthday invitation wording.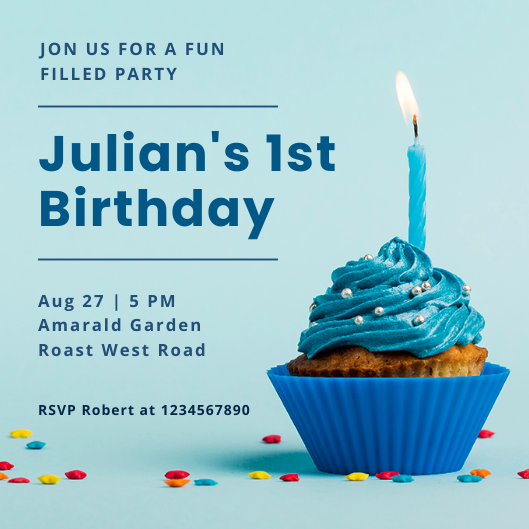 Birthday Invitation Card Design Ideas
As we have mentioned before, you will learn how to make birthday invitation card in this article. Therefore, we have come up with some birthday invitation card design ideas and a birthday invitation template for each.
So, to make the birthday invitation card design process more straightforward, go through the following ideas thoroughly.
Find Your Style
The first thing you should keep in mind about your birthday Invitation Card Design is the visual style. It will affect the overall appearance of the card, including the background, color combination, fonts, and other design elements. Since there are many ways you can find your style, finding the right one can be overwhelming at first. However, you can minimize that by doing extensive research to help you get the right visual style for your card.
However, DocHipo features a variety of birthday invitation templates. Each of them follows a different visual style. So choose the right one for you. Here's an example.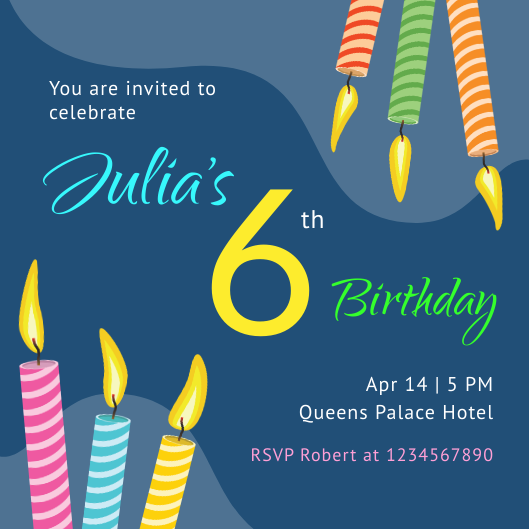 Choose the Right Colour Combination
Choosing the right color combination is one of the most critical parts of your birthday invitation card design. It will tie all the design elements together and set the mood for your invitation. Moreover, the color combination is not just about the appearance; it also defines the nature of the invitation.
However, finding the right color combination can be a daunting task, especially if you are unfamiliar with the color theory. Therefore, to speed up your color selection process, know about the best color combinations for your design.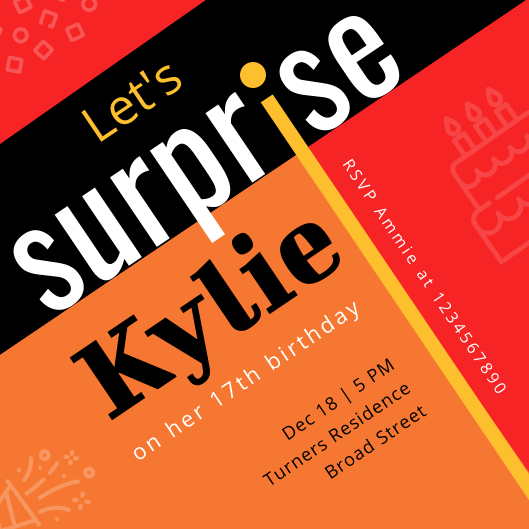 Select the Right Fonts
Using the right fonts is crucial, especially if you want to design a personalized birthday invitation card. Typography plays a vital role in graphic design, just like the other design elements. Different fonts can evoke different emotions.
For example, sans serif fonts give a casual vibe, while scripts exude elegance. However, if you use DocHipo Free Online Invitation Maker for your birthday invitation card design, you will get a wide variety of font styles to choose from.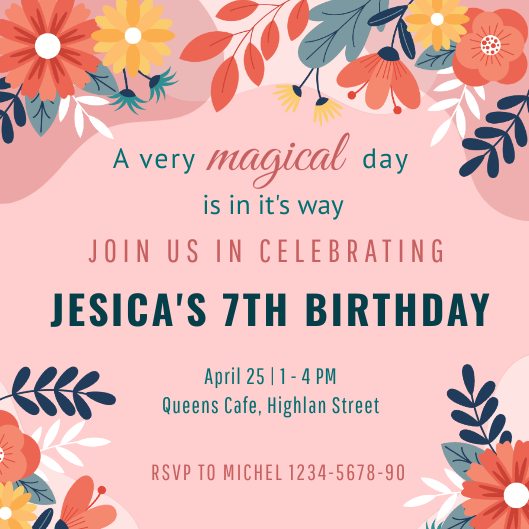 Additionally, you can click here to know about how to create a typography hierarchy in your design.
Keep It Simple
When we talk about simplicity in your design, we really mean it. We don't encourage you to make your design crowded with design elements. Keeping that in mind, you need to make your birthday invitation card design simple and elegant.
Use ample white space or negative space to allow the viewer to take in all aspects of the card without feeling bombarded.
Also, a clean and sleek design makes it easier to rear the card, just like the template below.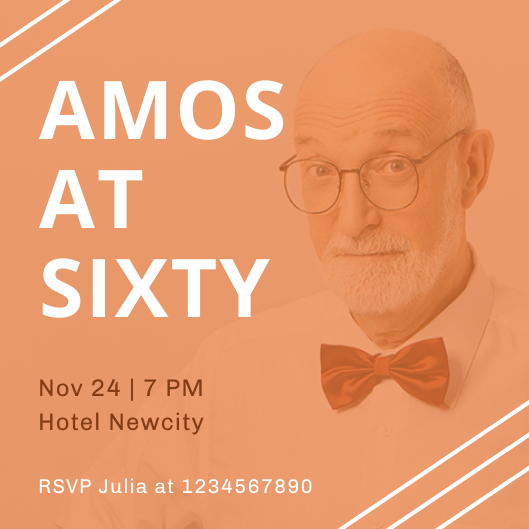 Incorporate Images
There are no rules that say invitations always need to be filled with illustrations and icons only; you can incorporate images as well. It is one of the best ideas to make your birthday invitation card design more personal and intimate.
Choose a birthday invitation template in DocHipo that lets you incorporate images and make your invitations more welcoming.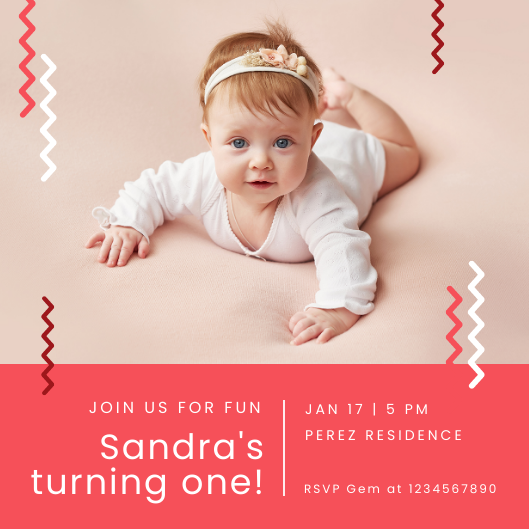 Keep Everything Aligned
Don't underestimate the importance of alignment in your design. Your birthday invitation card design will look clumsy if the alignment is not appropriately done. DocHipo Grid allows you to easily align all the design elements and texts in all the templates.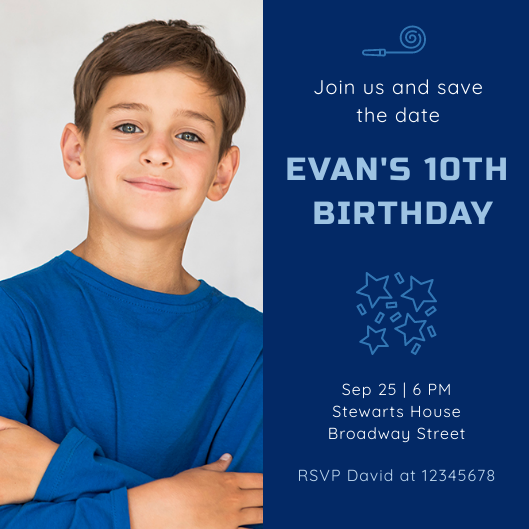 Here is a video on how to align all the design elements using Grid in DocHipo.
Experiment With Different Templates
If you want to kick-start your birthday invitation card design journey, beginning with a template is the best way. They come in handy, especially when you are not accustomed to designing birthday invitation cards or in a big rush.
DocHipo features endless birthday invitation templates that you can easily customize and download for free.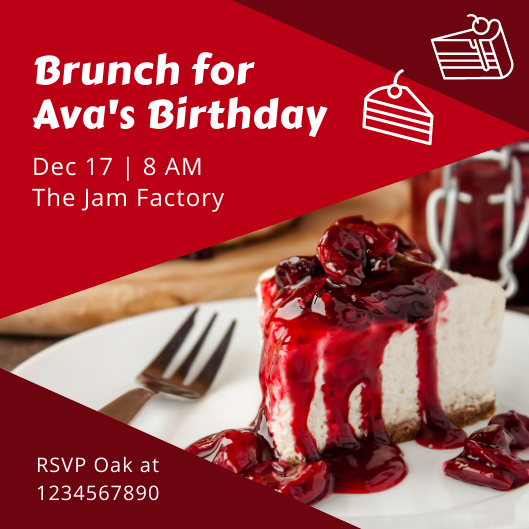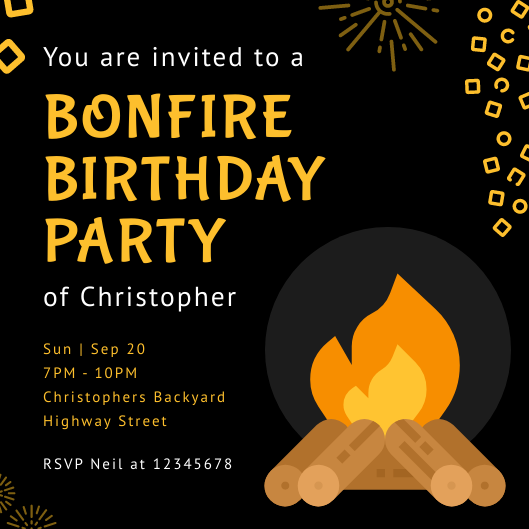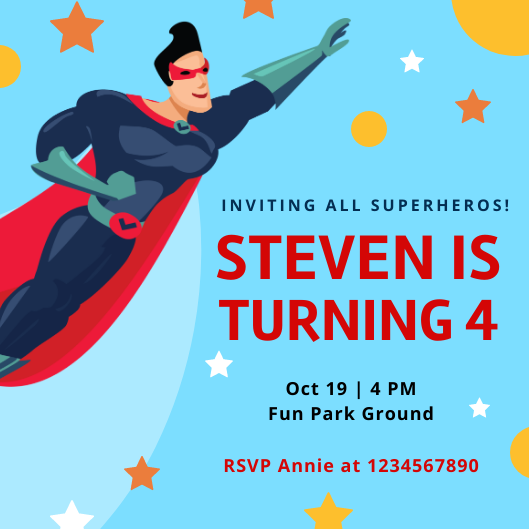 Additionally, you can consider watching the video below to look at the gorgeous invitation templates DocHipo offers.
How to Make Birthday Invitation Card In DocHipo
With the endless options of illustrations, icons, backgrounds, and images, designing the perfect birthday invitation card in DocHipo is ridiculously easy. Use DocHipo Free Online Invitation Maker to create personalized invitations your guests will love.
The myriad of invitation template collections allows you to design cards for almost every type of birthday celebration – from a cruise gateway to a family gathering.
Take advantage of the free tools like Photo Editor, Background Remover, the Awesome Design Widgets to add your personal flair.
Here's how to make birthday invitation card in DocHipo. Follow the steps below:
Step 1: Find the Right Template
Visit the homepage of DocHipo. If you are a new user, create an account by clicking on the Sign-up button. Once logged in, type "Invitation" in the search bar and click on the result to get started on your birthday invitation card design.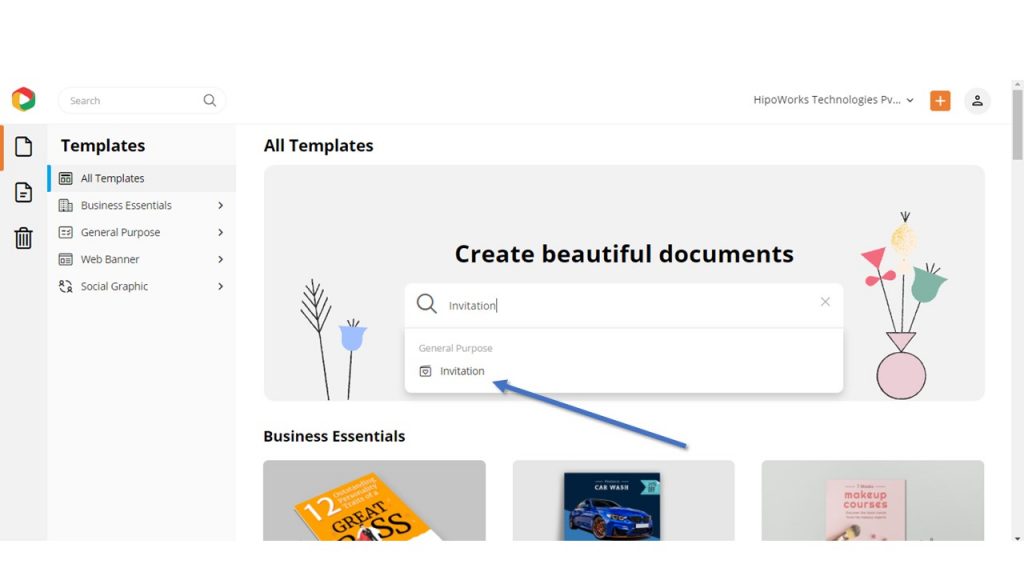 Click on the birthday category to browse through DocHipo's library of stunning and professionally designed birthday invitation templates to find the perfect one for you.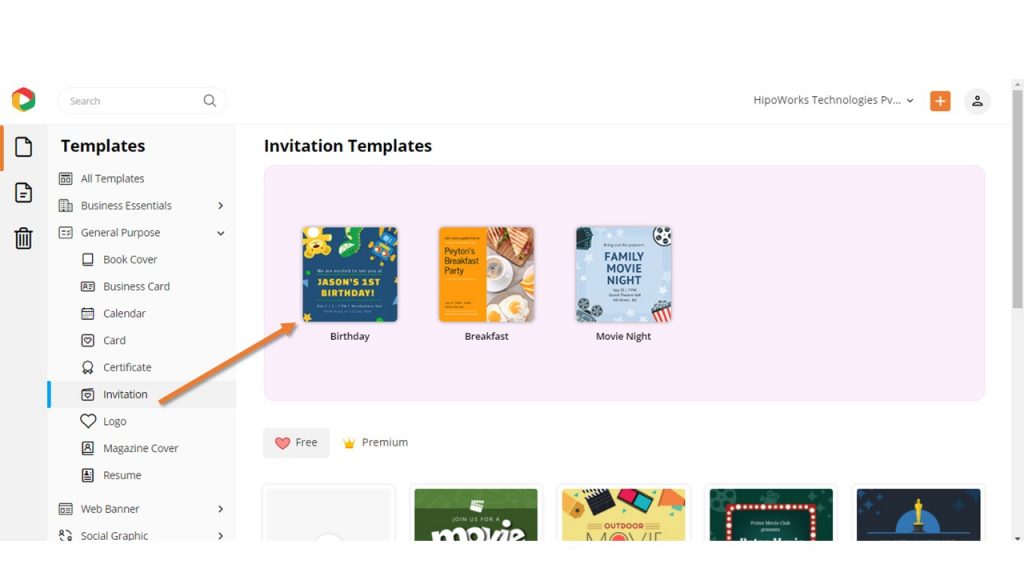 Additionally, consider watching the video below to take a look at DocHipo's Revamped Templates Section.
Step 2: Customize Your Template
Once you have chosen the suitable birthday invitation template for you, either preview or select the template, hover your mouse over the template to do the same.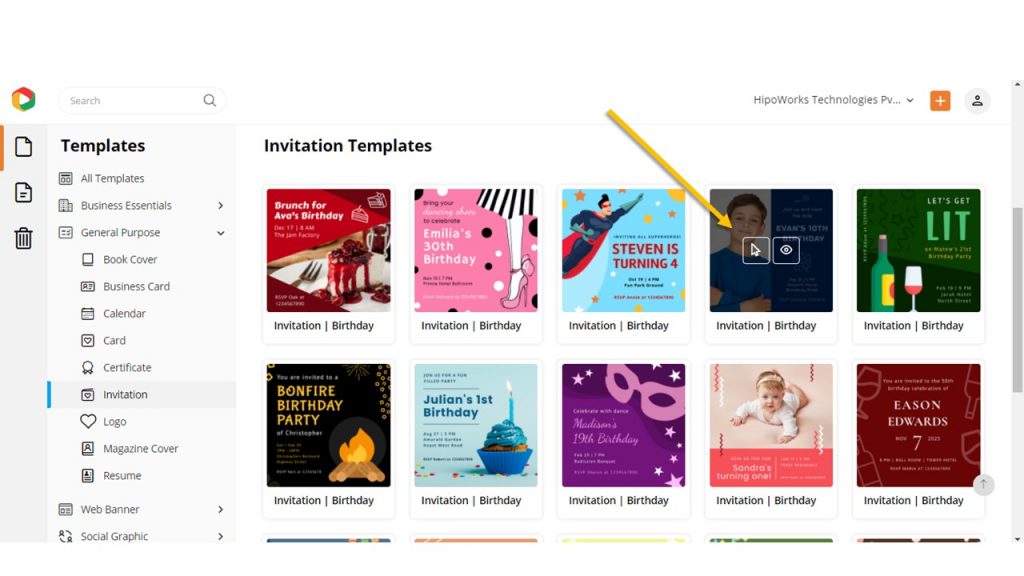 DocHipo lets you make your invitations more impressive by offering endless images, illustrations, icons, and other design elements. Click here to learn how you can do that by using the DocHipo editor.
However, since it's your design, you must add a personal touch. That's why it is called a personalized birthday invitation card. Follow the instructions to personalize your invitation.
Color
Hopefully, you have already chosen the color combination for your invitation. However, whatever the colors are, make sure that they complement each other.
Click on the design element that you want to change the color for. Then click on the "Color" button from the edit panel.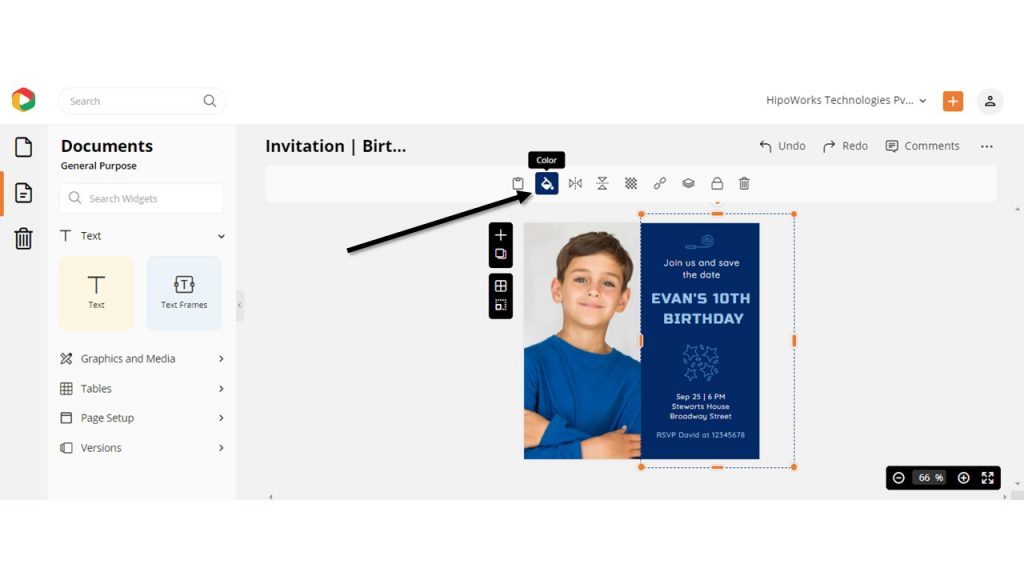 Now, choose any color you want from the list or create custom colors by clicking on the custom color option. Alternatively, you can type HEX color codes in the box to set the color of your choice.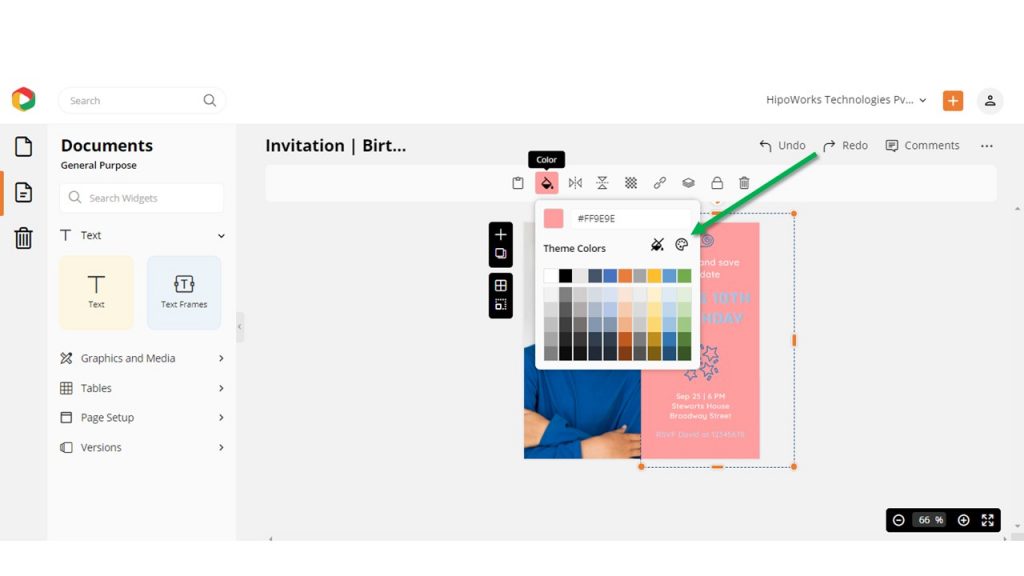 Do the same to change the color of the other design elements.
Text
As we have mentioned before, font style is one of the most important factors that can make or break your birthday invitation card.
Replace all the text with the information you want to include in your invitation. Next, click on any text you want to change. Click on the Font Family option on the edit panel and select the font of your choice from the list.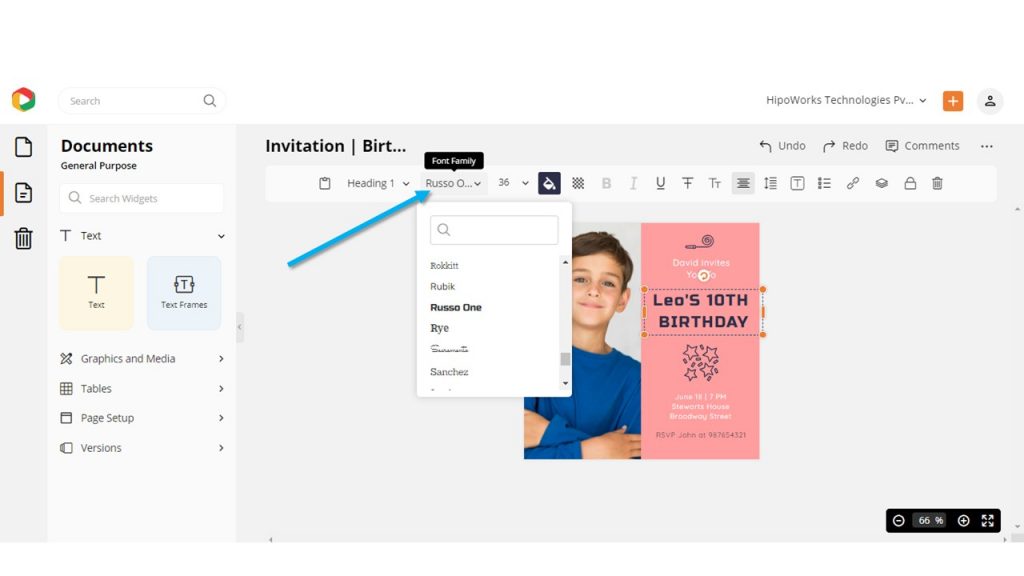 In this case, I have changed the heading text from Russo One to Poppins. Also, I have increased the font size from 32 to 36 and made the text bolder. Here's a video that shows how to add, edit, or delete text in DocHipo.
Image
To replace the imagery with the photographs of the birthday boy/girl, click on the Graphics and Media option and then "Pictures" from the sidebar.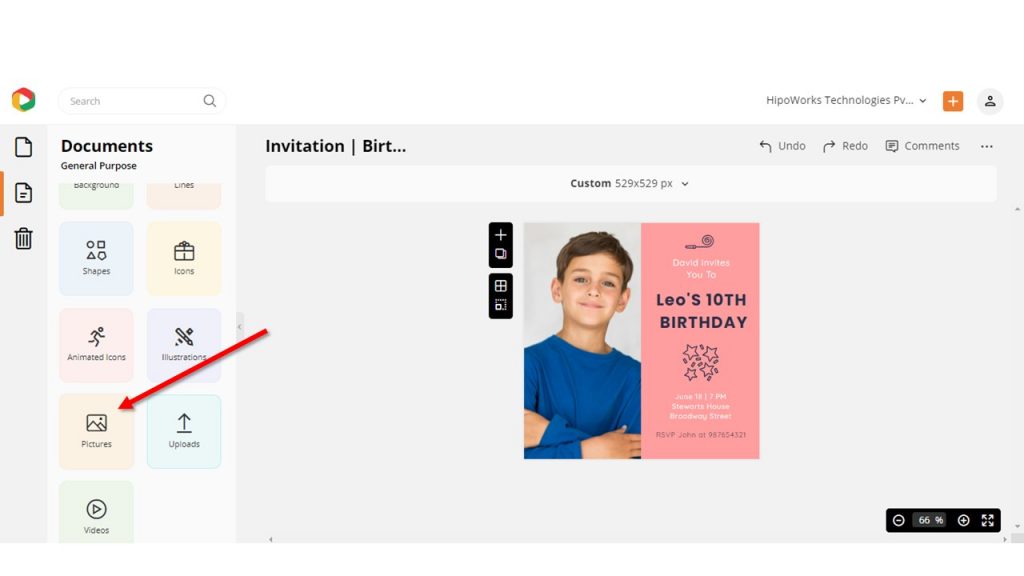 Then, click on the plus button and then "Upload Images". Next, choose the image that you want to incorporate into the birthday invitation card.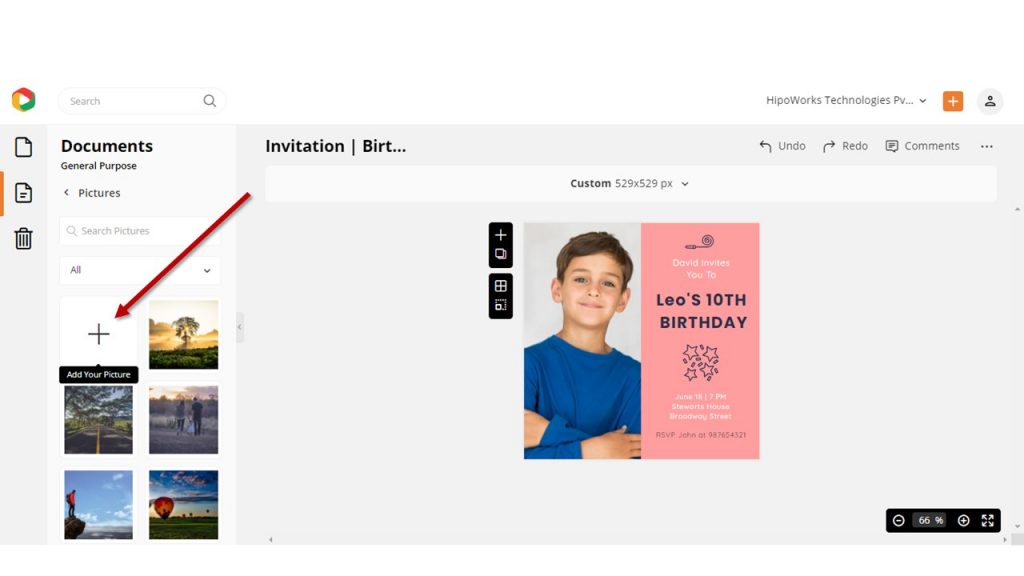 Once your image is successfully uploaded, click on it to incorporate it into your design.
Original Template: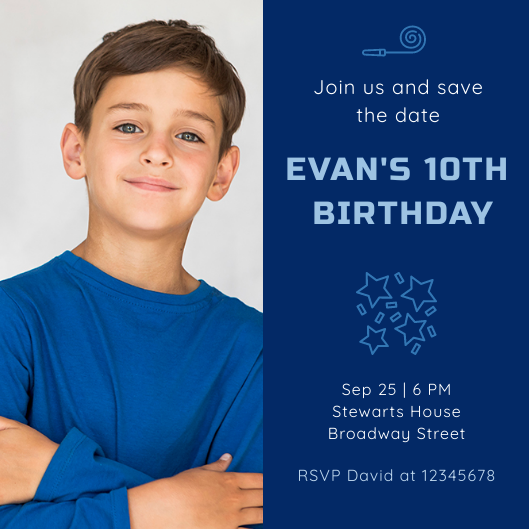 After Editing: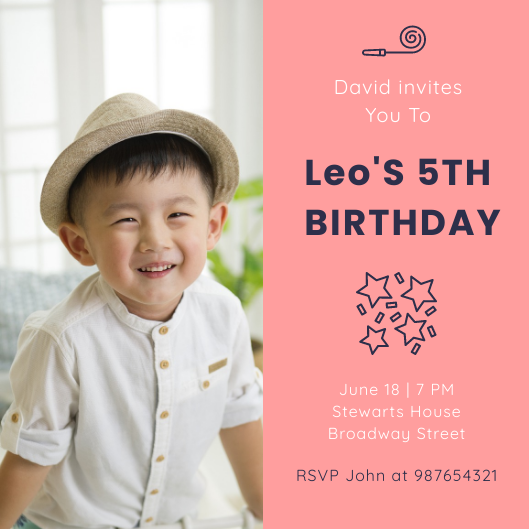 Step 3: Download the Invitation Card
Don't stop editing the template until you are happy with your design. Once you are satisfied, you might want to download it. To do that, click on the three dots from the top right corner, then select "Download" from the drop-down menu.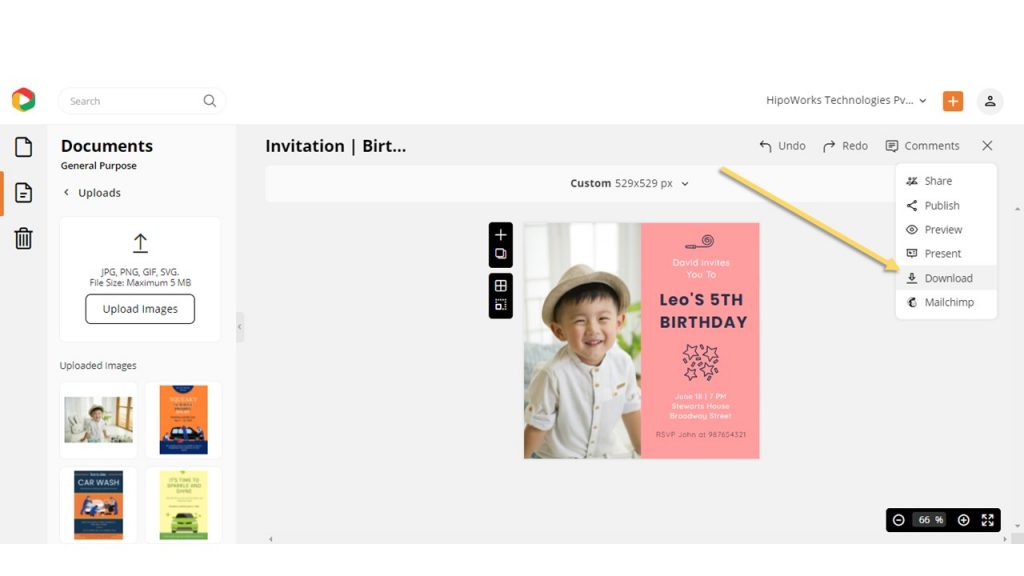 Choose your desired file type and format, and then hit the Download button. Your device will automatically download the birthday invitation card design within a few seconds.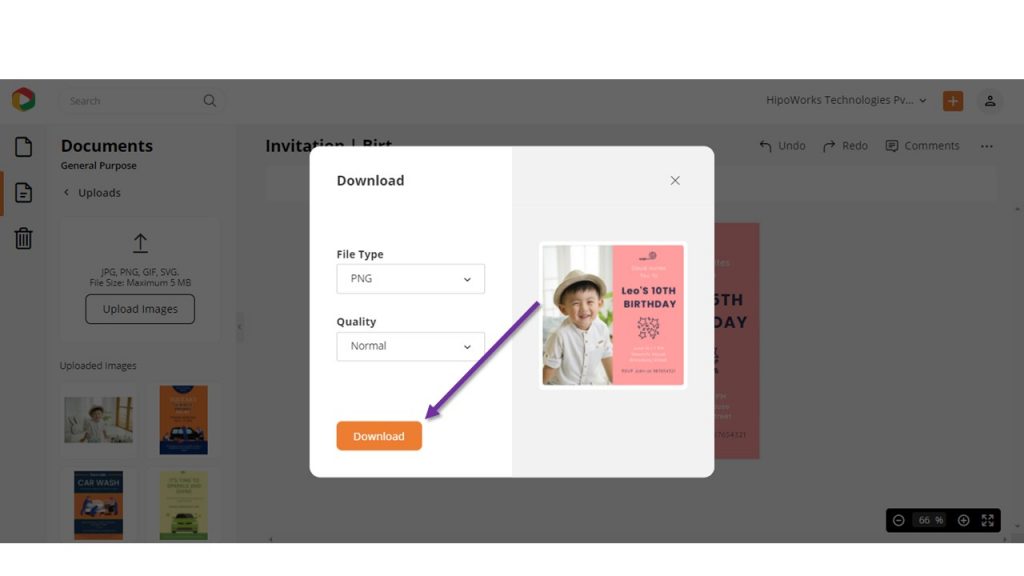 We have revamped the Download Widget of DocHipo for a better user experience. Watch the video below to have a look at the same.
Final Lines…
When it comes to birthday invitation card design, the key is communicating all the necessary information as beautifully as possible. Hence, you don't need to overthink while designing the invitation. Instead, play around with all the features that DocHipo offers. As long as your birthday invitation card can welcome your guests to your party, your design is perfect.
Therefore, sign-up today and explore the magical world of DocHipo.