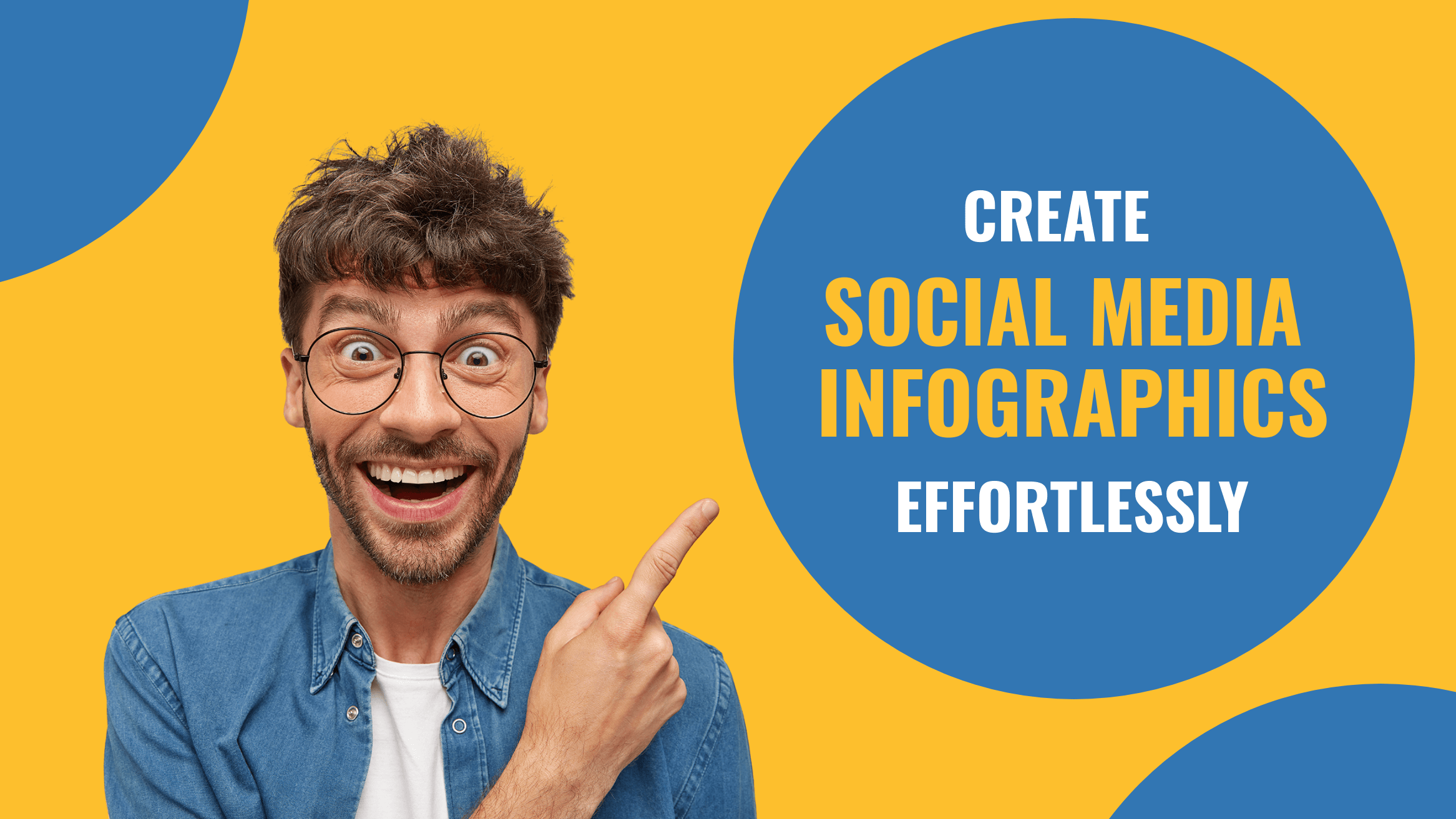 How to Create Social Media Infographic

Mar 4, 2021
"Social media is the ultimate equalizer. It gives a voice and a platform to anyone willing to engage". – Amy Jo Martin
One of the most crucial parts of an effective social media marketing strategy is the inclusion of various types of content. This can be anything from links to different blogs, product images, memes, rare footage, and many others. But social media infographic is a very powerful form of content that can help you boost traffic and engagement.
What Is Infographic?
An infographic is a graphic representation of data, information, or knowledge that presents any information clearly and quickly. With the rising popularity of visual content, the infographic is growing rapidly as a digital marketing tool. Today, more than 65% of B2B marketers are using infographics for content marketing. Simultaneously, it becomes one of the top five most popular content types. Moreover, 94% of the B2B marketers use social media posts (excluding videos) for their content marketing which is the highest of all types of content. Hence, the social media infographic is the most essential part of digital marketing after videos.
Continue reading to know how to design infographics for social media marketing using DocHipo – and it will ultimately drive more traffic to your website.
What Is Social Media Marketing?
The use of social media platforms like Instagram, Facebook, LinkedIn, Pinterest, and Twitter to connect with the target audience is called Social Media Marketing. The digital marketing world has found social media as the biggest platform which can help them build brand reputation, drive web traffic and increase sales.
Making strategies, Planning, and publication of engaging content, connecting with the followers, analyzing the results, and advertising are the main pillars of a successful social media marketing strategy.
To grab the attention of audiences and to get the most out of social media, you need to publish attractive content. After all, your content is the first thing that your audience will see. This is the part of social media marketing where a social media infographic comes in handy.
Why Use Social Media Infographic As A Marketing Strategy?
Make Your Post Visually Appealing
Visuals are faster and easier than any textual format for the human brain to process. Therefore, most people don't like to read blogs or content that are text-heavy. Visual learners always prefer images over texts. Infographics present information in a way that most audiences can not ignore. Moreover, a study shows that infographics can increase website traffic by 12%. Hence, they are the most effective way to drive more eyeballs to your website and improve business results.
Educate Your Target Audience
According to a world survey, infographics are the easiest and most effective medium to educate people. You will often see that even YouTubers use infographics in their videos to make them easier to understand. Hence, you can choose infographics as your tool to deliver the message and to educate the audience about your services, products, and offers. However, you need to research a lot and collect all the data to create your marketing infographic.
Create A Brand Personality
Besides getting more traffic and higher domain authority, you should create a brand personality that will generate more leads. If you post random captions that anyone could write, your brand will get lost among the crowded other social media posts. Hence, you must use something that makes your post unique and attracts people. And what can be more attractive than a stunning social media infographic? Additionally, brand reputation helps you create an environment for your customers that ultimately bring more leads through referrals. According to a study by Heinz marketing, more than 40% of leads come from referrals.
Break Down Difficult Concepts
Explaining difficult concepts to your audience is the biggest challenge. Especially when you want to show them big data. Even texts and tables become useless sometimes. Fortunately, you have infographics that can help you with this issue. So, whenever you are going to work on a report or presentation, use infographics instead of writing.
Highlight The Important Parts
It's not that all the information you are trying to present through your social media post is not important. But still, some things are more important than others – and these are the things that you want your audience to take home. You can use infographics to show critical information and jump straight to the point. Humans can remember up to 80% of what they see but only 20% of what they read. Hence, use a social media infographic to highlight the most important part of your post.
Take the Advantages of Using Free Tools
One of the most important benefits of using infographics for your social media posts is it is cost-effective. You don't need to hire a professional to create graphics for your post. You can easily create infographics using free tools like DocHipo. It helps you create stunning infographics within a minute. Additionally, you can design blog banners, flyers, book covers, and more. DocHipo was designed to help non-designers to create beautiful designs.
Points to Keep In Mind For Creating The Right Infographic
Now, you know that an infographic can be beneficial for you in many different ways. But before you start creating the infographic, keep a few points in mind to structure your infographic in the right way.
Decide The Audience For Your Infographic
You have already done this if you are creating the infographic for your product or brand. Because you already know who your customers are and for whom you want to create the infographic. Here you are going to make a social media infographic that means your targeted audience is mostly on social media. Hence, the shape, size, color scheme, and many other aspects should be determined in a way that makes a perfect social media post.
Choose The Right Topic
Choosing the right topic for your infographic is where you make all the difference. Find a relevant topic and try not to make it too broad. The topic should be very specific so that it will be easier for you to include valuable information. For example, instead of creating an infographic about "Social Media Marketing", get more specific with different strategies, tips to get more traffic, and others.
Collect All The Relevant Data
Once you have selected the topic, you must start collecting relevant data from credible sources. You will have to include data points in your infographic for which the data should be credible and valuable. Data points are the crucial part of an infographic. After all, these are the ones that gave birth to the infographic. Research a lot to collect your data, especially when your infographic will stand alone.
Start Planning About Visualizing The Data
After collecting all the data, you need to figure out how to visualize it. Firstly, separate the data from the textual information. Secondly, choose from various types of graphs, charts, or widgets to arrange the data. It depends on the type of data. For example, if you are planning to visualize some geographical data then you might need a map.
Set the Tone of Your Infographic and Start Designing
The tone of voice plays an important role in reaching the target audience. There are many types of tone such as friendly, academic, business, fun and humorous, and others. Once you are done with the tone, you can write down the copy for your infographic. Now, you are ready to create a stunning social media infographic. Here's how you can do that.
How To Create Social Media Infographic Using DocHipo?
Follow these simple steps to create a stunning infographic:
Sign Up On The DocHipo Website
To start creating infographics, go to the homepage of DocHipo. Click on "Get Started For Free" and Sign up using your name and email address.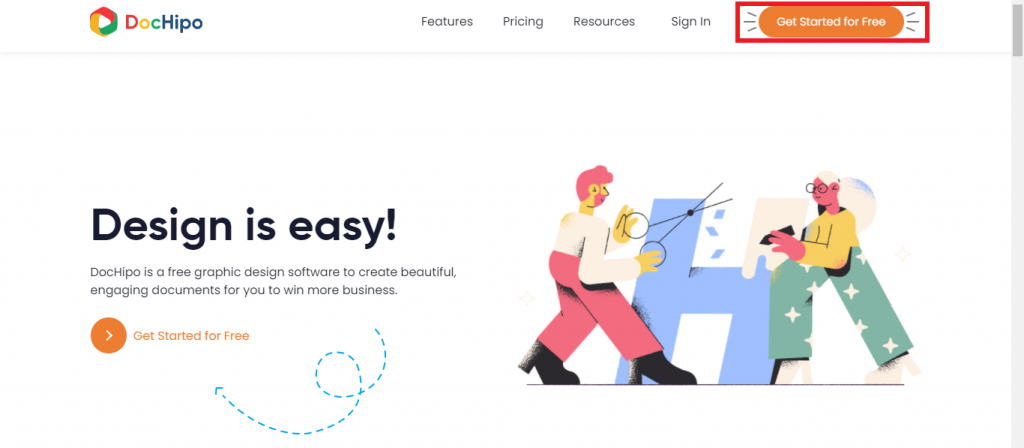 Once you enter the DocHipo app, you will see a wide variety of predesigned templates.
Choose The Right Template
Choosing a template is the most crucial part of creating an infographic that works perfectly with your data type.
To choose the perfect template, click on "Business Essentials" and then "Infographics" from the list and another list will open up.
You will get a wide variety of Infographic Templates to choose from such as Business, Dos & Donts, Facts, How To, and more. Scroll through the template gallery to find your template if you don't have an idea about the template categories.
Once you find a template that is a perfect match for your goal and data type then you can click on it to either preview or edit the template.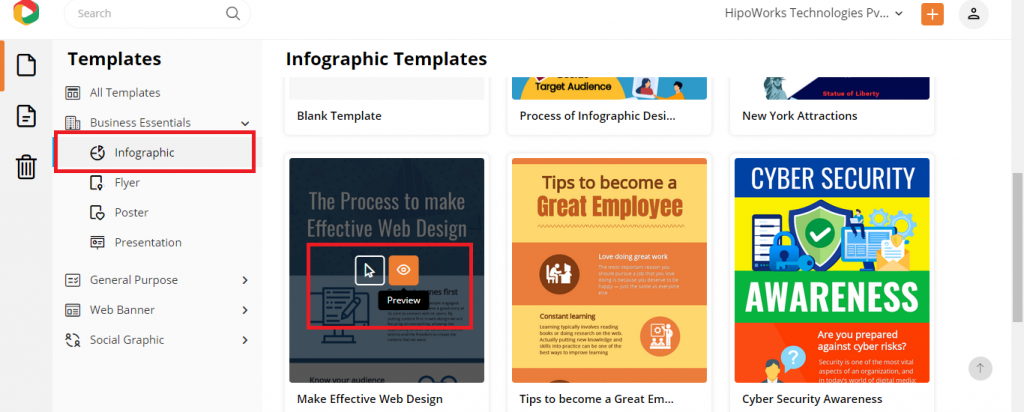 Start Inserting Your Content Into The Template
Before you insert your content into the placeholders of the template which are called blocks, take a look at all the sections in it. If you can add, clone, or remove blocks as you need. can add more. Upload images from your device or use the icons and illustrations that our designers have already created for you.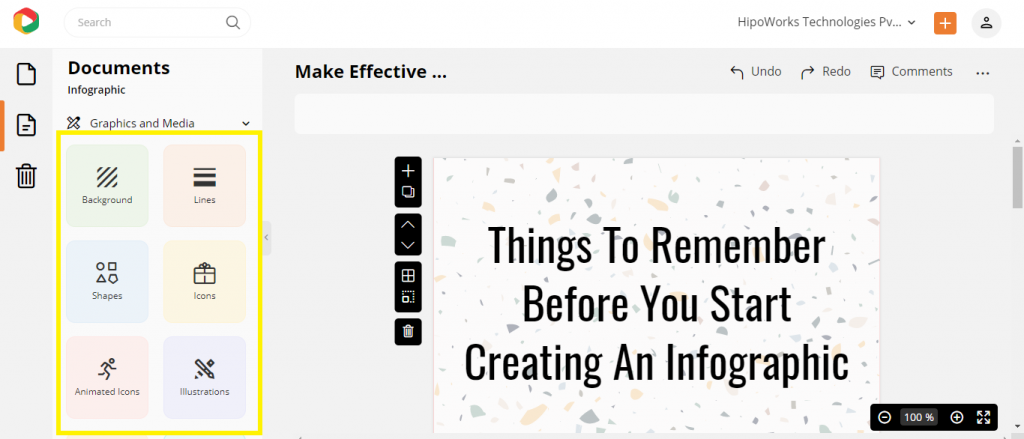 Start editing your template. You can change the background color or even the background image, texts, icons, font styles, and more. Here's how it looks like before and after editing a template.
Before Editing The Template:

After Editing The Template:

Look for the best color scheme that suits your post and make sure that the visuals are complimenting your content. Use your creative mind a little bit and something epic will come out. Once you are satisfied with your design, you can download your template by clicking on the three dots from the top right corner.
Now, you are ready to use a unique social media infographic for your social media posts.
Final Words….
Maybe you are not a business person and you have nothing to do with social media marketing. Still, you can create infographics using DocHipo for your social media posts. You might be a guitarist, a writer, a teacher, or even a volunteer who wants to make an impact on this world. Infographics can be used for any purpose to spread a message across the world in a beautiful manner. You just need to be a little creative and a DocHipo account. 😁
If you don't already have any DocHipo account, you can get started with just your email id and password. Sign-up today and start designing!