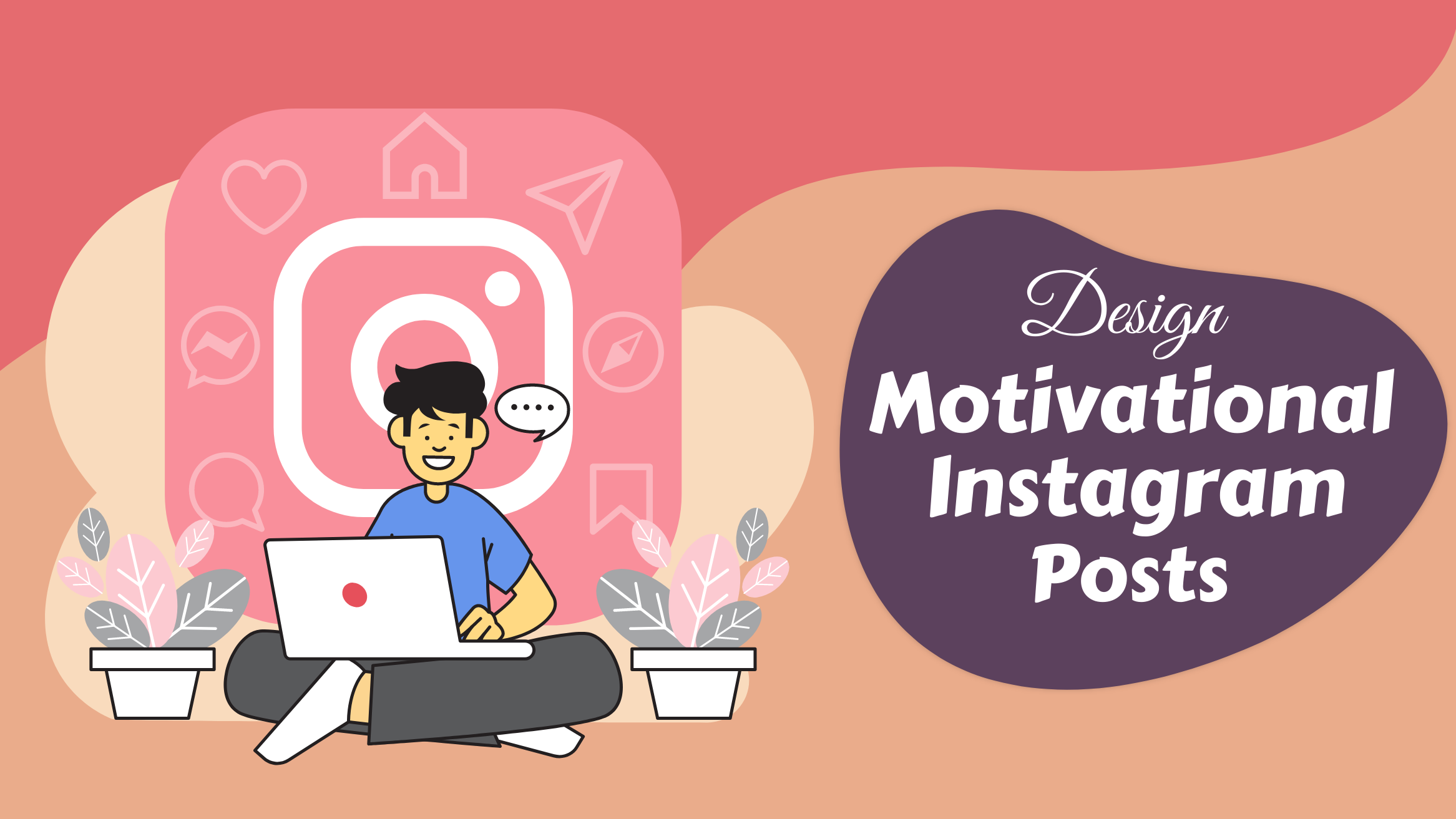 Motivational Instagram Post Design: Design Stunning Posts Instantly

Last Updated Oct 19, 2022
If a picture is worth a thousand words, imagine how valuable it would be to include some of the most powerful words on it. We all come into a situation at least once in our lives when times are difficult, weird, or just heartbreaking. And since we humans are social creatures, we need companionship from others. Recent research shows that sharing thoughts on social media can lower our stress levels. Also, scientists have been researching the picture superiority effect where pictures are more likely to be remembered than texts. Therefore, sharing an encouraging message can go a long way in those hard times. Motivational Instagram post design and sharing them can be both uplifting and aesthetically appealing.
Motivational Instagram posts can set a positive tone for the whole day and even for a long time. You might want to motivate your employees, coworkers, or followers on Instagram but struggle to design a motivational post for your Instagram account.
That's why we have come up with the Motivational Instagram Post Templates in DocHipo. With the help of the free online Instagram Post Maker and the free Instagram post templates, you can easily design the most motivational posts for your Instagram.
Sounds good?
Keep reading to know how to design motivational Instagram posts.
Motivational Instagram Post Design Ideas & Inspiration
Sometimes it might become confusing to decide what to post consistently. Hence, to help you with the Motivational Instagram post design, we will talk about some of the motivational Instagram post design ideas. So the process of motivational Instagram post design becomes easier for you.
Post a Message of Unity or Action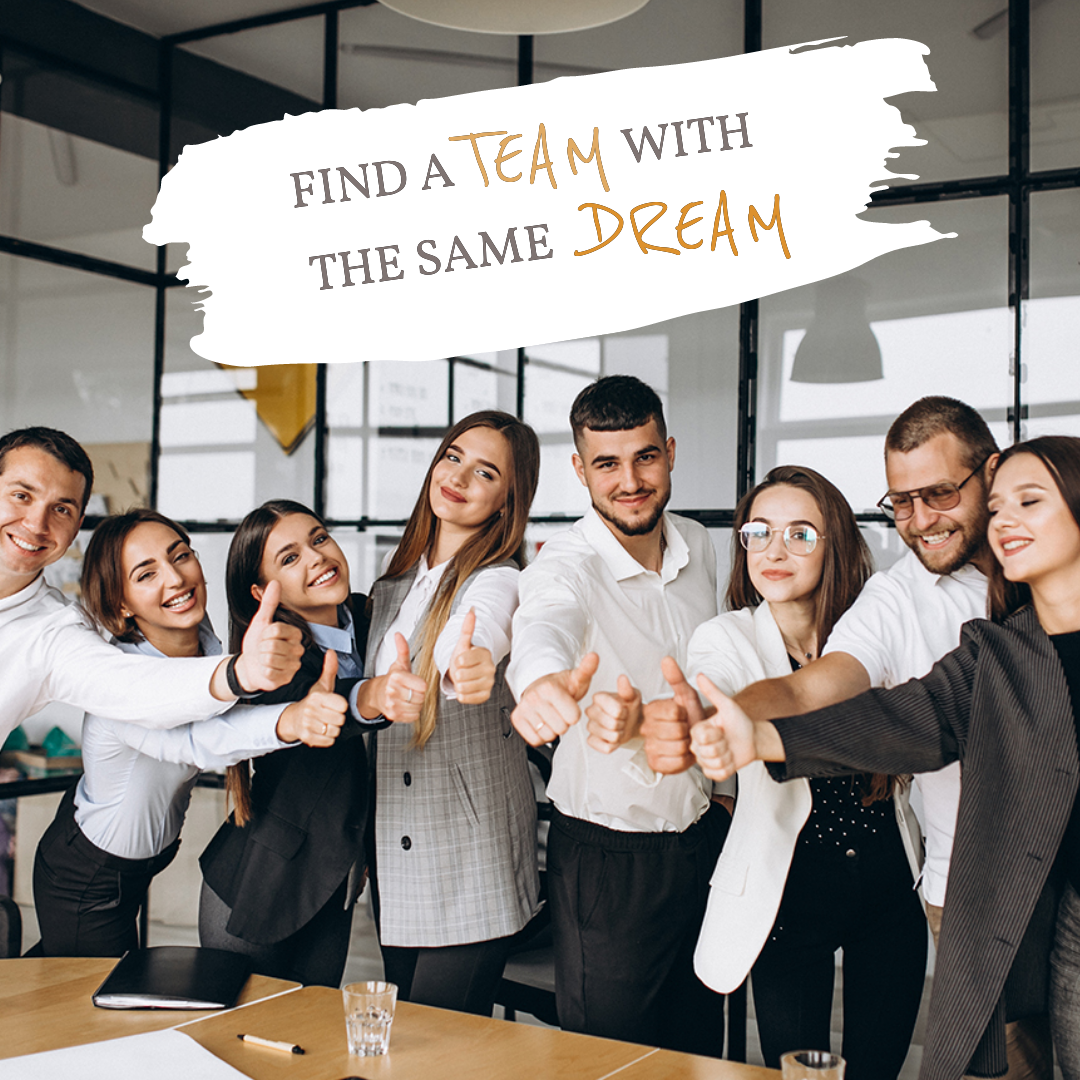 Get This Template and More
One of the most exciting things about design is combining fonts, colors, and other design elements to present a powerful message as a fine work of art. The people in this Instagram post design template perfectly represents what the message says in it. Also, we have highlighted the words "Team" and "Dream" using different fonts and colors to emphasize them.
Furthermore, all the people in this picture look happy and energetic, which is also the benefit of what the sentence says – "Find a team with the same dream." So, try to focus on the little details like this template, and your picture will tell not only a thousand words but a million.
Post Something About Immediate Action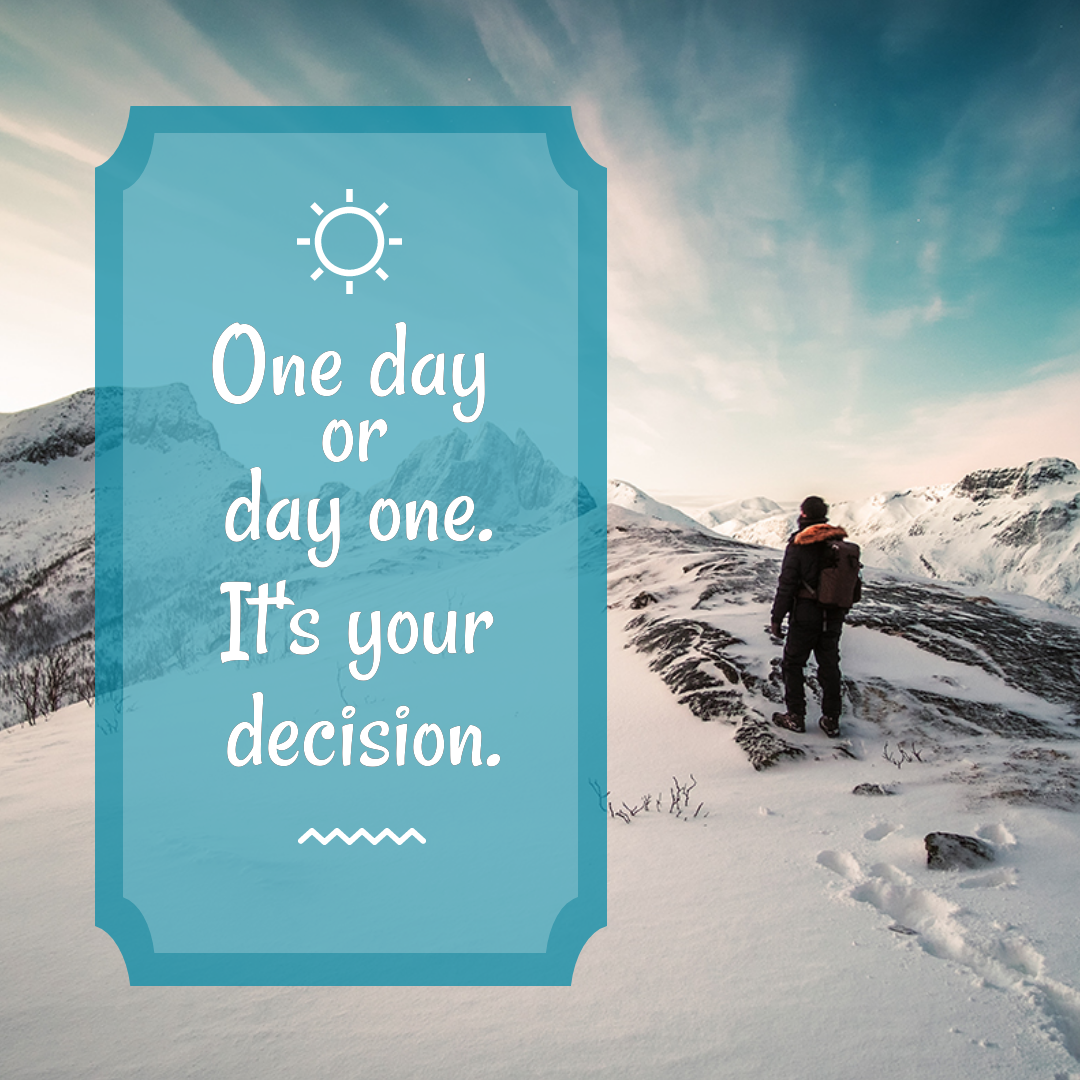 Get This Template and More
Do you want to give your motivational Instagram post design a solid and simple look? You can not miss the power of quotes that evoke immediate action. We have added an image in the background that shows the beginning of progress to describe the quote. Doesn't it look like the man behind has a dream of climbing the mountains, and he's got his inspiration to start today?
Encourage In Bad Times & Good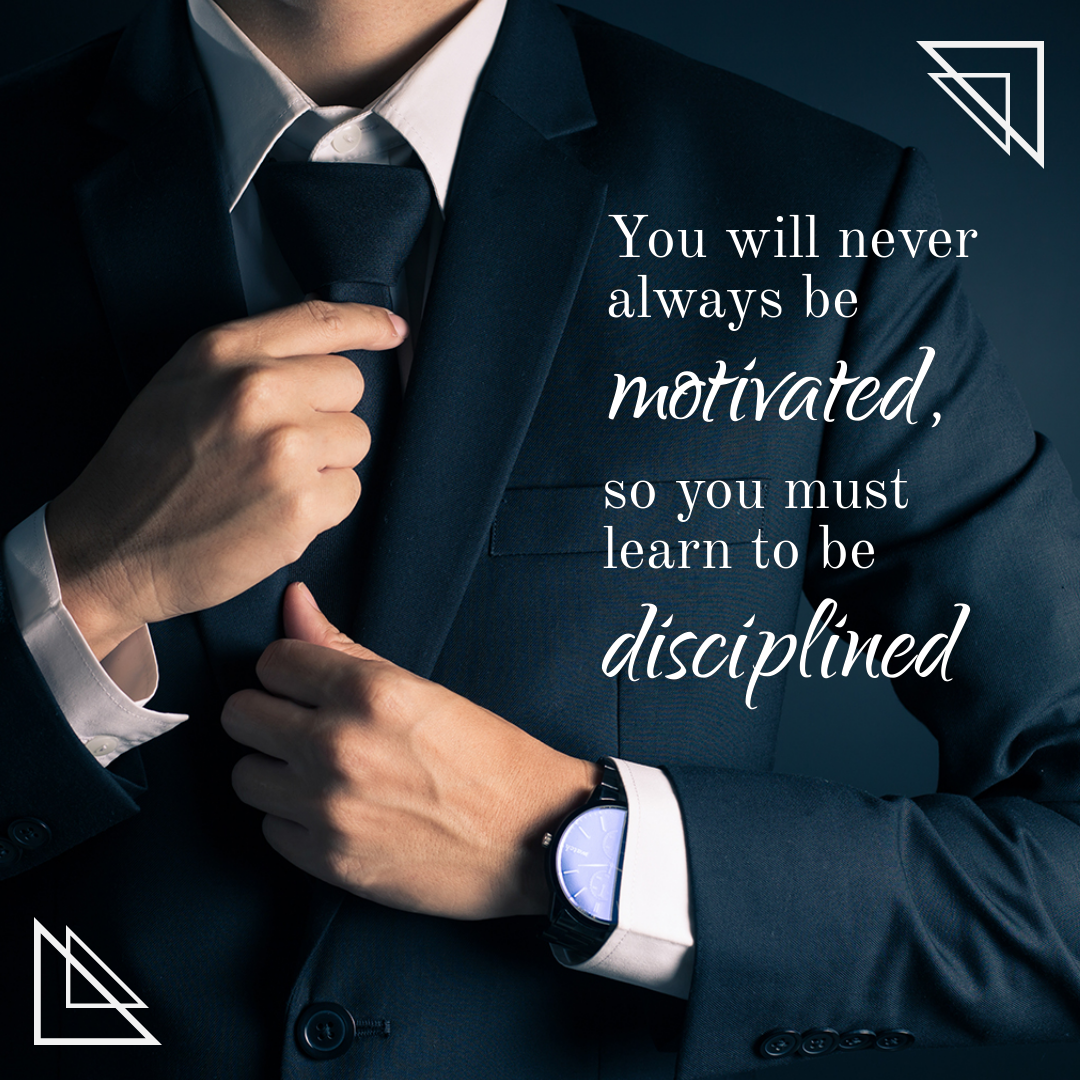 Get This Template and More
Talking about a problem and the solution is a double dose of motivation. In this Instagram post design template, we have used the picture to demonstrate discipline as the post motivates people to stay disciplined.
Combine a Motivational Picture with a Motivational Quote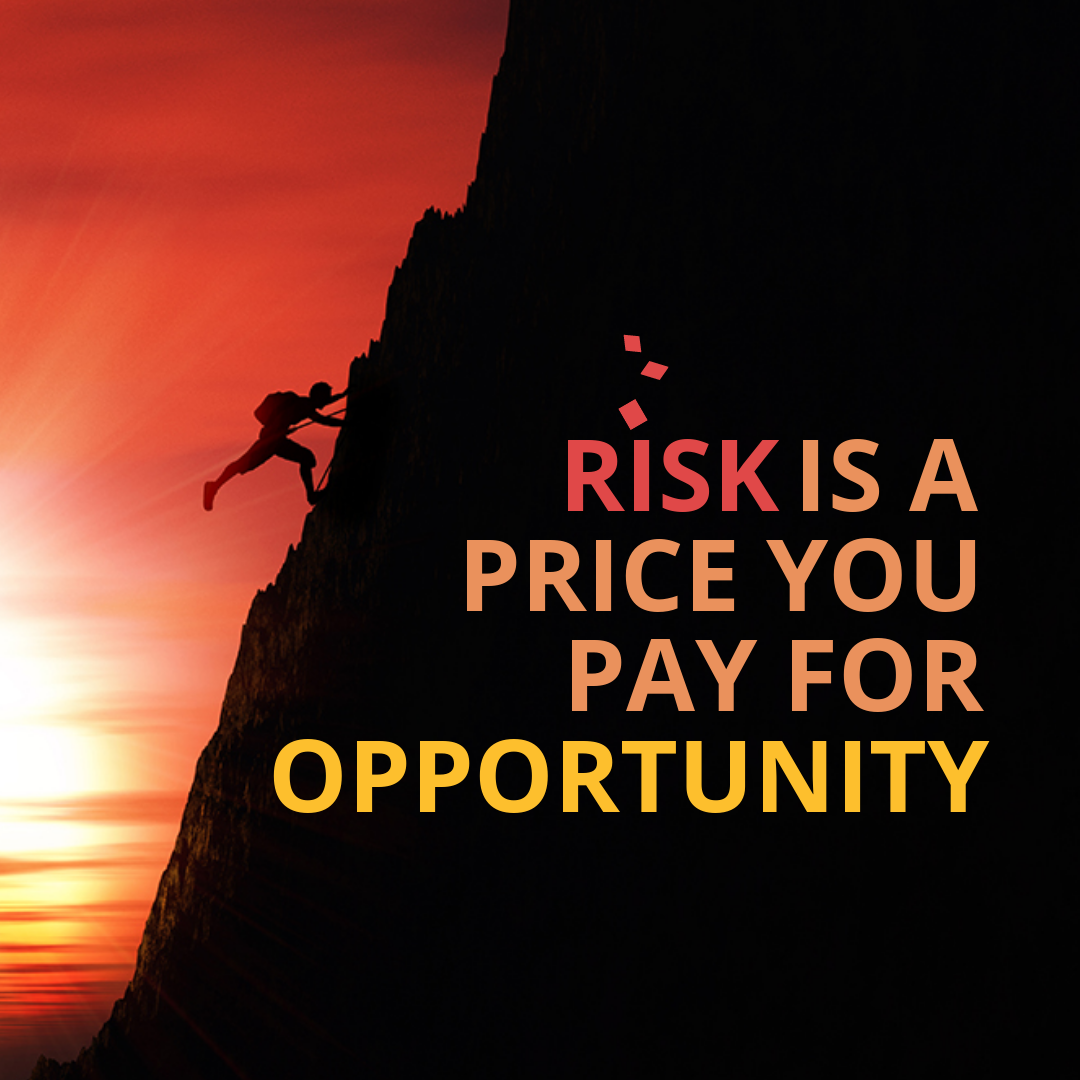 Get This Template and More
Sometimes combining a quote with a relevant picture can lift someone's spirit. Therefore, in this post, we have used this picture to take the risk to pursue his dream. And the picture perfectly fits the quote and boosts its ability to motivate.
Use Design Elements to Convey the Message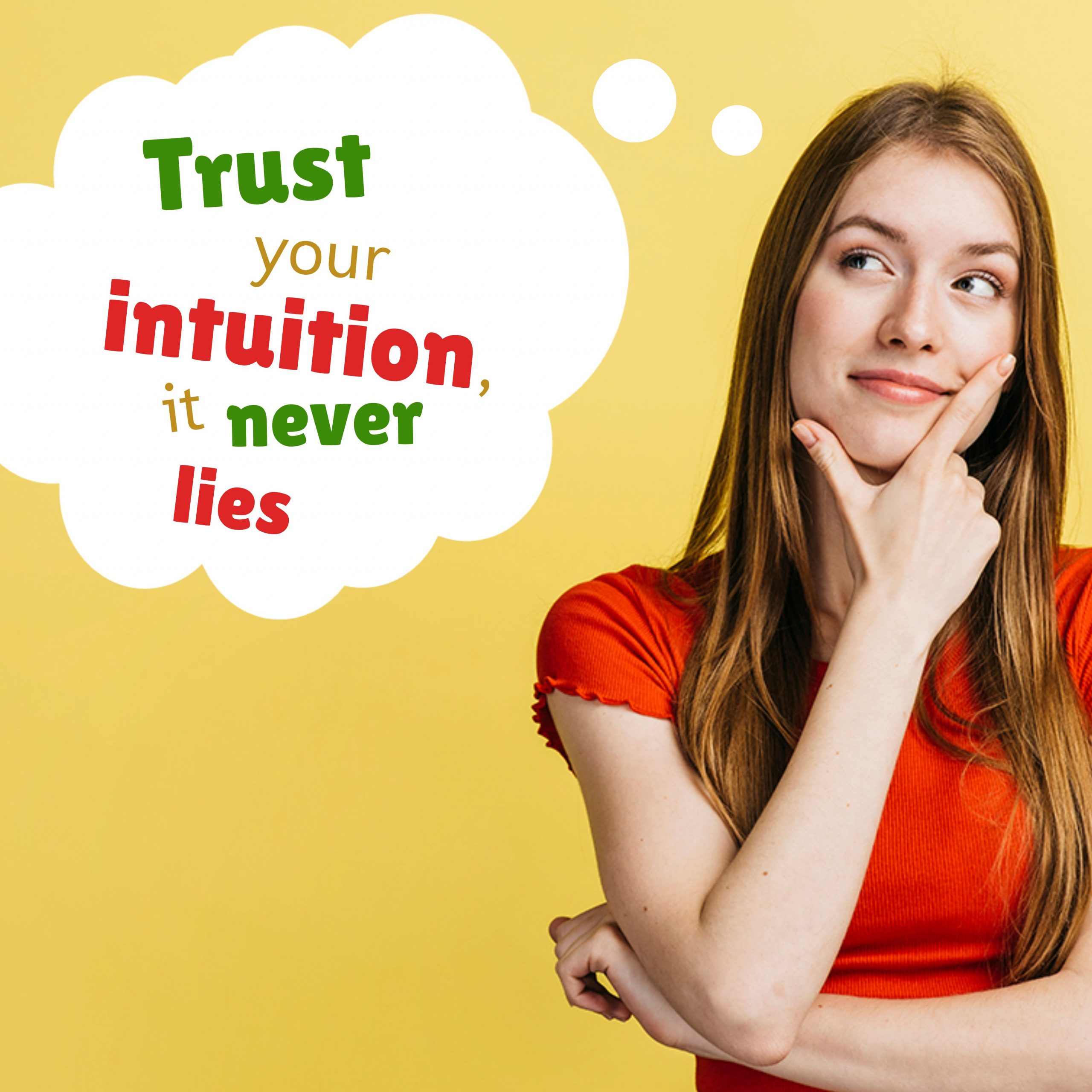 Get This Template and More
One of the most used tactics in motivational Instagram post design is designing elements to visualize the message. You can surely insert a picture of a person smiling, and there is nothing wrong with that. However, you can use design elements unexpectedly to add depth, subtlety, and mood, just like this Instagram post template where we have used the white filled circles and the big crinkly one to portray the word "Intuition."
Motivational Instagram Post Design Best Practices
If you have chosen your quote to include in your Instagram post design, it's time to start planning your design. So we have put together these Instagram post design best practices.
Create A Background
The background is the backbone of your design that can either make or break a motivational Instagram post design. Your primary goal is to draw the attention of your audience but also might not want to detract from your quote at any cost. Keeping these in mind, make sure that you create a stunning background for your post. You can either go for a solid background or a photo background, just like these two templates.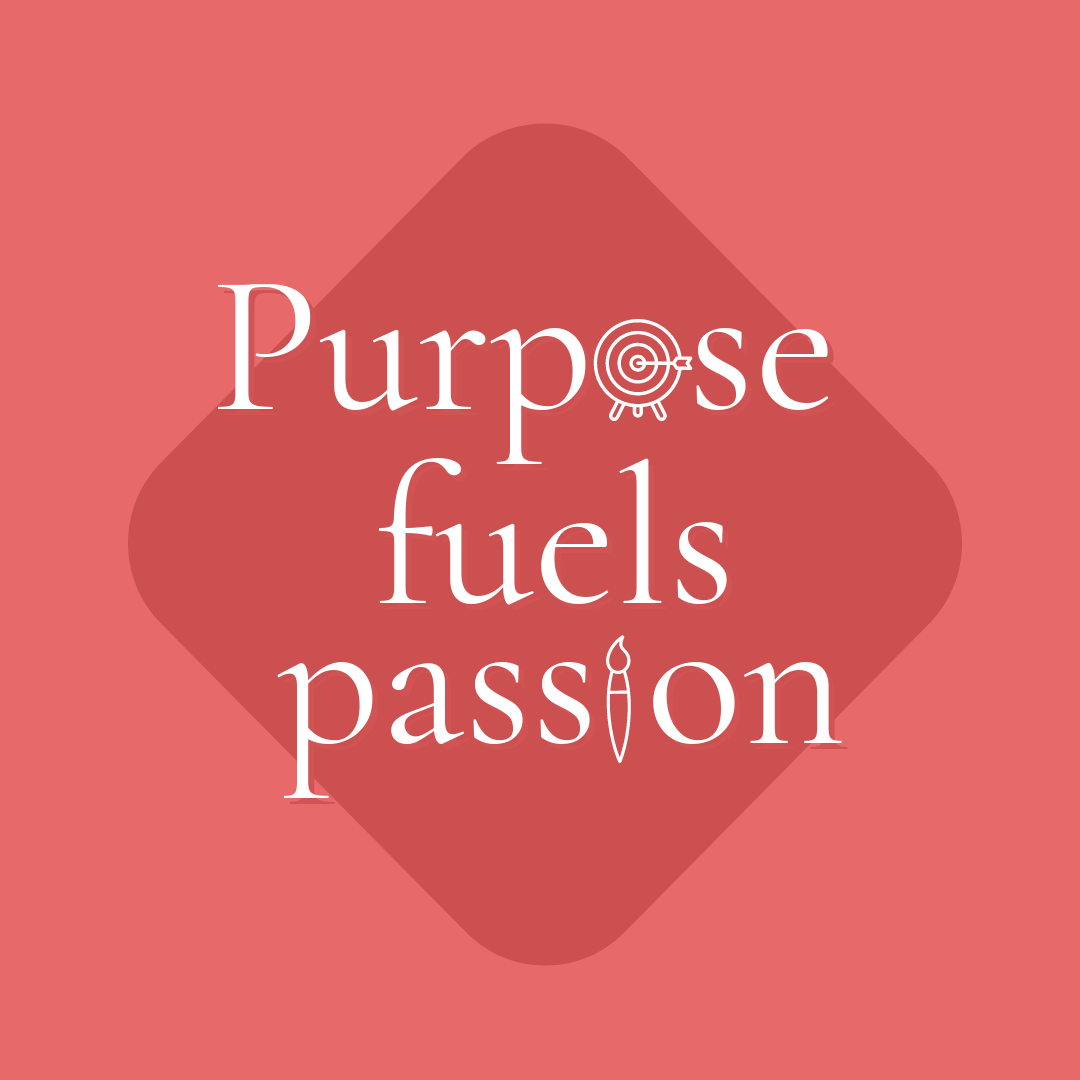 Get This Template and More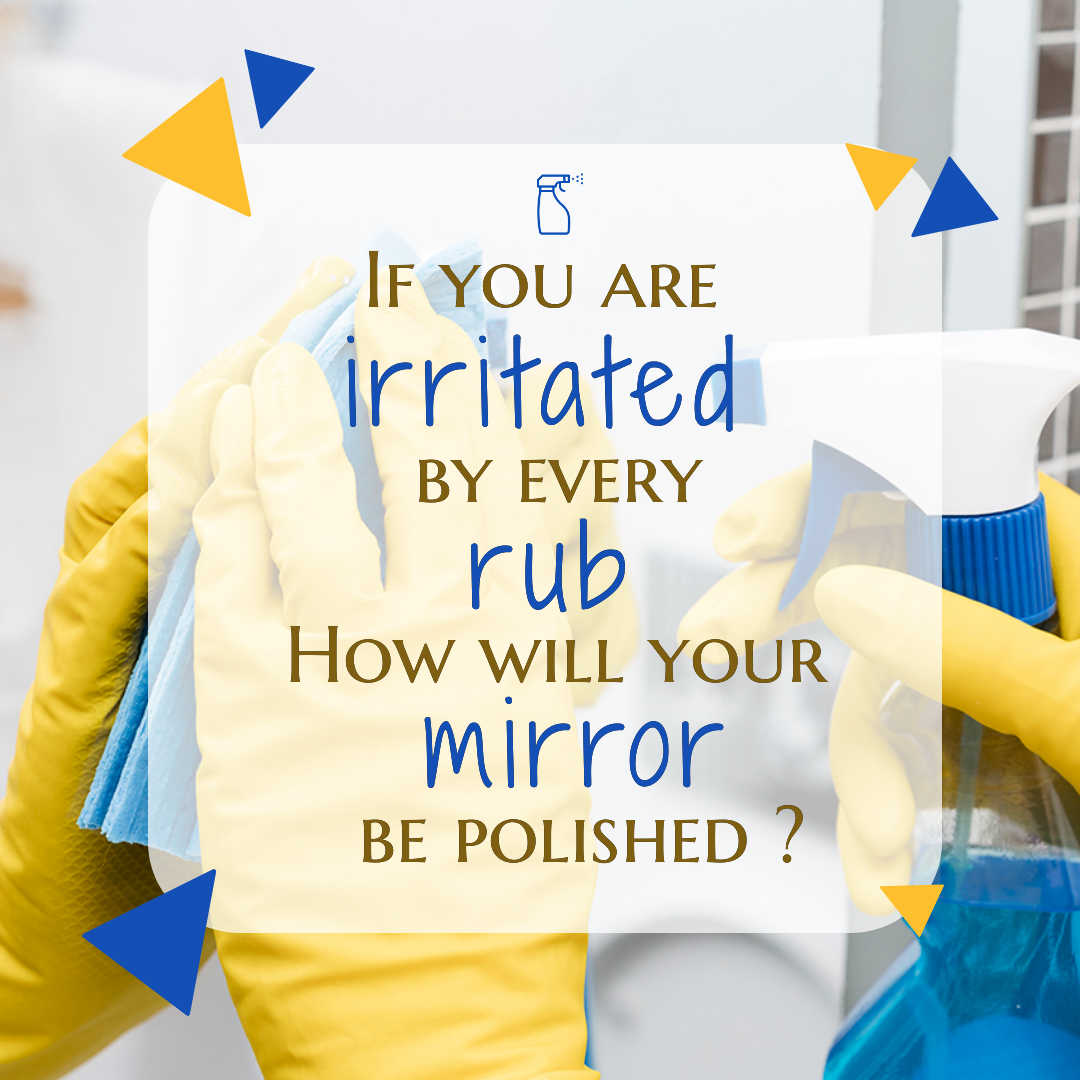 Get This Template and More
Just make sure that your background does not make your quote illegible. To do that, you can:
Choose a photo that is not too busy.
Add a color overlay to the photo to enhance the readability of the text.
Keep the color contrast right between fonts and your background.
Choose fonts that match your background.
To make your background photo uncluttered, you can use DocHipo's free Background Remover to remove all the noise from your image in one click. Additionally, consider watching the video below to learn more about the same.
Choose A Maximum Of Three Different Fonts
When it comes to making your design eye-catching, simplicity is the key always. That's why we always recommend choosing no more than three fonts for a single document type. And that's the case with Motivational Instagram Post Design as well.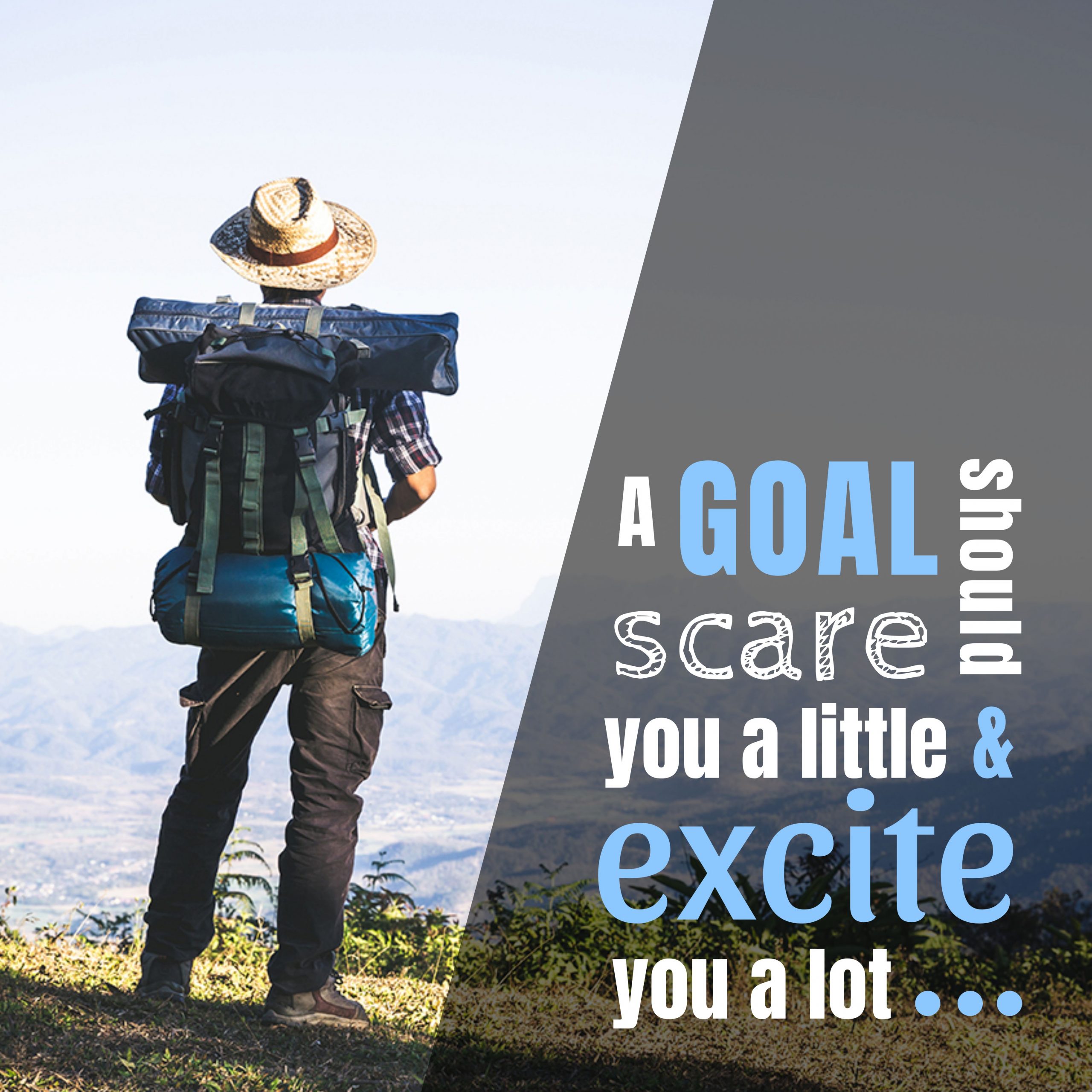 Get This Template and More
If you still can not choose fonts, these two articles on typography hierarchy and different typefaces will help you become a pro.
Get Your Color Combination Right
When talking about colors, you must ensure the color scheme of your motivational Instagram post design is on point. Choose colors that complement each other, and make sure they are easy on the eye. The perfect color combination can grab your followers' eyes faster than you can imagine.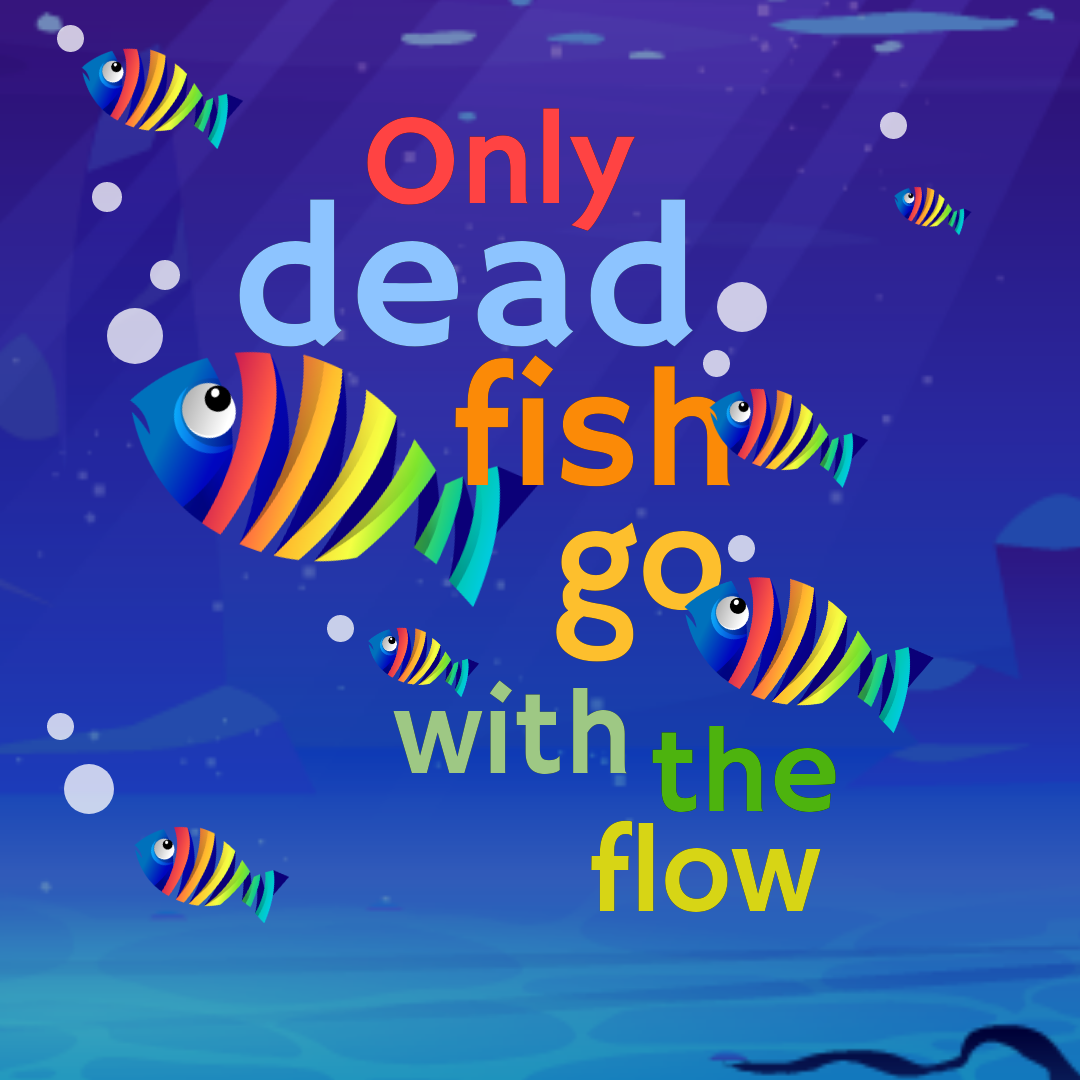 Get This Template and More
Read more about the best color combinations and how to use them in your design.
Keep It Sweet & Simple
To make your Motivational Instagram Post design memorable and reposted, try to keep it simple and sweet. This means the quote you have selected to include in your post should not be more than two to three sentences. Additionally, a simple design can display your quote better than a crowded one.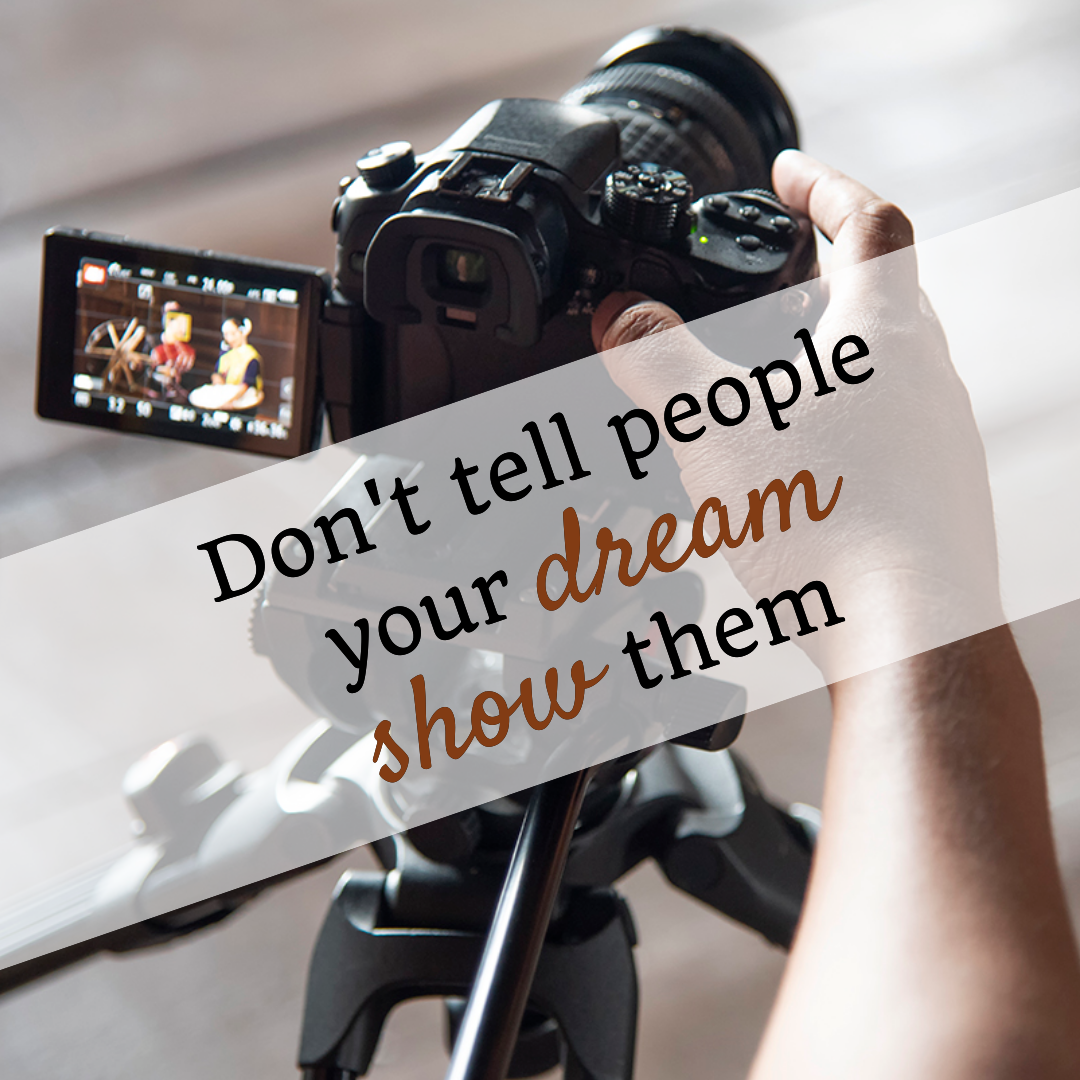 Get This Template and More
Here are some Instagram post templates that DocHipo offers.
How To Design Motivational Instagram Posts In DocHipo
Now, are you ready to design a motivational Instagram post? The awesome Design Widgets in DocHipo and the beautiful selection of templates will help you do that. Get started by signing up to DocHipo and follow these three simple steps to design your motivational Instagram post.
Step 1: Choose a Template
Once you enter the DocHipo application, you will land on the all templates page, where you will be charmed to see the wide variety of templates under different categories and Document types.
Since you are looking to design motivational Instagram posts, type Instagram Post in the search bar and click on the result.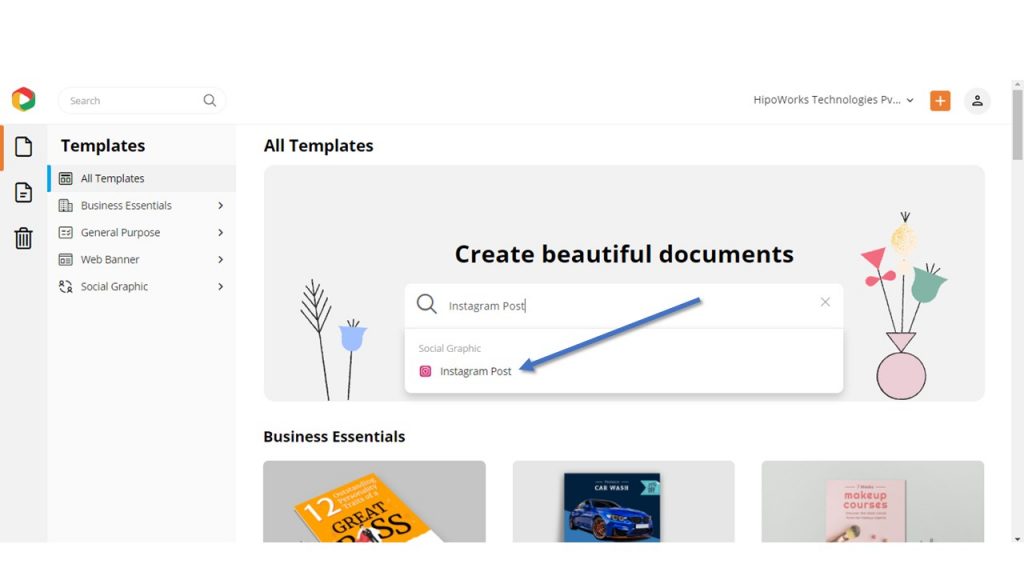 Click the next button to find the Motivational category and then click on it to browse the templates.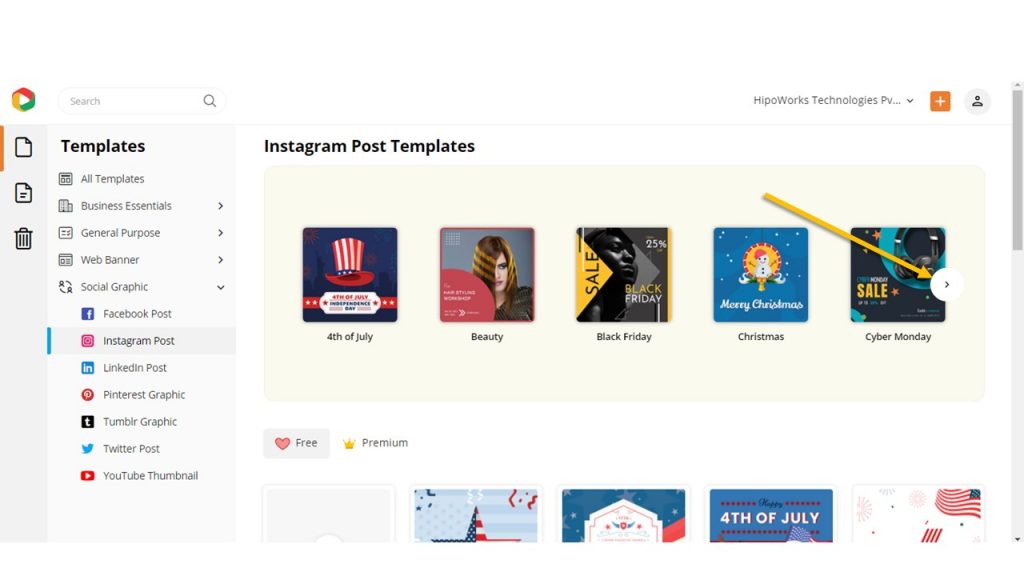 Once you find a suitable template for you, hover your mouse over it and click preview to take a look at it before proceeding.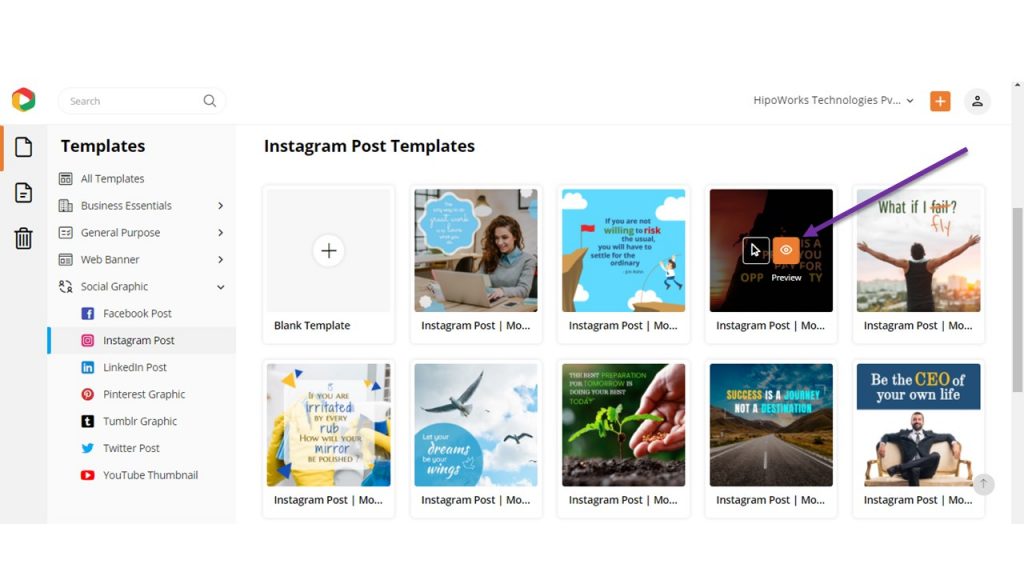 Click select if you want to customize the template.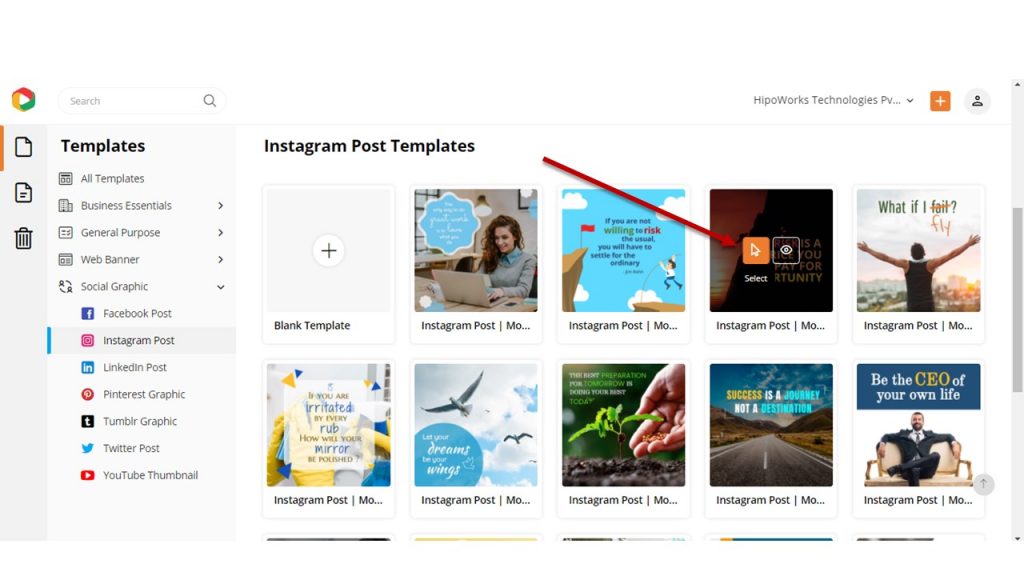 You can look at our revamped templates section that you have designed to make your template selection more enjoyable.
Step 2: Customize the Template
Customizing the template is the most exciting and crucial part of your motivational Instagram post design. Once you have selected a suitable template, you can customize it as you want. Change the background, add, edit, or delete text, change the color contrast, and more.
Click here to learn everything about using the DocHipo editor.
To change the quote, double-click the existing text in your template. If there are multiple text boxes, you can delete them by clicking on them and hitting the delete button on the edit panel.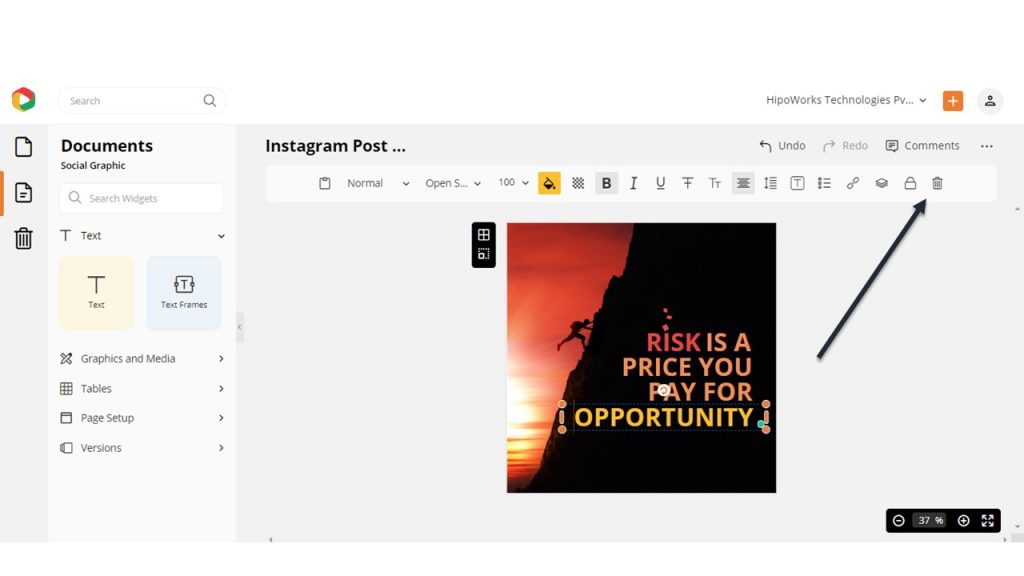 Once you have typed your quote, you can change the font style, color, and size using the edit panel.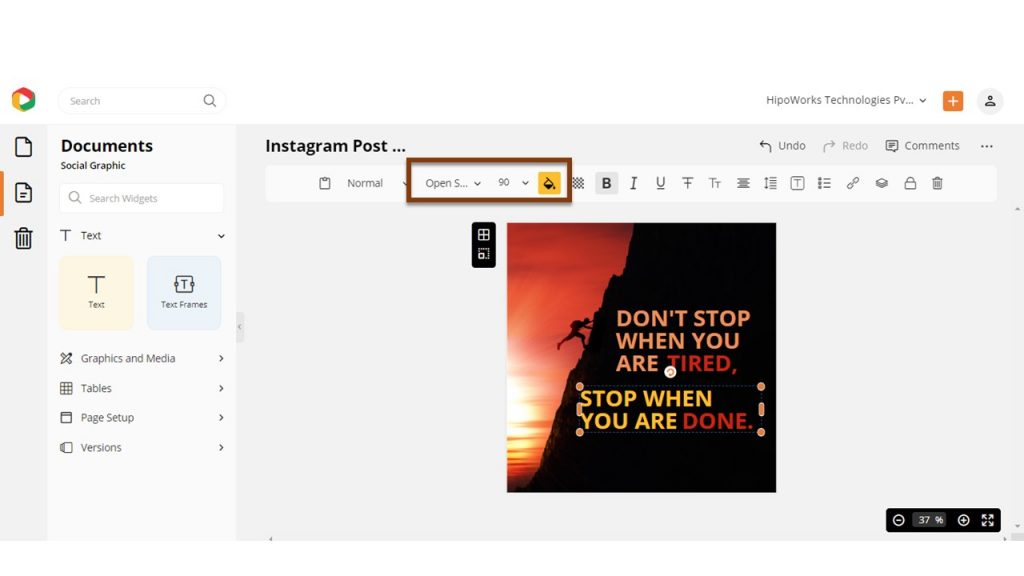 DocHipo lets you customize almost anything you want in the template. And you don't need any design skills for that; you just need to be a little creative. I have edited the template, and here is the final design.
Before: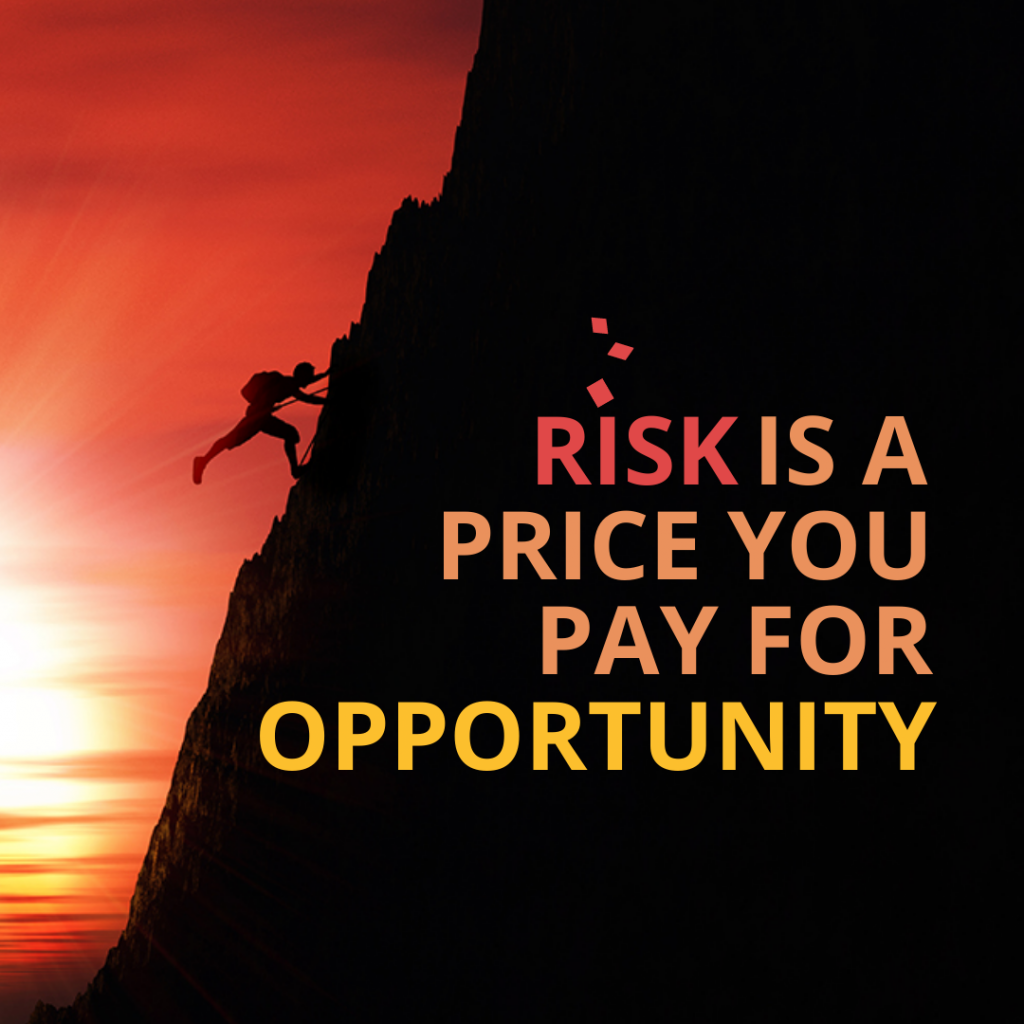 After: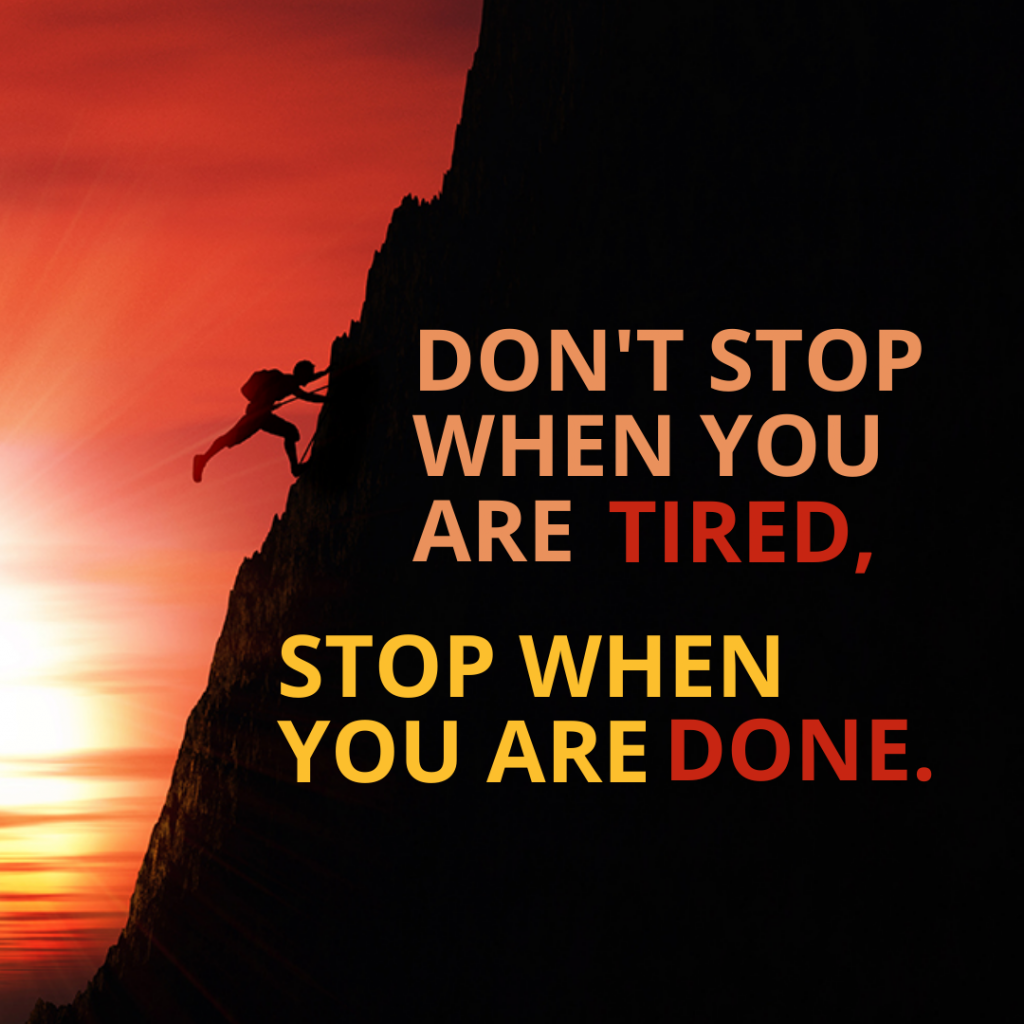 Step 3: Download Your Motivational Instagram Post Design
Once you are happy with your design, it's time to download your Motivational Instagram post so you can share it on your Instagram. Click on the three dots from the upper right corner of your screen and choose Download from the drop-down menu.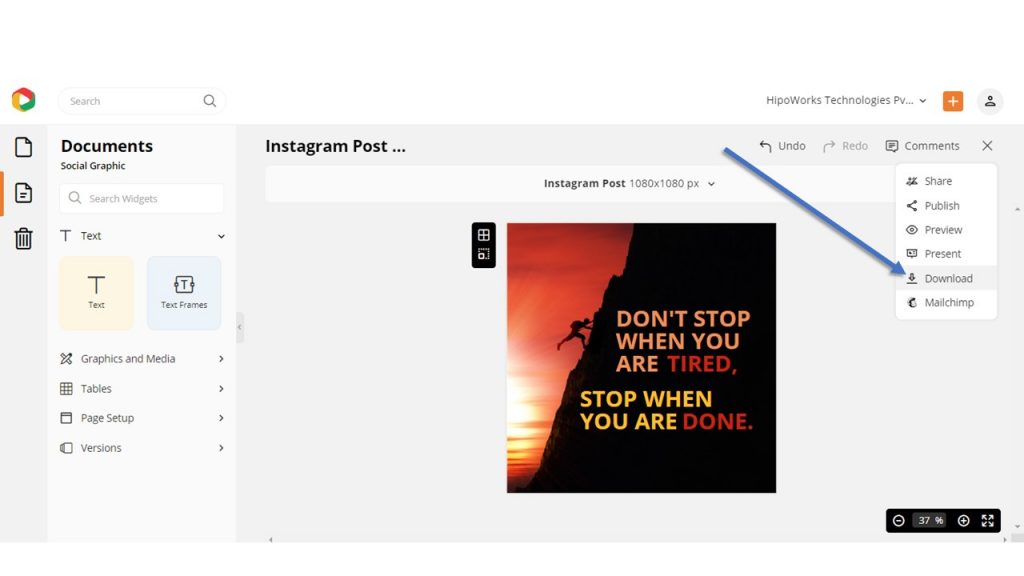 Choose your required file format and quality, and then hit the download button, and your design will be downloaded to your system automatically.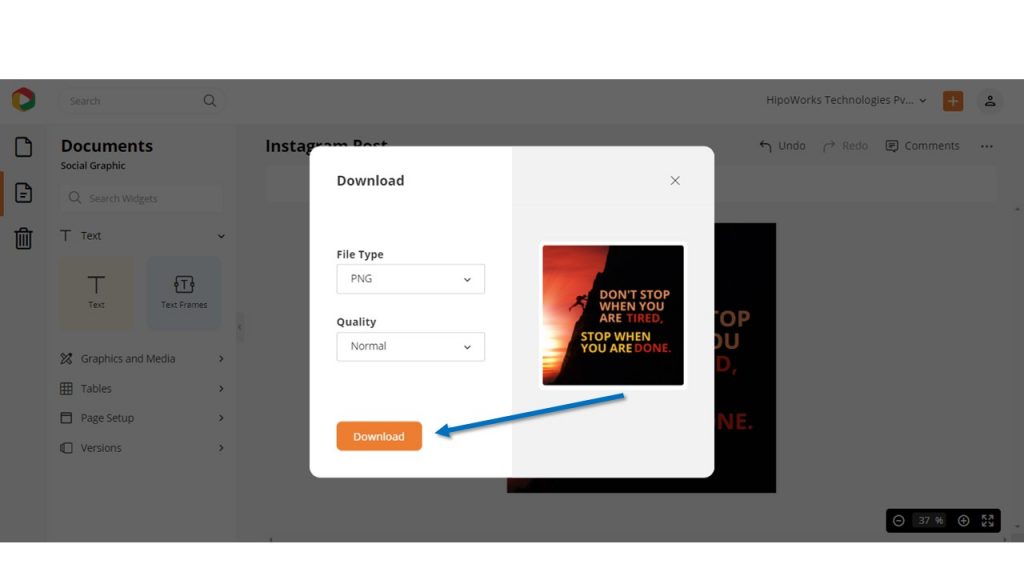 Final Thoughts…
Designing and sharing these excellent Motivational Instagram posts are not only meant to motivate your followers but yourself as well. You share a quote only when you are moved by it. Sharing those posts helps you transform the quotes into action. And what can be better than designing something that can motivate people without any design skills?
So, ready to spread some positive vibes? Sign-up today to get started and explore the magical world of DocHipo.