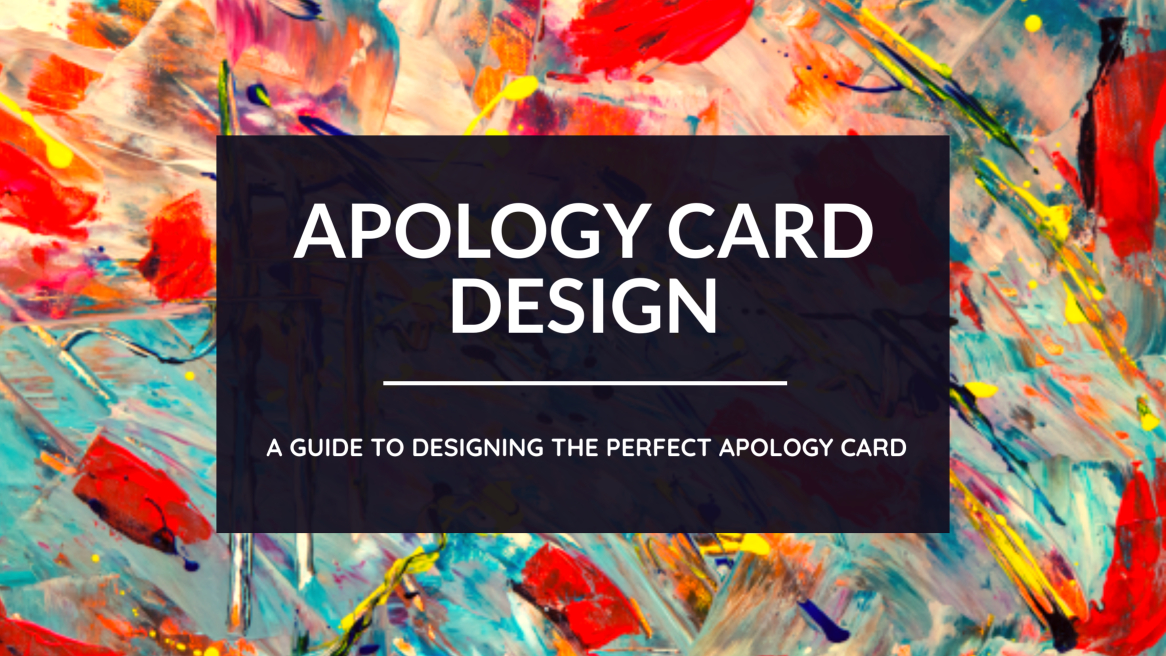 How to Design an Apology Card to Apologize Sincerely And Effectively

Last Updated Aug 27, 2023
If I am not wrong: you are here because you did or say something offensive to someone you love and looking for a way to say sorry! We know that there are times in our lives when we say the wrong thing at the wrong time. We give our word to someone and forget. It happens to everyone. After all, we are human beings and to err is human. Maybe it was not your mistake, or perhaps it was. Whatever it was, we must apologize to friends, colleagues, seniors, family, and lovers. And when it comes to melting their hearts, nothing can be more effective than an apology card design.
At first glance, the idea of apology card design might seem a little ridiculous to some people. You just have to say sorry, right? But there are times when it is hard to say those words. That's why we have introduced the Apology category in our Card templates.
The customizable templates in DocHipo make your apology card look like hours of hard work but only takes a few clicks. Moreover, timing is critical. An apology delayed maybe a relationship damaged or an opportunity lost. Hence, with DocHipo's Free Online Card Maker, you can design the perfect apology card with a few clicks.
What To Write In Your Apology Card
Though all the apology card templates in DocHipo come with messages, you might want to personalize those templates and need some apology message ideas as well. When it comes to saying sorry, there are no perfect words. However, we have put together some guidelines to follow when writing an apology message.
#1 Admit It
No matter who is at fault, no matter how and what you did, just admit that you are sorry for whatever happened. Keep the blame on you. Let them know that you are sorry you hurt them. Once you say sorry, give them a brief definition of the perceived offense.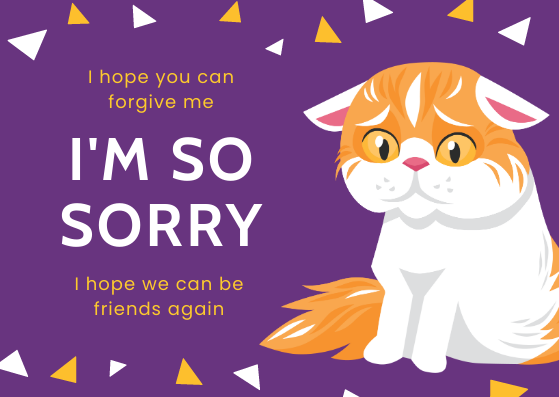 Get This Template and More
#2 Show Empathy
Once you have said sorry and admitted your fault, now you must acknowledge that whatever you did, caused harm to them. The other person must feel that their embarrassment was legitimate. Therefore, you must express empathy and validate their opinions. Since apologies are all about feelings and not reasoning, you must not explain yourself here. In your message, you must not make excuses.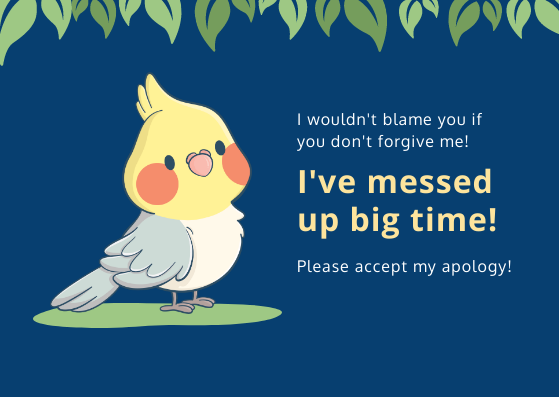 Get This Template and More
#3 Promise Not To Repeat The Offense
The other person is now only worried about the repetition of your mistake or the incident. Since you are the one who came to apologize, it's better to make them believe that you are not going to repeat this mistake. In this way, the offended person will be convinced that the relationship between you two can be strong again. It's also like rebuilding trust.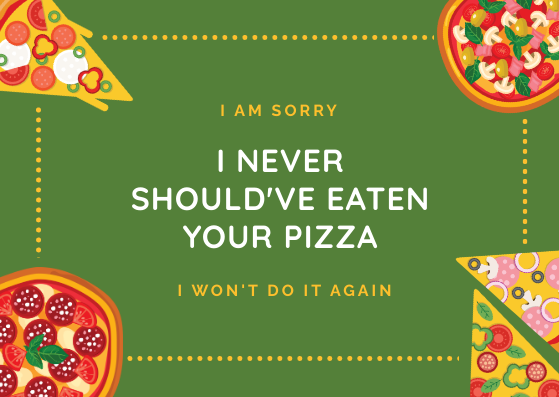 Get This Template and More
#4 Make Everything Right
Once you clearly express how sorry you are, you must plan how to move forward from here. If your apology gets accepted, then what's next? You can do whatever you want to show them that you need them in your life.
Convince them that even though you don't know what went wrong or how to do everything right again, you are trying hard to get everything like before again. Here is an example of how you can do the same.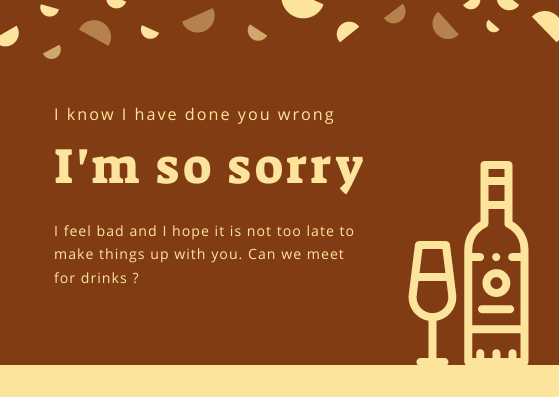 Get This Template and More
Apology Card Design Ideas/Best Practices
We always strive to help our audience design every document in DocHipo without any design skills and experience. The same goes for the apology card design. Hence, as usual, we have come up with apology card design ideas to make your design process more effortless. Don't forget to go through them carefully to get a perfect apology card.
Plan Your Apology Card Design
The first thing you should do before starting your apology card design is to plan how you want it to look. Think about the different elements of your Card, such as the message, color, typography, and others. For example, you can jot down the message you want to include in your apology card. The more time you spend planning your Card, the better the design will be. This is where you get half the job done.
Though the apology card design templates will help you with your design, planning your Card will help you choose a suitable template. A well-planned apology card design will always be as good as the template below.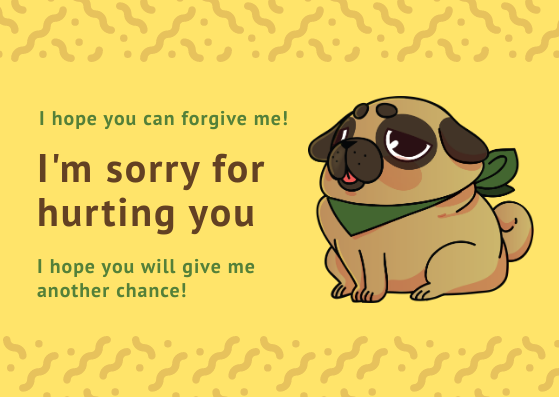 Get This Template and More
Think About The Typography
Since your primary goal is to say sorry to someone through this Card, your apology message is the most important thing than any design element. We have provided some guidelines to write the perfect apology message. Now, you must think about the typography of your Card.
Suppose you are designing the Card for a person older than you, like your boss or senior coworker. In that case, you can choose formal fonts like PT Sans, Open Sans, Oxygen, Poppins, and many others.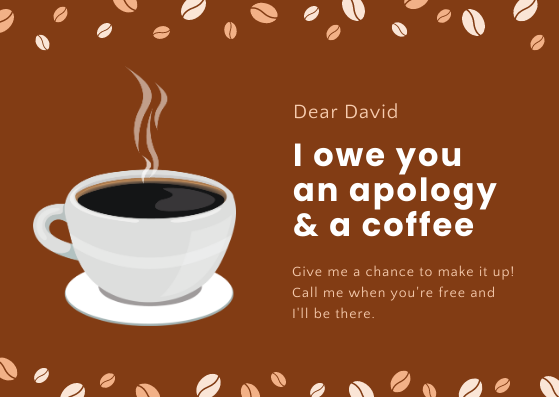 Get This Template and More
Alternatively, suppose the Card is for anyone for your family, friends, colleagues, or lover. In that case, you can choose Paytone One, Playball, Great Vibes, and others.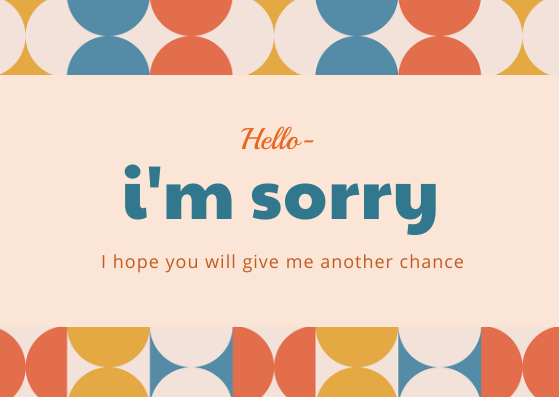 Get This Template and More
Just make sure that you don't use more than three different fonts in a single apology card design. There are many other factors to consider while choosing the right font for your apology card design. These articles on the typography hierarchy and how to marry design and typography will help you.
Choose Colors Consciously
Study shows that colors alone can influence up to 90% of an initial impression. Also, color is the first thing that people perceive in an object. They can evoke emotions and play tricks on your mind. Therefore, you must choose your colors carefully. When chosen carefully, the color combination can help you set the mood and tone of any design.
When it comes to designing apology cards, you can choose muted color schemes. Use soft, tonal pastel colors that are gentle and calm, and go well with floral imagery.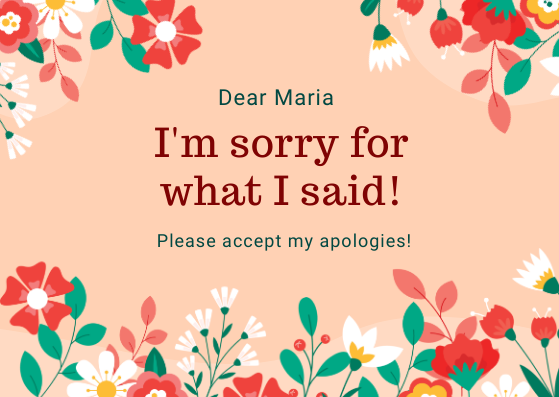 Get This Template and More
Additionally, different shades of blue, pink, and yellow are warm and comfortable. You can consider them as well.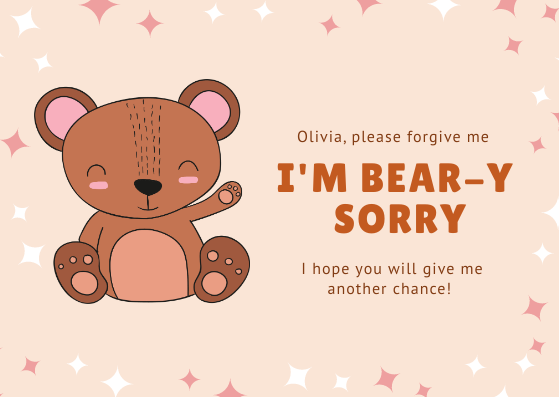 Get This Template and More
Always choose colors that complement each other—having difficulties finding colors for your apology card design? This article on the best color combinations will help you for sure.
Choose Graphics
When choosing graphics for your apology card, it's better to stick with one image or illustration. Whatever you choose, make sure that it is funny and displays your intention of designing the Card. Portraits of different animals are a classic and striking choice for more traditional apology cards. Illustrations are universally popular for card design. To give your Card a cool and modern look, use different shapes, lines, illustrations, icons, and more.
Also, to keep your apology card design simple, choose a single photo or illustration so that the text message doesn't become illegible.
Though all the card templates in DocHipo have beautiful illustrations, you can choose your own from the thousands of illustrations in DocHipo's illustration library.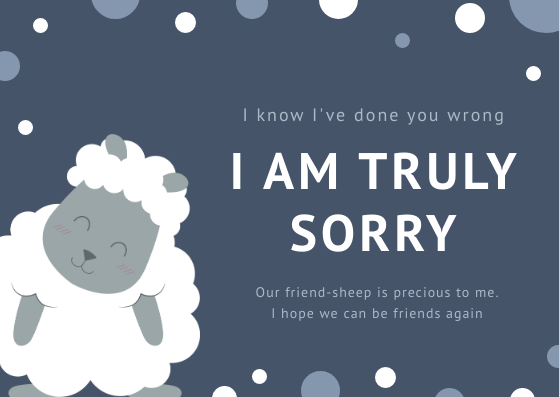 Get This Template and More
Watch the video below to explore the free card templates in DocHipo.
Hopefully, these apology card design ideas have turned on your creative brain, and that you are raring to go. Therefore, it's time to move forward to the design part.
How To Design An Apology Card In DocHipo
Now you know what to write on your apology card and have some ideas on how to design it. But what if you don't know how to design a card in DocHipo. Easy – Login to your DocHipo account and follow the three simple steps below.
If you don't have an account in DocHipo, then click here to create one.
Step 1: Choose a Template
Once you land inside the DocHipo application, type "Card" in the search box and click on the result: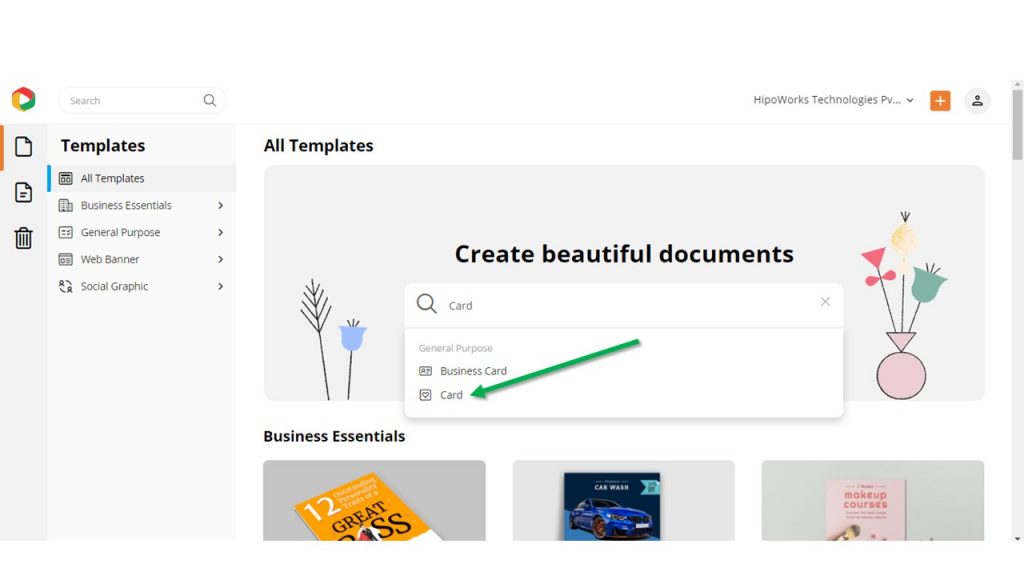 There are a wide variety of template categories under this document type. Choose the "Apology" option to find your template.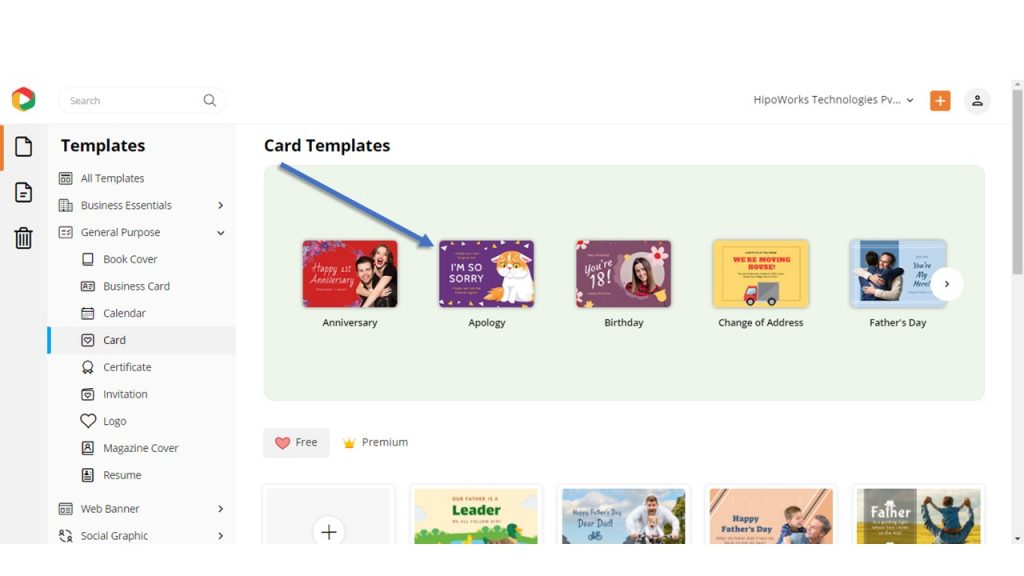 Once you like a template, hover your cursor over it and click "Preview" to look at the template before customizing.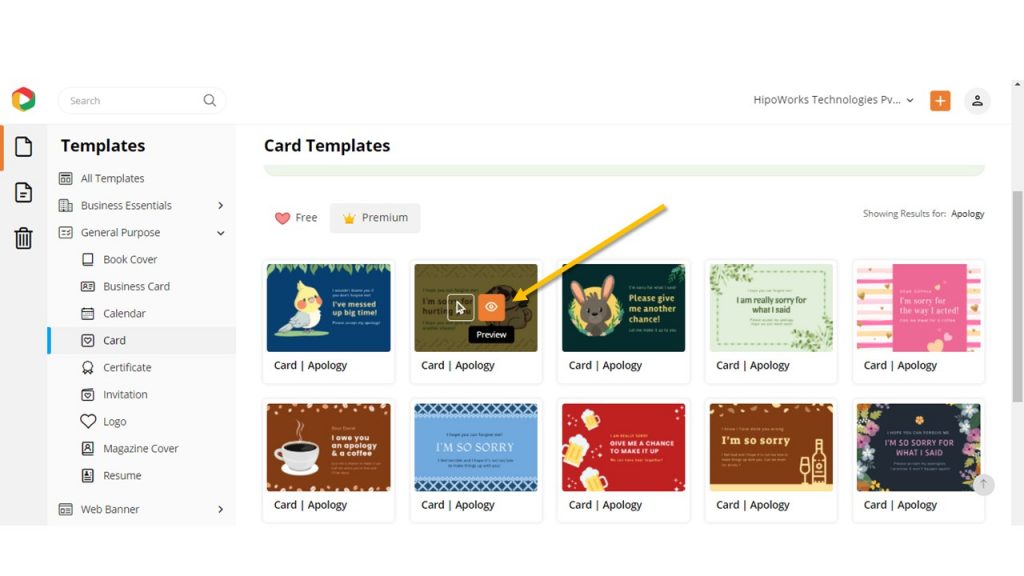 Click "Select" if you want to proceed with a template.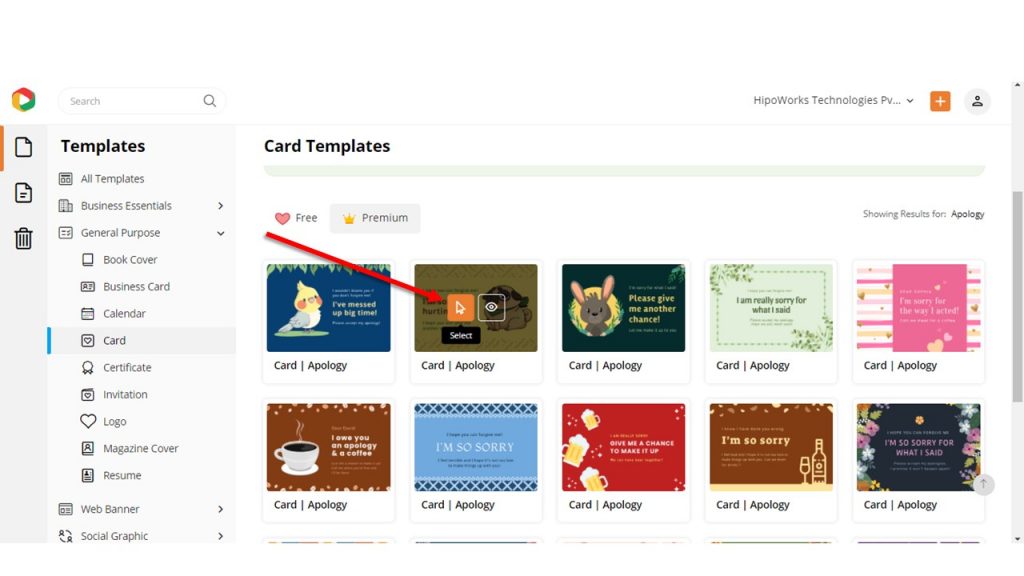 A new page will open up where you need to give the document a name. Your name will automatically appear as the Document Owner, and you can provide a short description of the document. Click "Next".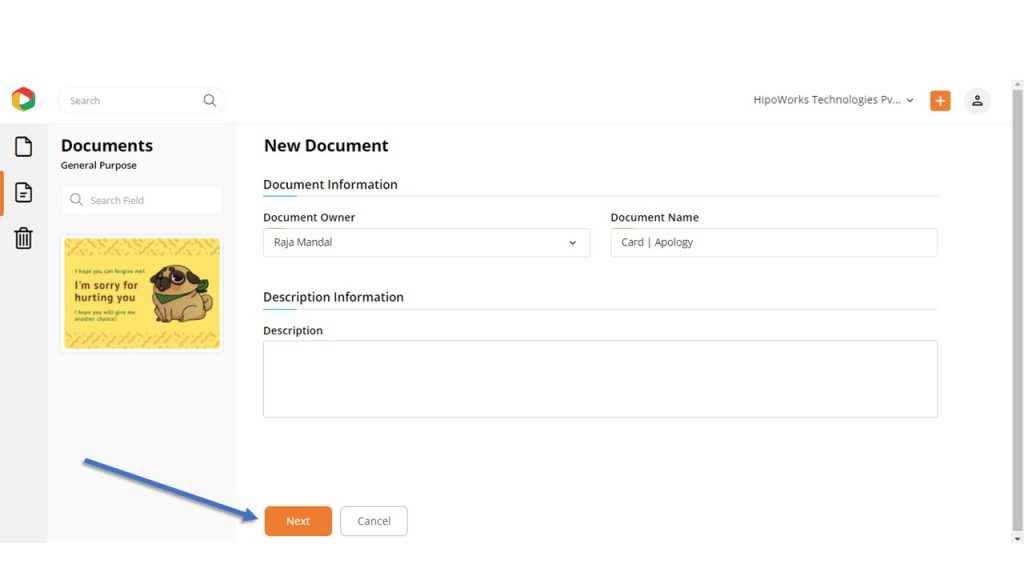 Take a look at the revamped template selection in DocHipo.
Step 2: Personalize Your Card
The Design Widgets in DocHipo will help you personalize your apology card as you want. You can change the background color, illustration, text, fonts, and other design elements.
We have already suggested to you how you can personalize the apology card in DocHipo. Watch this video below to add, edit, or delete text in DocHipo.
Additionally, you can create stunning backgrounds for your apology cards via DocHipo. Here is how:
Until you are satisfied with your apology card design, play around with different design elements using the DocHipo Editor.
Step 3: Download Your Apology Card
To download the Card, click on the three dots from the upper right corner and choose Download from the drop-down menu.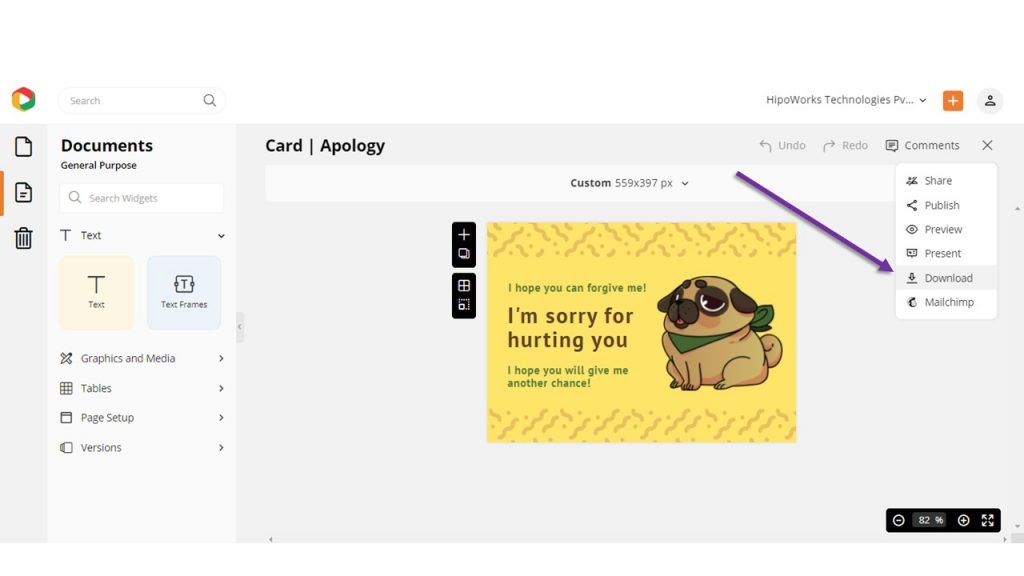 Select your required file format and quality, and then hit the download button. Your design will be automatically downloaded to your computer.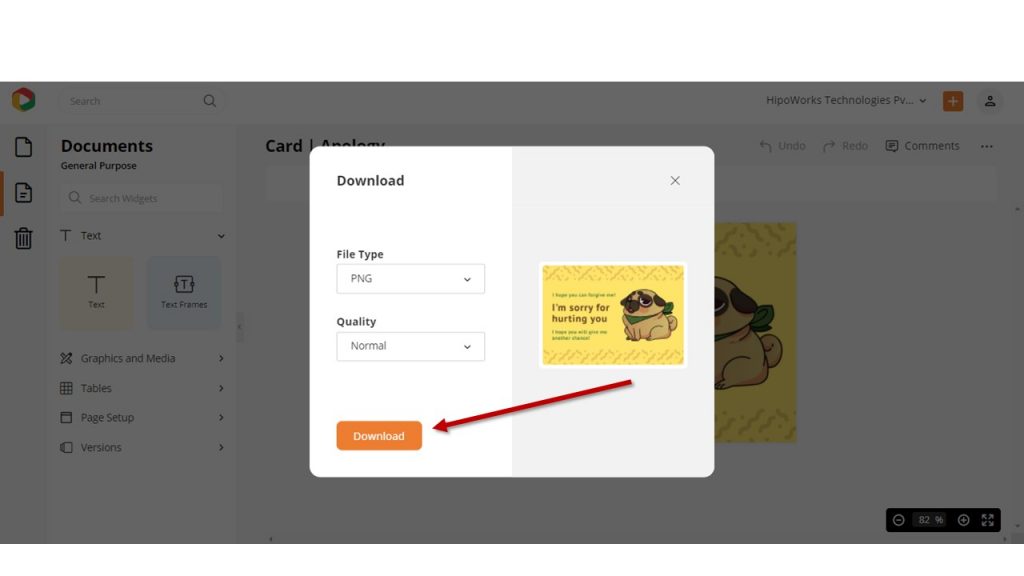 We have also revamped the Download widget to make the process easier.
In addition to apology card design, learn about Anniversary Card Design and Change Of Address Card Design in DocHipo.
Final Thoughts….
We all are human, and we all do stupid things. The funniest part is that we will keep messing up for the rest of our lives and in unexpected ways. However, that's fine. You just have to be honest enough to admit your mistakes and say sorry, as this is the way of saving valuable relationships in our lives. Moreover, when we apologize, and the other person accepts it, somehow the relationship gets stronger.
You have already seen that with DocHipo's Free Online Card Maker, apology card design is super easy. Thus, making DocHipo a great tool that can save relationships. 😁
So, without further ado, sign-up to DocHipo and design apology cards for your close ones to show them their value in your life.
FAQ
What do you write in an apology card?
In an apology card, you may write that you sincerely feel sorry, regret your mistake, and will try your best not to repeat it.
What is the best apology message?
The best apology message is the one that comes straight from your heart. You may write that you realize your mistake, take responsibility never to repeat it, and request your recipient to accept your apology wholeheartedly.
How do you apologize with a card?
Make a card to let your recipient know that you care enough to acknowledge your mistakes and ask for an apology. Write a sincere apology message and some graphics you think they'd love. DocHipo offers adorable apology card templates to help you express your heartfelt apology effectively.