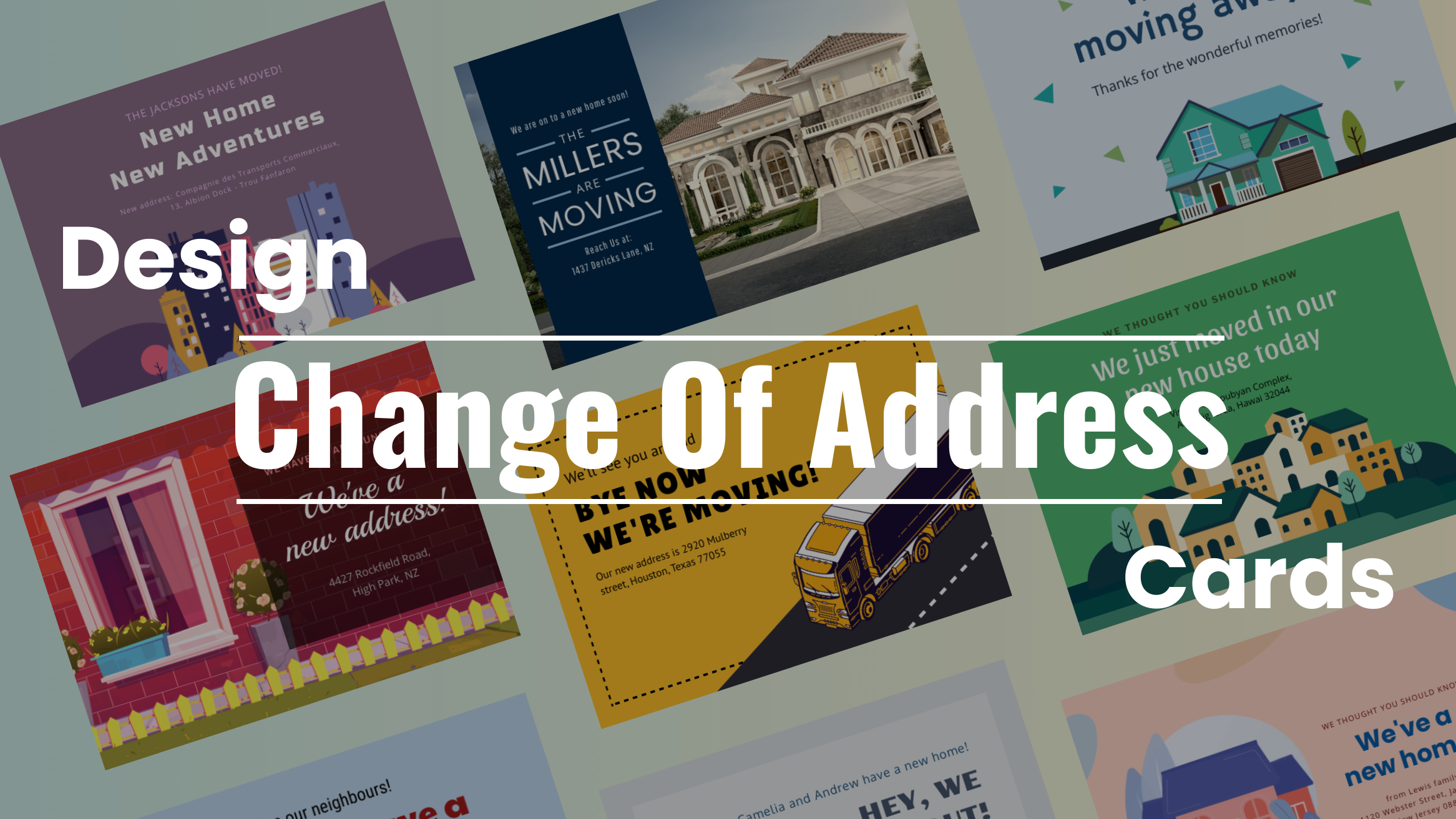 How to Design Change of Address Card: The Ultimate Guide

Last Updated Dec 9, 2022
Moving to a new place can be a challenge. Packing cartons, closing utilities, and the most important, letting all your near ones know that you are moving. Don't worry! Take away some of the moving stress by making a remarkable change of address card using DocHipo's Free Online Card Maker.
The beautiful change of address cards in DocHipo are perfect for keeping friends and family up to date. All these templates are customizable. Just pick the template you like and customize it by adding photos and other details.
Continue reading to learn how to design a change of address card in DocHipo.
Change Of Address Card Design Tips
Apart from walking you through the change of address card design, we want to provide you with some change of address card design tips. These will help you design the perfect change of address card even if you are not a designer.
Brainstorm
When it comes to designing cards, taking enough time to brainstorm the card is crucial. Before you even put pen to paper, figure out what kind of design you want your change of address card to be. Also, jot down the text that you will include in your cards, such as the new address, your name, etc.
Try to plan your card so that you don't get carried away and stuff your card with excess information. Try to keep it simple, and your change of address card may look like the one below.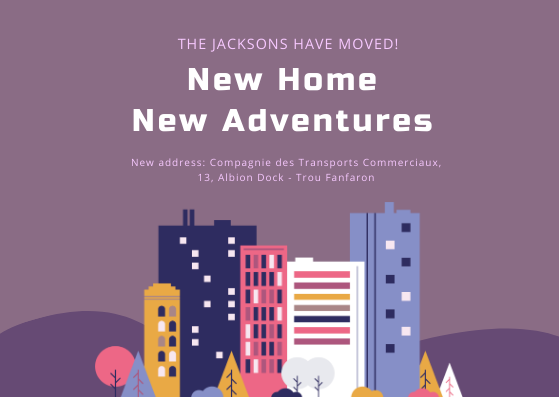 Get This Template and More
Choose Eye-catching Colors
Color combination is one of the critical elements that can make or break any design. This applies to your change of address card design as well. Therefore, not only do the colors you choose need to be complementary, but they also need to match the tone and theme of your card.
Hence, we have chosen the best color combinations to make the process of choosing eye-catching colors for your design straightforward. Furthermore, all the changes of address card templates in DocHipo come with the perfect color combination. Thus, making the design process just a piece of cake for you.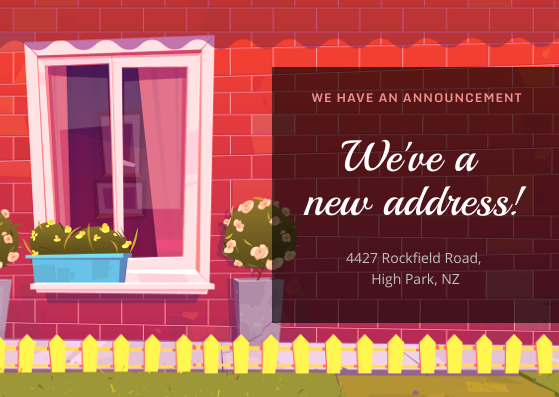 Get This Template and More
Find The Perfect Fonts
The fonts you choose for your card design play a crucial role in determining your card's character- is it bold? quirky? Or elegant? Different fonts connote different things. Thus, making it essential for you to find the right fonts for your change of address card. Like we always recommend, don't use more than three different fonts in a single design.
Cursive fonts like the one below give your card a personal touch and make it look like handwritten cards. Furthermore, they give your card an elegant and polished look with a more serious tone.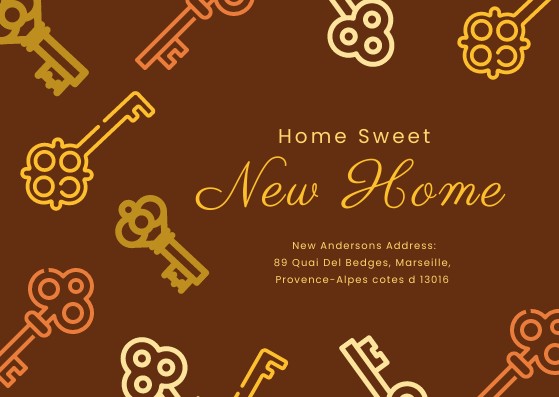 Get This Template and More
The fonts give it a little funny and cute look in the change of address card template below.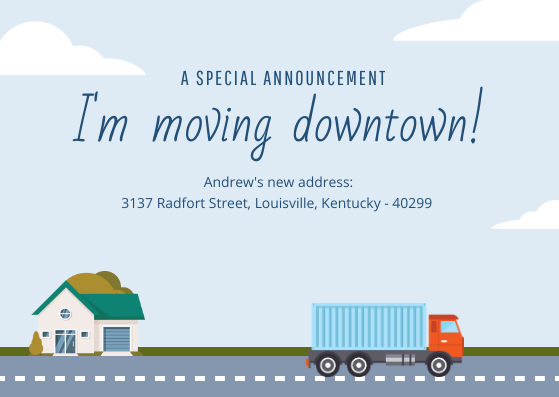 Get This Template and More
The bold fonts in the template below make the overall design look friendly and approachable.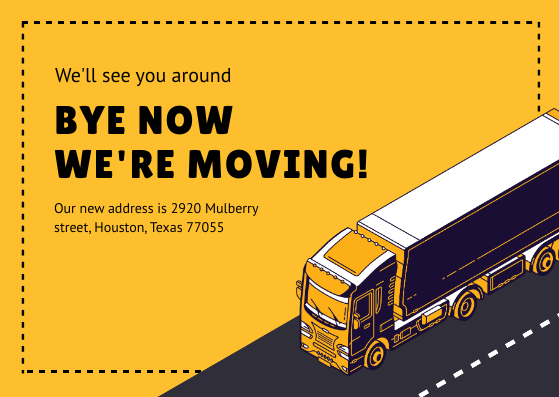 Get This Template and More
Still, if you are unable to select the right fonts for your card design, these articles on different typefaces and typography hierarchy will help you a lot.
Insert Images
You are designing these change of address cards to let your loved ones know where you have moved, right? So, why not give them an idea of how your new place looks? Using images of your new house or flat on your card is one of the best ways to do that. DocHipo lets you do this as well. Here's an example template to show you the same.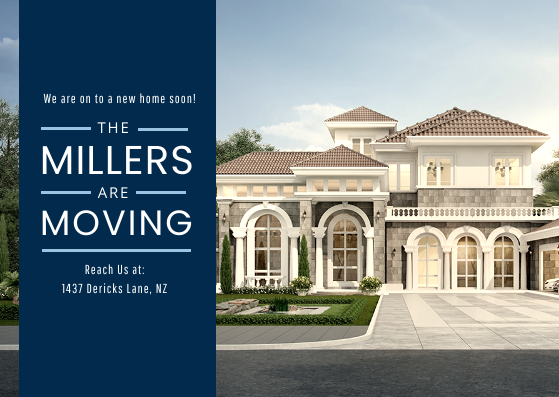 Get This Template and More
Use Other Design Elements Carefully
Catchy color schemes, striking images, attractive fonts, and visually appealing design elements will surely make your change of address card worth sending. You can use other design elements like lines, shapes, icons, and illustrations to make your change of address card more pleasing to the recipient's eye. However, as mentioned earlier, you should not be tempted to make your card crowded with text and other elements.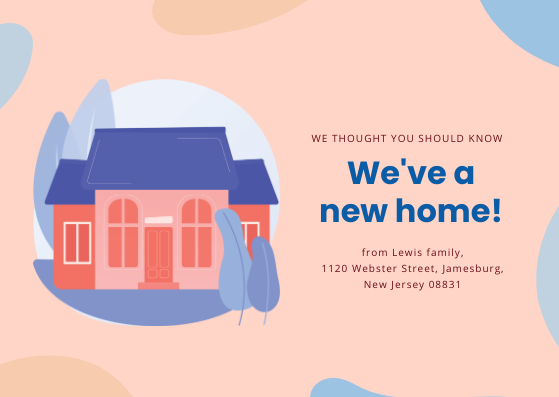 Get This Template and More
Here are a few card templates in DocHipo:
How To Design Change Of Address Card In DocHipo
Now, we have reached the most crucial part of the article: how to design change of address cards in DocHipo. The beautifully crafted Design Widgets in DocHipo will make the process easier for you. However, now I will show you how you can design your own change of address card in just three steps using the templates in DocHipo.
Step 1: Find a Template
If you still don't have an account in DocHipo, go to the Homepage and click on the Sign-up button from the upper right corner and fill in the details to create one. Alternatively, you can type your email id in the box and click Sign-up to do the same.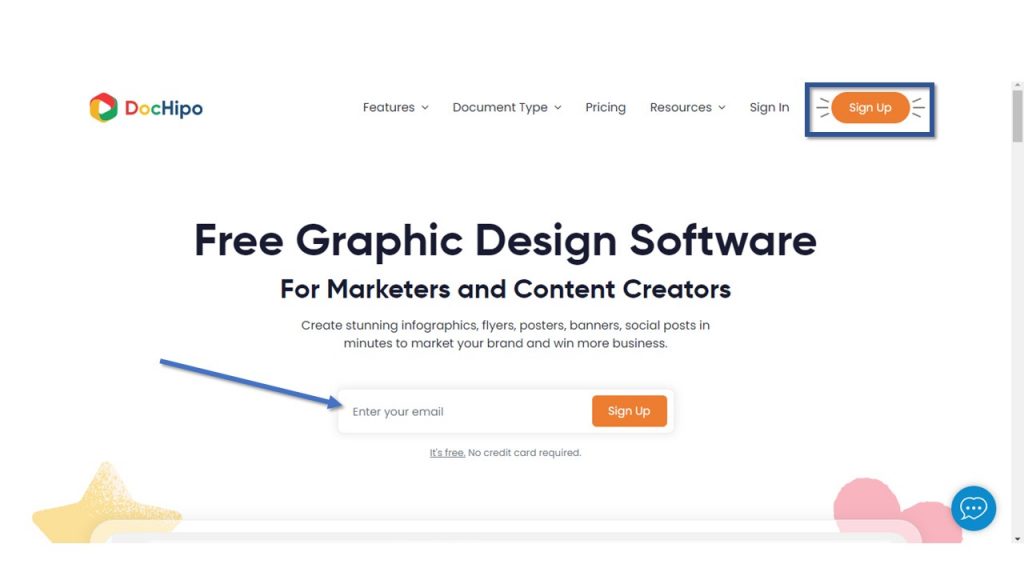 Once you sign-up and enter the DocHipo application, you will see a wide range of templates under different document types. Since you want to design a change of address cards, type "Card" in the search box, and select the same to proceed further.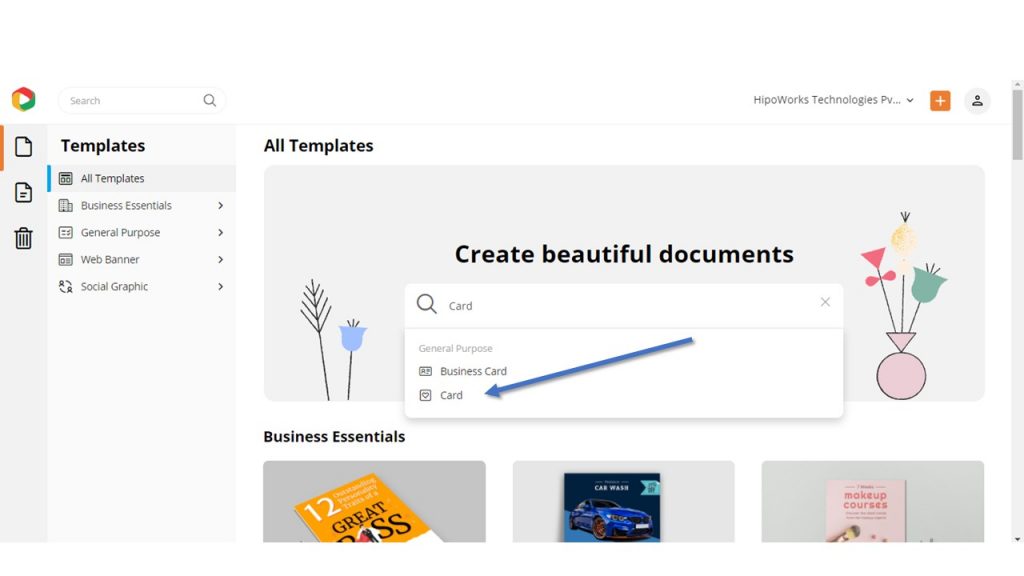 You will find many different template categories for Cards. Select the Change of Address category.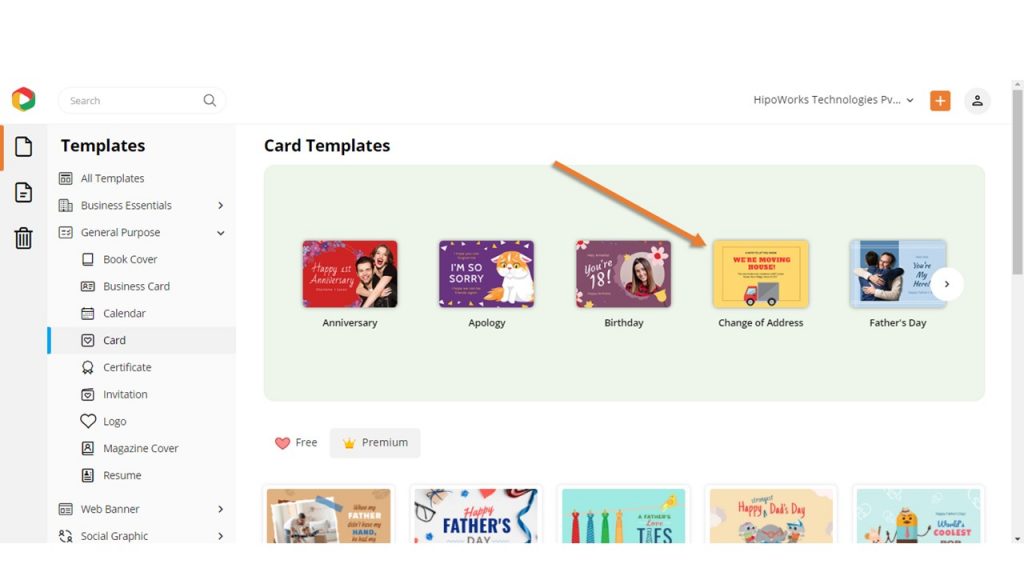 Once you find the suitable template, hover your mouse cursor over it and click "Preview" to take a look at the same before proceeding further. If you like the template after previewing it, select the same to proceed.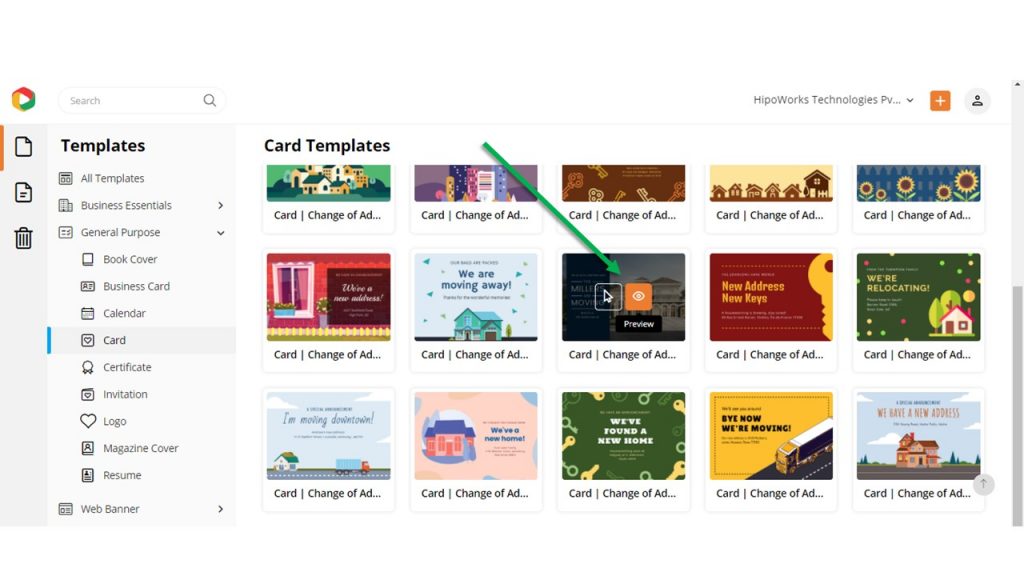 Now, you will have to give the document a name and a short description. Your name will automatically appear in the Document Owner box; you can change it as well. Click "Next."
Step 2: Customize the Template
Customizing the template is what helps you add a personal touch to your card. You can edit everything you see in the template to make the card design however you want. Here is how you can customize the card template in DocHipo.
Background
If you want to apply a solid background, click Background to the Graphic and Media section.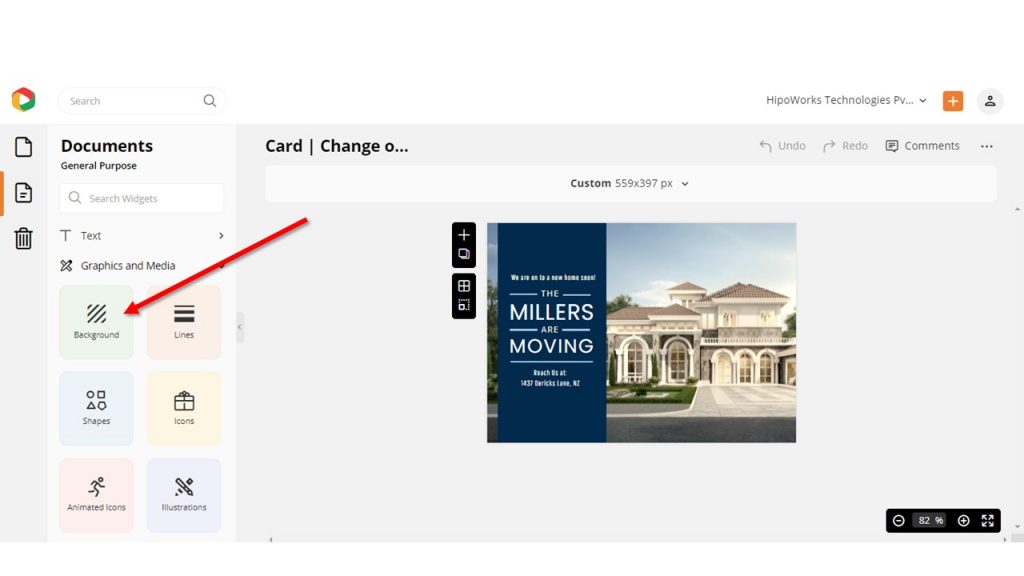 Choose the background color from the color presets or create your color using the custom color tool. Also, you can type or paste a hex color code in the box to get the color you want. Hence, in DocHipo, you are not limited to the preset colors only.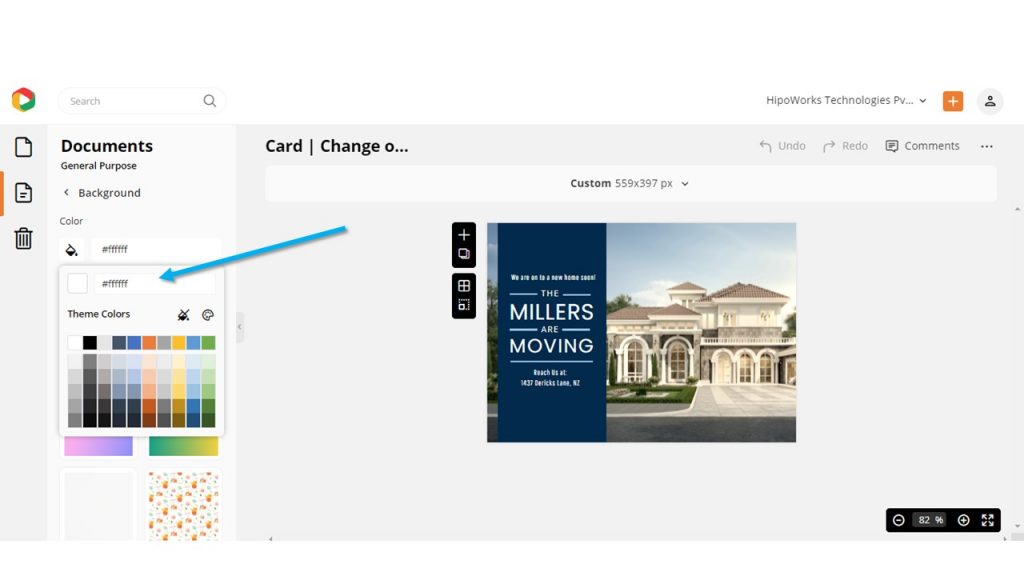 Additionally, here is a video on how to create stunning backgrounds in DocHipo.
Image
If you want to use a photo as your Background, click on Uploads from the Graphics and Media section. Click on the upload images button and choose the picture to upload it in DocHipo.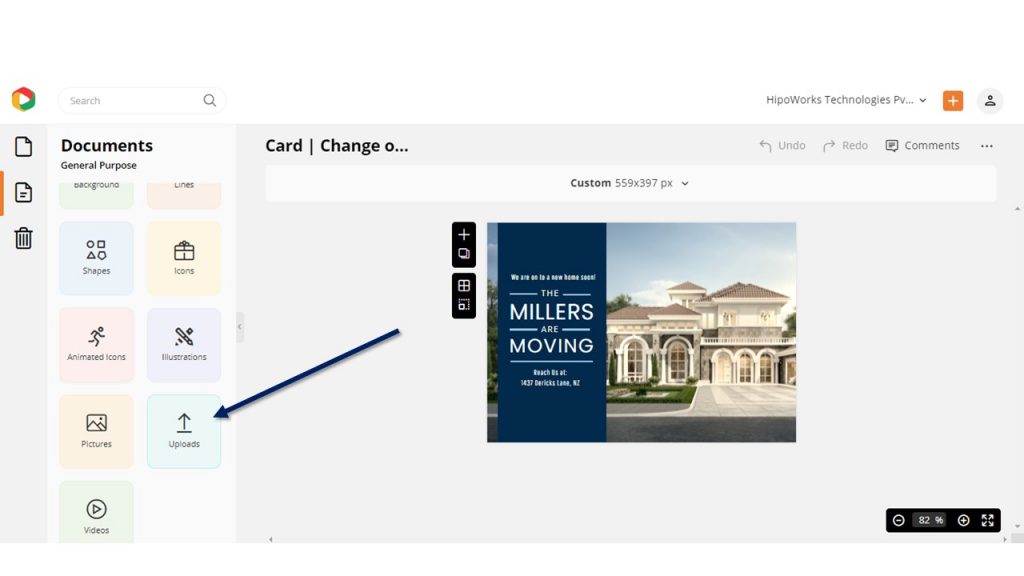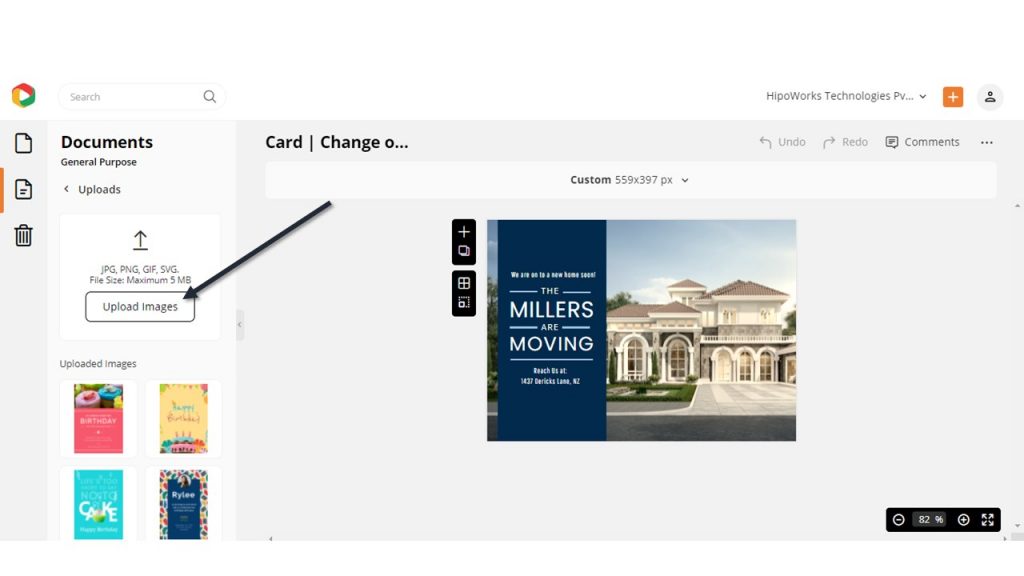 Now, click on the uploaded picture, drag it to your template, and release it on the picture you want to replace.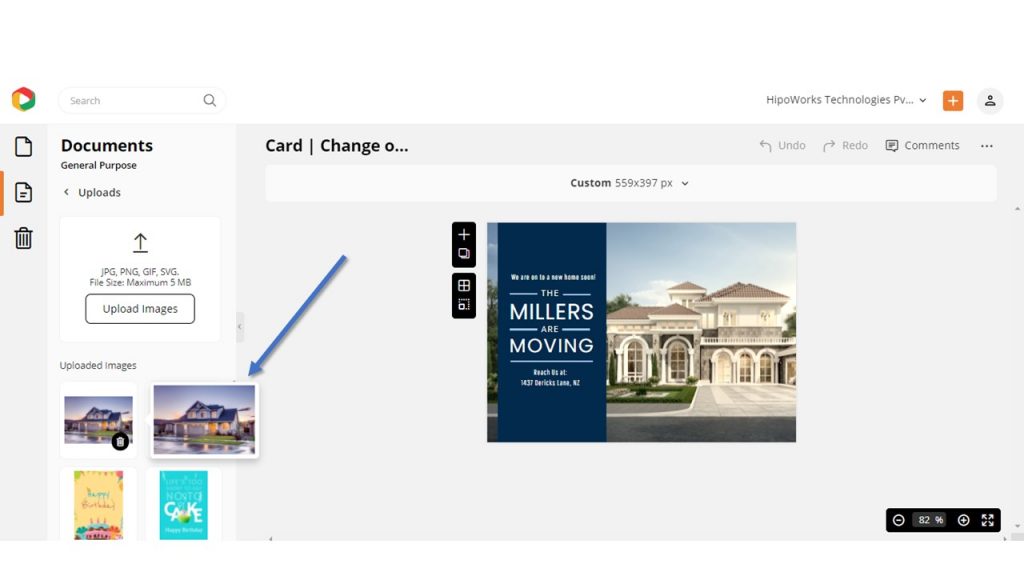 Adjust the picture accordingly or use the Photo Editor and Background Remover to enhance and remove the image's Background.
Here is how you can enhance your image using DocHipo filters.
Color
To change the color of any design element in the template, select the element and then click on the Color icon from the edit panel. Choose your color in the same way we did for the background color.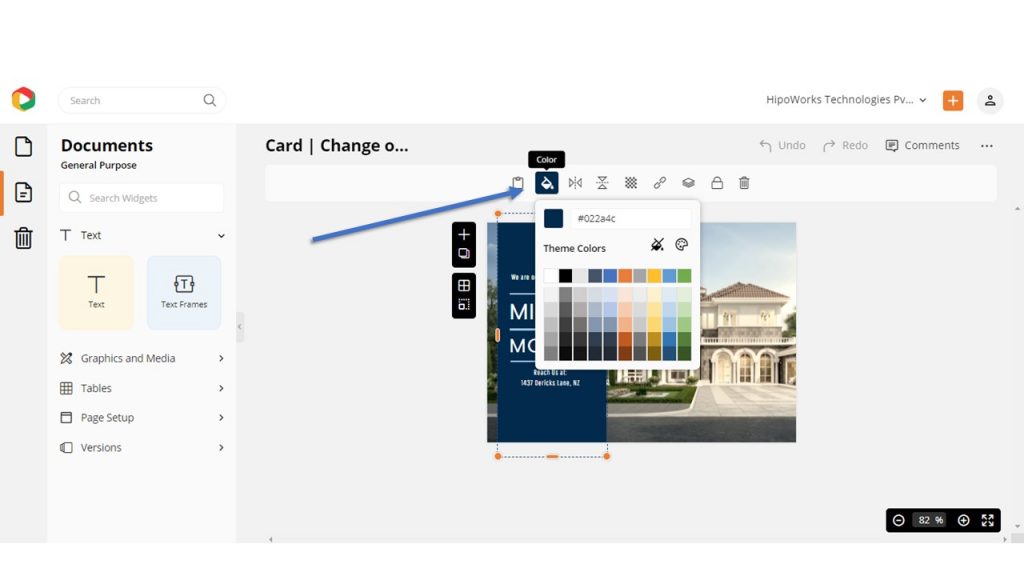 Text
You might want to change the address and name in the template. To do that, click on the text you want to change, and type your own. Increase or decrease the font size from the edit panel as shown below.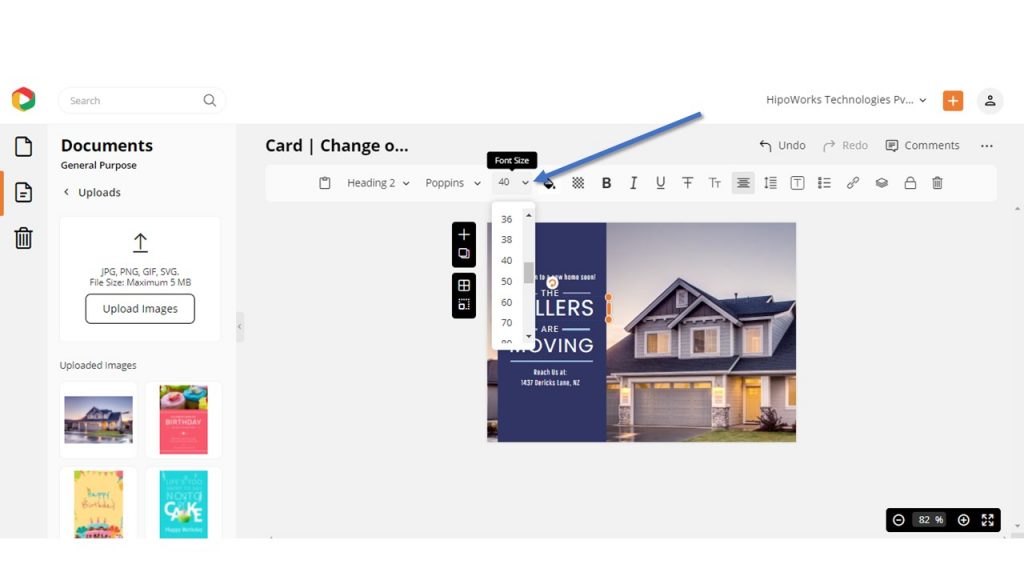 Moreover, to change the font style, click on the Font Family option from the edit panel and select the font style accordingly.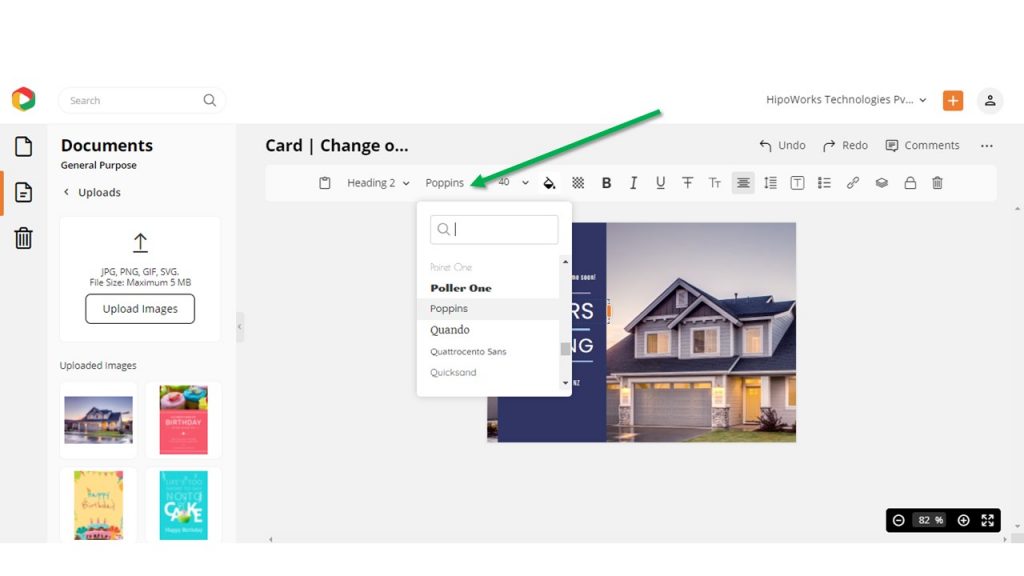 Consider watching the video below to learn how to edit, edit, or delete text in DocHipo.
Here is how the template looks after editing.
Before: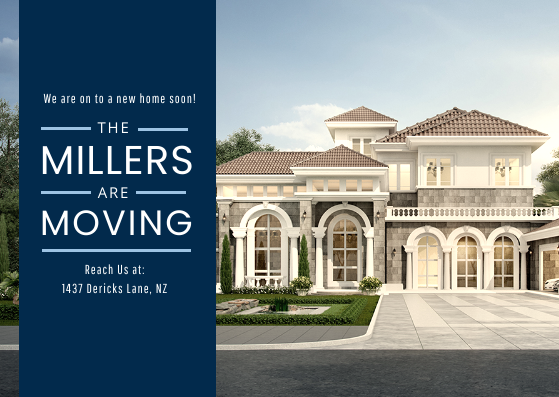 After: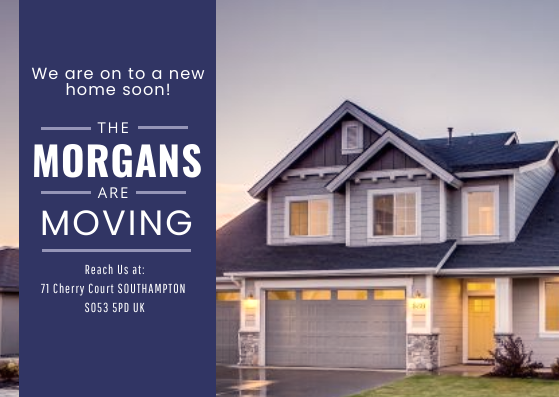 Step 3: Download the Card
Once you are satisfied with the design, you might want to download it. Click on the three dots from the upper right corner of the screen. Select download from the drop-down menu.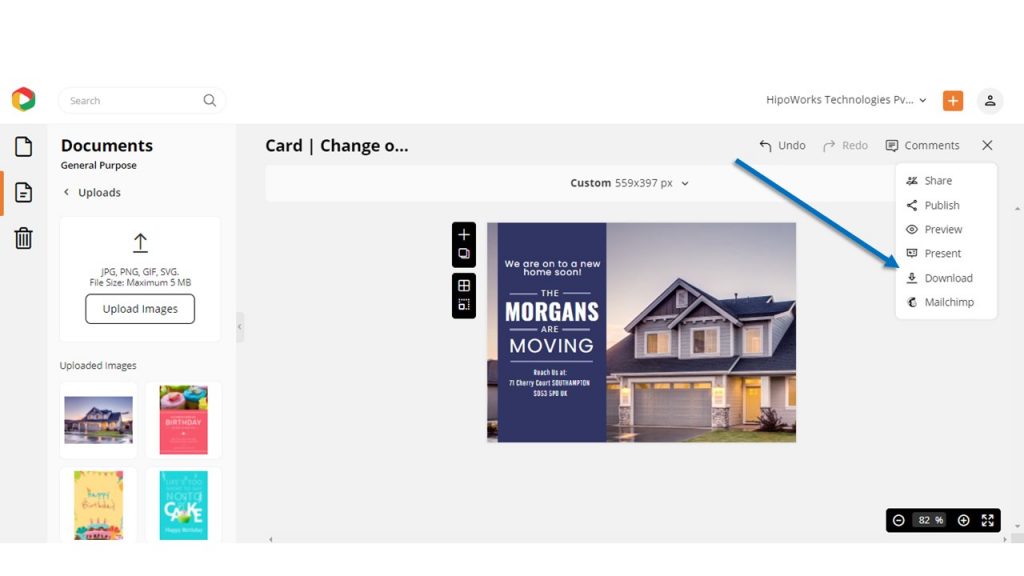 Choose your preferred file type and quality, and then hit the Download button.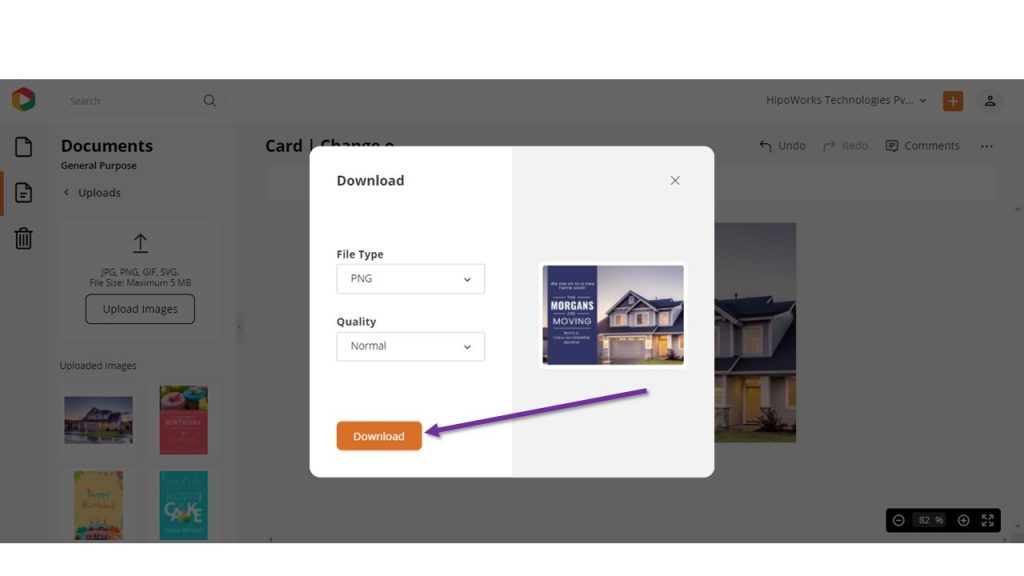 Conclusion
Hopefully, the change of address card design ideas and the steps mentioned above helped you learn how to design your own cards. These change of address card templates in DocHipo are awesome when it comes to informing your loved ones that you are moving to a different place.
Moving to a new place is one of the significant decisions in our lives, and so are the people we love. However, sometimes words are not enough to express how you feel about them. Therefore, DocHipo comes with a wide range of change of address card templates to make things easier for you.
So, sign-up today and explore the magical world of DocHipo.