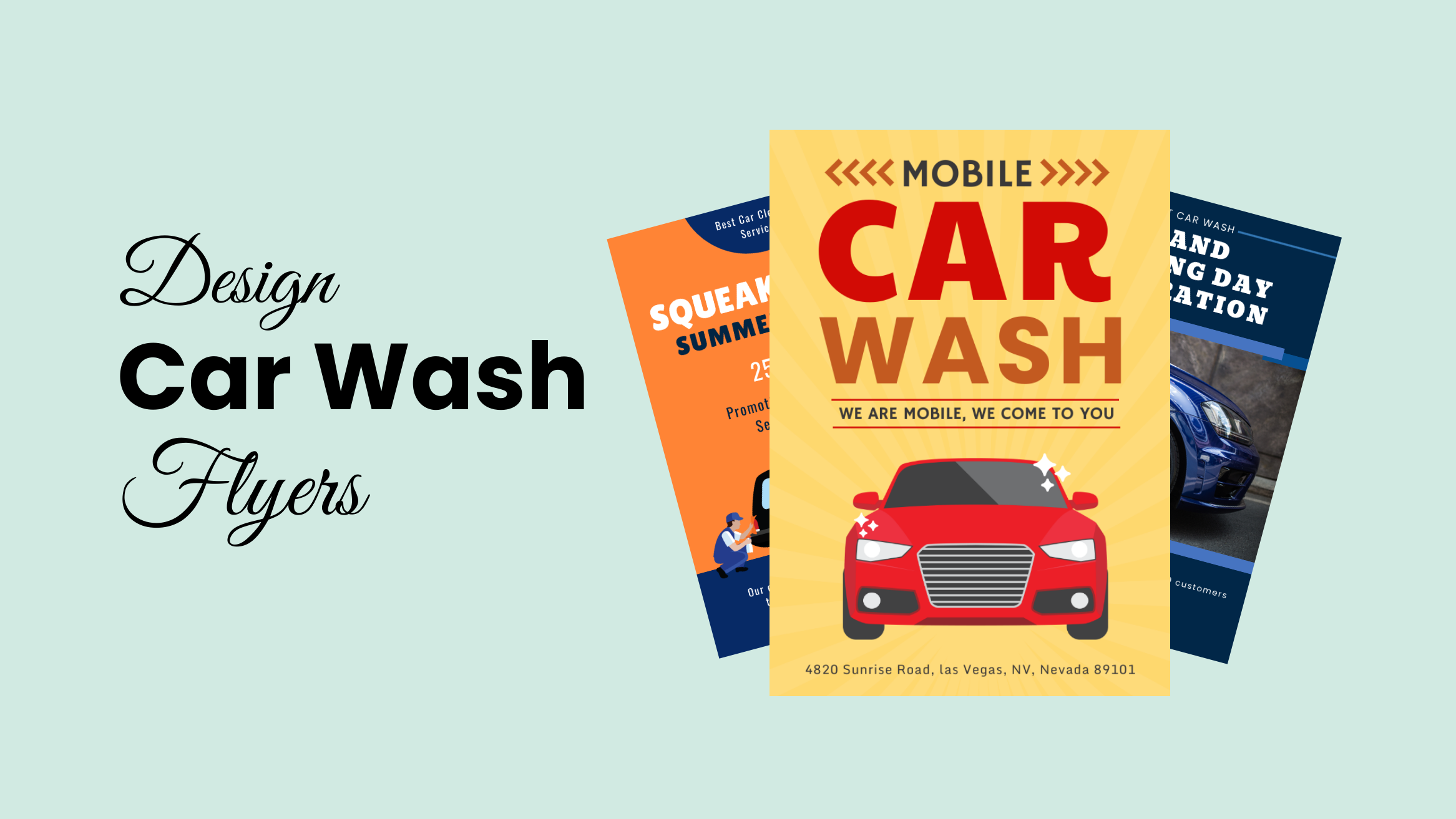 5+ Car Wash Flyer Designs: Make Flyers for Your Car Wash Business

Last Updated May 11, 2023
The global car wash service market was estimated at $34.19 billion in 2019. There are over 66,000 car wash service providers in the USA alone, whose annual revenue adds up to a shocking $12 billion. Hence, operating a car wash business has proved to be profitable and challenging. So you will have to come up with new marketing ideas every single day to attract new customers. A car wash flyer is amongst the most affordable and flexible marketing tools that you can use for online and offline marketing strategies.
DocHipo features a wide range of car wash flyer templates that you can customize and download for free. However, if you are new to this, car wash flyer design can be tedious and confusing. That is why we have come up with this blog to help you create some eye-catching car wash flyers using DocHipo. You don't need any design skills, and the best part is it's completely free. Stay tuned to this article till the end.
What Is a Car Wash Flyer?
A flyer is a single sheet of paper that is intended to use for advertisement purposes. They are not around for a while. It dates back to the 18th century and gradually started being used by almost every industry in the market. So, Car Wash Flyer is the use of flyer to promote car wash businesses. When it comes to marketing tools, a flyer is one of the cheapest. Moreover, you can quickly share flyers with your target audience, making it a great tool to connect with customers closely.
Marketing Strategies For Your Car Wash Business
Remember the famous saying, "Don't Judge A Book By Its Cover"? And the contrary one, "You Only Have One Chance to Make A Positive First Impression"? Both of these cliches can be applied while marketing a business. People don't judge a business solely by its advertisements and promotions, but still, they get attracted through the ads.
Here are some marketing strategies that will help you promote your car wash business effectively.
Establish An Online Presence
Online presence is one of the most effective and cheapest ways to market any business, and Car Wash is no exception. There are many paid and free website domains and hosting providers to use and create your own website.
In addition to having a website, you can create social media pages on different social media platforms. The number of social media users is estimated to increase to almost six billion in 2027. So, it gives you a platform to connect with people looking for car wash services. You can connect with them easily. Thus, making it easier for you to promote your business. And the good news is DocHipo can help you design social graphics like Facebook Post, Instagram Post, LinkedIn Post, Twitter Post, YouTube Thumbnails, and many others.
Offer Discounts Through Coupons
Everyone loves freebies, and digital coupons by car wash businesses can be among the newest and rare marketing strategies. You can leverage this gap in the market to create an opportunity to benefit from it. Send out a digital coupon to your customers for special discounts or free car wash. This will open doors for you to connect with your customers. Ultimately, you will build a brand image and get customer loyalty.
You can offer those coupons/vouchers through email, social media posts, flyers, and other marketing materials. This will help you run some successful marketing campaigns as well. As a result, you will surprisingly find growth in your car wash business.
Provide Free Wi-Fi
Most people, especially Millennials, want to stay connected always wherever they go. And when it comes to waiting for services like a car wash, free Wi-Fi can be a great treat for them. This will help you demonstrate next-level customer satisfaction. Furthermore, it will surely help you create a great brand image, and people will love coming to your car wash service again and again.
Offer Multiple Services Or Products
Offering other services or products with your car wash service is another excellent way to bring people through your doors. You can provide add-on products or services like car repairing, vehicle protectants, and others. This will not only attract customers but also generate more revenue. You can also cross-connect with other businesses to provide these services.
Study shows that 90% of the car wash services are a retail business. So, you can click here to learn more about the best marketing strategies to promote your retail business.
Car Wash Flyer Design Tips
Being just another sheep in the herd won't get the job done for you. Since your goal is to attract as many people as possible, your design should be aesthetically pleasing and unique. Follow the instructions given below to get the most of your car wash flyer design. We have divided the points into two sections: Marketing Perspective and Design Perspective.
Marketing Perspective
Brainstorm Your Message
The most important factor to consider while designing a car wash flyer is deciding what message you want to convey to your target audience. You need to strategize your flyer design and determine how you are going to deliver your main message. These will help you write a copy for your flyer design that is crisp, concise, and impactful.
Once you have decided on your main message, make them bold and bright to focus on them. For example, in the car wash flyer design template below, the message's keywords are brighter and bolder.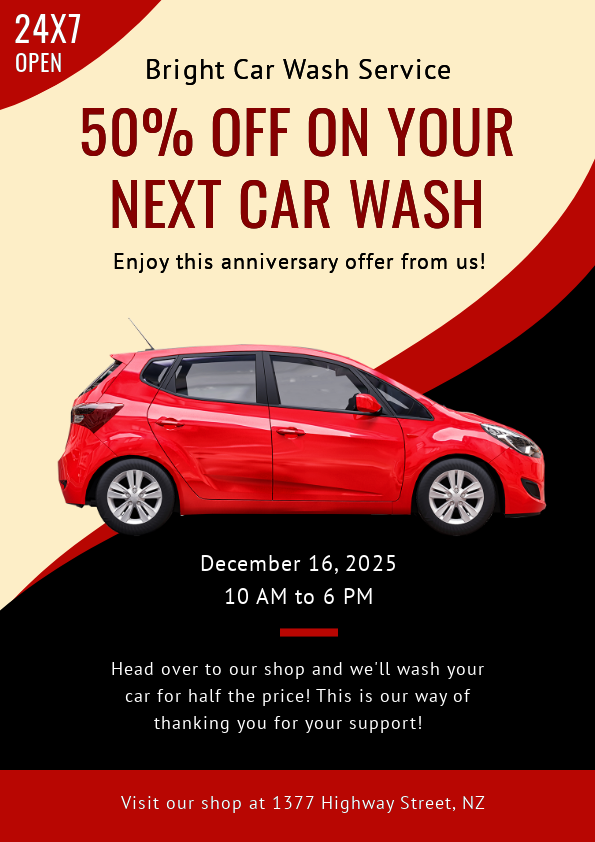 Get This Template and More
Reflect Your Brand
The primary goal of your marketing strategy should be to make your brand recognizable and familiar. To achieve this, you must keep consistency in your design. You can use your brand colors, fonts, and logo to make your flyer design stand out from the others. However, all the design elements should be well balanced so that it looks professional.
The car wash flyer template below is a good example. Here, the brand "Bright Car Services" uses an icon in the center of the flyer design. You can take this template, replace the icon with your brand logo, and change the color scheme accordingly.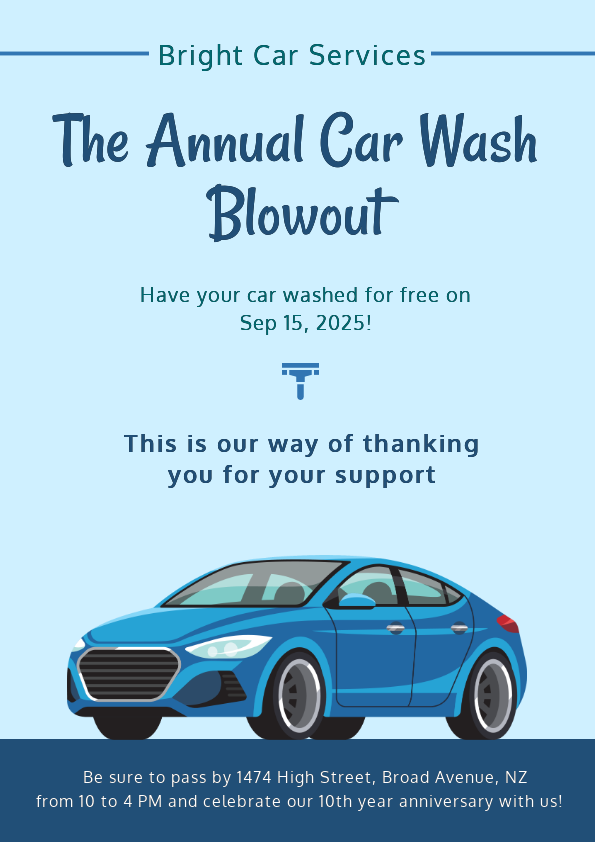 Get This Template and More
Include A Catchy Call To Action
A call to action is one of the crucial elements of your marketing message. It is used in flyer design to prompt a response from your target audience after reading your flyer. You can always include a call to action to your car wash flyer design regardless of whether you are using your flyer offline or online.
Moreover, you can use discount coupons or vouchers to encourage the target audience to make a purchase. Alternatively, you can use your contact information, social media pages, or address to include a call to action on your flyer. This will persuade your target audience to get in contact with your car wash business.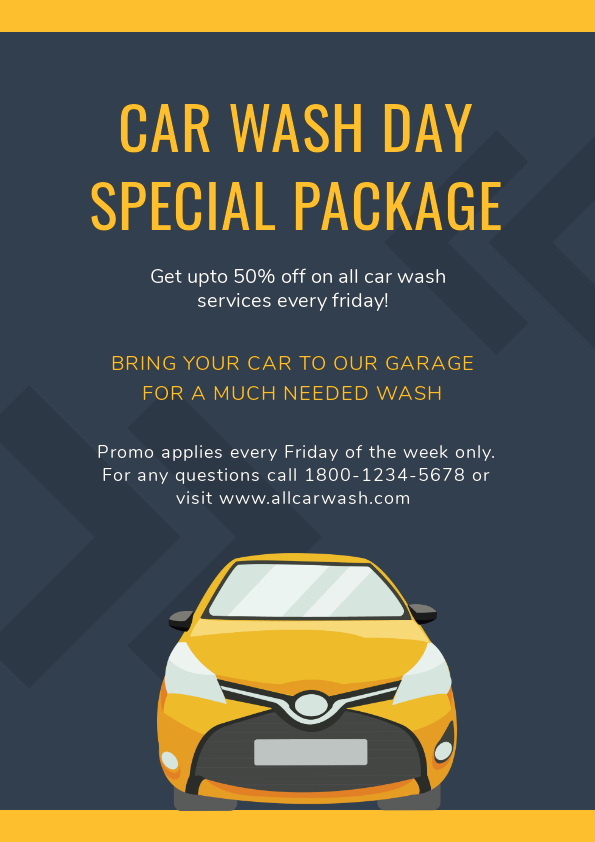 Get This Template and More
Design Perspective
Keep Your Flyer Design Simple
People often get tempted to overcomplicate their flyer design to make it eye-catching. But we recommend you keep your flyer design simple. You can either use your brand colors or choose a color palette that reflects your brand. However, it would be best if you stick to two or three colors that complement each other. Click Here to find out the best color combinations for your design.
Additionally, choose stylish and bold fonts and only use text when necessary. Every car wash flyer template in DocHipo is designed perfectly that matches all the design tips in this article.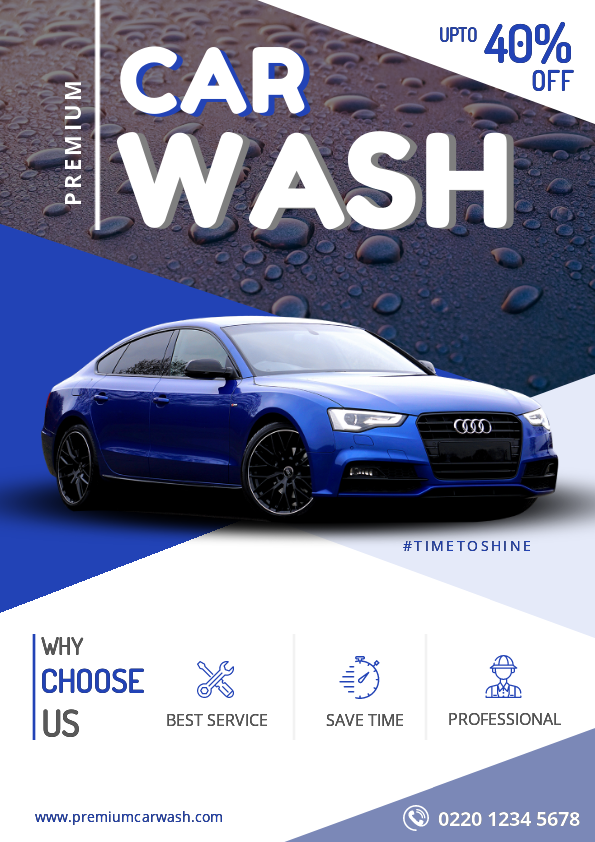 Get This Template and More
Use Your Fonts Wisely
To make your flyer design clean and crisp, you should not be tempted to choose more than three different fonts. Though you can select as many as you think is appropriate, we recommend you select a maximum of three fonts that go together. Also, keep in mind that the fonts are suitable for your message.
Click Here to learn more about typefaces that will help you make your design visually appealing. Additionally, watch this video to learn how to add, edit or delete text in DocHipo.
We have used "Karla" for the Heading and "Monda" for subheadings and body text in this template.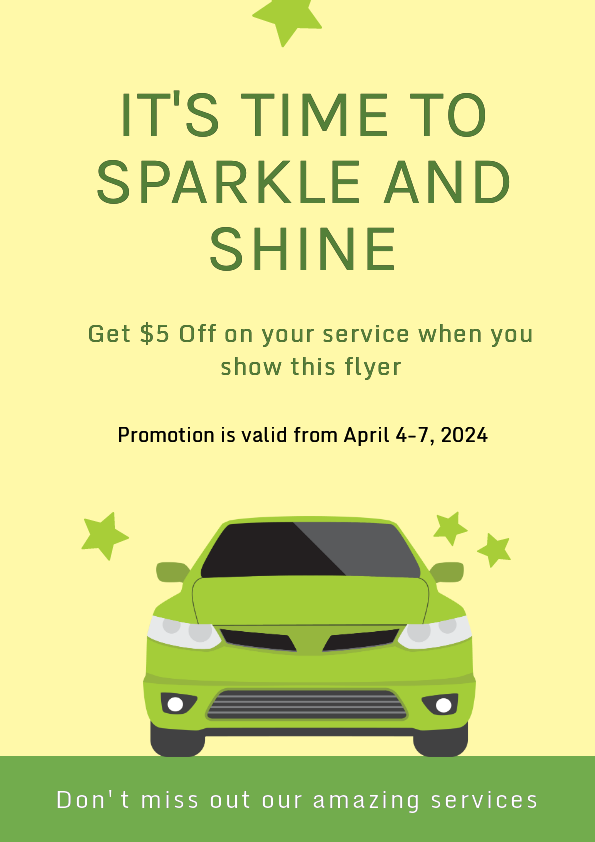 Get This Template and More
Use High-Quality Images
One of the most innovative ways to promote your car wash business through flyer design is to use images in the design. To do that, you need to click some high-quality pictures of your car wash business that reflects your business operations appropriately. It will help you create a brand image in your target audience's mind. Furthermore, DocHipo allows you to enhance your photos using filters. Here's how.
There are many car wash flyer templates in DocHipo that allow you to use images. You can take those templates and replace the imagery with your own to make it super engaging. Here's an example: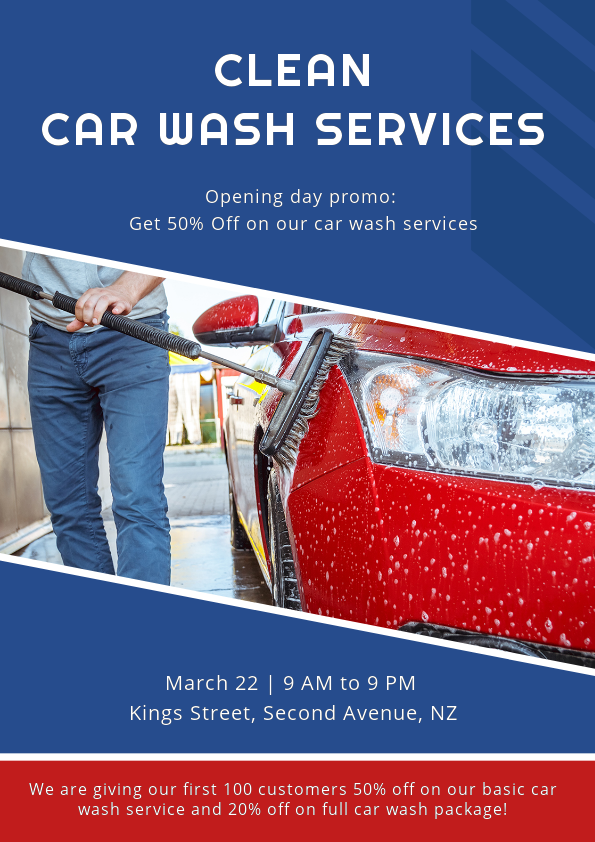 Get This Template and More
Hopefully, these car wash flyer design tips will help you design stunning flyers effortlessly.
Further Reading
Concluding Words…
Now you have almost everything that you need to design a car wash flyer. With these handy design tips and effective marketing strategies, you can grow your car wash business like never before. However, the key to achieving a significant return on your investment through this marketing material is stylish design. DocHipo will help you with all your design work.
Design stunning car wash flyers without any design skills and experience. Sign-up today and explore the magical world of DocHipo.
FAQ
How can you design a catchy and effective car wash flyer?
Add high-quality, stunning after-wash car images or appealing illustrations to design a catchy and effective car wash flyer. Use your brand logo, colors, fonts, etc., to reflect your brand. Brainstorm your message, mention your service USP and special offers, and craft a catchy title and a call to action.
What is the recommended call to action for a car wash flyer?
The call to action for a car wash flyer should persuade your target audience to invest in your services. You may write generic but effective "Get your car washed today!" or "Avail this offer now" if you offer special discounts.
What information should you include on a car wash flyer?
You should include your offered car wash service details and their availability, shop address, special offers, website, contact details, etc.