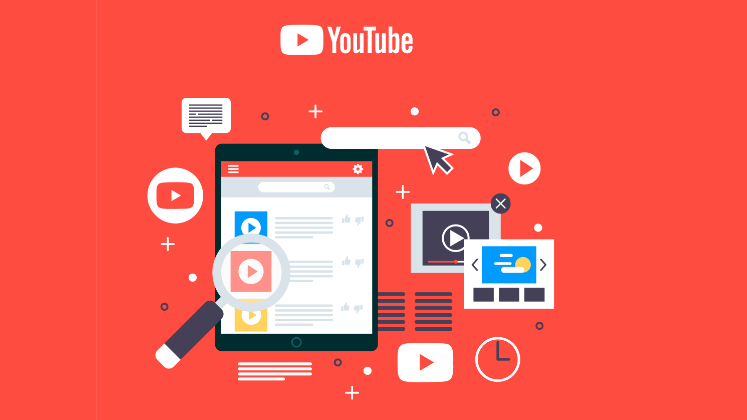 Branding Joe: Joe Plans to Start her YouTube Channel

Oct 9, 2020
Hey folks, welcome back!
Life has become interesting as I am planning to launch my YouTube channel. As you can remember, in the last blog I had figured out my brand persona and archetype.
This time I realized that I want to strengthen that identity by involving myself more visually.
Till now, I have a social media business page, where I keep on posting exciting contents and articles published on my website. Now, the production of amazing YouTube videos will help my audience to connect and to engage with me better.
Here is the plan. I will Create my YouTube channel and then keep on uploading interesting videos about self-help and development.
Exciting, isn't it?
But opening a YouTube channel and streaming videos is just not enough. I have to look for different ways to promote my channel.
After frantically reading and researching about the ways to promote the videos, I finally could sum up 5 effective strategies through which I can increase my views and get loyal audiences.
Also, DocHipo just got a New UI!
I am excited to work on it while creating excellent thumbnails for my YouTube videos.
Tips for YouTube Video Marketing
Initially, I thought that video is everything to get a huge number of views. Now, I realized that it is more than that. Yes, video content is essential and is a part of the marketing strategy, but there are other crucial points that we must practise!
Let us not forget that YouTube is the second most popular social media platform worldwide after Facebook.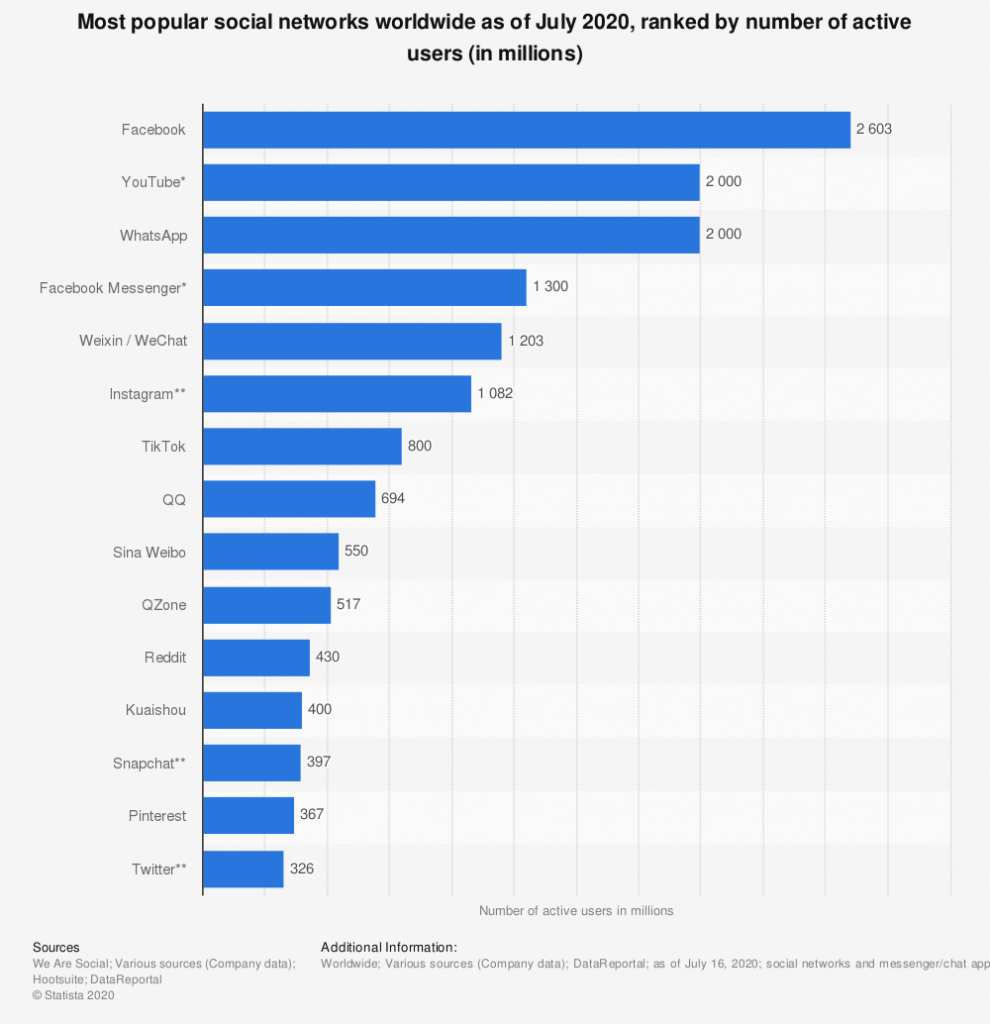 So, once the videos get viral, then it will be everywhere, seen by almost everyone. This will help my brand and business to get established in the minds of my target-clients.
Yes! I want to be everywhere and influence all my audiences…
So let's begin with the best strategies that can promote YouTube videos.
1. Description and Title
Statistics suggest that YouTube videos show up in 70% of the top 100 Google searches.
So here is the deal!
Optimize the text of the Title and Description of the YouTube video with relevant keywords.
Search-Engine-Optimization or SEO is a very interesting process that boosts website traffic by improving visibility on the search engines, easily helping relevant seekers to find their answers.
Whether it's a blog or formatting the text for your YouTube videos, the rules and the process are the same. You need to choose the right keyword/words (short-tail and/or long-tail) and optimize them accordingly. By using SEO, your video will automatically get a high rank in the search engines.
Also, the title must be catchy. It should instantly attract the gaze and fill the mind with curiosity. It should not be more than 60 characters.
This is the YouTube video of DocHipo. Check the title:

In the description, you can add relevant external links, along with links to your other videos and website, which can establish authority for better SEO ranking. You can also add trending hashtags pertinent to your theme. Try your best to restrict your description within 5000 characters. You can also add Time-stamps for the audience to skip and directly view any part of the video. This increases more views as the audience doesn't feel forced to watch the entire length of the video.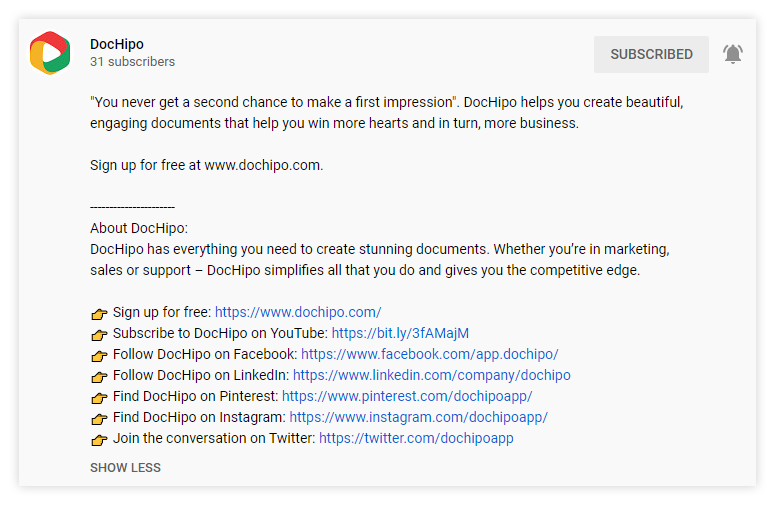 The aim here is to appear engaging at the very first sight of the video, so you can start via an attractive title and an interesting description.
Let's check the video section of the DocHipo YouTube channel. Look how attractive it is: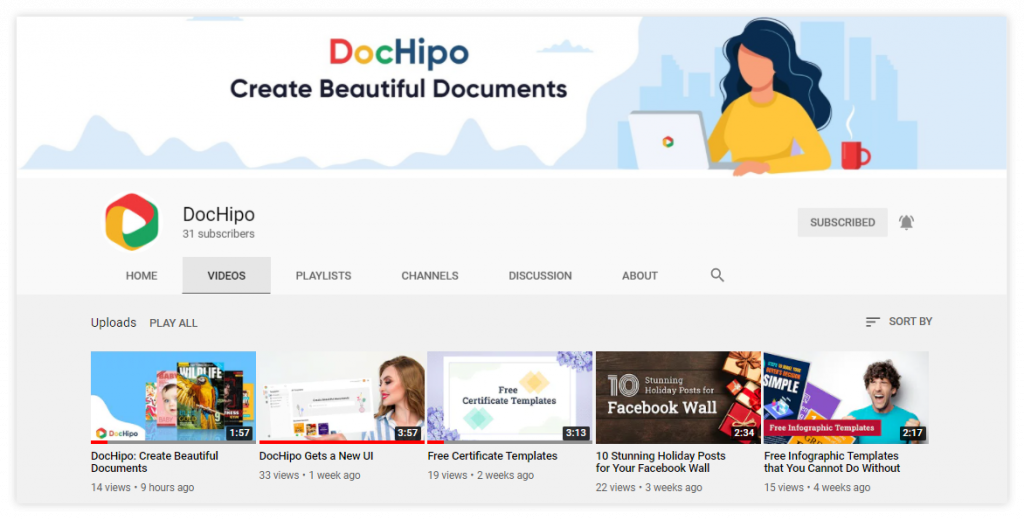 2. Find Your Community
Finding your community is important for promoting your YouTube channel.
What I mean is finding and subscribing to channels that are related to your niche.
Not just that, you also have to be active and try to use the comment section meaningfully. In that way, you can attract the viewers and audiences of that YouTube channel and redirect the traffic to your videos.
Also, a very smart way to get a high number of views is to mention a popular YouTube video or channel (relevant to your niche) in your video or in the description and the title. But you must do it in a very tricky way.
I plan to mention the name of my favorite life coach who is really popular on YouTube and is my all-time inspiration. In this way, I will be able to redirect his traffic to my YouTube videos.
3. Cross-promote
This is indeed a very effective and important way to market your YouTube channel.
The act of cross-promoting your YouTube video is to spread the link to different platforms, such as your official website, social media, and yes via newsletter through emails.
I'm sure your website has a dedicated base of visitors. I have it on my website too.
So, once you upload a YouTube video, you can easily embed the link on your website blog. In this way, you can add viewership from your visitors.
With social media, you must be aware of which platform works in which ways.
Starting with Facebook, which has the highest number of users worldwide, can be the best start. Being a friendly platform, your bunch of friends and group members will love to see you grow through your videos and will not mind a direct marketing tactic.
But, in the case of Twitter, this might not be very well taken by the users. Mainly because this platform aims to stimulate opinions and discussions. But, if your videos serve the purpose of being really relevant to your discussions (tweets), then you can share it there.
LinkedIn is really interesting, as this platform serves ambitious professionals. So if your video is related to that niche, then the users of this platform will love to learn something new from your video. In my case, LinkedIn always comes in handy, because self-help is crucial in all domains, especially in industrial domains that incites work pressure and stress.
There are many more social media platforms, which can prove useful.
Last but not least, a newsletter can work like magic. Mainly because you are embedding your YouTube video along with other interesting facts and developments, and sending it to your interested members/customers.
This is a sure-shot thing as your subscribers, members, customers are always waiting to hear from you.
4. Organize Competitions
If you want to engage your audience, then try involving them by organizing contests.
We all love to win, or at least try our luck. Competitions via your YouTube videos can really get your audience pumped up with high adrenal to grab the chance of trying their luck out.
Now the important thing is, How?
This is not that hard or tricky. You can maintain your interesting theme in your video. At the beginning or in the end, before urging your audience to like, subscribe, and share, you can announce the competition and speak about the rewards. The competition can be anything, a video, a write-up, or even just a simple response via the comment section.
In my case, I plan to introduce a question and will ask my audiences to post their responses in the comment section. The best response will get an e-book written by me about self-identity, and will also get the chance to book one online session with me, all for free.
Now that must arouse the interest of my viewers!
5. Create Amazing Thumbnails
This is the most important element which will help to promote your videos.
Why?
Because when a viewer comes across a video, the first thing that will attract his eyes is the video thumbnail, then the headline/title. Hence, this makes thumbnails supercritical to sustain the gaze and procure an action from the audience. This will boost all the marketing techniques of your YouTube videos.
Normally, after you upload a video on YouTube, it auto-generates a few thumbnails from the video itself. Choosing a thumbnail from the recommended ones is not always effective. Because the thumbnail needs to be engaging and attractive, which a static clip can never be.
So, a properly designed thumbnail can be created with proper color combinations, designs, and fonts, which can instantly draw a high number of views.
A thumbnail that stirs the mind with curiosity provoking a click on the play button, can add views. A high number of views will also rank the video higher in the YouTube search section.
I know designing a thumbnail can become overwhelming, especially if it is for the first time!
But I am excited about creating Thumbnails for my YouTube videos. Want to know why?Well, because I have DocHipo with me.
Create Stunning YouTube Thumbnails in DocHipo
DocHipo's new UI is just so stunning!
Oh yes! I am so thrilled to use this platform that got an all-new makeover.
I love the previous version as well, but the new one is even more exceptional, with amazing illustrations popping out at every lucrative space on the platform.
So, without wasting much time over my obsession with this platform, let's get going with the thumbnail design for my first YouTube video.
Step 1:
After you sign-up, you can see a captivating landing page.
Well, now once you click the "Social Graphic" widget under the "Templates" panel in your left-hand-side, a list of options will pop-up, under the widget, from which you can select.
I have selected "YouTube Thumbnail".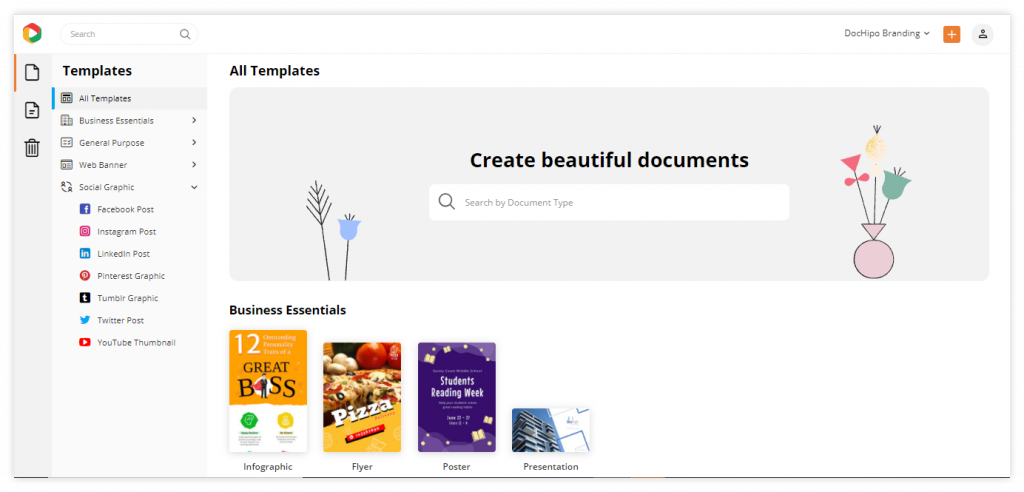 Now, after the thumbnail template page appears, you can select a template or create one from the scratch.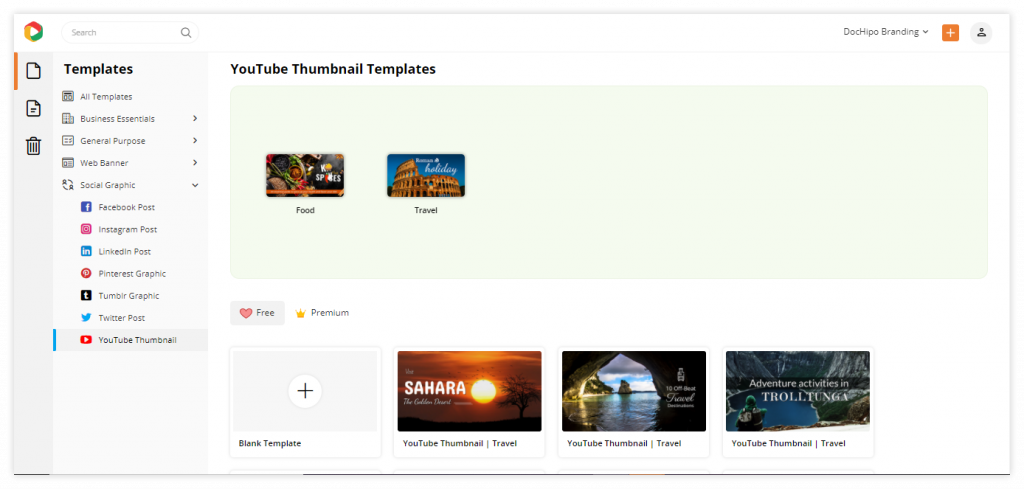 There are tons of amazing templates to choose from. Here are some examples: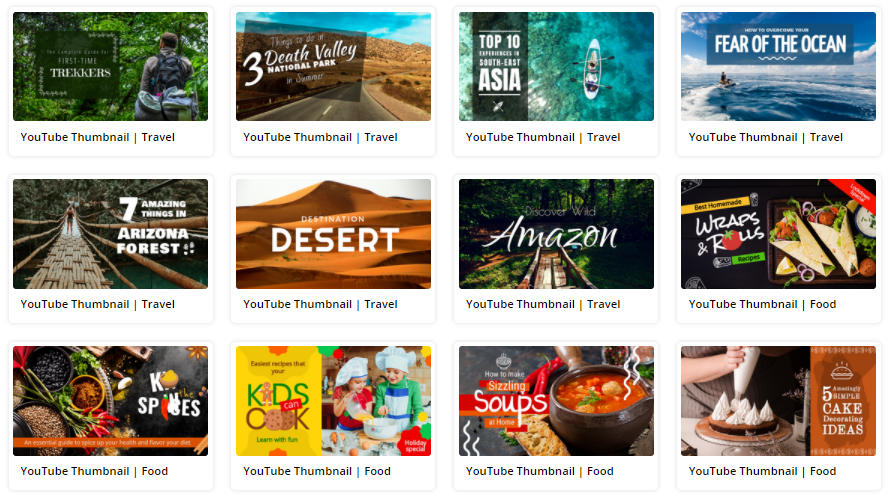 I have chosen a template and will change based on the theme of my YouTube video.
Step 2:
Once you have selected the template, you will be redirected to the Document information page. On this page, your name is auto-populated, which can be altered to the name of any chosen team-member. Then you can change the Document name or keep as it is. Then add the description.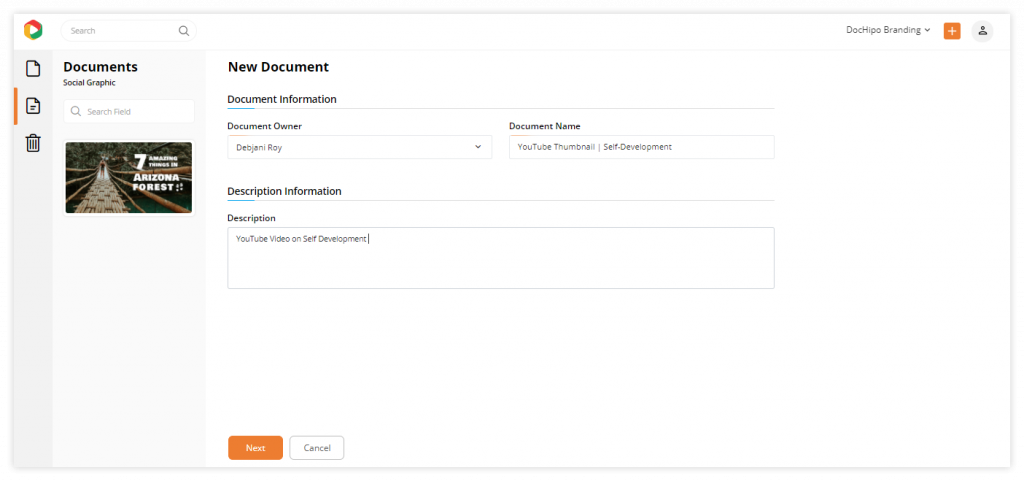 Step 3:
It is time to design!
Here is the workspace: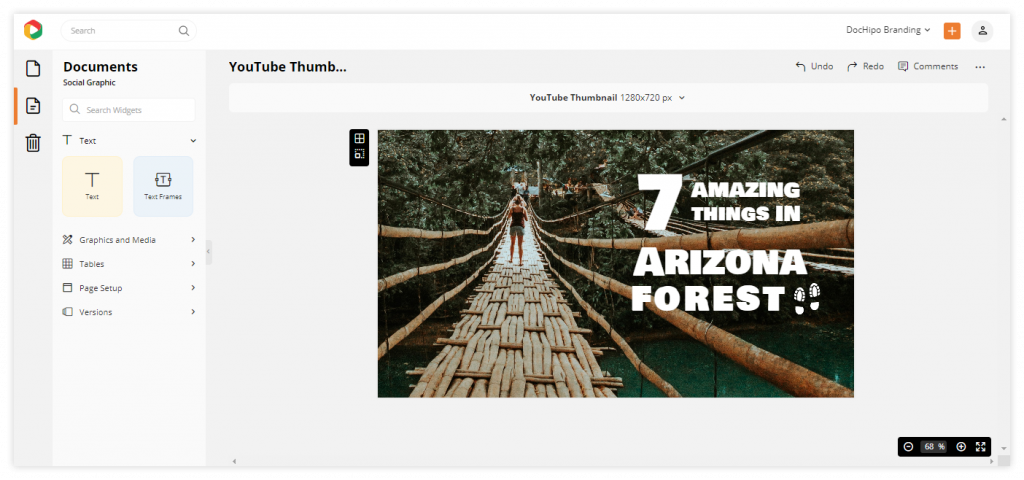 All I did is that I edited the text from, "7 AMAZING THINGS IN ARIZONA FOREST" to "7 WAYS TO REDISCOVER THE SELF". Then shifted the graphic element of the boot-prints.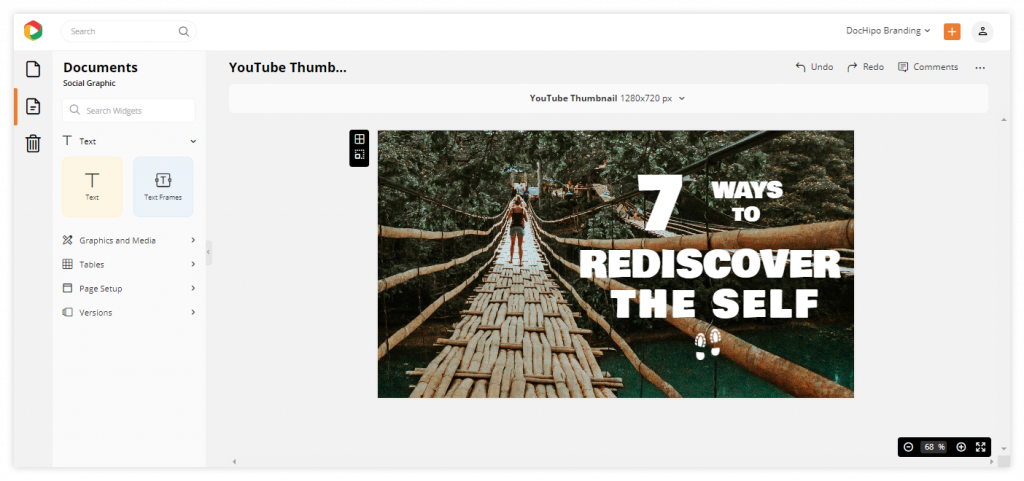 That's all! Simple and interesting.
Step 4:
Tada! It is now time to download the template. I have selected High quality PNG. You can choose any file-type and quality.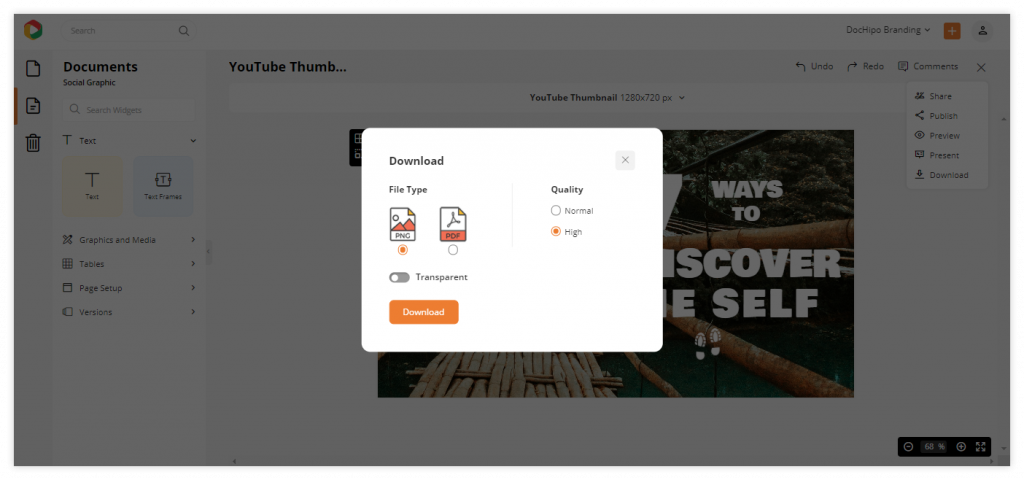 Here is the final look: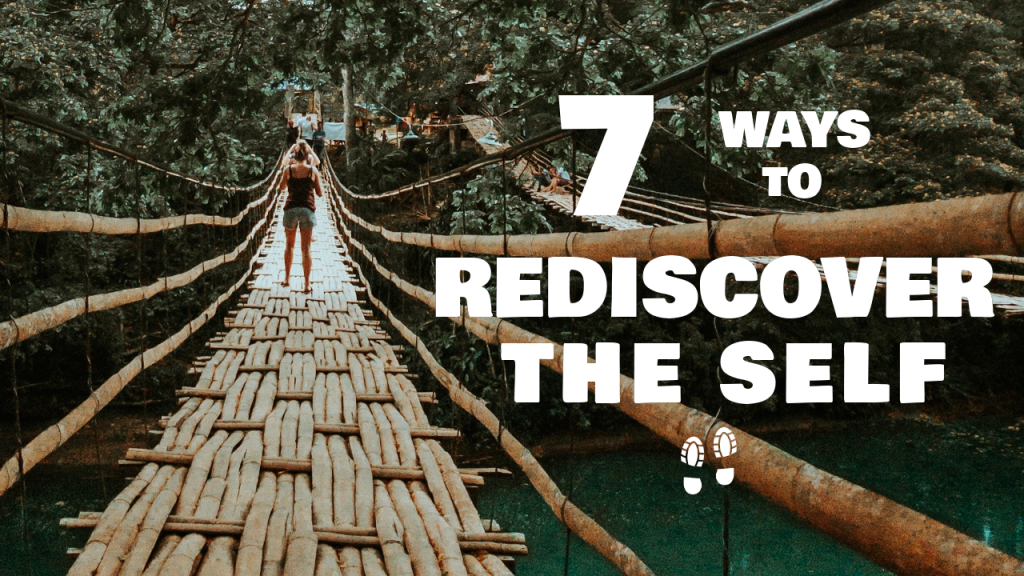 Conclusion
Now, when you have DocHipo to the rescue, then what are you waiting for?
Roll your camera, edit, and upload an exciting video content on YouTube. Get your channel started and start promoting via different strategies and innovative ways.
With DocHipo you can create your video Thumbnail for Youtube in less than 10 minutes (actually lesser).
Plus, do not miss out on exploring the new UI of DocHipo, which can get you so up and excited.
Hurry and sign up for DocHipo!
Till then wait for me, as I will be back with my next strategy to brand myself.