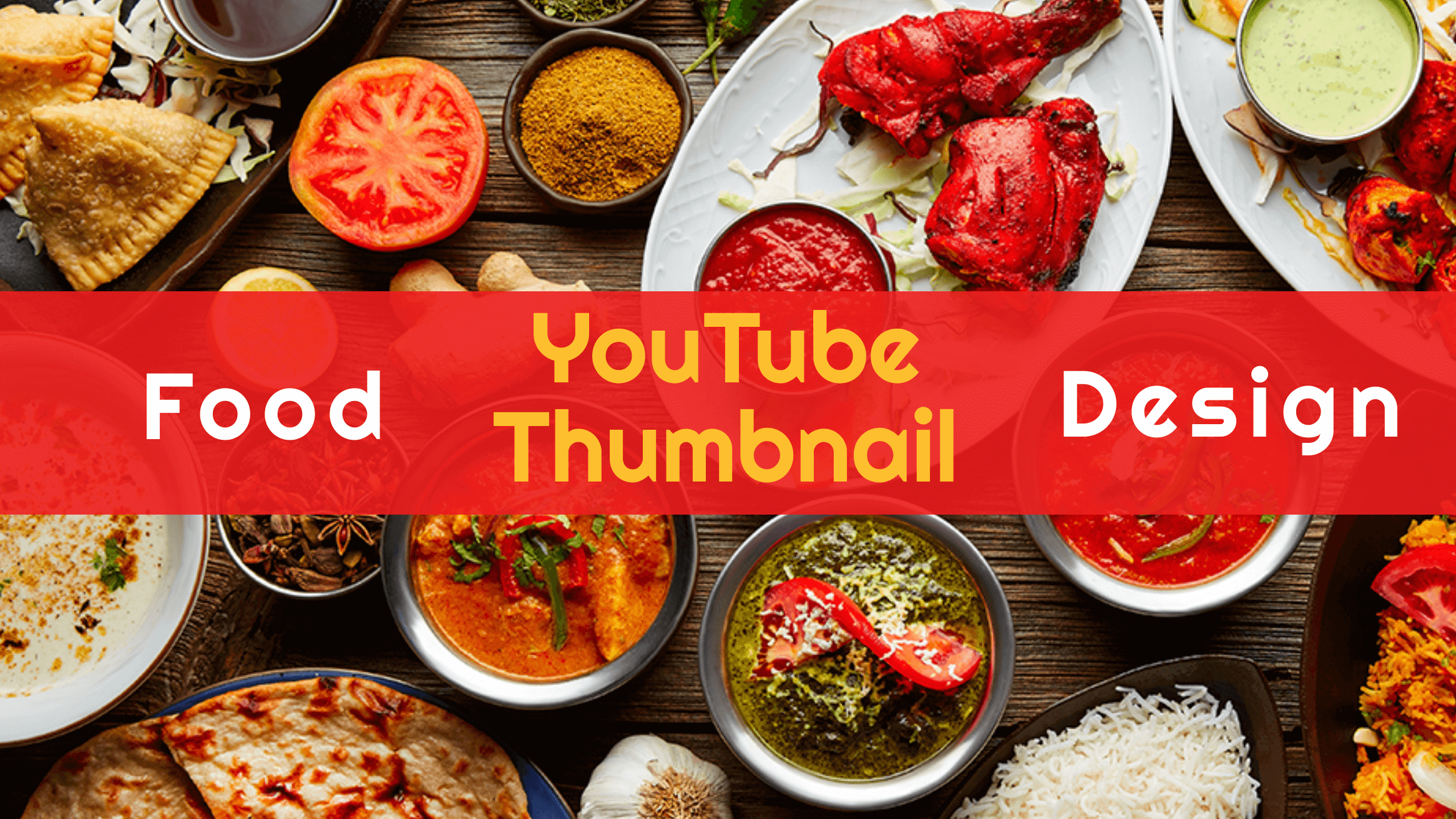 10+ Cooking YouTube Thumbnail Design Ideas to Grow Your Cooking YouTube Channel

Last Updated Jul 9, 2023
If you already own or plan to open a cooking YouTube Channel, then the first thing you might be worried about is how to grow your channel quickly. But that is not easy, it seems. There are 2.3 billion registered users and a billion hours of video played each day on YouTube. Hence, to get more views on your videos, you must concentrate on every tiny aspect to stand out. One easy way to attract more viewers is to design Food YouTube Thumbnail.
While creating and uploading videos on your cooking YouTube channel, the Food YouTube Thumbnail might not seem important to you. You might be thinking – as long as your content is good, there is nothing else to worry about. Think again! The thumbnail is the most significant thing that can drive viewers to click on your videos. If people can't find your videos click-worthy, then how will they know whether your content is good or not?
Therefore, creating thumbnails for your videos is crucial. However, designing a YouTube thumbnail is not easy if you don't have any design skills or experience. Keeping that in mind, DocHipo comes with a Free Online YouTube Thumbnail Maker.
Continue reading to know how to create a Food YouTube Thumbnail and some of the best practices to get the perfect thumbnail.
First, let's start with the best practices to make the design process super easy for you.
Table of Contents
Food YouTube Thumbnail Design Best Practices
DocHipo's awesome Design Widgets will help you design the best Food YouTube Thumbnail for your cooking YouTube channel. Additionally, go through these food YouTube thumbnail design best practices so that you feel confident while designing.
Include Eye-Catching Title
The primary goal of designing the thumbnail is to give your viewers a context about your video. Adding catchy headlines on the YouTube thumbnail design is the best way to do that. Only an image of your food, no matter how attractive, is not going to communicate what your video is about.
Your Food YouTube Thumbnail Design should convince your viewers that the video will get them what they are looking for in a matter of seconds. Additionally, if you want to create a series of cooking lessons, the title text could include numbers. This will help your viewers keep track of your videos and help them understand the lessons more easily.
For example, the thumbnail below includes some spices, which will be a generic image only.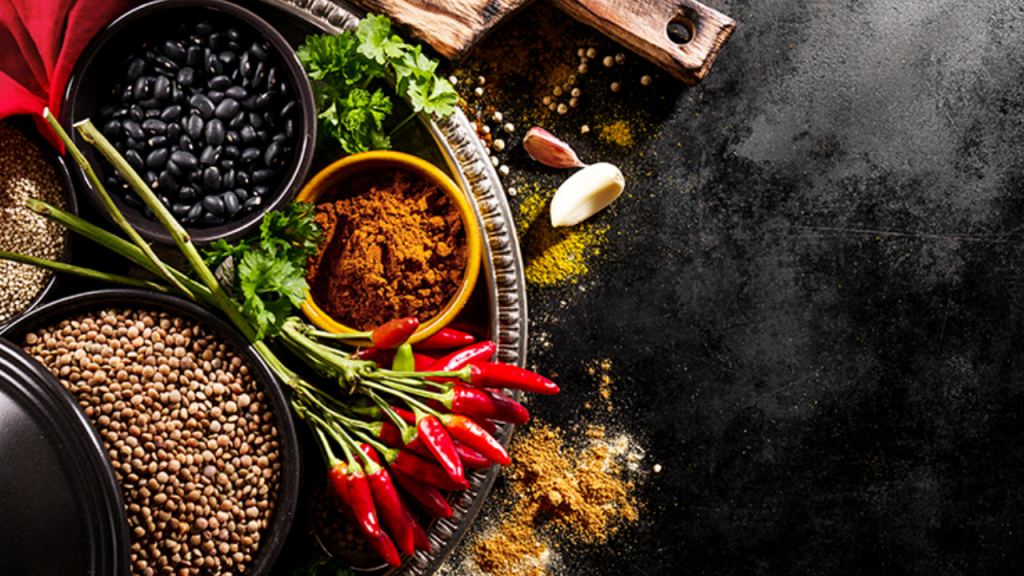 However, adding the text in the thumbnail can provide context to it and reach the target audience.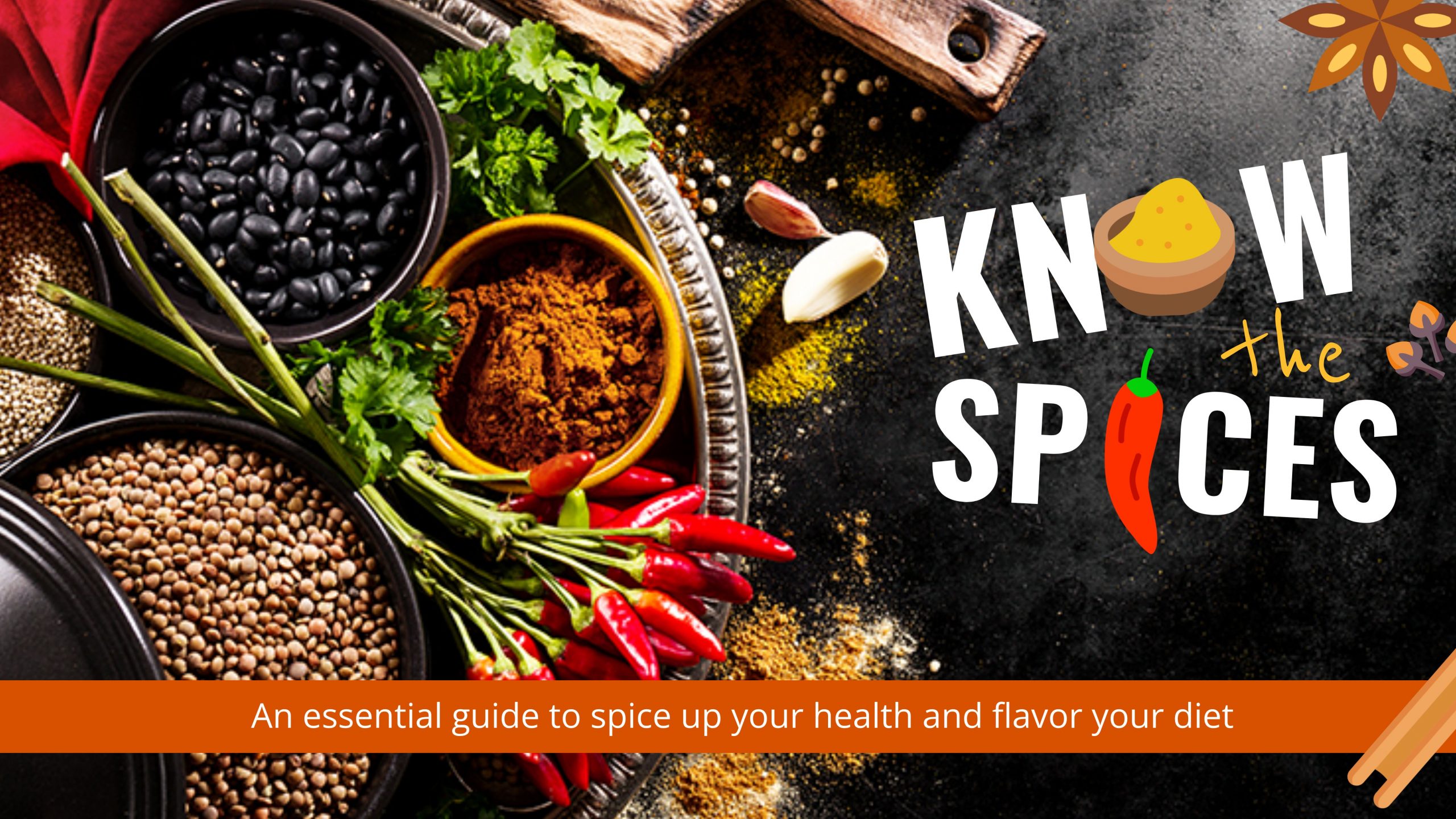 Get This Template and More
Use The Best Fonts
Once you have written the title, you need to pick a font to communicate the message while making the design visually appealing.
When it comes to YouTube Thumbnail Design, we recommend you be consistent with the same font style and color for the texts; This helps the audience familiarize themselves with your channel and videos.
When choosing fonts, try to avoid thick and thin variations of fonts that make the text hard to read. Always choose bold and heavy fonts so that the title can communicate the message immediately. Try to choose not more than three different fonts, which can make your design look unprofessional.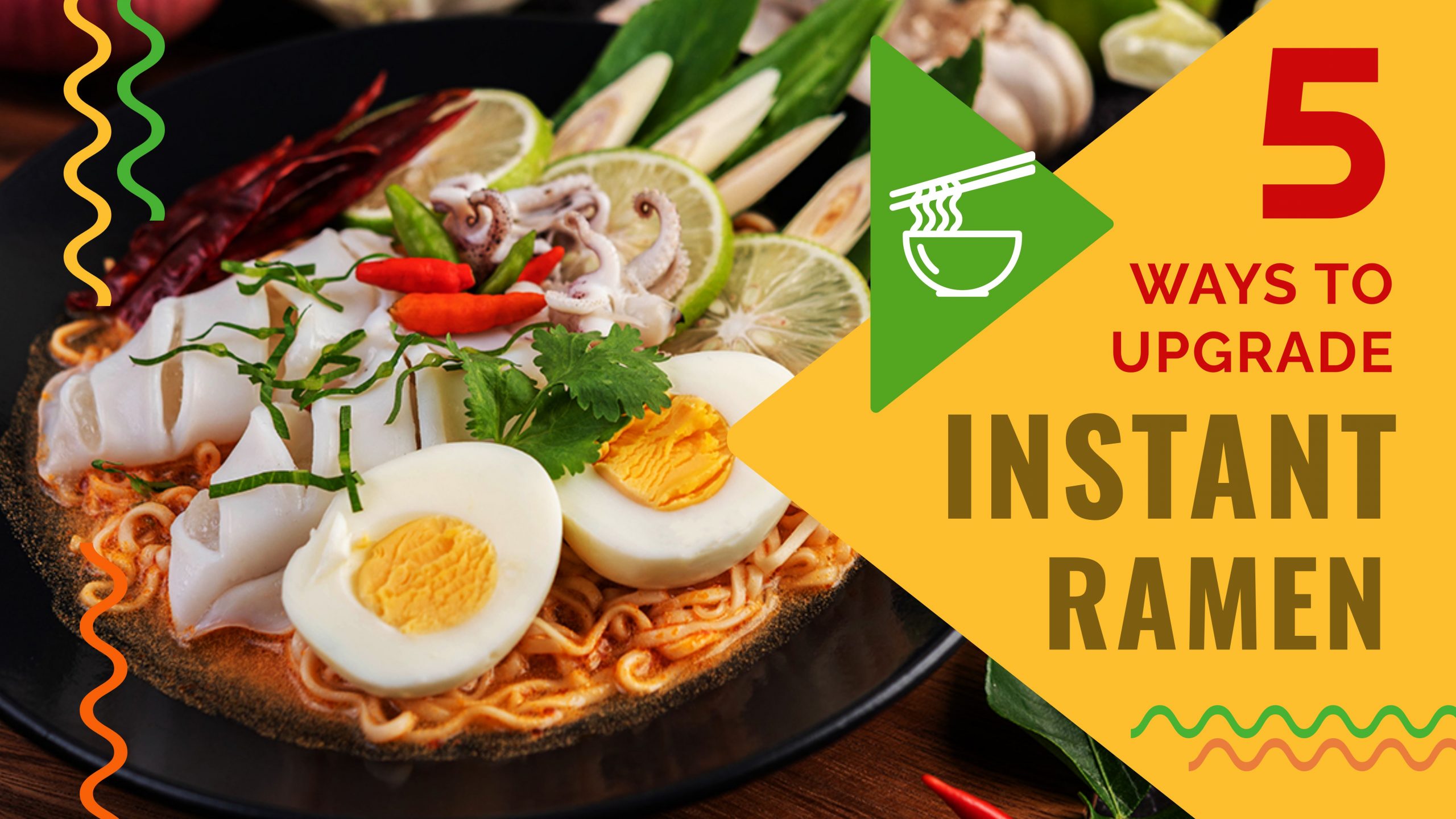 Get This Template and More
Read this article about Typography Hierarchy to make your design more appealing in terms of readability.
Use Colors Wisely
Since you are designing the thumbnail for your cooking YouTube channel, you should choose colors wisely to make sure that all the elements, along with the mouth-watering images, make your thumbnail pop.
Choose contrasting colors for a stunning thumbnail design.
You can also choose warm colors such as Red, Orange, Yellow, Green, as these are the colors associated with most of the dishes worldwide. Look at these Food YouTube Thumbnail Templates below to get inspired.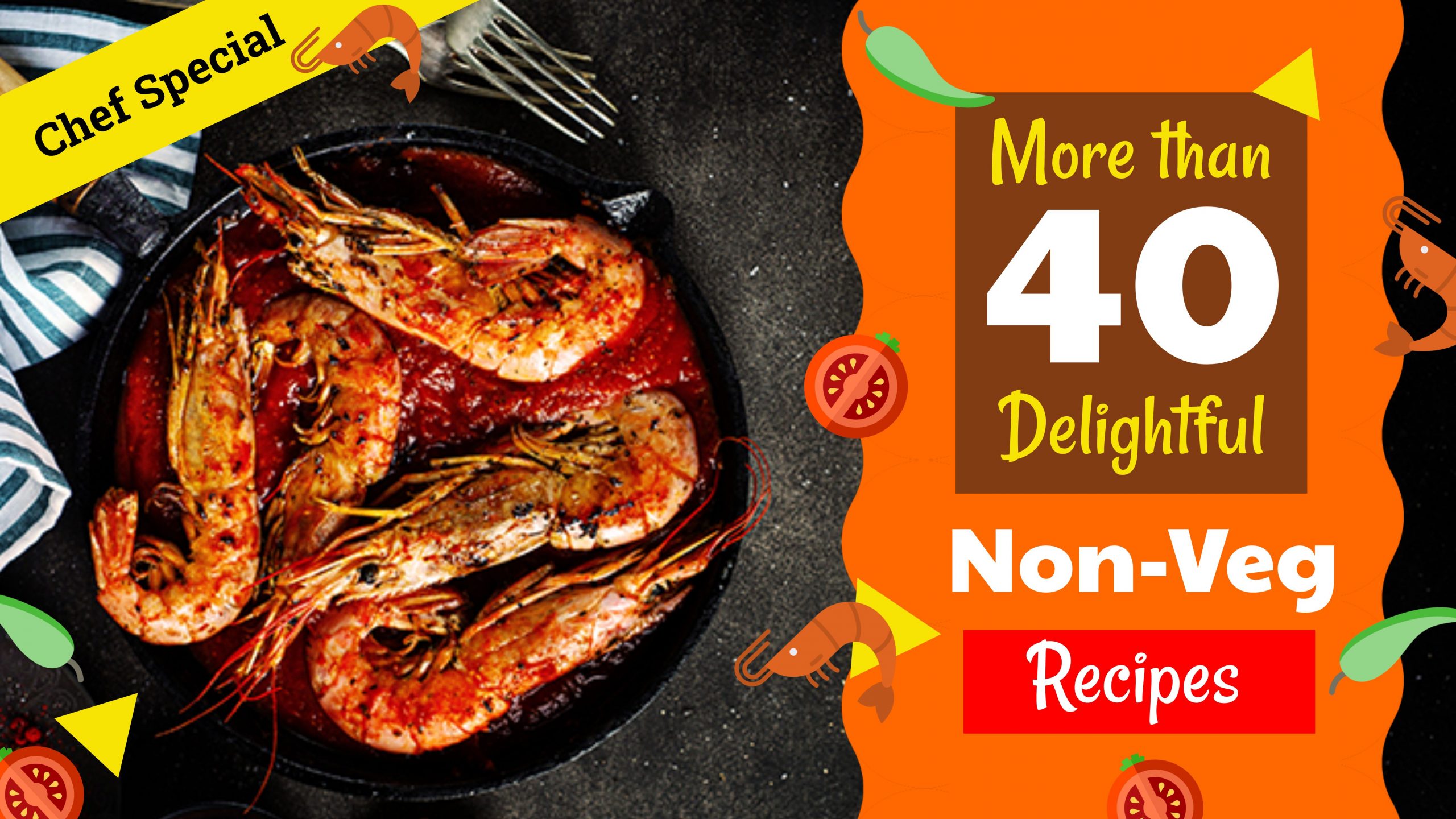 Get This Template and More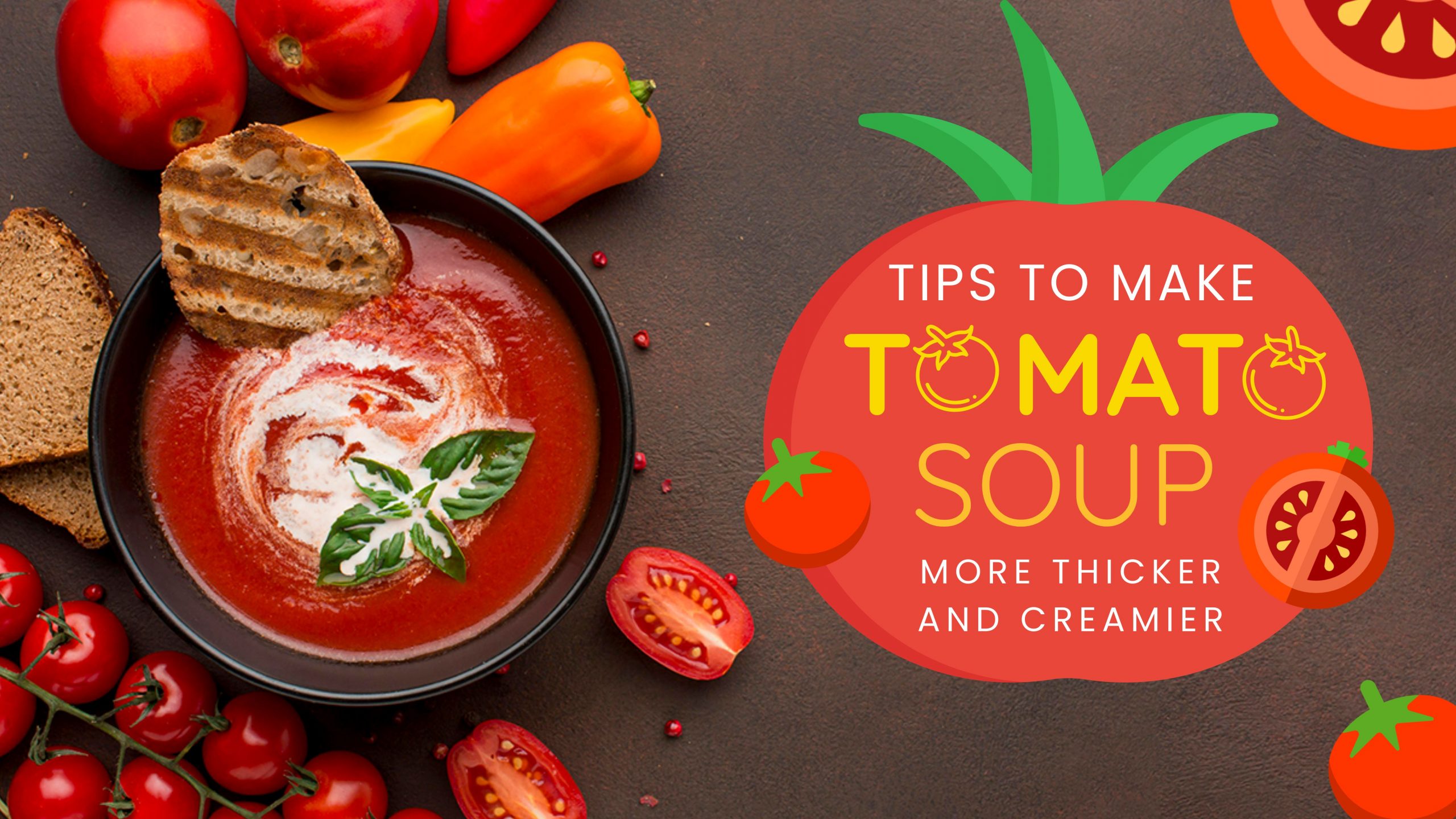 Get This Template and More
Still, if you cannot choose colors for your Food YouTube Thumbnail, this article on the Best Color Combinations will help you.
Create A High-Quality Photo Background
There are two types of backgrounds: Solid Background and photo background. Though you are free to choose, we recommend using alluring images of the dishes you make and adding your design elements to create a photo background. Furthermore, you can take some pictures of yourself while cooking and use them. This will give your audience a preview of the emotions your video will evoke.
If your images don't have bright backgrounds or subjects, you can remove the Background using DocHipo's Background Remover tool and enhance the photos using the Photo Editor. Here is how you can do it.
Since the color used in YouTube is primarily white, bright backgrounds will always stand out. Also, it will help you stand out from the other YouTube videos that don't have bright backgrounds. Watch the video below to learn more about creating stunning backgrounds in DocHipo.
Incorporate High-Resolution Pictures
Choose high-quality pictures to make the thumbnail look easy to understand. A Study says the human brain can process an entire image in just 13 milliseconds. So, incorporating an image in your thumbnail can increase the click-through rate of your videos. Take some photographs of you in action or the dishes and the other ingredients and create your design around it.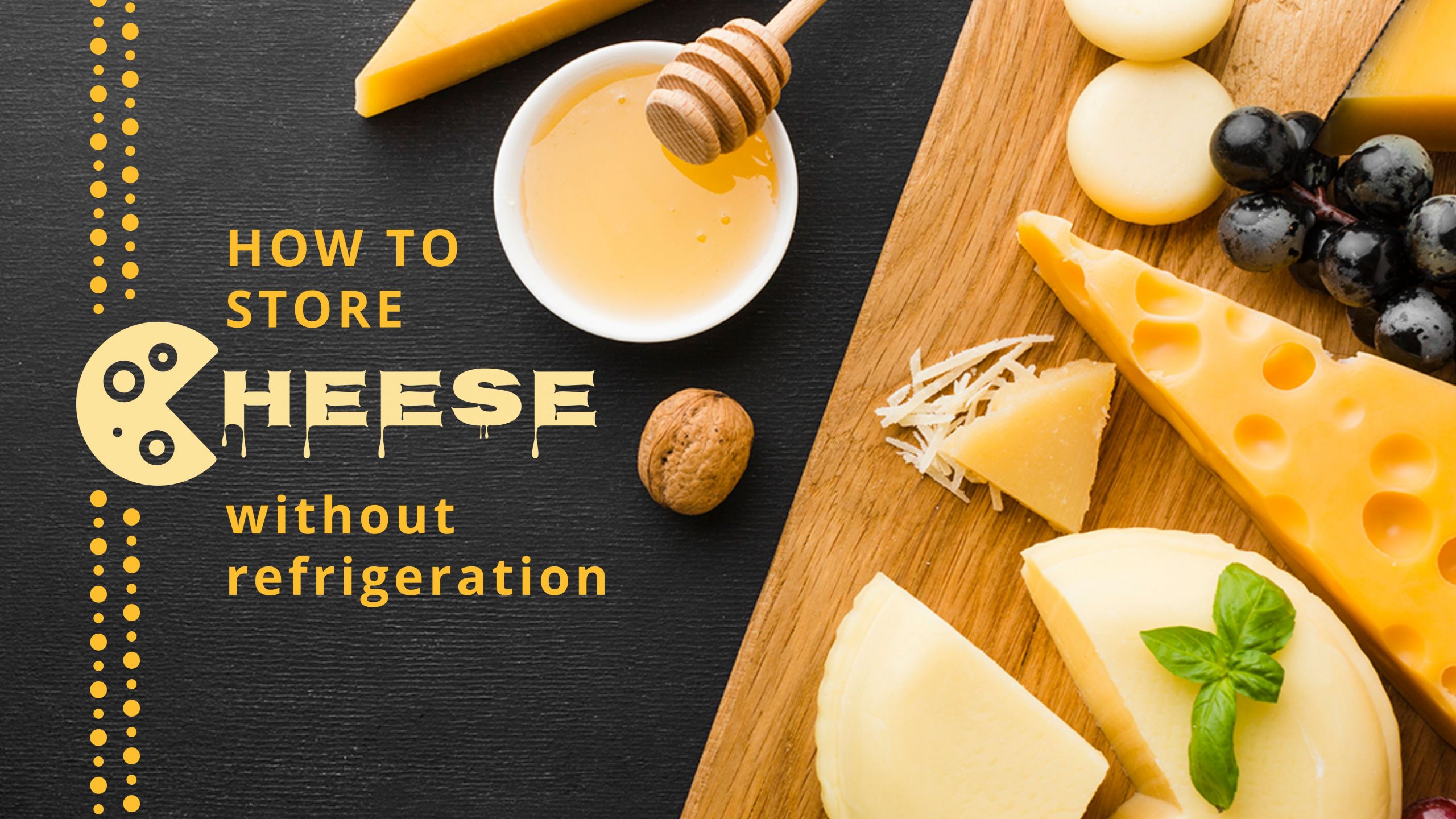 Get This Template and More
Alternatively, you can go for stock images from various free sources like Pexels, Pixabay, Freepik, Shutterstock, and also from DocHipo's Stock Photo library.
Read this article about How To Use Stock Images In Your Design to learn more.
Keep It Simple
YouTube thumbnails are small and become smaller when people see them on mobile devices. Statistics show that more than 70% of YouTube users use mobile devices to consume content. Therefore, you need to keep the Food YouTube Thumbnails simple while making them easily readable. So that all types of YouTube users can find your thumbnails attractive.
Try not to add the entire title of your videos to the thumbnail. Only the keywords are enough. Leave enough space between the design elements to make the design more attractive while being simple.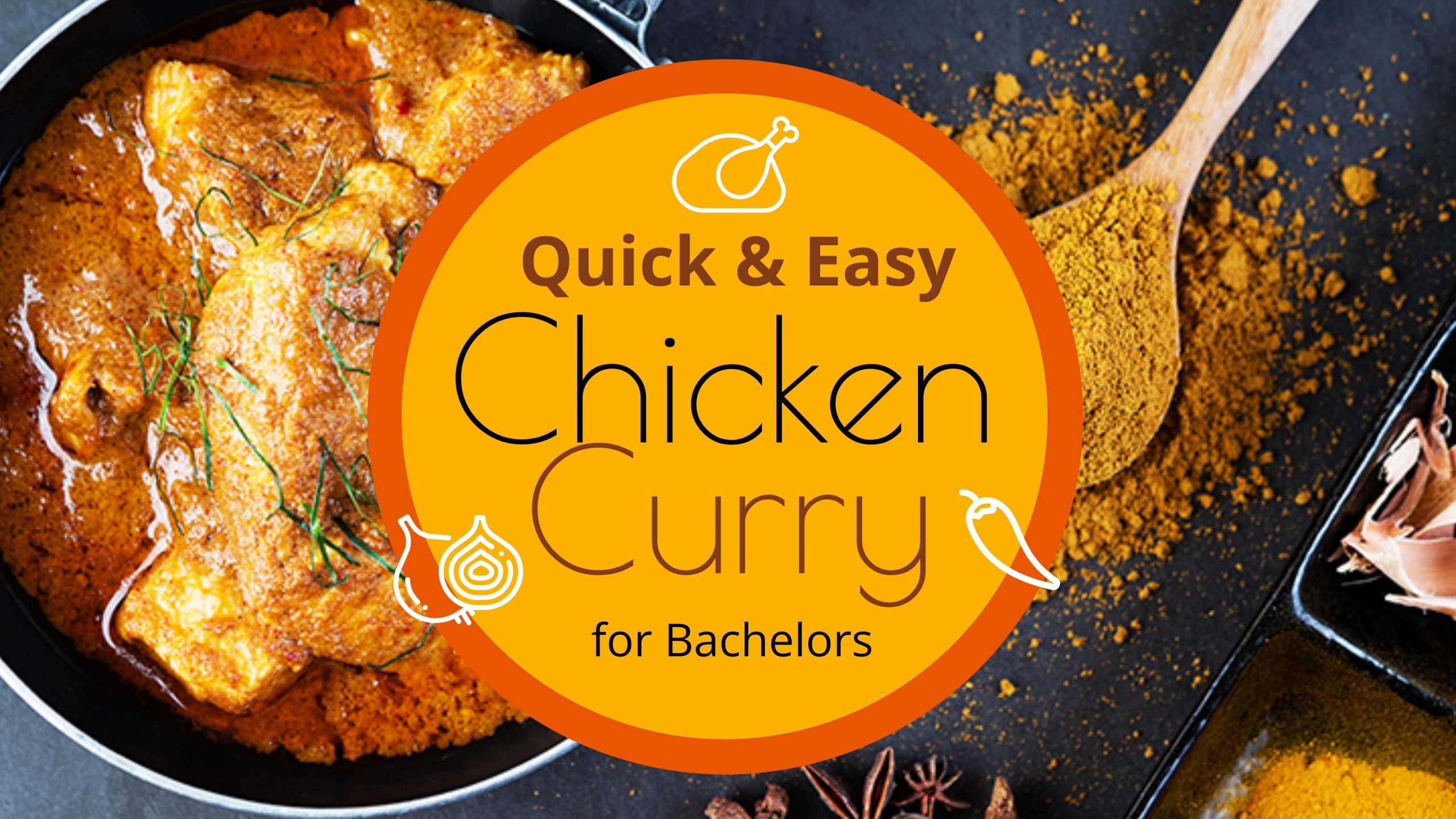 Get This Template and More
Watch the video below to take a look at the YouTube Thumbnail Templates In DocHipo.
How To Create The Best Food YouTube Thumbnail Using DocHipo
Now that you have gone through the Food YouTube Thumbnail Design Best Practices, it's time that you design your own YouTube Thumbnail in DocHipo.
All you have to do is sign-up to DocHipo using your email address and follow the three simple steps mentioned below.
Step 1: Pick A Template
After signing up for DocHipo, type "YouTube" in the search box to browse the Food YouTube Thumbnail Templates. Click on the result to find the template you are looking for.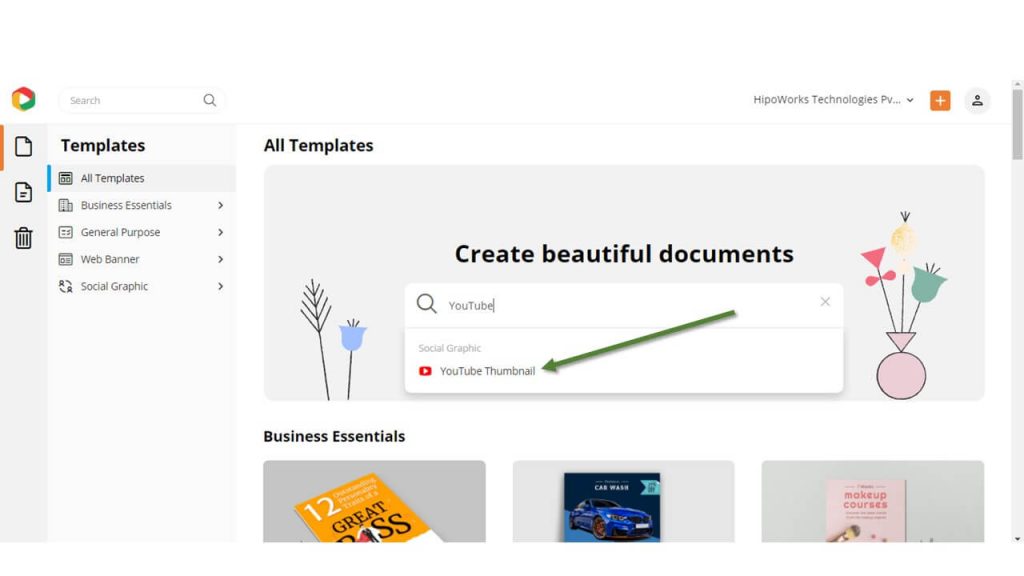 Select the "Food" category among the template categories.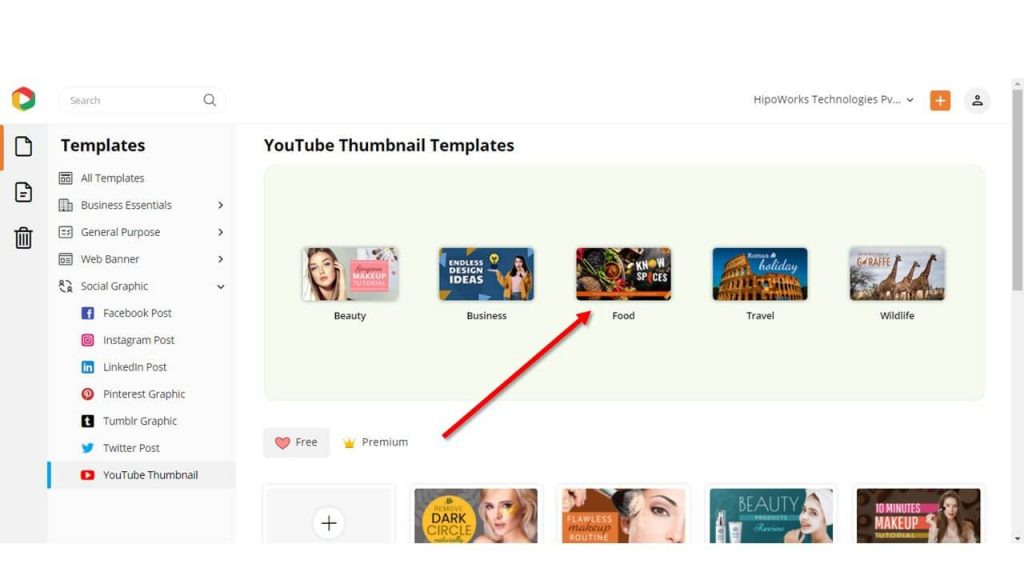 Hover over the template that you think is right for your design and click "Preview" if you want to take a look at the template before customizing.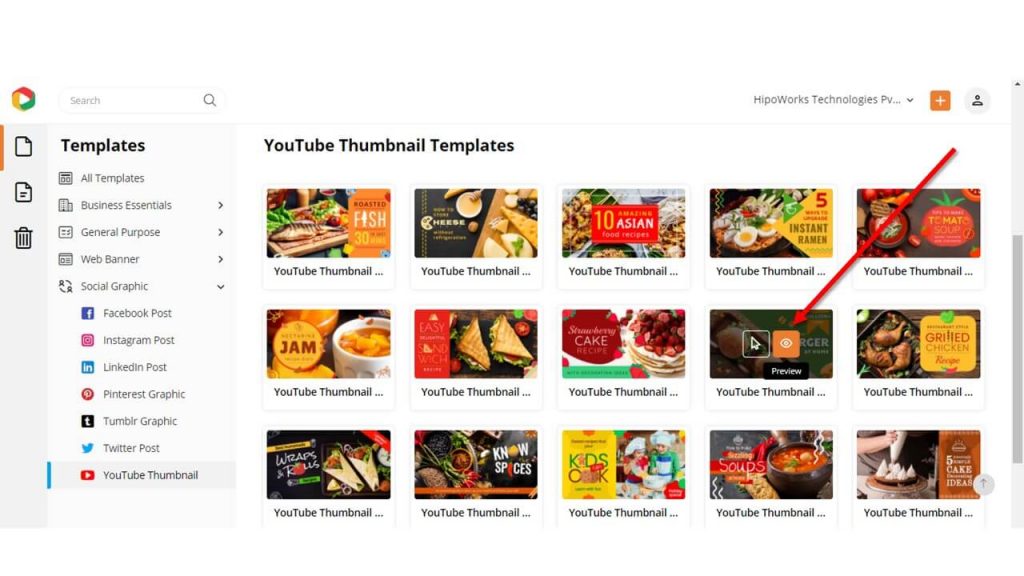 To customize a template in the DocHipo Editor, hover over the template and then click "Select".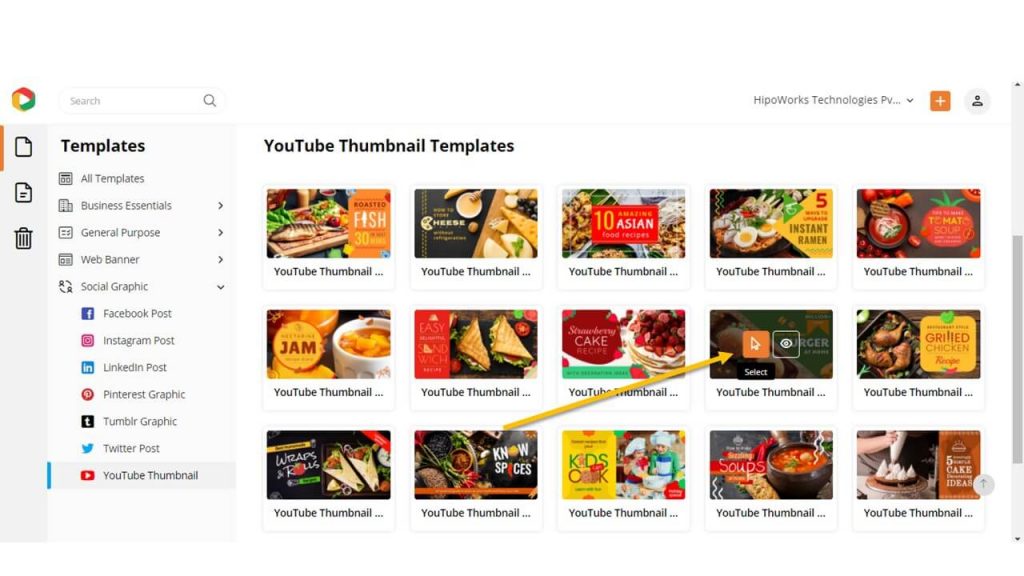 A new page will open up where you need to give the document a name so that you can find it later easily after downloading. Additionally, you can provide a short description as well. Then click "Next" to proceed.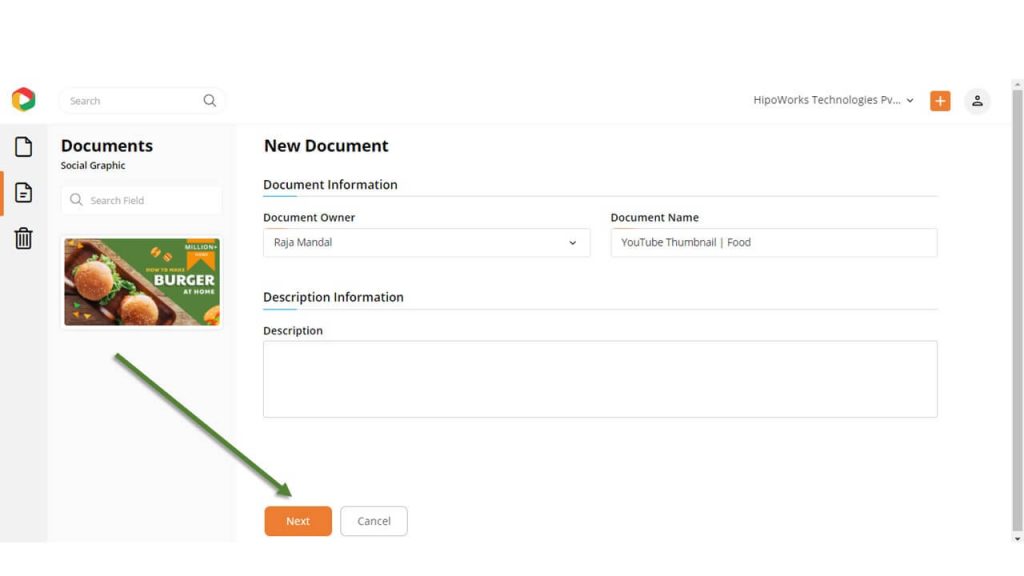 Step 2: Customize The Template
Customize your Food Youtube Thumbnail Template. Upload your images or other graphic elements, experiment with different icons, illustrations, shapes, lines, rearrange all the elements, and make any additional customization you see fit. Here is how:
Add, Edit, or Delete Text
Click the "Text" tab from the left sidebar and select the type of text you want to add to your design.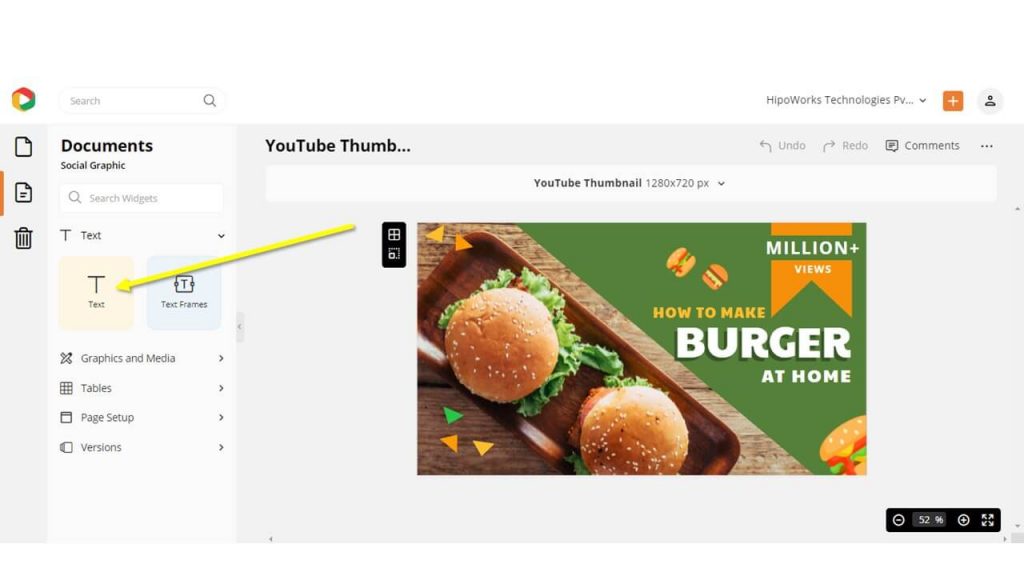 There are three types of texts available: Heading, Subheading, and Body text.
Double click on the text that you want to edit. Type your text to replace the prewritten text, and then use the edit panel to change the font, size, color and others.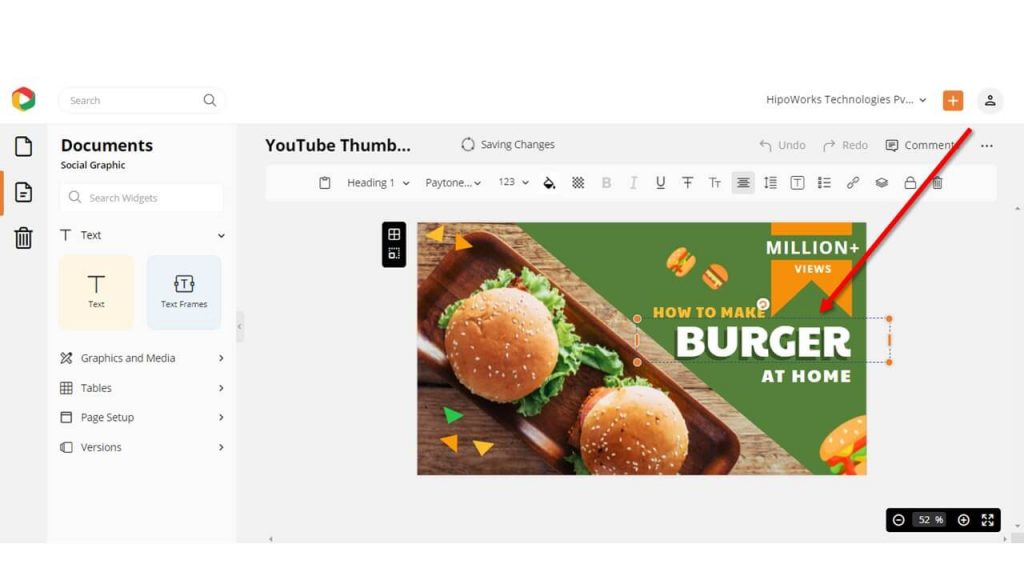 Here is a video for you to learn more about it.
Change The Background
Open the Graphics and Media tab on the left sidebar and click Background to customize your template's Background.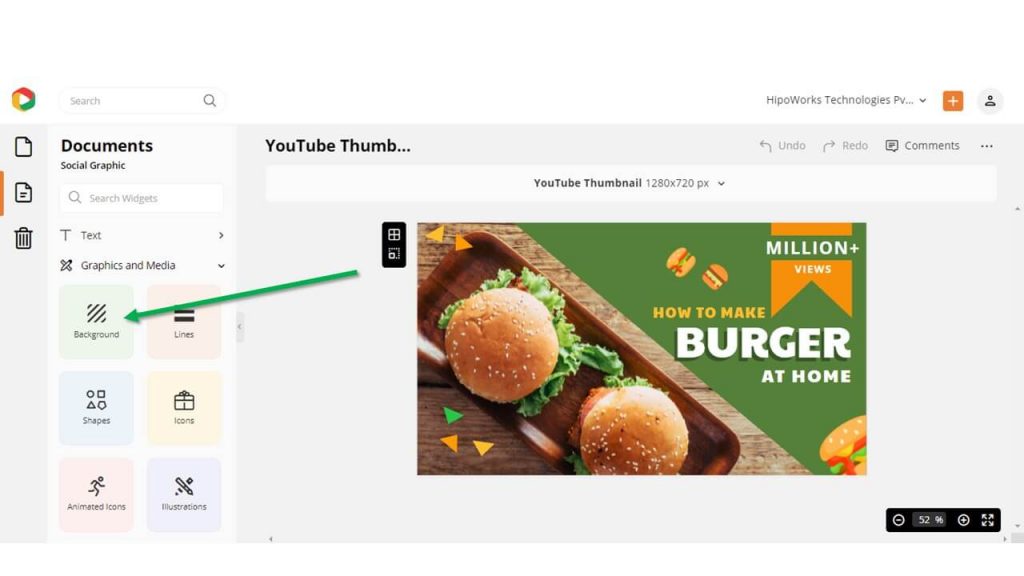 Use the color picker tool to pick custom colors or choose any preset colors you see fit. Additionally, you can add texture and make the background gradient by selecting the images from the list.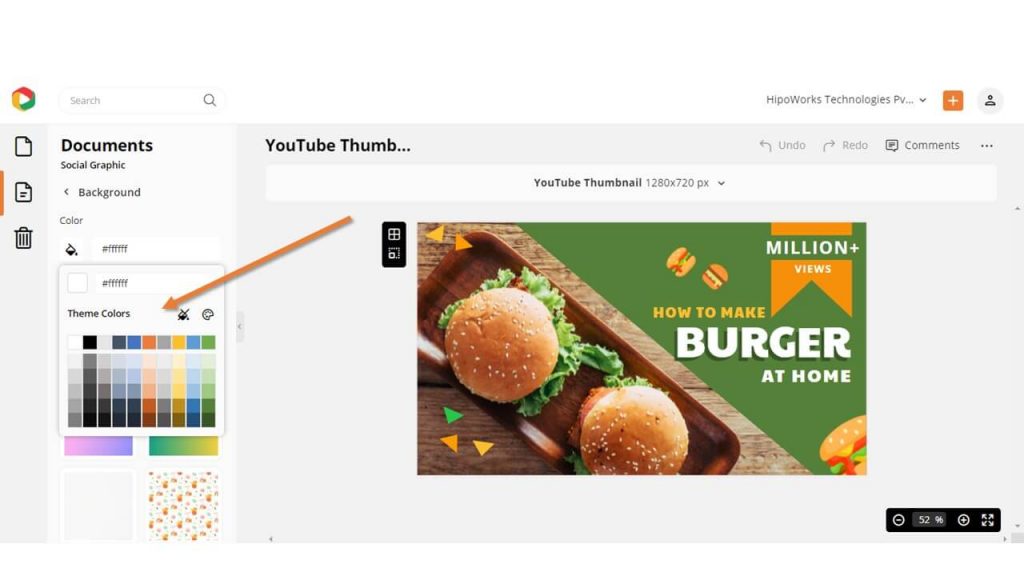 Watch the video below to learn more about the same.
P.S. Though the template that I picked to customize doesn't have any background, you can follow the process mentioned above to customize the Background of any template of any document type.
Add and Adjust Photo
To add photos to your Food YouTube Thumbnail, click "Pictures" on the left sidebar and choose from thousands of free stock photos from DocHipo's photo library.
Type keywords in the search box or select a category to find the perfect for your food YouTube Thumbnail Design quickly.
Alternatively, to add photos from your computer, click "Uploads" from the left sidebar and click "Upload Images" to upload pictures.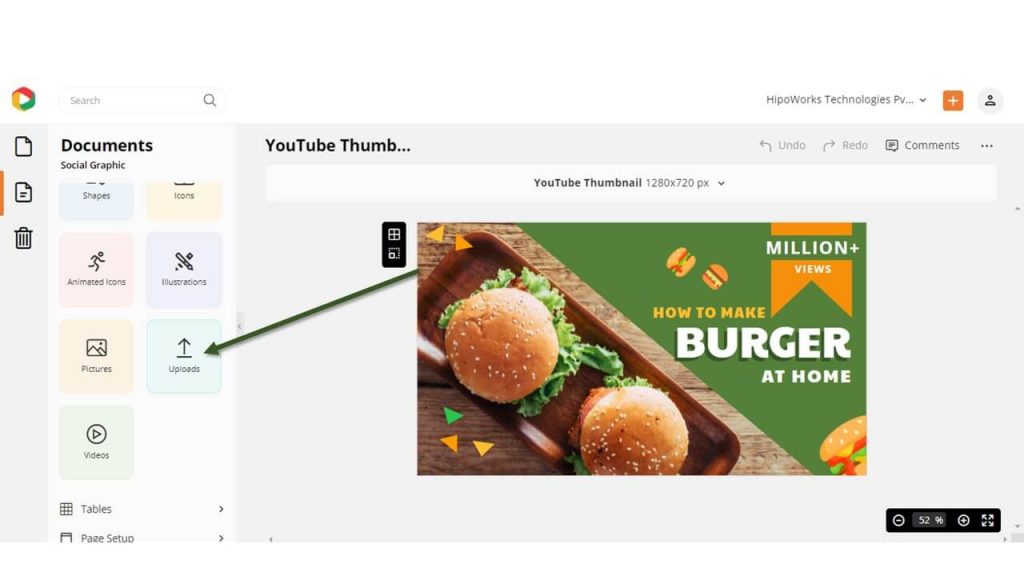 DocHipo's Drag & Drop feature will help you replace the imagery in the template with the one you uploaded. Just click and hold the image you want to add, drag it on the template, and then leave it on the preexisting image. Then resize the image accordingly.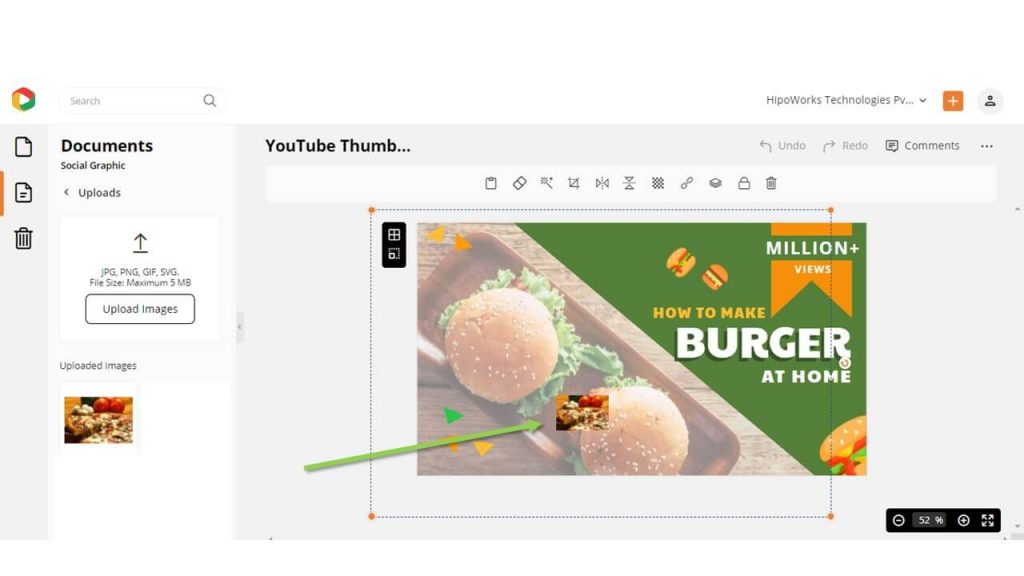 The edit panel on top allows you to crop, flip, delete, add a filter, and perform other actions to make the image a perfect fit for your Food YouTube Thumbnail Design.
Customize Other Elements
DocHipo features various other design elements such as illustrations, icons, shapes, and lines. Choose an option from the left sidebar under "Graphics and Media" to add the elements you want.
Select an element, and the edit panel will appear on top. Use it to adjust the color, opacity, alignment, duplicate, delete, and others to get your final design.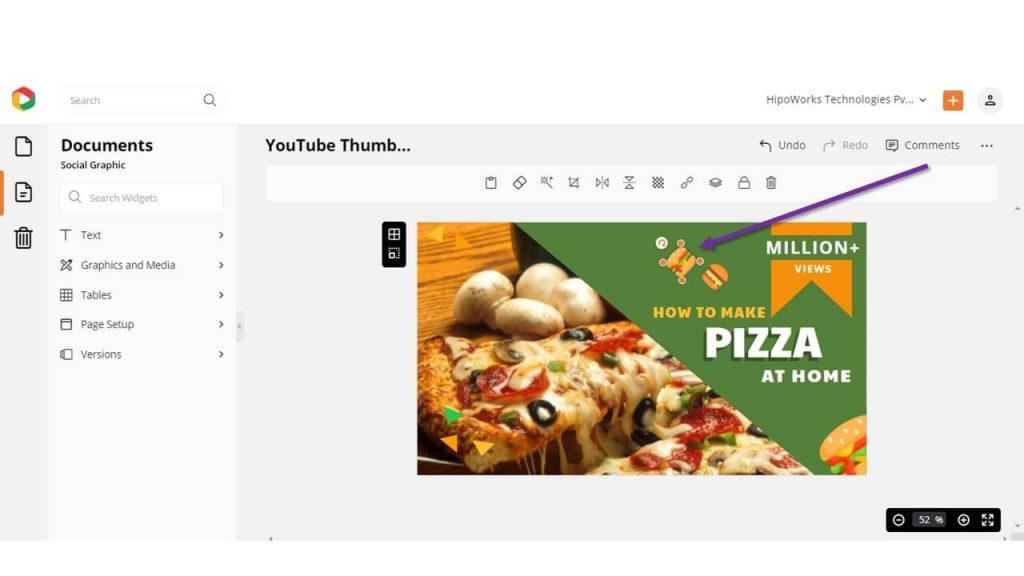 Before Customization: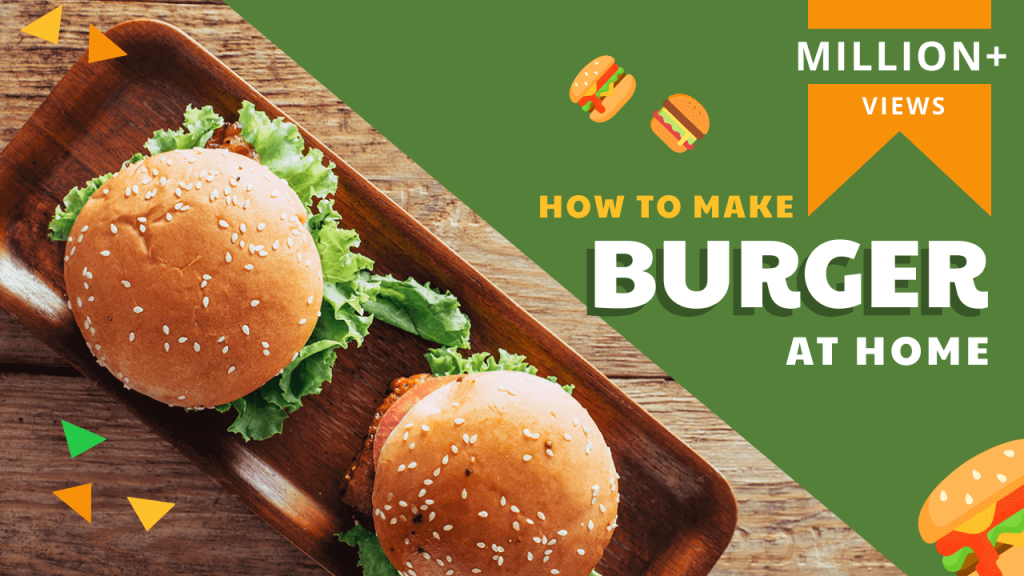 After Customization: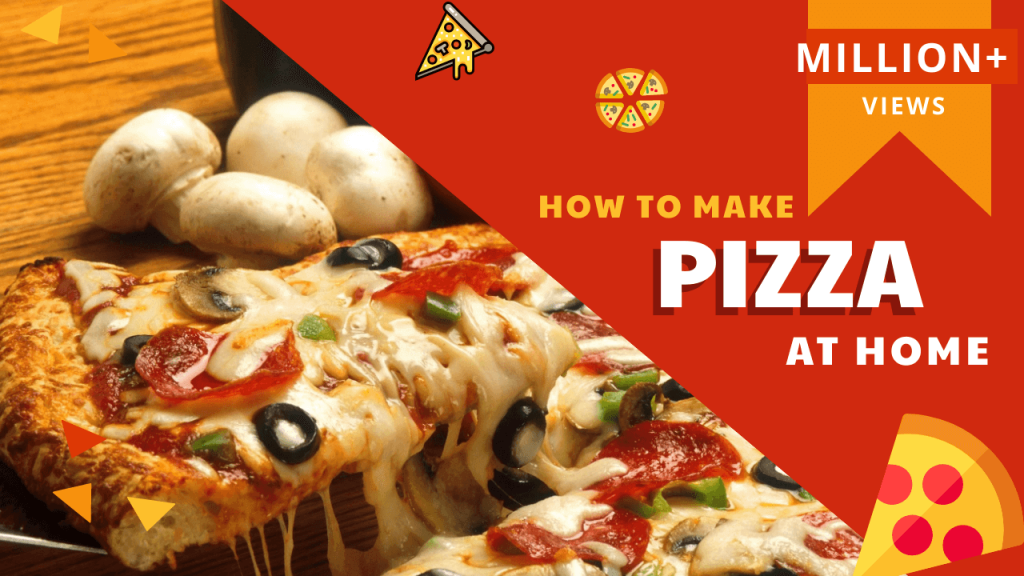 Step 3: Download Your Food YouTube Thumbnail
Take as long or little time as you want to get the final design. Try to experiment with different design elements and tools to design the perfect Food YouTube Thumbnail for your cooking YouTube channel.
Once you are satisfied with the design, click on the three dots on the upper right corner of the screen and then choose Download from the drop-down menu.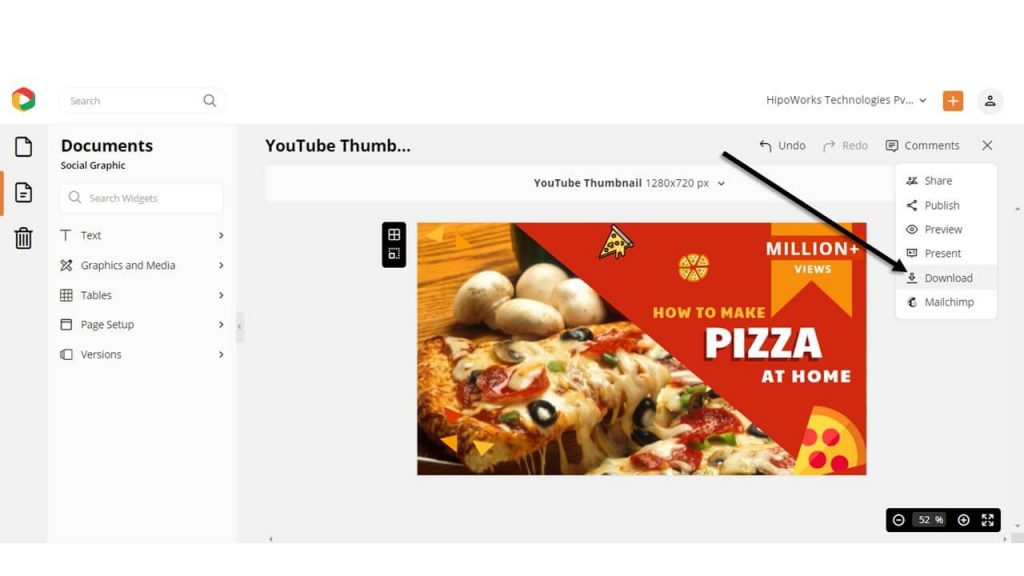 Choose your required file type and quality, click the Download button, and your design will be automatically downloaded to your computer.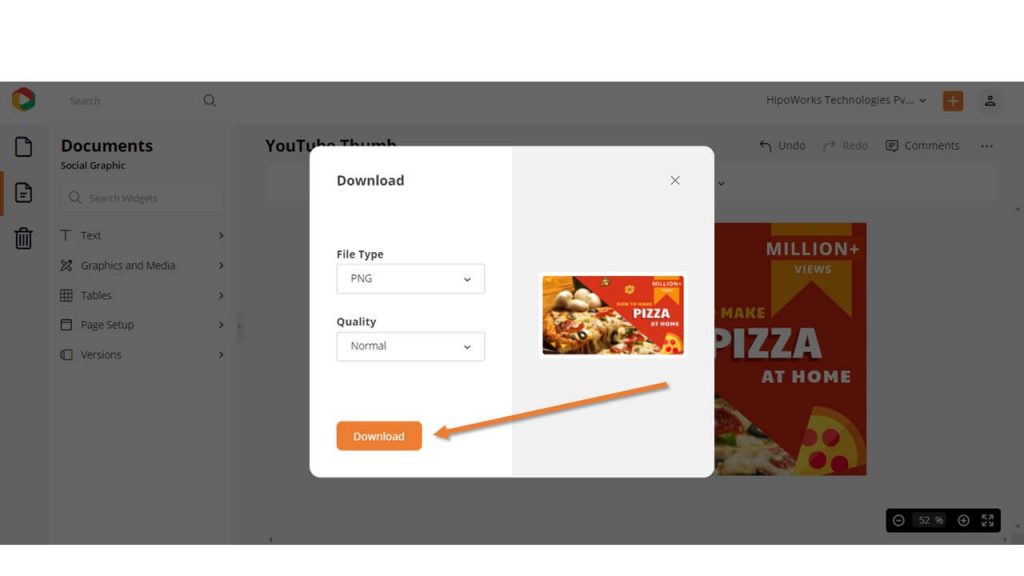 Click Here to learn more about how to make a YouTube Thumbnail, and consider watching the video below.
To Conclude….
Congratulations! You are now all set to design the best Food YouTube Thumbnail and grow your cooking YouTube Channel. The thumbnail will not only make a significant impact in terms of click-through rate play a key role in branding your channel. Hence, the importance of YouTube thumbnails can't be overstated.
So, sign-up to DocHipo without any further delay.
FAQ
What are cooking YouTube thumbnail design ideas?
Include a high-resolution mouth-watering image and an eye-catching title communicating what your video is about. Use appropriate bold and heavy fonts and contrasting colors to make all the elements in your thumbnail pop. Keep the design simple and convincing, and provide enough whitespace for each design element to breathe.
Why are cooking YouTube thumbnail design ideas important for growing your channel?
Your cooking YouTube thumbnail design should instantly convince your viewers that your video is worth their watch and that they'll get what they're looking for. Hence, your video thumbnail will help you increase the click-through rate and eventually grow your channel.
What is the recommended size for cooking YouTube thumbnail designs?
The recommended size for YouTube thumbnail designs is 1280×720 pixels (with minimum width of 640 pixels). These thumbnails are of an aspect ratio of 16:9.
Can I use copyrighted images in my cooking YouTube thumbnail designs?
You can't use copyrighted images in your cooking YouTube thumbnail designs.