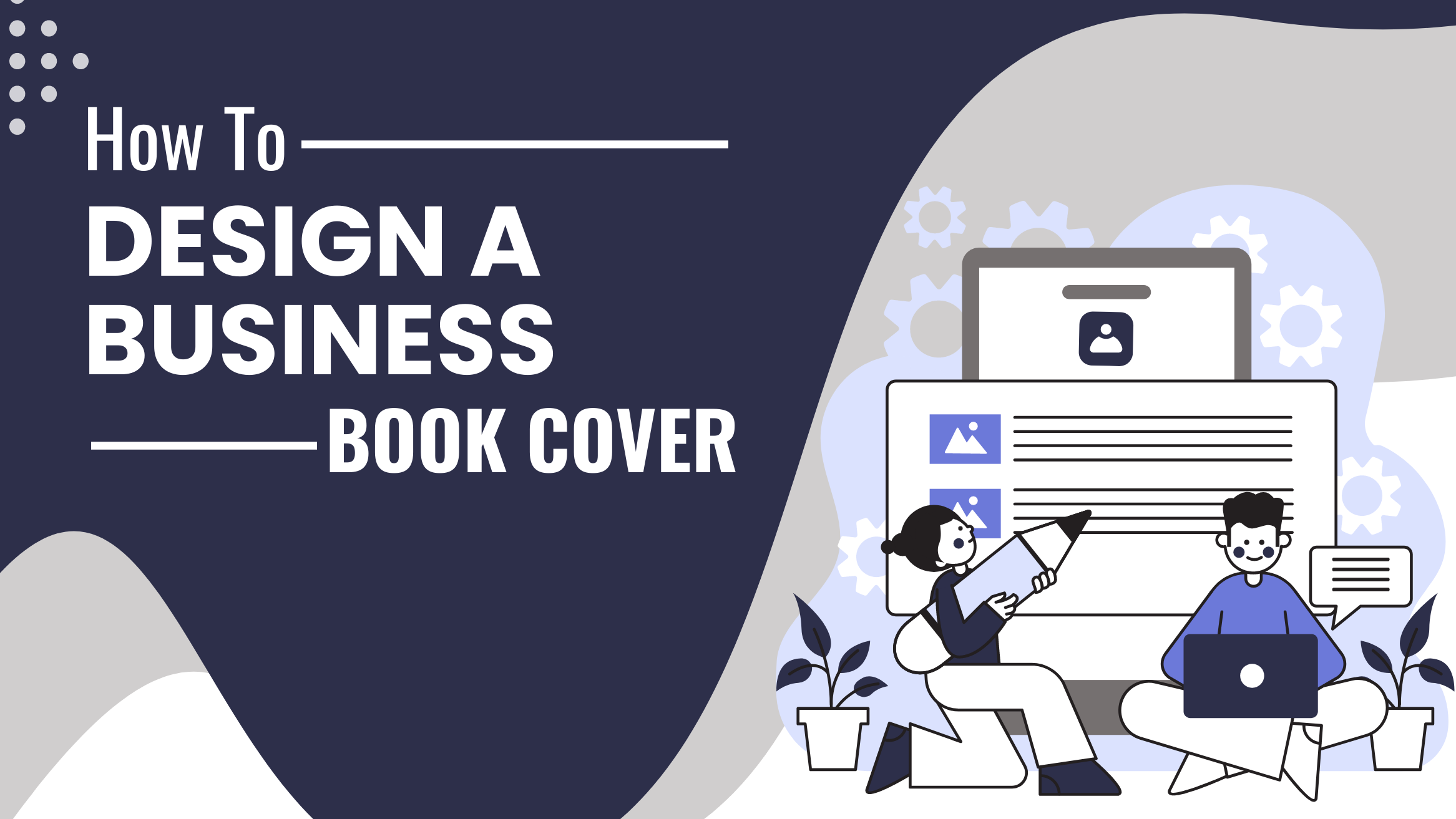 Book Cover Design: How To Design A Business Book Cover

Jun 9, 2021
How many times have you come across the idiom "Don't Judge A Book By Its Cover"? I'd probably be a millionaire by now if I had a dollar for each time hearing the same. And I guess that's the case with you too. Though the cover of a book can not define its worth, the first impression matters when grabbing readers' attention. That's where book cover design comes in the show.
If we look at the statistics, book cover design can increase book visibility by more than 50%. Hence, you must accentuate the book cover as much as the content inside it.
When it comes to a business book, you can not ignore any aspect of it, from writing and editing to designing and publishing. Business book readers are primarily Entrepreneurs, CEOs, Managers, Marketers, and other business people. Therefore, your business book cover must look professional while pleasing the eyes of your readers. Thus, making it challenging for you to design a business book cover.
Nevertheless, you shouldn't be worrying about your business book cover design while we are here. This article will show you how to design a book cover for your business book easily with DocHipo. The wide range of free business book cover design templates in DocHipo is enough to design a best-selling book cover.
But before we jump right into business book cover design, let's look at the importance of book cover design.
The Importance of Book Cover Design
Statistics revealed that the global book publishers market is expected to grow from $92.68 billion in 2021 to $104.21 billion in 2025. Furthermore, each year more than 2.2 Million books get published on average. Hence, if you don't want your book to get lost in the pile of those million books, you must design the book cover mindfully.
Here are the points to show you the importance of book cover design.
Promotes Your Book
The most crucial role of your book cover is to serve as a strong marketing tool. A great book cover design will trigger potential customers to buy your book from anywhere they see it. Whenever a reader comes across a well-designed book cover, it convinces them to assume that the content inside the book should be as good as the design. Furthermore, you will use your book cover across all your social media pages and other websites to promote your book. Hence, the book cover design serves as the salesperson for your book.
Additionally, DocHipo can help you design graphics for your social media, such as Facebook Post, Instagram Post, Twitter Header, LinkedIn Banner, Facebook Cover, and many others.
Attracts The Right Audience
Every writer knows their target audience. Different audiences love different genres of books. For example, people who love reading science fiction have different tastes than people who love reading romance. Here your target audience is the people who love reading business books. So, your book cover design should represent the genre perfectly. The book cover is the only tool to communicate with your audience and persuade them to read your book.
Gives A Glimpse About The Book
The primary objective of designing your book cover is to attract as many readers as possible. Giving your readers a glimpse of your book is one of the best ways to attract them. Book cover design lets you do that in a more attractive manner and without revealing too much.
Helps Build A Brand
Your overall book cover design that includes your selection of colors, fonts, images, and other design elements can help you create an image in your readers' mind. This is extremely important if you work on a series of books. Create an author brand with awesomely designed book covers and keep the ball rolling.
Business Book Cover Design Ideas
This is one of the most important parts of our article as it's all about crystallizing the ideas you have gathered into something more tangible. Your business book cover design process can be challenging but not if you have proper guidelines to follow. Here are some critical business book cover design ideas to make it easier for you.
Lay Out The Key Information
It would be best to incorporate some of the key design elements in your business book cover design. Don't get tempted to overcrowd it with too much information. The mandatory layout elements are Title, Name of the author, and background. Additionally, you can add a subtitle, a brief description or quotation, and publishing details.
As you can see, the business book cover design template below has a quote, a title, author's name, the number of copies sold, and a simple background with different shades of blue.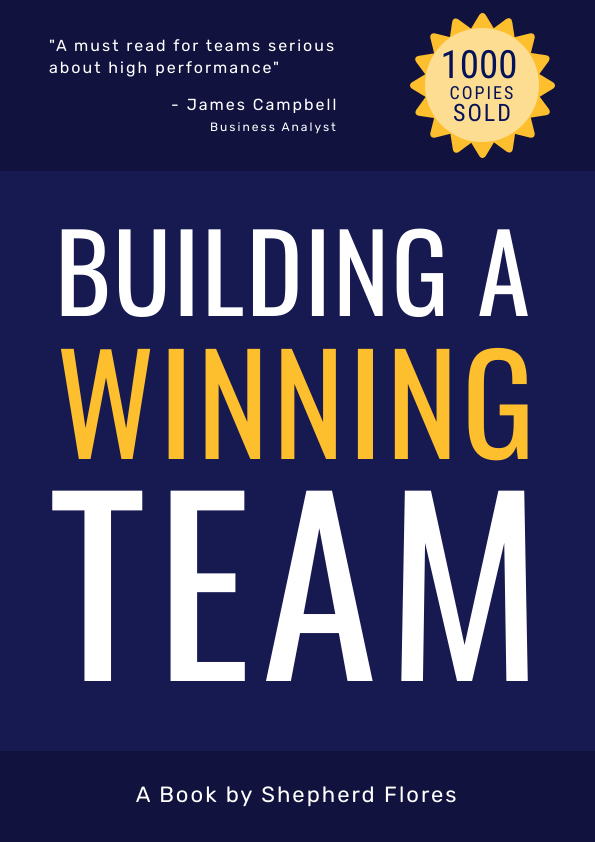 Choose Fonts Carefully
Though you will have to put your hard work into writing the title, subtitle, and other texts for your book cover, selecting the wrong fonts is a sure way to mediocrity for those eye-catching texts. To bring life to those texts, you must choose the typeface wisely.
However, the most crucial aspect of choosing fonts for your business book cover design is readability. You can not compromise that at any cost. Hence, to choose your fonts, consider the readability first.
We always recommend not to use more than three to four fonts while designing book covers. Since you are designing a business book cover, you must choose professional font styles such as Righteous, Roboto, PT Sans, Open Sans, Poppins, Oswald, etc.
Once you choose three or four font styles, you can play around with font height, weight, letter spacing, line spacing, and size to make it perfect for your business book cover. Click here to learn more about different typefaces that will help you.
Look at this template below. Here we have used Libre Franklin for the "BECOME A" part, Roboto for the rest of the heading and the body text, and PT Sans for the author's name.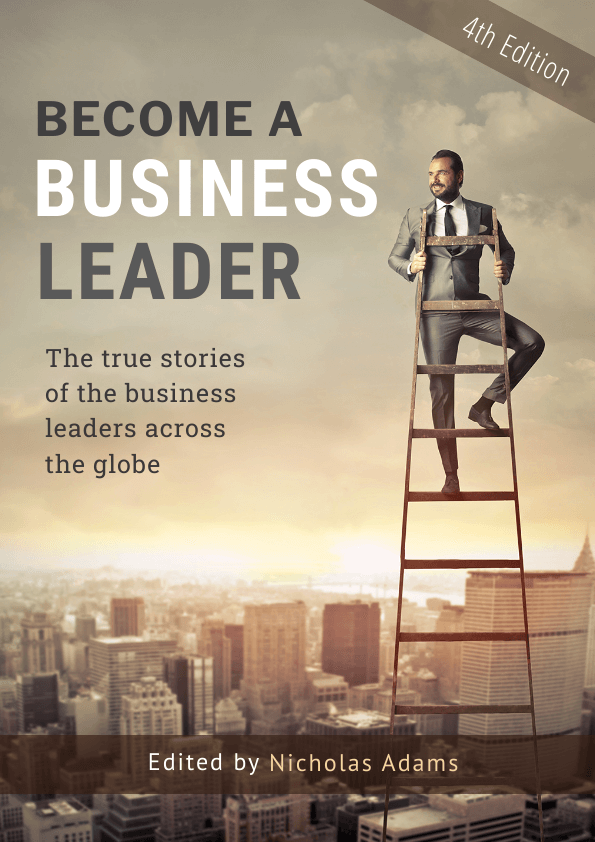 Select Colors Appropriately
Choosing the right colors is a complex process that will fill a library of books if we start writing about it. However, you don't need to become a certified professional to choose colors for your business book cover design. You just need to get the basics clear.
The most crucial aspect that you need to be aware of while choosing colors for your business book cover is to stay away from choosing too many colors. Choose background and font colors that complement each other and reflect the story of your book. You can check out some of the best color combinations to get inspiration from.
The color combination for the book cover design template below is Blue Munsell and Yellow Orange. Here Blue Munsell is for consciousness and intellect, while yellow-orange symbolizes youth and enthusiasm. As the title says, "The Recipe For Entrepreneur Success", and the illustration celebrates the success, this color combination perfectly matches the book's theme.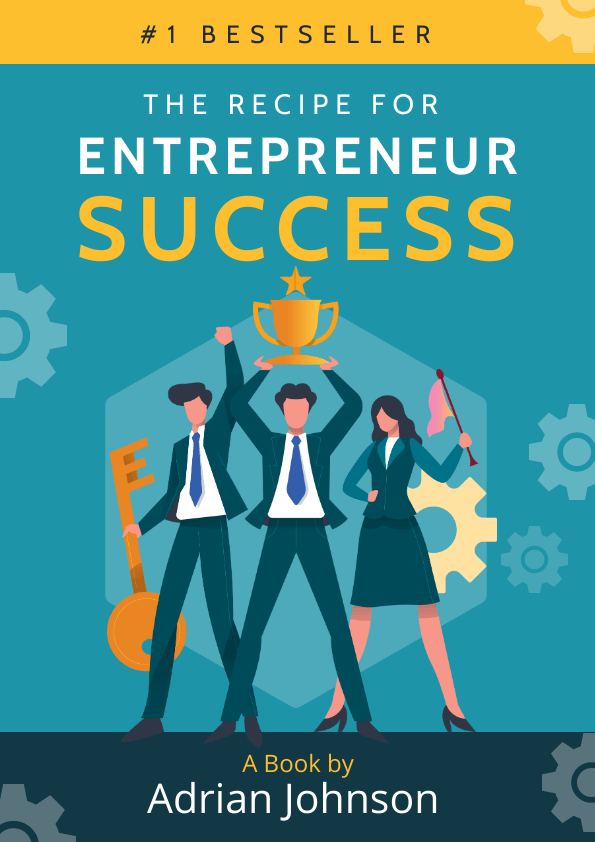 Get The Visuals Right
Designing the background for your business book cover is one of the crucial yet challenging tasks. It would be best to keep it simple with a clean visual so that it doesn't steal the focus from the title.
You can use different colors, images, illustrations, icons, and other design elements. However, don't forget that the busier the background, the more difficult it is to keep the design balanced nicely.
If you use an image, ensure that it's relevant, high-quality, high-resolution, and you have the image's copyright. You can go for high-resolution stock images from Freepik, Pexels, Shutterstock, and many others. Further, enhance those images using DocHipo Photo Editor and DocHipo Filters. Watch this video to learn how to do the same.
Look at this template. Here an excited person is pointing at the graphs that perfectly match the title of the book. Thus, making it a perfectly balanced business book cover design.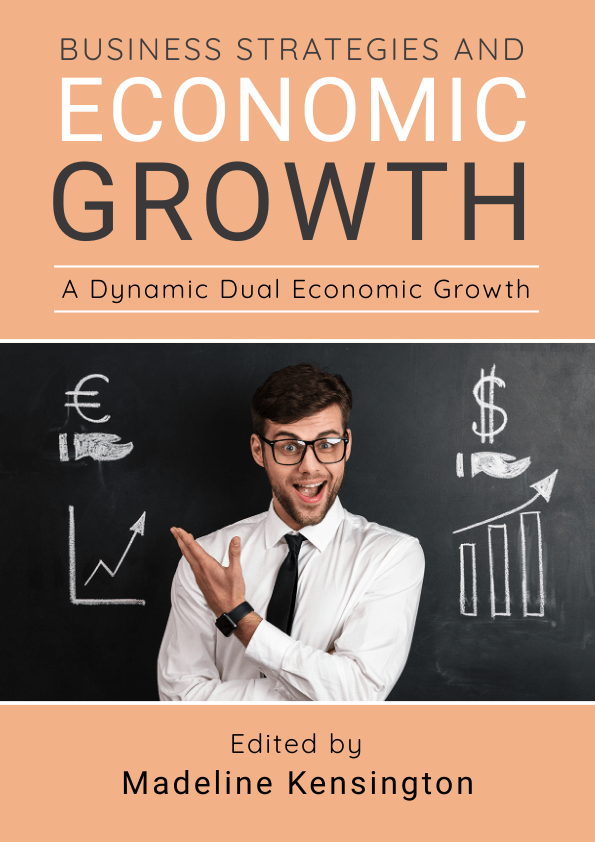 How To Design A Book Cover In DocHipo
Now, you have all the essential business book cover design Ideas to start designing the book cover on your own.
In DocHipo, you can quickly turn your idea from concept to implementation even if you don't have any design skills or experience.
We will show you the entire business book cover design process using the book cover design templates step-by-step. It is easier than you think. So, let's get started.
Step 1: Pick A Template
Log in to your DocHipo account, or sign-up if you don't have an account. Click on the search bar, type "Book" in it, and then click on the Book Cover option as shown below.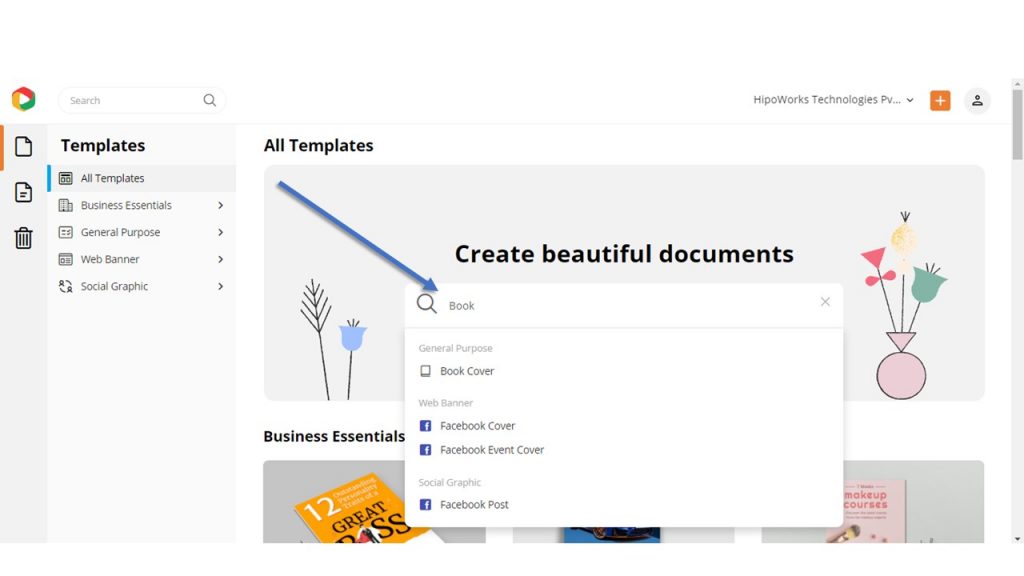 A diverse selection of book cover design templates under different categories will appear on your screen. Select the "Business" category and browse through the templates to choose the right one for you.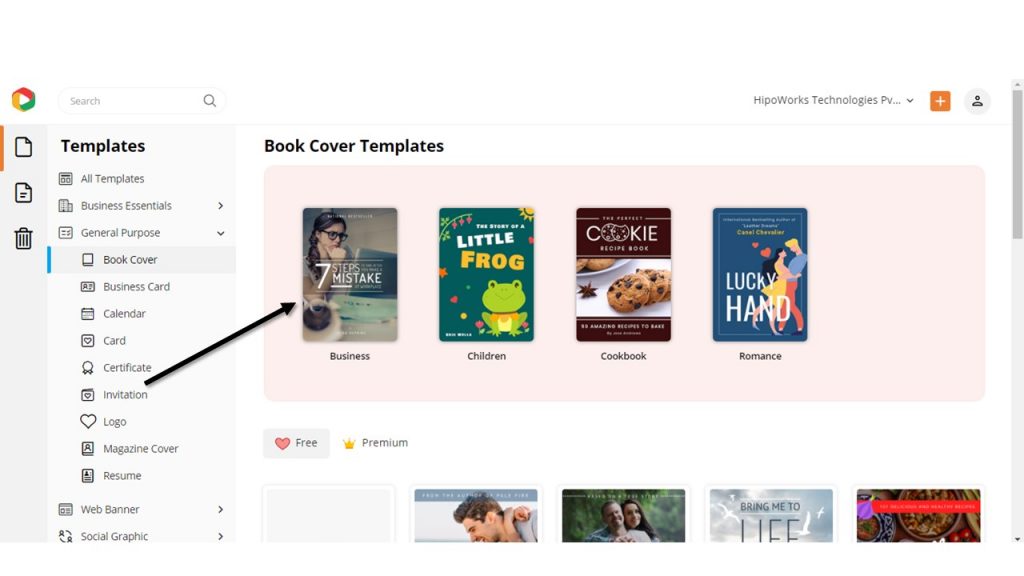 Hover your mouse over the template of your choice and you will find two options: Select and Preview. If you want to preview the template before editing, click on the preview button. Otherwise, click on the select button to start customizing the template.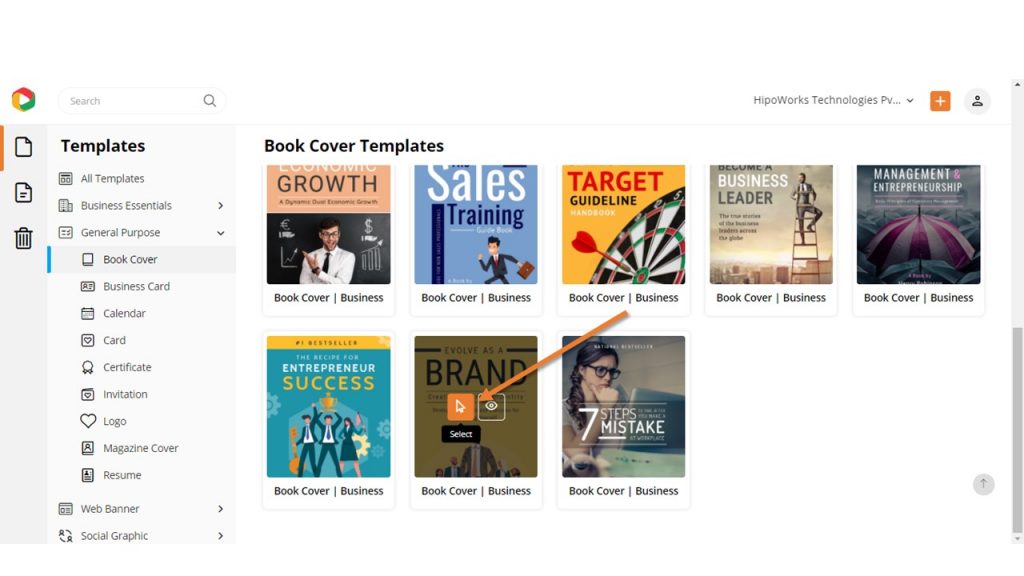 Step 2: Customize The Template
This is the part where you put more effort into designing your business book cover than the other parts of the process. You can change anything you want in the template. Just make sure that you maintain a logical hierarchy of all the design elements. Here is how you can personalize the different elements in your selected template.
Text
There are many other design elements to customize, but here we have started with the text. It will help you set an appropriate size. You either customize the existing text in your template or add new ones from the left sidebar.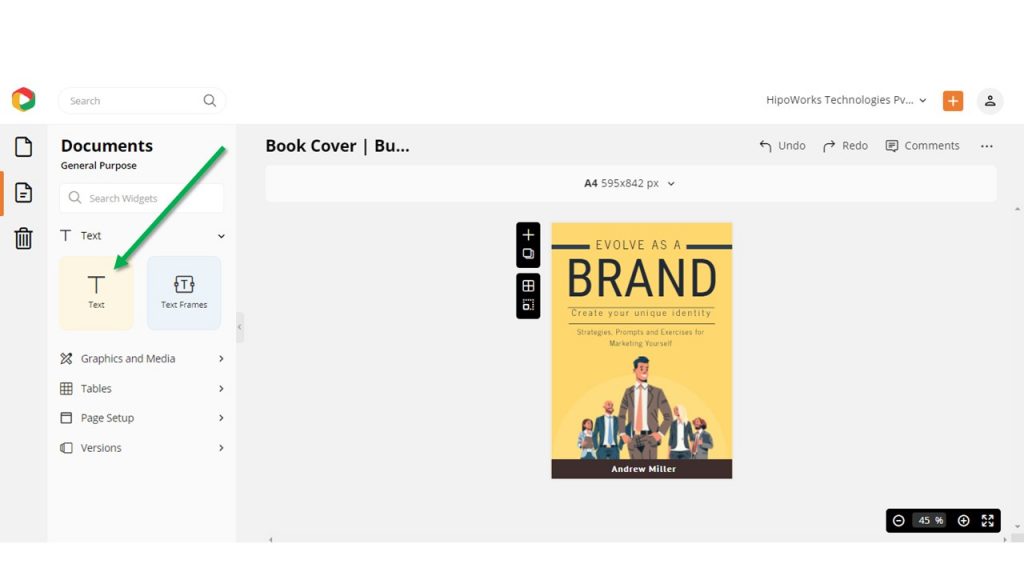 Moreover, you can delete the unnecessary text from the template by selecting them and hitting the delete button on the edit panel. Here is a video for you to learn how to add, edit, and delete text in DocHipo.
Background and Other Design Elements
Your business book cover background can either be the primary visual element in your design or a crafty touch. DocHipo lets you add different colors, textures, and images, all in the left side edit panel.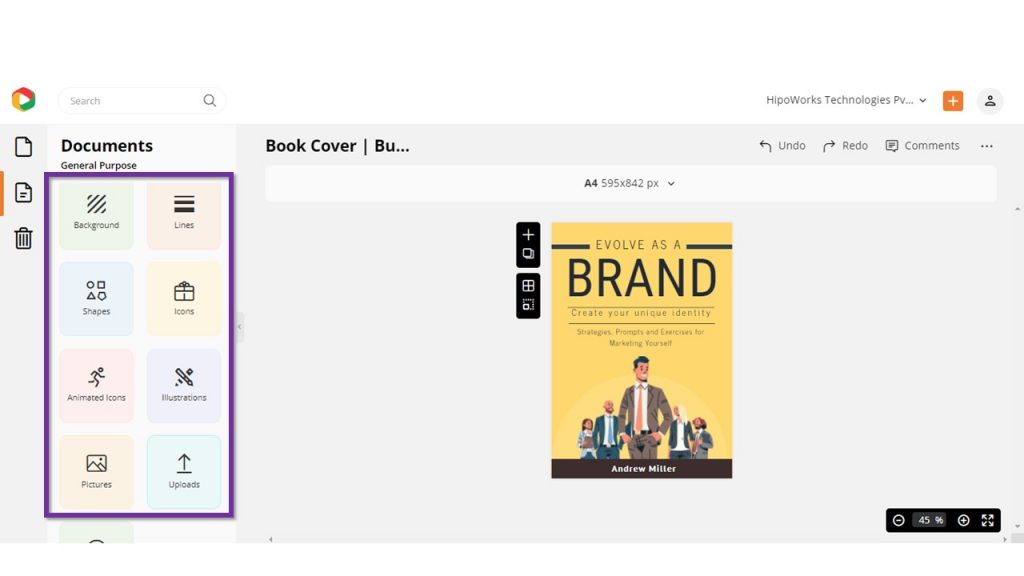 Ensure that the font style goes in line with the background so everything in your design will be in visual harmony.
You can also use shapes, icons, illustrations, text frames, lines, and more. DocHipo has a beautiful illustration library and a wide range of free images to choose from. Use them to make your book cover design more attractive.
We have changed the color scheme and the text to show you how DocHipo works in this example.
Before Editing: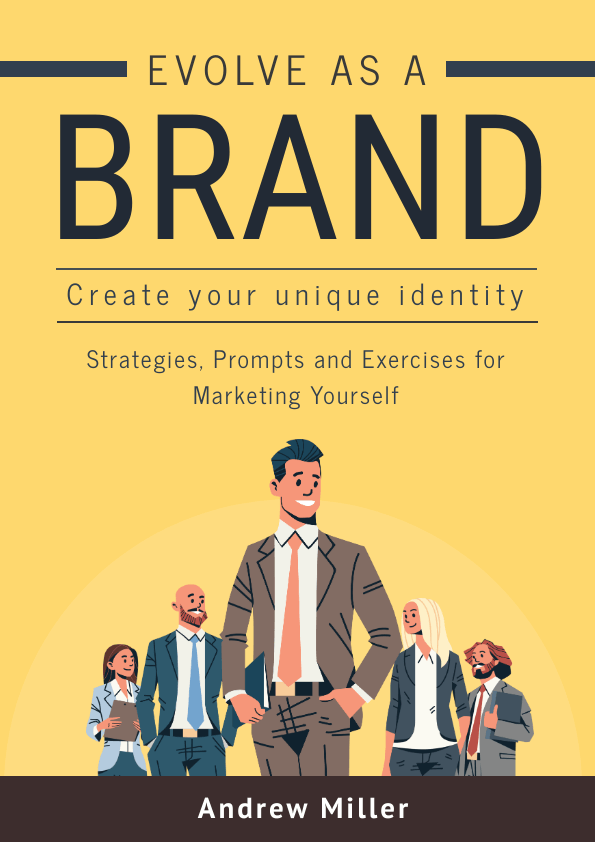 After Editing: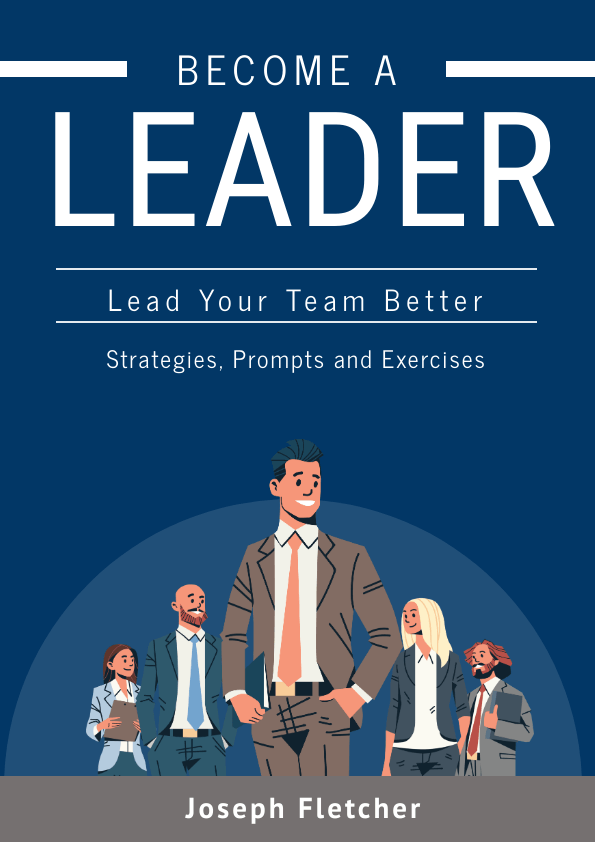 Step 3: Download Your Book Cover
Take your time to customize the book cover design template, and once you are satisfied with the design, you might want to download it. To do that, click on the three dots from the upper right corner of your screen. Click on the Download button and choose your file format and quality, and hit the Download button again in the download widget.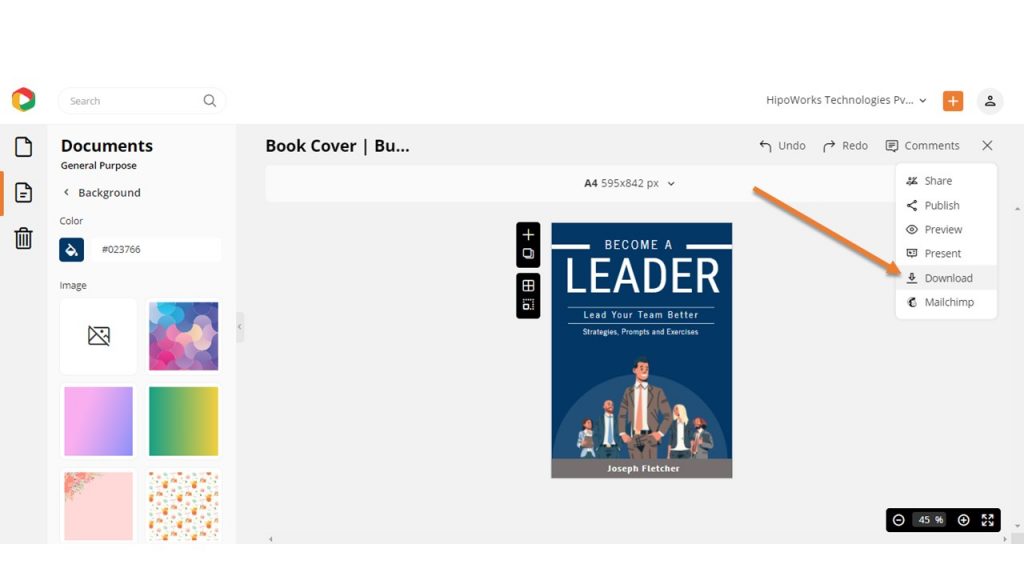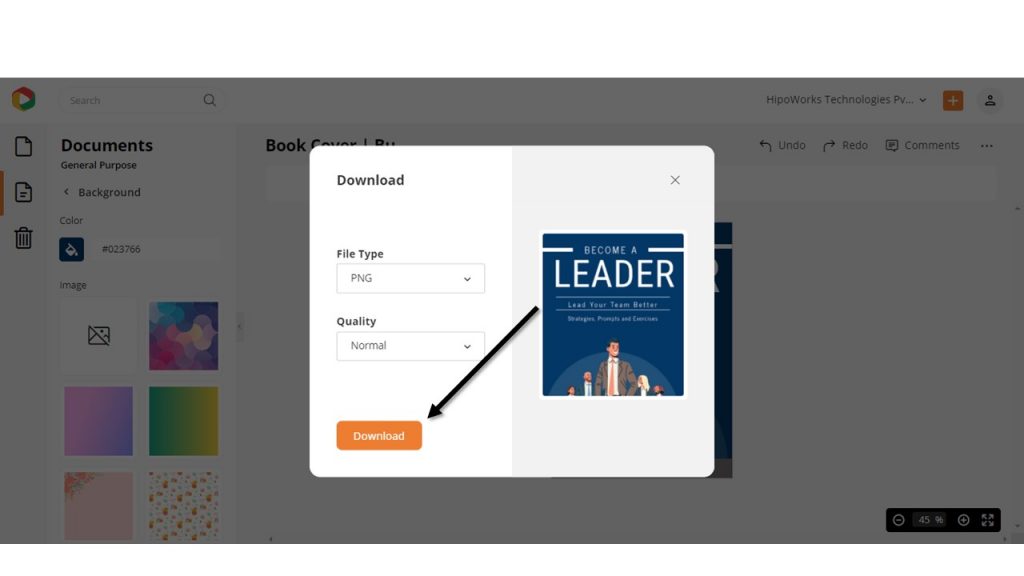 We have redesigned the download widget in DocHipo to make the download process more interesting for you. Watch this video to learn more about the same.
Additionally, consider watching this video tutorial to learn how to design a book cover in DocHipo.
The Bottom Line
With the business book cover design ideas and the instructions mentioned above, you will surely design your book cover with ease. Also, I would recommend you not to compromise with your book cover design. There's no point in writing great stories if the cover design is not attractive enough to grab your readers' attention.
Your book cover design extends all the hard work you have put together writing your book. It must communicate that the pages within are worth the readers' attention and time. Hence, design your business book covers like a professional using the free book cover design templates in DocHipo.
Therefore, without further ado, Sign-up today and explore the magical world of DocHipo. Happy writing and happy designing!