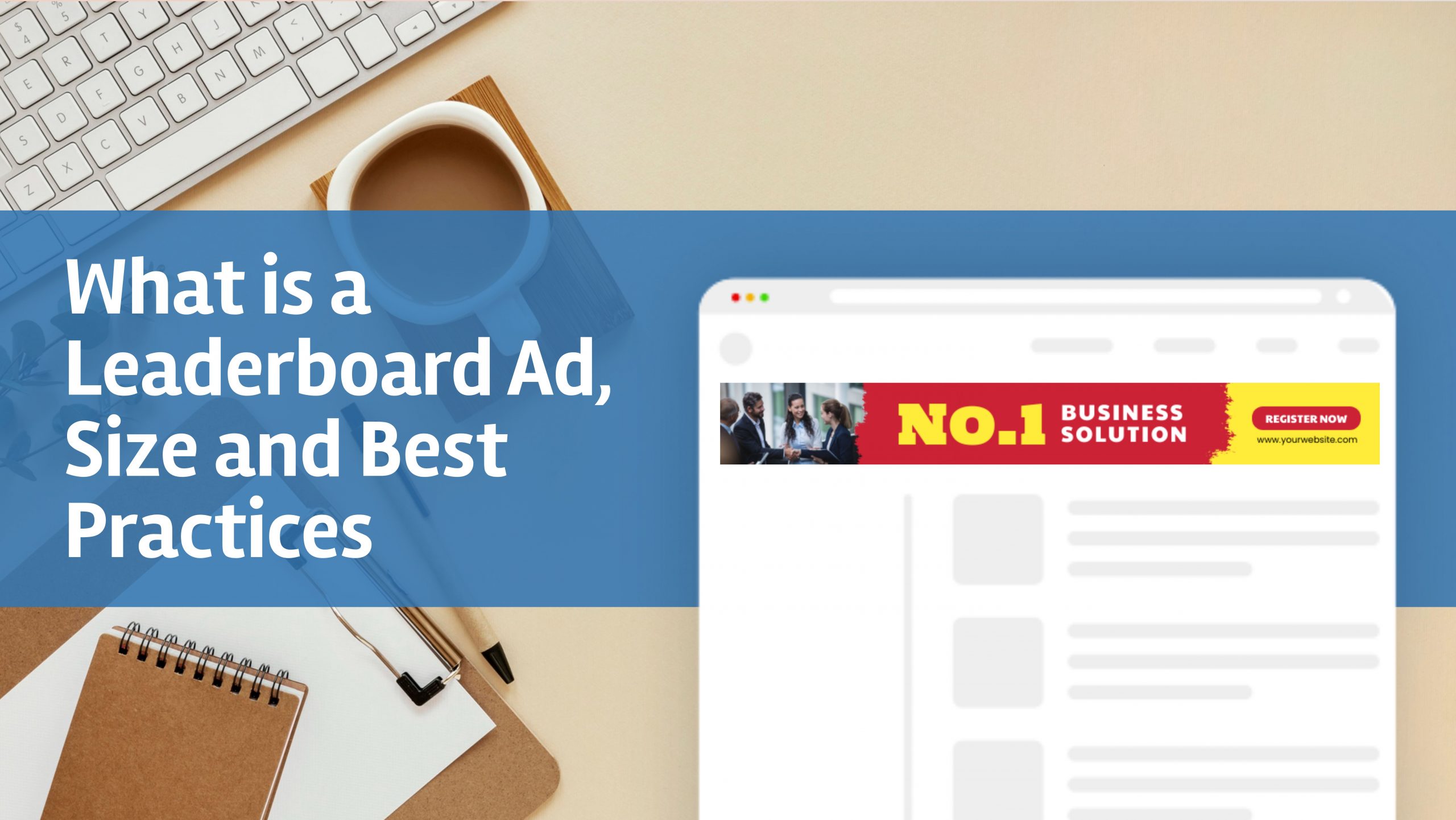 What is a Leaderboard Ad, Size and Best Practices

Last Updated May 13, 2023
According to the Dentsu ad spending report, it is estimated that global advertising spending to increase by 3.8% YoY to $740.9 billion in 2023. You can complement your marketing strategy with one of the top-performing display ads available – leaderboard ads. If executed well, a catchy leaderboard can create a good impression on your viewers and earn you a good number of click-through rates.
A leaderboard ad may seem annoying, but you don't want to create a boring leaderboard ad that irritates viewers. In this blog post, we'll discuss creating a leaderboard ad design that viewers can't ignore. We'll also share stunning leaderboard ad examples from our template library.
What is a Leaderboard Ad
There are different types of banners in online advertising. A Leaderboard ad is one of the largest and most commonly seen display ads that comprises a horizontal banner available in both image and text format. These are placed in areas of high visibility, such as the top position of a web page. Hence, they're the first to load ads on a website page. Leaderboard ads aim to get viewers' attention as soon as they land on a web page and generate clicks. These best-performing ads help in increasing impressions and eventually generate higher revenue.
What is the Size of a Leaderboard Ad
The dimensions of the rectangular ad unit, the Leaderboard ad, are 728 pixels wide and 90 pixels tall. And the good news is that you don't need to worry about the size of the Leaderboard Ad while designing, as DocHipo comes with templates of ideal dimensions.
What are the Benefits of a Leaderboard Ad
If you're wondering whether a leaderboard ad is the right advertising strategy for you, check out how you can benefit from it:
Provides High Visibility
Because of the size and top-of-the-page placement of the leaderboard ads, they can be noticed more effortlessly than other online advertising forms. So, it ensures that all website visitors view your ad before moving toward the following content. High visibility will ultimately result in generating more revenue.
Grabs Attention Instantly
By nature, leaderboard ads instantly catch viewers' attention. If you're launching a new product or running a sale on your bestsellers, you can let your target customers know about it.
Better Click-through-rates
Since leaderboard ads take up the horizontal axis, leaving a lot of space on both sides of the web page, they seem less intrusive than most other advertising formats. But the prominent top-position results in higher click-through rates. The CTR may vary depending on the niche, but a high-quality leaderboard ad design will help you get even higher click-through rates.
Easy to Work with
Advertisers can easily implement leaderboard ads compared to other advertising formats. It acts as a revenue-generating force if implemented efficiently. As it doesn't require much space, it easily fits into any webpage space.
Best Practices for Designing a Leaderboard Ad
The following leaderboard ad design best practices help create ads that attract and compel viewers to check them for details.
Always Use High-Quality Visuals
Using high-quality visuals is crucial for your Leaderboard ad design. Choose relevant pictures or graphics that capture the viewer's attention instantly. Poor-quality images will hamper the user experience, impacting revenue. Use professional-looking photographs and keep your overall design neat. The pictures or graphics should intrigue the viewers to click the button to learn more about your offer.
For example, look at how the products stand out in the New Year and Black Friday Leaderboard Ad Templates and are ready to entice viewers.

Get This Template and More

Get This Template and More

Get This Template and More
An illustrated leaderboard ad could sometimes take away your heart, just like the Christmas Leaderboard Ad Template below.

Get This Template and More
Why don't you check out all the Christmas Leaderboard Ad Templates?
Craft a Converting Headline
Thoughtfully craft a straightforward headline that attracts viewers' attention and piques their interest. Write the headline so catchy that they can't afford to ignore it and can't resist noticing. Knowing your target audience helps in this step. What's that problem they're looking for? What makes them take action?
For example, the Business Leaderboard Ad Templates headlines hit the right spot to make their target audience interested in their respective offers.

Get This Template and More

Get This Template and More

Get This Template and More
Explore our range of Business Leaderboard Ad Templates.

Get This Template and More

Get This Template and More
Write a Concise Message
Write a short, sweet, and to-the-point message to emphasize your offers. In this part, give them the reason why they should check out for more details.

Get This Template and More

Get This Template and More

Get This Template and More

Get This Template and More
Make Your Text Easy to Read
Choose a super-easy-to-read typeface style and size. You may use legible fonts such as Open Sans, Poppins, etc. Use different font sizes for the title and body copy. Also, select a text color that contrasts with the background to make it readable effortlessly.
For example, observe how the font choices go just perfectly with the overall vibe of the leaderboard ad designs.

Get This Template and More

Get This Template and More

Get This Template and More

Get This Template and More
You'll love our range of Fashion Leaderboard Ad Templates.

Get This Template and More

Get This Template and More
Check out all the beautiful New Year Leaderboard Ad Templates.
Read through How to Choose Fonts for Your Design if you need help.
Add a High-Impact Call to Action
Don't forget to add a brief instruction on what viewers should do next after noticing your leaderboard ad. This call to action should reflect a sense of urgency and encourage clicks.

Get This Template and More

Get This Template and More
Use a CTA Button
Use a call to action button to direct your viewers to your official website. Help them act on your leaderboard ad through the striking CTA button.

Get This Template and More

Get This Template and More

Get This Template and More

Get This Template and More
Watch our quick guide below on creating buttons in DocHipo.
Leave Some White Space
To avoid your leaderboard ad looking cluttered, leave some space in your design for each element to breathe.

Get This Template and More

Get This Template and More
Experiment with Different Ad Placements
For some advertisers, top-of-the-page leaderboard ad placement may boost ad viewability. But for others, it may not work that great. You can experiment by placing the ad in the middle or at the bottom of the page. You can also try different layouts by playing with each design element placement in your leaderboard ad design. Change the ad placement frequently, and test which one your viewers respond best to, and that earns you the highest click-through rate.
How to Design a Leaderboard Ad in DocHipo
This section will walk you through a super-easy three-step process for a leaderboard ad design in DocHipo. If you are new to DocHipo, sign up with your email address and a password, and you're all set for a fantastic design experience. Once you land on the 'All Templates' page, start typing 'leaderboard ad' and click on the result.
STEP 1: Choose a Leaderboard Ad Template
You can design leaderboard ads from scratch. But to save time on the tiring and repetitive task, you can choose from our professionally-designed leaderboard ad templates with captivating graphic elements and irresistible call-to-action.
They'll help you offer your viewers a striking preview of what's in it for them, irrespective of the product or service you're promoting.
Watch our video below to find templates in DocHipo by format, industry, or occasion.
Hover over the templates you like to preview or select them for further steps.
Now, provide a name and a brief description of the document you'll design.
STEP 2: Customize Your Chosen Leaderboard Ad Template
Our wide variety of powerful Design Widgets will help you customize each aspect of your chosen template. Let's see how!
Add or Edit Text
To edit any existing text, select it and replace it with your ad headline or message.
You can select the text widget on the left sidebar to add additional text to the design. Once you're done adding text, you can edit it with different font styles, colors, sizes, and other formatting options.
Here's how you add, edit or delete text in DocHipo.
Let's move on to the exciting 'Graphics and Media' section.
Change the Picture
Let your viewers see your products or services by uploading pictures from your device.
Watch our demo on uploading images in DocHipo.
Depending on your brand offers, you can use stock images from DocHipo's library to attract viewers. Select the pictures widget under the 'Graphics and Media' section.
You'll see a drop-down menu displaying various themes under pictures. Let's select 'Beauty And Fashion.'
Scroll down the pictures till you find one that best suits your leaderboard ad design.
Now you can resize and reposition your chosen picture using the drag and drop tool. We need to remove the background from the image for a polished look. Right-click on the photo and select 'Remove Background.'
Click on 'Remove' and insert the new picture into the design.
Look how beautifully the picture fits into the leaderboard ad design now.
Here's a quick video on removing the background from a picture with just a single click.
You can use DocHipo's built-in photo editor to enhance images and make them more attractive to viewers.
Here's a quick tutorial on how to use DocHipo filters to enhance images.
If you desire to use illustrations instead of pictures, here you go:
Change the Background Color
The background widget on the left sidebar is categorized into color, gradient, and pattern. You can also directly put the color hex code in the space provided.
Here's a detailed video on using the background widget in DocHipo.
STEP 3: Download Your Leaderboard Ad Design
Once you feel delighted with your leaderboard ad design, click on the three horizontal dots on the edit panel to preview and download it.
Choose your preferred file type and quality.
You can refer to the video for downloading documents in DocHipo.
Leaderboard Ad Design before Customization:
Leaderboard Ad Design after Customization:
Final Words
Leaderboard ad is crucial for monetizing your website with display advertisements. Hopefully, you have decided to make it a part of your advertisement strategy efficiently. Sign up to DocHipo and explore all the leaderboard ad templates and work with the ones that align with your business needs. Adhere to the best practices discussed above and design your best to increase its effectiveness and reap all benefits. Don't hesitate to experiment to earn higher click-through rates and boost your ad revenue.