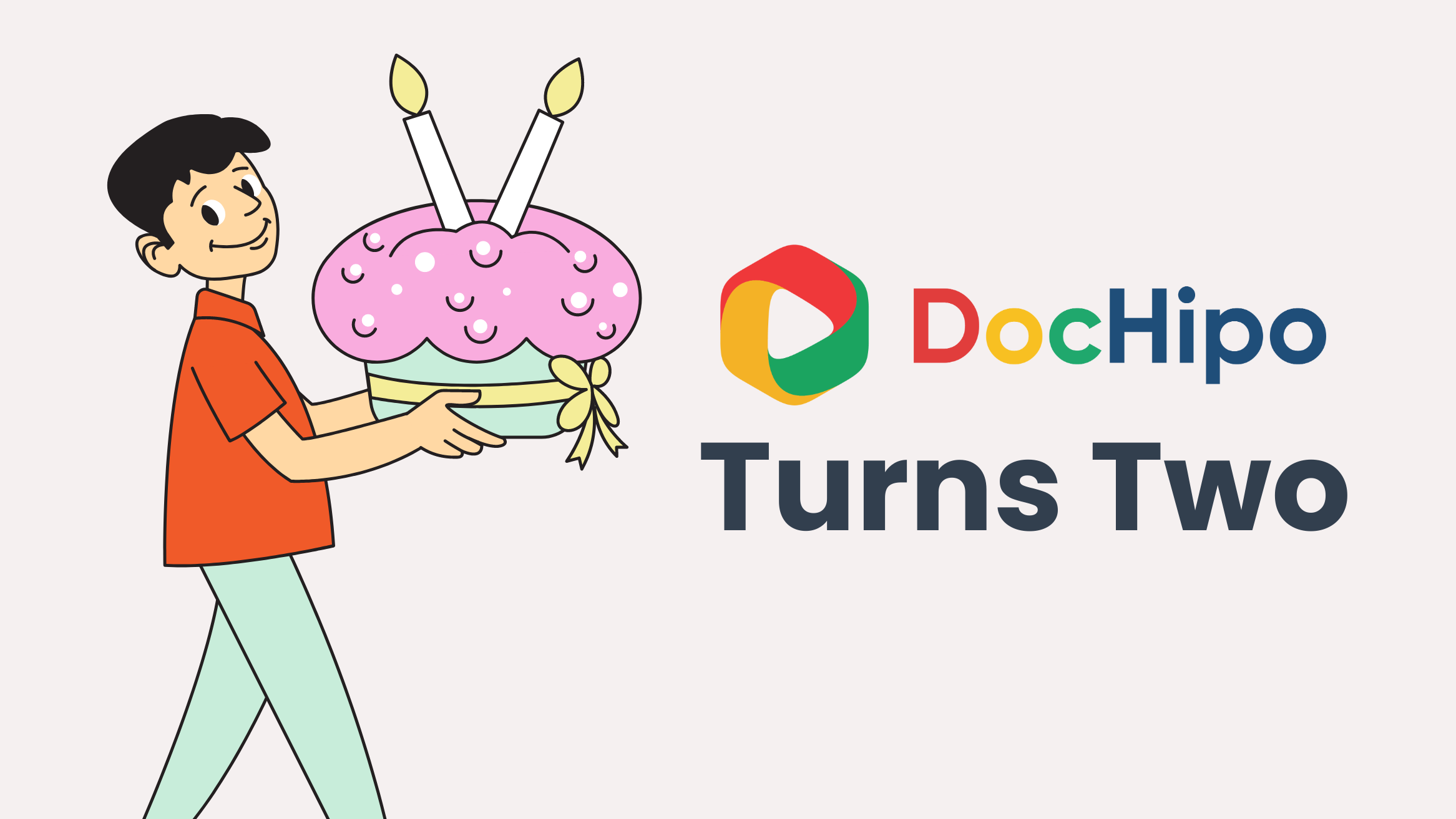 DocHipo Turns 2: Summing Up the Past Year in a Nutshell

Last Updated Oct 17, 2022
Today DocHipo turns two! On this date in 2019, we introduced DocHipo to the world. Milestones like these are always exciting, especially when you have so much to celebrate! Well, the last year has been eventful. If you are a regular user of DocHipo, you already know the amazing new features that were launched, the improvements that were introduced, and the makeovers that wowed you.
Let's take a look at the rearview mirror today and see those amazing things that Team DocHipo has delivered in the past year!
12 Cool New Features and Updates Launched in the Past Years
"From the very beginning, our team has been focused on listening to our users, understanding what makes their life easier. This in turn fuelled our growth spurt in the past year. We not only revamped the application UI completely but also introduced tons of new features for our users. In a way, last year has been the year of new launches!", says Arnab Bandhyopadyay, Founder, DocHipo.
Let's take a look at all the new launches in DocHipo last year!
October 2020
UI Update:

DocHipo Gets a New UI
DocHipo launched the much-awaited new minimalist UI that focuses on creating a fun user experience. The team worked tirelessly for several months to build this amazing new UI that combines simplicity and elegance.
Explore these fun changes!
New Integration:

Use YouTube Videos in DocHipo
If a picture says more than a thousand words, then a video possibly says more than a thousand pictures! Keeping this in mind, DocHipo launched this cool new integration with YouTube that lets you search for a video (on YouTube) from within the application and use the same on your documents. Making documents engaging and memorable was never this easy!
See how it works here!
November 2020
New Feature:

DocHipo Launches Snap to Grid
This was requested widely by our user community. And of course, we delivered! With this cool snap-to-grid functionality aligning different widgets on the editor is super easy! The vertical and horizontal grid lines appear when you are trying to reposition any widget and help you in aligning the same centrally, with the margin, or in respect to any other widget. Now your design elements will be in perfect alignment… every time!
See how it works here!
December 2020
New Feature:

Remove Background from Pictures
This again was a very in-demand feature! And why not? Be it a promotional post or YouTube thumbnail, adding your face to the graphic is the sure-fire way of making it personal, engaging, and of course, clickable! But the problem is, you possibly cannot use those awesome portraits and selfies without removing the background. With this brand-new background removal feature, you can do it with just one click and in about 20 seconds!
See how it works here!
January 2021
New Collection:

Brand-new Illustration Library
We saw a growing trend of using fun illustrations to make a document engaging. So, we launched a brand new collection of super cute illustrations in DocHipo. All illustrations are divided into two categories, Solo and Scene. The solos can be used as single elements in different documents such as cards, posters, social posts, etc. On the other hand, scenes tell you a complete story with multiple characters and backgrounds.
Since the launch, we have been adding new illustration packs to this collection almost every week! Here's a sneak peek!
February 2021
New Collection:

DocHipo Gets a New Lines Library
The Lines library was completely revamped! Unlike in the past, you can now adjust the line thickness from the contextual menu bar. In the case of decorated lines, if you drag a line on either side, the pattern gets repeated magically. This saves a lot of your time as you are no more required to clone a line to repeat the pattern. How cool is that!
See how it works here!
New Integration:

Save Designs to Mailchimp
This one is for all you marketers out there! If you are using Mailchimp as your email campaign tool, then this integration lets you save any design straight into your Mailchimp account from within DocHipo. Now is the time to create stunning email headers and use them without a fuss! See how it works here!
March 2021
UI Update:

Responsive Masonry Grid Layout
DocHipo launched a responsive masonry grid layout for the documents and templates pages so that these pages look perfect for every screen size. It does not matter which device you are using – you'll have the perfect layout every time – with both documents and templates laid out across the full width of the page.
See how this new update looks here!
May 2021
UI Update:

Revamped Download Widget
DocHipo revamped the document download widget. This UI update comes with a lot of added functionalities too! The best and the most noticeable change is that you can now see a thumbnail view of the document you are about to download. An added advantage of this interface is scalability. Soon, we are planning to add more file types, and this UI will help us keep the interface neat while adding more file types.
See how this new update looks here!
June 2021
UI Update:

Revamped Templates Section
This UI update was launched to represent the document types more realistically in a way that helps you visualize the use-case for the same. So, in the Business Essentials section, we have Infographic, Flyer, Poster, and Presentation neatly displayed in a way that resembles the actual use-cases for these types of documents. The same goes for General Purpose document types, Web Banners, and Social Graphics. With this new interface, you can relate to these document types in an instant at a glance.
See how this new update looks here!
July 2021
New Feature:

Search Stock Videos
This feature made it super easy for you to use stock videos in your documents. You can now search for copyright-free stock videos from within the DocHipo editor and use them in your documents. By default, the video will play on loop on preview, present, and the publish page. However, you have the option to disable the loop as well.
See how this cool feature works here!
New Feature:

Group-Ungroup Widgets
If you are working on a document with multiple widgets like text, images, icons – this feature makes it super-easy to select them at one go. Once selected, you can reposition or resize them, as required. What's more, you can group these widgets as well.
Once you select the widgets you would like to group, click on the Group option from the editing menu. Once Grouped, you still have the contextual editing options for individual widgets. In case, you wish to ungroup the widgets, select the group, and the ungroup option would be available on the editing menu.
See how this new feature works here!
Loved the new updates? You can keep an eye out for new features, collections, and UI updates on our What's New page. Bookmark it today!
51 (User Education and Explainer) Videos in the Past Year
While our product development team was quite a busy bee, our content creation team nailed it too! We created and published a total of 51 videos in the past year that help you understand how to use DocHipo optimally for your requirement. The videos are segregated into six different playlists, so you can find the one you want easily.
Subscribe to our YouTube channel today and never miss out on any of these fun video tutorials!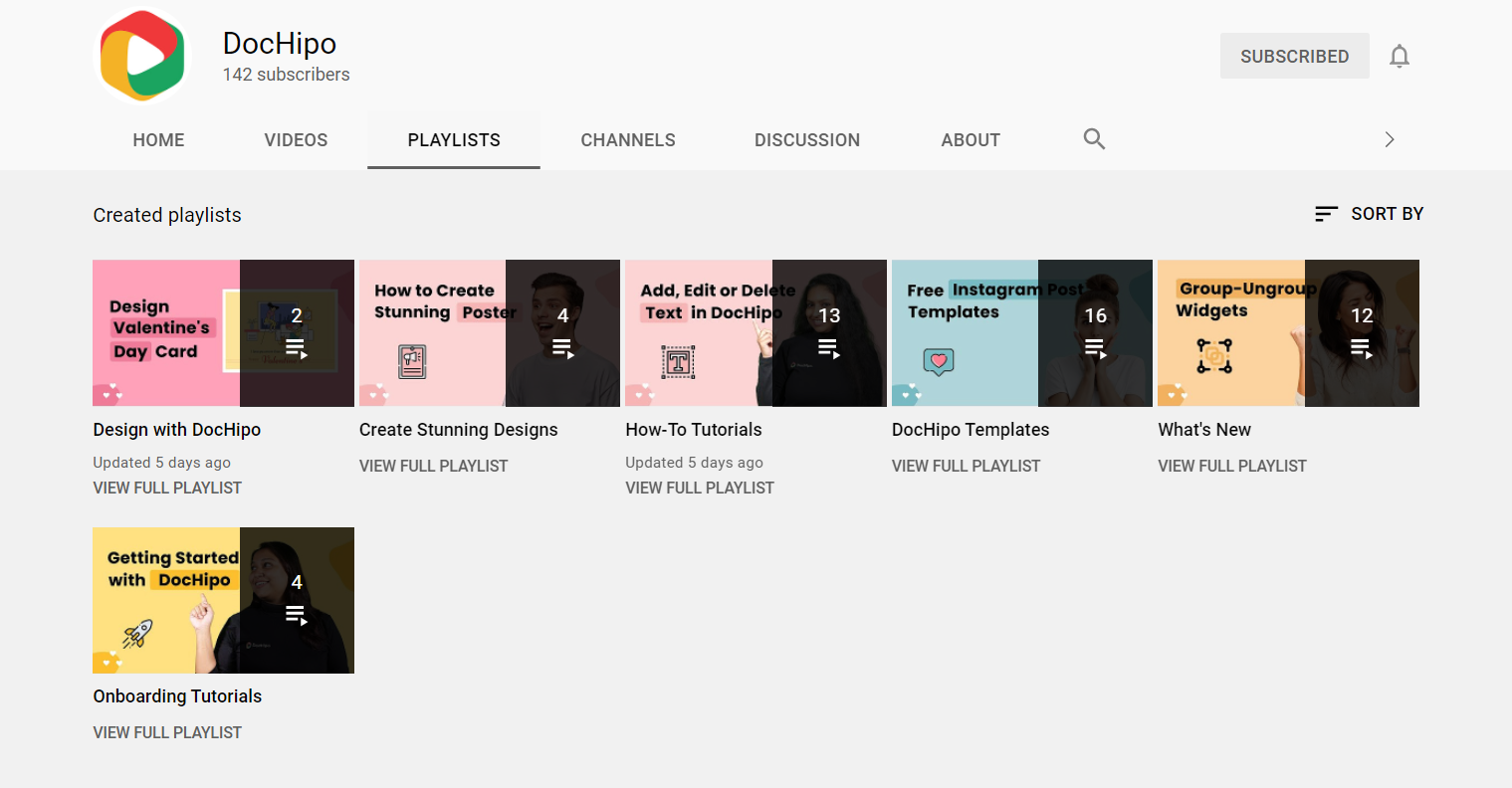 60 Blog Articles in the Past Year
Tell you a secret: there's a fierce competition going on between the video and the blog team! And looks like the blog team won by a slight margin. In the last year, we have published 60 blog articles on various topics ranging from how best you can leverage a certain DocHipo feature to how you can use different types of documents for different business functions.
The aim is to empower you with insights and workable ideas about how best you can leverage DocHipo for your business! Visit our blog page today to read, bookmark, and share this awesome content. We create these for you only!
1600+ Templates
We want to spoil you with choices! And this is why we have been adding to our templates collections steadily. Today, DocHipo has over 1600+ templates under various document types that you can customize and use. We launch new templates every single day. So, keep an eye on your account to see the brand-new ones!
Don't have a DocHipo account yet? Sign-up here for free and create stunning documents in minutes (sometimes seconds!)!
7000+ Users
There are so many things we are grateful for. But the amount of love we've received from our user community tops it all! This last year we've reached 7000+ users from around the globe.
"We are seeing a significant number of sign-ups daily. As a team who have burnt and still burning the midnight's oil, this keeps us highly motivated. The great thing is, almost all of our users are actively using the application. We are very grateful to have such an awesome user community and to have received this much love from them. It is our constant effort to make the application even more robust, add newer features, and add more value to the everyday business functions of our users! The coming year would be even more exciting and we have some awesome new updates that you'll love. Stay tuned!", said Sanjukta Banerjee, Co-Founder, DocHipo.
Here's to many more super-awesome years ahead!
The past year has been great! No doubt about it. And looking back it makes us ecstatic, to be honest.
To our users, thanks for your love and support. You are awesome!
To our team, you guys are rockstars and magicians! Keep up the amazing work that you do!
We have some really exciting updates planned for the next year and the team is working tirelessly to make them a reality. So, keep an eye out for our newsletters to be the first to know those updates.
Here's to many more super-awesome years ahead!