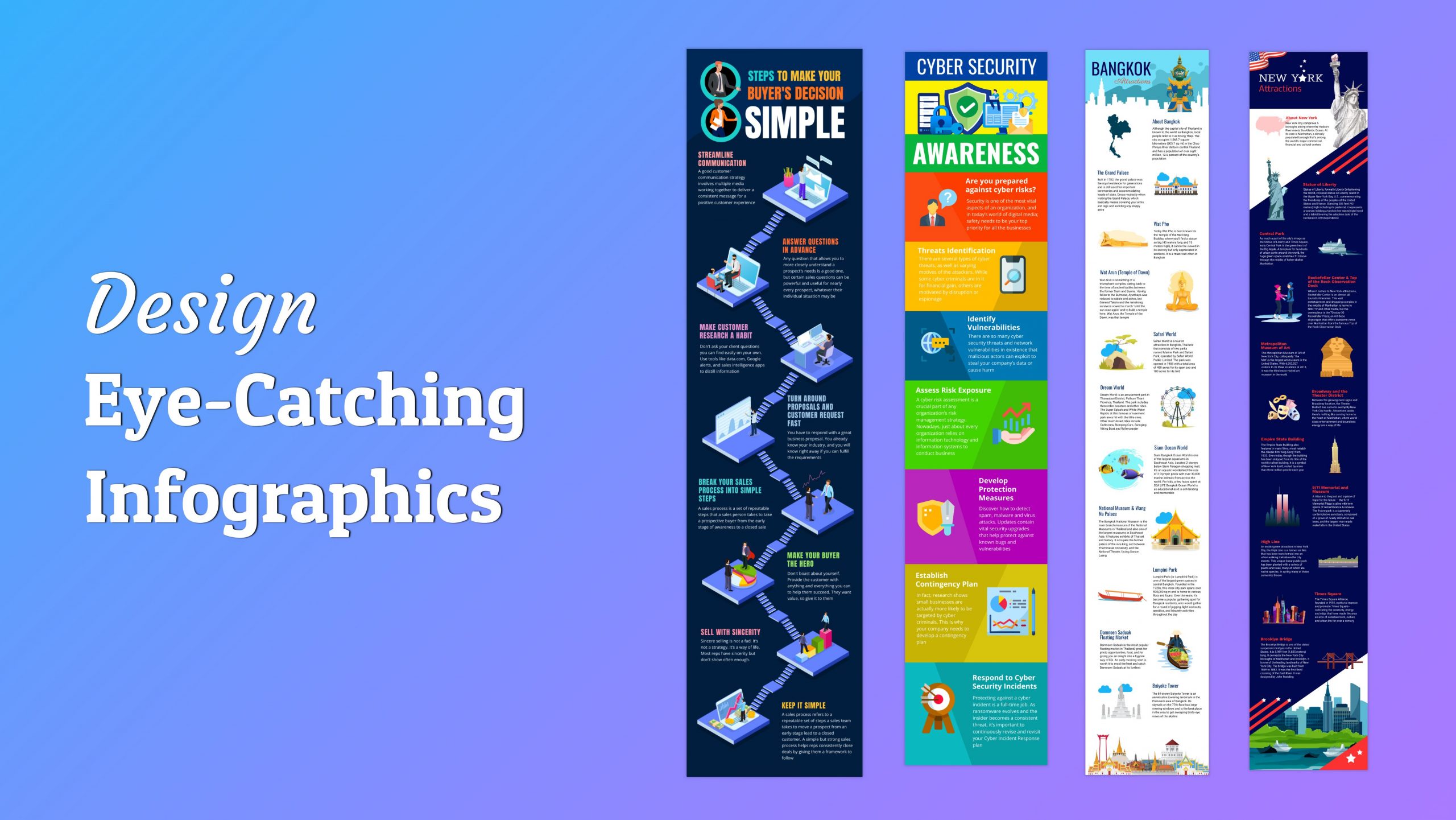 How to Make an Eye-Catching Infographic Design [Step-by-step Guide + Templates]

Apr 13, 2022
Do you think that Infographic design is tricky to get right?
An infographic is challenging to make as you need to simplify the complex concepts and concisely present them. You also need to balance showing just the needful information and overwhelming your readers with too much of it.
Even if you choose a brilliant infographic topic and your content flow is on point, your presentation of the content, that is, your design, needs to be eye-catching. The design conveys the emotional aspect of your key message, giving an extra dimension to your content. A well-designed infographic should also be fun to read.
In this article, we'll discuss what makes a good Infographic design, and you'll also see some beautiful professional infographic design templates. So, read this guide till the end to make eye-catching infographics with ease.
What makes an Infographic design effective?
Go through the following steps, observe the Infographic design templates well, and let DocHipo be your helping hand to make a powerful Infographic design.
Define your goals and identify your audience
If you don't have a clear goal or purpose before creating your Infographic design, the visuals you use might not make sense. The goals could be to visualize a complex process, simplify it, report on any data, etc.
Also, if you design your Infographic targeting everybody, you're targeting no one. Clarify both who your infographic is for and who it is not. Knowing your target readers and the level of knowledge they have will help you decide:
What data to use
Style and tone of your infographic
Whether to use or how much to use technical terms or other jargon
As you can understand from the DocHipo Infographic design template below, the target audience is children.

Choose an Infographic type
To make your job easier, I have picked out some Infographic design templates from the DocHipo library :
Process infographics

Informational infographics

List infographics

Gather relevant information
Once you find the right topics for your Infographic, researching the required content will become smoother. The core of an infographic is meaningful and easy-to-understand information. Ensure that the information you gather supports your goal. It's good if you can think of a story to tell through the information you are collecting.
If you are someone who gets stuck in this crucial step, read the simple step-by-step guide on how to conduct research for an Infographic.
After that, process your data and create a logical hierarchy of how you'll structure it.
Choose an Infographic template that fits your message
It's a very time-consuming process to create your Infographic design from scratch. But there is a way. Crafting it with professionally designed templates. Our Infographic templates designed by professionals at DocHipo are fully customizable. The pre-built eye-catching templates will help you create high-quality, engaging Infographics. Pick the template that best represents your content or data set. You can choose a template that roughly matches the structure or layout you've planned and tweak it a little to suit your needs.
Watch the YouTube video below for DocHipo's Infographic design templates that you cannot do without.
Customize your chosen Infographic template
Don't go overboard with the customization process. Just do the needful so that it aligns with your brand.
Write compelling titles and headings
Your target audience should be able to figure out what your Infographic is all about the instant they see it. So, craft your titles and headings catchy and descriptive enough that compel them to read the rest of your infographic.
Check out the tips for writing copy that generates results.
Use DocHipo's theme and custom colors
You can set the tone and mood for the Infographic with colors. But if you choose inappropriate colors or a combination of colors, your message will convey a whole different meaning.
Your content and context can help you figure out the colors to use. Does your Infographic contain your brand-specific content? If yes, then use your specific brand colors. It'll also promote your brand consistency. Otherwise, if it's about a particular theme, use colors that represent that theme.
For example, in the DocHipo Infographic design template below, we've used white and shades of blue to convey the effects of global warming.

We've already written about the best color combinations and how to use them if you need help.
If you want to customize the color in your chosen Infographic design template in DocHipo, select it and click on the background icon.
You can see the theme colors on the left sidebar.
Click on the little color palette icon to experiment with the custom colors.
Choose the right font pairings
Like colors, fonts also play an important role in perceiving a message or information. Answer the following questions to figure out which types of fonts are most appropriate for your Infographic:
What's the mood of your Infographic? Is it fun or serious?
Who are your target readers? Is it business owners, children, or corporate employees?
Experiment with different font styles (bold, italics, etc.) and sizes. Avoid using too many fonts in your Infographic design.
Choosing a font(s) that catches readers' attention and is pleasing for them to read is challenging. Finding the perfect font pairings is an art indeed. To learn more about this art, check out How To Choose Fonts For Your Design.

Maintain a balance between the image and the text
Make the content of your Infographic scannable and exciting. Turn lines or paragraphs about statistics, etc., into any suitable chart for your readers to visualize more easily. Don't overwhelm your readers. In making your Infographic design attractive, don't add unnecessary design elements. Otherwise, it will distract your readers and shift their focus from the important information.

Incorporate engaging Infographic design elements
Once you're done with the content of your infographics, decide on how you're going to present it to make the visualization process much easier?
Yes, I'm talking about the design elements that catch your target audiences' attention and make them read it all the way through.
Now, what graphics to use in your Infographic design depends on the information you're sharing and the ultimate message you want to convey. Use images, illustrations, icons, or symbols that align with the topic or theme you're presenting in your infographic.
Look at some of the design widgets that DocHipo equips you with.
We've used DocHipo's built-in illustrations in the Infographic design template below.

Here's a video tutorial on how to use icons in DocHipo.
Add a footer
The footer of the Infographic also plays an important role. You may add your brand logo, contact details, and information sources.
Include a CTA
Answer the questions for your brand or business to clarify what Call To Action to add to your Infographic design:
What's the purpose of your infographic?
What business goal(s) is it supporting and promoting?
Download your Infographic design
Once you are ready and delighted with your Infographic design, download it, share it with your team, embed it in your website's blog post, etc.
Here's a full-fledged demonstration of how to download documents in DocHipo.
I highly recommend you to watch the video guide below for creating an engaging Infographic design effortlessly.
Wrapping Up
Infographics are effective content tools for sharing complex or chunky information. You must include them in your content marketing strategy for engaging your audience. I hope you got ideas and inspiration from the DocHipo templates I shared as examples. Since you know the steps of making a good Infographic design, you'll create attractive and engaging Infographic designs in no time. So, sign up to DocHipo for free, explore the Infographic design templates, leverage the design elements as needed, and make the most out of it.