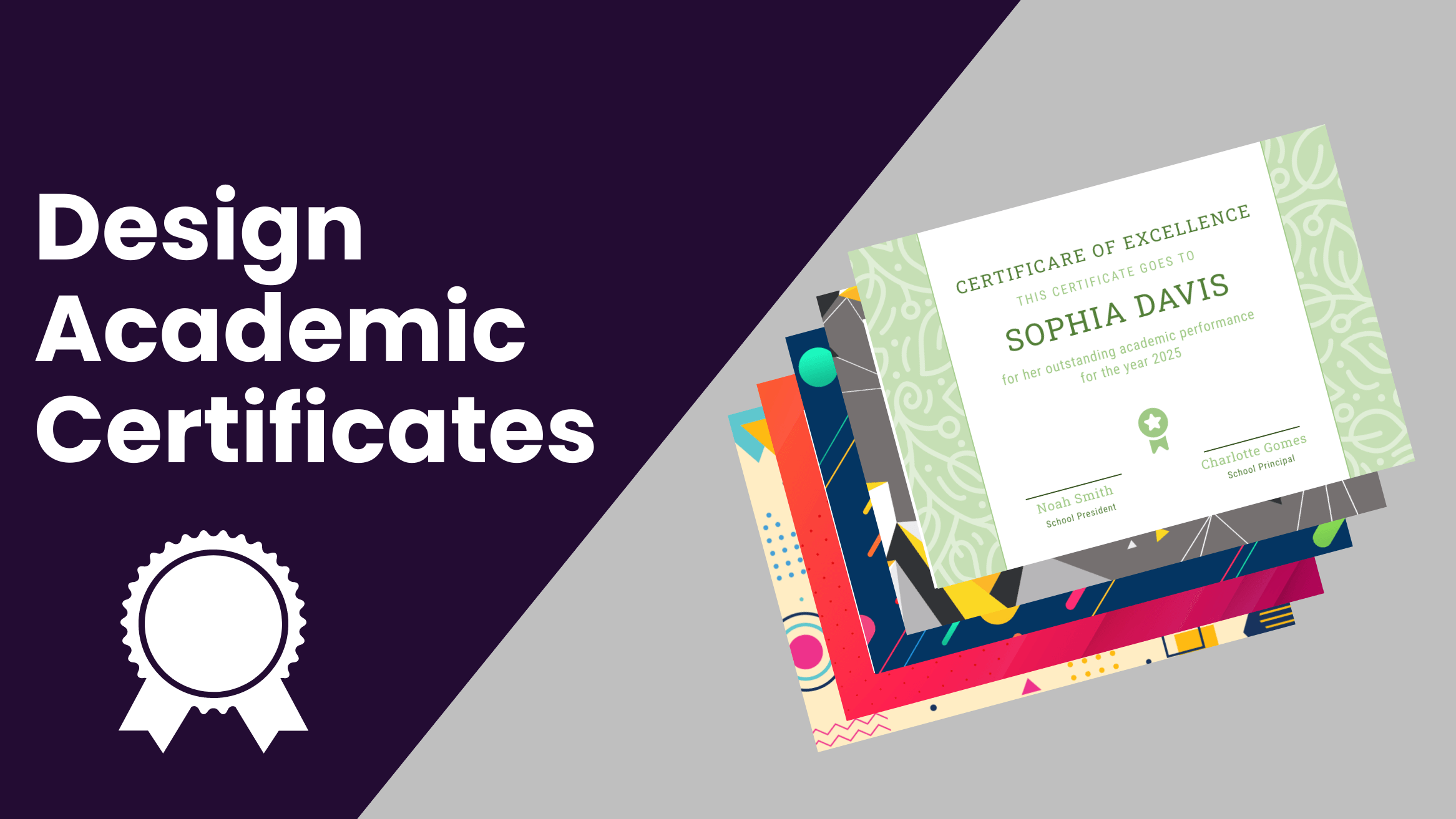 How to Design an Academic Certificate in a Few Clicks

Last Updated May 13, 2023
The demand for online certificate courses is on the rise. According to a recent study, the global E-learning market is growing at 14.6% CAGR and is expected to reach $374.3 Billion by 2026. This growth indicates that certificates are becoming one of the most important considerations if you own an education institute. Though there are many reasons why you might want to give someone a certificate, an academic certificate is one of the most important among them.
If you own an education institute, designing your certificate will help you showcase your brand's credibility and ultimately grow your reputation.
DocHipo's Free Online Certificate Maker makes it easy to design a professional academic certificate in minutes. Choose one of our beautiful academic certificate templates and customize it according to your needs.
In this article, I will explain how to design a certificate in DocHipo.
Table of Contents
Academic Certificate Design Best Practices
Are you looking at creating a professional-looking certificate but lack the necessary design skills? Well, with DocHipo, you don't need to worry about that. Because, along with the academic certificate templates, we have come up with some of the best practices for academic certificate design. Go through them carefully to learn how to design an academic certificate like a professional designer.
Create A Great Background
An eye-catching background is the first thing that you should consider creating while designing your academic certificate. The background can give your certificate a creative twist. Moreover, all the design elements you add to your certificate should pop or be visible. Choosing the right background is the best way of doing this.
Choose bold colors, shapes, patterns, lines, illustrations, icons, and many others for the background. The color combination between the background and the design elements in the template below gives it a professional look.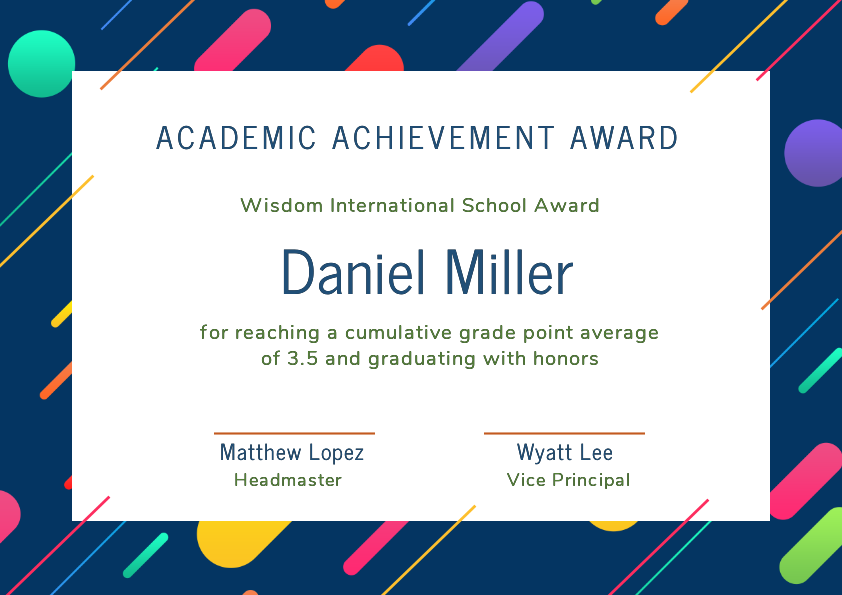 Get This Template and More
Furthermore, you can add images to your certificate to make it more personalized. Many educational establishments these days are using images on their certificates to avoid misuse. Here is an example of the same.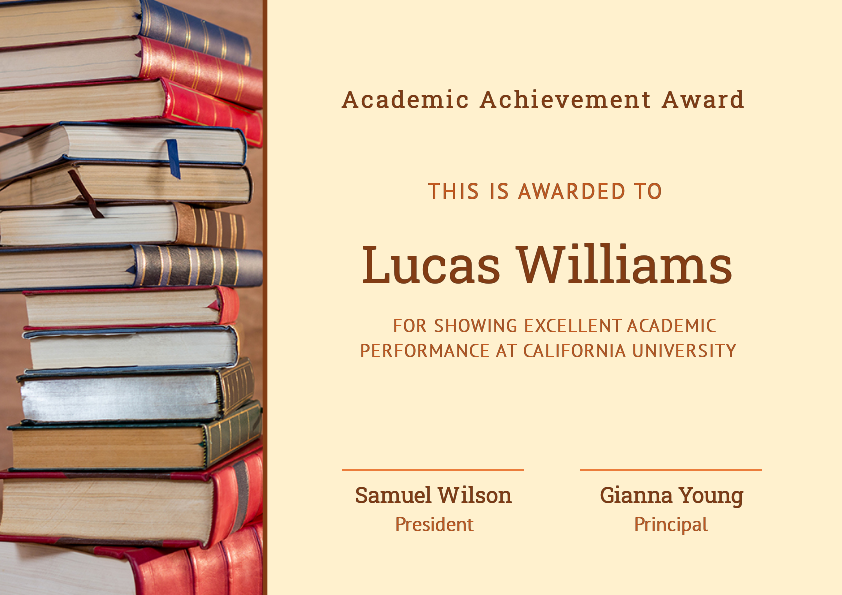 Get This Template and More
Use Bigger and Bolder Fonts For The Header
You are designing the certificate for the recognition of the recipients. So, pick a big and bold font for the title of the award and the recipients' names to ensure that they get the recognition they deserve. Also, make sure that their name is spelled correctly to avoid any type of disappointment for the recipients.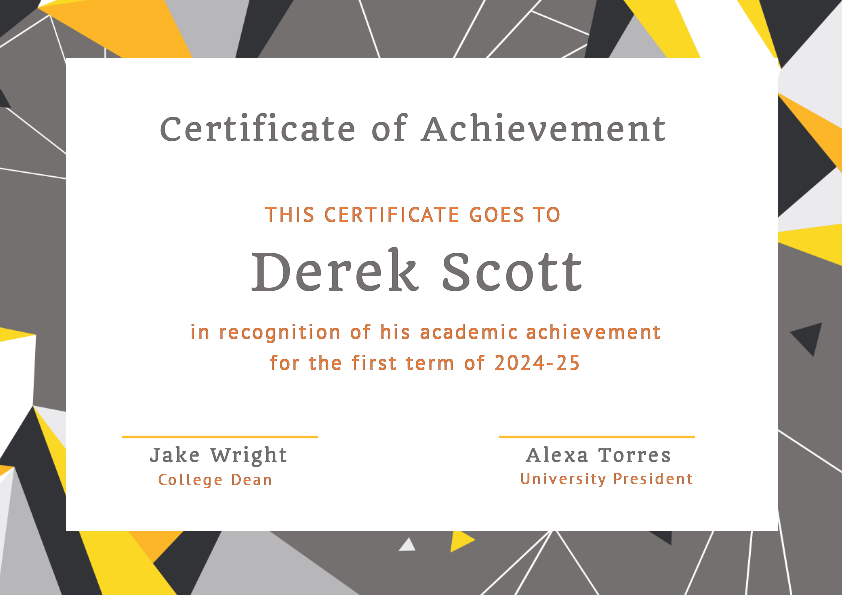 Get This Template and More
Get The Typography Right
Typography is often overlooked while designing a certificate. However, typography is crucial to communicate your message more effectively. Therefore, create a Typography Hierarchy in your certificate. Typography hierarchy is the technique of arranging the letters in your certificate. Don't get tempted to choose too many fonts for a single certificate.
To be on the safe side, stick to two to three different fonts that complement each other. If you don't want your academic certificate to look cluttered, difficult to read, and unprofessional, then don't go crazy with fonts.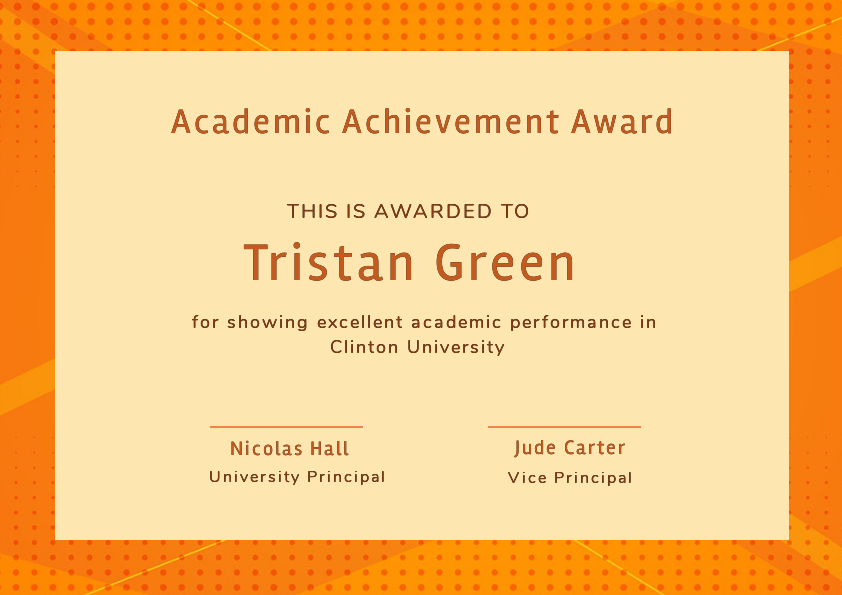 Get This Template and More
Choose The Right Colors
The one design element that can ultimately make or break your academic certificate design is color. It can evoke different emotions and set up the mood of a design. Hence, you need to be aware of the colors you choose for your certificate.
Bold and bright colors are trendy now, which will make your certificate look contemporary. Besides, it will help you stand out from your competitors.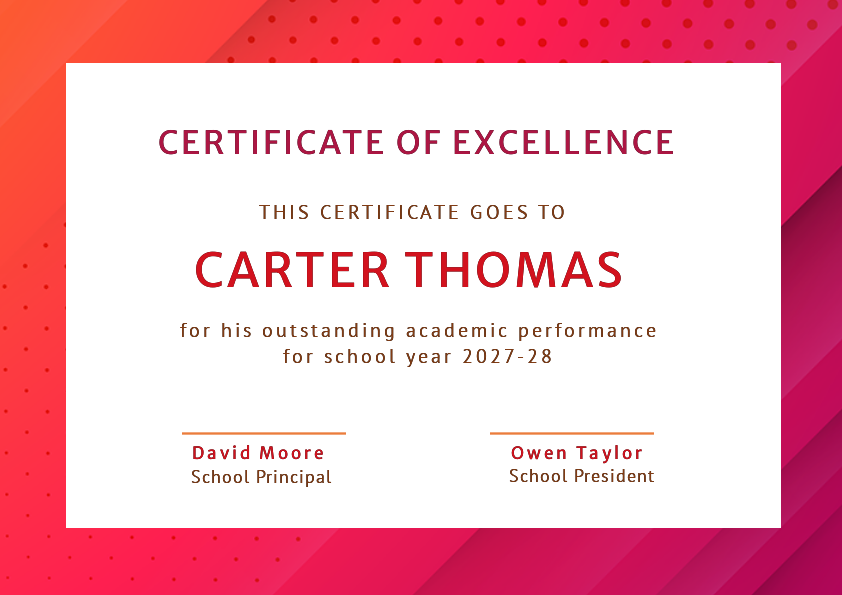 Get This Template and More
One of the best ways to choose the color combination for your certificate is by using brand colors. However, if you don't have any brand colors and struggle to choose some, this article on the Best Color Combinations can help you out.
Add Visual Elements Naturally
Visual elements like icons, illustrations, shapes, and lines can help you personalize your certificate and make it unique. However, if you use them forcefully or irrelevantly, it will add to the visual clutter, and the certificate will lose its aesthetic value. Therefore, choose some graphic elements as appropriate and make sure there's enough contrast between all the elements.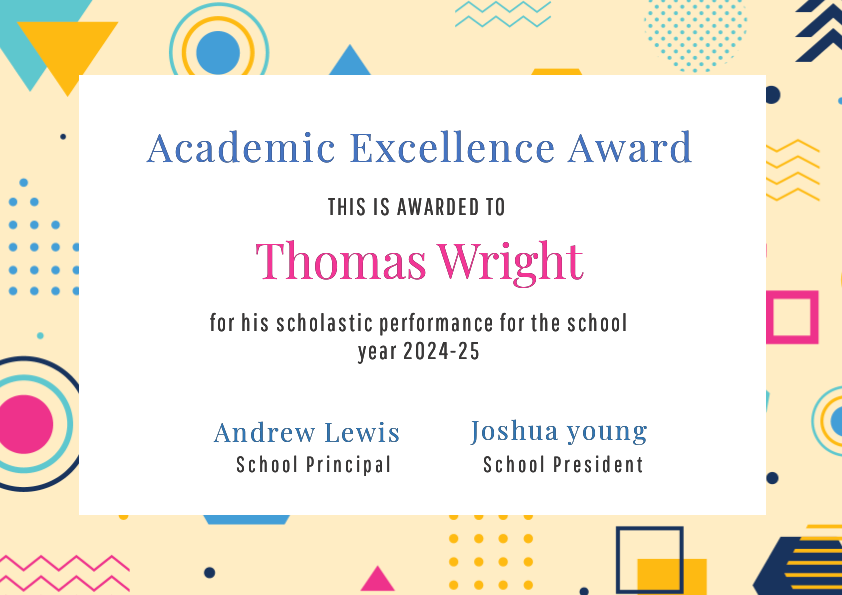 Get This Template and More
Incorporate Your Branding
Branding is equally important when it comes to designing your academic certificate, especially when you want the recipients to remember your institution years after completing the course and receiving the certificate. Try to include as many branding elements as possible such as your institute's logo and brand colors.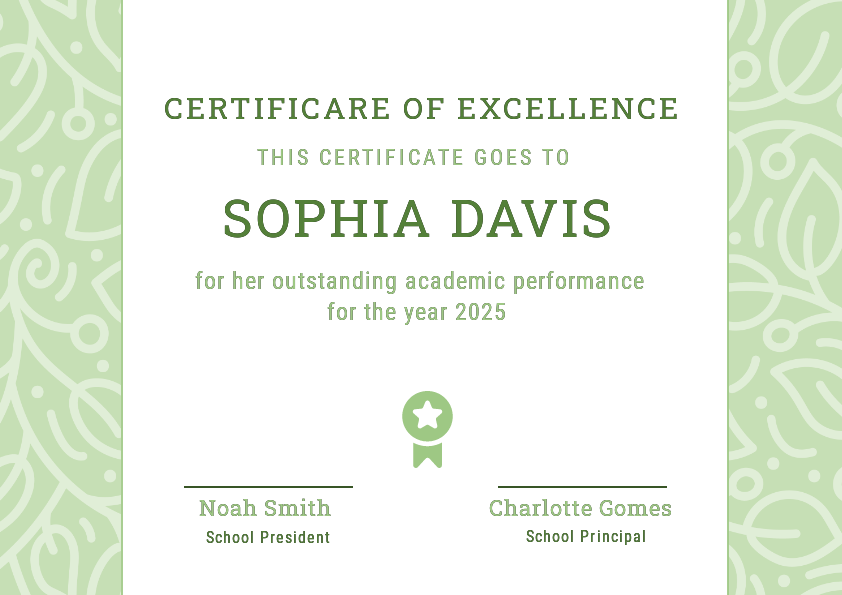 Get This Template and More
DocHipo's Free Online Logo Maker will help you design eye-catching logos in minutes.
If you have gone through the aforementioned best practices carefully, you will not have to stress yourself out while designing the academic certificate.
Now, let's move on to the design part. But before that, you can take a look at the certificate templates that DocHipo offers by watching the video below.
How To Design An Academic Certificate In DocHipo
Now, I will walk you through the academic certificate design process. DocHipo's awesome Design Widgets and the free academic certificate templates will help you make everything super easy for you throughout the design process.
However, the first thing you should do is to sign-up for DocHipo using your email address. The process takes only a few seconds, and it's completely free. Once done, follow the steps below:
Step 1: Pick An Academic Certificate Template
Once you sign-up, you will be automatically redirected to the All Templates page of DocHipo. It's always a good decision to start by picking a template first. To do that, type "Certificate" in the search bar and then click on the result.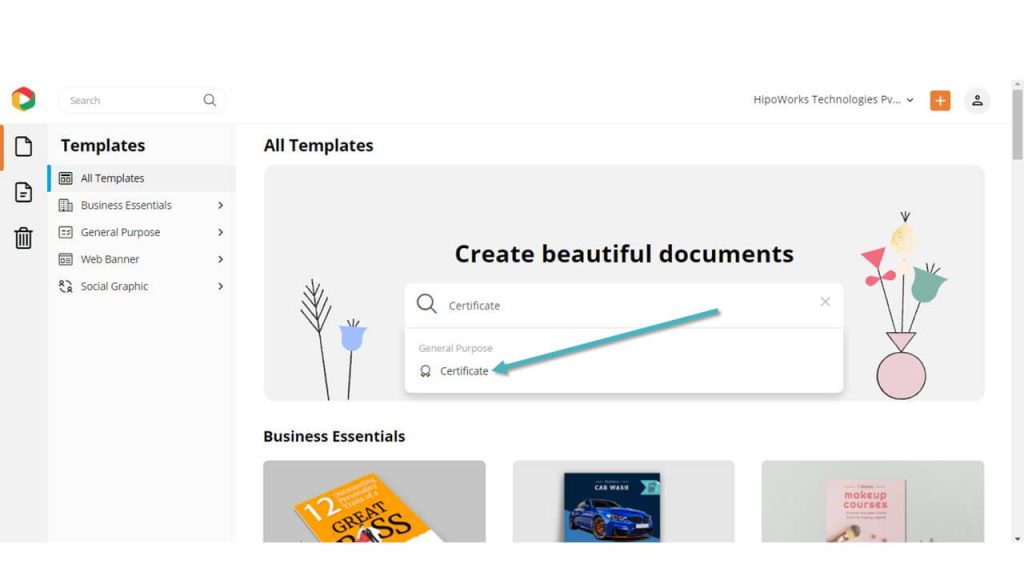 Choose "Academic" from the wide variety of certificate template categories.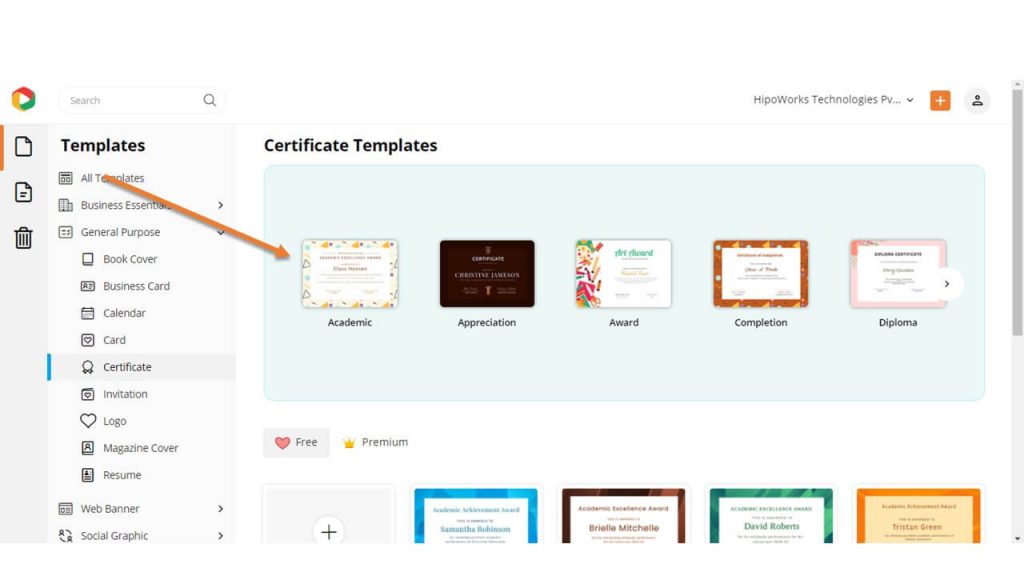 Hover over the template you think is suitable for you, and click "Preview" if you want to take a look at it before opening it.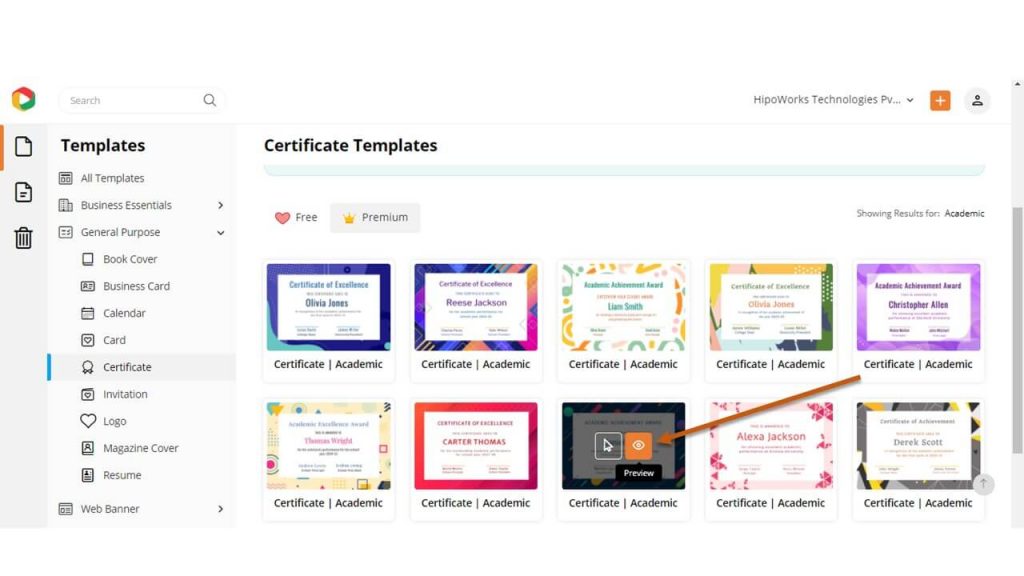 Once you decide on a template, click "Select."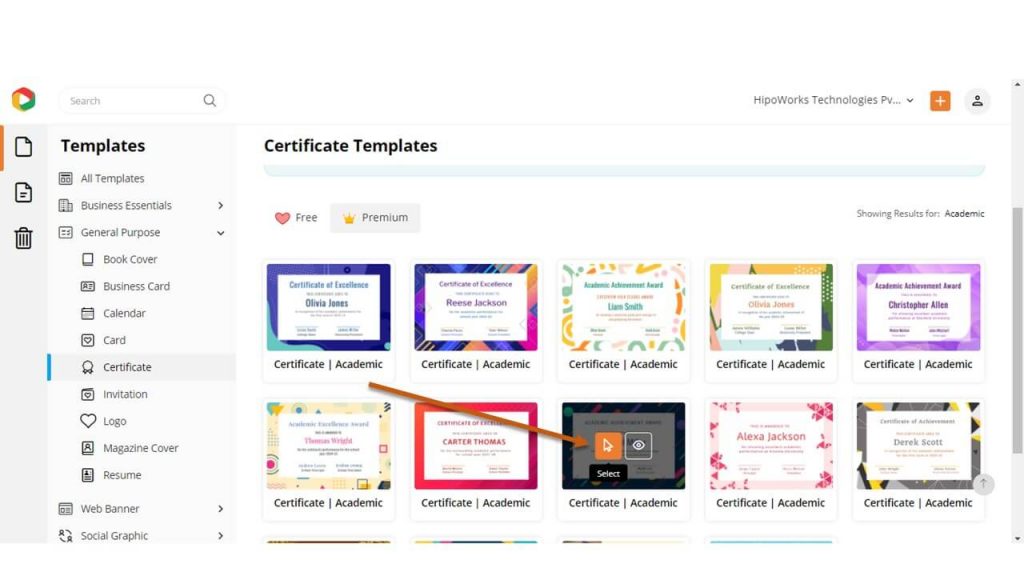 A new page will open up where you need to give a name to the document. It will help you find the certificate easily after downloading it. Then click "Next" to take the template to DocHipo Editor.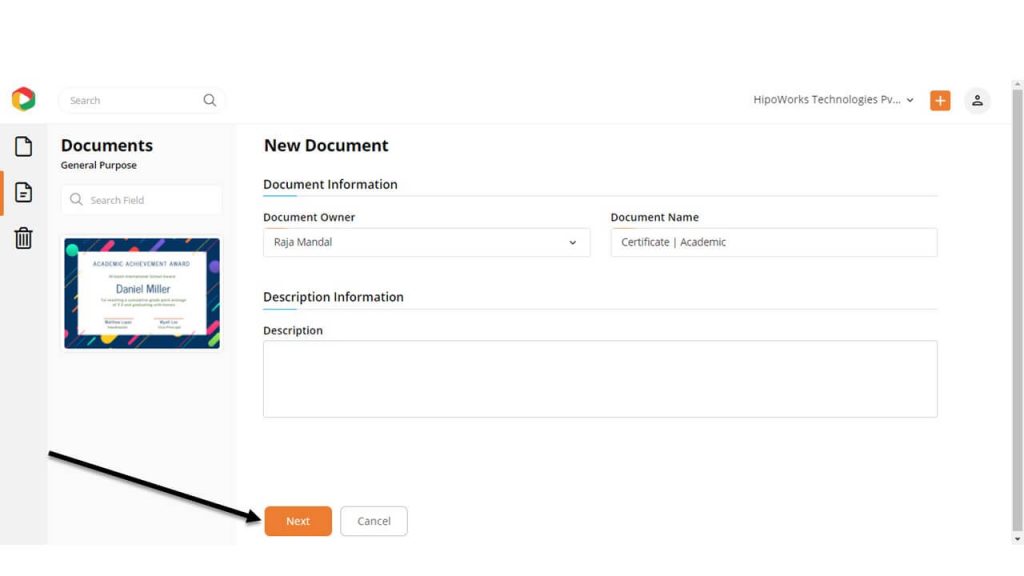 Step 2: Customize The Academic Certificate Template
Customize the academic certificate template as little or as much as you want to get the perfect certificate. Here is how you can do that:
Customize The Background
Click "Background" from the left sidebar under the "Graphics and Media" tab.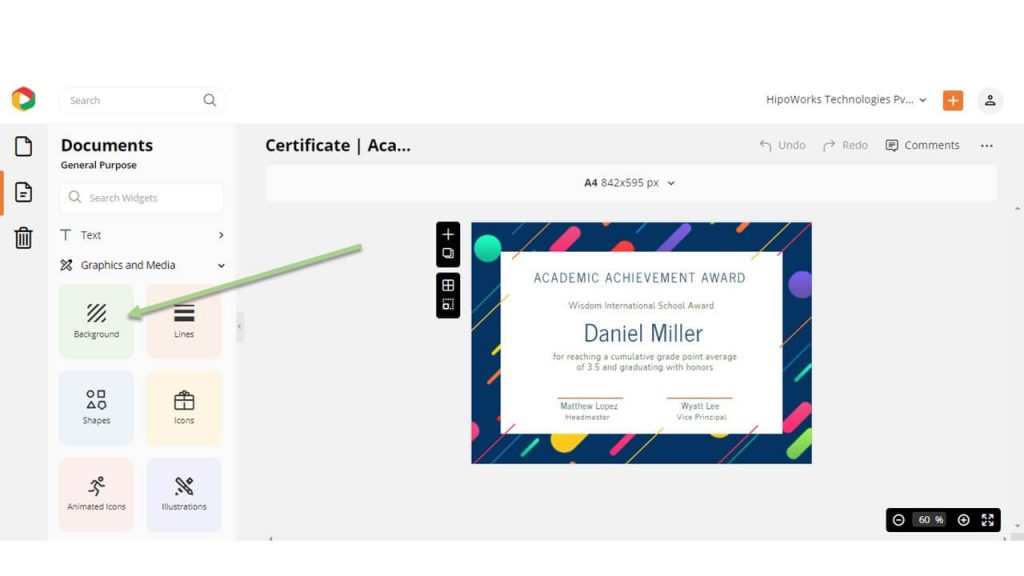 Choose a color from the colors presets or pick a custom color using the color picker tool. DocHipo also lets you create a gradient and textured background. Choose any of the images from the list to get the background you want.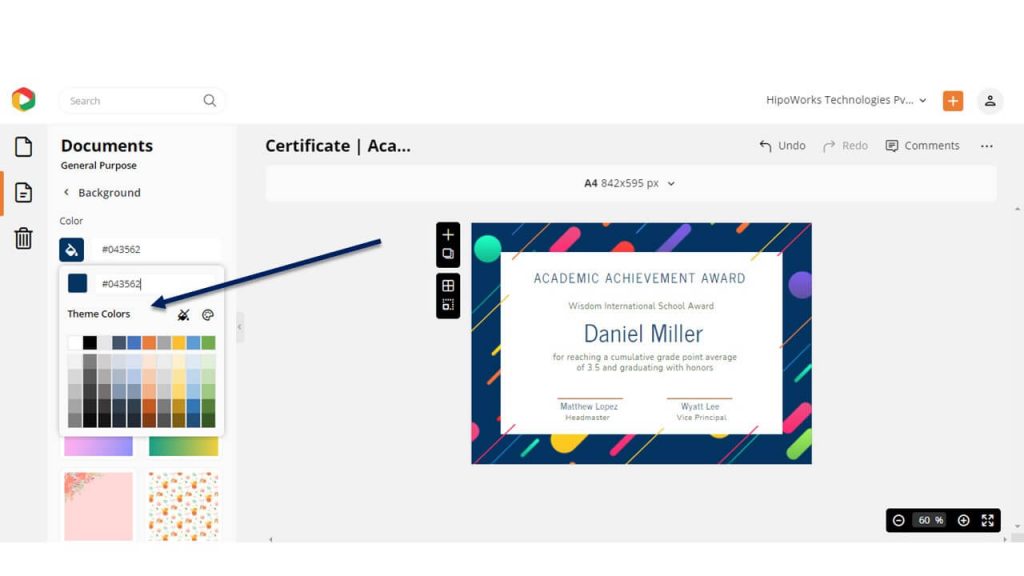 The video below will help you learn more about the same.
Change The Text
Click "Text" from the left sidebar to add text to the template.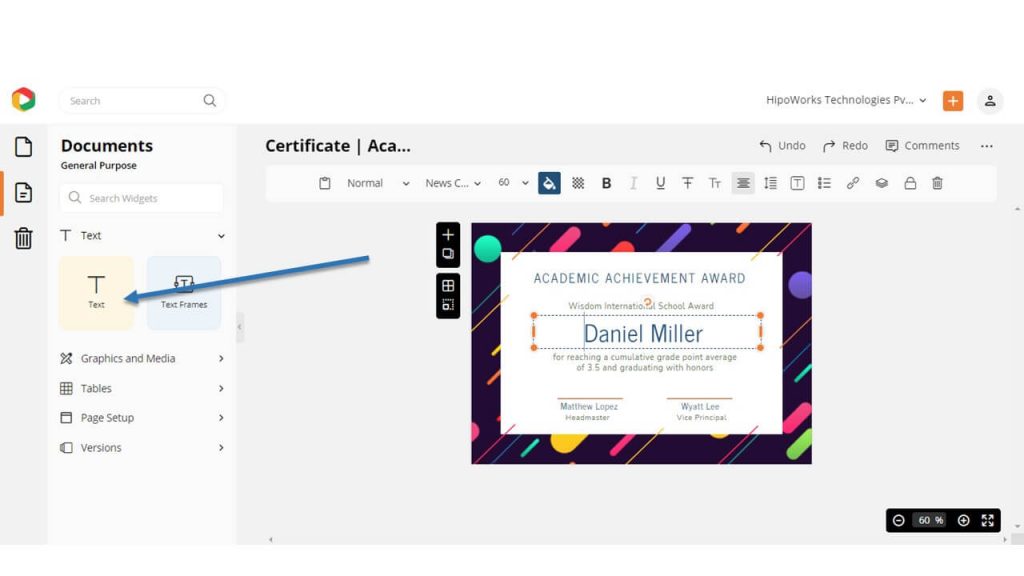 Double-click on the text you want to change and then type yours to customize the text.
Use the edit panel on the top to change the font style, size, color, opacity, spacing, alignment, and more.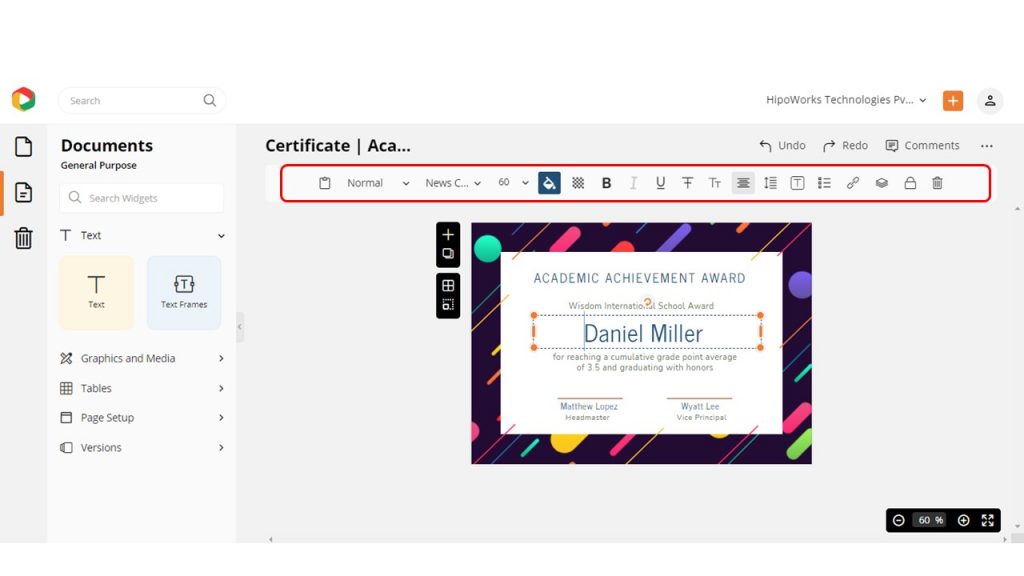 Here is a video on the same.
Edit Other Elements
DocHipo lets you edit almost all the elements present in the template. Click on an element, and the edit panel will appear on top. Use it to customize the element by changing the color, opacity, arrangement, and more.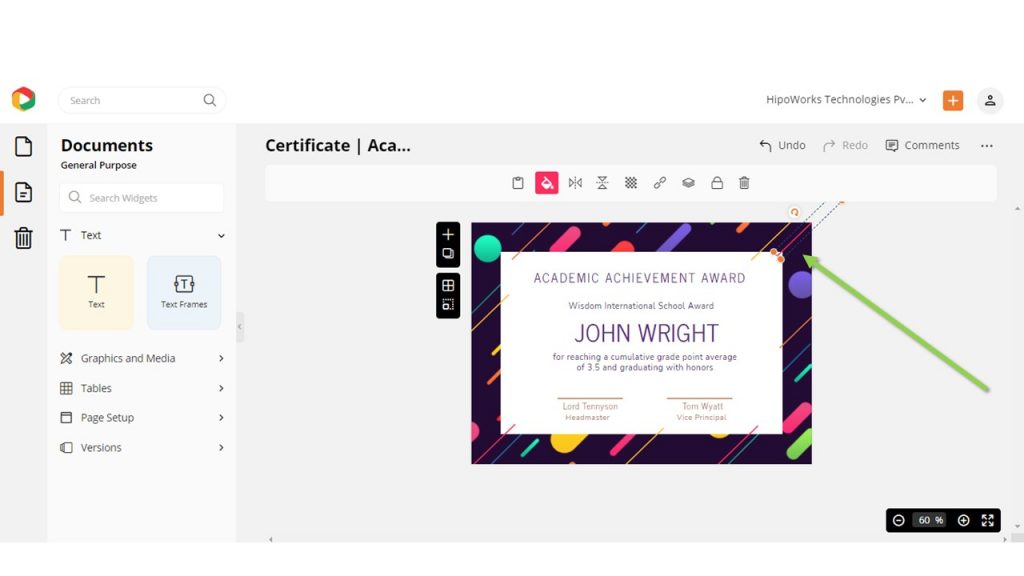 Spend as much time as you want to customize the template until you are satisfied with the certificate design. Here I have customized a template.
Before Customizing: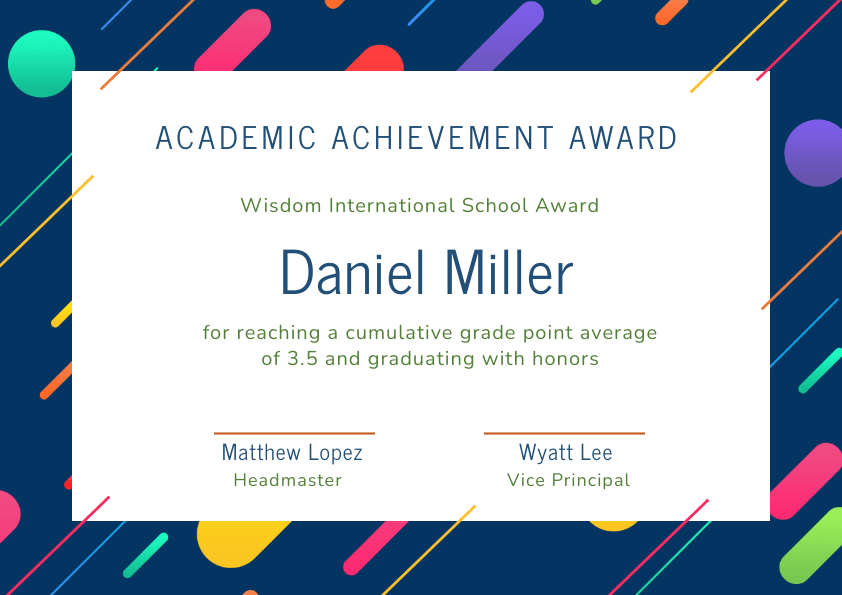 After customizing: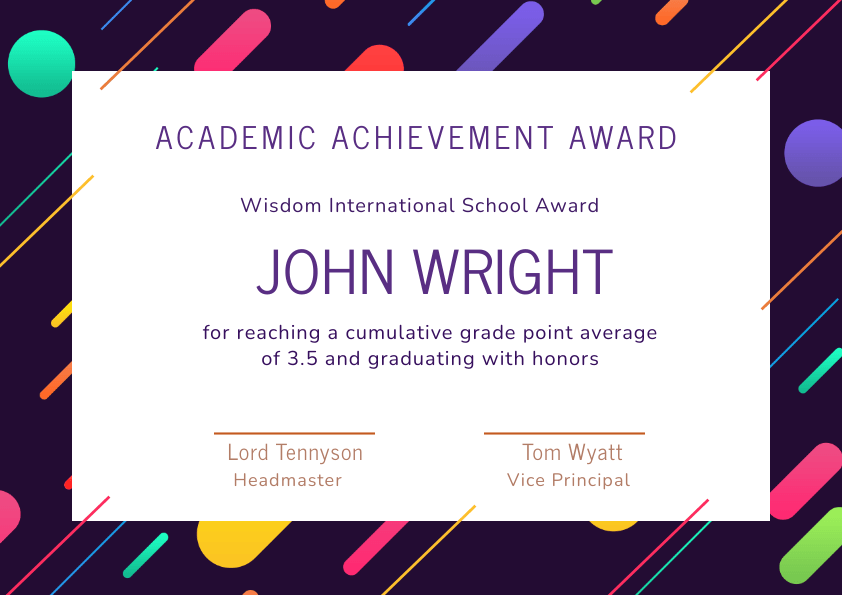 Step 3: Download the Certificate
Click on the three dots from the upper right corner of your screen. Select "Download" from the drop-down menu.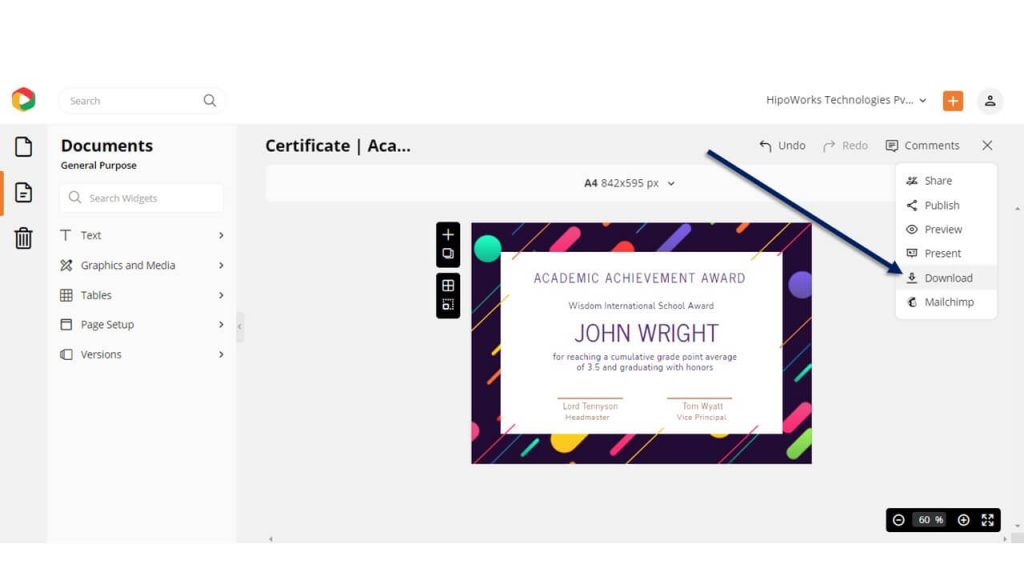 The design widget will appear where you need to choose your required file type and quality. If you want to print the certificate, choose a High-quality download. Hit the download button, and your certificate will be downloaded to your system automatically.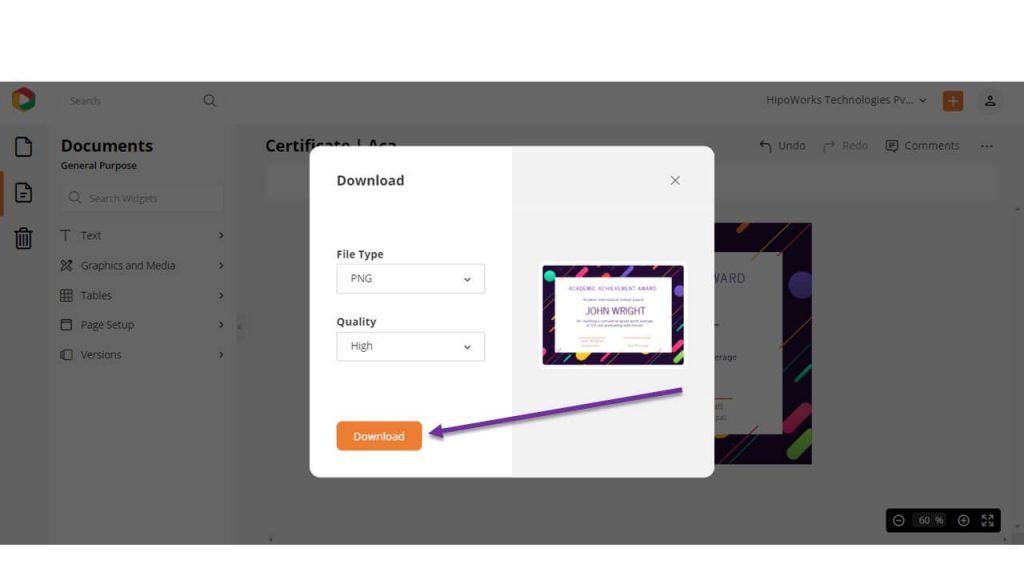 To Conclude…
Congratulations! You have just been through the design process of a memorable academic certificate. I hope the academic certificate design best practices and the "How To" guide will help you design an academic certificate on your own. Issuing certificates for your students is about congratulating them on their achievements and representing your brand and image. The certificate will work as branding material for your institution.
Therefore, you don't want to compromise on such an essential tool for your business. And DocHipo will help you take care of that. Sign-up to DocHipo today!
FAQ
What is a professional vs academic certificate?
A professional certificate is the certificate one earns to showcase an expertise in a specific skill after going through certain professional training, experience etc. Whereas, an academic certificate is the one that a learner receives after completing a certain level of education, giving an excellent academic performance etc.
What are the examples of academic certificate?
The examples of academic certificate include a student's academic achievement or excellence award for his outstanding performance or participating in various events in school, high school, college, or university.
Which app is good for making academic certificate?
You can use free online certificate makers like DocHipo for making academic certificate. Choose from a wide range of beautiful customizable academic certificate templates. Customize the academy name, award name, certificate recipient's name, date, institution head's position and name, color scheme etc using our intuitive drag-and-drop editor.