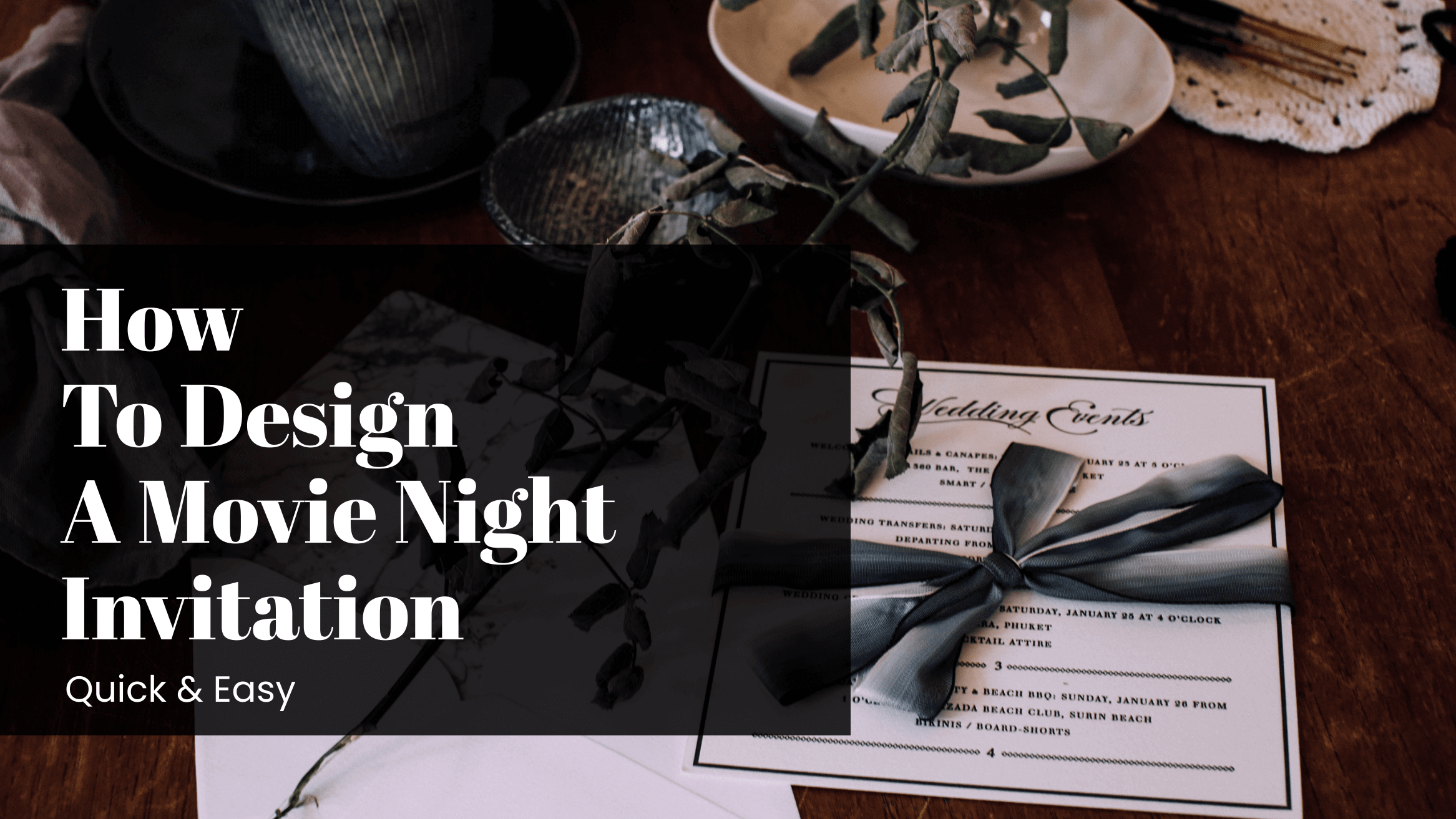 How to Design a Movie Night Invitation Quickly

Last Updated Oct 18, 2022
Are you looking to design a movie night invitation? Maybe you are organizing a fundraising event for your non-profit organization via public screening of movies. Or perhaps you just want to have a get-together with your friends and family and enjoy movies for extra fun. Whatever the reason is, you need a movie night invitation for a successful movie night party.
With the rapid advancement of technologies in our digital age, it's a common misconception that invitation cards are becoming outmoded. Nowadays, people turn to social media and send out invitations through group messages and social media posts. Why? Because it seems effortless and quick. And that's not unusual because over 3.6 billion people are on social media. Though it might seem convenient and fast, this way, your invitations lose the personal touch they should always communicate.
Maybe you have already decided to design a movie night invite but don't know where to start. We have got you covered. DocHipo's Free Online Invitation Maker will help you create personalized invitations for anyone and any movie genre fast and quickly.
Read on to learn how to design a movie night invitation.
Table of Contents
Movie Night Invitation Design Ideas
The best thing about DocHipo's Invitation Maker is anyone can design an invitation using it without any design skills and experience. And to make the process more straightforward, we have come up with some movie night invitation design ideas.
Choose The Perfect Color Combination
The color combination sets the tone of your invitation and ties all the design elements together. Choosing the right color combination for your movie night invitation design can be overwhelming, especially if you don't have any design experience. To speed up your color selection process, I have posted this blog on the best color combinations. These will give you a jolt of color inspiration.
The movie night invitation templates in DocHipo come in the perfect color combination. Still, if you want to choose different colors of your choice, get help from the article above. Also, the movie night invitation template below will inspire you to design your invitation.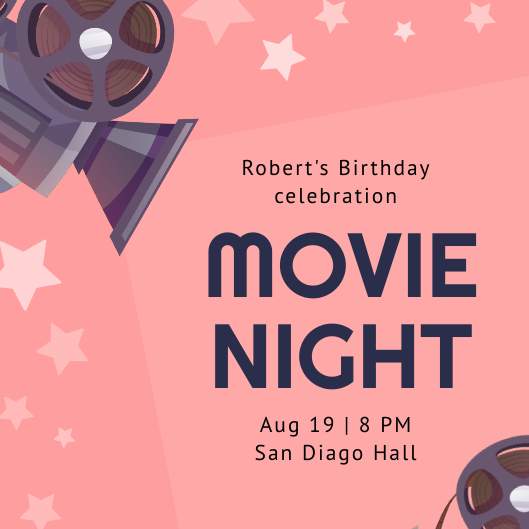 Get This Template and More
Get The Typography Right
When it comes to designing personalized invitations, typography plays a vital role. Just like color, different fonts evoke different emotions. For example, sans serif fonts exude an informal vibe, script fonts make your design elegant, and calligraphy fonts give off a personalized touch. In DocHipo Editor, you will find a wide range of font styles to include in your design.
Don't use more than three different fonts in a single invitation design. Make sure that the fonts you choose are legible and your text is easily readable. To make it more simple, you can think of each font as a different voice. So, you know how loud you want your invitation to be. And too many different fonts can make your invitation too loud.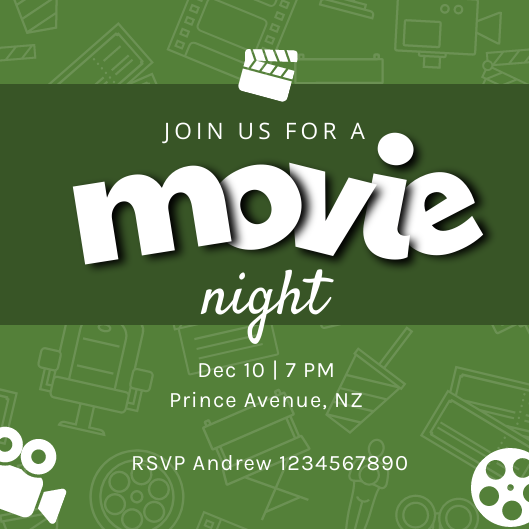 Get This Template and More
Additionally, learn more about Typography Hierarchy to get the typography of your movie night invitation right.
Keep Everything Aligned
The alignment of all the design elements is crucial in any design, especially in document types like invitations where you don't use long paragraphs of copy. We recommend you center align most of your text so that the design doesn't look off balance. However, there are other factors to consider while aligning your texts, such as the position of the other design elements, the size difference between the headings and body texts, and many others.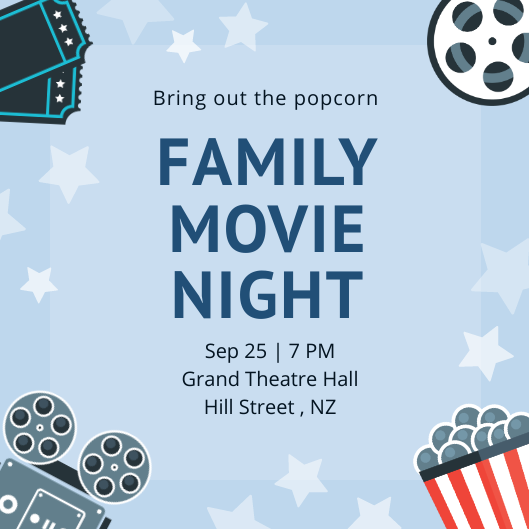 Get This Template and More
Use Ample Whitespace
Your movie night invitation design is more than just aesthetics. While going through the design process, don't forget why you are designing the invitation: to invite others to your event. Hence, you need to concentrate on every tiny detail to make the movie night invitation perfect.
Whitespace or negative space is one of those design elements that not only create harmony but lead your recipient from one element to another. According to a study conducted by Human Factors International, Whitespace increases comprehension of any design by 20%. And you don't want to miss out on this opportunity.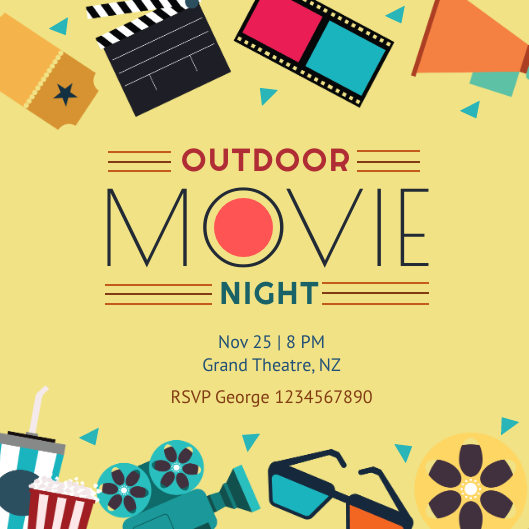 Get This Template and More
Give It A Personal Touch
In our digital world, most people are designing invitations using online graphic design tools like DocHipo. And there's nothing wrong with that. But giving a personal touch to your invitations is crucial for an effective invite.
Therefore, you can use calligraphy fonts and incorporate graphic elements that look like realistic designs. By doing this, you give your movie night invitation some handmade touches.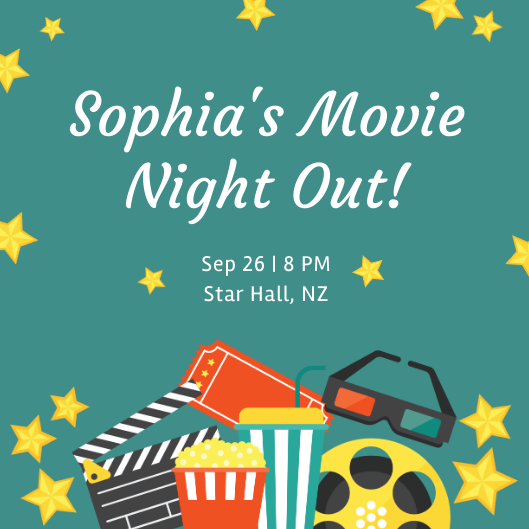 Get This Template and More
Once your movie night is over, you can send out thank you cards to show your guests that you appreciate them supporting and attending your event. DocHipo's Free Online Card Maker will help you design thank you cards as well.
Additionally, read this article about designing a card in DocHipo to learn how to design a thank you card and other cards using DocHipo.
How To Design A Movie Night Invitation In DocHipo
DocHipo's library of free movie night invitation templates and awesome Design Widgets will help you design personalized invitations in seconds. Follow these simple steps:
Step 1: Select A Movie Night Invitation Template
If you are yet to sign-up for DocHipo, you can do it now from here. Once you land on DocHipo's all templates page, find the search box, type "Invitation," and click on the result.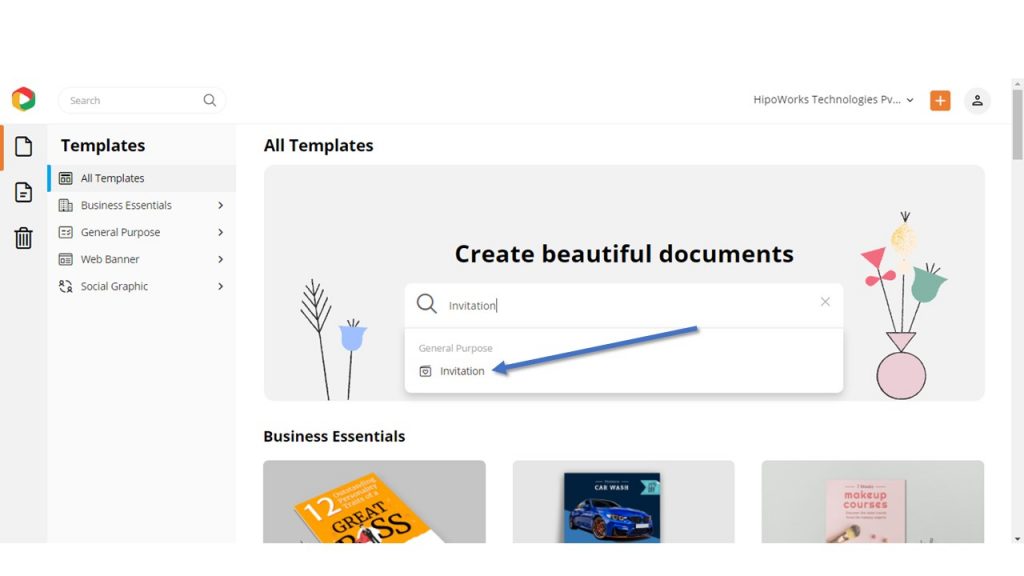 Choose "Movie Night" among the other Invitation template categories and then find a template that suits your needs.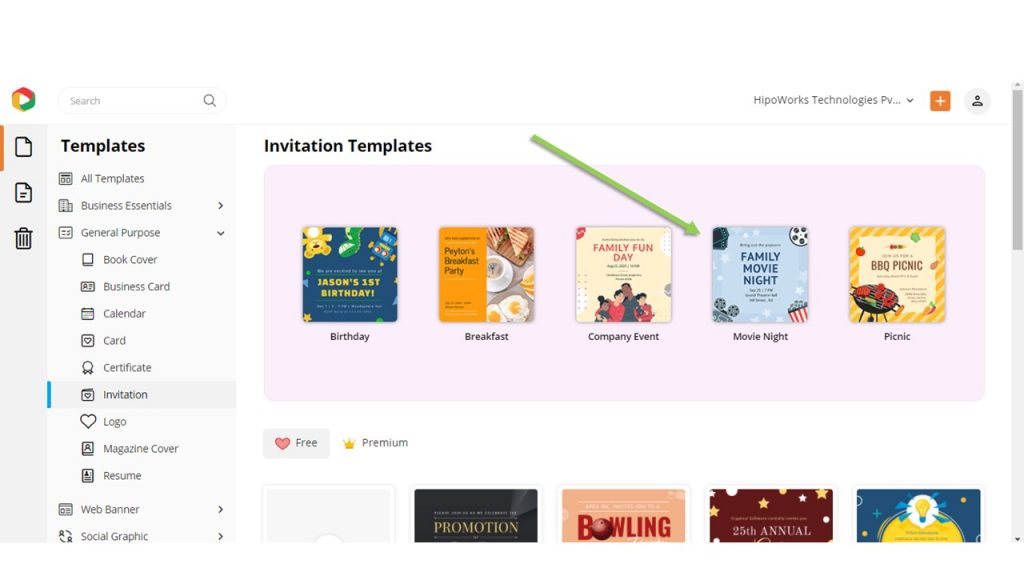 Hover over the template that you wish to customize and download. Click either "Preview" to look at it or "Select" to proceed with the template further.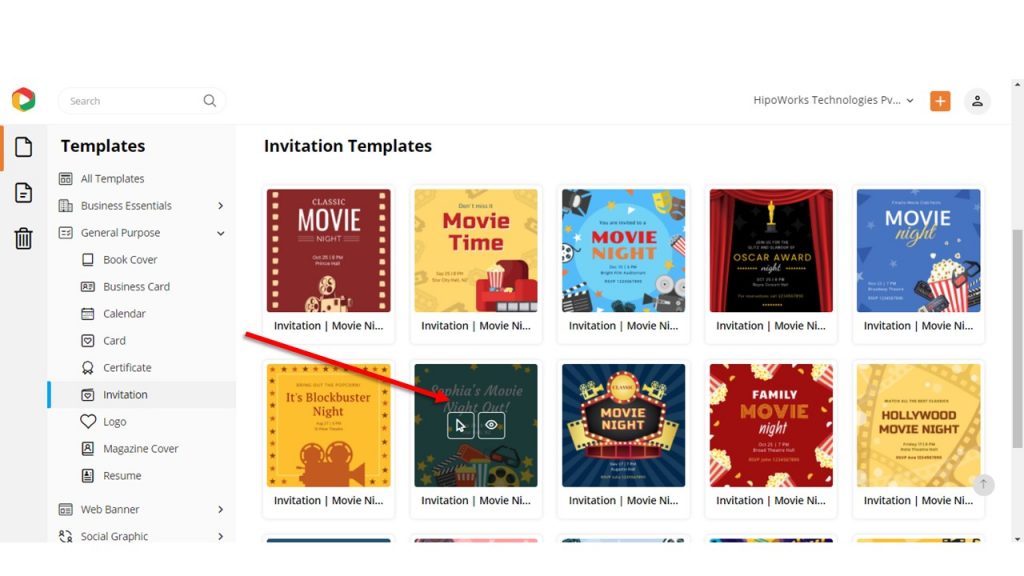 Another page will open up before entering the DocHipo editor, where you need to give the document a name and a short description. Once you are done, click "Next."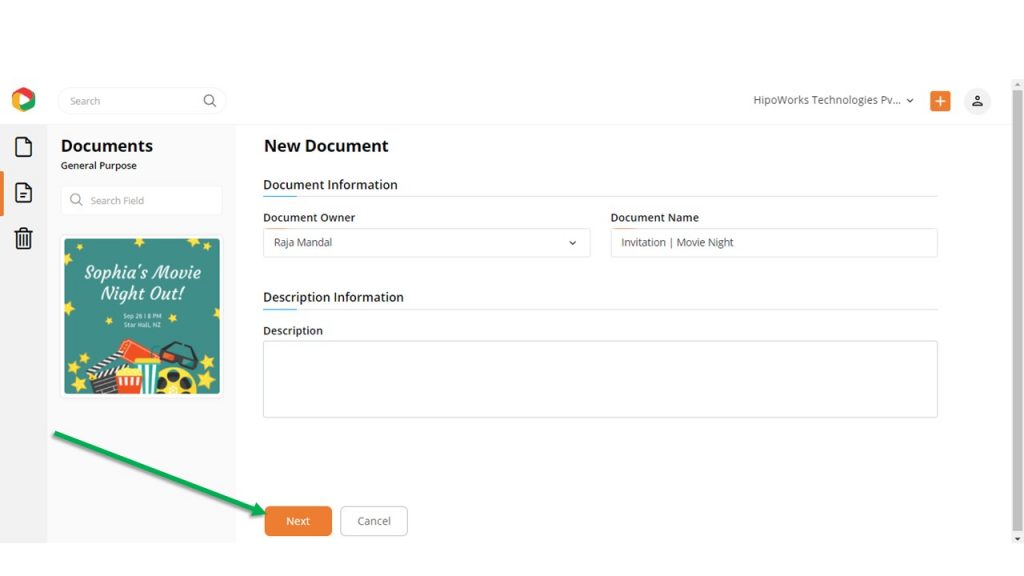 Step 2: Customize your Movie Night Invitation Template
All the movie night invites in DocHipo are customizable. Customize them according to your need.
Write Your Message
The primary purpose of sending out an invitation is to inform and welcome your guests to your event. Therefore, while showcasing some personality, your card should answer the following questions: What, When, Where.
Hence, you need to replace the pre-existing text in the template with your message. To do that, double click on the text that you want to replace and then type your message.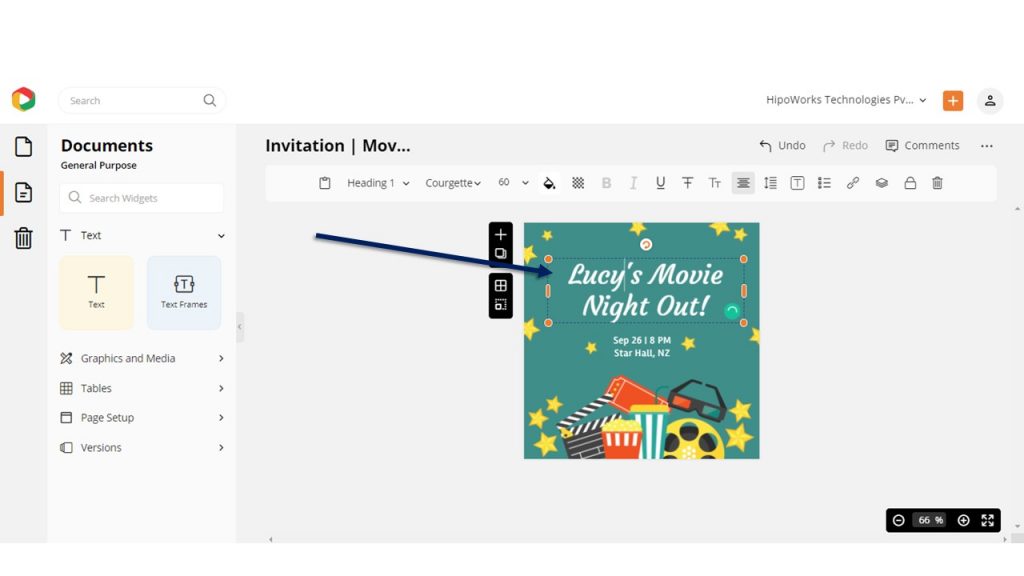 Once you have changed the text, you can change the font style, size, and color using the edit panel.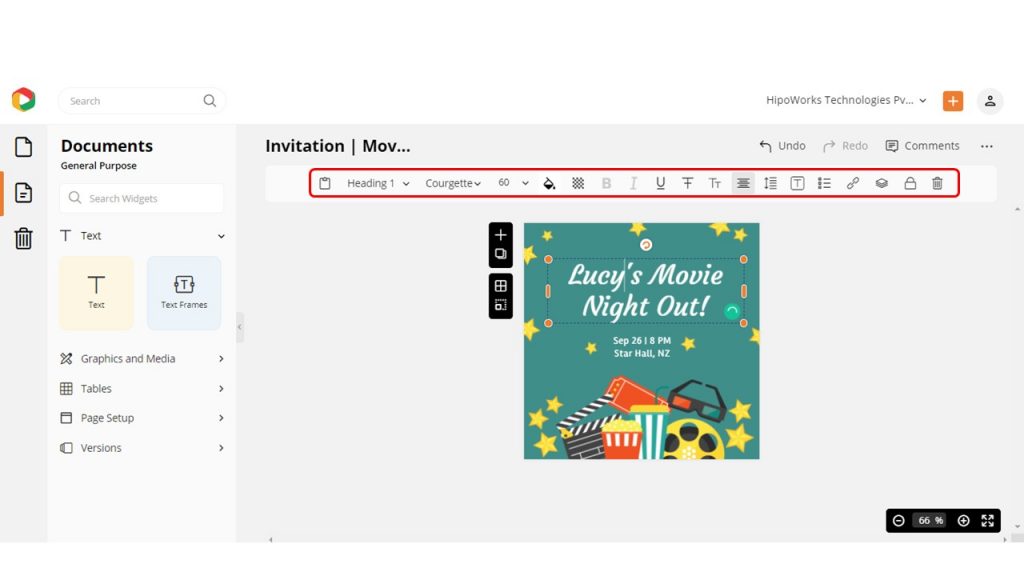 Moreover, you can watch the video below to learn how to add, edit, or delete text in DocHipo.
Change the Background Color
To change the background, click the "Graphics and Media" tab from the left sidebar and choose "Background".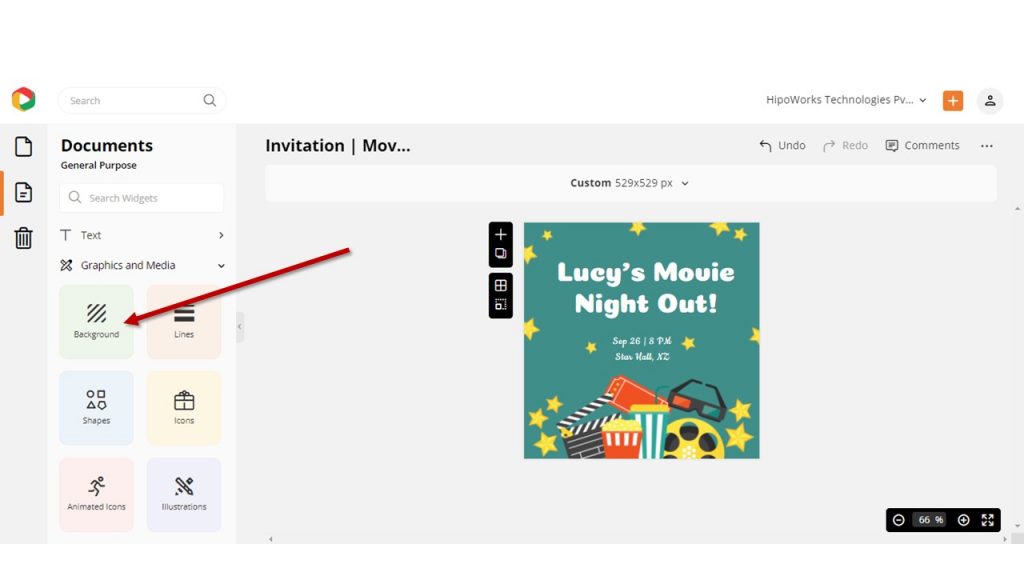 Choose a color from the color presets or pick a color using the color picker tool. DocHipo lets you add texture to your background from the endless options of patterns.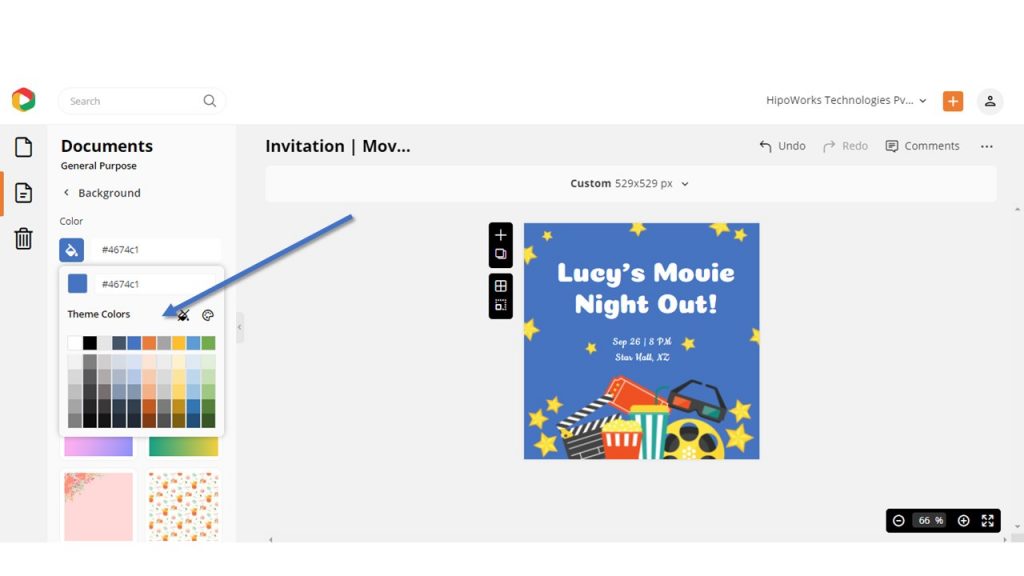 Here is a video that will help you learn how to create stunning backgrounds in DocHipo.
Customize Other Elements
You can add, move, resize and delete any design elements like shapes, lines, and others in the template.
Click the element you want to add, such as shapes, lines, icons, illustrations, and others, from the left sidebar under the "Graphics and Media" tab. DocHipo's drag and drop editor will help you add the elements of your choice.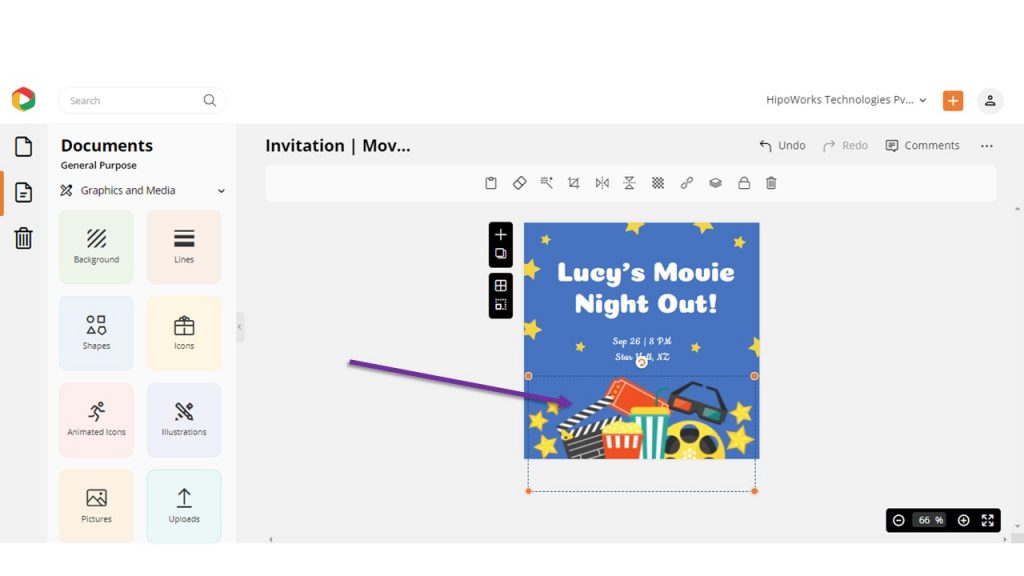 Select an element and use the edit panel from the top to customize it.
Additionally, if you want to upload any images, icons, or illustrations from your system to the template, then click "Uploads" from the sidebar.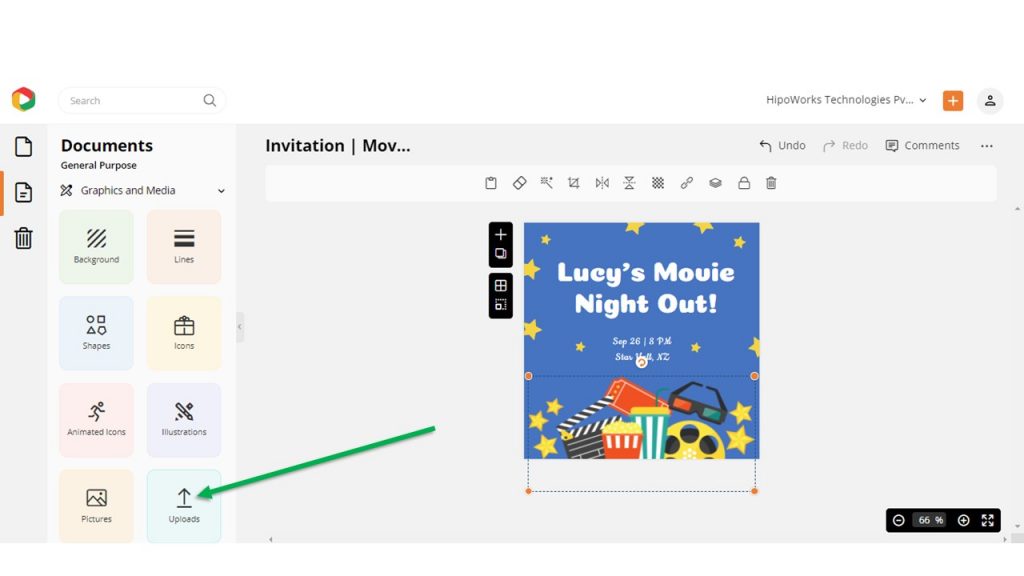 Before Editing: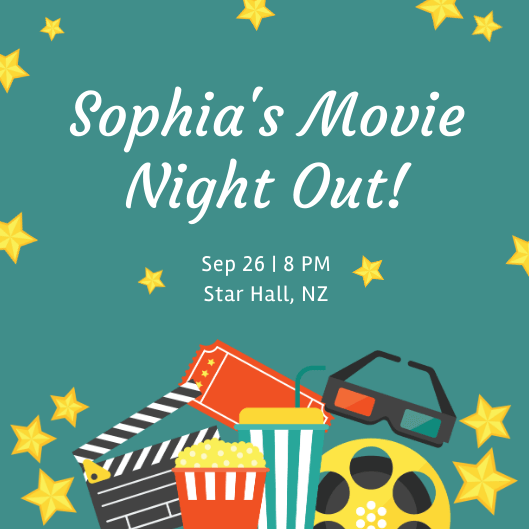 After Editing: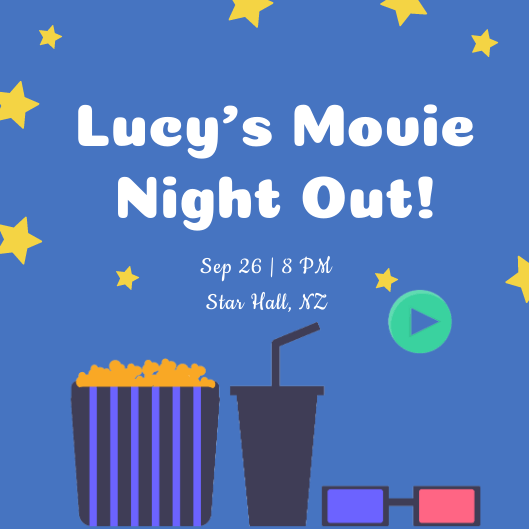 Step 3: Download Your Movie Night Invitation
To download the movie night invitation, click on the three dots from the upper right corner of your screen. And then select Download from the drop-down menu.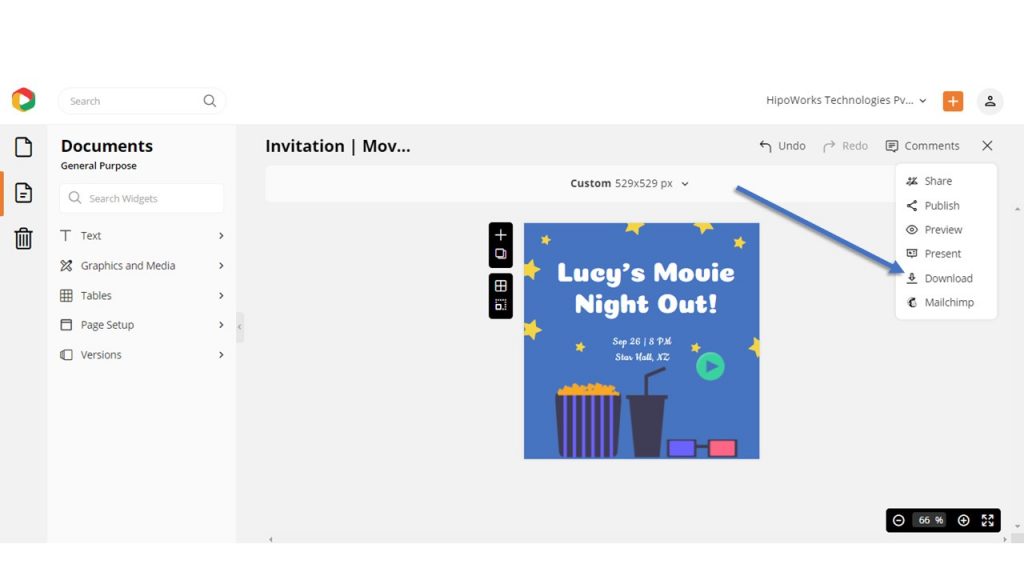 Choose your desired file type and quality, and then hit the download button. Your design will automatically be downloaded to your system.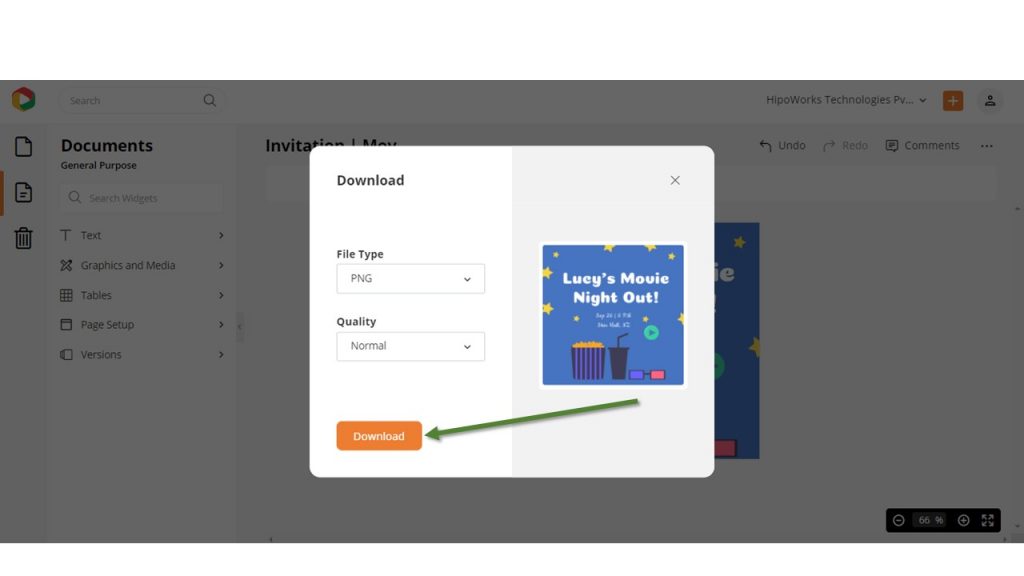 Additionally, you can look at the free invitation templates that DocHipo offers from the video below.
End Of The Lines…
There is no shortage of things that blow attention away from the events that people should attend in this digital era. However, your job is to do the best you can. Design an invitation that's impossible to decline.
A well-designed movie night invitation will build anticipation and bring your guests to your event. With DocHipo as your invitation design software, you will love how intuitive it is to create beautiful designs. With a wide variety of free movie night invitation templates to choose from and easy-to-use tools, you will love designing your invitations in DocHipo.
Sign-up to DocHipo and start designing your movie night invitations with our custom invitation template today!