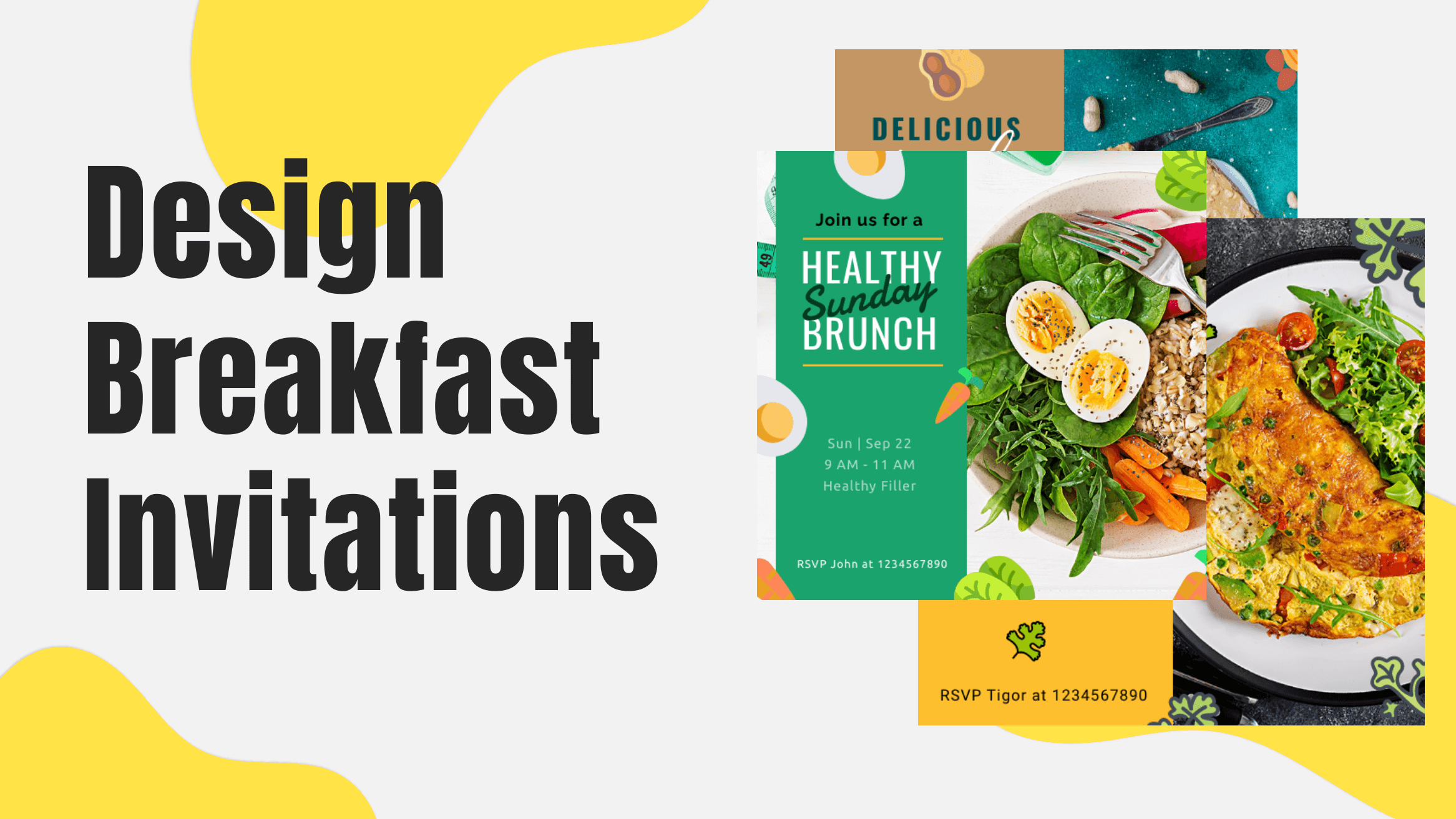 How to Design a Breakfast Invitation Quickly

Last Updated Oct 5, 2022
People have a common misconception that invitation cards are becoming obsolete with the advancement of technology, and social media is the ultimate medium to connect with people. We use social media and group messages to invite or let people know of an event in this digital age. However, it takes away the personal touch that invitations provide. Therefore, if you are throwing a breakfast party, design a Breakfast Invitation to invite your guests.
You might feel you lack the design experience needed to design a breakfast invitation, but with DocHipo's Free Online Invitation Maker, it's a lot easier than you think.
Continue reading to learn more about designing a breakfast invitation.
Table of Contents
Breakfast Invitation Design Best Practices
Breakfast invitation design can be fun or frustrating, depending on your design skills. If you fall into the second category, you need some help with the design process. You need to understand all the essential design elements such as colors, imagery, typography, shapes, icons, etc.
To make things easy, we have gathered some of the best practices for Breakfast Invitation design.
Choose Right Colors
Colors have the power to trigger different emotions through any design. Since you are designing the card to connect with the recipient emotionally, colors play an essential role in your invitation design. A well-chosen color combination ties all the design elements together and sets the tone of your message.
However, finding the right color can be overwhelming, especially if you don't have design experience. Therefore we recommend choosing complementary colors to stay on the safe side.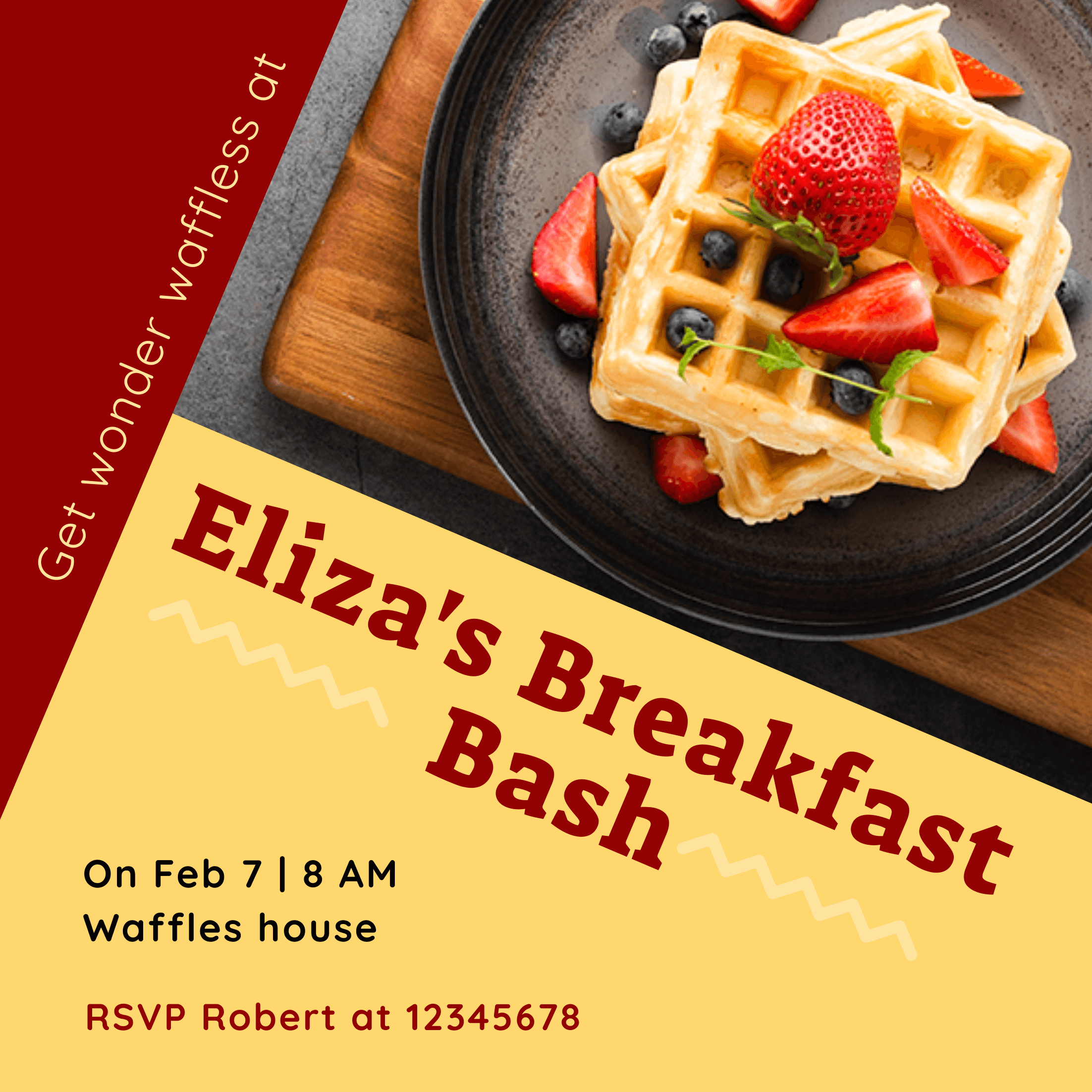 Get This Template and More
Think about the other elements that you want to incorporate into your invitation design. For example, if you're going to add images to your Invitation, choose colors according to the picture. Since you are designing a breakfast invitation, choose bright colors that give fresh morning vibes.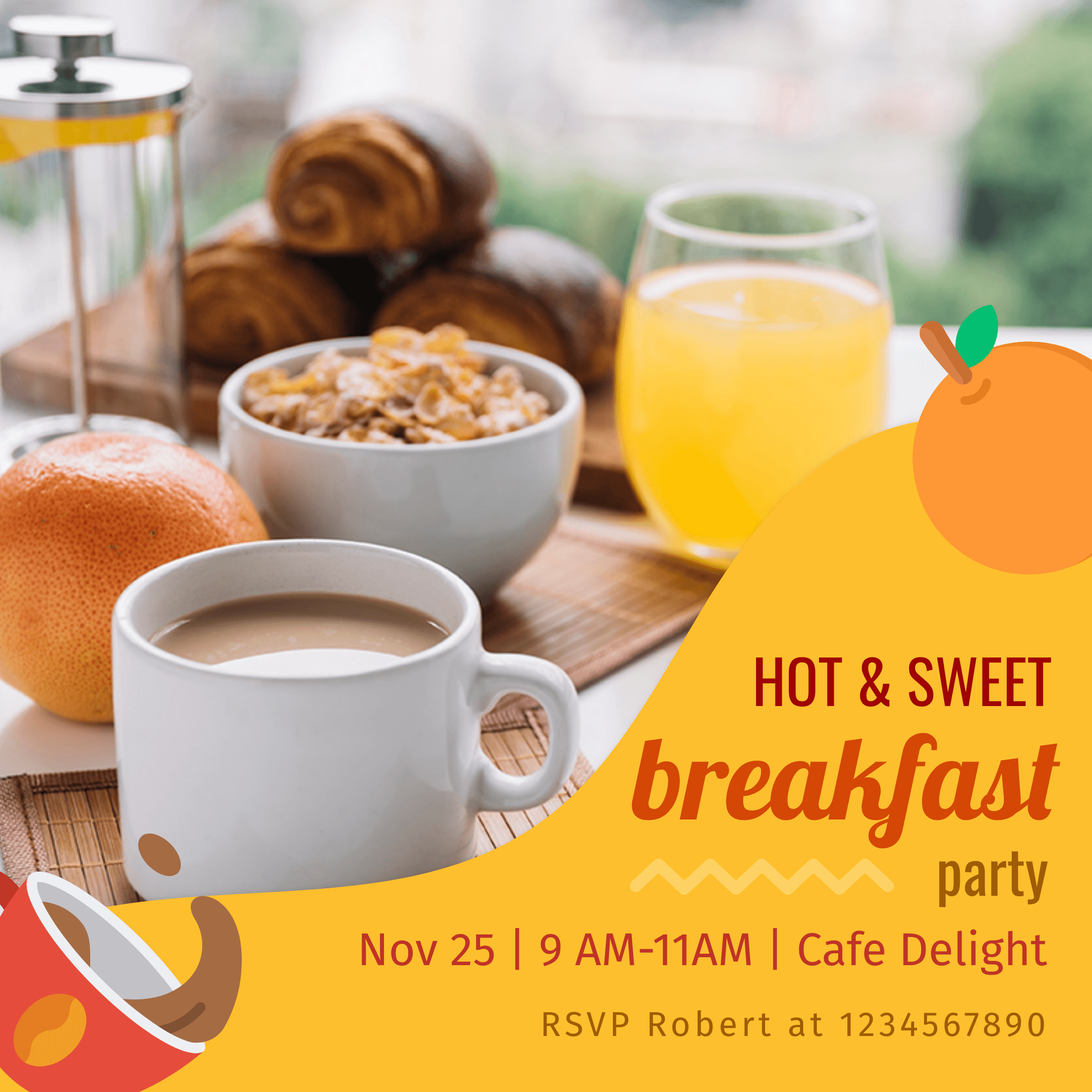 Get This Template and More
If you are running out of ideas for choosing colors for your invitations, get help from this article about the Best Color Combinations.
Use Legible Fonts
Since it's a Breakfast Invitation, you can choose almost any font you want to convey the message. So, the essential thing you should consider while selecting fonts is legibility. A typeface with clarity and legibility is always better than a fancy but illegible one. Because a Breakfast Invitation includes crucial information such as the time, venue, name of the event, and others. So, if the recipient can not read the invitation easily, the whole design becomes worthless.
Here are some other points to keep in mind while choosing a font for your Invitation:
Use only 2-3 three different fonts in a single design. Anything more than that is too much.
While selecting multiple fonts, make sure that they have substantial contrasting differences.
Prioritize the font size according to their category: Headings, Subheadings, and Body Text.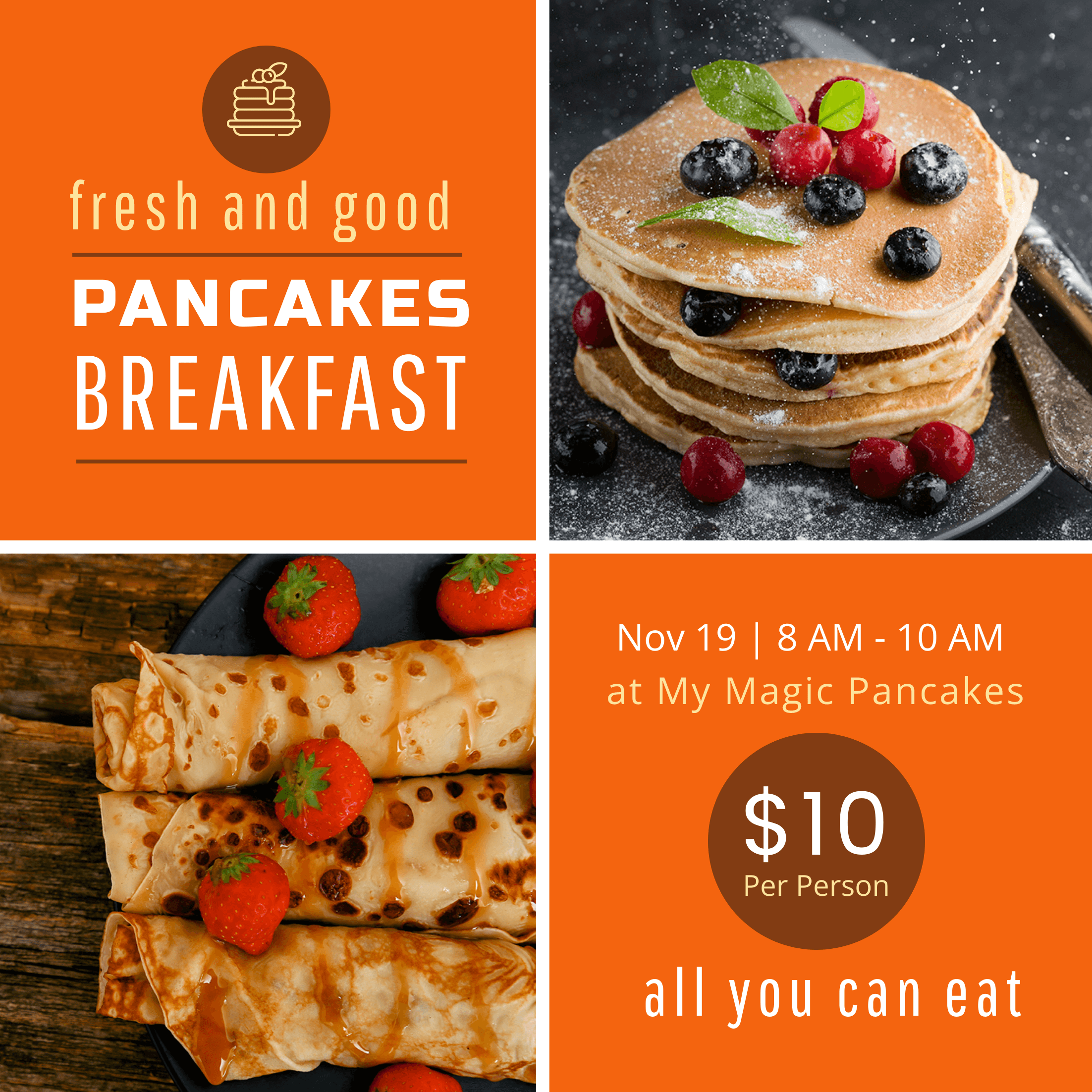 Get This Template and More
This article about Typography Hierarchy will help you choose fonts more confidently.
Incorporate High-Quality Images
Make your cards more personalized by adding some images. They help connect with the text and clarify the message presented in your Invitation by evoking associations and adding meaning. You might have heard that famous line; "Pictures Tell Thousand Words".
Use some relevant images, such as the breakfast table or the meals you will offer at Breakfast. However, always make sure to use high-quality images. You can go for the stock images from free sources like Unsplash, Freepik, Pexels, Pixabay, and others.
You can take a photograph and create your Breakfast Invitation around it.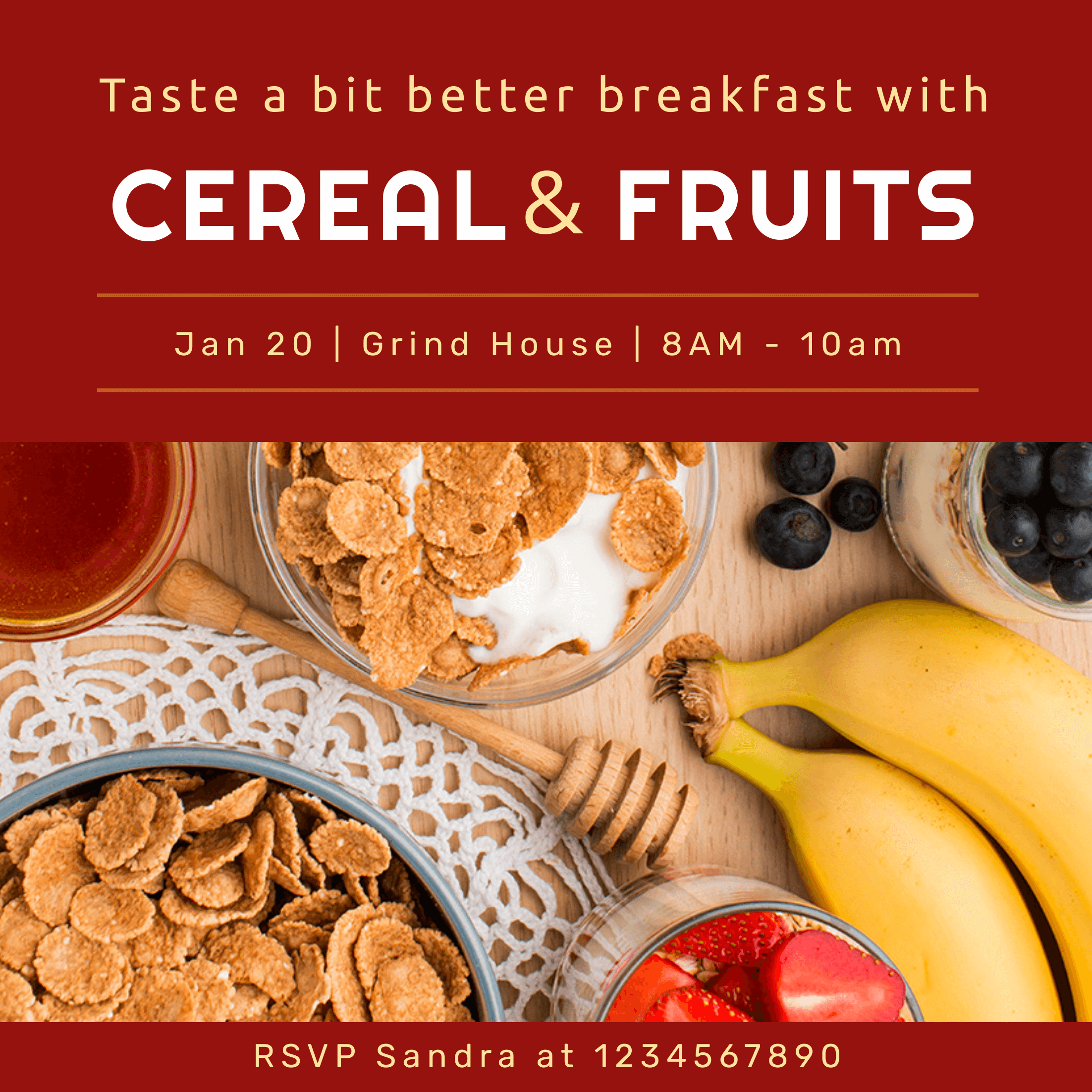 Get This Template and More
Or use the image as the background of your Invitation.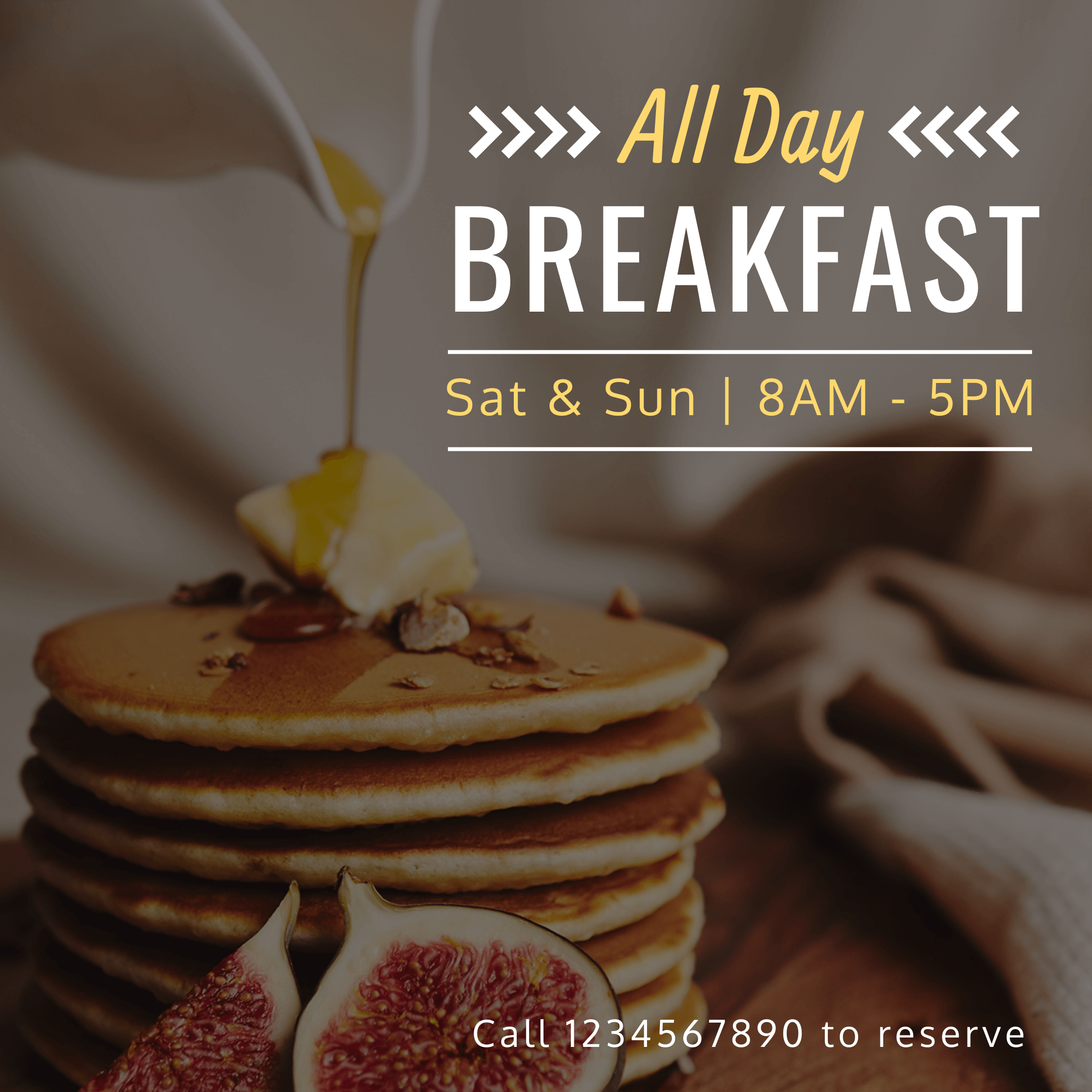 Get This Template and More
Add Some Personal Touch With Additional Elements
Additional elements such as stickers, icons, illustrations, shapes, and others can give your card the personal touch it needs. This will make the recipients feel that you have put all your hard work into designing the Invitation for them.
The message inside the card is certainly important, but the card's overall look creates the first impression. And these additional elements help you do that easily. Choose some beautiful design elements relevant to the other elements like the text, color, image, and layout.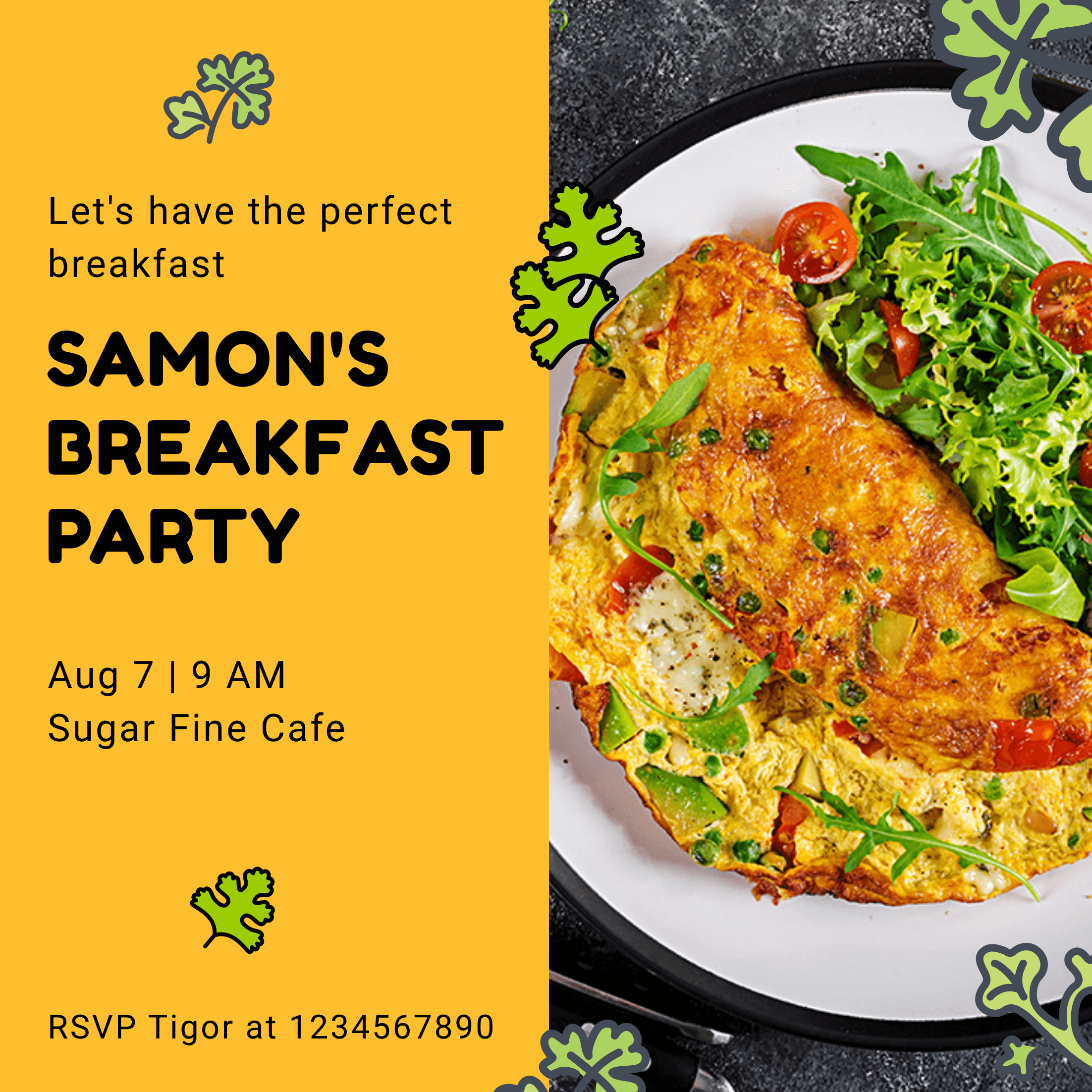 Get This Template and More
Leave Ample Whitespace
Last but not least, use ample white space in your Breakfast Invitation Design. White space is a powerful design element that ties all the elements together. It gives the elements enough room to breathe so your invitation design doesn't look overcrowded.
Furthermore, it helps you create emphasis on certain elements in your design. Ultimately, creating a visual hierarchy that immediately impresses the recipients. However, don't confuse white space with the color "white". White space is the negative or blank space that separates each element from the other.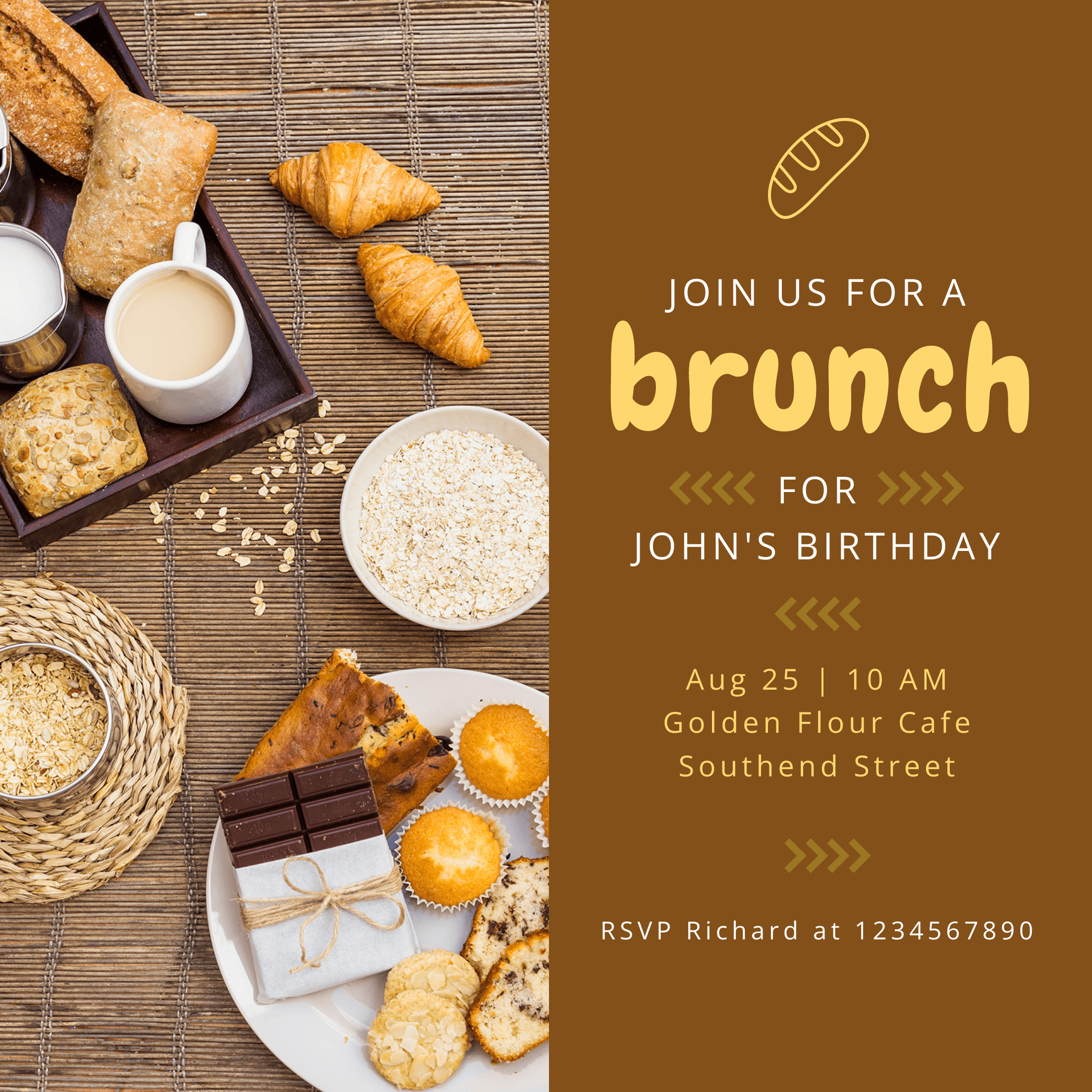 Get This Template and More
Now that you have gone through the best practices mentioned above, apply them to customize a Breakfast Invitation template. So, let's move on to the design part.
How To Make A Breakfast Invitation In DocHipo
DocHipo comes with a wide range of free Breakfast Invitation templates. Simply pick a template of your choice, and use the Design Widgets to customize it according to your taste. Create an account in DocHipo and follow the instructions below to create your Invitation.
Step 1: Pick a Breakfast Invitation Template
Once you land inside the all templates page of DocHipo, you will find a wide selection of template categories under different document types. To find a Breakfast Invitation easily, you need to type "Invitation" in the search box and click on the result.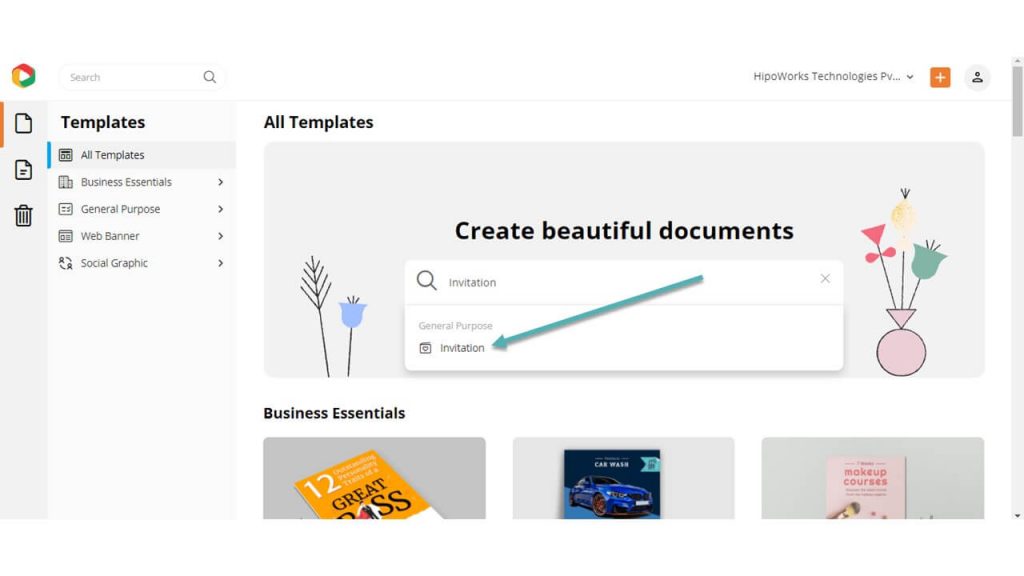 Filter the templates by choosing Breakfast among them.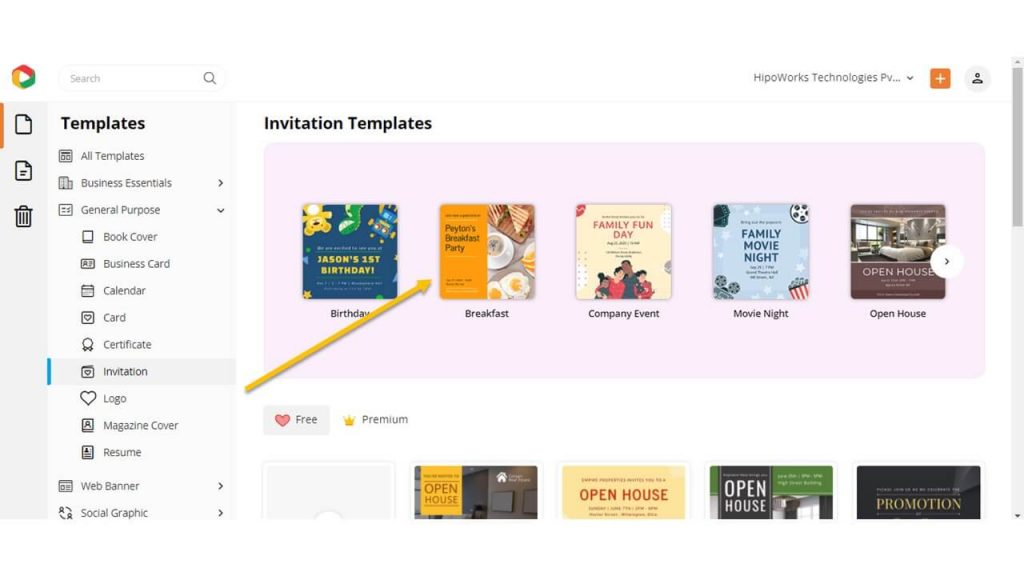 Hover over the template you like and click "Preview" to take a look at the template before editing.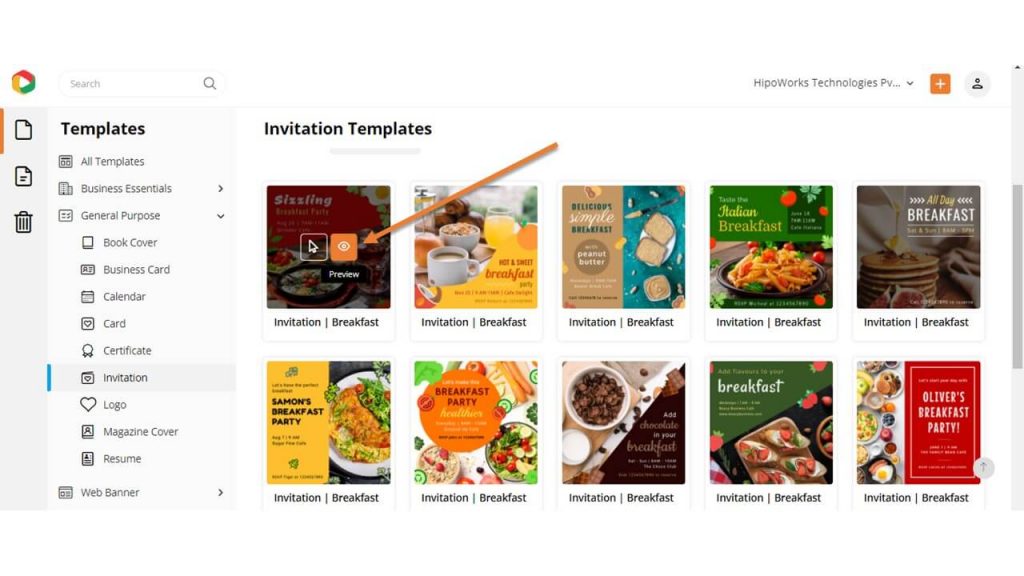 Alternatively, click "Select" to proceed further with the template.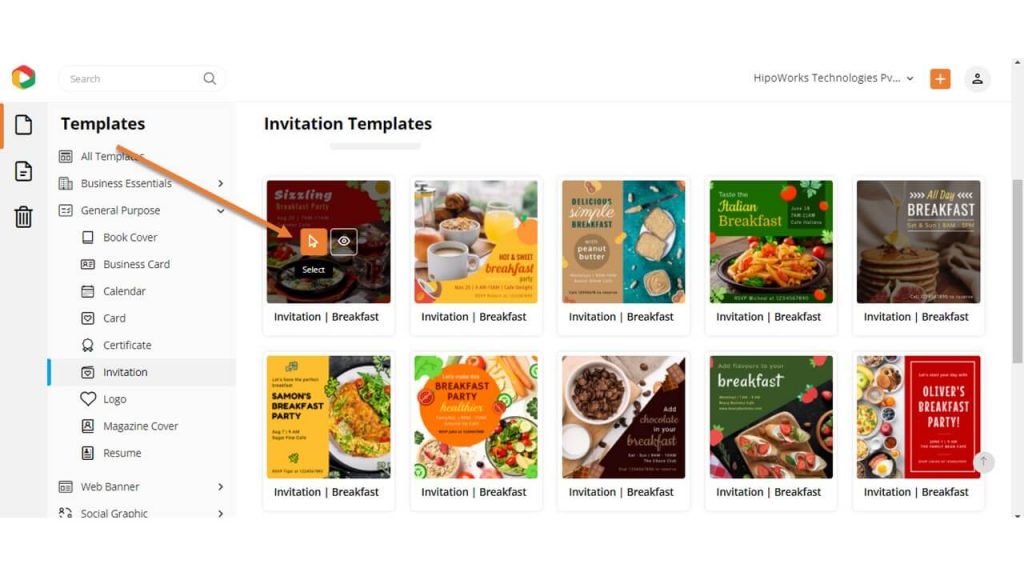 Give a name to the document and a short description on the next page and click "Next".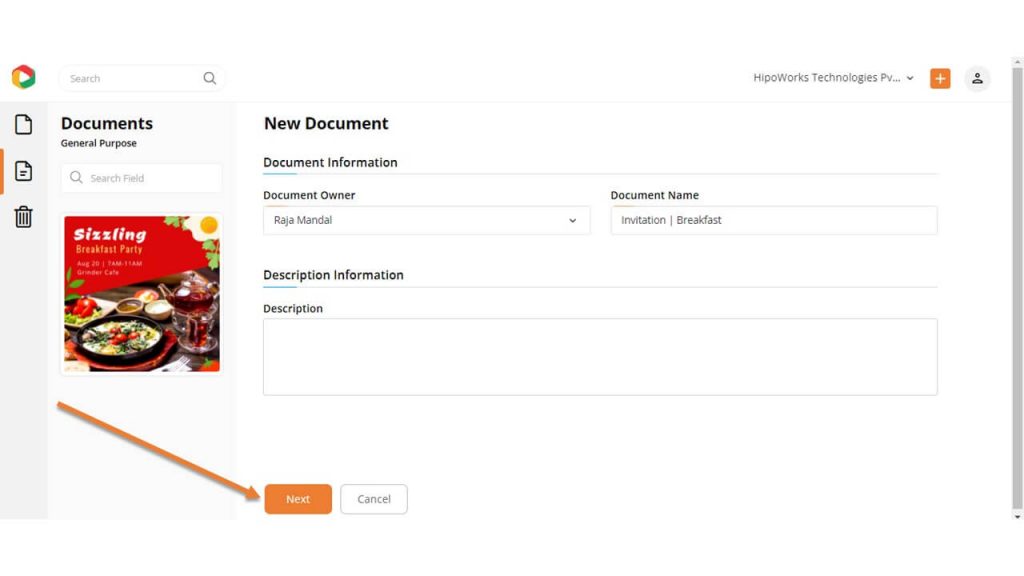 Step 2: Customize the Breakfast Invitation Template
The DocHipo Editor lets you customize the template in many ways. Edit the text, change the background, insert pictures, and incorporate other elements. However, prioritize which details to include because you have limited space.
Write Your Message
Click on the Text widget from the left sidebar and choose a text object. Once the text object appears on the template, double click on it to type your message and use the edit panel to change the font, color, size, alignment, arrangement, and more.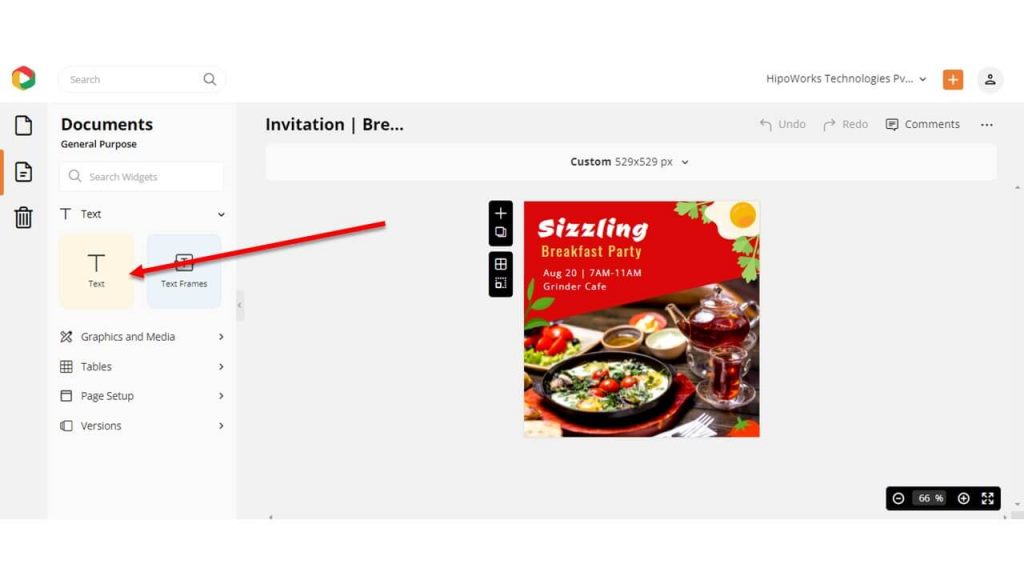 Similarly, double click on a preexisting text on the template and type your own words.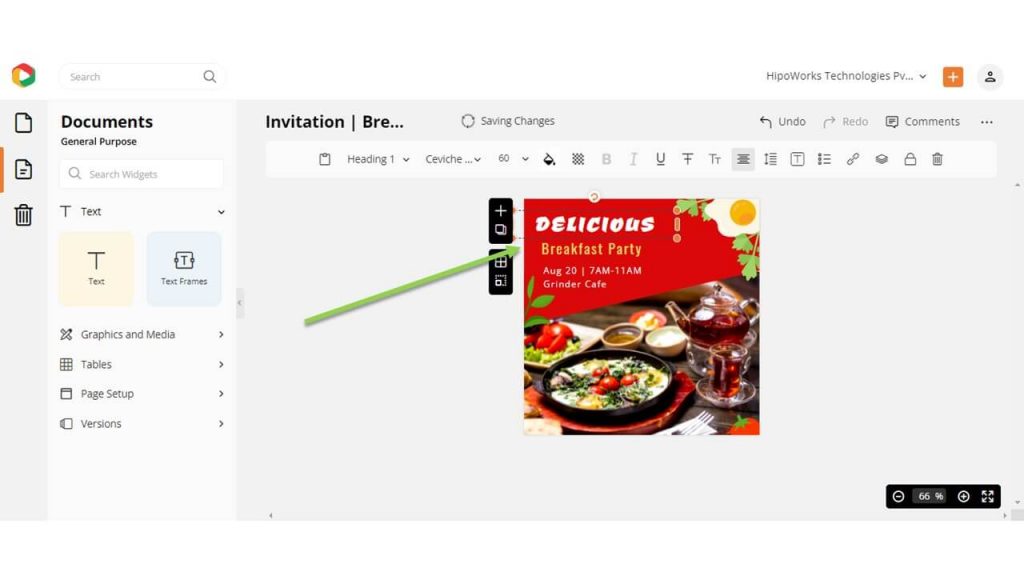 Consider watching the video to learn how to add, edit, or delete text in Dochipo.
Change The Background
Click on the Background widget from the left sidebar to change the background.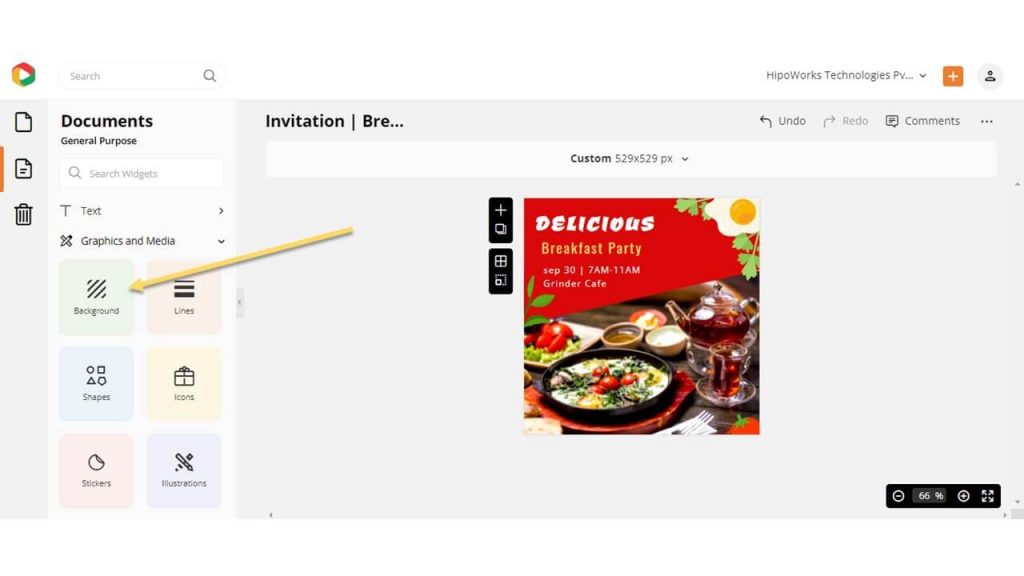 Choose a solid color from the presets or pick a custom color using the color picker tool.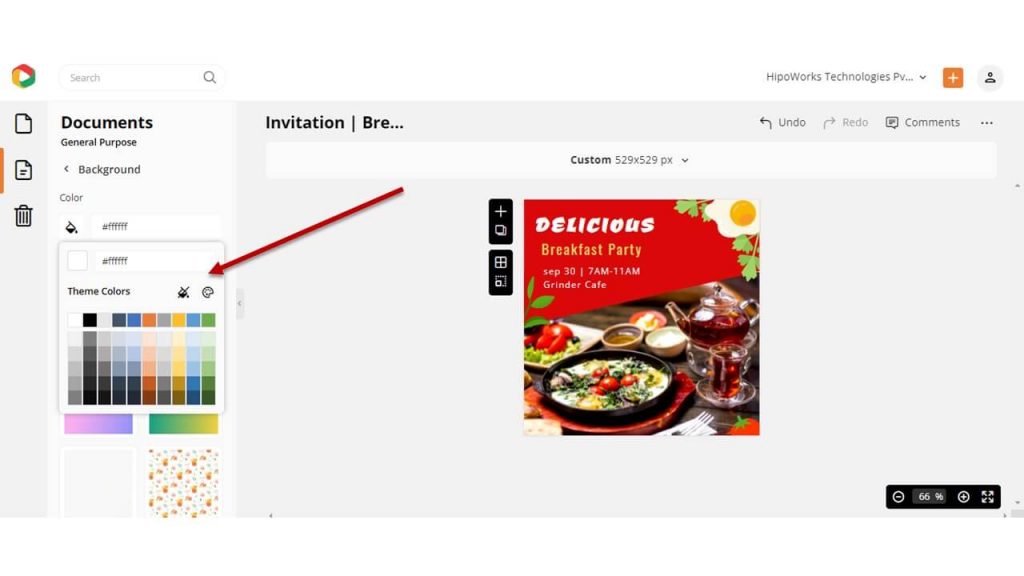 Also, you can create a gradient or textured background by choosing any of the images from the list.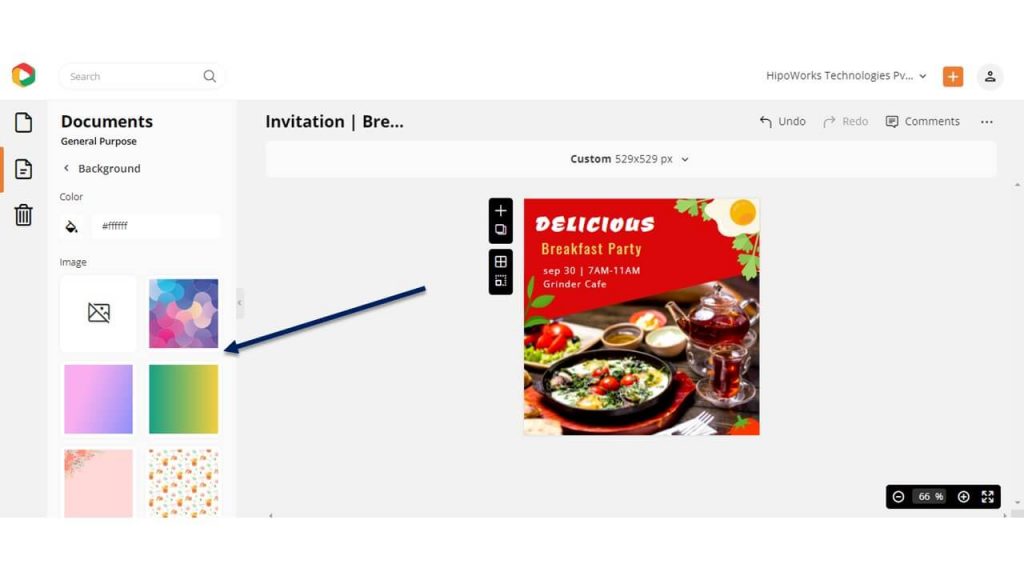 Here is a video for the same.
Incorporate Images
DocHipo comes with a massive stock image library. Click on the "Pictures" widget and browse through the images to find a suitable one to use in your Invitation.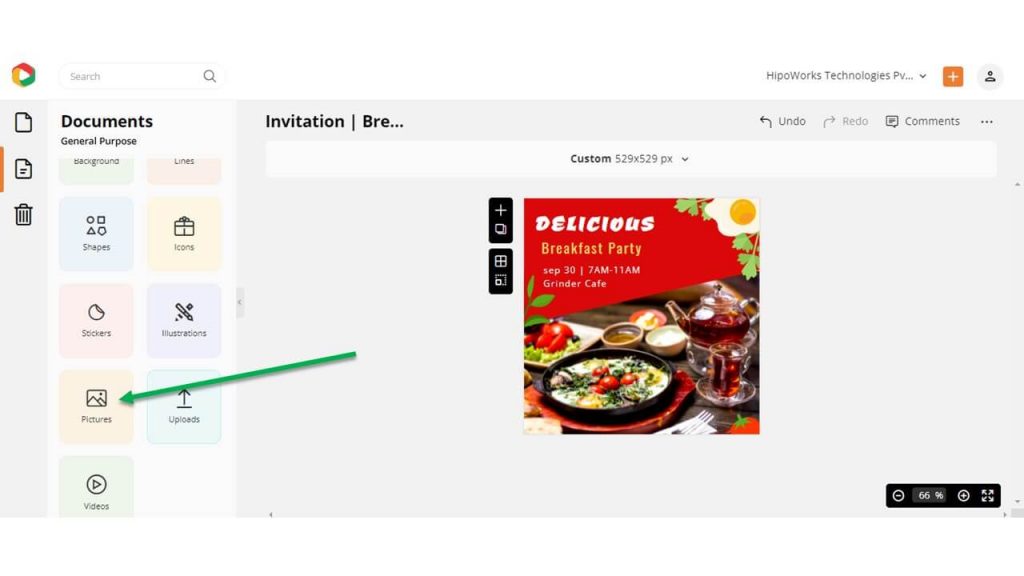 Click on the "Uploads" widget from the left sidebar to add images to your template.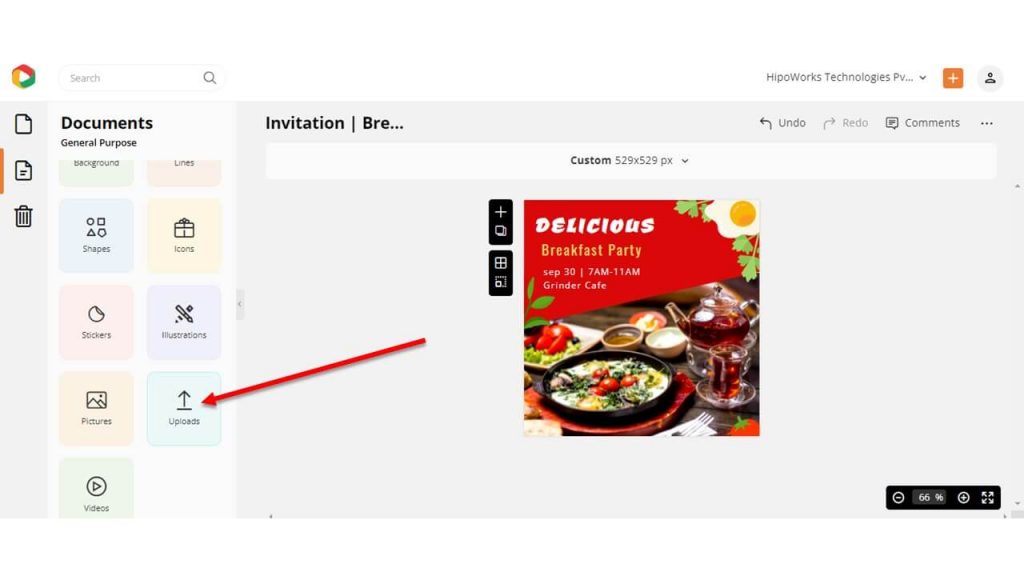 Once uploaded, drag and drop the image on the preexisting image, and it will be automatically replaced with the new one.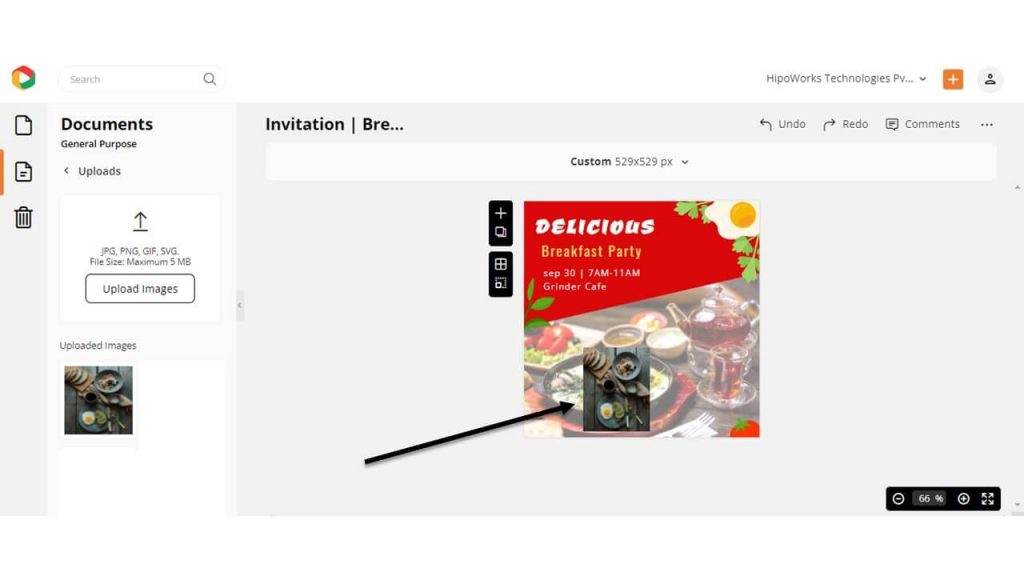 Add Design Elements
DocHipo comes with tons of additional design elements like stickers, shapes, icons, lines, illustrations, and many more. Choose any of them from the left sidebar.
Additionally, to edit an element on the template, click on it and use the edit panel to change the color, opacity, arrangement, and more. Below is the final result.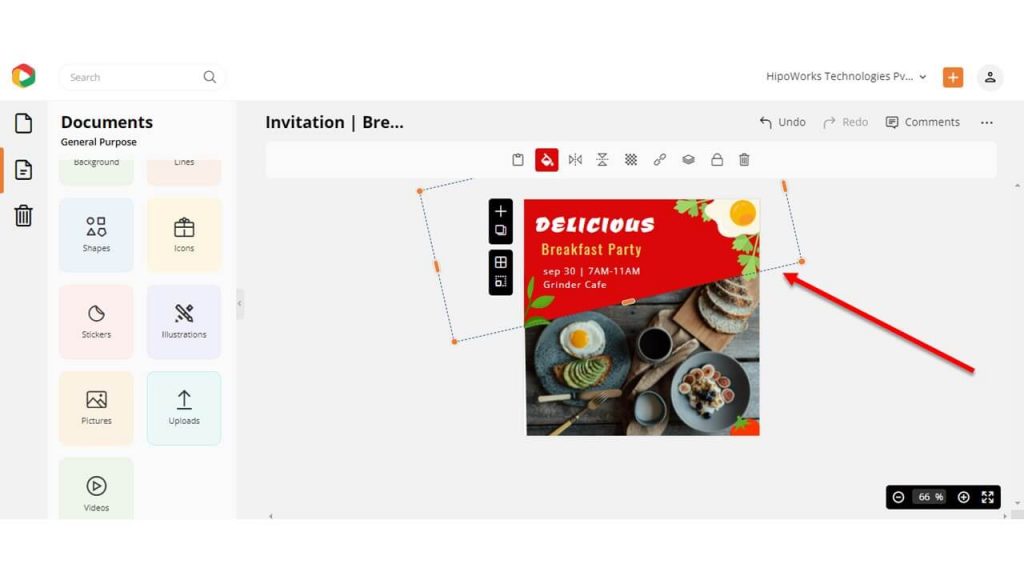 Before Customization: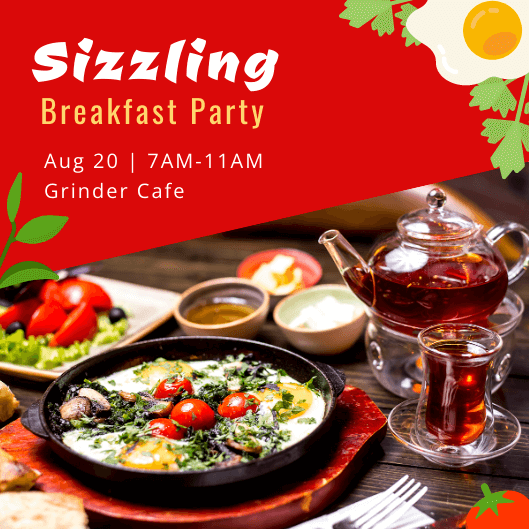 After Customization: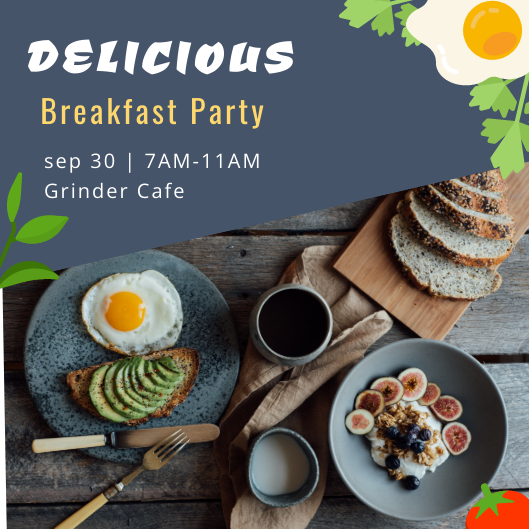 But this is not the end. DocHipo gives you total control to customize a template the way you want. Watch the video below to learn about the hidden treasures in DocHipo that help you customize your template more efficiently.
Step 3: Download the Breakfast Invitation
Once you are done with the customization, you might want to download the Breakfast Invitation Design. To do that, click on the three dots from the upper right corner of your screen. Choose "Download" from the drop-down menu, and the download widget will appear.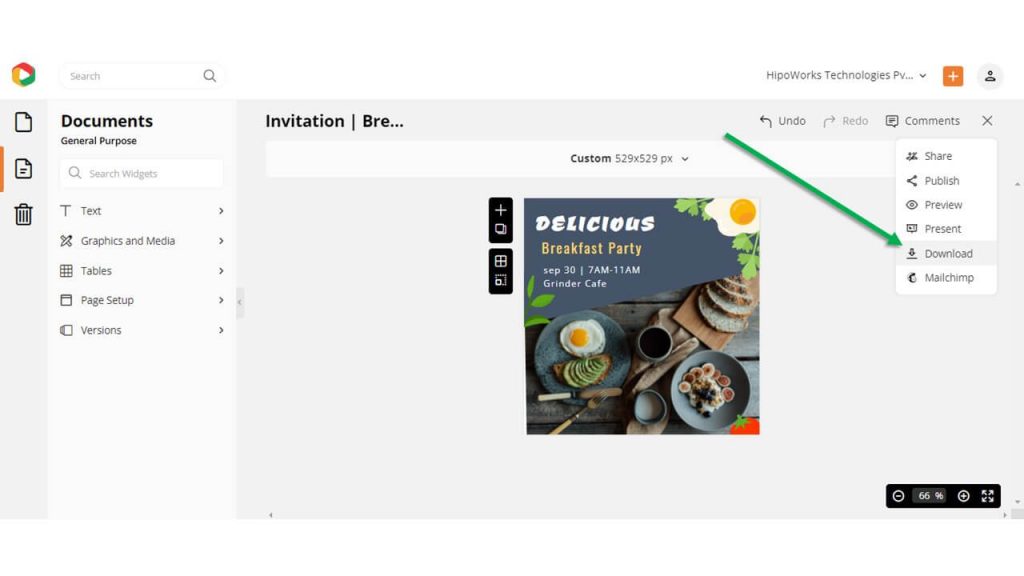 Choose your required file type and quality and click on the download button to start the download process.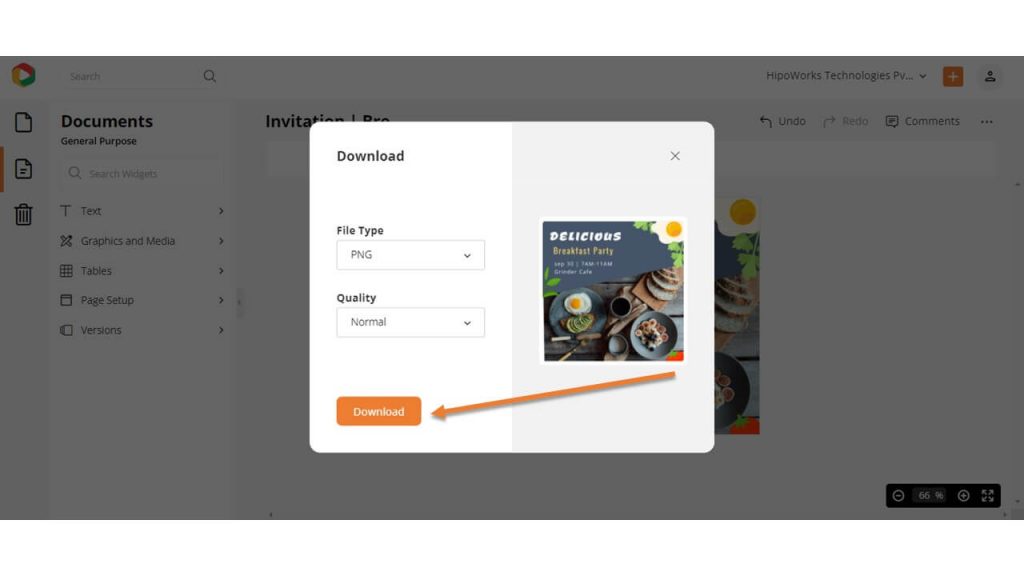 To Conclude….
Breakfast invitation design is not only fun, informative, and tangible but also allows you to be creative. I hope the article inspired you enough to make your own Breakfast invitations quickly.
Now, all that is left to do is sign-up to DocHipo, select your Breakfast invitation template, customize it, and you are all set to invite your guests in style.