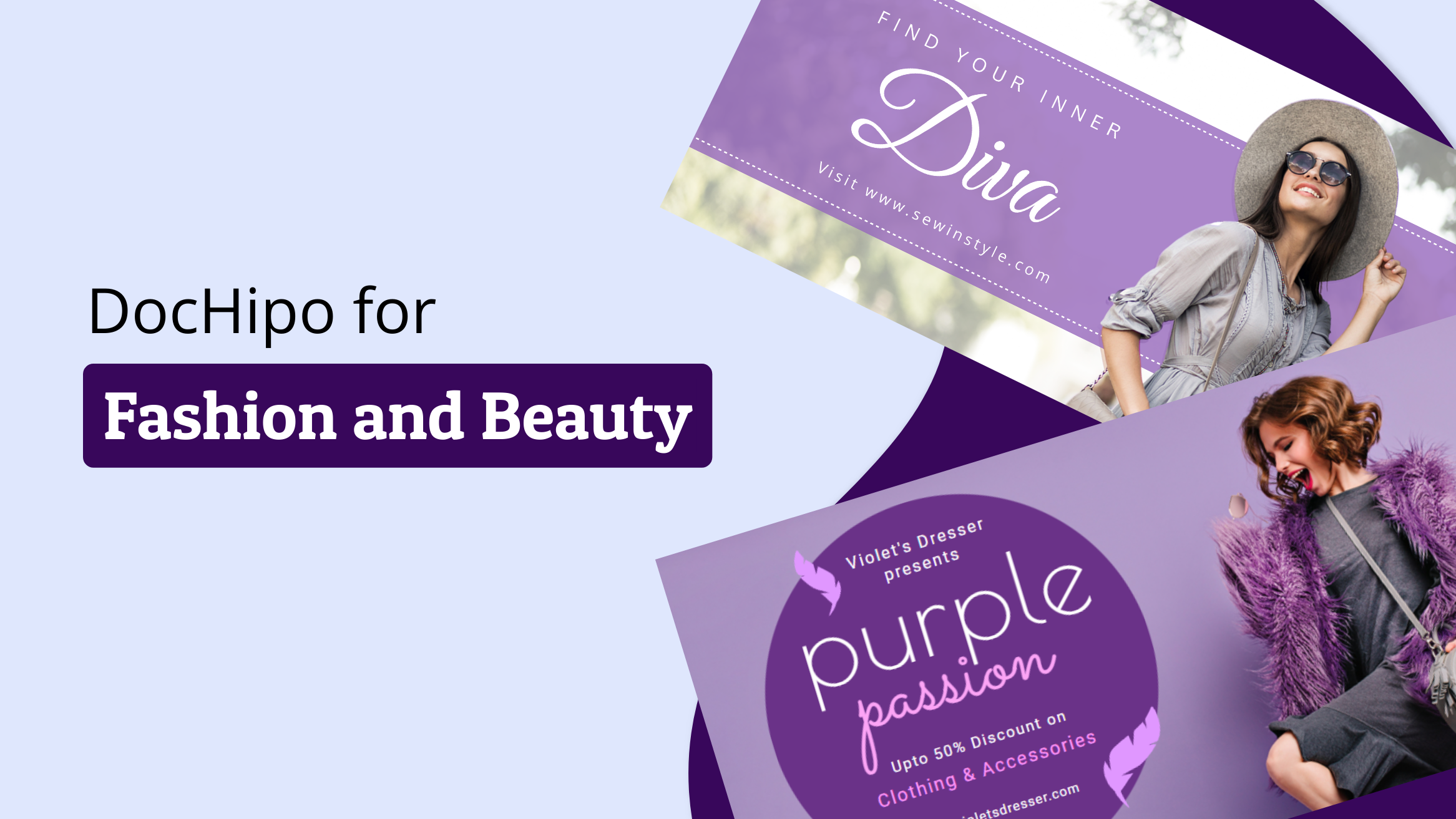 How Can a Fashion and Beauty Business Leverage DocHipo

Jan 17, 2022
Are you planning to start your fashion and beauty business?
If you are running a fashion and beauty business, you know that how you present your products to your audience plays a significant role in your branding and marketing efforts. You must be working hard to make your marketing collateral designs stand out each day. In this post, I'll discuss the different marketing collaterals you can create using DocHipo and share some awesome templates to make your design task more effortless than ever.
What are the different documents to create for your Fashion and Beauty Business?
DocHipo provides you with impressive templates for different document types with the right balance of outstanding imagery and perfect typography. Explore them and select the one you like or that goes with your fashion and beauty brand vibes. Then leverage the drag and drop editor and design widgets to give shape to your brilliant design ideas and incorporate your branding while customizing them. After that, you are ready to fascinate your target audience and potential followers.
Let's get started with the various document types you may need to rock your fashion and beauty business.
Logos
The logo is the face of your brand or business that creates a lasting brand identity. It's easier to recognize a brand or business through its logo, even if it does not include the name.
Design a logo for your fashion and beauty business so that your target audience can quickly figure out what industry you serve. Make them aware of your brand's existence.
By just looking at the logo, your potential customers will already form an opinion about the quality of the products or services you offer to them. So your fashion logo must be meaningful enough to convey your brand's key message. It should reflect your brand's quality, expressiveness, and commitment to your target customers.
Your eye-catching and thoughtfully designed logo has to make your target audience fall in love at first sight with your brand. It needs to arouse their further interest and curiosity to check out your product range through your social channels, and they may end up buying from you.
So you must invest your time in making a logo, as it's the most immediate representation of your fashion and beauty brand to your customers.
DocHipo's Free Online Logo Maker offers a vast range of professionally designed logo templates for you to create your unique and memorable fashion and beauty brand logo.
Read How To Design A Fashion Logo for design ideas, best practices, and step-by-step guidance on customizing the above templates using DocHipo.
Posters
The poster is a simple and cost-effective form of advertising for your brand message to reach a wider audience. You can advertise your fashion and beauty product range, promote a workshop or announce a sale. Incorporate a direct call to action for your target customers, like 'call on this number,' 'check out our website to grab this discount,' etc., for receiving effective responses.
Start leveraging DocHipo's gorgeous poster templates and let your fashion and beauty business shine.
Watch the video below to learn how to create posters in DocHipo.
Facebook Covers
Your loyal customers will always look for new product launches or discount offers from your brand. They might already follow your social channels. So Facebook Cover is a great medium to give them their desired information and represent your brand impactfully.
For example, check out the Facebook covers of the following two popular brands.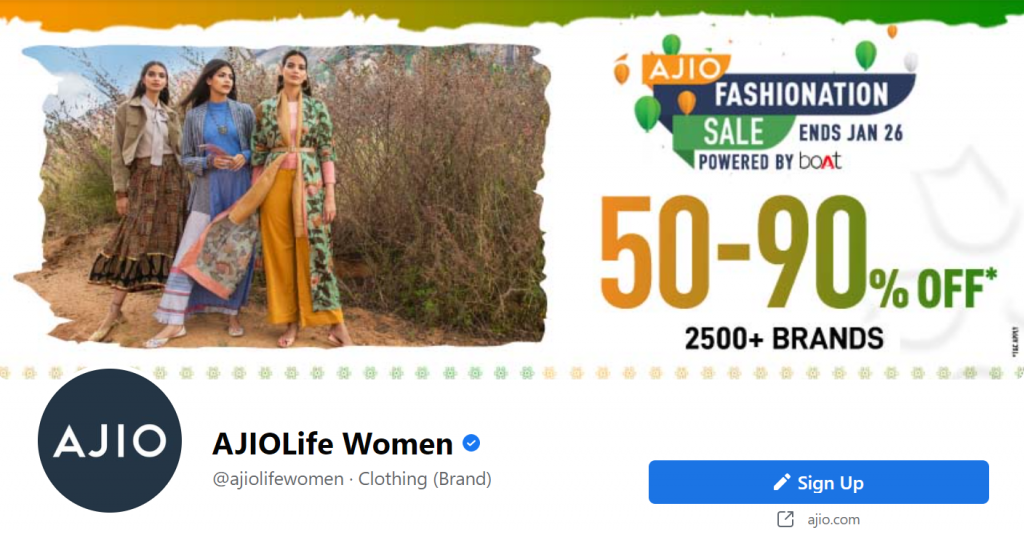 To create such Facebook covers for your fashion and beauty brand, leverage the Facebook Cover templates offered by DocHipo.
Instagram Posts
Instagram is an excellent platform for captivating your target audience, building a loyal customer base, promoting your brand impactfully, and ultimately driving more sales. Whether you have a boutique, homemade cosmetics brand, any specific jewelry business, you can uplevel your business with the right Instagram marketing strategies.
Since Instagram is specifically a visual platform, the images that you post have to be of supreme quality to attract your target customers. Making top-quality products is not enough; how you present them to your audience says a lot about your brand.
Dochipo's online free Instagram post maker comes with eye-catching Instagram post templates to create the appeal your fashion or beauty brand needs.
Twitter Posts
With close to 400 million monthly users, Twitter is a powerful platform for introducing your products to your target audience and increasing your brand awareness.
Check out how fashion brands can use Twitter to inspire shoppers.
Have a look at the stunning Twitter Post templates that DocHipo provides.
Twitter Headers
Just like you noticed in Facebook covers, you can announce a sale, new product launch or thoughtfully convey what your brand is all about in the Twitter Header section.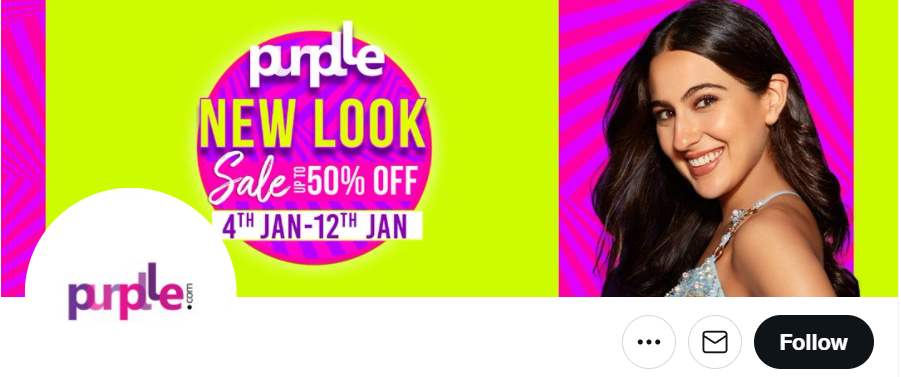 You can design such Twitter headers for your fashion and beauty business from scratch using DocHipo's easy-to-use drag and drop editor and design widgets.
YouTube Thumbnails
YouTube is an impactful platform for marketing your fashion and beauty business and establishing your brand credibility.
Fashion and beauty trends, makeup tutorials using your products, introducing new launches, occasion-wise and season-wise outfits and lookbooks, dressing tips, recreating celebrity outfits and looks, cinema-inspired looks – there are endless ways to promote your products on YouTube.
Since we're talking about fashion and beauty brands, it's needless to say how important the first look is. No doubt your content has to be of top-notch quality because that will make your audience stay till the end and ultimately lead to a loyal subscriber base. But even before they start watching your video, what makes them decide to click on it to open it?
Also, whenever you name a topic and search it, an innumerable number of videos will come up as a result. How do you stand out amongst them?
Yes, YouTube thumbnails come into play here.
YouTube thumbnail is a crucial aspect of your fashion and beauty business youtube channel that can make or break your videos. You first need to catch your target audience's attention, get them to click on the video. Then you show the magic of your quality content, and you may get new subscribers.
It's recommended to use your custom thumbnail and not let YouTube choose one by default. It would be best to design your thumbnails to accurately portray what value you're providing through the content inside. Your audience should have clarity about what they'll get by watching your video, that is, what's in it for them. Make the audience excited and curious about your video.
Explore DocHipo's YouTube thumbnail templates and design your thumbnails that maximize the number of clicks of your YouTube videos.
Watch the video below to learn how to make a thumbnail for youtube.
Pinterest Graphics
Pinterest is another fantastic social media platform to market your fashion and beauty business and drive organic traffic.
Think from the consumer's point of view. They might check Pinterest for any outfit idea or makeup look etc. Pin all of the product images on your website or the marketing campaign photos to your Pinterest account. If you target the relevant keywords in your posts, people will discover your business, increasing your brand visibility.
Check out How to use Pinterest to promote a fashion business to rock your Pinterest game.
You can design Pinterest graphics from scratch for your business using DocHipo.
To conclude
When you run a business, you need to take care of many aspects. Especially when it comes to the fashion and beauty business, you need to be extra careful about the design you choose; the look and feel of all your marketing collaterals. While focusing on aesthetics, you can't compromise with your brand's authenticity. Now that you looked at the beautifully designed template that DocHipo offers, you can entirely rely on it to take the hassle of designing away from you.
So sign up to DocHipo, explore all the document types, leverage the tool and take your fashion and beauty business to the next level.