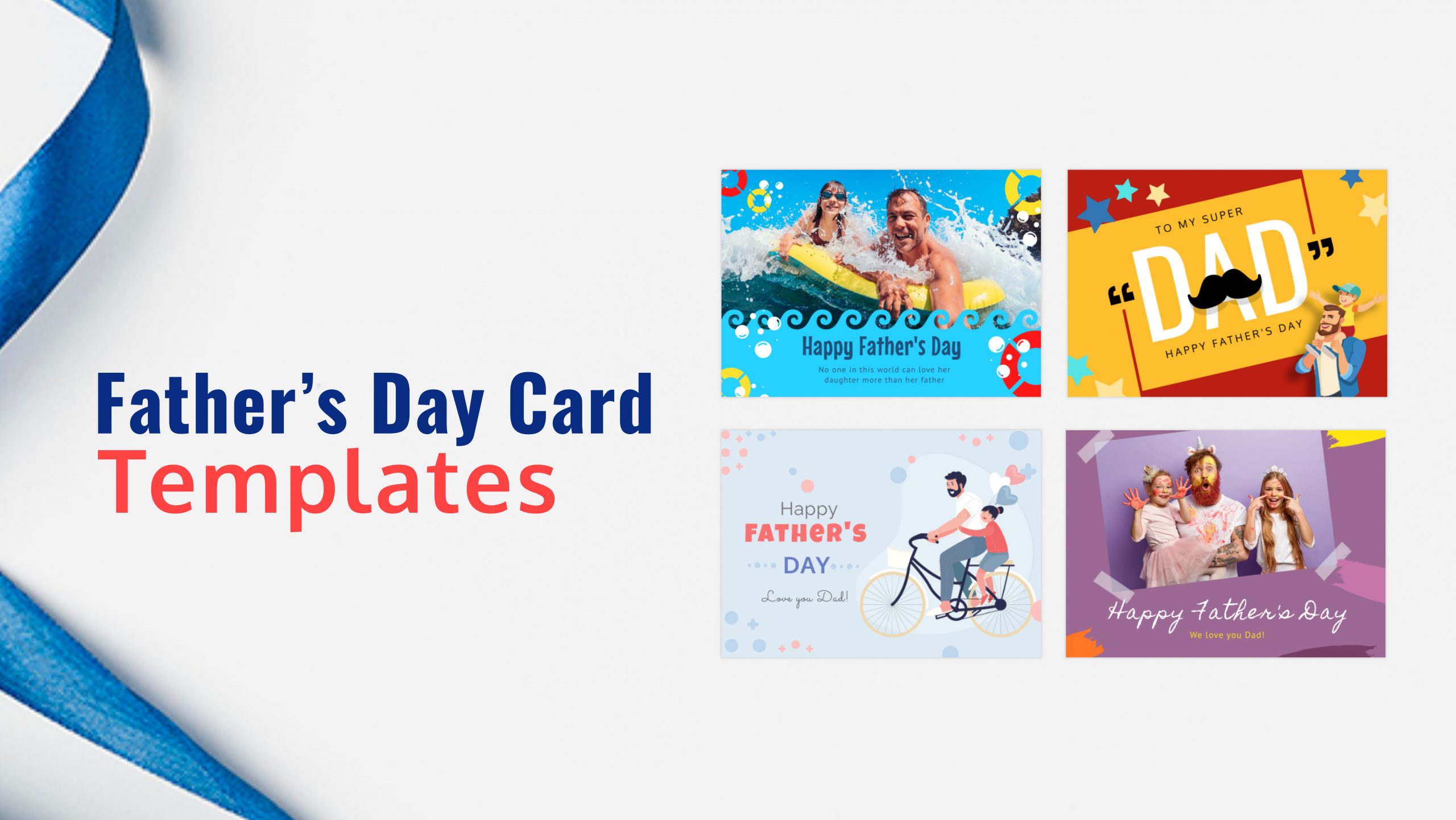 20 Heart-melting Father's Day Card Templates To Express Love To Your Father

Jun 13, 2022
With Father's Day approaching, how about surprising your father with a personalized Father's Day Card?
After all, he deserves more than a quick phone call, or one-liner wish on WhatsApp on his special day. He knows you love and care for him, but what if you could gift him something he can cherish forever?
We should let our loved ones know and make them feel how much we love them through our words and actions. The Father's Day Card that you'll design with love, creativity, and personal touch will be more special for him. Personalization makes all the difference.
But what if you don't have the time or idea to design a Father's Day Card from scratch.
To help you with this, I'm here with twenty heart-melting Father's Day Card Templates designed by experts at DocHipo. Also, I've provided customization tips so you can get started with your Father's Day Card design immediately.
So get ready to showcase your love, appreciation, and gratefulness for all the father figures in your life with personalized Father's Day Cards.
Father's Day Card Ideas with Templates
It's not necessary to choose only one template. Choose any number of Fathers Day Card Templates and spoil your dad with memorable cards created with love.
Template 1: Beautiful Fusion of Design Elements with the Image
Through the DocHipo Father's Day Card Template above, showcase the most cherished moments that make both of you smile whenever you look at them. Choose any picture where you and your dad had a great laugh, shared heart-warming moments, or experienced something new. You can also add a single photo of your father where he looks the happiest or most stylish. Remind him of those precious times and let him know that those memories will always be special for you, and nothing can replace them.
Here's how to upload images in DocHipo.
The next highlight here is the seamless blending of the design elements like the waves, floating rings, water bubbles, etc., with the image.
If you think the picture needs a bit of touch-up, leverage DocHipo's Online Photo Editor.
Template 2: Photo with a Father's Day Quote
The following Father's Day Card Idea is to include a powerful quote along with a picture.
You can pick a Father's Day special quote from the internet. But if you walk an extra mile to compile your thoughts about him and shape them into a quote, the smile on your dad's face will tell you how special he felt. You can also quote that one line(s) your father would always tell you, advise you with, or that he uses frequently.
As you can see in the Father's Day Card Template, the transparent layer on top of the background image is to highlight the quote. We've used a colored shape and adjusted its opacity.
Here's how you do that:
Select the design element and click on the 'Opacity' icon in the editing panel above.
Also, the white-colored hat and mustache icon in the overlay enhances the cuteness of the Father's Day Card design.
Template 3: Image without the Background
Our next Father's Day Card Template is for your ever-supportive dad. Tell him what his support means to you and how great a father he is.
The image used here is without its background.
To accurately remove the background from the picture, watch the YouTube video below.
You can design your Father's Day Card with repeating icons forming a pattern in the background. The icons here have a light shade so that they don't distract the viewer from the main message but create a unique design.
You can adjust the opacity of the icons in DocHipo to create a similar effect.
The three slanting-lined patterns added twice in the Father's Day Card design utilize that space beautifully.
Watch our video below to know more about the line library in DocHipo.
Template 4: Illustrated Father's Day Card Design
The Father's Day Card Template with light pastel hues is a perfect choice if you want to try something different from using images. This illustrated card design features an appealing father-daughter duo. It tells a relatable story of the father who buys balloons and rides her daughter on a bicycle.
You can customize this template by replacing the circular and plus symbols with any other shapes or icons that you please.
Also, you can replace the 'Happy FATHER'S DAY' text with related beautiful text frames.
Below is the demonstration of using text frames in DocHipo.
Template 5: Create Scenes with Icons
Create a story or scene using premium quality icons from the DocHipo library, just like the Father's Day Card Template above. After that, customize the size, position, color, etc., of the icons using DocHipo's design widgets and the easy-to-use drag-and-drop tool.
Also, notice the ombre effect in the top left area of the background. Read how to create stunning background via DocHipo to come up with your own card design.
The dotted lines in the opaque blue layer and the use of contrasting colored fonts add to the beauty of this Father's Day Card Template.
Watch our YouTube video on how to use icons in DocHipo.
Template 6: Abstract-shaped Photo Frame
The Father's Day Card Template above comprises a white frame design with abstract shapes and a beautiful line on the right side. I loved the layout with blue transparent, abstract shapes as if the picture is pasted on the card with cello tapes.
Since there's a box in the picture, the design elements chosen for the remaining part of the card are box icons.
While customizing, you can replace the image with that of your childhood memories with your ever-supportive dad.
Template 7: Give Your Father's Day Card a Personal Feel
We've pulled a Father's Day Card Template from our DocHipo library that's appropriate for that.
The torn page of a diary, combined with the font 'Reenie Beanie' resembles hand lettering giving the card a DIY feel.
You can frame a beautiful picture of your dearest dad and you on the right side. These designs, along with the blue background color and color-filled puzzle icons, look beautiful and elegant.
You can replace the image with any of your fond memories.
Template 8: Photo Embraced in a Circular Frame
Using unconventional frames like circular ones rather than squared is another way to enhance the Father's Day Card design image.
Look at the image of how a father's princess is giving a Father's Day special gift to her dear dad. The emotion captured within the photo frame is priceless.
We've added circular-shaped patterns in all the corners and in the middle of them for extra design elements. The shade of the color-filled box icons is light here as well.
The quote added here just melts my heart!
Template 9: Adorable Elephant Illustrations
Who won't like this adorable elephant and his babies?
Appreciate your loving dad for being strong and teaching you to be the same with the Father's Day Card Template.
Template 10: Rock with Typography
The Father's Day Card Template design is ideal for your dad if he lives for the sports season or coaches you to ace any sport. Customize this template by thanking him for introducing you to sports or playing to spend time with you.
The typography makes the Father's Day Card design stand out by replacing the letter 'I' in the word "hero" with a football icon.
Also, since the picture showcases a son on his father's shoulder holding a ball, the ball icon is used throughout the design.
Template 11: Use Multiple Fonts for a Quirky Effect
Acknowledge your father's presence, contribution, love, and care for you by thanking him from the bottom of your heart with the Father's Day Card Template above.
The playful illustrations and the texts pop up in the light-colored background. The ice cream illustrations, with glittering eyes, are really looking like a cool and adorable father-child duo.
Now coming to the fonts, first think about what feeling you want to convey through your design. Then choose the font(s) to match the mood and the overall vibe of the design.
To make it easier for you, check out How To Choose Fonts For Your Design.
Template 12: Splash of Colors
The above Father's Day Card Template is best if your father has two adorable princesses. Customize this template by adding a picture of your happy and fun moments and gift it to your dad. The splash of colors is created using abstract shapes. Add more shapes and colors if you like.
Template 13: Card from Little Kids
Such a bright and beautiful scene is created with the Father's Day Card Template illustration. The message is also loud and clear, "OUR FATHER IS A Leader; WE ALL FOLLOW HIM." This is one of the best Father's Day Card choices for a dad from his little kids.
Template 14: Brighten It Up
Remind your super dad that you're grateful that you can enjoy your bright and colorful life because of him with our next Father's Day Card Idea. You can associate positive feelings with the vibrant yellow and red colors used here. Also, an adorable illustration depicting a father carrying his son on his shoulders at the bottom right corner of the card evokes nostalgia.
Template 15: Monochromatic Look
If your dad has always been there to save you and taught you how to protect yourself, why not use this Father's Day Card Template to tell him, "You're My Hero"?
The monochromatic color (blue here) scheme applied to the background and font color gives such a calming effect. You can choose this scheme to simplify busy designs and create a harmonious and sophisticated look.
Also, the white-colored borders on three sides give a structure to the whole Father's Day Card design.
Template 16: Balanced Design without Images or Illustrations
If you don't want to add images or illustrations, you can also go for a relevant background image. Write a heartfelt message straight from your heart. Leave spaces rather than adding design elements unnecessarily.
Watch the video to learn about adding, and deleting editing text in DocHipo.
Template 17: Work with Shapes
Is your dad the coolest in the world?
If yes, what's a better way than declaring it out loud through the above Father's Day Card Template.
The picture of a cool and relaxed dad is perfect here. Replace it with that of your father's.
If you're struggling with the color of the rest of the design, choose complementary colors like the blue and orange used here.
Also, the triangular and circular shapes here complete the design in a fun way.
You'll find the 'Shapes' widget under the 'Graphics And Media' tab in the left sidebar.
Template 18: Father's Day Card Covering Mostly the Image
The image takes up most of the Father's Day Card Template space above.
The rest of the space is for your lovely wishes and sprinkling some design elements of your choice.
Here we've added some effects to the Father's Day wishes text. You can edit the text shadow and border by selecting the text and clicking on the Capital 'T' icon in the text editing panel.
Template 19: Minimal Design Elements
If you don't want to complicate your Father's Day Card design, go for the minimalist design. There's a simple background image and a Father's Day wish with beautiful fonts along with the father-daughter picture. The bicycle icon balance out the whole composition of the card design.
Template 20: Think Differently
Along with our mother, our father also ties the whole family together with love. We've utilized this thoughtfully in the above Father's Day Card Template. As you acknowledge all his love, support, hardships, and efforts, this design will bring a smile to your dad's face.
What's the first thing that comes to your mind when you think of your father? Can you represent a thing related to him with any design element?
Think, go ahead and express your love and creativity to your dad. The DocHipo library is all yours!
Wrapping Up
I hope, by now, you are excited to design the best card for your father. Go through our list of twenty amazing Father's Day Card Templates, and feel free to choose the one(s) that matches your dad's nature and liking.
With DocHipo's intuitive interface and design widgets, customizing the pre-designed Father's Day Card Templates will be easy, quick, and fun. Also, you can come back to the resources shared above whenever you need them.
So sign up to DocHipo for free, start designing and gift the father figures in your life the best cards ever that they'll treasure for years to come.