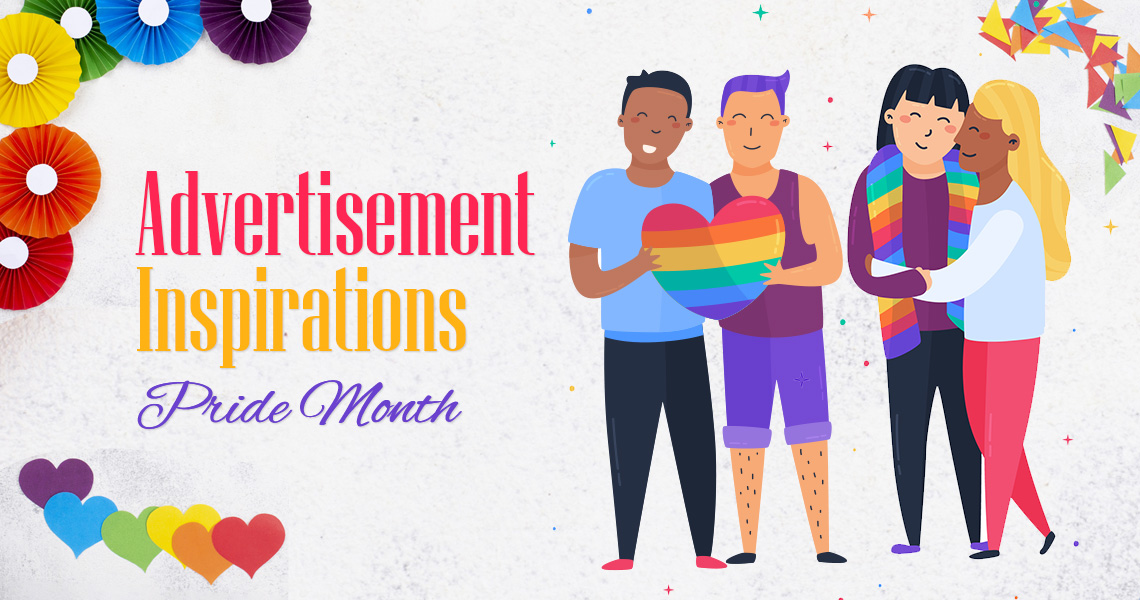 3 LGBTQ Advertisements: The Best Advertisements of All Time

Last Updated Jun 30, 2023
In this pride month, more and more brands have stepped out to express their strong stance on the LGBTQ community. As per 2022 Gallup statistics, 7.2% of U.S. adults recognize them as of the LGBTQ+ community. No brand would like to lose out on these whopping 18 million people being their potential customers.
Many brands empowered the cause of the pride movement through their marketing strategies, showcasing bold themes of passion and love through all colors. In this article, I will share the three most amazing LGBTQ advertisements that took branding and marketing to new heights.
How was Pride Month Invented?
To answer this, we must time travel and reach the year 1969. This year witnessed many secretive clubs and communities still considered illegal by society. In June of this year, in New York, police raided the Stonewall Inn, which was a homosexual club. This raid led to a violent protest among the gay communities and the neighboring residents, who supported the cause. The uprising further encouraged a nationwide protest toward legalizing same-sex marriage and the gay rights movement.
In 2015, the Supreme Court legalized gay marriage in the Country, making this year historic. This event inspired other nations to take bold steps toward establishing a society that accepts all. Hence, people of all diversities celebrate June as the month of Pride to remember the Stonewall Uprising and to celebrate love, peace, and tolerance. Many famous brands further aided the success of this movement.
Successful LGBTQ Advertising Campaigns
Below are three of the most successful LGBTQ Advertisements that sparked a change in the LGBTQ community over time.
United Colors of Benetton- Blanket
The United Colors of Benetton campaigns have always been known to be thought-provoking, rebelliously portraying visual ads. Similarly, this ad fearlessly showcases love, which is beyond race, color, and gender, at a time when homosexual relations were still considered taboo. This unusual family looks directly towards their audience, implicitly expressing unashamed freedom of choice and expression.
United Colors of Benetton, a global fashion brand, has built a sense of identity by inculcating sensitive themes that will inspire its consumers. They use a marketing strategy heavily based on celebrating all cultures and catering to an extensive customer base by constantly shocking the viewers through their themes, who will invariably stop and stare at the advertisement with awe and empathy!
Ray Ban- Never Hide
If talking about posh and style, Ray Ban's eye-wears have always epitomized a dashing personality and polished perspective. Hence, their campaigns also reflect the same attitude of originality and audacity. Ray Ban's "Never Hide" campaign showcases visual elements in their advertisements that foreground themes based on self-expression. This advertisement is a part of the Never Hides Campaign, featuring two upright gay men in fashionable business attire, holding hands and walking with dignity and confidence.
Advertisements based on story-telling have always attracted customers. Ray Ban's marketing campaigns have focused on stories encouraging customers to be themselves, irrespective of being judged. Their campaigns tap into the universal desire of every individual, which is to seek an unrestricted life. This skillful way of understanding the audience's deepest desire has led them to be a leading brand worldwide.
Tiffany & Co.- Will You?
Tiffany & co "Will You?" ad campaign featured stories of real couples, including a gay couple. This brand, famous for wedding rings, has always showcased traditional concepts in its campaigns. Hence, their audiences, including celebrities, greatly appreciated a sudden expression of welcoming love in all shades. Moreover, photographing real couples made their campaign look authentic and the brand more approachable.
Tiffany & co has been marketed so that they appear to be the right brand to opt for if someone wants to make their marriage proposal perfect! They have always adopted a marketing strategy based on current social trends and crafted their visuals romantically and emotionally. Hence the right tone, if captured accurately in advertisements, will give your brand an extra edge.
Through these three advertisements, you can see that emotions can affect consumer choice. Moreover, a brand that speaks and engages with its consumer's opinions creates a strong presence in the business world.
So! Are you inspired by the gorgeous themes portrayed in the ad campaigns? Then it is time to redefine your brand and create a perfect visual campaign to promote your business.
Want to know how?
The answer is simple! DocHipo!
How to Design Pride Month Posts in Three Simple Steps
If you're exploring DocHipo for the first time, sign up to land on the 'All Templates' page. 
STEP 1: Choose a Template
In the search bar, type any document you wish to design for Pride month celebrations and click on your desired result. Alternatively, you can select your document type from the left sidebar. In this case, we'll work with Instagram posts.
As you can see, the Instagram Post Templates in DocHipo are categorized into various industries and occasions. Choose the Pride Day templates.
If you wish, you can create LGBTQ graphics from scratch using the blank template. But choosing a pre-designed template and incorporating your ideas will fast-track your design process. Hover over the template that catches your eye and aligns with your LGBTQ ads campaign to preview or select it.
Provide a document name and a brief description to access it when you need.
Click 'Next.'
STEP 2: Customize Your Chosen Template
Now you're inside the DocHipo editor.
You can customize any aspect of the template by selecting your desired design widgets from the left sidebar.
Edit the Text
The plan is to start with a nice message, and then you can subtly add what offers you provide. To edit an existing text, select it and replace it with your words. Select the text widget on the left sidebar to add more text if needed.
From the top bar on the workspace, you can change the font type, color, size, etc., add shadows, borders, and outlines to text.
Here's how to add a text shadow in DocHipo.
You can explore the text editing options further.
Refer to the below video while adding, editing, or deleting text in DocHipo.
Change the Picture
Now, I have selected the 'Graphics and Media' option from the side panel to look for heartwarming lgbtq images.
I have chosen 'Pictures' to select the right stock image for this theme.
You can directly type the theme you are looking for in the search tab and access unlimited options from stock photo websites.
I have typed 'gay couple' to use a suitable one in my Pride month advertising design. You can choose your desired image's orientation and colors and click 'Apply Filters.'
Drag the image that fits the best and drop it on the existing one.
After resizing and repositioning the picture and eliminating the unnecessary elements, the LGBTQ graphics design looks like the below:
If you already have an image you wish to use in your LGBTQ ads design, here you go:
Customize the Colors
To change any design element's color, select it and click on the color icon in the above panel.
You can further experiment with the custom colors by clicking the color palette icon or putting the hex code in the space provided.
But something still feels missing!
Customize with Appealing LGBTQ Graphics
Let's add attractive stickers to this design to make it stand out. This option is on the side panel, under the "Graphics and Media" bar.
Let's explore the attention-grabbing Pride Day stickers.
Aren't they adorable?
Here's a quick video on using stickers in DocHipo.
If you want to design further, DocHipo's assets library is all yours!
Below are how to use animations and icons to make this Pride month more colorful.
STEP 3: Download Your LGBTQ Ads Design
As I am satisfied with the final design, my next step is to download this LGBTQ ad. To download your design, click the dotted option on your top-right corner and select 'Download.'
You have the option to choose your File type and Resolution. If you want to print your document, download it in high-quality. I have selected my file type as PNG and high-resolution image quality.
LGBTQ Advertisements Design Before Customizing:
LGBTQ Advertisements Design After Customizing:
Refer to this video while downloading your designs in DocHipo.
Watch the video below for a quick recap.
Also, 20 Pride Month Post Ideas For Instagram is a must-read for creating designs your audience will love.
Conclusion
As Pride Month celebrates variety and diversity, let us not forget that bright colors are the essence of this theme and event. So, make your LGBTQ Advertisements bright, beautiful, and intriguing through DocHipo. Also, you can contact us if you want a specific template, and our team will create and upload that for you.
What are you waiting for? Signup now!