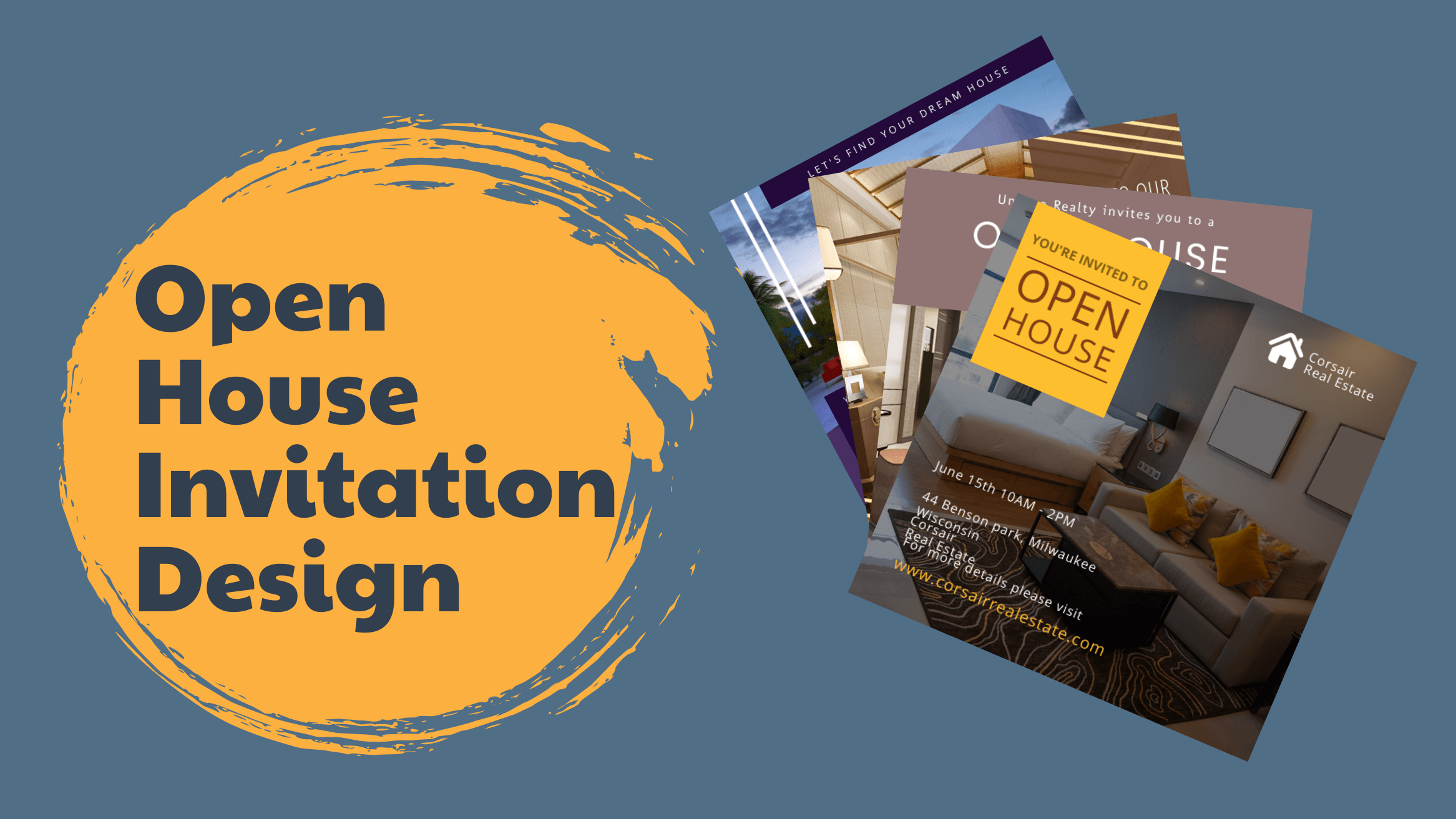 How to Make an Open House Invitation Quickly and Easily

Last Updated Oct 14, 2022
Are you a real estate agent trying to attract prospective clients to your property and convert them into potential buyers? Then you need a beautifully designed Open House Invitation.
The Open House Invitation is your opportunity to welcome your prospective clients to your property in style and make a good impression on them even before they arrive. However, as a realtor, it might be difficult for you to design an Open House Invitation.
DocHipo's Invitation Maker can help you design an aesthetically pleasing Open House Invitation easily.
Continue reading to learn how to make an Open House Invitation in DocHipo.
Open House Invitation Design Tips
If you are a non-designer and have little or no experience in Invitation design, you might need some design tips to get started. So, we have come up with some practical and proven design tips to help you.
Use High-Quality Fonts
You are designing the Invitation to impress your clients and guests and provide them with an invitation they can not decline. So, you need to present your messaging in the most beautiful way possible.
Using a high-quality font is essential while designing an invitation. Just like the other design elements, typography plays a crucial role in graphic design. Different fonts evoke different emotions and add personality to your Invitation.
So, choose fonts that suit the mood you want to set with your Invitation. Limit your font selection to three for a single design and pair different fonts that complement each other.
Though you are free to choose trendy and wild font options, since your design is related to real estate, you should be wary of them.
Here's an example of an Open House Invitation template for you.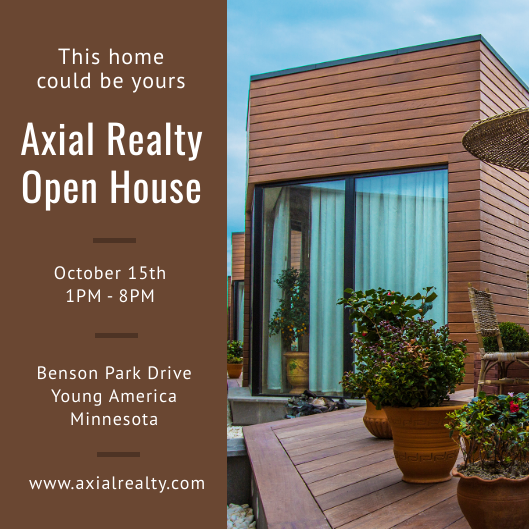 Get This Template and More
Additionally, read the article about Typography Hierarchy to learn more about choosing and using fonts for your design.
Use Appropriate Colors
Color is another important element of any design. Like the typography, colors can also evoke different emotions and set the overall mood for the design. So, learn about the emotional impact of colors from our brand colors article.
Now, you can choose two to three colors that complement each other and are relevant to the theme of your design. Also, pay attention to the hue and saturation of the colors you choose.
You can go for different Gray, Black, Brown, White, Green, and Blue shades to give your Invitation an elegant look. Moreover, you can consider other elements such as images, icons, illustrations, or anything else to choose colors for your design.
Look how, in the Open House Invitation Template below, the colors have been selected considering the images in it.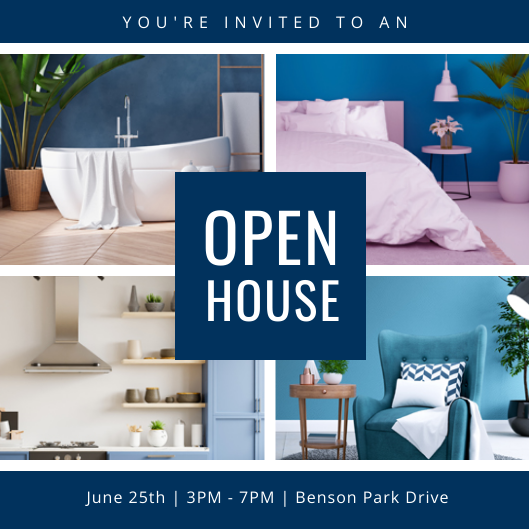 Get This Template and More
Additionally, learn more about the best color combinations and use them in your design.
Use High-Quality Images
Always use high-quality images that are sharp, clear, and distortion-free because they are the first things your clients will consider before joining your Open House arrangement.
So, click some photographs of your property and use them in your design to connect with the text and clarify the information presented in the Invitation.
You don't have to be an artist to use images in your design. All you need is a little creativity and an inspiration to design. So, here is an example of an Open House Invitation template from DocHipo to get you inspired.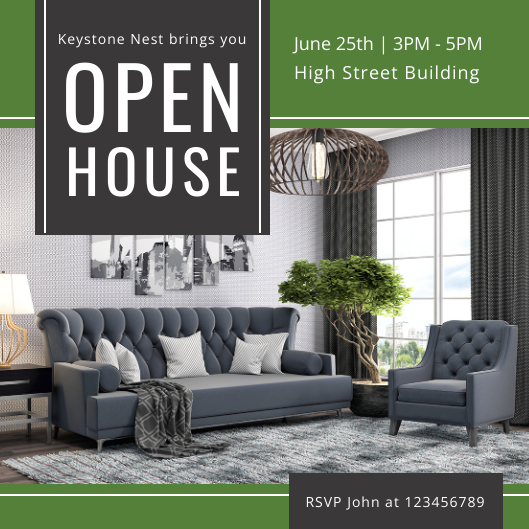 Get This Template and More
Use Additional Elements
Use elements such as shapes, illustrations, lines, texture, or others to add some final touches to your design for visual appeal.
You can add lines between images and text to separate them and use shapes as the background of the texts to make them pop.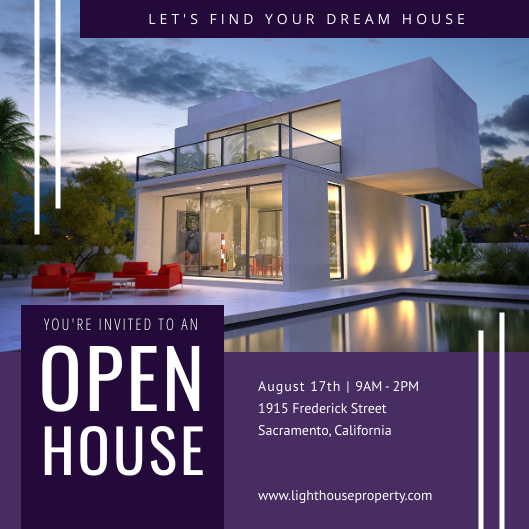 Get This Template and More
Also, you can use an illustration as the focal element of your Invitation design, just like the template below.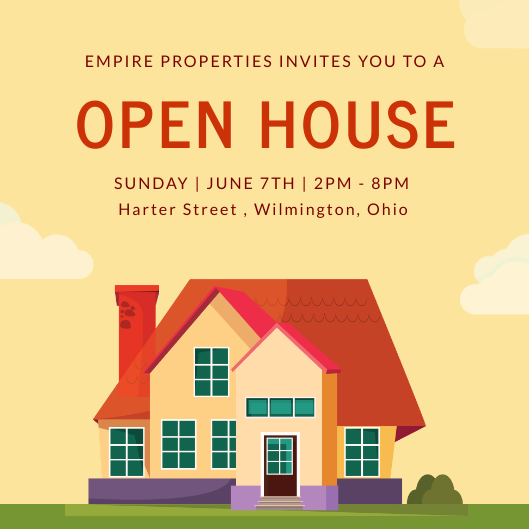 Get This Template and More
Don't Crowd Your Invitation
Don't crowd your Invitation design with too many design elements to make it aesthetically pleasing. A critical design principle is a negative space that helps your viewers take in all the information in the Invitation without feeling bombarded.
So, always try to leave enough negative space between texts, images, and other elements. To do that, make sure that you don't pack texts into small space, leave enough room between letters and lines, and use photographs that already have white space in them or at least are not crowded.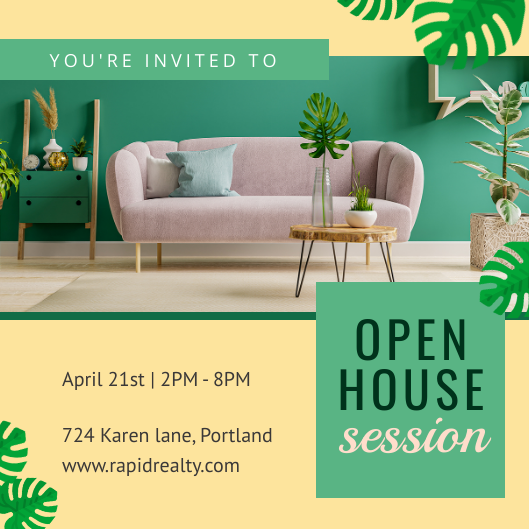 Get This Template and More
How To Make An Open House Invitation In DocHipo
DocHipo provides you with a wide variety of invitation templates and some awesome Design Widgets, making it a piece of cake for you to design the Open House Invitation.
All you need is an account in DocHipo. So, sign-up for free to create an account if you haven't already. Now, follow the instructions to design the Invitation.
Step 1: Pick an Open House Invitation Template
Once you enter DocHipo, you will find a wide variety of professionally designed templates listed under different categories and document types. You need to choose an Open House invitation template and customize it to make it your own.
Type "Invitation" in the search box and click on the result.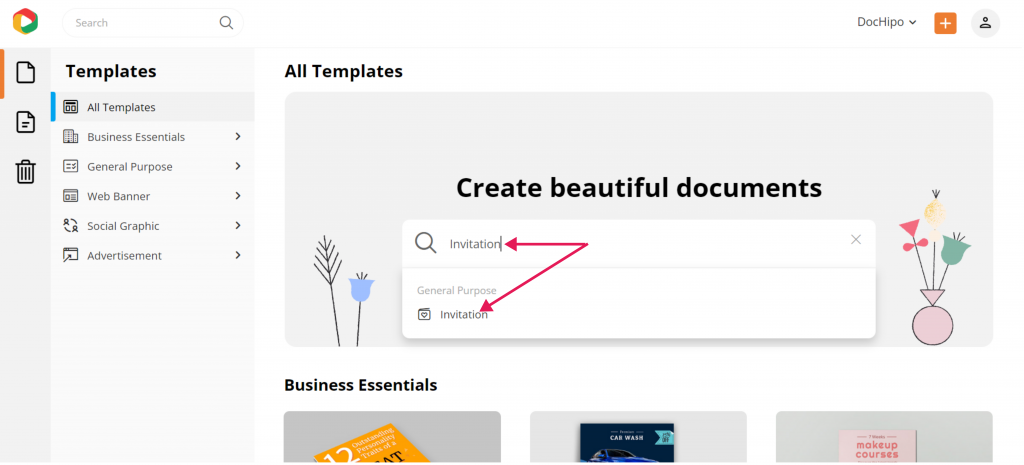 We have divided the Invitation templates into different categories: Breakfast, Picnic, Movie Night, Birthday, Open House, and others. Filter the templates by choosing the Open House category.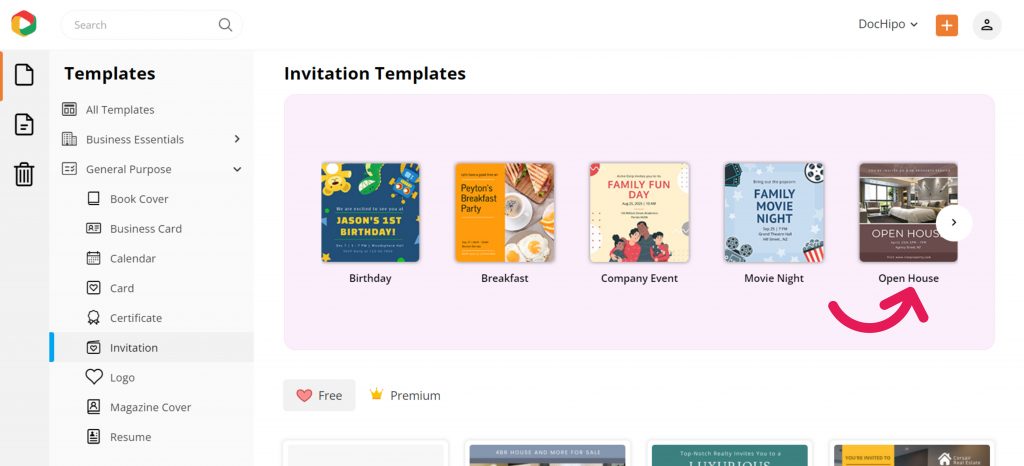 Browse the template you like before editing by clicking "Preview."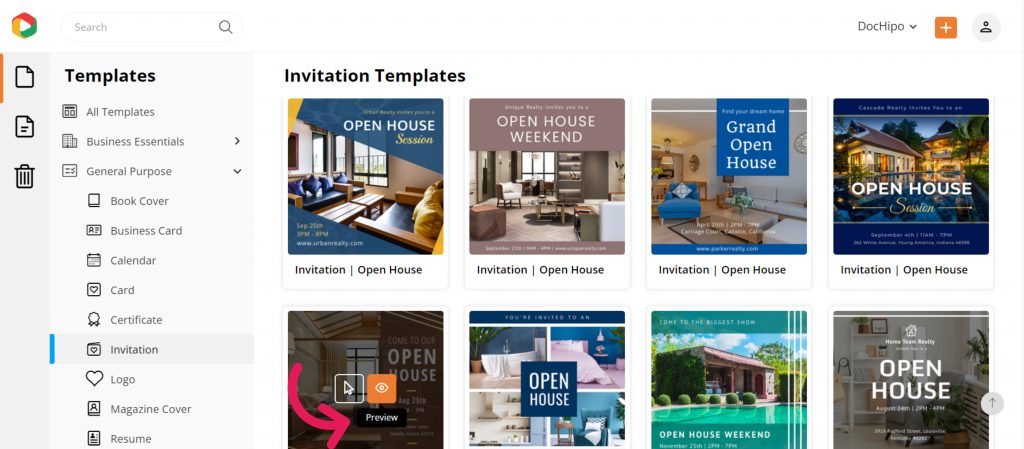 Once you like a template to edit, click on "Select."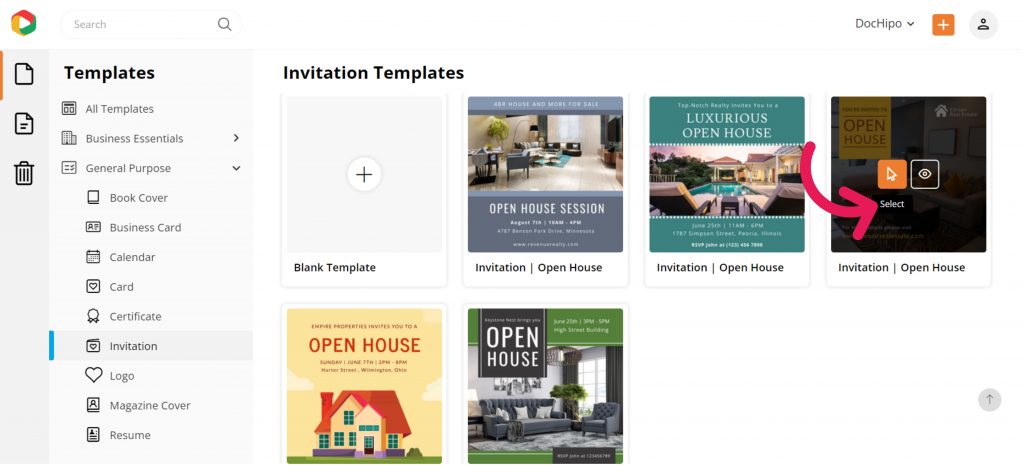 On the next page, provide a name to the document and a short description, and click "Next" to proceed further.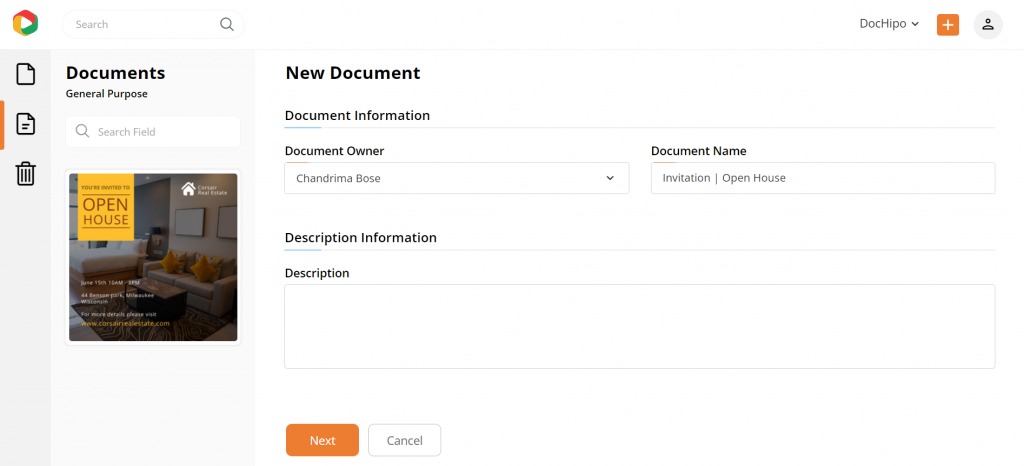 Step 2: Customize the Invitation Template
DocHipo Editor allows you to customize the template the way you want. Change the text, replace the imagery, change fonts and colors, and do whatever you want to get your final design.
Here is how you can do that:
Add and Edit The Text
Click on the "Text' widget from the left sidebar to add text to the template.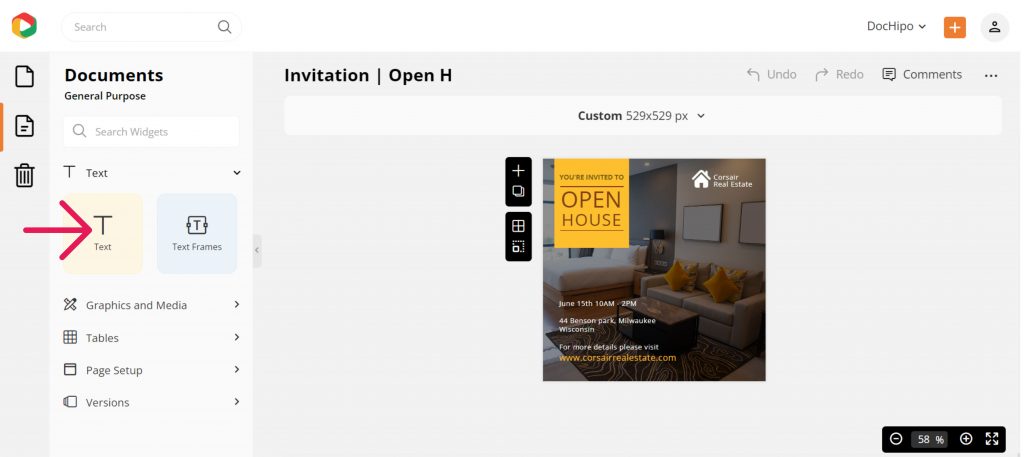 Choose from the three text options: Heading, Subheading, and Body. Once you click on your preferred text, a text object will appear on the template. Double click on it and type your words.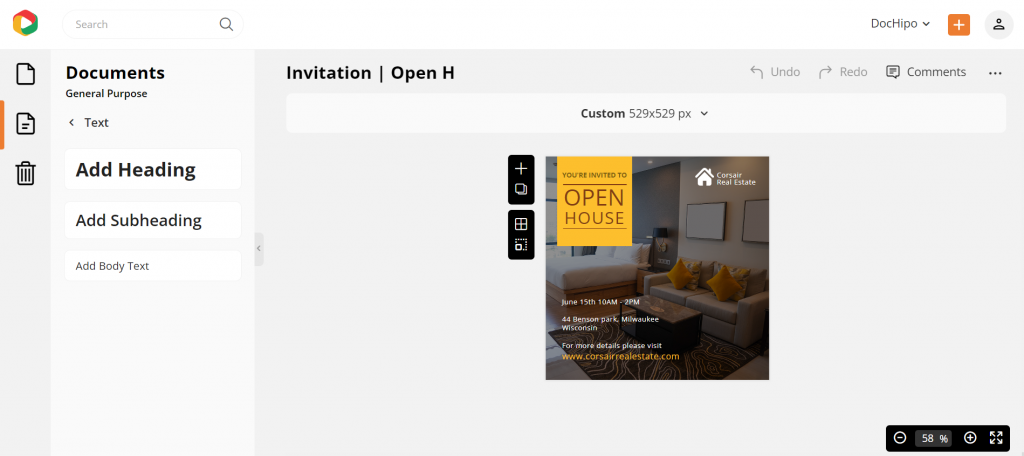 To edit a preexisting text on the template, double click on it and type your own words. Use the edit panel on top to change the font, color, alignment, opacity, and more.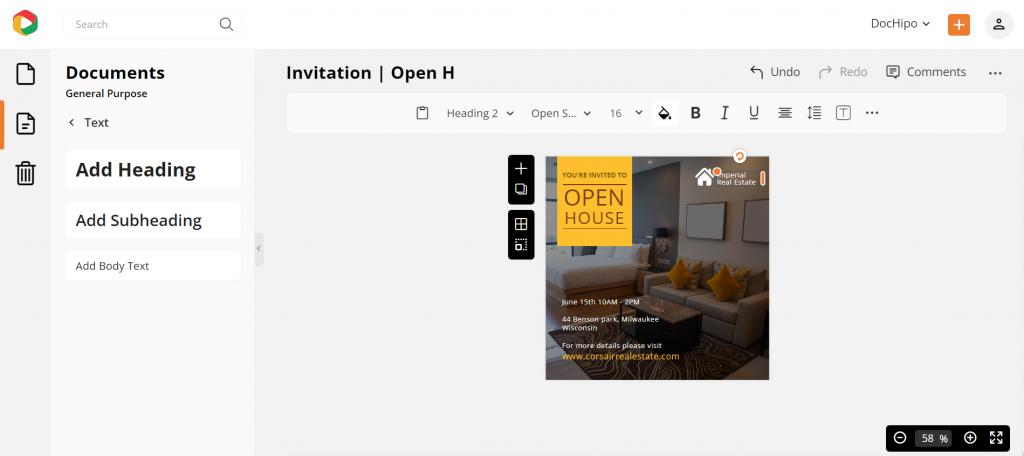 Here's a video for the same.
Replace the Image
Now, click on the Pictures widget to browse through DocHipo's Stock Image library and add an image to the template.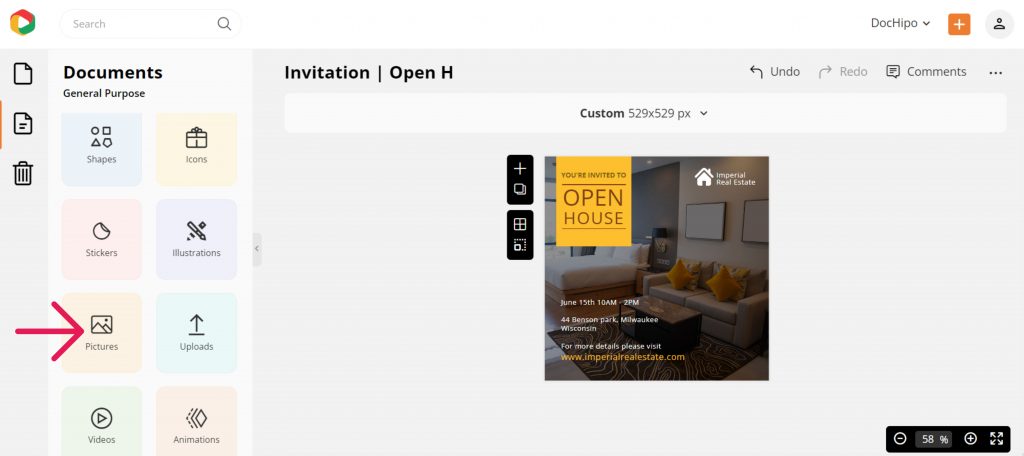 Alternatively, click Uploads and choose an image from your device to upload it to DocHipo.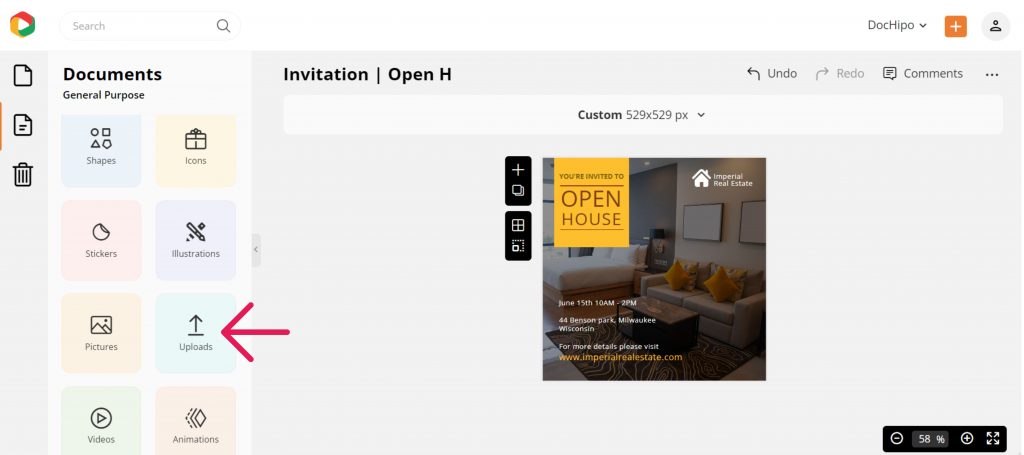 Now, click and hold the image you uploaded, then drag and drop it on the existing one. DocHipo's drag & drop feature will automatically replace the image with the new one.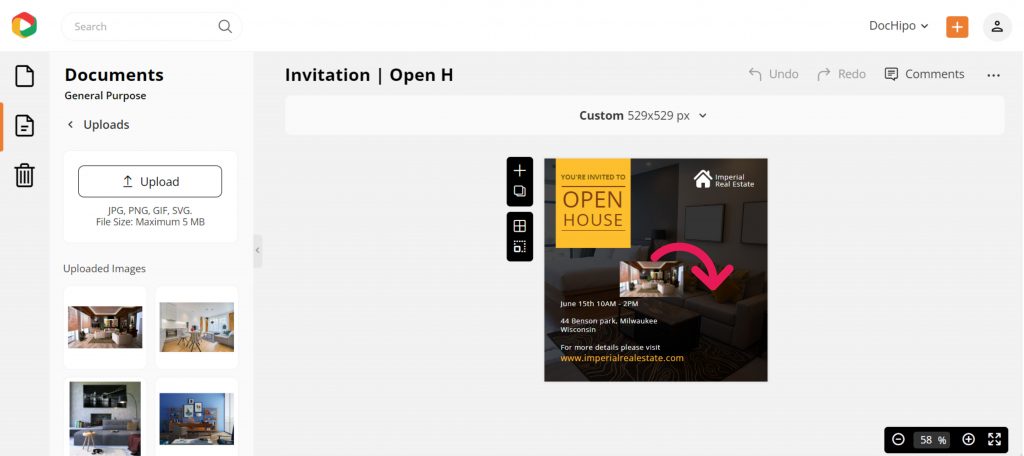 Customize the Additional Elements
To customize the additional elements, click on them and use the edit panel on top to change color, opacity, arrangement, flip, and more.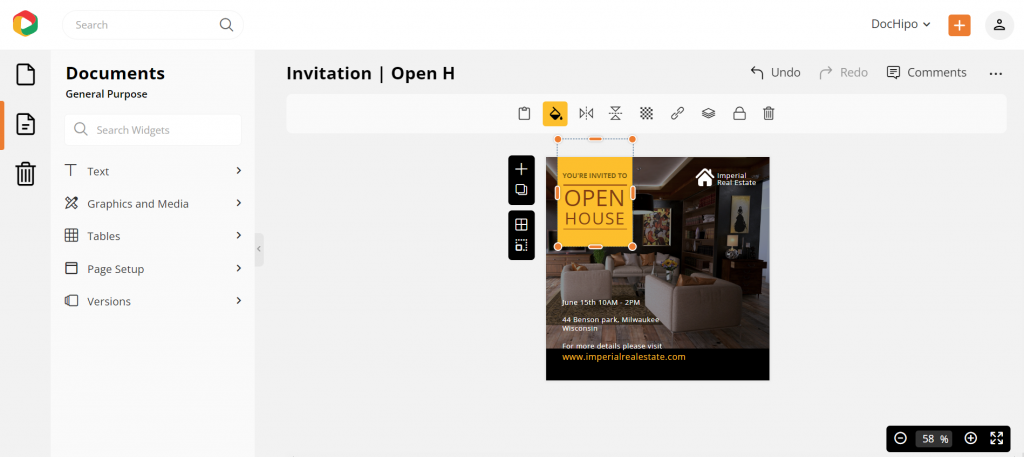 Before Editing: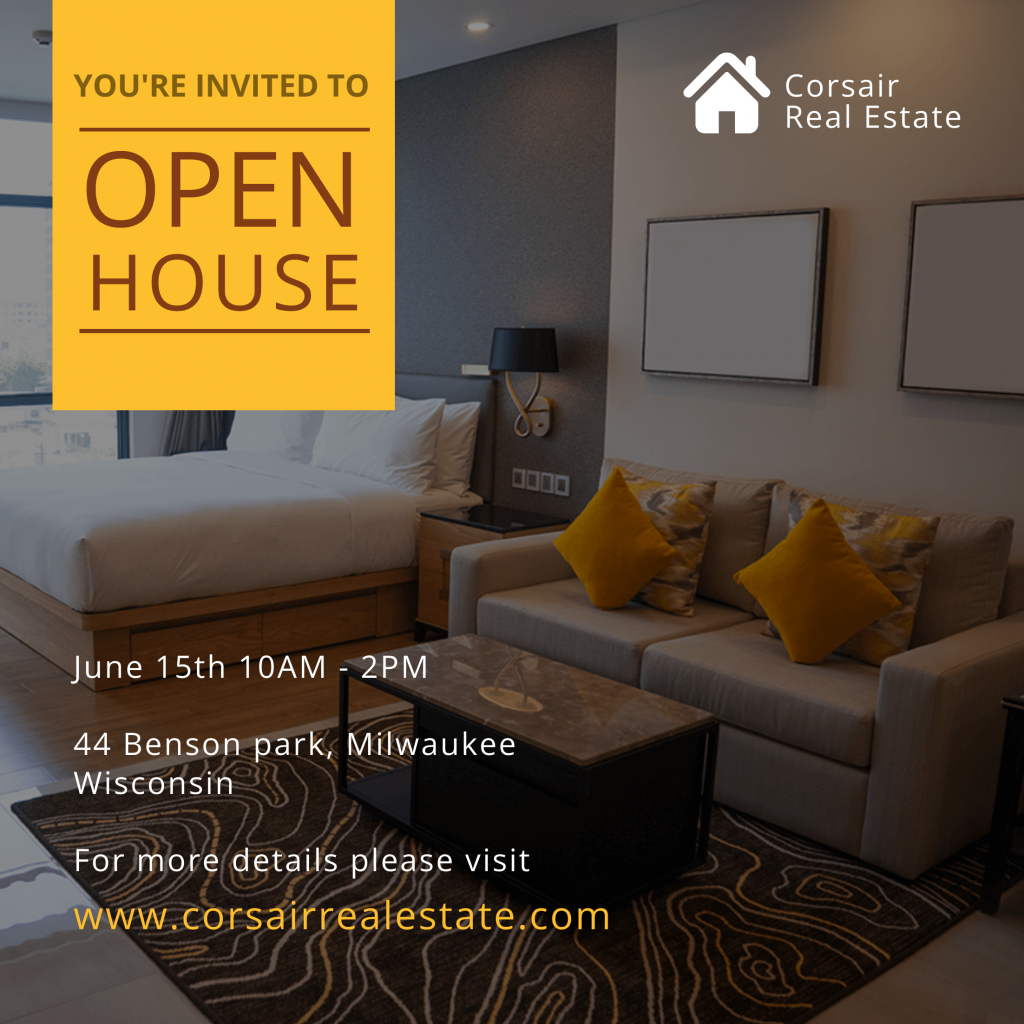 After Editing: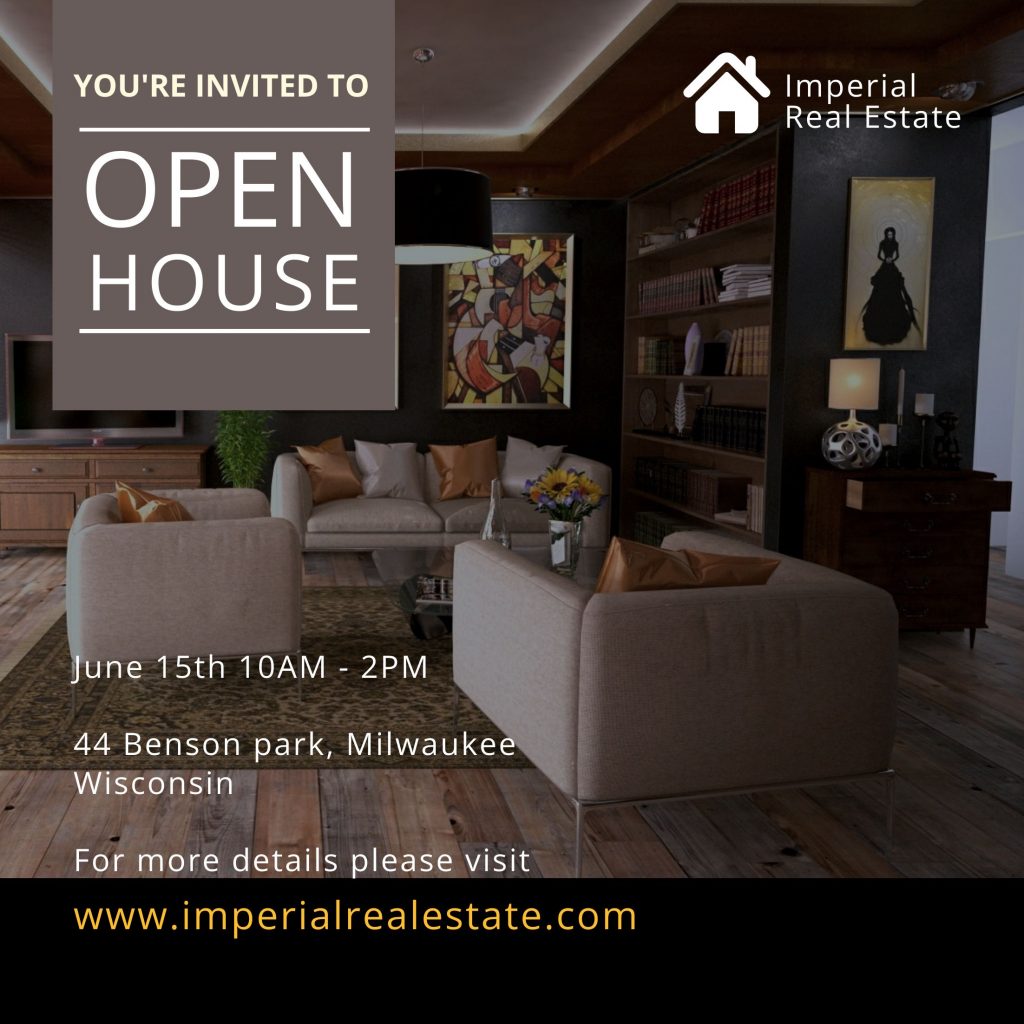 Step 3: Download Your Invitation Design
Once you are satisfied with your Open House Invitation design, click on the three dots from the upper right corner of your screen and choose Download from the drop-down menu.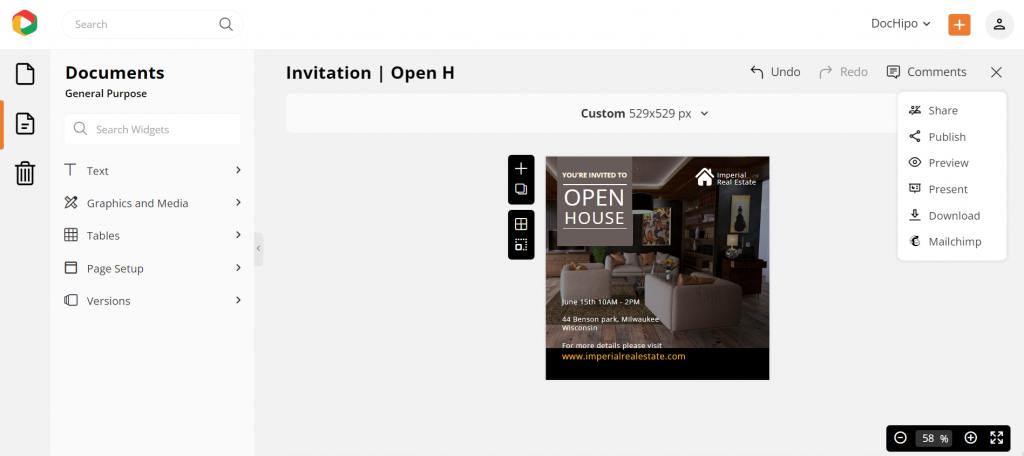 Select your desired file format and quality and click the Download button on the Download widget. The document will be automatically downloaded to your computer.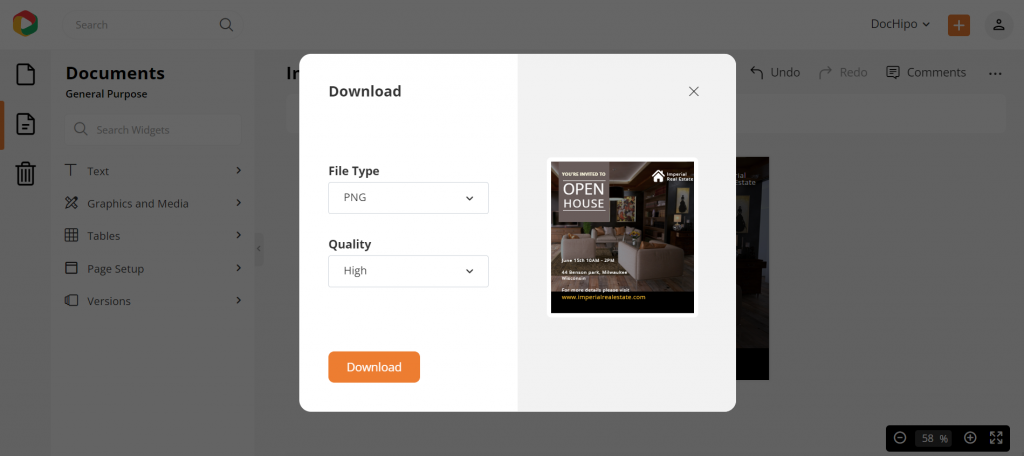 We have recently launched a product tour feature in DocHipo that will guide you through the design process. Watch the video below to learn how it works.
If you are a real estate business owner, you might need to design other marketing graphics to market your properties. DocHipo features some of the essential marketing graphics templates for the real estate industry.
In DocHipo, you can design Flyers, Posters, Logos, Facebook Posts, and many others.
To Conclude….
The primary objective of arranging an Open House is to catch the buyers' interest, and thus it takes you one step closer to selling the property. Therefore, as a realtor, you can not miss out on an opportunity this big.
Design an Open House Invitation that will attract your clients at first glance and convince them to come to your Open House event.
Sign-up to DocHipo now and start designing your Invitation.