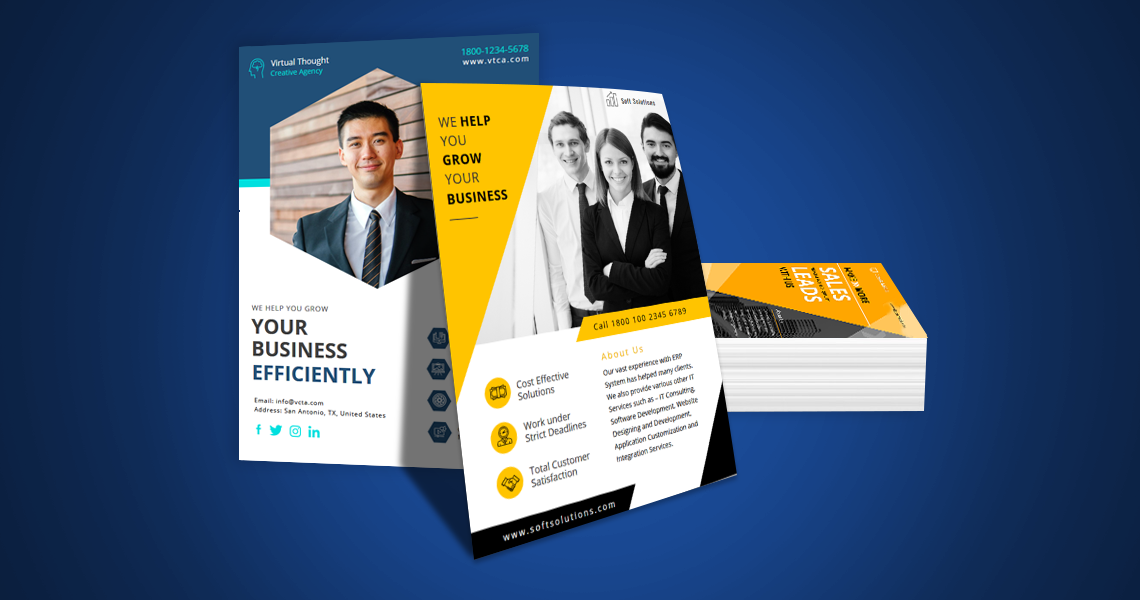 How to Create Corporate Flyers Design in Less Than 10 Mins

Last Updated Jan 23, 2023
Corporate flyers have stood the test of time. And it is still one of the most affordable and effective offline marketing tools that you can use. According to DMA statistics, the recipient reads 60% of all door drops. When it comes to addressed mails, 57% are opened when just arrived and 20.8% are opened within a twenty-eight-day period. The question is, how you can create stunning corporate flyers design that people would love to read, pass it on to their families, and put on their fridge magnets?
Now, before we venture into how you can create stunning corporate flyers design on your own, let us discuss what flyers are and what they can do for your business.
What is a Corporate Flyer
Flyers are those little leaflets that you are handed over or mailed to, or dropped off at door promoting businesses, offers, ideas, etc. You can use flyers for the following purposes:
Promoting a new business
Promoting an offer
Sharing a coupon code
Promoting some new products or services that you just launched
Creating awareness about your company and cause
Promoting an idea
In short, you can use flyers for anything and everything under the sun!
Why Corporate Flyers Should be a Part of Your Marketing Mix
In today's world where approximately 306.4 billion emails are being sent and received daily, your target audience may receive close to 100 emails daily. Well, most of these emails get deleted before being opened. So, any marketer worth their salt will vouch for an omnichannel approach here. In fact, a whopping 87% of retail leaders agree that an omnichannel strategy is the best way to create a seamless customer experience.
Beautifully designed flyers help you bridge this gap. Here's how!
Flyers are the most cost-effective form of offline marketing. You can have some beautiful corporate flyer designs up your sleeve, get those printed, and start distributing!
Flyers lets you reach your target audience directly. You can hand it over to them (with a warm smile of course) and build a personal connection in the process.
Impactful flyers often end up being passed on to family and friends (more audience, yey 😊).
Lastly and perhaps most importantly, flyers offer that tangible presence for your brand that you miss sorely in today's digital world!
How to Create Stunning Corporate Flyers Design (Without Busting Budget)
Back to our original question then!
If you plan to use flyers effectively, you must grab attention. The fact that the human attention span today is shorter than a goldfish makes it supercritical for you to pay attention to the design. Creating that perfect symphony of color, content, graphics, and whole lotta love is the key!
If you are already worried about finding the right design talent or hiring a design agency, DocHipo has got your back 😊
Well, DocHipo comes with tons of beautiful corporate flyer templates that our designers have built just for you! Here's a sneak peek!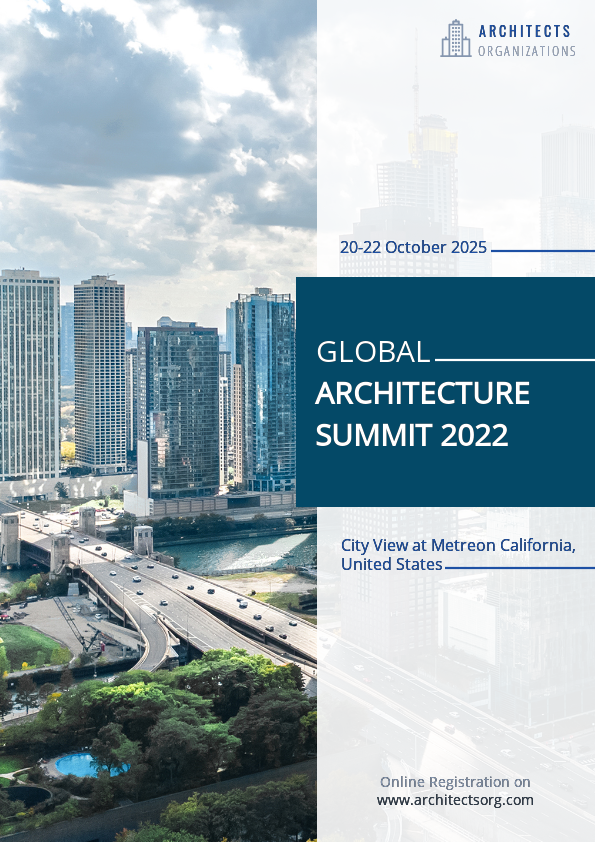 Get This Template and More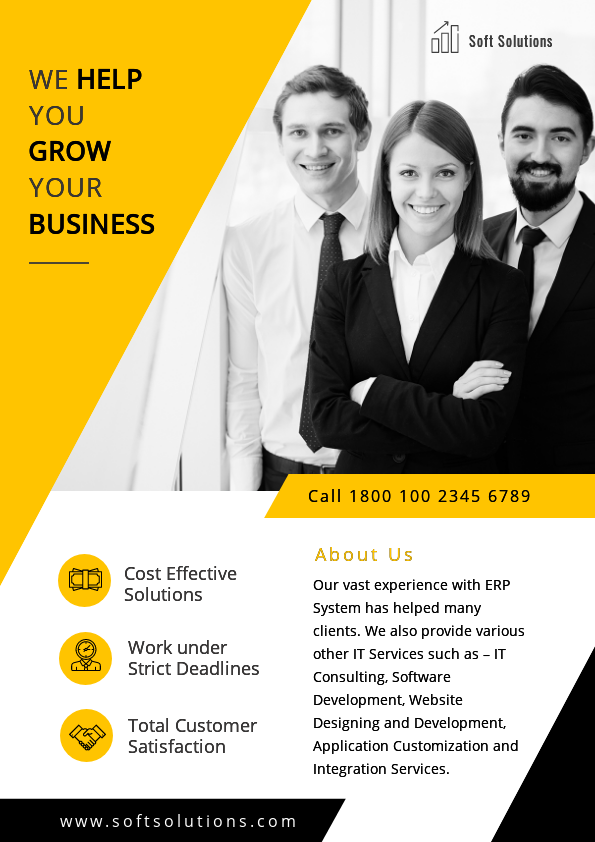 Get This Template and More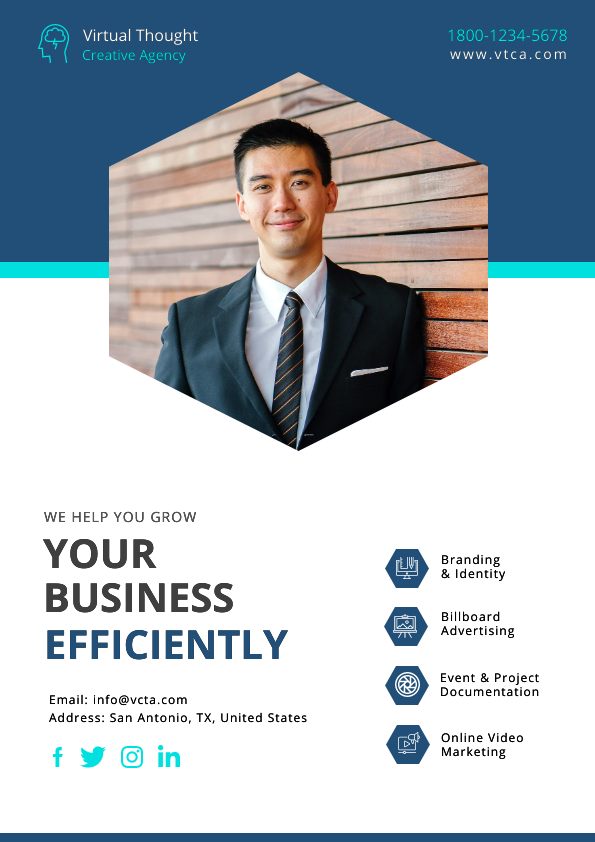 Get This Template and More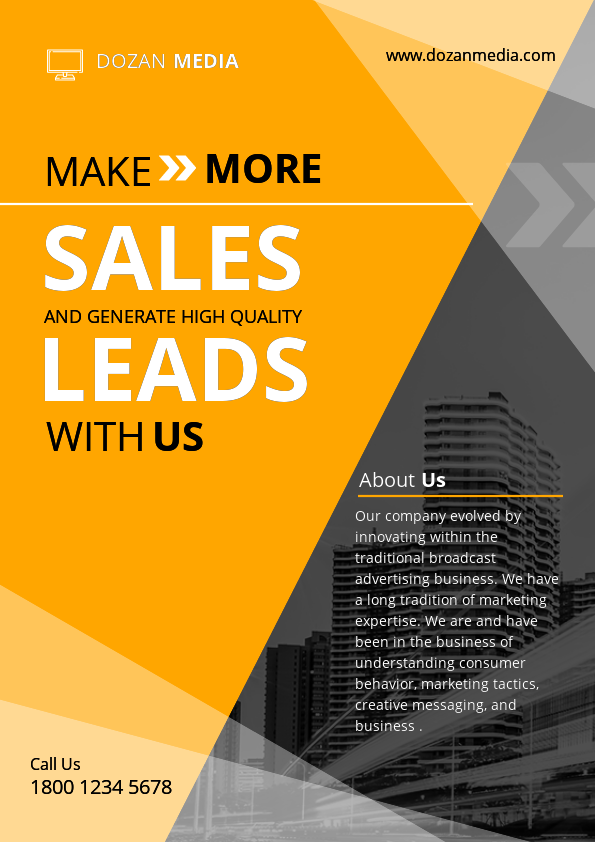 Get This Template and More
Like what you see? Here's a step-by-step guide on how to create a beautiful corporate flyer design with DocHipo! If you do not have a DocHipo account already, create one. It takes about 30 seconds to sign-up with your name and email id! No credit card is needed!
Once you land on the 'All Templates' page, type 'flyer' in the search bar and click on the result.
STEP 1: Choose a Corporate Flyer Template
DocHipo comes with tons of stunning Flyer templates that you can use to boost your marketing. These templates are designed with different use cases and industries in mind. Filter out the templates by industry and use cases from the top panel now. Choose 'Corporate' to filter out stunning corporate flyer designs!
Alternatively, you can also explore templates the way shown in our guide below.
Once you've found the one, select it. You can Preview the templates before choosing as well.
Now you can save your templates with appropriate names and descriptions. This way, you can find them easily in the future and print a whole new batch.
STEP 2: Customize Your Chosen Corporate Flyer Template
Now you have reached the DocHipo editor! You can edit your flyer template here with the simple drag-and-drop interface. All set! Simply change the content, pictures, colors, and size….as you want with the Design Widgets. And your corporate flyers design is ready to take on the world! Let's explore a few design elements one by one.
Add or Edit Text
To edit an existing text in the flyer, select it and replace it with your crucial message.
If you need to add more text, click on the 'text' widget on the left sidebar. Next, choose a text format amongst heading, subheading, and body text to proceed.
Once you add your text, edit it using the text editing options from the above panel. For more text editing options like changing the text opacity, adding a clickable link, etc., click on the three horizontal dots.
Watch our quick guide on adding, editing, and deleting text in DocHipo.
Let's move on to the 'Graphics and Media' widgets.
Change the Visuals
depending on your need or the brand's nature, you can use visuals like pictures, illustrations, stickers, animations, etc. let's take a look at the illustrations widget.
The unique illustrations come in a wide range of themes, such as fashion, fitness, marketing, sales, social media, vacation, and many more. Let's explore the marketing illustrations.
You'll get both solo and scene illustrations to work with. Simply select the illustration that suits your need.
You can resize and reposition your chosen illustration or any other visual with the drag-and-drop editor.
Here's a quick demonstration of using illustrations in DocHipo.
Change the Color Scheme
Color is another element that will change the look and feel of your corporate flyer design. Select the area you need to change the color of and click on the color icon from the editing panel above.
If you didn't find the appropriate color yet, click on the little color palette icon for custom colors.
What's more! You can directly put the color hex code in the space provided, just like we did below.
Similarly, you can change the text color as well.
Here's how you change the background color with more options.
STEP 3: Download Your Corporate Flyer Design
Now that you are happy with your corporate flyer, you can download it for printing. Click on the three horizontal dots to download it.
Make sure to download the High-Quality PDF version for the best print quality!
Before Customization:
After Customization:
Watch our quick tutorial on downloading documents in DocHipo.
Further Reading
Last Words…
With DocHipo, anyone's a designer! If you are still considering using flyers for your business, it is time to get started. This super-efficient, time-tested tool is all you need to boost your offline marketing significantly. As for creating stunning corporate flyers design, we've got you covered. It takes less than 10 mins to get your flyers ready to print!
Sign-up to DocHipo today and leverage the beautiful flyer templates for your business NOW!