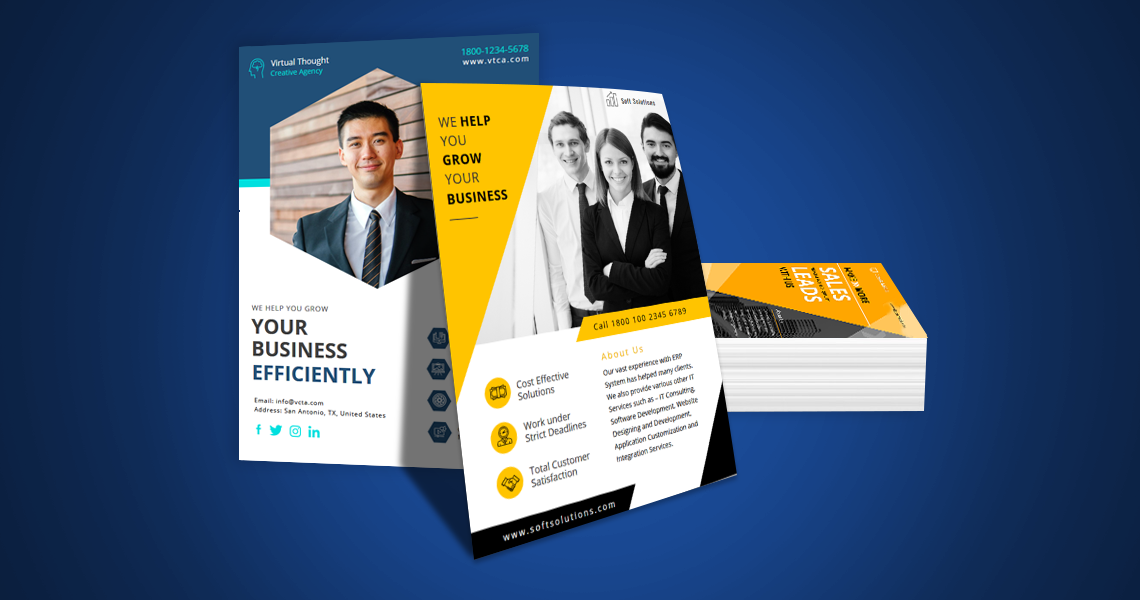 How to Create Corporate Flyers Design in Less Than 10 Mins

Published on Jun 5, 2020 | Updated on Oct 22, 2022
Corporate flyers have stood the test of time. And it is still one of the most affordable and effective offline marketing tools that you can use. According to DMA statistics, 60% of all door drops are read by the recipient. When it comes to addressed mails, 57% are opened when just arrived and 20.8% are opened within a twenty-eight-day period. The question is, how you can create stunning corporate flyers design that people would love to read, pass it on to their families, and put on their fridge magnets?
Now, before we venture into how you can create stunning corporate flyers design on your own, let us discuss what flyers are and what they can do for your business.
What is a Corporate Flyer
Flyers are those little leaflets that you are handed over or mailed to or dropped off at door promoting businesses, offers, ideas, etc. You can use flyers for the following purposes:
Promoting a new business
Promoting an offer
Sharing a coupon code
Promoting some new products or services that you just launched
Creating awareness about your company and cause
Promoting an idea
In short, you can use flyers for anything and everything under the sun!
Why Corporate Flyers Should be a Part of Your Marketing Mix
In today's world where approximately 306.4 billion emails are being sent and received daily, your target audience is possibly receiving close to 100 emails a day. Well, most of these emails get deleted before being opened. So, any marketer worth their salt will vouch for an omnichannel approach here. In fact, a whopping 87% of retail leaders agree that an omnichannel strategy is the best way to create a seamless customer experience.
Beautifully designed flyers help you bridge this gap. Here's how!
Flyers are the most cost-effective form of offline marketing. You can have some beautiful corporate flyer designs up your sleeve, get those printed, and start distributing!
Flyers lets you reach your target audience directly. You can hand it over to them (with a warm smile of course) and build a personal connection in the process.
Impactful flyers often end up being passed on to family and friends (more audience, yey 😊).
Lastly and perhaps most importantly, flyers offer that tangible presence for your brand that you miss sorely in today's digital world!
How to Create Stunning Corporate Flyers Design (Without Busting Budget)
Back to our original question then!
Well, if you are planning to use flyers effectively, you must grab attention. The fact that the human attention span today is shorter than a goldfish makes it supercritical for you to pay attention to the design. Here, creating that perfect symphony of color, content, graphics, and whole lotta love is the key!
If you are already worried about finding the right design talent or hiring a design agency, DocHipo has got your back 😊
Well, DocHipo comes with tons of beautiful corporate flyer templates that our designers have built just for you! Here's a sneak peek!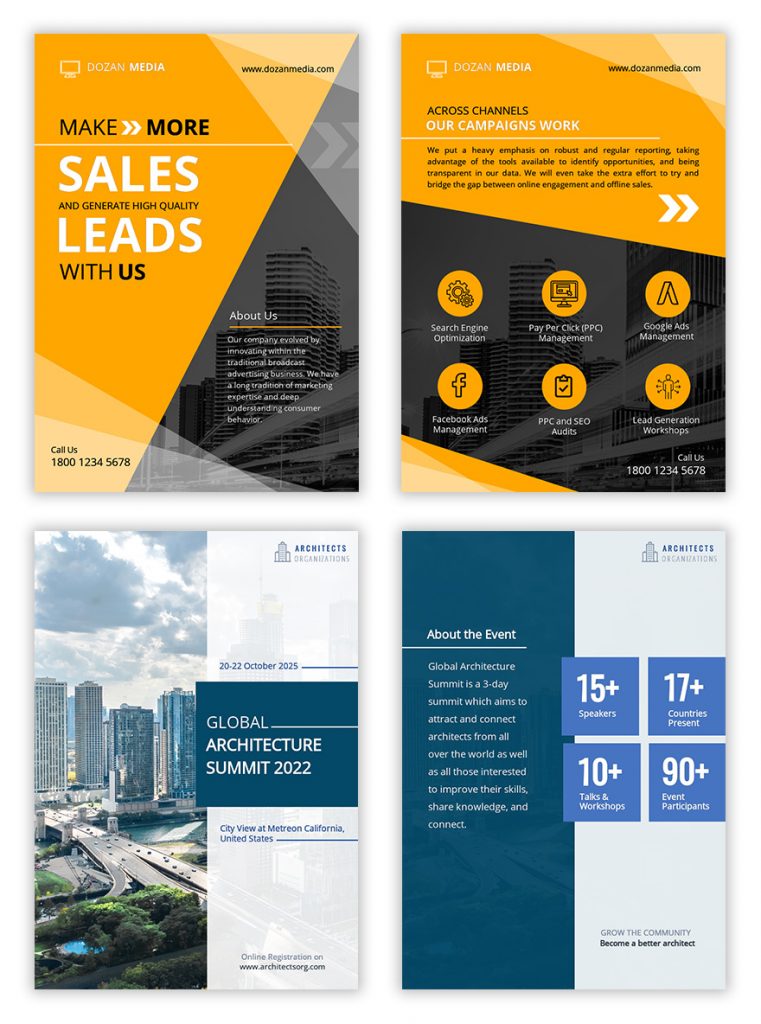 Like what you see? Here's a step by step guide on how to create beautiful corporate flyer design with DocHipo!
Step 1: Sign Up to DocHipo
If you do not have a DocHipo account already, create one. It takes about 30 seconds to sign-up with your name and email id! No credit card needed!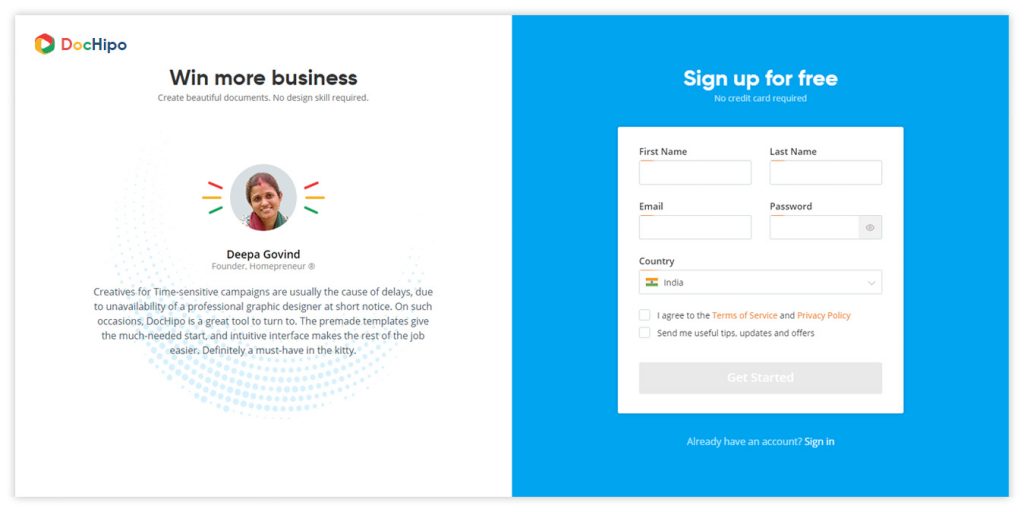 Step 2: Browse Through the Templates Library and Choose a Template You Love
DocHipo comes with tons of stunning Flyer templates that you can use to boost your marketing. These templates are designed with different use-cases and industries in mind. Filter out the templates by industry and use-cases from the top panel now. Choose 'Corporate' to filter out stunning corporate flyer designs!
You can browse through the library and find the one that suits your needs.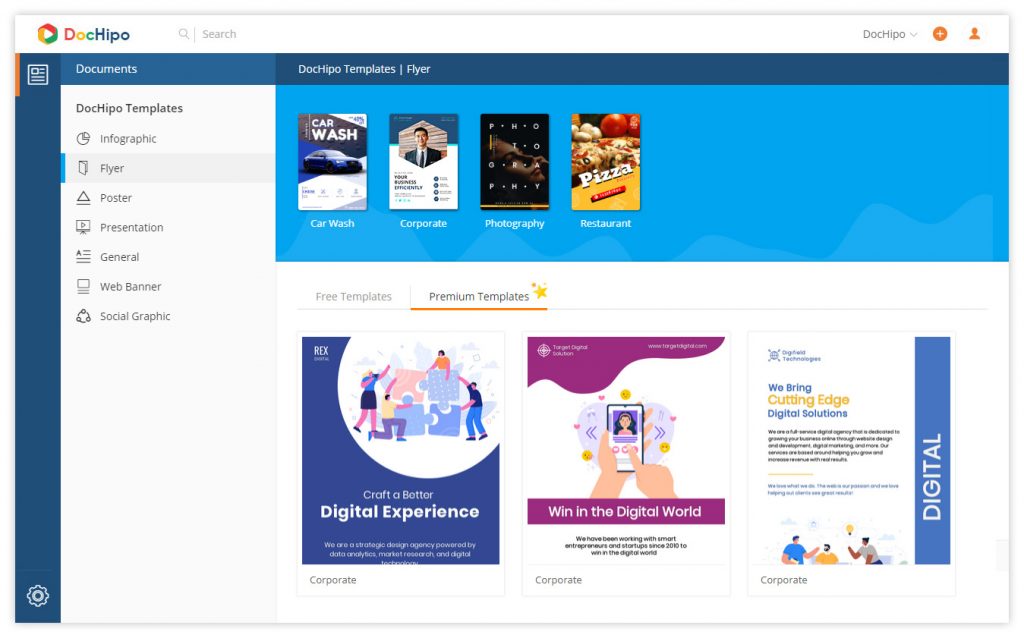 Step 3: Select the Template and Save It with Proper Name
Once you've found the one, select it. You can Preview the templates before selecting as well.
Now you can save your templates with appropriate names and descriptions. This way you can find them easily in the future and print a whole new batch.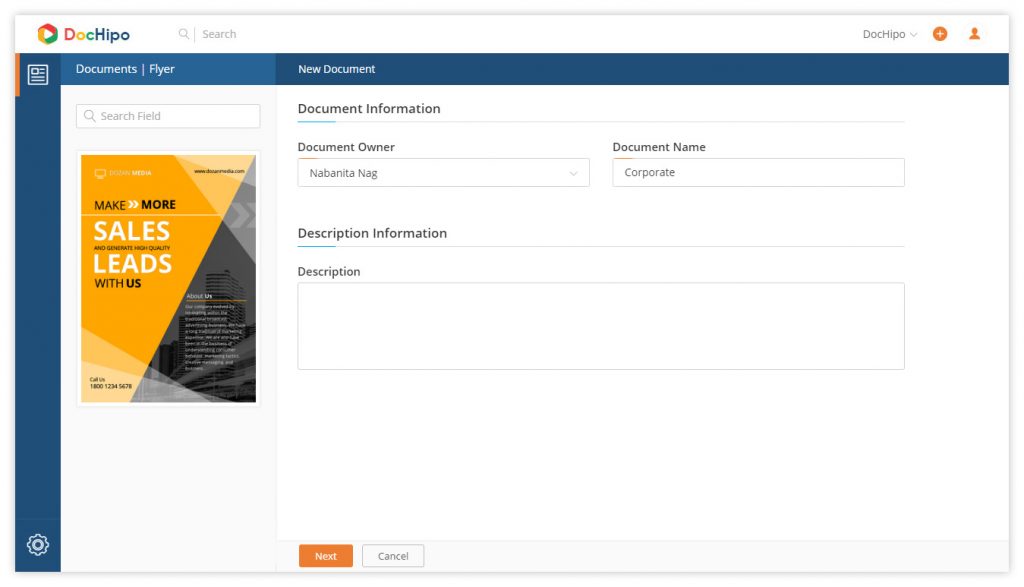 Step 4: Customize the Template for Your Business
Now, you have reached the DocHipo editor! You can edit your flyer template here with the simple drag and drop interface. All set! Simply change the content, pictures, colors, size….as you want. And your corporate flyers design is ready to take on the world!
You can visit our YouTube Channel for a complete guide on how to use different features within the editor.
Put your creative hat on and go crazy!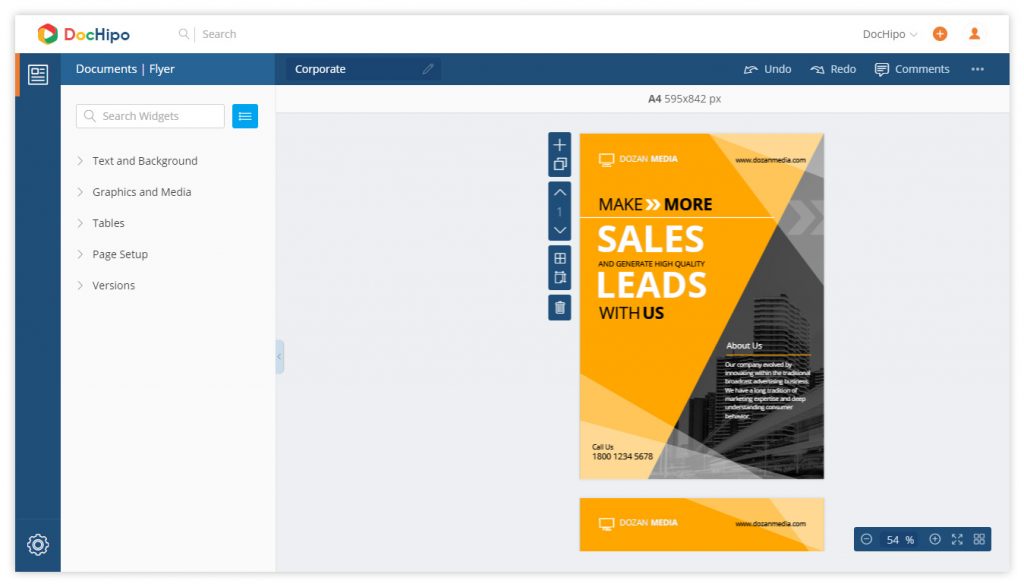 Step 5: Download for Printing
Now that you are happy with your corporate flyer, you can download it for printing. Make sure to download the High-Quality PDF version for the best print quality!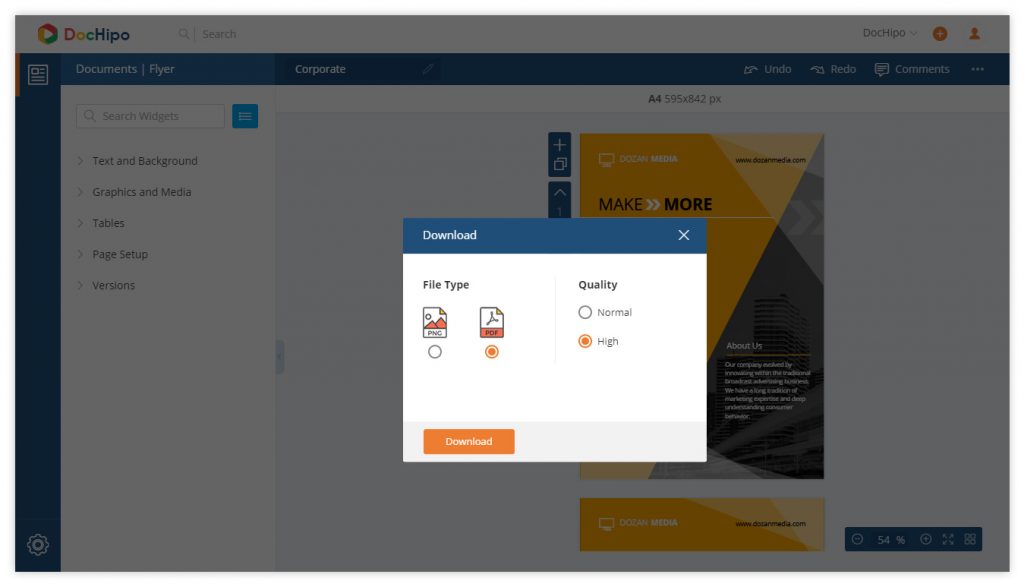 Last Words….
With DocHipo, anyone's a designer! If you are still considering using flyers for your business, it is time to get started. This super-efficient, time tested tool is all you need to give your offline marketing a significant boost. As for creating stunning corporate flyers design, we've got you covered. It seriously takes less than 10 mins to get your flyers ready to print!
Sign-up to DocHipo today and leverage the beautiful flyer templates for your business NOW!