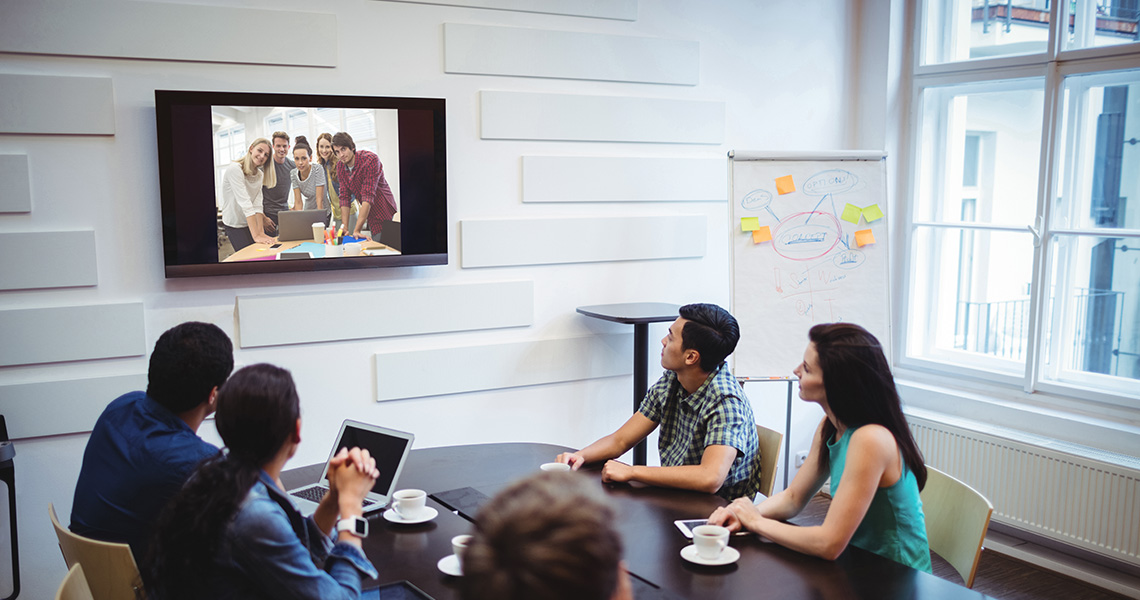 [How to] Create a Stunning Online Presentation with DocHipo

Apr 8, 2020
Online presentation is a really serious affair these days. You might need to use them for conducting online classes, hosting meetings, webinars and what not. Your team members, students, clients might be scattered in different parts of the world. You can reach out to them with your offerings through online presentations.
While presenting online, the biggest challenge is to hold the attention of the attendees. I mean, it definitely is tricky to hold attention of people through any presentation. But the challenge is higher to retain your remote attendees. Drab looking slides or poor presentation skills can get them to doze off. That is why your presentations in such cases should be absolutely mind-blowing. 4 out of 5 people have admitted that their attention shifted away from a presenter during a presentation. We have the solution to fleeting attention.
Why does that lack of focus happen? It takes very well-made presentations to capture attention and arrest it for long. Design is not the biggest concern. DocHipo will help you in that department. You just draft your content with care and precision. Life will be smooth with your presentations.
If you still are in doubt, I would like to explain the process to you.
Your way to success with a presentation:
1. Sign up to DocHipo and start using it for free (You only need your email ID for it)
2. Select an effective presentation template (and you like it, right?)
3. Edit text according to your need, add fitting images, all within your reach through a simple drag and drop procedure.
4. That's it… You are good to go. Just present it from DocHipo online.
Just imagine, your work will be live to multiple audiences only with the help of internet.
Now, the question is,
In which situation will you take the help of online presentations?
There are multiple conditions in which people need to depend on online presentations as offline meeting seems nearly impossible. It can be a stormy day, an irritating back pain, anything. You don't cancel client meets due to them, right?
Well, you can still host your seminar even if you miss your flight. In fact, your students should not waste their valuable time because of an emergency. Online classes can come to their rescue. In all the above-mentioned situations, a good online presentation is required.
With the help of the internet, you can present an entire project walk-through, sales pitch or school lesson to a group of 10 to 10,000 people at the same time. Work gets easier and smarter, right?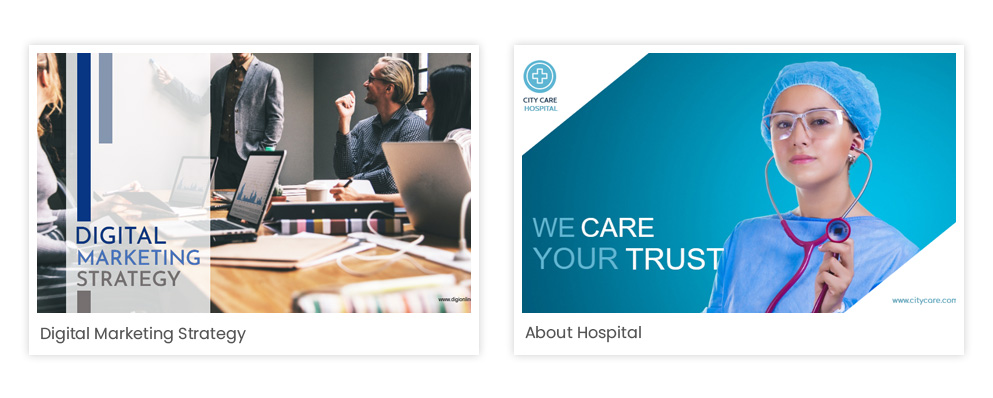 Select the right template for your presentation…
So what, if you are not a skilled designer? We are here to help you. There is a gallery of very beautiful presentation templates in DocHipo. Just choose one that suits your needs. Our in-house design team not only works hard to create beautiful workable templates.
But they are always careful about the fact that the design of each template is markedly different from the other and has their individualistic character to make them stand out. Every presentation template is easily customizable. You can add/ edit text, graphics, icons, images in a snap.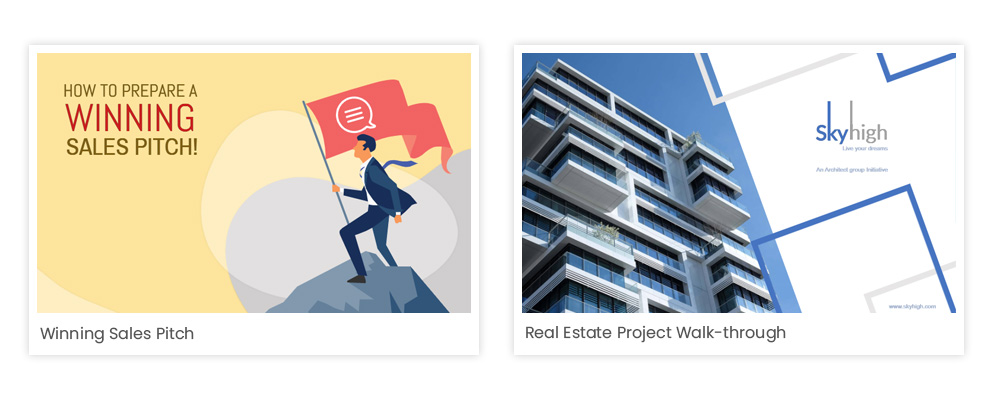 Branding of your organization is important…
No matter how carefully curated content is there in your presentation, it won't work in your favour without a strictly professional look. Your brand logo, colours, fonts must be used with care. While editing a template, you should first make sure that you have managed to align its look with your business logo, colour etc. Only then, you will be able to reach out to a bigger group of targets with your presentation.
Most importantly, present it online in remote meetings…
There is no need to have all your attendees in one room. They can all take a look at your slides sitting in the comfort of their office cubicles. So, the traveling time gets canceled out. Both the presenter and the attendee can live through a fulfilling experience of a beautiful presentation. They do it without the hassle of making all attendees at one place at a pre-defined time.
After your presentation is ready, just share it straight from DocHipo. After your presentation is ready just click on the three dots on the side of the comments tab. You will see a 'present' button out there. Just click on it. Voila; you are ready to present your work to the world. You can also download a copy of the document in PNG or PDF format for future reference.

Your team is free to comment on the presentation…
There is a comment button on the top right. Your team members can comment on your work and you can see them in real-time, right on the editor. Isn't that cool. In fact, you can also make changes suggested by them. There is no need for too many emails, and phone calls to make the editing completed.
Everybody is a Designer at DocHipo…
No no… I do not claim that we upskill you. We offer you a little support to have an eye for great designing nitty-gritty. You will create magic as we wield the wand. Don't believe it. Just sign up to DocHipo once and you will understand.
Online presentation means your attendees are remotely viewing the project. So, there is no liberty to test their patience, okay? One dull moment in your slides and they are gone. Once they go offline, it will not be easy to win them back. So, no matter how inexperienced a designer you are, a great presentation is a MUST.
The DocHipo editor is simple to handle and it has a huge stock of beautiful assets to work with. We have done our homework to design our editor to suit you no matter what your level of expertise is. It has a huge stock of beautiful assets, icons, graphics, animated media, etc. We created the templates with the right page-size for your use. Just a little bit of change here and there. It's a simple drag and drop process. And your bespoke presentation is ready.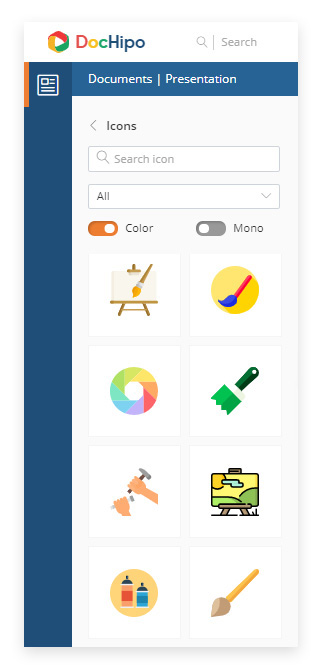 Your slides should 'speak' with the attendees to the presentation…
You might have designed beautiful slides for your presentation. But that does not mean, you will pour your heart out on them. Remember, your slides should not look like walls of texts. You should add ample graphics if required infographics to enrich your presentation.
Human brain processes visual content 60,000 times faster than text. So, aid of images is a must for your presentations. Moreover, 80% people remember what they see as compared to 20% can remember what they read. So, you must offer enough space to visual content on your slides.
You will find a whole lot of beautiful graphics, media, infographics, icons, and shapes that you might use in your presentation. But you can never devalue real photographs taken by you or employees at your organization. They can speak volumes on behalf of you. In fact, they can make customization foolproof. The higher the visual appeal is, the more engaging your presentation will be.
Team collaboration is easy with DocHipo…
So, we can expect that your presentation is ready, right? Chill out, even if last moment rectifications are required. You can collaborate with your team in real-time. As a result, changes at the penultimate moment are not difficult at all.
All your team members can preview, edit and even share designs on the same dashboard. Moreover, you have the freedom to make changes according to the comments of your team members on DocHipo editor.
All your requirements are sorted, right? But sign up to DocHipo first. Only then, you will be able to move ahead with your process of work. So, stop stressing out for the presentation. It's time to be confident and win hearts. So, smile and get started.