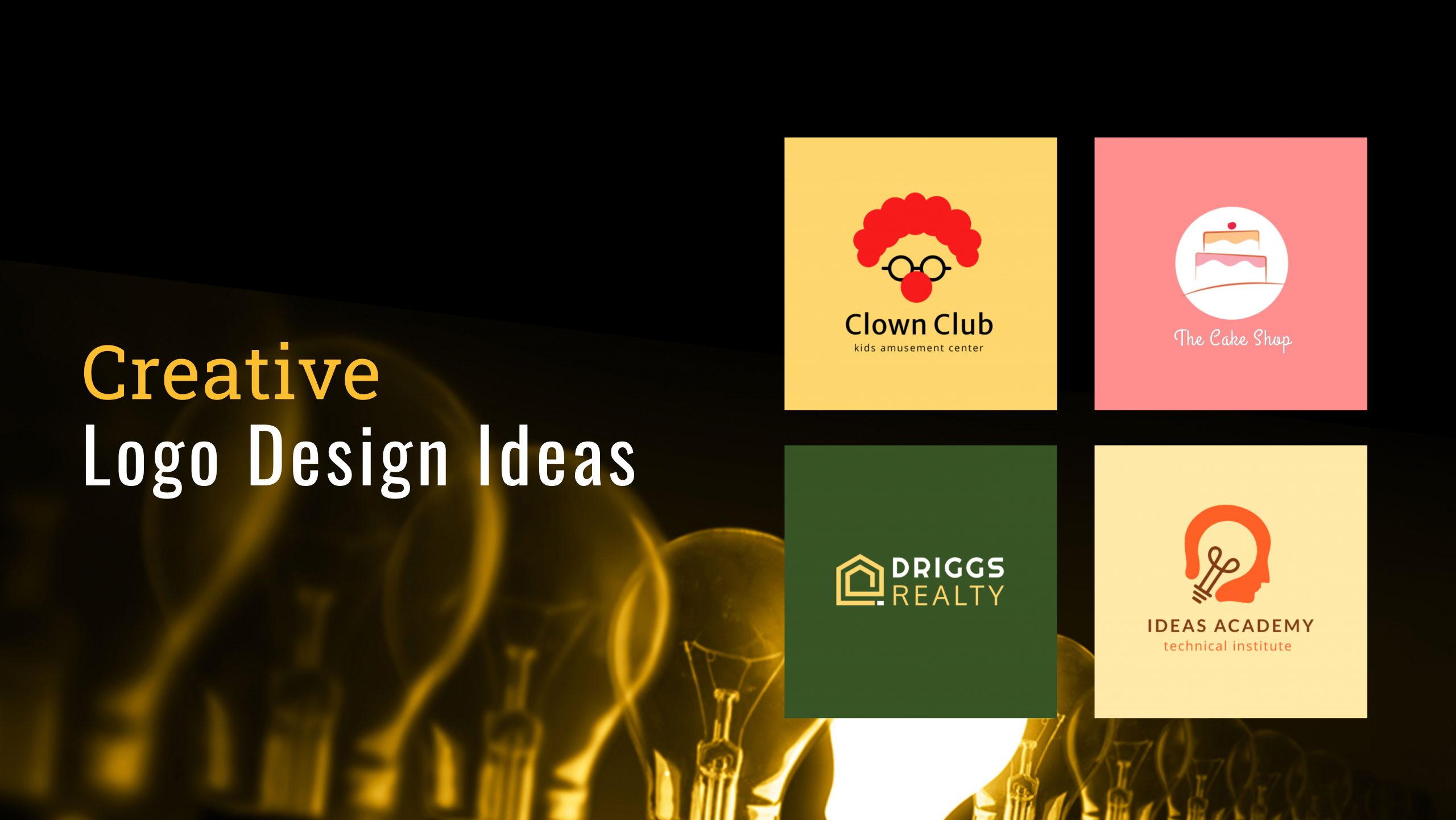 10+ Creative Logo Design Ideas in 2022 [Templates Inside]

May 12, 2022
Are you looking forward to rebranding your business?
Your brand's new logo has to maintain your authority as a brand. So taking time to upgrade the visual representation of your brand, that is, your logo will pay off.
On the other hand, if you've just started your business, you're probably still laying a solid foundation to establish your brand identity. Since the company logo design strongly impacts your brand perception, you need to be very careful with this art.
In this article, I have curated a list of more than ten creative logo design ideas for your inspiration. Along with them, you'll also get logo templates that impactfully convey the respective brand message.
Let's get started.
Logo Design Ideas for Business in 2022
Go through the following trendy and highly effective logo design ideas, experiment, and stick to the one you can use across your branding and marketing collaterals.
Idea 1: Use Negative Space to Your Advantage
Negative space is the free space inside or around any design element or letter to form a new element. You can fill in and leverage the blank space to represent your brand best. It will turn into compelling visuals with hidden meaning, making it more memorable. When your target group views your company logo design, they'll have fun.
For example, look at the creative and clever use of negative space in the following DocHipo Logo Templates.
Idea 2: Isometric Logo Design
In isometric logo design, you give a 3D effect to a 2D shape. This timeless logo design is highly effective in communicating your brand. The effect in the isometric logos add a sense of depth, making it look more realistic. 
To rebrand and implement the isometric logo design idea,
fix the contrast
add the perfect amount of shadow
ensure using sharp edges
Idea 3: Use Typography Creatively
Brainstorm ideas about how you can capture the soul of your brand through creative and fun typography.
In the creative DocHipo Logo Template below, the bottom left portion of the brand name's initial letter 'B' is replaced with a pencil nib representing the education center.
Related:
Fashion Logo Design: How To Design A Fashion Logo For Free
Read Typography in Logos for more insights on the same.
Idea 4: Go Retro and Vintage Style
While crafting your company logo design strategy, incorporate nostalgia and remind viewers of their good old days. The different expressive retro look of your logo design will surely stand out.
Have a look at the tour planner company logo to feel the charm of this appealing logo design trend.
Related:
Travel Agency Logo Design: An Effective Way To Boost Your Business
Idea 5: Make use of Gradient
Gradients have an unfailing potential to enhance the uniqueness of a logo design. It will give a sense of hierarchy and make your brand identity symbol more voluminous. Ensure the color shades you choose to add to your logo remain intact in print format, as you'll use them in various print and packaging materials.
Look at the fantastic gradients in the DocHipo Logo Template for a restaurant business logo.
Check out How to Pick Colors For Your Brand if you're struggling with the same.
Idea 6: Decorative Monogram Logo
For decorative monogram logo designs, think about how you can interwind the letters of your brand name. Also, brainstorm ideas to include your product or service offerings elements into your company logo design.
For example, observe how we have intertwined the initial letters of the bookstore name 'L' and 'D,' expressing a book and a lock simultaneously.
I love how the letter 'H' is decorated, shaping the upper part of the home.
Idea 7: Line Art Logo Design
Creating a line art logo design is another beautiful and effective way to brand your business. This intricate design will be a visual treat for your target group.
For instance, just look at the following DocHipo Logo Templates to see the line art logo in action.
They look so elegant with perfect color choices, font pairings, etc.
Idea 8: Use of Icons in Logo Design
An icon is an adorable design element that can conveniently convey your brand's message or the product or service you offer. So use icons to have a solid visual impact and make your brand memorable.
For example, look at how appropriate icons have added to the beauty of the following logo designs.
Related:
Food Business Logo Design: How To Make A Logo For Food Business
Choosing the correct icon for your company logo design will be much simpler if you use an Online Logo Maker like DocHipo (that's us!)
Watch the video below to use icons in DocHipo.
Idea 9: Image within Text Logo
This is a playful and creative logo design idea where you make the image(s) part of the lettering. Ensure the readability of the text while adding images within it. You can use design elements like icons to showcase what your brand or business is all about.
Take a look at the DocHipo Logo Template for the art institute that has rocked this logo design.
Idea 10: Experiment with Geometry
You may use basic geometrical shapes to bring symmetry and give your simplistic logo design a structured look. Try different shapes keeping the overall look neat and fresh.
Idea 11: Get Playfully Creative
Adding fun elements to your logo depending on specific target audiences will win you points. Suppose your target audience is children. So instead of giving your logo a sophisticated formal look, make it a playful one. You can add these funny twists for other target audiences as well till it aligns with the vibe of your brand.
For example, look at the adorable DocHipo Logo Template for kid's painting class.
Idea 12: Overlap Two Design Elements to Add Meaning
Observe the DocHipo Logo Template for a writing skill course. It brilliantly justifies the business name 'Butterfly Pen' by showcasing both butterfly and pen forming a single element.
Related:
Education Logo Design: Demonstrate The Ideology Of Your Institute
Idea 13: Form a Shape with the Design Elements
You can design a distinct logo by forming a shape with the design elements that speak for your business.
For example, look at the colorful DocHipo Logo Template. The foods served in the food factory are showcased in the logo, forming a square shape.
Similarly, observe the circular shape in the beach resort logo template below, formed by the wave, birds, and sunny weather.
Idea 14: Embrace Minimalistic Logo Designs
As more companies are starting to use digital media to communicate with their target audience, simple and impactful graphics are better. Don't fill the logo design with unnecessary elements to create something original and unique. So you can drop the idea of complex patterns or way too decorated fonts in your logo. You can feature something out of the box without being cluttered to recognize and remember easily! Your brand message can be perceived perfectly if you design your logo by embracing simplicity.
Here are some fantastic DocHipo Logo Templates to inspire your minimalistic logo design.
Related:
Real Estate Logo Design: Create Realtor Logos In Minutes
Check out How To Create A Logo Online Using DocHipo's Free Logo Maker for step-by-step customization.
Final Words
That wraps up our list of fourteen creative logo design ideas. You may sign up to DocHipo for free, explore all the logo templates across industries, and choose the one that aligns with your business. Use our free online logo maker, make the most out of the design widgets and create a meaningful and eye-catching logo design for everyone to remember.