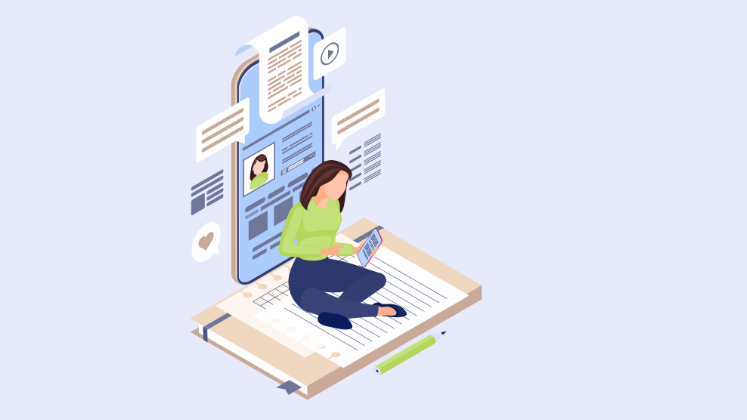 Branding Joe: Using Blog as a Marketing Tool to Enhance your Brand Influence

Sep 4, 2020
Hey there!
This is Joe here, back with my story of how I brand myself as a famous Life Coach. In the previous article, I shared about how I included social media in my marketing plan and started using Facebook. Today, I plan to take another jump.
These past few days have been really exciting, as my business page on Facebook is booming with members. Many people are also contacting me via Facebook messenger to request for a 1-O-1 session. Yes, things are moving really well. Hence, I have realized that I need another platform that will answer the questions of my clients, insightfully.
For that I am planning to start writing my blogs on self-identity and life.
So, in this article, I will first elaborate on why blogging can be a useful marketing tool. Following this, I will share the main factors that you must consider before writing a blog post.
Also, I will show you how to create an amazing blog banner from DocHipo.
Why are Blog Posts Important?
Weblog, which is popularly known as Blog, has its own evolutionary journey. From merely being a platform dedicated to personal stories, it has become a potent tool for marketing.
This evolution is largely credited to the World-Wide-Web and to people's curiosity to gain more information. The search-engines, accessed via the internet, act as a bridge. It takes your questions to multiple answers. Hence, blogs provided an opportunity for marketers to write sufficiently about a certain topic that will provide the right solution.
Whether about an experience or product/services, we are always thirsty for more information. Also, we all love stories. Writing a blog post enables engagement and credibility through attractive pictures and interesting narratives. This opportunity of getting in-depth tips and updates will tempt clients' to revisit your business website.
Hence, if you aim to attract more leads through your website, then this interactivity influences them to contact your company. Statistics suggest that prioritization of blog posts on business websites are 13 times more potent towards achieving a better ROI.
In my case, writing blog posts seems ideal. Since my business is all about dealing with people's notions about themselves, blogging will give me a wider platform.
Through my blog posts, I plan to write about common problems faced by young individuals in their 20's. During this phase, youths are tormented and triggered by many questions about themselves and life. It is extremely important to address those questions in the right manner, if the world needs to be nurtured with a healthy generation.
Yes, my business is all about establishing positive healthy individuals through whom the world is getting defined.
Things to Consider When Writing a Blog Post
Blogging is extremely important and crucial if I want to spread my influence on my target audience. Especially for professions that deal with personal lives, blog posts are everything.
But, just having a plan to start a blog on Self-identity or for any other business niche is not enough. Many things need to be considered.

1. Setting a Well-Defined Goal
This is the first step towards building an amazing blog post. You must set proper goals about your blogs which will help you strategize better. Goals are really important if you want to execute your plan systematically.
For creating a blog post you can start by first thinking about the genre or the problems that you want to address via your blog. For my blog, I plan to make a proper 6 months list of all the blog post ideas that I want to address. There are many online applications that can suggest trending topics based on your niche. For my content idea research, I either use applications like Google Trends or Ubersuggest.
Choosing topics in trend will take you easily and quickly to your target audience. This is mainly because they are actively searching for a solution to their problems, in all the search engines. Hence, there will be a chance of gaining a greater audience base.Another important factor to consider here is timing. Plan your post schedule and make proper deadlines that you can follow.
2. Determine Your Target-Audience
Whether you want to brand your company or you want to start with a marketing strategy, target audiences are everything. Clients are the soul of the business, around which your trade grows. Hence, even for writing a blog, it needs to be centered on the target audience.
So make a proper research. What kind of audience do you want to cater to?
Based on this, you can determine the tonality of the blog, which is also an important factor.
Typically there are two types of audiences for blog marketers. The first type looks for solutions. Their main target is to get a service. So, they conduct proper research before availing it. The second type looks for a product. So, they will look for articles that will give reviews and critical analysis of the product.
I guide people who come to me with problems regarding self-expression. Hence, my business is based on providing services. That automatically makes me a type of blogger, who solely focuses on providing solutions.
3. Planning Your Budget
When you plan to start your blog, this usually requires some investment. Try to make a proper layout of the elements involved with blogging that requires investment.
First and foremost! You need a website. Without a proper website, you will not be able to display your blog article. Now to make this website searchable, you have to buy a domain name. Also, you have to purchase a web hosting service that will make your domain available on the internet. Hence blogging will incur a certain amount of cost.
The cost may vary, depending on the package that you want to avail.I am planning to build my website from WordPress, which gives me good deals and flexibility. In fact, the majority of businesses use WordPress to create their website. According to W3techs, 61.8% of the CMS market share is occupied by WordPress. Again there are other similar open-source CMS platforms from where you can create your own.
4. SEO
Search Engine Optimization is a very important factor if you want your blogs to easily reach your audience in search-engines. Optimizing your blog posts with the relevant keywords can change the game for you. How? Well, it will place your website in the right location of the landing page in search engines. This will instantly attract multiple clicks and traffic.
But again it is not just about the right keywords or key-phrases. There are other factors you have to consider to rank high.
With the right keywords, you also have to be quite strategic with where and how to place them in the text. Embedding your blog with too many keywords can make your article mechanical and boring to read. Extremely few keywords placed in the article is also not a good idea. You have to plan in advance about the keywords you want to choose and then incorporate it into the article.
Your blog heading and subheadings should start (or must have somewhere in the text) with the relevant keyword. Moreover, blog length matters. So a blog that is 1000-2000 long (and sometimes more) is good. Mainly because it provides sufficient number of relevant keywords.
Also, it is important to provide links. Outbound and inbound links authorize a blog website. Hence try to provide proper links from authentic, popular sources to your articles for establishing credibility. You also need to optimize images with image alt text that you upload in your blog. Even here you have to be conscious about placing the right keywords.
Finally, do not forget to write amazing and engaging content, as this is the most important aspect of SEO.
5. Enhance Your Blog Posts with Amazing Pictures
I clearly remember coming across a book that had no pictures, but only texts. It occupied my attention just for 10 minutes because after some time I started to feel sleepy and bored. A blog layout filled with only words becomes tedious to read.
Life these days are really busy. Every time counts. Hence, people are really selective about where they want to invest their time on. So your aim here is to immediately capture your audience's gaze.
No matter how awesome your blog is if it does not have compelling images it might not attract your audience instantly. Also let's not forget that it is the quality of the article, which will sustain the gaze.
But, to invite people and to win their confidence regarding your write-up, images are very important. After all, you don't want your audience to just visit your blog and leave instantly without having a proper look.
So use intriguing pictures as a bait to attract your audiences.
Now, if you are wondering where to get awesome pictures and images for your blog then don't worry. I get all my design solutions from DocHipo. Even for my blog posts, I will be using this wonderful platform.
Templates for Blog Posts in DocHipo
Yes, DocHipo is my all-time favorite platform, where I download all my design documents.
Just like today, I will download an intriguing banner for my blog. For the blog banner, they have amazing templates that you can use. Let me show you some.
At DocHipo you will also get options to create your banner. Let me show you how you can do this.
Creating a Blog Banner Using 5-Easy-Steps
Step 1:
Choose the blank template from the template option, 'Web Banner'.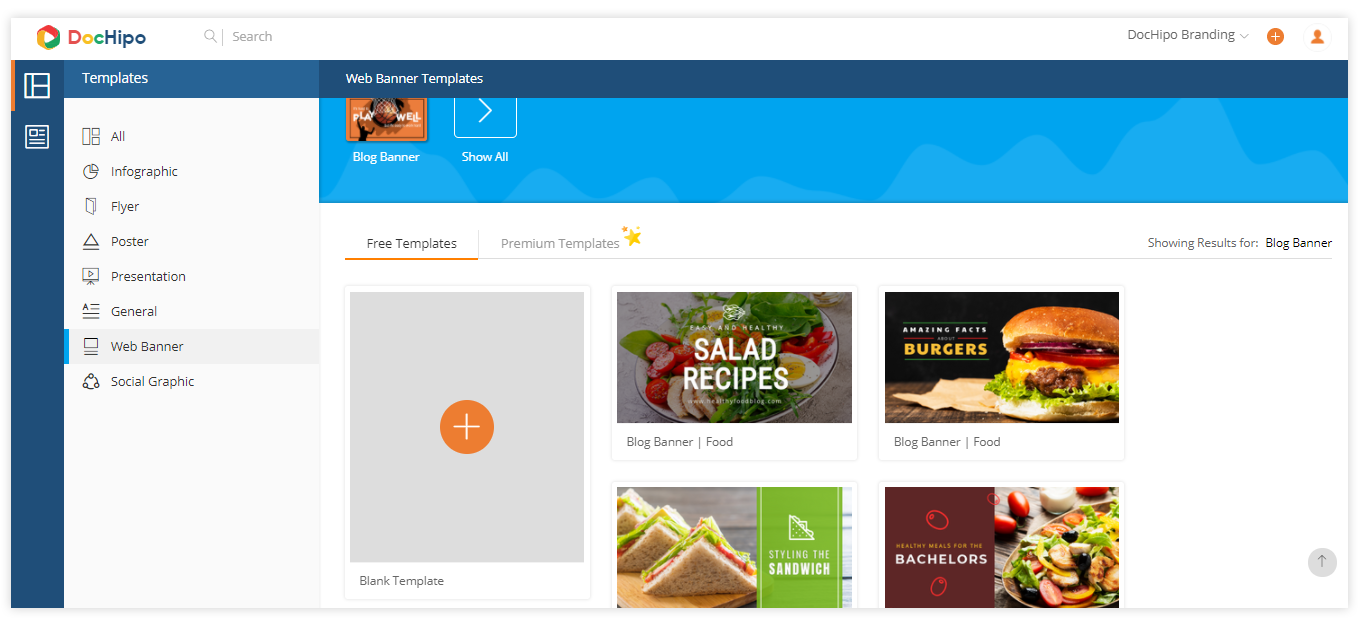 Step 2:
Fill in the Document Information, as required.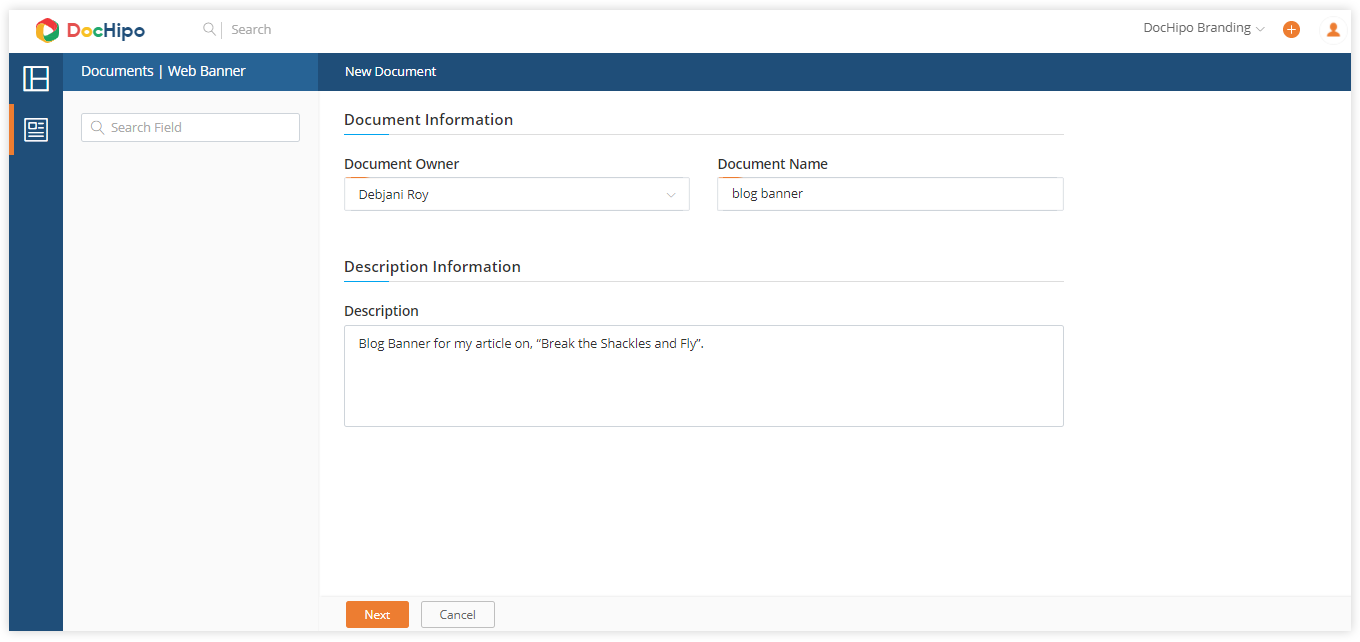 Step 3:
Choose the appropriate option from the page size box. This will automatically set the right dimension.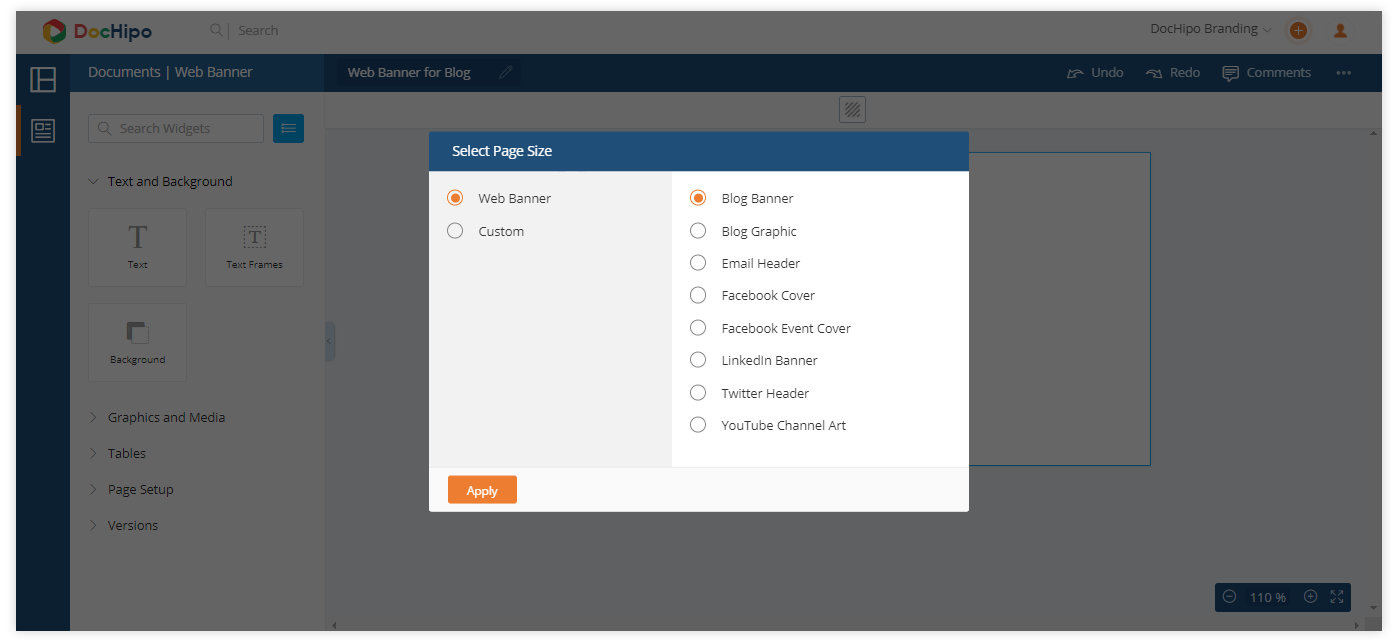 Step 4:
Start designing!
Look how I selected an inspiring picture for my blog titled, "Break the Shackles and Fly". You can get this picture and more from "Pictures" under "Graphics and Media".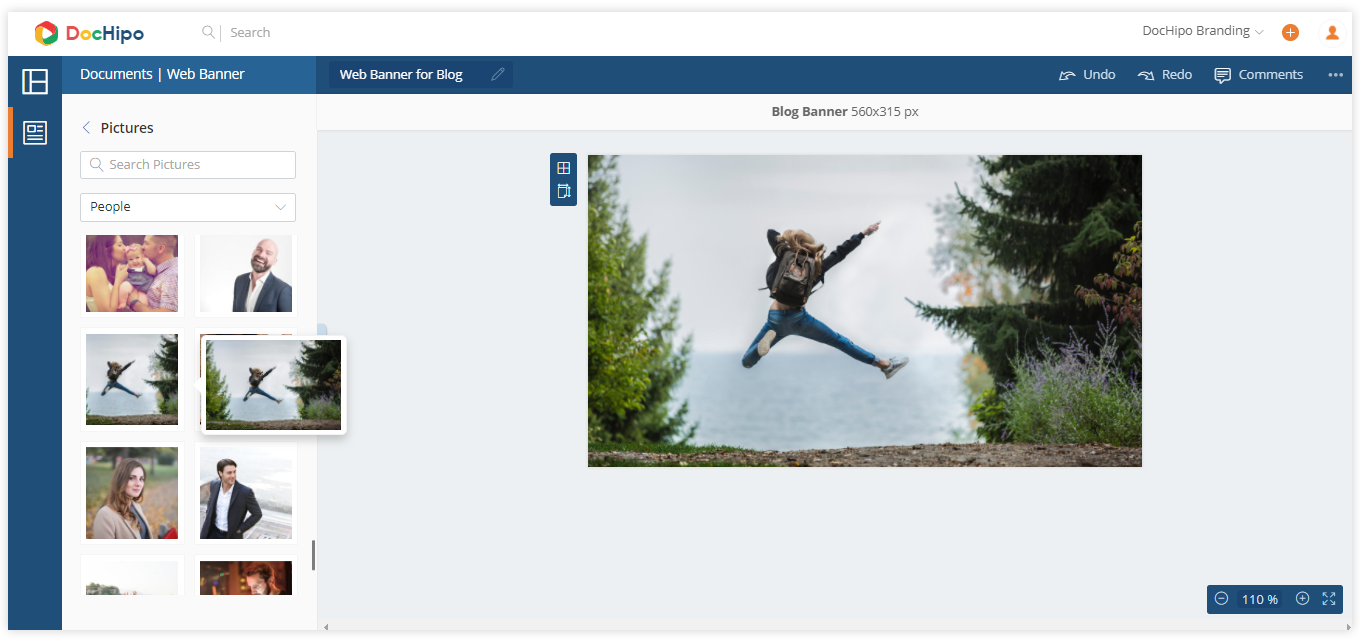 Step 5:
When ready with your template design then download it. This is super easy. Just click the dotted icon at the top left corner of the workspace. Then choose your image quality option.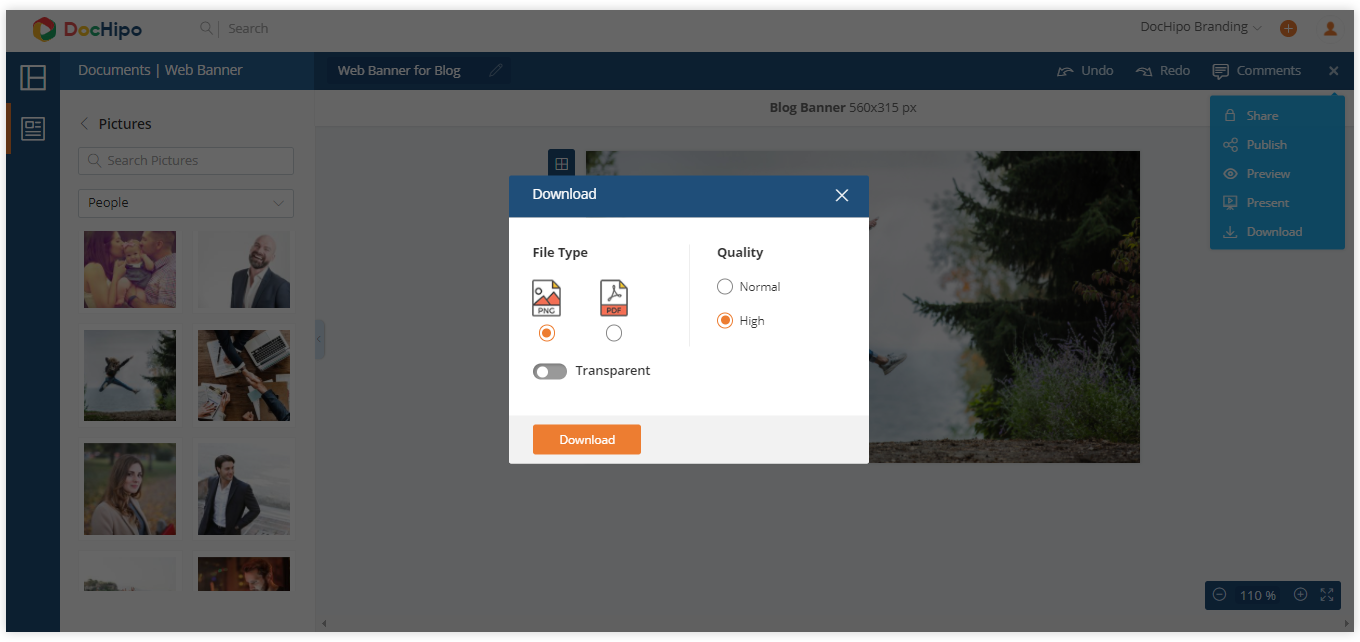 Look at my blog banner: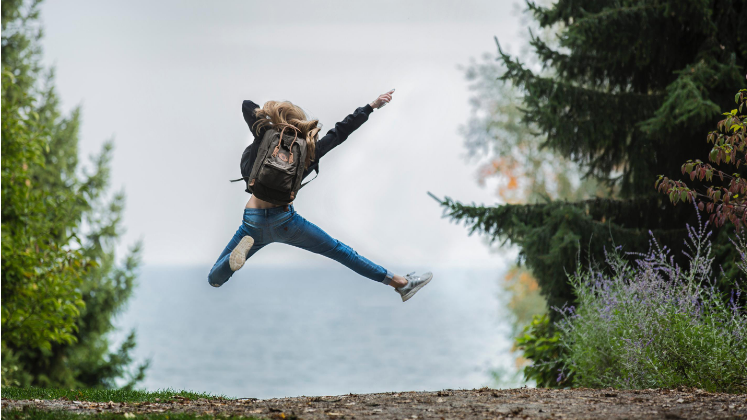 Conclusion
Exciting isn't it!
Well, to create and download your templates this is the best platform. But to get access to this wonderful joy-ride you have to sign-up.
Don't wait! Start fiddling with your design skills. Also, if you don't feel creative enough then you can download the ready-made templates for free. Not just for blogs but for almost all your design needs you can use DocHipo.
Interestingly they are constantly increasing their template-base to accommodate us to their fullest. So never worry about designing a document as you have DocHipo to help you!
In my case, I am going to write more articles and will start to spread my blog on social media pages. So stay tuned!