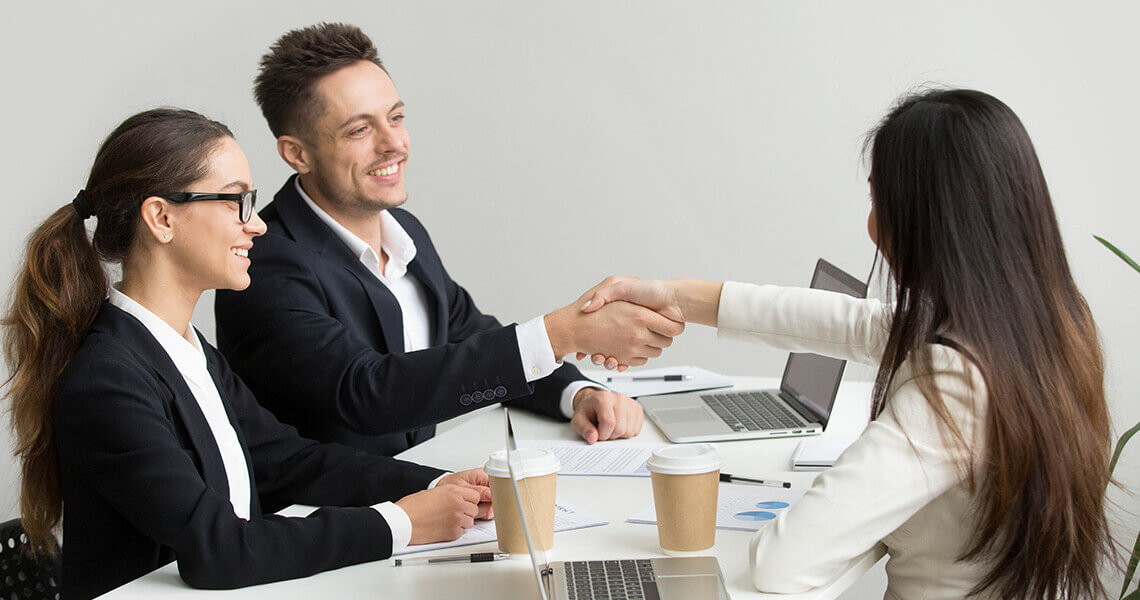 5 Tips for Creating a Stunning Resume and Nailing Your Dream Job

Oct 3, 2019
A resume is possibly the most important document you are going to create. No matter where you are at in your professional journey, when you are sending your resume or curriculum vitae to a recruiter, you aim to impress. And when it comes to making an impression, resumes have an awfully tiny window of time. According to studies, recruiters spend only less than 10 seconds on a curriculum vitae or CV before deciding whether the candidate is a fit or not.
So, how to make that first impression with your resume? Surely not with a dull piece of paper.
Here're 5 tips for creating the perfect resume and nailing your dream job.
1. Make Your Resume Stand Out
Did you know, an average job post fetches around 250 resumes? Oh yeah! According to a Glassdoor survey, your resume or CV must compete with 249 others at the shortlisting stage. Combine that with the teensy span of attention and it becomes essential to make your CV stand out in the crowd.
So, going for a hastily created document in black and white, with tiny fonts and almost no design element is hardly going to work.
While you sure don't want to add unnecessary graphics and other elements that take away attention from your professional accomplishments, it is crucial to create a theme that complements your experience and grab eyeballs.
Checkout these DocHipo resume templates that lets you highlight your qualification and experience while adding a dash of colour to get noticed.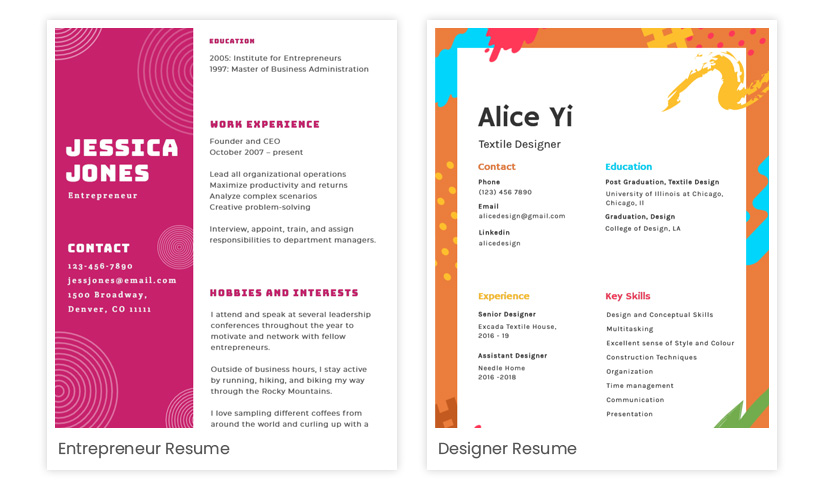 You may further modify the colour scheme to suit your line of work and preference. For example, if you are in a creative profession, you may want to go with a vibrant colour scheme. In case, you are in a traditional profession, sticking to one or two base colours may work wonders.
2. Never Underestimate Face Value
Human beings are programmed (by evolution) to seek and perceive non-verbal cues from the face of the person they are interacting with. So much so, that the face has been called the organ of emotion by many scientists. That is the very reason, as a species, we humans tend to trust people whose faces are visible vis-à-vis the ones we cannot see.
Therefore, adding a picture to your resume can significantly increase your chances of getting called for an interview. After all, discarding a faceless candidate is way easier than the one you can recognize!
Having said that, when it comes to putting a picture on your CV there are a few parameters that you should keep in mind. The picture is there to create credibility and connect. So, make sure you are using a picture that is professional, have eye contact and exudes positivity.
Not sure where to put your picture in the resume? Here are DocHipo resume templates that you can use.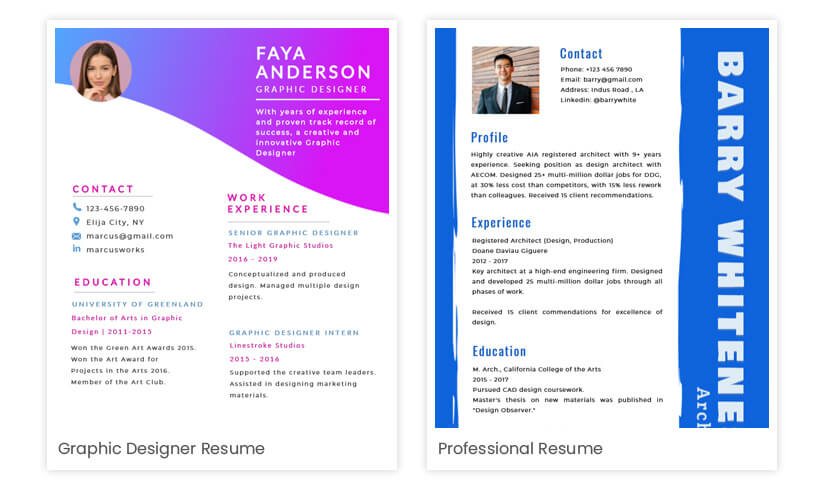 3. Create Clear Resume Headlines and Establish Hierarchy
Much has been already said about the importance of creating clear headlines and information hierarchy within a document. When it comes to resumes, it is even more critical. Often, when a recruiter is viewing a CV, they are scanning quickly to gauge relevance. And they do not have any verbal cue whatsoever to understand the hierarchy of information.
Creating clear headlines and hierarchy will help the recruiters understanding your qualifications and work experiences better than anything.
Look at this DocHipo template. Here different colours and fonts are used to create the information hierarchy.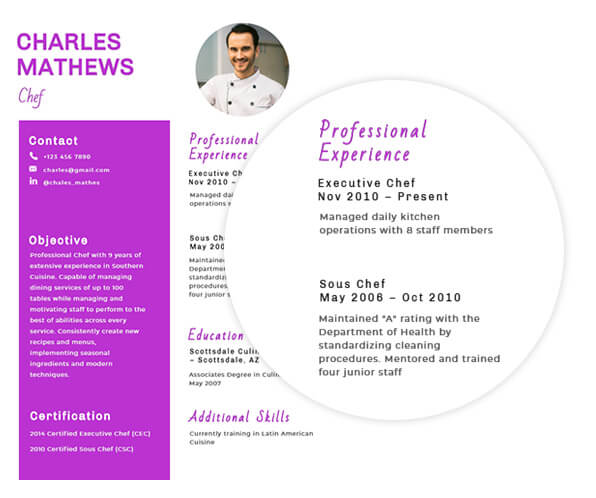 4. Create a Color Scheme for Your Resume
You must have noticed that all major brands have a brand color and they stick to it for all their communication. Colours create identity and recognition. In fact, according to a study, a consistent brand colour improves recognition by 80%.
Your resume is the first step towards creating your personal brand. So, take the cue from the pros and create a colour scheme for this crucial piece of document. You may want to go with a colour that suits your professional expertise and qualifications.
For example, the following DocHipo resume is meant for a Botanist or those in a similar profession. And therefore, the predominant colour is green here. Notice how different shades of green are used for the headlines and graphics to create an overall branding.
You may want to stick to green if you are a florist, an environment activist, a green entrepreneur and so on. You get the idea!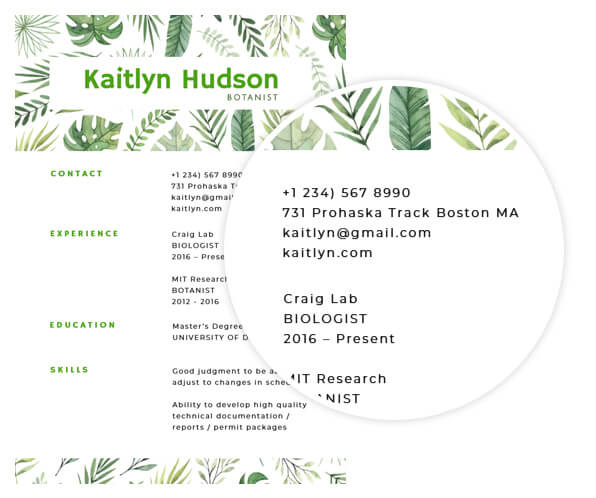 5. Bold Display of Name and a Tagline on Your CV
Names are how we recognize people, connect with them and recall them. So, it may seem obvious, but displaying your name in a clear, highly readable, bold style creates that instant connection. And don't just put a name, put a defining tagline too!
When it comes to taglines, you can use one or two words or a full (but short) sentence; the choice is yours. The goal here is to ensure that the person recruiting can identify your name and your key expertise at one glance only (remember the dreaded 10 seconds!).
Last Words
Whether you are looking for your first break or searching for a better opportunity, the resume is the first step towards achieving your dream job. With the job market getting more and more competitive with every passing day, making an impression with your CV has become critical.
So, don't just write down your expertise and experience; put some life into it. Make it an extension of your own unique personality. After all, like most decisions in life, hiring also is an emotional one. The only way to succeed here is to create recognition and connect while offering all important information!
With DocHipo in place, you can choose from several stunning resume templates, customize them as per your requirement and get going. And the great news is, DocHipo is free to get started. Sign up now to get one step closer to your dream job!