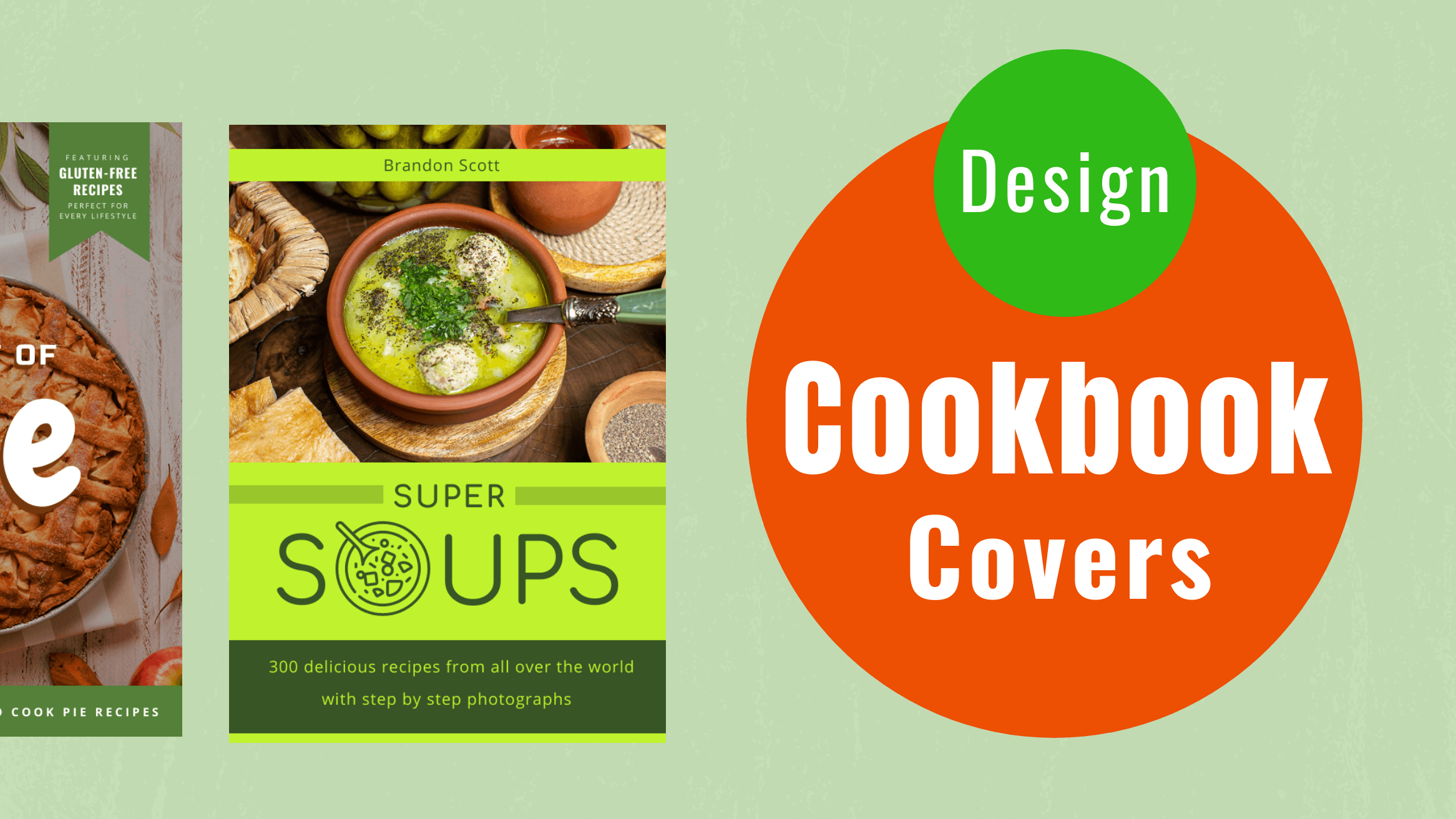 Cookbook Cover Design: How to Design a Cookbook Cover that Sells

Last Updated May 11, 2023
Cooking is a passion for some people, and for others, it's a nightmare. But if you are from the first category, you might have some winning recipes to share and help the second category. As you are reading this article, you might already have written your book and are looking for the best cookbook cover design to sell it. Then congratulations on the incredible achievement.
Or maybe someone asked you to design a cookbook cover, and you know the importance of this task. In either case, DocHipo can help you with your cookbook cover design and make this critical task easier for you. Speaking of cookbooks, judging a book by its cover is easy, but you need great content to back up a solid cover. These fun tips show how you can take your cooking classes to the next level.
Study shows that 90% of the information processed by the human brain is visual and the human brain can process images 60,000 times faster than images. Hence, book covers are the crucial components of every writing project, and every author might not have the ability to invest in expensive graphic design, so we created a free online Book Cover Maker in DocHipo.
This article will leave you with a stomach full of cookbook cover design recipes to design the perfect cover for your cookbook.
What To Include In Your Cookbook Cover Design
Before we proceed further, let's have a look at what a cookbook cover can include.
Title
Subtitle
Publishing Details
A brief note or quote
Design Elements
The cover is the face of your cookbook and entices the reader to purchase it. So, you must focus on every tiny detail of the elements mentioned above.
Cookbook Cover Design Ideas
Your cookbook cover design will inspire people to cook. It will fill your reader's imagination with flavors and smells. Therefore, to invoke those feelings, your cookbook cover design should include the right ingredients. The following cookbook cover design ideas and example templates will help you with the same to make the design process more manageable.
Get the Typography Right
I have seen many authors focusing only on the cover image. But you should not overlook the typography of the cover. The fonts you choose for your cookbook cover's title, subtitle, and other details can help you build a brand image.
The typography of your cover design should go in line with the tone of the story inside and what the title text communicates. There are different types of fonts: exotic, casual, graphic, and many others. Hence, you must pick fonts that fit the message you want to convey through your cover.
Well-crafted text on your cover can potentially make you the best seller. Try not to choose more than three different fonts, avoid font explosions and exceptional styling, and make your fonts easily readable.
Still, if you cannot select fonts for your cookbook cover design, this article on the typography hierarchy will help you.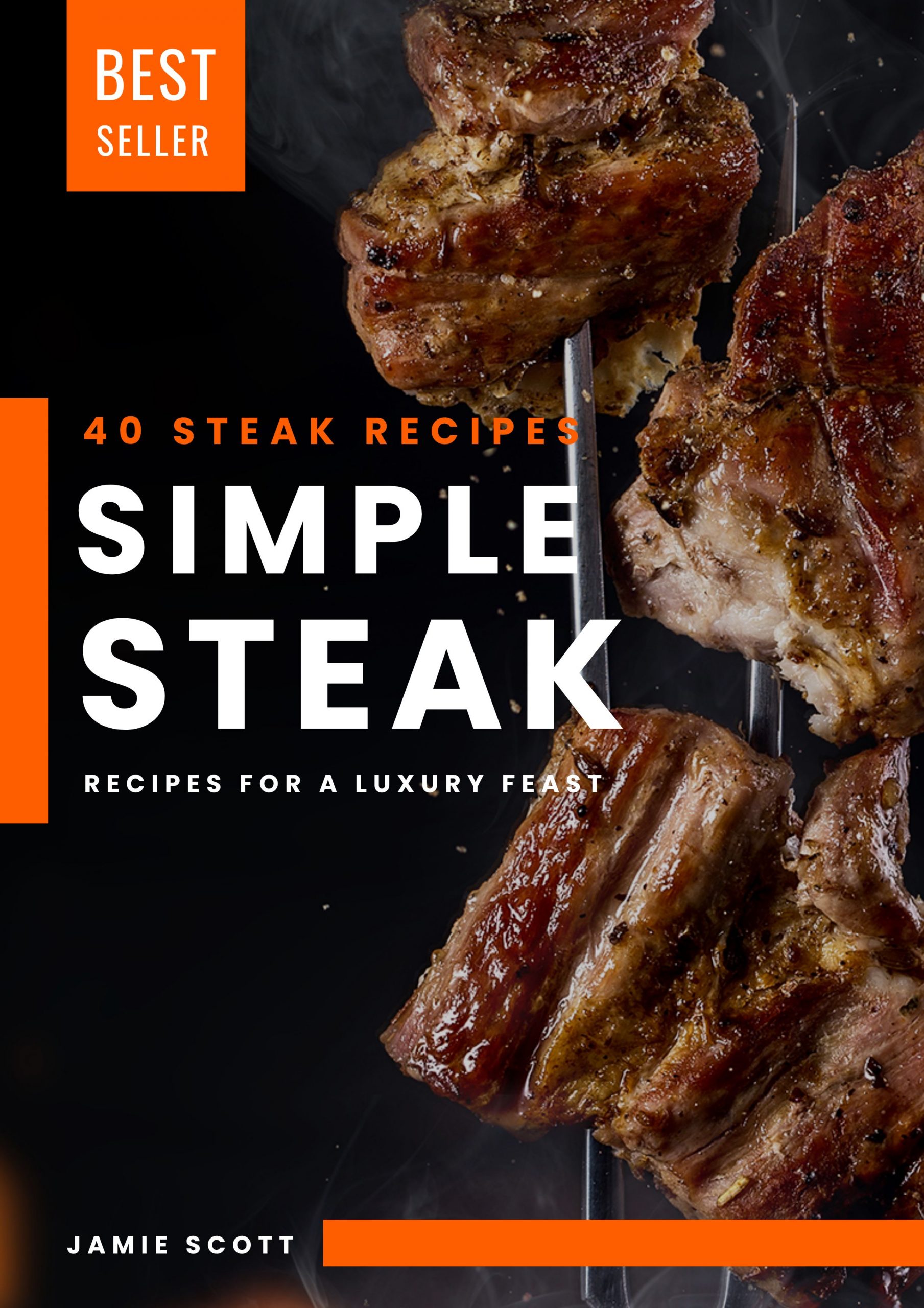 Get This Template and More
Choose a Relevant Cover Image
The cover image should be according to the title of your cookbook without revealing too much. When selected mindfully, the cover images in the book cover can tell a lot to a reader without acting as a spoiler. Cover images are not only decorations but also draw readers' attention by giving them an idea of what's inside without them even turning a page.
Additionally, the images you select can be a great way to connect with your readers emotionally. Since you are designing a cookbook cover, it is better to choose pictures of the book's food. For example, you can click pictures of the food you cook or the spices you use. The readers must feel that you have the resources to make the food you are sharing knowledge about.
You can use DocHipo's Photo Editor and Background Remover to enhance and remove the noise from your pictures.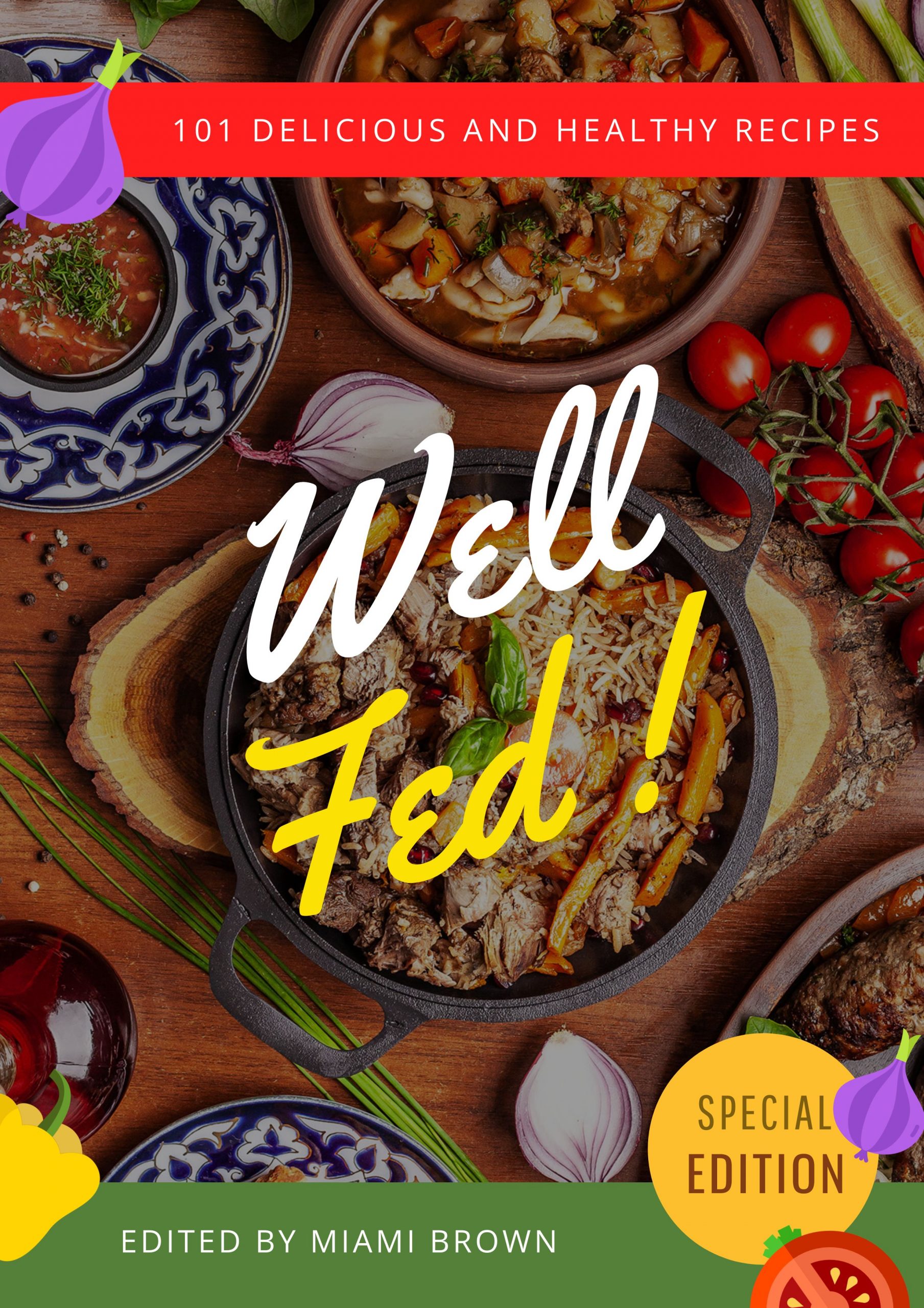 Get This Template and More
Pick Complementary Colors
Colors help you convey the message you want to send and set up the mood for your cookbook cover. Whatever the colors you choose, make sure they complement each other. Research well before you choose the right color combination for your cookbook cover. Make your colors legible and easy on your readers' eyes. To create a balance in your design, you can choose neutral colors like white, black, and grey.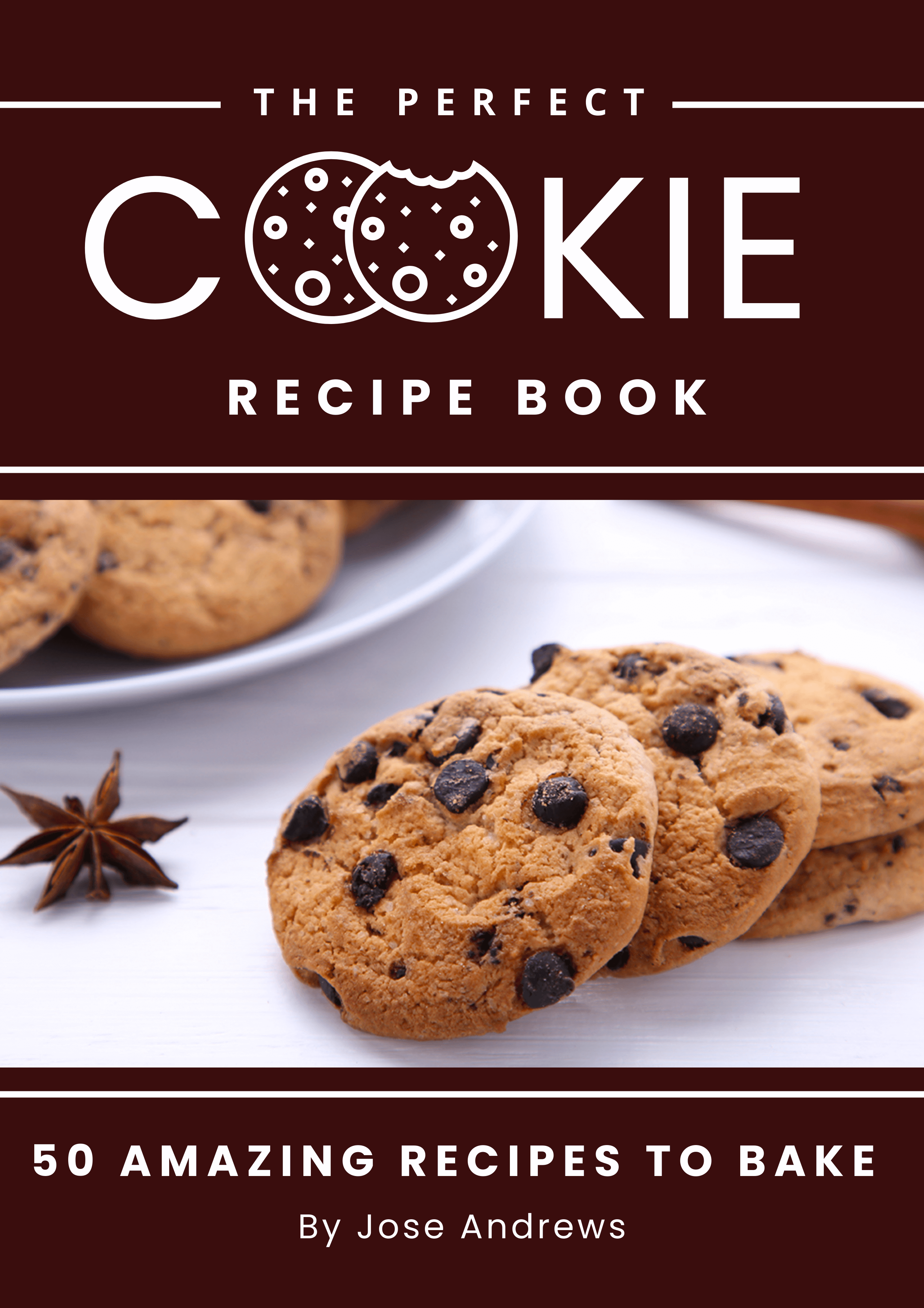 Get This Template and More
Read more about the best color combinations to choose the perfect color for your cookbook cover design.
Ornate Other Design Elements
Other design elements such as lines, shapes, text frames, and icons give your book a classic look. However, it would help if you used them smartly in your cookbook cover design. Don't make your cover design too busy as it looks very unprofessional. Potential buyers will always prefer books with minimal design.
Additionally, excessive use of the design elements can drive focus from the title and subtitle of your book. Look how the design elements in these cookbook cover design templates are decorated perfectly.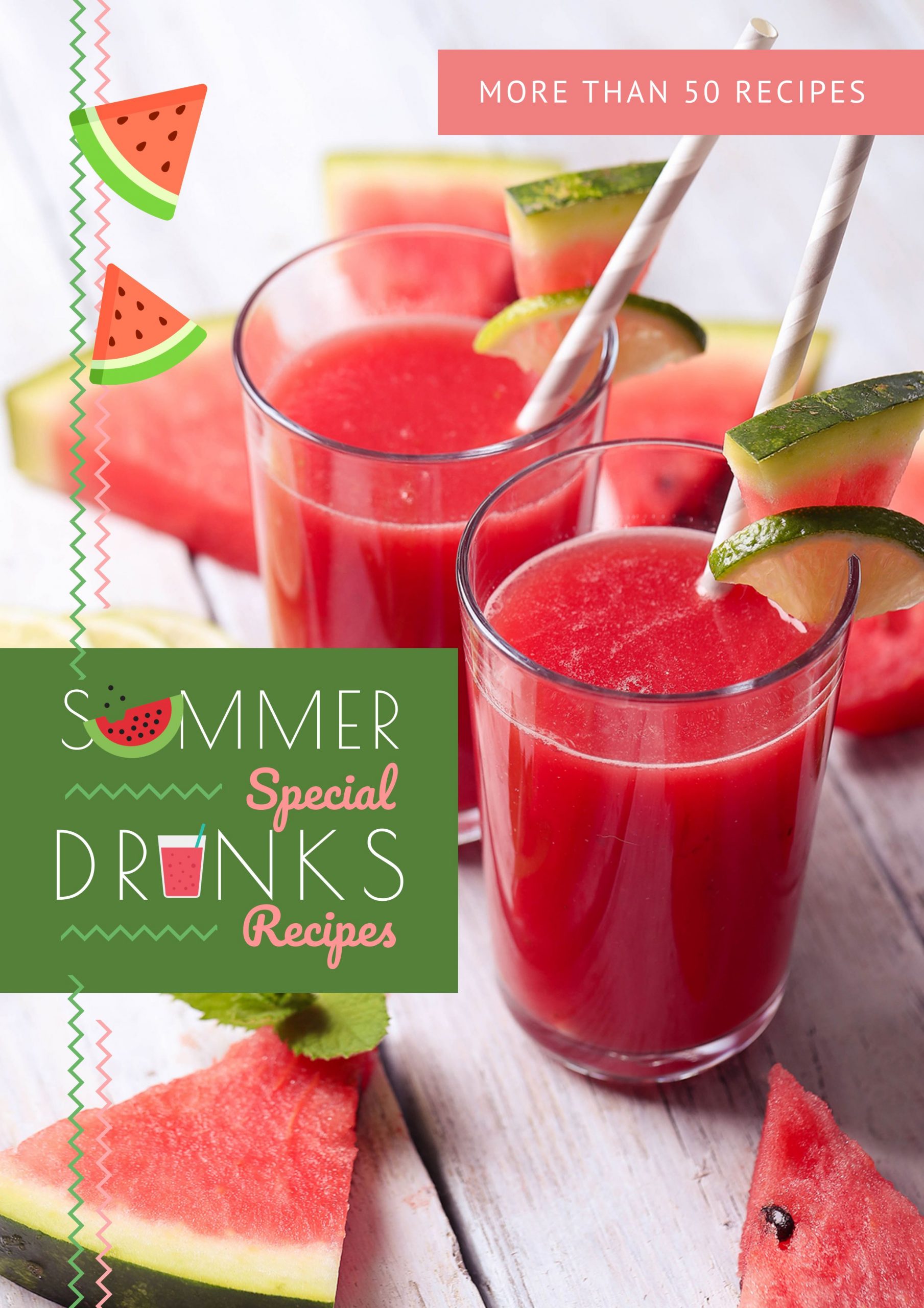 Get This Template and More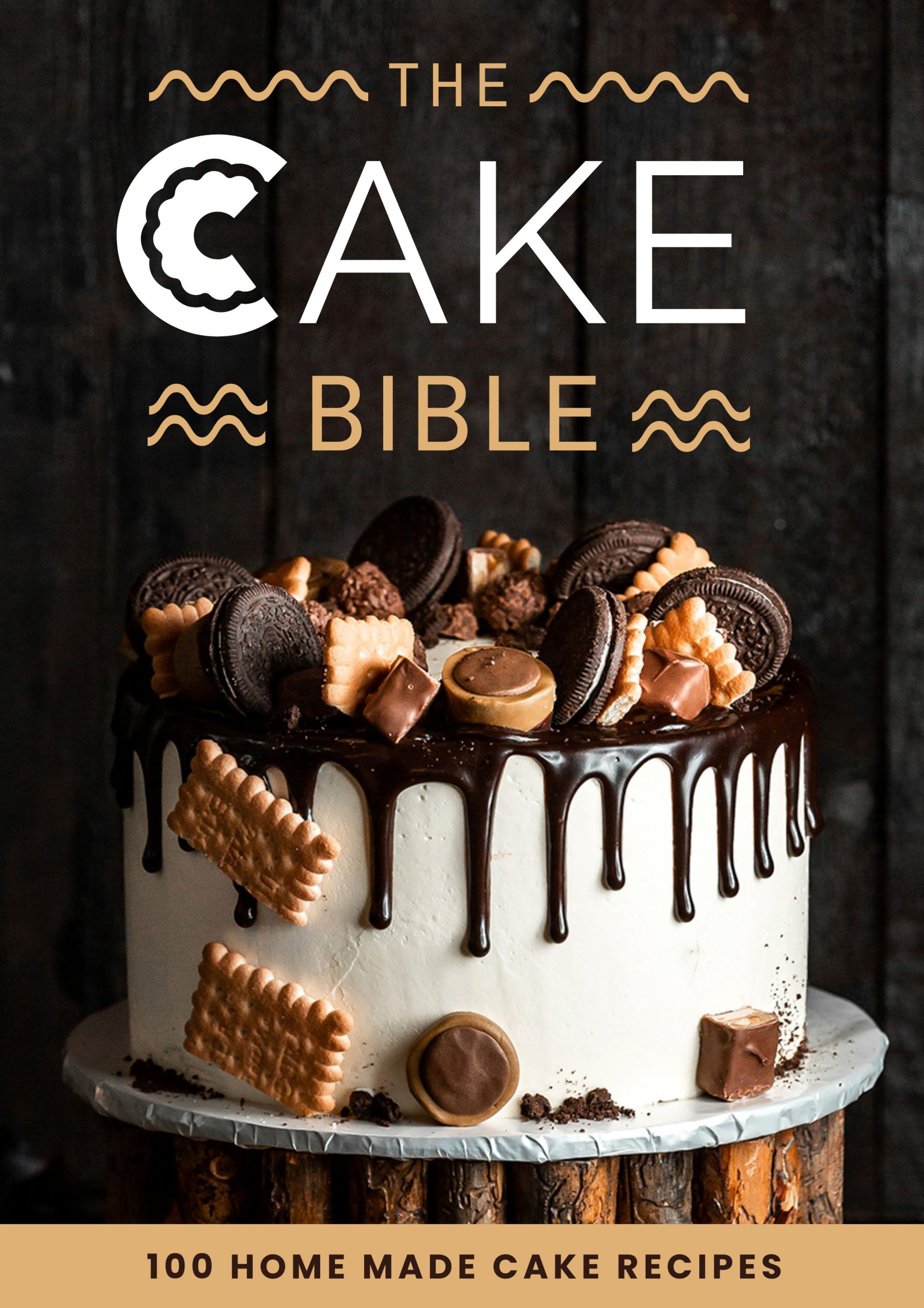 Get This Template and More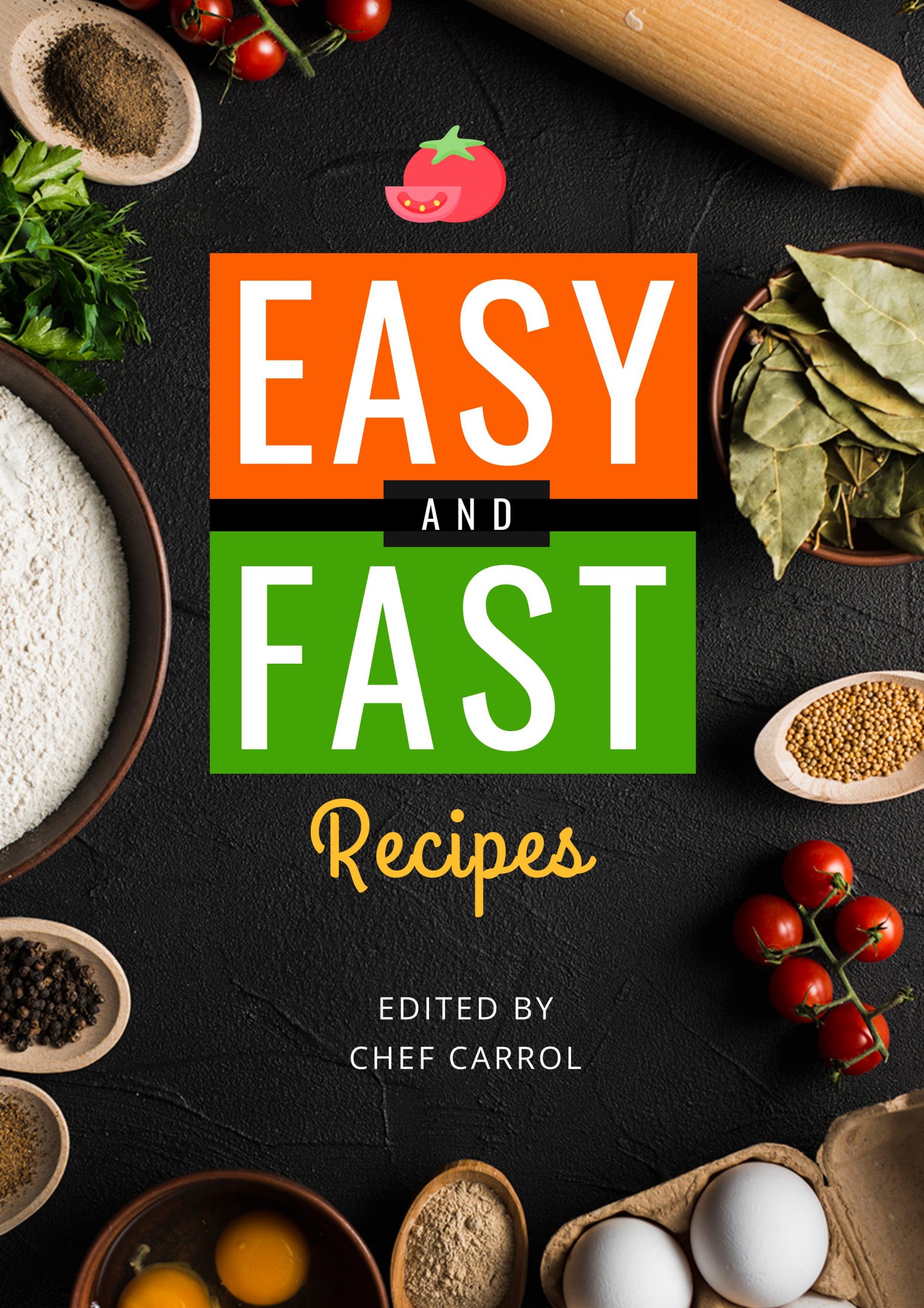 Get This Template and More
How To Design A Cookbook Cover In DocHipo
Now, we have come to the crucial part of the article. Since you have gone through the other parts of the article thoroughly, now it is time to design the Cookbook cover on your own. The DocHipo Free Online Book Cover Maker comes with a wide variety of cookbook cover design templates that will help you design the cover. Follow these simple steps:
Step 1: Choose a Cookbook Cover Design Template
Log in to your DocHipo account, or if you don't have an account create one by clicking here. Or visit the Homepage of DocHipo and click on the sign-up button from the top right corner.
Type Book Cover in the search box once you enter the DocHipo application. Click on the result and then choose the cookbook category to find the suitable template for your cookbook cover design.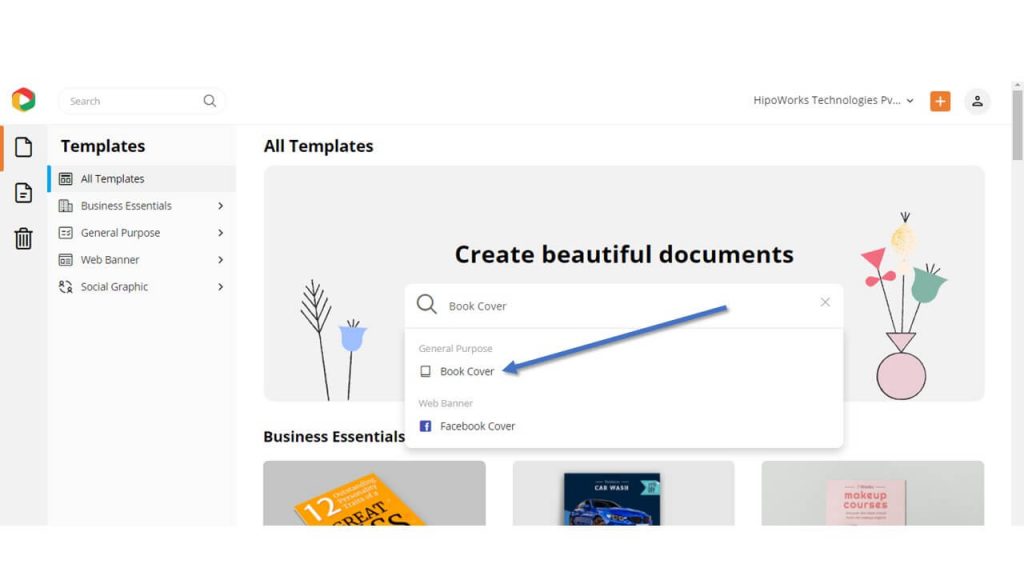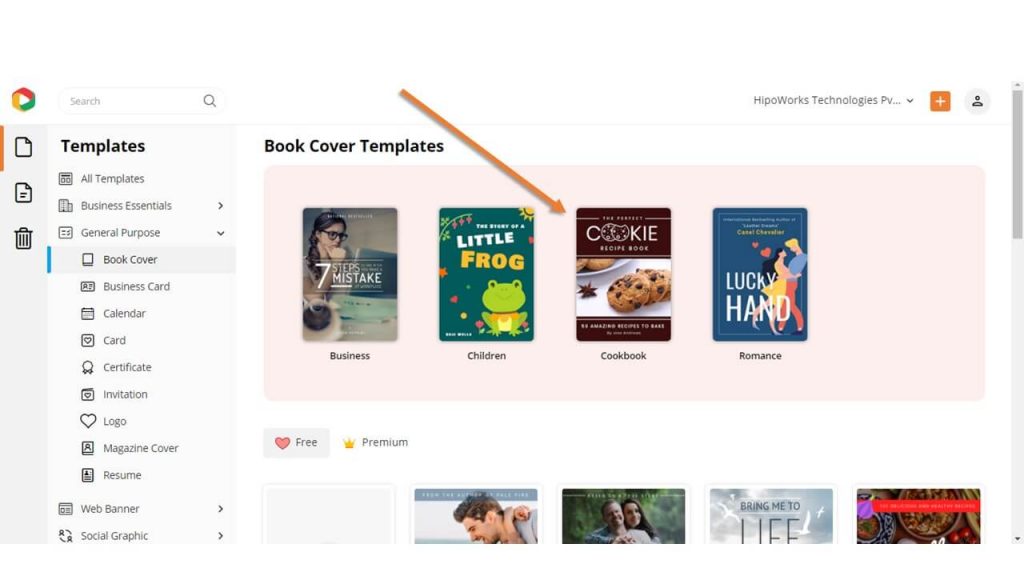 Hover your mouse cursor over the template you like and click "Preview". This way, you will not have to open every single template that you like to find the suitable one.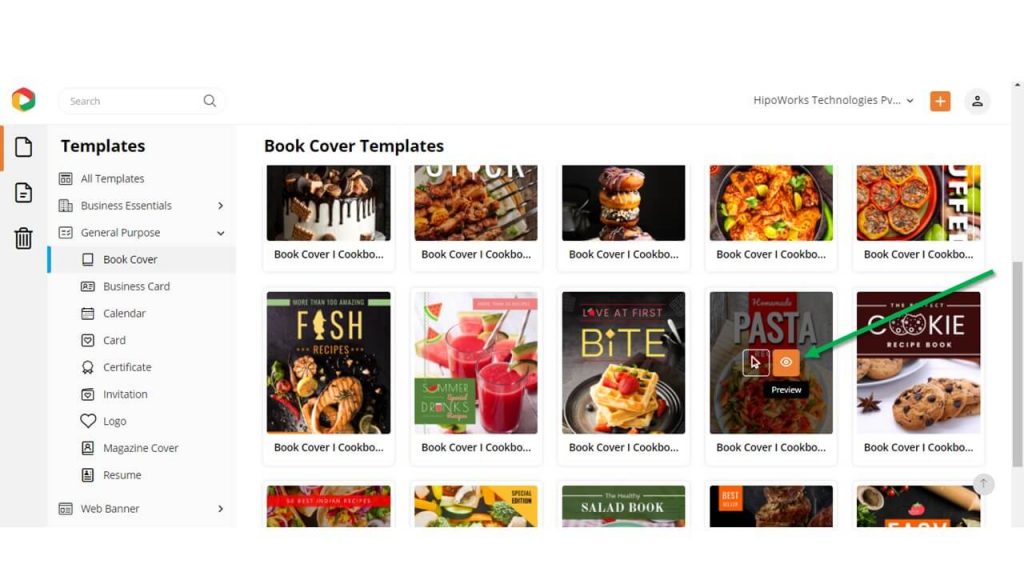 Click "Select" if you want to proceed with the template.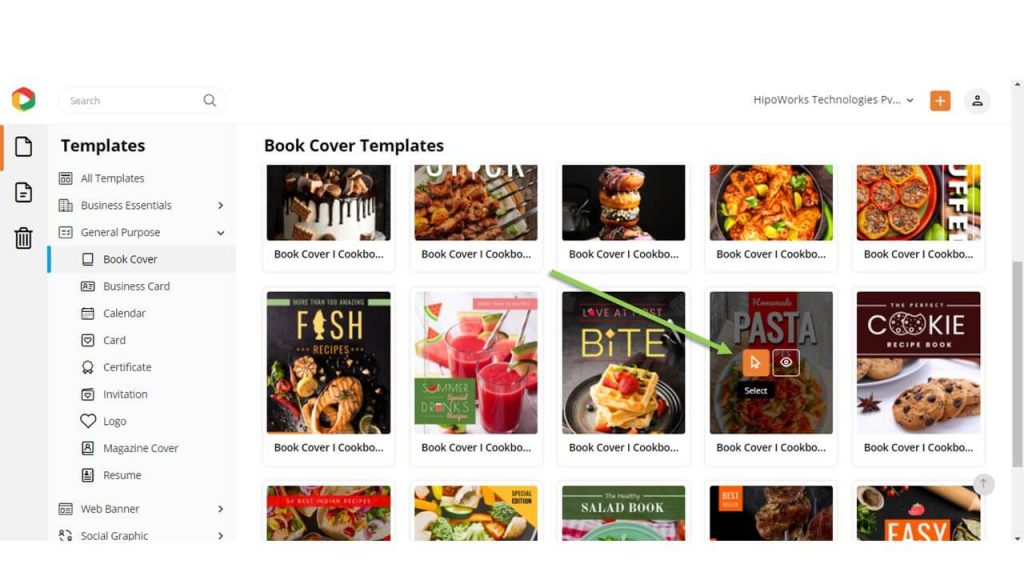 Now a page will open up where you need to give the document a name to find it later. Your name will appear as the document owner name, and you can provide a short description of the document if you want. Click "Next" to proceed further.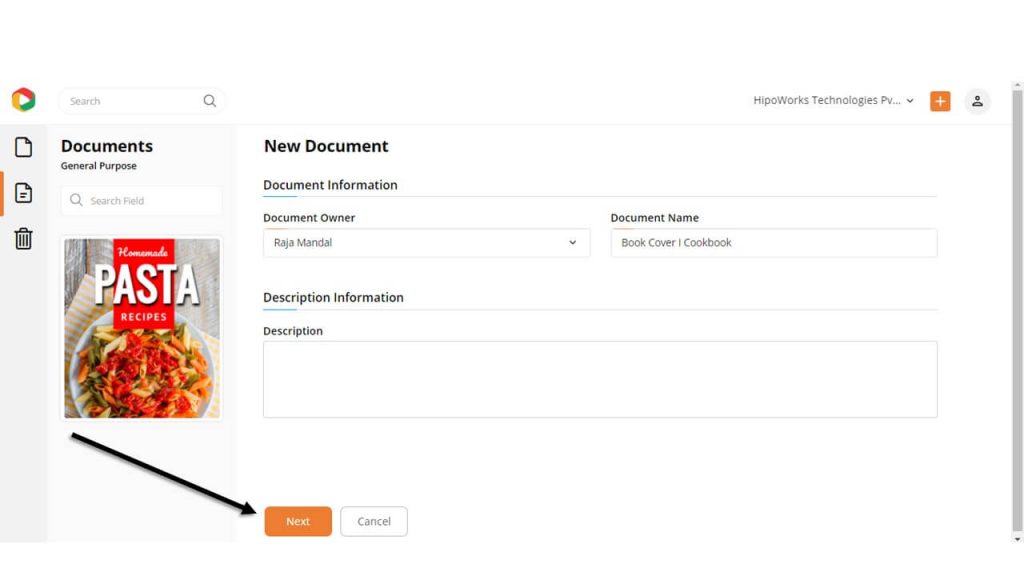 We have revamped the templates section in DocHipo so that the template selection process becomes more enjoyable for you.
Step 2: Customize the Template
In DocHipo, you will find thousands of shapes, icons, illustrations, lines, stock images to choose from. You can add them to your template using the drag and drop tool. The awesome Design Widgets in DocHipo will make the customization a piece of cake for you. Let me show you how to customize a Cookbook template in DocHipo.
Create a Background
The background is one of the crucial elements in your book cover design that can make or break your design. Generally, there are two types of backgrounds: The Solid Background and the Photo Background.
When it comes to designing cookbook covers, they should engage the reader's senses. In the absence of smell and taste, lean on the visuals with images and most equally appetizing types.
Therefore, we recommend choosing a photo background for the cookbook cover design. You can either choose a cookbook cover template in DocHipo with a photo background Or add your images.
DocHipo offers thousands of stock images in its image library. You can choose your image from there.
To do that, go to "Graphics and Media" and choose the "Pictures" options from the sidebar.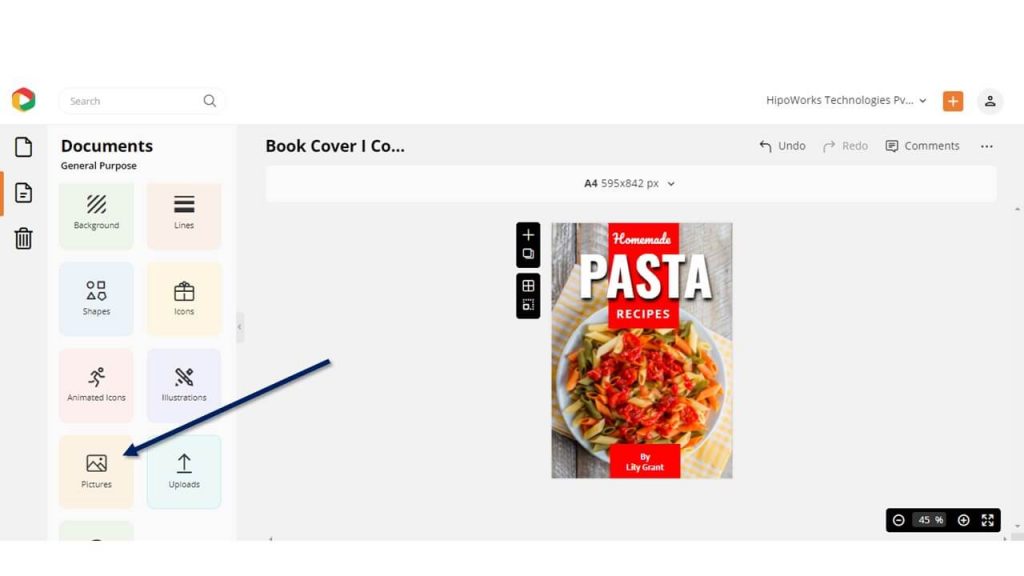 Choose the "Food And Drink" category since you are designing a cookbook. And choose an image that suits your needs.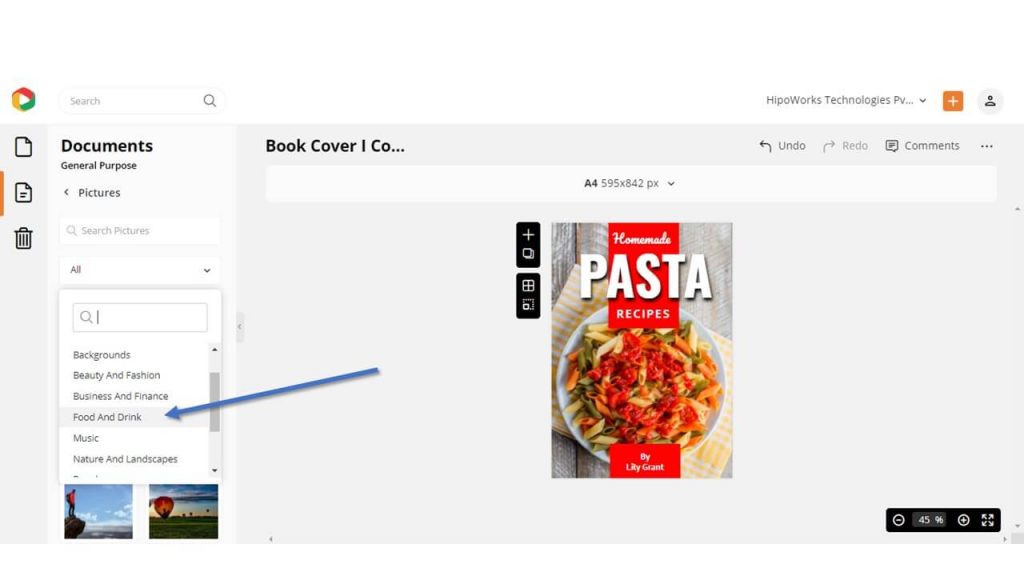 DocHipo's drag and drop feature lets you replace the existing image with the new one quickly. Just click and hold the image you want to add to your template and release it on the image you want to replace. Adjust the new image accordingly to keep everything aligned.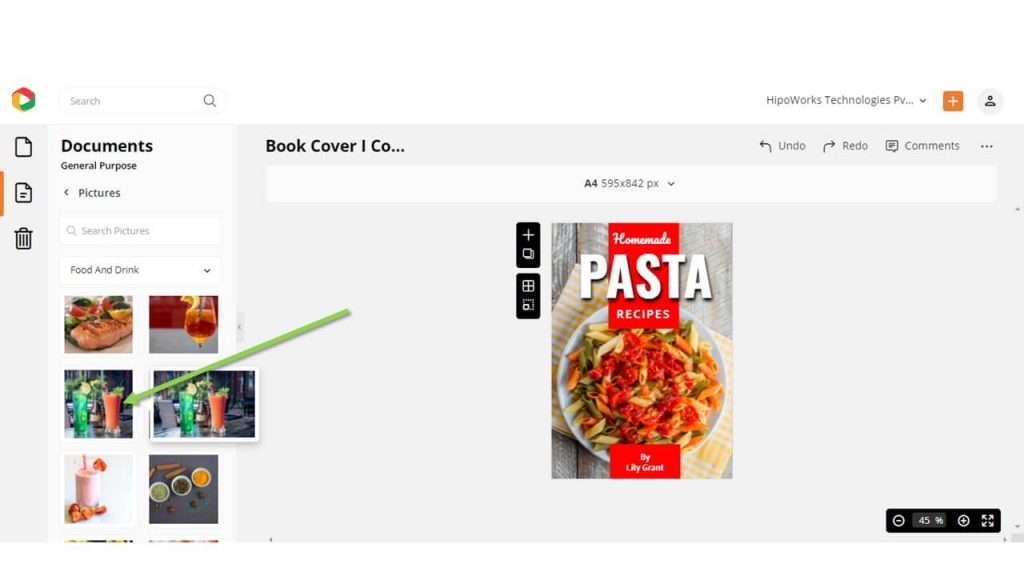 To use your own images as the background, you need to upload them to DocHipo first. Click "Uploads" under "Graphics and Media" and then click on the "Upload Images" button.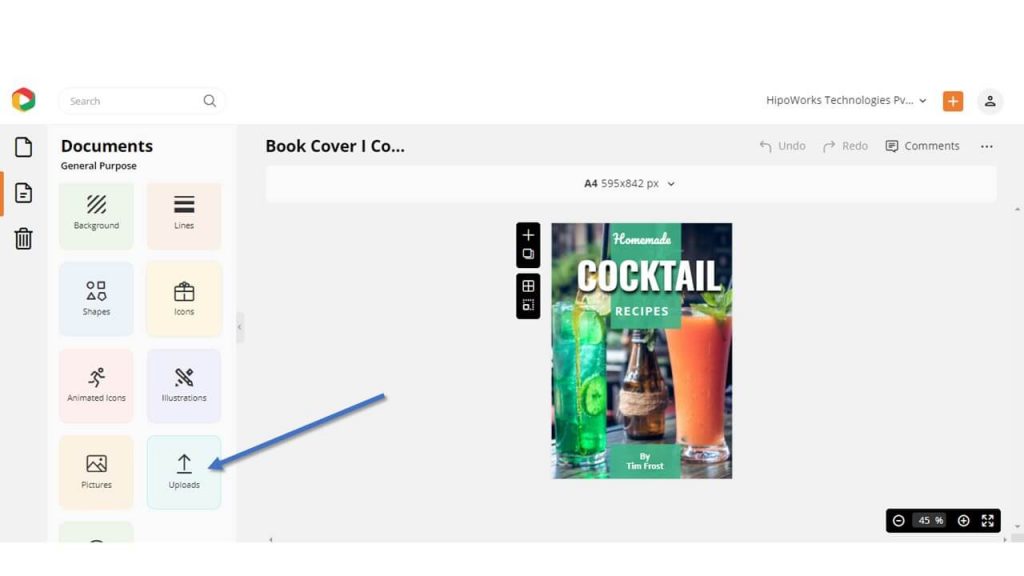 Select the image file from your system to upload it. Keep in mind that DocHipo supports JPG, PNG, GIF, SVG file formats, and a maximum 5 MB file size.
Here is how you can enhance your images using DocHipo filters.
Alternatively, to change the background differently, select "Background" from the left sidebar under "Graphics and Media".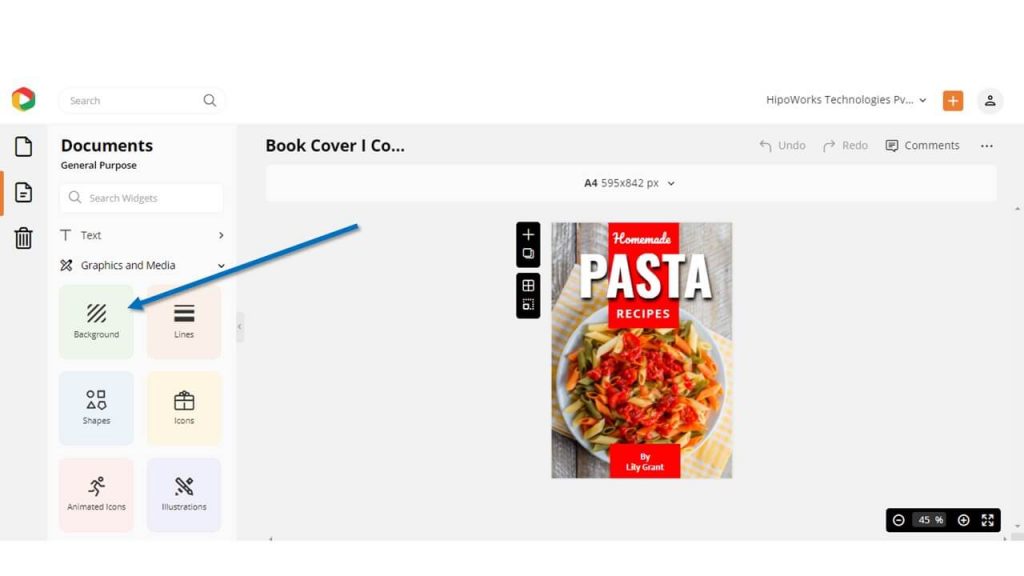 Change the background color, add texture using the images, and reduce the opacity accordingly to get the background of your choice.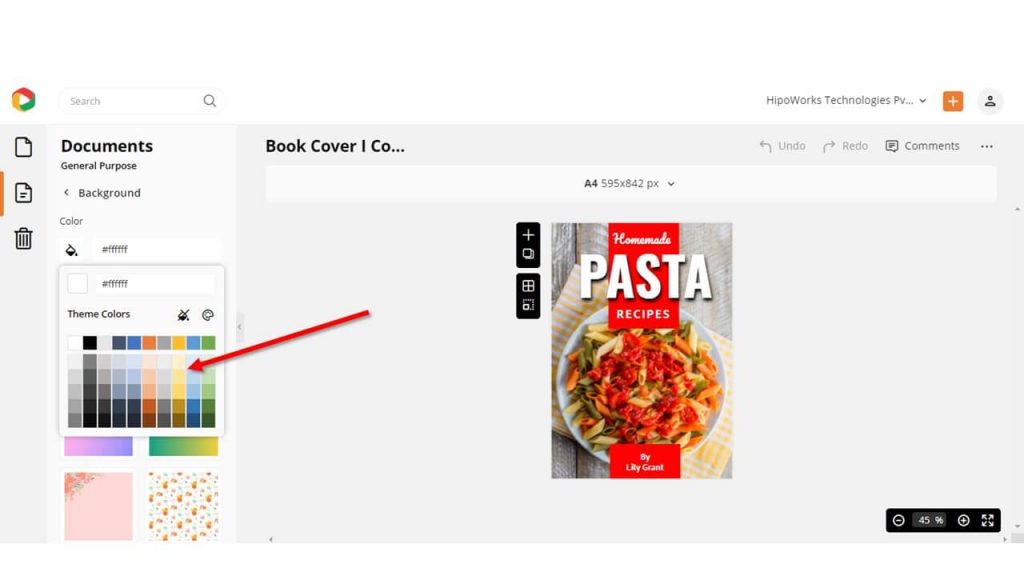 Additionally, you can consider watching the video below to learn how to create stunning backgrounds in DocHipo.
Select Your Color
To change the colors of the design elements, you can click on it and change the color using the edit panel. DocHipo also lets you get colors by typing hex color codes.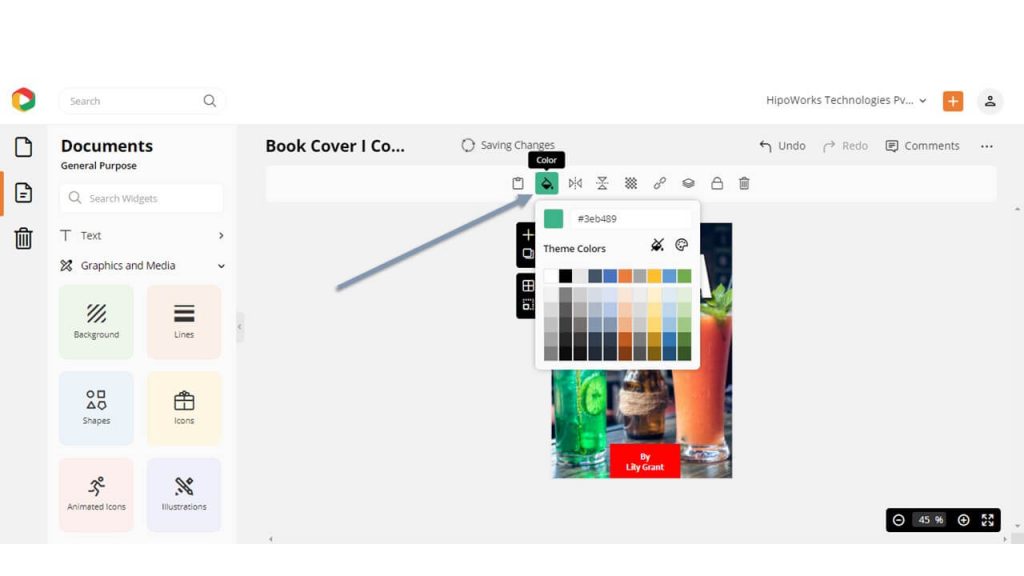 Fonts
Fonts are another crucial design element, especially for the book cover, as they lead the whole cookbook cover design. Additionally, the title of your book is the focal point of the cover. Hence, you need to choose the font size and style carefully.
To change the font style and size, click on any text and use the edit panel to do the same.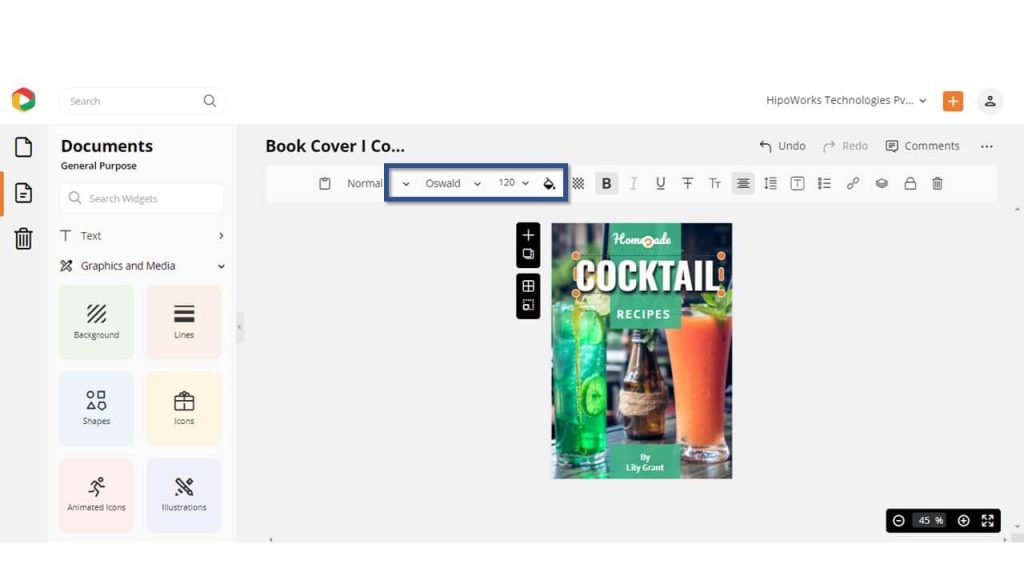 I have customized the template to get my final cookbook cover design.
Before Customizing the Template: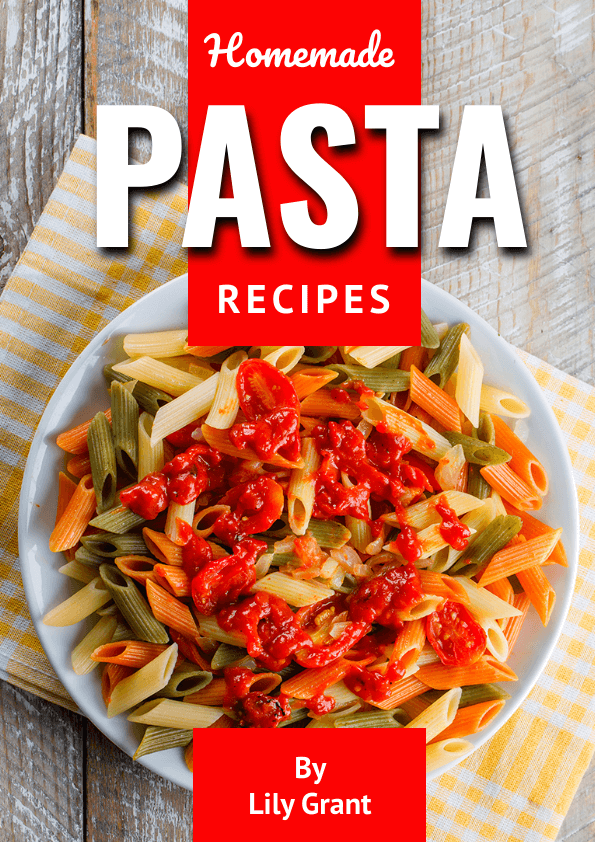 After Customizing the Template: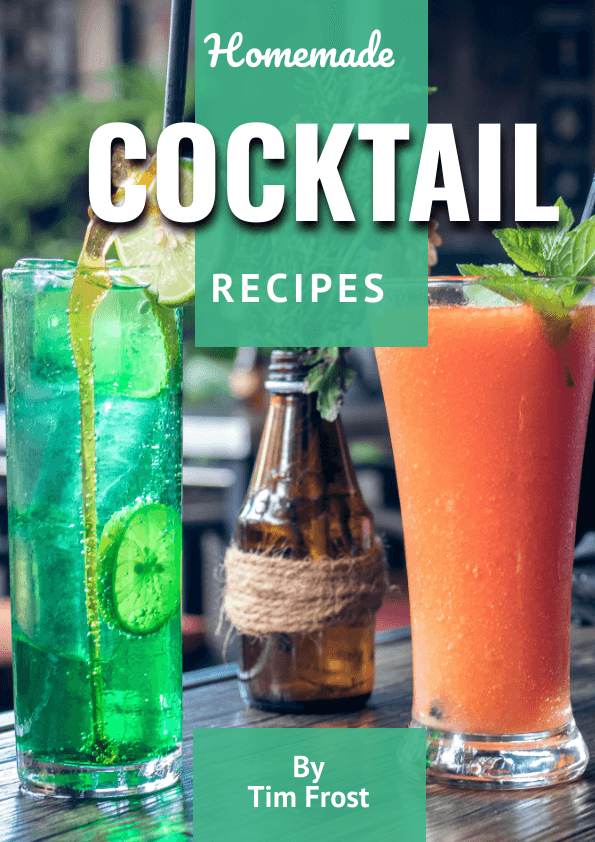 Step 3: Download Your Cookbook Cover Design
Once you are happy with the design, you need to download it. Click on the three dots from the upper right corner of the screen. Choose download from the drop-down menu.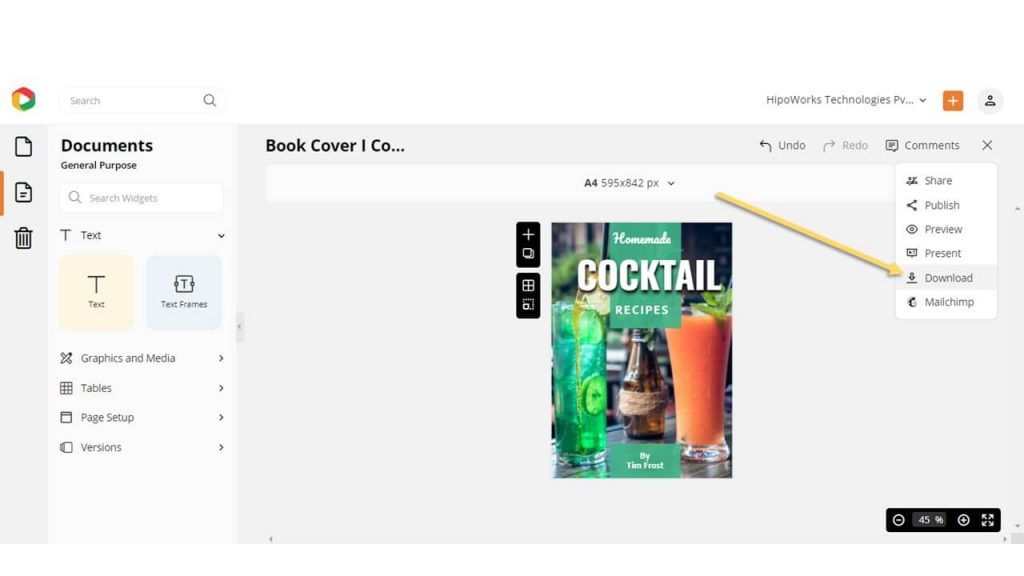 Choose your required file format. Since the book cover is a printable document type, you need to download your cookbook cover design in high quality.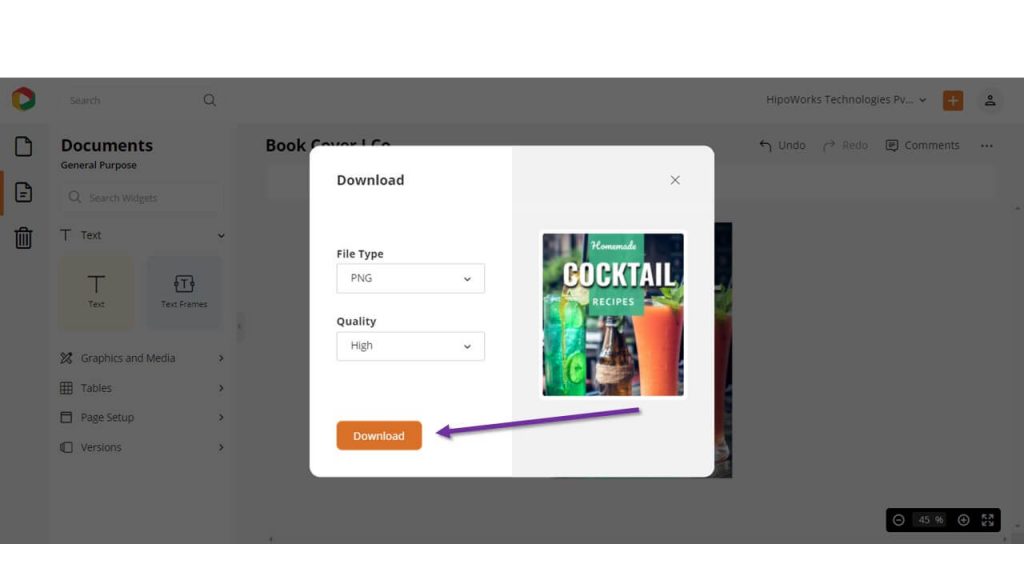 To Conclude
Readers will come across your cookbook at different places like supermarkets, bookstores, and online shopping platforms. And the truth is, people, do judge a book by its cover. The only reason a customer picks up a book is the attractive cover design. Even sometimes, the authors are recognized by the look of the book cover.
Designing a cookbook cover in DocHipo requires imagination and audacity. You must be courageous enough to try new things and play around with DocHipp's design elements to make the cover stand out. Follow the instructions given in this article, and you will be on your way to design a cookbook cover that can sell your book faster.
Sign-up to DocHipo and start your cookbook cover design today.
FAQ
What makes a great cookbook cover design?
Keep your design simple, neat, and appealing for a great cookbook cover design. The image should align with your cookbook title, connect your potential readers emotionally and make them drool over the pages. Choose bright and vibrant colors to reflect your dish's freshness and deliciousness. Use a maximum of three different easy-to-read fonts and align the typography with your cookbook cover tone.
How do I choose the right colors for my cookbook cover design?
You can choose warm colors like red, orange, and yellow to set up the mood for your cookbook. They're excellent at grabbing attention and also stimulating the appetite. If your book includes organic, sustainable foods or healthy green recipies, etc, you can go with green color. You can experiment with other colors but ensure they're easy on your potential readers' eyes.
Can I use a template for my cookbook cover design?
You can use a template for your cookbook cover design, as it'll speed up your design process and save time. Explore DocHipo's wide range of eye-catching cookbook cover templates and choose the one that aligns with your needs. Edit the book title, author name, picture and other graphic elements, color scheme, fonts, etc., easily with an intuitive drag-and-drop editor.
How can I make my cookbook stand out?
You can make your cookbook stand out by using a professionally shot, mouth-watering cover image, color schemes that stimulate the appetite, experimenting with the typography to make it appealing, avoiding using unnecessary elements to embrace simplicity, etc.